TweakTown's Rating: 94%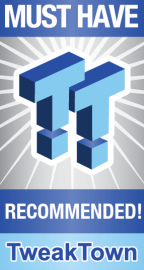 The Bottom Line
The TerraMaster F2-223 SMB NAS offers a fantastic hardware platform in TOS 5 backed by multi-gig connectivity.
Pros
+

TOS 5 OS

+

2.5Gbe

+

SSD caching

+

Price

+

Multi-gig connectivity
Cons
Should you buy it?
Avoid
Consider
Shortlist
Buy
Introduction, Specifications, and Pricing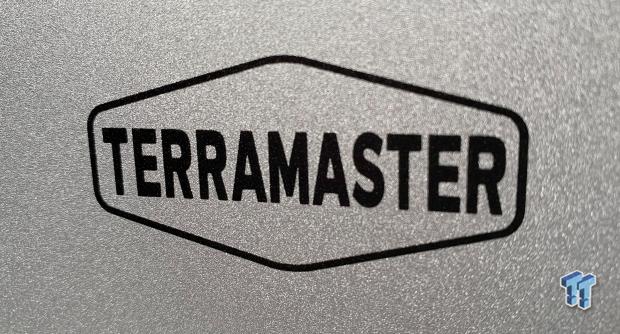 TerraMaster recently launched several new appliances to its NAS lineup: the F2 and F4 variants of the 423. They also launched a rather large update to their TOS software platform, now on version 5, so before those units land at our doorstep, we take one step back to a more budget-friendly solution in the F2-223 that seemingly has equally as good hardware.
The hardware for the F2-223 uses the Intel Celeron N4505 and is paired with 4GB of DDR4 memory from the factory but is upgradable to a max capacity of 32GB via two SO-DIMM slots. The F2 "label" means this is a two-bay NAS solution that supports 2.5" and 3.5" drives. Networking includes dual 2.5Gbe connections, and external connectivity includes two USB 3.2 and HDMI.
Pricing
The MSRP of the TerraMaster F2-223 comes in at $299.99 with a two-year warranty.
Packaging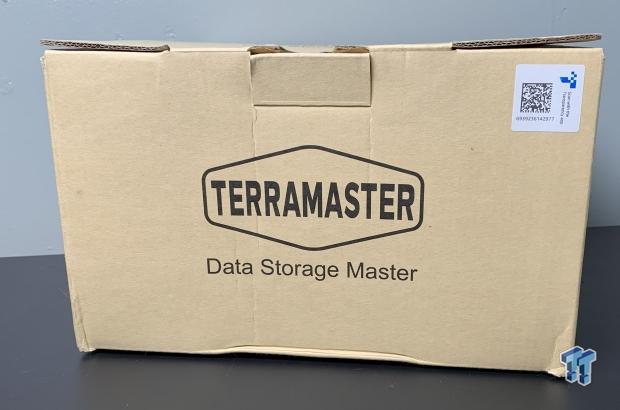 Packaging is simple for the F2-223, with a brown box with TerraMaster branding.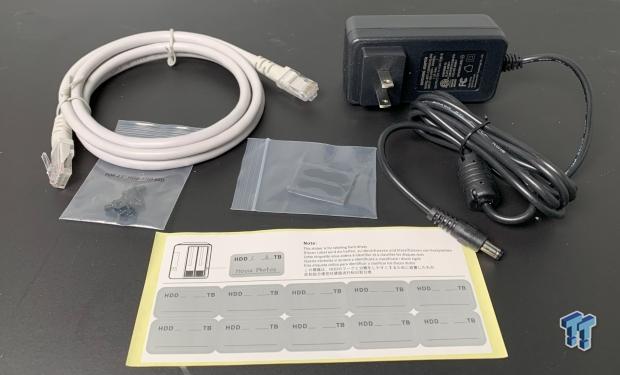 The NAS includes an ethernet cable, hardware screws, and the power adapter. TerraMaster also included hard drive labels.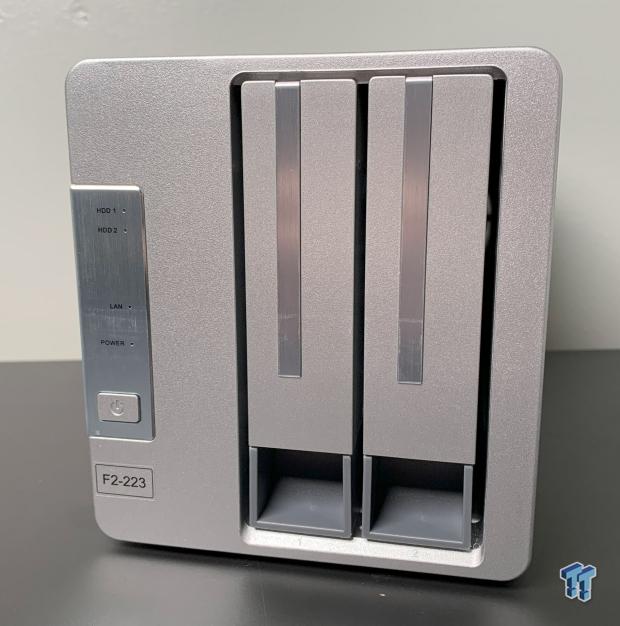 The F2-223 offers a status LED to the left for both drives, and power and LAN. To the right, we have both drive bays.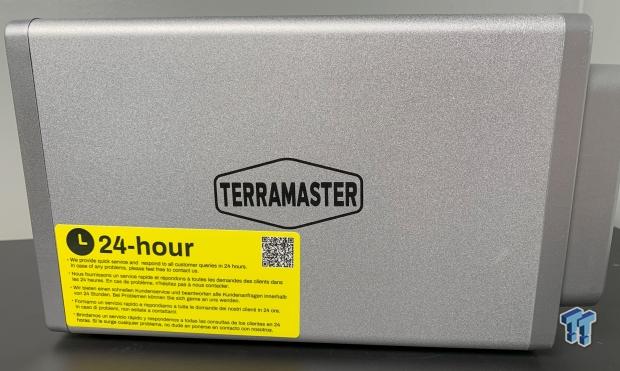 The chassis itself is an aluminum design with TerraMaster branding.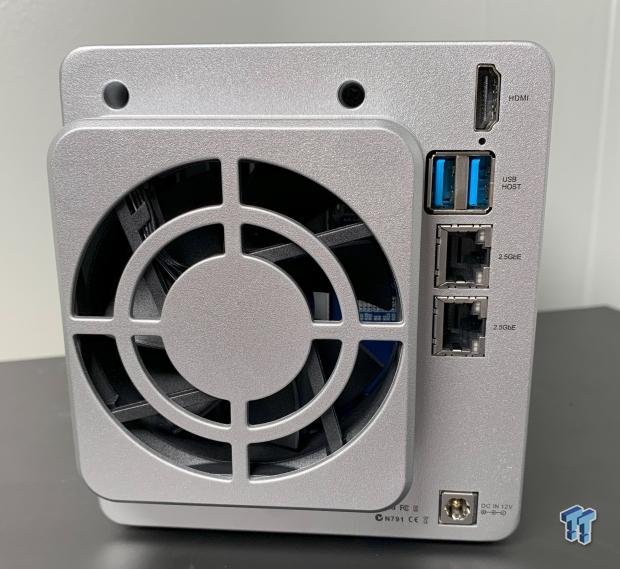 The rear of the NAS includes HDMI up top, followed by dual USB 3.2 and both 2.5Gbe.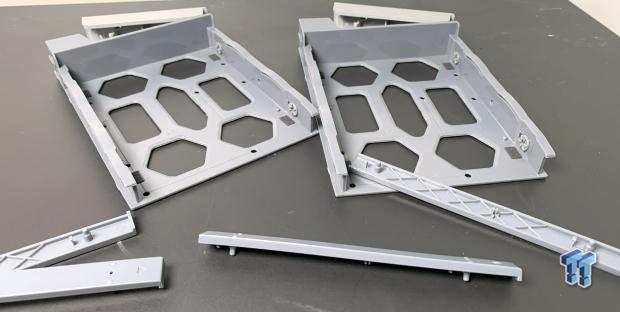 The drive trays are all plastic, tool-less in design, with rubber dampers for your hard drives.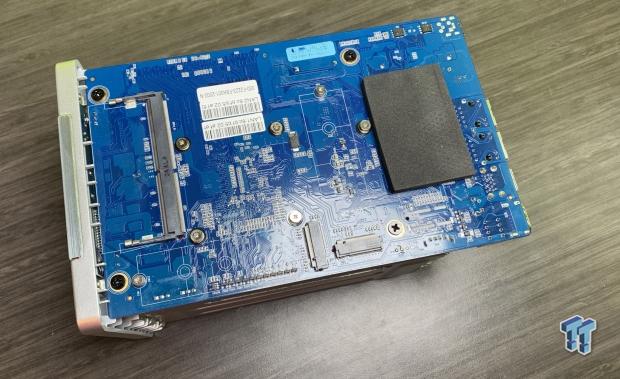 Internally, the F2-223 supports two NVMe drives used for HyperCache. You will also find the second SO-DIMM slot here on the rear of the motherboard.
Software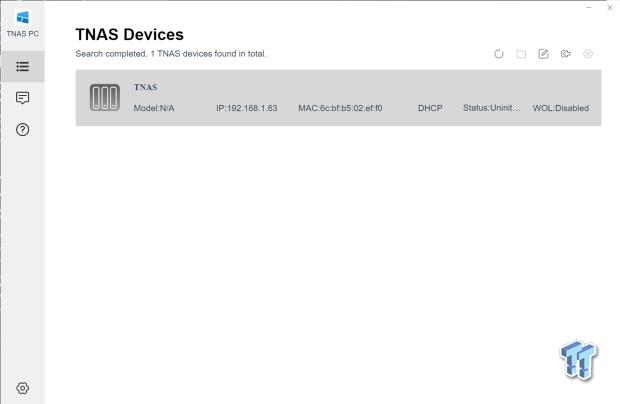 The setup starts with TNAS to detect the appliance on our network.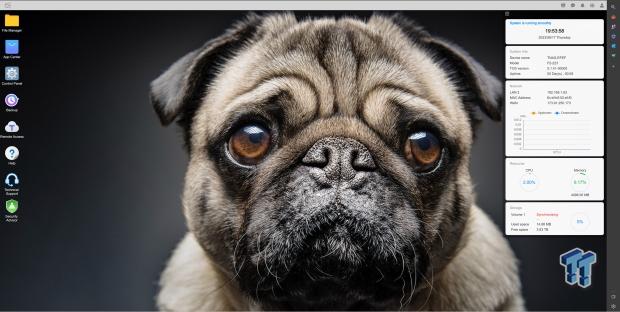 Once the setup is complete, we have the desktop above, which includes widgets to the right for a quick look at hardware usage.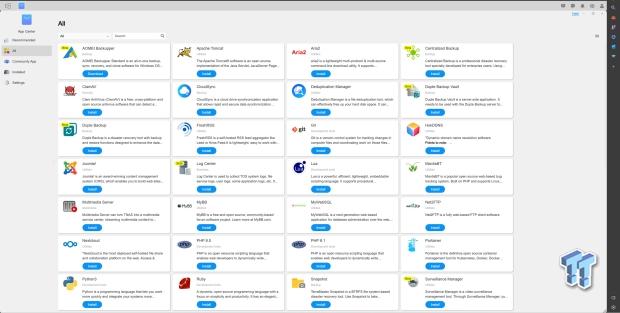 App Center has expanded tremendously since we last looked at a TerraMaster NAS. We now have a rather fantastic library of apps for the F2-223.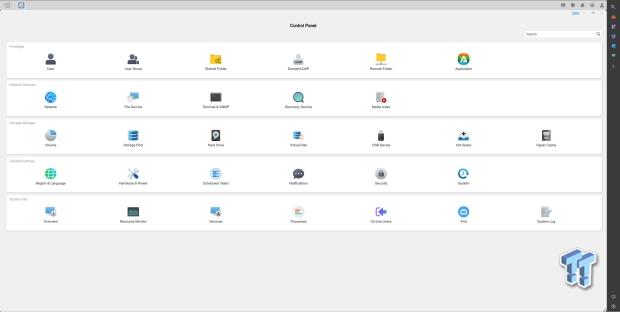 The control panel gives us options for configuring the NAS. These include users and groups at the top, followed by network services in the second row. The third row is dedicated to storage, including RAID setup and caching.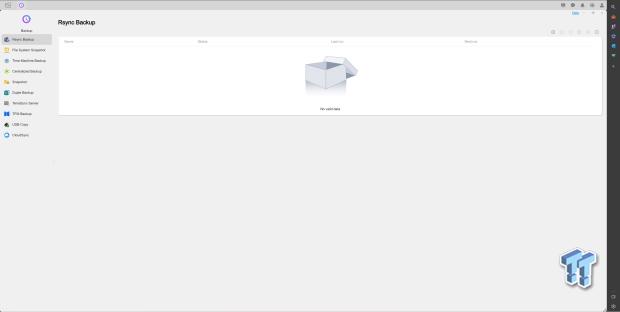 Backup gives us several options for scheduling backups, including Rsync, Time Machine for Apple users, and CloudSync.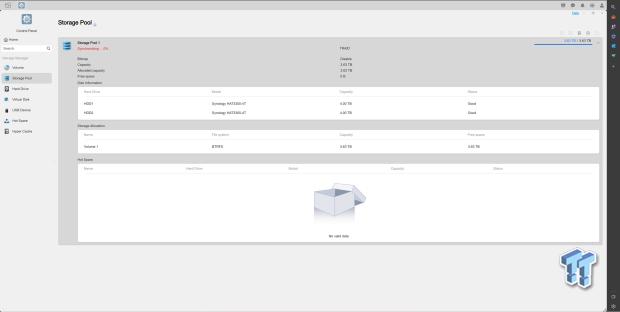 The Storage Manager allows you to configure any installed hard drives with RAID. This includes the new TRAID from TerraMaster that allows for different-sized drives similar to SHR or BeyondRAID. This menu also gives you control of HyperCache.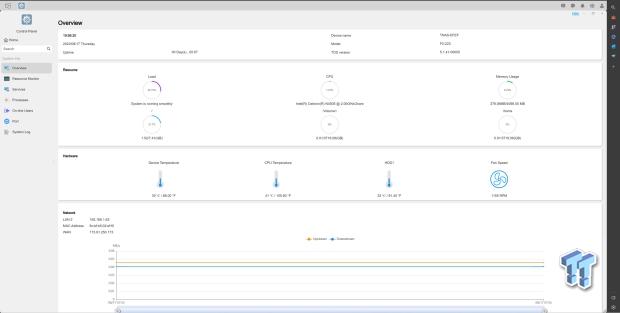 Last, we have the overview that offers a look at the hardware resource usage and temperature of each drive installed.
System Benchmarks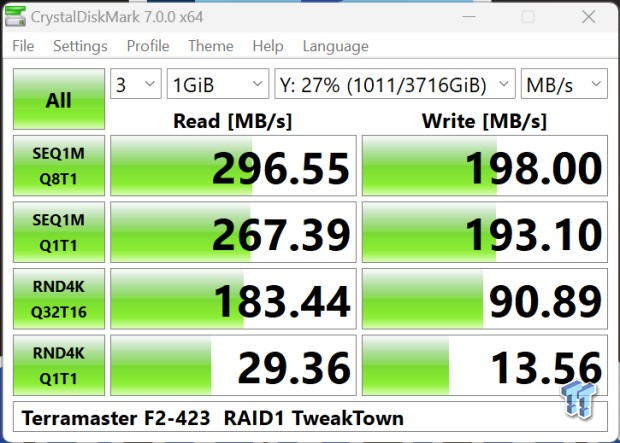 Testing the F2-223, we first ran through CrystalDiskMark with a mapped drive, which gave us 296 MB/s read and 198 MB/s write.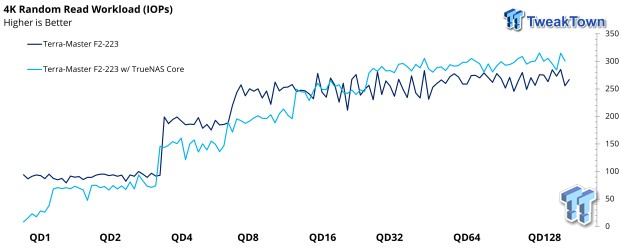 Alongside testing the TerraMaster F2-223 in its stock config, we played around with TrueNAS Core on the appliance; this will give us an idea if any performance is held back by the OS. In random read workloads, we start around 100 IOPs at QD1 and end at 300 IOPS QD128.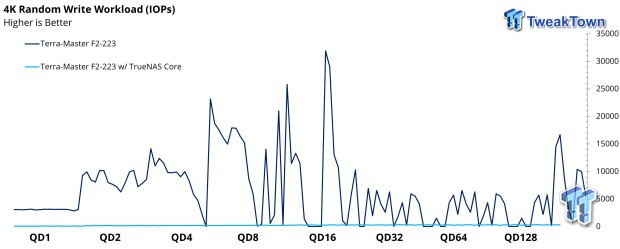 Random write was full of peaks and valleys for the 223 with TOS 5. That said, performance was nearly non-existent when using TrueNAS.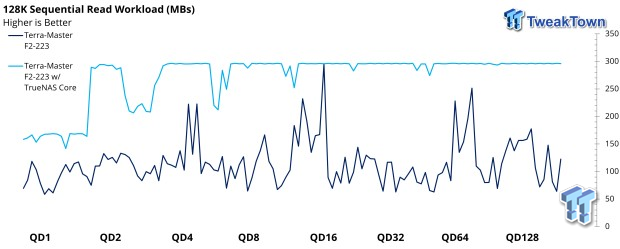 Moving to sequentials, we hoped to open up the NAS and see what it could do. With TOS 5, we seem to have peaks and valleys again, with the low being 70 MB/s in some cases while the highs were near 250 MB/s.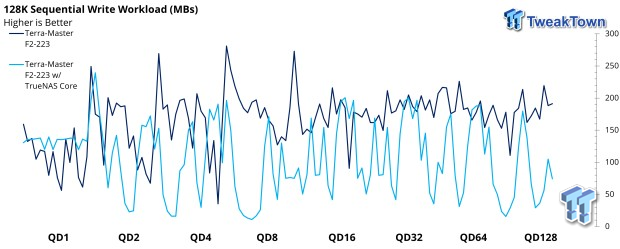 Sequential write was all over the place with both OS choices.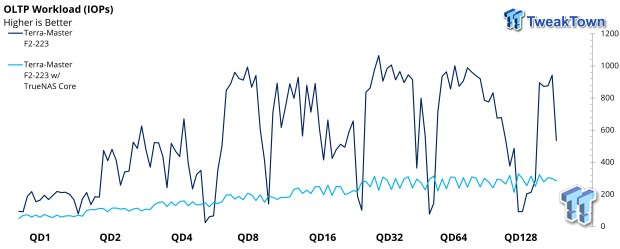 OLTP showed a solid start of 200 IOPS at QD1, again a lot of ups and downs here, with peaks hitting upwards of 1000 IOPS.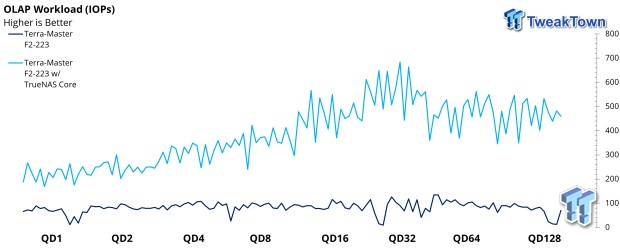 OLAP was most consistent; the 223 started at 100 IOPs and held that throughout the workload.
Final Thoughts
TerraMaster has always been hindered by their software platform, as they have used similar or, at times, better hardware than their competitors. Case in point is this F2-223, which initially I wasn't hyped up about because of my past experience.
That said, the F2-223 is a different animal with TOS 5 as it brings a fantastic set of applications to the party alongside a new storage module that includes TRAID and HyperCache. This allows consumers to put older or low-capacity NVMe drives in as HyperCache, allowing quicker access times. TRAID is an automatic disk management software that allows for flexibility in your disks.
Testing the performance of the 223, we picked up solid performance in CDM: 296 MB/s read and 198 MB/s write using our TRAID 1 array. That same array was erratic when using iSCSI, as noted in our IOMeter Random, Sequential, OLTP, and OLAP workloads. Day to day, we never noticed any of these hiccups produced in our workload testing. It could suggest the NAS has a hard time under heavy load.
TOS 5 is an entirely new experience for TerraMaster appliances. I enjoyed the additions within the App Center, giving a ton of new options for users of this platform without using workarounds. Additionally, TRAID is a fantastic solution for rapidly expanding user data, allowing larger drives to be deployed easily.
A big seller of this NAS for me was the price. At $299, the F2-223 is one of the most cost-effective platforms for consumers wanting multi-gig connectivity, and with TOS 5, it's even more compelling. And to top it all off, between the hardware and pricing, this solution nearly kills the Synology DS224+ we just reviewed.