Netgear Nighthawk X8 AC5300 Tri-Band Quad Stream Wi-Fi Router Review
Netgear looks to pounce on the router market with its first Quad Stream solution, the Nighthawk X8 Tri-Band wireless router. And boy does it perform!

Published Feb 25, 2016 9:20 AM CST
|
Updated Tue, Nov 3 2020 6:58 PM CST
6 minute read time
TweakTown's Rating: 93%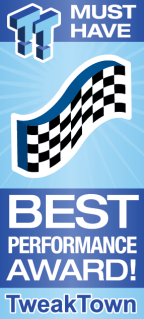 The Bottom Line
It may be big and expensive, but the Nighthawk X8 aims to prove it can handle whatever you can throw at it, with Tri-Band Quad Stream and some of the best storage performance I have ever seen.
Introduction & Pricing, Availability and Specifications

Since the first time I came into contact with a Tri-Band wireless router, I have recommended these solutions to countless people. Tri-Band routers take the best of the latest technology and allow you the flexibility to use all of your devices, whether old or new, without introducing bottlenecks into your network.
Since the launch of the Nighthawk X6, Netgear has gone back and taken Tri-Band Wi-Fi technology to the next level. With the introduction of the R8500, we have a few "firsts" on the market including active antennas in which Netgear claims to have moved the Wi-Fi amplifiers from the motherboard to the antenna allowing this solution to produce a cleaner and stronger signal. Additionally, this is the first AC5300 solution to hit the market, producing 1000 Mbps on the 2.4GHz band and two 5GHz bands capable of 2166 Mbps while also taking advantage of Implicit and Explicit Beamforming and MU-MIMO technology.
With this solution being a Netgear platform it is also powered by Netgear Genie software. At this point, Genie has become its own ecosystem as it spans across their ReadyNAS and Nighthawk lineups. With Genie, you gain access to ReadyCloud storage, ReadyShare Vault for those that want to use the router as a central storage point with the ability to backup any PC, and last but not least, remote access to your network from anywhere in the world.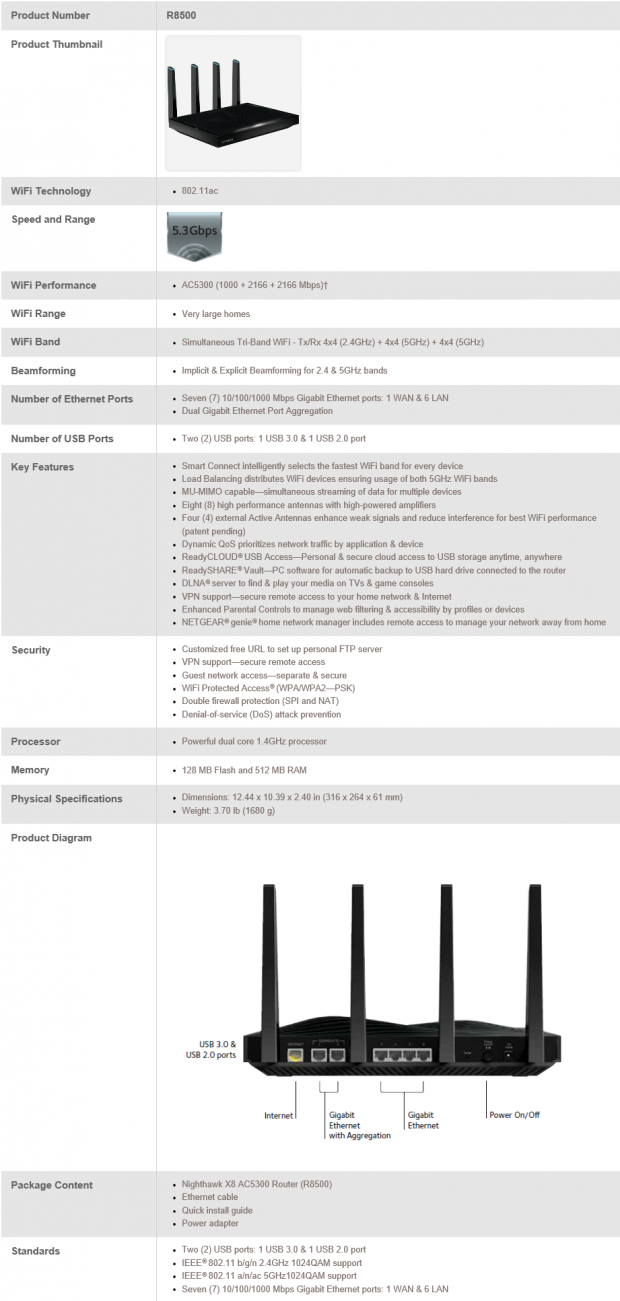 Hardware specifications of the R8500 have this router aimed at users with very large homes and as mentioned above this is our first look at an AC5300 solution. Seven gigabit ports are spread across the back of the router with the first two primed for Link Aggregation while the units USB 3.0 and USB 2.0 ports can be found on the side. Diving deeper into the hardware, you will find a dual-core Broadcom processor operating at 1.4GHz flanked by 512MB of DDR3 and 128MB of flash storage. Mentioned briefly above, the wireless radios on this solution support 802.11b/g/n 2.4GHz with 1024QAM and 802.11a/n/ac 5GHz with 1024QAM support.
MSRP of the Netgear Nighthawk X8 is set at $399.99 and features a one-year warranty.
Router Details
Netgear Nighthawk X8 Wireless Router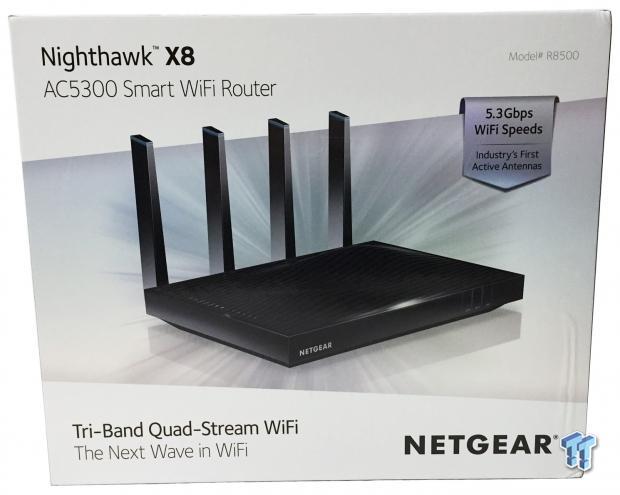 Product packaging for the Nighthawk X8 is as much presentation as I have seen for a wireless router. On the front, we have a large image of the router with very little regarding marketing on the front.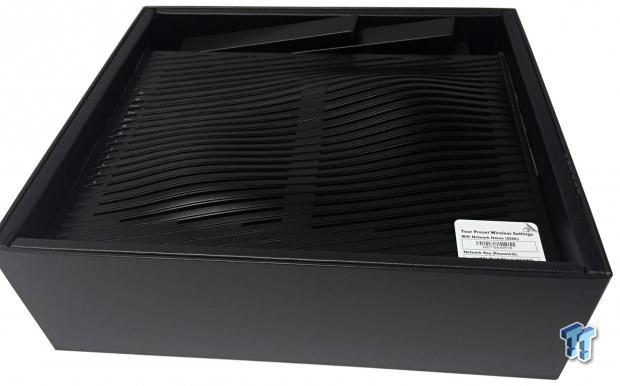 Opening the box, you straight away see just how large this solution is as it completely fills the entire box.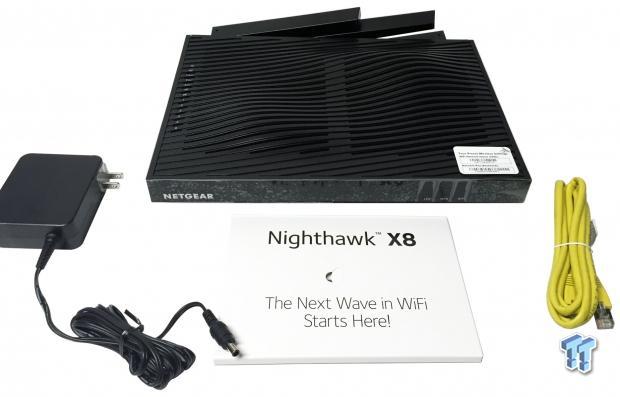 Pulling the router from the box, we get a glimpse of the scope of delivery. As you can see above, we have the power adapter, Ethernet cable, and reading materials.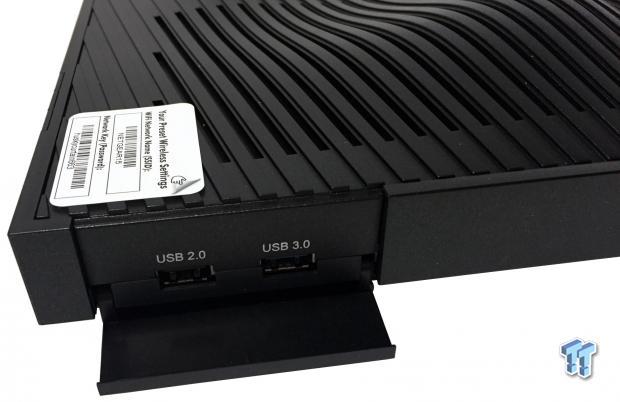 Hiding on the right-hand side of the router were both USB ports.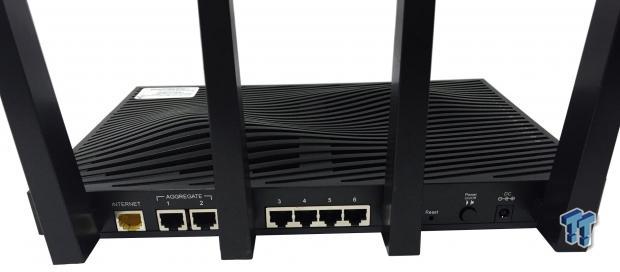 Right around the corner on the back of the unit, we have seven Gbe ports - one for WAN and six for LAN - the first two capable of Link Aggregation. To the far right the reset, power input and switch are located.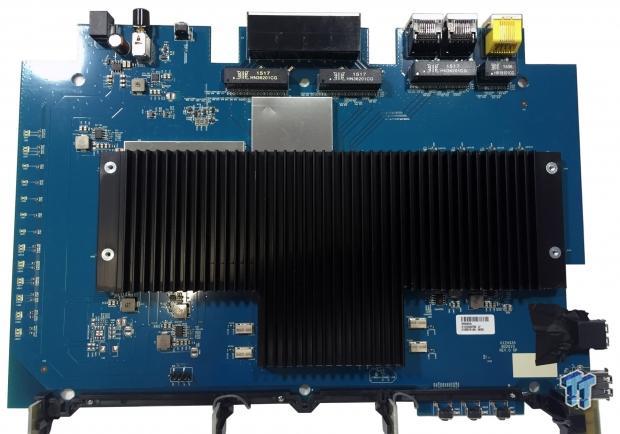 As I have been doing as of late, I opened up the R8500 to see what makes it tick. As you can see, most of the components are covered by a large heat sink with the USB ports exposed to the right.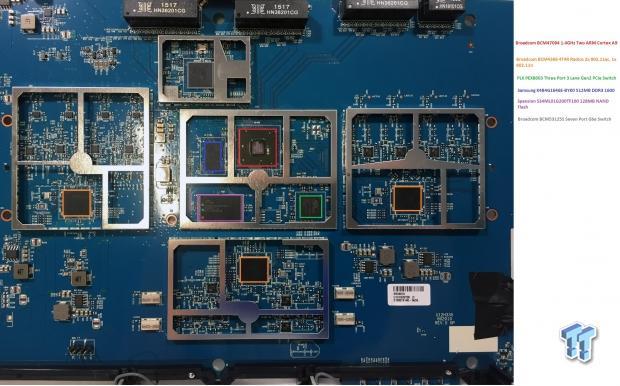 The large heat sink didn't stop me and after a few screws and popping the lids on the EMI shields, we get a good look at the main components. As I mentioned in the specifications, this router is a Broadcom platform featuring a BCM47094 and three BCM4366 radios these can be seen in orange and red above. In blue is the 512MB of Samsung DDR3 while purple outlines the 128MB of NAND from Spansion.
Test System Setup and Management GUI
Tyler's Router Test System Specifications

For those of you that have seen a Netgear router interface, the R8500 is no different and as you can see is the same Genie platform. The basic menu gives you a quick glimpse of everything going on within the router on the main page, from internet status to wireless networks and attached devices it all can be seen and managed here.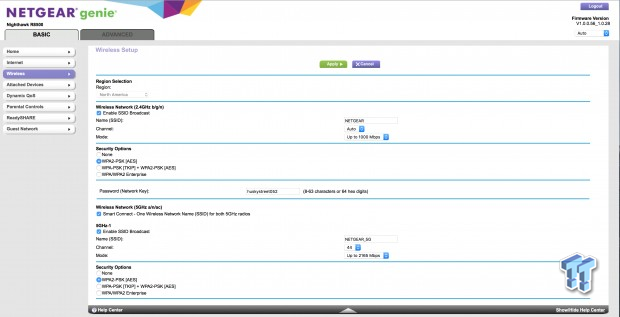 The wireless menu for the R8500 gives you a few options to configure each band. By default, the 5GHz band is set up in smart connect mode which will let the router control which device goes to each of the two 5GHz bands.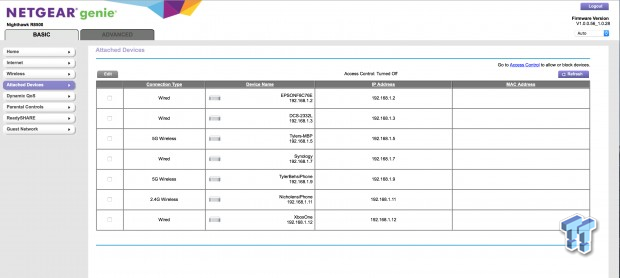 Moving to the Attached Devices menu, you will find any device that has connected to the router via wired or a wireless connection.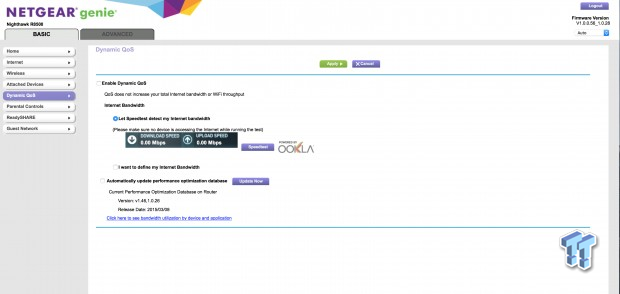 Next up we have Dynamic QoS and really one of the better implementations of it. You can take a speed test from the router interface and then setup your devices easily with a continually updated database.

Over on the ReadyShare menu, you have access to three storage option along with the ability to share a printer over the network.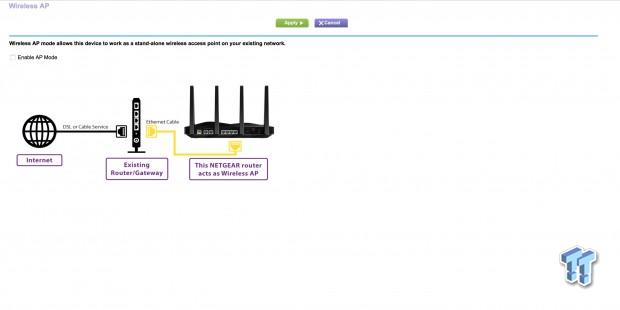 An additional feature of the R8500 is the ability to set it up as an access point by ticking the box seen above.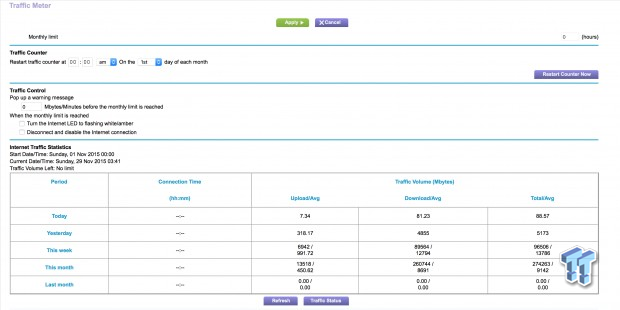 A second advanced feature is the traffic meter that will show you what devices are using the most data in megabytes.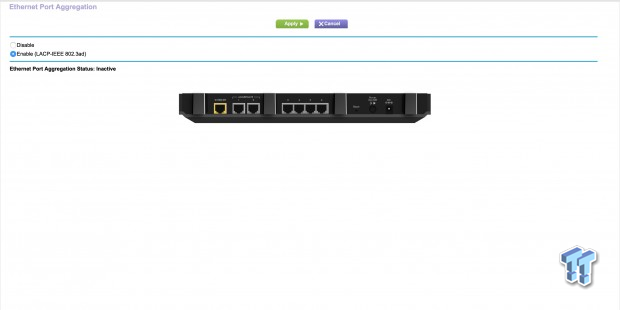 The most anticipated feature of the R8500 is Link Aggregation and as some of you know this will allow a 2Gbe connection to any device as long as it too supports 802.3ad.
Benchmarks – Throughput
Wired Throughput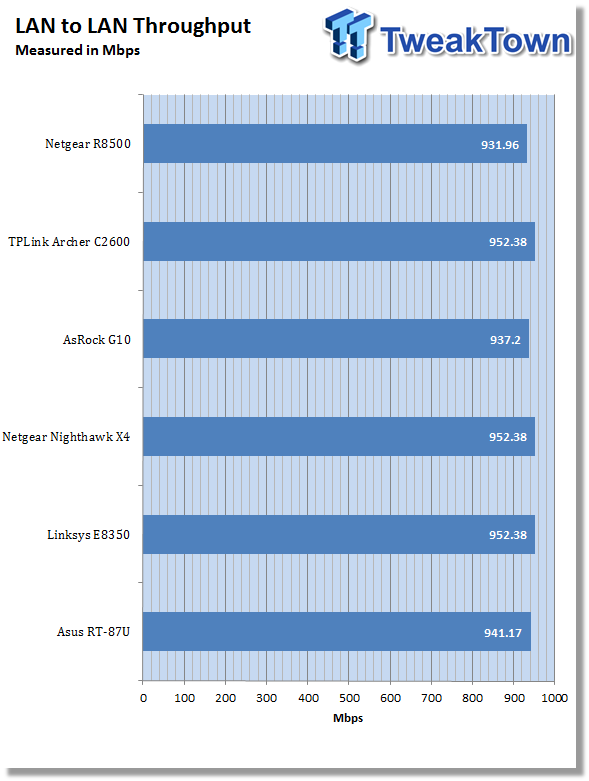 To begin testing, we set up the router for LAN throughput. Coming in at 931 Mbps, the R8500 did quite well here considering it's only 20 Mbps shy of the highest numbers we have seen.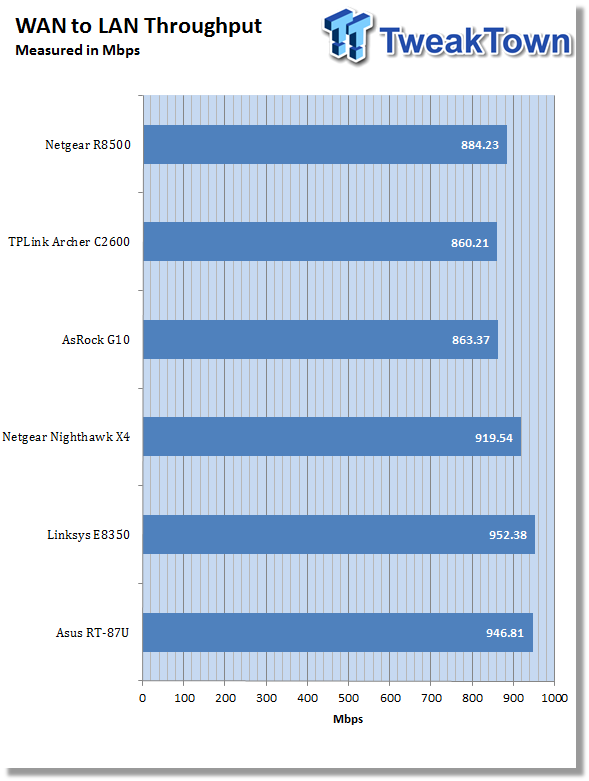 WAN to LAN came in at 884 Mbps, slightly quicker than the C2600 and G10 from ASRock.
Wireless Throughput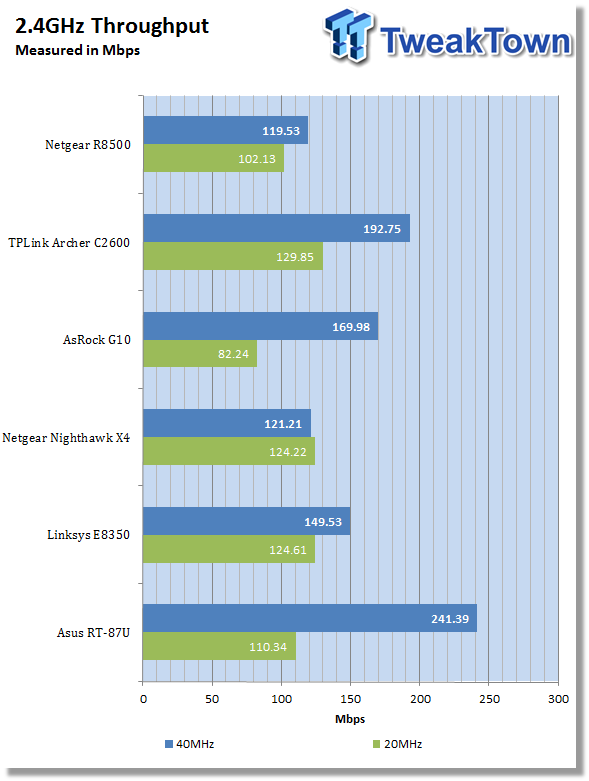 Switching to wireless throughput, I found the R8500 was not fairing very well with 102 Mbps on the 20MHz band and 119 Mbps on the 40MHz band.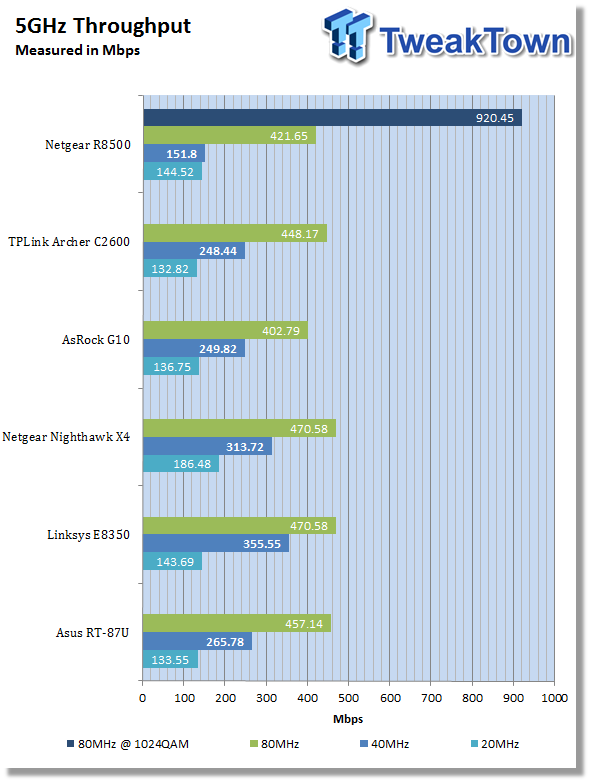 In testing 5GHz throughput, I had to add another data point to our chart as this solution is the first to support 1024QAM, allowing higher throughput on the 80MHz band.
As you can see in our standard testing, the R8500 reached 144 Mbps, 151 Mbps and 421 Mbps respectively but kicking it into high gear with 1024QAM we hit an astonishing 920 Mbps wirelessly, and I'm 99% sure it is bottlenecked by our gigabit port doing the testing.
Multi-User Throughput
In our Multi-User test, we use three identical smartphones with the latest MU-MIMO chipset. This test requires the router to handle three simultaneous throughput streams with the results below for each band.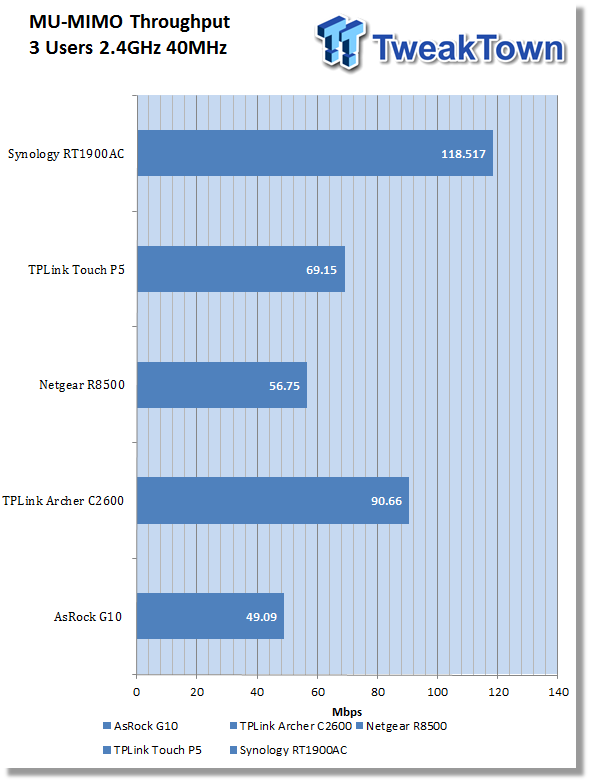 Starting with the 2.4GHz band, the Nighthawk was able to produce 56 Mbps over all three devices.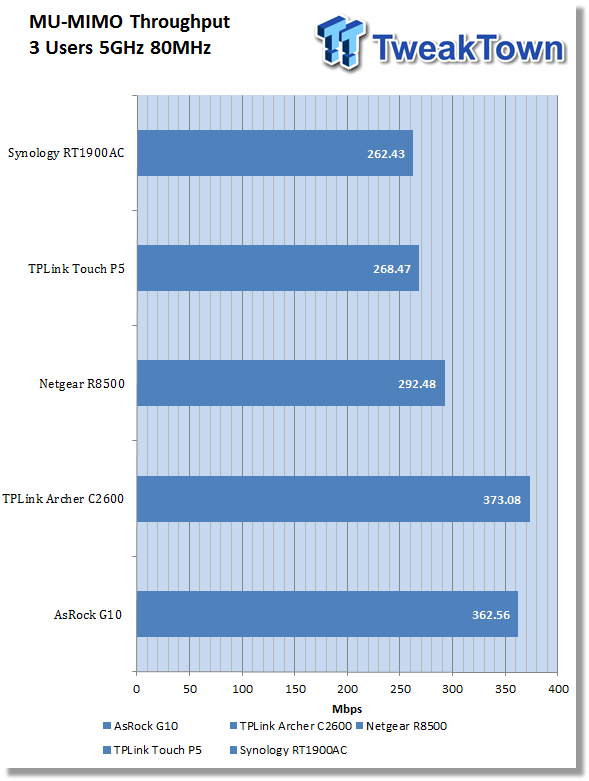 5GHz MU-MIMO performance came in at 292 Mbps.
Benchmarks –Storage Performance & Final Thoughts
Storage Performance
In our Storage Performance test, I use a SanDisk Extreme Pro 128GB USB 3.0 flash drive formatted with the EXT4 filesystem. I mount the volume as a network drive and test with NAS Performance Test 1.7.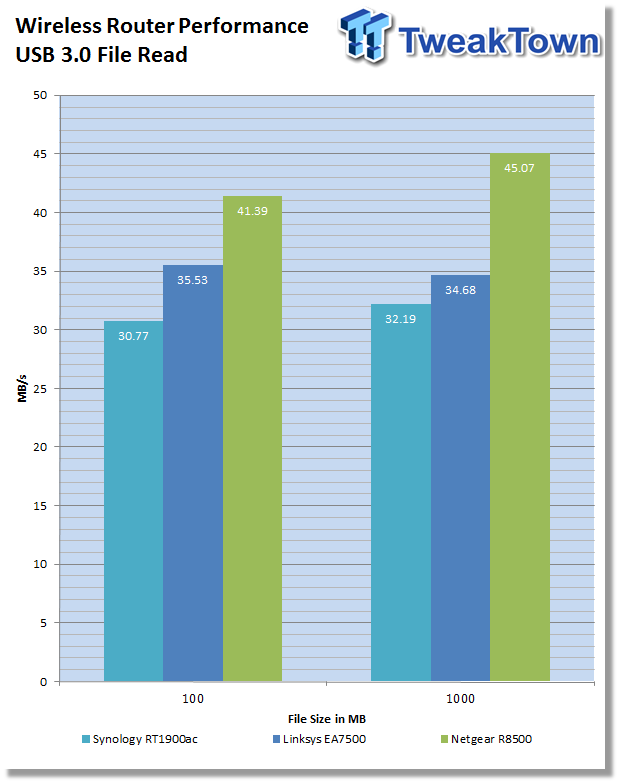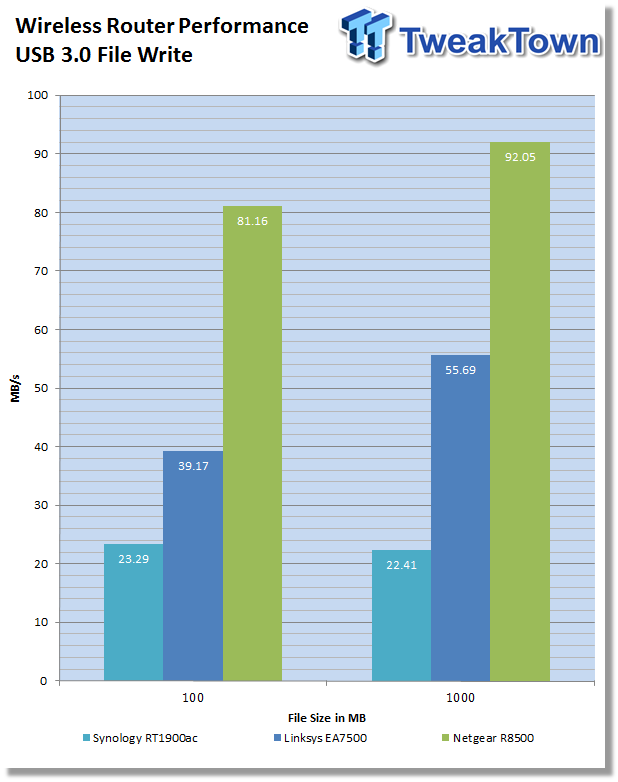 On the storage side of things, I was blown away by the capabilities of the R8500. As you can see in our charts, I was able to reach 41 and 45 MB/s in read performance. Write performance topped out at 81 and 92 MB/s, the quickest I have ever seen.
Final Thoughts
Netgear is one of the very few companies that continue to churn out high-quality products time after time. Since I have been reviewing routers, we have gone from seeing the launch of consumer 802.11ac with the first Nighthawk R7000, to several Nighthawk routers later the biggest and possibly best of them all, the R8500.
The X8 is quite possibly the largest router ever designed, it measures in at a whopping 12.4 x 10.3 x 2.4 with an impressive weight of 3.7lbs, and if you had a gander at page two of this review, you can tell from the moment you lay eyes on this router that it's a beast. Build quality is quite good though I don't really care for antennas that can't be removed but being part of the design, it makes sense. Internally, all the solder joints appeared top notch and everything was shielded and heatsinked appropriately.
On the performance of the router, I was happy with the LAN throughput reaching 931 Mbps, but would have liked to see more with the WAN to LAN as there really is no reason a beast such the R8500 should lack in any area. On the wireless side of things, I was unable to get 1024QAM working correctly in testing and as such we had just our standard test which showed us a peak of 119 Mbps. However, swapping over to 5GHz, we were able to do our standard testing along with 1024QAM and as you should have seen in our charts were able to reach a stunning 920 Mbps without issue. MU-MIMO testing showed little gain on 2.4GHz, while 5GHz did get some improvement at 292 Mbps across three devices.
Switching gears to storage performance, I was impressed to see the R8500 reach 45 MB/s read and nearly double that on write at 92 MB/s, making it hands down the quickest router for storage. Adding to this as a package is all the additional functionality Netgear has packed in including Link AG, Dynamic QoS, and the entire ReadyShare Vault and Cloud.
The Netgear R8500 at this point in the game is one step above every router on the market and depending on what ASUS does with their RT-AC5300, and if we have a chance to test it, this may be the quickest solution I have ever tested overall.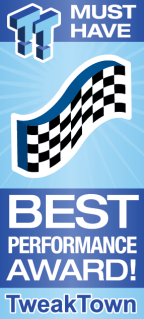 | | |
| --- | --- |
| Performance | 96% |
| Quality including Design and Build | 92% |
| General Features | 95% |
| Bundle and Packaging | 90% |
| Value for Money | 90% |
The Bottom Line: It may be big and expensive, but the Nighthawk X8 aims to prove it can handle whatever you can throw at it, with Tri-Band Quad Stream and some of the best storage performance I have ever seen.
PRICING: You can find products similar to this one for sale below.

United States: Find other tech and computer products like this over at Amazon.com

United Kingdom: Find other tech and computer products like this over at Amazon.co.uk

Australia: Find other tech and computer products like this over at Amazon.com.au

Canada: Find other tech and computer products like this over at Amazon.ca

Deutschland: Finde andere Technik- und Computerprodukte wie dieses auf Amazon.de
We openly invite the companies who provide us with review samples / who are mentioned or discussed to express their opinion. If any company representative wishes to respond, we will publish the response here. Please contact us if you wish to respond.
Related Tags