Epic Gear ThunderouZ Gaming Headset Review
New to the headset game, Epic Gear is vying to win over the audio market with its plush design in the ThunderouZ. Let's take a close look at it now.
Published
8 minute read time
TweakTown's Rating: 87%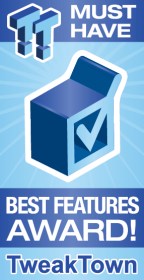 The Bottom Line
The great features and reasonable price tag is sometimes let down by overpowering bass and a lacklustre list of accessories, but Epic Gear's ThunderouZ gaming headset is still worthy of consideration.
Introduction
A sister company to GeIL, Epic Gear is relatively new to the peripheral market, marking yet another keyboard, mouse and headset division from a technology company, similar to Tt eSPORTS and Thermaltake or CM Storm and Cooler Master.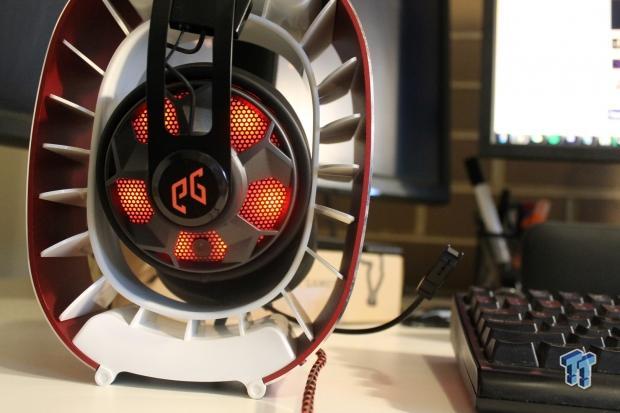 The ThunderouZ aims to launch into the gaming headset market category, vying to best competitors with its 'EG-AMP' enhancement and plush leather design.
Sporting some quality-sized drivers and an attractive design with some serious attention to detail, this review will be looking at whether the performance stacks up to the spec sheet – read on to find out!
Specifications
The ThunderouZ aims to offer a premium gaming headset slew of features, sporting extremely plush synthetic leather earcups and a touch sensitive button to change color options. It's a little more fancy than many of its competitors.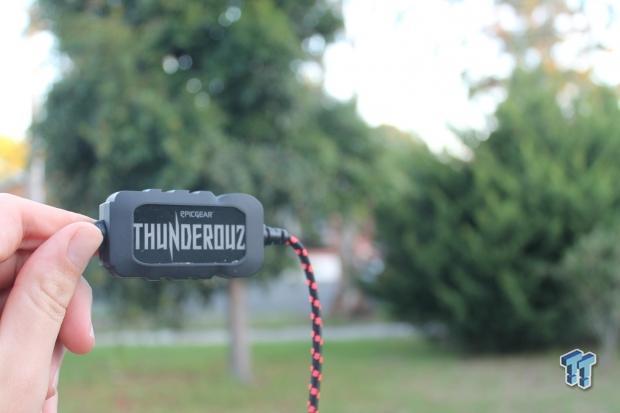 Complete with 50mm drivers, this headset offers a standard frequency response of 20Hz – 20KHz and sound is delivered thanks to a 3.5mm AUX jack connection. Also on offer is the USB connector which is used for lighting and the "EG-AMP mega sound enhancement" as seen on the box – something which we will cover later.
Unfortunately, Epic Gear doesn't list other driver related specifications for us to analyze, but given the frequency response, we can tell that it sits squarely in the middle of the gaming headset market. We do know that the microphone offers a standard 100Hz – 10KHz frequency response, picking up sound in a unidirectional pattern.
The microphone is further retractable and hangs around the over-ear earcup design while also being connected to an easily maneuverable boom and pivot swivel. The headband is also leather and of expanding bridge design, set to help mask the headsets weight which is a hefty 370 grams (excluding cable).
Providing a connection through a long 9.8 ft (3m) braided cable, this headset further offers a handy cable connection saver device (discussed later) and part of the internal headset cabling is routed externally to combat internal fraying.
The included in-line controls allow users to switch a quick equalizer between game and music settings, with it also offering a microphone mute slider and volume control wheel. As for color changing, this headset allows you to cycle or turn on and off the ambient lighting through the use of an on-headset touch button.
Pricing & Availability
The ThunderouZ is unreleased and will be available on the market for $79.99 excluding VAT from the 8th of February this year. Due to its design and pricing, it's considered in the middle to high-end of gaming headsets, matching with a plethora of market competitors.
Similarly priced products I have reviewed recently include the SteelSeries Siberia 200, the HyperX Cloud MAV special edition, and the G.Skill Ripjaws SV710 virtual 7.1. While all of these products are similarly priced, they offer a wide variety of different features and sound qualities, so let's see how this Epic Gear product matches up.
What's in the box?
Unfortunately, the plush design and cool features aren't backed up by an excellent set of accessories.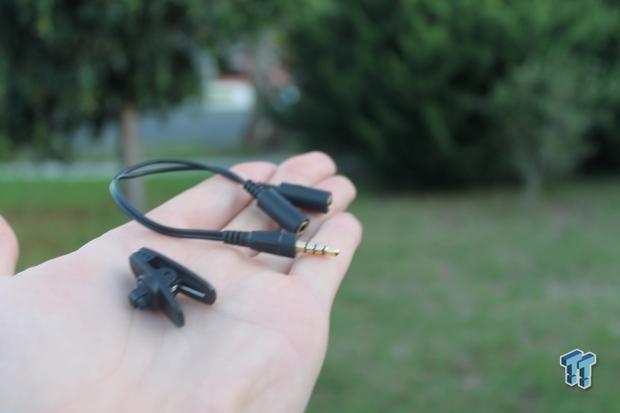 Provided in the box is the headset itself, a small cable clip to keep the massive 3m cable in line and a dual 2-ring 3.5mm AUX female to single 3-ringed male adapter. This adapter allows sound and microphone to travel through a single port for use on mobiles, Apple Mac's or other devices with only one AUX port to cover both jobs.
There's a well-written and easy to understand product sheet that explains how the USB connection, pre-set equalizer and touch-button lighting works, but that's about it. For $80+, I would expect some form of a carry case at a minimum. After all, it's an inexpensive tool that ensures you're able to keep the headset safe from bumps, bruises, scratches and dirt when on the move.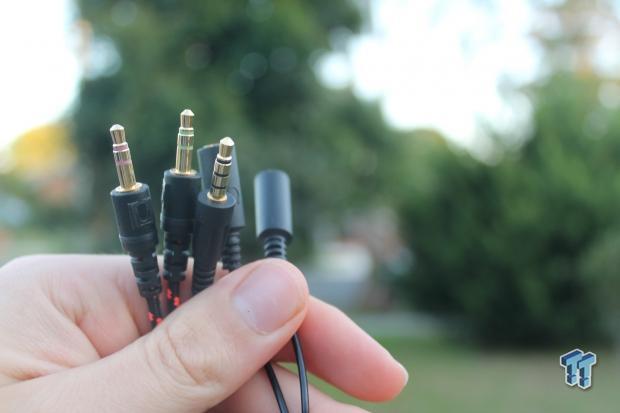 Let's dig deeper
The expanding bridge does its job well in regards to masking the weight of this product, providing you with a comfy experience when paired with the oversized plush over-ear earcups. While it will look a bit silly on the head of a younger gamer, the trade-off is superior comfort.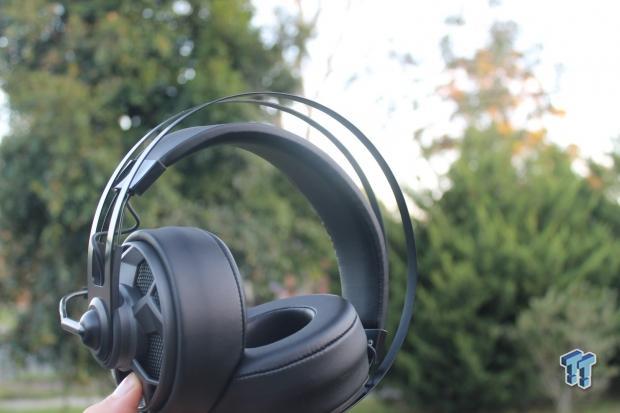 Another positive of this product when on your head is that of the microphone being easily maneuverable. Often companies will give you a rubber microphone boom that has a mind of its own and will never sit in the perfect spot, but the boom on this headset is slender, it's black and discreet, so it doesn't stand out, and can be moved to a perfect position each time.
The downside to this comfort comes in the form of heat. Warmer months will ensure hot ears, and sweating will commence, but the thick earcups will ensure there's a resemblance of passive noise cancelation due to the materials and structure used.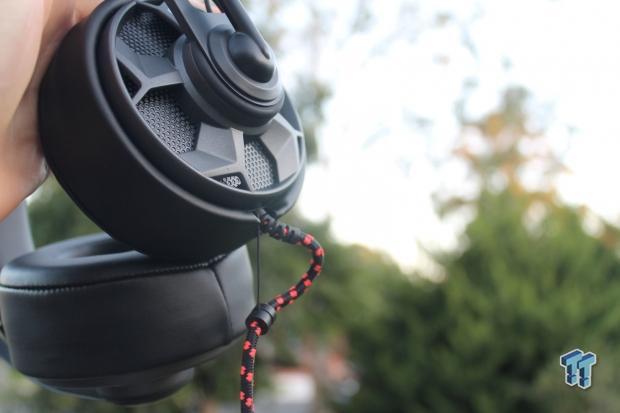 What impressed me was this neat little system to help prevent your cable from fraying. I haven't seen this used before, and it seems like a great system to ensure your device will last much longer. Paired with the commonly-seen option of the internal cabling being run externally to the earcups only, it should help prevent the all-too-common issue of internal cable fraying that plagues most brands.
The 3m cable is insanely long and comes with a handy Velcro strap to keep it tidy – which is great news for people like me who have a large desk and prefer their PC to be hidden on the floor. Using this product, there're no issues with having to use extensions, making your gaming or workspace harder to keep clean.
This headset is extremely comfortable, but that does come with a few downsides. While the expanding-bridge headband helps mask the weight, it's still going to cause concern for younger users in both the weight and sizing departments. Also, the earcups will become quite steamy in the warmer months. If you can put up with these issues, the headset is otherwise extremely comfortable and caused me no issues over long periods of use over a few rainy Melbourne summer days.
A Dota 2 analysis
I'll start off by saying this headset performed better than expected. I know it's not optimal to go into reviews without a clear mind, but with the sheer amount of companies deciding to have a crack at audio, sometimes you pick up a product feeling wary of what it may offer when in use.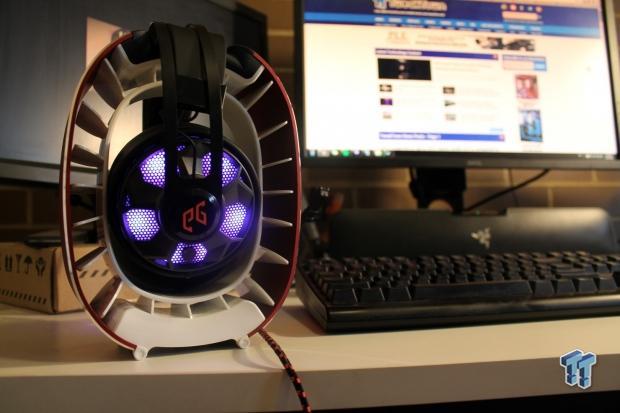 Dota 2 is my current game of choice, and I tested out this product while playing the heroes of Viper, Windranger, and Faceless Void – helping me get a large spectrum of sound options. During these sessions, I was also in Mumble (VOIP program) and blasting music through my Spotify Premium subscription.
The bass was what instantly stood out to me with this product; it was pronounced and helped with a 'cinematic' feel to the game (not 30 frames, Ubisoft), however, at times, it became quite overpowering when many 'ultimate' abilities were being thrown into the ring at once. Pairing this with screaming people in Mumble and a trap mix I was currently listening to, it became an overwhelming experience of messy sound.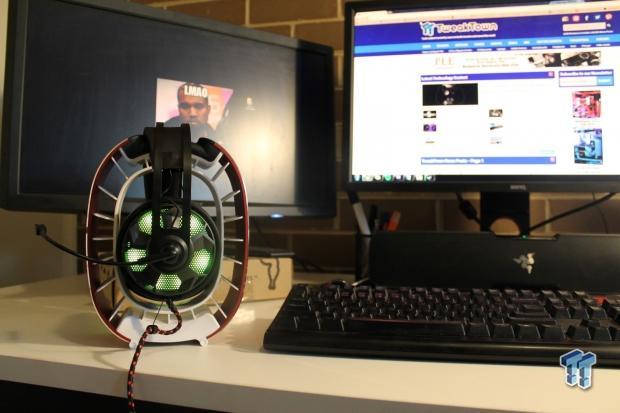 The extra bass doesn't signal a bad headset instantly, but it's worth noting that it can overpower things at times. Overpowering bass is extremely common in gaming headsets and even more so in console models. I found that switching the equalizer to 'game' mode helped a little with the clarity in these situations, with the ThunderouZ offering a satisfactory experience for the price.
The microphone performed well and didn't pick up my dog barking outside when playing, which is a positive. In Mumble there wasn't a noticeable difference between this microphone and others I have rated well like the HyperX Cloud II.
Moving to the music side of things, I tried out a wide range of tracks to test what this headset had to offer. A gaming headset realistically has to offer all all-rounder experience, tackling things like VOIP programs, games, movies, and music alike. Epic Gear has paid testament to this through offering its music and game equalizer settings, assisting with my testing process.
A distinct lack of top-end clarity came out when listening to some quieter tracks, with high-pitched noises being muffled and washed out by bass in some cases. The bass was certainly present and not over-driven, which is a massive plus to the Epic Gear R&D department in that aspect. Often gaming headsets will offer a tuned up bass product that isn't able to be handled by the cheaper drivers, making for distortion and a deteriorated gaming experience. Epic Gear doesn't offer an audiophile experience, but it doesn't promise that either. The ThunderouZ does what it should and does it comparatively well.
Don't take what I'm saying as a solely negative piece about an $80 headset not matching my few-hundred dollar Feenix Aria headphones from a previous review. The point I'm trying to make is that it performs well for its price, but you have to be aware that for $80, you're going to have to compromise on some sound quality. In this case, it's the upper-end of the sound spectrum that falls short, which is fine for many consumers looking to play single player games, listen to pop radio, or watch a few movies.
Some of the music I tested this product with included:
What's Hot
It's plush: The large leather earcups and expanding bridge make for a comforting experience.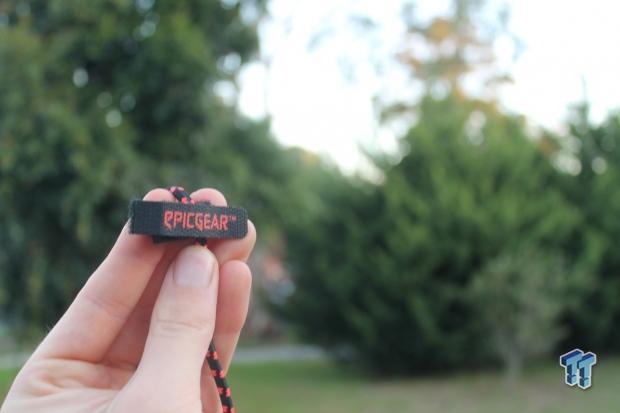 The features for the price: It matches similarly-priced headsets in specifications and offers some advanced features - Epic Gear gets a green tick in this department.
Great microphone: It's not often that I'll rave about the microphone design, but the way it's designed and hides from your vision is great for getting past teething issues when first trying the product.
The cabling: There are quite a few positives here: the adaptor, an extremely long cable, an easy way to keep the cable neat and USB being optional – all winning factors!
What's Not
Overpowering bass: While the bass will often sound great in single player FPS titles, when you're mixing in crucial sound observation, music, and VOIP programs, it starts to become a muddled mess of sound.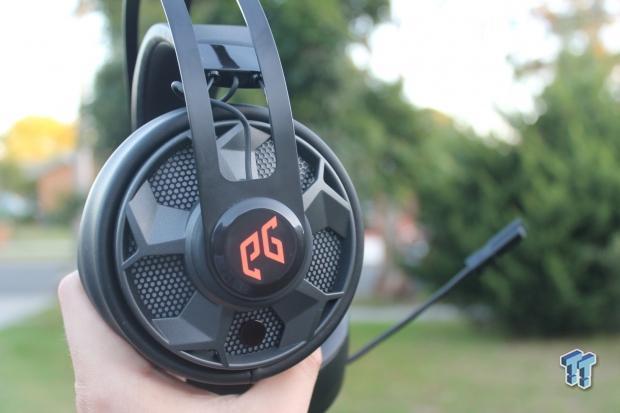 It's a bit warm in here: The massive over-ear plush leather earcups will make for a sweaty experience in hot climates, but it's a good thing it's easy to clean.
Accessories: They've gone AWOL - Epic Gear should, at a minimum, throw in a carry pouch.
Final Thoughts
While offering punchy and respectable bass coupled with a comfortable design and great microphone, this headset falls in a few areas including heat management and powerful bass-heavy tuning.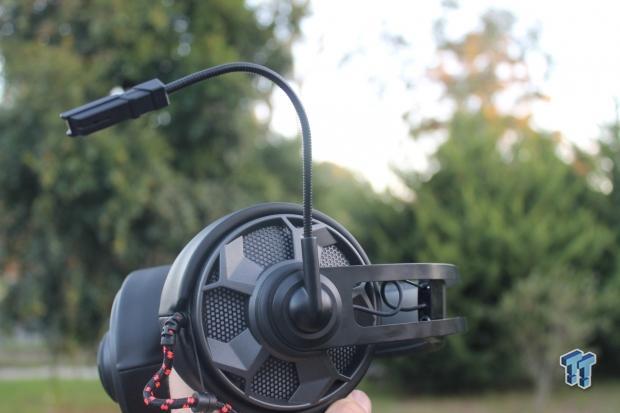 Overall, the ThunderouZ provides quality features and a decent design for the same price when compared to other headsets at its price point. While not a clear winner in the gaming sector, I would suggest picking up this headset if you're looking for something that has the extra looks and feel that you're after. If you're looking for something simple and refined, this isn't the product for you.
Epic Gear has proven that it can make a quality gaming headset with this product, showing that its research and development team has paid some great attention to detail and will continue to improve on future models. There's some great upsides and downsides on offer here; I'm quite excited to see what Epic Gear develops next, but this is an excellent beginning with some good features.
Chris' Test System Specifications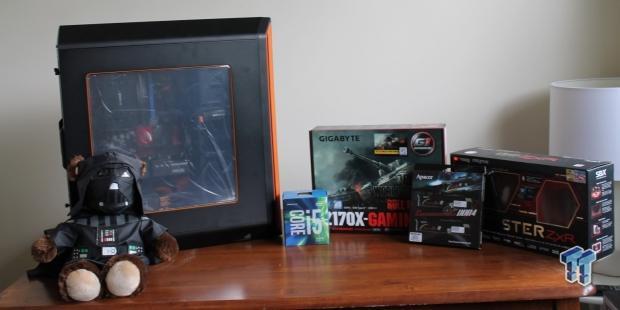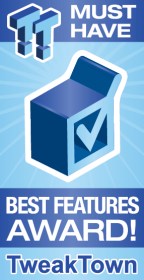 | | |
| --- | --- |
| Performance | 85% |
| Quality including Design and Build | 90% |
| General Features | 94% |
| Bundle and Packaging | 75% |
| Value for Money | 90% |
The Bottom Line: The great features and reasonable price tag is sometimes let down by overpowering bass and a lacklustre list of accessories, but Epic Gear's ThunderouZ gaming headset is still worthy of consideration.
PRICING: You can find products similar to this one for sale below.

United States: Find other tech and computer products like this over at Amazon.com

United Kingdom: Find other tech and computer products like this over at Amazon.co.uk

Australia: Find other tech and computer products like this over at Amazon.com.au

Canada: Find other tech and computer products like this over at Amazon.ca

Deutschland: Finde andere Technik- und Computerprodukte wie dieses auf Amazon.de
We openly invite the companies who provide us with review samples / who are mentioned or discussed to express their opinion. If any company representative wishes to respond, we will publish the response here. Please contact us if you wish to respond.