TweakTown's Rating: 88%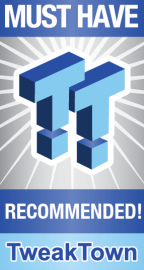 The Bottom Line
The Corsair HS80 MAX Wireless features a warm and detailed out-of-the-box sound that comes alive when paired with the excellent iCue software and tools like SoundID. And, it's great when paired with a PS5.
Pros
+

Impressive out-of-the-box sound

+

Excellent iCue integration and customization options

+

SoundID is a great tool

+

Impressive microphone and NVIDIA Broadcast features

+

The battery will last you a week, easy
Cons
-

Fabric cushions are prone to audio bleed

-

Some fatigue after long gaming sessions
Should you buy it?
Avoid
Consider
Shortlist
Buy
Introduction & Specification Details and Close-up
Versatility is admirable for a wireless gaming headset, especially one with a USD 179.99 price point - as seen with the Corsair HS80 MAX WIRELESS Gaming Headset reviewed here. The Corsair HS80 MAX WIRELESS retains some of the stylish headset design language we've seen from Corsair over the years while aiming to excel in that one area the company has been focusing on with its peripherals - gaming.
The physical design and versatility of a gaming headset can often clue you in on some of its aspirations - is the microphone detachable, can the headset fold for easy transportation, does it double as a Bluetooth headset for on-the-go or at-home media consumption across multiple devices. Is it compatible with gaming consoles on top of PC and Mac? The Corsair HS80 MAX WIRELESS doesn't tick all these boxes because it's designed purely for at-home gaming.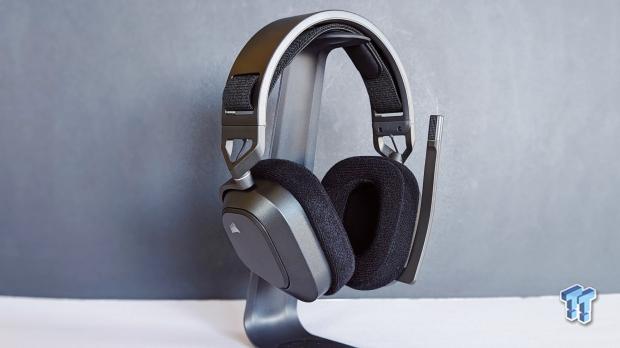 From the comfortable, breathable fabric cushions to the sturdy microphone that tilts but doesn't detach to the warm and wide soundstage and low-latency wireless that works without interruption even if you're a room or two from the receiver. Add excellent software support via Corsair's iCue platform, including a SoundID mode to customize the tuning to suit your equalizer preferences, and the Corsair HS80 MAX WIRELESS is exceptionally well-designed.
With the sheer number of wireless gaming headset options out there, there's often not a lot that separates a good option from a great one, so the good news here is that when it comes to sound quality, chat quality, and overall customization options across PC, Mac, and PlayStation consoles - the Corsair HS80 MAX WIRELESS is impressive.
Specifications & Close Up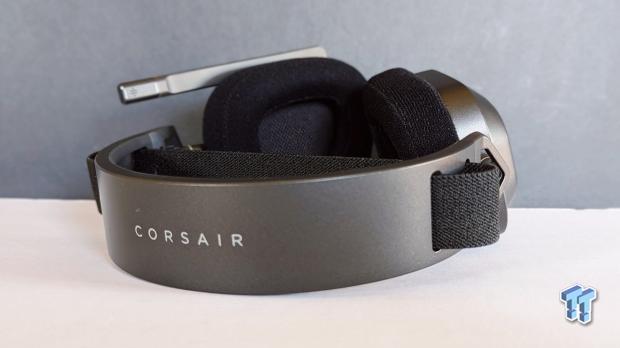 Product Type: Wireless Gaming Headset
Product Name: Corsair HS80 MAX WIRELESS Gaming Headset
Interface: 2.4 GHz Wireless
Wireless Range: Up to 50ft (15 meters)
Battery Life: Up to: 24 hours (with RGB), 65 hours (w/o RGB), 130 hours (Bluetooth)
Compatibility: PC, Mac, PS5, PS4
Drivers: 50mm
Headphones Frequency Response: 20 - 20,000 Hz
Microphone Pick-up Pattern: Omni-Directional
Microphone Frequency Response: 100 - 10,000 Hz
Spatial Audio: Dolby Atmos
Cable: 3.5mm
Weight: ~ 350 grams
What's In the Box: CORSAIR HS80 MAX WIRELESS Headset, Wireless USB Receiver, USB Charging Cable (1.8m), Safety Leaflet, Warranty card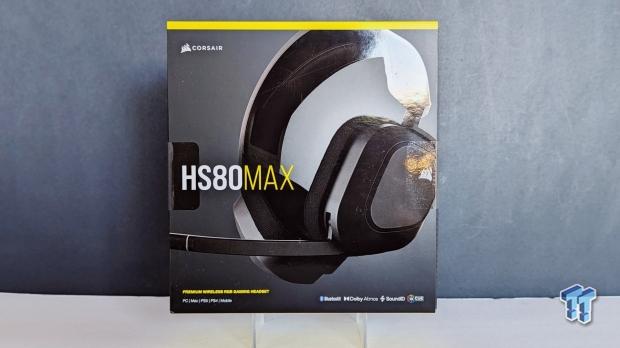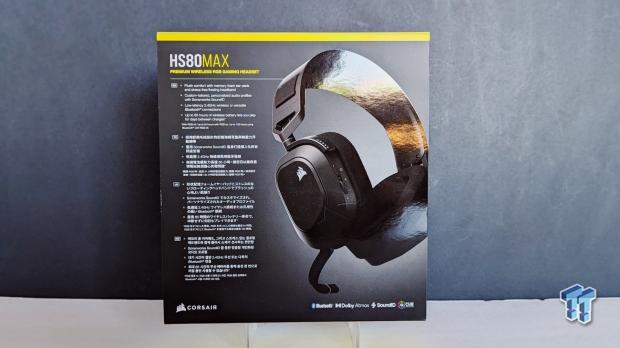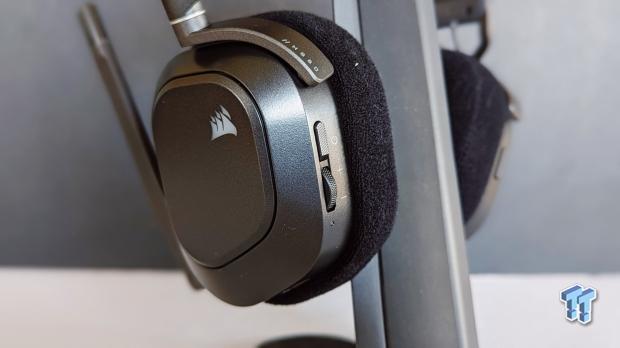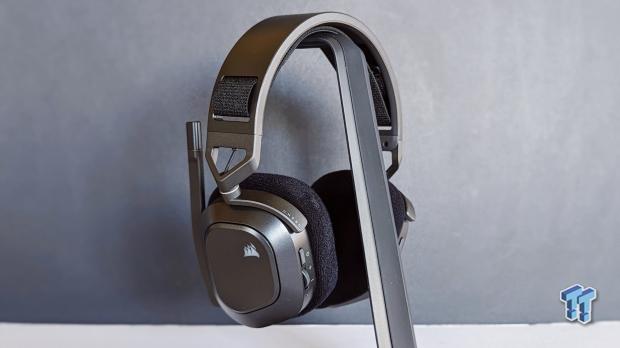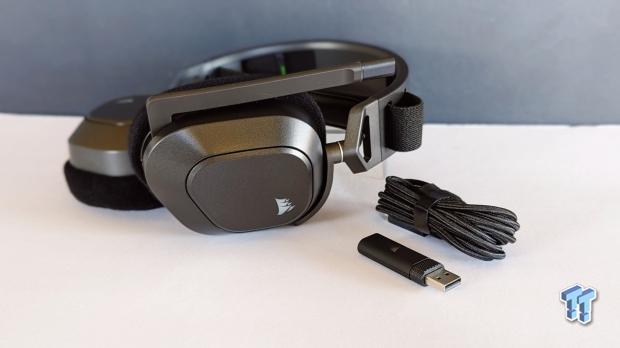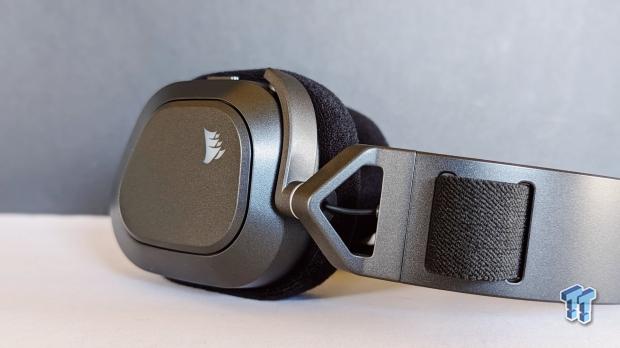 Kosta's Test System Specifications
Motherboard: MSI MPG X670E Carbon Wi-Fi
CPU: AMD Ryzen 9 7900X
GPU: NVIDIA GeForce RTX 4090 Founders Edition
Cooler: Corsair iCUE H100i RGB PRO XT Liquid CPU Cooler
RAM: 64GB (2x32GB) Corsair DOMINATOR PLATINUM RGB DDR5 DRAM 5200MHz
SSD: Sabrent Rocket 4 Plus-G M.2 PCIe Gen 4 SSD 4TB, Sabrent Rocket 4 Plus Plus M.2 PCIe Gen 4 SSD 8TB
Power Supply: Thermaltake Toughpower GF1 850W
Case: Thermaltake Core P3 Tempered Glass Snow
OS: Microsoft Windows 11 Pro 64-bit
Design & Software and Support
Design
Corsair products have a unique identity, like peripherals from companies like Logitech or Razer. There's a similar design language seen across various types of hardware. When it comes to Corsair headsets, this is best exemplified by the angular cup shape and a design choice to go for soft fabric cushions designed for breathability. There are differences, of course, and for the Corsair HS80 MAX WIRELESS, the result is a robust aluminum-reinforced frame with a floating adjustable ski band that keeps the pressure off the top of your head.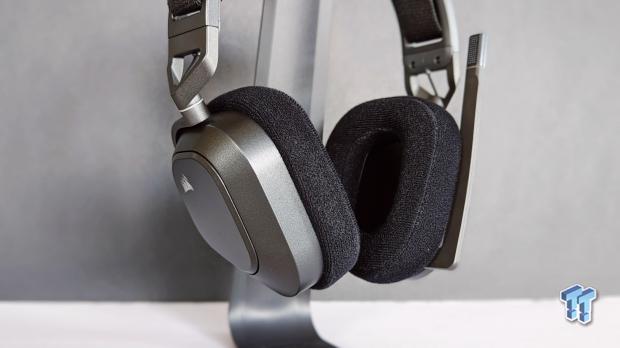 The Corsair HS80 MAX WIRELESS is immediately comfortable, though weighing in at around 350 grams, there is some noticeable fatigue after long gaming sessions. Nothing that you would consider a game changer, but in the age of ultralight everything, it's one area where Corsair could make some improvements.
On the plus side, the physical controls are all intuitive, with an easy-to-reach and prominent volume dial, power button, and Bluetooth button on the right cup. Muting is handled by tilting the microphone up, with charging handled via the USB-C port. One of the Corsair HS80 MAX WIRELESS's most impressive features is the battery life, up to 65 hours with RGB turned off and up to 130 hours for Bluetooth. RGB is limited to the Corsair logo on each earcup, so you're not losing much by switching to long-lasting battery mode.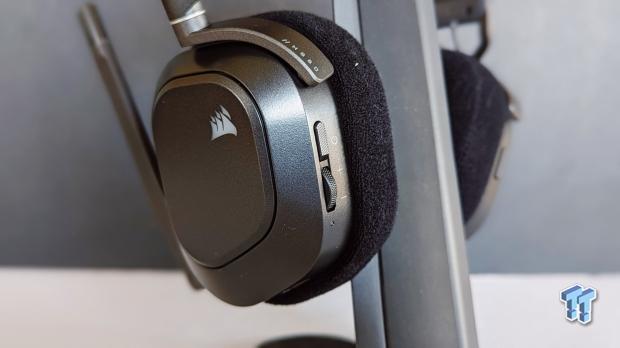 The low-latency wireless of the Corsair HS80 MAX WIRELESS is impressively strong, too; it works from up to 50 feet or 15 meters from the receiver - but you are limited to one signal at a time. That is, the headset switches from wireless to Bluetooth mode. No dual wireless functionality is a shame, as that's becoming a feature we've been seeing more and more of recently.
Audio-wise, you've got a pair of 50mm drivers with a frequency response that is fairly standard in the gaming headset space. The default tuning applied by Corsair (which you can experience via the headset's 'Pure Direct' mode) is warm, crisp, detailed, and generally well-balanced and neutral. It's a great out-of-the-box sound that you can further adjust through software. The good news is if you're listening to music or watching a movie, there's very little adjustment required.
Software and Support
As with all Corsair hardware, all Corsair HS80 MAX WIRELESS customization (alongside firmware updating for both the headset and the USB Receiver) is done via the company's iCue platform. Thanks to a recent overhaul, iCue is in a great state in 2023, with a modular design that only installs the components and tools you need. With that, the Corsair HS80 MAX WIRELESS gets its dedicated interface that features a well-thought-out and intuitive UI.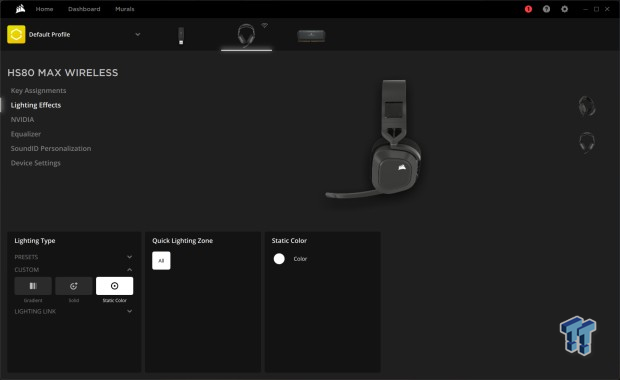 The stuff you expect to find is all here, from being able to adjust the lighting to a detailed 10-band equalizer that also features a more in-depth pro mode. Basic microphone settings cover sidetone and overall volume, but this extends to powerful AI tools with NVIDIA Broadcast integration. The downside is that for noise cancellation and other RTX tools, you'll need a GeForce RTX GPU installed on your PC. As I've recently been reviewing Radeon RX 7800 XT cards, these advanced chat tools aren't available on non-GeForce rigs.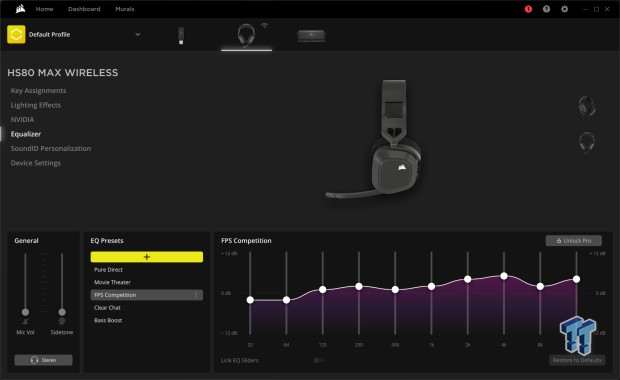 One cool feature worth highlighting is the SoundID option that gets you to interact with several tone and volume tests and then simple A and B options to figure out what sort of sound you prefer. There's even a musical genre choice in there, with the overall outcome being a custom EQ and dynamic soundstage profile customized to what you like. It's impressive because my result of a warm and wide sound was exactly the preset I'd choose.
Separate from iCue, the Corsair HS80 MAX WIRELESS is supported by the Dolby Atmos app for impressive spatial audio. And with full PlayStation 5 compatibility, it sounds great with Sony's Tempest 3D Audio, too.
Performance & Microphone
Performance
Looking at the Corsair HS80 MAX WIRELESS's gaming performance on PC, with Diablo IV, Starfield, and Cyberpunk 2077, the clarity of the bass and mid-range detail is the most impressive part of the overall experience. Even with Diablo IV's chaotic action when running through a dungeon, the music and ambient sound effects are always present - adding to the immersion of the dark and gothic setting.
It was a similar situation with Starfield's subtle soundtrack, though the crispness of the high-end frequencies does impact some of the depth of vocals - however, only slightly.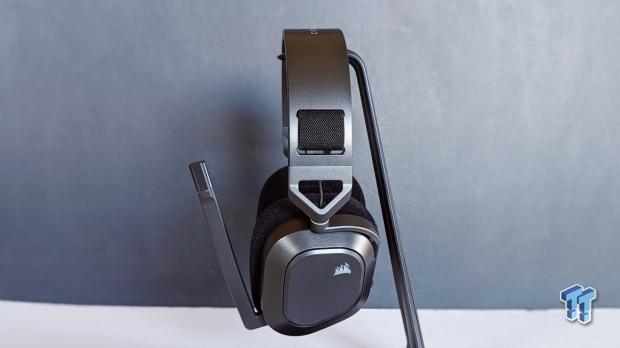 The overall warm sound profile and tuning of the Corsair HS80 MAX WIRELESS is surprisingly decent for competitive games. However, iCue's FPS preset does the trick if you want to lower the bass and emphasize things like footsteps.
Switching to the PlayStation 5 and firing up Assassin's Creed Mirage, the Corsair HS80 MAX WIRELESS works extremely well with Sony's spatial audio on the console. The stereo separation and positional audio can lead to different results depending on the headset connected, but the result is great with the Corsair HS80 MAX.
Microphone
The Corsair HS80 MAX WIRELESS's microphone might not hit broadcast quality levels regarding sound quality. Still, it delivers consistently clear and detailed chat quality thanks to the high-quality microphone included. It's good enough for entry-level content creation or simply jumping into apps like Discord to chat with friends realistically. On-ear microphones tend to be hit-and-miss when it comes to capturing vocal detail without distortion or other artifacts, and the Corsair HS80 MAX WIRELESS is a hit in this regard.
On PC, the addition of RTX Broadcast tools is great for noise suppression, which doubles as a great way to cut out the noticeable sound bleed (a byproduct of the open fabric cushions on the ear cups) if the volume is too high.
Final Thoughts
With its USD 179.99 price point, the Corsair HS80 MAX WIRELESS is priced slightly higher than some wireless gaming headsets in its class. Still, it's got several excellent features that help make it feel every bit like the premium product that it is, from the long-lasting battery to the robust build quality to the excellent iCue software and customization support that extends to NVIDIA Broadcast tech, Dolby Atmos, and Sony's impressive spatial audio on the PlayStation 5.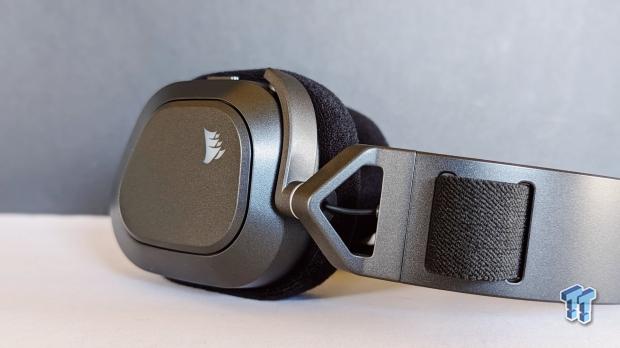 Choosing the right headset is difficult because you're picking up something that will deliver a crucial part of your gaming for the foreseeable future - audio. If you're on a PC and already using Corsair products, then the Corsair HS80 MAX WIRELESS is an easy recommendation. It's also a great choice for those looking for something to pair with their PlayStation 5. It's not perfect; the seal is prone to audio bleed at high volume, and not having a dual wireless mode feels like a missed opportunity in 2023. But the sound is warm, balanced, and crisp enough to deliver a great gaming, music, and movie experience. Plus, customization features like SoundID are the sort of thing we'd love to see more of.