TweakTown's Rating: 78%
The Bottom Line
The RIG 600 PRO HS features a great Dual-Wireless 2.4 GHz and Bluetooth mode for its price range and is lightweight and comfortable to wear. Ultimately, the sound quality, balance, and a few other issues hold it back from delivering on all fronts.
Pros
+

2.4 GHz wireless and Bluetooth

+

Using a responsive Android app to customize the headset is great

+

Dolby Atmos delivers immersive game audio

+

You can game and still take phone calls

+

Lightweight and comfortable
Cons
-

Out-of-the-box sound is overly bassy and crisp on the highs

-

Equalizer presets are all bad

-

The app could use more features and customization options

-

Microphone placement and quality could be improved
Should you buy it?
Avoid
Consider
Shortlist
Buy
Introduction & Specification Details and Close-up
Nacon's RIG series of headsets have been popular amongst gamers for years, building a reputation for delivering high-quality wireless audio with comfort at a relatively affordable price. Across console gaming and PC, several different RIG headsets have been released - and although some are better than others, the brand's visual identity has remained consistent. That is, a rugged and very 'gamer-like' design that is angular and bold - yet still comfortable and in no way obtrusive once placed on your head.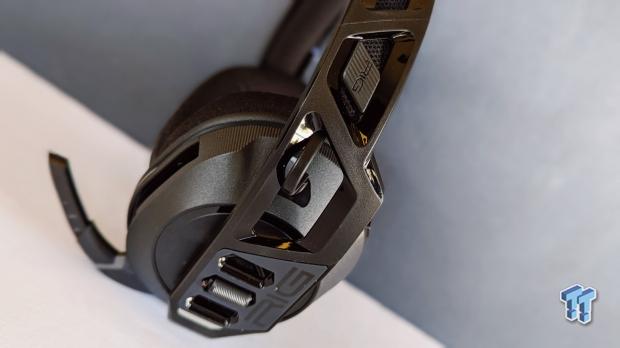 Whenever a brand has multiple SKUs, these often hit various price points, and it's always interesting to see what features are added, removed, or altered to accommodate a certain MSRP. This is especially true in the audio space, as generally better-sounding audio requires higher quality and more expensive components. The new RIG 600 PRO HS wireless gaming headset reviewed here (Xbox gamers must check out the HX model) falls into the competitive $100 sweet spot with its MSRP of USD 99.90.
Sporting a very lightweight and flexible build, one of the biggest differences for the new RIG 600 PRO HS is the inclusion of dual-device support - that is, the ability to connect to a device over low-latency 2.4 GHz wireless while also connecting to a secondary device (namely a smartphone) via Bluetooth 5.1. Nacon, the company behind the RIG lineup, calls it Dual Wireless - and it's a key part of the RIG 600 PRO HS design, going beyond simply being there to let you game and still be able to receive phone calls.
So much so that all customization is handled via an external iOS and Android app. Not having a dedicated PC app always makes me skeptical, but the good news is that the RIG 600 PRO Navigator app is responsive and has a few nice features - let's dig in.
Specifications & Close Up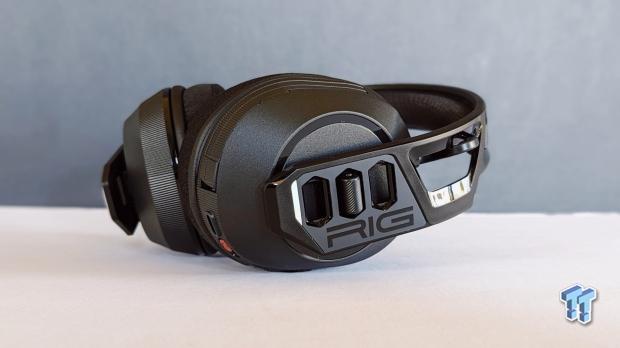 Product Type: Wireless Gaming Headset
Product Name: Nacon RIG 600 PRO HS
Interface: Bluetooth, USB dongle, Detachable USB-C/USB cable
Compatibility: PS4, PS5, Windows, Nintendo Switch, Android, iOS
Form Factor: Over Ear Closed
Drivers: 40mm
Headphones Frequency Response: 20 - 20,000 Hz
Microphone Frequency: 100 - 10,000 Hz
Surround: Dolby Atmos for Headphones
Cable: USB-C charging
Weight: ~ 240 grams
Battery Life: 18 - 24 hours
In the Box: Nacon RIG 600 PRO HS, USB-C Dongle, USB-C to USB-A Adapter, USB Charge Cable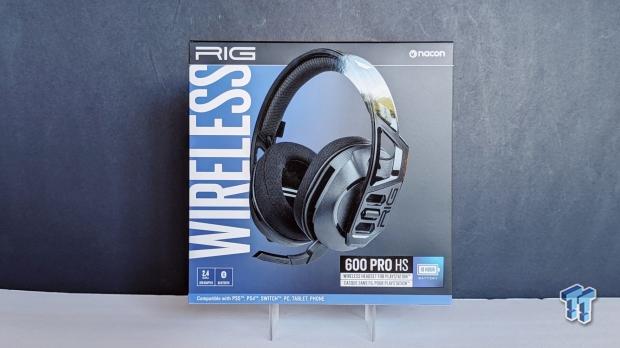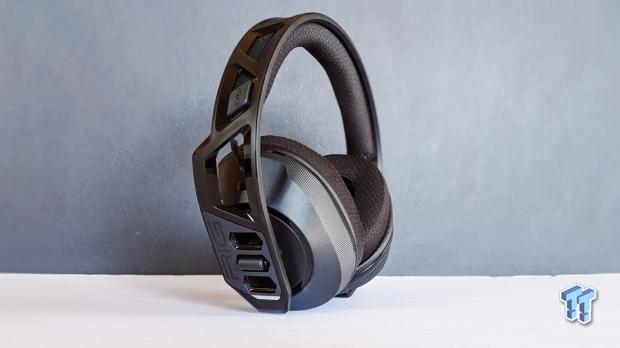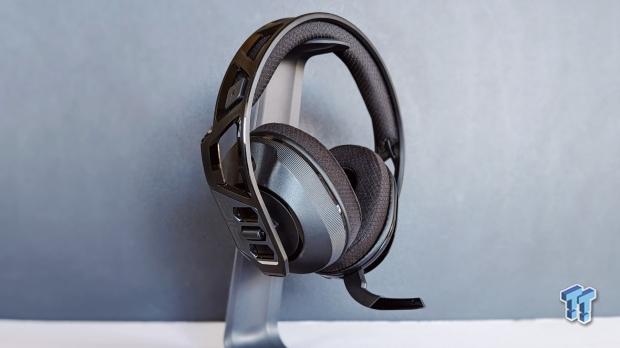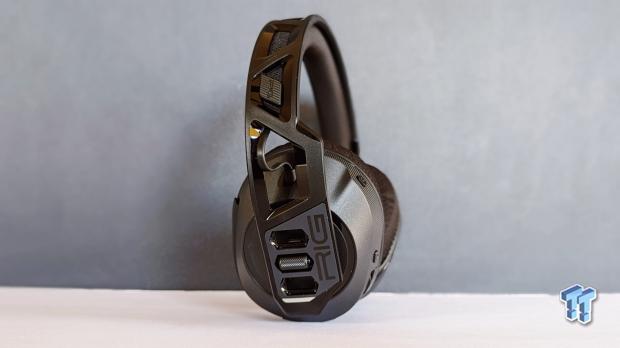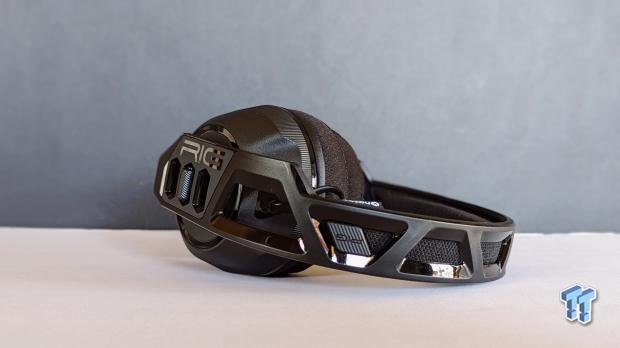 Kosta's Test System Specifications
Motherboard: MSI MPG X670E Carbon Wi-Fi
CPU: AMD Ryzen 9 7900X
GPU: NVIDIA GeForce RTX 4090 Founders Edition
Cooler: Corsair iCUE H100i RGB PRO XT Liquid CPU Cooler
RAM: 64GB (2x32GB) Corsair DOMINATOR PLATINUM RGB DDR5 DRAM 5200MHz
SSD: Sabrent Rocket 4 Plus-G M.2 PCIe Gen 4 SSD 4TB, Sabrent Rocket 4 Plus Plus M.2 PCIe Gen 4 SSD 8TB
Power Supply: Thermaltake Toughpower GF1 850W
Case: Thermaltake Core P3 Tempered Glass Snow
OS: Microsoft Windows 11 Pro 64-bit
Design & Software and Support
Design
Weighing 240 grams, the new RIG 600 PRO HS is one of the lightest wireless gaming headsets I've tested in a long time. One of the by-products of going ultralight, besides reducing the overall fatigue placed on your head, is that it highlights the plastic build relatively negatively. However, mostly in a cosmetic sense, the RIG 600 PRO HS is extremely flexible and durable enough to bend and twist without warping. That said, the ear cups do feel a little cheap.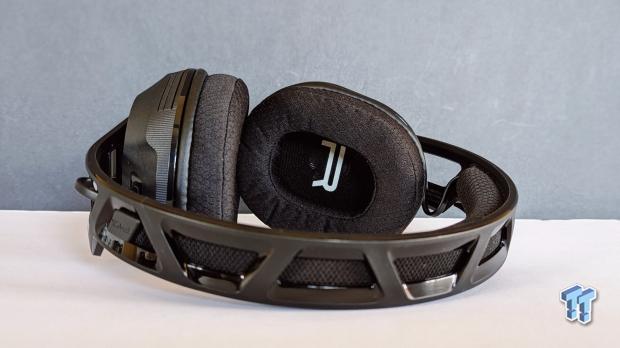 One of the more unique design touches on the RIG 600 PRO HS is the fact that the ear cups are semi-detachable (but still connected via cable), and they can slot into one of three spots - which acts as the headset's 'adjustable headband' to alter the fit. It's not as precise as the traditional metallic headband approach, but it's a commendable solution for an all-in-one flexible headband. On the left ear cup, you'll find the on-board controls and the flip-up microphone that sits in a fixed position quite a distance from your mouth.
That said, it still picks up your voice, and without a built-in microphone, you'll need to flip it down every time you get a call in Bluetooth mode. Some headsets with a dual wireless approach like this (as it's often a premium feature) include built-in and detachable/flippable styles.
The left earcup is where you'll find a volume dial, a button to switch between Game (no Bluetooth), Dual (2.4 GHz and Bluetooth), or Bluetooth modes, and a context-sensitive button that can answer calls or mute audio.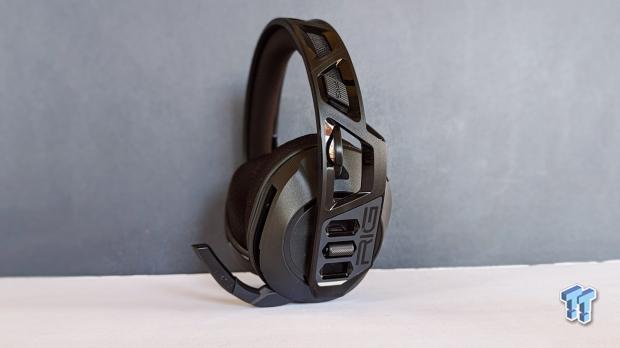 With breathable fabric cushions, the RIG 600 is comfortable. It can be worn for hours without fatigue (thanks in part to the ultralight construction), and setup with the RIG 600 PRO Navigator app is fairly intuitive and quick after pairing with your smartphone (in this case, my Google Pixel 6 Pro).
As for the heart of the headset, the audio drivers, the 40mm ones delivered here, deliver a powerful bass response and crisp highs - though the tuning is weighted in a way that both can sound overly present and a little unnatural. It's fine for gaming (and bolstered by the Dolby Atmos surround) but not so great for listening to music; more later.
Software and Support
Outside of the Dolby Access for Dolby Atmos for Headphones access on Windows, all customization, including the updating of firmware, is handled via the Android and iOS RIG 600 PRO Navigator app - which means if you want to make adjustments to the sound profile while connected to your PC or PS5 via the wireless USB-C dongle you'll need to be in Dual Mode with Bluetooth enabled and fire up the app. This means, like me, you'll leave the RIG 600 PRO HS in Dual Mode to avoid the hassle - and with that, live with the reduced battery life of around 18 hours.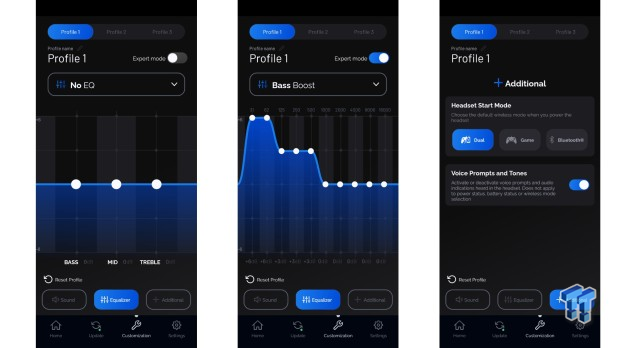 The RIG 600 PRO Navigator app is clean and simple to use, with a landing page giving you a readout of how much battery is left alongside access to the update, customization, and settings pages. Across the top of the screen, you'll see three profile options you can quickly and seamlessly switch between. The fact that the app is responsive is a big plus for the RIG 600 PRO HS, though the depth of what's on offer is a little limited.
In the customization section, you've got settings for the microphone, an equalizer to adjust the sound profile, and the ability to switch between the Game, Dual, or Bluetooth modes without having to fumble while trying to find the tiny button.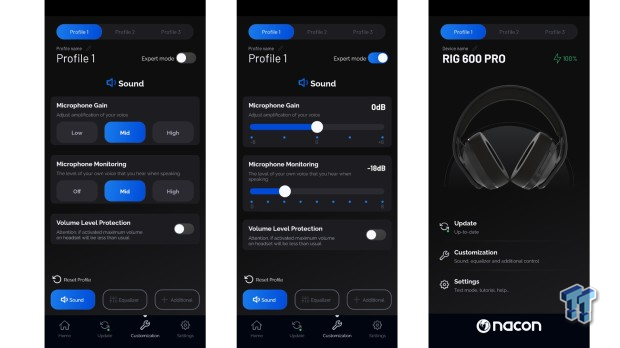 The microphone or 'Sound' customization and the equalizer can be viewed in default or 'Expert' modes - with the latter simply assuming you know what a decibel is. The equalizer, which switches from three to ten bands in Expert, is the biggest letdown, as all the presets are terrible. There's no nuance; Bass Boost pushes the low-end to the extreme, FPS does the same for high-end frequencies, and Voice Boost pushes the mid-range to the max. It's disappointing because the default tuning is overly generous regarding bass and treble, so creating a custom (and there's only room for one) profile is a must.
Performance & Microphone
Performance
Compatible with PlayStation consoles, PCs, and mobile devices, the RIG 600 PRO HS is versatile and then some - especially when you factor in the dual wireless and Bluetooth functionality. Although the out-of-the-box sound is a little off when it comes to listening to music (and you'll need to create a custom preset for it to start sounding a lot more balanced) - the gaming audio chops are here on PC with Dolby Atmos for Headphones and on the PS5 with Sony's Tempest 3D Audio surround.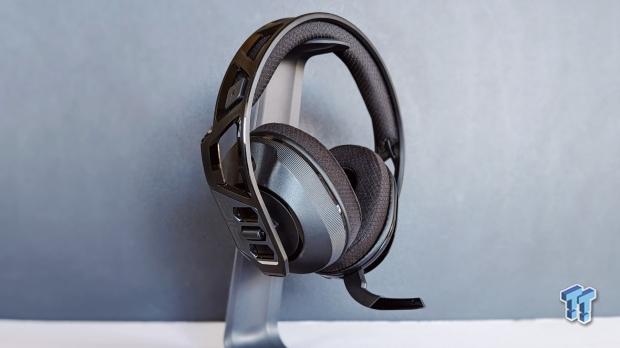 Testing out a number of titles, including Diablo IV and Starfield on PC, The Last of Us Part II, and Marvel's Spider-Man Remastered on the PS5, the overall tuning begins to make a lot more sense. Perhaps my biggest issue is that the deep and often impressive bass response sounds like a separate channel as opposed to a part of a single sound, which is great for cinematic action adventures and dungeon crawlers with all manner of spells and abilities firing. It's punchy and crisp but not entirely nuanced and as detailed as what you'd find with a more premium headset.
Microphone
With the microphone sitting relatively far from your mouth, there can be issues with the overall pick-up that can require adding some gain - which, when paired with noise cancellation, can make you sound a little flat. The microphone quality is fine and serviceable for an in-game chat or jumping into a Zoom call or meeting - but nowhere near something you'd stream or record with. We were not expecting that from the RIG 600 PRO HS, but there's definite room for improvement on the chat side.
Final Thoughts
The RIG 600 PRO HS is priced right, and the Dual-Wireless mode with Bluetooth adds features and functionality to what could have otherwise been a fairly standard wireless gaming headset. It's also lightweight and comfortable for an extended gaming session. It's got a few quirks and drawbacks, though, from the poor Equalizer and presets to the sound not hitting the sort of balance that would make it more versatile than a straight-up gaming audio headset. Also, in Dual-Mode, it's limited to notification and phone call audio - with no way to listen to something on your phone while also getting audio from your PC or PlayStation.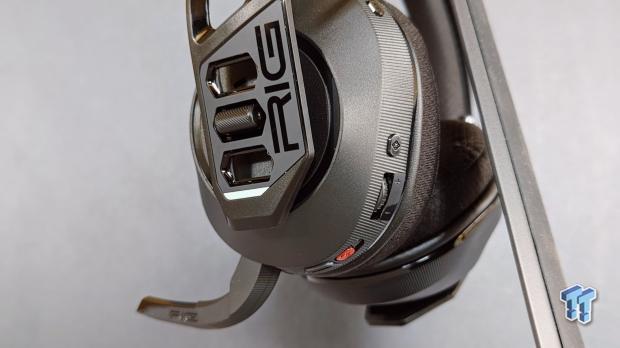 In the end, after spending some considerable time with the RIH 600 PRO HS, I got used to using the responsive RIG 600 PRO Navigator app to make minor adjustments to the sound - to the point where I was glad that I didn't have to install yet another Windows app controlling another piece of gear connected to my, well, rig. And regarding rigs, the RIG 600 PRO HS is a solid and affordable wireless gaming headset, quirks and all.