Kingston HyperX Cloud MAV Edition Gaming Headset Review
Kingston HyperX has spruced up its Cloud headset with the MAV Edition, re-releasing it with some cool extras and a specialty design. Let's take a look.
Published Jan 13, 2016 9:22 PM CST
|
Updated Tue, Nov 3 2020 6:58 PM CST
6 minute read time
TweakTown's Rating: 92%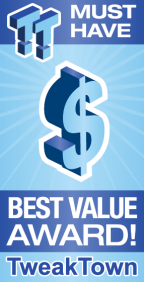 The Bottom Line
Kingston's HyperX Cloud MAV presents itself as another fantastic all-round gaming headset. If you're looking for a great range of accessories and 3.5mm connections for $80, look no further.
Introduction
After reviewing and loving the Kingston HyperX Cloud, Cloud II and the baby Cloud Core editions, this RAM and SSD tech giant has sent along another edition in the cloud family, the Cloud Core MAV Edition.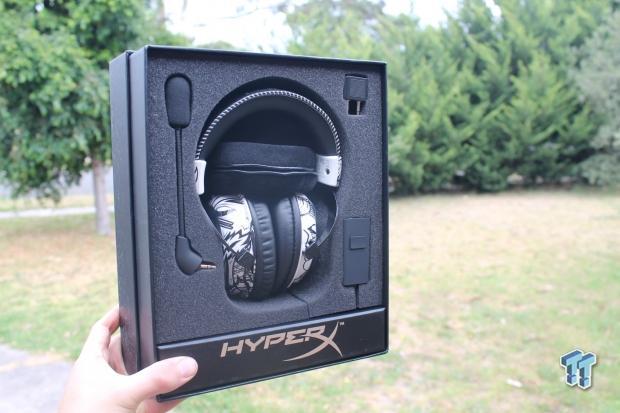 Mav is short for Maverick, and he's a specialty artist, the HyperX crew told me at PAX Australia 2015. Apparently he's known for creating unique freestyle art, and it seems that Kingston has decided to utilize his services by throwing it onto a HyperX Cloud I/II hybrid model. If you're looking for something a little different in aesthetics while still being comfortable and sounding good, maybe this headset is for you.
While we've already reviewed a few of the Cloud Series, each time they've offered us a tailored package to suit different needs and budgets, so let's dive straight in and check out what the MAV freestyle edition has to offer.
Specifications
As explained previously, this headset is a Cloud I and II hybrid, meaning that the MAV comes packed with a 3.5mm in-line control unit, not the virtual USB 7.1 sound card as seen with the Cloud II. The control unit, while not improving the sound, comes packed with a long extension cable, sound adjustment dial and the ability to mute or power on your microphone.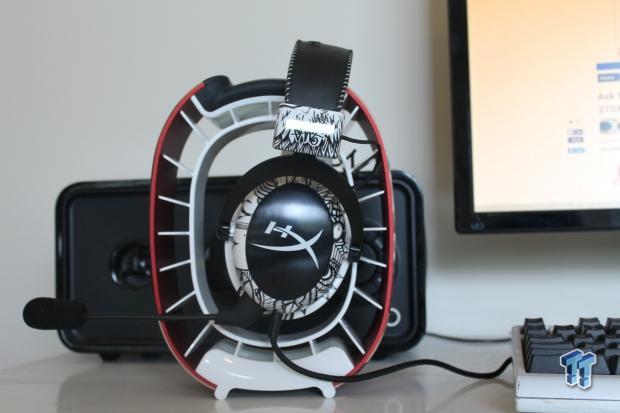 Once again packing 53mm drivers like the Cloud and Cloud II, this model offers up a frequency response of 15Hz – 25000 Hz, an impedance of 60 Ohm and an SPL of 98 +/- 3dB. It connects to your PC via two 3.5mm audio jacks (one for mic and one for sound) and does so through a tough braided cable.
The detachable microphone has a Cloud I-matching frequency response of 100 – 12,000 Hz, connecting to your headset through a detachable 3.5mm plug. While it is detachable as per the Cloud II, it carries the elongated (semi-circular) fluffy pop filter as per the Cloud I.
The headset weighs in at 350 grams overall, which is fairly decent given the aluminum frame, but coming in a big heavier than cheaper budget headsets (under $60).
Pricing & Availability
The Cloud MAV is available from Amazon for $79.99 with free shipping, and this marks the MAV as in the ballpark price range of the Razer Kraken and the Plantronics RIG.
What's in the box?
Kingston HyperX has done an excellent job here once again with the accessories on offer. The plush carry bag contains plenty enough room to throw in your headset and accessories, or even my whole Canon EOS 1100D DSLR camera plus 18-55mm stock lens.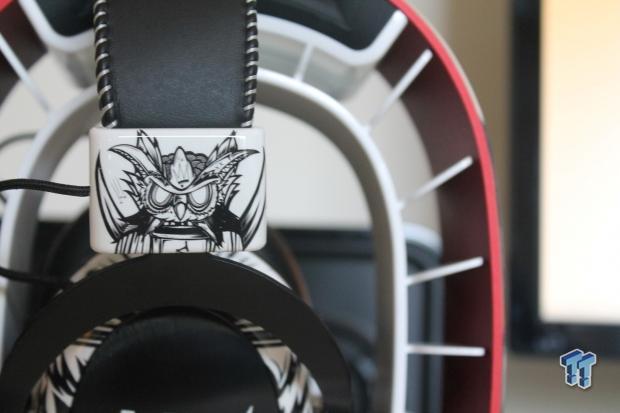 Featuring a myriad of different inclusions much like the Cloud II, you can expect to see interchangeable ear-cups, a dual-3.5mm adaptor, a dual-3.5mm jack to single 3-ring adaptor (for phones and tablets), the extension cable, a removable in-line control box, the detachable microphone and an extremely handy carry pouch. Kingston has certainly ensured that their products come with the full package of options.
Touching again on the earcup situation, Kingston offer, within this well-padded package, cloth and leather earcups (interchangeable) plus an aircraft adapter for long flights.
Giving you the options between cloth and leather is usually secured for headsets $120+, so it's great to see that Kingston has thrown this in once again for a sub-$100 headset. It's also interesting to note that you're getting matching accessories to the Cloud II, but saving $20 on the price thanks to no USB virtual 7.1 card, which some people prefer.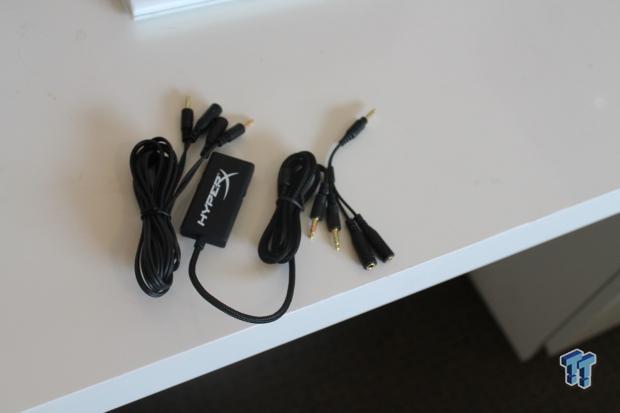 Either way, the whole package of accessories ensures that Kingston once again will score highly in this regard, showing that dropping $80 on a headset doesn't mean you should be left high and dry with no optional extras to help you on your way.
Let's dig deeper
Offering the aluminium frame and complete bare metal connection to the earcups, as with other Cloud models, the MAV once again puts forward a highly sturdy design. The stitched leather headband also adds to the class, ensuring no seams will tear or fray as seen with cheaply made products.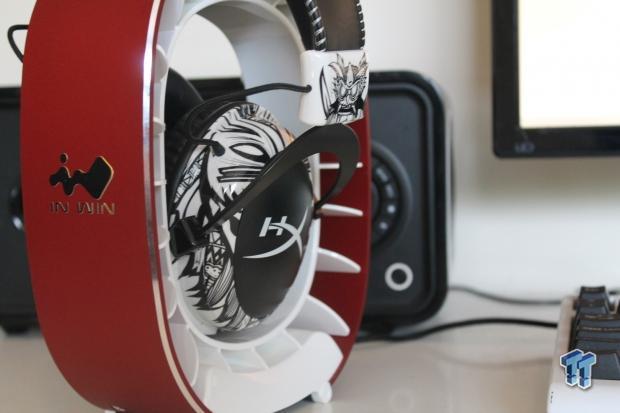 The headset will likely feel heavy to most gamers who have decided to upgrade from budget gaming products, but thanks to the incredibly soft leather and headband this feeling will go away soon after. In very hot climates, the leather will get sweaty as you would expect, with Kingston thankfully throwing in the cloth earcups for replacement.
The cloth earcups are a little harder than others, not offering the same premium cloth comfort as seen in products like the Corsair Void RGB 7.1, but they get the job done if you're not a fan of leather.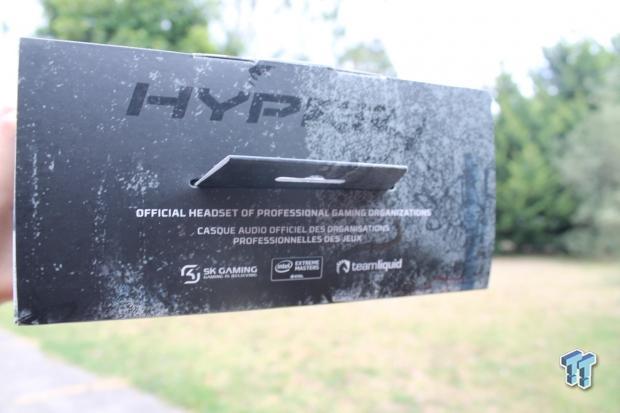 There's still the general Cloud headset issue of the microphone socket cover, meaning that the little rubber plug to fill up the hole that the microphone leaves is very tiny and quite easy to lose. You do get a carry pouch to throw it in which I guess is the logical thing to do, but maybe attaching it to the headset from the factory would be a good idea too.
The leather earcups, while soft, are thinner than some others. This would likely be due to the low $80 cost of this headset, but it makes for a notable comfort difference when compared to something like my $250 Feenix Aria audiophile headphones – you get what you pay for!
A Dota 2 analysis
I've used the same songs and games to test almost all headsets throughout 2015, specifically choosing the same testing regime on all Cloud models, too. The main game I tested the Cloud Mav Edition in was Dota 2, helping me experience a broad spectrum of sounds while playing various heroes and using many items.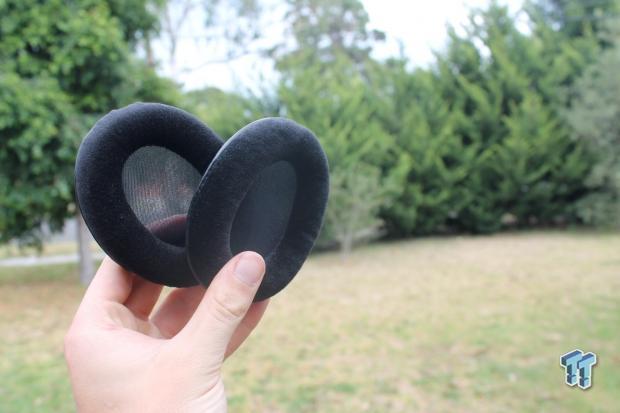 While this headset does offer a $20 discount compared to the Cloud II due to having no 7.1 sound card, there is a slight audible difference between the two. In saying that, the Cloud series responds extremely well to third-party external or internal sound cards, meaning that this headset would be great with the addition of some exterior help.
Nonetheless, it still performs great without a soundcard (using normal onboard sound), covering the range of sounds in Dota 2 and Mumble (VOIP program) well. The microphone is yet another great one, nearly rivalling my desk-based Razer Leviathan microphone. That being said, we are in a VOIP program and not recording professional audio, so there being a close comparison between these two vastly differently priced products isn't too uncommon. Either way, I must still pay homage to the fact that Kingston has continued its brilliant microphone in this product, ensuring that my voice has all the bass it needs – a tell-tale sign of a quality headset.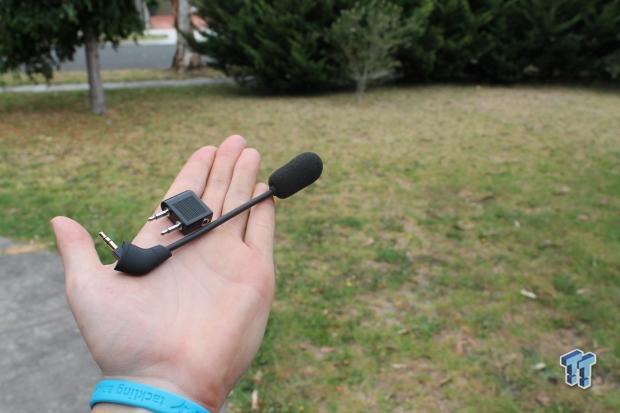 Moving to the music side of things, I experienced something that was somewhat in-between what the Cloud I and the Cloud II had to offer. This headset seems to have the Cloud I microphone with the Cloud II drivers and sound experience, minus the Cloud II 7.1 USB card, as explained.
The bass wasn't overpowered at all when listening to hard hitting tracks that still contains crisp vocals, in addition to the quieter sounding tracks being quite clear. It's obviously not audiophile level clarity by any means, but what is on offer shows that Kingston has done extremely well given the price point of this headset, opting for well-balanced drivers to tackle many situations and game genres.
Bass being not overpowering is always a testament towards a balanced headset, with cheaper products often turning up the bass more than its low-quality drivers can handle, resulting in your mid-high range disappearing in a wash of fuzz and drivers distorting as they try to keep up.
Some of the music I tested this product with included:
What's Hot
The feel: Once again it's an extremely sturdy, yet soft, HyperX Cloud product.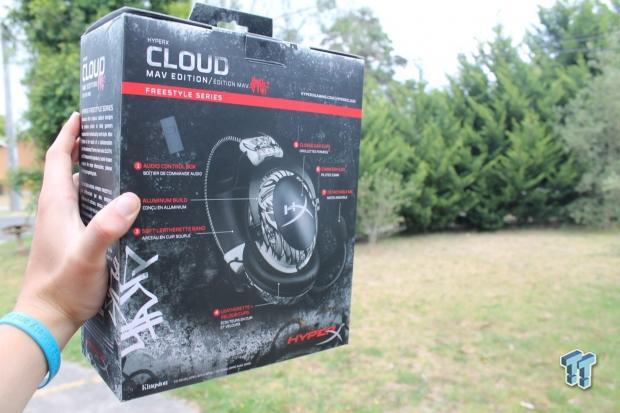 Comfort in the long-run: The leather earcups are extremely soft, although they could be a little thicker. The fact you can swap them out for cloth on super-hot days makes them a real winner.
Easy to clean: The bare metal and leather combined chassis and aesthetic means that it's super easy to keep fresh and clean.
What's Not
Size issues: People with smaller heads might run into issues, with this headset feeling bulky and heavy.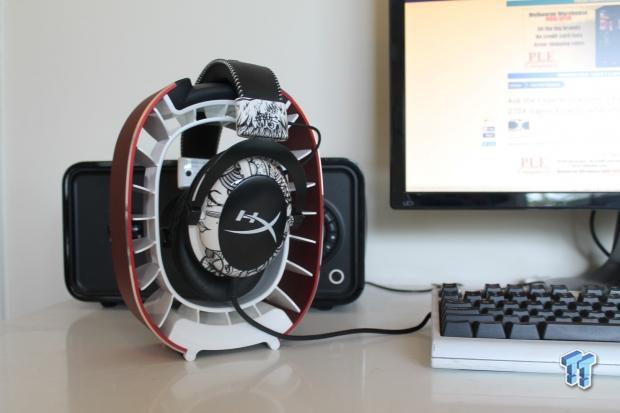 Fuzzy wuzzy microphone end: The microphone pop filter does wonders to make it sound great, but it could be annoying for some.
Final Thoughts
Offering yet another stellar headset to the cloud range, the MAV sits squarely in-between the Cloud I and Cloud II offerings from HyperX. If you're looking for an amazing amount of accessories, great comfort, and a sturdy frame (plus demand 3.5mm connections), you're going to have a hard time finding anything better than this.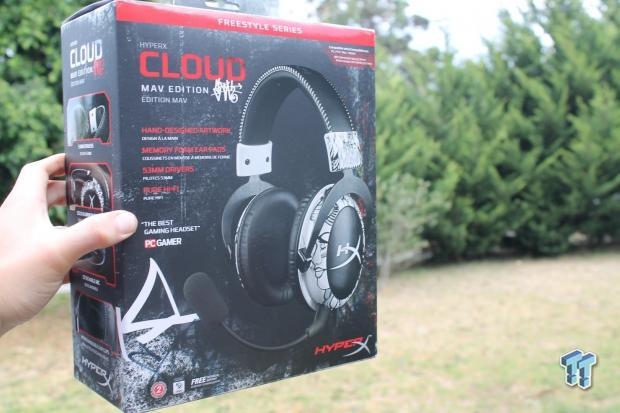 The microphone also sounds great and is detachable which is a massive bonus; this added with the fact that you're getting a ton of optional extra's including replaceable cloth earcups means that Kingston has another winner on its hands.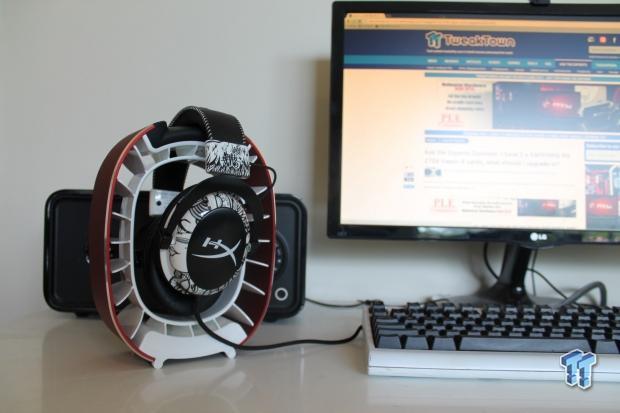 Chris' Test System Specifications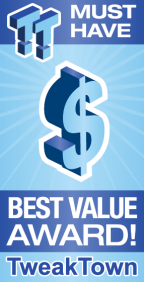 | | |
| --- | --- |
| Performance | 85% |
| Quality including Design and Build | 95% |
| General Features | 95% |
| Bundle and Packaging | 90% |
| Value for Money | 95% |
The Bottom Line: Kingston's HyperX Cloud MAV presents itself as another fantastic all-round gaming headset. If you're looking for a great range of accessories and 3.5mm connections for $80, look no further.
PRICING: You can find products similar to this one for sale below.

United States: Find other tech and computer products like this over at Amazon.com

United Kingdom: Find other tech and computer products like this over at Amazon.co.uk

Australia: Find other tech and computer products like this over at Amazon.com.au

Canada: Find other tech and computer products like this over at Amazon.ca

Deutschland: Finde andere Technik- und Computerprodukte wie dieses auf Amazon.de
We openly invite the companies who provide us with review samples / who are mentioned or discussed to express their opinion. If any company representative wishes to respond, we will publish the response here. Please contact us if you wish to respond.