Asustor AS6202T SMB NAS Review
ASUSTOR's AS6202T is a well-built NAS appliance with solid performance for home and business made possible in part thanks to Intel's new Braswell platform.

Published
7 minute read time
TweakTown's Rating: 86%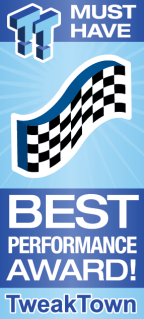 The Bottom Line
ASUSTOR's AS6202T is a high-feature NAS appliance that carries excellent performance characteristics. On the downside, it's a bit more expensive than competing products.
Introduction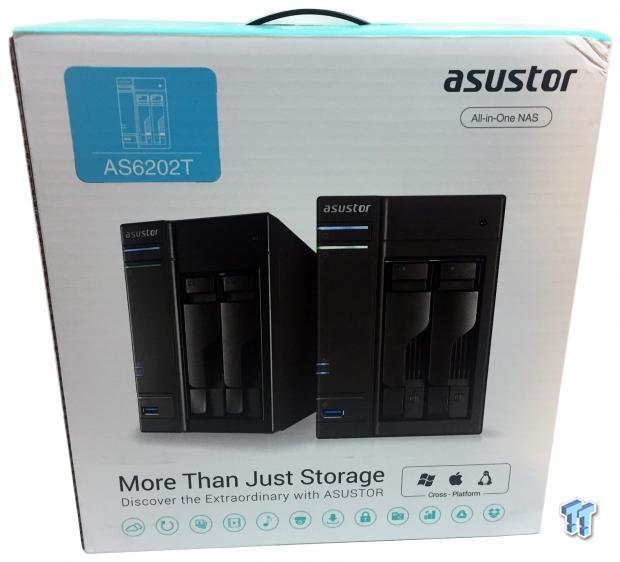 At just about this time last year, many vendors were rolling out their products based on the new Bay Trail platform from Intel. With many of those products ushering in a new generation of performance that further pushed the uptick in power efficiency for NAS solutions, we now have the next evolution of the NAS platform as Braswell has emerged, and Bay Trail D takes a back seat.
If you were to take a look at the new 6000 series of appliances from Asustor, you wouldn't think anything has changed. This new run of devices uses the same shell that we found on the entire 5000 series that stretches back a number of years. Where you will find change is internal, with the heart of the appliance and for the AS6202T that starts with the Intel Celeron N3150. If you read marketing materials, Asustor would have surely let you know that they were first to market with the new Intel Braswell silicon, and while we weren't the first tech based website to post a review of this hardware, we have had it in the lab for a little while. In fact, we have had this particular appliance on the bench for the last month at least, testing several revisions of firmware.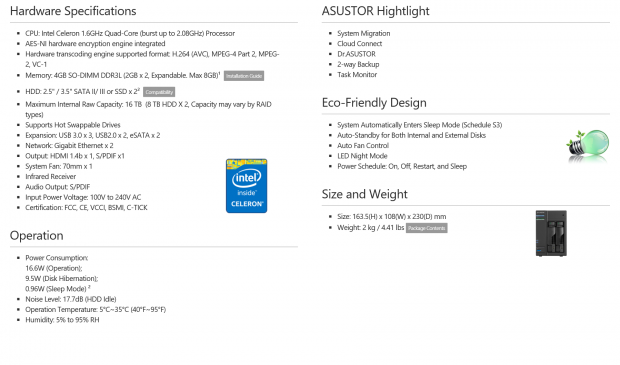 Diving into the specifications of the AS6202T, we find the brain of the operation at the top of the list, the Intel Celeron N3150. This CPU operates at 1.6GHz and boosts to a touch over 2GHz. 4GB of DDR3 aids in the performance of this appliance while peaking inside the unit you will find a 512MB SATA DOM housing the OS firmware. The dual Gigabit Ethernet is powered by two Broadcom 57781 chips while the audio and SATA lanes come from a Realtek ALC887 and ASMedia 1061 IC, respectively. With this NAS solution being part of Asustor Power User to Business lineup, the price certainly matches up as this two bay AS6202T appliance carries an MSRP of $569.99 with a three-year warranty.
Asustor AS6202T NAS Appliance
Packaging and a Closer Look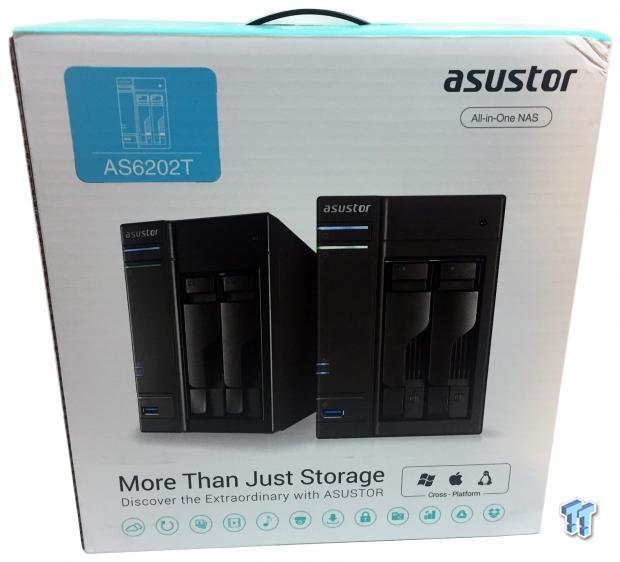 Packaging for the Asustor includes an image of the NAS on the front with marketing and information down below, and the model number is listed at the top left.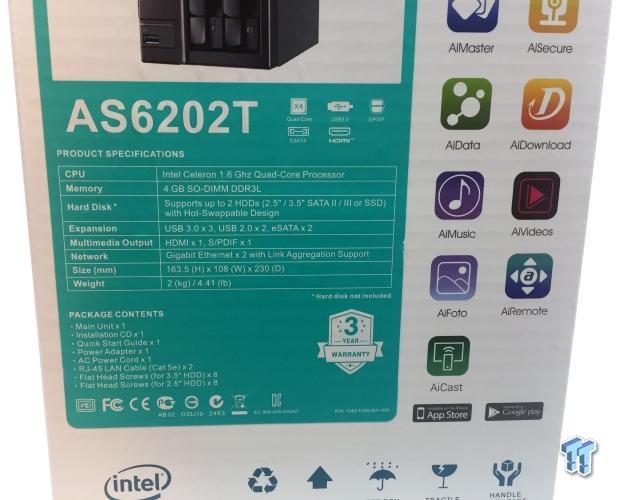 The side of the box houses full specifications for the NAS.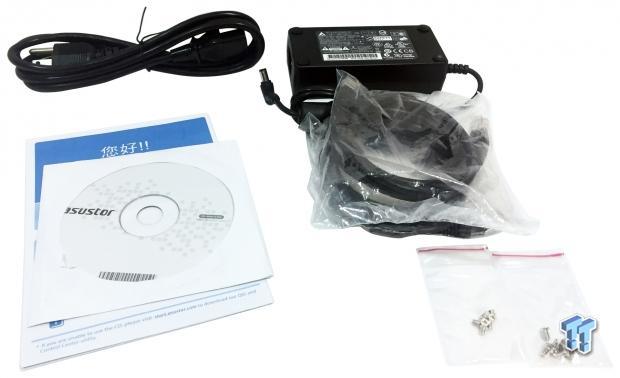 The scope of the delivery for the AS6202T includes the power adapter, Ethernet cables, drive screws, and reading materials.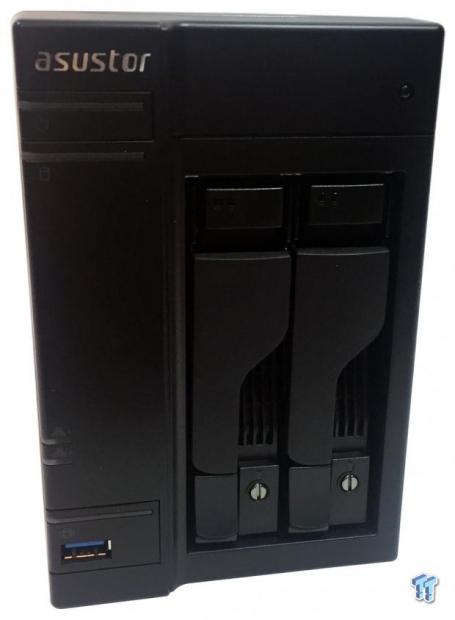 Looking at the front of the appliance, we have the same plastic drive bays, a single USB 3.0 port to the left with power LEDs above.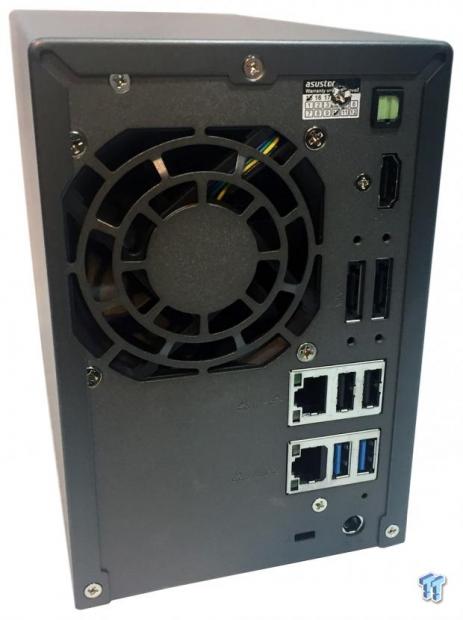 The back of the NAS houses the optical audio connector at the top with HDMI below. We also have dual eSATA, Gigabit LAN and USB 3.0.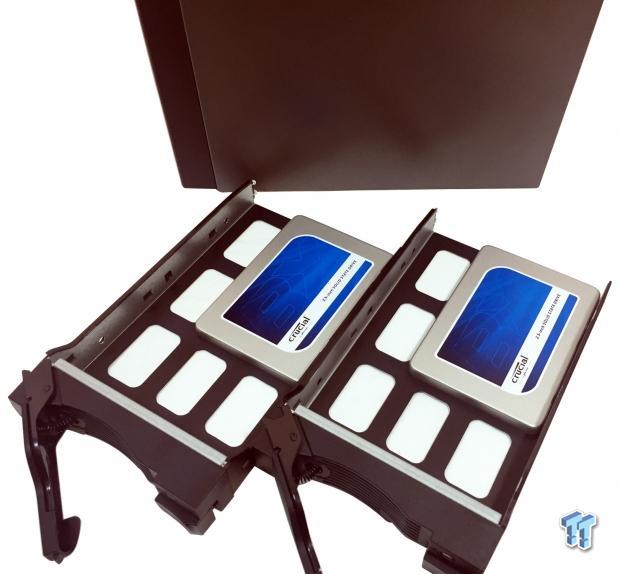 Starting new this year, we are now testing NAS solutions with solid state drives. This should show the overall performance of the NAS appliance itself rather than being bottlenecked by hard drives. As you can see above, our testing is powered by Crucial BX200 SSDs.
Test System Setup and Web Management
Tyler's NAS Test System Specifications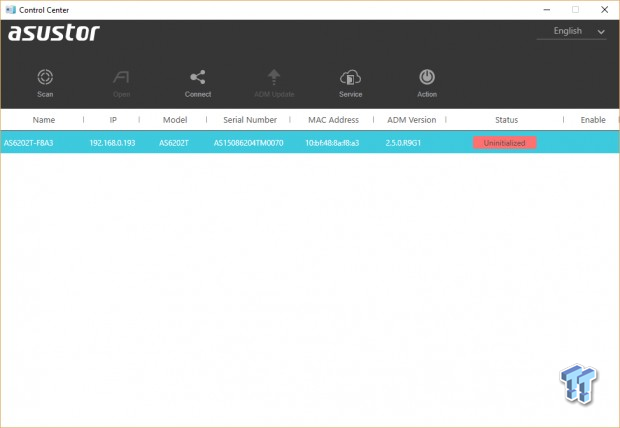 The Control Center application is what Asustor uses as its finder application. This program will search your entire network for Asustor NAS solutions making setup much easier.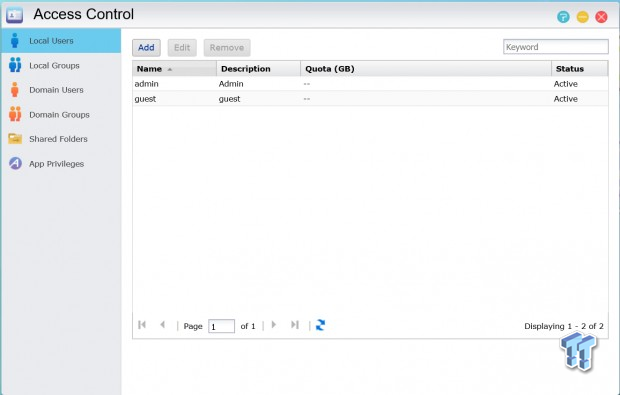 ADM is the name of Asustor's NAS platform. It houses all the necessary features and many high-end features. Starting this off is Access Control where you can create groups and users along with setting permissions.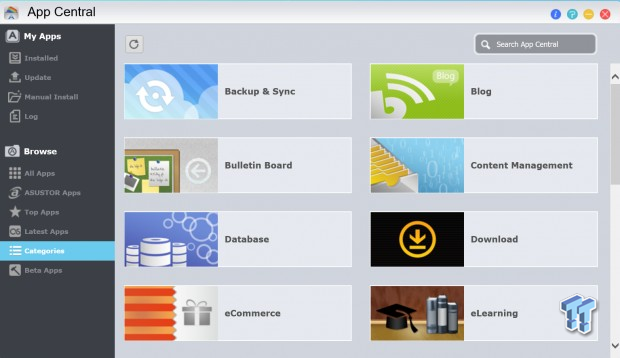 The App Central within ADM allows you to install applications to your liking; options include content management, downloads, e-commerce, database, and backups.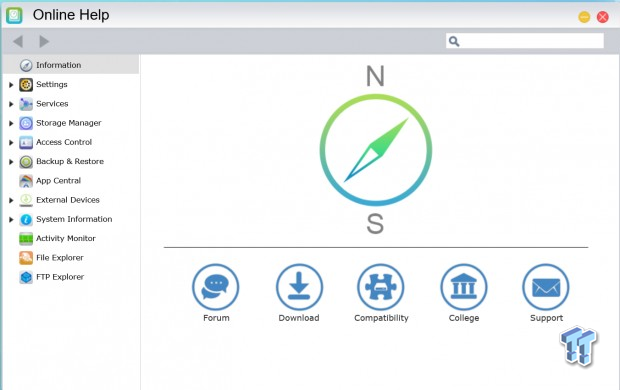 Asustor also has a large online help section that will guide you through any issues you may have.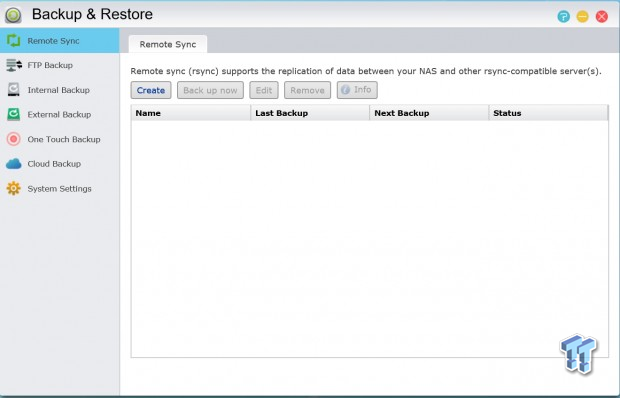 The backup and restore section allows you to enable remote sync, FTP backups, external backups along with cloud storage options.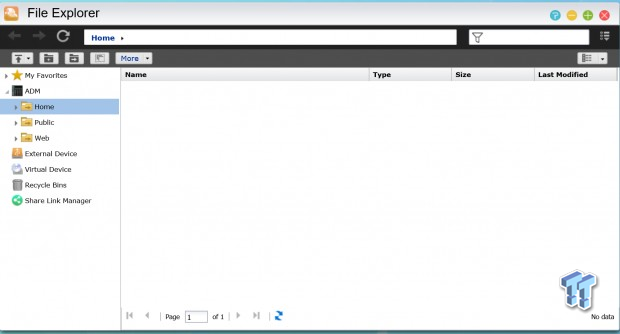 File Explorer gives you an onboard option to manage your data right from the web interface.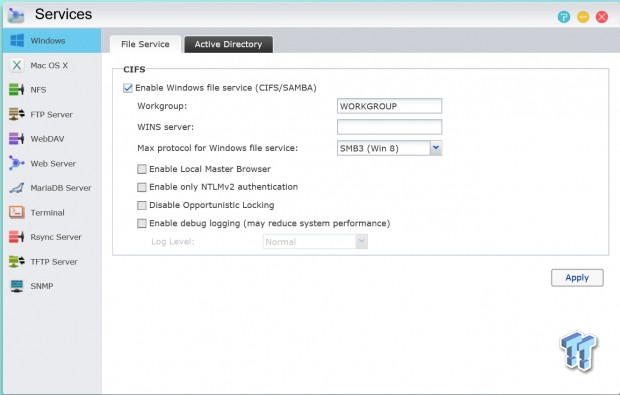 Services include CIFS for Windows, AFP for OS X systems along with NFS, FTP servers, Web server's terminal and even SNMP.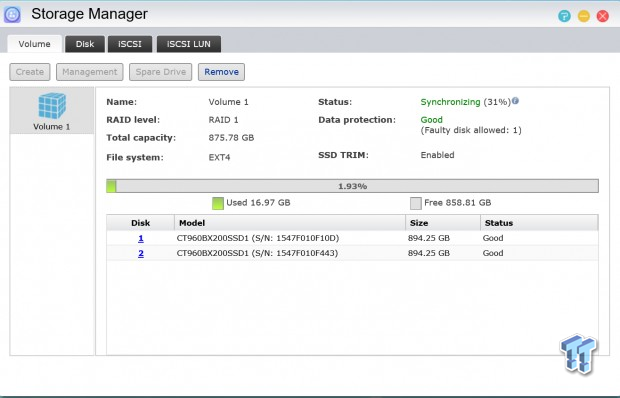 Looking at the storage manager, you can see at the top we have options for Volumes, Disks, and iSCSI. A closer look at the volume menu shows both of our SSDs installed here, and they are configured in a RAID 1, at the top right notice that SSD trim is enabled.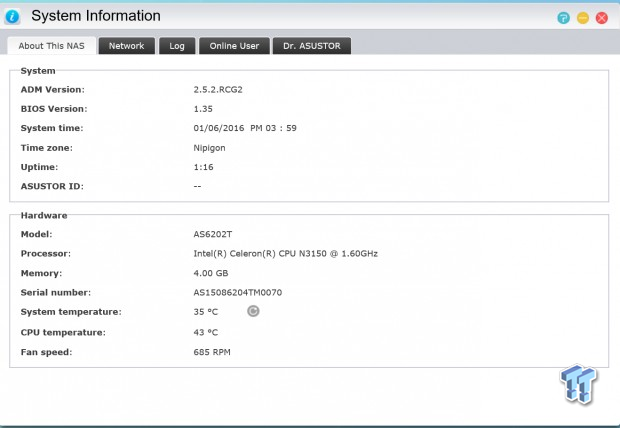 The system information tab gives you further details on the specs of this appliance as you can see we have our Celeron processor, 4GB of memory along with a fan speed of 685 RPMs. Notice at the top ADM version is 2.52 with the 1.35 BIOS revision.
Benchmarks – Single Client and Sequential Throughput
Single Client Throughput
HD Video Play - 720p HD stream from Windows Media Player, 256kB reads
2HD Video Play - 2x playback
4HD Video Play - 4x playback
HD Video Record - 720p HD stream, 256kB writes
File Copy from NAS - 4GB file copy, 64kB reads
File Copy to NAS - 64kB writes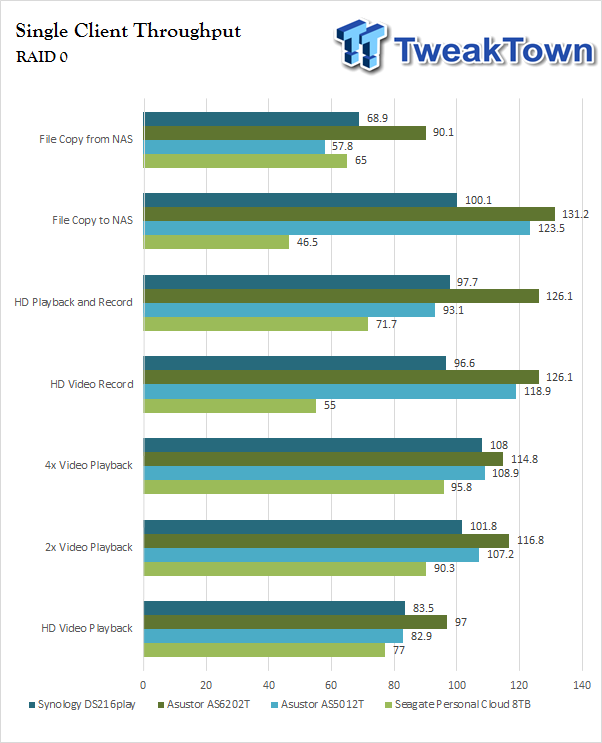 Starting off our single client testing, we have RAID 0 with the Asustor. It's worthy to note here that these tests are done with SSDs while prior NAS appliances were tested with hard drives.
Looking at our results, we find file copy coming in at 131 MB/s while playback and record comes in at 126 MB/s along with similar results in Video record. Single, two and four times video playback came in a 97, 116 and 114 MB/s, respectively.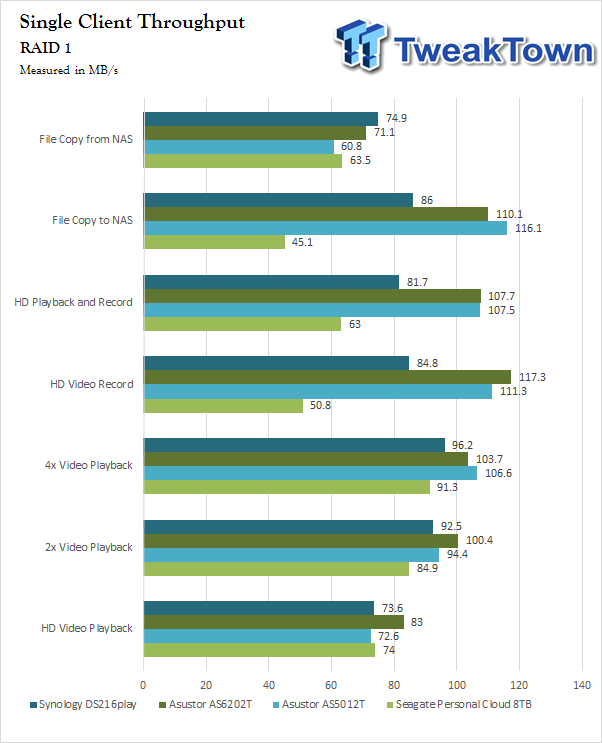 Moving over to RAID 1, our results did not falter too much as we still have 117 MB per second on video record with 110 on file copy to the NAS. In our video playback testing, we found peak results to come in at four times playback at 103 MB per second while single and two times came in at 83 and 100 MB/s, respectively.
Benchmarks – Sequential Workloads
Our Sequential read/write workload is centered on 128K transfer sizes.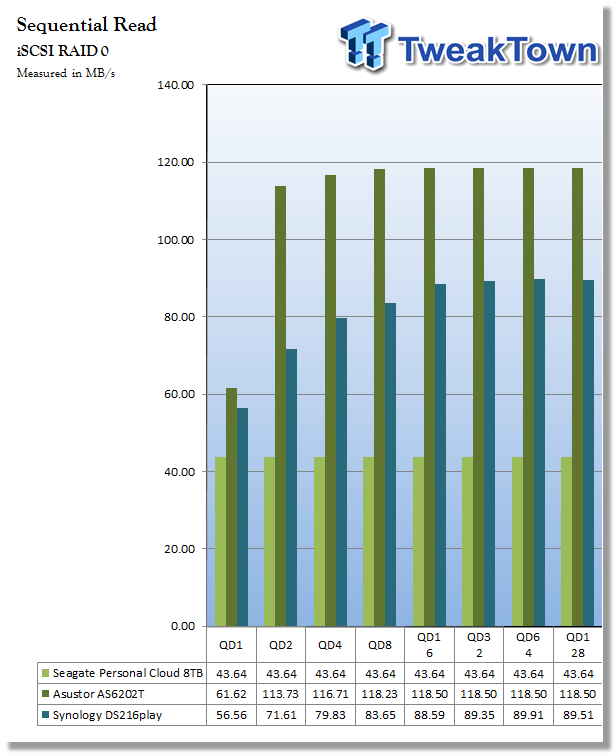 Sequential read results for the AS6202T came in at 118 MB/s from start to finish.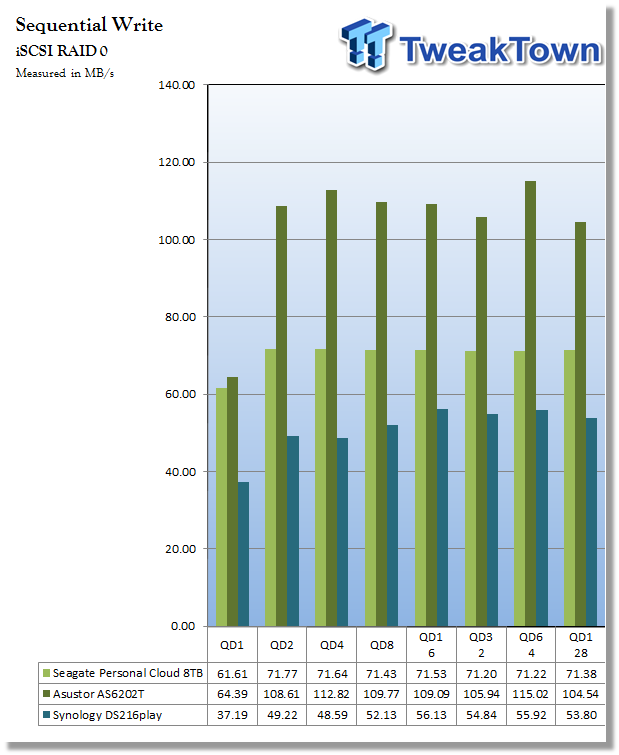 Sequential write started out at 64 MB/s then ramped up to a peak of 115 MB/s.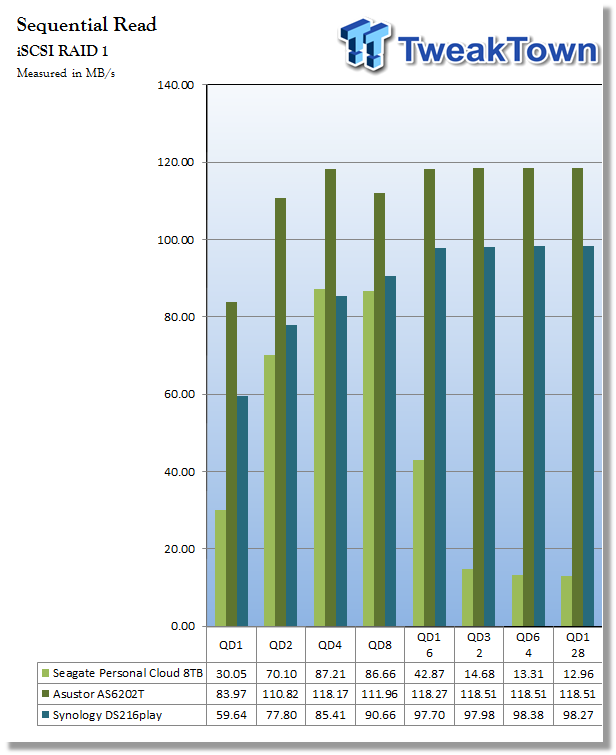 If we look at RAID 1, sequential results touched the same 118 MB/s read.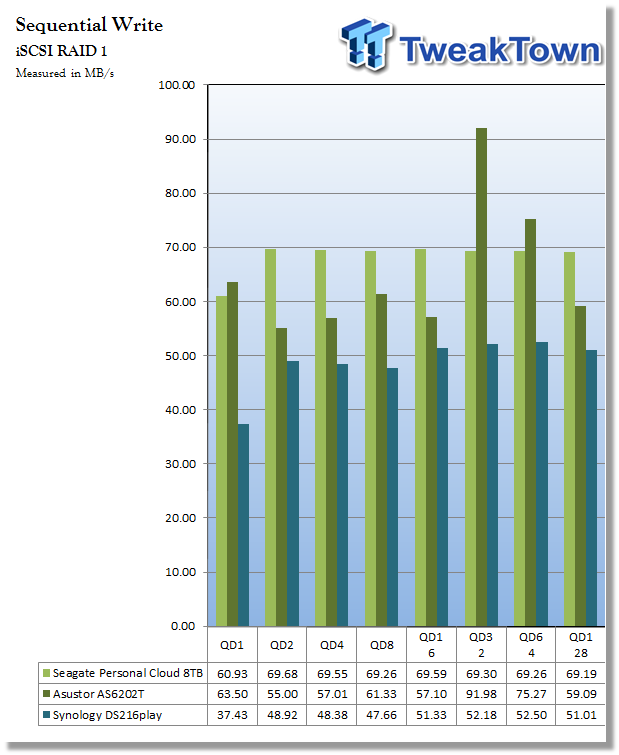 While write performance within RAID 1 did fall slightly, but the Asustor unit did bring in a peak of 91 MB/s.
Benchmarks – SMB Workloads
Benchmarks – SMB Workloads RAID 0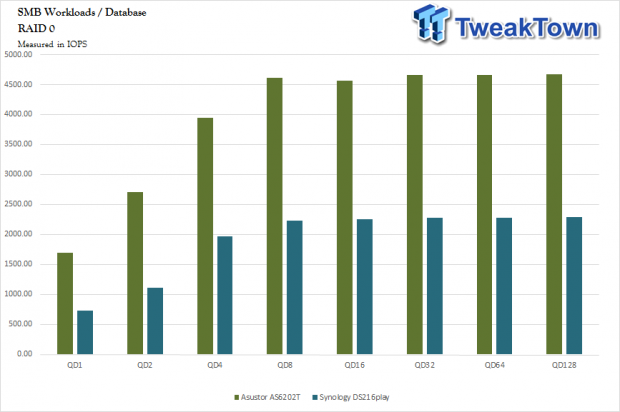 For the SMB workloads, I have removed all the previously tested NAS appliances. This is because I didn't want appliances tested with hard drives mixed in with SMB workloads because there's too much of a difference in the results. As you can see here with the database workload on RAID 0, the Asustor unit was able to hit near 4600 IOP's.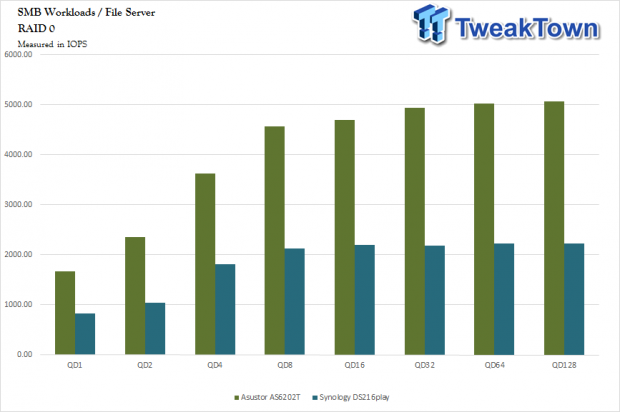 Moving over to file server, we find the AS6202T steadily increase its performance through the queue depth scale. At QD1, we are just under 2000 IOPS while moving up we come to a peak of 5000 at QD128.
Looking the email server, we find similar performance with QD1 just under 2000 while moving up to a peak of 4900 IOPS at QD8.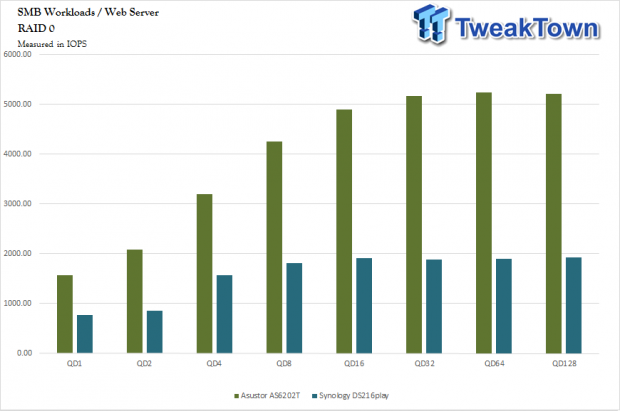 Web Server picked up slightly as peak results came in at 5200 IOPS.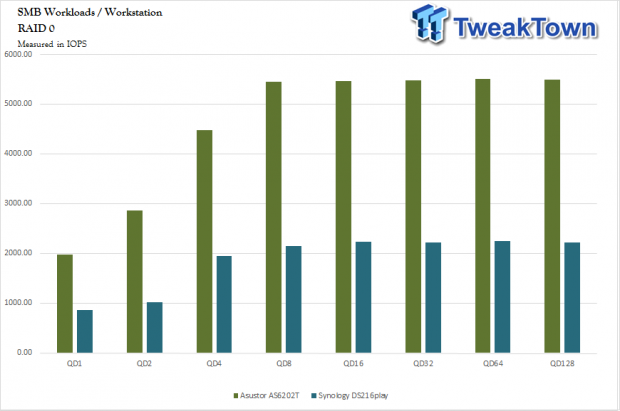 In our workstation workload, we found the Asustor to reach 5500 IOPS coming at QD8 through QD128.
Benchmarks – SMB Workloads RAID 1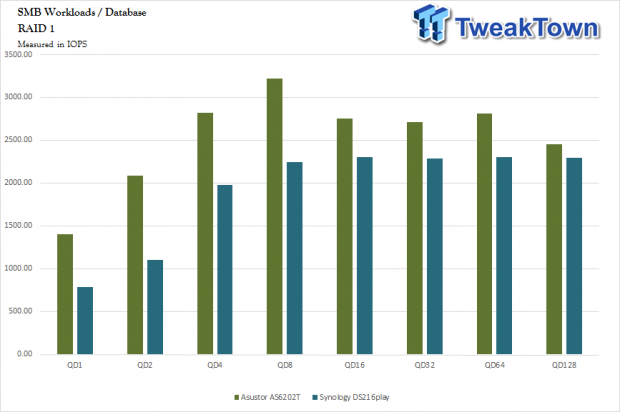 Results for this start just south of 1500 and move up gradually to a peak of 3300 at QD8.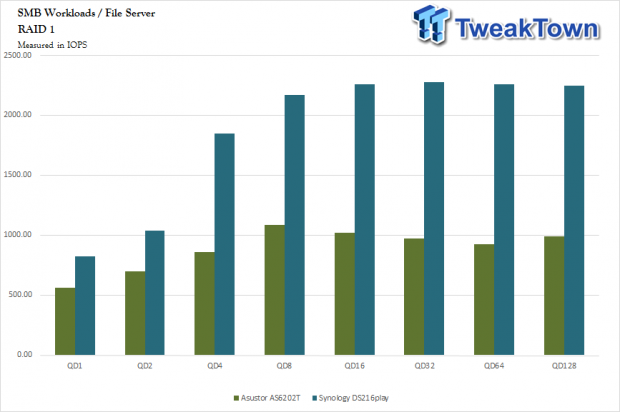 This NAS appliance got beat up pretty good with file server as results were barely able to reach over 1000.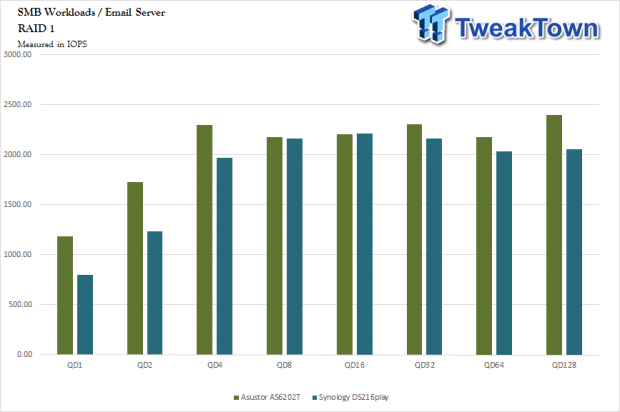 Email server bounced back as QD1 started at 1300 and gradually moved up until it reached a peak of 2400 IOPS at QD4.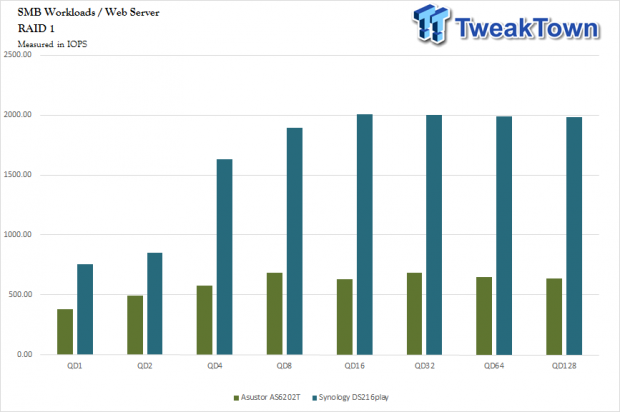 Moving on to Web server, we start with a low of 400 IOPs at QD1 and moving towards QD8 we peak at just over 700 IOPS.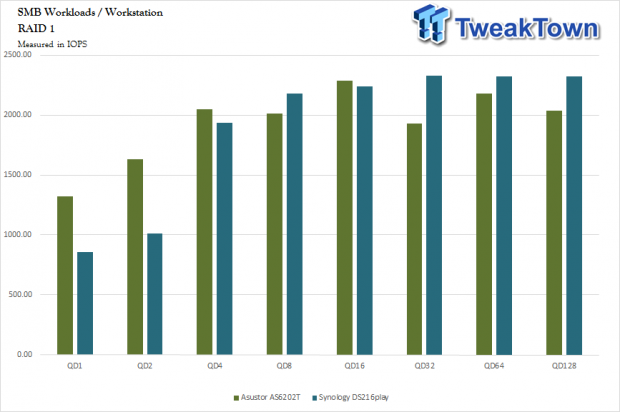 Workstation again showed promise as the AS6202T started at a respectable 1400 IOPS reaching a peak of 2300 IOPS at QD16.
Final Thoughts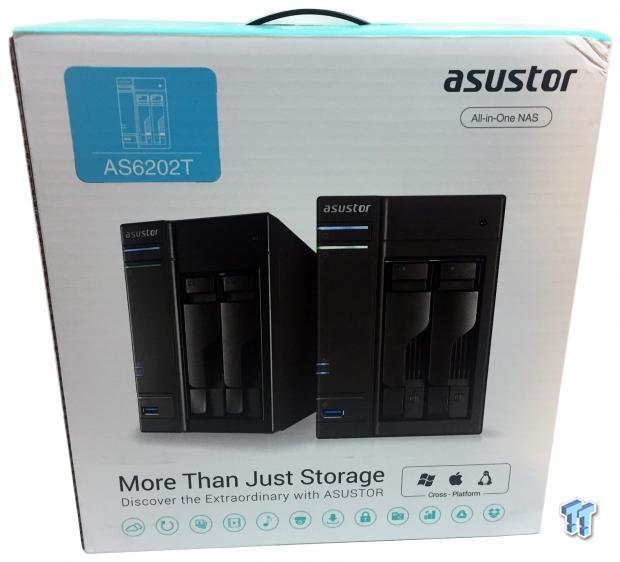 Over the years, Asustor has built itself a solid reputation coming from the new kid on the block just a few years ago to one of the big players in today's market. With each passing generation of NAS appliance, their ADM platform gets better, and the underlying hardware gets more efficient. With that said, build quality with Asustor has always stayed the same, at least with SMB appliances. The AS6202T enjoys the same quality I have become familiar with in past 5000 series appliances; the same steel structure and shell gives these units solid durability while the plastics on the front panel give it a soft appearance.
The performance of this unit was quite solid and if it's any indication it appears the Intel Braswell platform is a winner. In our single client test, I was able to maximize the throughput of our gigabit connection in both RAID 0 and RAID 1 while sequential numbers were able to reach upwards of 118 MB/s. On the flip side, our workload testing showed great promise with the Asustor unit as we were able to reach over 5000 IOPS on several occasion in both RAID 0 and 1.
ADM has been improved upon since our last foray with an Asustor appliance. You still get the basic requirements for transferring and storing your data with CIFS, AFP, and NFS support, while on the higher-end TFTP, iSCSI and Terminal give you high-level features for the power user. Adding to this are all the media and encryption features that are now baked in including AES-NI and 4K HDMI support via KODI along with hardware transcoding capabilities.
Overall, the Asustor AS6202T is a solid NAS appliance and quite possibly the quickest two-bay appliance we have tested which makes sense as this unit appears to share the same configuration with its four-bay counterpart. The level of features you get with this appliance is top notch and with this unit carrying an MSRP of $569.99 with a three-year warranty, it's quite competitive in the market as well.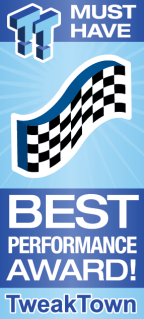 | | |
| --- | --- |
| Performance (including Overclocking w/a) | 91% |
| Quality including Design and Build | 90% |
| General Features | 85% |
| Bundle and Packaging | 85% |
| Value for Money | 80% |
The Bottom Line: ASUSTOR's AS6202T is a high-feature NAS appliance that carries excellent performance characteristics. On the downside, it's a bit more expensive than competing products.
PRICING: You can find products similar to this one for sale below.

United States: Find other tech and computer products like this over at Amazon.com

United Kingdom: Find other tech and computer products like this over at Amazon.co.uk

Australia: Find other tech and computer products like this over at Amazon.com.au

Canada: Find other tech and computer products like this over at Amazon.ca

Deutschland: Finde andere Technik- und Computerprodukte wie dieses auf Amazon.de
We openly invite the companies who provide us with review samples / who are mentioned or discussed to express their opinion. If any company representative wishes to respond, we will publish the response here. Please contact us if you wish to respond.