TweakTown's Rating: 91%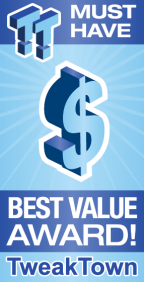 The Bottom Line
The ASUS Z170-A is an excellent value buy motherboard, offering some premium features for the wallet wise consumer.
Introduction, Specifications, and Pricing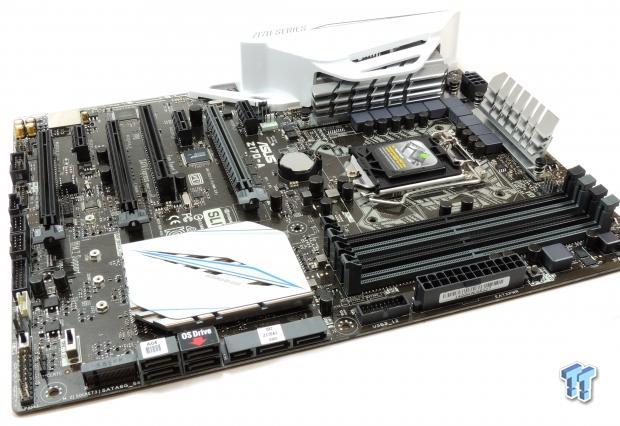 Many know ASUS for their high-end motherboards, specifically the ROG series. ASUS's mainstream lineup has traditionally also been focused heavily towards the high-end, with only a few models in the $125-150 range. For Intel Skylake, ASUS has decided to expand into the more affordable price region, and the Z170-A sits a bit lower on the totem pole than most of their other Z170 offerings. At this price range, I don't set expectations as high as I might for a motherboard that costs over $200, but I will still put it through the same tests and analysis.
I have reviewed motherboards at this price range and below, and there is a lot of fierce competition in the market to win over people who want more affordable offerings with high-end features. ASUS also decided to include some legacy features, which are actually in demand. These include PCI slots for older sound cards and other devices, and a D-SUB (called VGA) onboard video output port, which Intel removed from the standard Z170 platform. So let's take a look and explore the Z170-A.
Specifications

The ASUS Z170-A has some premium features such as USB 3.1 Type-A and Type-C, a 32Gb/s M.2 port, and an Intel Gbit NIC. There are also many legacy features such as a PCI slot, D-SUB (VGA), and PS/2 keyboard and mouse for those who will have older devices they might want to use.
Pricing
The Z170-A is available from many large retailers for $156.99.
Packaging and Z170-A Overview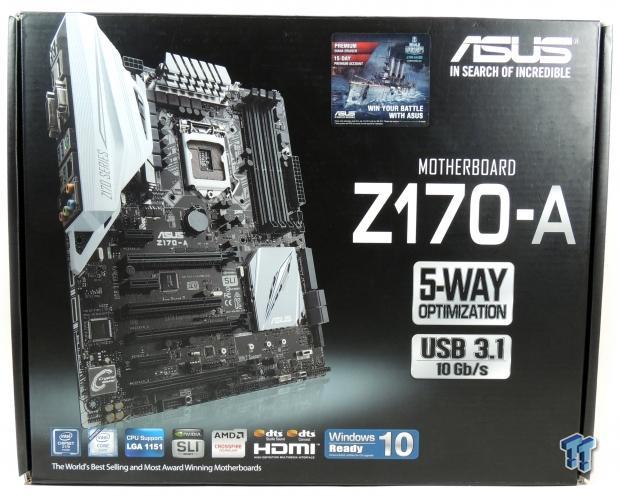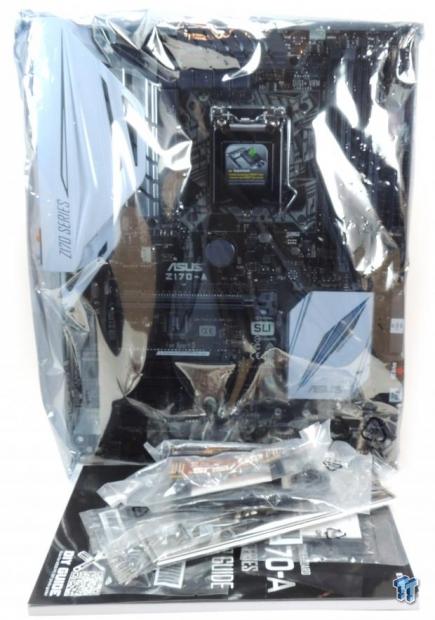 The Z170-A's box and packaging are simple and do their job; the motherboard is well protected from the elements.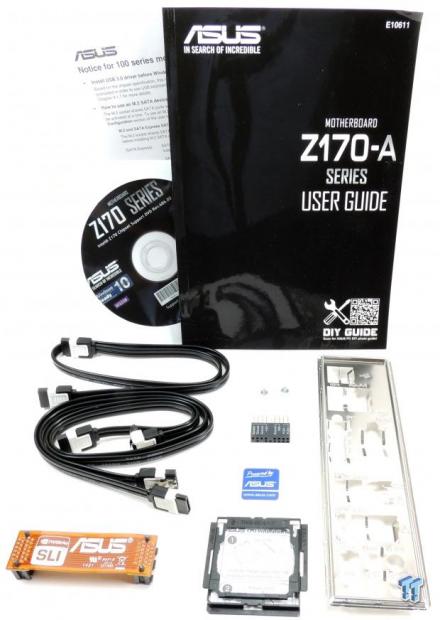 Accessories include 3x SATA6Gb/s cables, small SLI bridge, Q-Connector, CPU installation tool, M.2 screws, IO shield, case badge, manuals, and driver DVD.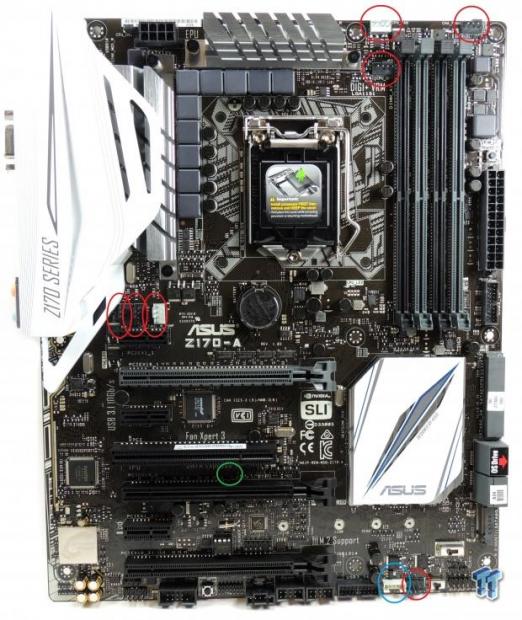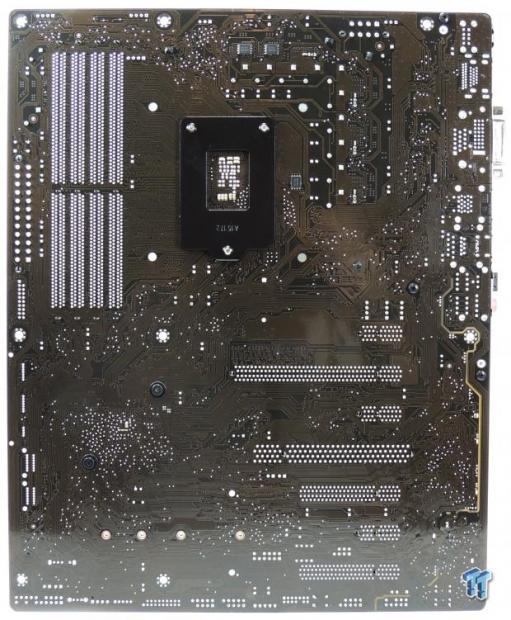 The ASUS Z170-A has seven fan headers circled in red, which can be set as voltage mode or PWM mode headers. The CPU fan header detects which type of fan is installed and will configure itself. A fan extension card header is also included for ASUS's fan expander card. An onboard temperature sensor port is circled in green. The motherboard's PCB has a coat of black on it, but it is not as black as ASUS's high-end models. However, you still get that elegant white IO shield cover and the modern heat sinks that add to the white aesthetics.
The PCH heat sink is quite beautiful and looks better in person than in these shots. The ports are a mix of gray and black, and you want to install your basic hardware into the gray ports, so they will most likely be covered up when the motherboard is in use. The positioning of the CMOS battery above the first slot provides easy access in case you need to clear the CMOS memory, and it looks like the PCI-E slots are shifted a bit lower to accommodate larger CPU heat sinks. The back of the motherboard PCB is pretty much bare except for a few MOSFETs and some LEDs for the audio PCB divide.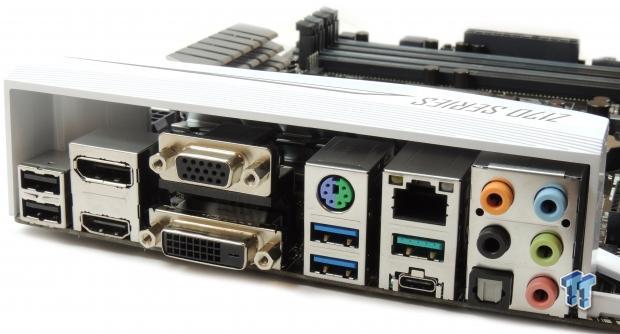 The IO panel on the Z170-A carries two USB 3.0 ports, two USB 2.0 ports, PS/2 keyboard/mouse, HDMI, DVI, DisplayPort, D-SUB(VGA), USB 3.1 type-A, USB 3.1 type-C, 1Gbit NIC port, and S/PDIF with TOSLINK for audio output.
The PCI-E layout is pretty straight forward. The first and second full sized PCI-E 16x slots are both wired to the CPU and can operate at 16x/0x or 8x/8x. The last full sized slot (bottommost) is wired to the PCH and shares bandwidth with SATA ports 5 and 6 (the manual says it supports PCIE RAID with the M.2 drive). All the 1x slots are also wired to the PCH, and there is a sole PCI slot.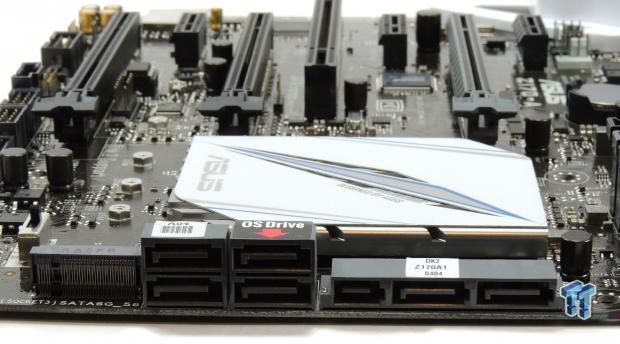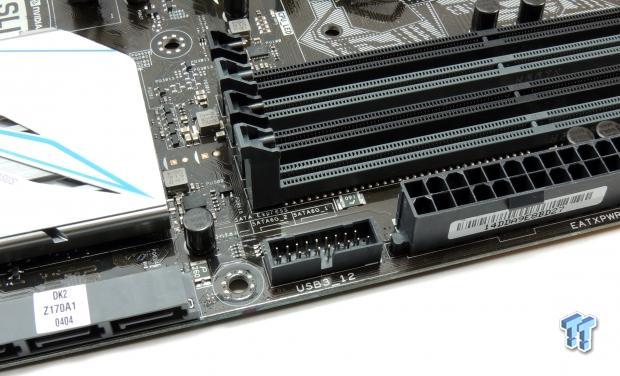 The Z170-A has six SATA ports directly from the PCH. There is even a sticker pointing to the port you should use for the OS drive. There is a SATA Express connector, which can be used for two normal SATA6Gb/s drives. The SATA Express also shares an SATA link to the M.2 slot in case you want to use RAID between the M.2 slot and the last full sized PCI-E 16x slot. There are two USB 3.0 internal headers; the first is located right below the 24-pin power connector for easy access for a front USB 3.0 port.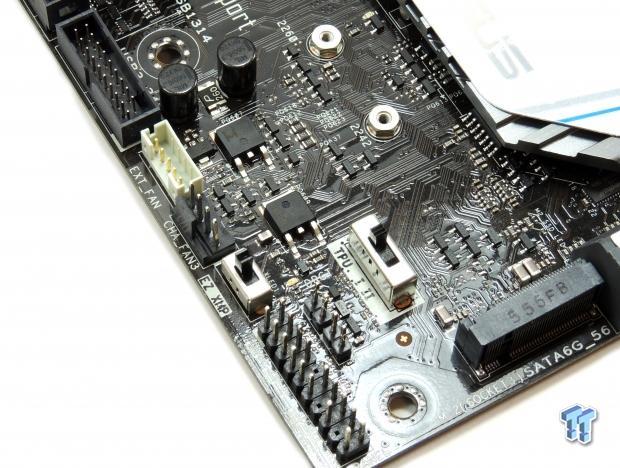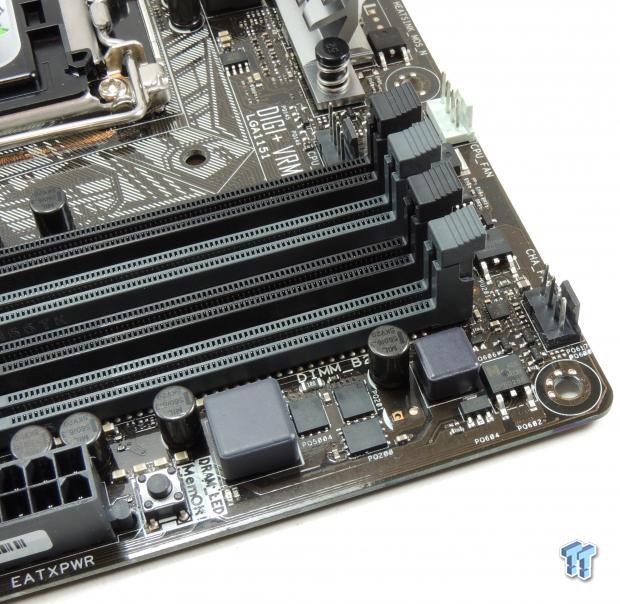 The second USB 3.0 internal header is at the bottom of the motherboard near the white fan expansion card header. The EZ_XMP switch is useful if you want to enable XMP without entering the UEFI, and the TPU modes are for if you want an auto overclock without entering the UEFI. Front panel headers are also located here, and the M.2 slot is located right between the TPU switch and the PCH heat sink. There are two jumpers right above the front panel header; one is for DirectKey and the other for Clear CMOS. There is also a jumper near the 8-pin CPU power header for unlocking higher voltage ranges. There is a DRAM LED and a MemOK button located right above the 24-pin header for DRAM diagnostics.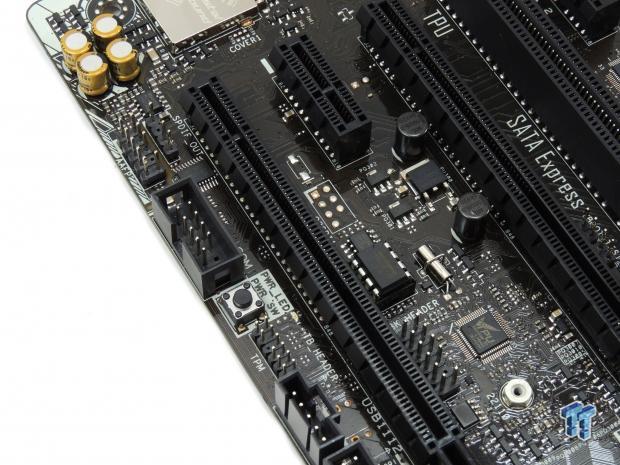 ASUS has included a power button at the bottom of the motherboard. The BIOS ROM sits in a DIP socket for easy replacement. A custom header is located near the BIOS ROM, which can be attached to an external device that facilitates USB BIOS flashing without having to power on the system. The Thunderbolt 3.0 GPIO header is also located here for a Thunderbolt 3.0 card.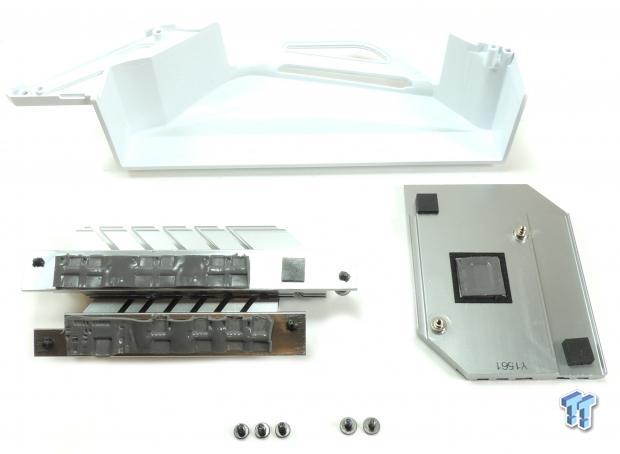 The VRM heat sinks are using pushpins while the PCH heat sink and IO cover utilize metal screws. Contact between all the heat sinks and the motherboard is excellent.
ASUS Z170-A Circuit Analysis
Circuit Analysis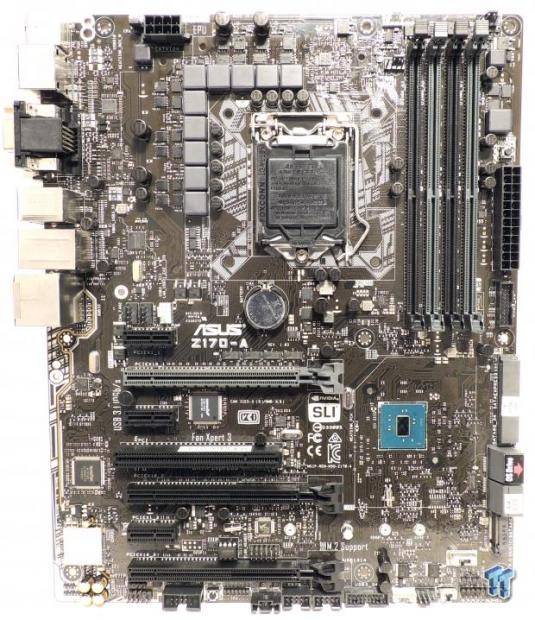 I think all motherboards are more interesting when their heat sinks come off.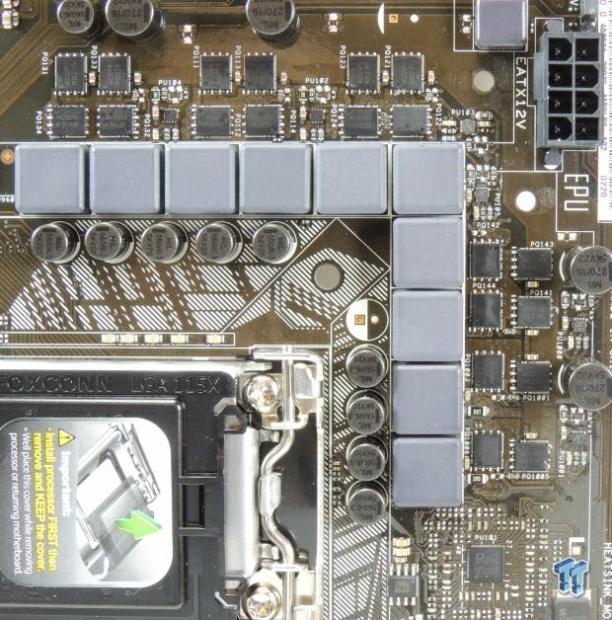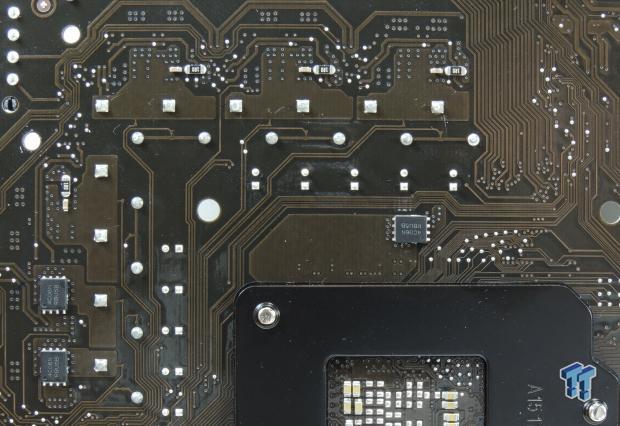 Z170-A has an 8+2 phase VRM controlled by an unknown PWM. Judging by pin count, it is probably not an IR35201 or IR35203 since they have different pin counts. It's also probably not one of the common Intersil PWMs since those have integrated drivers, but this PWM seems to only have PWM outputs, which number at least 4+2 phases (since that is what is being used). CPU phases are doubled by doubling up on the number of MOSFETs and inductors per phase, which is common at this price point. Each iGPU phase has two low-side and one high-side MOSFET.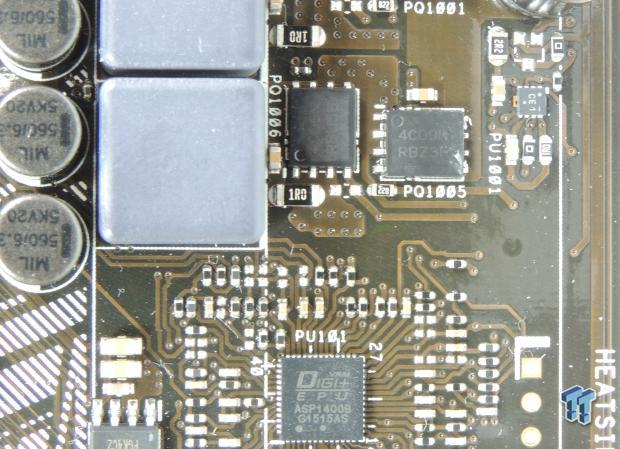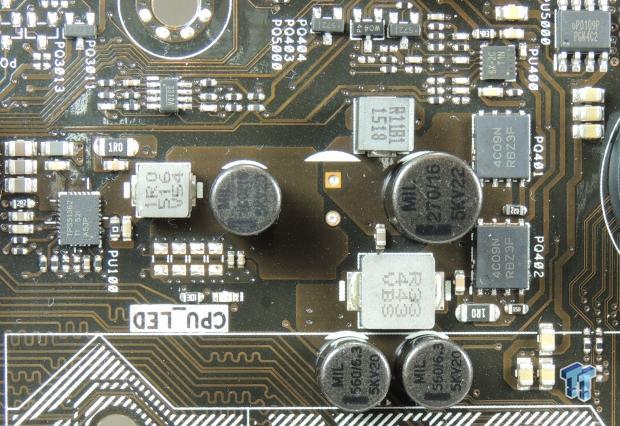 There are four drivers labeled "CE1" for the CPU phases and two for the two iGPU phases. MOSFETs are from ON Semiconductor, NTMFS4C09N (high-side) and NTMFS4C06N (low-side). Each iGPU phase gets two low-side and a single high-side MOSFET. The VCCSA comes from a single phase VR and the VCCIO from an integrated regulator from Texas Instruments, the TPS51362 10A converter.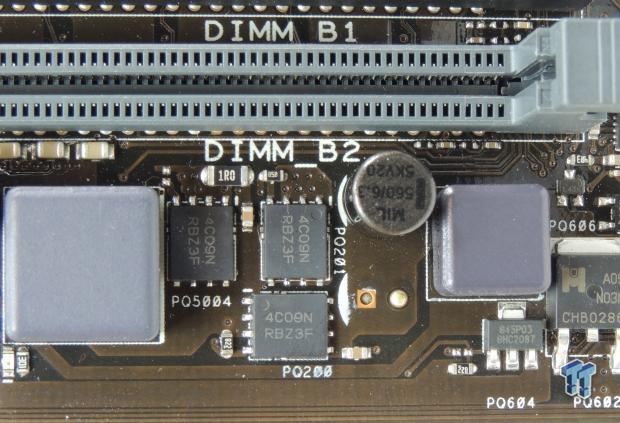 The memory VRM is a single phase using two low-side MOSFEts and one high-side MOSFET. Overall this VRM is decent for the price range; many competitor boards carry the same type of VRs and phase counts since the Skylake CPU doesn't require too much power even during overclocking.
ASUS Z170-A Circuit Analysis Continued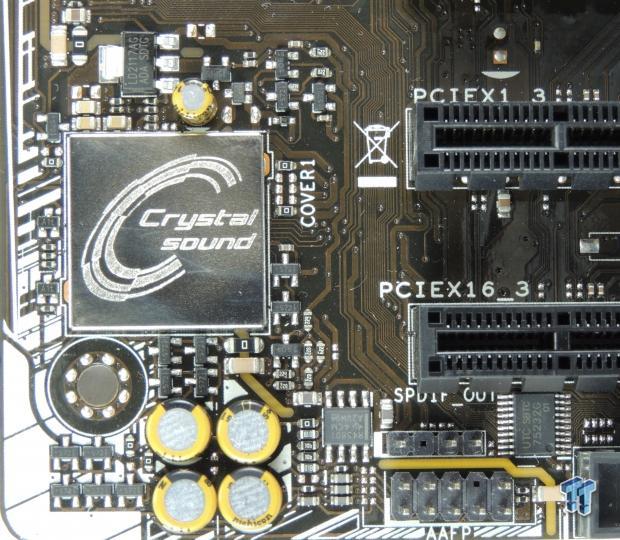 ASUS is using the Realtek ALC892 audio codec instead of the ALC1150 along with some Nichicon Gold Series capacitors and an RC4580 dual amplifier from Texas Instruments. There is a PCB divide to separate the audio PCB area from the rest of the motherboard, and there are three LEDs on the back of the board that try to illuminate the divide.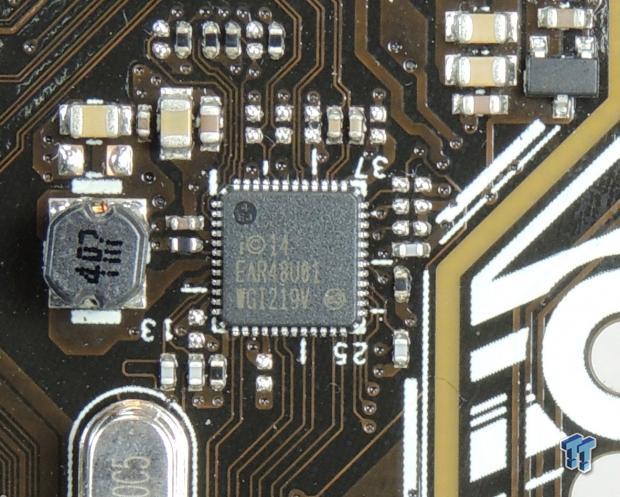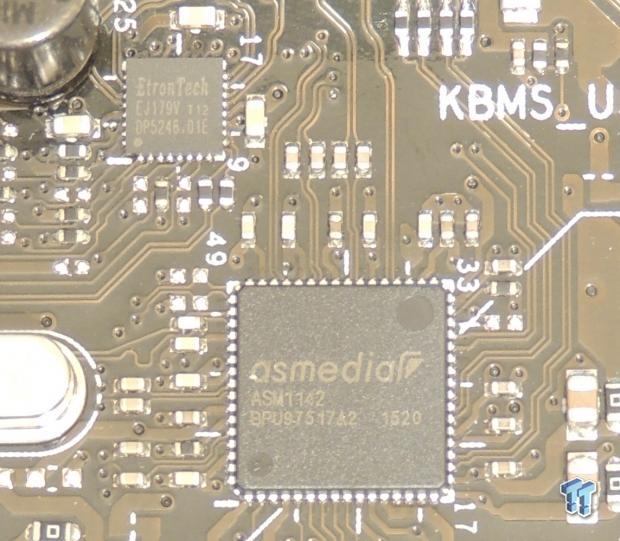 ASUS is sticking with the Intel i219V PHY and integrated MAC to provide a 1Gbit Intel NIC, which isn't very common at this lower price point. An ASMedia ASM1142 provides two USB 3.1 ports, and the EtronTech EJ179v acts as a USB 3.1 type-C switch and USB Power Delivery 2.0 controller.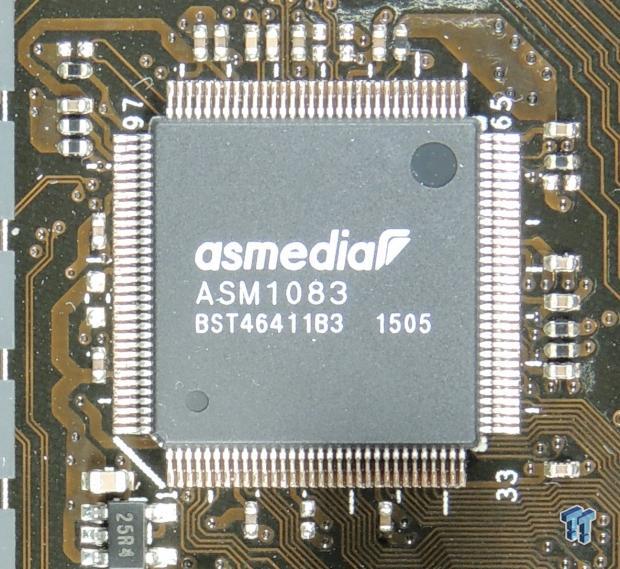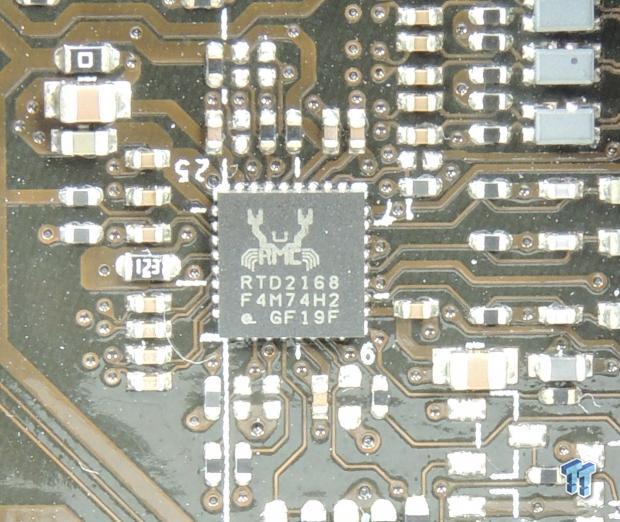 An ASMedia ASM1083 provides the legacy PCI slot. The Realtek RTD2168 is providing the D-SUB (VGA) connector since Intel removed support for this display output from its standard package.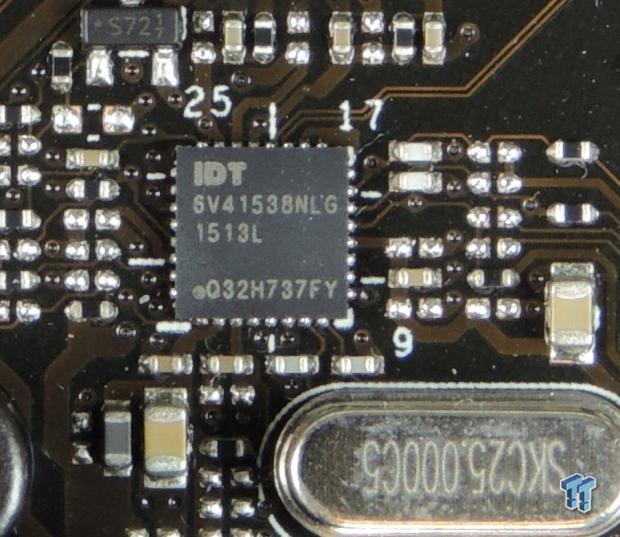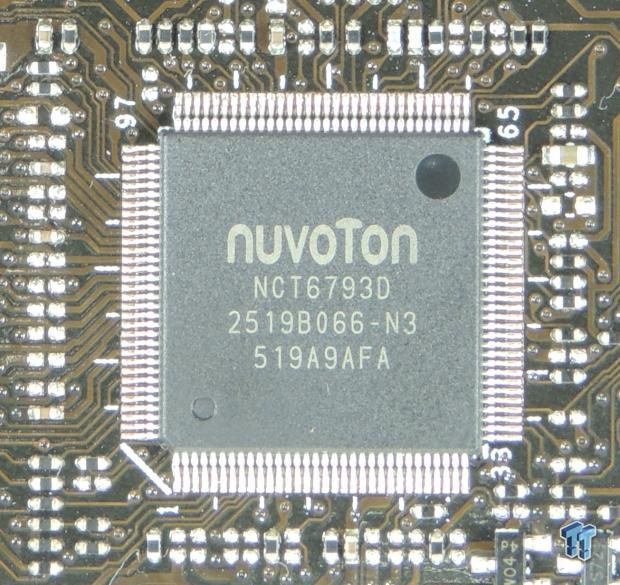 An IDT6V41538NLG is a common clock generator found on Z170 motherboards for higher BCLK overclocking margins. The nuvoTon NCT6793D is the Super IO and provide fan, voltage, and temperature monitoring and control as well as PS/2 on the IO panel.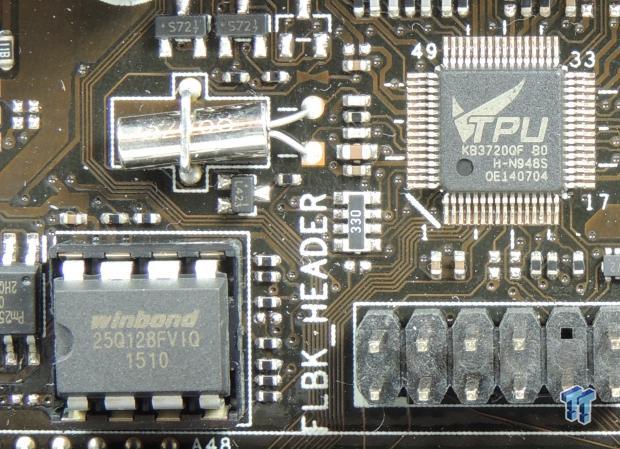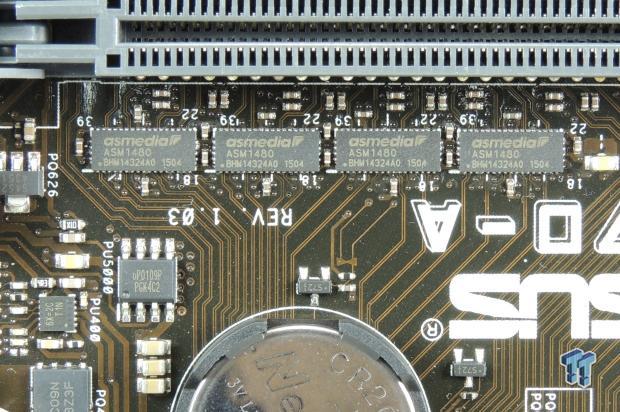 There is a 128Mbit (16MB) Winbond BIOS ROM in a DIP socket. The TPU chip near it is a custom GPIO probably used to expand fan control and probably does something for the FLBK header that is used to re-flash a corrupt BIOS with an external device. Four ASmedia ASM1480 are used to switch 8x of bandwidth between the top two PCI-E 16x slots. One more ASM1480 is located near the SATA ports to switch bandwidth between SATA ports 56 and the bottom PCI-E 16x slot.
BIOS and Software
BIOS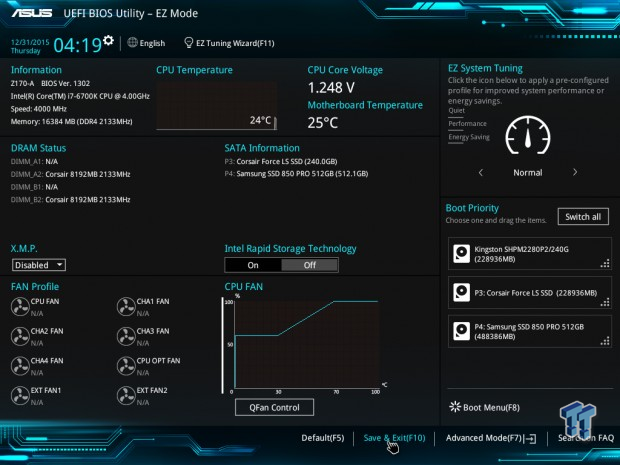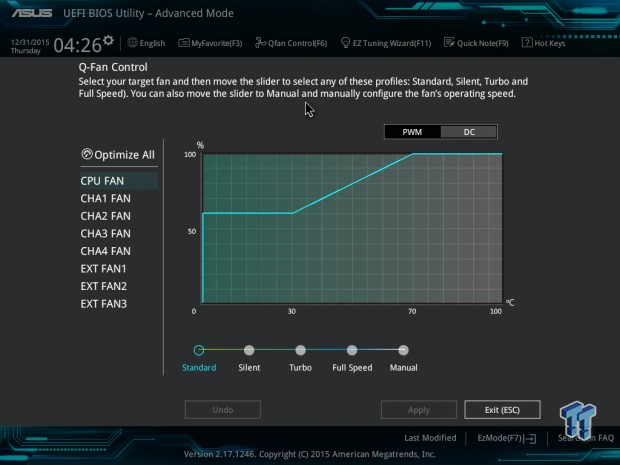 The Z170-A's BIOS is well polished just like all of the other ASUS Z170 UEFIs. The UEFI is responsive, mouse control is decent, and there are two operation modes. One is an EZ Mode shown above, and the other is the advanced mode shown below. The advanced mode is very useful for extreme tweakers, even though this isn't an extreme tweaking motherboard you can still overclock it quite well.
There is built-in auto overclocking, and every setting you need for overclocking Skylake is present. There is one area where ASUS excels compared to the competition in this price range, and that is fan control. They not only provide seven headers that are above the call of duty for a $157 motherboard, but each header can be configured for DC or PWM mode, and full unfettered control is provided in the UEFI and Windows. There is even a temperature input header and a fan expansion card header.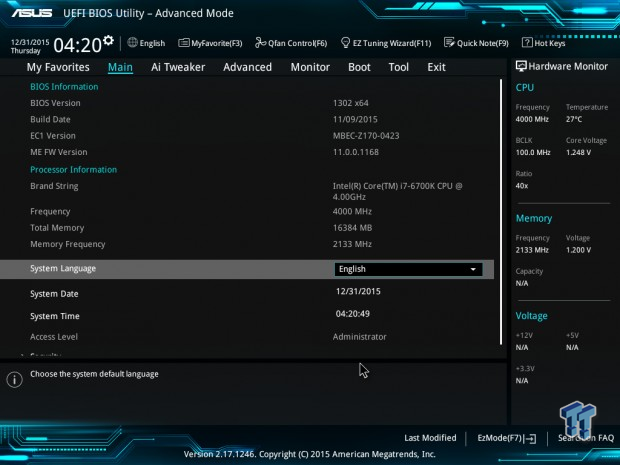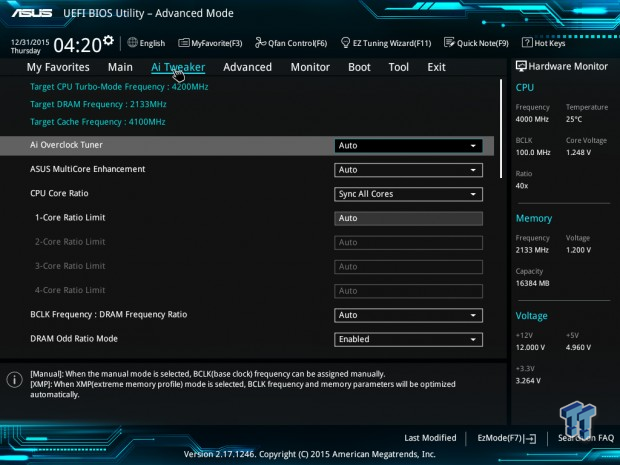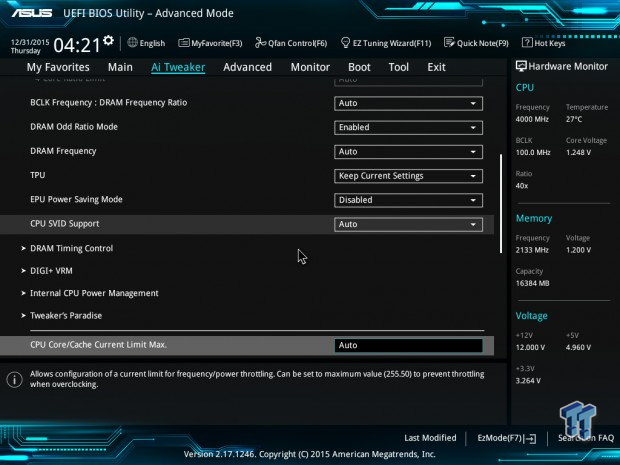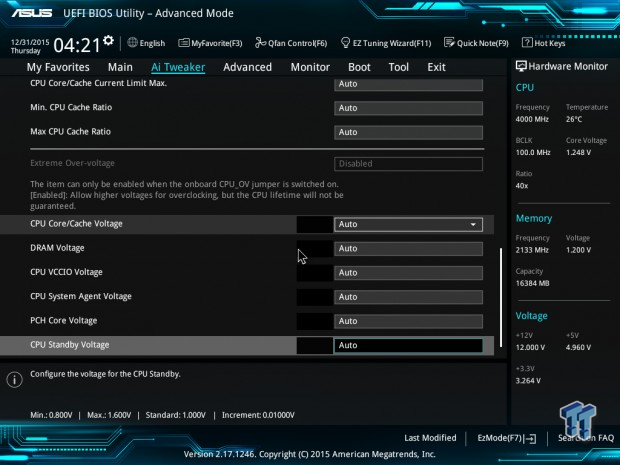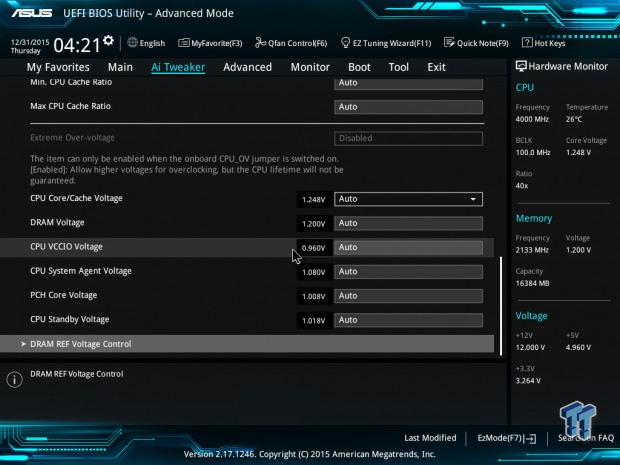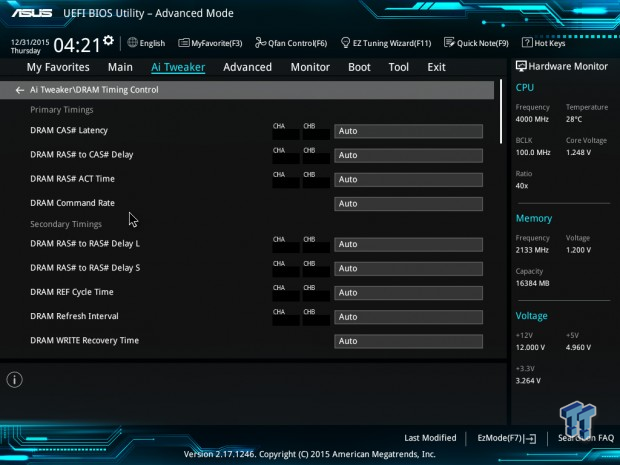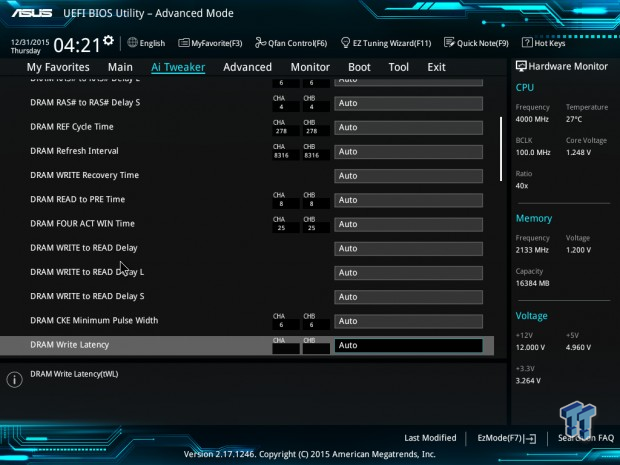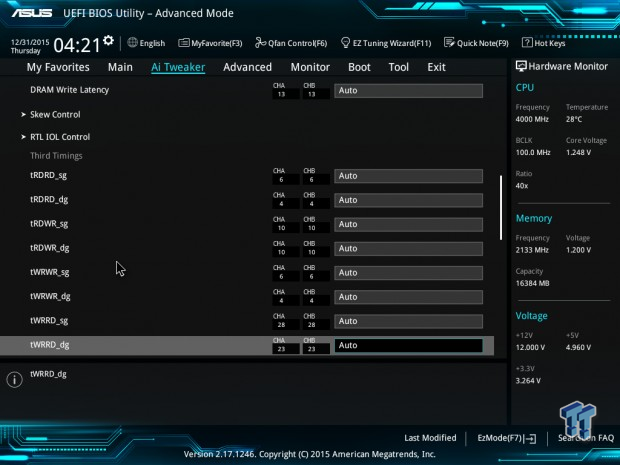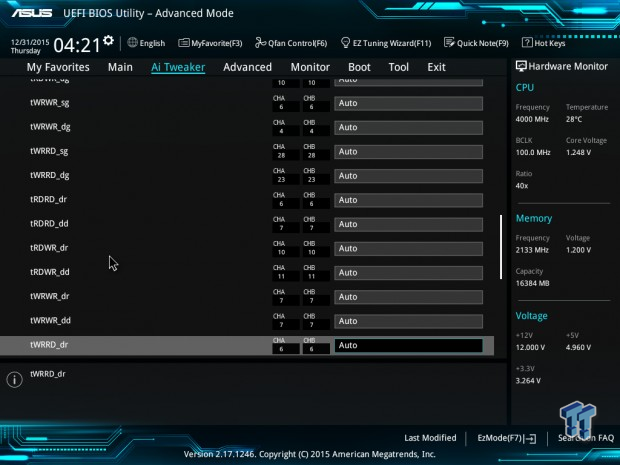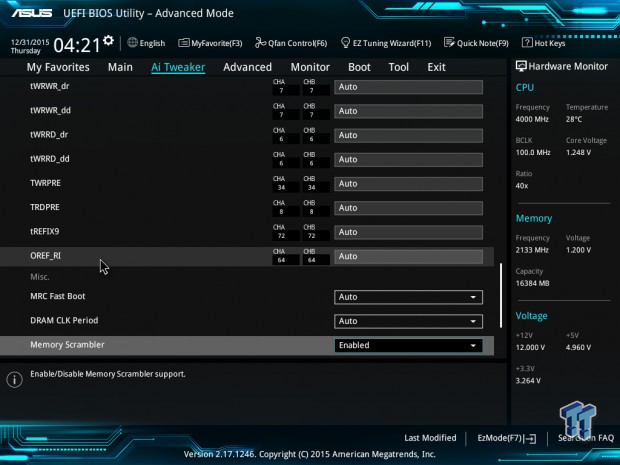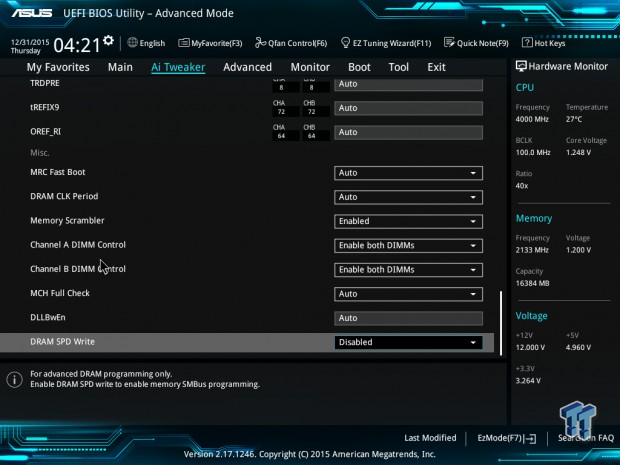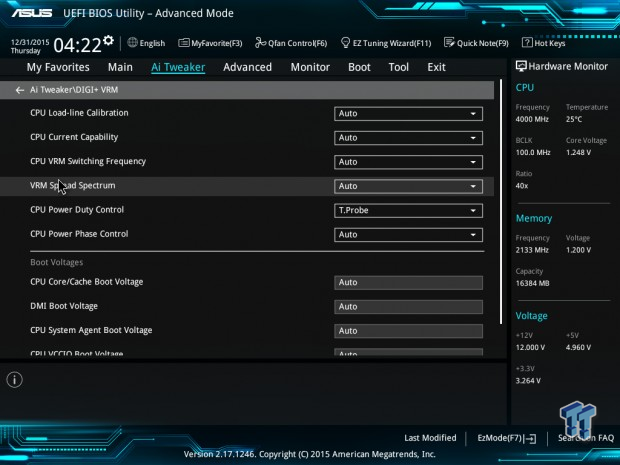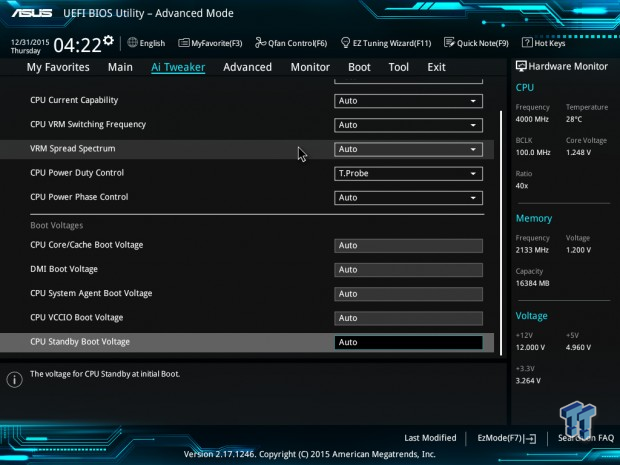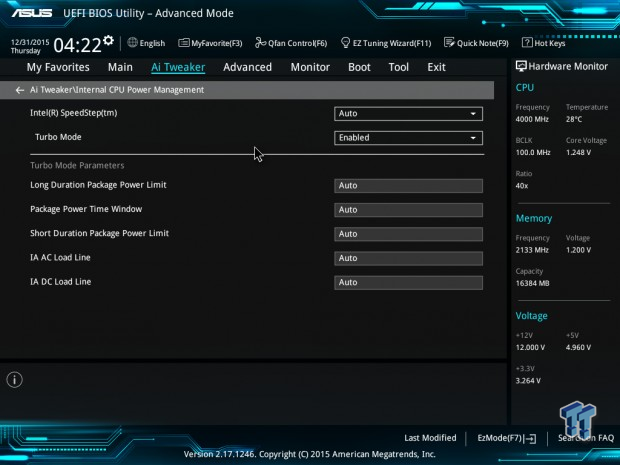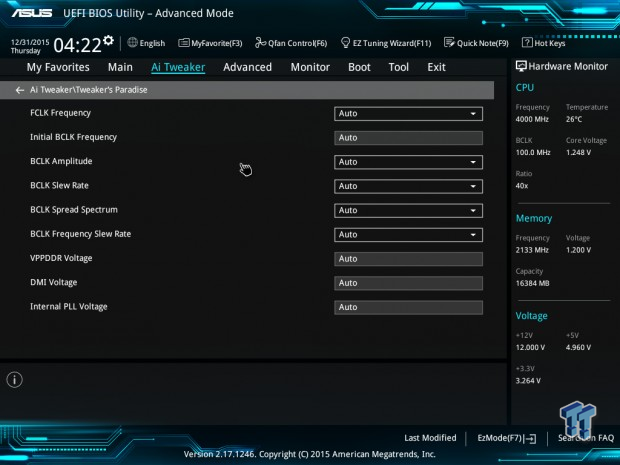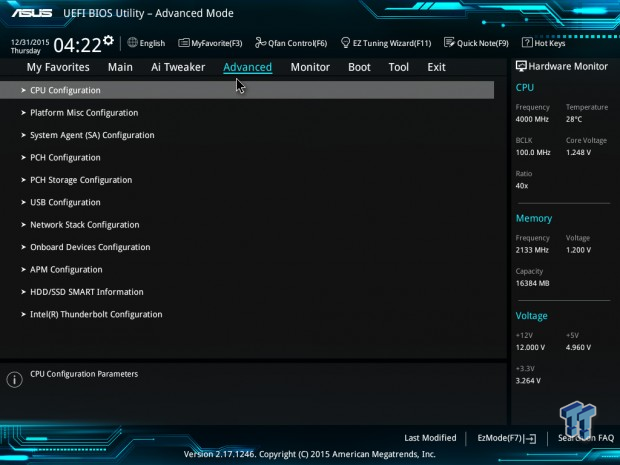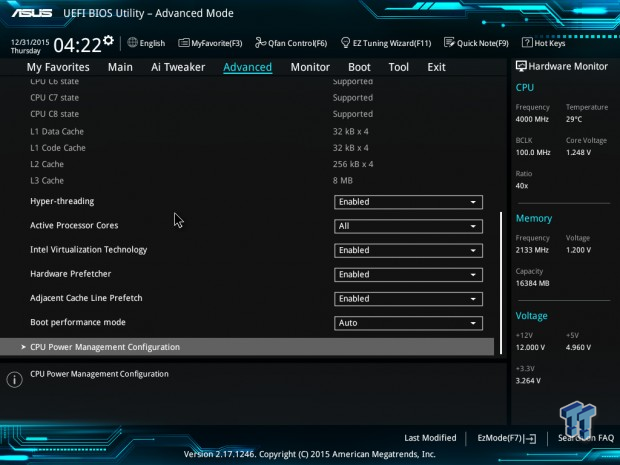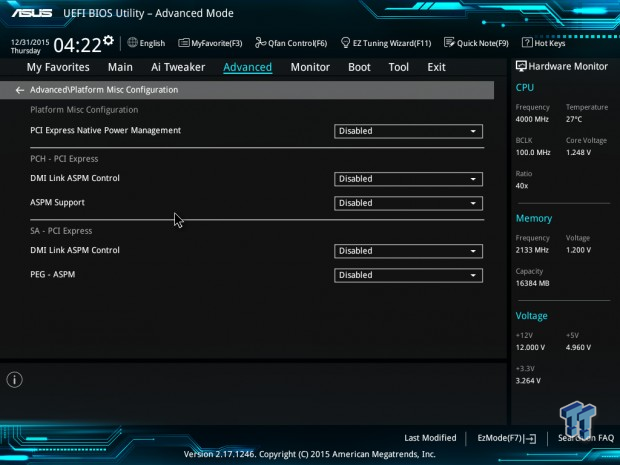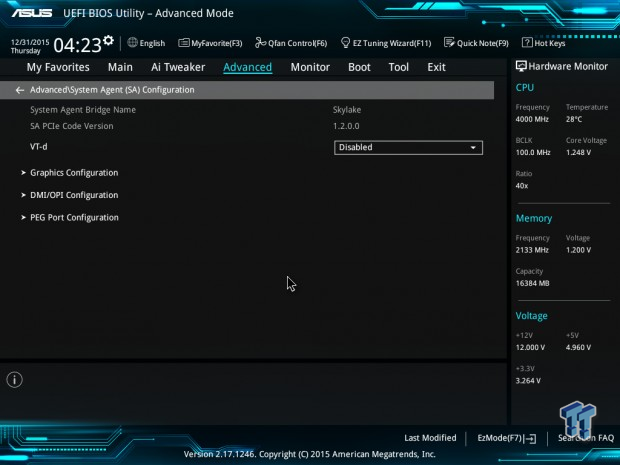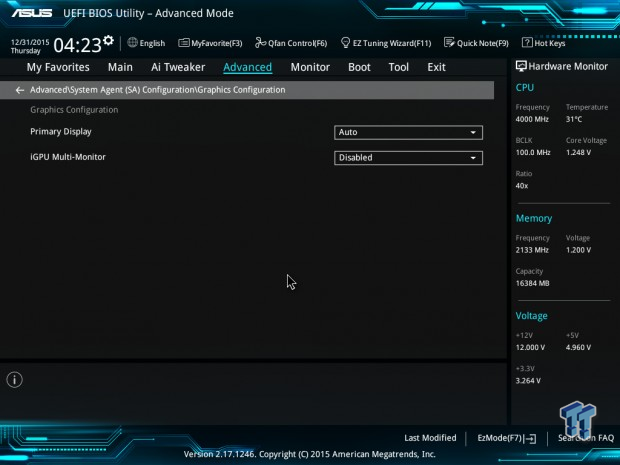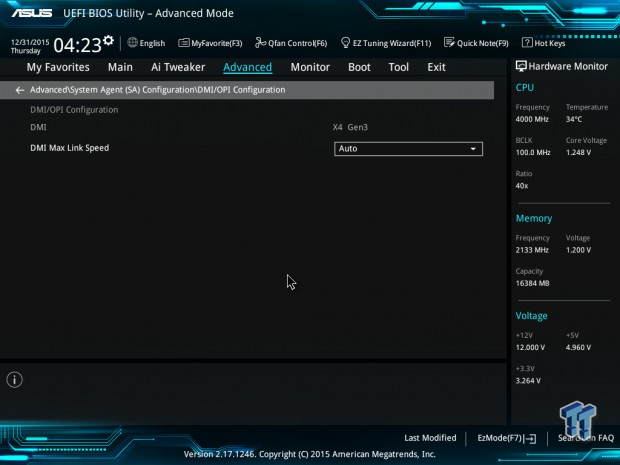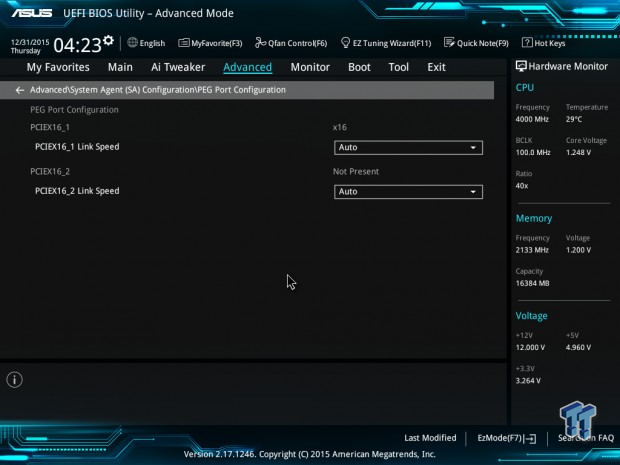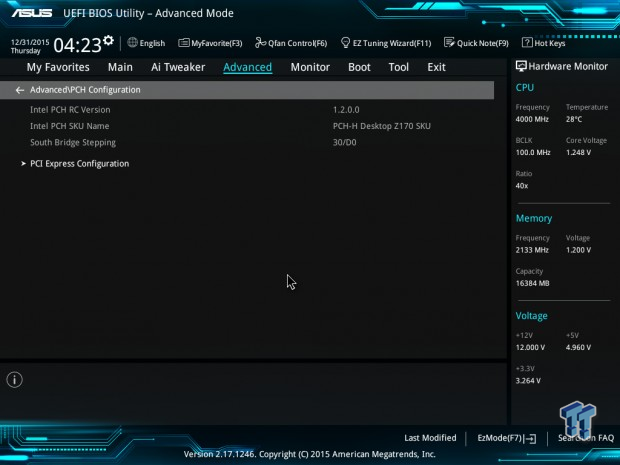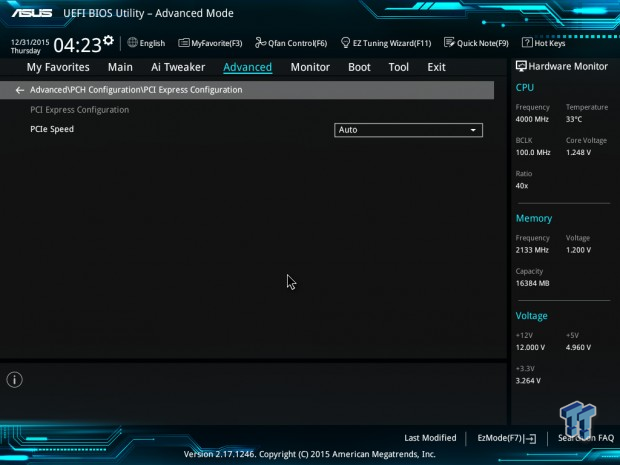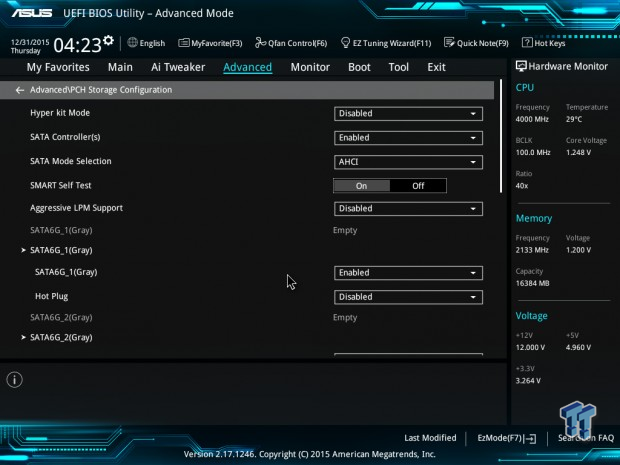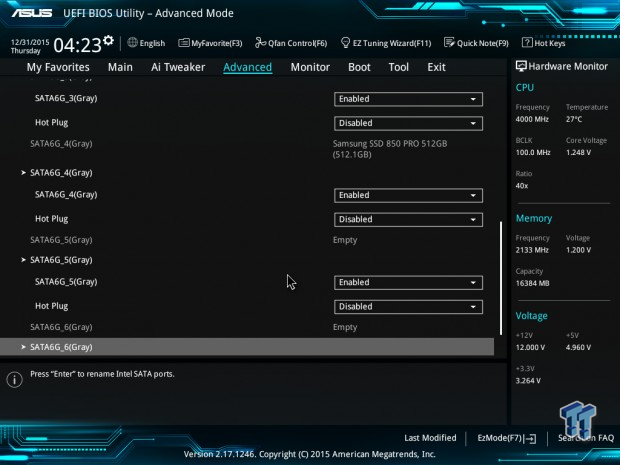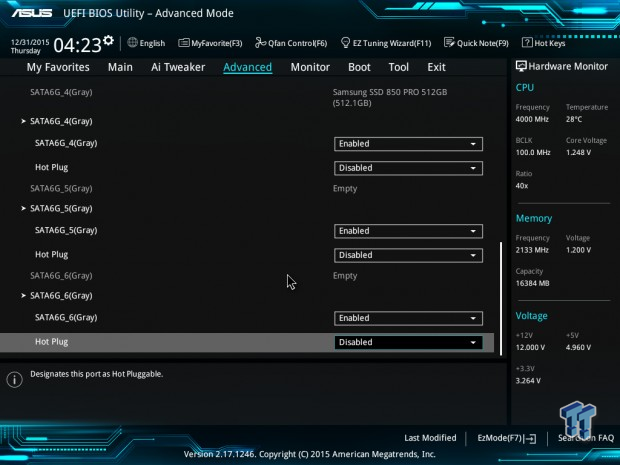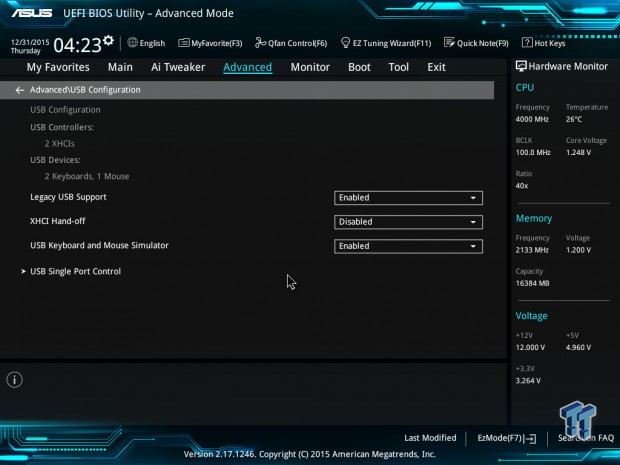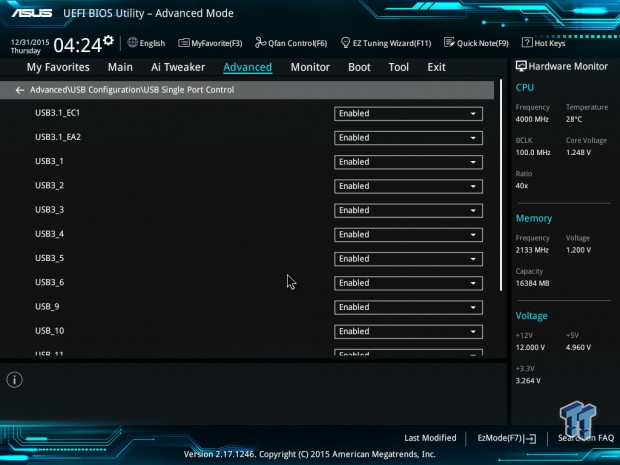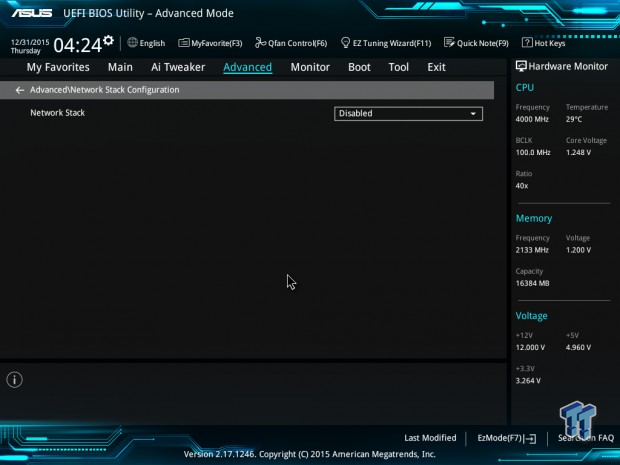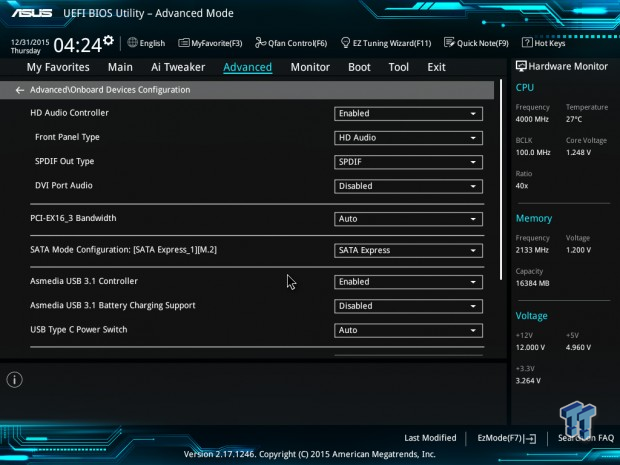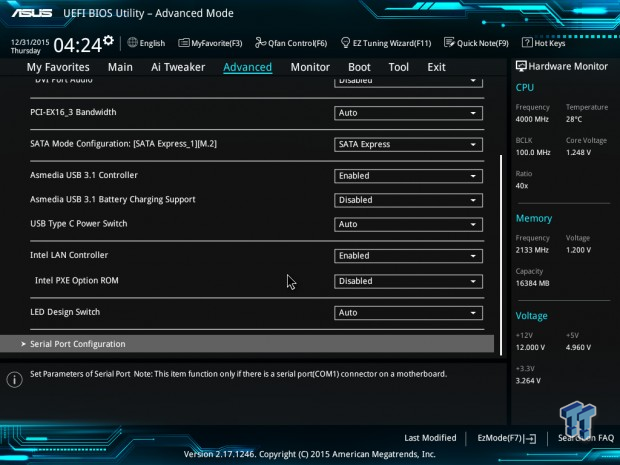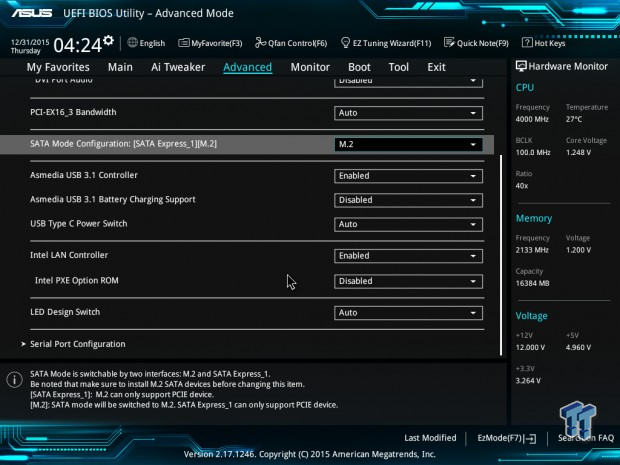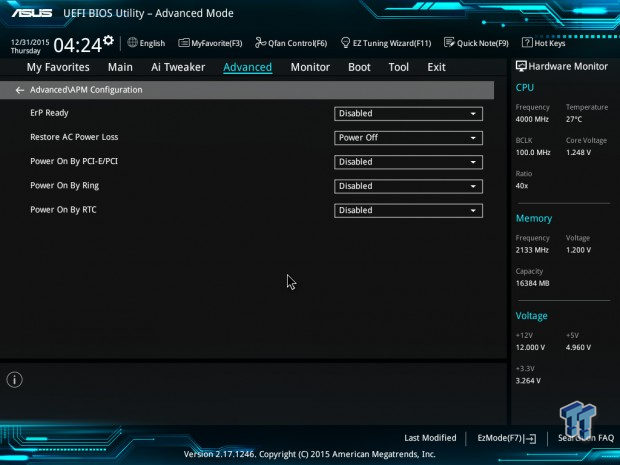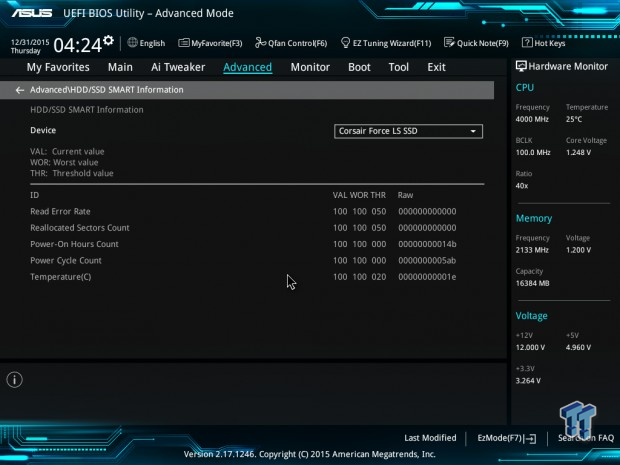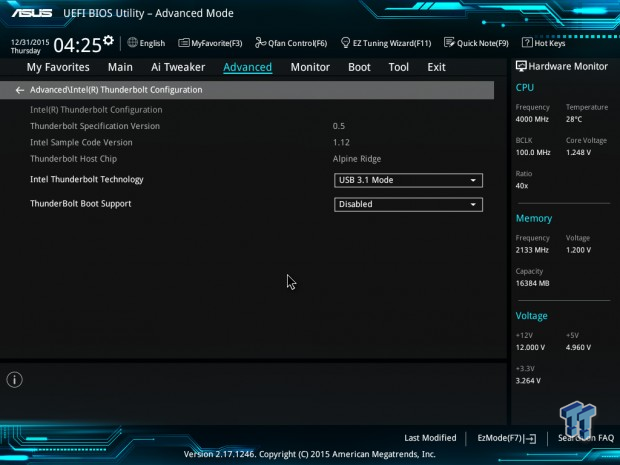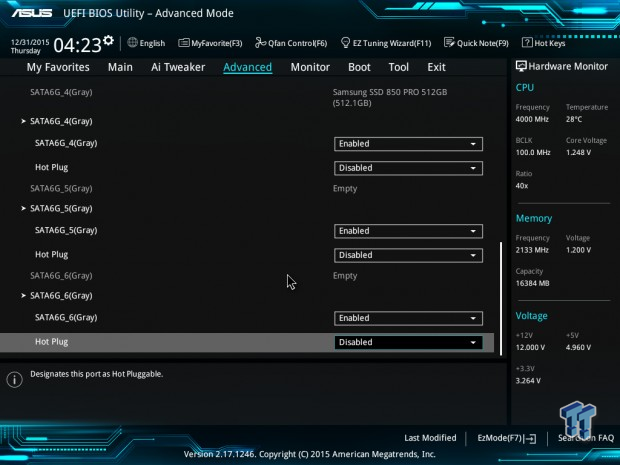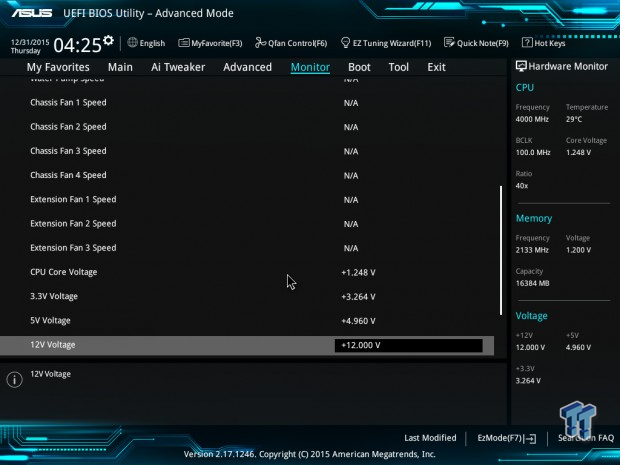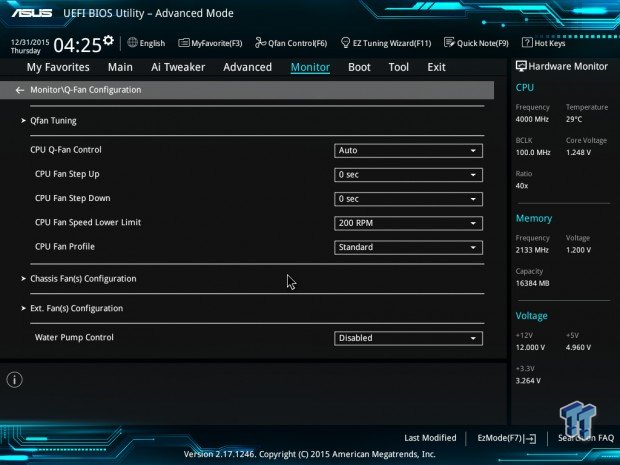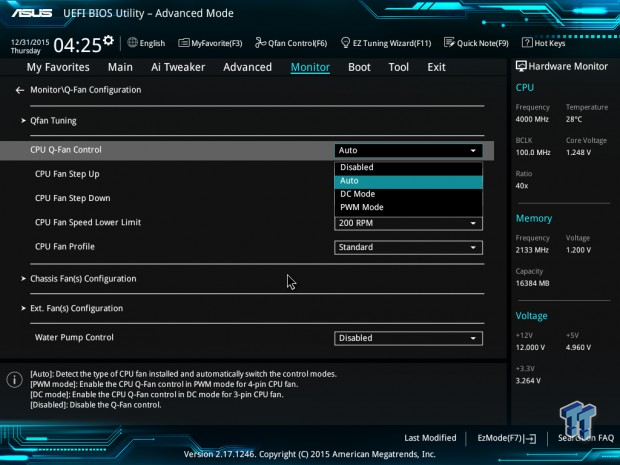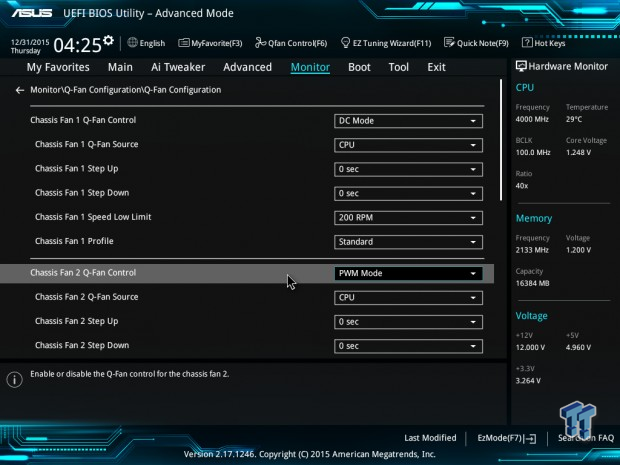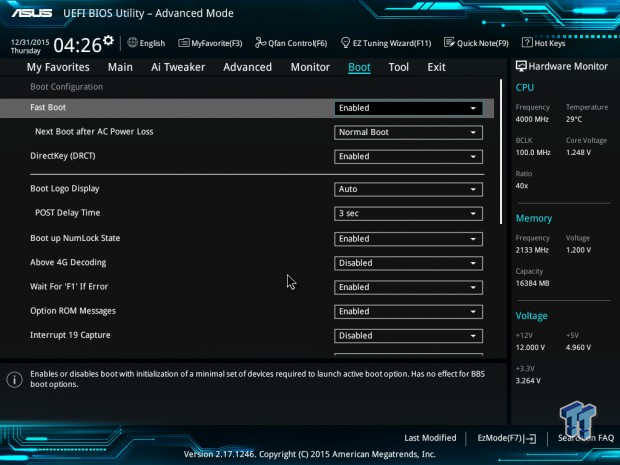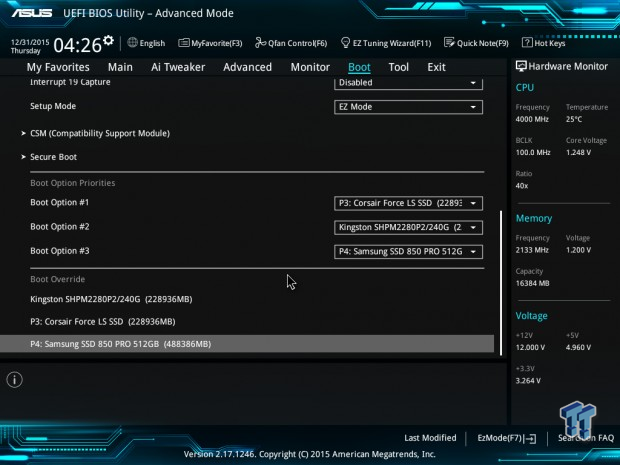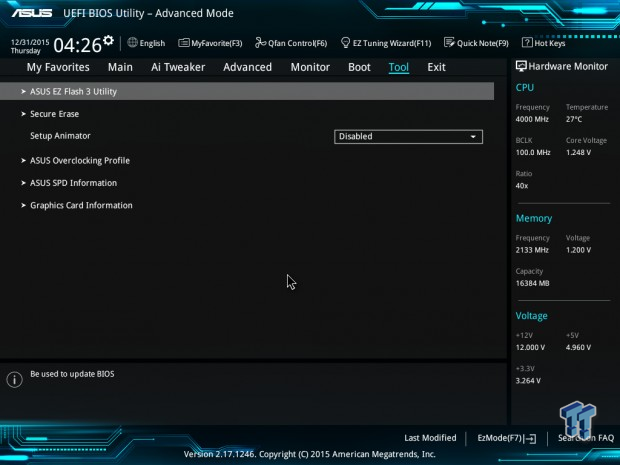 Software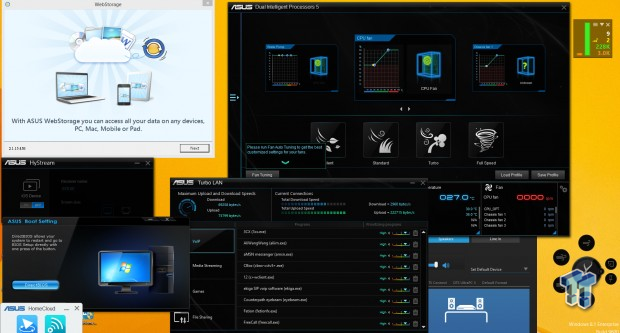 ASUS provides an acceptable amount of software programs (but not as much as an ROG board). This includes ASUS's AI Suite and DIP 5 for auto tuning, fan control, and many other capabilities (see manual or their site).
ASUS also includes TurboLAN, which is like ASUS's version of cFOS for the Intel NIC. A special skin for the Realtek audio suite is included as is HyStream, ASUS's Boot Setting, ASUS Home Cloud, and ASUS WebStorage.
Test System Setup
Steven's Motherboard Test System Specifications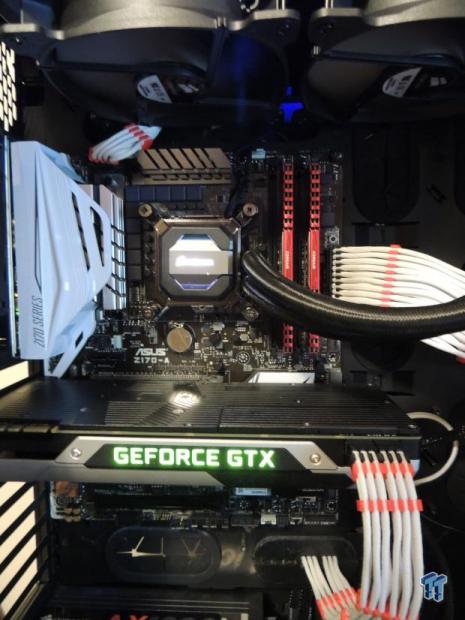 The Z170-A looks quite nice inside the case; the white IO shield stands out, and the heat sinks do a decent job of blending in with the capacitors and PCB. The LEDs on the backside of the motherboard do very little regarding illuminating more than just parts of the PCB divide.
The new test bench is designed to test every aspect of the motherboard and IO. I have designed it so that the motherboard sits in a case and is cooled by fans always-on at a constant rate to keep the conditions similar during all tests. I have cut out part of the case behind the motherboard so I can get thermal images of the back of the PCB where the VRM heat spreads. System and CPU power measurements are now digitally logged.
I am also using a Netgear Nighthawk X4 AC2350 for our network (including wireless AC) tests. The latest M.2, SSD, and USB technologies are also being utilized to test the maximum potential of the motherboards that are tested.
Overclocking
Overclocking Results
CPU Overclocking
I have decided to reduce the CPU VCore to 1.4v applied (I will measure real VCore at the output capacitors), and see how high I can validate. On most boards it's 5.0. I have also decided to add real voltage levels compared to what is set for all motherboards, if they don't have voltage read points I will mark where I read the voltage.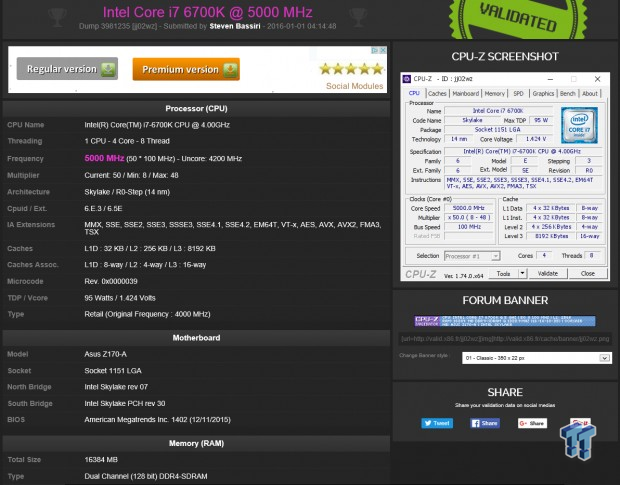 The Z170-A overclocks where I expect it to. I did have to use Intel's XTU to change the multiplier inside Windows, but even with a slightly added load, it was able to validate 5GHz.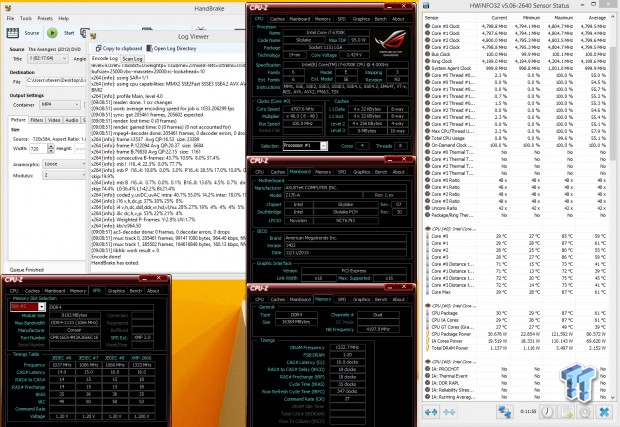 On the Z170-A, I was able to run 4.8GHz with XMP and 4.2GHz cache. The motherboard worked quite well.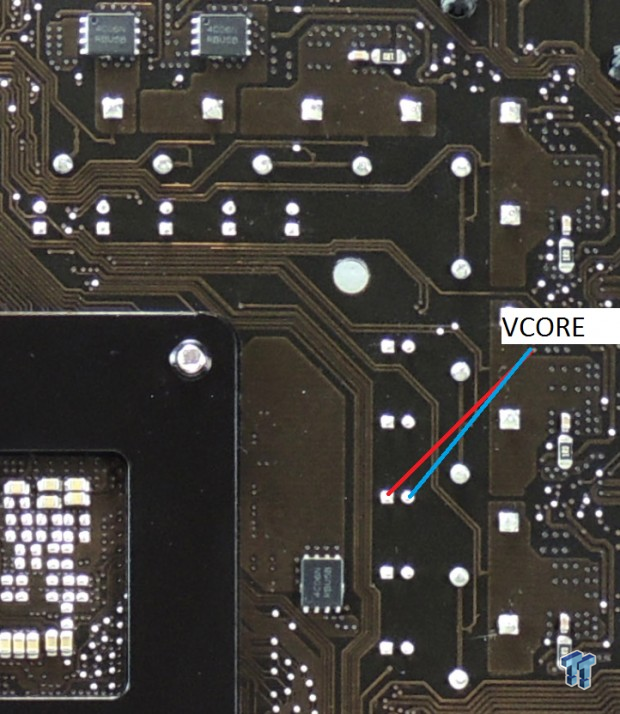 The BIOS LLC levels can be a bit confusing; Level 7 is the most vdroop reduction and level 7 is the least amount of vdroop reduction. I liked level 4 for 1.3v. CPUz is also okay at providing voltage readings, but if you want to be more accurate, you can read the voltage from the read points indicated above (I use the read point).
Compatible Memory Overclocking Kits
Test 1: 4x4GB (16GB) Corsair Dominator Platinum 3200Mhz C16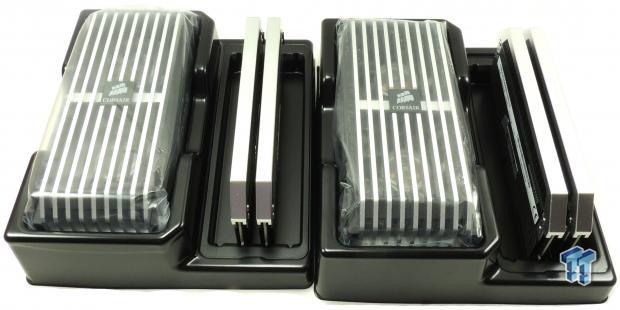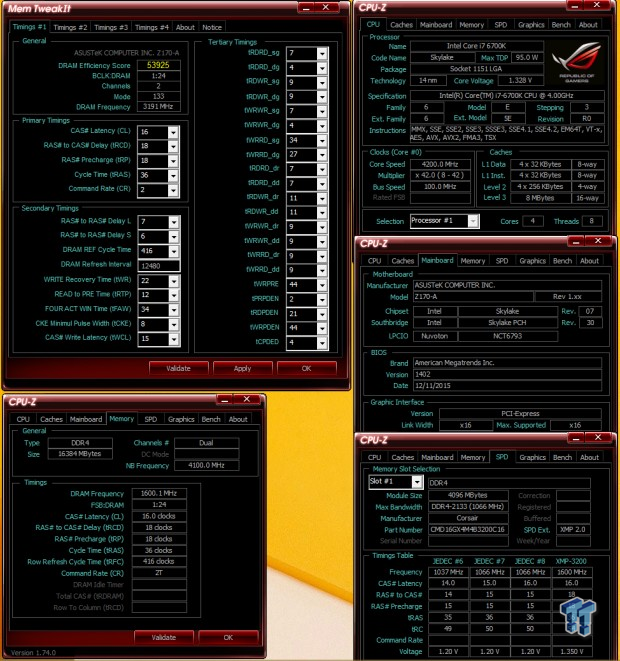 This kit worked well with XMP, and I used the XMP switch to make sure it works.
Test 2: 2x4GB (8GB) G.Skill Trident Z 3733MHz C17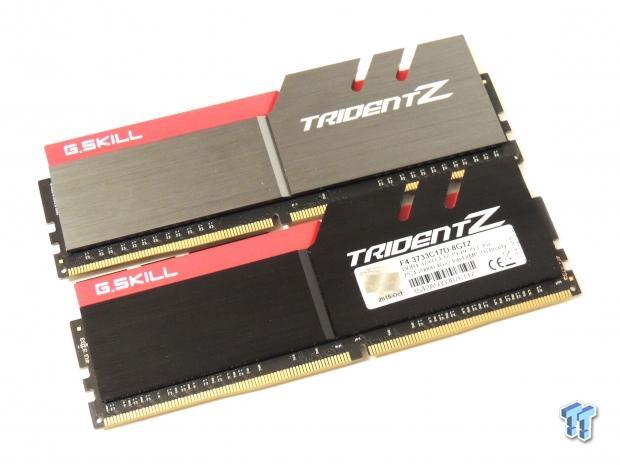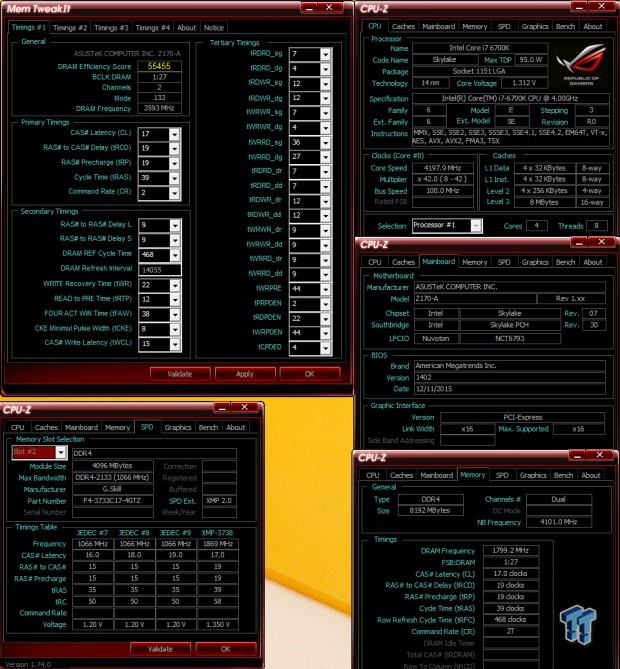 This kit did not work at XMP, but if I lower the multiplier from 37.33x to 36x, it did boot with XMP timings at 3600Mhz. This is not a high-end motherboard so you should not expect crazy memory overclocking. If you want higher speed memory, and you want to make sure ASUS supports it, there is a list of compatible kits on ASUS's site.
CPU, Memory, and System Benchmarks
CINEBENCH 11.5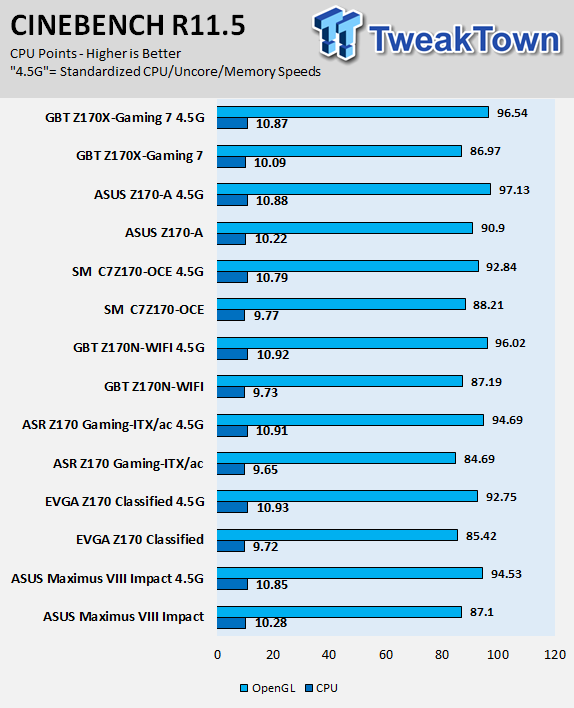 wPrime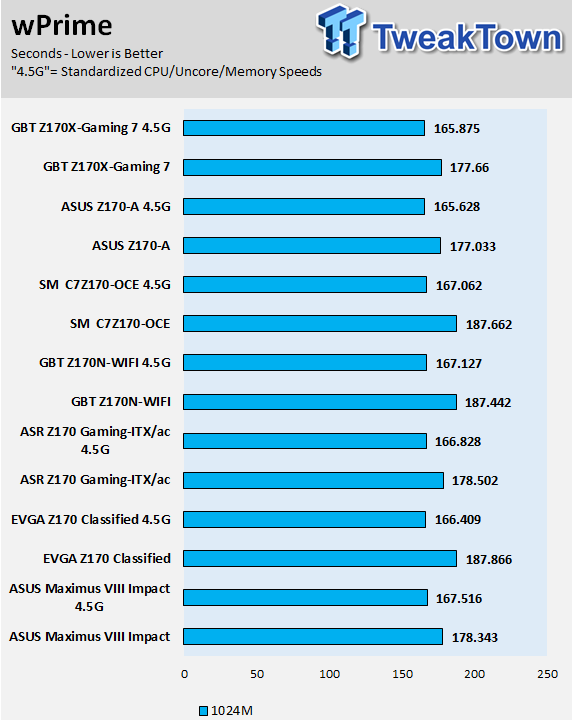 AIDA64 AES and HASH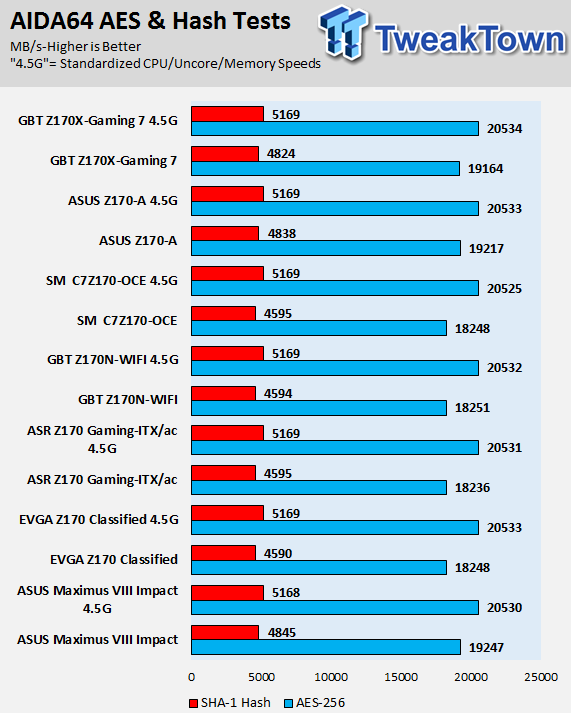 AIDA64 FPU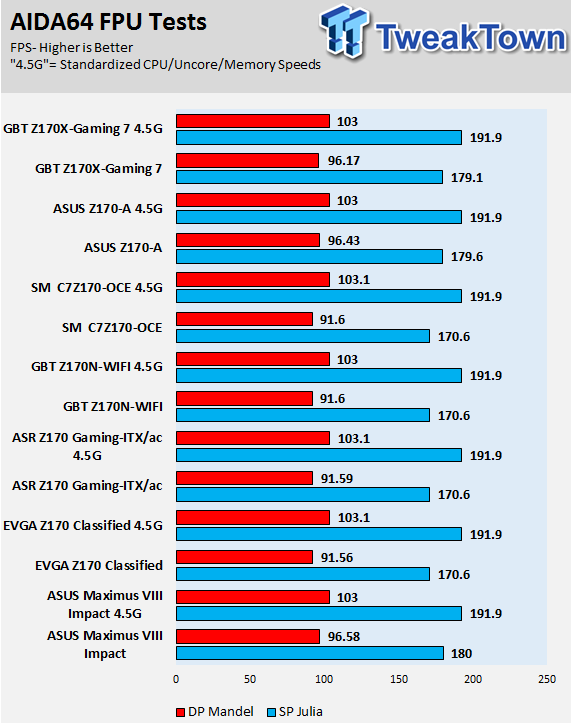 AIDA64 Memory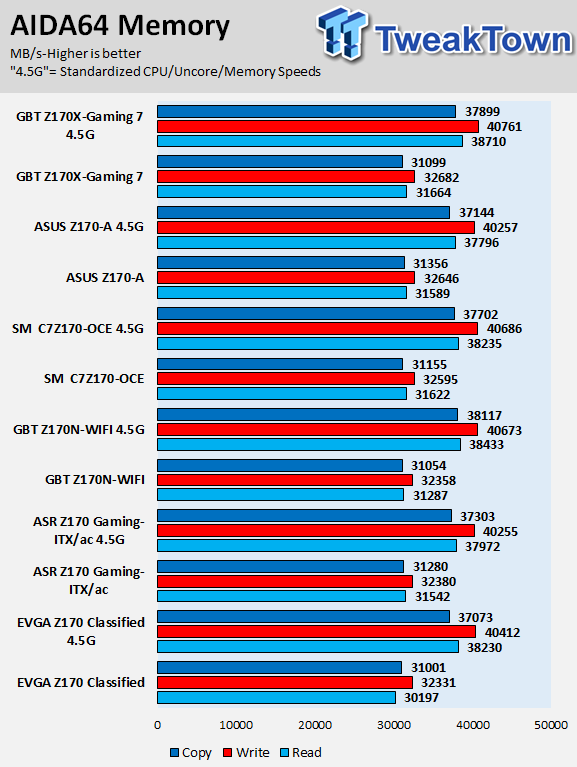 PCMark8 Home Test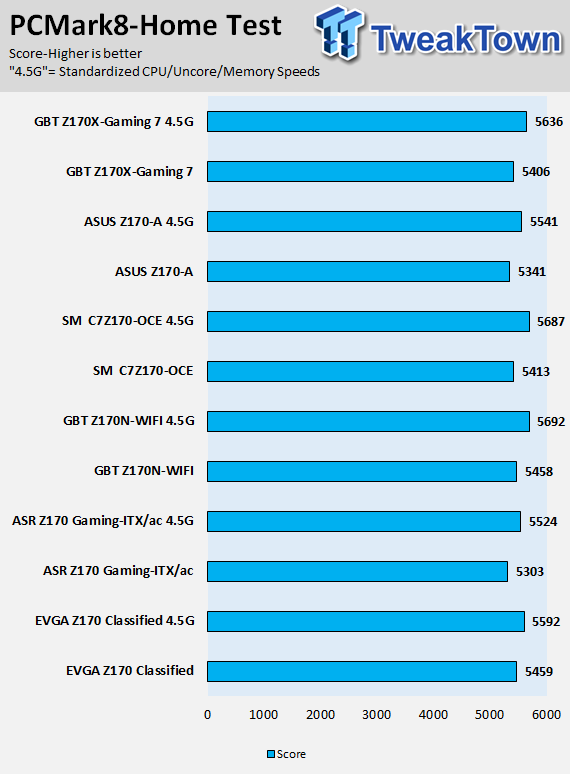 3DMark: Cloud Gate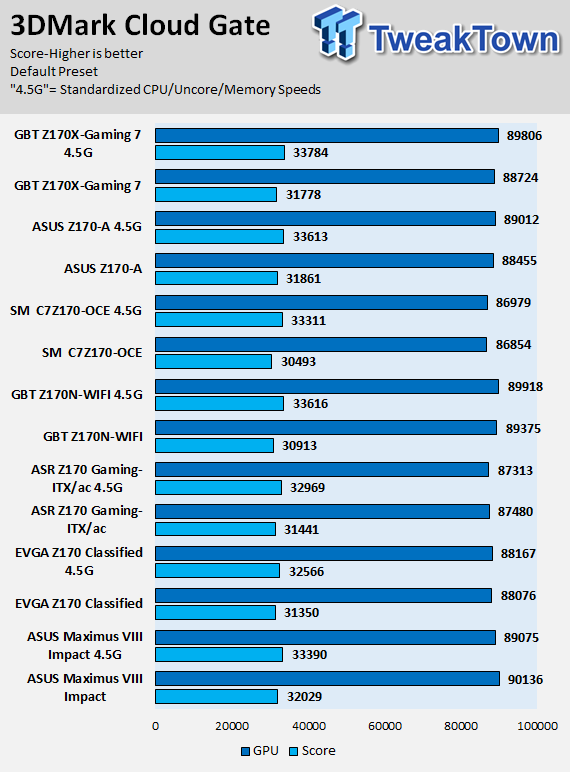 3DMark: Fire Strike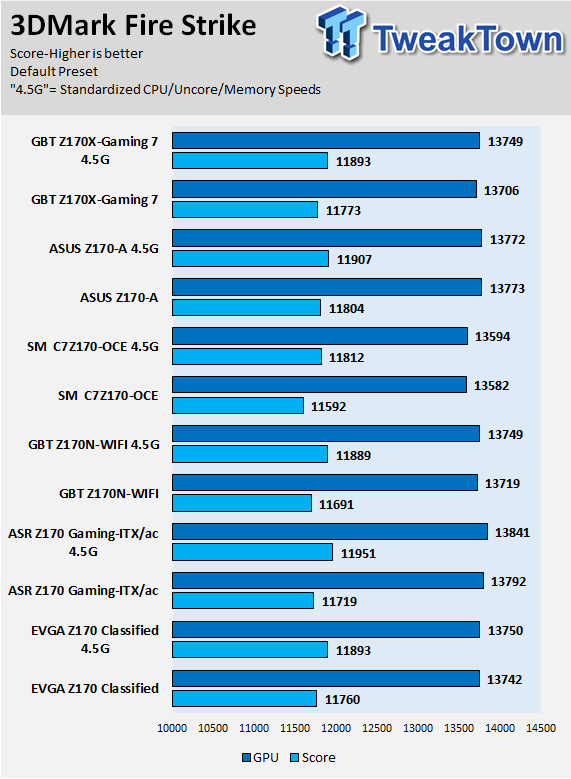 3DMark: IceStorm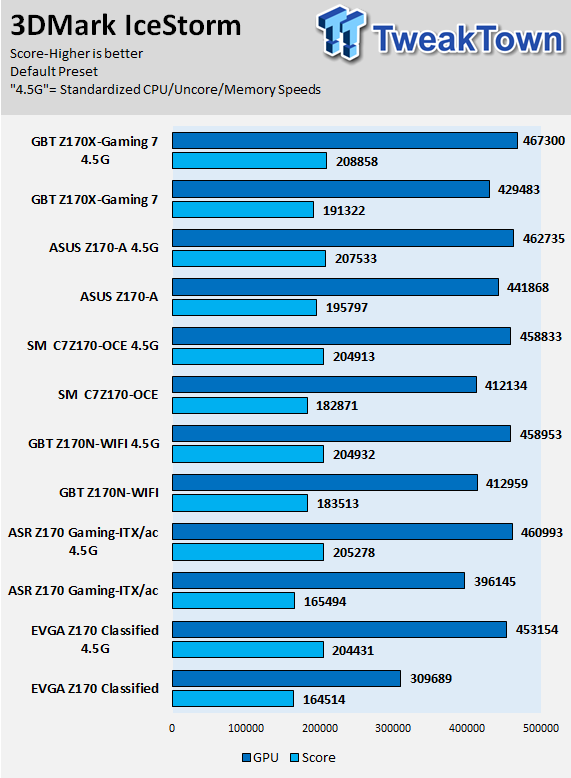 ASUS's Z170-A has multi-core enhancement enabled, and it does help it at standard settings since it is running a bit faster than some other boards. However, motherboard performance is still very strong compared to other boards, even when the speeds are standardized, especially in CPU bound benchmarks.
Some motherboard reviews put a lot of weight into motherboard CPU, memory, and GPU benchmarks, but for me CPU, memory, and GPU benchmarks on motherboards should be more about finding anomalies, and I do that at standard settings (4.5G in graphs).
System IO Benchmarks
CrystalDiskMark SATA6G: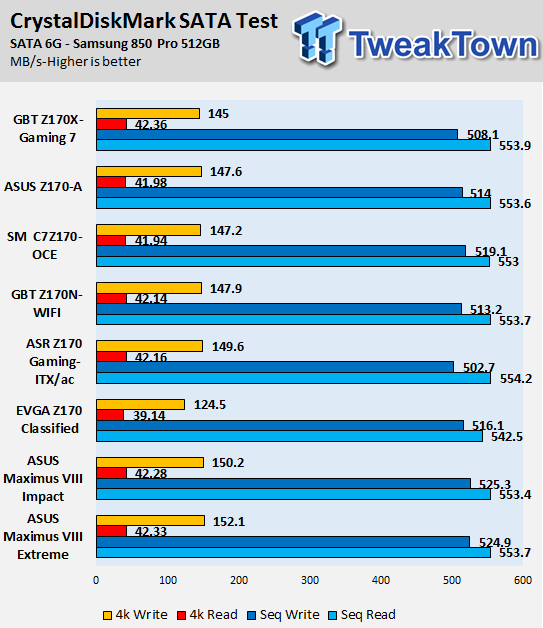 CrystalDiskMark M.2: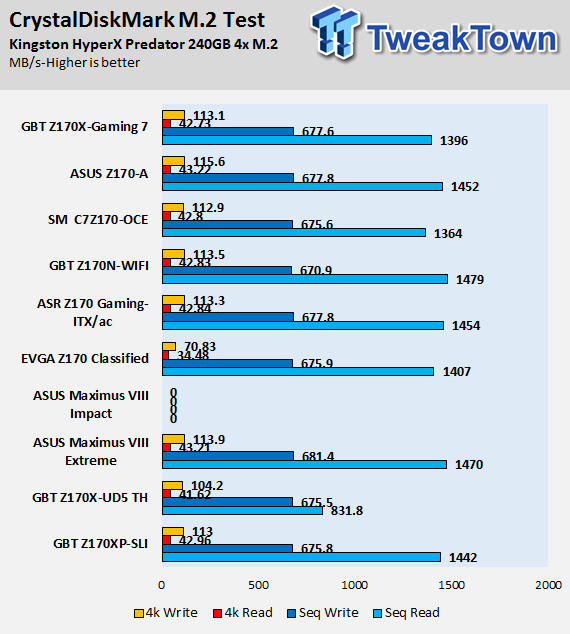 CrystalDiskMark USB 3.0: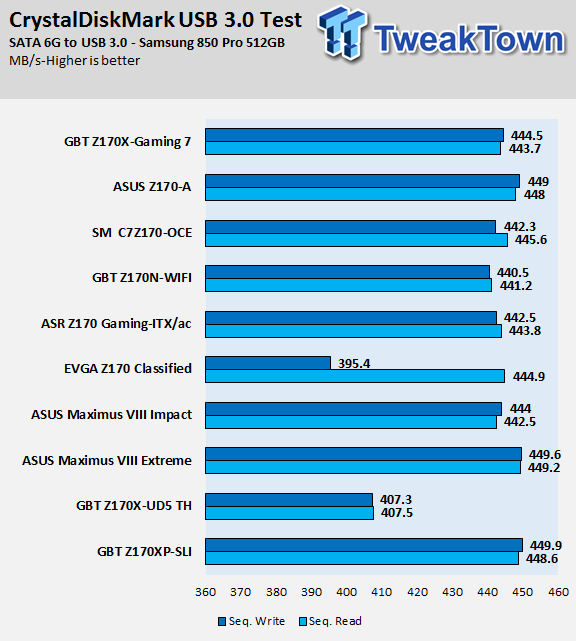 ixChariot Network Throughput: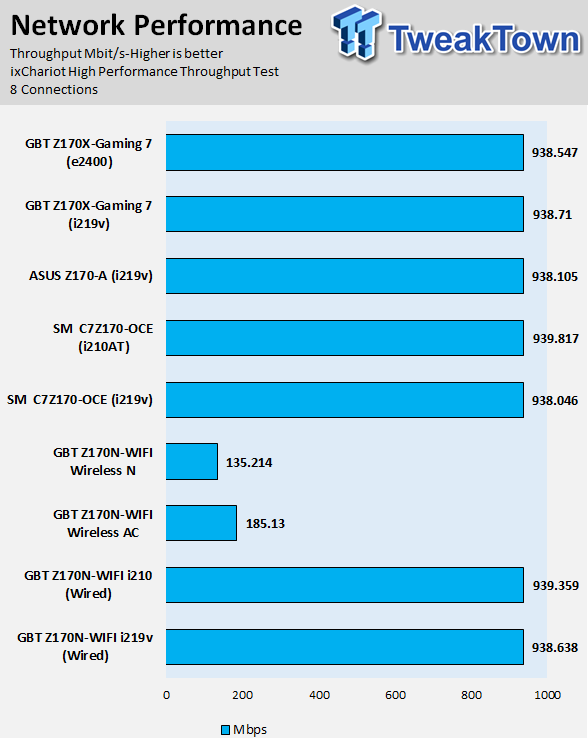 The Z170-A has excellent IO performance as well. Overall this board performs excellent with IO, especially in USB speed.
Audio RMAA 5.5:
I disable all audio features, set the correct bitrates, and then test the audio with a loopback test.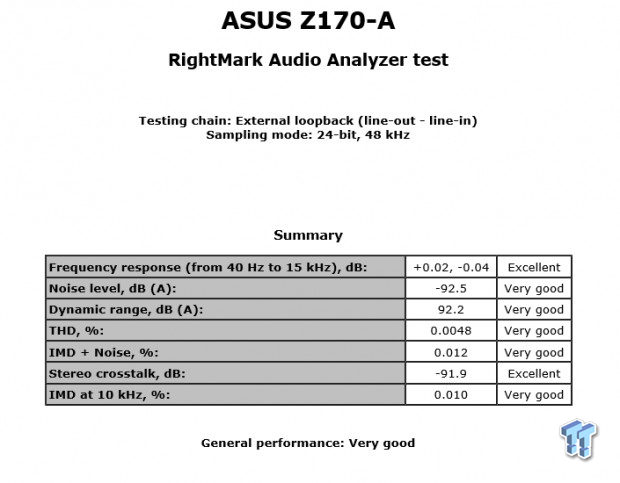 Sound Judgment by Ear: Very Good, quality was high, and the sound was clear. This board uses a different codec than most Z170 motherboards, but it still sounds very good. There are five ratings for audio: 1. Problems, 2. Okay, 3. Acceptable, 4. Very good, 5. Excellent
Thermal Imaging and Power Consumption
System power usage is measured at the AC/DC PSU (the Corsair AX1200i) which I have connected to another system to measure the test system, and as a backup, I have a wall meter to verify. The CPU power is measured through the 8-pin connector, which is hooked up to a hall effect IC, which measures current and puts out a voltage in proportion to the current. That voltage is logged by a National Instruments ADC, which logs the DC voltage level that I then convert into current.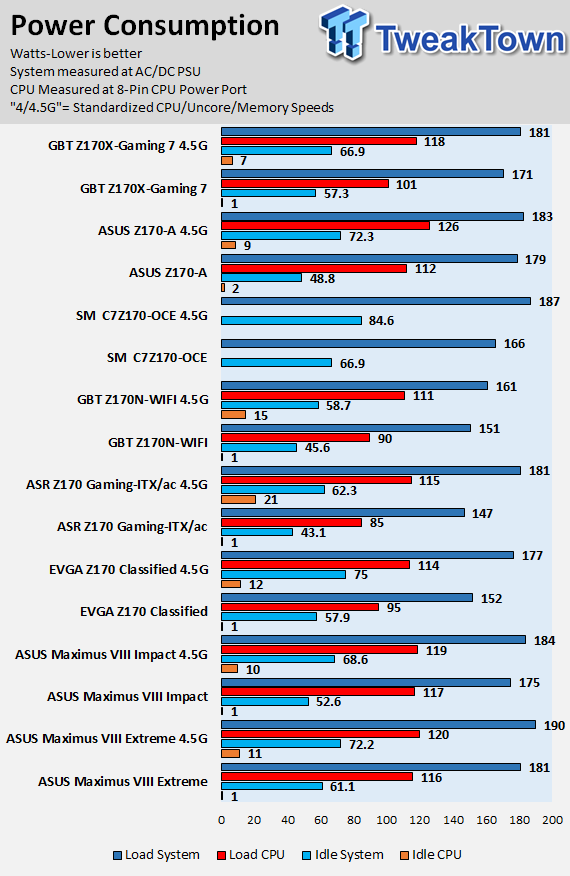 Note on Thermal Images: In the temperature section, we use our Seek thermal imaging camera to capture the surface temperatures of major components on the board. I look at the VRM and then all other things that light up the screen. If there is something to worry about, then I will state it. Otherwise, I will just show the hotter running parts of the board for fun. Unless some component is over 80-90C, then there isn't anything to worry about.
All systems will act differently, so I will look for commonalities, such as how far from the VRM the heat spreads through the PCB and the difference in temperature between the front side and backside of the PCB. Keep in mind, the majority of the heat from the VRM goes into the PCB as it is a giant soldered on copper heat sink. A larger difference in temperature between the back and front of the PCB points towards a more effective heat sink.
Thermal Testing at Stock Speeds:
The image on the left is always at idle, and the image on the right is at load. During ALL TESTS, fans above the VRM that cool the CPU cooler's (Corsair H110i GT) radiator are turned on to high (12v).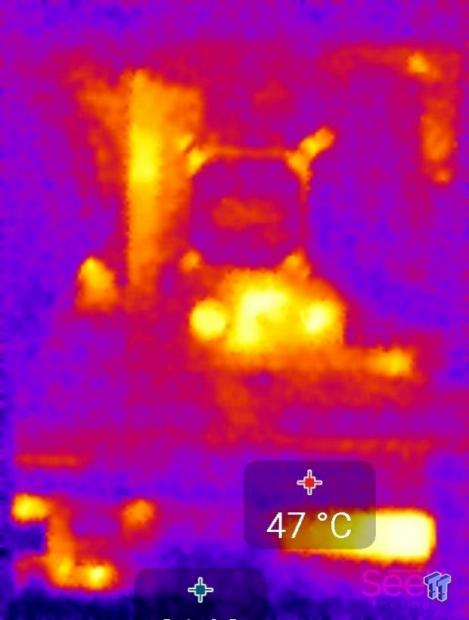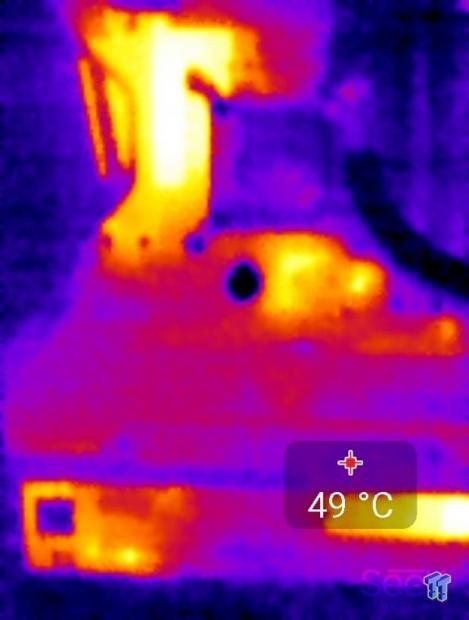 Full frontal.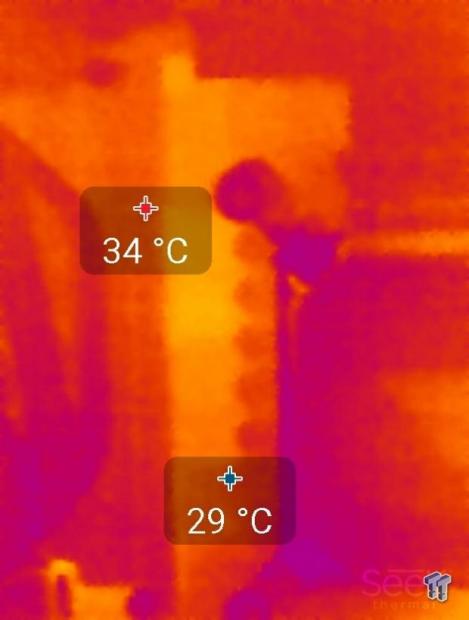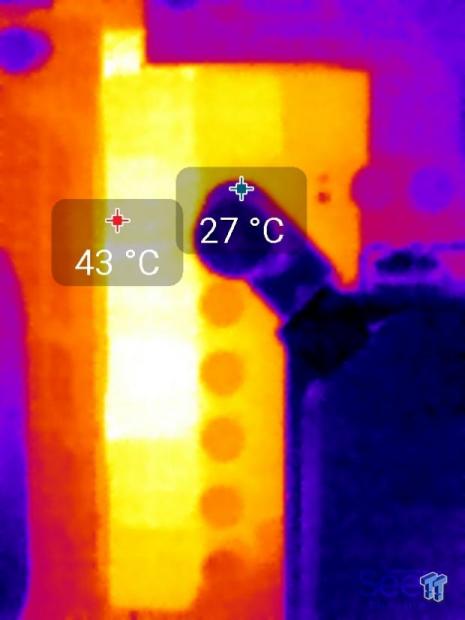 Up-close of the front of the VRM.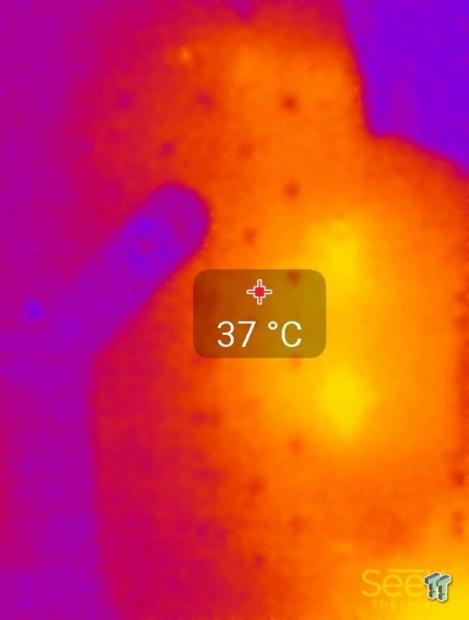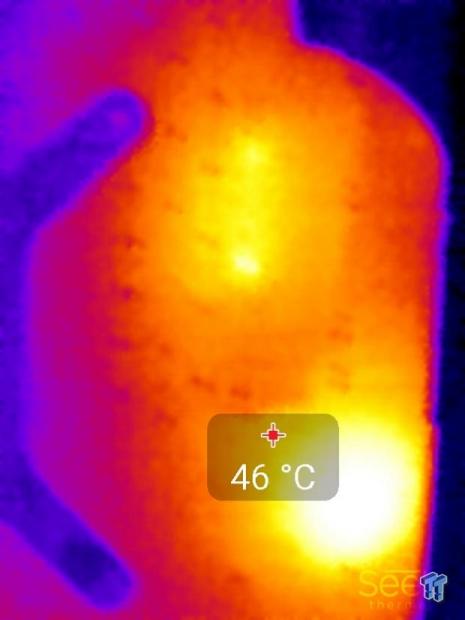 Up-close of the back of the VRM.
Thermal Testing at 4.5GHz Overclocked Speeds:
The image on the left is always at idle, and the image on the right is at load. During ALL TESTS, fans above the VRM that cool the CPU cooler's (Corsair H110i GT) radiator are turned on to high (12v).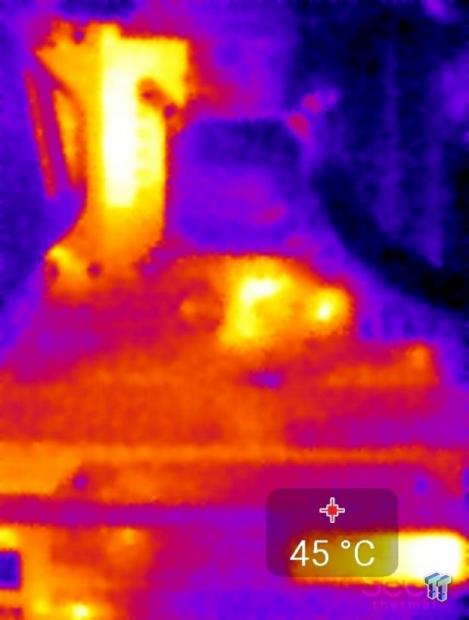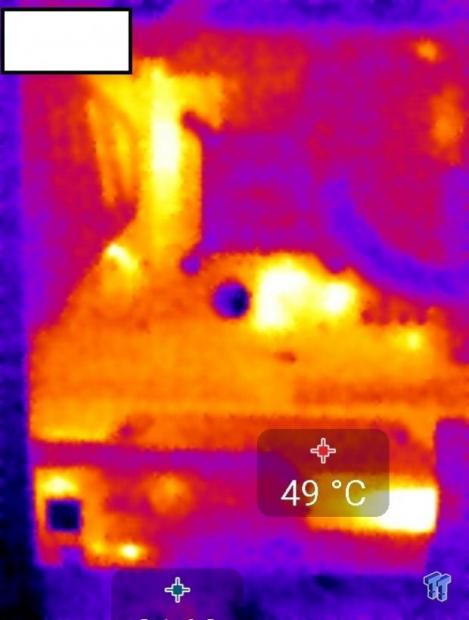 Full frontal.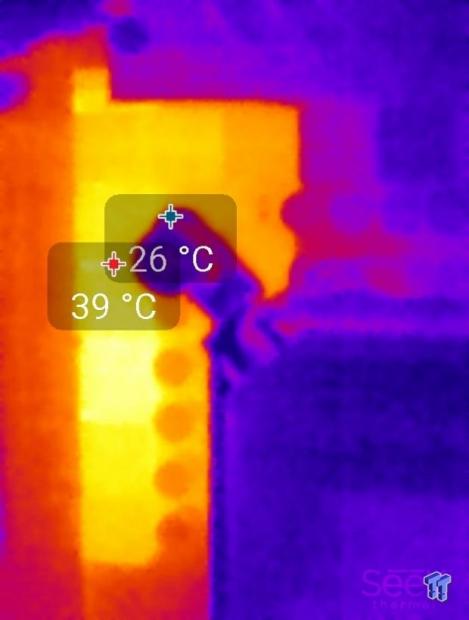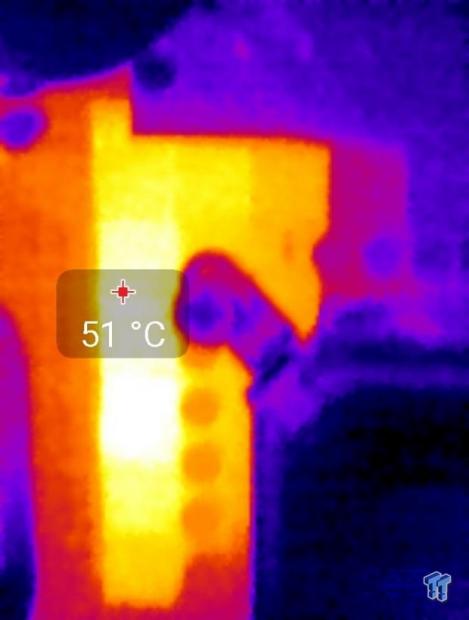 Up-close of the front of the VRM.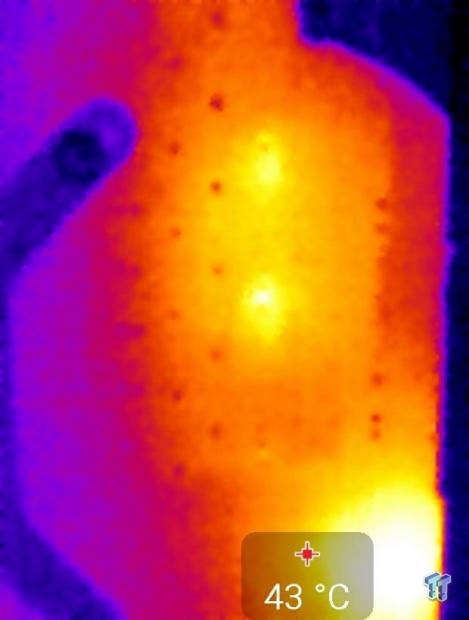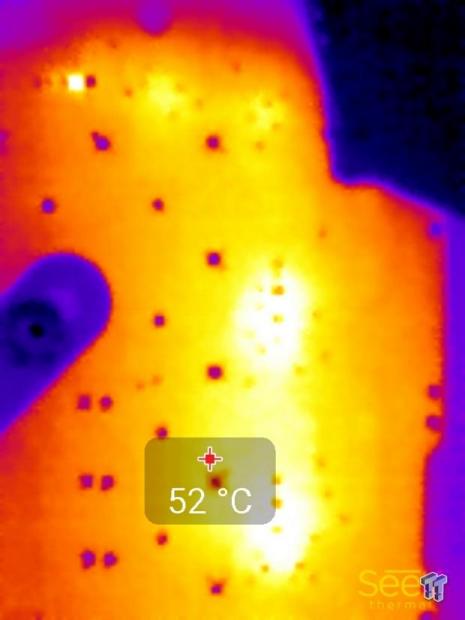 Up-close of the back of the VRM.
The VRM on the Z170-A is what I like to refer to as acceptable for Intel Skylake overclocking. Many motherboards in the same price range carry the same type of phases and perform the same under the thermal camera.
Higher-end motherboards such as the ROG series obviously perform much better and should last longer with heavy overclocks, but this motherboard performs well enough, so it should easily be able to handle a 24/7 overclock at 4.8GHz if your CPU can go that high.
Anything under 60C is great, 60-80C is acceptable, and anything above 80C is a bit worrisome (if at stock).
What's Hot, What's Not & Final Thoughts
Here are key points about the ASUS Z170-A.
What's Hot
Fan Control Galore: The Z170-A has excellent fan control, and offers the most extensive fan support in its price range. Not only does it support seven fans of either DC or PWM design, but it also provides intricate control. Are seven headers not enough for you? Then you can purchase ASUS's fan extension card that can be controlled through the UEFI. Want to add a temperature sensor? Sure thing, a header is located on the board for you to do so. Overall, the Z170-A has fan control suited for an ROG board, but without the premium price.
Solid Performance: The Z170-A offers solid CPU and GPU performance that keeps up with that of higher-end ROG motherboard. IO performance is also excellent, and there aren't any noticeable pitfalls.
Intel NIC: Intel's NIC isn't a cheap part, and ASUS has done their best to provide an Intel NIC on almost all of their latest motherboards. At this price range, you don't expect an Intel NIC, but the Z170-A has one.
The Legacy is Strong: Many people demand legacy IO support, and at this price range it might not be common for manufacturers to add in extra controllers for additional functionality and legacy IO usually comes from existing controllers. However, ASUS has added a Realtek chip to provide D-SUB on the IO and an ASMedia chip to provide PCI for older sound cards and such. Extra resources had to be expended to support these features; it's not free for ASUS. PS/2 is also present, but that is through the SuperIO, which already exists.
What's Not
It's still a value segment motherboard: I might be nitpicking, but there are some parts of the board I feel could be better, and that is probably due to the board's low price point. The first is the IO shield that has huge hanging grounding fins that make it hard to install. The fins that stick out can easily slip into a slot, and they did, I had to mount the board twice with multiple tries to get it right. There are also only three LEDs that illuminate the PCB divide, which doesn't provide great illumination; you have to kind of stick your head in the case to see the lighting.
Final Thoughts
ASUS's Z170-A is a nice entry-level Intel Z170 motherboard with a few premium features. I like the fan control, and ASUS has done an excellent job of providing ROG level fan control. The support for legacy devices is a wise move on ASUS's part since people looking to spend a modest amount on a motherboard are more likely to save older hardware to use later.
This motherboard is priced to target wallet-conscious consumers who might be willing to give up some premium features they might not use and some bling for a more affordable product. That same consumer is also likely to save their older PCI sound card and D-SUB (VGA) 1080 monitor instead of buying a newer versions of these products that offer only slight performance gains if that.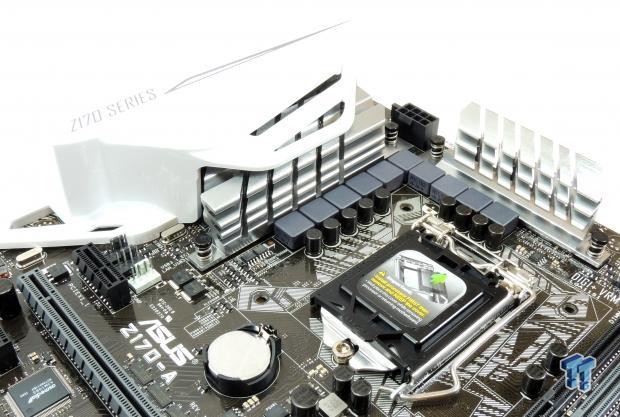 Any issues I had with the motherboard were not big enough to cause performance issues. The UEFI of the Z170-A was top notch, just as good as higher-end ASUS motherboards for the Z170 platform, so you aren't getting a cut-down version or anything like that. Overall I was quite pleased with the Z170-A, I felt that ASUS has done a good job of balancing cost and features, and the inclusion of higher-end features on an entry-level product is a nice touch.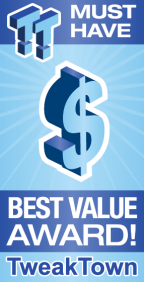 | | |
| --- | --- |
| Performance (including Overclocking) | 91% |
| Quality including Design and Build | 88% |
| General Features | 92% |
| Bundle and Packaging | 89% |
| Value for Money | 95% |
The Bottom Line: The ASUS Z170-A is an excellent value buy motherboard, offering some premium features for the wallet wise consumer.
PRICING: You can find products similar to this one for sale below.

United States: Find other tech and computer products like this over at Amazon.com

United Kingdom: Find other tech and computer products like this over at Amazon.co.uk

Australia: Find other tech and computer products like this over at Amazon.com.au

Canada: Find other tech and computer products like this over at Amazon.ca

Deutschland: Finde andere Technik- und Computerprodukte wie dieses auf Amazon.de
We openly invite the companies who provide us with review samples / who are mentioned or discussed to express their opinion. If any company representative wishes to respond, we will publish the response here. Please contact us if you wish to respond.