TweakTown's Rating: 89%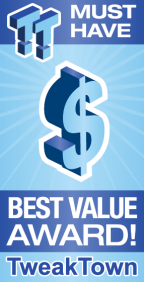 The Bottom Line
GIGABYTE's Z170N-WIFI is a cost-effective Intel Z170 Mini-ITX motherboard with desktop-class audio and storage capabilities loaded with triple Intel network controllers to seal the deal.
Introduction, Specifications, and Pricing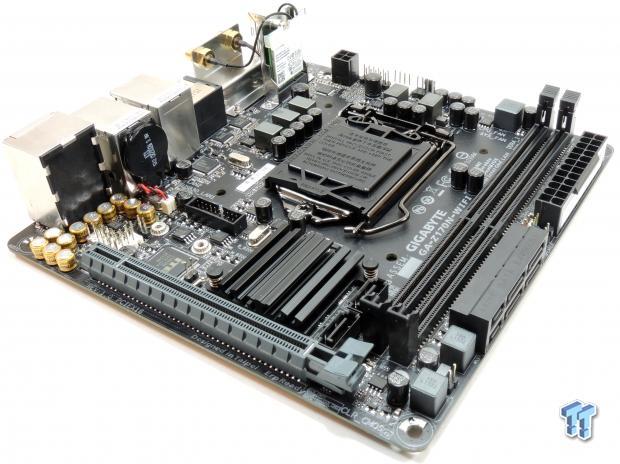 Most motherboard manufacturers offer only a few Mini-ITX boards for each generation, and GIGABYTE has two for the Intel Z170 Skylake chipset. The first is the Z170N-WIFI and the second is the Z170N-Gaming 5. The Z170N-WIFI is part of GIGABYTE's Ultra Durable series, their mainstream line, targeting power users and enthusiasts alike. One of the main features of the Z170N-WIFI that sets it apart from other Mini-ITX boards is that it carries three NICs; two wired Intel NICs and a single Intel Wireless AC card.
The Z170N-WIFI is a very unpretentious motherboard; it offers many features, but when it comes to appearances, GIGABYTE decided to go with basics. While some people do enjoy colorful motherboards, many others just want a solid board that works, and the Z170N-WIFI is meant to be just that. Over the past few months, I have reviewed two top of the line gaming oriented Z170 Mini-ITX motherboards, and today I will explore a more mainstream and modest offering, the Z170N-WIFI.
Specifications

The GIGABYTE Z170N-WIFI has a healthy amount of features including 2x 1Gbit Intel NICs, Intel Wireless-AC/BT 4.2, 6x SATA6G (2x SATA Express), 32Gb/s M.2 slot, seven total USB 3.0 ports (one is USB type-C), and support for up to 2x USB 2.0 ports through the internal header. The motherboard also carries dual HDMI ports and 7.1 audio with a TOSLINK.
Pricing
The Z170N-WIFI is priced at $144 on Newegg at the time of writing, which is in the mid to low range for Z170 Mini-ITX motherboards.
Packaging and Z170N-WIFI Overview
Packaging and Overview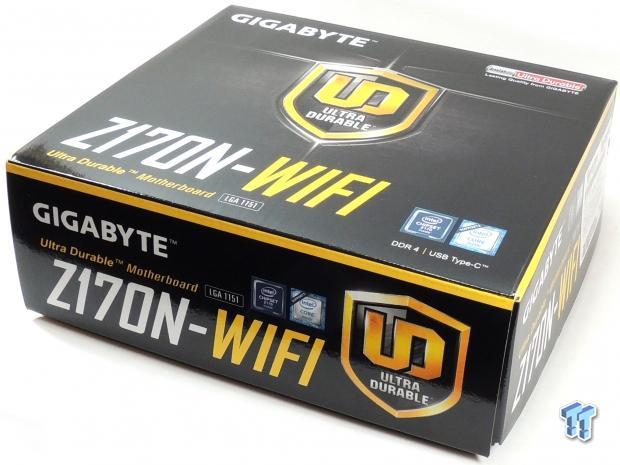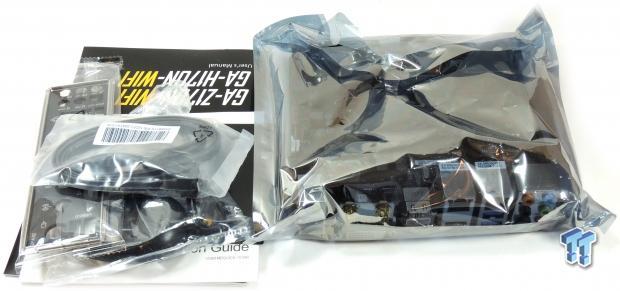 The Z170N-WIFI's box is quite thick and combined with the packaging protects the motherboard from any outside exposure.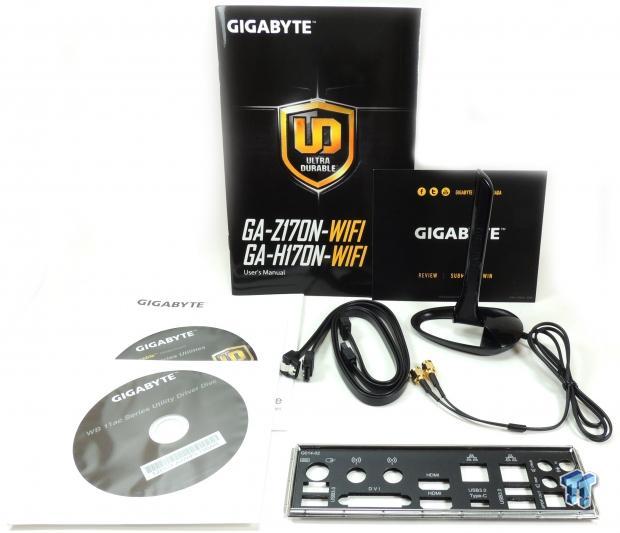 Accessories are the basics; WirelessAC/BT magnetic antenna, 2x SATA6Gb/s cables, IO panel, GIGABYTE case badge, driver DVD, and manual with a survey.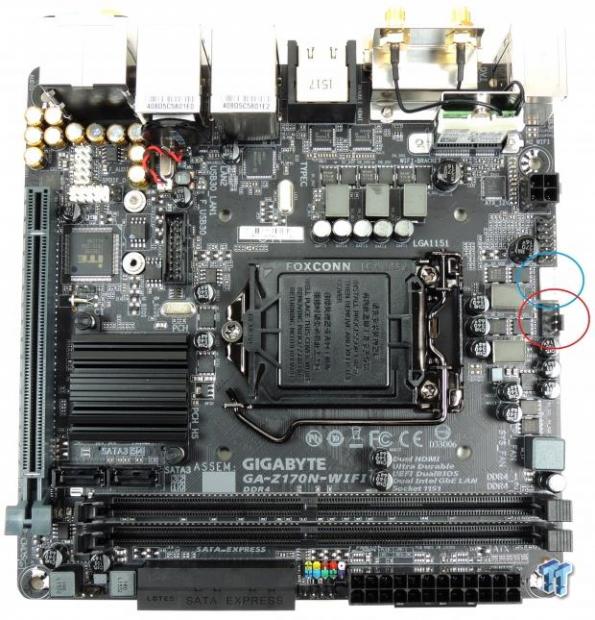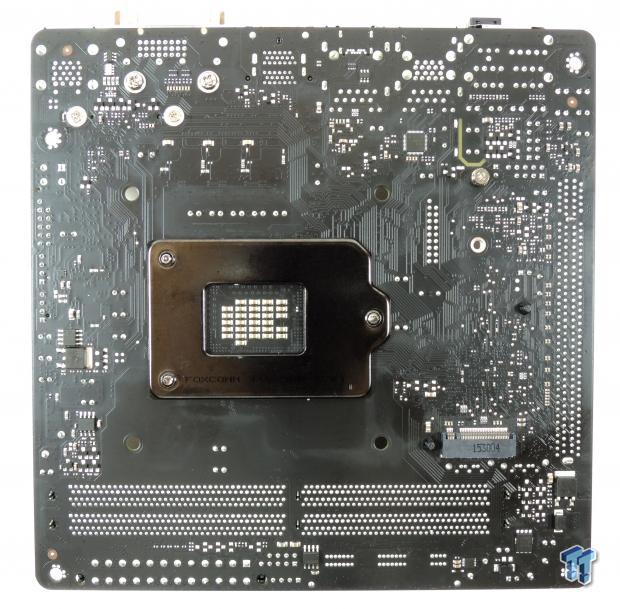 The GIGABYTE Z170N-WIFI has two 4-pin fan headers circled in blue and red. The CPU fan header circled in blue is a PWM header and the system fan header circled in red is a voltage mode fan header, which is backward compatible with PWM. Only having two headers might seem low, but it's a pretty common number for Mini-ITX systems that are traditionally designed to be quiet and only utilize a CPU cooling fan and perhaps one or two system fans.
You will notice at first glance that the VRM doesn't have any heat sink, in fact, only the PCH has a heat sink. GIGABYTE didn't blow it with the aesthetics; they did make sure to keep a black color theme going so that the board is easy to match. At the price point of this motherboard, many users are looking for basic looks since the board is just going to fade into the case, and if that is what you are looking for, then the Z170N-WIFI delivers. The back of the motherboard is quite bare for a Mini-ITX board; there are only a few chips and an M.2 slot.

The IO panel on the Z170N-WIFI carries antenna jacks, PS/2 keyboard or mouse, 2x HDMI, DVI, 4x USB 3.0, 1x USB 3.0 Type-C, 2x 1Gbit RJ-45 ports, and 7.1 audio outputs with S/PDIF.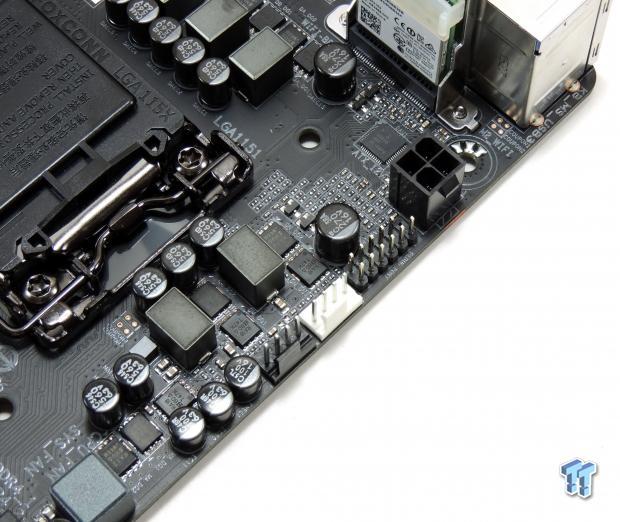 The Z170N-WIFI has a 4-pin ATX12V connector for CPU power; this connection is rated for about 150W, that is enough for most Skylake CPU overclocks on air. The two fan headers are located nearby.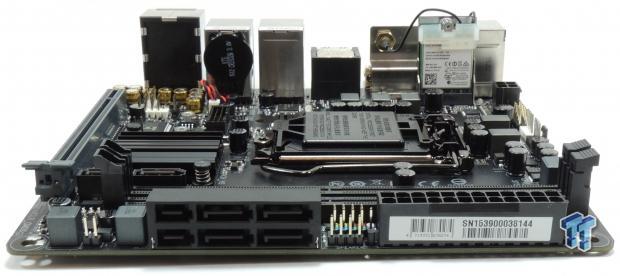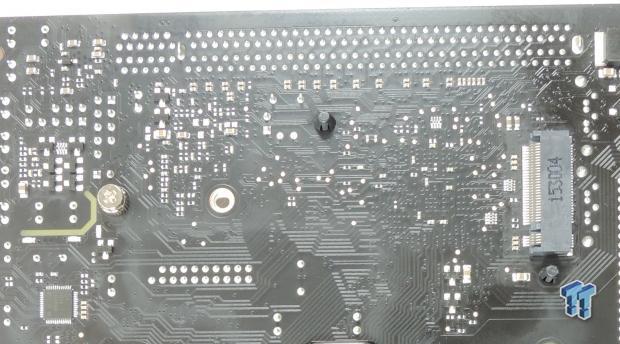 The Z170N-WIFI has four right-angled SATA6Gb/s ports, all of which can be used as SATA Express. GIGABYTE also provides a 32Gb/s M.2 slot on the back of the motherboard. This slot will use the bandwidth from SATA3_0 only if an SATA-based M.2 drive is installed.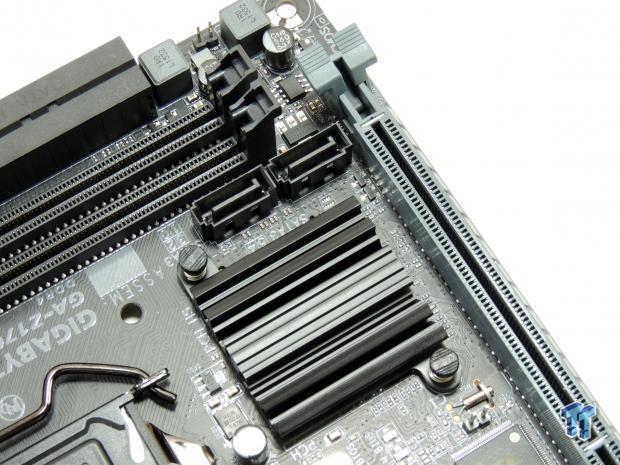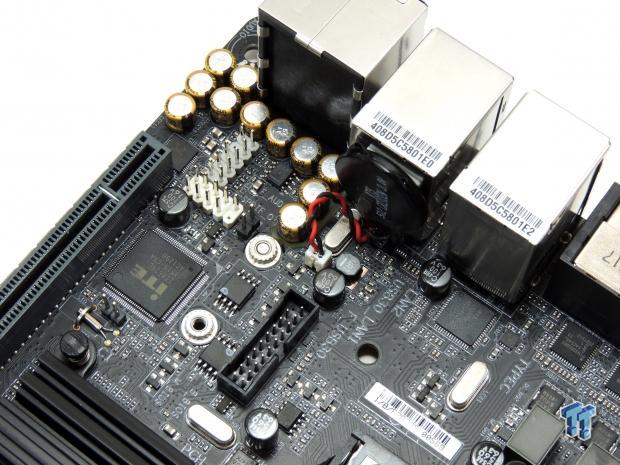 Two other SATA connectors are located near the PCH on the other side of the two memory DIMMs that are single ended, so you can easily install and remove DIMMs without removing your full-sized video card. The clear CMOS header is located at the fixed end of the memory DIMMs. A full-sized video card will not interfere with any of the headers. GIGABYTE provides a decent amount of audio features on this tiny board. The two white headers you see are for audio and for USB 2.0 (there is also a two pin S/PDIF header). A USB 3.0 internal header is also located in this area.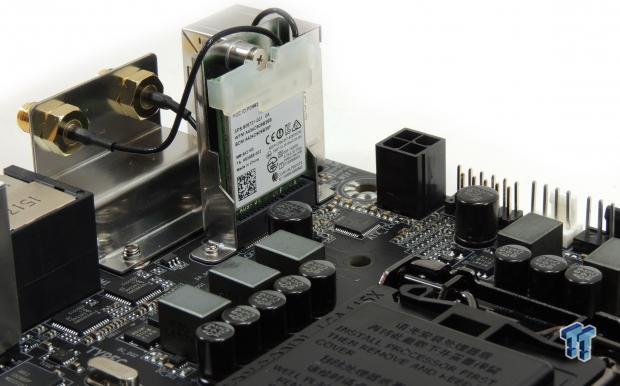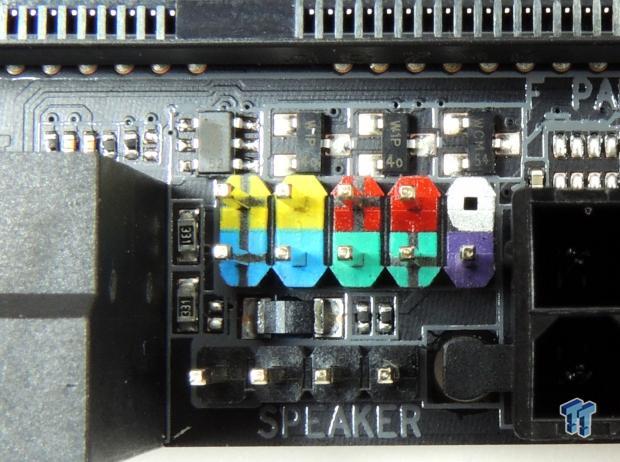 The Wireless AC/BT 4.2 card is vertically secured to the motherboard with a support brace. Between the 24-pin connector and the right-angled SATA ports are the color coded front panel headers.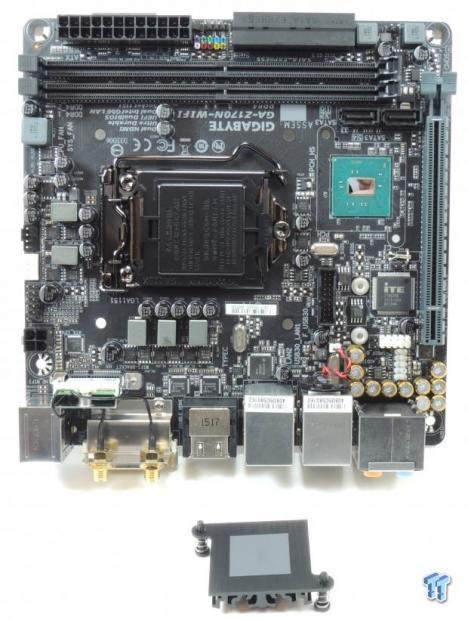 The PCH heat sink uses plastic push pins.
GIGABYTE Z170N-WIFICircuit Analysis
Circuit Analysis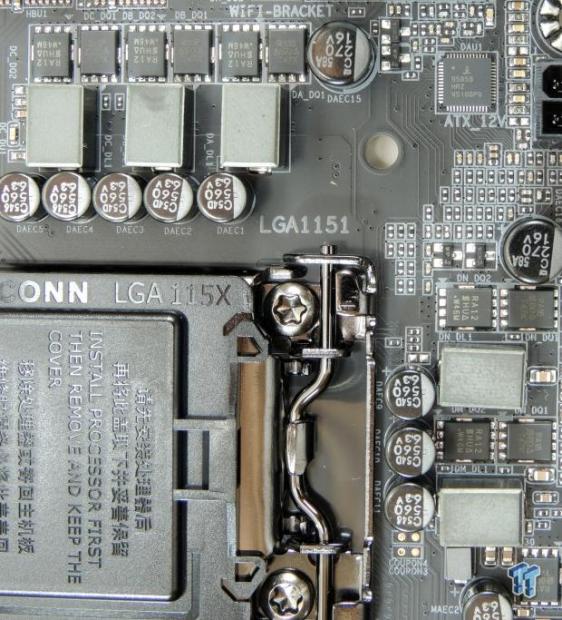 Z170N-WIFI has a very basic 3+2 phase (CPU Core +iGPU) voltage regulator, but GIGABYTE also doesn't claim anything more. The VCCSA and VCCIO are derived from a linear regulator. GIGABYTE is utilizing their 10K black custom capacitors to improve aesthetics and durability.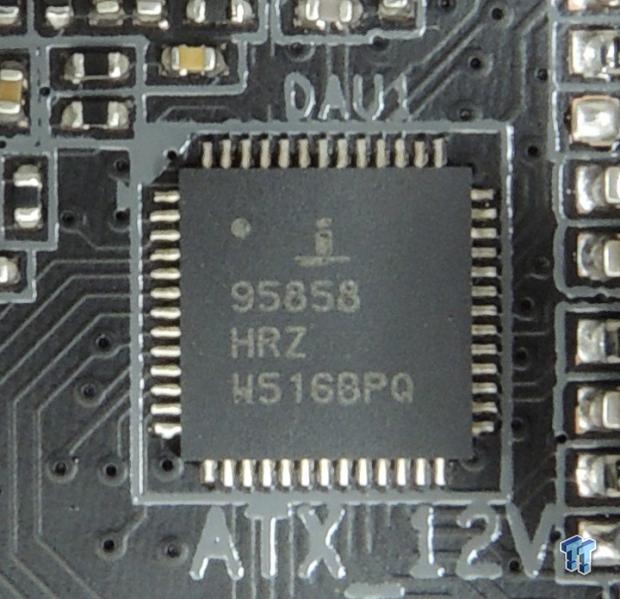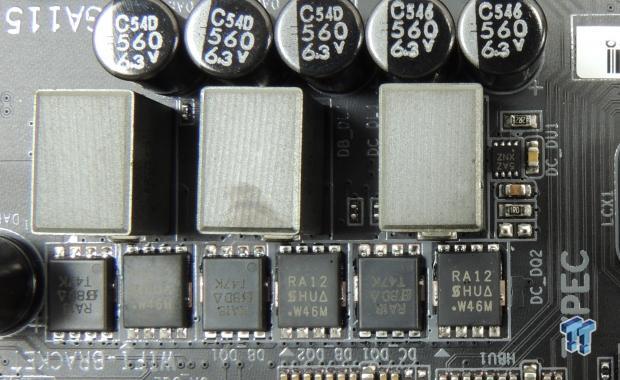 GIGABYTE is using the Intersil ISL95858 3+2 phase hybrid-digital PWM. The first 3 phase rail has two integrated drivers and the second 2 phase rail has a single integrated drivers. To make full use of the PWM, GIGABYTE employees two ISL6625A that have "5AZ" written on them. Each phase for either CPU or iGPU uses one Vishay Siliconix SiRA18DP as the low-side MOSFET and one SiRA12Dp as the high-side MOSFET. While this VRM isn't built for overclocking, GIGABYTE still allows overclocking and even provides LLC.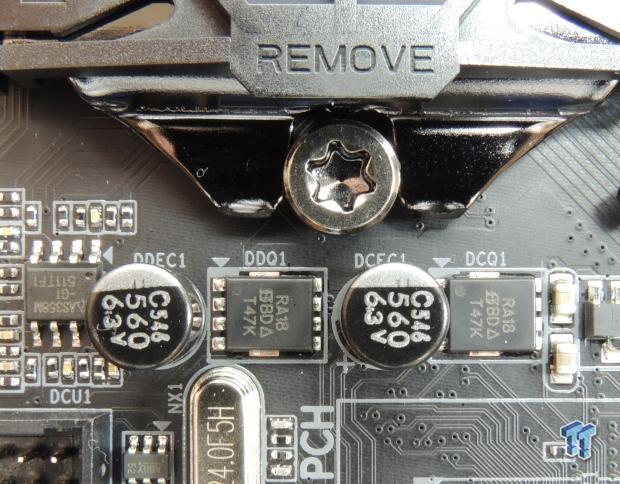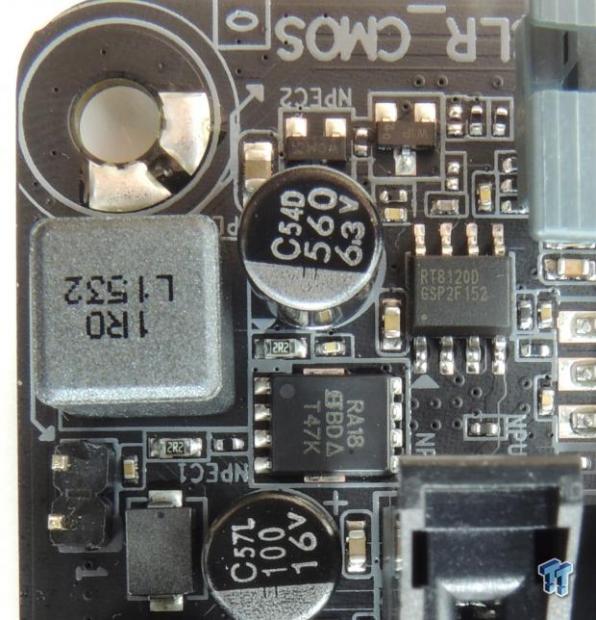 The VCCSA and VCCIO circuit are located on the left, and the right is the memory VRM powered by a single phase integrated PWM and driver Richtek RT8120D utilizing the same MOSFETs as the CPU VRM.
GIGABYTE Z170N-WIFICircuit Analysis Continued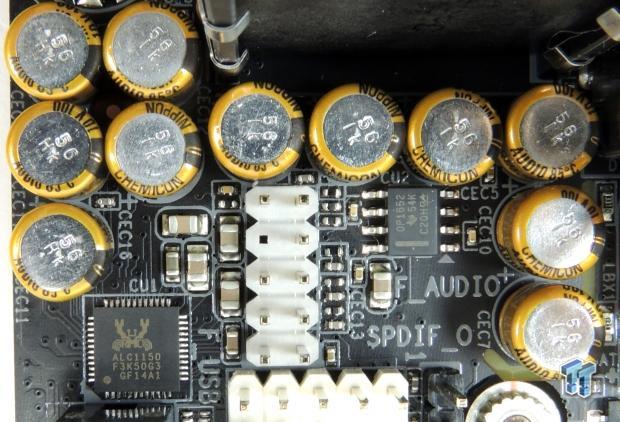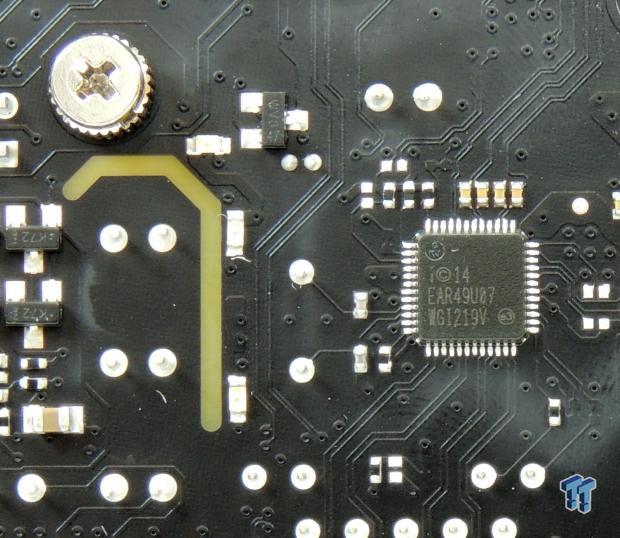 While the Mini-ITX form factor doesn't have much room, GIGABYTE was still able to drop 11 Nichicon Gold Series electrolytic audio capacitors along with an ALC1150 and a Texas Instruments OP1652 amplifier to power the 7.1 audio outputs on the back. Most Mini-ITX boards have half the number of output ports as this board. GIGABYTE even divided the audio section of the PCB, and three orange LEDs illuminate this divide. Located near those LEDs is the Intel i219v, which is the PHY for the integrated 1Gbit MAC in the PCH.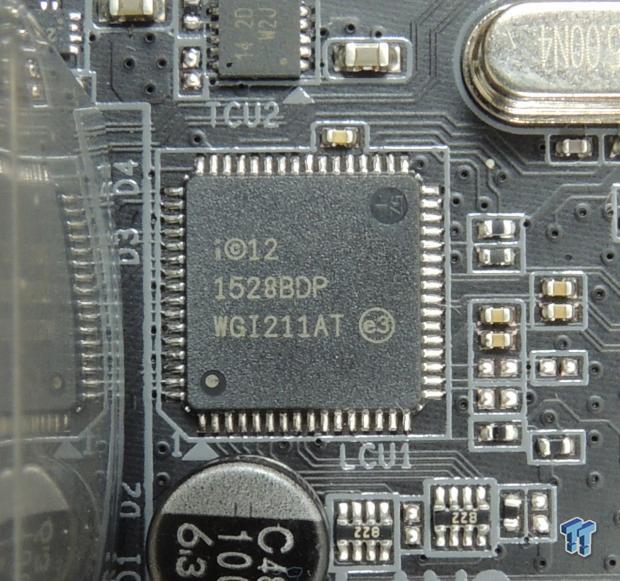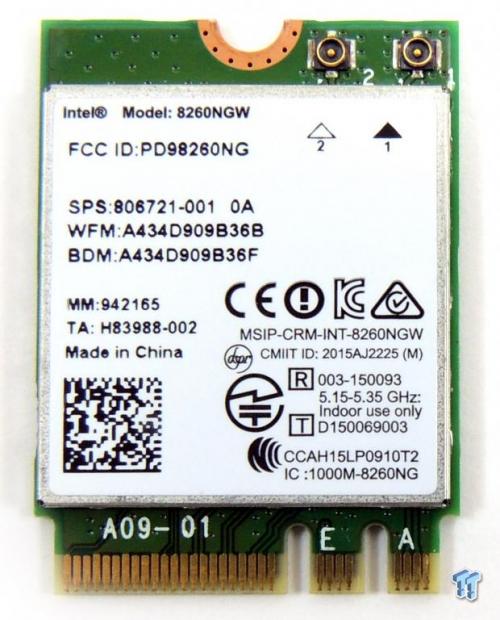 For the second Intel NIC, GIGABYTE is using the WGI211AT. The Wireless AC/ BT 4.2 is also from Intel using the new third-generation 8260NGW low-power WIFI/BT module with full Windows 10 support.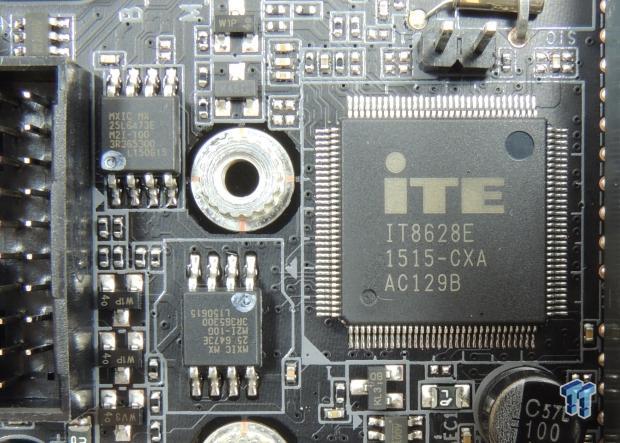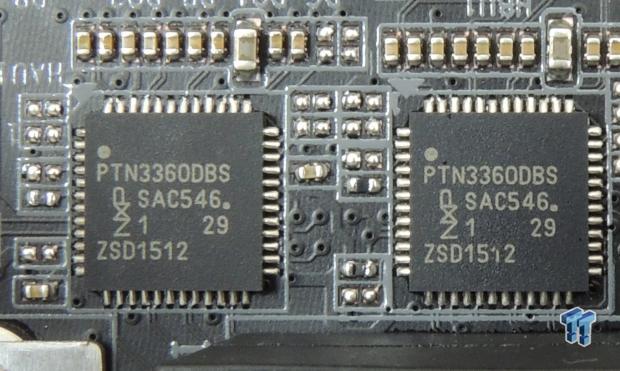 The SuperIO, which is in charge of the PS/2 port on the IO, temperature and voltage monitoring, and fan control is the iTE IT8628E. GIGABYTE is using their Dual BIOS technology on this board, two 64Mbit (8MB) ROMs from MXIC get the job done. Dual NXP PTN3360 level shifters allow two HDMI ports to work simultaneously.
BIOS and Software
BIOS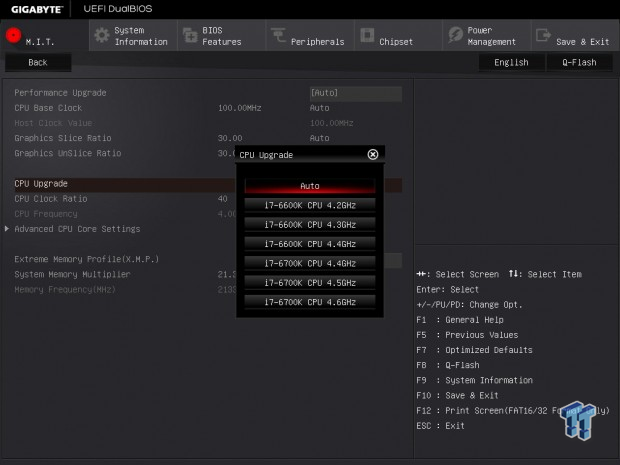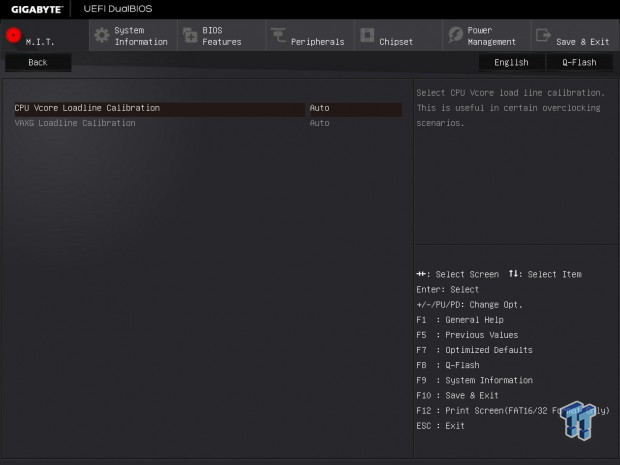 The Z170N-WIFI has and advanced BIOS mode with almost all the fixings that GIGABYTE's larger boards have. For starters, GIGABYTE provides CPU Upgrade, which are built-in overclocking profiles for the CPU (up to 4.6GHz).
GIGABYTE stresses that the Z170N-WIFI isn't built for enthusiast overclocking, but rather allows a little extra if the user wants. I found this to be true, not only because of the VRM but also because of the power connector. GIGABYTE has strong firmware guards in place to ensure the VRM doesn't overheat, and you cannot change them, but GIGABYTE does provide LLC (which works very well).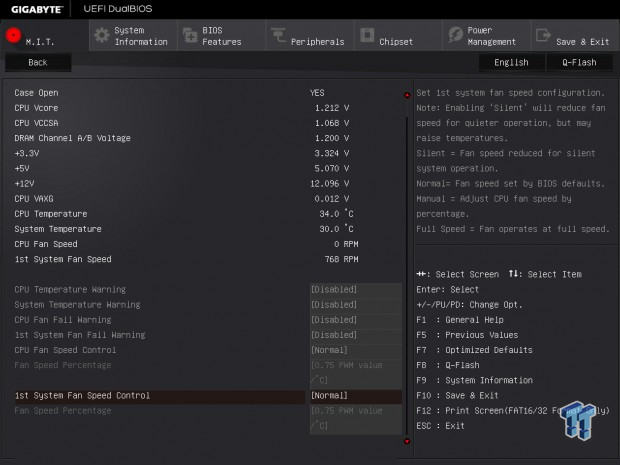 Fan control is present but is not very extensive. You have the normal options found on other GIGABYTE Z170 series motherboards, and that includes the ability to pick a manual PWM slope or preset profiles. Overall the UEFI was functional, but it was missing a few things. For instance, while VCCIO is present, VCCSA isn't, instead it's just offset from whatever VCCIO is chosen. Over than advanced PWM and setting and VCCSA, most other features are present.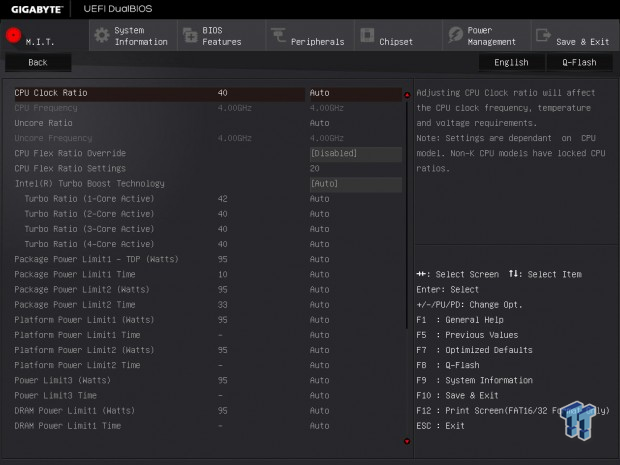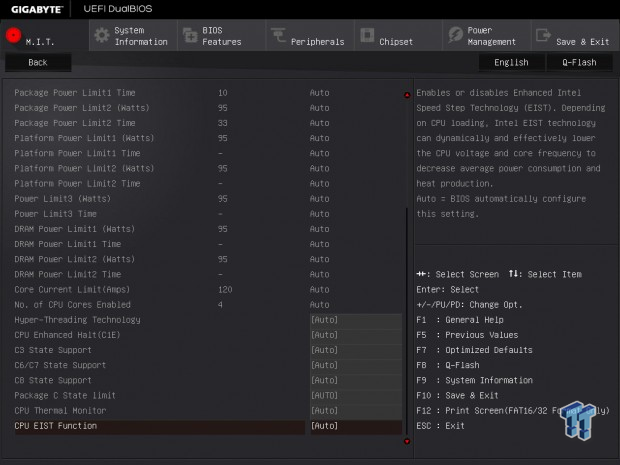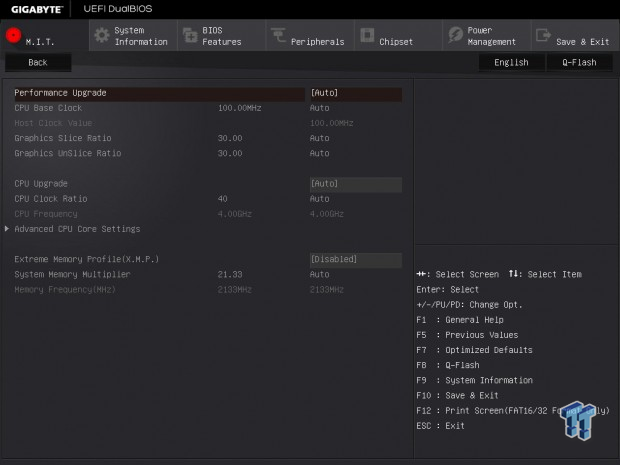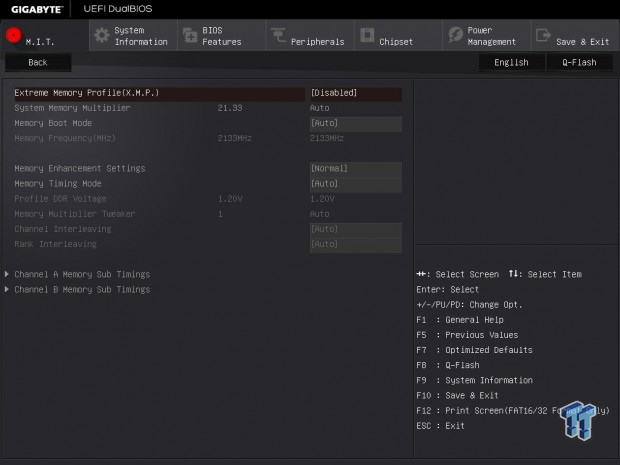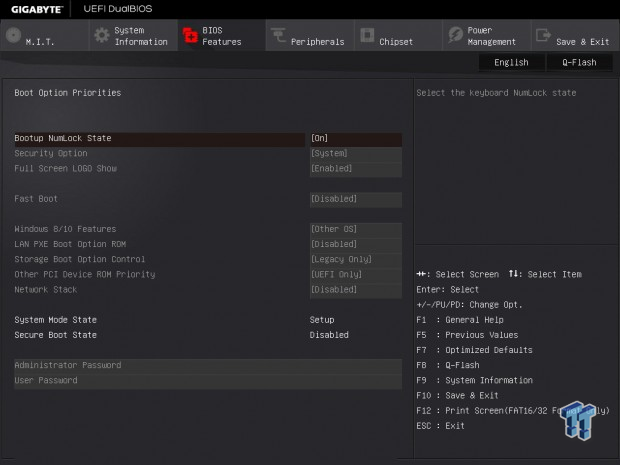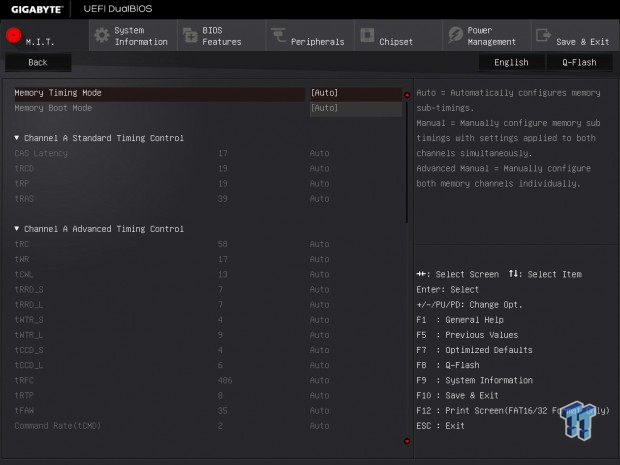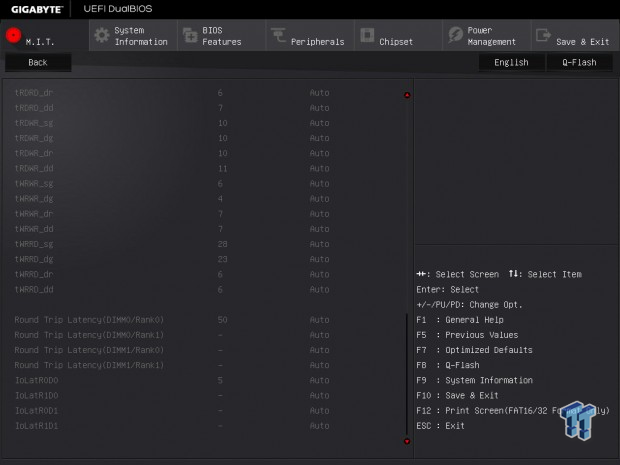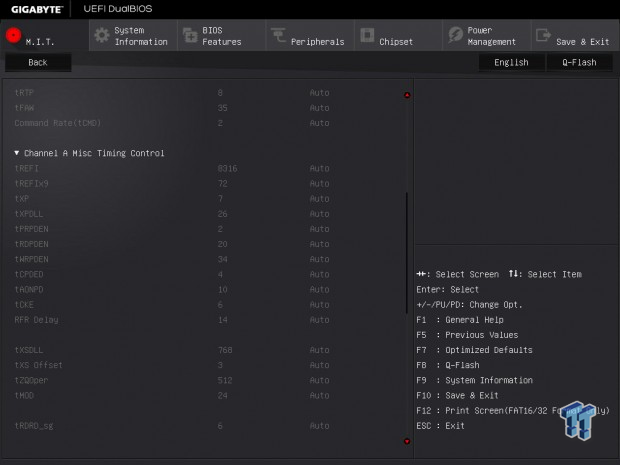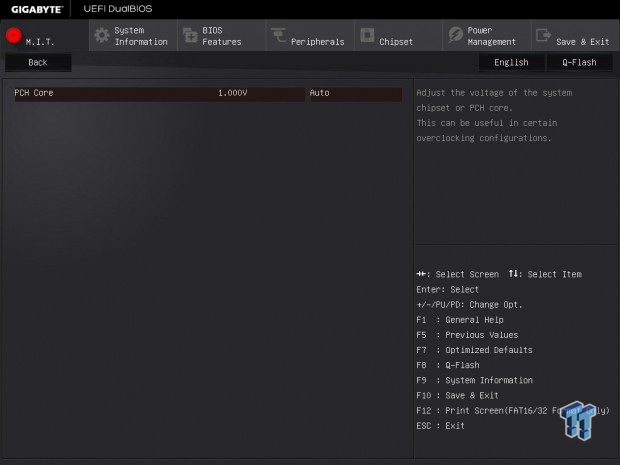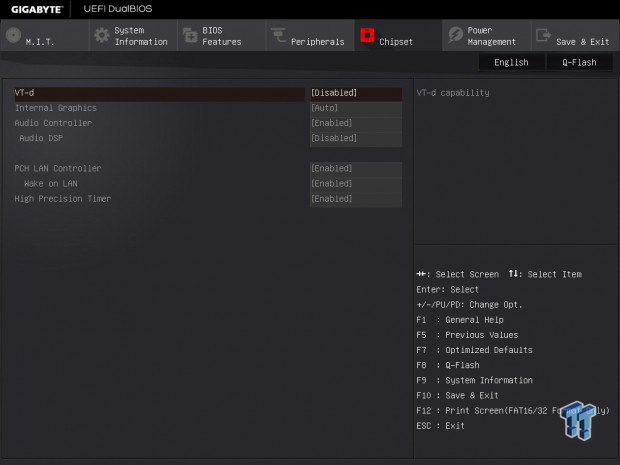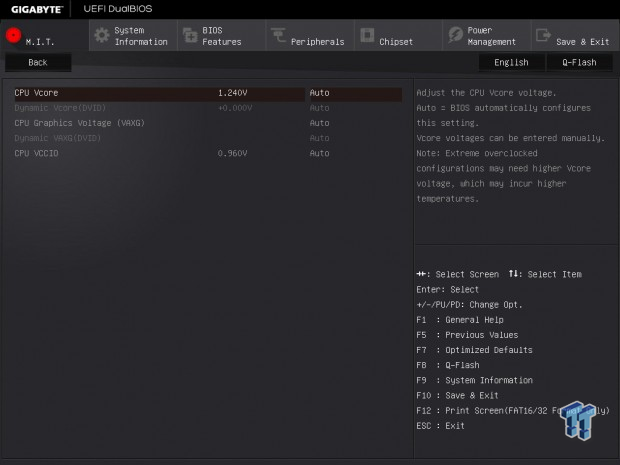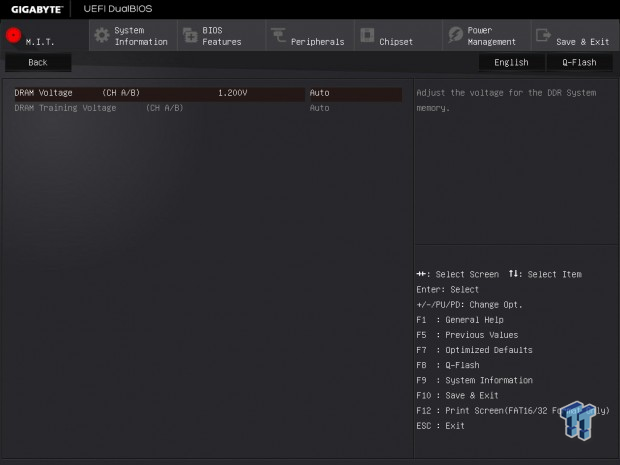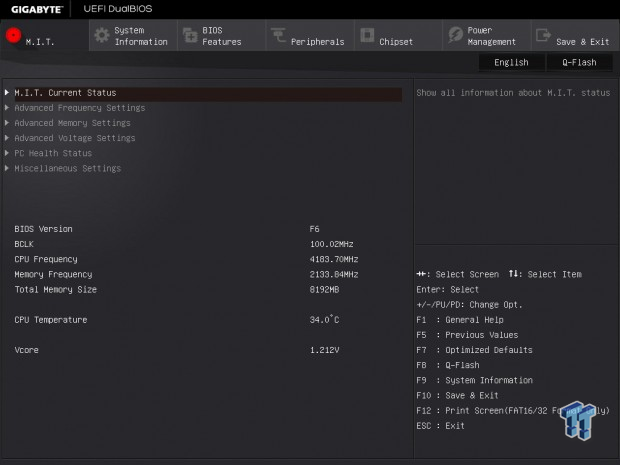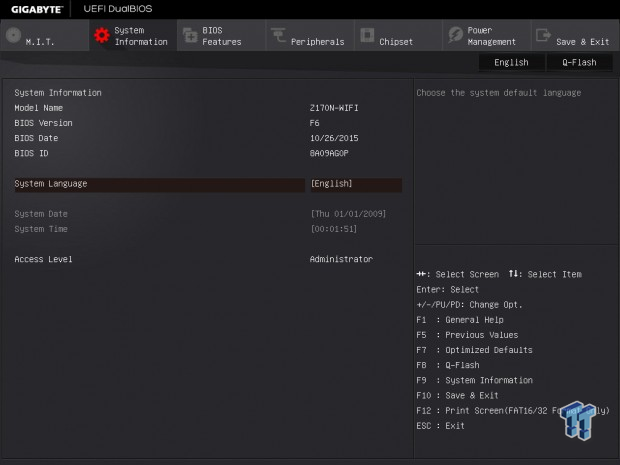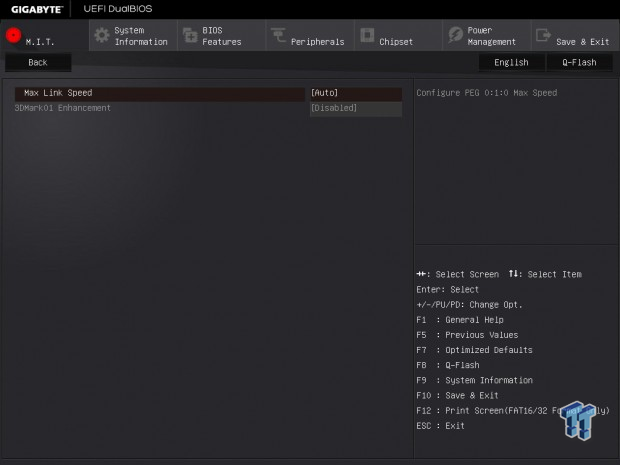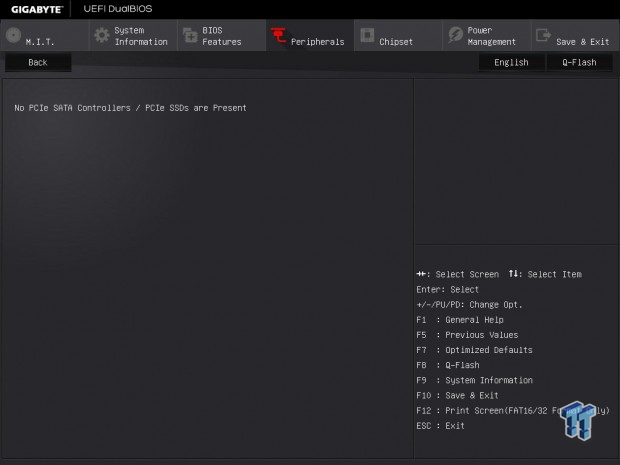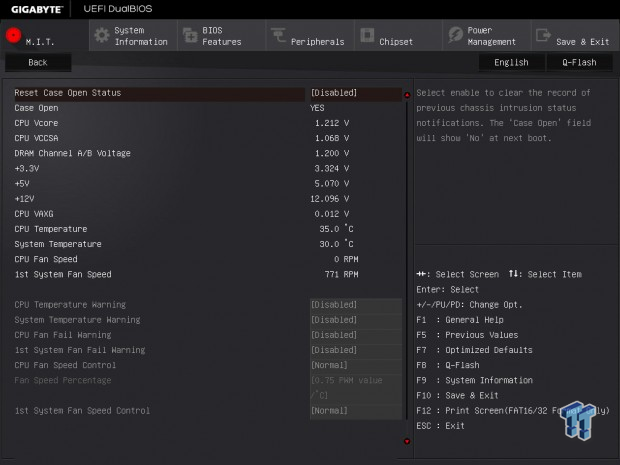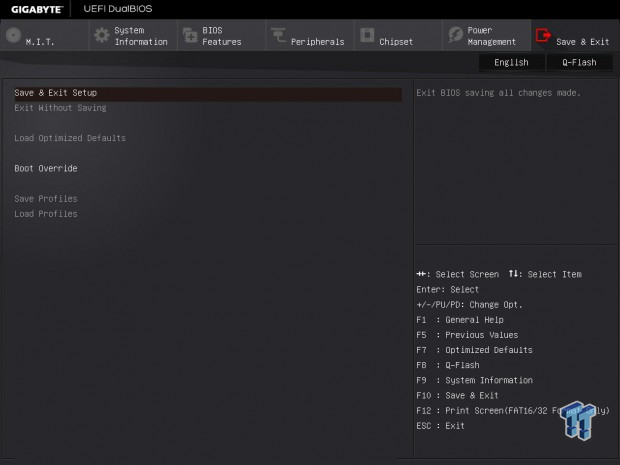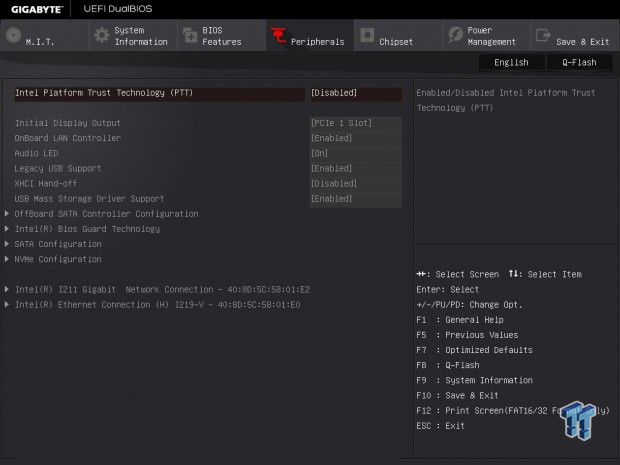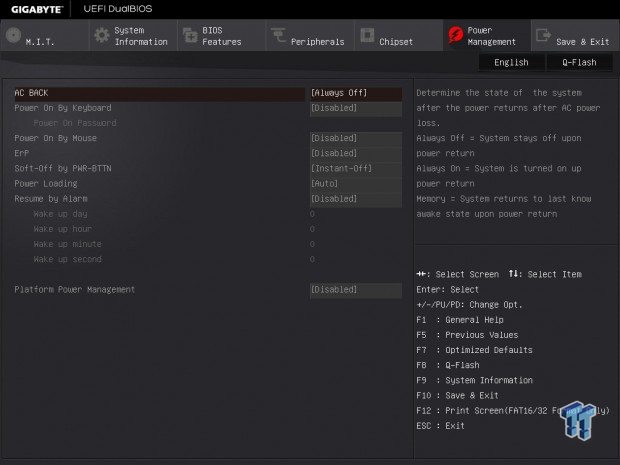 Software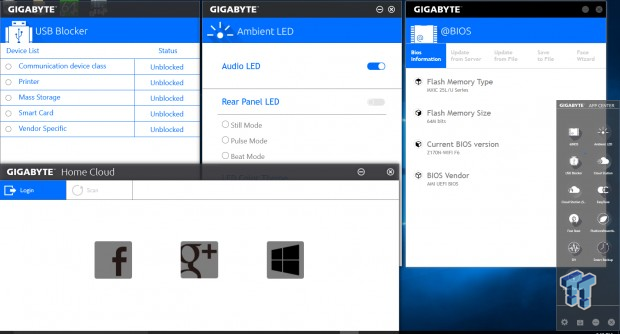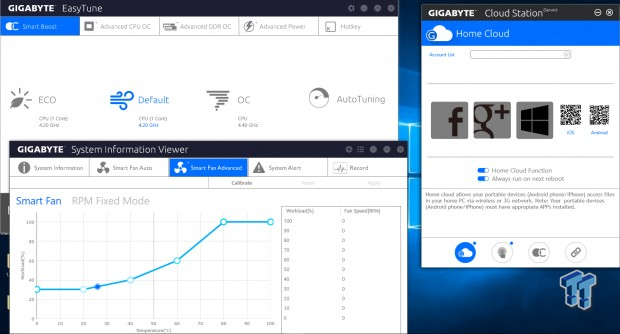 Windows 10 wasn't used in the benchmark or overclocking section of this review, but I had forgotten to get software screenshots, so I tossed the board in another test bench and fired up Windows 10 and installed all the applications. GIGABYTE's entire suite is provided with the Z170N-WIFI. You get USB Block, Ambient LEC, @ BIOS, Home Cloud (client and server), APP CENTER, System Information Viewer, and EasyTune.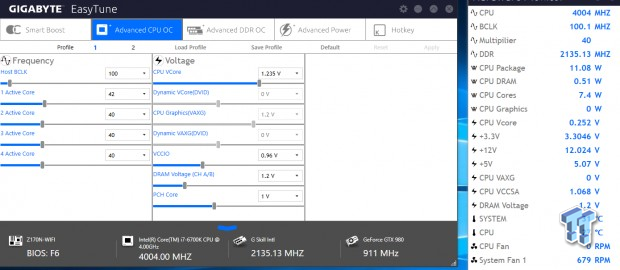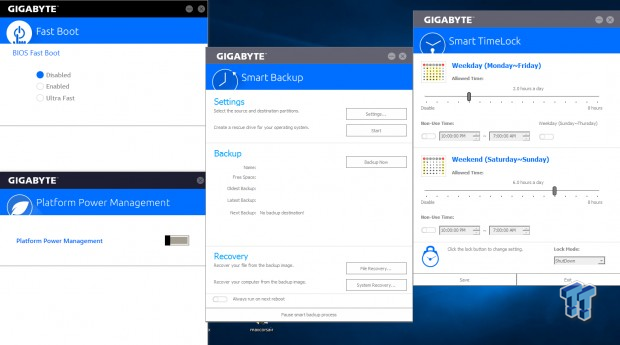 I wanted to show what EasyTune and System Information viewer looked like when their options were expanded, and you can see them on the left. On the right, we have the rest of GIGABYTE's suite, including; Fast Boot, Platform Power Management, Smart Backup, and Smart TimeLock.
Test System Setup
Steven's Motherboard Test System Specifications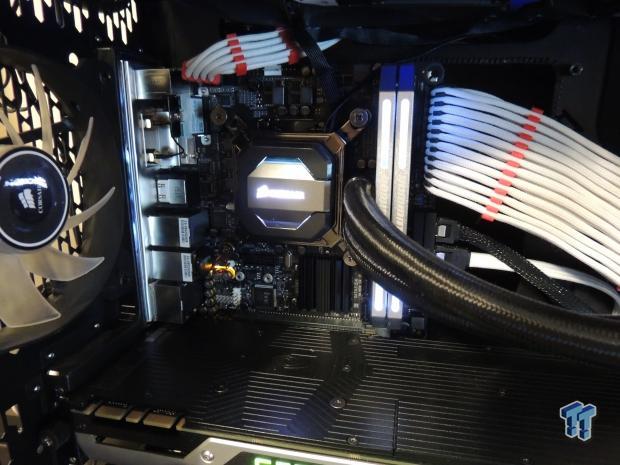 You might notice the orange glow near the GPU; those are the three orange LEDs located on the underside of the motherboard.
The new test bench is designed to test every aspect of the motherboard and IO. I have designed it so that the motherboard sits in a case and is cooled by fans always-on at a constant rate to keep the conditions similar during all tests. I have cut out part of the case behind the motherboard so I can get thermal images of the back of the PCB where the VRM heat spreads. System and CPU power measurements are now digitally logged.
I am also using a Netgear Nighthawk X4 AC2350 for our network (including wireless AC) tests. The latest M.2, SSD, and USB technologies are also being utilized to test the maximum potential of the motherboards that are tested.
Overclocking
Overclocking Results
CPU Overclocking
I have decided to reduce the CPU VCore to 1.4v applied (I will measure real VCore at the output capacitors), and see how high I can validate. On most boards it's 5.0. I have also decided to add real voltage levels compared to what is set for all motherboards, if they don't have voltage read points I will mark where I read the voltage.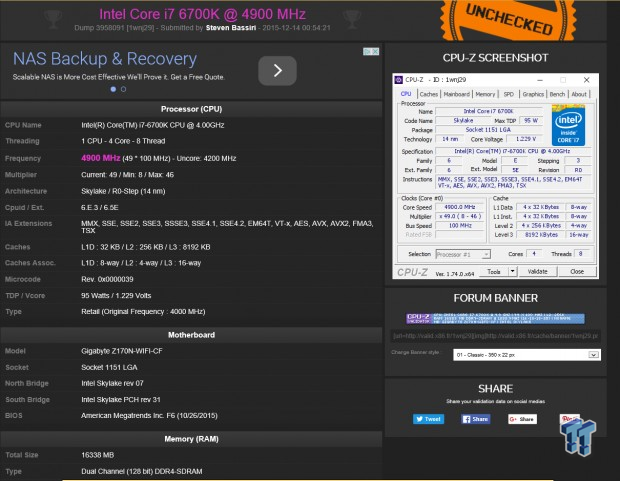 The Z170N-WIFI is doing 4.9GHz for a validation, which isn't too bad considering it only has a three-phase VRM, and the board isn't made for overclocking.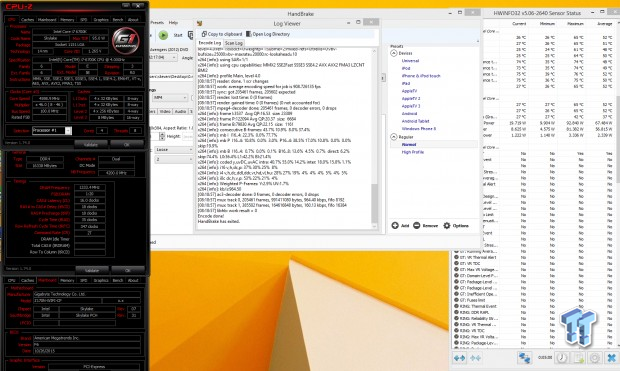 On the Z170N-WIFI, I was able to run 4.6GHz with XMP and 4.2GHz cache. I am limited by the VRM and the 4-pin power connector, but GIGABYTE clearly states this isn't an overclocking motherboard, but they do give you room to play around a little bit. If you want to overclock higher, the Z170N-Gaming 5 should do that job a bit better since it has an 8-pin power connector (same VRM) but heat sinks on the MOSFETs.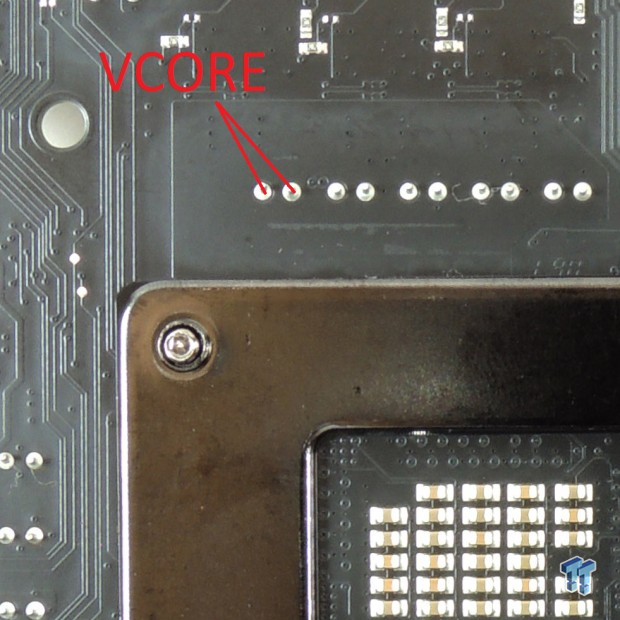 I have measured VCore LLC on the board at 1.3v and 1.4v; the board is very good with voltage regulation.
Memory Overclocking
Test 1: 4x4GB (16GB) Corsair Dominator Platinum 3200MHz C16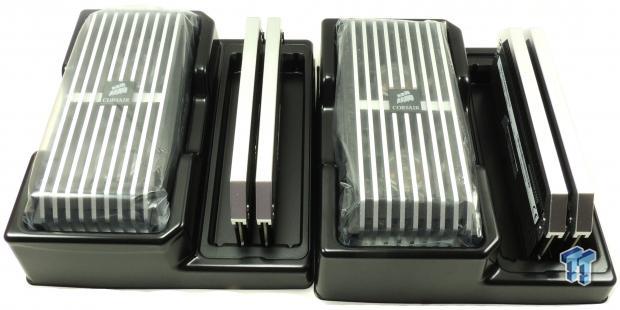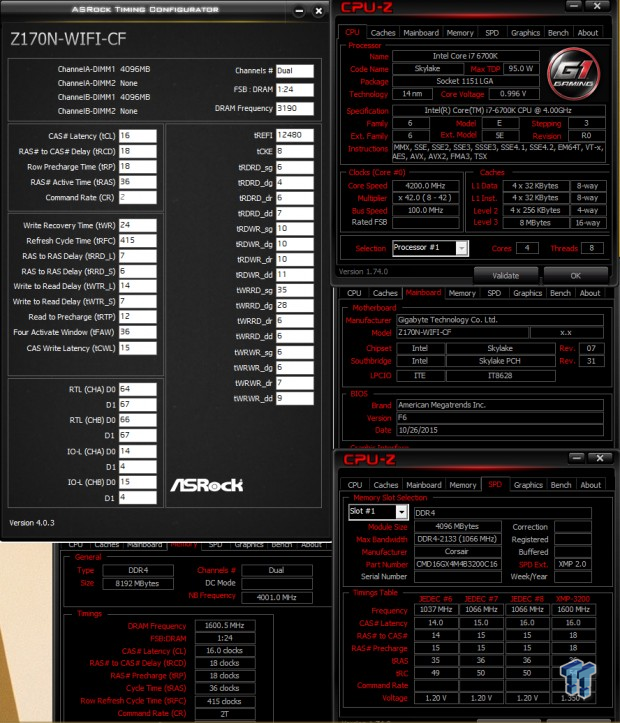 The Corsair Dominator Platinum is kit meant for X99, but it worked fine on this Z170 motherboard, granted only two DIMMs were used.
CPU, Memory, and System Benchmarks
CINEBENCH 11.5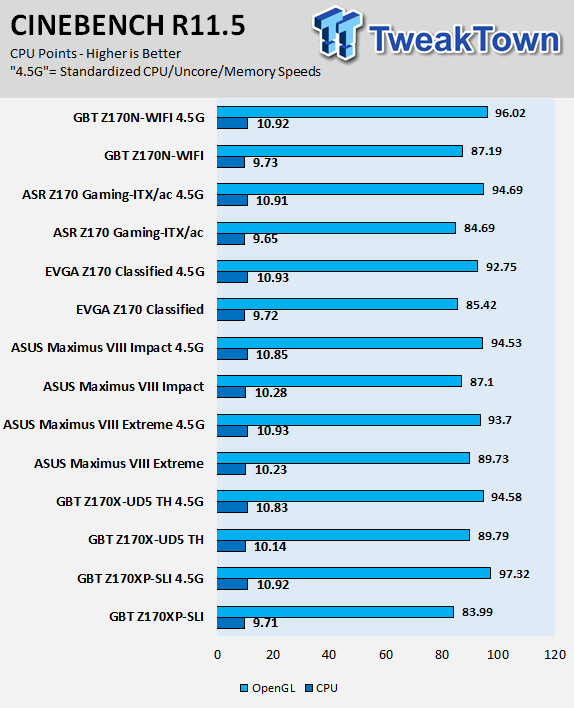 wPrime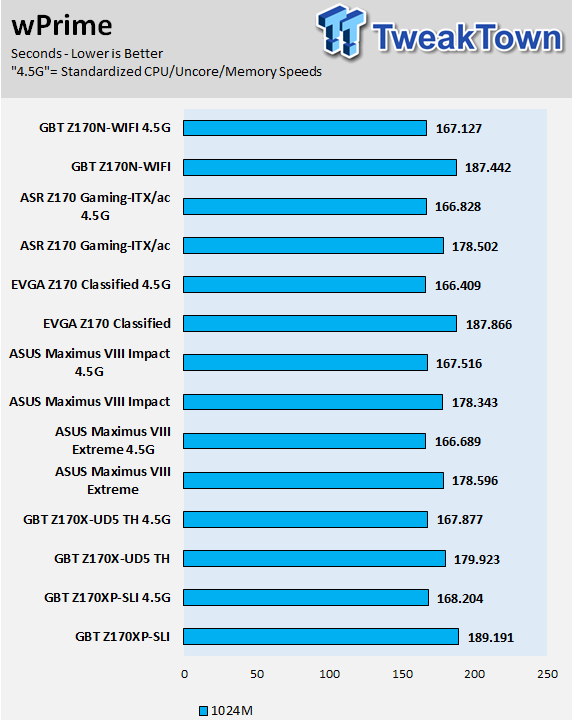 AIDA64 AES and HASH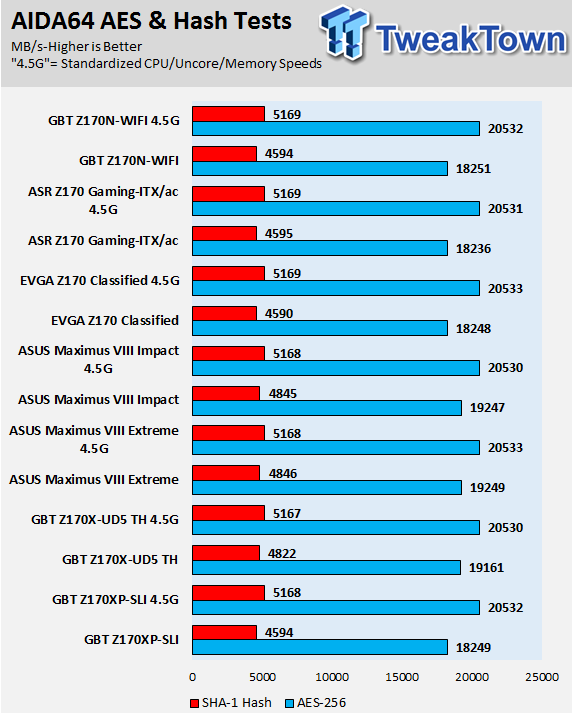 AIDA64 FPU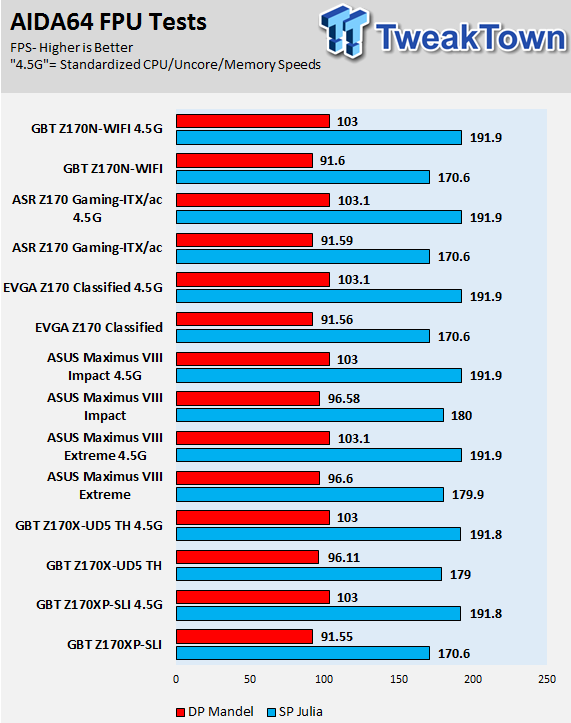 AIDA64 Memory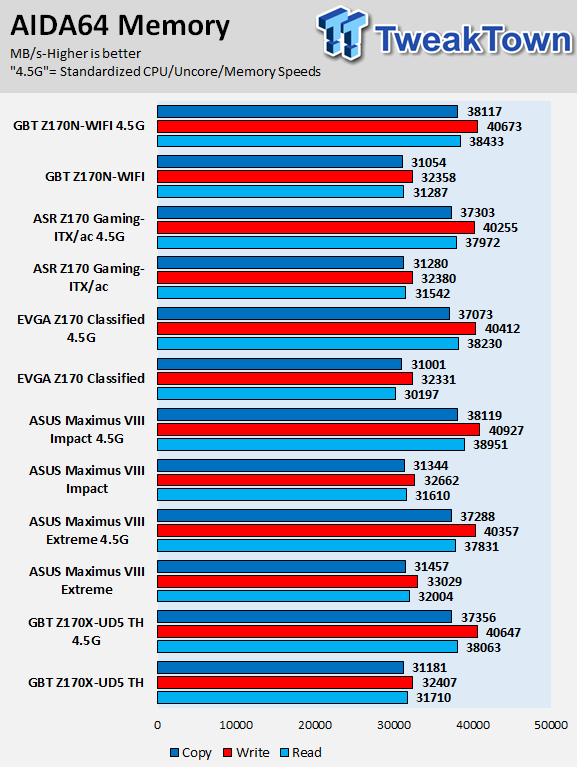 PCMark8 Home Test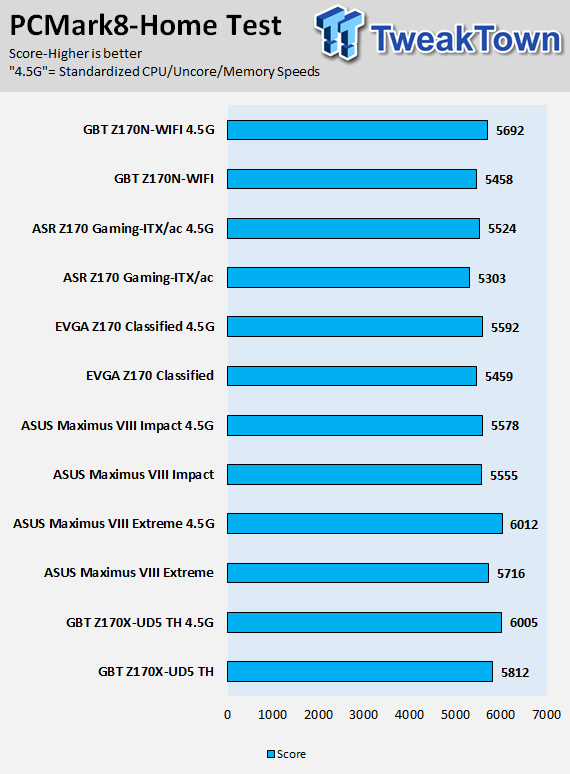 3DMark: Cloud Gate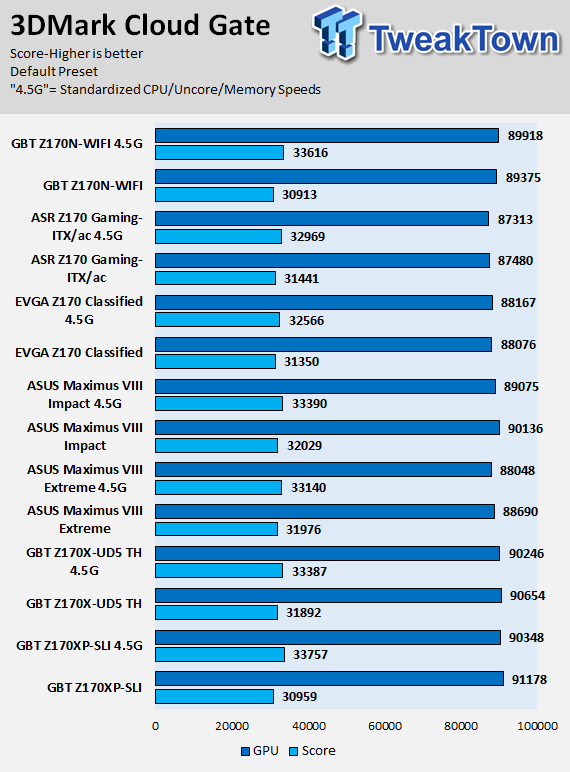 3DMark: Fire Strike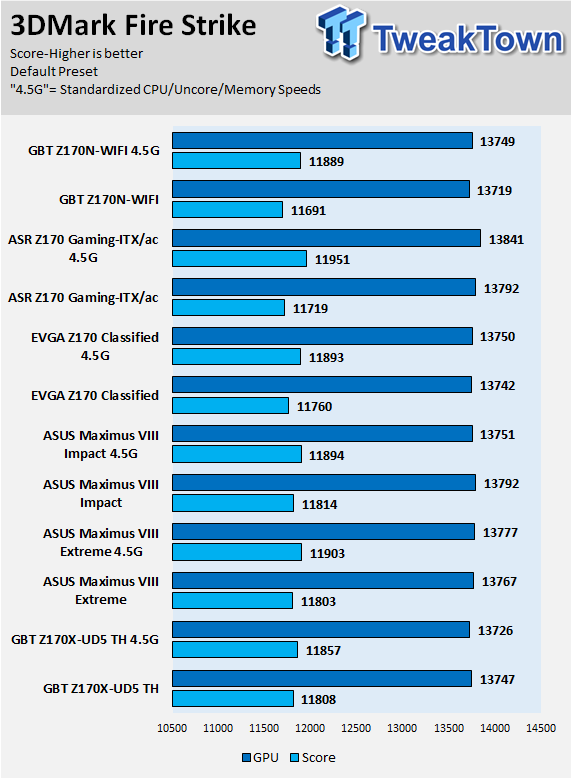 3DMark: IceStorm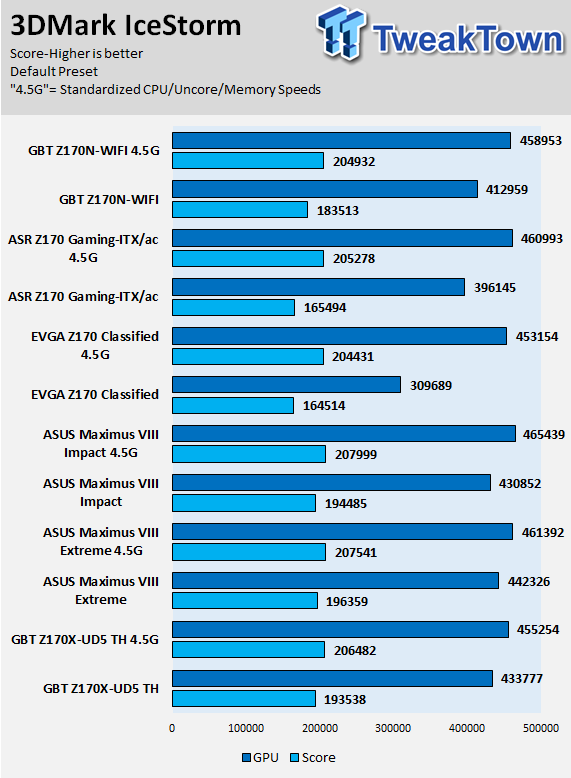 GIGABYTE's Z170N-WIFI seems to be utilizing multi-core enhancement, pushing all cores to maximum Turbo multiplier at the same time. It also performs quite well in CINEBENCH, memory, and PCMark. Overall, it is a well-rounded motherboard. There are no performance pitfalls.
Some motherboard reviews put a lot of weight into motherboard CPU, memory, and GPU benchmarks, but for me CPU, memory, and GPU benchmarks on motherboards should be more about finding anomalies, and I do that at standard settings (4.5G in graphs).
System IO Benchmarks
CrystalDiskMark SATA6G: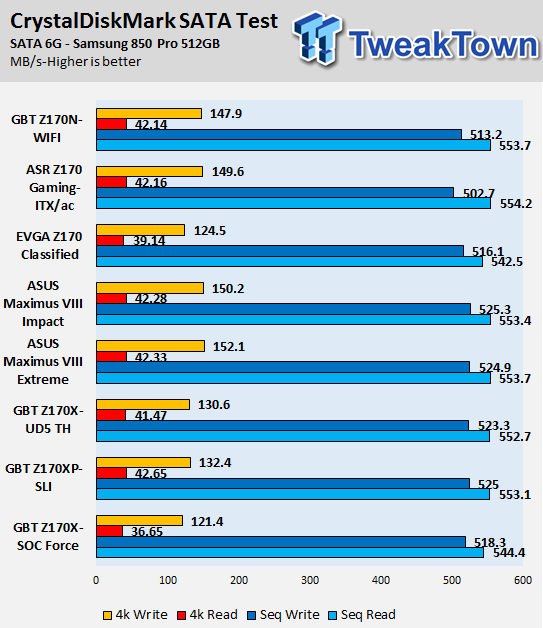 CrystalDiskMark M.2: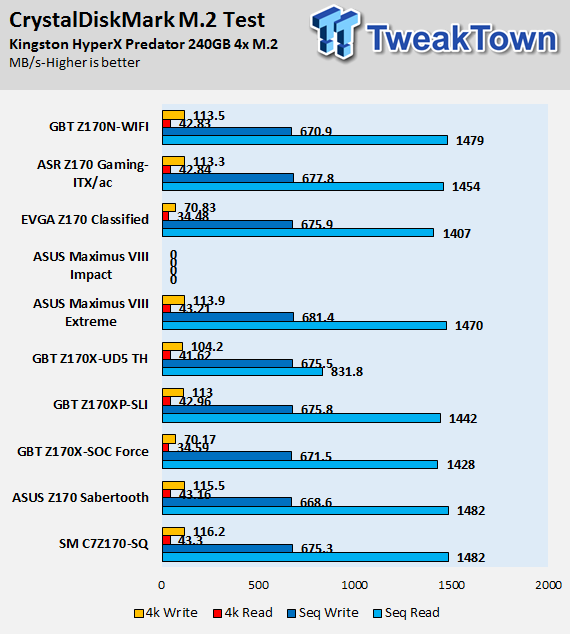 CrystalDiskMark USB 3.0: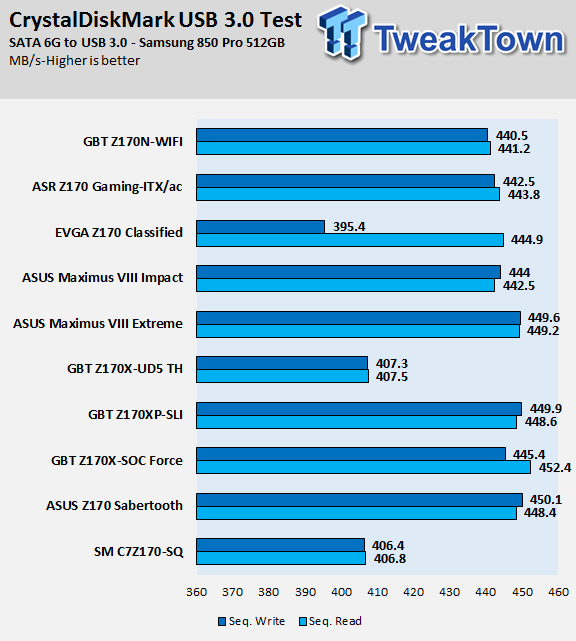 ixChariot Network Throughput: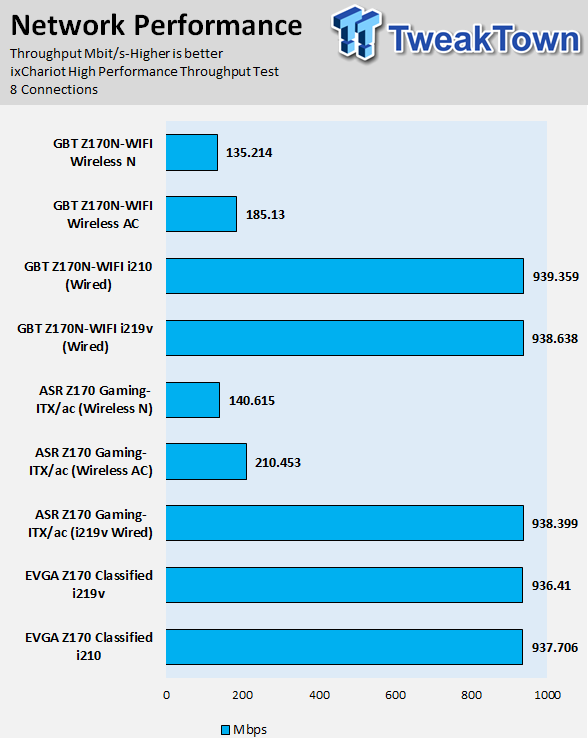 When it comes to M.2 and wired networking performance, the Z170N-WIFI performs at the top of its class, but WIFI performance isn't as strong as some low-powered Broadcom controllers.
Audio RMAA 5.5:
I disable all audio features, set the correct bitrates, and then test the audio with a loopback test.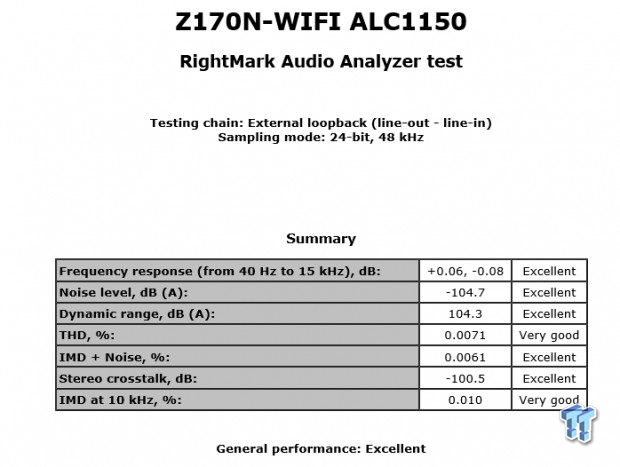 Sound Judgment by Ear: Excellent, the audio was clear and the quality was very high. There are five ratings for audio: 1. Problems, 2. Okay, 3. Acceptable, 4. Very good, 5. Excellent
Thermal Imaging and Power Consumption
System power usage is measured at the AC/DC PSU (the Corsair AX1200i) which I have connected to another system to measure the test system, and as a backup, I have a wall meter to verify. The CPU power is measured through the 8-pin connector, which is hooked up to a hall effect IC, which measures current and puts out a voltage in proportion to the current. That voltage is logged by a National Instruments ADC, which logs the DC voltage level that I then convert into current.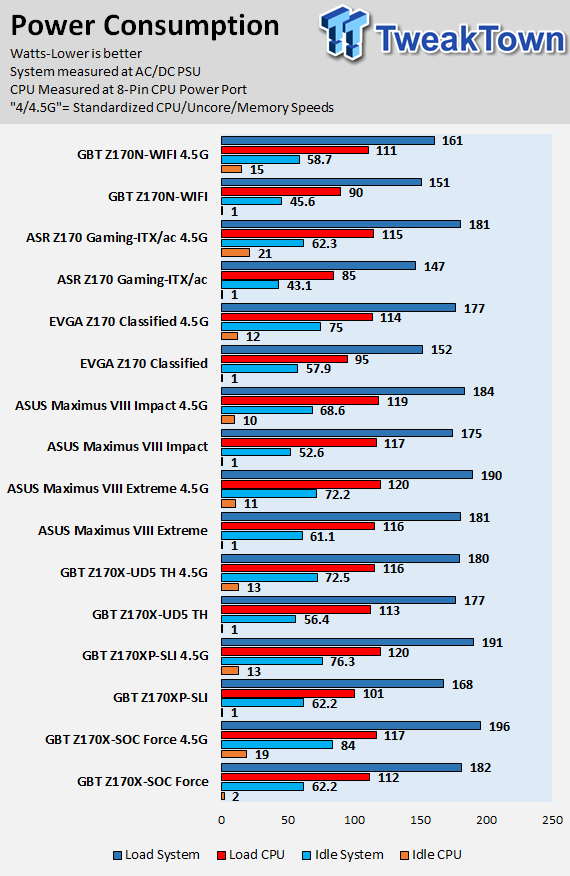 Note on Thermal Images: In the temperature section, we use our Seek thermal imaging camera to capture the surface temperatures of major components on the board. I look at the VRM and then all other things that light up the screen. If there is something to worry about, then I will state it. Otherwise, I will just show the hotter running parts of the board for fun. Unless some component is over 80-90C, then there isn't anything to worry about.
All systems will act differently, so I will look for commonalities, such as how far from the VRM the heat spreads through the PCB and the difference in temperature between the front side and backside of the PCB. Keep in mind, the majority of the heat from the VRM goes into the PCB as it is a giant soldered on copper heat sink. A larger difference in temperature between the back and front of the PCB points towards a more effective heat sink.
Thermal Testing at Stock Speeds:
The image on the left is always at idle, and the image on the right is at load. During ALL TESTS, fans above the VRM that cool the CPU cooler's (Corsair H110i GT) radiator are turned on to high (12v).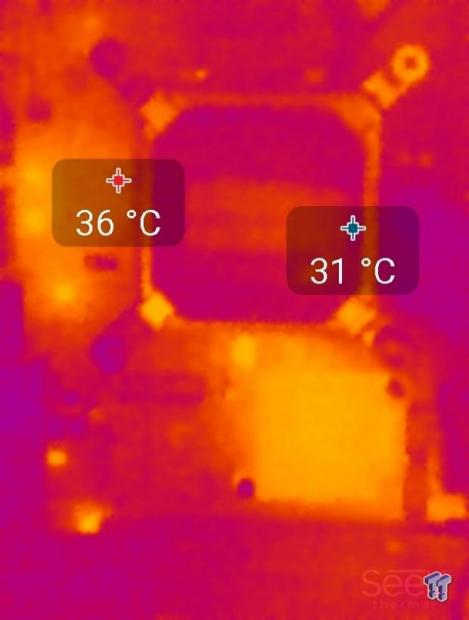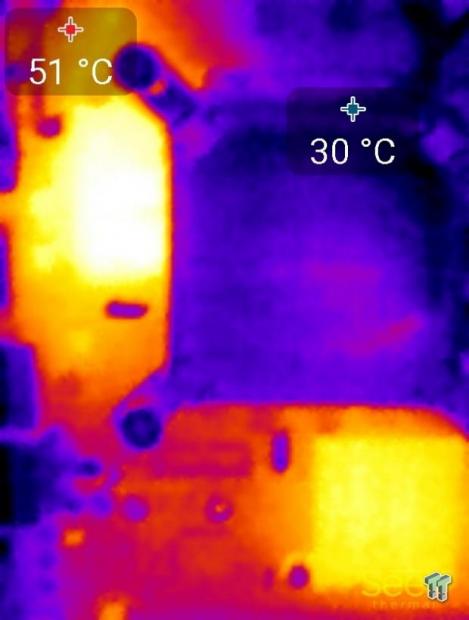 Full frontal.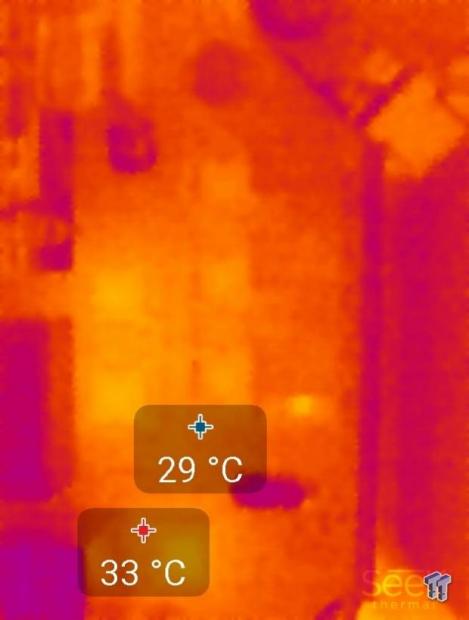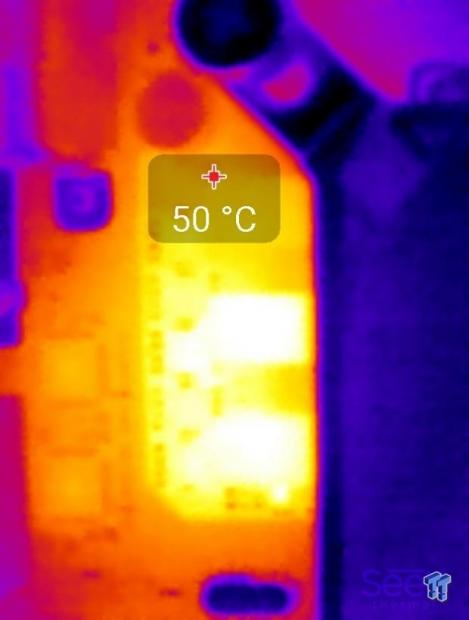 Up-close of the front of the VRM.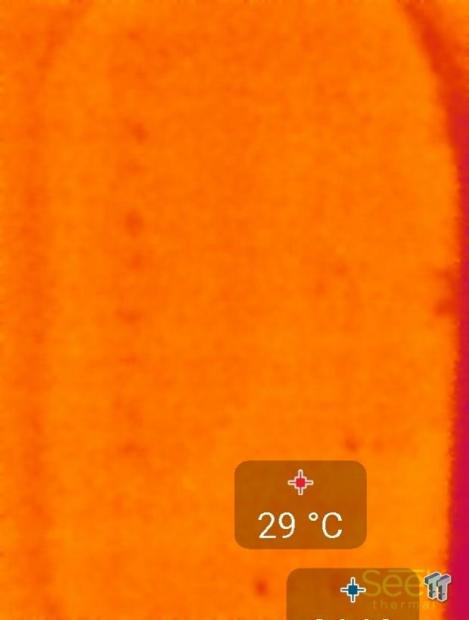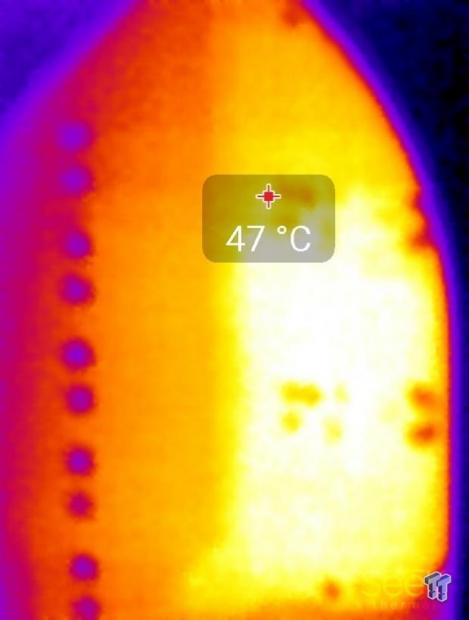 Up-close of the back of the VRM.
Thermal Testing at 4.5GHz Overclocked Speeds:
The image on the left is always at idle, and the image on the right is at load. During ALL TESTS, fans above the VRM that cool the CPU cooler's (Corsair H110i GT) radiator are turned on to high (12v).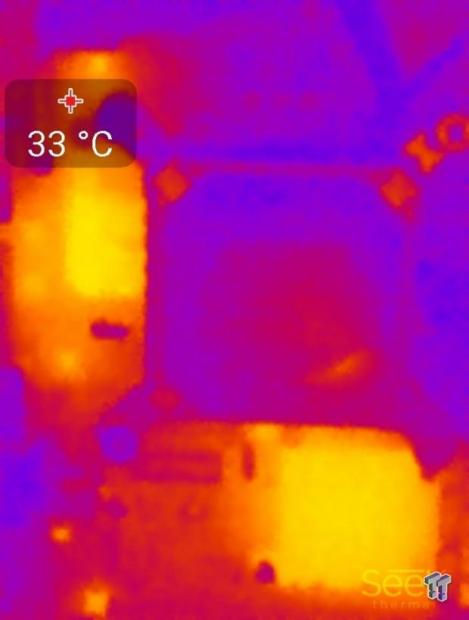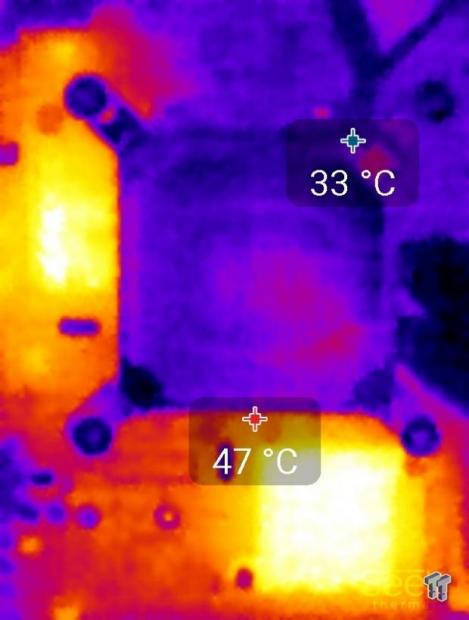 Full frontal.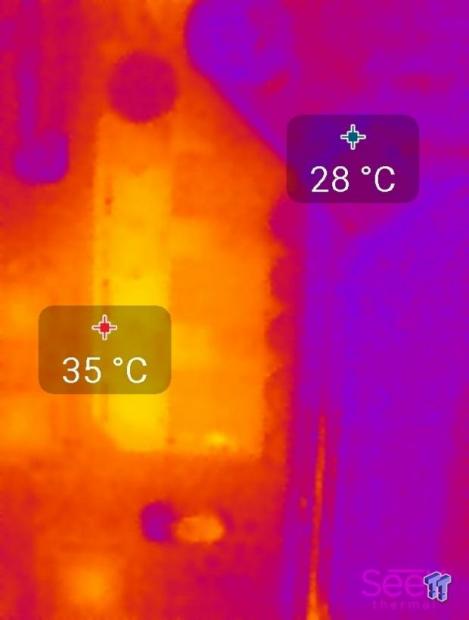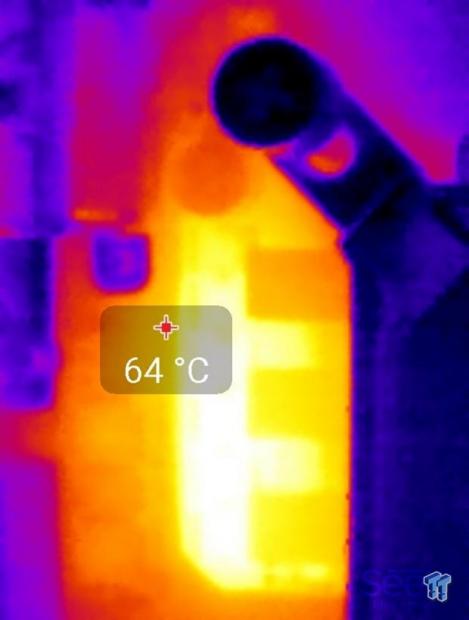 Up-close of the front of the VRM.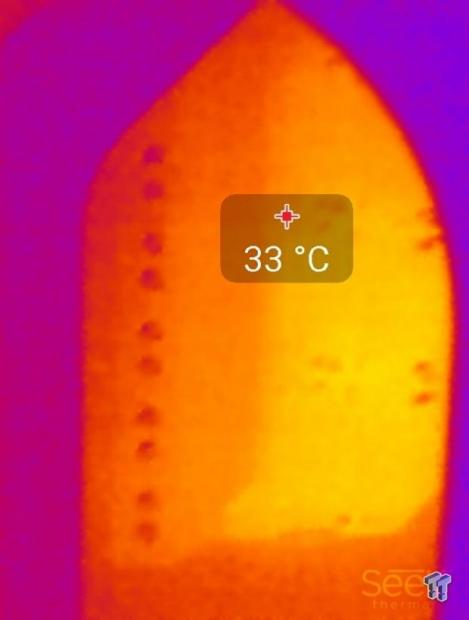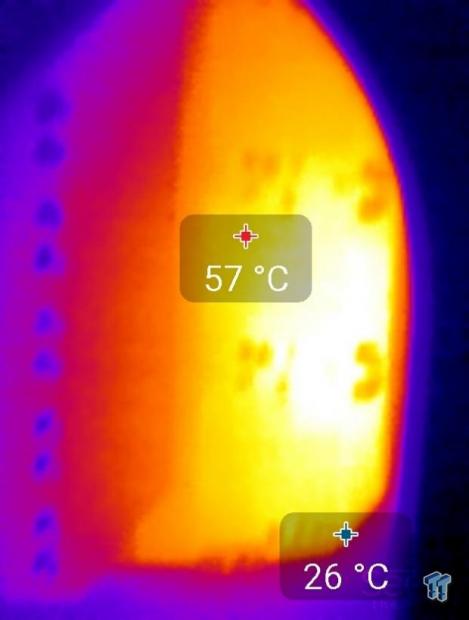 Up-close of the back of the VRM.
The VRM on the Z170N-WIFI is okay and falls within the acceptable range. It is ultimately limited by the 4-pin power connector and the fact that it has no heat sink attached to it. Instead, the motherboard's PCB must cool it down. It does seem to get the job done around 4.5-4.6GHz. If you stay under 1.3v around 4.6GHz, you should be okay, but if you want to overclock further, I would look to the Z170N-Gaming 5 because of its 8-pin power connector and heat sink on the VRM.
Anything under 60C is great, 60-80C is acceptable, and anything above 80C is a bit worrisome (if at stock).
What's Hot, What's Not & Final Thoughts
Here are key points about the GIGABYTE Z170N-WIFI.
What's Hot
Triple Intel Network Controllers: The Z170N-WIFI doesn't just use Intel for connectivity and storage, but also for all of its network adapters. Both wired NICs use the same wired Intel network controllers as full-sized enthusiast motherboards. The Wireless AC is power conscious and driven by Intel's third-generation Wireless AC 8260NGW, which is built to support fully Windows 10. The Wireless controller also support Bluetooth 4.2.
Full 7.1 Audio Outputs: Surprisingly, the Z170N-WIFI utilizes the ALC1150 to its maximum, providing 7.1 audio outputs and S/PDIF through TOSLINK. Usually on Mini-ITX motherboards, you find only three audio jacks, but this board carries all five just like larger ATX boards.
Full M.2 and SATA Express Support: M.2 and Mini-ITX go together very well, and the Z170N-WIFI provides the fabric for cohabitation of M.2 and fix SATA 6Gb/s ports. Four of those SATA 6Gb/s ports can be used to provide two SATA Express ports in case you have SATA Express devices.
Cost Effective: The Z170N-WIFI is a cost-effective product, offering a lot of features in the Mini-ITX form factor at less than $150. It is currently the second-least expensive Z170 Mini-ITX motherboard, yet it carries better network connectivity and audio than more expensive Z170 Mini-ITX motherboards.
What's Not
Not Really an Overclocking Product: Because of the 4-Pin power port and the lack of heat sinks on the VRM, the Z170N-WIFI can't sustain a higher-end overclock. If you maintain constant airflow over the motherboard, then you can get away with a 1.3v 4.5-4.6GHz overclock without throttling.
Common sense dictates that if a motherboard has a 4-pin power header for the CPU, no heat sink over the CPU core VRMs, and the minimum phase count then that motherboard isn't built for high-end overclocking and the manufacturer is up front with that fact. I was surprised that LLC is included, and I thought that was a nice touch for those who want to optimize voltage at a humble overclock while maintaining airflow.
No USB 3.1: In this day and age, most every Z170 motherboard has USB 3.1 except a few, and I was sad to see that while the Z170N-WIFI has a Type-C port, it only supports up to USB 3.0.
Final Thoughts
GIGABYTE's Z170N-WIFI is an interesting motherboard. For starters, it's one of the least expensive Z170 Mini-ITX motherboards, but it carries dual Intel NICs, dual HDMI, dual SATA Express, and ATX sized audio. What is interesting is that GIGABYTE has kept close to this same feature set generation after generation, as one market segment demands this product. The Z170N-WIFI is built to satisfy system integrators (manufacturers that put together PCs and sell them) because it makes for a great multimedia server. It has the proper audio outputs for 7.1 channel surround sound, tons of network connectivity, dual HDMI for different display configurations, and carries enough features to get the job done.
Obviously, the product has its drawbacks, but considering the price of the motherboard, I wouldn't have expected much more. If you want a GIGABYTE Z170 Mini-ITX motherboard but you want to run a decent overclock, then you should look to the Z170N-Gaming 5, which has an 8-pin power header and full heat sink with a heat pipe for the VRM and the PCH.
Overall this little motherboard will make a solid backbone for a home media server or even a small rig. If you are looking for a Mini-ITX motherboard with a low price tag but a rich feature set, then you should give the Z170N-WIFI a look.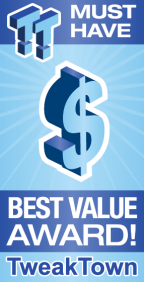 | | |
| --- | --- |
| Performance (including Overclocking) | 83% |
| Quality including Design and Build | 85% |
| General Features | 95% |
| Bundle and Packaging | 89% |
| Value for Money | 95% |
The Bottom Line: GIGABYTE's Z170N-WIFI is a cost-effective Intel Z170 Mini-ITX motherboard with desktop-class audio and storage capabilities loaded with triple Intel network controllers to seal the deal.
PRICING: You can find products similar to this one for sale below.

United States: Find other tech and computer products like this over at Amazon.com

United Kingdom: Find other tech and computer products like this over at Amazon.co.uk

Australia: Find other tech and computer products like this over at Amazon.com.au

Canada: Find other tech and computer products like this over at Amazon.ca

Deutschland: Finde andere Technik- und Computerprodukte wie dieses auf Amazon.de
We openly invite the companies who provide us with review samples / who are mentioned or discussed to express their opinion. If any company representative wishes to respond, we will publish the response here. Please contact us if you wish to respond.