TweakTown's Rating: 79%
The Bottom Line
ROCCAT's Aluma in-ear headset provides a myriad of great accessories, but don't expect any extra sound quality for the inflated price.
Introduction
Adding another in-ear product to the pile of reviews, ROCCAT has sent me its updated 'Syva' headset. Featuring aluminium as part of the design and self-claimed "supreme audio," the ROCCAT Aluma sets out to better its sibling while providing a mostly-similar design, this time adding an aluminium frame into the mix.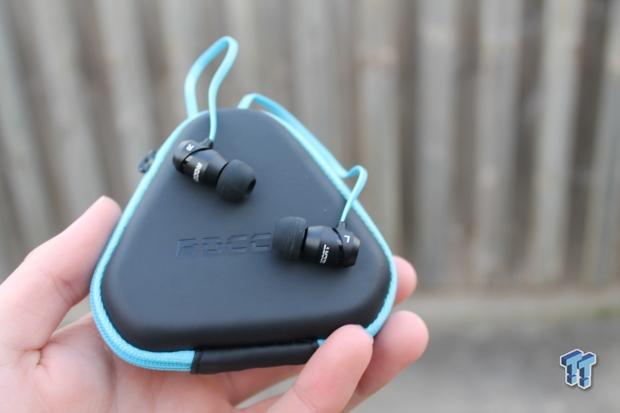 With most gaming in-ear headsets sounding, looking and performing much the same, the different has always been about little niggling issues or price issues to set them apart. Can ROCCAT's addition of aluminium frame enhance its performance? Read on to find out.
Specifications
Lead by the quote from Dr. Erik J. Dale, a 'ROCCAT Scientist', which reads "The most important thing in communication is to hear what isn't being said," ROCCAT instantly makes the claim that its product will provide consumers with unmatched quality and clarity in all applications.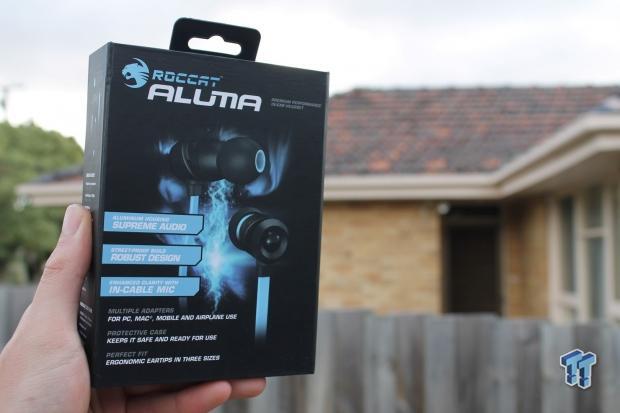 The drivers showcase a maximum SPL at 1kHz of 98dB, listed as 2 higher than its predecessor, the Syva. While further offering an impedance of 16 Ohms (compared to 32) and a frequency response of 20Hz-20KHz, which is the same as last time. While the SPL and impedance come in slightly differently to the last model, is that enough to notice a large difference? The microphone offers an impedance of <2.2kOhms and picks up sound in an omnidirectional pattern, further brandishing a maximum SPL at 1kHz or -40dB - once again very similar to the previous model. The 3.5mm jack connection is not gold plated like some, but, to be honest, that doesn't really matter.
Pricing & Availability
Unavailable on Amazon just yet, you can pick up this unit for $55 plus shipping from ROCCAT directly, making it a $25 increase over the previously-released ROCCAT Syva. This pricing platform is likely $10 higher due to coming from ROCCAT direct; you should expect to see a $40-$45 price point when it hits all stores.
What's in the box?
You certainly get your monies worth in regards to accessories for this unit. The included semi-solid carry case brandishes a myriad of optional extras.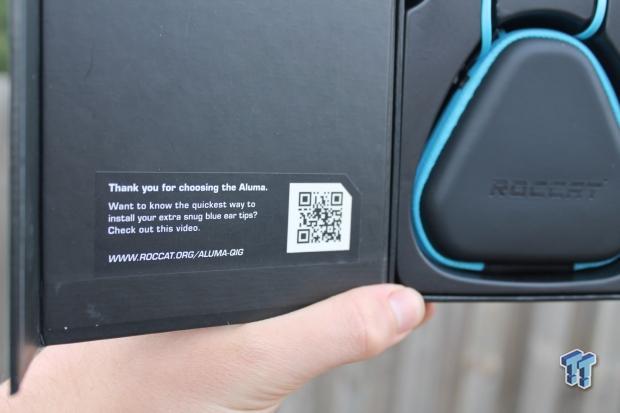 As someone who is a lover of accessories, this product is a complete dream for me. Coming complete with a single 3.5mm 3-ring connection to double 3.5mm male 2-ring connections for PC use, other extras include five different sized ear grommets (two more than normal), and even an aircraft adapter is thrown into the mix. The hard case has a handy little pouch within, meaning that you can store one or two accessories without bunching the cable together with the Aluma itself.
Let's dig deeper
While most in-ear headsets have varying comfort levels ranging from painful to 'OK', the ROCCAT scores more around the 'OK' level. While I had to put in smaller ear grommets to fit properly (usually I use the medium size), they certainly rank as more comfortable than the Tt eSPORTS ISURUS Pro, but it's still nothing to write home about.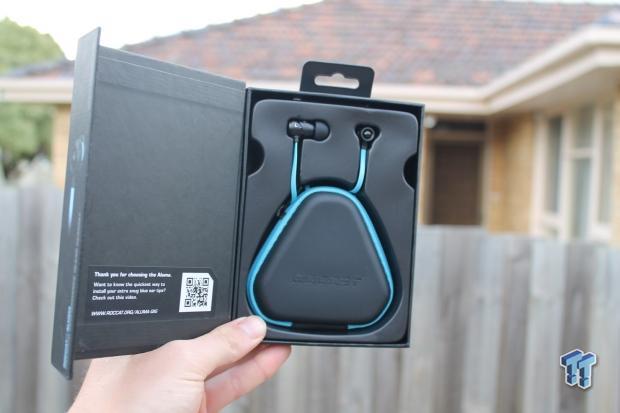 While they don't tend to hurt my ears as much after two-hour sessions like others, they do tend to fall out of my ears quite a bit.
This product also suffers severely from noise transfer through the cable to the earpiece, meaning that whenever this flat cable rubs on your shirt, you'll hear rustling sounds that muffle your music. This has been a big issue for flat cabled in-ear products in the past for me, with the worst overall being a zipper-style cable. This is generally fixed by looping the cable over the back of your ear and pointing the earphone upwards, but due to the flat cable design, it can keep calling off your ear if you're not lucky. The ear plugs don't fall off the frame as with some other models, and they're certainly easy to take on and off as you please - demonstrated in the video below.
How does it compare?
Comparing this product to the Tt eSPOTS ISURUS Pro earphones, iPhone 6 standard models, Samsung Galaxy S4 headphones and more, there isn't anything really standing out here, bar the accessories.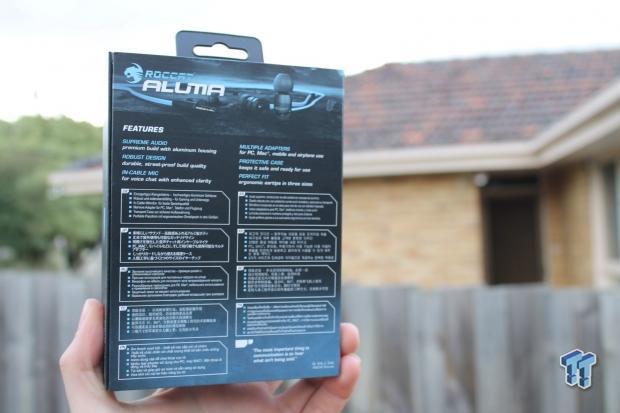 The bass ranks almost identically to the Syva, the clarity is fairly crisp, and it passively blocks out a lot of outside noises. But with the specifications, pricing and comfort being almost identical to numerous other products on the market, it's hard to set this one apart. Quiet tracks fare reasonably with this product, seeing Twenty One Pilots' 'Ode To Sleep' report back fairly good overall sound, the clarity is slightly better than the Tt eSPORTS Isurus Pro and on par with the ROCCAT Syva headphones.
Some chilled out rap music from Nas also fares well, showcasing a hint of punchy bass when each beat hits, once again mirroring its sibling.
As this product looks almost identical to the Syva, I've actually taken it to university by mistake and literally noticed no difference whatsoever, unknowingly using the wrong product until I found out by tapping on the housing. One way you will know the difference is if it's cold. The general plastic on in-ear products doesn't hold a lot of cold, however, throw the Aluma in your ears after a frosty night and you'll feel the harsh freezing metal for sure.
As I said previously, this product nails the accessories well but it doesn't exactly offer anything different to the others. It fits well in my ear. I think it looks great and the ribbon cable is a good idea, but it's another simple earphone product just like the rest.
What's Hot
The accessories: Thank you, ROCCAT. You're the first brand to really hit the accessory nail on the head, providing anything you could ever want or need.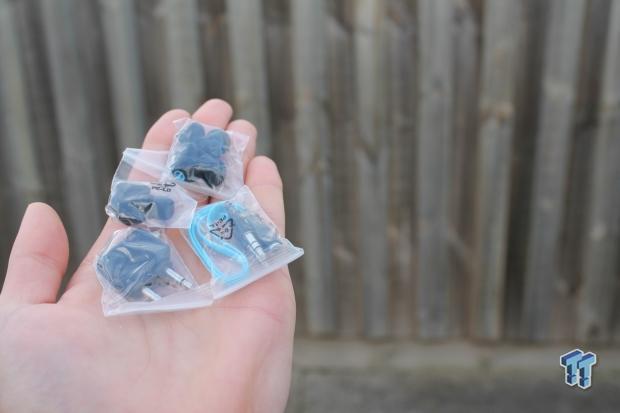 For all sizes: The five different rubber ear grommets ensure everyone can have a go.
Sound quality: There's just a little extra clarity than all the others.
What's Not
Nothing different: Although the numbers on paper are better than the Syva, it's basically the same thing in function.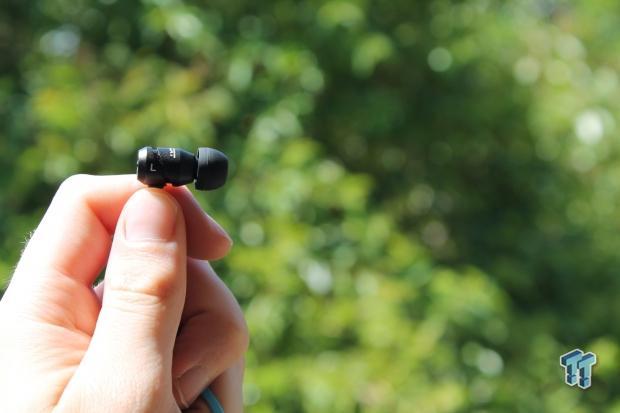 The price: Unless you're really after all these accessories, save the money and get yourself a ROCCAT Syva.
Final Thoughts
In conclusion, the ROCCAT Aluma absolutely kills the accessories department, providing anything you could ever hope for or dream of. However, the extra price doesn't give you any better sound.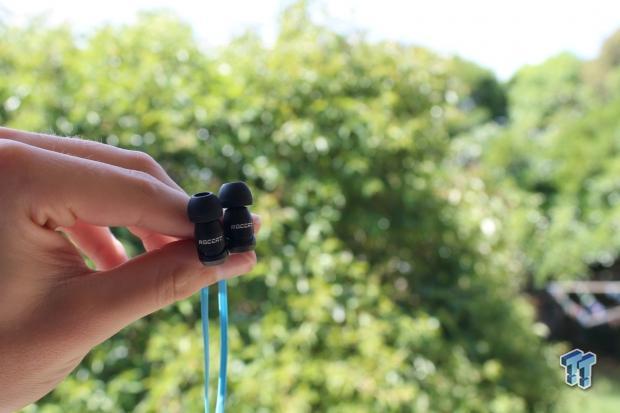 Unless you're looking for optional extras, you're better off sticking with a cheaper pair of ROCCAT Syva earphones, otherwise wait for these to go on special and buy.
| | |
| --- | --- |
| Performance | 70% |
| Quality including Design and Build | 75% |
| General Features | 80% |
| Bundle and Packaging | 90% |
| Value for Money | 80% |
The Bottom Line: ROCCAT's Aluma in-ear headset provides a myriad of great accessories, but don't expect any extra sound quality for the inflated price.
PRICING: You can find products similar to this one for sale below.

United States: Find other tech and computer products like this over at Amazon.com

United Kingdom: Find other tech and computer products like this over at Amazon.co.uk

Australia: Find other tech and computer products like this over at Amazon.com.au

Canada: Find other tech and computer products like this over at Amazon.ca

Deutschland: Finde andere Technik- und Computerprodukte wie dieses auf Amazon.de
We openly invite the companies who provide us with review samples / who are mentioned or discussed to express their opinion. If any company representative wishes to respond, we will publish the response here. Please contact us if you wish to respond.