BIOSTAR GAMING Z170X (Intel Z170) Motherboard Review
Our first BIOSTAR Intel Z170 motherboard review comes in the form of the GAMING Z170X. It offers quite a lot for the price, but is it for you?
Published
18 minute read time
TweakTown's Rating: 91%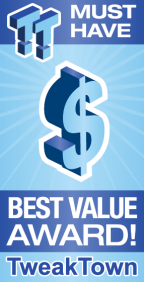 The Bottom Line
BIOSTAR's GAMING Z170X motherboard is a loaded product with a good amount of functionality and a solid feature set all at a fairly affordable price.
Introduction, Specifications, and Pricing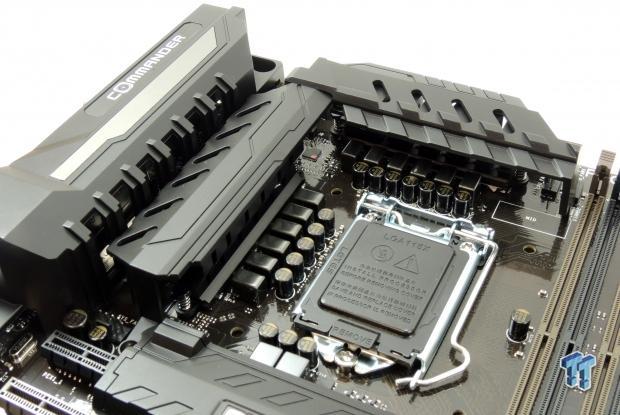 BIOSTAR is a smaller motherboard manufacturer who traditionally had only produced a couple enthusiast motherboard models per chipset. For the Intel Z170 chipset, they have a handful of well-placed gaming centric enthusiast motherboards. I also took a look at their GAMING Z97X, and I was quite pleased with its performance and overall abilities compared to motherboards from larger vendors.
What made the GAMING Z97X stand out was its high features to price ratio, resulting in more features for a lower or same price as competitors with roughly the same performance. At first glance, the GAMING Z170X looks almost like an exact match to the GAMING Z97X. Besides the obvious differences in chipsets and features, they are aesthetic twins for the most part.
BIOSTAR introduced a non-traditional exchange with their GAMING Z97X, offering it on their official eBay store and sent a few to Newegg. These changes alter the business model, cutting out the retailer resulting in more immediate returns (and eventually higher returns to the consumer). While some might feel apprehensive about shopping on eBay because of product returns and warranties, a quick search on their eBay page reveals the motherboard still carries the same warranty. And there is a short term return policy if the product is broken (14 days money back). It is too early to tell how this new business model will serve BIOSTAR, but my contact told me they will also send a few boards to Newegg so it should show up there soon. Leaving the discussion of purchasing the board to rest, let's take a look at the motherboard has to offer; let's begin the adventure known as The GAMING Z170X.
Specifications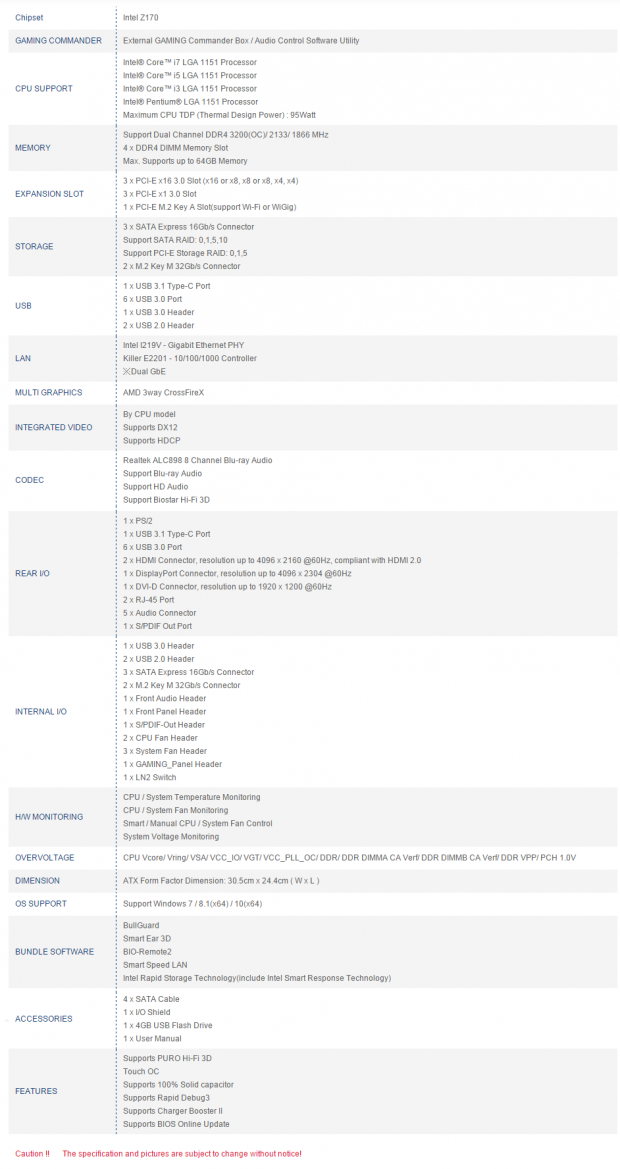 The GAMING Z170X carries everything you can expect from a motherboard at the $200 mark. Dual NICs (one Intel and one Killer), USB 3.1 Type-C, two M.2 32Gb/s slots, and three SATA Express top the list of connectivity features. BIOSTAR has custom Realtek based audio on the motherboard, and they have a GAMING COMMANDER external front panel box that carries a CMedia codec (same as the Z97 model). The motherboard supports 3-way CrossFireX, but SLI isn't supported (same as their Z97 model).
Pricing
The GAMING Z170X is currently $199.99 on eBay, which places it in the upper-middle class of motherboard. There are a huge number of cheaper Z170 motherboards that carry a lot of features, so at this price point motherboards need to start offering custom extras that other motherboards don't have.
Packaging and the GAMING Z170X
Packaging and the Board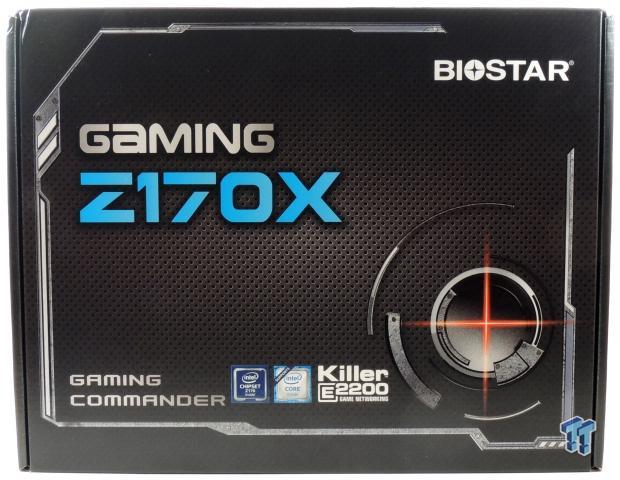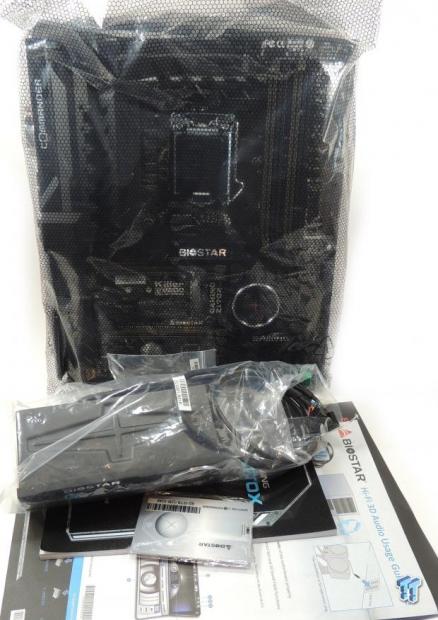 There isn't too much to say about the box. It shows off BIOSTAR's commitment to maintaining gaming features with the front panel GAMING COMMANDER box. The packaging looks good, and the motherboard is well protected and the box sections off the GAMING COMMANDER box so it doesn't hurt the board while in transit.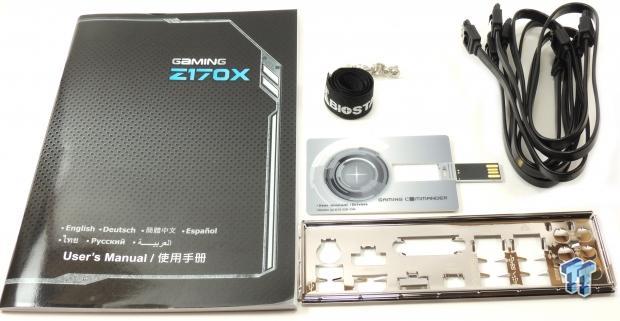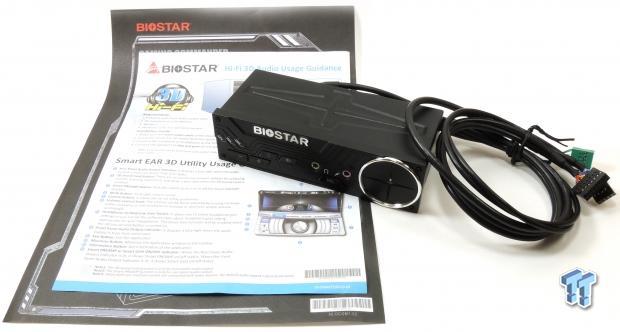 Accessories include 4x SATA6G cables, IO shield, USB card with drivers/software, Velcro cable ties, manuals, and the GAMING COMMANDER box with screws.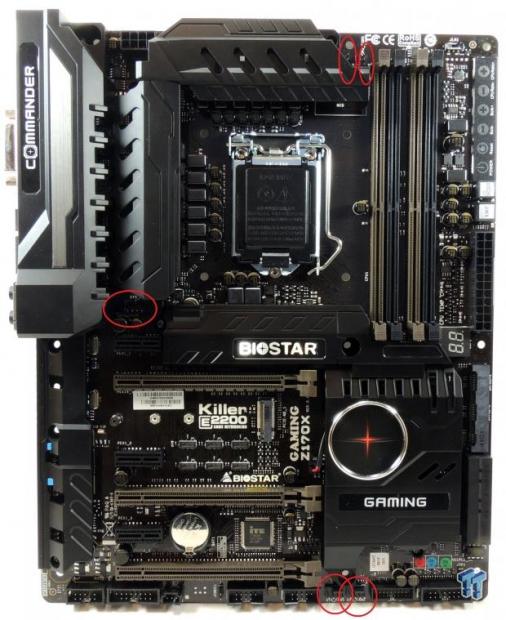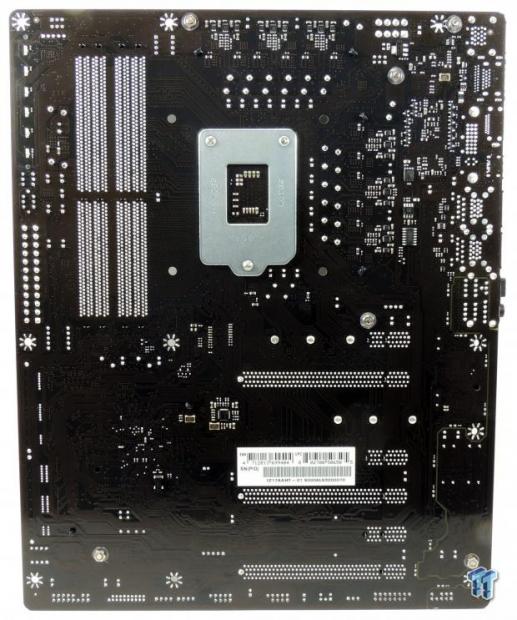 The BIOSTAR GAMING Z170X has five fan headers. They are all circled in red and all support PWM and voltage (DC) mode fans and have SMART fan control in Windows and the BIOS. BIOSTAR used the same color scheme and the same shield design on their Z97 motherboard, and it looks like aluminum in person. While some might not like brown, you can populate the slots and get rid of color, plus in a case, the entire motherboard takes on a black look. The back of the board reveals the audio divide and some components for the VRM and the external clock generator for overclocking. The big three 16x PCI-E slots are all connected to the CPU and can operate at 16x/0x/0x, 8x/8x/0x, or 8x/4x/4x for CrossFireX.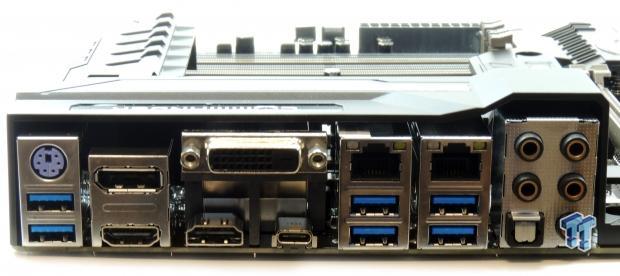 The IO panel features a 6x USB 3.0 ports, 1x USB 3.1 Type-C, 1x Intel Gbit NIC, 1x Killer Gbit NIC, 2x HDMI, DisplayPort, DVI, PS/2 Keyboard, 7.1 gold plated audio outputs with TOSLINK. There are no hubs used for the USB 3.0; it's all directly from the PCH, and the top two have re-drivers.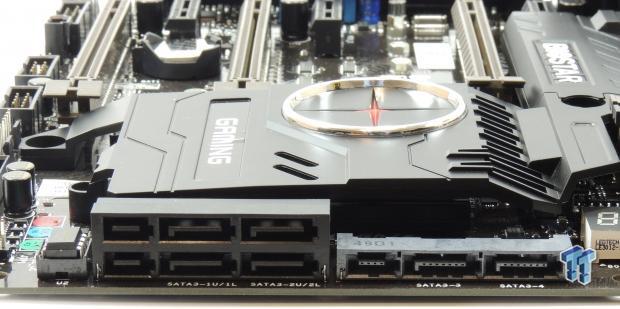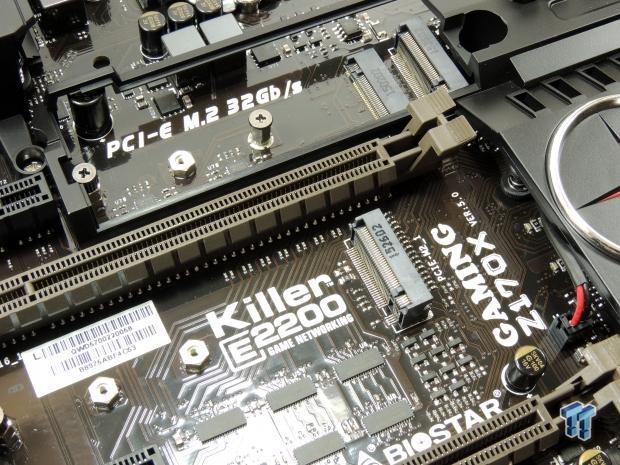 Each of the three SATA Express connectors has two individual SATA ports from the PCH, resulting in a total of six SATA6Gb/s ports. The bottom two SATA Express connectors each share 2x PCI-E 2.0 with each of the two M.2 slots. If you use the bottom-most PCI-E 4x M.2 slot, then the lower SATA Express connector (in the stack) will be disabled. If you populate the topmost PCI-E 4x M.2 slot (covered by the shield), then you will disable the upper SATA Express, which is not located in the stack. There is also a 1x M.2 slot located right under the top-most M.2 slot that is used for WIFI/BT modules.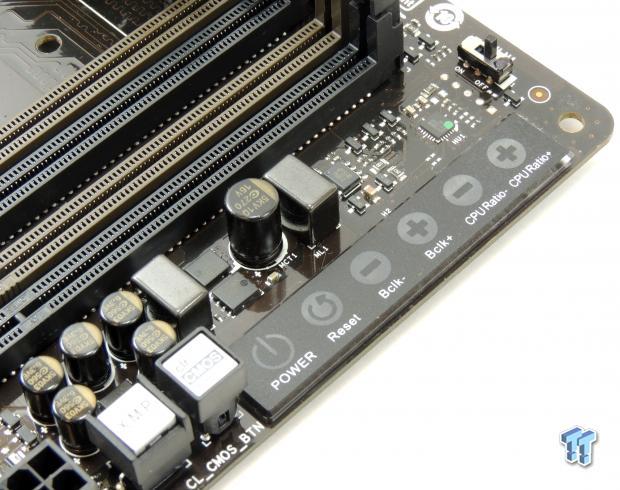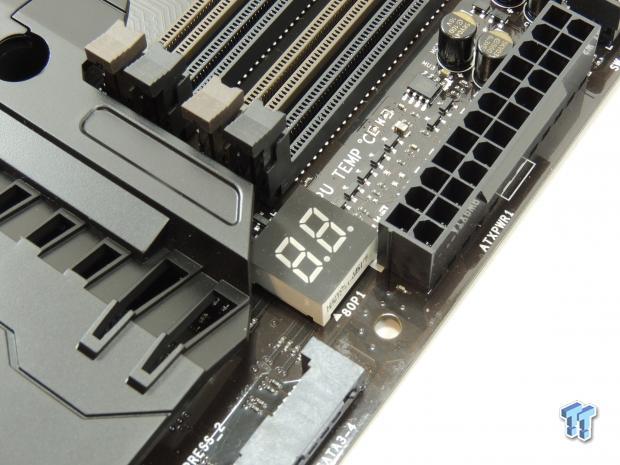 Surprisingly, BIOSTAR is focusing on overclockers as well, implementing the first capacitive touch panel that replaces buttons. Power, reset, CPU Ratio +, CPU Ratio -, BLCK +, and BLCK - touch pads are all black-lit by red LEDs, and blink when you touch them. An LN2 mode switch is located at the top of the motherboard. ClearCMOS and XMP Enable buttons are located right above the 24-pin power header. A POST-Code display doubles as a CPU temperature meter.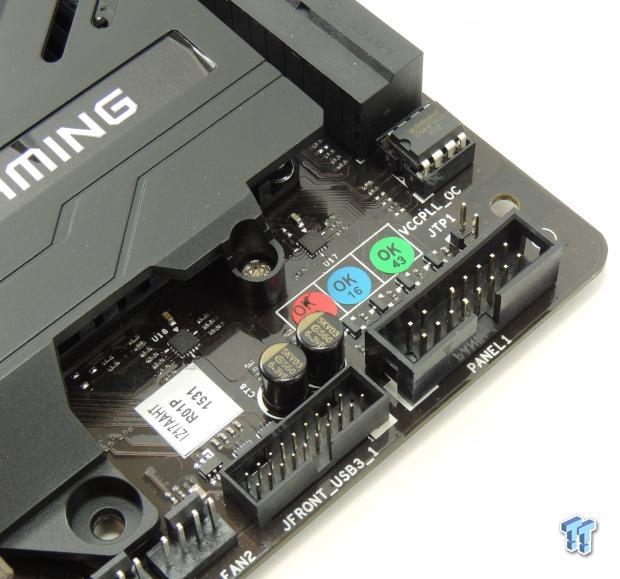 There is a single BIOS ROM, which is located in a socket for simple replacement. There is a sole USB 3.0 internal header located in the bottom right corner of the motherboard, which might pose a problem for people with large cases and short USB 3.0 internal cables.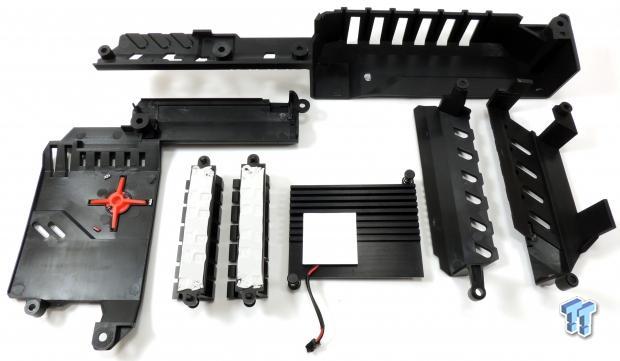 The heat sinks all use plastic push-pins, but the shield is screwed into place. If you don't like the look of the shield, you can easily remove portions of the plastic shield without removing others; making the shield modular. There is a flat LED on the PCH heat sink that illuminates the star on the PCH shield.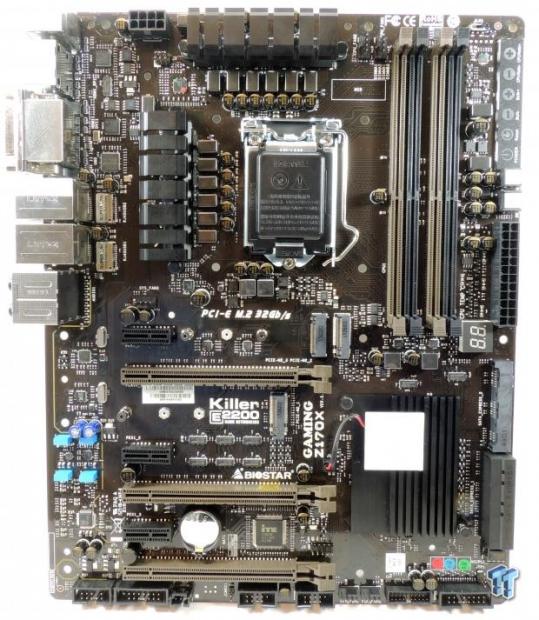 Here is the motherboard without the shield.
BIOSTAR GAMING Z170X Circuit Analysis
Circuit Analysis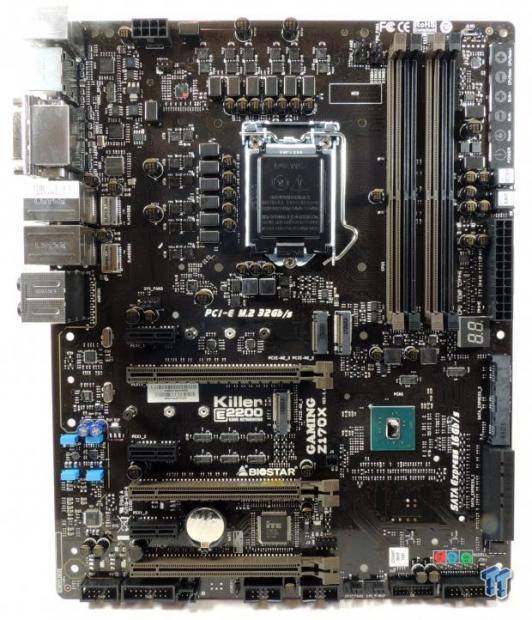 The GAMING Z170X looks nice in the nude.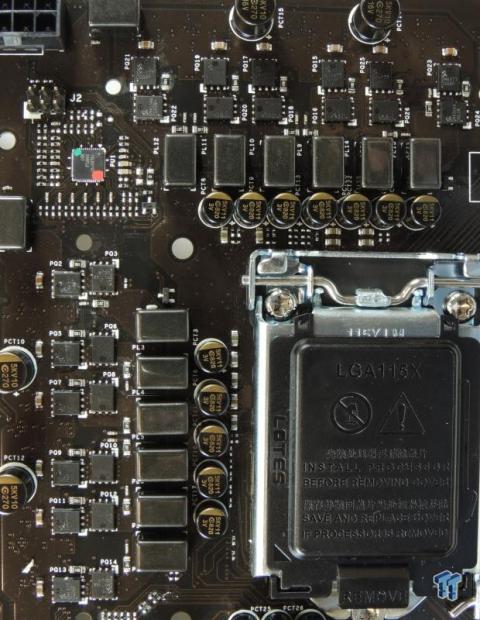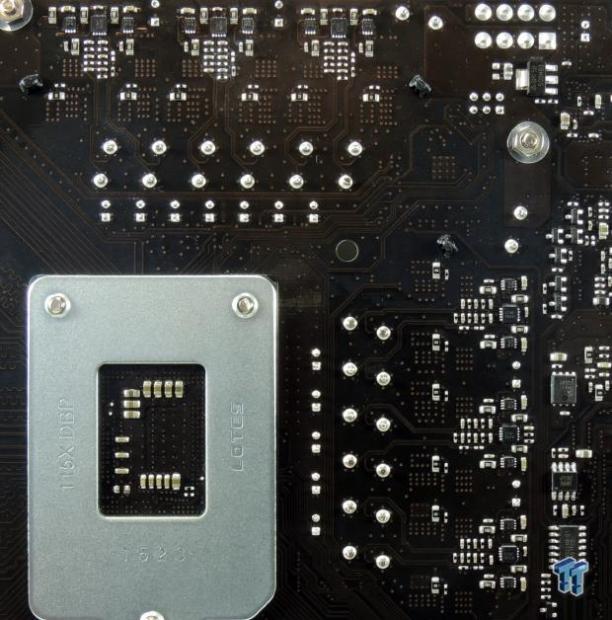 This motherboard most likely carries an 8+4+1+1 phase VRM (CPU, iGP, VCCSA, VCCIO). BIOSTAR is doubling 4+2 phases (they could also be doing 5+1 resulting in 10+2 phases, but it doesn't make a big difference) from a multiple output PWM to 8+4 using the proper doubler/driver combination. Each PWM phase is sent to an Intersil ISL6617 which is a phase doubler and outputs two phases. Each of those two phases has a single Intersil driver. The same thing is being done for both the CPU and iGPU phases for the VCC (VCore) and VCCGT (iGPU core). The VCCSA and VCCIO phases are located below the CPU socket.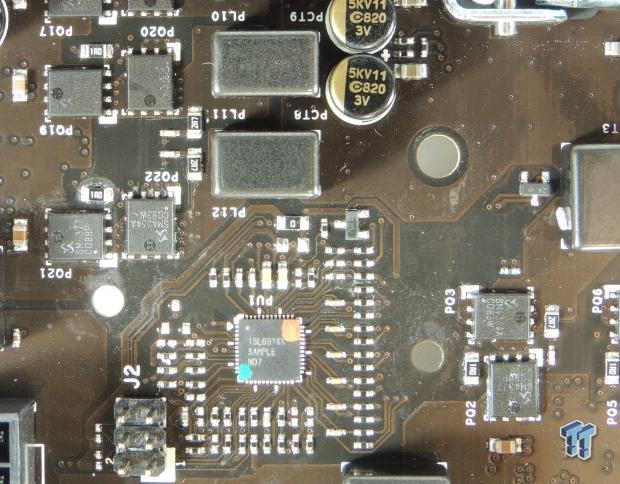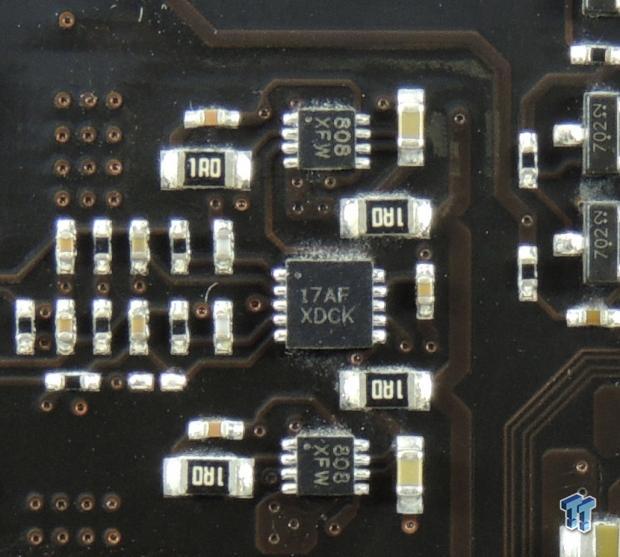 The motherboard I received is a sample from BIOSTAR and has an engineering sample hybrid digital PWM on the board. Nevertheless, I can tell it's an Intersil PWM and that it supports multiple PWM outputs of at least 4+2 phases. It also looks to be more of a mainstream enthusiast PWM rather than a mobile PWM because there are no integrated drivers that are usually found on mobile PWMs from Intersil.
One high-side MOSFET and one low-side MOSFET are used for each phase, the SM4377 and SM4864 from SinoPower. The inductor specifications aren't well known, but the capacitors are 5K capacitors. On the right is an up-close of the doubler + two driver circuit used to expand the PWM outputs to each power phase (ISL6617 for the doubler, and maybe ISL6208 for the driver).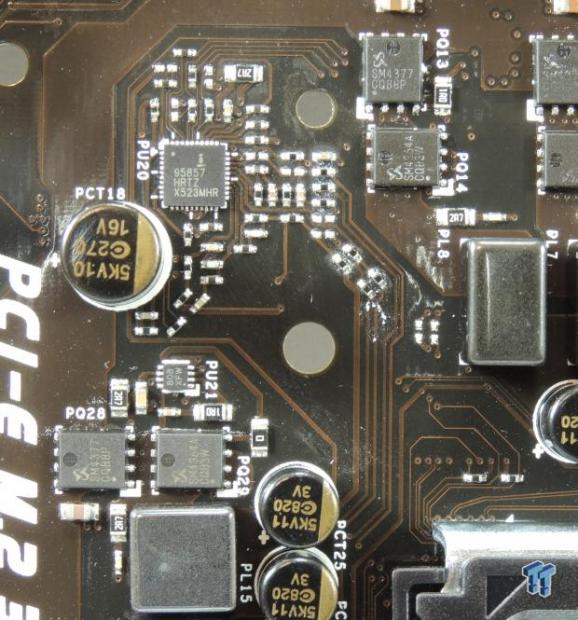 An Intersil ISL95857 provides outputs that drive the VCCIO and VCCSA. The memory VRM uses a uPI Semiconductor uP1514 for the PWM. A little chip located above the memory VRM is an eKT5201 from ELAN, which is the capacitive button controller.
BIOSTAR GAMING Z170X Circuit Analysis Continued
GAMING Z170X Circuit Analysis Continued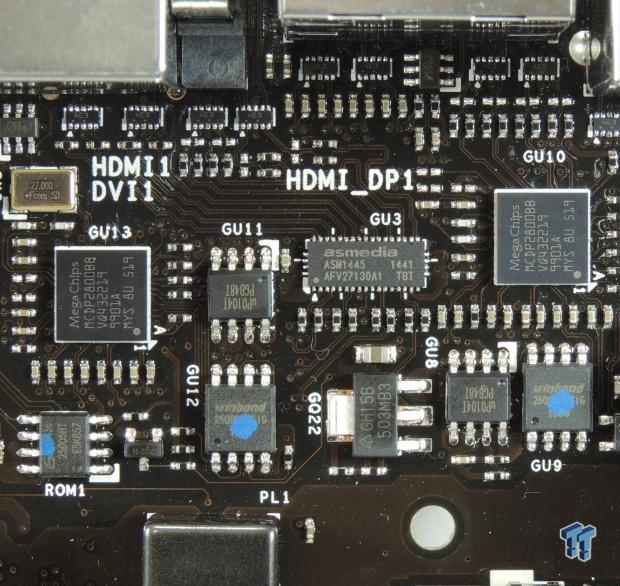 This board includes the proper hardware for two HDMI 2.0 ports and uses two MegaChips MCDP2800BB ICs and an ASMedia ASM1445 to switch display output.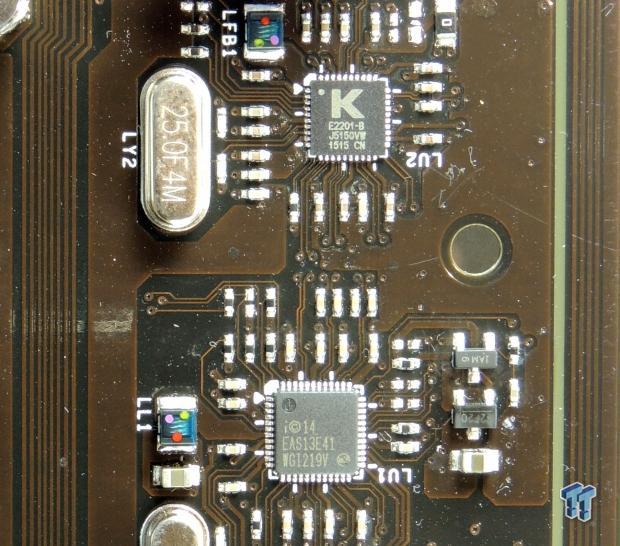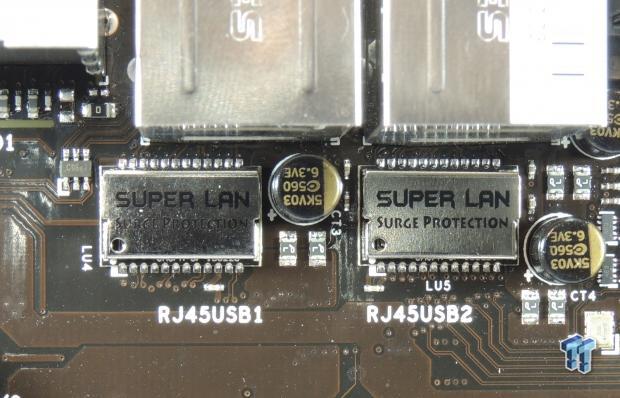 The motherboard has two NICs. The first is an Intel i219v and the second is the Killer e2201. Each NIC gets a SUPER LAN SURGE PROTECTION unit that consists of transformers and diodes to prevent LAN surge damage. This feature has made a tiny comeback on some Z170 motherboards and does provide a little extra protection.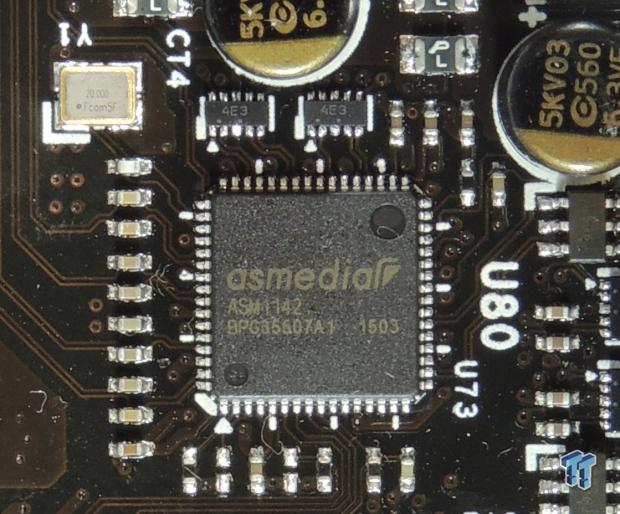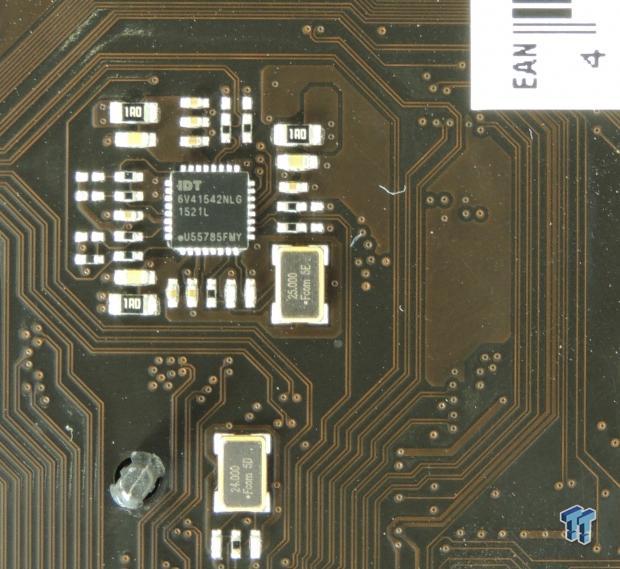 An ASMedia ASM1142 provides USB 3.1 Type-C connectivity on the back panel. An IDT6V41542NLG provides an isolated BLCK input to the CPU for proper Skylake BLCK tuning.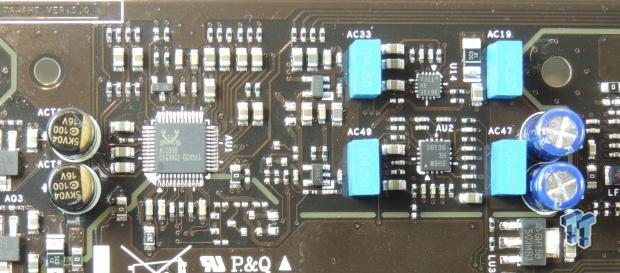 The audio is powered by an ALC898 along with a pre-amp and amplifier (I couldn't find the manufacturer). BIOSTAR has also provided audio grade polymer film capacitors, audio grade electrolytic capacitors, gold plated outputs, and a PCB divide to spruce up the audio section.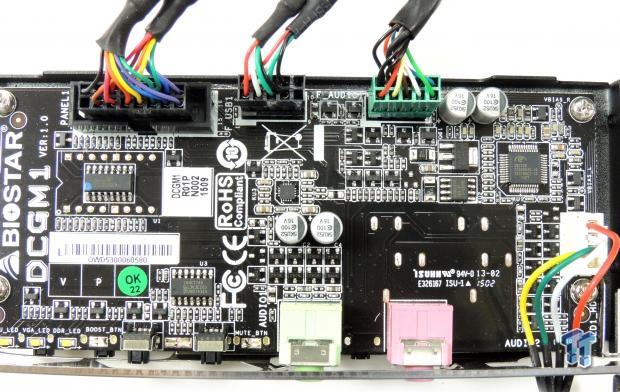 The front panel bay isn't just for show. There is another amplifier as well as another codec for the audio; the CMedia CM120B, which provides the GAMING COMMANDER with audio features.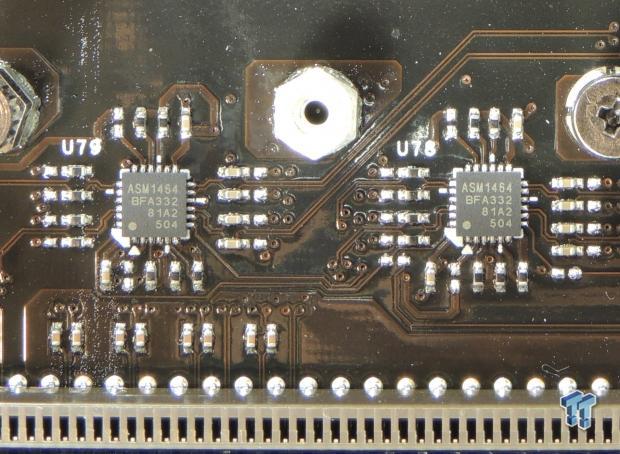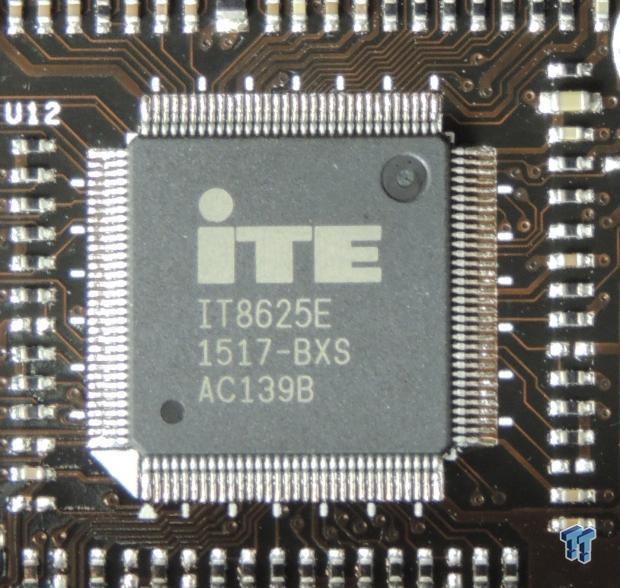 I was surprised to find two ASMedia ASM1464 USB re-drivers to strengthen two of the USB 3.0 signals going to the ports on the back panel IO since they are located far from the PCH. The iTE IT8625E provides all major SuperIO features like the PS/2 keyboard, voltage monitoring, and fan control and monitoring.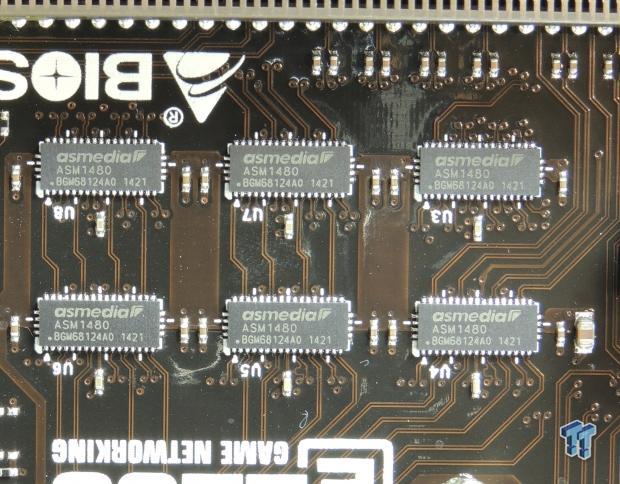 Six ASMedia ASM1480s switch PCI-E lanes between the three PCI-E 16x slots.
BIOS and Software
BIOS
BIOSTAR's UEFI has a single operation mode using a custom skin. They have tried to provide aesthetics that might appeal to PC gamers, with styling akin to the menu in a PC game from the 90s. While it might not look sleek as sleek as some other implementations, it's functional, easy-to-navigate, and provides fixed real-time monitoring.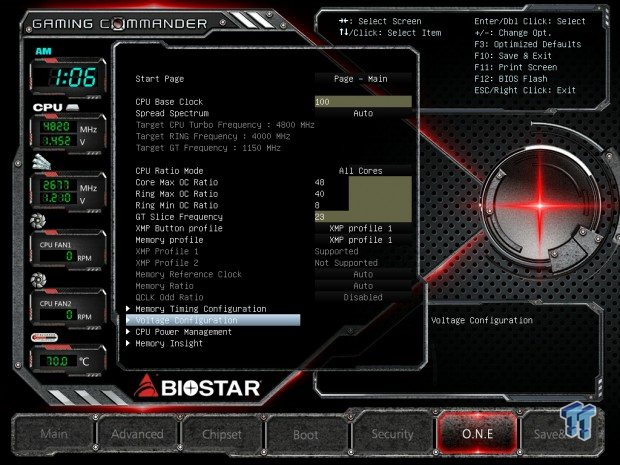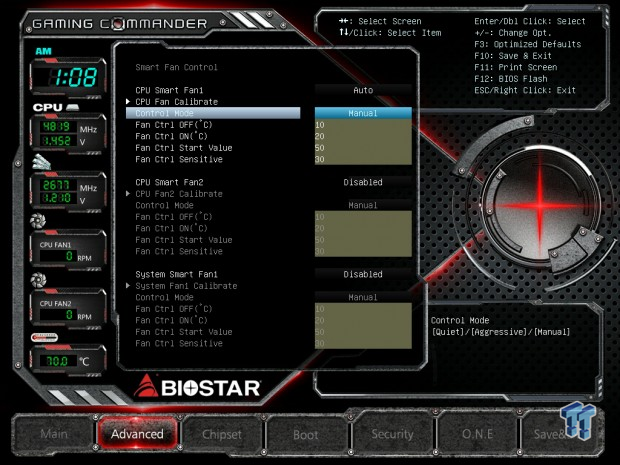 Fan control is readily available with many customization options over all the fans. Overclocking options are readily available too, and while there isn't an option for external LLC, there is one for internal LLC under the CPU Power Management menu in more recent BIOS versions. It is a bit trickier; you type in values from 0-6000, and it uses the feedback loop to alter the VCore.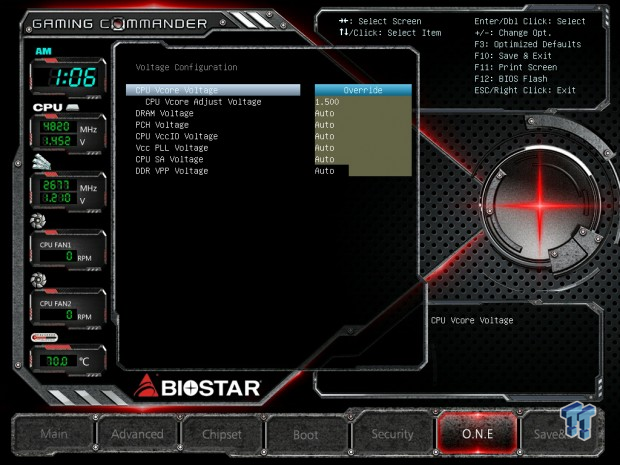 The voltage menu even has the CPU VCC PLL voltage for more extreme overclocks.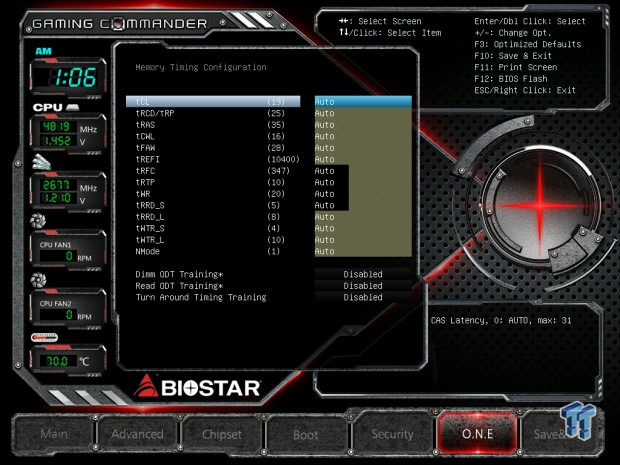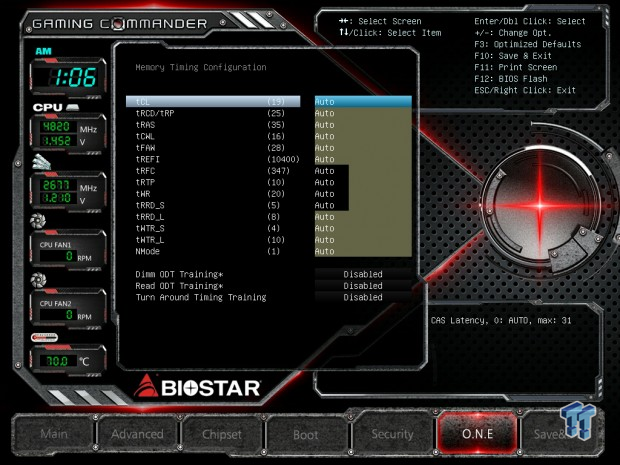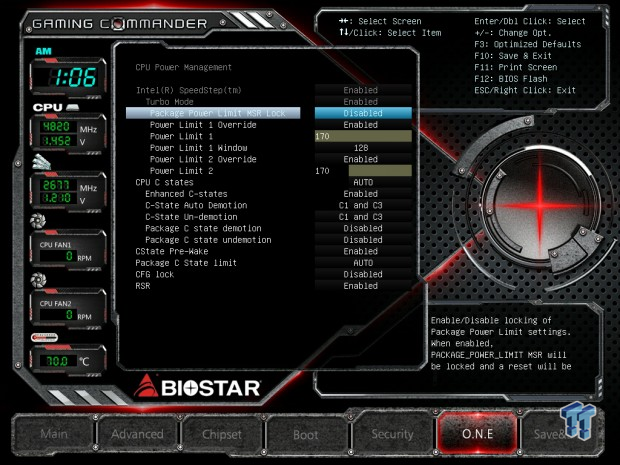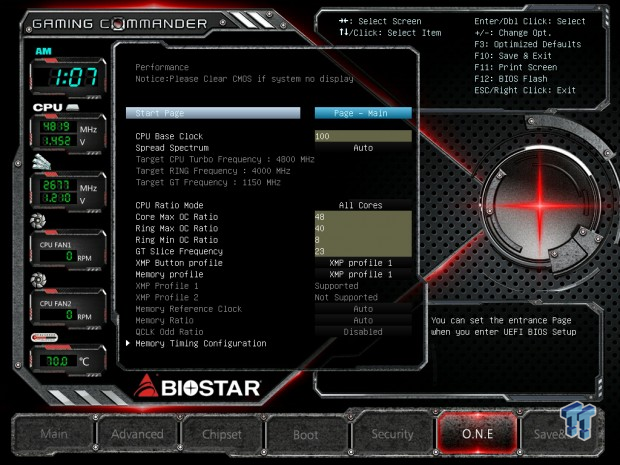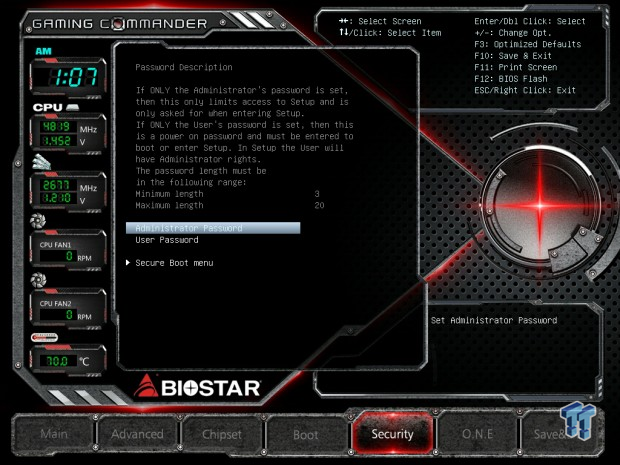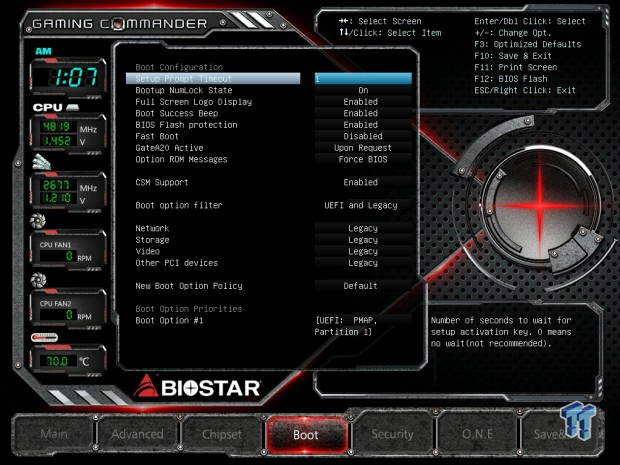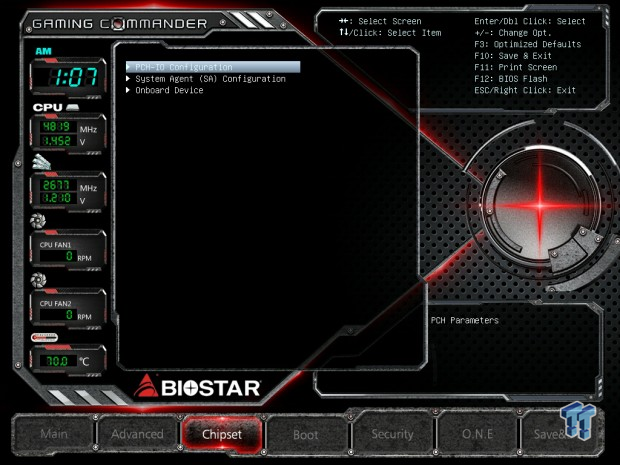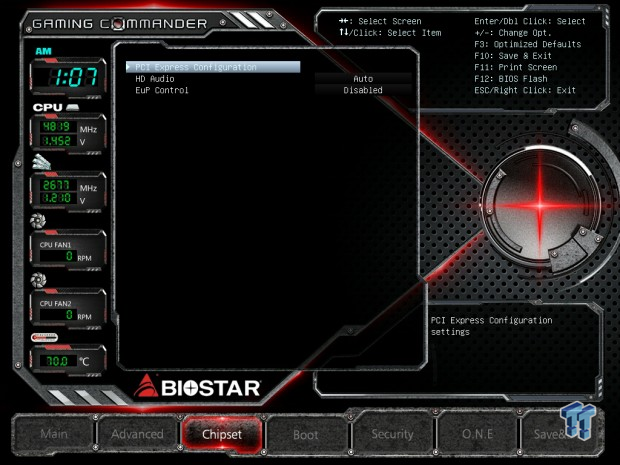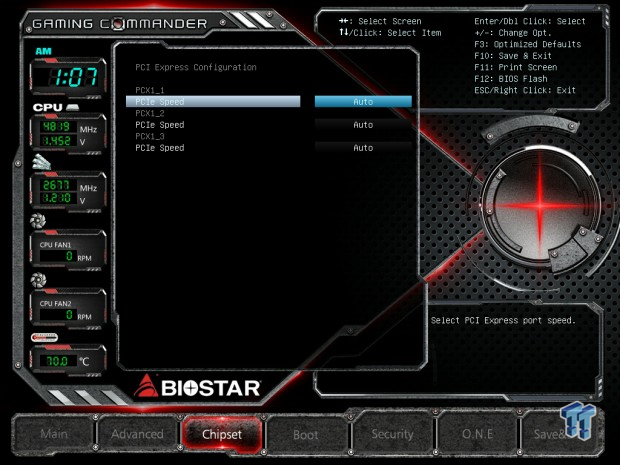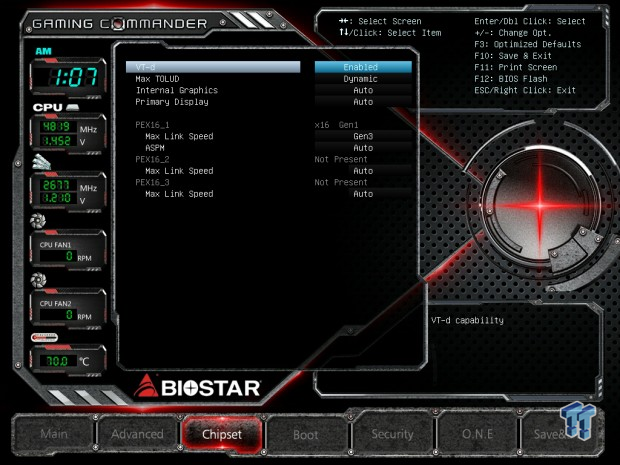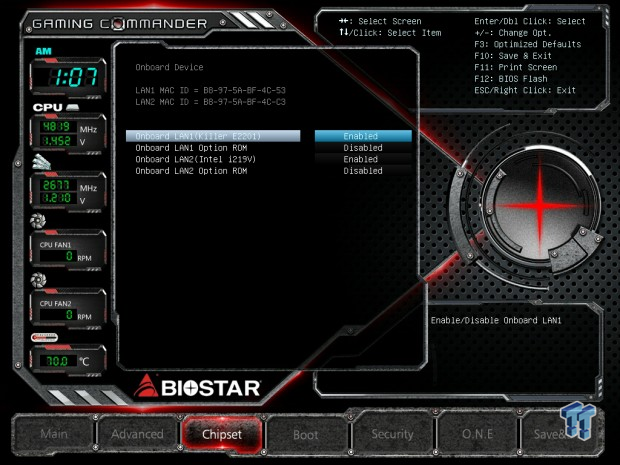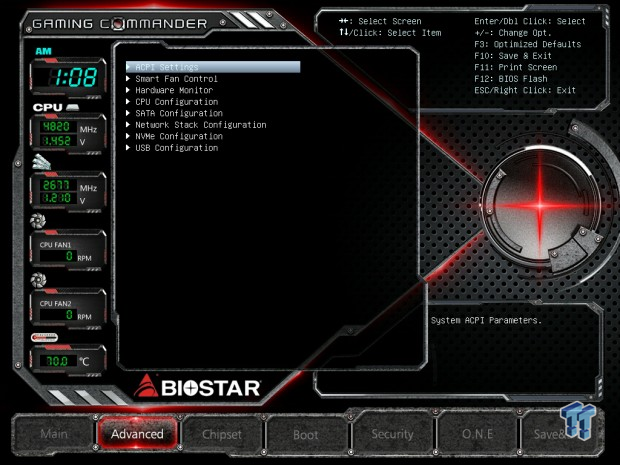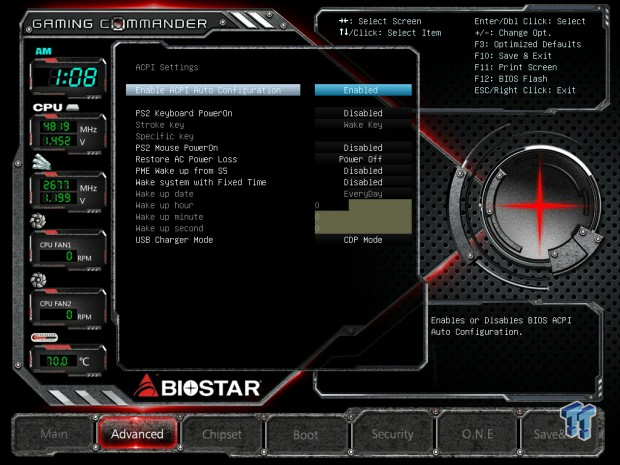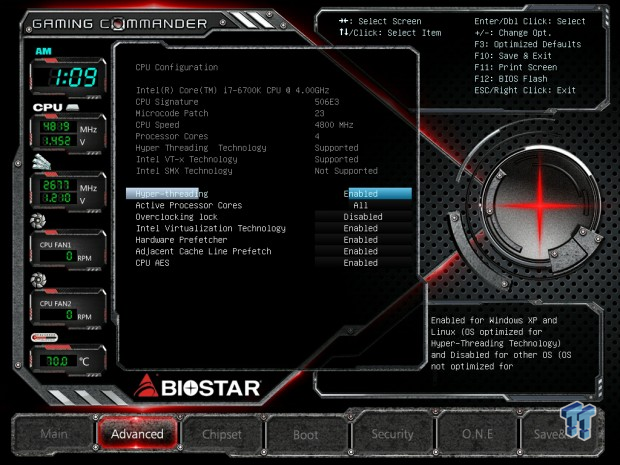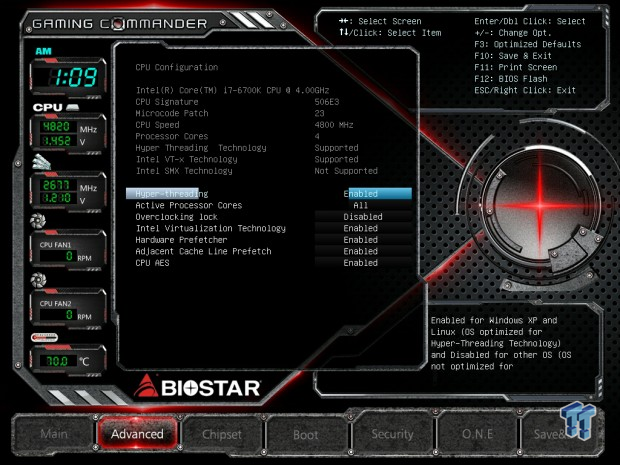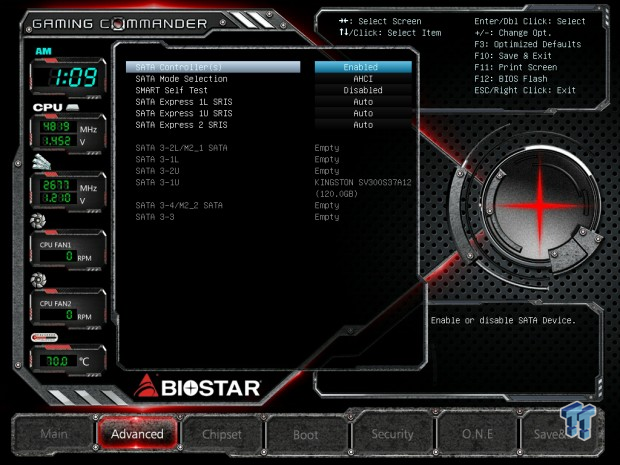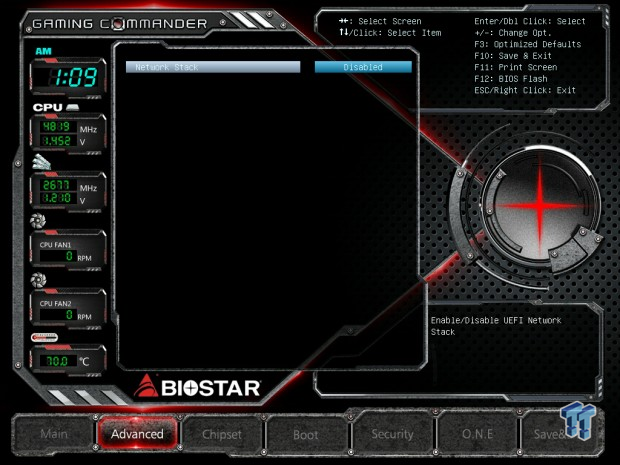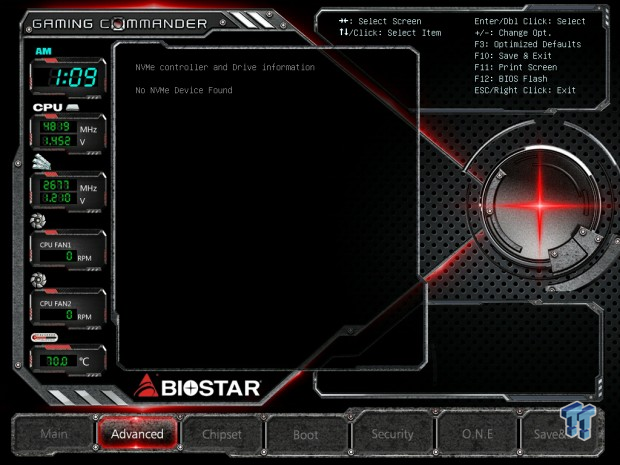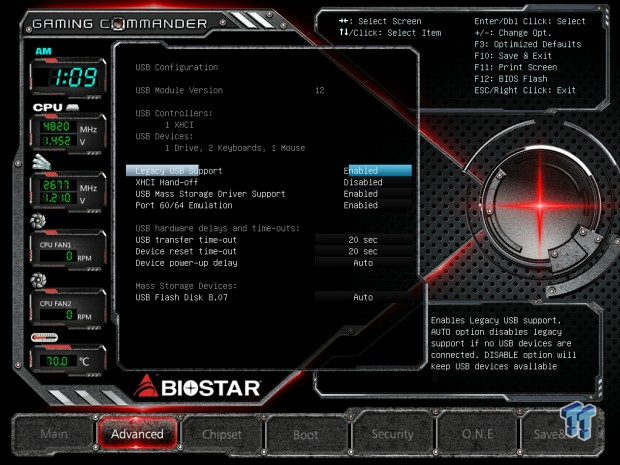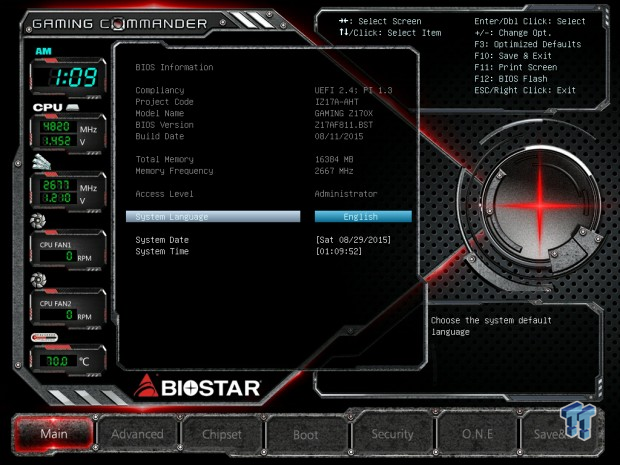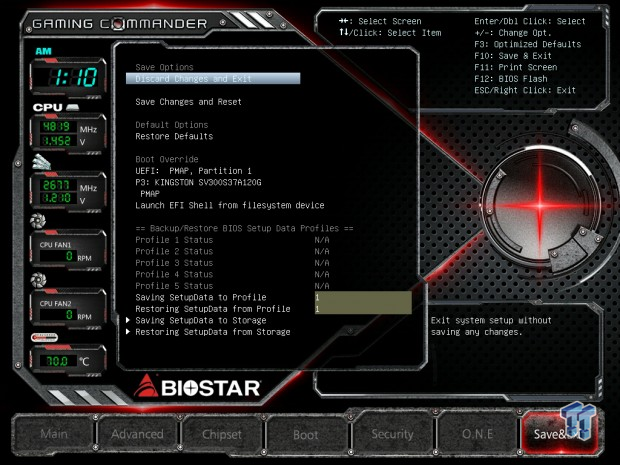 Software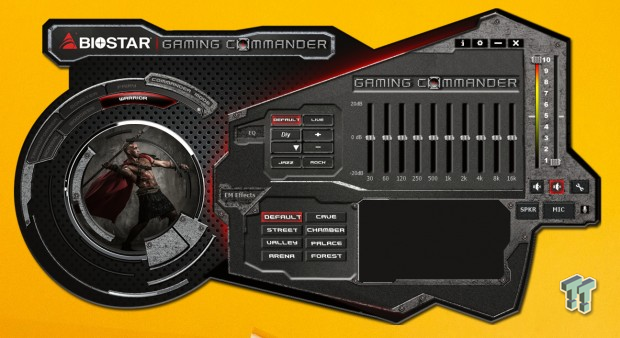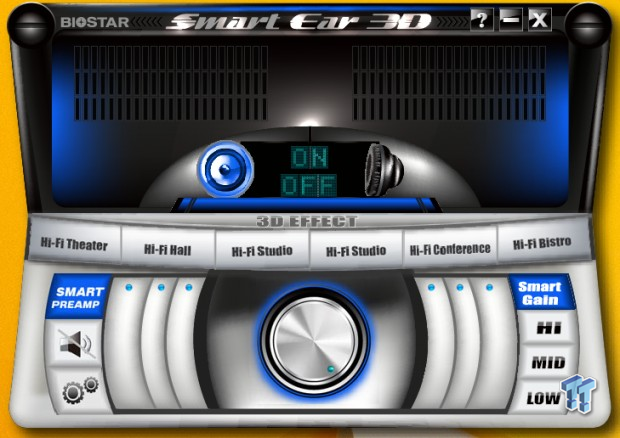 BIOSTAR's GAMING Z170X has a few audio programs. The first is GAMING COMMANDER that references the front panel bay device. SmartEar3D provides even more tuning options.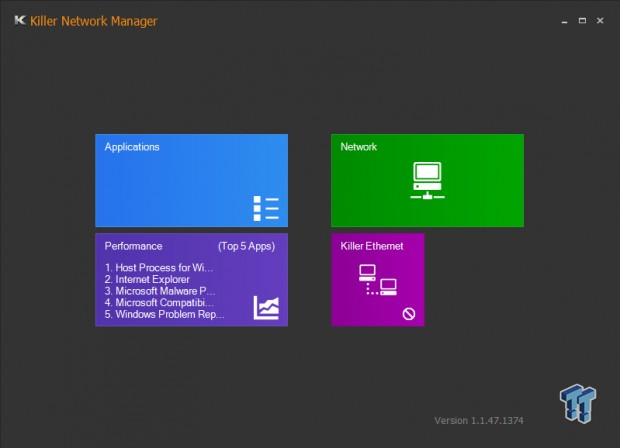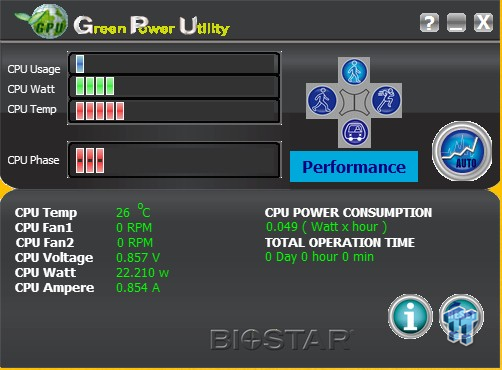 Killer's Software suite for the Killer NIC is part of the package too. BIOSTAR's Green Power Utility provides the ability to control some aspects of motherboard power.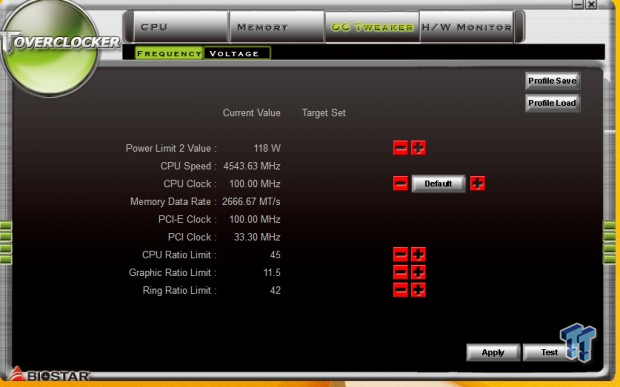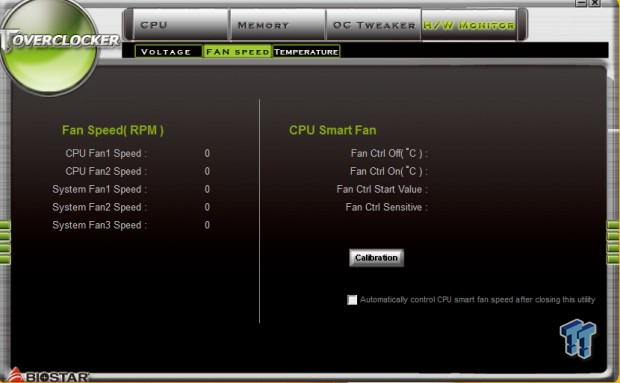 Toverclocker is BIOSTAR's program for in-Windows tuning of CPU parameters, Intel's XTU also works with this board. Toverclocker also provides in-Windows fan tuning.
Test System Setup
Steven's Motherboard Test System Specifications
Above is the new test bench, and it is designed to test every aspect of the motherboard and IO. I have designed it so that the motherboard sits in a case and is cooled by fans always on at a constant rate to keep the conditions similar for all tests. I have cut out part of the case behind the motherboard so I can get thermal images of the back of the PCB where the VRM heat spreads. System and CPU power measurements are now digitally logged.
I am also using a Netgear Nighthawk X4 AC2350 for our network (including wireless AC) tests. The latest M.2, SSD, and USB technologies are also being utilized to test the maximum potential of the motherboards that are being tested.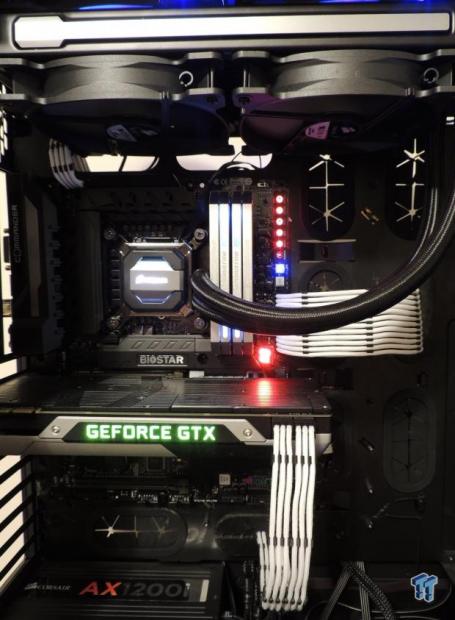 The motherboard's black shield allows it to blend in with the case so that the PCB is barely visible. Those with issues with the color of the brown slots might also be happy to learn that the brown color also blends in with the black of the shield and the case.
Overclocking
Overclocking Results
CPU Overclocking
CPUID recently released their latest CPU-Z version that brings some major changes to the much-loved software. One of these changes has made it harder to get validation at lower stability levels, so it becomes much more troublesome to validate 5.2GHz at 1.5v with every board. While CPU-Z has changed, many motherboards (not this one) don't have LLC. I have to set a higher voltage to compare all these boards at the same voltage.
I have decided to reduce the CPU VCore to 1.4v applied (I will measure real VCore at the output capacitors), and see how high I can validate. On most boards, it's 5.0. I have also decided to add real voltage levels compared to what is set for all motherboards, if they don't have voltage read points I will mark where I got the readings from on the board.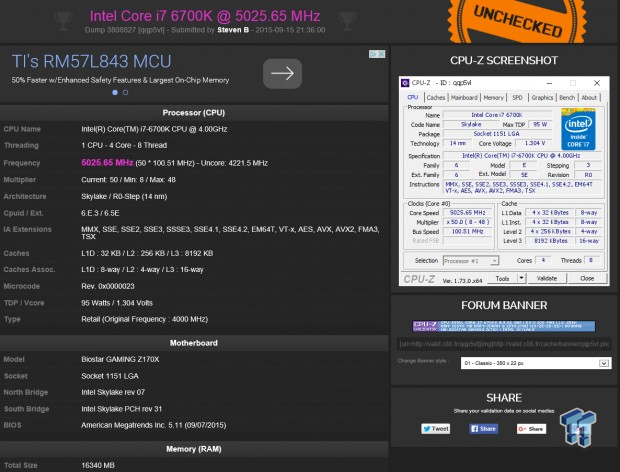 The GAMING Z170X does 5.0GHz just like other high-end boards.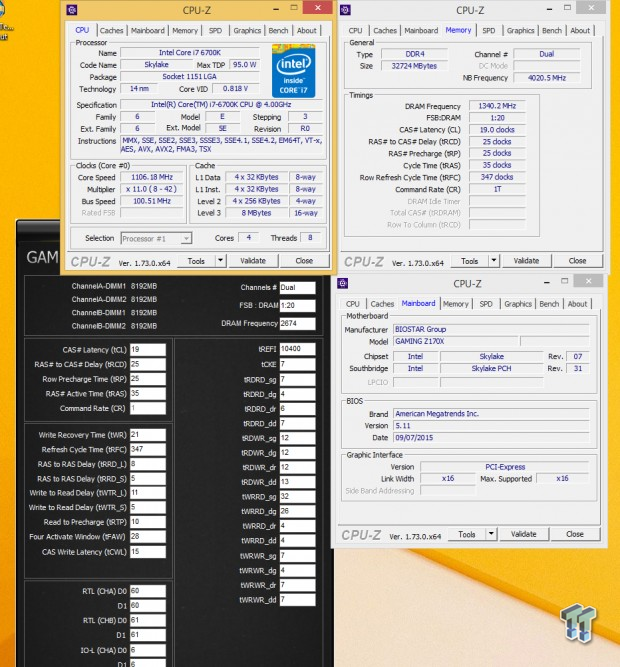 I test stability at 4.8GHz CPU, 4.0GHz Uncore, and 2666MHz on the memory with 1.4v on the VCore. I am using HandBrake to transcode a 2GB video, and it is very telling since it pulls all cores to the maximum frequency and load. Handbrake is good for a quick stability check, plus I get a log of the encoding speed and the number of errors. It is very easy for the queue not to finish all the way and just error out, and 1-3 hours of AIDA is about equal to this HandBrake test, so I am replacing it. The reason the CPU frequency and Uncore are so low is because EIST drops the CPU frequency at idle points. You can see HWiNFO's CPU frequency and temperature maximums that the CPU runs at full speed when loaded.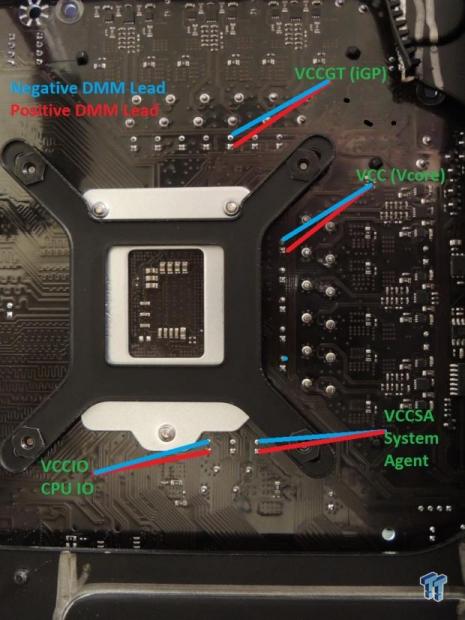 These are the voltage read points if you want to try and use the built-in LLC because in-Windows reading isn't very good for most Z170 motherboards. You can expect a 0.05-0.1 drop in the voltage if you don't use LLC, which I figure most people will use. However, if you set a value of 50 for both DC and AC and test, you could find some benefits and reduction in vdroop. I reported there was no vdroop control, and they added in the integrated AC/DC LLC, so hopefully they will add in external LLC in the future. Measuring the VCore manually is recommended. If you don't want to measure, then look at your CPU temperature to see how much VCore you need. As a reference, 80C is about 1.39-1.43v on a good AIO water cooler at 4.8GHz. And you might need to set 1.45-1.5v for that (Intel's recommended maximum is 1.52v). So, just try and stay under that since the VCore will drop under load.
Memory Overclocking
I have decided to expand the overclocking tests to the following:
Test 1: 4x8GB (32GB) Corsair Vengeance LPX 2666MHz C16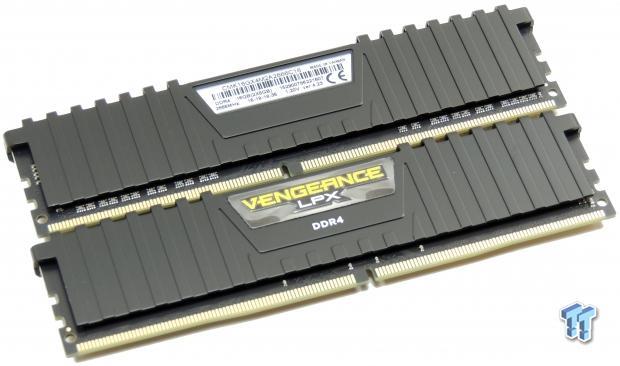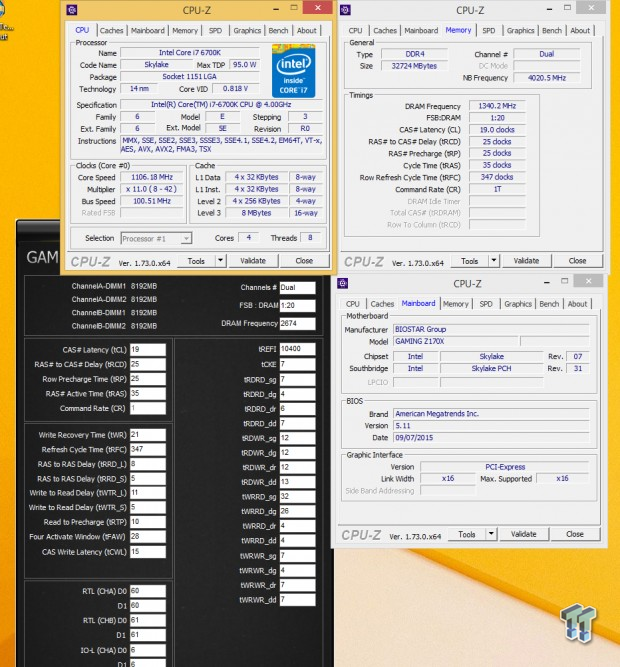 The motherboard runs four sticks each at 8GB at 2,666MHz XMP, but BIOSTAR's XMP applies its own timings that are applied when applying XMP on other kits as well. That includes C19 and T1 for some reason.
Test 2: 4x4GB (16GB) Corsair Dominator Platinum 3200MHz C16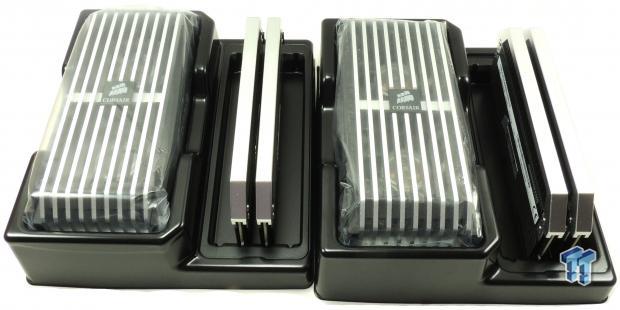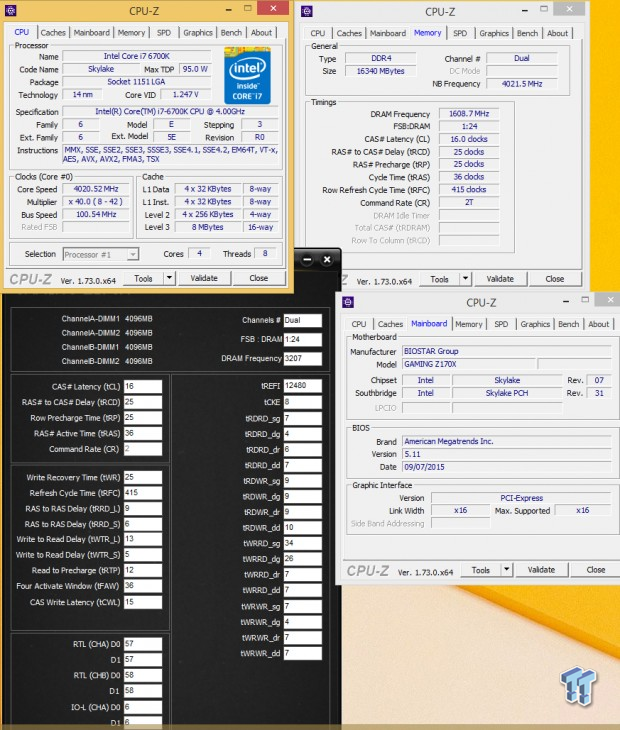 This kit meant for X99 works just fine on the board, but again with an altered XMP profile. I had to go in and set C16 and command rate to T2 from T1.
Test 3:2x4GB (8GB) G.Skill Ripjaws V 3600MHz C17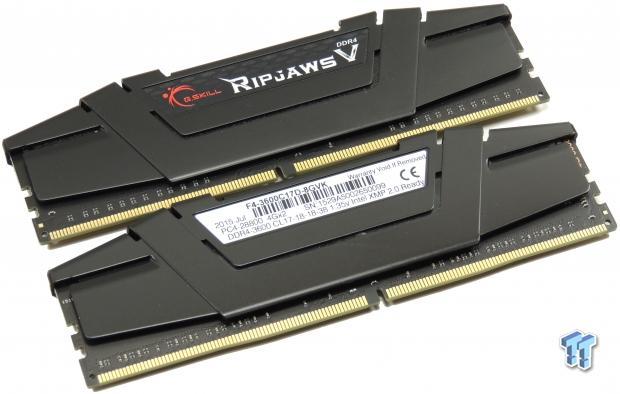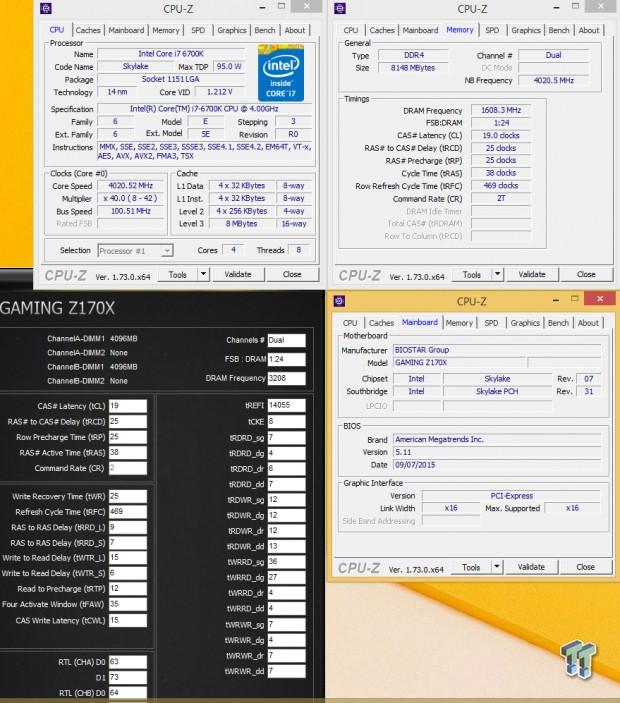 This kit doesn't work on all motherboards. Usually, only overclocking models can even boot this kit by just enabling XMP. On the GAMING Z170X, I can get to 3200MHz, but 3600MHz isn't attainable at this moment. BIOS updates should bring support for these modules as I wasn't able to get 3200MHz earlier, but with the second oldest BIOS, I can (a new BIOS just released while writing this review).
CPU, Memory, and System Benchmarks
CINEBENCH 11.5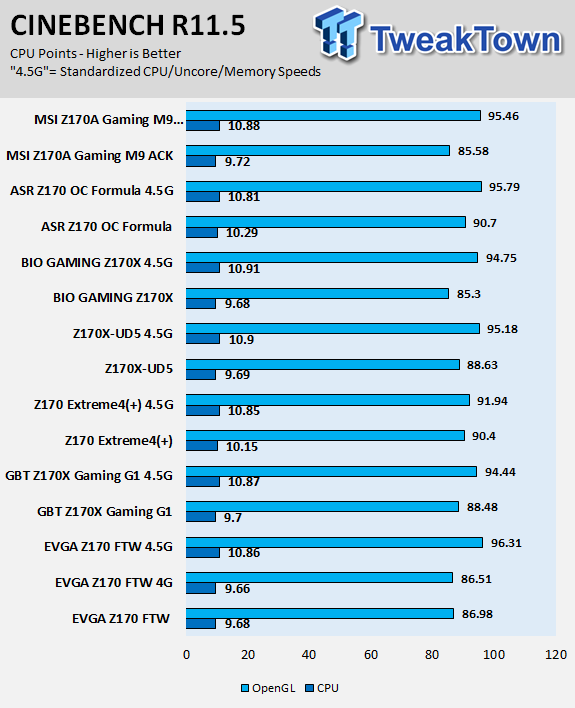 wPrime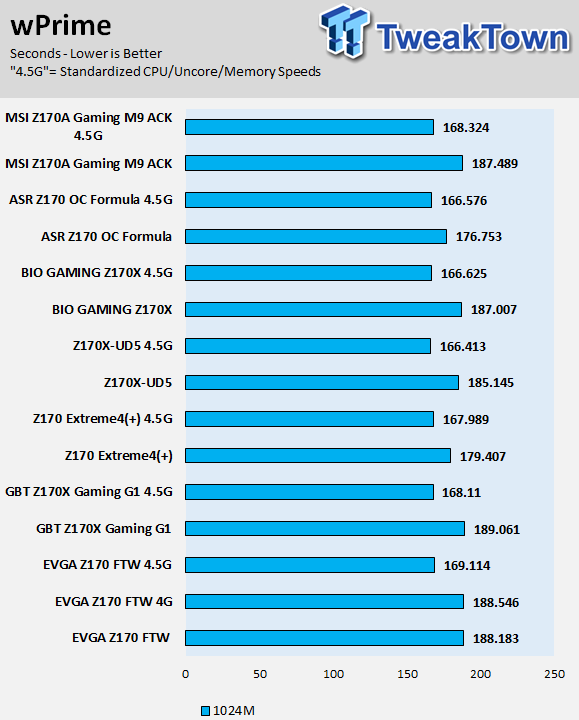 AIDA64 AES and HASH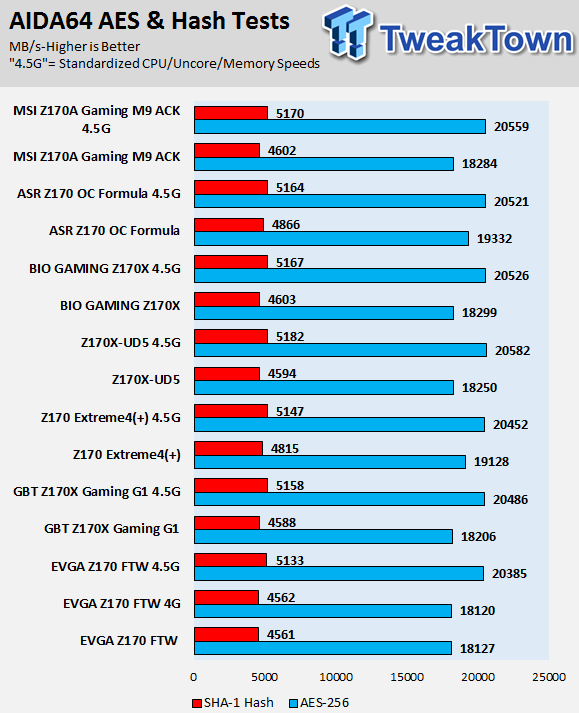 AIDA64 FPU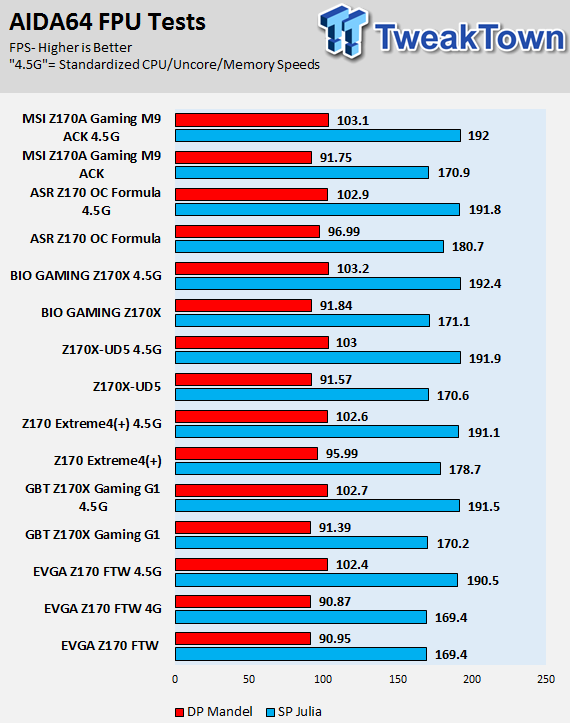 AIDA64 Memory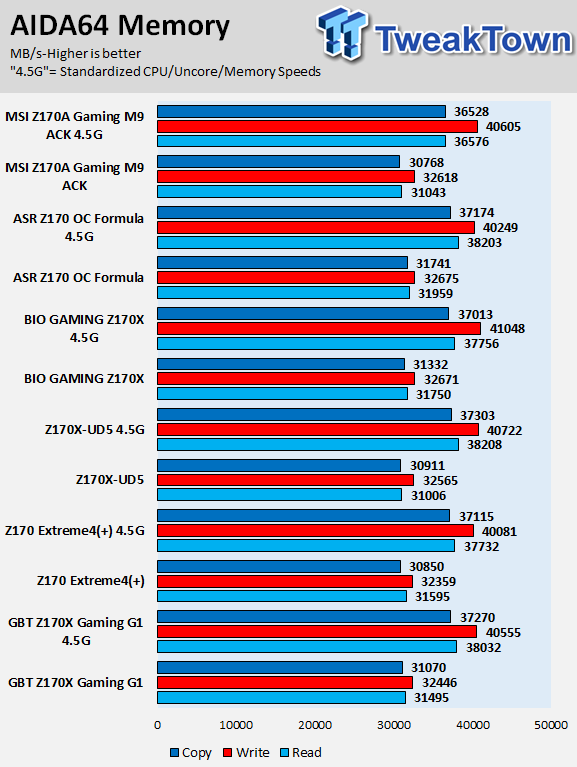 PCMark 8 Home Test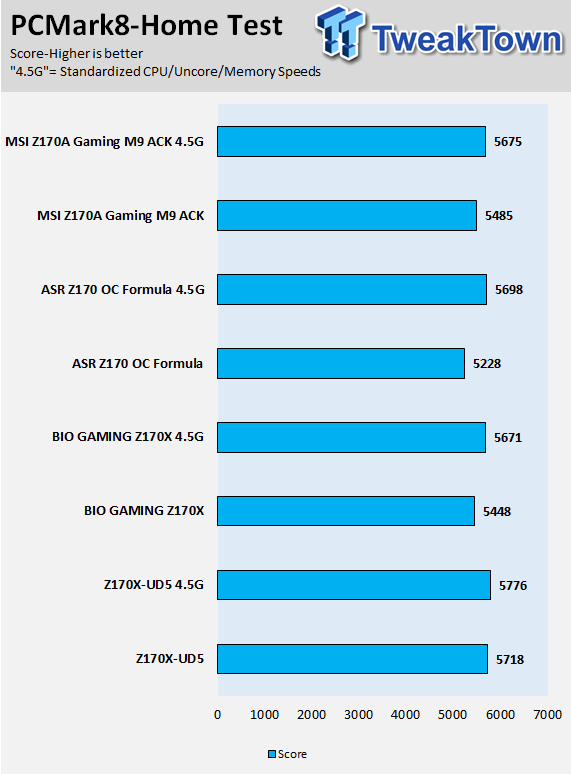 3DMark: Cloud Gate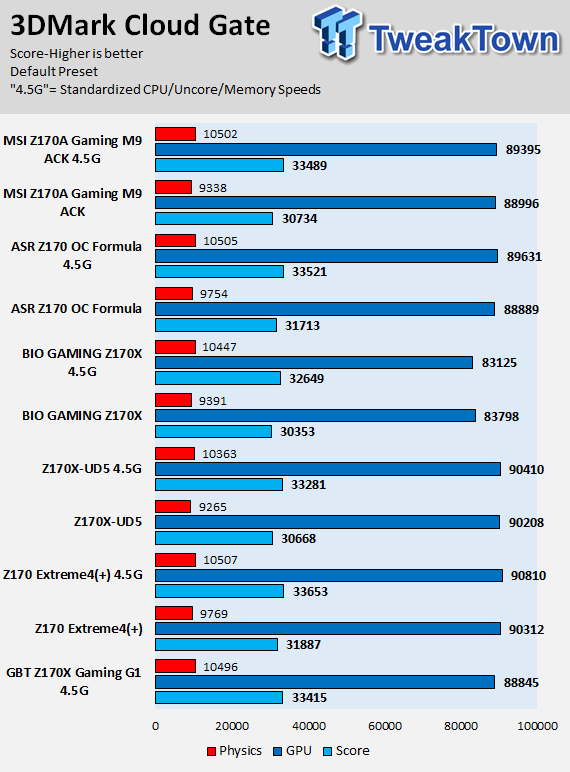 3DMark: Fire Strike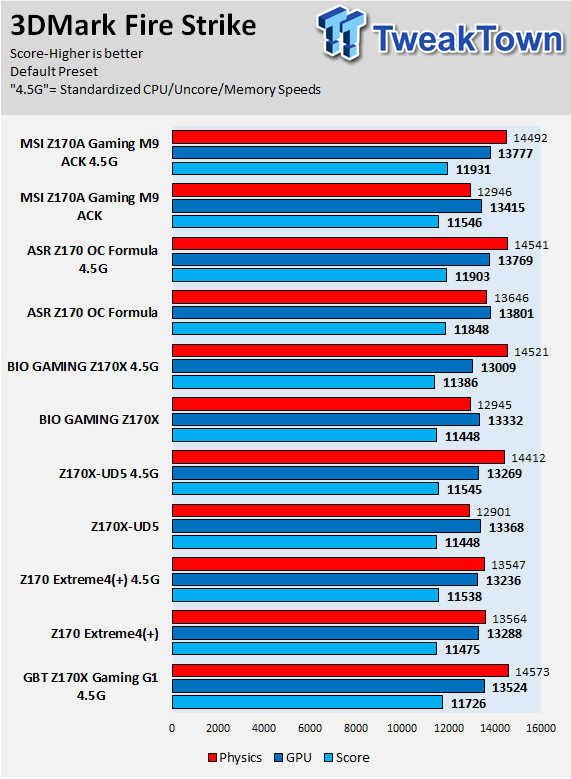 3DMark: Ice Storm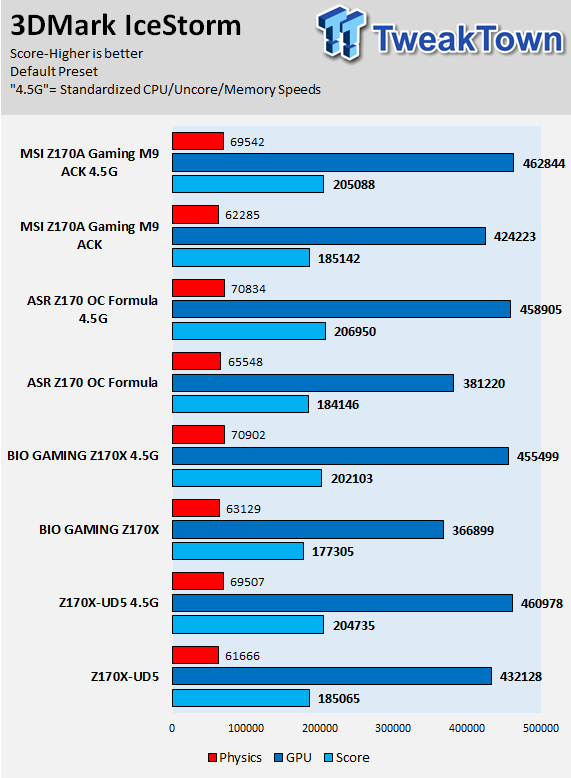 Resident Evil 6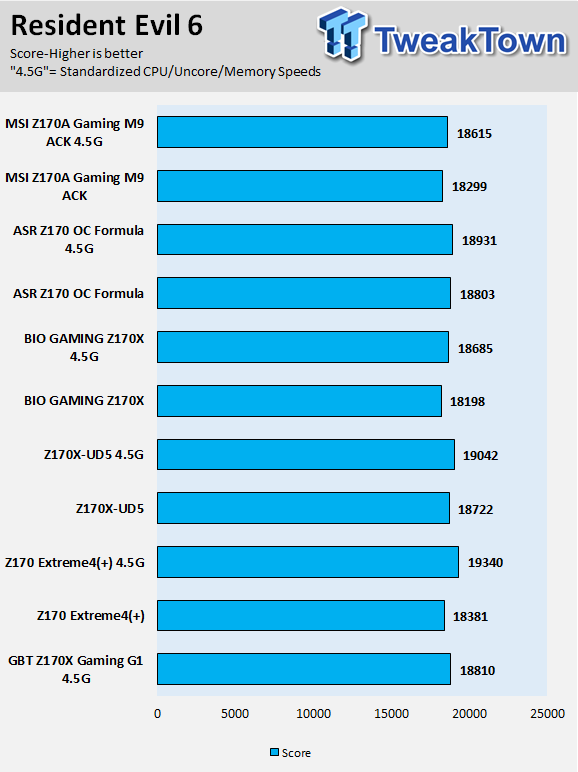 BIOSTAR's GAMING Z170X is using Intel's default Turbo profile. There isn't any multi-core enhancement, and that is why at stock some boards look faster. When I overclocked the GAMING Z170X to 4.5GHz and applied the proper XMP, I got pretty solid results in line with other motherboards.
Some motherboard reviewers put a lot of weight into motherboard CPU, memory, and GPU benchmarks. But for me, CPU, memory, and GPU benchmarks on motherboards should be more about finding anomalies, and I do that at standard settings (4.5G in graphs). I believe that the system IO benchmarks on the next page are more important, and they do tend to differ more from one model to the next.
System IO Benchmarks
CrystalDiskMark SATA6G: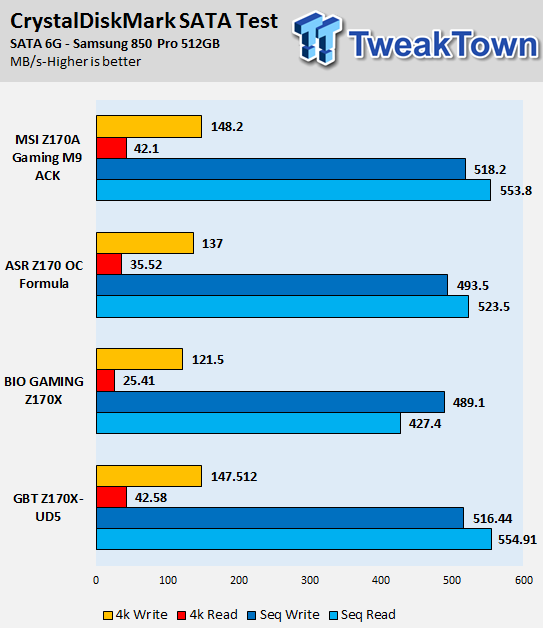 CrystalDiskMark M.2: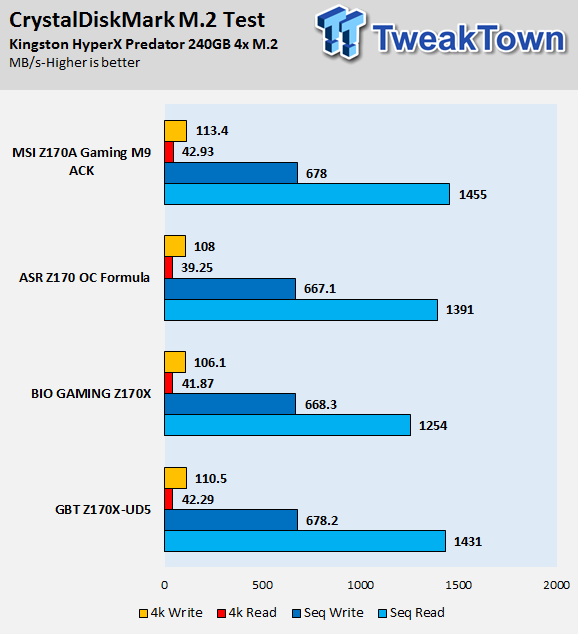 CrystalDiskMark USB 3.0: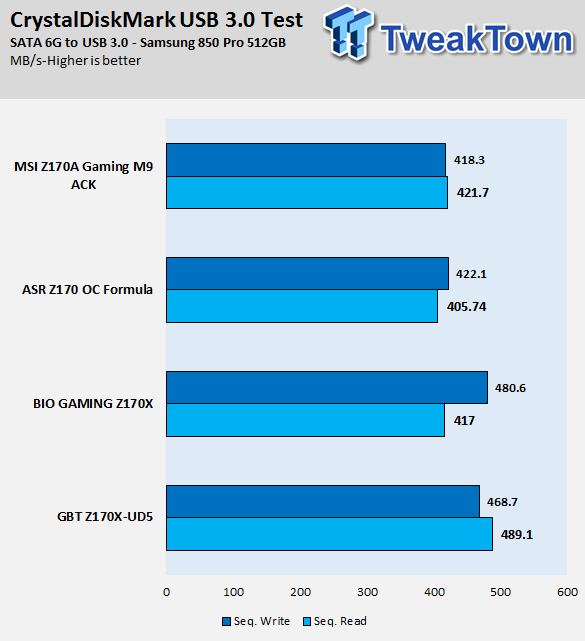 ixChariot Network Throughput: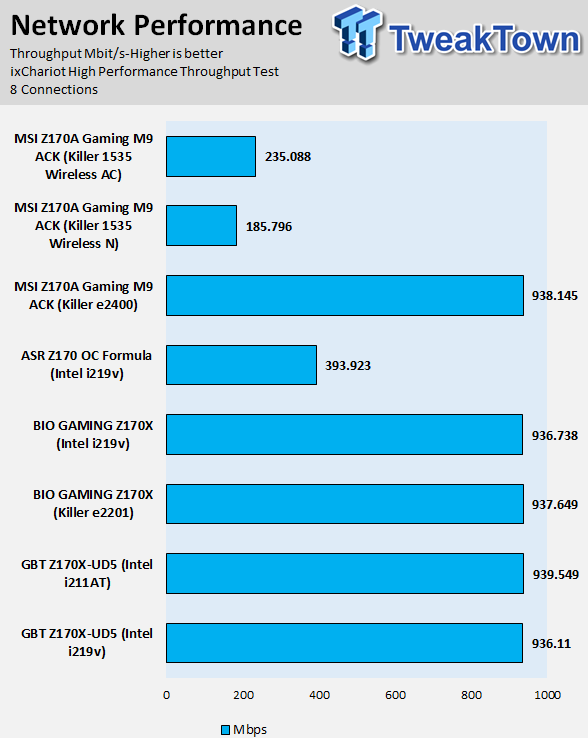 The GAMING Z170X must have some power savings enabled on the storage because results aren't as fast as I would expect, but are still good. The USB 3.0 performance is top notch on the reads, the fastest out of all of them. Network throughput on both the Killer and Intel NICs are also quite good.
Audio RMAA 5.5:
I disable all audio features, set the correct bitrates, and then test the audio with a loopback test.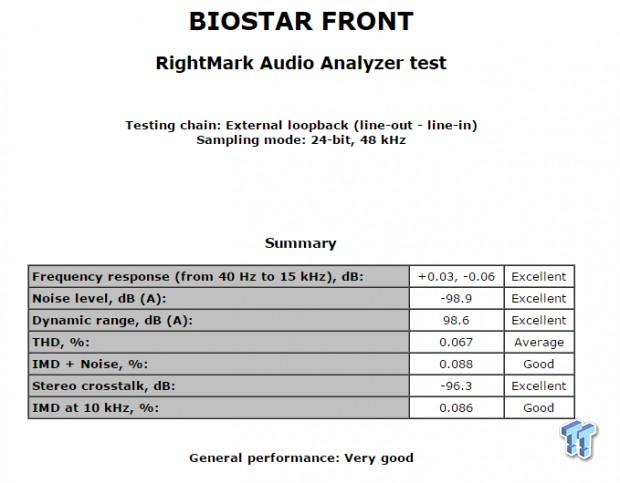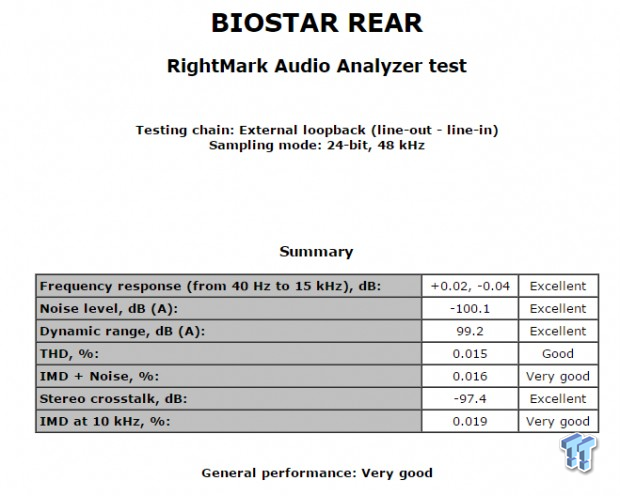 I tested both the front output (CMedia) and the rear (Realtek).
Sound Judgment by Ear: Very Good to Excellent. Audio quality is very good and has some pretty cool features as well. There are five ratings for audio: 1. Problems, 2. Okay, 3. Acceptable, 4. Very good, 5. Excellent
Thermal Imaging and Power Consumption
System power usage measurement occurs at the AC/DC PSU (the Corsair AX1200i) which I have connected to another system to measure the test system. And, as a backup, I have a wall meter to verify. The CPU power measurement occurs through the 8-pin connector, which is hooked up to a Hall-effect IC, which measures current and puts out a voltage in proportion to the current. That voltage is logged by a National Instruments ADC, which logs the DC voltage level that I then convert into current.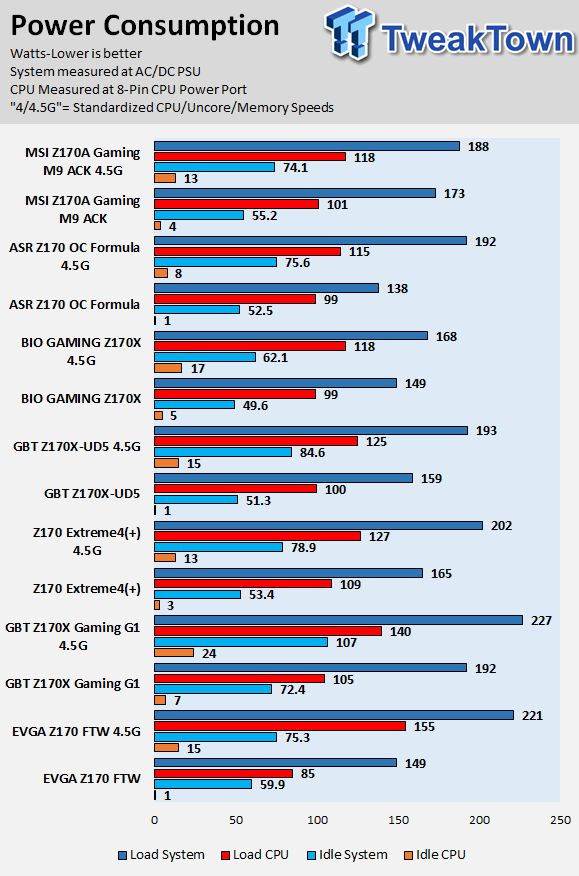 Note on Thermal Images: In the temperature section, we use a Seek thermal imaging camera to capture the surface temperatures of major components on the board. I look at the VRM and then all other things that light up the screen. If there is something to worry about, then I will state it. Otherwise, I will just show the hotter-running parts of the board for fun. Unless some component is over 80-90C, then there isn't any need for concern.
All systems will act differently, so I will look for commonalities. Such as how far from the VRM the heat spreads through the PCB and the difference in temperature between the front side and backside of the PCB. Keep in mind, the majority of the heat from the VRM goes into the PCB as it is a giant soldered-on copper heat sink. A larger difference in temperature between the back and front of the PCB points towards a more effective heat sink.
Without-Shield Thermal Testing at Stock Speeds:
The image on the left is always at idle, and the image on the right is at load. During ALL TESTS, fans above the VRM that cool the CPU cooler's (Corsair H110i GT) radiator are turned on to high (12v).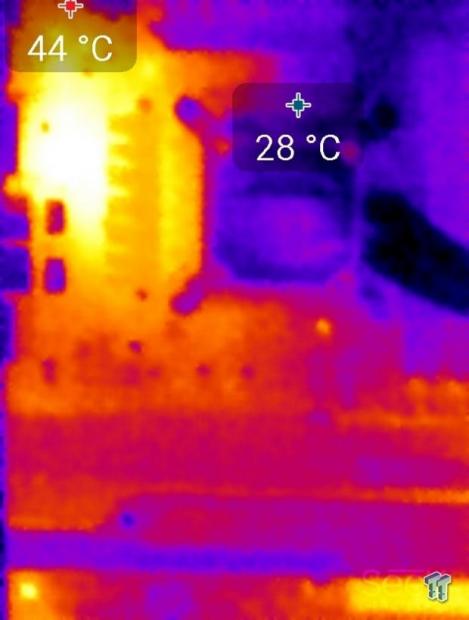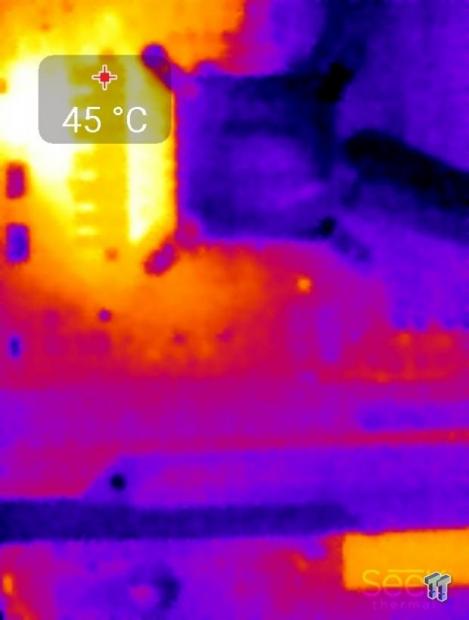 Full frontal.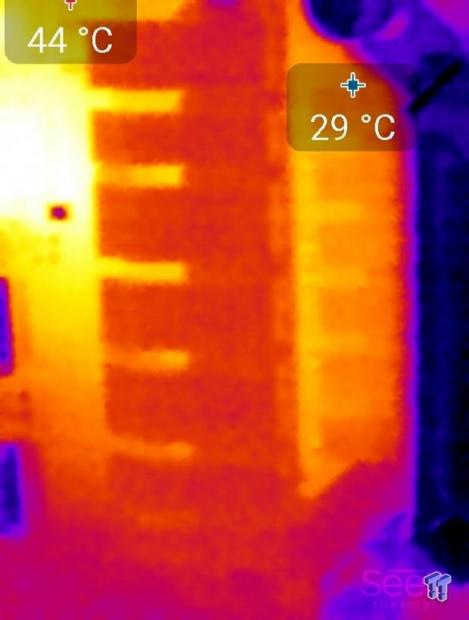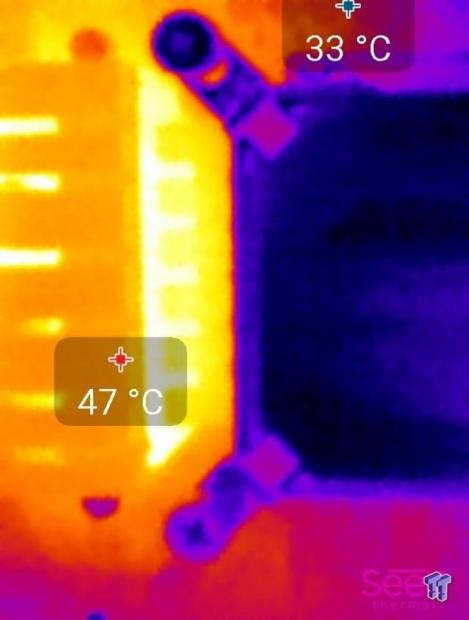 Up-close of the front of the VRM.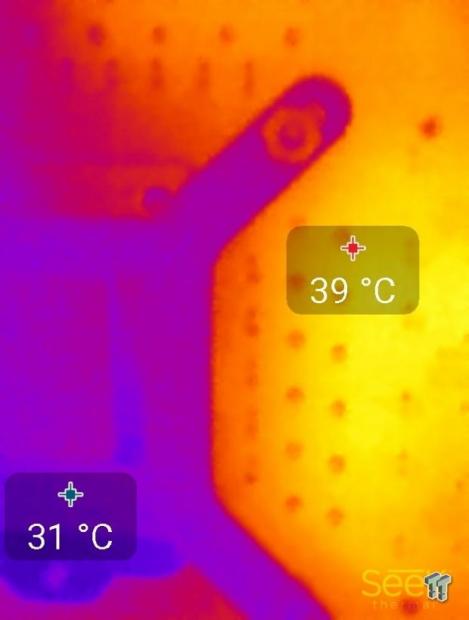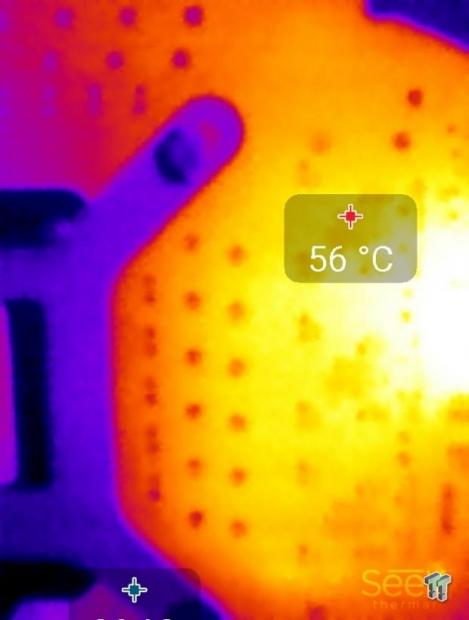 Up-close of the back of the VRM.
With/Without Shield Thermal Testing at 4.5GHz Overclocked Speeds:
The image on the left is without the shield, and the image on the right is with the shield.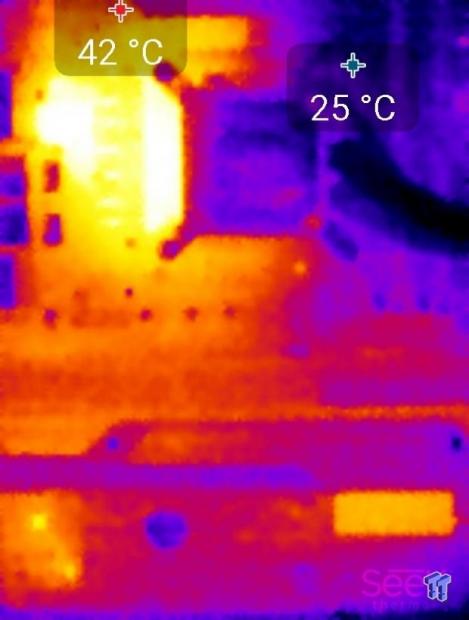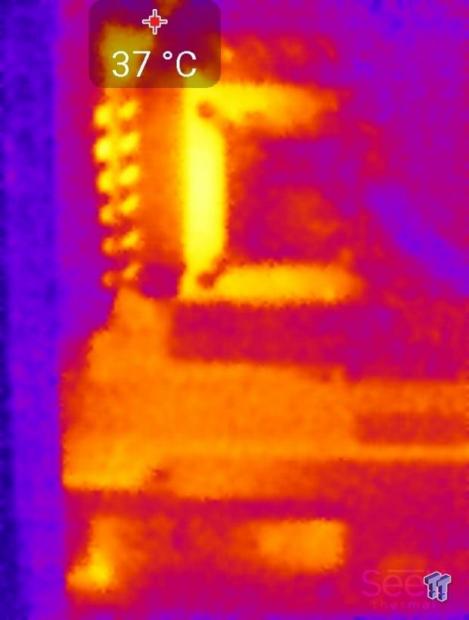 Full frontal.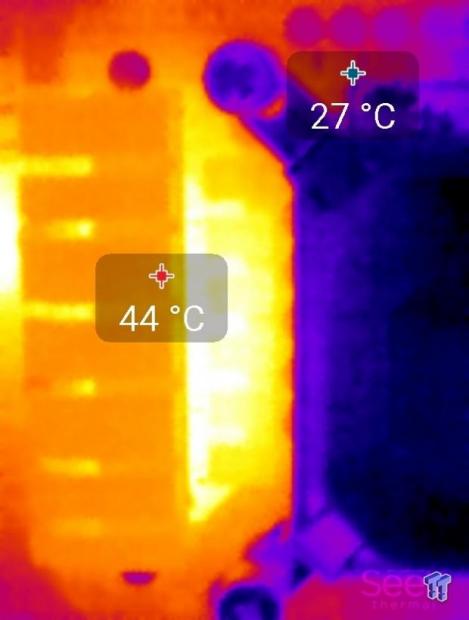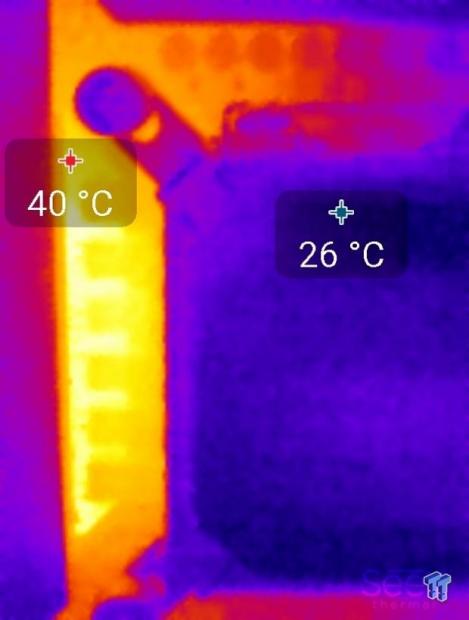 Up-close of the front of the VRM.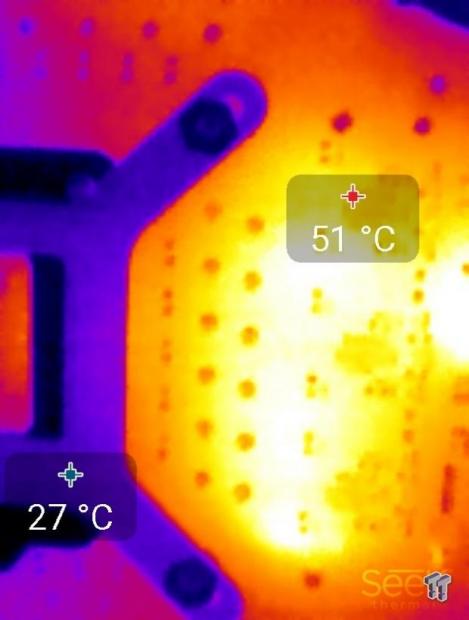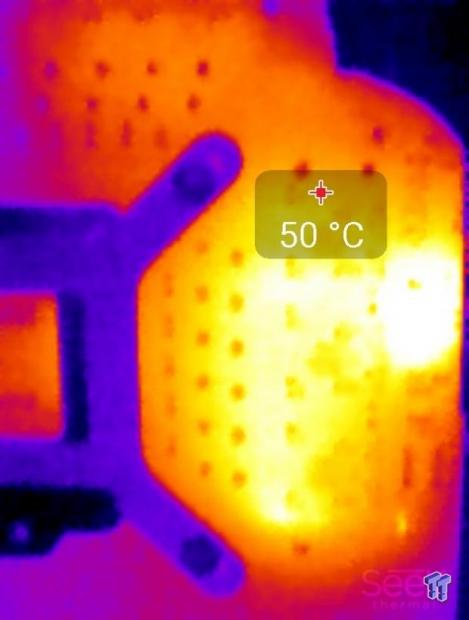 Up-close of the back of the VRM.
The shield doesn't hurt nor help. The temperature on the front might look lower with the shield because it blocks the thermal camera, but the back of the PCB has relatively the same temperature for both scenarios. That means the shield doesn't help or hurt cooling, so you can leave it on. The VRM on the GAMING Z170X is more than enough to get the job done. While it might seem like it runs hot, that is because of the cluster of ICs right behind the VRM. Both HDMI 2.0 controllers, the single USB 3.1 controller, and their BIOS ROMs and circuitry add a tiny bit of heat to the VRM area. But it isn't something to be concerned about because temperatures stayed under the "Great" range the entire time. That means that this VRM is better than you think since it is running cool enough not to let the other components raise its temperatures, resulting a level "below-Great."
Anything under 60C is great, 60-80C is acceptable, and anything above 80C is a bit worrisome (if at stock).
What's Hot, What's Not & Final Thoughts
This is where you can fast forward to the final section of the review, and get a quick recap and points on the BIOSTAR GAMING Z170X.
What's Hot
Connectivity is plentiful and strong: The GAMING Z170X is full of features, and the majority of them are from Intel. BIOSTAR uses all Intel USB 3.0 for all six of the back-panel ports and the internal header (PCH supports more than six), and re-drivers are used for the back-panel USB 3.0 to ensure strong signal strength. Two NICs provide variety and choice between Intel and Killer, and both have extra surge protection modules that provide protection and filtered signaling. The board has USB 3.1 Type-C for the future. There are three SATA Express ports and two M.2 slots that run at 32Gb/s. There is even an M.2 slot only for WIFI/BT cards.
Audio with GAMING COMMANDER: BIOSTAR is the only brand using the ALC898 (higher output on all channels) with both a pre-amp and an amplifier for the back-panel IO gold plated audio outputs. If that wasn't enough, they also provide audio-grade film and audio grade electrolytic capacitors. The GAMING COMMANDER front panel box offers something different and unique, with a CMedia codec inside the box and buttons to control its features and functionality. The box provides something many don't think about, a digital extension of audio instead of analog extension.
With typical front panel devices, the audio is routed in its final form (analog) through long wires that are vulnerable to external influences. With this implementation, digital audio signals (which are much more resilient over longer distances) are routed to a CMedia codec, instead of the onboard Realtek, and are then processed into analog audio through the PCB instead of wires. BIOSTAR still allows users to use the Realtek instead by pressing the "Mix" button. This versatility is unique to BIOSTAR so far. The two types of onboard codecs provide a wider assortment of features as well.
OC Features with Capacitive Touch: BIOSTAR provides a healthy amount of OC features including on-the-fly BLCK and Ratio adjustment through a capacitive touch panel. This is the first time I have seen such a novel method for replacing buttons. There is also an LN2 switch and an XMP enable button for both novice and expert users. BIOSTAR is also actively working on bettering the OC through the UEFI, and they did add things I asked for and even things I didn't. They added the ability to disable the RSR register as well.
The reliability stress restrictor register is designed to maintain the chip's life and performance by actively monitoring power and frequency characteristics throughout the entire life of the chip. And it can lower frequency or increase voltage to maintain performance, but it can have a negative impact on overclocking and BIOSTAR lets you disable it if you want.
Full Modular Shield: Don't like seeing the circuits and chips? BIOSTAR has you covered with a full cover for the motherboard. If you want the motherboard just to fade into the background, then the GAMING Z170X has you covered. If you only want certain eye-sores like the IO panel covered up, then you are in luck; the shield is modular.
What's Not
Only CrossFireX, no SLI: BIOSTAR is one of the few motherboard manufacturers that don't support NVIDIA's SLI technology.
Must use Internal LLC, no External LLC: External LLC isn't provided by Intel in the stock AMI source code for the Z170 BIOS, so some manufacturers didn't have it in their UEFIs at launch. However, Intel does provide internal load line controls that BIOSTAR has made available. This internal LLC is a little tricky, and I described how to use it in the OC section. You should use a digital millimeter if you have one for VCore verification instead of readings in-OS (read points provided in OS section).
Final Thoughts
It's a decent motherboard; every feature that a consumer might expect from a $220 motherboard is present. There is a ton of connectivity, no hubs, two re-drivers for far away signals, NIC protection, and a wide variety of storage options. Audio is heavily upgraded, and the external box might seem like it's a gimmick, but it does offer another audio codec with its own set of features on top of the standard Realtek implementation, which is excellent for front-of-case audio use.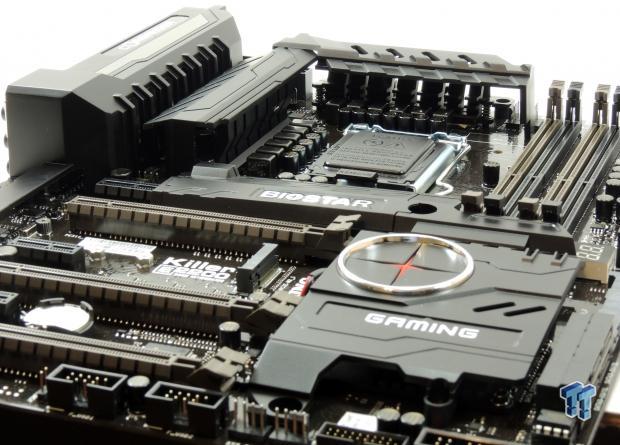 The GAMING Z170X does have its little quirks, and the one that bugs me the most is the lack of external LLC, which is something that a few other manufacturers also lack. The lack of SLI capabilities is purely a licensing thing, but you can't buy an SLI license for the motherboard. So, if you are planning on more than one NVIDIA GPU, then you might want to look at another product. However, BIOSTAR offers solid fan control among other well-implemented features that are impressive for a motherboard from a much smaller enthusiast motherboard manufacturer.
Overall performance was solid, the VRM was good, and quality was what I expect from a $200-$220 product.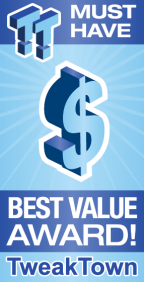 | | |
| --- | --- |
| Performance (including Overclocking) | 88% |
| Quality including Design and Build | 91% |
| General Features | 93% |
| Bundle and Packaging | 91% |
| Value for Money | 93% |
The Bottom Line: BIOSTAR's GAMING Z170X motherboard is a loaded product with a good amount of functionality and a solid feature set all at a fairly affordable price.
PRICING: You can find products similar to this one for sale below.

United States: Find other tech and computer products like this over at Amazon.com

United Kingdom: Find other tech and computer products like this over at Amazon.co.uk

Australia: Find other tech and computer products like this over at Amazon.com.au

Canada: Find other tech and computer products like this over at Amazon.ca

Deutschland: Finde andere Technik- und Computerprodukte wie dieses auf Amazon.de
We openly invite the companies who provide us with review samples / who are mentioned or discussed to express their opinion. If any company representative wishes to respond, we will publish the response here. Please contact us if you wish to respond.
Related Tags