QNAP TurboNAS TS-431+ Consumer NAS Review
QNAP's TS-431+ NAS is a supremely well-built network storage appliance with just enough performance for the home market.

Published
5 minute read time
TweakTown's Rating: 88%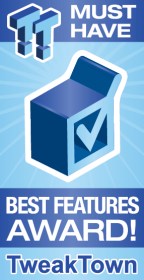 The Bottom Line
QNAP's TS-431+ NAS is a welcomed upgrade over the previous generation and adds to their extensive portfolio of solid, performance network storage appliances.
Introduction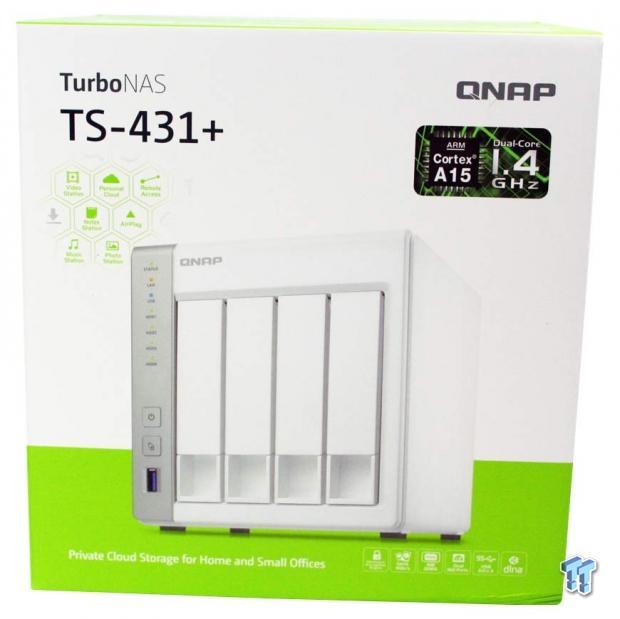 As the NAS platform has changed over the years, going from a pure storage solution to a home media hub and more, many vendors still offer that pure storage for consumers that want a simple place to backup their data and share it via cloud services or throughout their home. QNAP has long been a staple in the NAS community and has recently went through and updated their much successful TS-431.
Now, on the outside, the revamped TS-431 now with an added + in the name, doesn't look much different. In fact, it is very likely that QNAP is using the same shell. Internally, that's where things have changed, going from an ARM V7 Cortex A9 at 1.2GHz and 512MB of RAM to, in the latest model, an ARM Cortex A15 at 1.4GHz and 1GB of RAM. This of course is backed up by a hardware encryption engine and QNAP's QTS platform.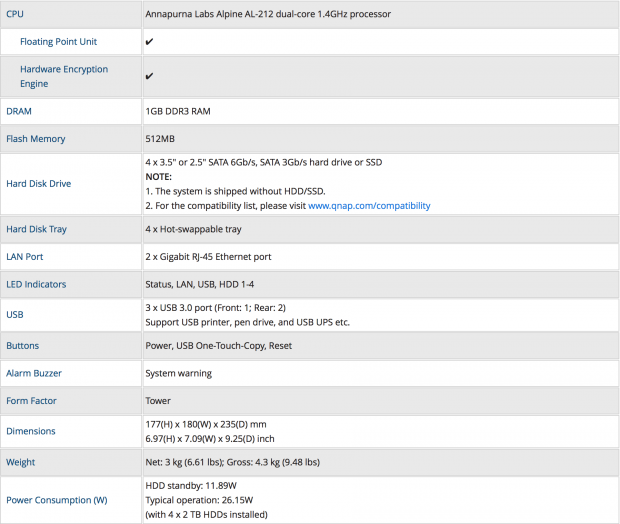 The TS-431+ is a four bay NAS appliance that QNAP places in its SOHO market of products. This NAS features the ARM Cortex A15 from Annapurna Labs Alpine carrying the AL-212 model number. This NAS pairs 1GB of DDR3 memory with the SoC, along with 512MB of NAND flash for the operating system. Two gigabit Ethernet ports are backed up by three USB 3.0 ports along with support for USB Storage, Printers and UPS systems. Typical operating power is said to be around 26 watts while standby comes in around 12 watts, of course this is with four 2TB HDDs installed.
QNAP TS-431+ NAS Appliance
Packaging and a Closer Look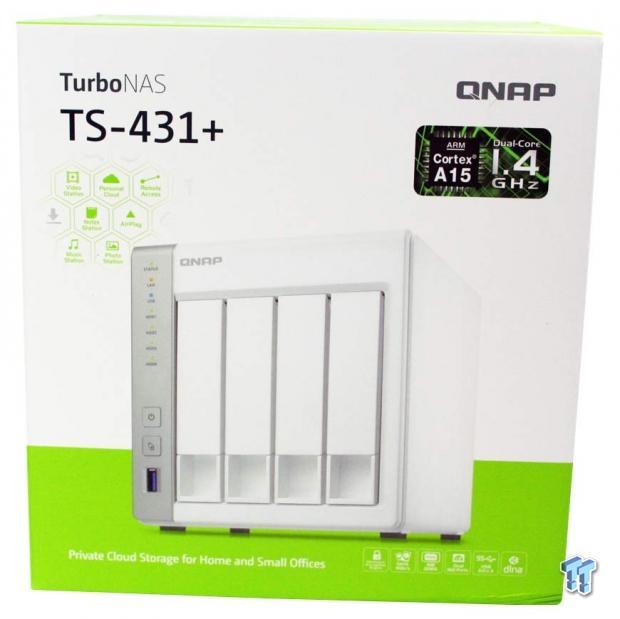 Packaging for the TS-431+ is quite vibrant with an image of the NAS centered. Down below a few features are listed, while the top right indicates the use of a Cortex A15.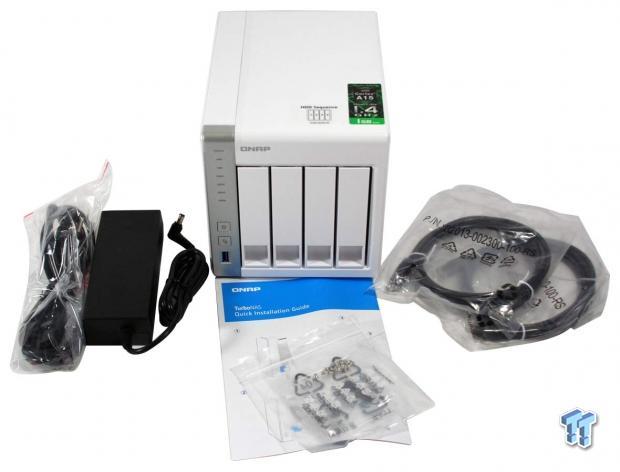 Scope of delivery includes the power adapter, Ethernet cables, drive screws, and quick start guide.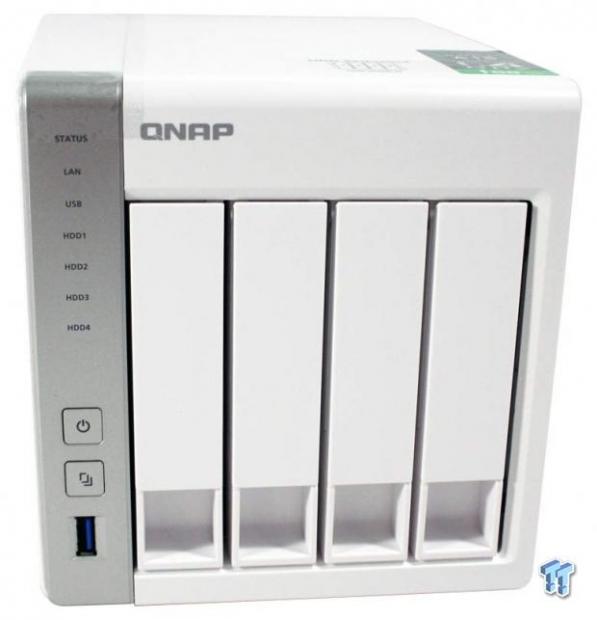 The TS-431+ carries a similar appearance to the TS-451 we tested nearly a year ago. To the left, we have the one touch copy and power buttons with a USB 3.0 down below.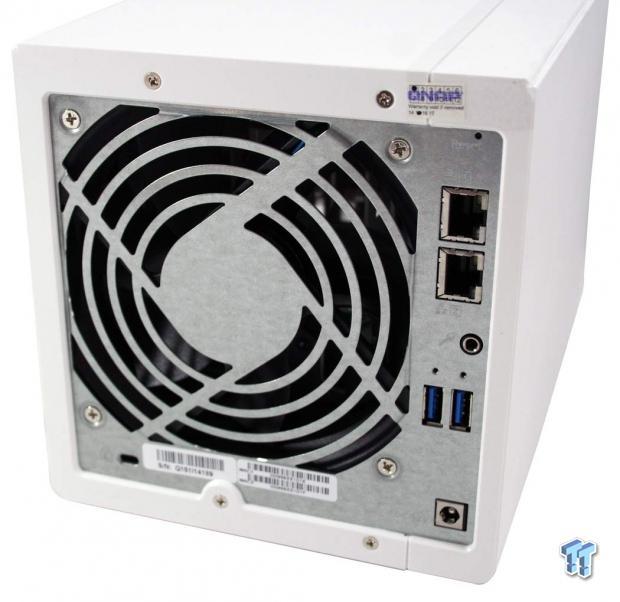 The back of the NAS houses both of the dual gigabit LAN ports and two more USB 3.0. Between the two, we have a 3.5mm jack and the power input at the very bottom.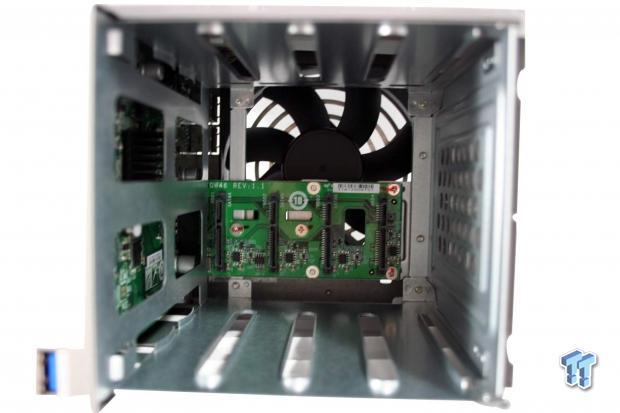 Above, we have look at the backplane used in the 431+ and the large exhaust fan placed behind it.
Test System Setup and Web Management
Test System Setup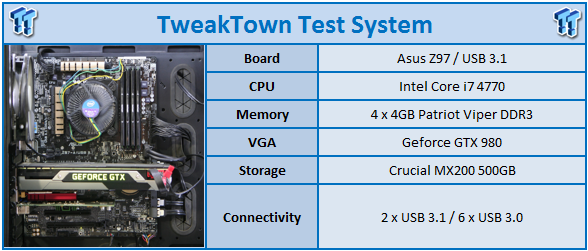 Our Consumer NAS test 'system' is setup similar to what you have at home. Here we have the base of an ASUS Z97 USB 3.1, housing an Intel Core i7 4770 with 16GB of Patriot Viper DDR3 supporting. Our Operating System of choice is Windows 10 Pro x64, with all available updates and patches installed on a Crucial MX200 500GB SSD.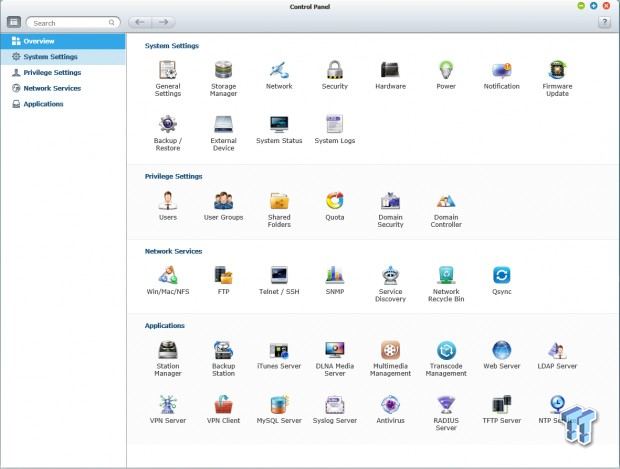 The platform used in the TS-431+ is QTS 4.1 which carries many of the same features we have seen in past NAS units from QNAP. In the system settings section, we have options for managing storage along with monitoring the hardware and upgrading firmware. Network services included ranged from SMB, NFS and AFP along with FTP, SSH and Qsync.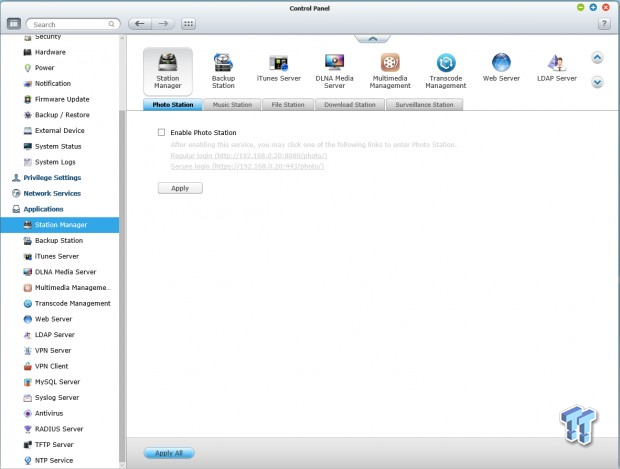 Station manager allows access to backup scheduling, iTunes server and media server options such as transcoding.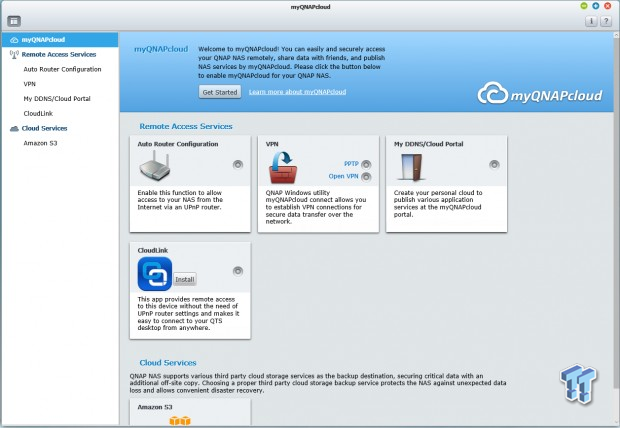 myQNAPcloud is one of the pinnacle feature on any QNAP appliance as this allows you to build your own personal cloud to access your data anywhere in the world.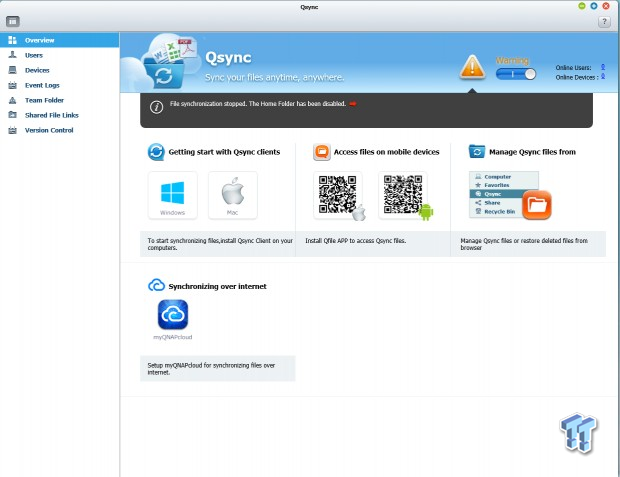 Qsync is another staple with QTS allowing seamless backups that are automated across all platforms.
Benchmarks - Single Client Throughput
Single Client Throughput
HD Video Play - 720p HD stream from Windows Media Player, 256kB reads
2HD Video Play - 2x playback
4HD Video Play - 4x playback
HD Video Record - 720p HD stream, 256kB writes
File Copy from NAS - 4GB file copy, 64kB reads
File Copy to NAS - 64kB writes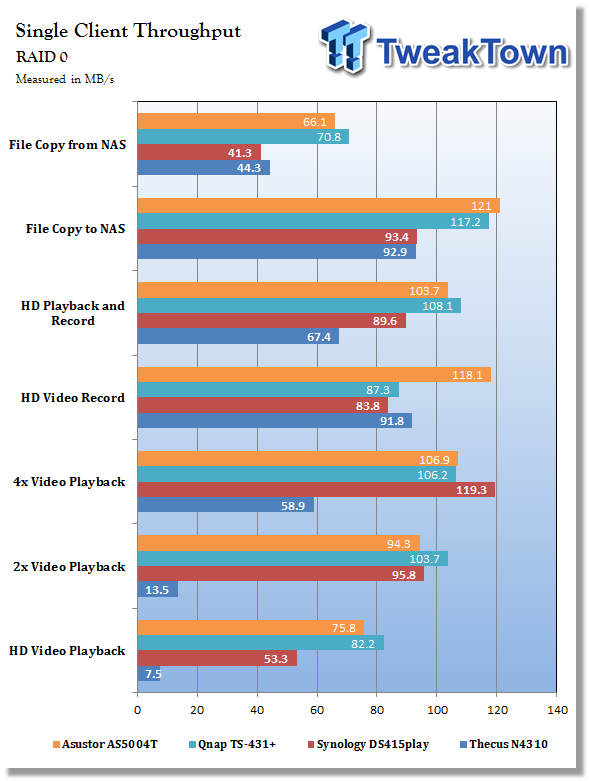 Single client testing started out with the TS-431+ in RAID 0. Shaded in the green color above, we see that NAS performed quite well in all testing with peaks in file copy at 117 MB/s to the NAS.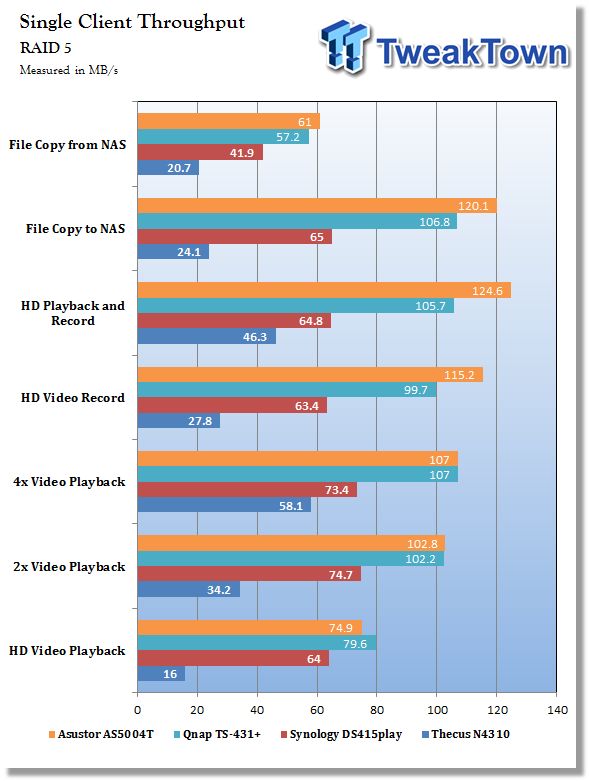 RAID 5 produced some rather good number as well. Comparing the TS-431+ to other SoC based appliances we see playback, record and file copy operations all over the 100 MB/s mark.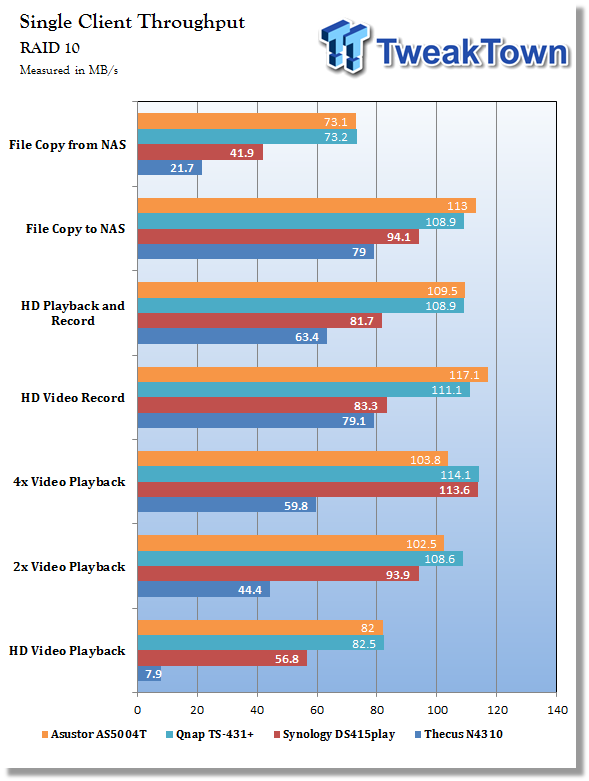 Next, we moved over to RAID 10, where we were once again happy with the performance of the NAS. File copy from the NAS ended at 73 MB/s, while peak performance was obtained in video playback testing at 114 MB/s.
Benchmarks - Sequential Workloads
Our Sequential read/write workload is centered on 128K transfer sizes.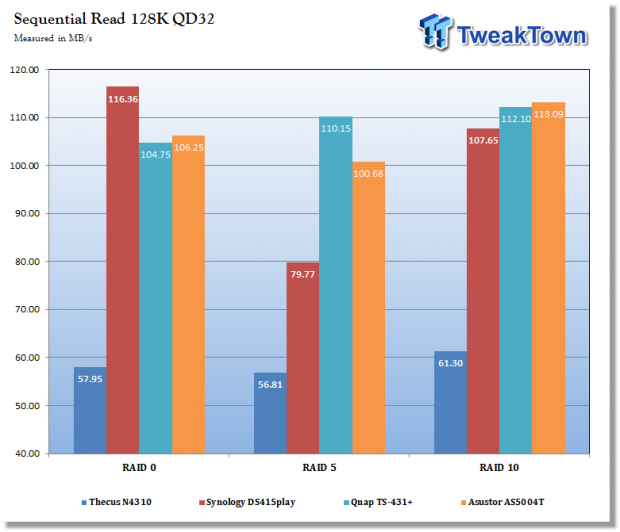 Sequential read was quite good for the TS-431+ with RAID 0 producing 104 MB/s, followed by 110 MB/s and 112 MB/s for RAID 5 and 10.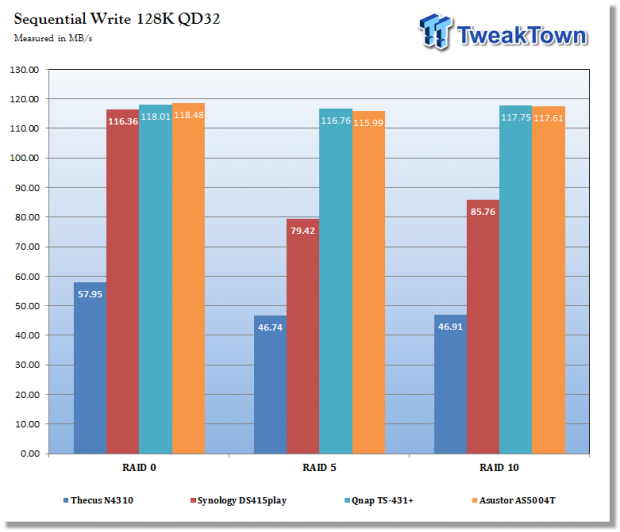 Sequential write showed similar results as each RAID setup produced a consistent 117 MB/s.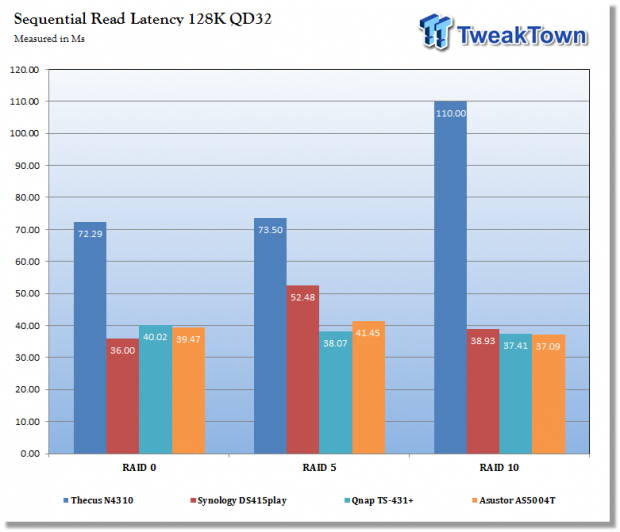 Latency results for sequential read were pretty consistent and fell between 37ms and 40ms.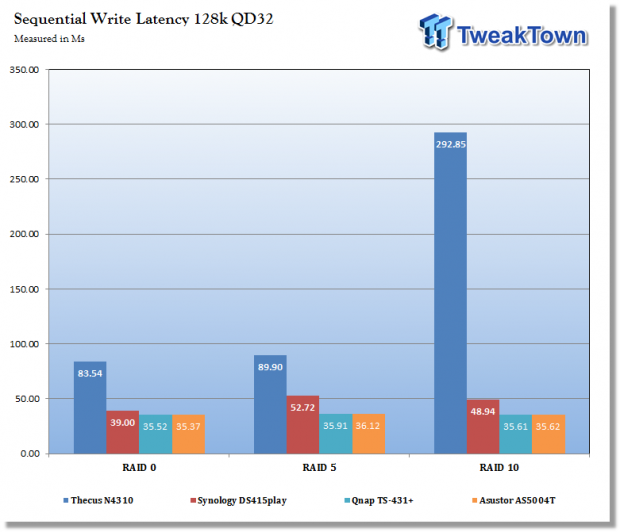 Write latency was rather good as well, coming in at 35ms across each RAID mode.
Benchmarks - SMB Workloads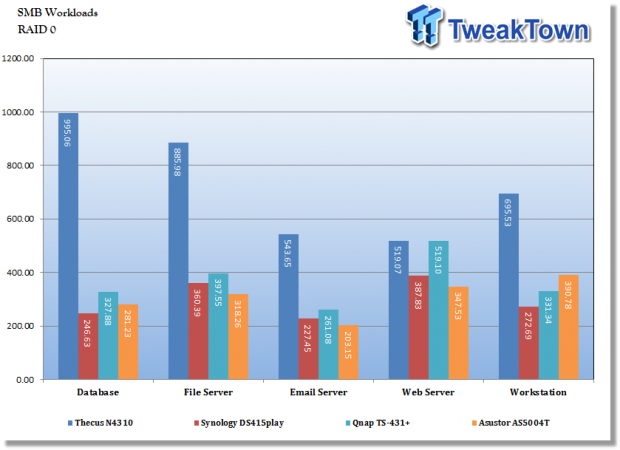 Moving into our workloads, we start with RAID 0 and took note as the TS-431+ was second only to the N4310. Web Server results topped out at 519 IOPS, while Email Server was the lowest point for the QNAP at 261 IOPS.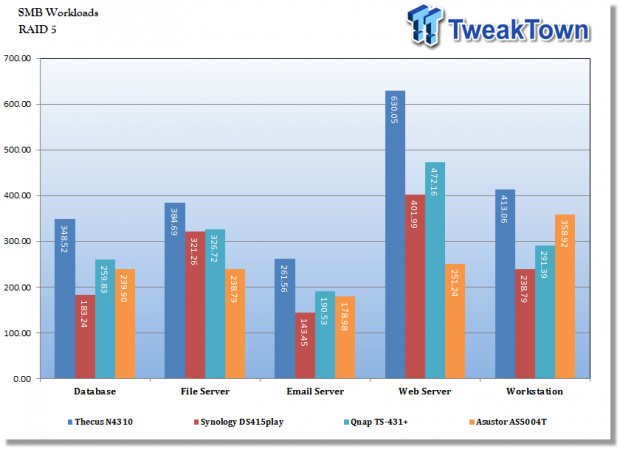 Next up we have our RAID 5 array, where IOPS are abundant in Web Server yet again. File Server, Workstation and Database all enjoy excellent results as well.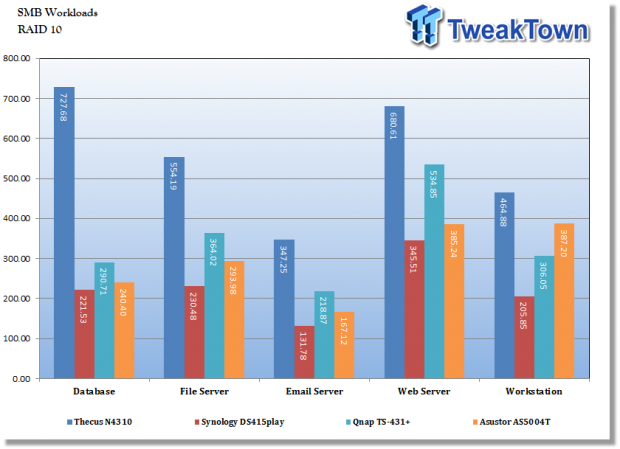 RAID 10 peaked with Web Server at 534 IOPS, while File Server and Workstation both produced just over 300 IOPS.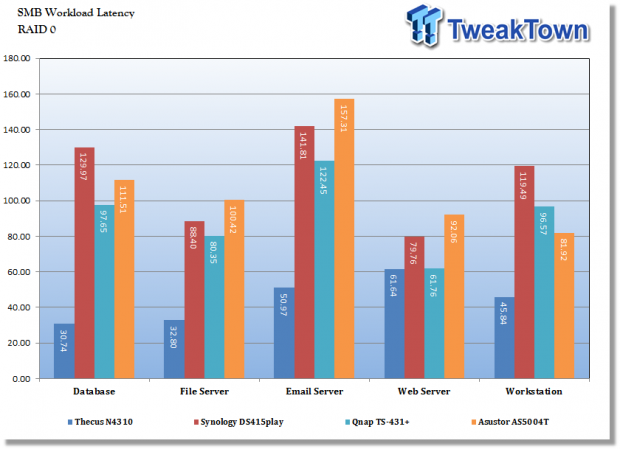 Latency results within RAID 0 achieved a low of 61ms with Web Server and peaked at 122ms with Email Server.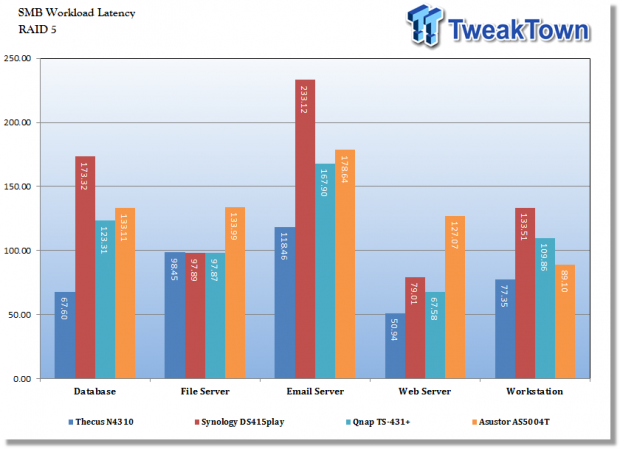 RAID 5 changed up the results slightly, here we found the TS-431+ coming in at 67ms with Web Server with peaks coming in Email Server at 167ms.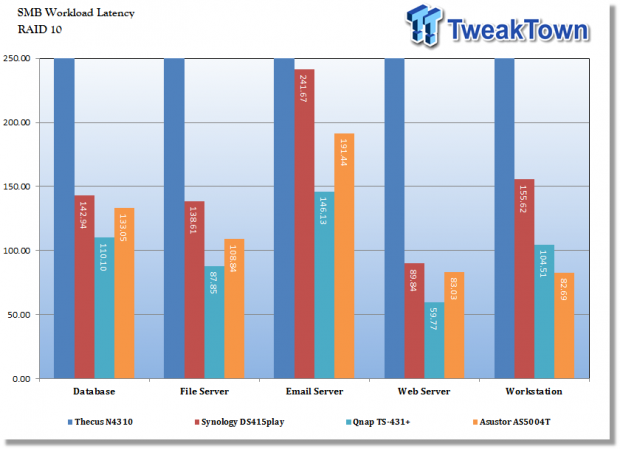 Moving on to RAID 10, the QNAP TS-431+ carried the lowest latency of all the SoC based appliances with 59ms in Web Server and 164ms at its peak with Email Server.
Final Thoughts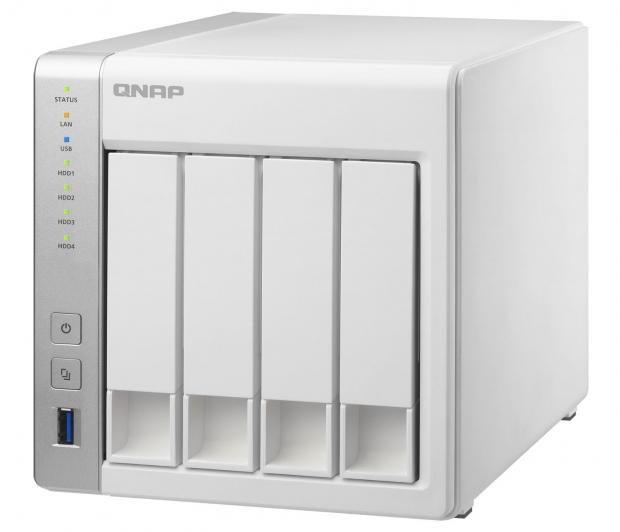 As we found in testing, QNAP's TS-431+ certainly has its place in the market as a pure storage appliance. When compared to previously tested platforms, the QNAP device was consistently near the top of our charts, and excelled exceptionally well in Sequential and Web Server workloads.
Build quality is solid and on par with expectations for a consumer unit. Like the TS-451 we reviewed, this unit comes apart quite easily, allowing you access to the internal components; though I'm not sure this platform would benefit from any upgrades. The drive trays, being plastic, eliminate any potential harmonics from being transferred throughout the chassis and are stout enough to handle the weight of any 3.5" hard drive.
Performance was good and what was expected of this unit. While SoC based platforms are few and far between these days, they do have a place in the storage market, and as we found today, can perform quite well with the right drives. Sequential read and write topped 100 MB/s in all three of the tested RAID modes, while write performance too was able to hit the same performance level. Workload testing showed how strong this unit was with Web Server as it was at the top of the charts in both IOPS and latency.
With all the extras that go with NAS appliances today, the QNAP TS-431+ is setup to handle the workload of a typical home and possibly a small office. For those wanting the flexibility in accessing their data anywhere, you can build your own cloud with myQNAPCloud, and for those that just want network storage, this unit can fit that bill as well.
Overall, the QNAP TS-431+ is a surprisingly solid performer that comes in with an MSRP of $409.99. Looking at the market, only the ReadyNAS 104 from Netgear and a couple Seagate platforms are any cheaper when it comes to diskless units.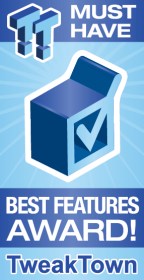 | | |
| --- | --- |
| Performance | 89% |
| Quality including Design and Build | 89% |
| General Features | 90% |
| Bundle and Packaging | 85% |
| Value for Money | 86% |
The Bottom Line: QNAP's TS-431+ NAS is a welcomed upgrade over the previous generation and adds to their extensive portfolio of solid, performance network storage appliances.
PRICING: You can find products similar to this one for sale below.

United States: Find other tech and computer products like this over at Amazon.com

United Kingdom: Find other tech and computer products like this over at Amazon.co.uk

Australia: Find other tech and computer products like this over at Amazon.com.au

Canada: Find other tech and computer products like this over at Amazon.ca

Deutschland: Finde andere Technik- und Computerprodukte wie dieses auf Amazon.de
We openly invite the companies who provide us with review samples / who are mentioned or discussed to express their opinion. If any company representative wishes to respond, we will publish the response here. Please contact us if you wish to respond.