EVGA Z170 FTW (Intel Z170) Motherboard Review
Our third Intel Z170 motherboard review focuses on EVGA's Z170 FTW. Does it do enough to impress Steve against the others on the market?
Published Mon, Aug 10 2015 3:22 PM CDT
|
Updated Tue, Nov 3 2020 6:59 PM CST
Rating:

90%
Manufacturer: EVGA
Introduction, Specifications, and Pricing
Intel's Z170 chipset landed recently and with it comes a slew of enticing motherboards. Many brands have done their best to diversify their lineups with unique features and aesthetics to compliment the new chipset and its rich connectivity. EVGA has launched three different Z170 SKUs; the Z170 Classified 4-Way, Z170 FTW, and Z170 Stinger. Today, I have the Z170 FTW in the test bed and ready for action. The Z170 chipset is loaded with 26x I/O ports which can be configured as USB 3.0, SATA6G, or PCI-E 3.0. Out of those 26 ports, six must be USB 3.0. Out of the remaining 20 ports, four can be allotted to more USB 3.0 or PCI-E. Out of those leftover 16 ports there is support for a maximum of six SATA6G ports, which can be configured as SATA6G or PCI-E 3.0.
To take things to a new level, those 16 ports also support three sets of 4x PCI-E lanes with iRST support for M.2 slots which can be used in RAID (each M.2 slot must also have two SATA connections blended in). This means that there will be many motherboards with different configurations catering to the target users of each individual motherboard. With the Z170 chipset it will be harder than ever for manufacturers to differentiate themselves from one another, so let's see what EVGA brings to the table for Z170.
Specifications
The Z170 FTW is not EVGA's top SKU for Z170, but EVGA did equip the board with a decent amount of features. EVGA is providing eight Intel USB 3.0 ports; two go to an internal header. Six SATA ports from the PCH are present, as well as a single 4x M.2 slot. The board also has two 4x PCI-E slots routed to the PCH. EVGA is using Intel's newest NIC, and the Z170 FTW supports 2-way SLI. The only thing really missing is USB 3.1 support, but then again, there aren't many USB 3.1 capable devices on the market yet and the PCI-E expansion configuration will allow you to install many devices through add-on cards.
Pricing
EVGA's Z170 FTW is $220 on Newegg at the time of writing. This puts it in the upper-middle class of the majority of Intel Z170 products.
Packaging and the Z170 FTW
Packaging and the Board
EVGA has always had some of the best packaging. All accessories are sealed in anti-static bags, and the box itself comes shrink wrapped so you know that no one has tampered with the motherboard. The board also comes with all types of stickers on it so you know how to install everything correctly.
Accessories include 2x SATA6G cables, IO shield, metal IO Cover, 2-Way SLI bridge, screw for M.2, driver DVD, case badge, and manuals. This is an early sample so there was no driver DVD.
EVGA's Z170 FTW has pretty good fan control. All seven fan headers circled in red work as DC or PWM headers. EVGA's BIOS fan control is quite good, and while it doesn't have the most configuration options or a GUI, it will get things done. The motherboard itself is aesthetically appealing. While it might look odd at first glance to see such an over-sized VRM heat sink which only covers half of the VRM (all CPU phases are covered, iGP phases are left open aired), it looks pretty good inside of a case. The black on black design of the board makes it appealing to many who just want the motherboard to fade into the case and not stand out. The IO cover gets rid of the reflective glare of the IO panel, and its brushed aluminum construction provides an all-black montage. The back of the motherboard is bare except for 11 white LEDs, which illuminate the audio section's PCB divide.
The IO Panel features 6x USB 3.0 ports, 2x USB 2.0, a single NIC, HDMI, DisplayPort, 7.1 audio outputs with TOSLINK, and a clear CMOS button.
The PCI-E layout is pretty simple; for starters all PCI-E slots are PCI-E 3.0. The top two PCI-E 16x slots run at 16x/0x with one card or 8x/8x with two cards. The third (16x) and fourth (4x) PCI-E slots are both 4x slots wired to the PCH. The last PCI-E slot (16x) is a 1x slot routed to the PCH. If running 2-way SLI, you are limited to double slot cards because only the first two slots are capable of supporting SLI. This PCI-E layout does have an advantage in that it supports many options for add-in PCI-E adapters, such as one for USB 3.1 or a sound card. There is a PCI-E 6-pin power input plug for extra PCI-E power if you need it.
The Z170 PCH provides six SATA6Gb/s ports and EVGA is using all of them. A USB 3.0 internal header is located in the lower right-hand corner of the motherboard near the color coded case headers.
The M.2 slot is a 4x PCI-E slot that also supports SATA based drives. There is one caveat; if you populate the M.2 slot, then SATA ports 4 and 5 will be disabled. A built-in speaker is present and it beeps out codes during boot up, and you can disable this feature if you want. EVGA provides on board power and reset button as well as a POST code display. The POST code display doubles as a real-time temperature display for the CPU core temperature.
The audio section is physically divided from the rest of the PCB and EVGA made sure to minimize components on the audio section. The VRM heat sink is quite tall, but it shouldn't interfere with most heat sinks. A single 8-pin header is used to power the CPU VRM.
All the heat sinks are screwed into the motherboard, and make great contact with the components. The VRM heat sink also cools the inductors, which tend to get pretty hot on all motherboards.
EVGA Z170 FTW Circuit Analysis
Circuit Analysis
In my opinion, motherboards look best when they don't have any heat sinks on them.
There are four major input rails to the CPU for Z170; VCC (VCore), VCCGT (Graphics core), VCCSA (System Agent), and VCCIO (CPU IO). EVGA decided to implement a 5+4+1 phase VRM for the CPU+iGP+VCCSA. The output filter is a mixture of 560uF 5K solid can-type capacitors as well as some 470uF tantalums. The inductors are custom made for EVGA, and they are most likely higher current inductors.
EVGA went with digital power for both the CPU and memory VRMs, however, the CPU's VRMs use two International Rectifier IR35201 digital PWMs which each support 6+2 phase operation. One is used for the CPU VCore and VCCSA providing 5+1 phase output to six International Rectifier IR3553Ms which are 40A integrated power stages. The second IR35201 is only used as 4+0 providing power to the iGPU power phases which aren't cooled by the heat sink. This is one of the better VRMs I have seen in both true phase count (five phases) as well as component selection (full digital and high current power stages).
The VCCIO gets its power from an International Rectifier IR3898 which is an integrated point of load device (POL) step down DC/DC regulator supporting up to 6A. The memory VRM is controlled by an International Rectifier IR3570 which is a 3+2 phase digital PWM.
Three IR3553, the same integrated power stages used for the CPU VRM, are used for the memory VRM. I believe that two phases are for DDR power and the VPP gets a single phase. Two single phase VRMs controlled by Anpec APM8720Cs are used for PCH power, or one of the VRMs controlled by Anpec is used for the DDR VPP, and the memory VRM is a three phase VRM. Either way, EVGA has done a very fine job with digital voltage regulation for the important power rails for the CPU and memory.
EVGA Z170 Circuit Analysis Continued
Circuit Analysis Continued
EVGA is using Intel's latest i219v PHY for the 1GBit NIC. EVGA also provides a little BIOS holder for easy BIOS replacement if the BIOS ROM goes bad.
EVGA has done a decent job with their audio. While EVGA is using the basic ALC1150, which is common on modern motherboards, they are also using four gold series Nichicon audio capacitors and a sense amplifier labeled "AIG BDH" (no datasheet could be found).
EVGA is using a Fintek F71889AD for the main SuperIO which controls all voltage, temperature, and fan monitoring and tuning. A secondary embedded controller, the nuvoTon NCT7802Y, is used to expand fan control and operation.
Texas Instruments HD3SS3415 are used as PCI-E quick switches. There is a single switch in charge of switching SATA ports 4 and 5 to the M.2 slot when it is in use. Four other switches are used to switch 8x of PCI-E from the first PCI-E slot to the second.
BIOS and Software
BIOS
EVGA's UEFI is quite functional and has some nice surprises. Compared to their X99 offering, I would say that the Z170 UEFI is more refined and I liked the simplistic nature of its design. The GUI at the top is kind of more for show than anything else, made to look like a gear shift; it provides live statistics on the motherboard.
I like how EVGA has provided most everything required for overclocking on one page and in a very simple format. You chose the multiplier, BLCK, and voltages and select if you want vdroop enabled or disabled. It doesn't provide precise LLC control, but it does provide enough to get rid of the vdroop that is standard in Intel processors. Fan control is also very good; EVGA provides the ability to select if the fan headers will be PWM or DC controlled, and then provides presets or customization depending on which headers you are plugged into. EVGA has put a lot of effort into their UEFI, and it is able to compete with the UEFIs from bigger vendors.
Software
EVGA provided their E-LEET Tuning Utility which provides monitoring and overclocking in Windows. It does use CPU-Z as well, but the Brink-OC feature which was so sought after in the X58 days isn't present in the Z170 version. The software is fully functional, except that voltage control isn't working in the release I had. I do wish that EVGA would bring back Brink-OC, which would automatically grab a CPU-Z validation every time the CPU multiplier was changed.
Test System Setup
Test Setup
A big thanks to Corsair for sponsoring the case, fans, SSD, USB drive, and PSU! A big thanks to Seek for sponsoring the Thermal Camera. You can find my review of the camera here.
This is the new test bench, and it is designed to test every aspect of the motherboard and IO. I have designed it so that the motherboard sits in a case and is cooled by fans always on at a constant rate to keep the conditions similar for all tests. I have cut out part of the case behind the motherboard so I can get thermal images of the back of the PCB where the VRM heat spreads. System and CPU power measurements are now digitally logged.
I am also using a Netgear Nighthawk X4 AC2350 for our network (including wireless AC) tests. The latest M.2, SSD, and USB technologies are also being utilized to test the maximum potential of the motherboards that are being tested.
Overclocking
Overclocking Results
In this section, I will go through overclocking this board.
CPU Overclocking
Max CPU Overclock is found by setting the VCore/cache to 1.5v, CPU ratio to 45x and disabling any features that would result in CPU frequency fluctuation. I then proceed into Windows and use software to increase the multiplier; in this case I opted to use E-LEET.
5.2GHz is the maximum of our CPU on this board with ambient cooling. Maximum AIDA64 Stable Overclock (BIOS settings below for this):
I was easily able to pull off 4.8GHz on the CPU with 4.0GHz cache and a 2133MHz on my memory manually tuning the UEFI. This was quick and dirty because of time constraints, but I could go higher on cache and memory frequency.
Memory Overclocking
For this review. I also used two DDR4 memory kits specifically designed for Skylake; the Corsair Vengeance LPX 2666MHzC16 (2x4GB) and G.Skill Ripjaws V 3600MHzC17 (2x4GB).
The Corsair 2666MHz kit worked very well with just enabling XMP. However, most Z170 motherboards including the EVGA Z170 FTW cannot run memory at 3600MHz, but I was able to get 3466MHz to work with the 34.66x memory multiplier and some tuning in the UEFI. Setting only XMP with the G.Skill kit did allow me to POST, but there wasn't enough stability to get into Windows or even into the BIOS.
CPU, Memory, and System Benchmarks
CINEBENCH 11.5
wPrime
AIDA64 AES and HASH
AIDA64 FPU
AIDA64 Memory
PCMark8 Home Test
3DMark: Cloud Gate
3DMark: Fire Strike
Resident Evil 6
Some motherboard reviews put a lot of weight into motherboard benchmarks, but common sense would dictate that "motherboard performance" should be more about finding anomalies and I do that at standard settings (4G or 4.5G in graphs). Looking at the 4G results, EVGA has done a nice job or tuning their board to perform well across the board. I am also phasing in a new 4.5GHz standard with XMP enabled for Z170 motherboards and that is why I added in the EVGA Z170 FTW at 4.5GHz in many of the benchmarks.
System IO Benchmarks
Anvil SATA6G:
Anvil M.2:
DiskBench USB 3.0:
ixChariot Network Throughput:
IO Performance is solid, especially M.2 and SATA performance. The board has a very fast M.2 slot, and it is clear that the IO on the board is mostly from Intel and isn't being shared by multiple devices.
Audio RMAA 5.5:
I disable all audio features, set the correct bitrates, and then test the audio with a loopback test.
Sound Judgment by Ear: Very good audio capabilities, the audio is clear and the highs and lows are pretty evident, but there isn't that oomph I get with some other implementations with discrete higher powered amplifiers, but there are plenty PCI-E slots for a sound card if it really matters to you. There are 5 ratings for audio: 1. Problems, 2. Okay, 3. Acceptable, 4. Very good, 5. Excellent
Thermal Imaging and Power Consumption
System power usage is measured at the AC/DC PSU (the Corsair AX1200i) which I have connected to another system to measure the test system and as a backup I have a wall meter to verify. The CPU power is measured through the 8-pin connector which is hooked up to a hall effect IC which measures current and puts out a voltage in proportion to the current. That voltage is logged by a National Instruments ADC which logs the DC voltage level, which I then convert into current.
Note on Thermal Images: In the temperature section, we use our Seek thermal imaging camera to capture the surface temperatures of major components on the board; I look at the VRM and then all other things that light up the screen. If there is something to worry about then I will state it, otherwise I will just show the hotter running parts of the board for fun. Unless some component is over 80-90C then there really isn't anything to worry about.
All systems will act differently, so I will look for commonalities, such as how far from the VRM the heat spreads through the PCB and the difference in temperature between the front side and backside of the PCB. Keep in mind that the majority of the heat from the VRM goes into the PCB as it is a giant soldered on copper heat sink. A larger difference in temperature between the back and front of the PCB points towards a more effective heat sink.
Thermal Testing at Stock Speeds:
The image on the left is always at idle and the image on the right is at load.
During ALL TESTs Fans above the VRM that cool the CPU cooler's (H110i GT) radiator are turned on to high (12v).
Full frontal.
Up-close of the front of the VRM.
Up-close of the back of the VRM.
Thermal Testing at 4.5GHz (1.3v w/LLC) Overclocked Speeds:
Full frontal.
Up-close of the front of the VRM.
Up-close of the back of the VRM.
The VRM on the Z170 FTW is top notch. While the fact that the CPU VCore only gets 5 phases might not bode well for marketing, the implementation of the phases has been executed well. The component selection is really what matters, and in this case, EVGA used top notch components which utilize the latest technologies to provide the CPU with clean power. The thermal imaging shows that even 5 phases is enough to get Skylake going to 4.8GHz 24/7 and even up to 5.2GHz for a validation. Phase count isn't as important as phase quality, and now you can see it.
Anything under 60C is great, 60-80C is acceptable, and anything above 80C is a bit worrisome (if at stock).
What's Hot, What's Not & Final Thoughts
This is where you can fast forward to the final section of the review, and get a quick recap and points on the EVGA Z170 FTW.
What's Hot
High-end circuit design: EVGA put a lot of emphasis on quality with the Z170 FTW. The all International Rectifier VRM with their latest in digital PWM technology really does make a difference as you can see in the overclock and thermal imaging results. Even though the CPU VCore is made up of 5 PWM phases, it handled strenuous overclocks, while staying relatively cool under the camera. Looking at how clean the audio pathway is and then at the results shows a desire for quality and performance. IO performance was also quite good, reflecting sound engineering practices.
Fan Control: I was surprised to find that EVGA implemented 7 fan headers, and gave all of them the ability to change between PWM and DC mode. On top of that, 5 headers have SMART fan control, while all were given some level of control. It seems that almost all the manufacturers have really focused on fan control as one of the distinguishing aspects of their Intel Z170 motherboards.
All Black Montage: These days aesthetics are as important as fan control, and EVGA really listened to the community. Many enthusiasts have been asking for all-black motherboards for a while, and it makes a lot of sense. Motherboards are a required backdrop and their colors can clash with other accessories. The IO panel is also an eye-sore and EVGA took care of that with a black brushed aluminum IO cover, which goes great with the heat sinks and black PCB. To make everything as black as possible, EVGA even used black capacitors.
POST Code Display and Basic OC Features: I am a strong believer that when you pass the $200 mark for a motherboard, you should get some type of POST code display. Diagnostics can be such a pain without one, and EVGA not only provides the POST code display, but also provides back-panel clear CMOS button, as well on-board power and reset buttons.
What's Not
No USB 3.1: I was a little surprised that EVGA didn't implement USB 3.1 in their Z170 motherboards. While there is a shortage of USB 3.1 devices currently, they are slowly but surely coming to market; it's inevitable. EVGA make it up to the user by providing expansive PCH PCI-E slots in almost all flavors, so if you decide to buy a USB 3.1 add-in card, then EVGA has the slot layout to support it without disrupting your graphics.
SLI Spacing: To be clear, almost all Z170 motherboards support a maximum of 2-way SLI, but EVGA routed the first two slots to the CPU, meaning that half of the PCI-E slot spacing is not to be used for SLI. This means that if you go with SLI, then the card in the first PCI-E slot must be, at a maximum, double slotted because the second card will be two slots down. The bottom three PCI-E slots, including two full sized 16x slots, are routed to the PCH and operate at 4x/4x/1x (from top to bottom). EVGA does say in its specifications that the board supports 2-way SLI + PhysX, so if you have a PhysX card, then you should be ready to go with the Z170 FTW.
Final Thoughts
Overall, I was impressed with the quality, looks, and performance of the EVGA Z170 FTW. I have always been a fan of how EVGA doesn't compromise quality for marketing, and the Z170 FTW stays true to EVGA's roots as a quality vendor. If you are looking for an all-black motherboard, you should definitely give the Z170 FTW a look since it is exactly that, you can even turn out all the lights in case they clash with your case design. The UEFI is very easy to use and it makes overclocking very simple, even though there are no built-in profiles.
While I had a few qualms with the PCI-E layout of the board and its lack of USB 3.1, the Z170 FTW's price is pretty good considering the quality of the components. I don't think many other motherboards in the same price range have the same high-level of component quality, but many of them do carry a few more features.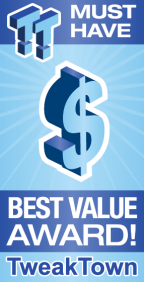 | | |
| --- | --- |
| Performance (including Overclocking) | 92% |
| Quality including Design and Build | 95% |
| General Features | 86% |
| Bundle and Packaging | 90% |
| Value for Money | 88% |
The Bottom Line: I was very pleased with the EVGA Z170 FTW, and at $220 currently, I think it's worth a look if you are in the market for a high quality motherboard with quiet aesthetics, strong performance, and solid choice components.
PRICING: You can find products similar to this one for sale below.

United States: Find other tech and computer products like this over at Amazon.com

United Kingdom: Find other tech and computer products like this over at Amazon.co.uk

Australia: Find other tech and computer products like this over at Amazon.com.au

Canada: Find other tech and computer products like this over at Amazon.ca

Deutschland: Finde andere Technik- und Computerprodukte wie dieses auf Amazon.de