Seek Thermal LWIR Android Thermal Imaging Camera Review
Thanks to the help of Seek Thermal, we are bringing thermal images to all upcoming motherboard reviews. But first, here's our full review by Steven.
Published
5 minute read time
TweakTown's Rating: 92%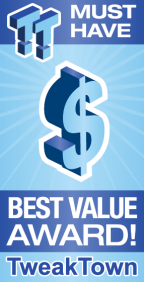 The Bottom Line
The Seek Thermal Camera brings thermal imaging to a whole new level; providing a great set of features and performance at the most affordable price we have seen so far.
Introduction and Specifications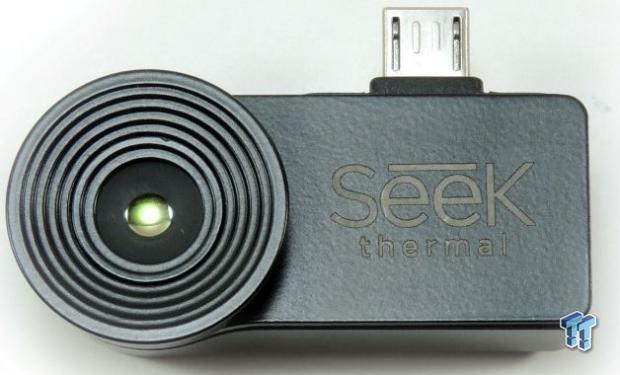 The day has finally come where thermal cameras have become affordable for the average consumer. Granted, these solutions aren't standalone devices, but rather add-ons to modern smartphones.
Today I get to look at one of the most affordable thermal cameras from Seek Thermal, which uses long-wave infrared (LWIR) to capture surface radiation and display it as an image. Thermal cameras are important in a wide range of industries; from home building (finding insulating leaks) to the military (identifying subjects without visible light).
While I am in neither of the aforementioned industries, I am in the business of analyzing and reviewing computer hardware. In the engineering field, thermals are very important in finding circuit weaknesses and even shorts. This new generation of affordable thermal cameras will allow me to fully objectively analyze circuits in a way I wasn't able to do before.
Specifications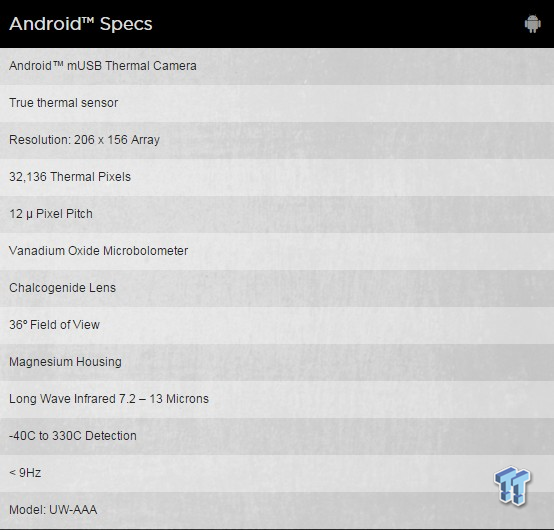 There is also an iPhone version of the Seek Thermal Camera, the only difference being the connector. The resolution of the Seek Thermal Camera is very high compared to even more expensive options. It uses a Vanadium Oxide(VOx) microbolometer, first researched by the military for use in sights, is a good contender for uncooled thermal imaging. Seek's large temperature detection range of -40C to 330C is also impressive.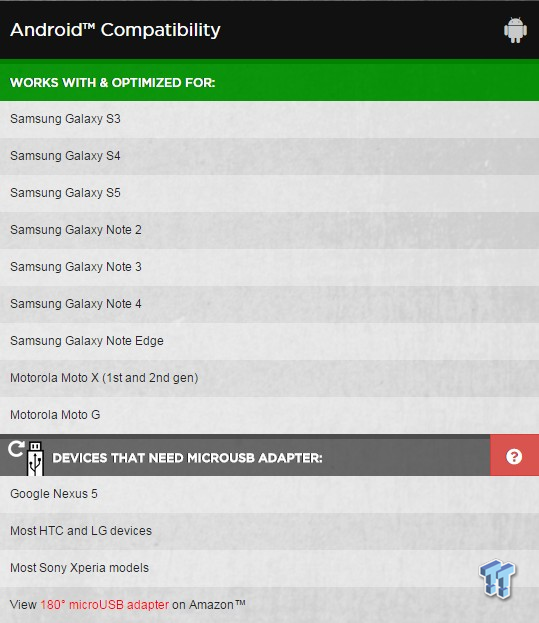 I should note that many devices are not compatible with this camera. The Seek Thermal Camera depends on power from your phone's battery. Some Android phones like the Samsung S4 Mini don't support powering devices over their microUSB port, and thus cannot support this camera. So, make sure to check if your mobile device is supported first.
A Closer Look at the Camera and Installation
Camera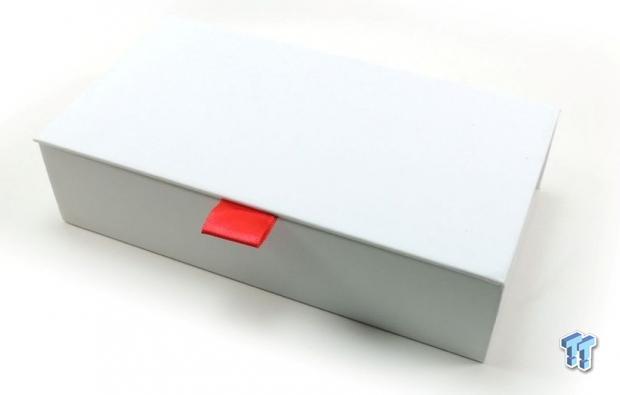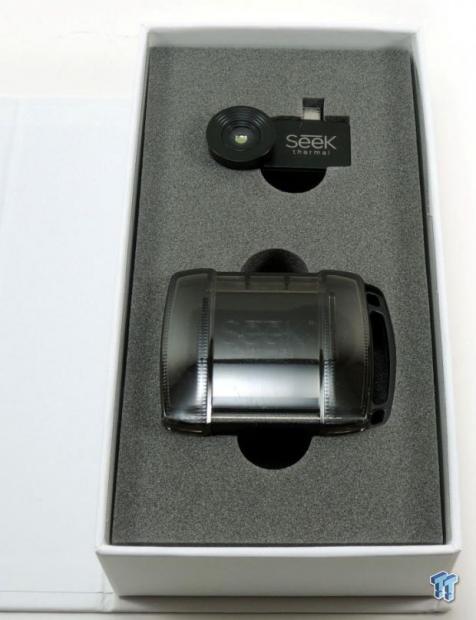 Our review sample came in a little while box. Upon opening the box, we find fitted foam that protects the camera and its case. The packaging is very high quality and should ensure the safe arrival of your Seek camera.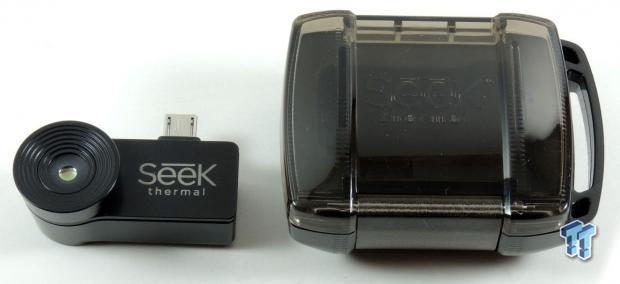 I didn't expect a custom case to also be provided; it's a very nice touch.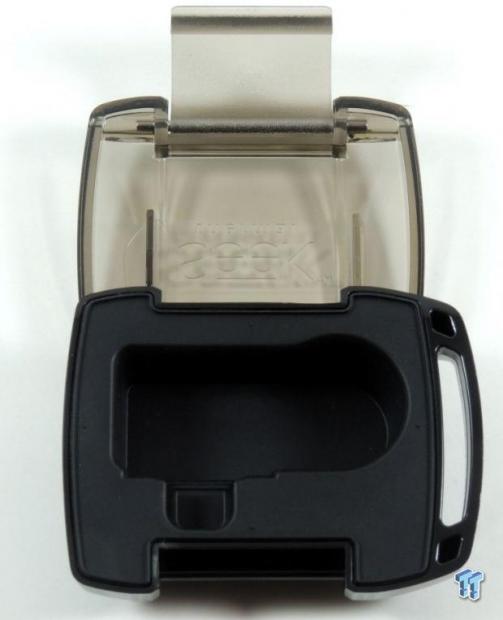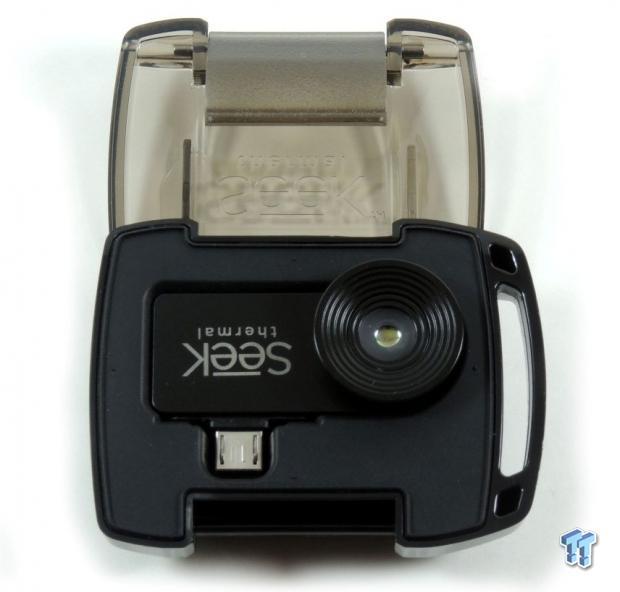 As you can see the case has a custom molded rubber lining that should protect the camera from drops. I also think the case is water resistant, as a tight seal is produced when the case is closed.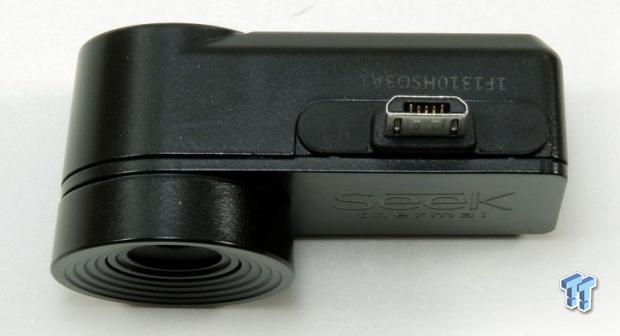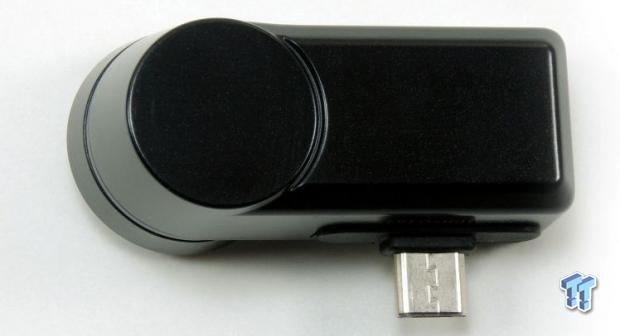 The camera is quite small, and installation consists of plugging it into your smartphone. The protector for the lens is important, as you don't want the oils from your skin to make contact with the surface, as it can eat away at the anti-reflective coating. The camera's body is actually made of magnesium.
Installation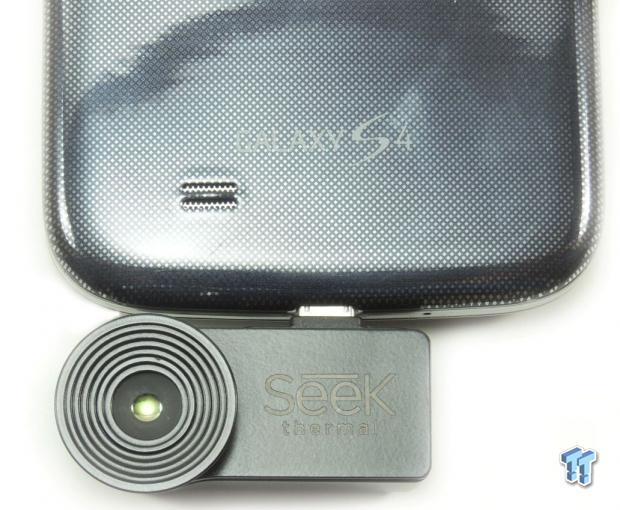 It's literally just plug-and-play. You should first download the Seek Thermal app from the Google Play store, and it will detect the camera.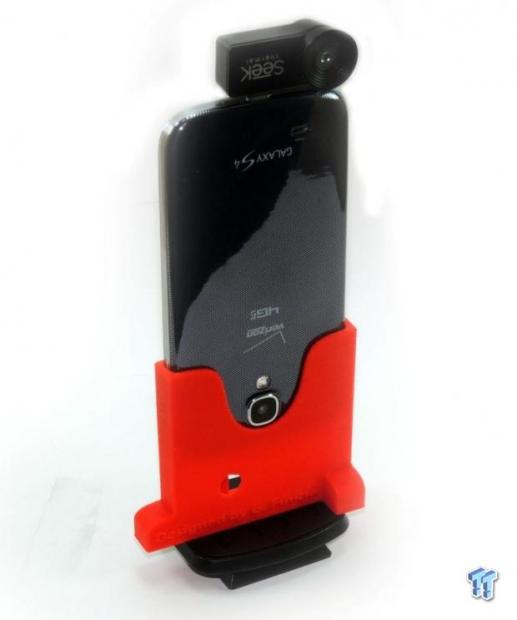 I made a tripod mount for my phone using my 3D printer.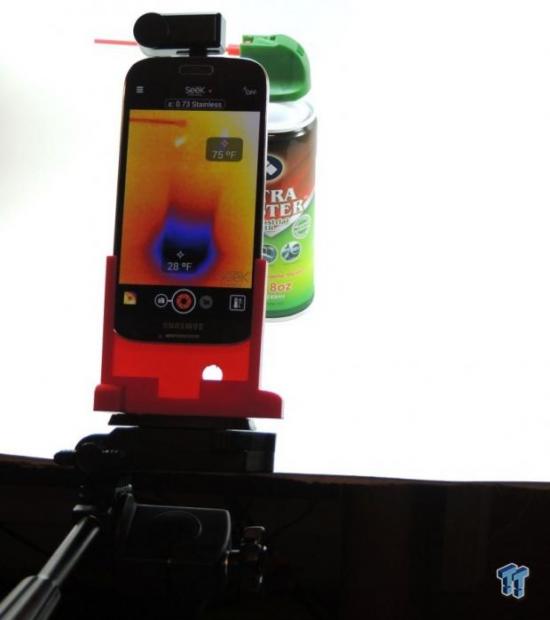 As you can see, it works pretty well imaging a CO2 duster can that was just used.
Software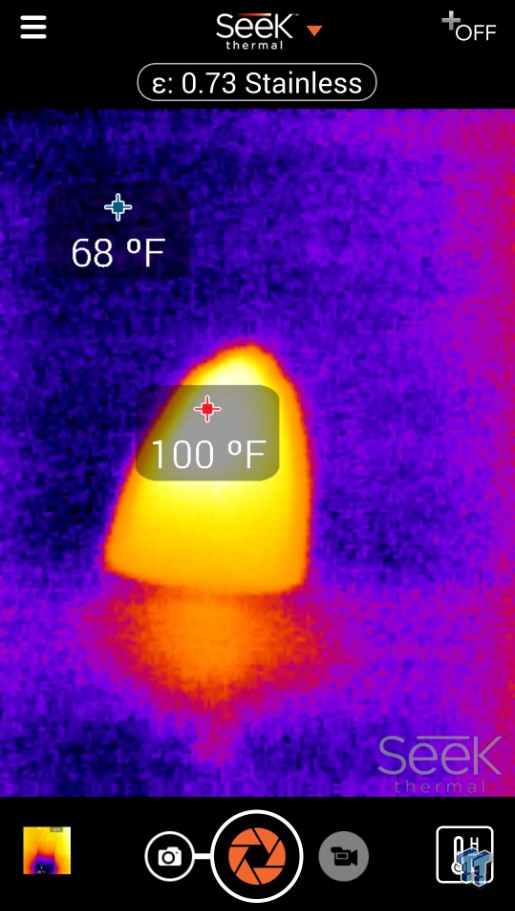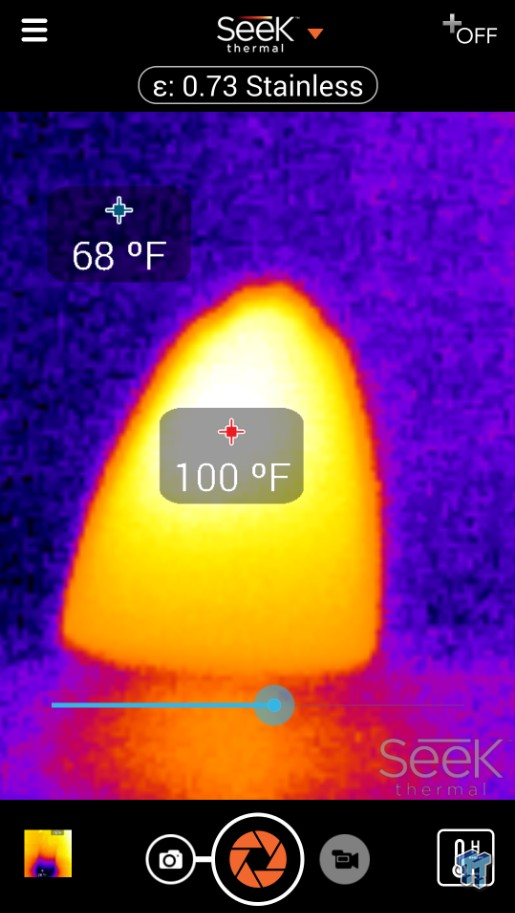 The software is pretty intuitive; here it is imaging a lamp. You can take snapshots or even videos, and operating modes and settings are widely available. If you pinch your fingers together on the screen, you can even zoom in and out, just like in other applications.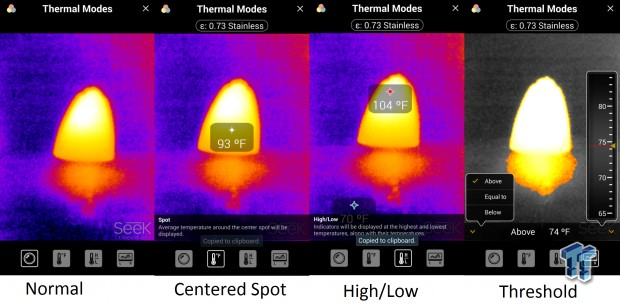 There are four options for thermal modes. The first option is no temperature reading, and because there is no temperature scale on the side, this option isn't very useful for things other than finding hot or cold spots.
The next option is the typical centered spot, which takes an average of the temperature readings around the center spot. I like high/low, as the camera will detect the highest and lowest temperature readings on the screen. Threshold is useful if you need more accuracy, and it provides real-time adjustments in the thermal modes menu for highlighting only what you want at different thresholds.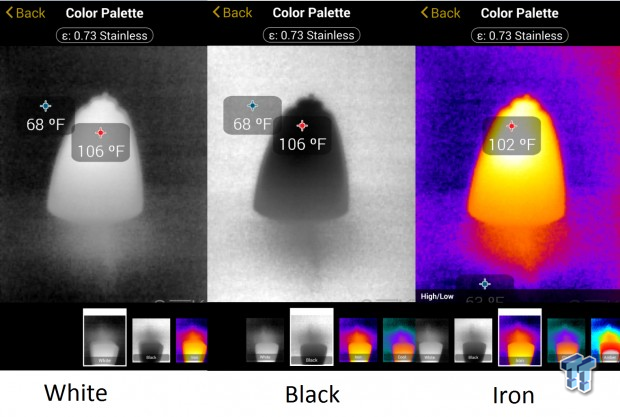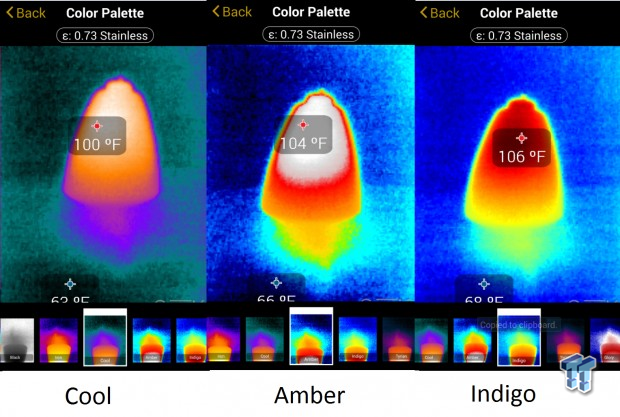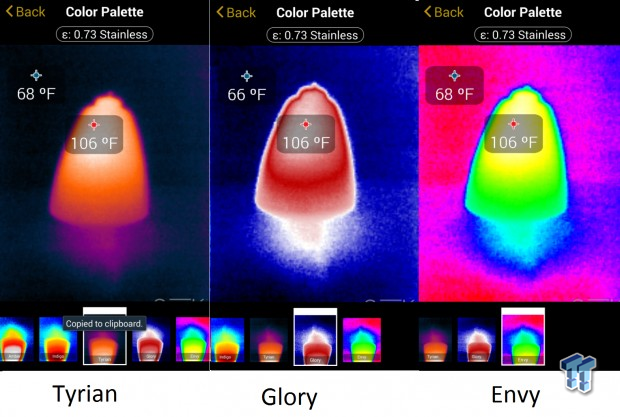 There are a total of nine color palettes available for imaging. My favorites are Iron and Tyrian.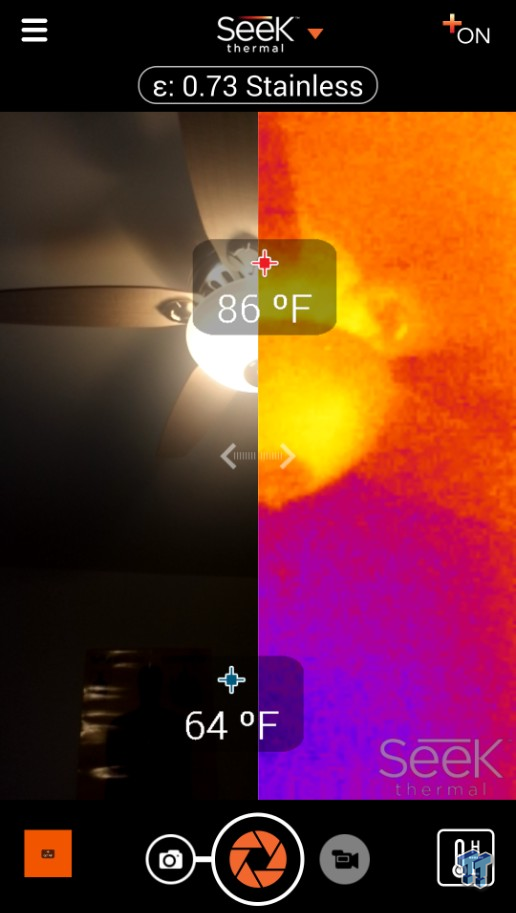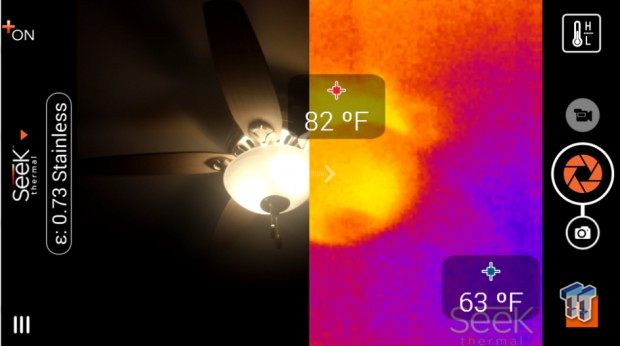 Seek provides a dual mode which allows you to use your smartphone's camera to display part of the image on screen. The issue is that your smartphone's camera isn't in the same position as the thermal camera sensor, and thus it can be hard to produce comprehensible images.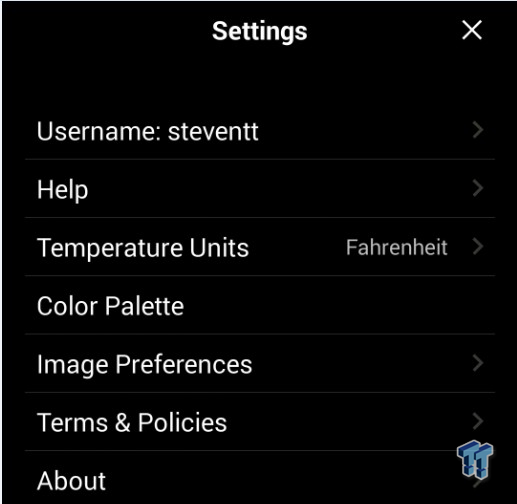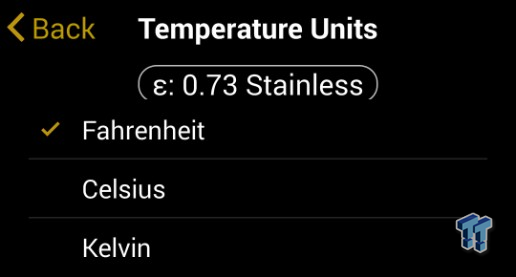 There are a decent amount of settings available. You can change everything from the image aspect ratio to the thermal reading units.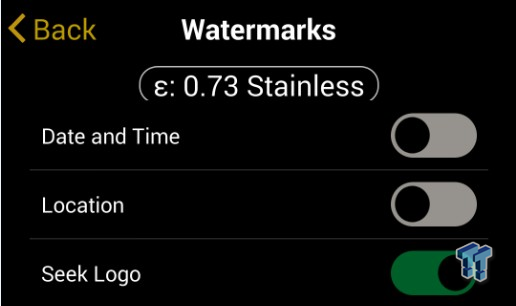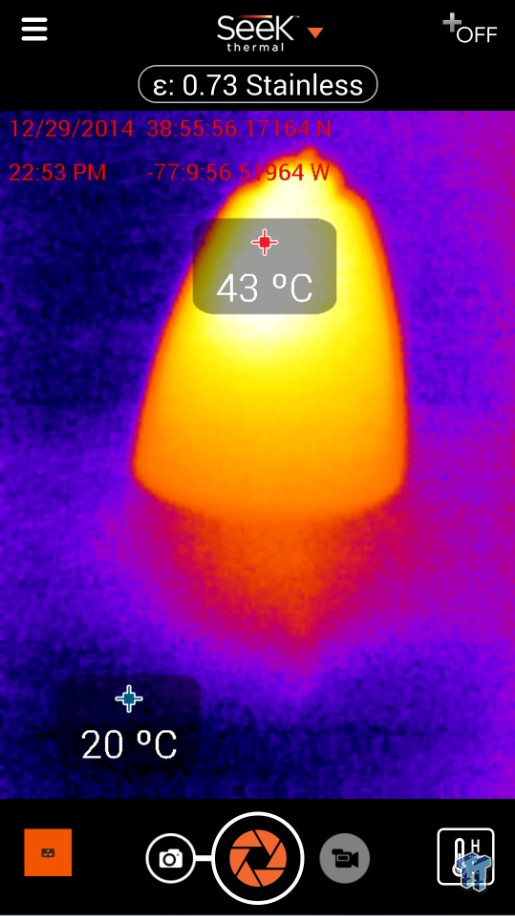 By default, the Seek logo is in the lower right-hand corner of every image, however, this can be turned off. You can also turn on date, time, and location stamps.
Camera Results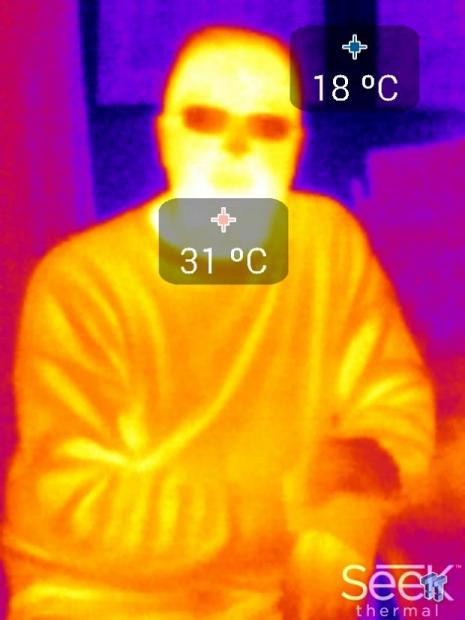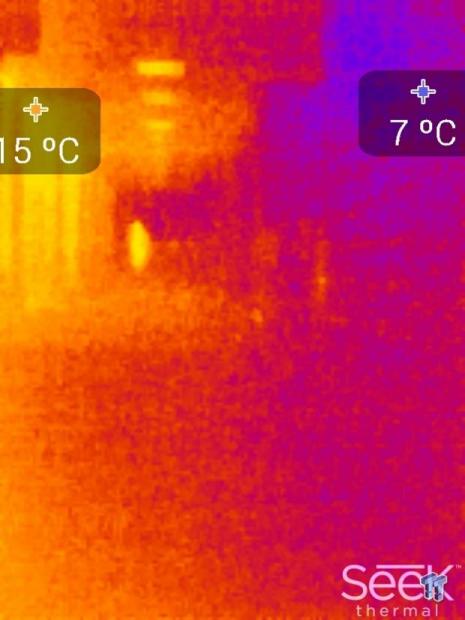 Here we have a person (with glasses) up-close, 1 foot away, indoors. The next shot is of a person 100ft away outdoors.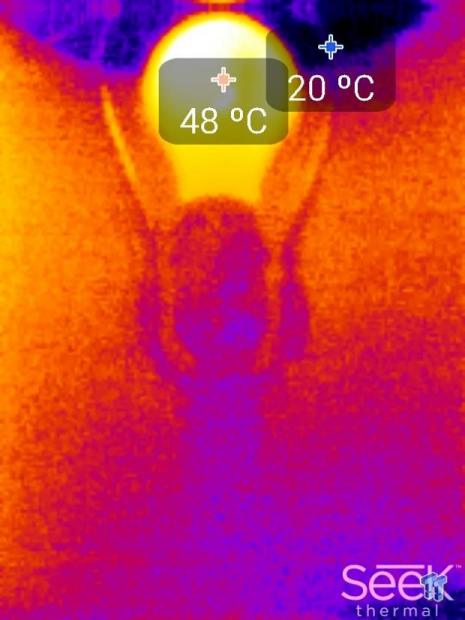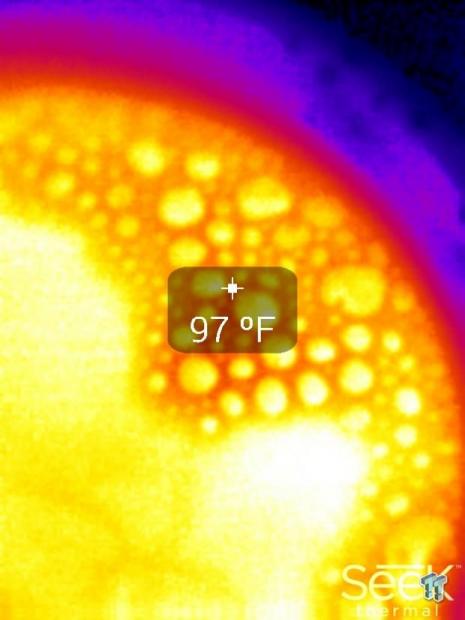 The first image is of an incandescent light bulb. The second image is of a hot cup of coffee with some foam at the top.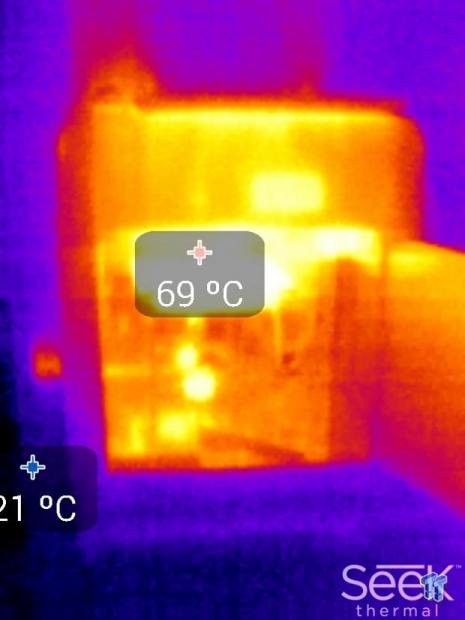 This image might be less recognizable, it is my 3D printer.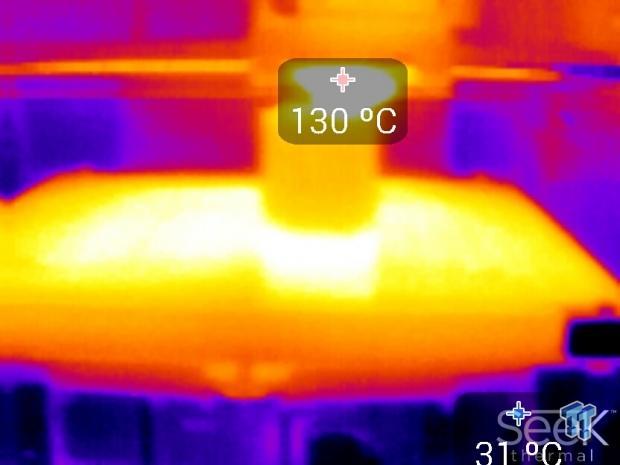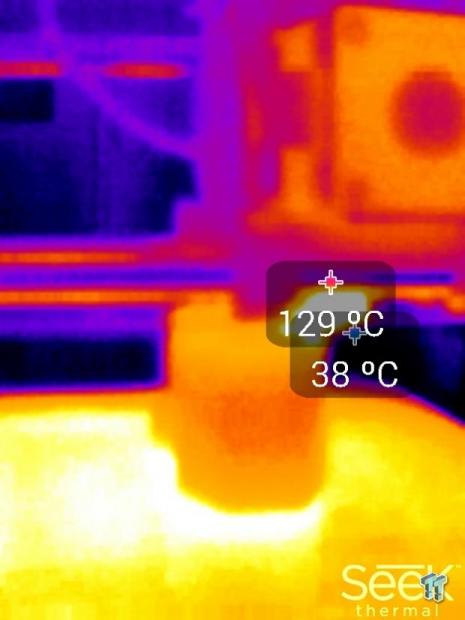 This is the inside of the printer about one hour into a job. The bed of the printer is heated, and from what I can see, it isn't very evenly heated either. The shot next to it is of the same thing, but we can see the extruder head and its high temperature.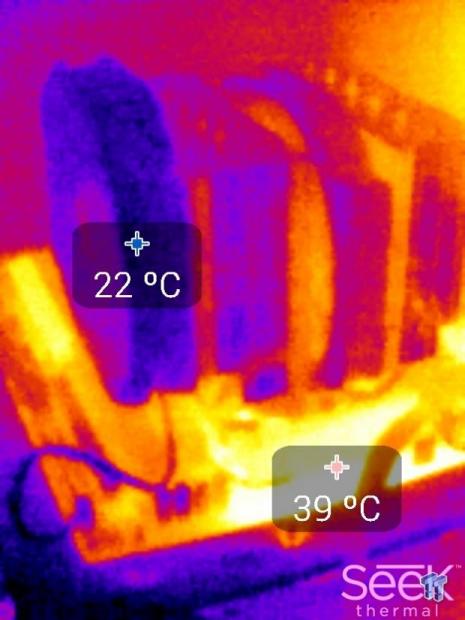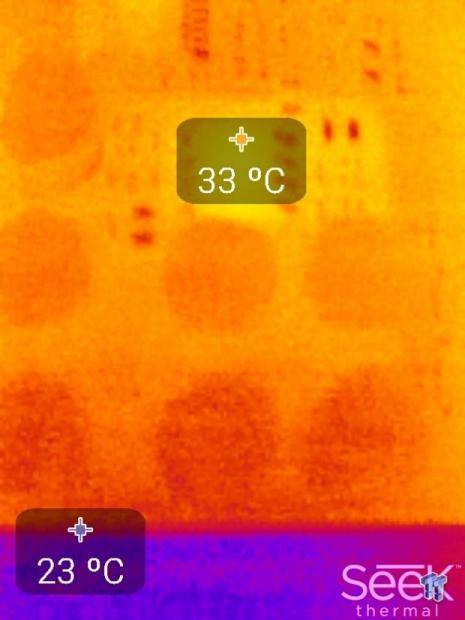 First off, we have a computer on an open bench, meaning it is not in a case. The hottest point is the voltage regulator area, which is what one would expect. It is nice to see that the heat sink and fans are working well, blowing all the hot air from left to right.
The second image is an up-close to find a hotspot on the circuit board. The round ghost-like images are of can-type capacitors, the hot spot is an IC, and the little dark spots are SMD parts (resistors and capacitors).
Final Thought
Final Thoughts
I have always had the longing to see beyond what my eyes could, and as the new motherboard editor here at TweakTown, I asked if it was possible for me to get a thermal camera to use in my reviews. I went on a search for affordable units that provided good enough quality so that I could make out different chips on a motherboard. I decided that the Seek Thermal Camera was a good choice as the other alternative is only available on the iPhone and has a lower resolution, yet is $200 more expensive.
Needless to say, I am impressed with the Seek Thermal Camera - everything from its design and build to its performance is good enough for what I might use a thermal camera for. The camera has an automatic shutter which calibrates often. However, some shots, especially those with low variation in thermals, don't come out as crisp as other thermal cameras I have seen.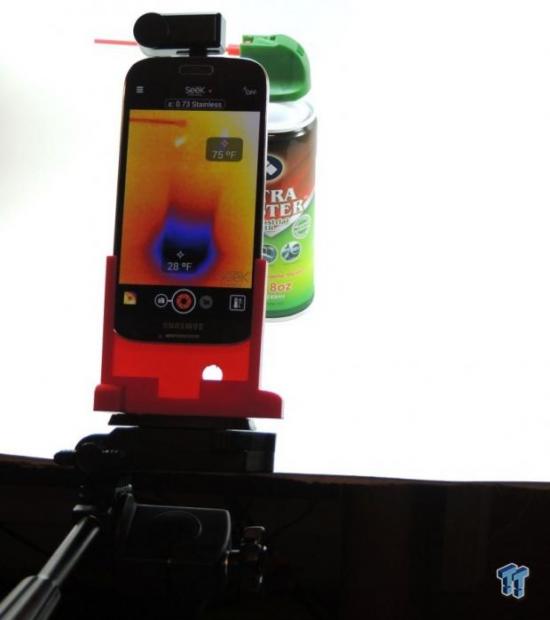 The high/low thermal mode allows me to let the camera do all the work in finding hot spots, and if I need more accuracy, then the threshold mode can do the job well. The dual phone camera/thermal camera mode is a bit hard to use since the phones camera isn't at the same location as the thermal camera, but if you want to remember what you took a picture of, you can try to level the phone's camera with the thermal camera.
The accuracy of the camera is very good, I used a laser thermometer and the readings were spot on, but what would make the Seek better would be some sort of scale on the side to tell the user the temperature at different colors. This camera is a very useful tool, and it is the most affordable fully functional thermal camera I have found, at $199.00 for either the Android or iPhone version.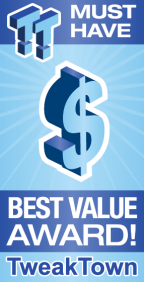 | | |
| --- | --- |
| Performance | 85% |
| Quality including Design and Build | 95% |
| General Features | 90% |
| Bundle and Packaging | 95% |
| Value for Money | 95% |
The Bottom Line: The Seek Thermal Camera brings thermal imaging to a whole new level; providing a great set of features and performance at the most affordable price we have seen so far.
PRICING: You can find products similar to this one for sale below.

United States: Find other tech and computer products like this over at Amazon.com

United Kingdom: Find other tech and computer products like this over at Amazon.co.uk

Australia: Find other tech and computer products like this over at Amazon.com.au

Canada: Find other tech and computer products like this over at Amazon.ca

Deutschland: Finde andere Technik- und Computerprodukte wie dieses auf Amazon.de
We openly invite the companies who provide us with review samples / who are mentioned or discussed to express their opinion. If any company representative wishes to respond, we will publish the response here. Please contact us if you wish to respond.