TweakTown's Rating: 65%
The Bottom Line
The features and design of the Tesoro Kuven Pro look promising and the headset feels great, but there is a real 'quantity over quality' issue present here. The sound is just not up to scratch.
Introduction
Another gaming brand that offers a 'real' 5.1 experience, Tesoro sets out to be better than its virtual competitors by providing 5.1 drivers in each ear or a driver-based 7.1 experience, whichever you may fancy.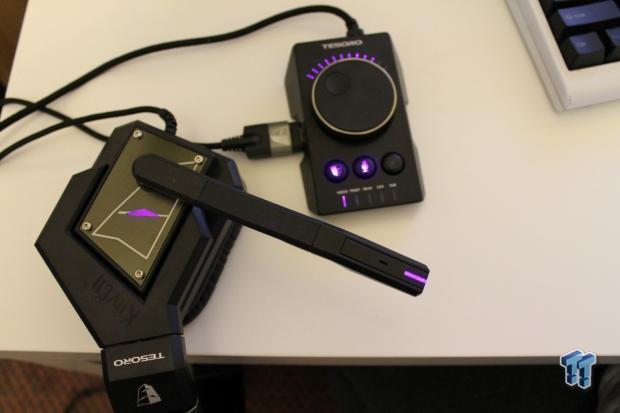 What's also different about Tesoro is it offers an interesting purple LED design, showing up on the desk control unit, the microphone and the earcups themselves. Complete with a chunky design and over-ear leather earcups, Tesoro has one main issue to beat with this true 5.1 companion - a lack of overall sound quality. Generally these 'true' surround-sound headsets lack clarity and overall bass, seemingly throwing more drivers into the earpiece as a marketing gimmick. Read on to see what we think.
Specifications
Providing a real 5.1 surround sound through 40mm subwoofers, 30mm centre speakers and 30mm front and rear drivers, the Kuven Pro 5.1 offers virtual 7.1 through the assistance of a desk in-line control unit.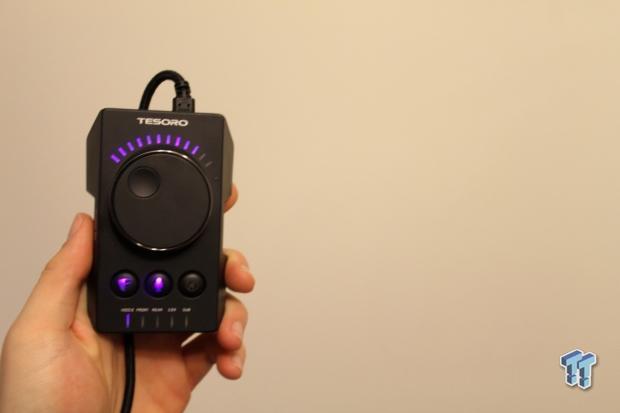 Connecting to the in line control unit through what seems to be a HDMI plug, the subwoofers offer a frequency response of 20 Hz - 400 Hz, an impedance of 32 Ohms and a maximum output power of 100mW. The front and rear drivers offer a frequency of 50 Hz - 20 KHz, an impedance of 32 ohms and a max output of 50mW. Lastly, the center speakers deliver 50 Hz - 2- KHz, 64 Ohms and a power rating of 50 mW.
Without forgetting the microphone, this component brandishes a frequency response of 100 - 10,000 Hz, a sensitivity @ 1kHz of -44dB +/- 3dB and is set to pick up sound in an unidirectional pattern with an impedance of 2.2 KOhms. The desk control unit allows you to control volume of specific speakers alongside muting the microphone or drivers. This unit is connected directly to a single USB port and also provides the sole sound and power output for the headset.
Pricing & Availability
The Tesoro Kuven Pro true 5.1 headset sits at $99.99 on Amazon with free shipping, seeing it be compared with the likes of the Tt eSPORTS Shock 3D 7.1, the Kingston HyperX Cloud II, the ROCCAT Kave 5.1, and the Razer Tiamat 2.2.
What's in the box?
With no accessories to be seen, it's another unfortunate and disappointing overall package as provided by a company in which is looking to break into the gaming market.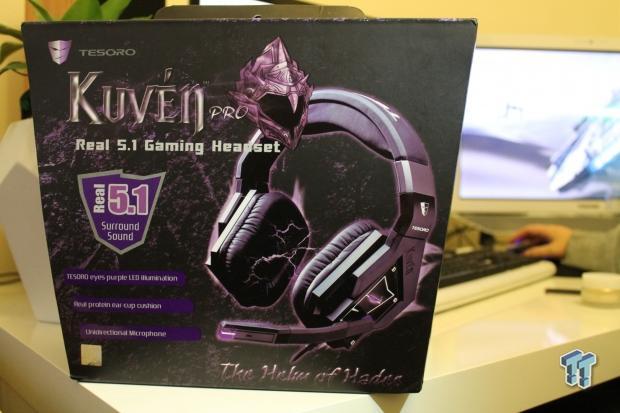 I'm sure buyers of these types of headsets whom are looking for positional 5.1 audio, passive noise cancellation and a cool-looking purple LED design are going to want to show it off at LAN parties and live events. However, there is no carry pouch or anything included to ensure your new $100 headset is kept damage-free and safe in transit.
Let's dig deeper
Although some users aren't happy with the blocky and chunky aesthetic of this headset, it's all built quite well and ties in great with the purple LEDs. The microphone is a little too large, but not too annoying, and the LED on the tip doesn't catch your eye like with some other brands.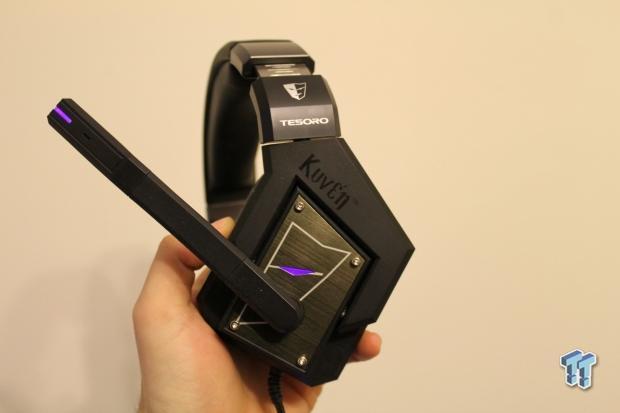 The earcups are massive and fit over my ears quite well, but this comes at a price. After one hour of testing these out, I took them off and experienced a very sore jaw. It seems that the large chunky design means that it covers your ears well, but pushes on the top of your jaw. The leather earcups feel great and my ears didn't sweat it out - love or hate the design, it fits pretty well on your head, but watch out for the jaw issue.
The microphone LED turns off when muted which is great, the boom also can be folded completely out of the way, but the main nuisance with this headset comes in the form of the cables. Thanks to the control unit having to be used (the headset plugs into it with what looks like a HDMI plug), it becomes cumbersome depending on how your PC is laid out.
The control units cord is plenty long enough, but the cord from the control unit to the headset it's justifiable. Compound this with the fact that the cable for your headset plugs into the side of the control unit, you'll have a hard time positioning everything neatly and as you would like.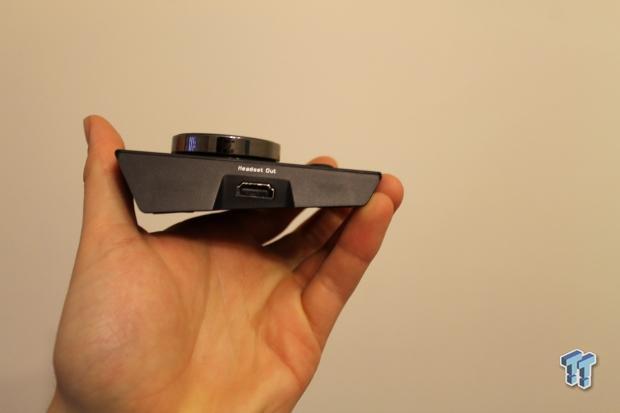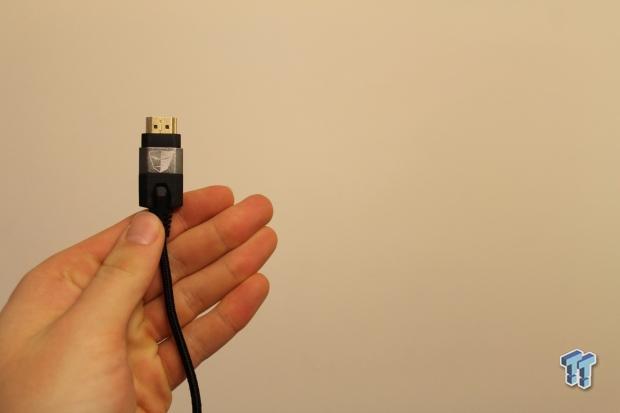 The drivers are also an interesting experience. A download of the 42.5MB driver off the website is easy enough with some searching to be done (it's in the support section, not linked to the headset product page), but what comes after is annoying. After installing the driver onto my Microsoft Windows 7 64-bit OS, I had six security pop-up notifications telling me that I needed to approve 'Cm106eye.exe' to run as an Administrator of my PC. Obviously looking something like a virus, I hit up Google.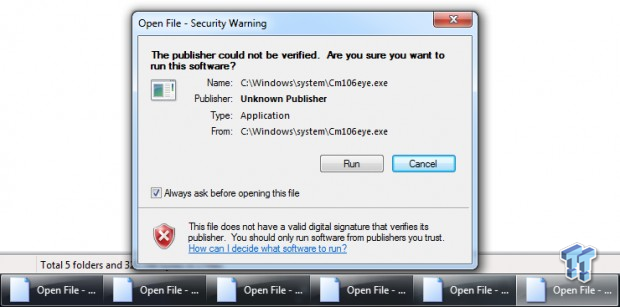 This seems to be a common thing for companies using a generic-style 7.1 driver for headsets, with the same issue reported for products such as the Xenta 7.1 USB sound card, Ciber Snipa's Sonar 5.1, Arctic P531 and more. This issue can be resolved by manually finding this .exe in your system folder and selecting the option to not block its properties. Once all this was sorted, the driver was sitting in my system tray. More issues arose as I was not only unable to open it with a double click or Right Click > Open, but the sound was no different anyway.
A Heroes of the Storm analysis
Currently, my game of choice, Heroes of the Storm (Heroes), helps test out various different parts of your sound experience. There's some higher pitched sounds like Valla's fancy little self-guided arrow and deeper sounds like Tychus when he suits up in his monolith robotic death-machine firing rockets and cannons alike.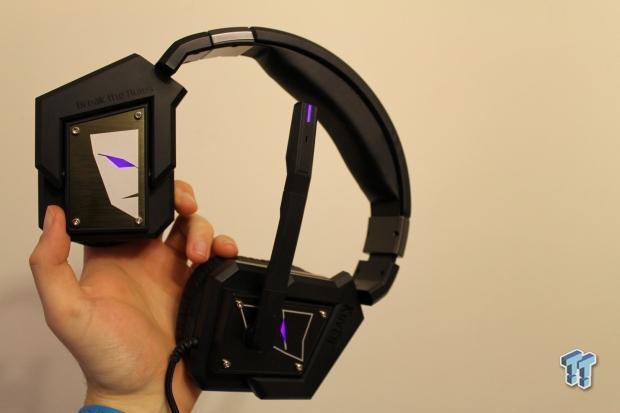 I've been testing a few 'true' sound headsets recently, offering things from dedicated subwoofers + normal drivers or complete 5.1 surround sound experiences as seen with this product. There is the common low-priced headset issue of muddy bass and limited clarity when the going gets tough and this headset seems to face the same struggles. It seems that most companies are wanting to throw 5.1 drivers into each ear cup in order to entice consumers, but this extra manufacturing coupled with forced competitive pricing means that each driver is poor in quality. The end result? Quantity over quality.
Don't stop the music
Music is a big part of any gamers' experience these days. Services ranging from iTunes to Spotify keeps us connected to the musical world 24/7 whilst browsing Reddit, playing casual games or relaxing while in matchmaking queues.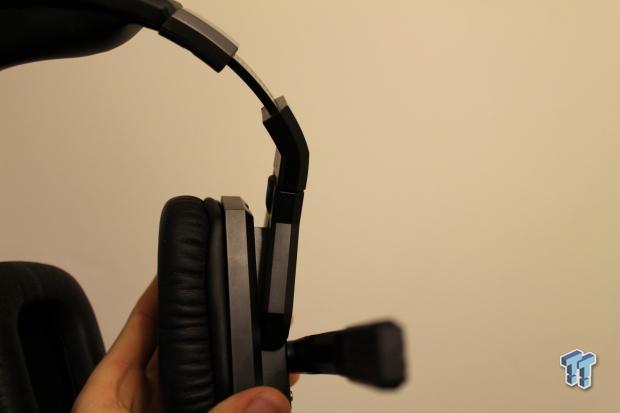 Listening in to Pink Floyd's 'Shine On You Crazy Diamond' reports back another average experience. Don't get me wrong, this headset will suit those people looking for something to get them by, but the clarity for $100 isn't comparable to my previously-reviewed Kingston HyperX Cloud II headset, which offers a general 2.0 sound setup.
Moving on to something a little heavier like 'Ayy Ladies' by Travis porter and Tyga shows off the lack of bass, despite a dedicated 'subwoofer'. Turning it up to full volume hurts the ears and not for all the right reasons, showing that the clarity is not there and the bass punch is non-existent.
What's Hot
The sturdy-term feel: The headset feels well-constructed and the ear cushions are soft.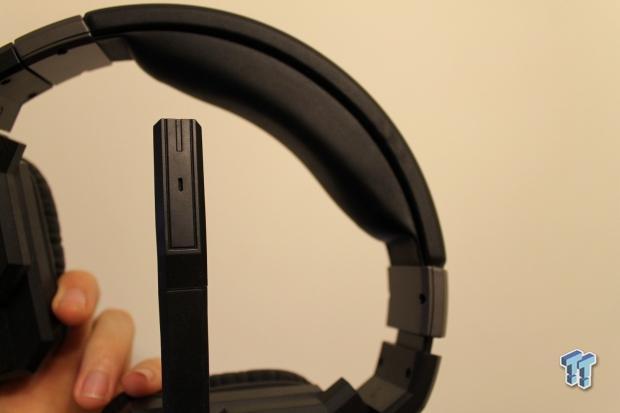 Easy to clean: Thanks to the hardy exterior, you can keep this baby nice, shiny and smell-free.
Purple LED: Love it or hate it, it's certainly different to most and I think that's cool.
What's Not
Jaws, not the shark: Due to the large chunky design, it can press on your jaws quite harshly.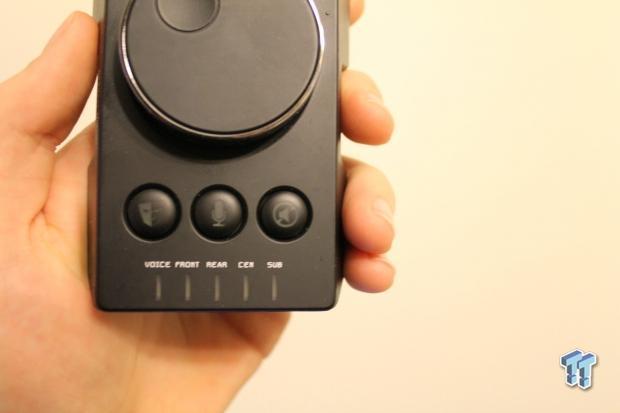 The overall sound experience: As with other 5.1 headsets, it seems the design team has gone for quantity over quality; the treble is washy, the clarity isn't there, and there's a complete lack of bass punch.
Final Thoughts
The headset looks great, feels pretty good on your head and is well constructed. However, brandishing 5.1 drivers for $100 helps explain that quantity over quality is at hand here, providing a sound experience similar to the 2.0 driven $40 Tt eSPORTS Shock headset.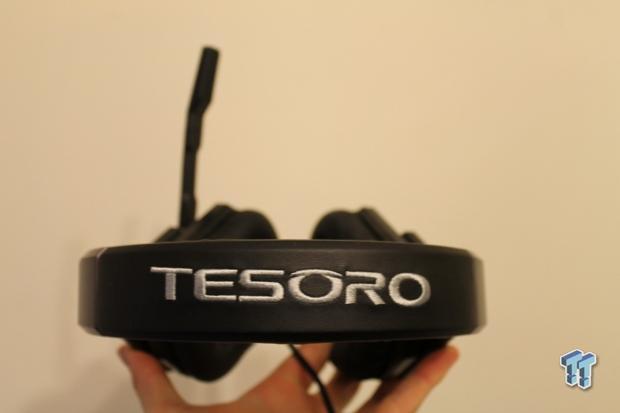 The desk control unit looks great, but it isn't fun to use and the drivers on offer leave a lot to be desired. Hopefully Tesoro can take this constructive criticism and review its Kuven Pro headset for another model. Personally, I think it looks great and is built well, but the performance really doesn't match up.
| | |
| --- | --- |
| Performance | 50% |
| Quality including Design and Build | 85% |
| General Features | 95% |
| Bundle and Packaging | 50% |
| Value for Money | 45% |
The Bottom Line: The features and design of the Tesoro Kuven Pro look promising and the headset feels great, but there is a real 'quantity over quality' issue present here. The sound is just not up to scratch.
PRICING: You can find products similar to this one for sale below.

United States: Find other tech and computer products like this over at Amazon.com

United Kingdom: Find other tech and computer products like this over at Amazon.co.uk

Australia: Find other tech and computer products like this over at Amazon.com.au

Canada: Find other tech and computer products like this over at Amazon.ca

Deutschland: Finde andere Technik- und Computerprodukte wie dieses auf Amazon.de
We openly invite the companies who provide us with review samples / who are mentioned or discussed to express their opinion. If any company representative wishes to respond, we will publish the response here. Please contact us if you wish to respond.