Seagate Archive 8TB ST8000AS002 HDD Review
Tyler takes us on a tour of Seagate's new Archive 8TB hard drive. Yep, 8000GB. It offers tremendous storage capacity with more performance that you think.

Published Jul 17, 2015 9:31 AM CDT
|
Updated Tue, Nov 3 2020 6:59 PM CST
6 minute read time
TweakTown's Rating: 90%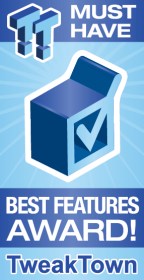 The Bottom Line
Seagate's Archive HDD is a solid, reliable solution for those that want the means of backing up years worth of data into a single drive. In addition, the power management and low initial cost coupled with the performance of the drive make it one of the best all-around drives on the market.
Introduction & Specifications, Pricing and Availability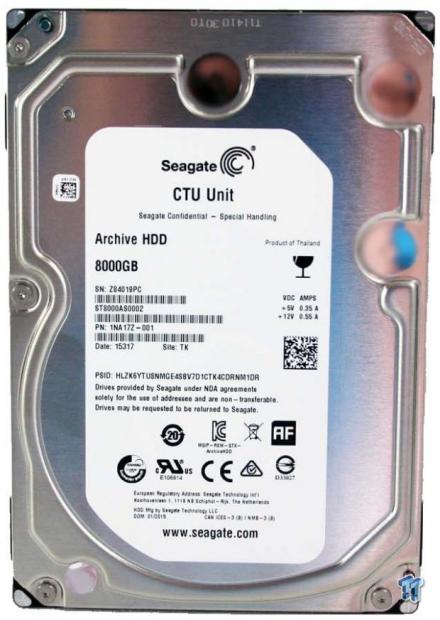 With our need for data growing at an amazing pace, vendors have been experimenting with new technologies to grow the number of tracks per inch or areal density on a single disk. In traditional hard drives, the track size has been controlled by the size of the read and write elements within the recording head. In modern perpendicular recording, a physical limit has been reached where tracks can no longer shrink without the addition of new hard drive technology.
Since late 2013, Shingled Magnetic Recording (SMR) has been promising us higher drive densities. Seagate with SMR is doing this by squeezing tracks together in a shingled pattern allowing more data to be written in the same space. As data is being wrote on SMR drives, tracks are shingled and with the reader element being smaller than the writer element, these trimmed tracks can be read without compromise to the data integrity.
With that being said, the writer is wider than the trimmed track, so when data needs to be rewritten or updated, SMR drives will need to pick up the data requested along with data on the following tracks and write that at a later time. When the data is then rewritten, the drive will then have to correct all data in the next track all the way to the end of the drive. With Seagate's SMR technology they have placed these tracks into bands that better manage rewrites by optimizing the number of tracks that will need to be rewritten.
The ST8000AS0002 is one of three capacities released from Seagate offering SMR technology. This solution features 8TB of storage capacity engineered for 24/7 workloads of 180TB per year. Adding to this, the Seagate Archive is designed to be a low cost per GB solution featuring 1.3TB platters and a SATA 6Gb/s interface that has the capability to optimize burst drive performance.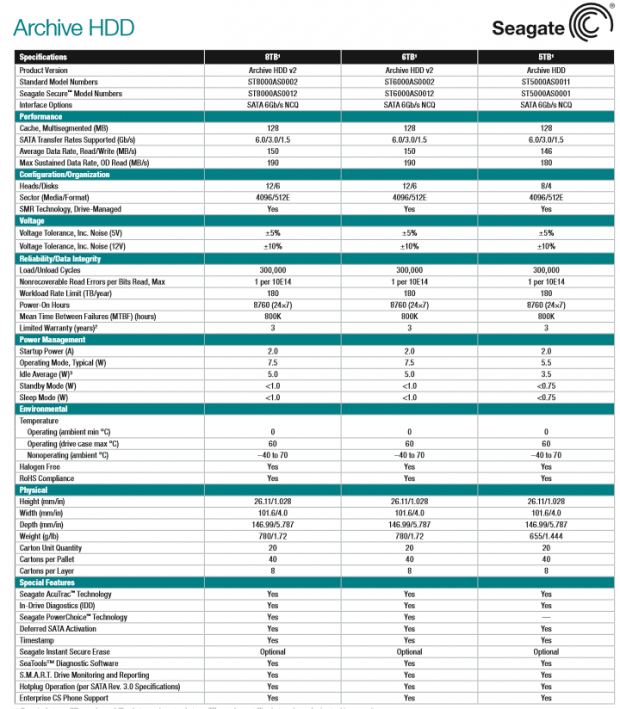 The specification sheet taken from Seagate's website shows three Archive HDD models ranging from 5TB to 8TB. 128MB of multisegmented cache starts things off, while average data rate comes in at 150 MB/s. The maximum sustained data rate for the 8TB solution we are looking at touched 190 MB/s with its 12 head 6 platter design. Load/Unload cycles have been rated at 300,000 while carrying a MTBF of 800 thousand hours. Power management is yet another area of focus for the Archive HDD, where typical operating power consumption is listed at 7.5 watts with just 5 watts at idle.
The Seagate Archive HDD in the 8TB capacity carries an MSRP of $259.99 with a three-year warranty.
Drive Details
Seagate Archive 8TB HDD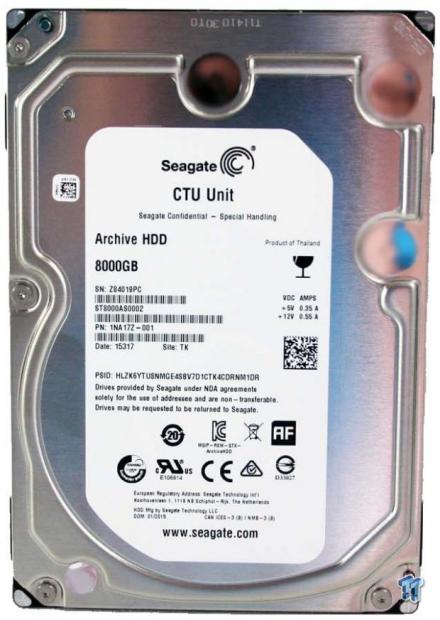 Our sample of the 8TB Archive HDD came in bare drive form. Capacity is listed to the left under the Archive HDD branding.

The drive's SATA power and data connectors are lined up appropriately for hot swap drive trays.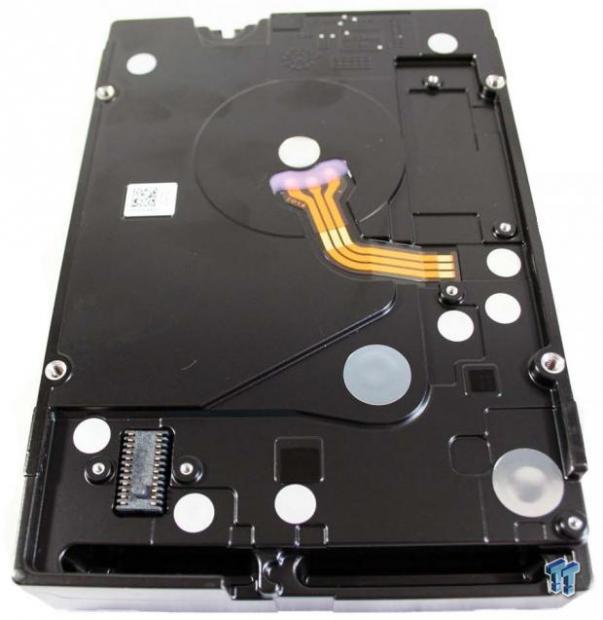 Here we look at the drive with the PCB removed, the bottom left houses a row of spring pins where the PCB connects, while the center carries three contacts for the drives motor.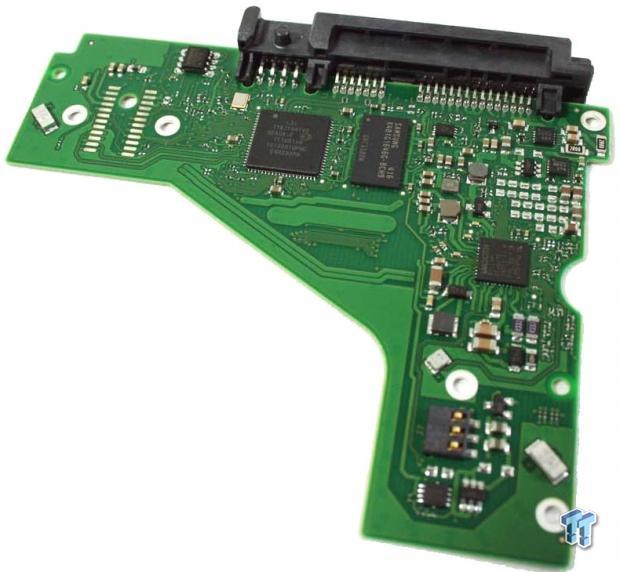 Above, we have the PCB removed from the drive where we get a look at the LSI controller in the center, followed by 128MB of Samsung DRAM for the cache and Smooth motor driver.
Benchmarks - Test System Setup and 4K Random Performance
Desktop Test System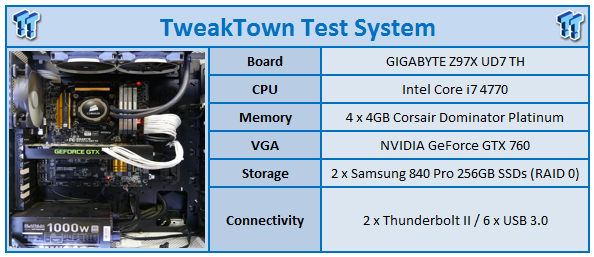 IOMeter - 4K Random Performance with QD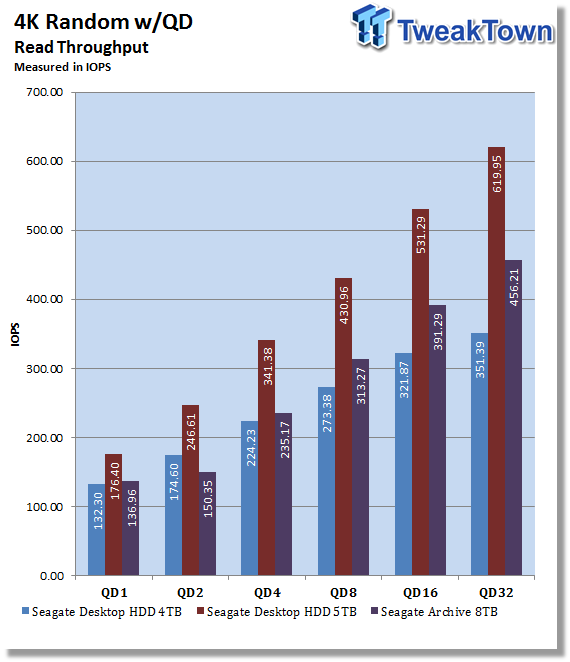 Starting with Random read performance, we found the Archive HDD to perform just as well as the 4TB Desktop HDD and in some cases at higher queue depths a bit better. Peak performance was obtained at QD32 at 456 IOPS.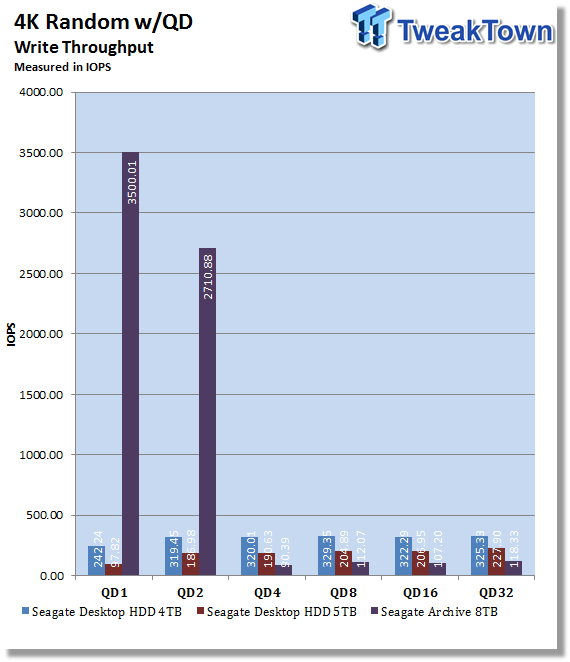 Write throughput first showed burst performance with the drive's cache allowing 3500 and 2710 IOPS in QD1 and 2 after which performance slowed to an average of 100 IOPS through the rest of testing.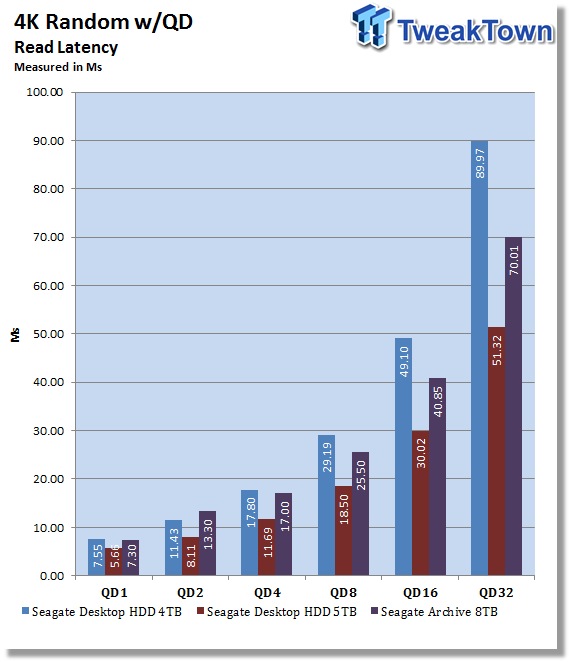 Random read latency too was similar to the Desktop HDD where we initially started at 7.3Ms eventually peaking at 70 Ms at QD32.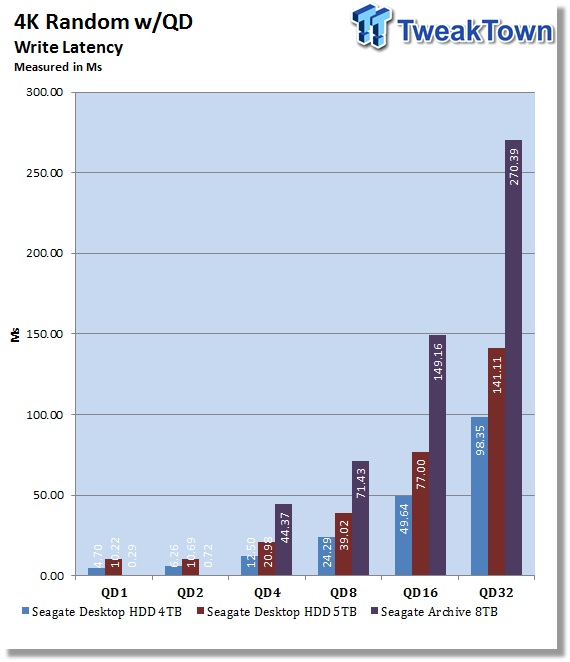 With the cache at full speed at QD1 and 2, results were off the chart coming back into play at QD4 at 44 Ms. Peak latency was seen at QD32 at 270 Ms.
Benchmarks - Sequential Performance with QD
IOMeter - Sequential Performance with QD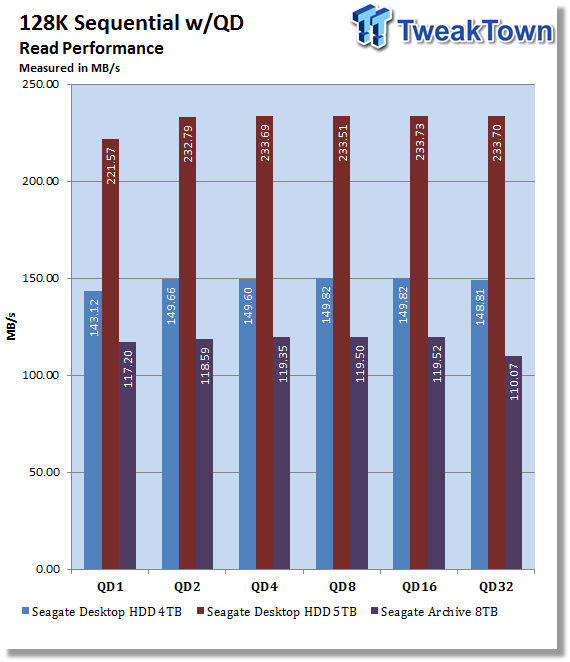 Sequential testing began with read performance where the Archive HDD pulled decent numbers around 118 MB/s throughout testing.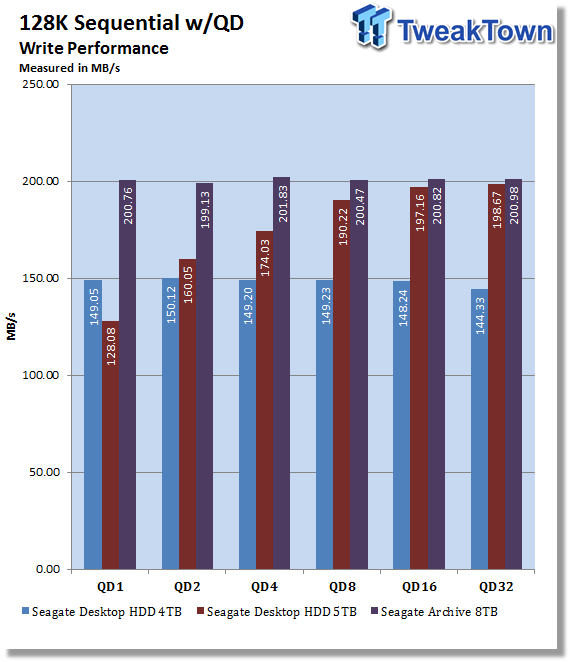 Sequential write showed rather impressive performance for this solution as results started and maintained a 200 MB/s average throughout.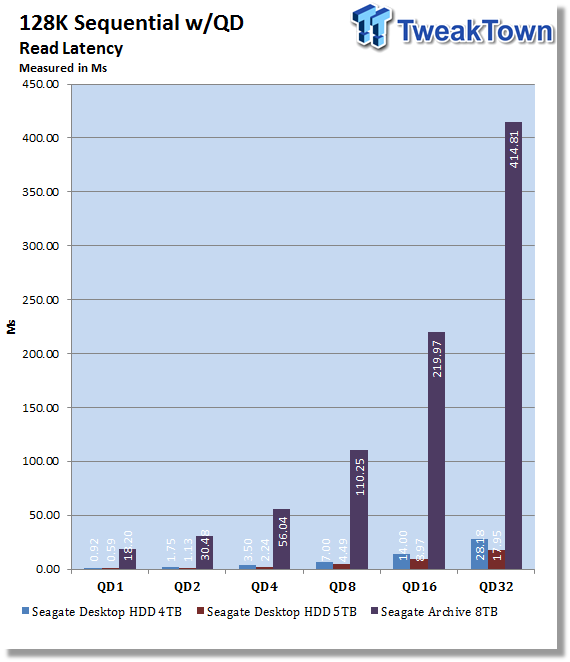 Read latency was quite a bit higher than other solution we have tested with a peak of 414 Ms at QD32.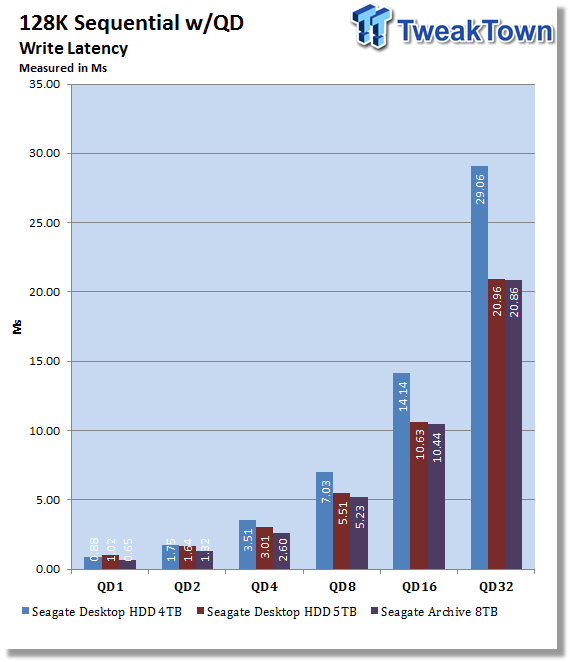 Sequential write latency again went back to mirroring the performance of standard hard drives. Here we have a low of .65ms at QD1 to a peak at QD32 of 20 Ms.
Benchmarks - Workload Performance
IOMeter - Workload Performance with QD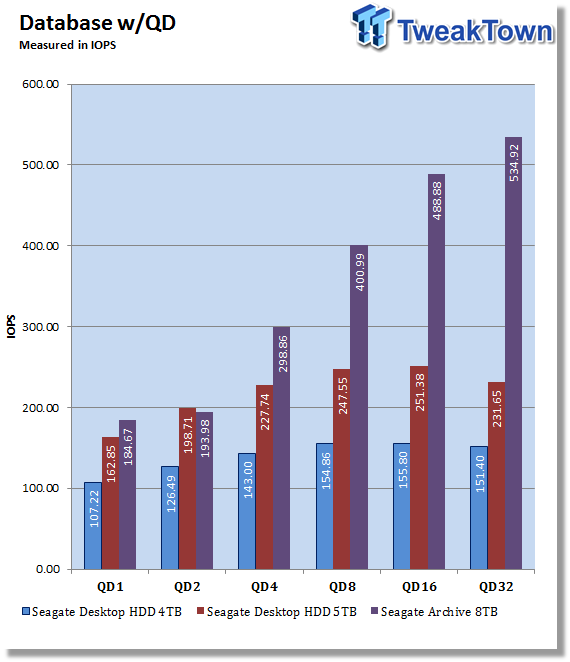 I was really quite impressed by the performance of the Seagate Archive when moving through workload testing. Starting with Database, which is a 80/20 workload, we found the Archive drive to start at 184 IOPS and reach a peak of 534 IOPS which was much better at the higher queue depths than both the Desktop 4 and 5TB solutions.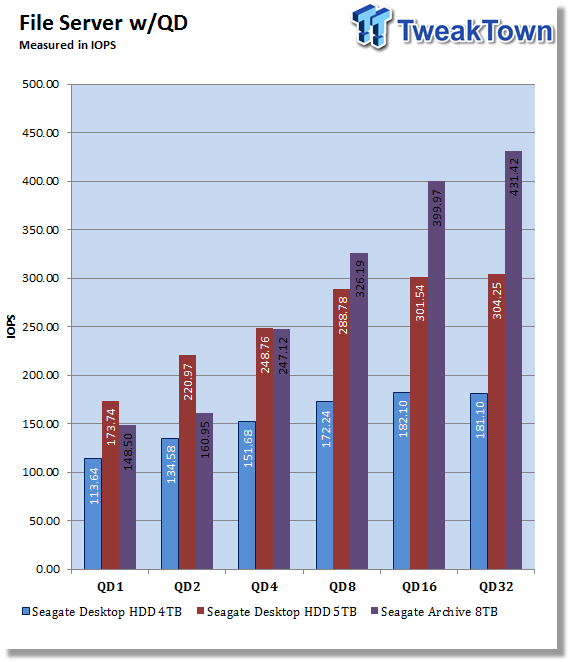 File Server again showed some good numbers as the Archive HDD topped out at 431 IOPS.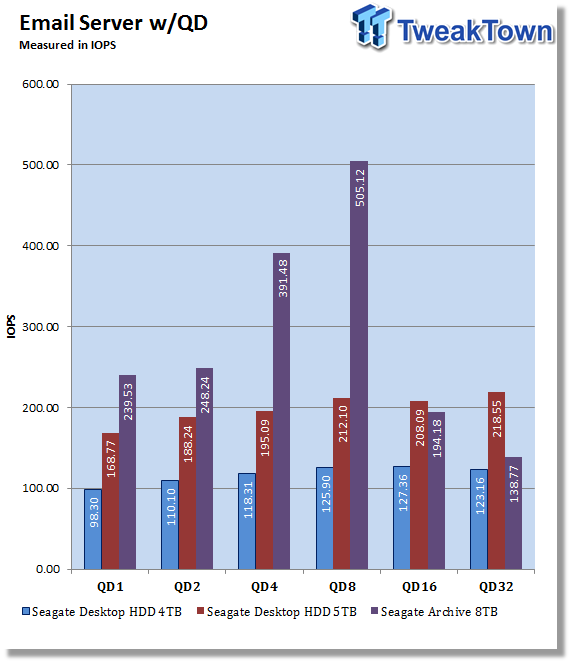 Email server was the first workload to show a performance loss at higher QD but alas the Archive HDD was able to reach 505 IOPS at QD8.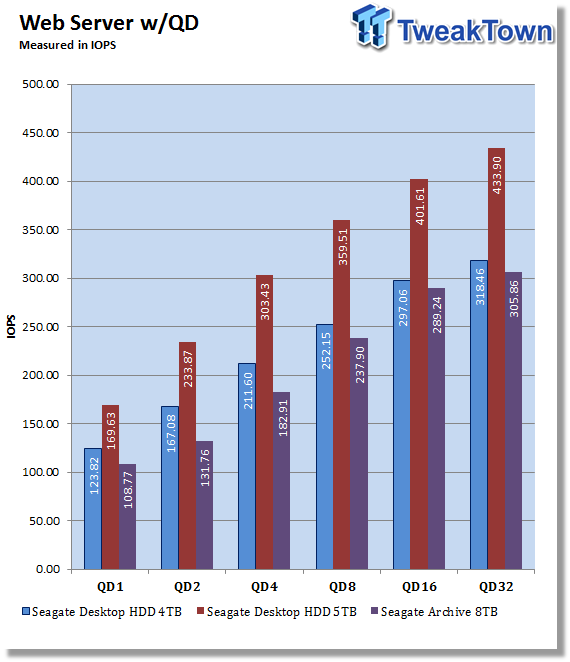 Web Server scaling was slightly slower with the Archive HDD over the two previously tested solutions. At QD1, we did grab 108 IOPS out of the drive, while QD32 managed 305 IOPS just 13 shy of the 4TB Desktop HDD.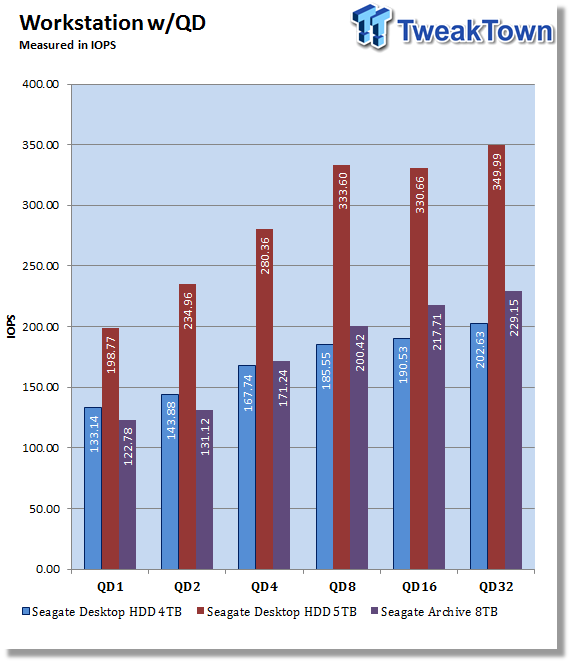 Workstation positioned the Archive HDD just above the 4TB Desktop solution at higher queue depths with 229 IOPS.
Power Consumption and Final Thoughts
Power Consumption
Our custom power testing samples each drive for a period of three minutes, across each workload. In order to offer more granularity, we sample the power in one-second intervals.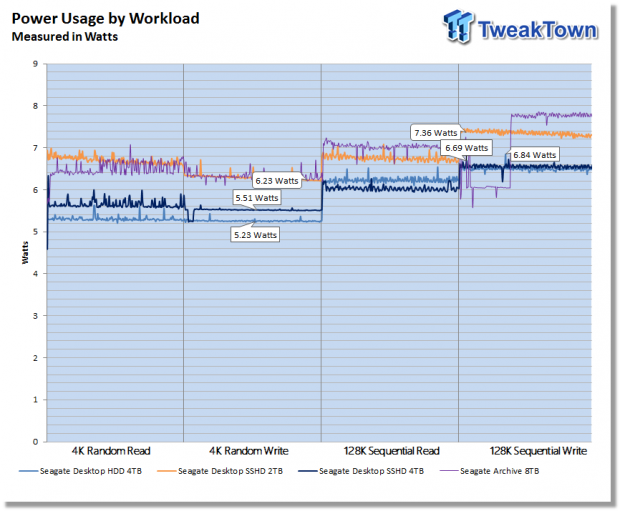 Analyzing our workload power consumption, we found the Seagate Archive HDD to start out just above 6 watts during both random read and write. Moving into sequential workloads, power rose slightly up through 7.2 Watts then took a slight dive back to 6 Watts as the cache worked the beginnings of our sequential write workload. As the cache emptied, the drive's power ramped back up to a peak of 7.8 Watts to finish off our testing.
Final Thoughts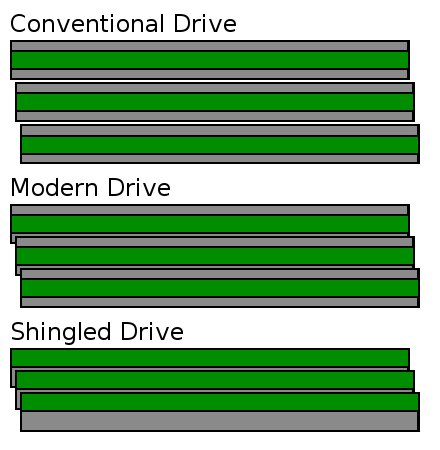 Throughout testing, there were several times where I had to hold myself back. It wasn't that the drive was not living up to expectation as it was surpassing mine by miles, but there were many times where I just wanted to take a few of these drives and throw them into a NAS and build an array for the pure amount of storage capacity they can produce. As I began to browse through forums, it appeared that I certainly wasn't the only one that had the itch as many users were asking if the Archive HDD is up to the task.
The unofficial declaration for the Archive HDD is that it's designed for high density cold data applications; or the retention of inactive data that is rarely accessed. That last sentence surely rules out RAID use, but not necessarily NAS use. With modern NAS systems, storage pooling has become the go to way of organizing data, so if one were to create a single drive pool for pure backup and not constant media access then it is possible the Archive HDD would be a feasible solution. With that said, for consumers that have many terabytes of data they are now backing up on many disks, the Archive HDD is a solution that can be powered up, copied to, and then shut down.
Throughout testing the Archive HDD, we found many situations where the drive was able to surpass performance from both the 4TB and 5TB Desktop HDDs with sequential read and random write being maybe the only problem areas for the drive. Sequential read numbers hovered around 110 MB/s, while writes picked up to 200 MB/s, and when moving to random performance, we found the Archive HDD touching 450 IOPS in random read. In workload testing by far the biggest surprise was how well the Archive HDD handled the mixed data sets, with Database topping 534 IOPS followed by 430 IOPS in File Server. Web Server and Workstation also proved good numbers at 305 and 229 IOPS, respectively.
Last, we ran the Archive HDD through power testing to see how close our numbers would shake out when compared to marketing, quite surprisingly they were almost a dead match as Seagate makes note of a 7.5 watts average we were right there with them through sequential read and write, while random read and write proved lower power consumption near 6 watts.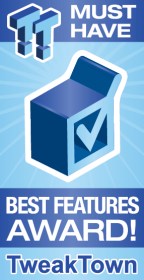 | | |
| --- | --- |
| Performance | 88% |
| Quality including Design and Build | 89% |
| General Features | 91% |
| Bundle and Packaging | 87% |
| Value for Money | 94% |
The Bottom Line: Seagate's Archive HDD is a solid, reliable solution for those that want the means of backing up years worth of data into a single drive. In addition, the power management and low initial cost coupled with the performance of the drive make it one of the best all-around drives on the market.
PRICING: You can find products similar to this one for sale below.

United States: Find other tech and computer products like this over at Amazon.com

United Kingdom: Find other tech and computer products like this over at Amazon.co.uk

Australia: Find other tech and computer products like this over at Amazon.com.au

Canada: Find other tech and computer products like this over at Amazon.ca

Deutschland: Finde andere Technik- und Computerprodukte wie dieses auf Amazon.de
We openly invite the companies who provide us with review samples / who are mentioned or discussed to express their opinion. If any company representative wishes to respond, we will publish the response here. Please contact us if you wish to respond.