MSI Z97 Gaming 9 ACK (Intel Z97) Motherboard Review
Steven tells us all about MSI's Z97 Gaming 9 ACK motherboard. If you're looking for really strong audio and networking features, take a look.
Published
14 minute read time
TweakTown's Rating: 95%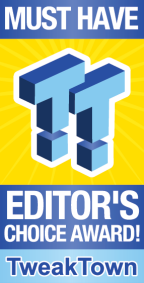 The Bottom Line
If you want the best audio and the most intelligent consumer networking solution in a solid Z97 motherboard which can also overclock, MSI's Z97 Gaming 9 ACK is the right choice for you.
Introduction, Specifications, and Pricing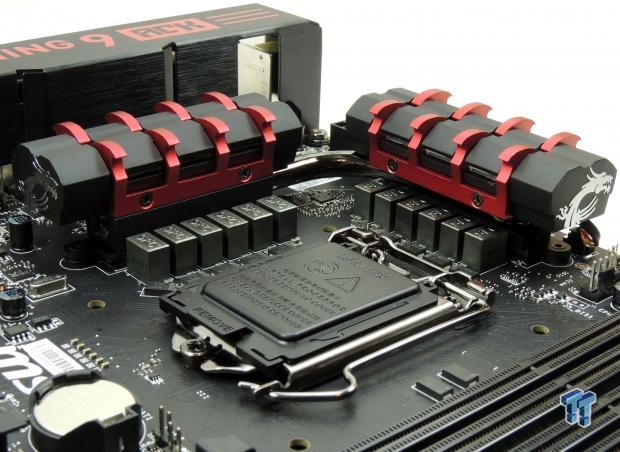 MSI is a well-known consumer motherboard and video card manufacturer, which has been in the business for almost 30 years. In the past few years, MSI has revamped their gaming lineup to meet the needs of people who want top of the line gaming hardware at a reasonable price.
Today, I take a look at one of their Z97 Gaming motherboards, the Z97 Gaming 9 ACK, which is loaded with some of MSI's latest and greatest gaming technologies and hardware. This board is quite unique in that it has dual onboard audio solutions, including a whole CMedia powered sound card. It also features one of the coolest networking technologies I have seen in a while; Killer's DoubleShot Pro.
Join me as I venture through the world of the MSI Z97 Gaming 9 ACK.
Specifications

The MSI Z97 Gaming 9 ACK is loaded with many of the latest features such as M.2, SATA6G, USB 3.1, and dual Killer network adapters. The board has a Killer NIC for the LAN and a Killer Wireless AC/BT 4.0 card for wireless networking, and together they allow for Killer DoubleShot Pro. This technology allows for the software to pick whichever network adapter has the fastest speed and utilize it for gaming and puts slower networking tasks on the slower adapter.
Pricing
The MSI Z97 Gaming 9 ACK can be found for $299 on Amazon which put it at the high-end range for Intel Z97 motherboards. While many other boards in this price range have PLX chips to expand SLI capabilities, the Z97 Gaming 9 ACK features a very expensive audio card built onto the board along with Killer Wireless AC.
Packaging and the Z97 Gaming 9 ACK
Packaging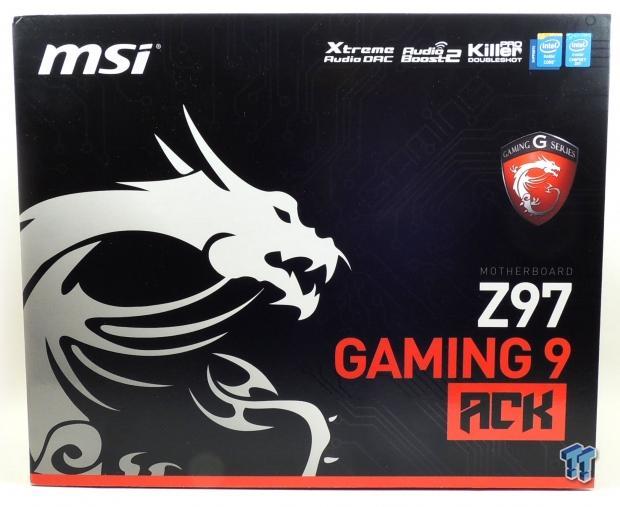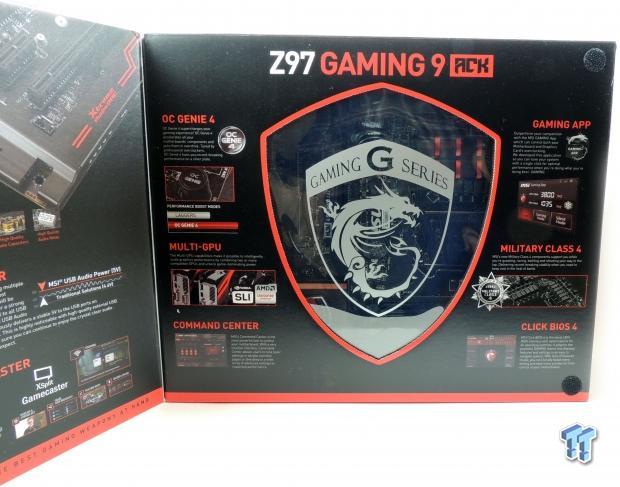 MSI has done a nice job with the product box. It has the right amount of flare I have come to expect from premium products, including a window so you can see what you are buying.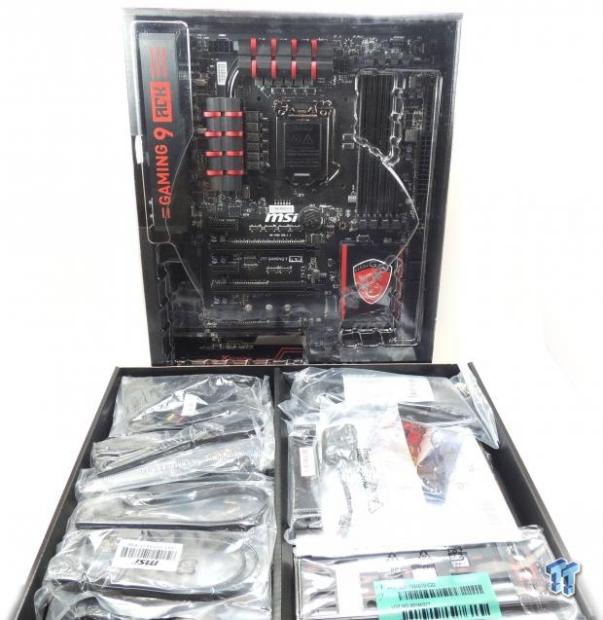 Packaging is done right, the board is well protected in its own mini-box, and all the accessories are individually packaged.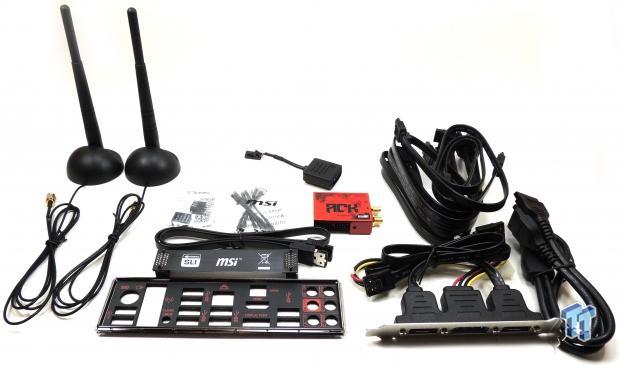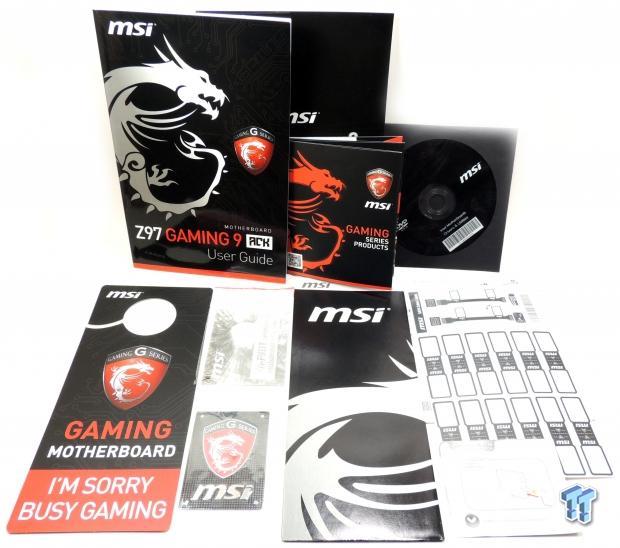 The Z97 Gaming 9 ACK has a huge amount of accessories including an IO Shield, 6x SATA6G cables, eSATA cable, eSATA Bracket, eSATA power cable, Killer WIFI/BT module, 2x antennas, 6x V-Check cables, audio power adapter, SLI bridge, M-Connectors, door hanger, case badge, cable stickers, poster, manual, driver DVD, and an IO cover which comes installed on the board.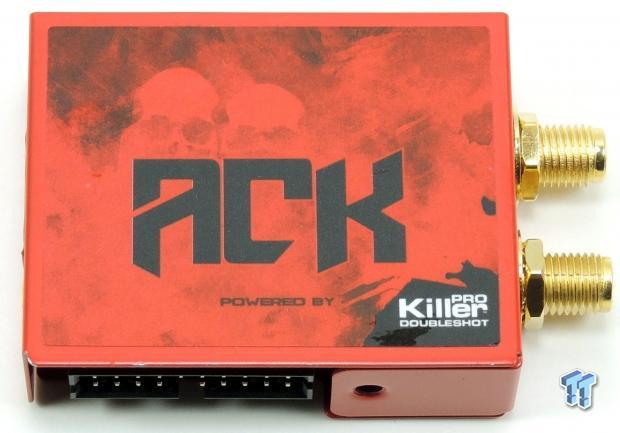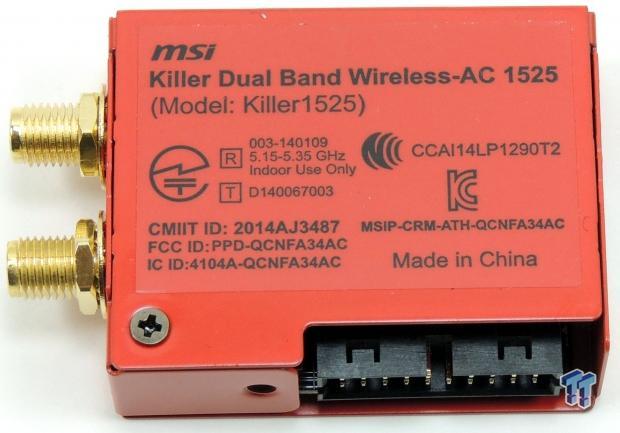 MSI provides a Killer Dual Band Wireless-AC 1525 mini PCI-e add-in card. It's colored red, and while this is covered up by the IO cover, if you decide not to use the cover, it adds to the aesthetics.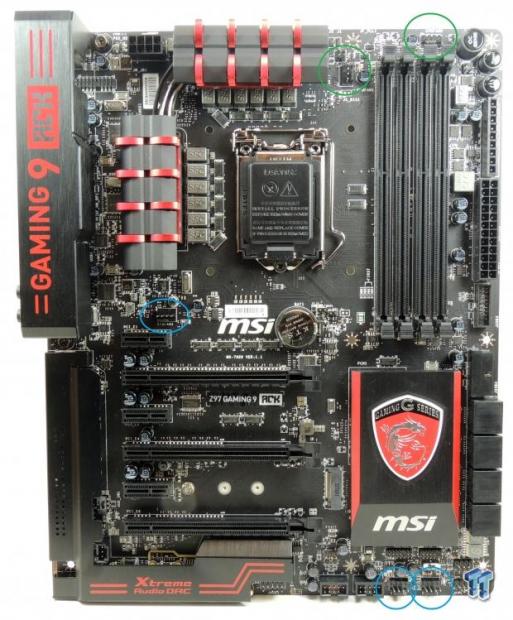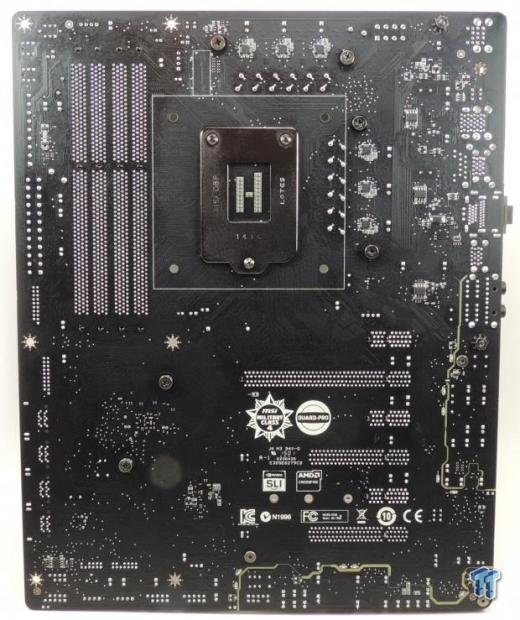 The motherboard features five fan headers; I have circled the 4-pin PWM headers in green and the 4-pin voltage mode headers in blue. The board has some of the best aesthetics I have seen. While many criticize all the things motherboard makers do to spice up their boards like adding animals and weapons to the heat sinks, I think MSI has done a tasteful job with their dragon.
It's neither tacky nor overpowering; instead it's quite elegant and adds value to the product. Even though I am well past my teens, I still find it cool. Aesthetics have become a big part of motherboards, and it would be foolish to ignore them. MSI's heat sinks with the IO cover add the needed aesthetics to compete in the modern motherboard market. The back of the board is pretty bare, which is a good thing.

The IO panel is filled with all types of goodies including 8x USB 3.0, 2x USB 2.0, Killer 1GBit NIC, gold plated audio outputs, S/PDIF digital, HDMI, DisplayPort, ClearCMOS and a PS/2 keyboard port. MSI has made sure that the IO panel reflects the color theme of the build, which in my opinion is a sound move.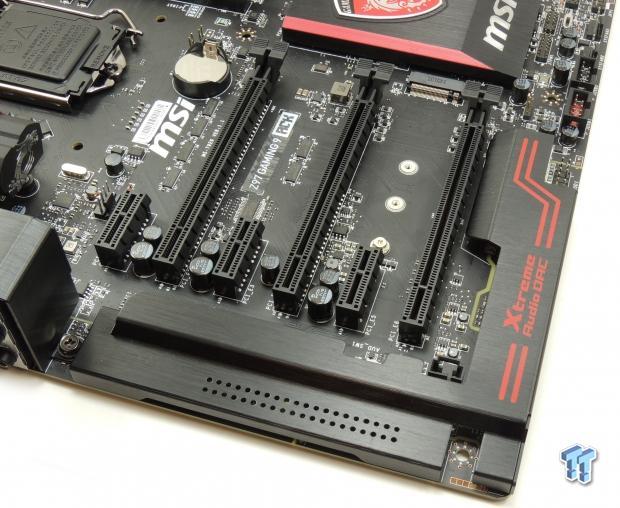 A single card will result in 16x in the top slot 16x slot and 0x in each of the remaining 16x slots for 16x/0x/0x. The PCI-E slots support 3-Way CrossFireX at 8x/4x/4x, or two way at 8x/8x/0x. The placement of the battery is excellent, as you don't need to remove the GPUs to remove it. While the placement of a top PCI-E 1x slot is good for many people, it limits the possibilities for GPU spacing, meaning you have to use dual slotted cards if you want to run 2-way SLI at 8x/8x.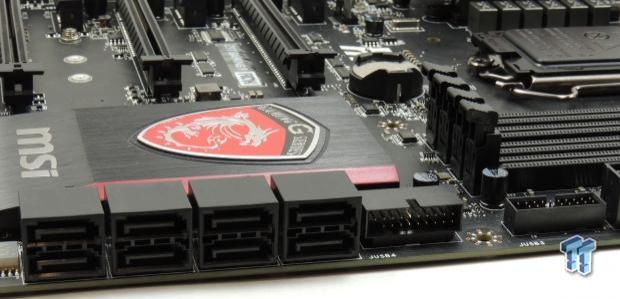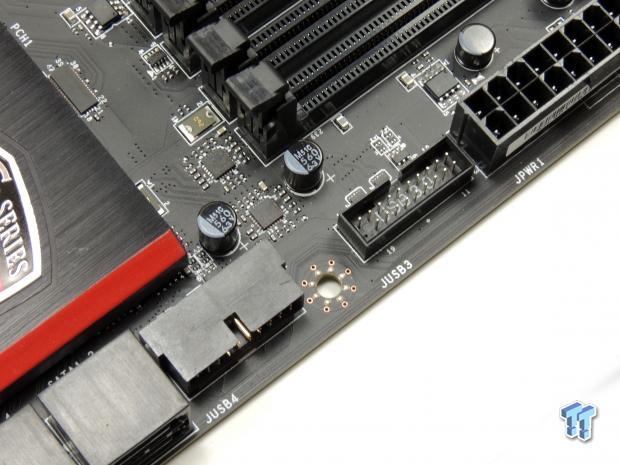 Eight SATA6GB/s ports are all colored black; however, 6 of them come from the Intel PCH while the two closest to the bottom of the board are provided by an ASMedia controller. Two USB 3.0 ports are directly routed to the PCH and one is angled at 90 degrees, providing great versatility.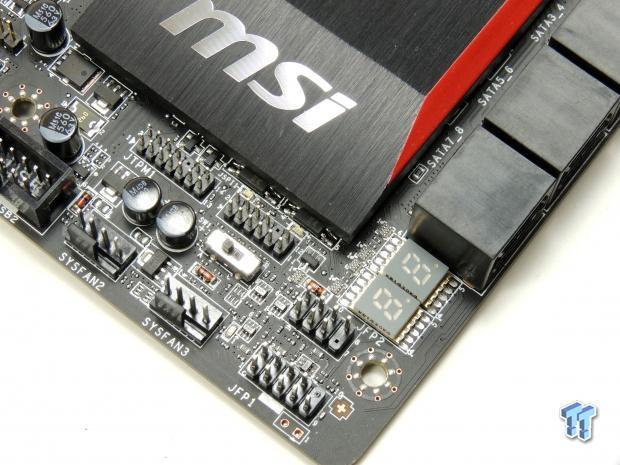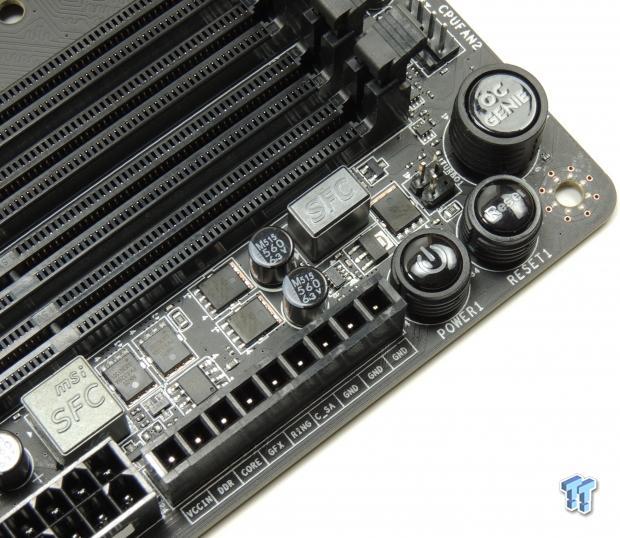 MSI provides a good number of overclocking features. A POST code display which shows the CPU temperature after POST is located in the bottom corner of the board and a BIOS selector switch for the two BIOS ROMs is located nearby. MSI included their OC genie which offers auto overclocking for novice users. Voltage read points are provided for those who want to know their real voltages. Power and reset buttons are located at the top of the board.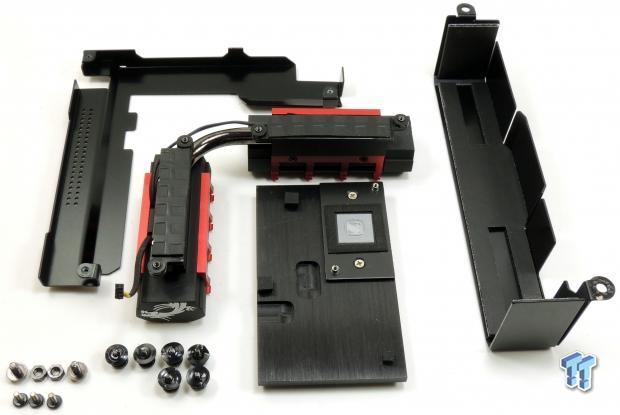 The CPU VRM heat sink lights up and it lights up internally with clear plastic transferring the light. All the heat sinks make excellent contact with what they cool and they are all held down by metal screws.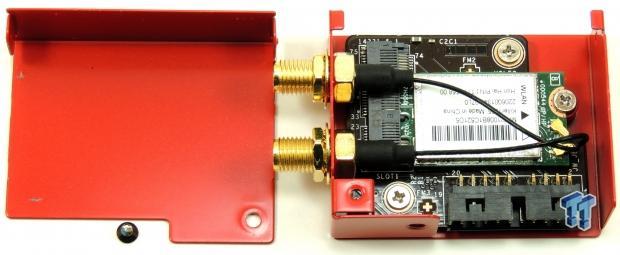 MSI provides an adapter for the Killer Wireless AC 1525 card.
Z97 Gaming 9 ACK Circuit Analysis
Circuit Analysis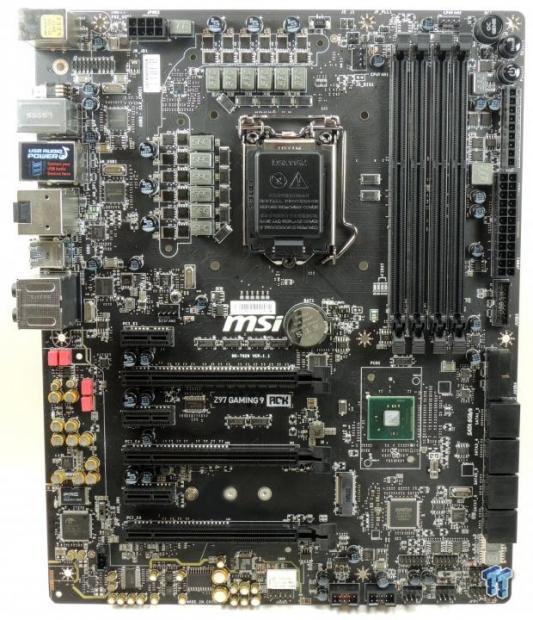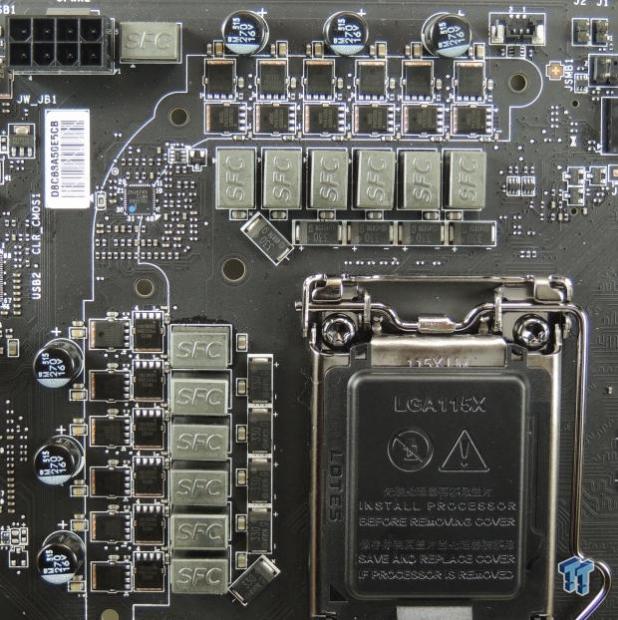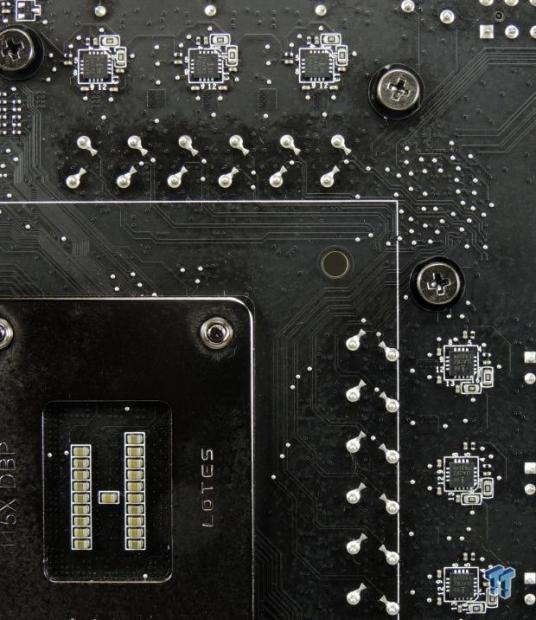 The VRM here is made up of 12 phases. Since the PWM is a 6 phase, each of those phases are doubled through 6x Intersil ISL6611A doublers/dual drivers. Each phase is then made up of one high-side and one low-side MOSFET. There are no backside MOSFETs, but the doublers/dual drivers are located on the back. MSI provides 12 Super Ferrite Chokes and 10x 330uF tantalum capacitors for a total of 3300uF output capacitance.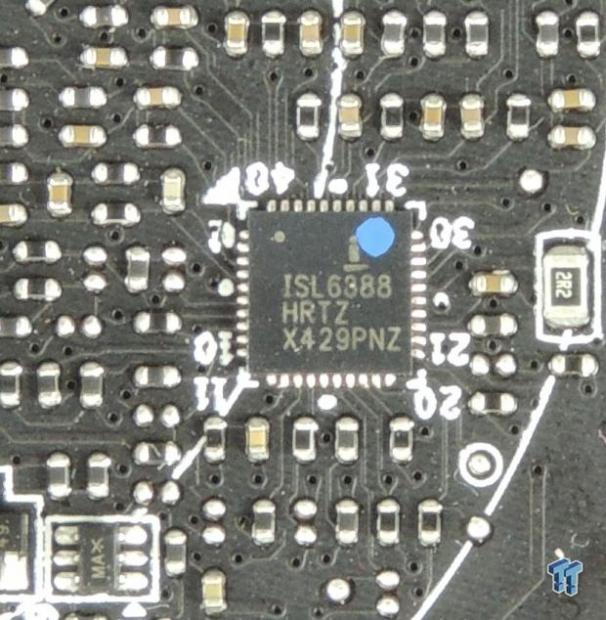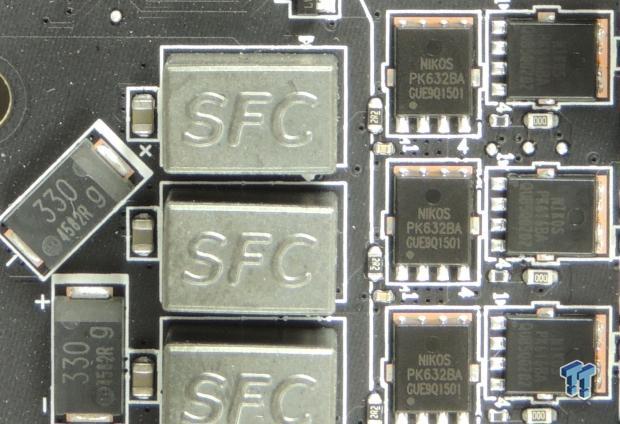 The PWM is an Intersil ISL6388, and I haven't seen any other brand use this PWM yet, but I think it is Intersil's most advanced VRD 12.5 PWM. This is the first time I have seen Intersil call their PWM digital outside of their Ziker Lab's parts, so it is safe to assume it's a fully digital PWM. It's Intersil's most advanced VRD12.5 PWM; featuring up to 1.5MHz switching frequency, onboard NVM, and Advanced Linear EAPP Digital (Intersil's patented PWM scheme technology, but with a digital twist). The MOSFETs are from NIKOS in the PowerPAK packaged. The PK632BA is the low-side MOSFET capable of 20A at 2.6W. The high-side MOSFET is a PK616BA is rated for 13A at 2.2W, which means I should see cool operation and good overclocking performance.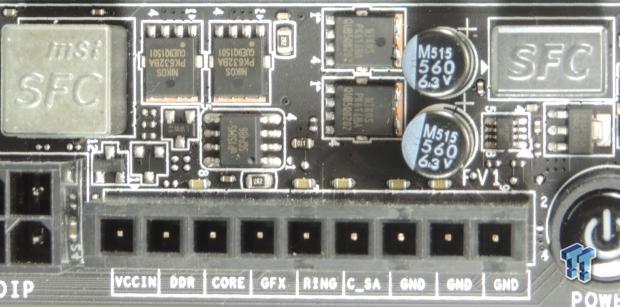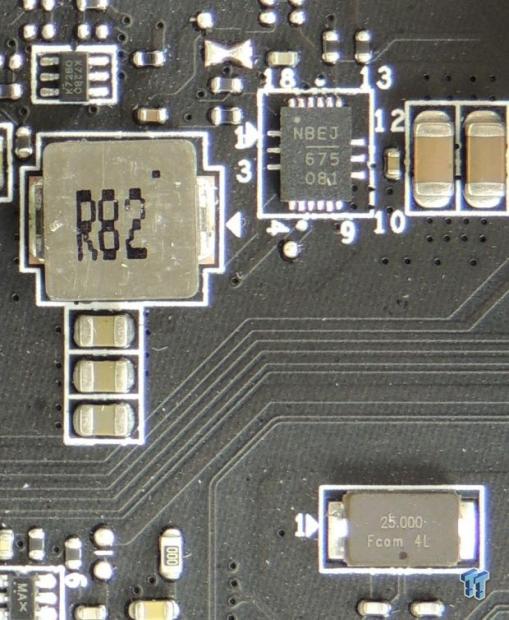 The memory VRM is driven by a single phase UPI Semiconductor UP1504 which probably has integrated drivers. The MOSFETs are the same as the CPU VRM, but double in quantity, which makes for a single powerful phase for better thermals. An MPS MPQ8675 is a point of load converter for the PCH power.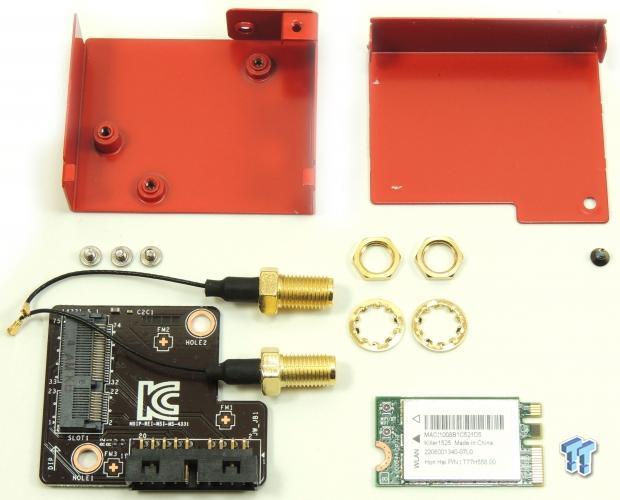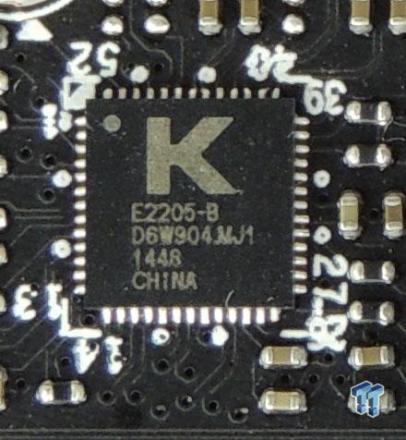 The Z97 Gaming 9 ACK has two main selling points, its audio and networking capabilities. The networking is all powered by Killer products. An e2205 provides Killer Ethernet E2200 and a Killer 1525 provides Killer Wireless AC. Using both Killer networking adapters allows for a technology Killer refers to as Killer DoubleShot Pro. The technology allows for the automatic reallocation of bandwidth to either controller when needed. The software detects which connection is faster at any given moment, and routes more intensive traffic through it and less important traffic through the slower adapter.
This means if you turn on game, all other network traffic is routed through wireless and only gaming traffic through the wired NIC. This is unique and should provide the best networking intelligence leading to great performance, in this case Killer really is king since otherwise Windows would route all traffic through one adapter.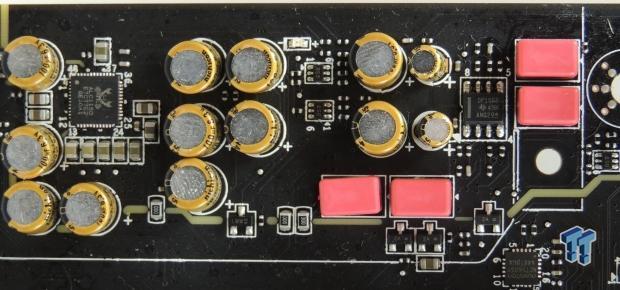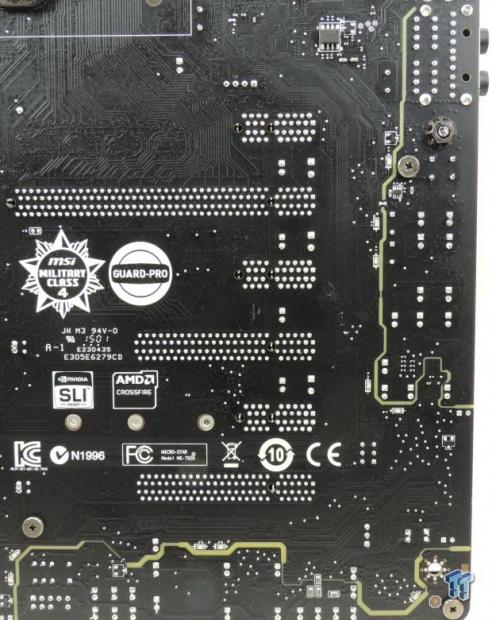 MSI has done something really special with the audio on the Z97 Gaming 9 ACK. Not only do you have the typical Realtek ALC1150 with an amplifier (Texas Instruments OP1652 in this case), but MSI has also provided an entire CMedia powered audio card built onto the PCB for the front panel audio. The Realtek part of the board carries 12x Nichicon Gold series audio capacitors with some red film audio capacitors. MSI also added in separate PCB isolation for each audio circuit and put red LEDs on the underside of the motherboard. The Realtek solution is nothing compared to the CMedia solution.
For this next part to make sense, I should spell out how the Realtek system works. The Realtek system uses the Intel HD Azalia audio processor in the PCH, which sends out its digital signals to the Realtek ALC1150 which is a codec filled with DACs (digital to analog converter) and ADCs (analog to digital converter) which convert digital signals into analog and vice versa, allowing for the input and output of audio signals to and from the Azalia processor in the PCH.
Z97 Gaming 9 ACK Circuit Analysis Continued
Circuit Analysis Continued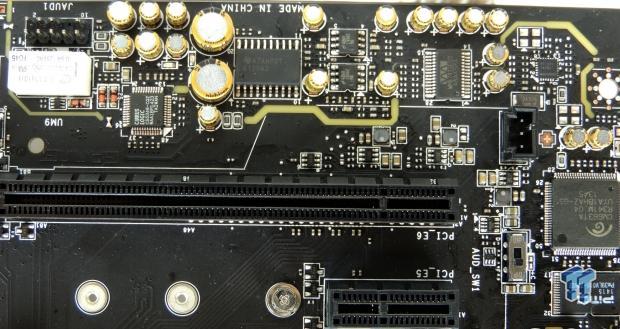 A CMedia CM6631A HD audio processor features 120dB SNR at 192KHz/32-bit. It also provides ASIO capabilities for those who like to record and make music, and features bit-perfect protocols. The CM6631A requires some flash and a PMC 1Mbit chip is provided for this purpose. For extra power, MSI provides a switch so you can chose if the audio gets power from a separate power input or from the motherboard, I believe that a little IC labeled 451331 deals with power management for the amplifiers and other circuitry in the CMedia circuit. The CM6631A is an audio processor and only deals with digital signals; meaning it requires discrete DACs and ADCs. For the digital to analog converter (DAC; headphone port), MSI uses the Wolfson WM8741 which provides 128dB SNR at 192kHz/24-bit. For the analog to digital converter (ADC; mic port), MSI uses the Cirrus Logic CS5346 which provides 103 dB SNR at 192kHz/24-bit.
To amplify all the signals for the CMedia audio, MSI uses three amplifiers. Two smaller LM4562 and a single larger TPA6120 are used; all three are very high quality. Everything in this system maintains the high standards of the CM6631A and its high fidelity properties. Twenty one Nichicon Gold series audio capacitors of different sizes are used for the CMedia audio, and a special anti-popcorn noise relay is used to eliminate the startup pop from the speakers. You will hear this relay switch a lot when powering up the system, it might even frighten those who don't know what a relay sounds like. This is one of the best audio systems I have seen on a motherboard.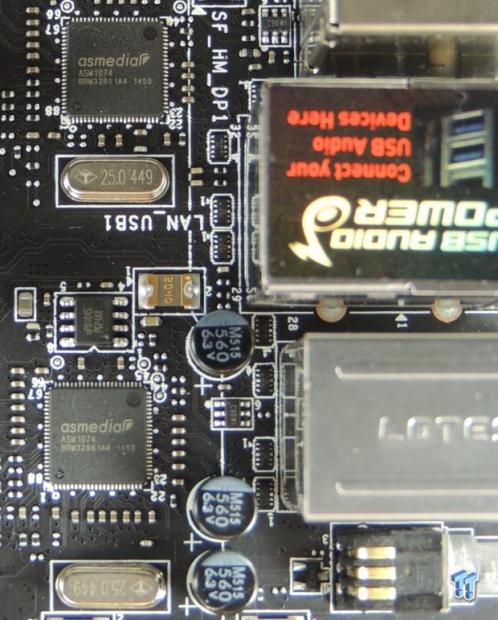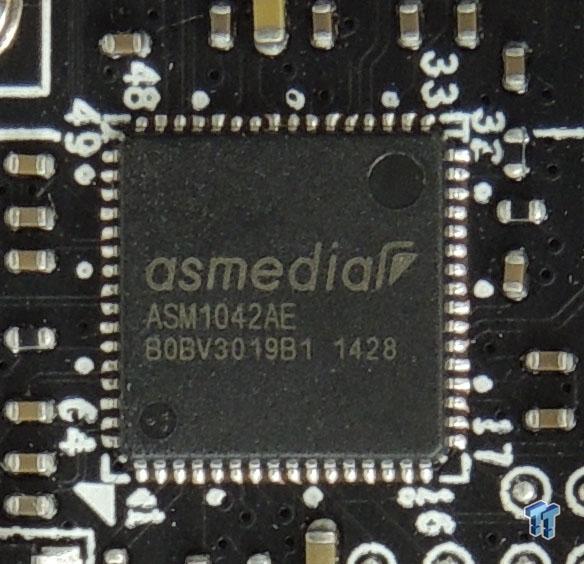 MSI is utilizing 4x USB 3.0 ports from the PCH, four of which are routed to the front panel headers, leaving none for the backpanel IO. The ASMedia 1042AE takes one or two PCI-E lanes and outputs two USB 3.0 ports. Those two are routed to dual ASM1074 USB 3.0 1-to-4 hubs for the 8 USB 3.0 on the backpanel.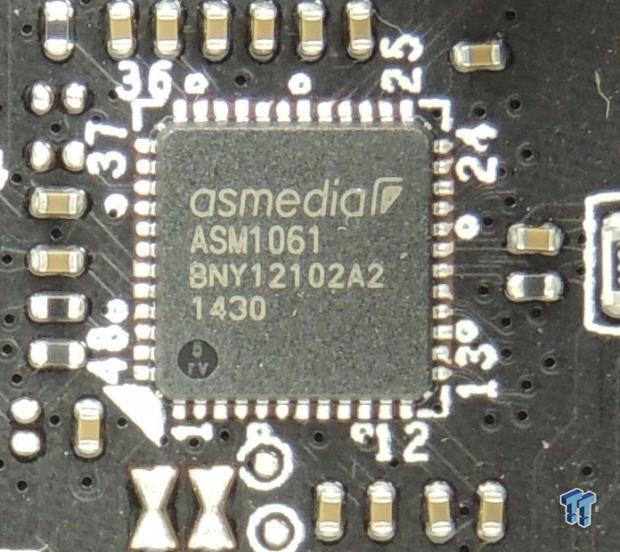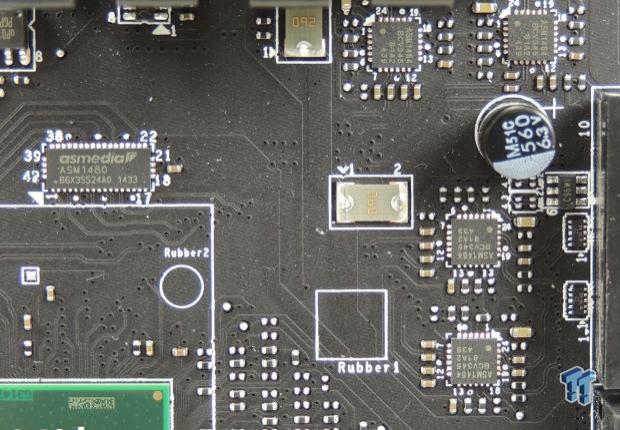 The ASMedia ASM1061 is used for the bottom two SATA6G ports for extra SATA. Since the M.2 port shares bandwidth with two Intel SATA ports, an ASM1480 is required to switch the bandwidth. MSI includes four ASM1464 which are USB 3.0 re-drivers meant to increase signal strength for the front panel USB 3.0 headers.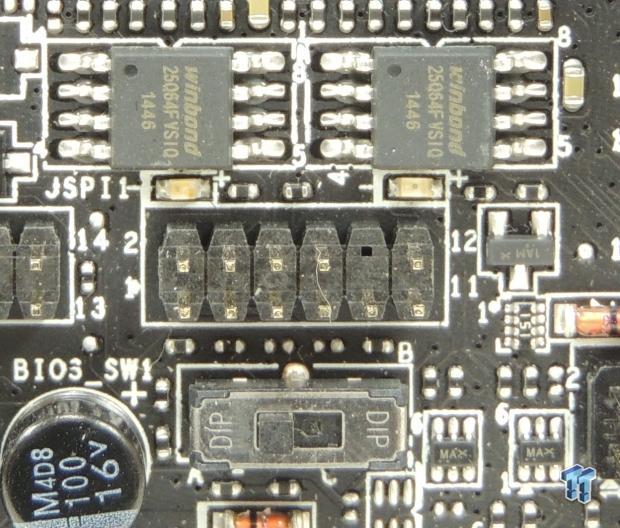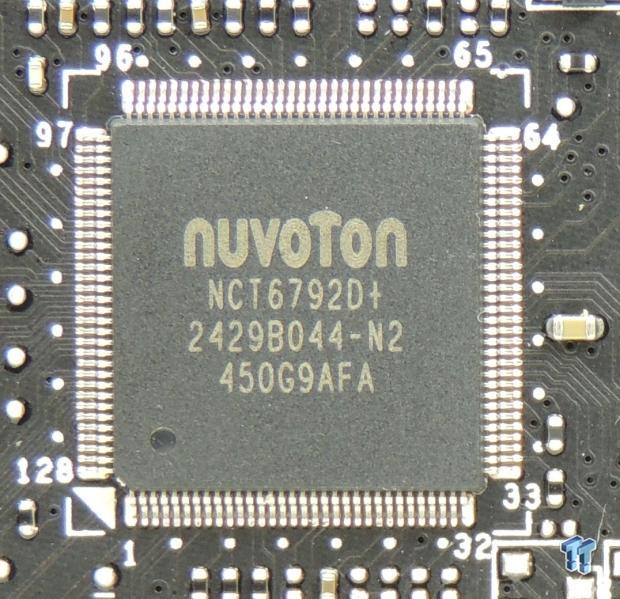 Two Winbond 64Mbit (8MB) BIOS ROMs are used and a switch is provided to switch to either BIOS. The nuvoTon NCT6792D is the SuperIO which does all the voltage, temperature, and fan control and monitoring. It also provides the PS/2 port on the backpanel.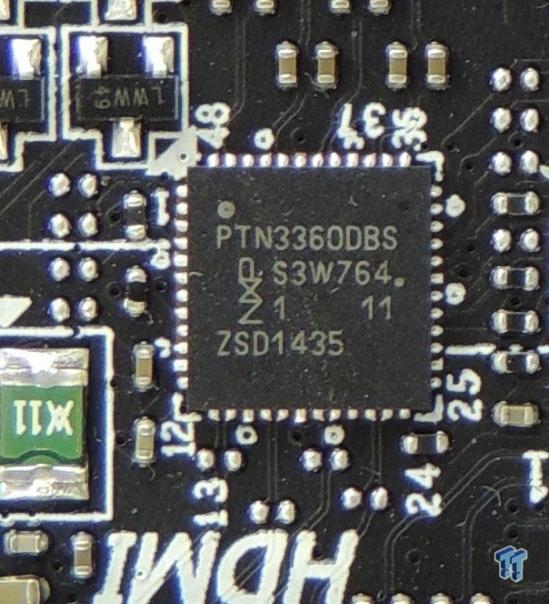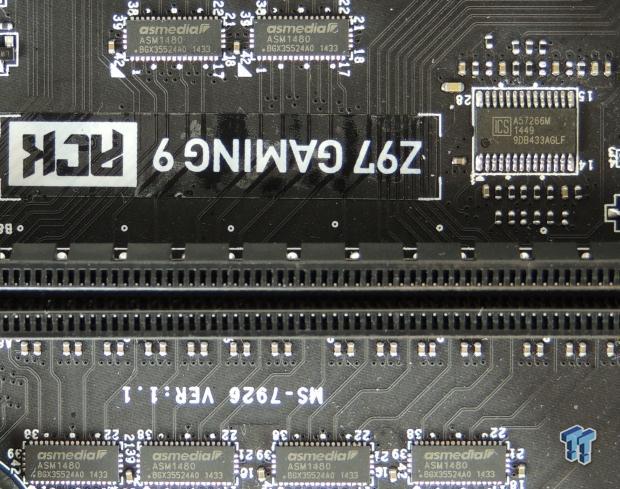 A NXP PTN3360 level shifter provides the HDMI output. Six ASM1480 are used to distribute the PCI-E lanes for 2-way SLI or 3-way CrossFireX.
BIOS and Software
BIOS
MSI has one of the most unique UEFIs, and one of the best UEFIs. While the tiles might throw some people off, all the settings one might need are there, and the tiles are just an easier way of accessing them. Overclocking settings were abundant, especially for DRAM overclocking. One part of MSI's UEFI I find to be superlative is the fan control, simply put; it's excellent. An easy to understand and very customizable GUI with a graph and different sensor options are provided.
MSI also has an option I feel is very beneficial to novice overclockers; the CPU Ratio Mode. The setting has two options, fixed and dynamic, which will automatically configure power saving options such as EIST to allow for full speed operation or variable frequency turbo. On many boards there is a right combination of EIST, Turbo, and C-states which gives you variable or fixed frequency operation, and MSI takes the guess work out of it.
The UEFI doesn't have many downsides, but there are a few. I would like more descriptions for the PWM settings and some settings like PCI-E link speed are buried a little too deep. Overall, MSI's Z97 Gaming 9 ACK has one of the best Z97 UEFIs.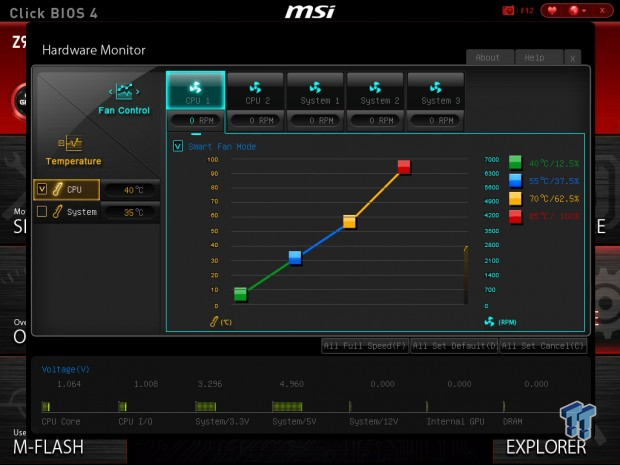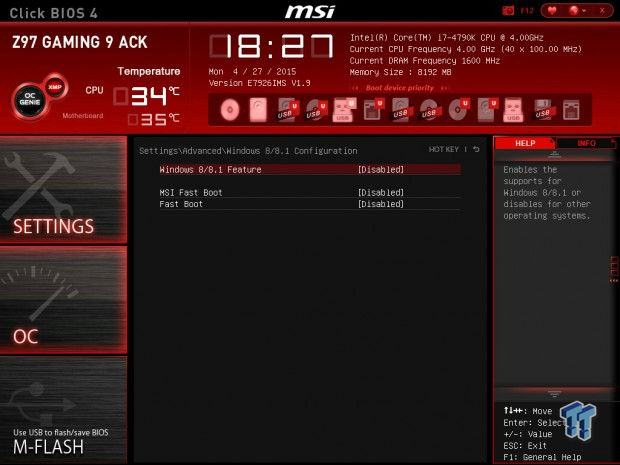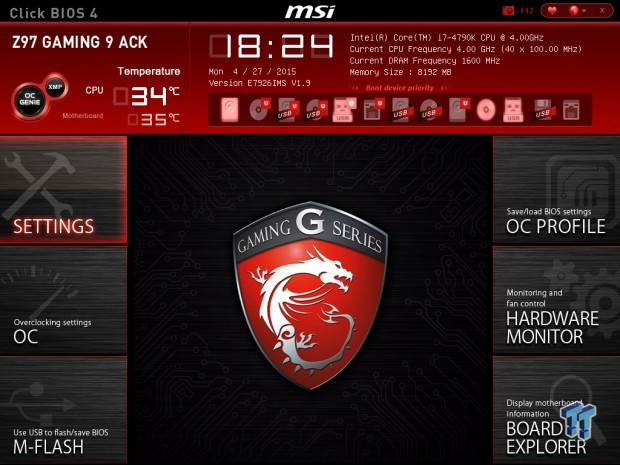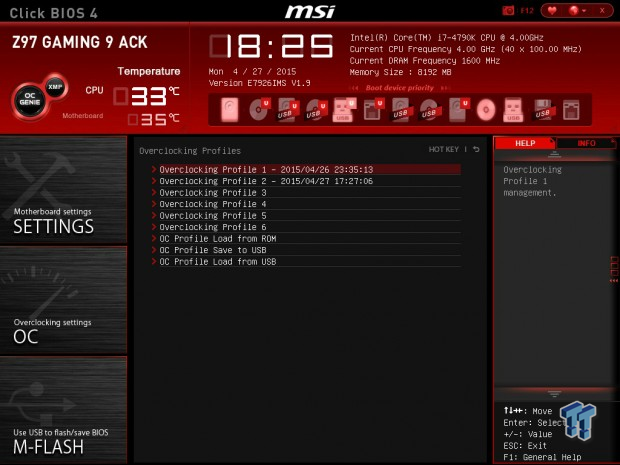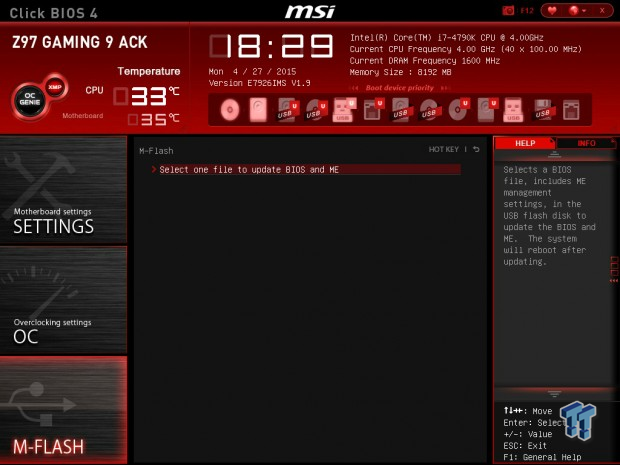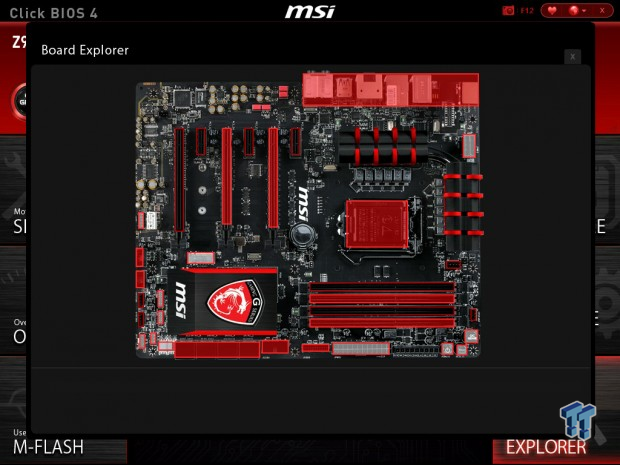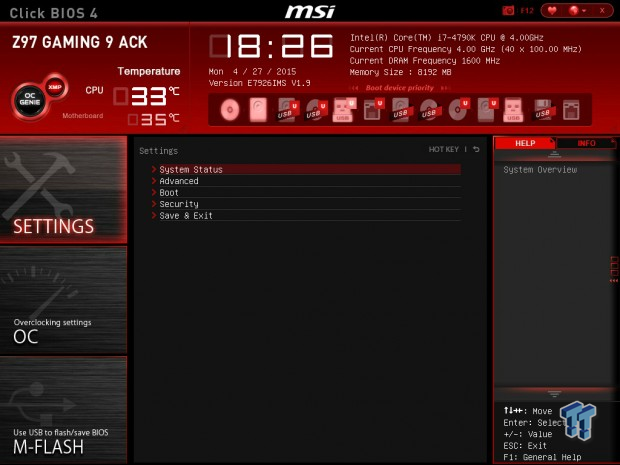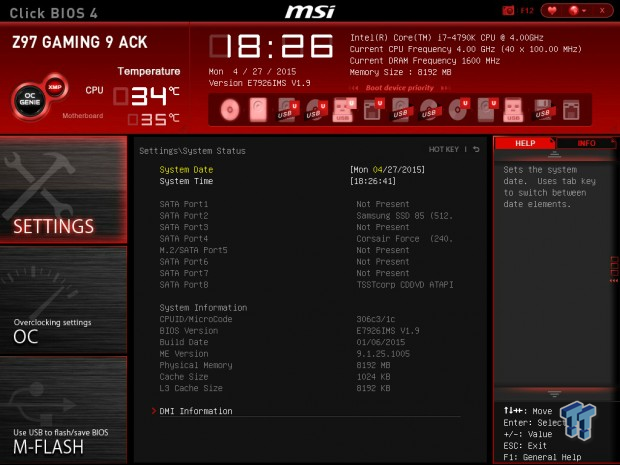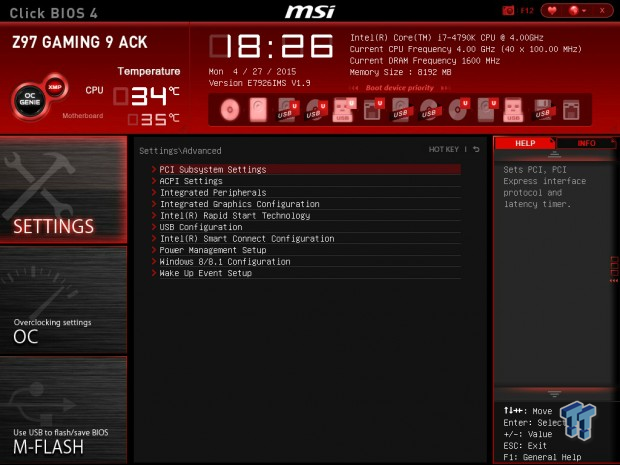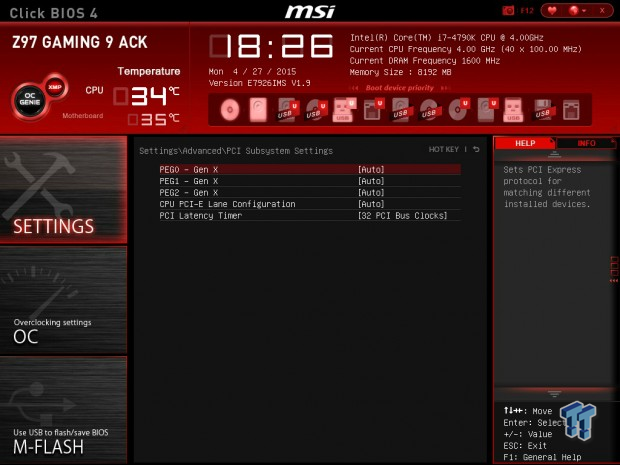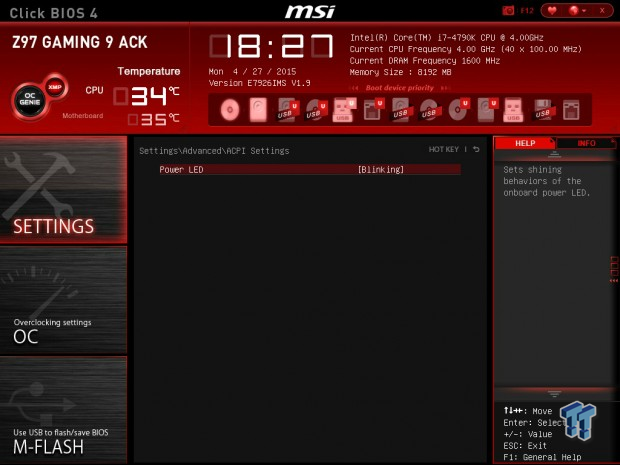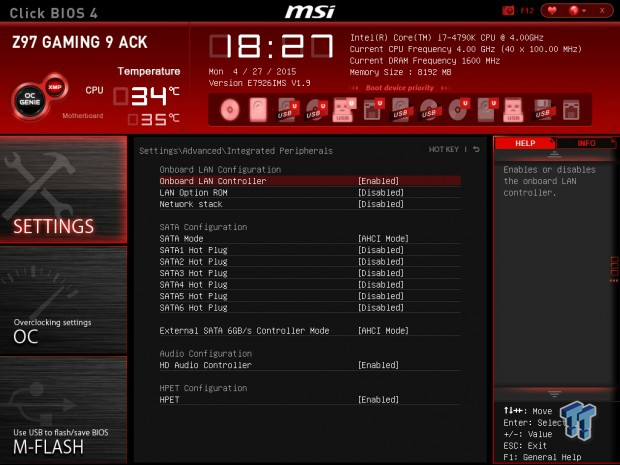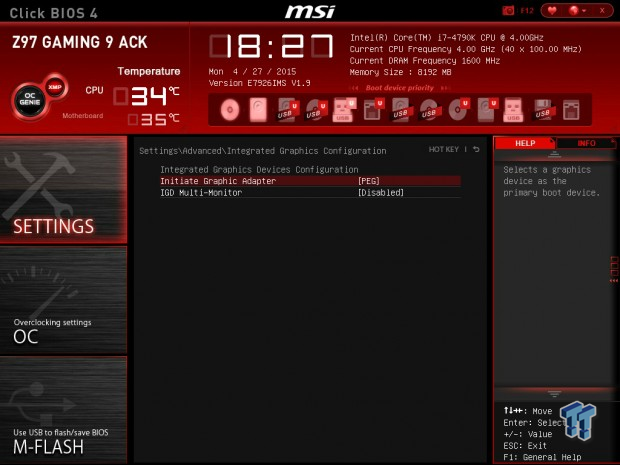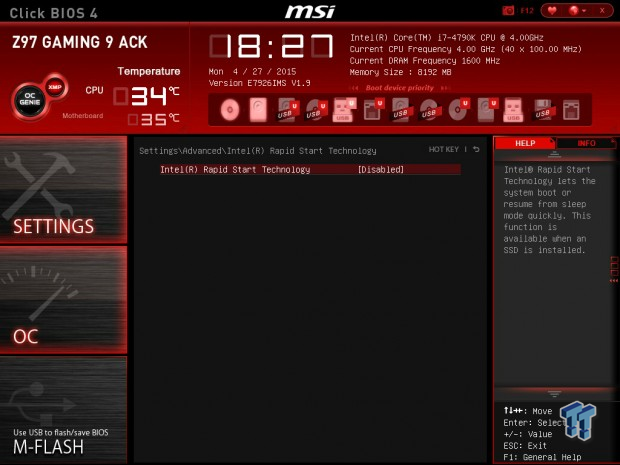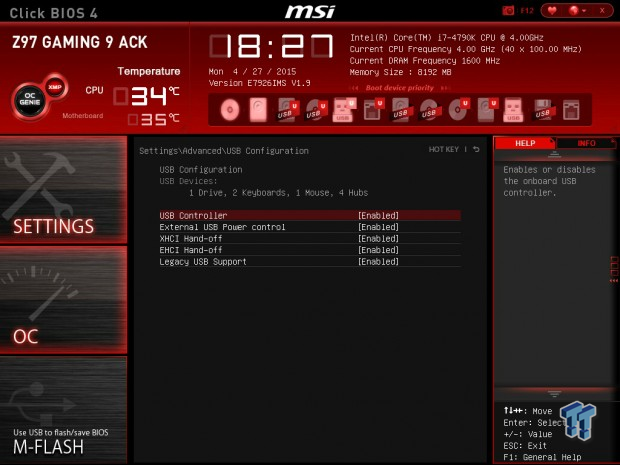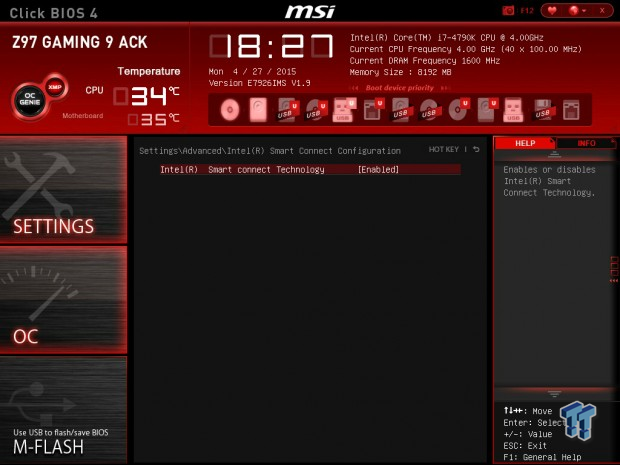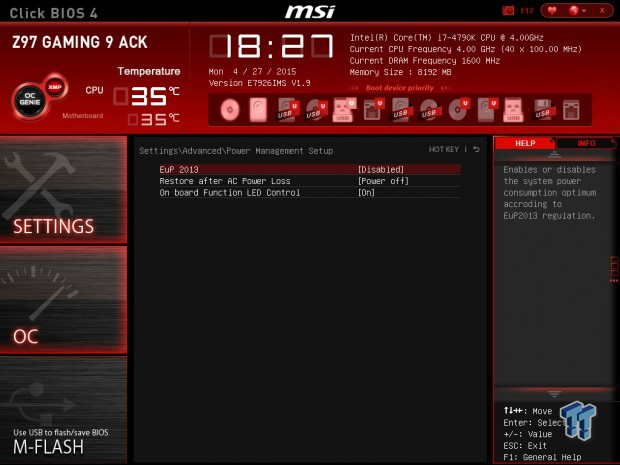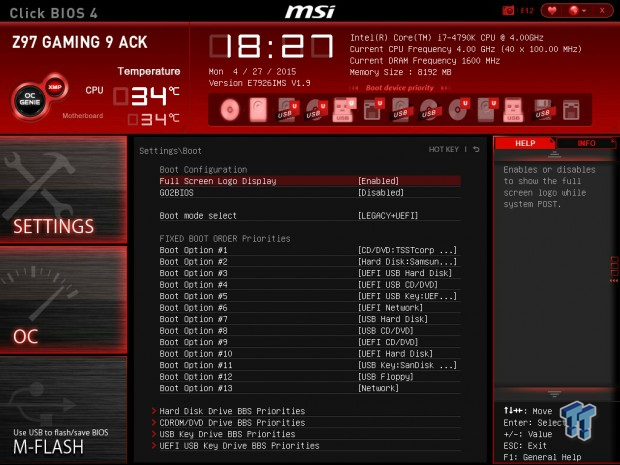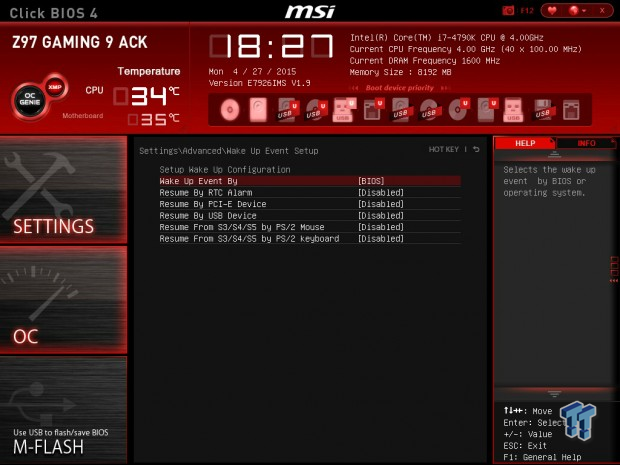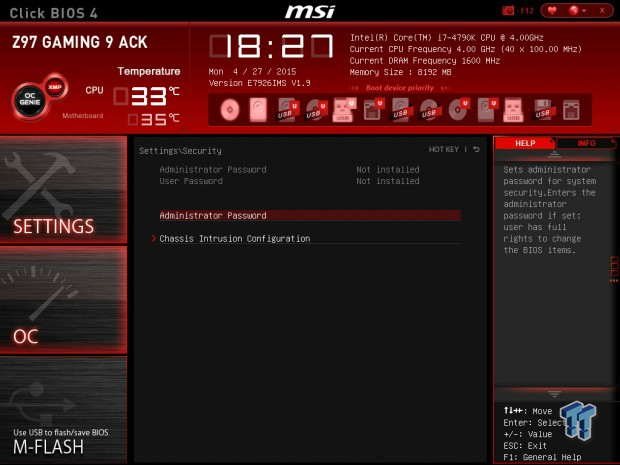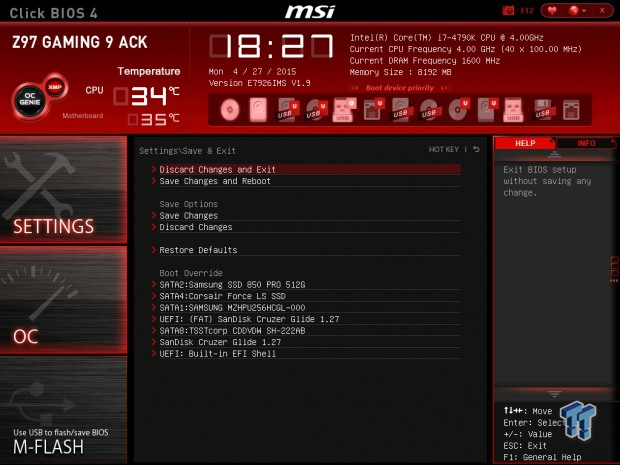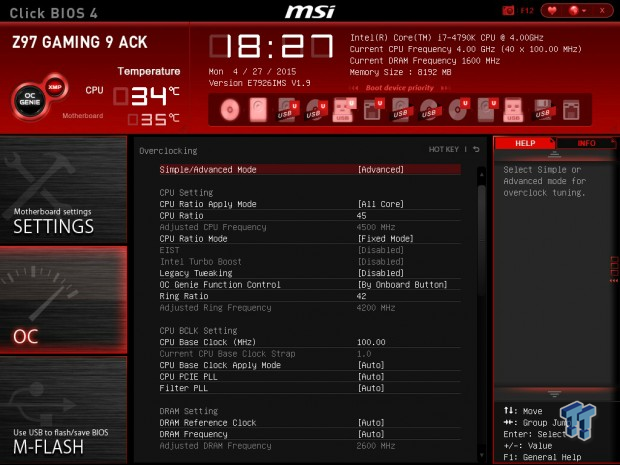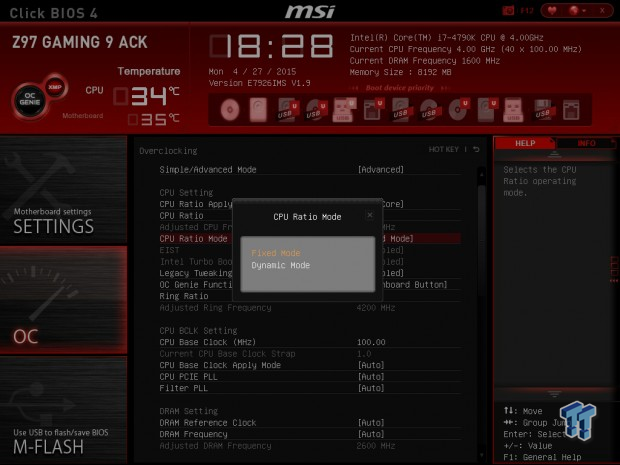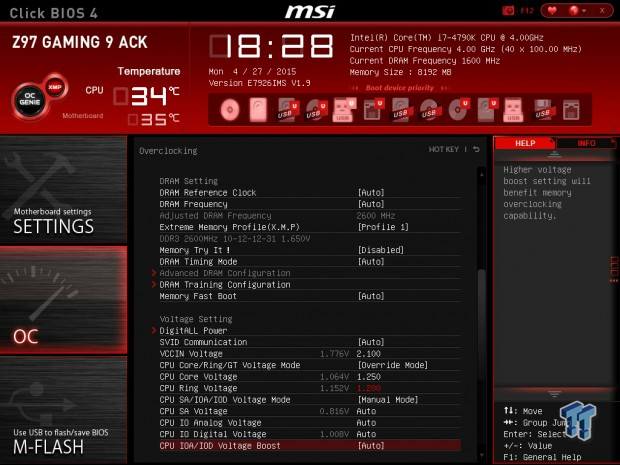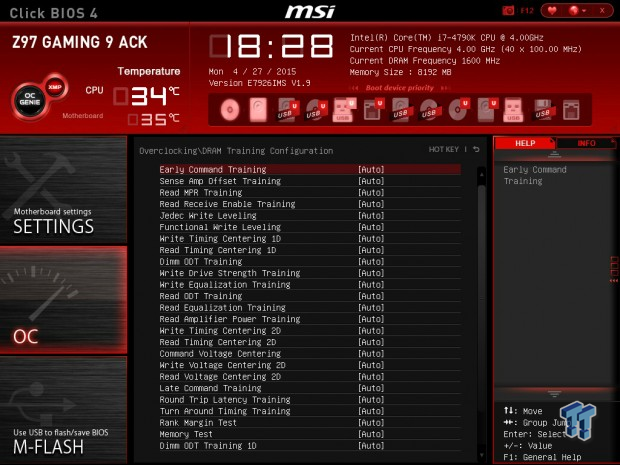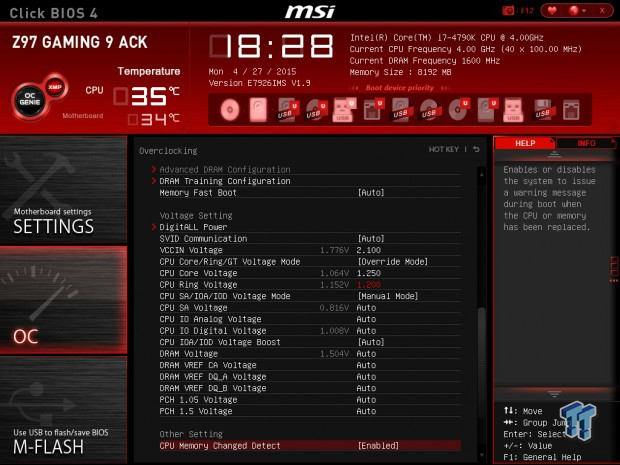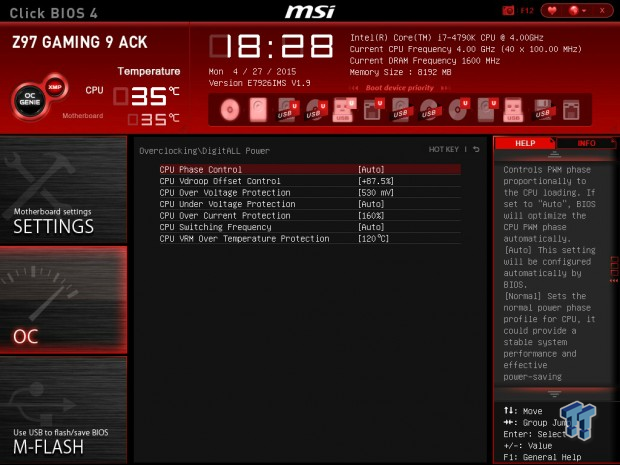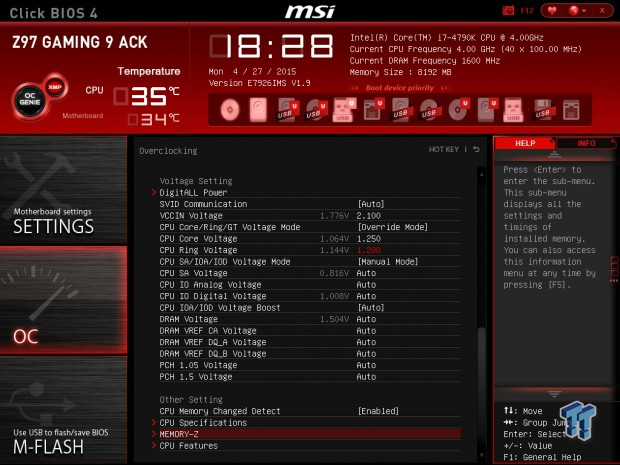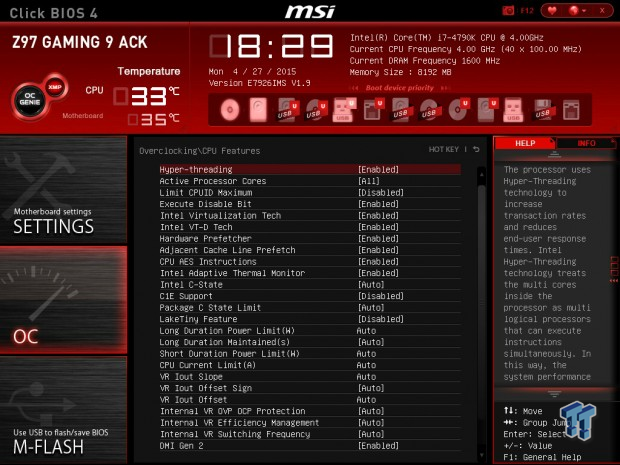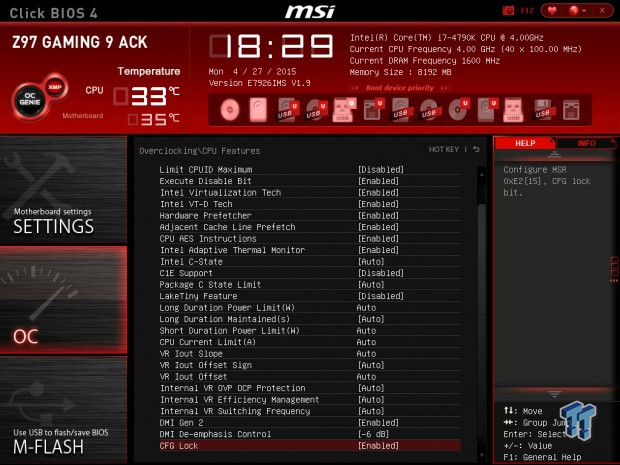 Software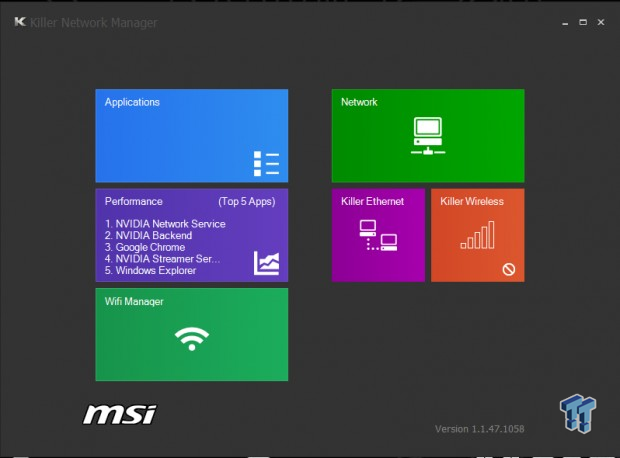 This is the Killer application and where you prioritize things for Killer DoubleShot Pro which allows the use of Wi-Fi and Wired LAN simultaneously.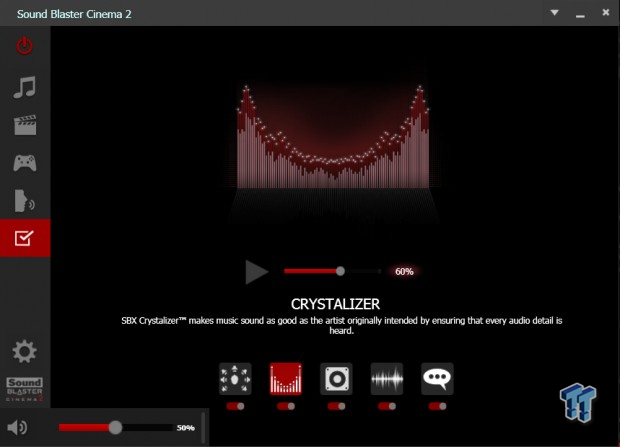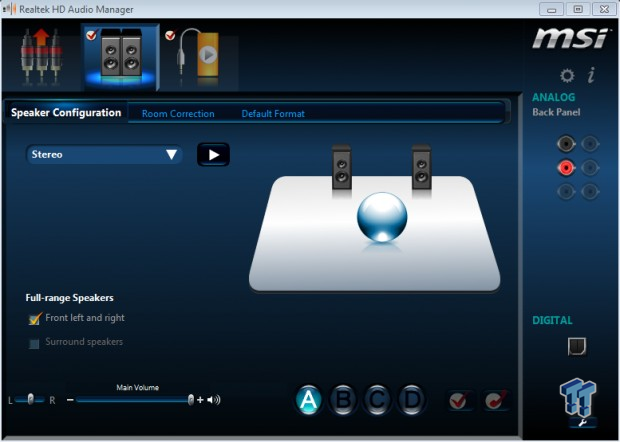 Two audio software suites are provided, Sound Blaster Cinema 2 for the CMedia audio and the Realtek Audio Manager for the Realtek audio.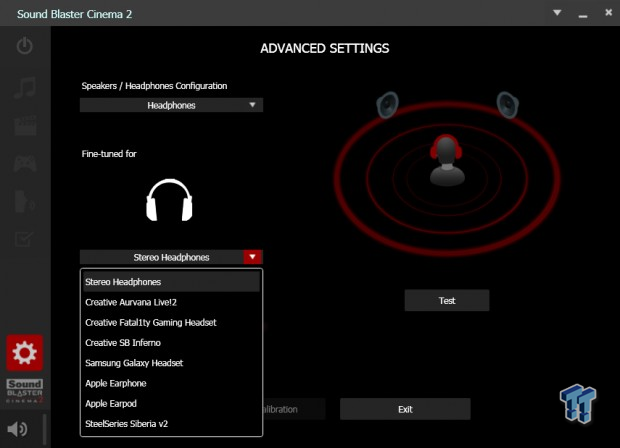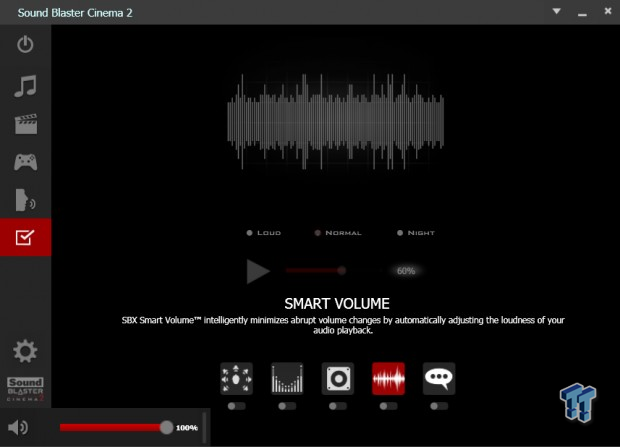 Here are more settings in the Sound Blaster Cinema 2.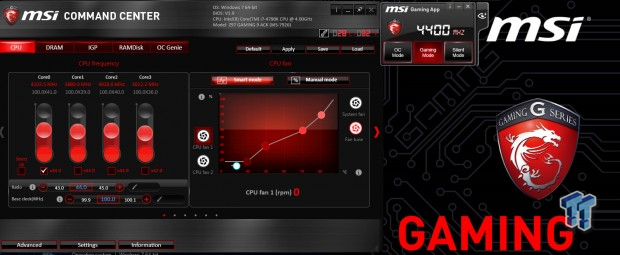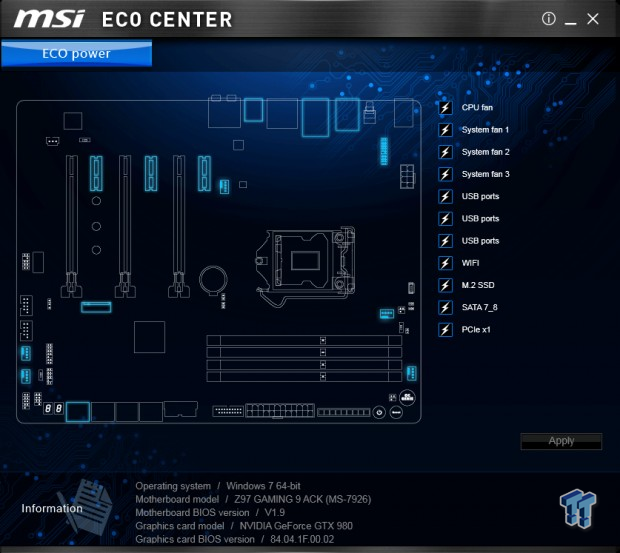 MSI has their Commander Center 2 for in-Windows overclocking and a quick mode selection for system overclocks. MSI's ECO Center is also present for monitoring.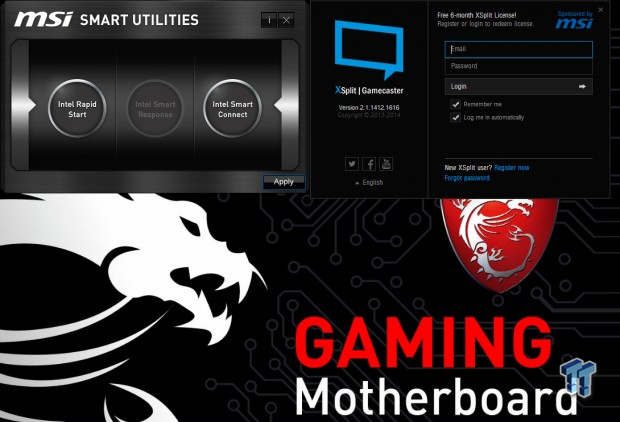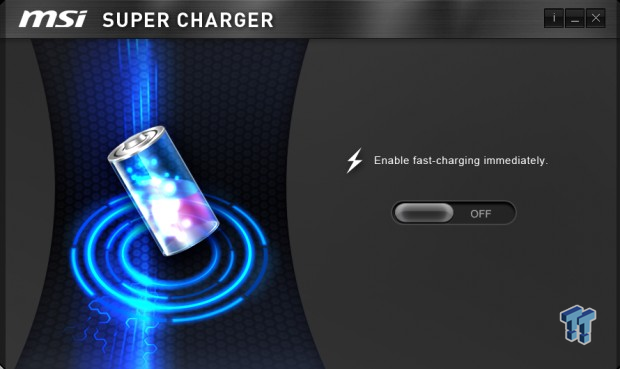 MSI's Smart Utilities which can enable or disable Intel technologies is also present as is the free trial of XSplit. Super Charger is also provided.
Test System Setup
Test Setup
A big thanks to Corsair for sponsoring the case, fans, SSD, USB drive, and PSU! A big thanks to Seek for sponsoring the Thermal Camera. You can find my review of the camera here.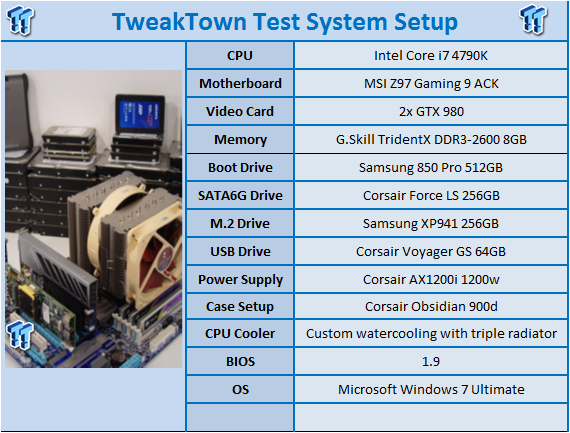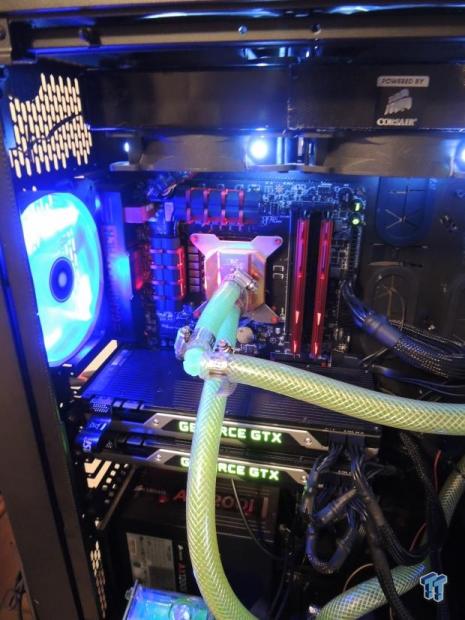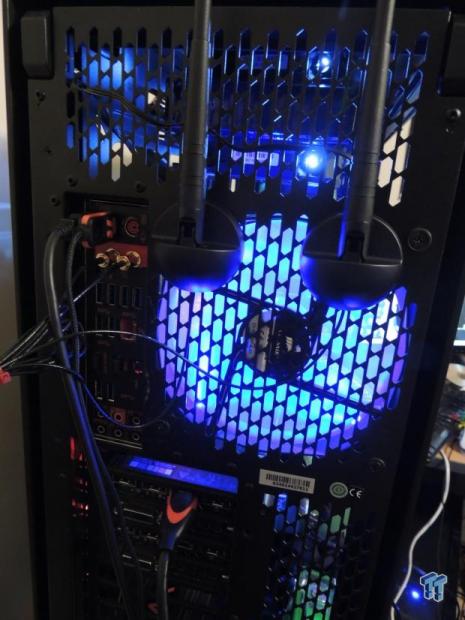 This is the new test bench, and it is designed to test every aspect of the motherboard and its IO. I have designed it so that the motherboard sits in a case and is cooled by fans always on at a constant rate to keep the conditions similar for all tests. I have cut out part of the case behind the motherboard so I can get thermal images of the back of the PCB where the VRM heat spreads.
System and CPU power measurements are now digitally logged. We are also using a Netgear Nighthawk X4 AC2350 for our Wireless AC tests. The latest M.2, SSD, and USB technologies are also being utilized to test the maximum potential of the motherboards that are being tested.
Overclocking
Overclocking Results
In this section I will go through overclocking this board.
CPU Overclocking
Max CPU Overclock is found by setting the VCore to 1.4v, Input voltage to 2.0v, cache voltage to 1.2v, CPU multiplier to 45x, memory and cache multipliers to 8x, and disable any features that would result in CPU frequency fluctuation. I then proceed into Windows and use software to increase the multiplier; in this case I opted to use MSI's Command Center program.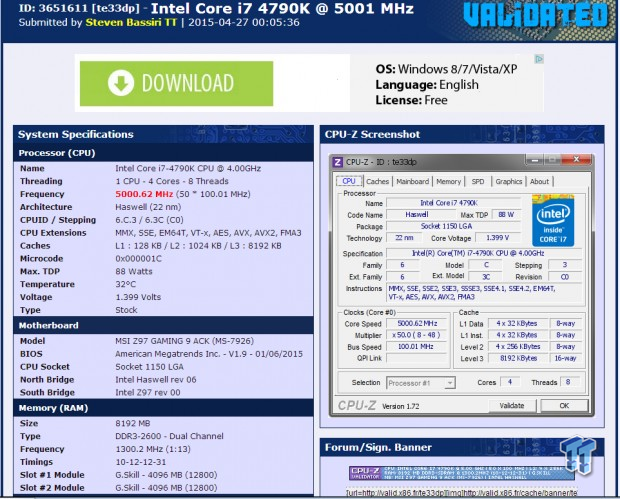 5.0 GHz is the maximum of our CPU on this board and on others. Maximum AIDA64 Stable Overclock (BIOS settings below for this):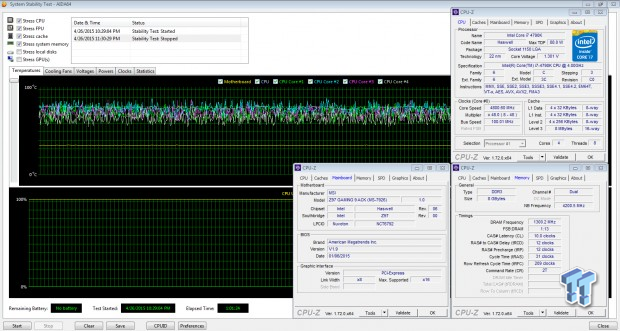 I was easily able to pull off 4.8GHz on the CPU with 4.2GHz cache and a 2600MHz overclock on my memory manually tuning the UEFI.
CPU, Memory, and System Benchmarks
CINEBENCH 11.5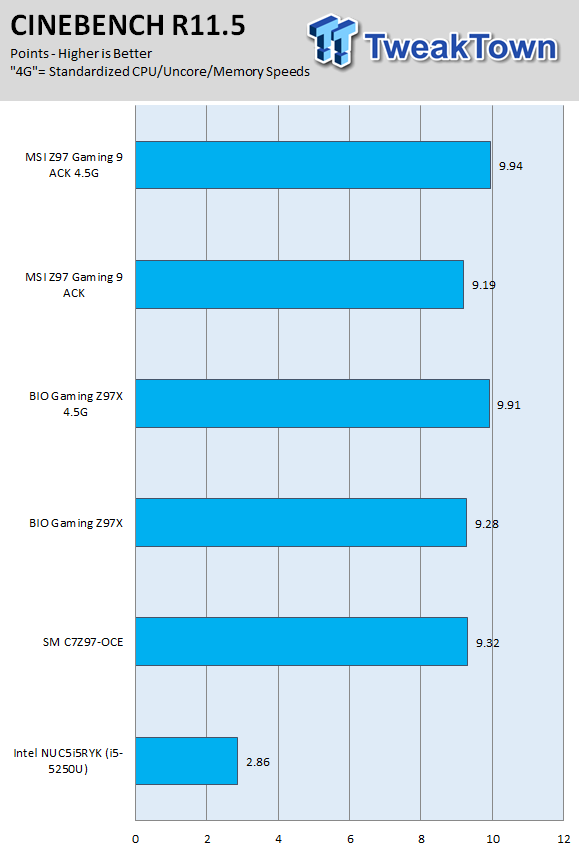 wPrime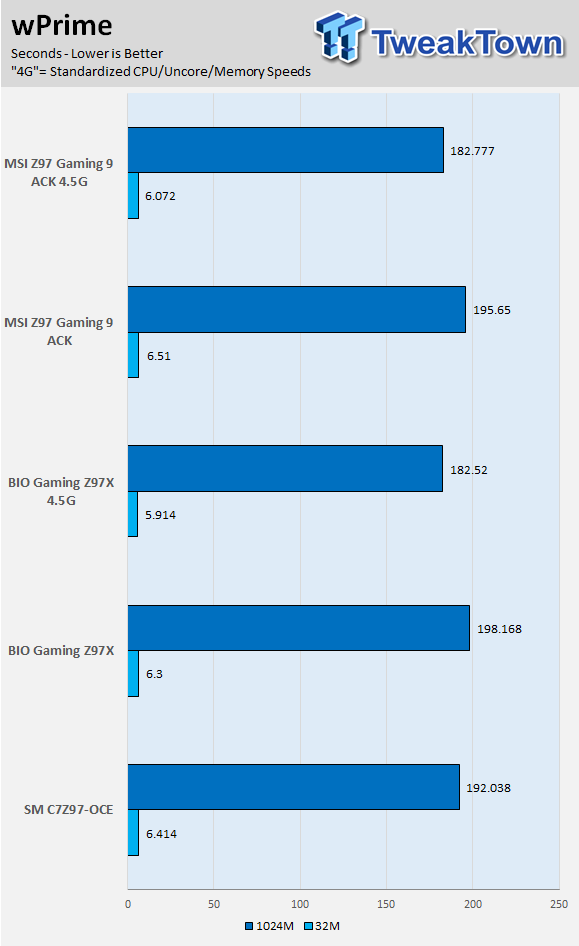 AIDA64 AES and HASH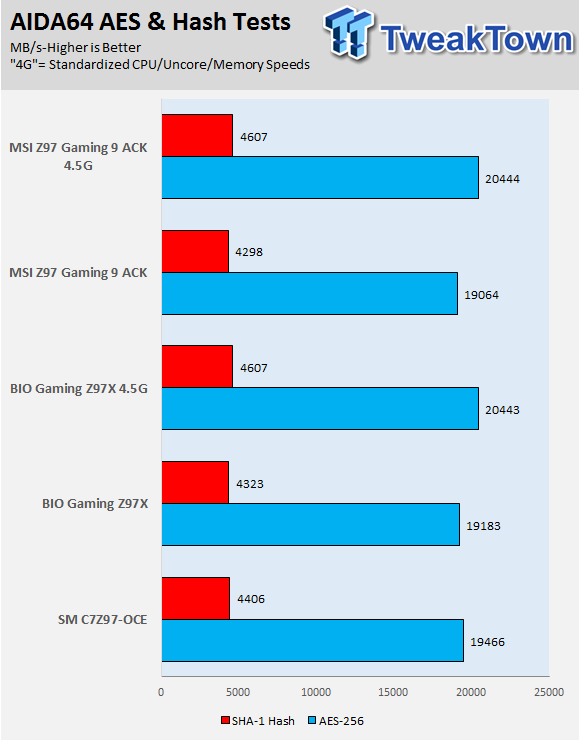 AIDA64 FPU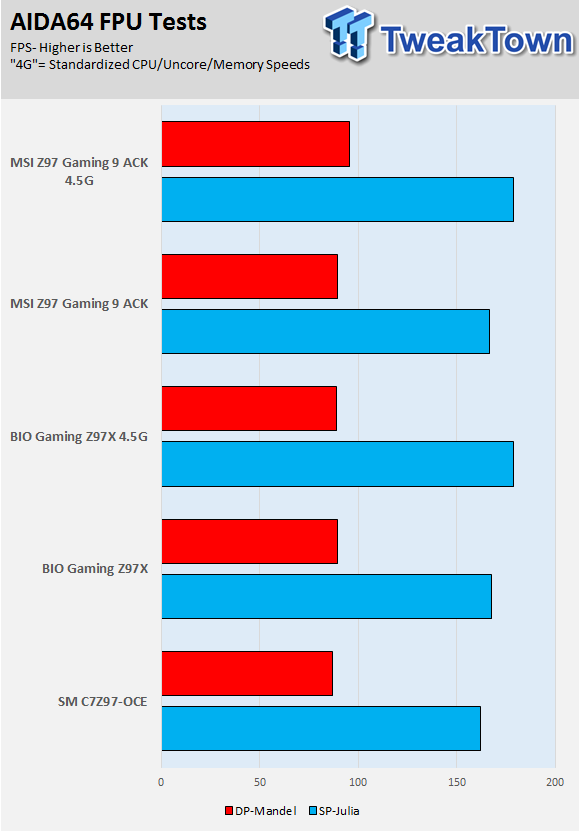 AIDA64 Memory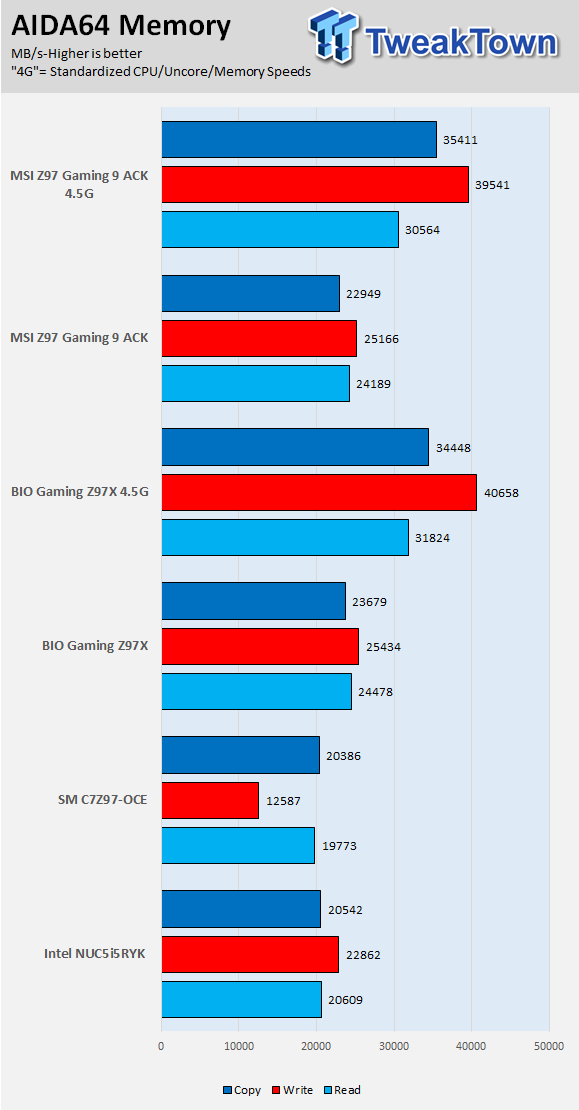 PCMark8 Home Test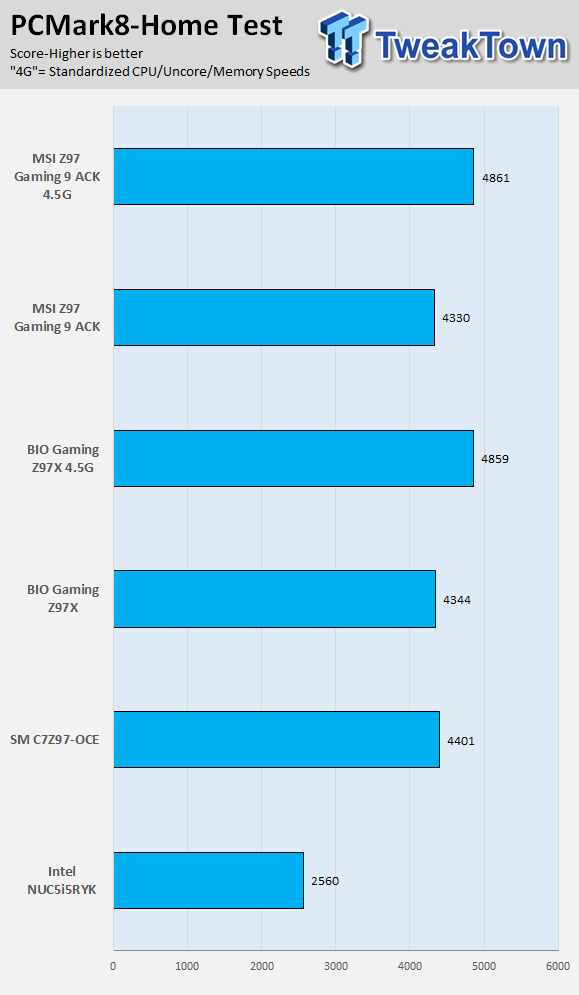 3DMark: Cloud Gate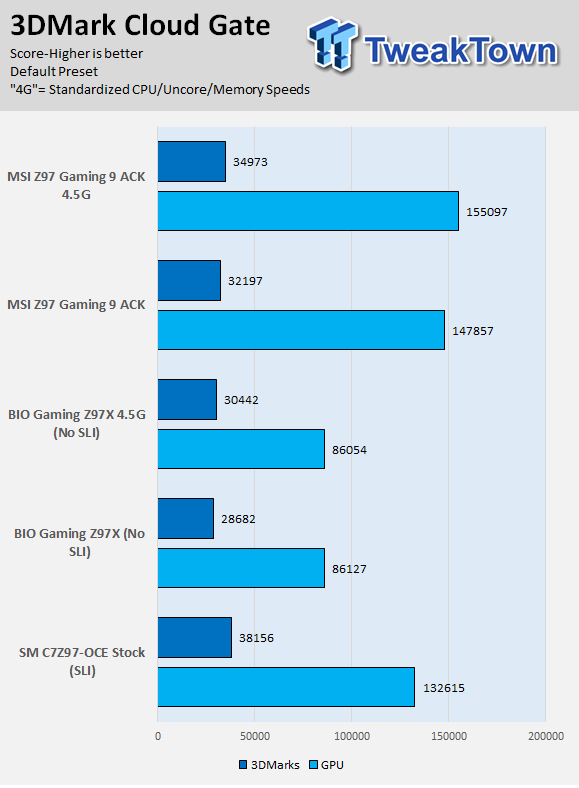 3DMark: Fire Strike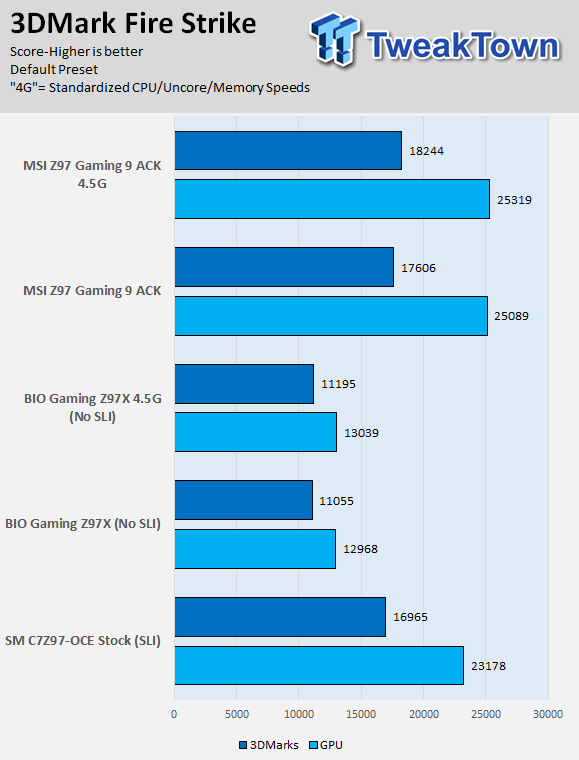 Resident Evil 6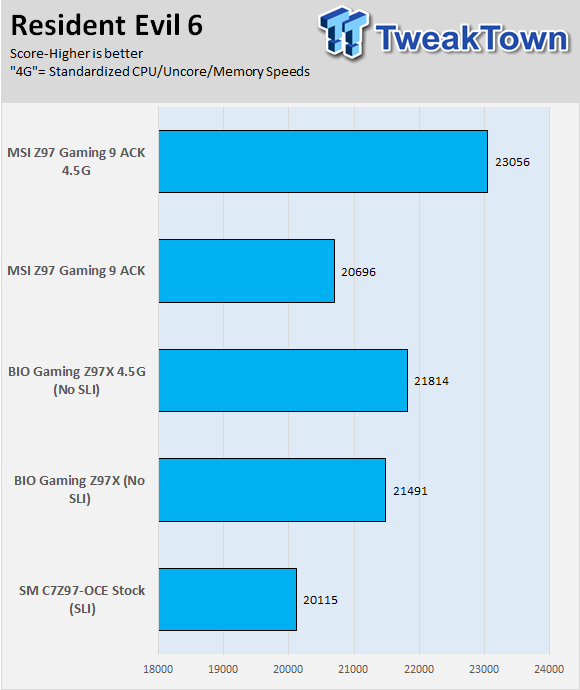 Overall the Z97 Gaming 9 ACK performed excellent in all benchmarks.
CPU, DDR, system, and 3D performance are all up to par and there are no issues with performance. While MSI's scores aren't the best at stock, that is because other board makers often OC the system a bit above Intel specifications to gain points in stock tests in reviews. Here at TweakTown I test at stock and at a standardized overclock, that way I can even the playing field.
System IO Benchmarks
Anvil SATA6G: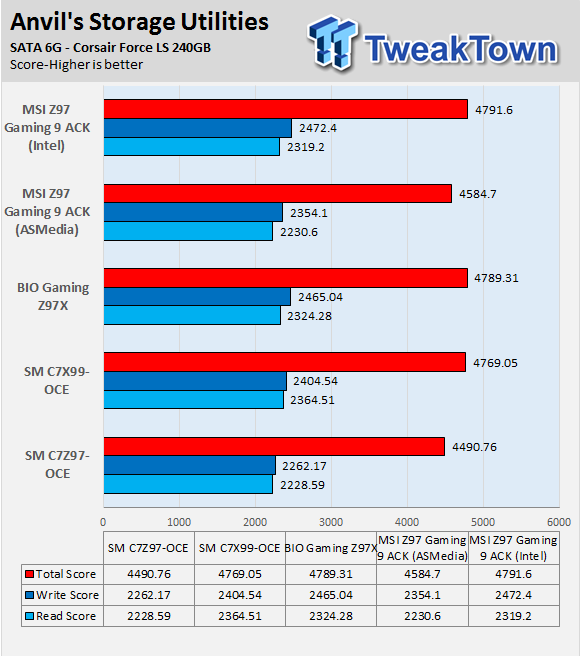 Anvil M.2: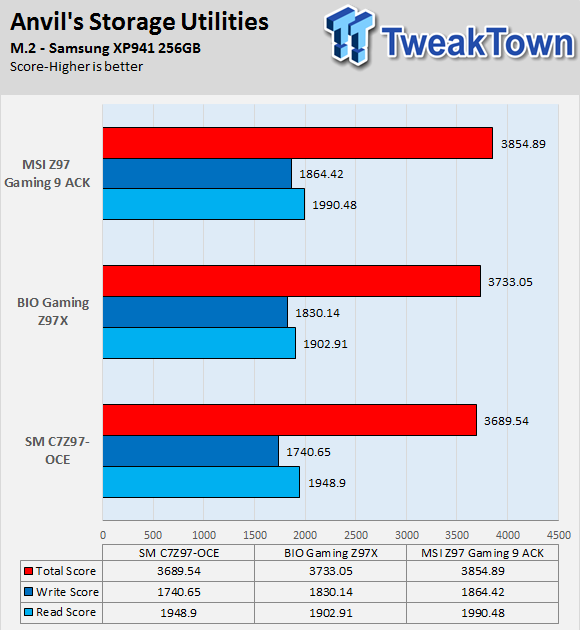 DiskBench USB 3.0: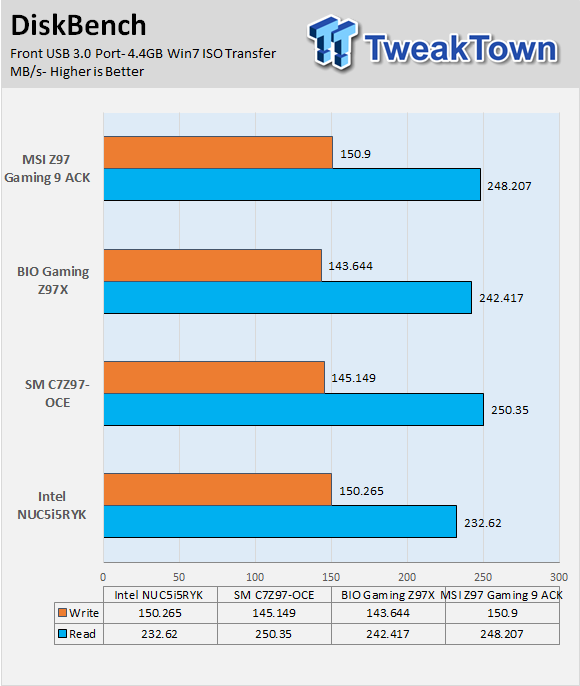 The Z97 Gaming 9 ACK has really great IO performance, especially with M.2. I tested both the ASMedia and Intel controller for SATA as well. It's no surprise that Intel is faster.
ixChariot Network Throughput: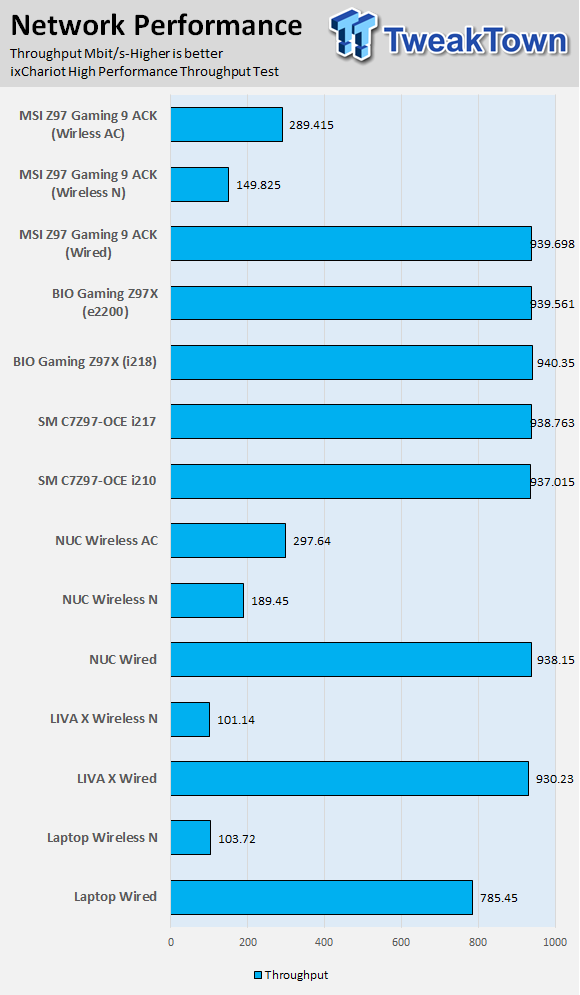 These tests only show the speed of individual controllers, so Killer Double Shot PRO isn't reflected in this test.
Audio RMAA 5.5:
I disable all audio features set the correct bitrates and then test the audio with a loopback test.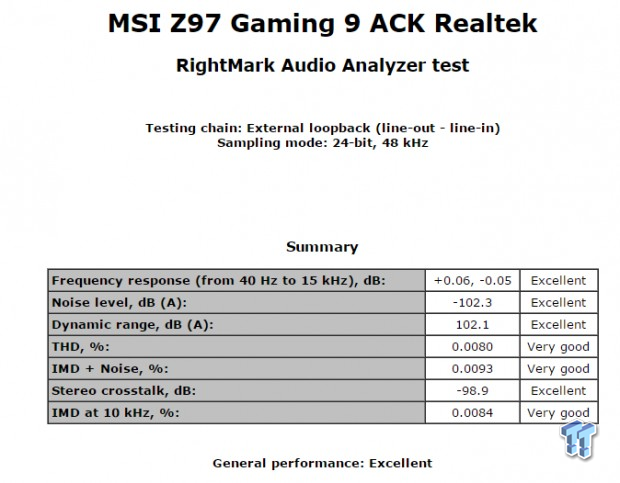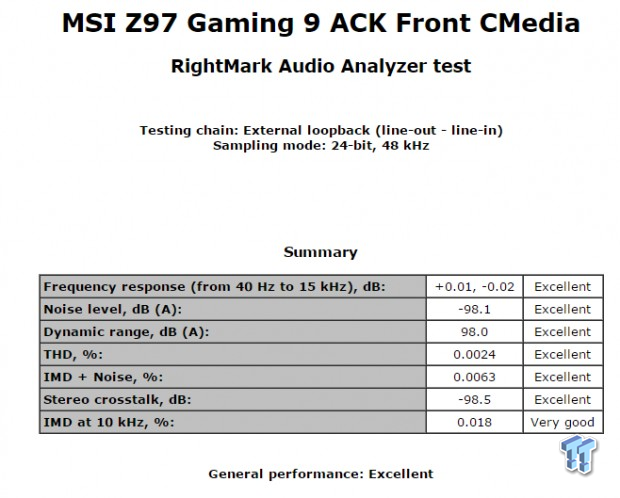 I decided to test both audio outputs, the back panel (Realtek) and front panel (CMedia). Sound Judgment by Ear: Realtek = Very Good. CMedia = Excellent. There are 5 ratings for audio: 1. Problems, 2. Okay, 3. Acceptable, 4. Very good, 5. Excellent
The CMedia chipset really delivers, if you want great audio but have to forgo a discrete sound card, then the CMedia system should definitely fill that need.
Temperature and Power Consumption
System power usage is measured at the AC/DC PSU (the AX1200i) which I have connected to another system to measure the test system and as a backup I have a wall meter to verify. The CPU power is measured through the 8-pin connector which is hooked up to a hall effect IC which measures current and puts out a voltage in proportion to the current. That voltage is logged by a National Instruments ADC which logs the DC voltage level, which I then convert into current.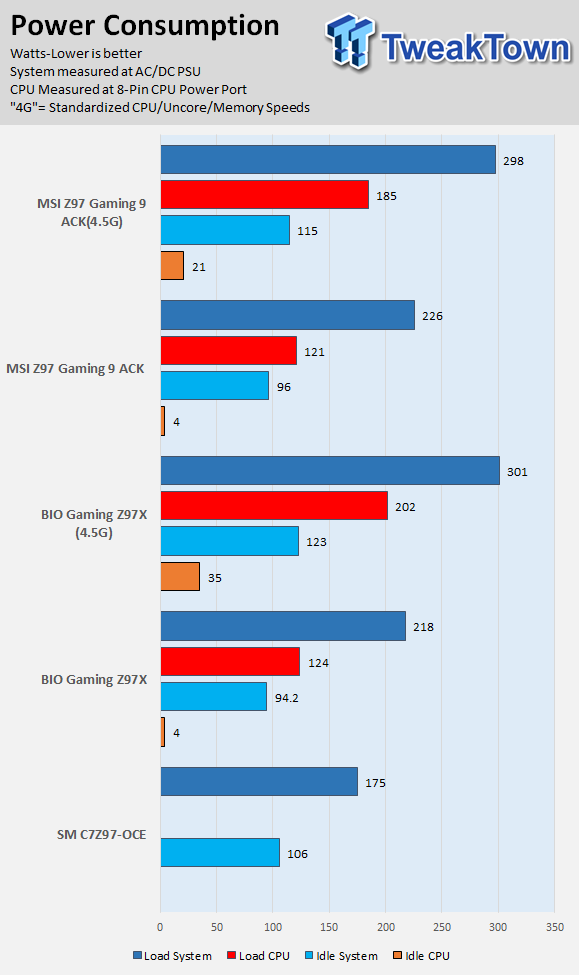 Note on Thermal Images: In the temperature section we use our Seek thermal imaging camera to capture the surface temperatures of major components on the board; I look at the VRM and then all other things that light up the screen. If there is something to worry about then I will state it, otherwise I will just show the hotter running parts of the board for fun. Unless some component is over 80-90C then there really isn't anything to worry about.
All systems will act differently, so I will look for commonalities, such as how far from the VRM the heat spreads through the PCB and the difference in temperature between the PCB and the chokes. Keep in mind that the majority of the heat from the VRM goes into the PCB as it is a giant soldered on copper heat sink.
Stock Tests: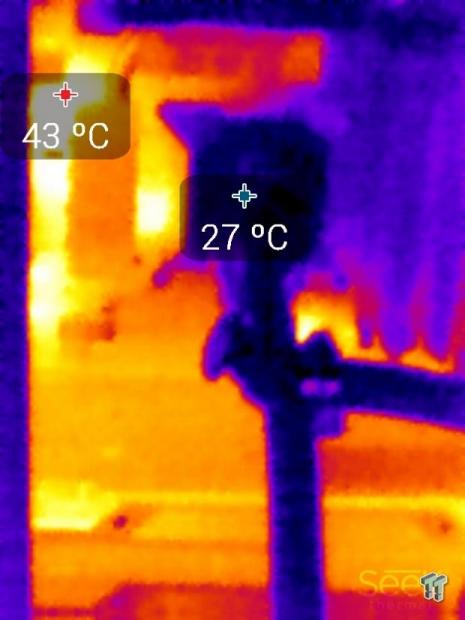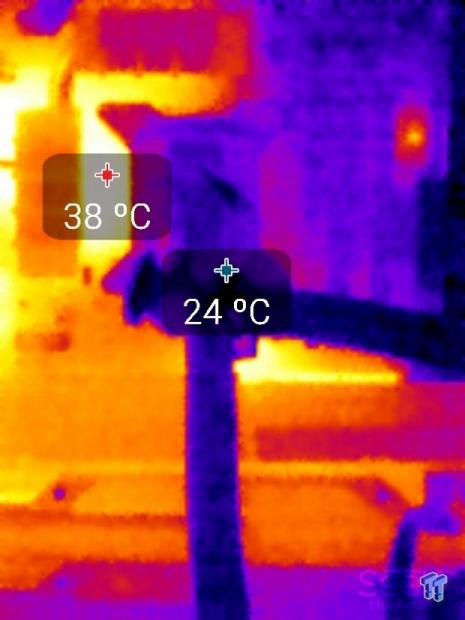 Here the board is idle on the left and full CPU/Memory load on the right (Intel Burn Test).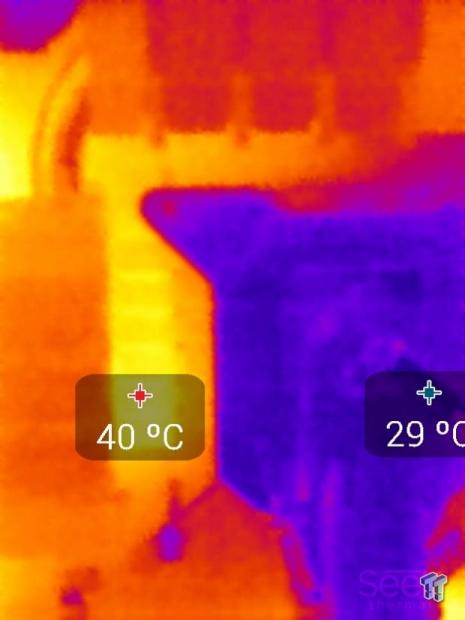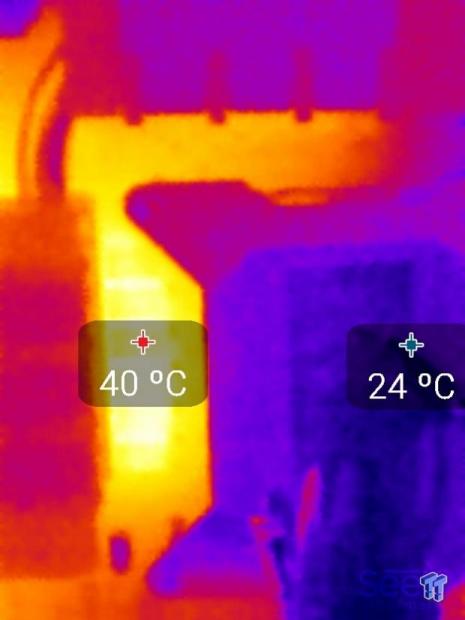 This is an up-close of the front of the VRM.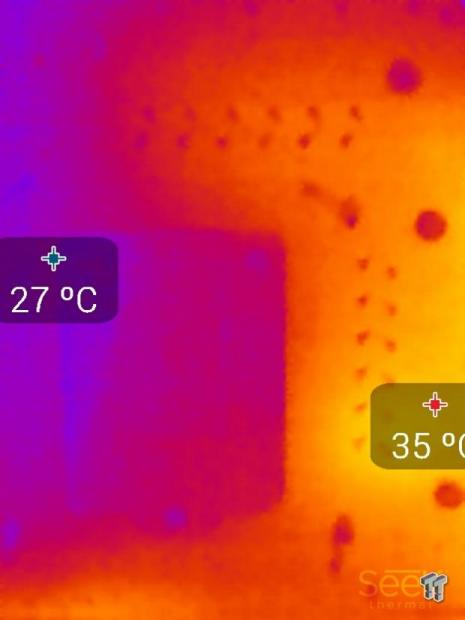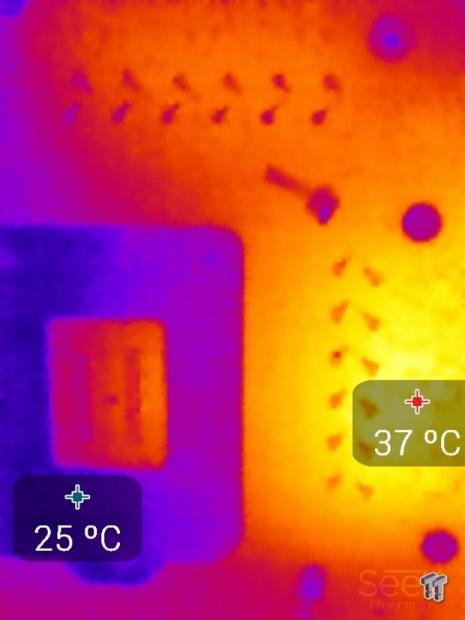 This is the back of the board at idle and load at stock speeds.
Overclocked Tests: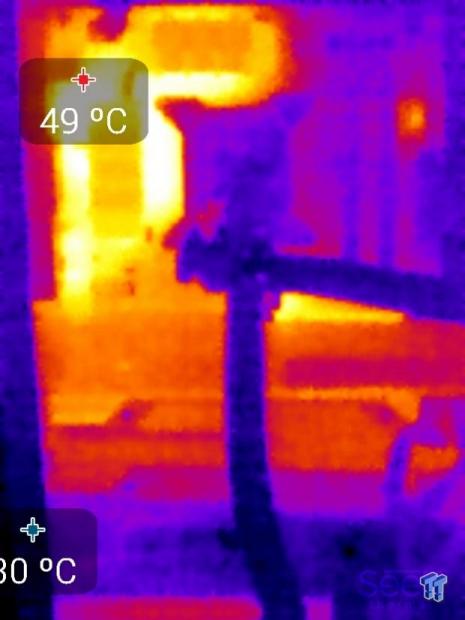 Here the board is idle on the left and full CPU/Memory load on the right (Intel Burn Test).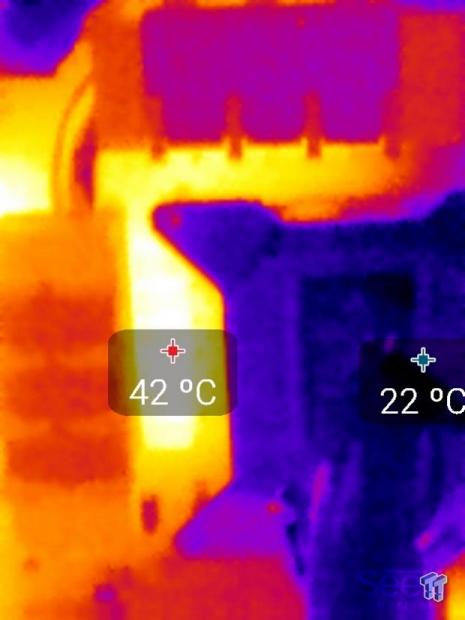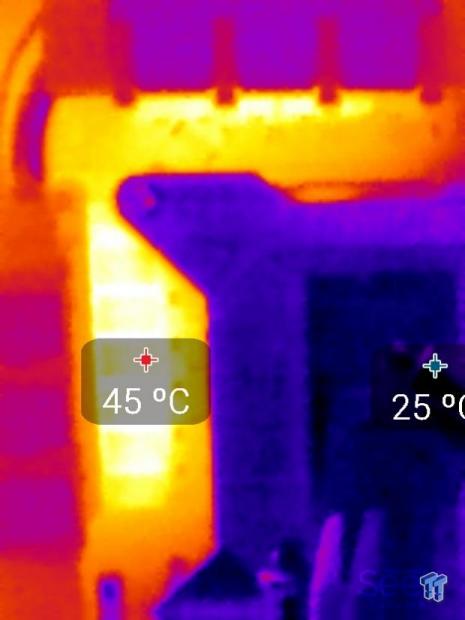 This is an up-close of the front of the VRM.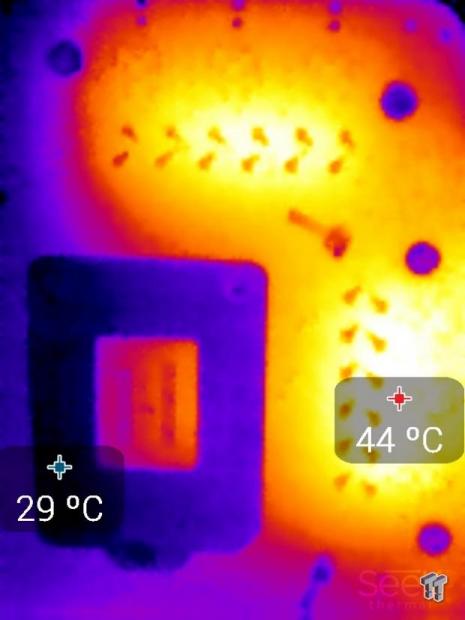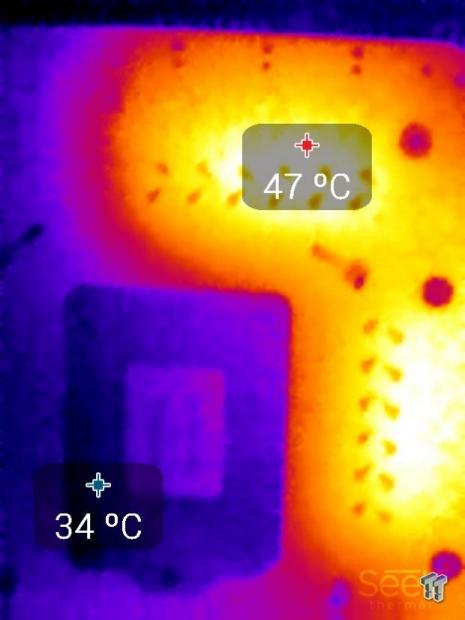 This is the back of the board at idle and load at stock speeds.
VRM performance is very strong, and thermals are within excellent ranges (under 60C). At stock, it is obvious that phase shedding is engaged, meaning that only one or two phases are on to save power. The phases that are engaged at stock are towards the middle of the board rather than the top. Even at full load, it seems that heat is focused towards the middle of the board (bottom of the VRM).
When the system is overclocked, the heat is more evenly spread. Most of the time the temperature on the back is much lower than on the front, meaning the heat sinks are doing their job very well. The raise in temperature from idle to load is also very low, which indicates a high current capability and good thermals of the MOSFETs.
Final Thoughts
MSI's Z97 Gaming 9 ACK has some really unique features. The CMedia audio solution is one of the best to ever be integrated onto a motherboard, and there's no doubt in my mind that it's much more impressive than Realtek solutions. I think MSI should have tossed the Realtek solution and only used the CMedia. One real benefit of this board is the Killer DoubleShot Pro, which isn't just fancy a title for Killer's software, but rather an intelligent dual adapter ecosystem. Since MSI uses both a Killer NIC and a Killer Wireless AC card (both of which scored very well in performance testing), Killer's DoubleShot Pro technology is enabled.
The technology allows for the simultaneous use of the Wi-Fi and Wired NIC, but they aren't teamed in the traditional sense. Instead, Killer's software will determine which adapter is faster and route high priority bandwidth (games) through the faster network adapter while routing lower priority bandwidth (Windows updates etc) through the lower speed adapter. With the normal Killer software, your background tasks are throttled, but with the DoubleShot Pro technology, background tasks are routed through a different network adapter. This means that you can download a movie and play a game, without the download affecting gaming performance.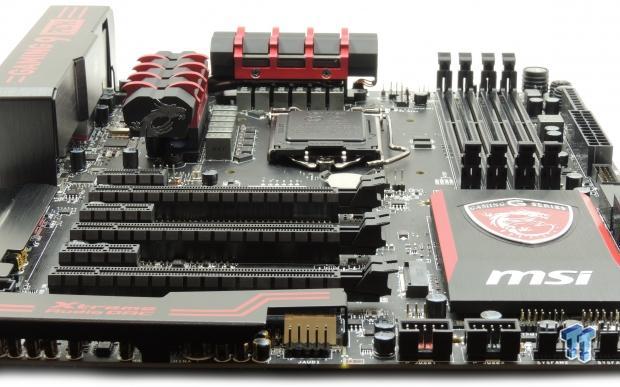 Apart from the gaming features, the MSI Z97 Gaming 9 ACK features a lot of connectivity. IO performance as well as general system performance is excellent. There are a few downsides; the PCI-E spacing for two GPU's doesn't allow much room for the GPUs to breathe, but I didn't experience any issues with GPU performance using two GTX 980s in SLI.
The price of the Z97 Gaming 9 ACK is also pretty high if you consider the fact that most other $299 Z97 motherboards feature a PLX bridge chip for greater multi-GPU capabilities. Even with those slight flaws, the Z97 Gaming 9 ACK has one of the best UEFIs I have seen for the Z97 platform, and fan control is excellent because of it. Overclocking and VRM thermal performance was all top notch, and I didn't encounter any issues in regard to overclocking.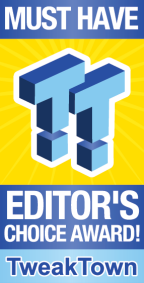 | | |
| --- | --- |
| Performance (including Overclocking) | 95% |
| Quality including Design and Build | 95% |
| General Features | 95% |
| Bundle and Packaging | 95% |
| Value for Money | 95% |
The Bottom Line: If you want the best audio and the most intelligent consumer networking solution in a solid Z97 motherboard which can also overclock, MSI's Z97 Gaming 9 ACK is the right choice for you.
PRICING: You can find products similar to this one for sale below.

United States: Find other tech and computer products like this over at Amazon.com

United Kingdom: Find other tech and computer products like this over at Amazon.co.uk

Australia: Find other tech and computer products like this over at Amazon.com.au

Canada: Find other tech and computer products like this over at Amazon.ca

Deutschland: Finde andere Technik- und Computerprodukte wie dieses auf Amazon.de
We openly invite the companies who provide us with review samples / who are mentioned or discussed to express their opinion. If any company representative wishes to respond, we will publish the response here. Please contact us if you wish to respond.