TweakTown's Rating: 88%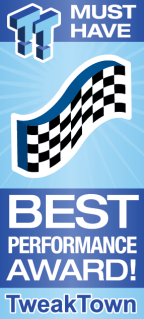 The Bottom Line
QNAP's TVS-463 NAS is as solid as they come with top tier performance and a plethora of features. However, the price point may be hard to swallow, but is worth it if you want all the bells and whistles.
Introduction

As NAS platforms have evolved over the years, especially from top tier brands like QNAP, Thecus and Asustor, we have seen a shift from storage only devices, to home media centers. Now appliances from QNAP are beginning yet a second trend towards a NAS/PC hybrid solution.
The TVS series from QNAP is the first of a new generation in NAS appliances. While the last few years have brought us away from the Marvell powered solutions into Intel Atom and now Bay Trail, the TVS takes thing even further and introduces us to AMD as a NAS platform. The TVS-463 in the lab today is the four bay solution fitting this bill.
The new TVS series aesthetically sets itself apart with QNAP's new gold color scheme. With that said, these new appliances do keep the metal substructure we have come to know, along with the front mounted LCD screen. With this new solution being an SMB model, each of the front drive trays are lockable. As we spoke of briefly above, the TVS series is the first AMD platform NAS solution to come to market. With that we have a 2.4GHz quad-core processor at the heart featuring a Radeon graphics engine. The 463 is available with either 4GB or 8GB of DDR3 and is expandable up to 16GB.
For anyone that has used a QNAP NAS appliance in the past, you know that QTS is the operating system onboard these appliances, the version used during testing today is 4.1.3. If you are one that is interested in purchasing a NAS appliance from QNAP you can view a live demo of their OS here.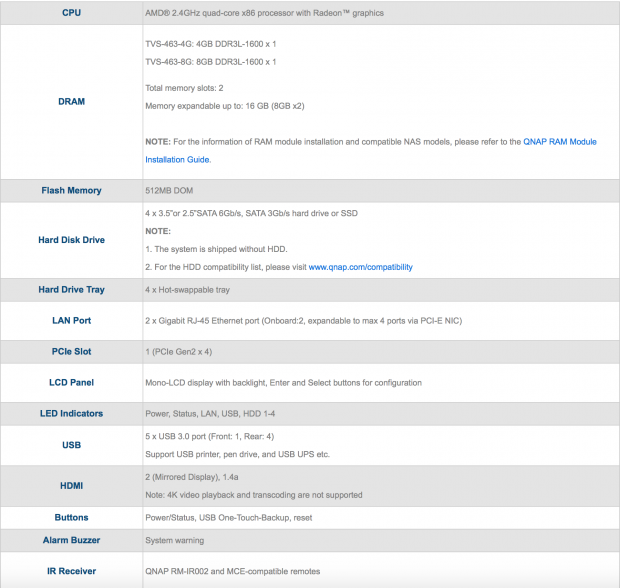 Above, we have the full system specification pulled from the QNAP website for the TVS-463. As you can see, the quad-core AMD processor sits at a base frequency of 2.4GHz and sits next to either 4GB or 8GB of DDR3 memory. The TVS-463 supports both 2.5" and 3.5" hard drives with additional support for some solid-state drives and caching. The QTS operating system is held by a 512MB SATA DOM, while connectivity options extend to dual gigabit Ethernet, five USB 3.0 ports and dual HDMI with 4K support. This system is also 10GBe ready via the PCIe 2.0 x4 slot.
QNAP TVS-463
Packaging and a Closer Look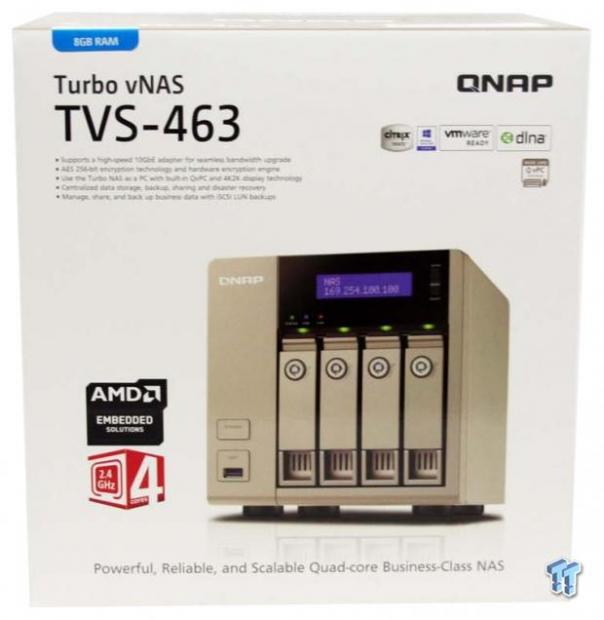 Product packaging for the TVS-463 carries an image of the NAS in the center, while AMD logos adorn the box. The top of the packaging houses marketing information including VMware, Citrix and DLNA support.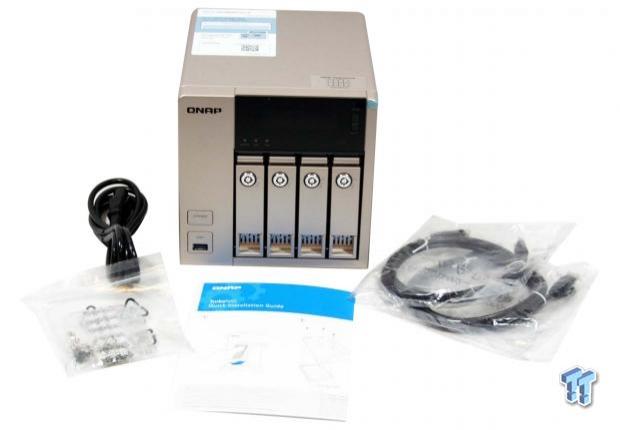 Scope of delivery for the TVS includes, two Ethernet cables, power cable, drive screws, and reading materials.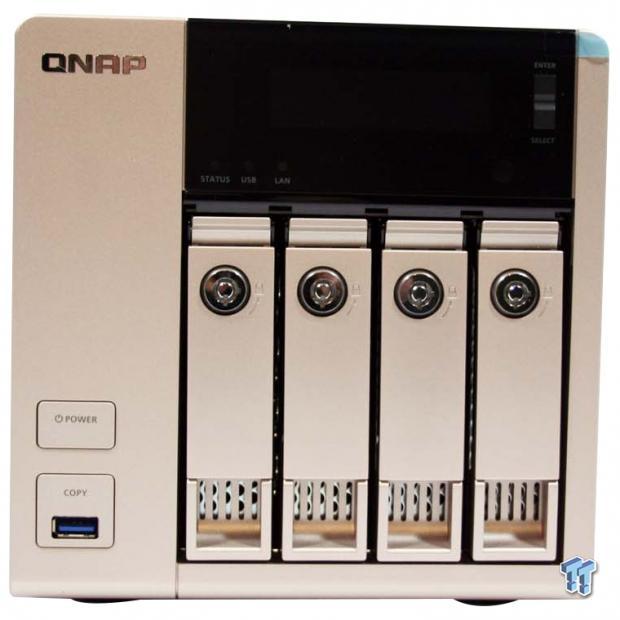 Looking over the tower, it's quite easy to notice the new gold tones of the chassis. Overall, the build quality has stayed the same with the metal chassis and locking drive trays. The front LCD panel is similar to what we have seen in the past and to the far left the power button and quick access USB 3.0 port is available.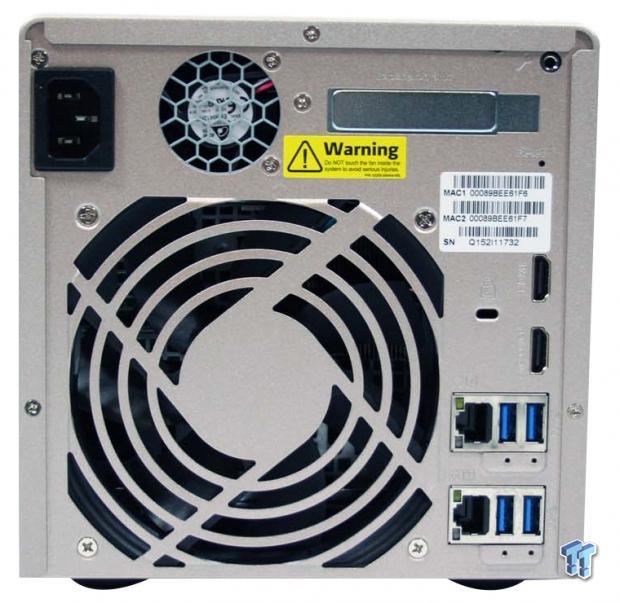 The back of the NAS is packed full of outputs, first up we have the PCIe expansion slot at the very top, with dual HDMI ports just below. Moving further down, four USB 3.0 port are connected next to dual gigabit Ethernet ports.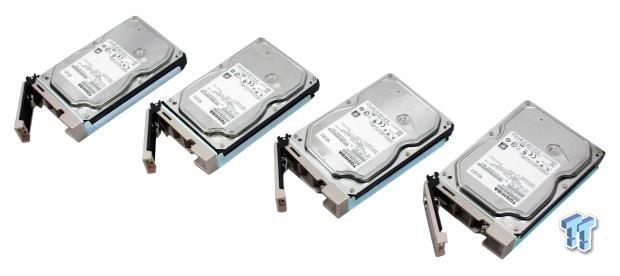 The drive trays are the standard metal type we have seen in the past, and as you can see above fit our test system drives quite well.
Test System Setup and Management
Test System Setup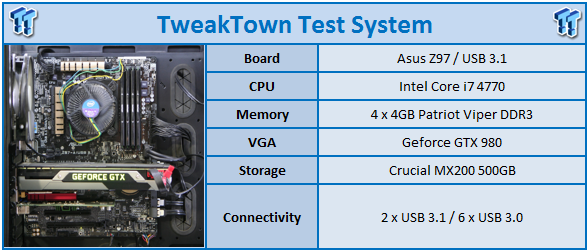 Our Consumer NAS test 'system' is setup similar to what you have at home. Here we have the base of a ASUS Z97 USB 3.1, housing an Intel Core i7 4770 with 16GB of Patriot Viper DDR3 supporting. Our Operating System of choice is Windows 8.1 x64 Enterprise, with all available updates and patches installed on a Crucial MX200 500GB SSD.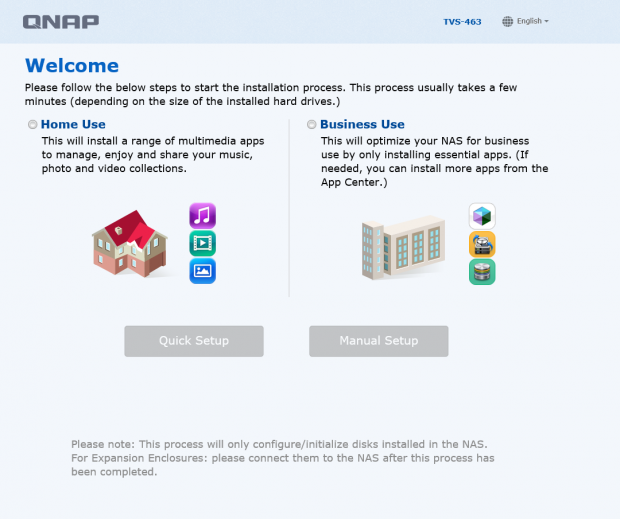 Over the last few years, we have seen quite a few QNAP appliances come through the lab. For the most part, setup has always been quite simple and the same can be said here today with the TVS-463. You can choose to either use the QNAP finder application or log in directly to web management to start setup.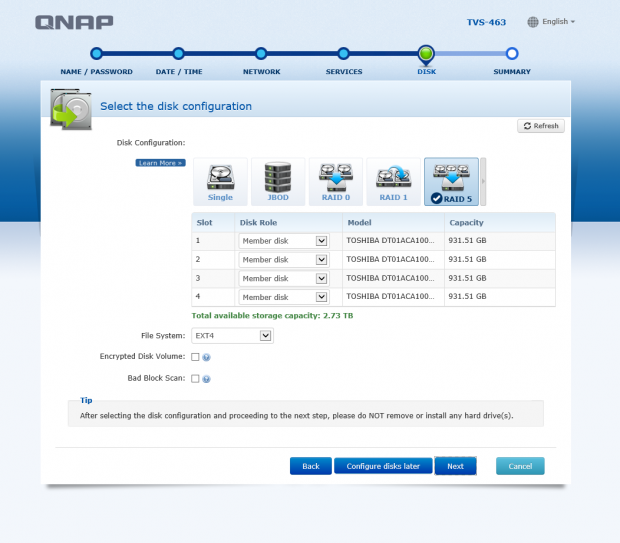 Running through setup, you will be asked what type of RAID array you want.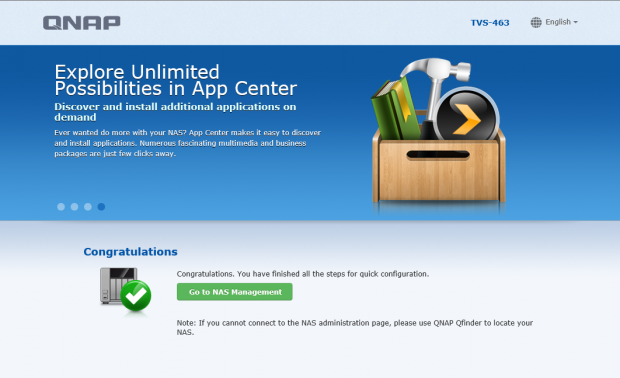 After choosing our options and putting in some information, the NAS proceeded to setup. This part of the process took the longest as I want to say we were waiting here for a good 15- 20 minutes.

Logging into the NAS, we find the standard QTS layout, which is of course customizable as well.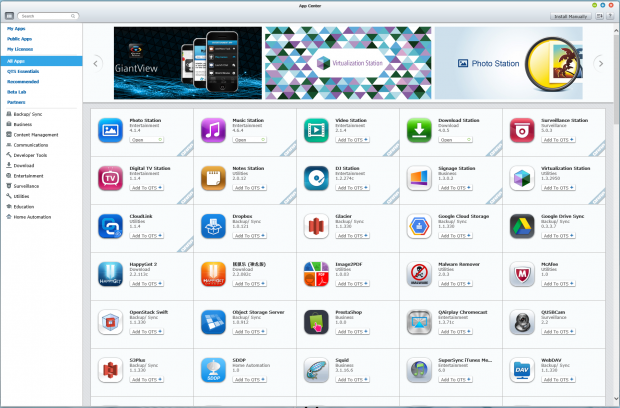 In the end, a large part of a NAS appliance comes in the form of its applications. While many vendors have just a few apps to choose from, QNAP by far has the largest catalogue among top vendors.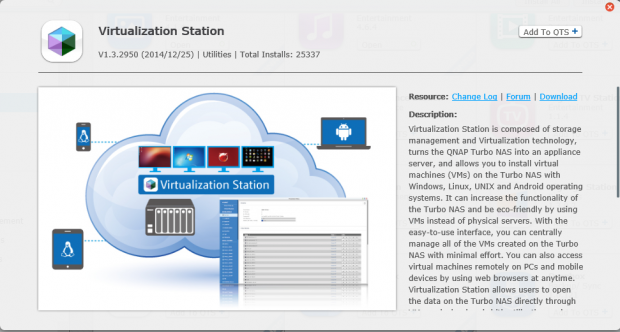 A large part of the new QNAP platforms is the hybrid PC aspect. With Virtualization station as the base system, QNAP allows you to run a number of secondary operating systems within the NAS.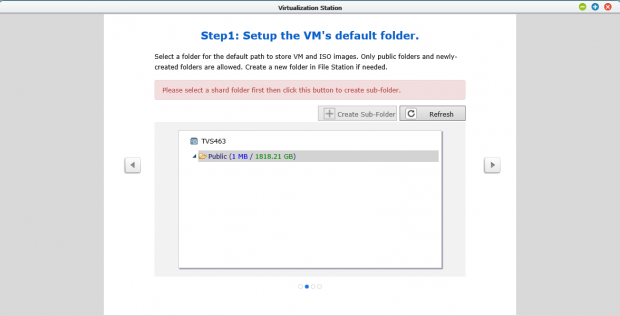 Setting up your Virtualization folder is the first part of setting up your secondary OS.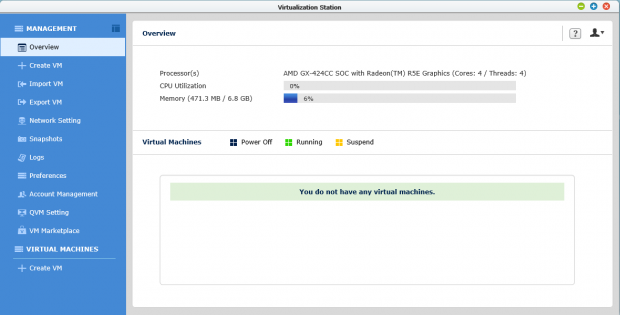 We then can enter the app and start setup by navigating the menu on the left.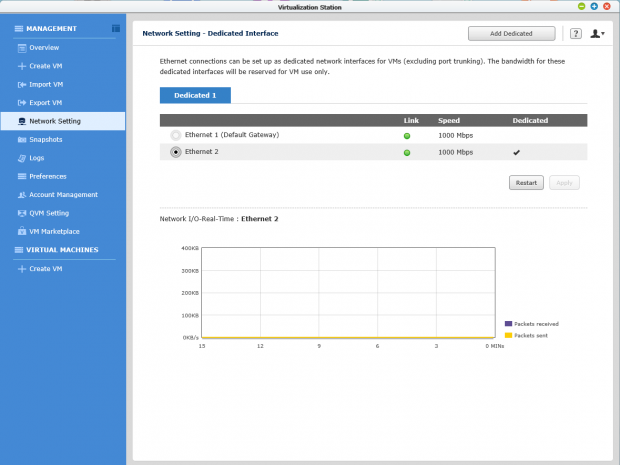 There are some caveats to running a VM on the QNAP, the first being it is mandatory that you plug in both Ethernet cables as the second port is used for exclusive connectivity to your VM.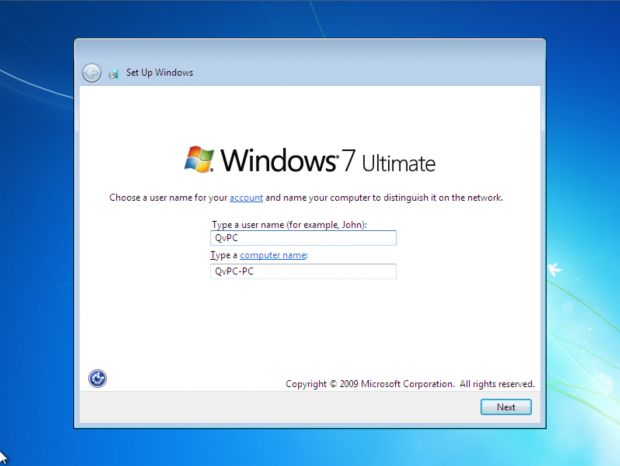 Above, we have setup a Windows 7 Virtual machine.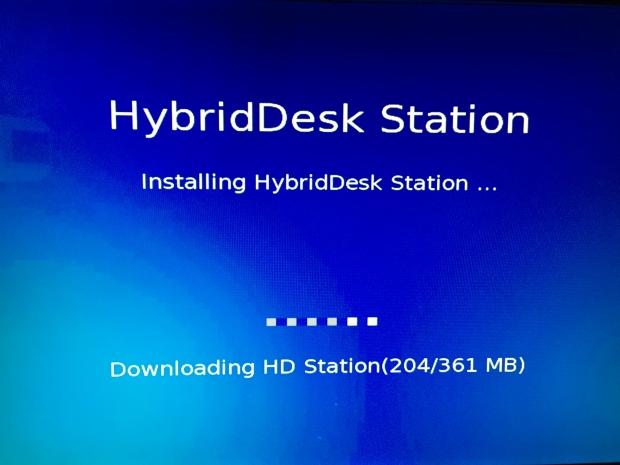 Installing HybridDesk Station is a must if you want to use your newly created VM as a PC with its own mouse, keyboard and monitor.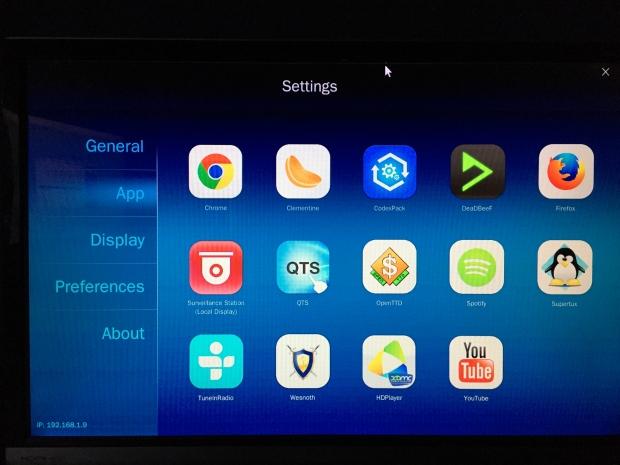 After setup has finished, you can choose to install a number of apps including QVM.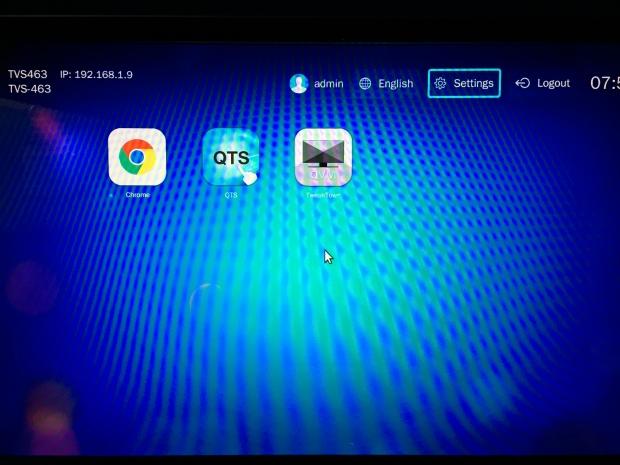 QVM is the application that allows you to access your virtual machine as a standalone solution with your keyboard, mouse and monitor.
Benchmarks - Single Client Throughput
Workload
HD Video Play - 720p HD stream from Windows Media Player, 256kB reads
2HD Video Play - 2x playback
4HD Video Play - 4x playback
HD Video Record - 720p HD stream, 256kB writes
File Copy From NAS - 4GB file copy, 64kB reads
File Copy To NAS - 64kB writes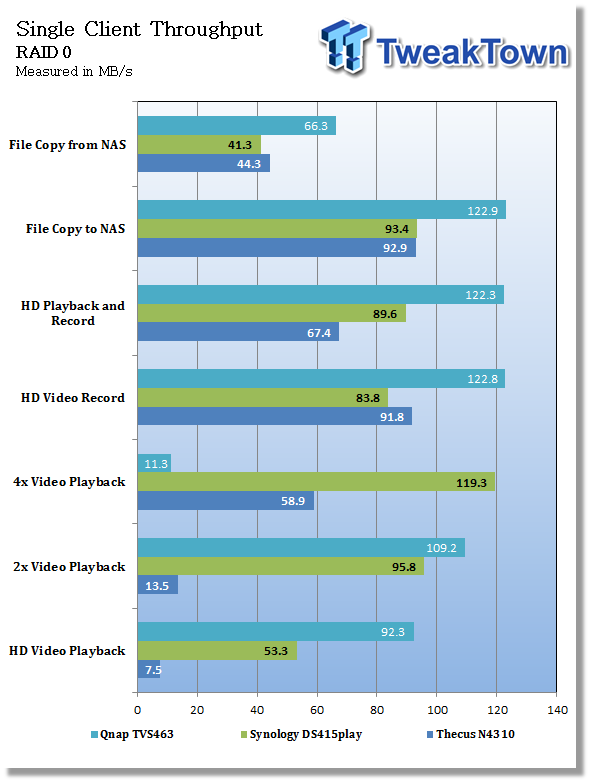 RAID 0 throughput was pretty impressive with the TVS-463, minus the hiccup we found with 4x playback. Results ranged from a low of 11.3 MB/s with 4x playback to a high of 122 MB/s with file copy and record operations.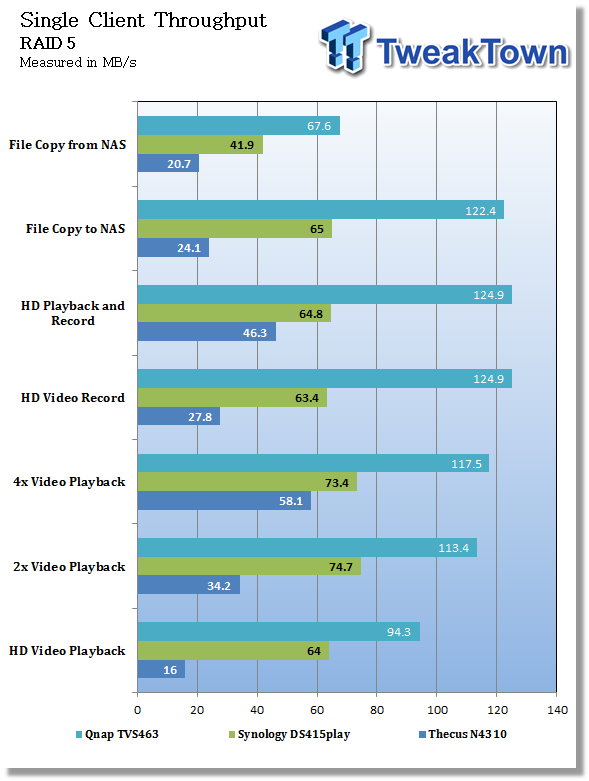 RAID 5 offered similar performance where we found results upwards of 124 MB/s in file copy to NAS, while the lowest performance seen was moving files from the NAS at 67 MB/s.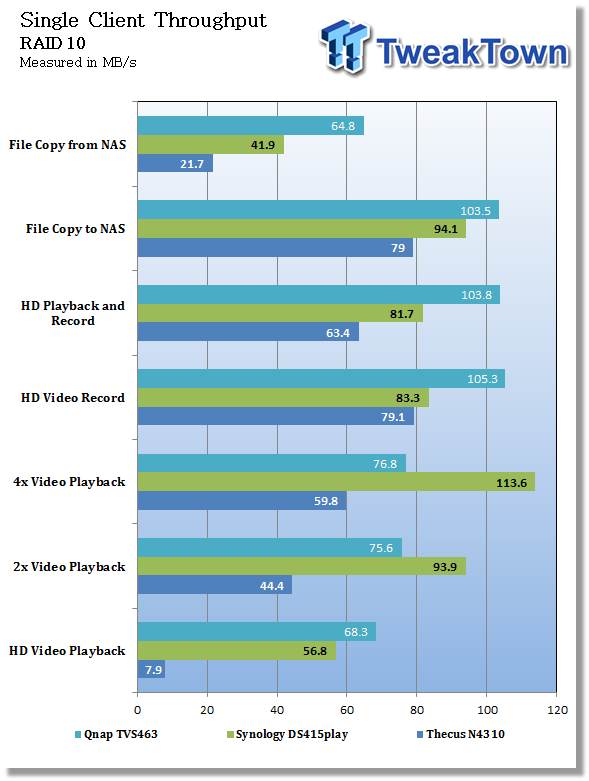 RAID 10 throughput had a few more ups and downs. Peak performance was found in video record at 105 MB/s, while a low of 64 MB/s was recorded in file copy from NAS.
Benchmarks - Sequential Workloads
Our Sequential read/write workload is centered on 128K transfer sizes.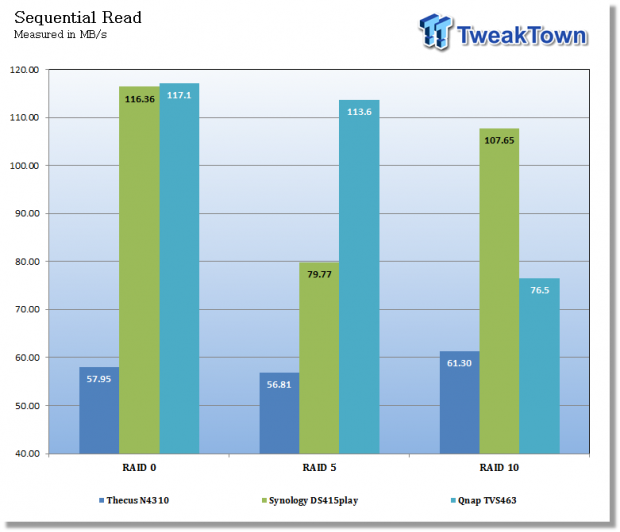 In our sequential testing we found the TVS-463 to do quite well in both RAID 0 and 5 with peak numbers at 117 MB/ and 113 MB/s.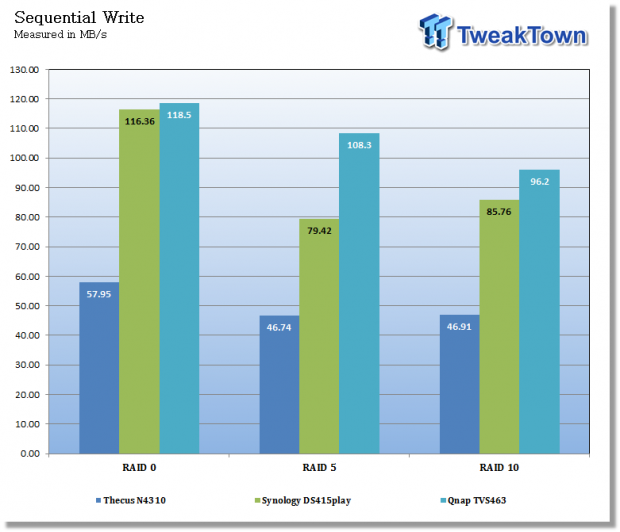 Sequential write was impressive as well, where we reached 118 MB/s with RAID 0, 108 MB/s with RAID 5 and 96 MB/s with RAID 10.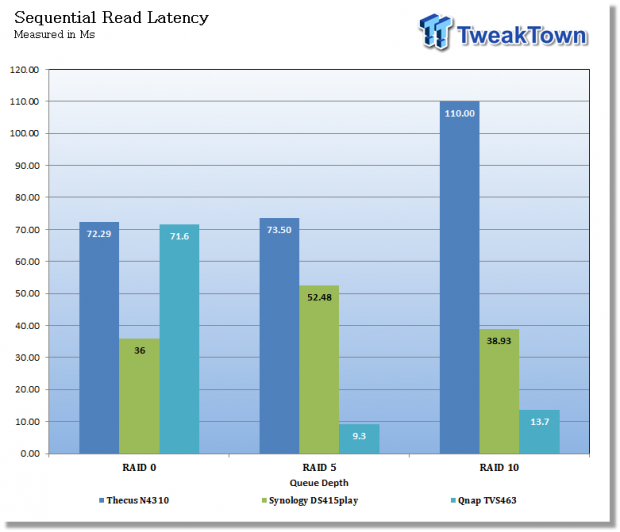 Read latency results were lowest within RAID 5 and 10, while RAID 0 wasn't too far back at 71 ms.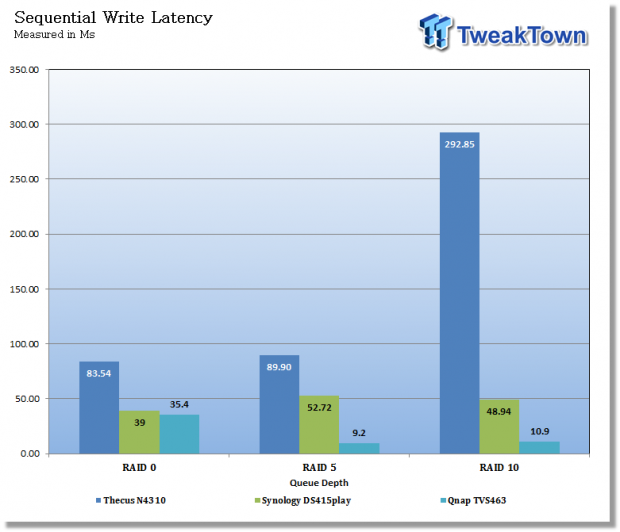 Write latency was another story, as you see we reached some of the lowest numbers with the TVS-463.
Benchmarks - SMB Workloads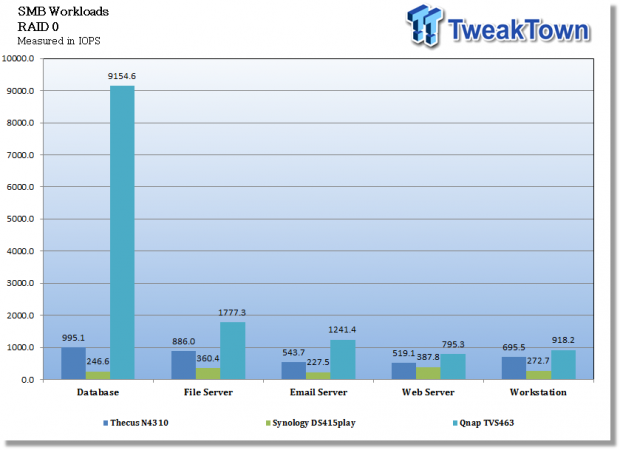 Within RAID 0, we found the QNAP TVS-463 to produce some truly impressive results. Database came in at 9154 IOPS, while Web Server was the lowest at 795 IOPS.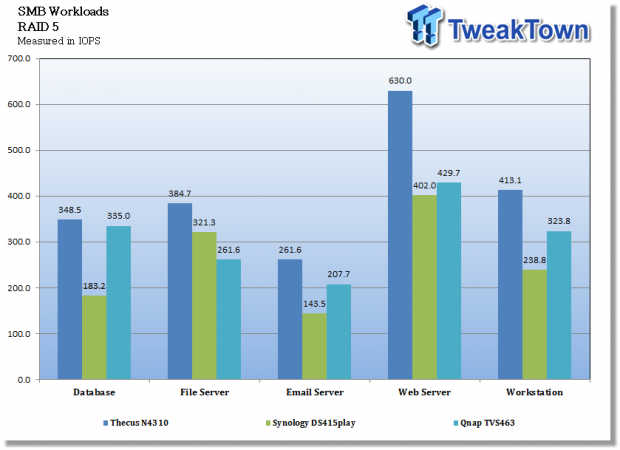 RAID 5 brought each of the tested appliances closer together, where peak results for the TVS came in at 429 IOPS with Web Server and the lowest being 207 IOPS with Email server.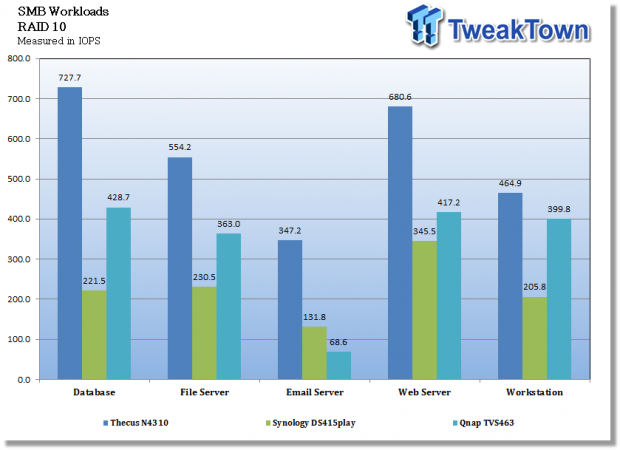 Moving on to RAID 10, we found the QNAP TVS-463 bringing in 428 IOPS in Database while email server reached just 68 IOPS.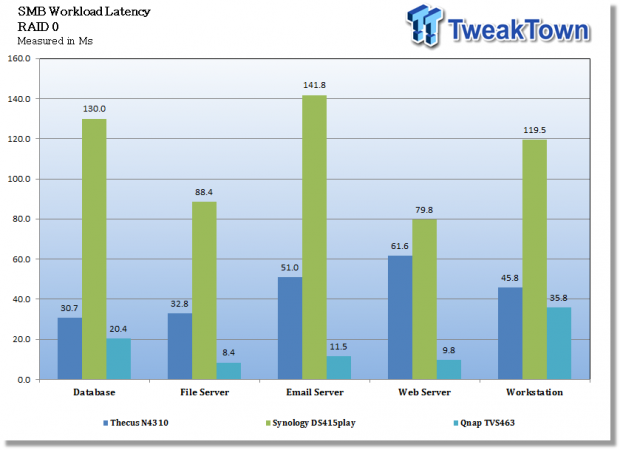 Workload latency was rather impressive within RAID 0, as you can see the TVS carries a low of 8.4 ms through file server with the high of 35 ms in workstation.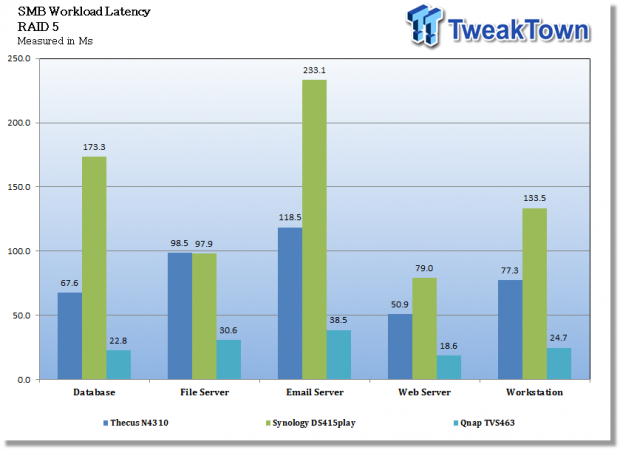 RAID 5 still had the QNAP with the lowest latency, with 18 ms during web server testing and a high of 38 ms during email server.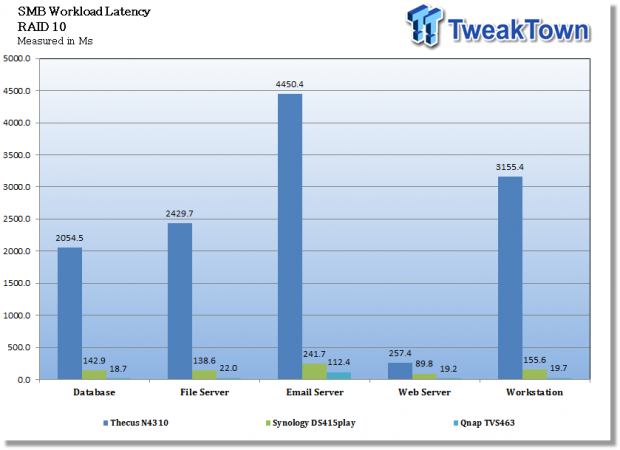 RAID 10 showed some truly off the chart numbers for every test minus email server. The numbers are so low that you can't even see them show up on our chart above.
Final Thoughts

As we have seen NAS appliances evolve becoming the center of attention in our living rooms to now a desktop companion or second PC, QNAP has been at the forefront of innovation. With the launch of the TVS series, we now have our first AMD platform in a NAS that brings closer to us a more stable platform for virtualization.
With that said, Virtualization Station does take quite a bit of horsepower to deploy. In my experience over the last two QNAP products I have tested, I can say that it's almost there. With the TS451, it was almost unusable with any Windows OS, while the TVS-463 having slightly more power is able to handle it easier, or without too much lag getting in the way. However, that's not to say there isn't any lag, as using the VM over console does produce enough to frustrate the easily rattled person. If you want a secondary full time PC, the QNAP TVS-463 can do it, but don't expect it to be a top of the line experience.
Build quality of the TVS-463 is as expected quite good. With the new gold color scheme things underneath are largely unchanged. We still have the solid metal chassis giving this unit its weight and durability, while the front of the unit houses things we enjoy, such as locking trays and a small LCD screen so we knows what's going on.
Performance of this NAS solution was quite good in single client and sequential testing with chart topping results in all RAID arrays, while workloads did present some issues, the unit was able to produce some of the lowest latency numbers we have seen in a while, especially with RAID 10.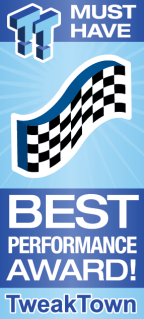 | | |
| --- | --- |
| Performance | 92% |
| Quality including Design and Build | 89% |
| General Features | 91% |
| Bundle and Packaging | 87% |
| Value for Money | 82% |
The Bottom Line: QNAP's TVS-463 NAS is as solid as they come with top tier performance and a plethora of features. However, the price point may be hard to swallow, but is worth it if you want all the bells and whistles.
PRICING: You can find products similar to this one for sale below.

United States: Find other tech and computer products like this over at Amazon.com

United Kingdom: Find other tech and computer products like this over at Amazon.co.uk

Australia: Find other tech and computer products like this over at Amazon.com.au

Canada: Find other tech and computer products like this over at Amazon.ca

Deutschland: Finde andere Technik- und Computerprodukte wie dieses auf Amazon.de
We openly invite the companies who provide us with review samples / who are mentioned or discussed to express their opinion. If any company representative wishes to respond, we will publish the response here. Please contact us if you wish to respond.