TweakTown's Rating: 86%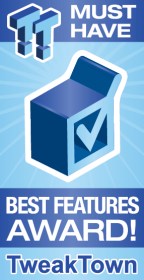 The Bottom Line
Seagate's Personal Cloud is a solid storage solution with ample performance for daily backups of your PCs and smart devices.
Introduction

With many NAS solutions today offering cloud access, Seagate has come to market with a solution built from the ground up as personal media storage. The Personal Cloud comes to market available in several configurations including single bay solutions up to 5TB, and dual bay configurations up to 8TB.
The Seagate Personal Cloud allows users to manage and organize their media, whether it is video, music or documents all-in-one central location within your home. The Personal Cloud can also be scheduled to backup your Windows and OS X based computers automatically, along with the ability to connect and backup your cloud services such as Google Drive, Dropbox and Sdrive.
In addition to backup up your devices, the Personal cloud is DLNA ready allowing users to stream their media to compatible smart TVs, gaming consoles and even Roku or Chromecast. If you want to access your content on the go, that too can be done via the Seagate Access or the Media App available on iOS, Android, Windows 8 and Amazon Kindle.
For anyone that has used a Seagate NAS appliance in the past, you know that NAS OS 4 is the operating system onboard these appliances, the version used during testing today is 4.1.5.13.

Above, we have the full system specification pulled from the Seagate website. The specifications are rather simple and show that the Personal cloud requires Internet Explorer, Firefox, Chrome or Safari and is compatible with Windows 7,8 and Vista along with OS X 10.7 and later. Remote access is available on iOS and Android smartphones along with Desktop and Mac PCs.
Seagate Personal Cloud
Packaging and a Closer Look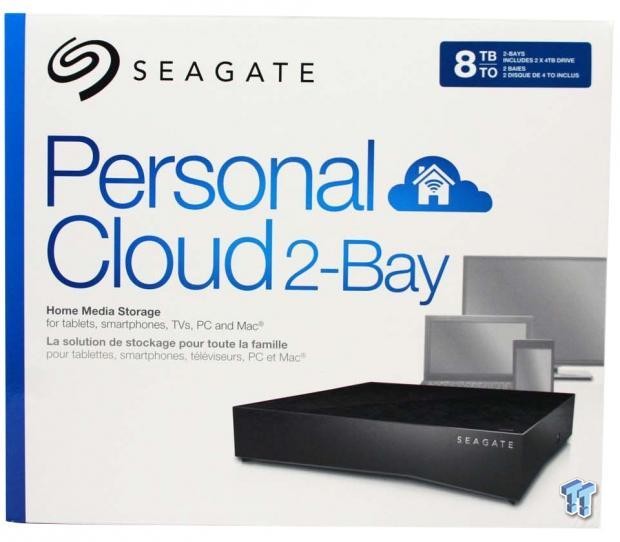 Packaging for the Personal Cloud carries the units capacity at the top right, while an image of the enclosure sits at the bottom right.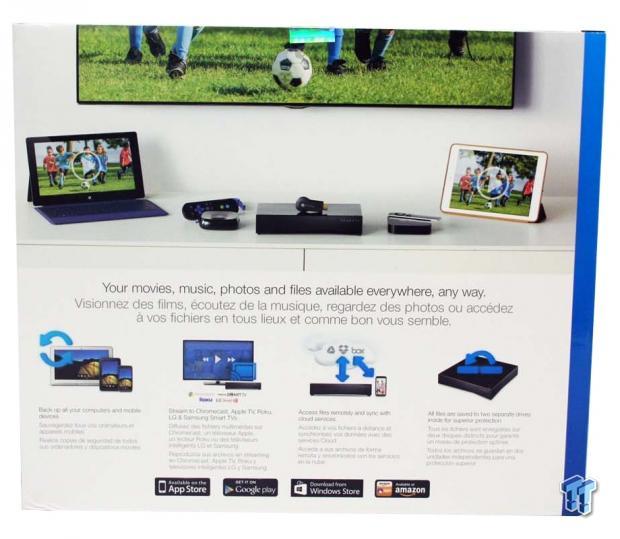 The back of the packaging includes marketing information including compatibility with iOS, Kindle and Android.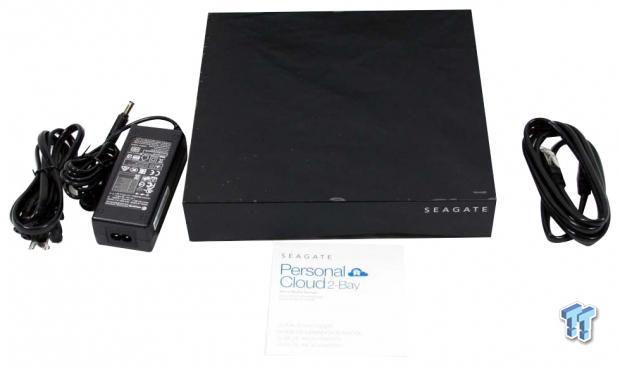 Scope of delivery for the Personal Cloud includes the power adapter, Ethernet cable, and reading materials.

The Personal Cloud itself carries a glossy black exterior similar to a game console. To the right, we have a chrome Seagate logo that overall gives the entire unit a classy feel.

The back of the unit houses a single gigabit Ethernet port next to a USB port and power input.

The side of the NAS houses a USB 3.0 port for connecting portable storage devices.
Test System Setup and Web Management
Test System Setup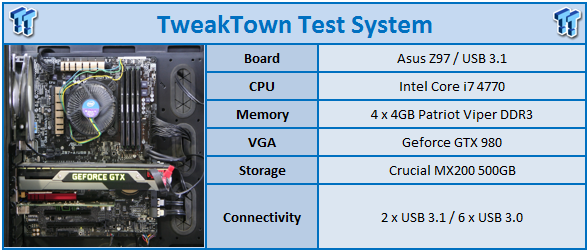 Our Consumer NAS test 'system' is setup similar to what you have at home. Here we have the base of a ASUS Z97 USB 3.1, housing an Intel Core i7 4770 with 16GB of Patriot Viper DDR3 supporting. Our Operating System of choice is Windows 8.1 x64 Enterprise, with all available updates and patches installed on a Crucial MX200 500GB SSD.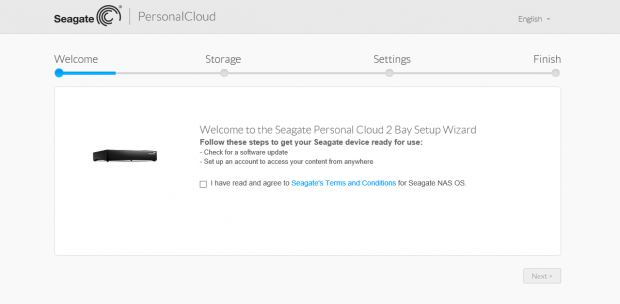 Setting up the Personal Cloud is pretty simple and includes just a few steps before you are up and running.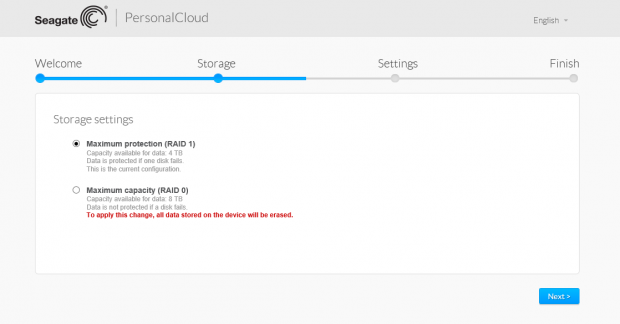 Setting up the Seagate, we have two options. You can choose RAID 0 for capacity or RAID 1 for data protection.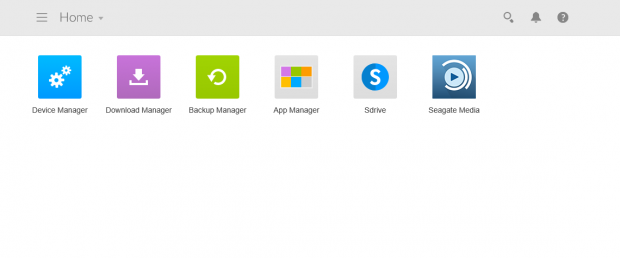 After making it through those few steps, you will land at the main menu of the NAS. Here we have elegant layout with icons for device manager, download manager and backup manager. You can also browse the app catalogue here as well with the app manager.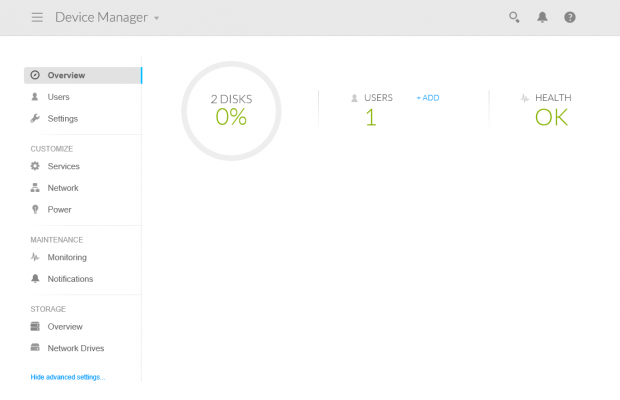 Looking into the device manager, we get a peek at what the NAS is doing. Here you can see we have two disks and one user created.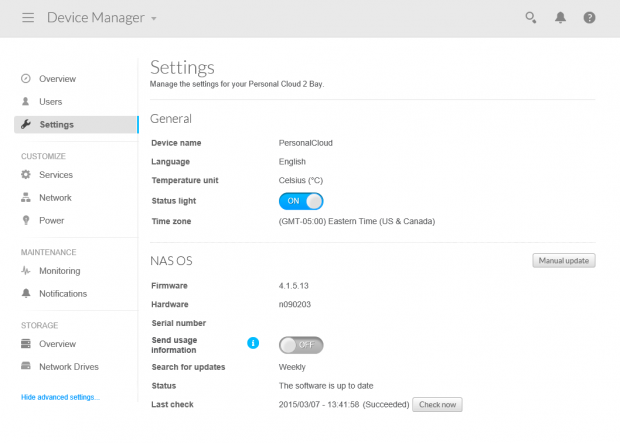 The settings menu allows you to change several features including data and time along with upgrading firmware.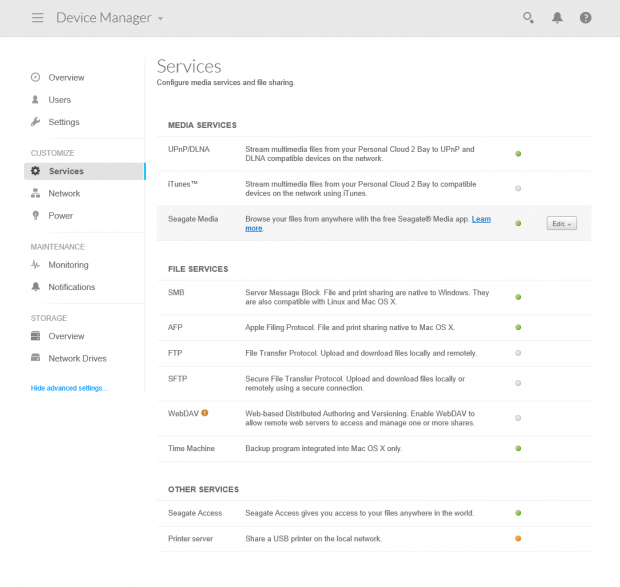 The services menu gives you an overview of what's enabled. By default, quite a few services are enabled including SMB, AFP and Time Machine.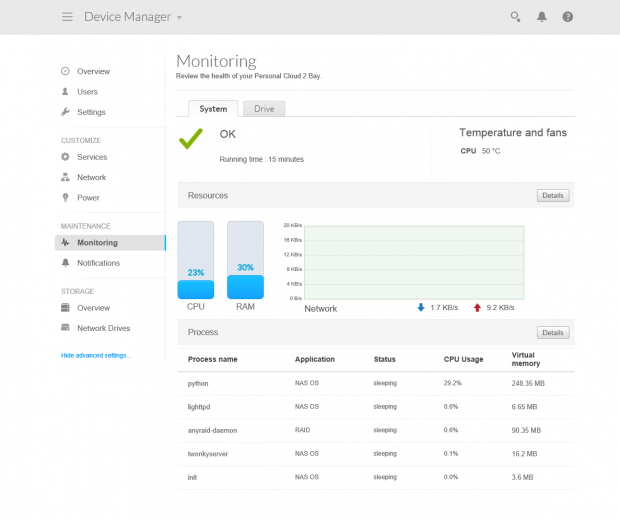 Above, we take a look at the monitoring menu that gives you an overview of the underlying components. As you can see above, the CPU was sitting at 23% with 30% memory usage and below the services that were running.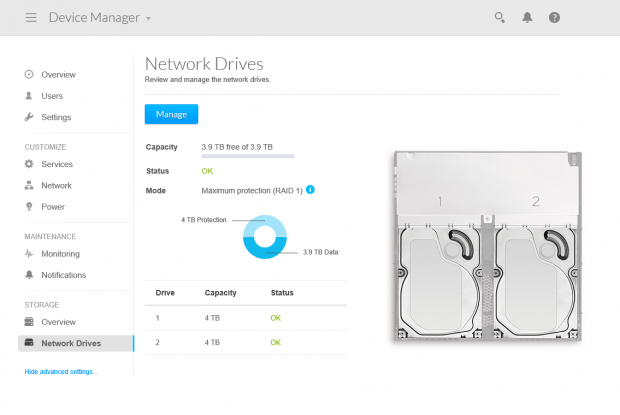 Here you can manage your drives and switch RAID modes if needed. We have ours setup in RAID 1 for testing.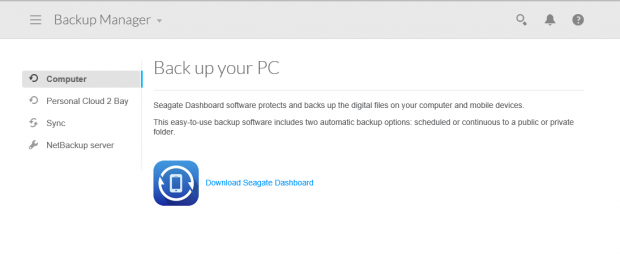 The backup menu offers a link to Seagate dashboard that allows you to schedule Mac and PC backups.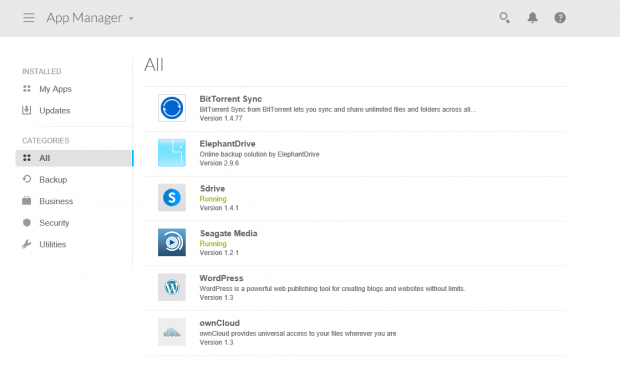 Last but not least we have the app catalogue. At this point it includes six applications including BitTorrent, Elephant Drive and WordPress.
Benchmarks - Single Client Throughput
Workload
HD Video Play - 720p HD stream from Windows Media Player, 256kB reads
2HD Video Play - 2x playback
4HD Video Play - 4x playback
HD Video Record - 720p HD stream, 256kB writes
File Copy From NAS - 4GB file copy, 64kB reads
File Copy To NAS - 64kB writes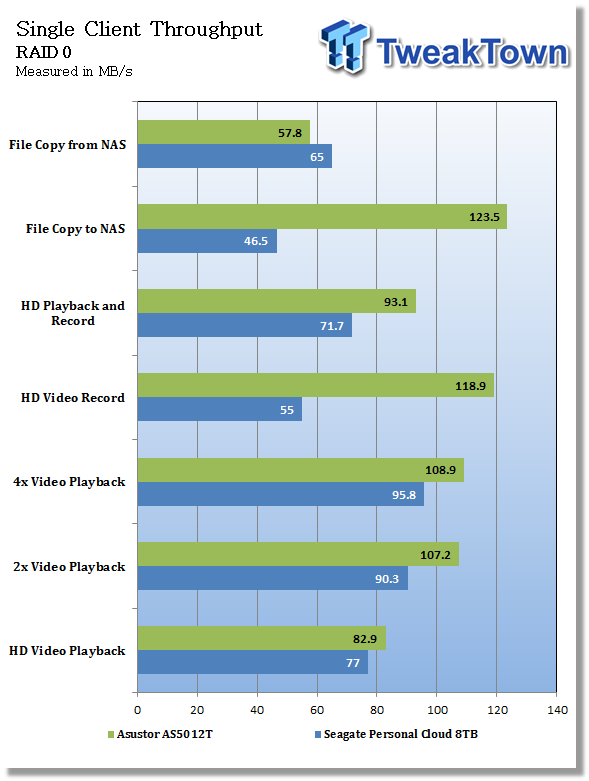 Moving on to testing, we start with our single client RAID 0 results. Surprisingly, the Personal Cloud did quite well with peak results coming in video playback at 95 MB/s. We also reached 46 MB/s copying to NAS and 65 from the NAS.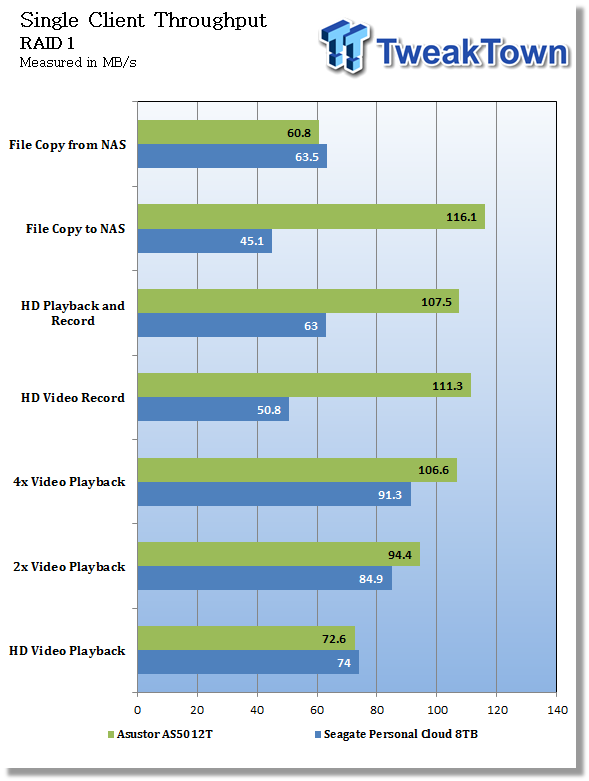 RAID 1 didn't take too much of a performance hit. Video playback reached upwards of 91 MB/s, while file copy operations came in at 63 MB/s and 45 MB/s, respectively.
Benchmarks - Sequential Workloads
Our Sequential read/write workload is centered on 128K transfer sizes.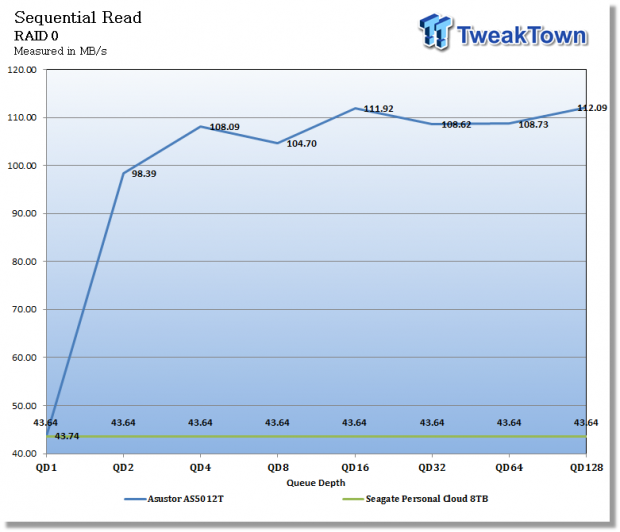 Sequential read for the Personal Cloud didn't scale as well as we expected. As you can see, the NAS reached 43 MB/s pretty consistently.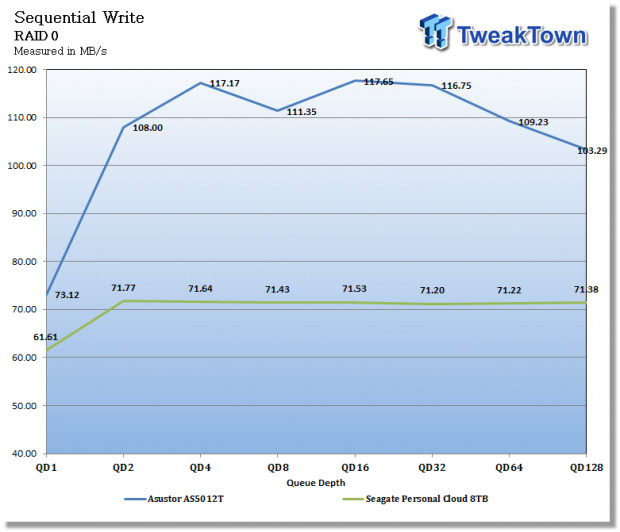 Sequential write was much quicker coming in at 71 MB/s.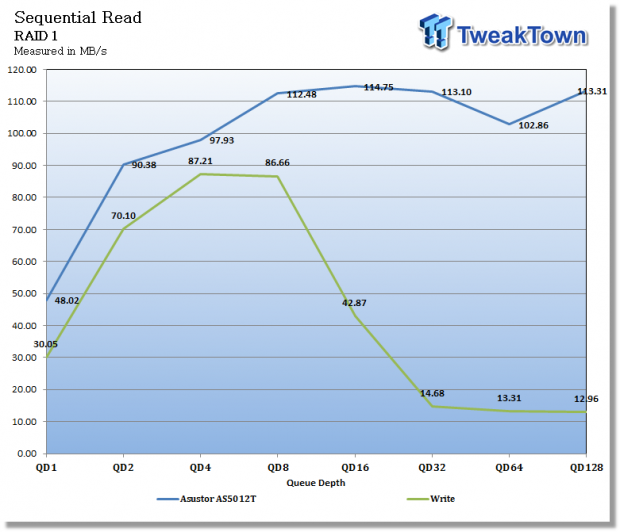 RAID 1 result showed the Personal Cloud does scale to an extent. Peak read numbers came in at 87 MB/s.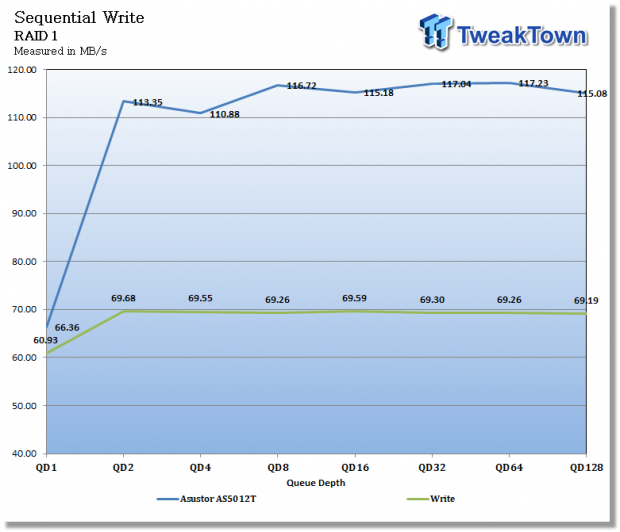 Sequential write within RAID 1 produced steady results around 69 MB/s through the QD scale.
Benchmarks - SMB Workloads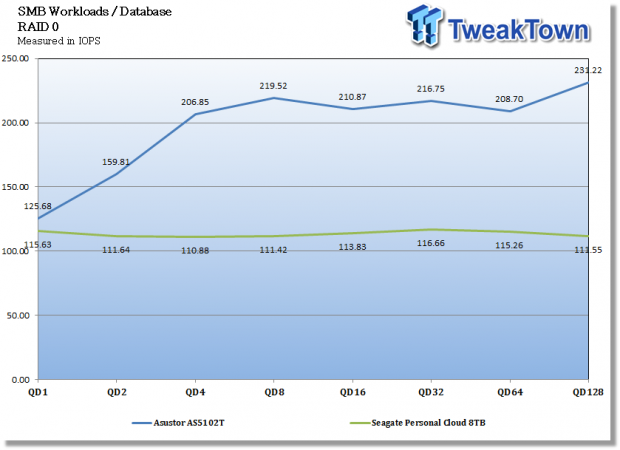 Starting off our SMB workloads, the Personal Cloud produces around 110 IOPS within our database workload again not scaling very well due to the NAS not utilizing the iSCSI feature set.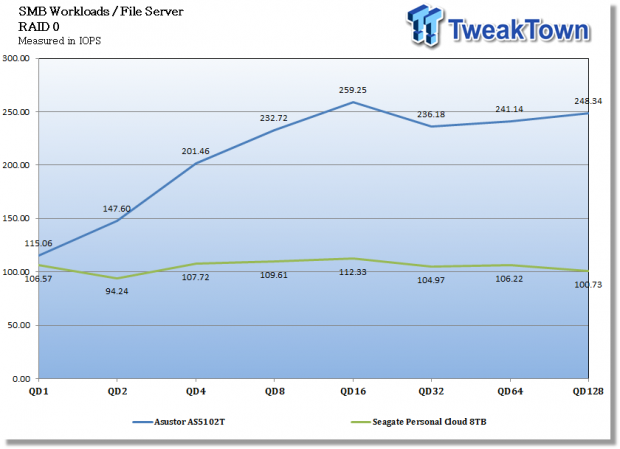 File server offered 94 IOPS at QD2 and scaled slightly to a peak of 112 IOPS at QD16.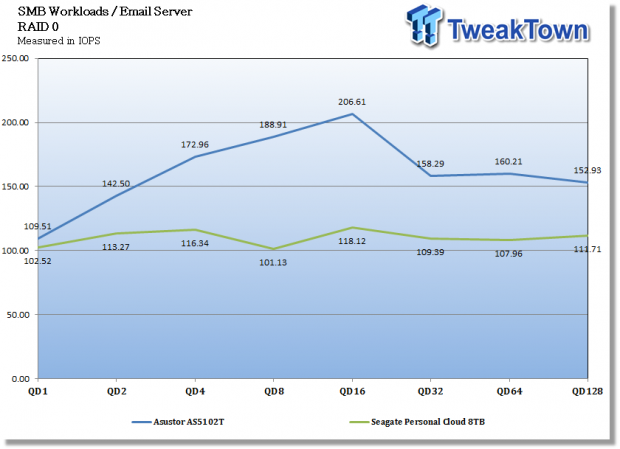 Email server started off at 102 IOPS at QD1 to a peak of 118 IOPS at QD16.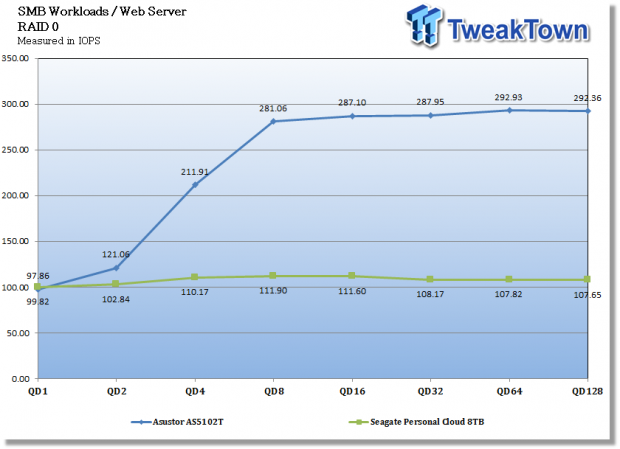 Web Server allowed the Seagate to reach upwards of 11 IOPS from QD8 through QD16 finally dropping to 107 IOPS at QD128.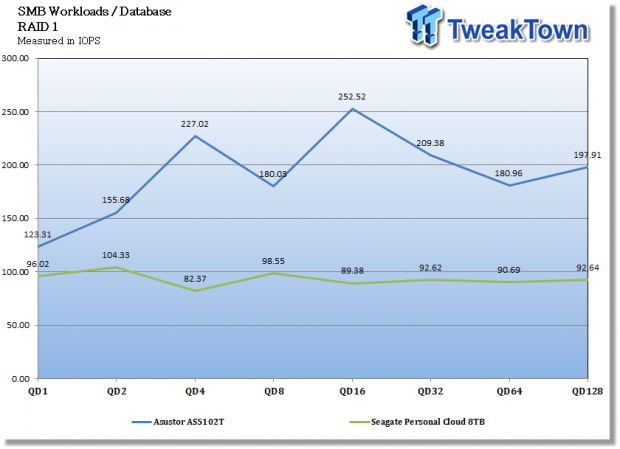 RAID 1 showed little performance drop off with peak IOPS coming at QD2 with 104 IOPS.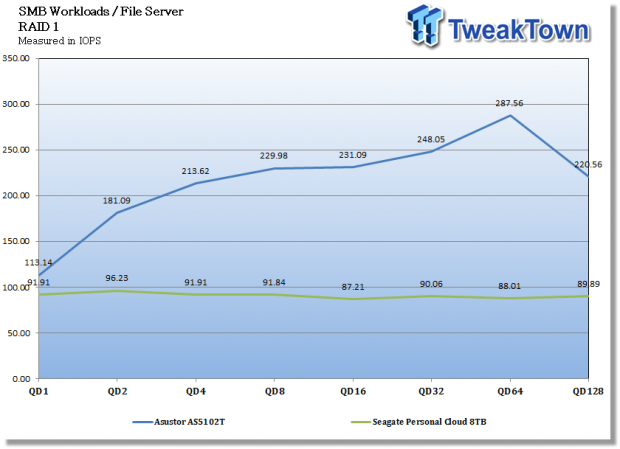 Moving over to File server, the personal cloud produced 96 IOPS at QD2 to final result of 89 IOPS at QD128.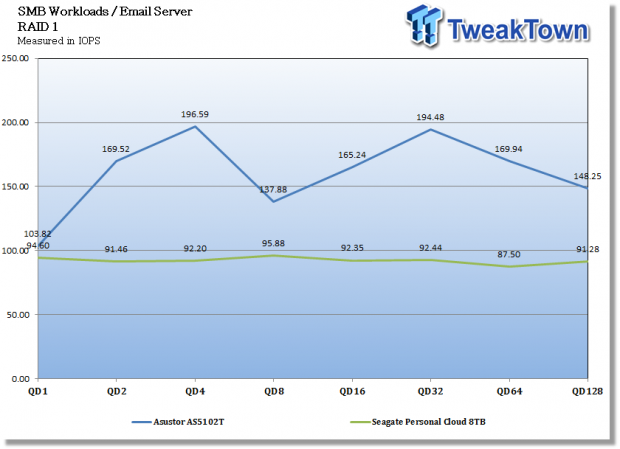 Email server results within RAID 1 reached 95 IOPS at QD8 with a low of 87 IOPS at QD64.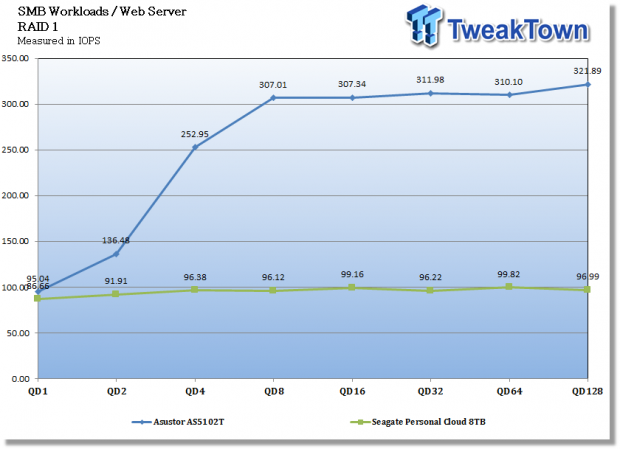 Last we have results from web server within RAID 1. Here the personal cloud was capable of 96 IOPS at QD4 through QD128.
Final Thoughts

The Seagate Personal Cloud is a purpose built home storage solution, and as such both looks the part with its piano black exterior and game console footprint. The build quality of the enclosure is quite good, the materials used in the build appear to be high quality, and while the glossy appearance is sure to grab every fingerprint within a few feet, it does add to the overall package. The drives used internally are the purpose built NAS solutions from Seagate and should offer years of service.
In the past, I have had the chance to use NAS OS 4 many times and I always enjoy the experience. While it's not as feature packed as some other OSes, for a prebuilt solution, it certainly holds its own. The interface is one of the easiest to navigate and use, and offers an elegant dashboard interface.
Functionality of the OS is solid, as it easily integrates with many smart devices including iOS, Android and even included Windows support, something not many vendors can claim. The Seagate Dashboard adds to the experience allowing consumers to schedule automatic backups of their PC or Mac. With the Seagate Media app, you can even add your smart device to a backup schedule as well.
Performance of the Personal Cloud was quite good with single client testing. As we found in our testing, many of the video record and playback scripts were able to produce numbers upwards of 90 MB/s in both RAID 0 and RAID 1. Sequential numbers, while not being the quickest we have ever seen, were respectable and reached upwards of 50 MB/s read and 70 MB/s write depending on the RAID mode.
Overall, the Personal Cloud isn't the highest performing NAS ever built, but as a plug and play unit offers all the features and decent amount of performance for home users.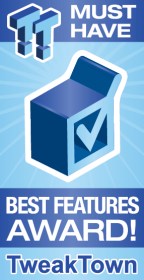 | | |
| --- | --- |
| Performance | 81% |
| Quality including Design and Build | 89% |
| General Features | 90% |
| Bundle and Packaging | 85% |
| Value for Money | 87% |
The Bottom Line: Seagate's Personal Cloud is a solid storage solution with ample performance for daily backups of your PCs and smart devices.
PRICING: You can find products similar to this one for sale below.

United States: Find other tech and computer products like this over at Amazon.com

United Kingdom: Find other tech and computer products like this over at Amazon.co.uk

Australia: Find other tech and computer products like this over at Amazon.com.au

Canada: Find other tech and computer products like this over at Amazon.ca

Deutschland: Finde andere Technik- und Computerprodukte wie dieses auf Amazon.de
We openly invite the companies who provide us with review samples / who are mentioned or discussed to express their opinion. If any company representative wishes to respond, we will publish the response here. Please contact us if you wish to respond.