Lenovo ThinkServer TD350 Tower Server Review
We have a Lenovo TD350 server that offers huge storage capacity in the lab today, which features flexible I/O options and a completely tool-less design.
Published Mar 5, 2015 9:05 AM CST
|
Updated Tue, Nov 3 2020 6:59 PM CST
13 minute read time
TweakTown's Rating: 94%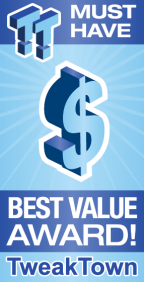 The Bottom Line
Low entry cost, huge storage capacity, complete tool-less design, high performance and large I/O capacity make the TD350 a no brainer for small to medium size business.
Introduction and Packaging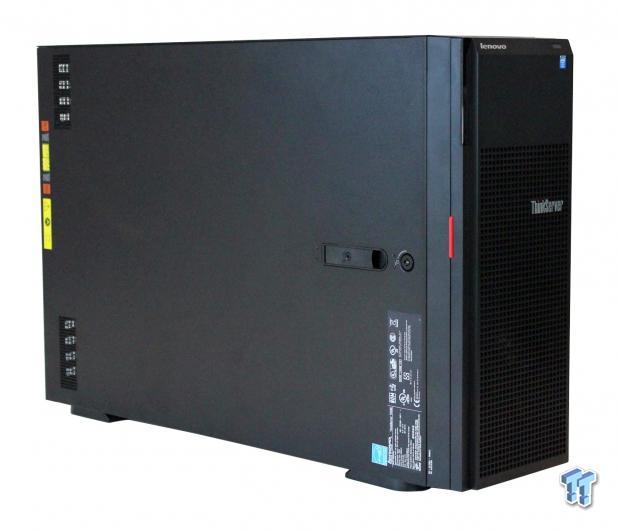 We looked at the Lenovo ThinkServer TD340 Tower Server a few months ago, and now we have a TD350 to review in the lab.
The Lenovo ThinkServer Tower Server TD350 is geared for SMB to mid-sized businesses at the enterprise level. This server is designed to run mid-scale to large-scale business, processing, distributed database, data collection and analysis, file/print, and email services.
The feature list is comparable to the ThinkServer TD340 that we reviewed earlier, and adds an increased storage capacity with high performance RAID options, additional I/O lanes for more PCIe slots, and optional M2/SD options for hypervisor boot.
For more advanced VM support, the TD350 offers increased memory capacity, up to 512 GB of fast DDR4, and processors that increase performance with up to 16 cores each.
The TD350 offers a unique airflow design to cool the CPUs, and it offers better noise reduction, so it will fit well into the office environment, and will not be shoved in a back room. Additional features include a tool-less design, which eases serviceability; and Lenovo's new ThinkServer Deployment Manager, which is a graphic user interface that can be used in place of the normal BIOS.
Let's look at what you get in the TD350 package, and then see how well it performs.
Packaging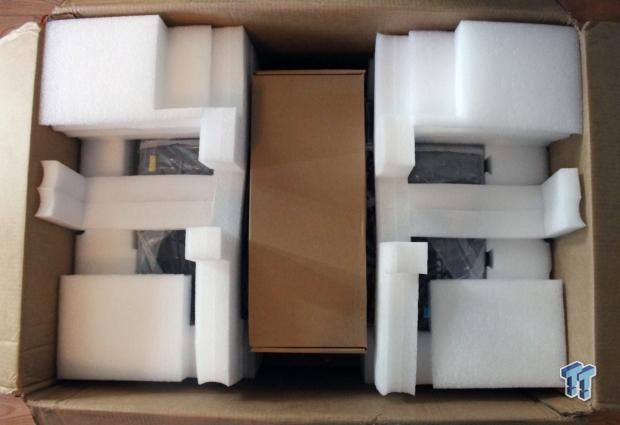 The TD350 arrives in a large shipping box, and after we opened the box, we got our first look at how it is shipped. Large foam inserts pad the insides to protect the server during shipping, and there is ample space between the box and server to protect it from any punctures.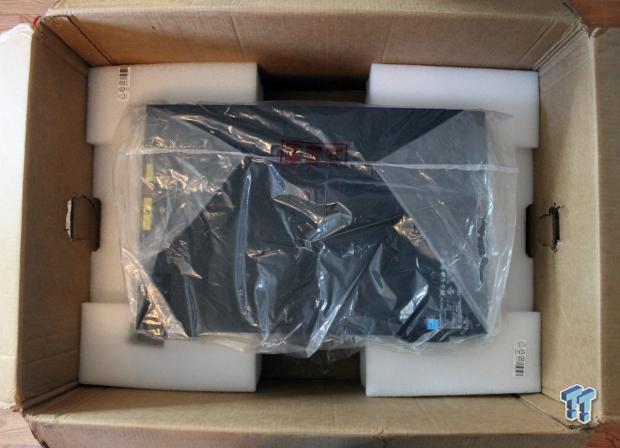 Here we have removed the top two foam inserts to get a look at the server. This is a heavy server, so be sure to have two people to lift this out of the box.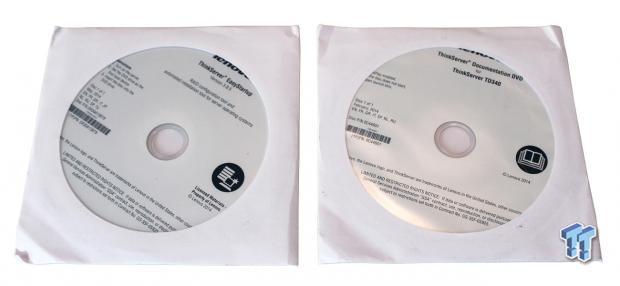 Our server came with only a documentation DVD, but we suspect it will also come with a disk that has drivers and setup programs that aid you in setting up this machine. There was also two power cables included in the accessory box.
Specifications, Layout and Installation
Specifications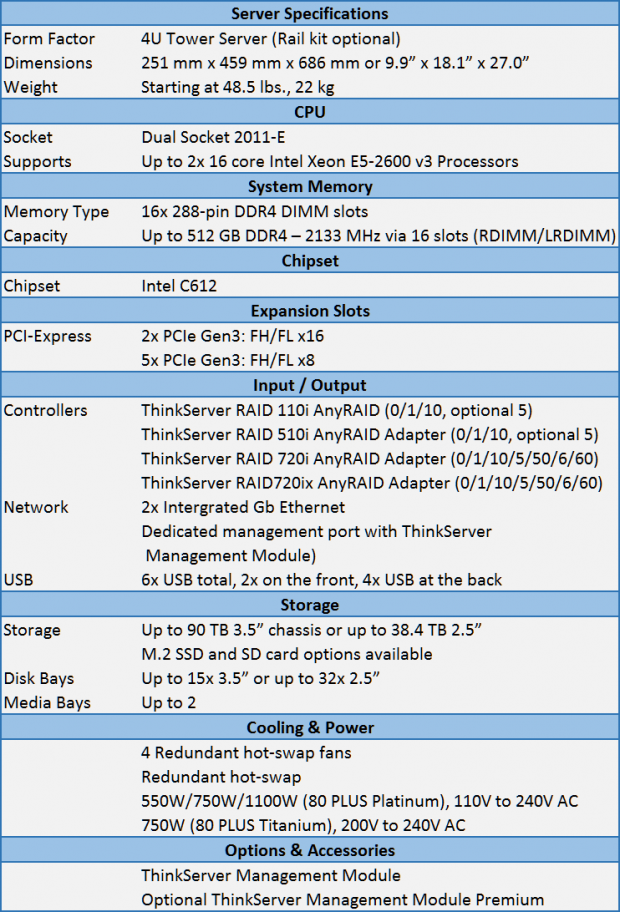 There is a wide range of storage options on the TD350 with up to 15 drives and 90TB of storage on the unit that we received. On servers like this one there is no doubt you will need extra network capabilities; the TD350 has plenty of extra PCIe slots available for expansion cards to cover this need.
Layout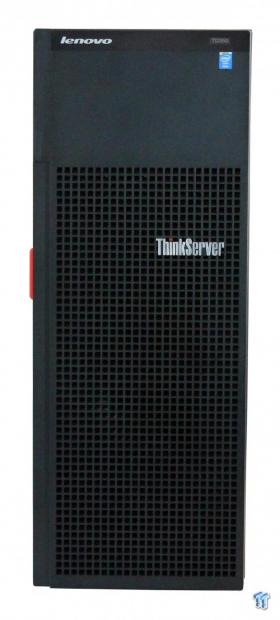 Here we are looking at the front of the TD350. The front door covers all the drive enclosures, and is lockable by way of a key on the left side. At the top left there is a transparent window that allows you to see status LEDs.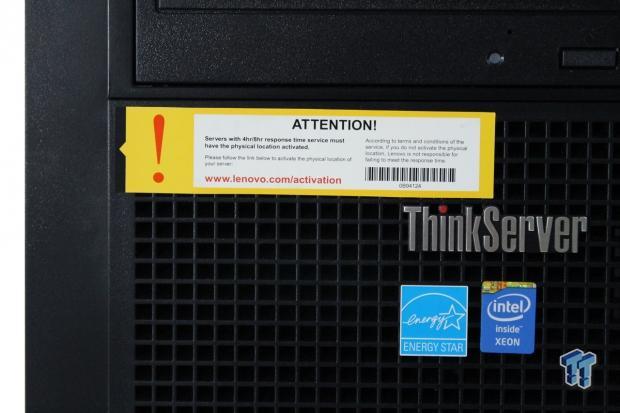 When we removed the TD350 from the shipping box, there was a sticker on the front of the server that explains you must have the physical location activated if you require 4hr/8hr response time service.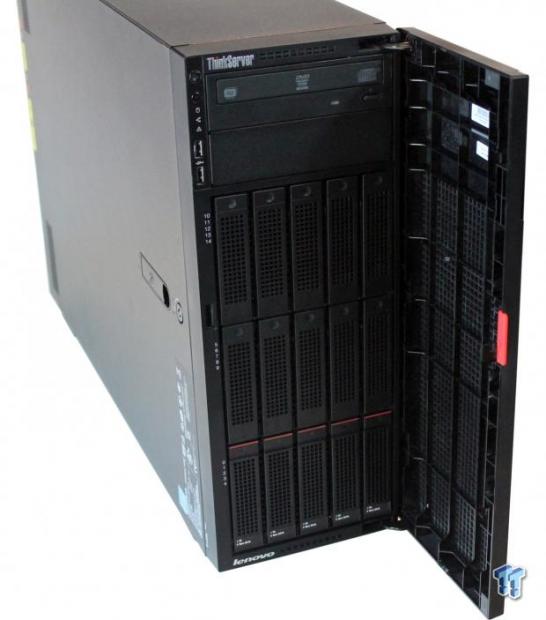 After opening the front panel, we got our first look at the impressive number of drive bays the TD350 offers. The top of the server has two media bays that can be configured to user needs; ours came equipped with a DVD drive installed.
There are magnets at the top and bottom of the door that allow the door to be firmly closed. We only wish that there was an air filter on this door to prevent dust from entering the system.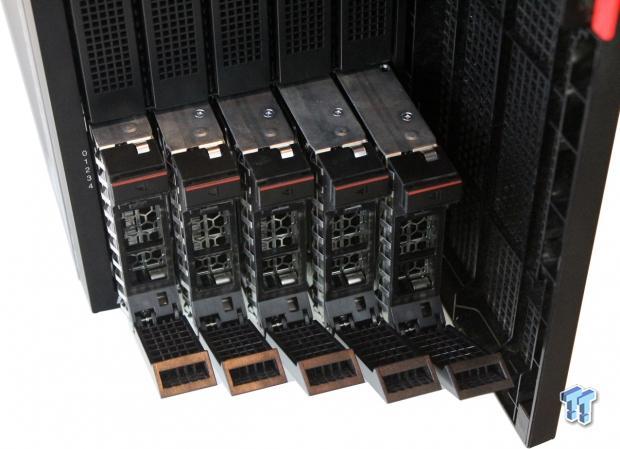 Our TD350 came equipped with five 1TB drives installed. These drives can be RAIDed together and used for the operating system.
Each drive has a release button that pops out a lever that is used to remove the drive. The drives will lock in place when inserted back into the server.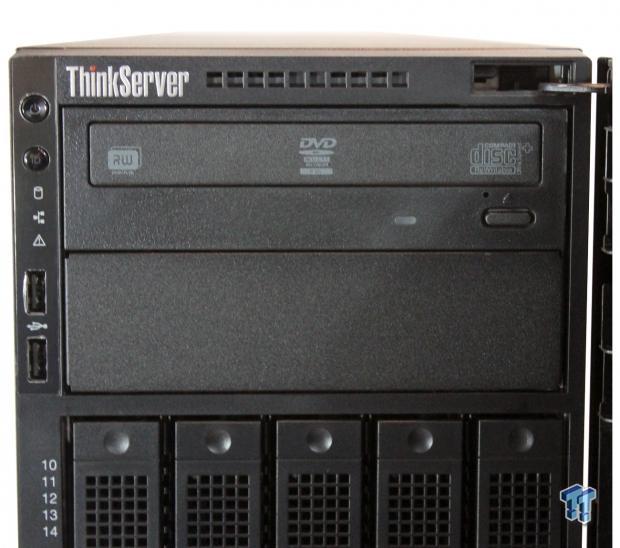 We have two media bays at the top of the server, which can be configured to meet user needs. On the left side there are the power and reset buttons, two USB ports, and status LEDs; the front door must be opened to access these. Locking the door is a good way to protect against unwanted USB access.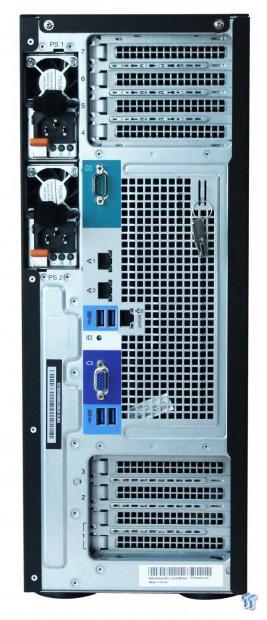 At the top left, we see the dual redundant 750 watt power supplies, and down the middle we have a serial port, two LAN ports, a management LAN port, four USB 3.0 ports, and a video port. We also see the cutouts for up to seven expansion card slots.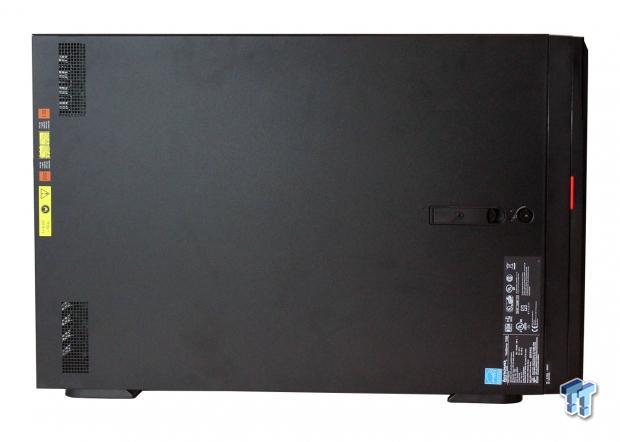 The sides of the TD350 have a simple locking door attached. There is a screw lock at the back of the server; when unscrewed, this panel will slide towards the back where it can be removed. There are no fans located on these doors, which reduces noise.
The key lock secures the side panel and the front door.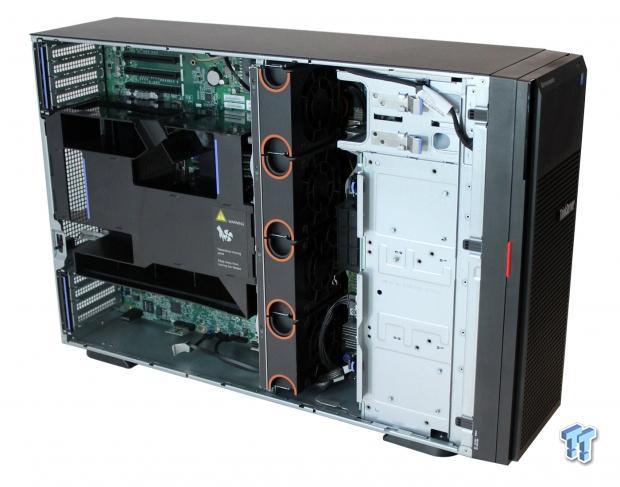 We get our first look at the insides of the TD350 after taking off the side panel.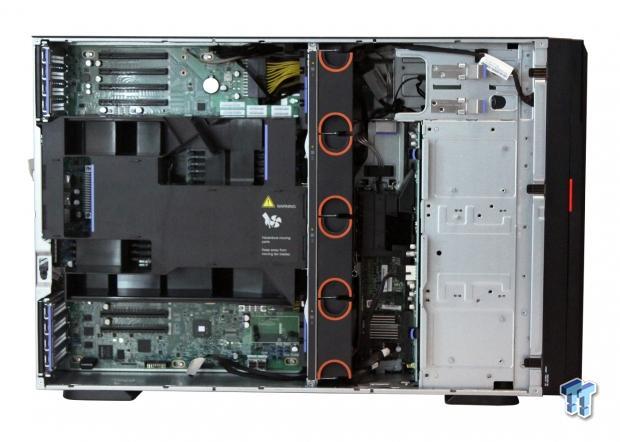 The main feature we see here is the air shroud that goes down the middle of the TD350. This channels airflow from the fan bar in the middle through the CPU area and out the back. We have seen this design on several of Lenovo's workstations and servers now, and it seems a little strange how the design splits the system into two sections, top and bottom. This layout does not affect any performance features, and it does allow a nice, clean, compact way to organize the internal layout.
At the top right of the server, you can see two blue tabs that allow for easy replacement of DVD drives or other media options that have been installed into these locations.
The PCIe slots on the TD350 are as follows:
Two PCIe Gen3: FH/FL x16

Two PCIe Gen3: FH/FL x8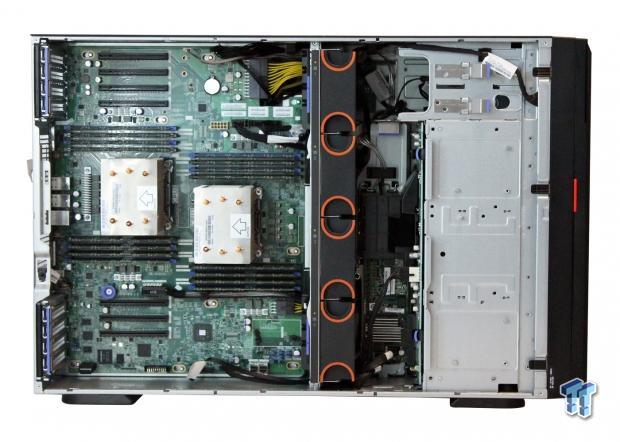 After we removed the air shroud, we could see the CPU heat sinks and RAM. These are staggered to provide better cooling. We can see the fan bar has four fans installed, and two of these are directed into the air shroud for CPU cooling.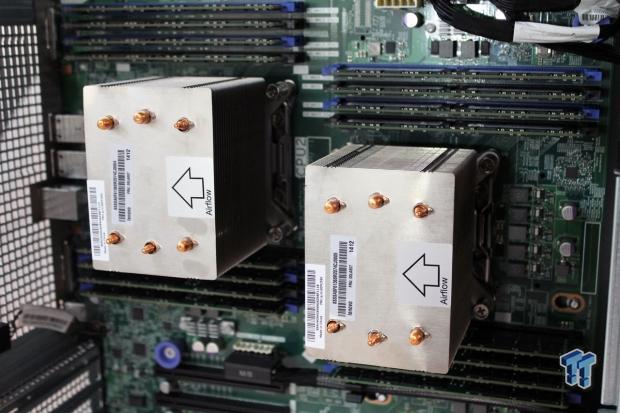 The CPU heat sinks provided on our TD350 do not have fans, so the two fans on the fan bar provide all of the cooling in this area.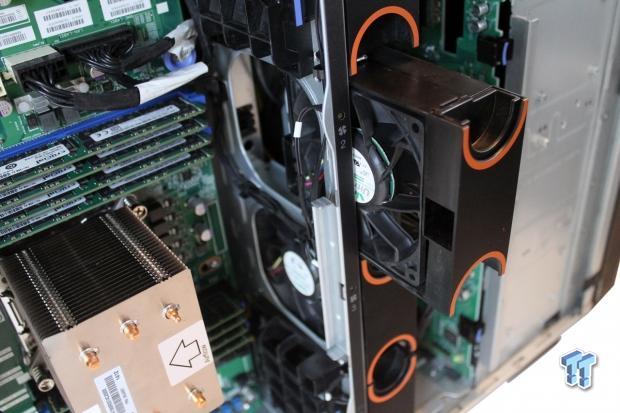 Each of the fans on the fan bar are hot-swappable, and simply pull out for replacement.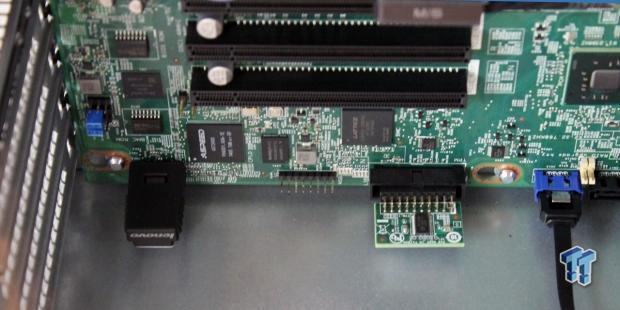 At the bottom of the case we see the Lenovo iKVM module on the left, and a TPM module on the right.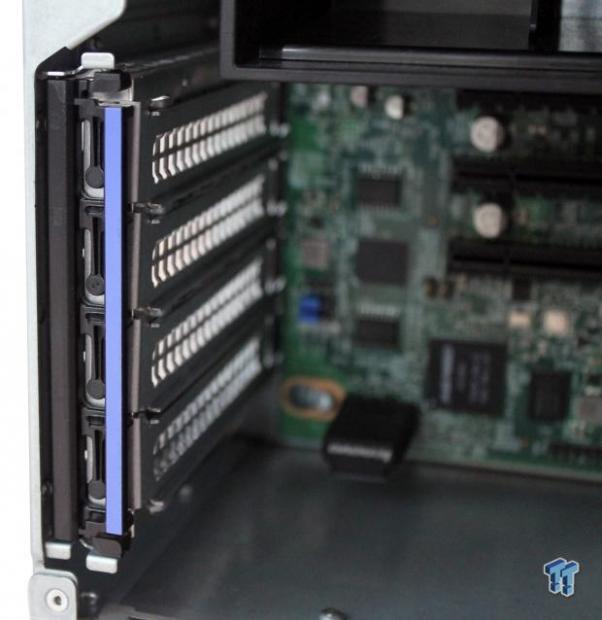 The PCIe slots have a locking bar to hold them in place after installation.
BIOS, Deployment Manager and Remote Management
BIOS
The BIOS for this server is typical, so we will only show key BIOS screens.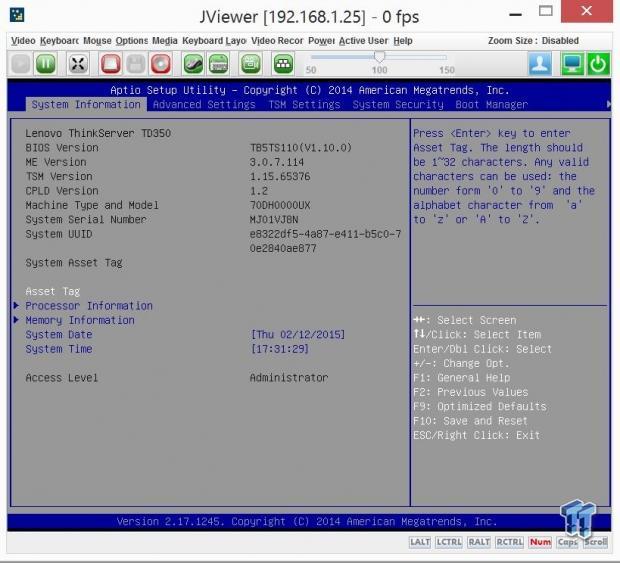 This is the main BIOS screen that you see when you first enter the BIOS.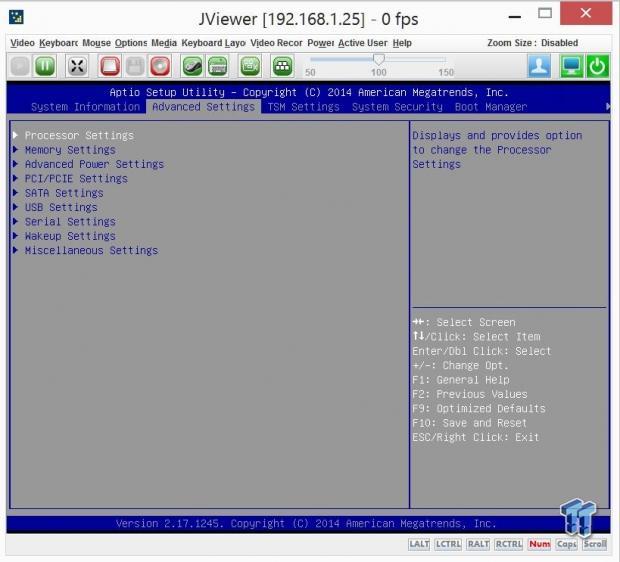 Here we see the advanced settings tab.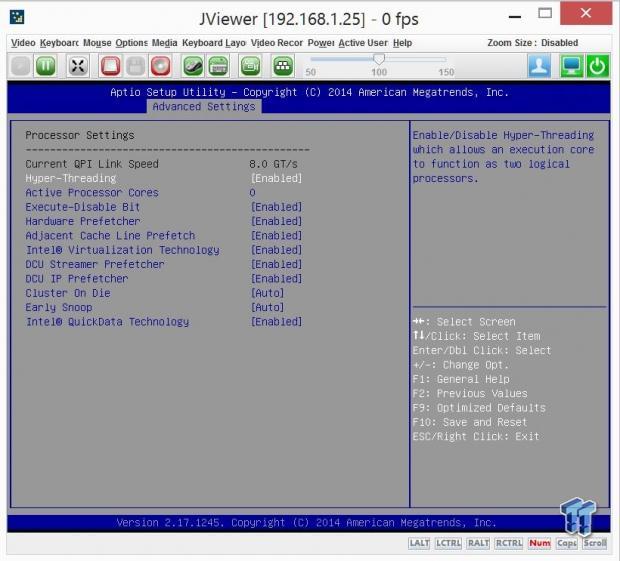 This is the advanced processor configuration tab.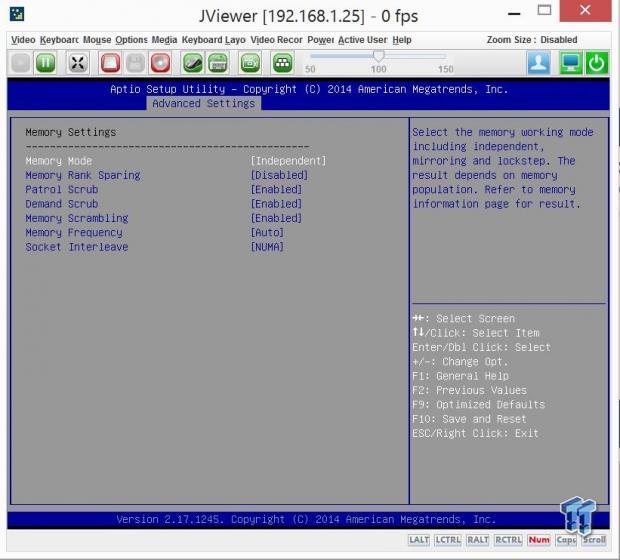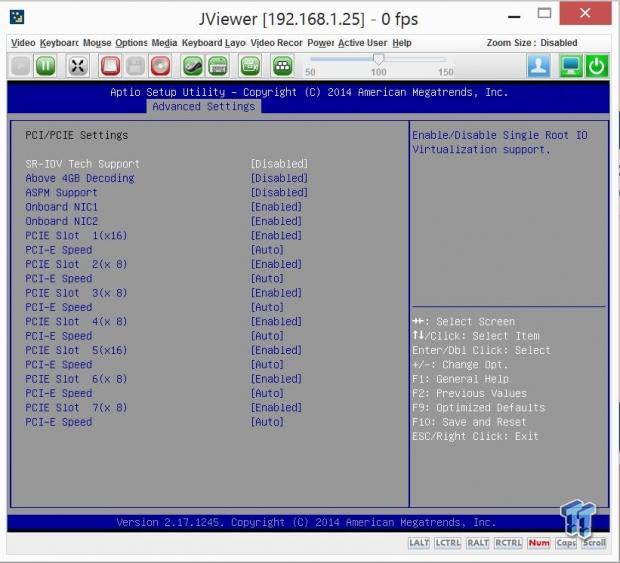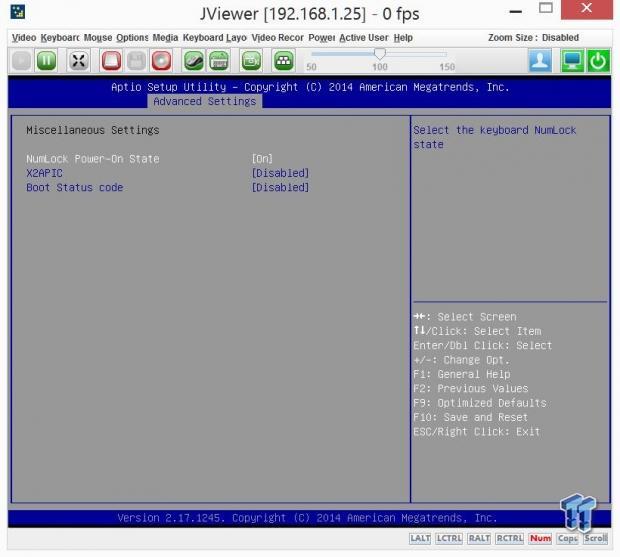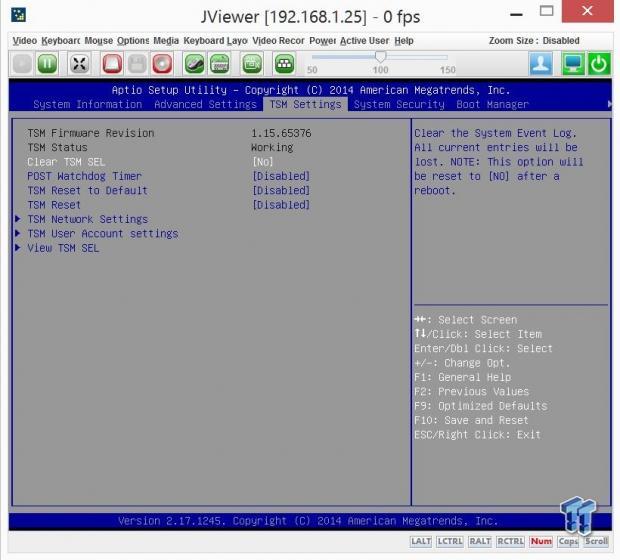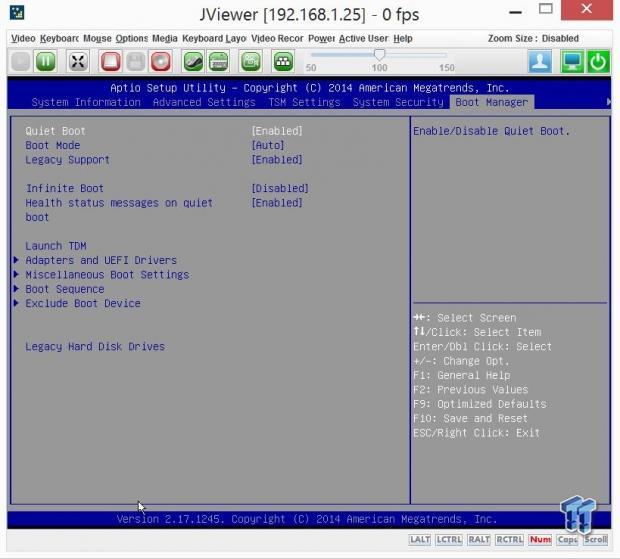 ThinkServer Deployment Manager
The Lenovo TD350 comes with the new ThinkServer Deployment Manager built right in to the system. This is the first graphics user interface that we have seen on any dual CPU server/workstation to this date.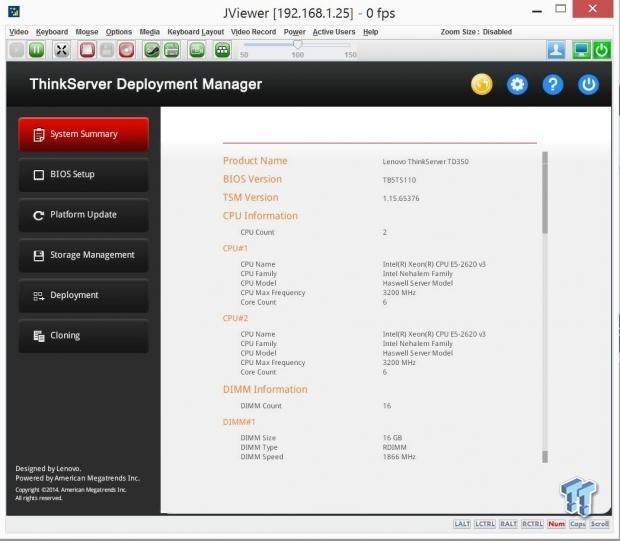 When booting the system, press F10 to bring up the ThinkServer Deployment Manager.
The TDM is a graphical user interface where you can adjust many of the settings that you would normally set in the BIOS; it also has expanded features that allow you to access remote shares, and setup RAIDs and other features right in the TDM interface.
Let's look at several of the available TDM screens.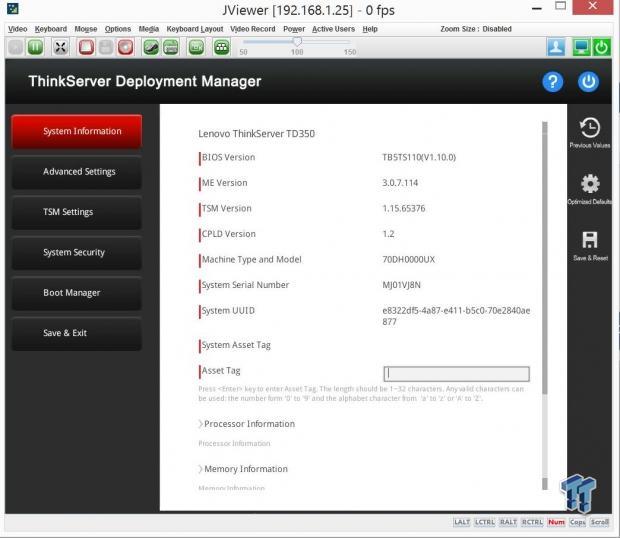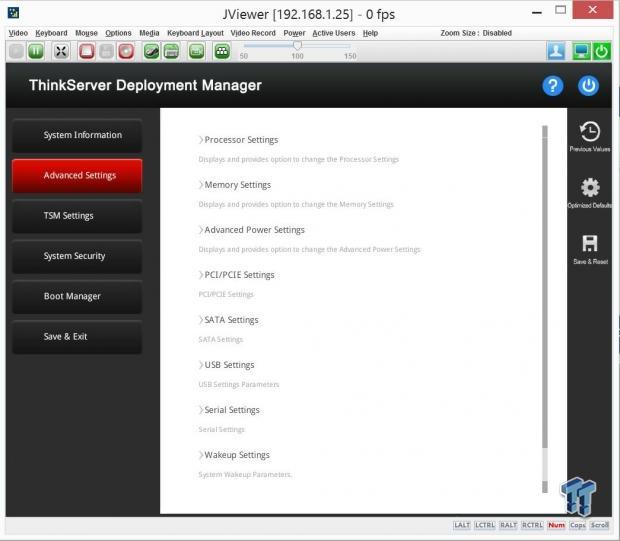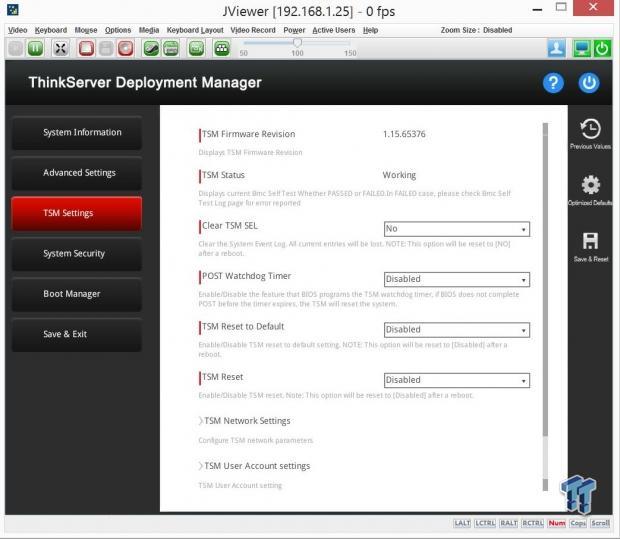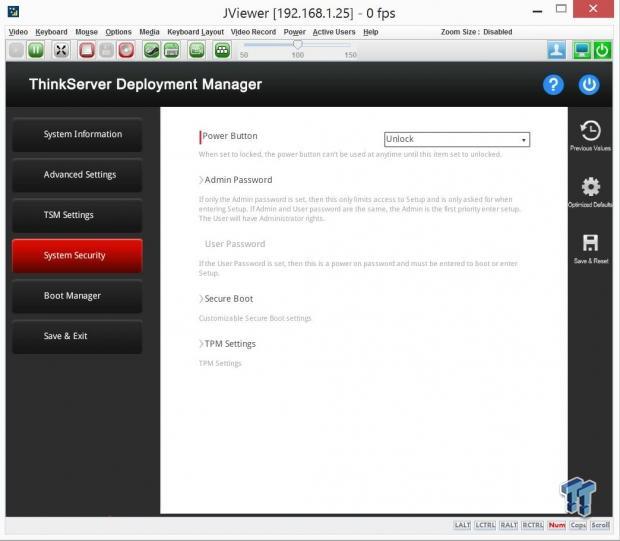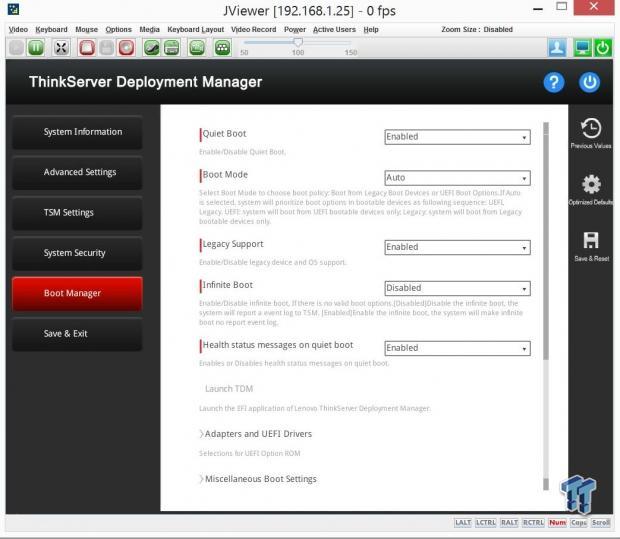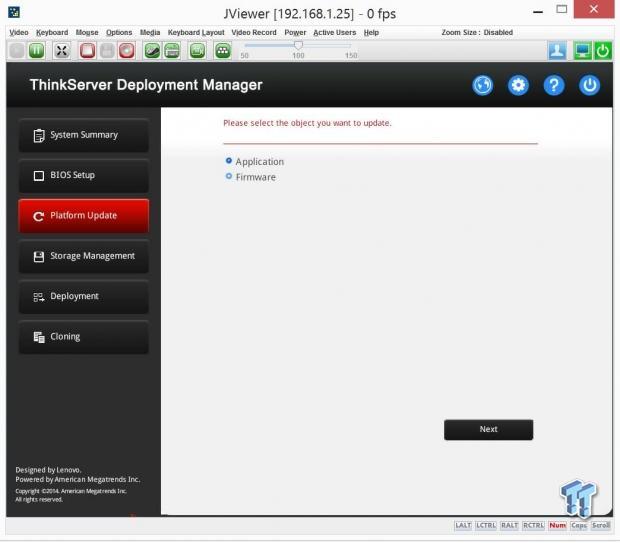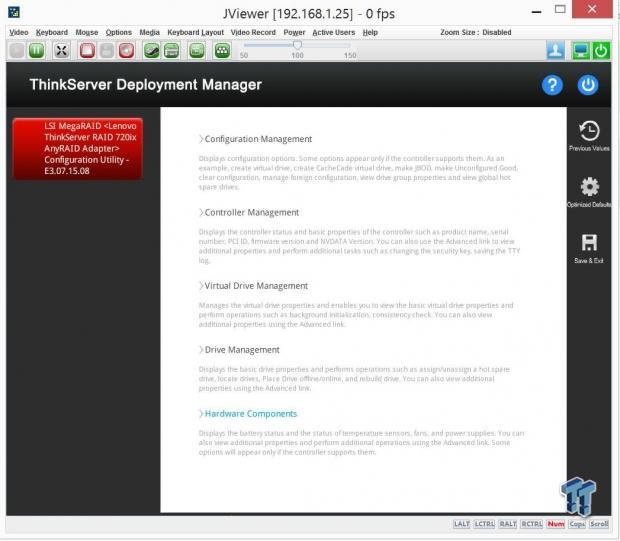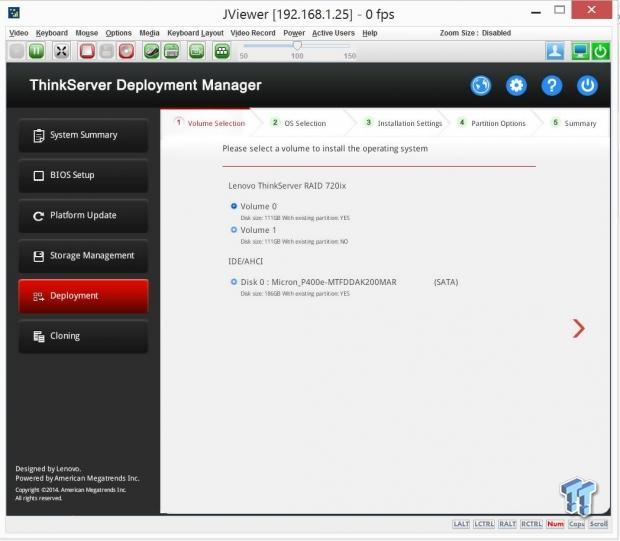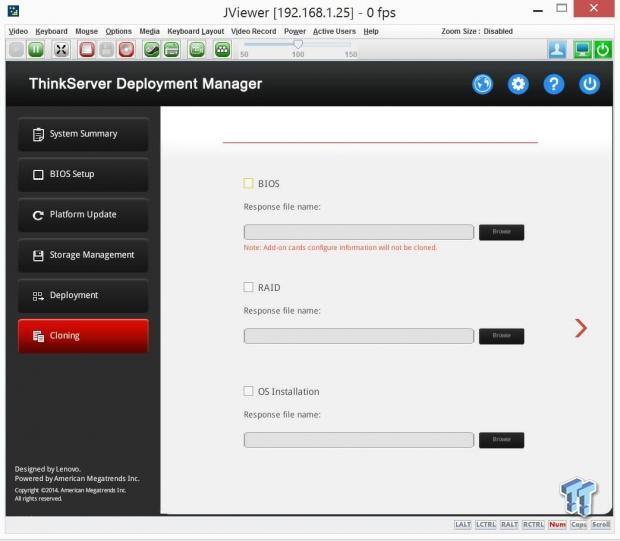 Remote Management
There are several ways that you can use remote management and IPMI on the TD350. Just like any server with IPMI, you simply enter the IP address that you find in the BIOS under server management/BMC network configuration into your web browser; in our case that was 192.168.1.25. Afterwards, you will see the login screen.
There is a dedicated LAN port for BMC on the back of the TD350, and we connected to that for our tests.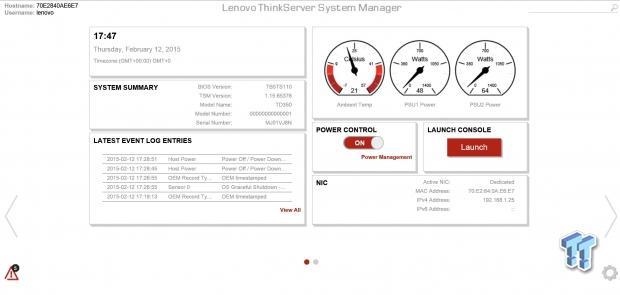 The login information for the Lenovo ThinkServer TD350 is as follows:
Username: lenovo
Password: len0vO
Then hit OK.
As a best practice, administrative users should change factory default username and password logins before connecting any new server to their network.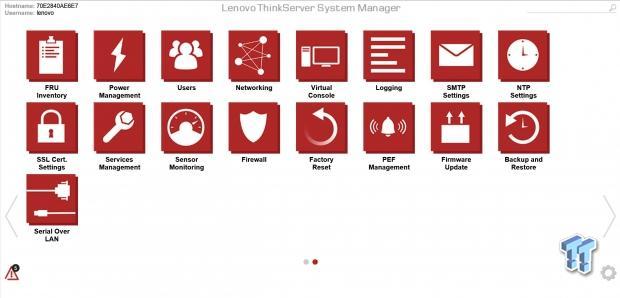 Here we are looking at the home screen for the ThinkServer management. We see a nicely laid out graphic user interface for the new Lenovo IPMI. Each Icon is self-explanatory, so we will not go into detail about each one.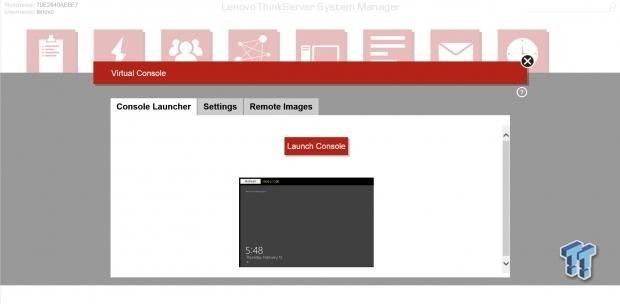 If you have the management controller premium module installed, you can head over to the Virtual Console icon, click it, and a pop-up will be displayed.
In this window we see a thumb screen for the desktop of the TD350. Clicking on the Launch Console button will bring up a full-size desktop window that allows you to operate the TD350.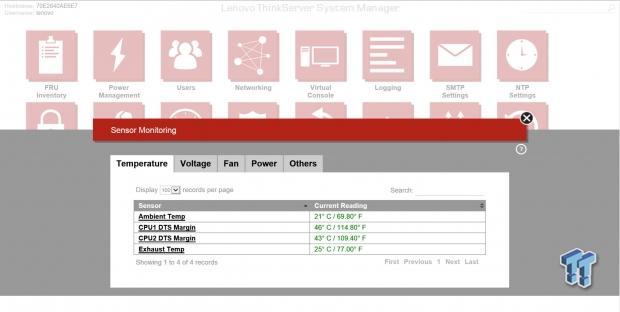 Clicking each of the Icons will bring up a pop-up for that feature, which allows you to work with it just like any IPMI system we have used before.
Test System Setup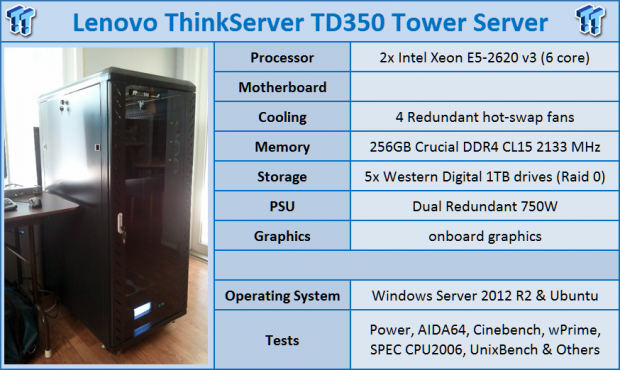 We would like to thank Lenovo, SPEC, Yokogawa, and AIDA64 for their support in providing parts for our test system.
We used default BIOS settings for all tests that we performed.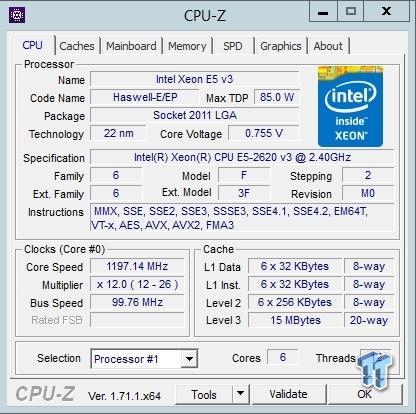 This is the CPUz screen that shows various stats of the Xeon E5-2620 CPUs. As you can see, this CPU has a max TDP of 85 watts. Each CPU has six cores, and we will be running a dual CPU system. This gives it 12 cores/24 threads total. The E5-2620 v3s are low power processors that run at 2.4GHz, and will turbo up to 3.2GHz.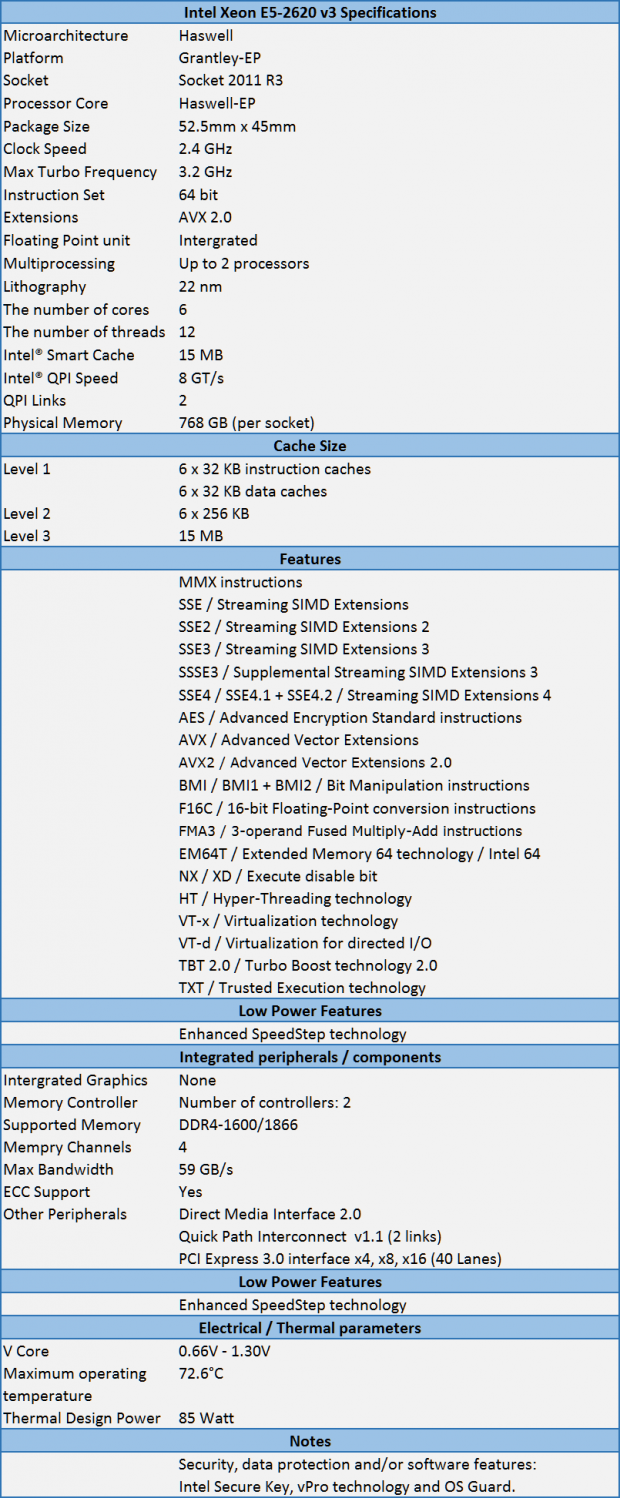 The E5-2620 v3s are labeled as Comms/Storage straight-adopt server SKU, and have support for a long life under server usage conditions. These are actually perfect CPUs to use for a server of this type. However, they are not monster number crunchers, which we will see in our upcoming benchmarks, but they do have the ability to handle storage solutions very well.

In our tests, we will be using the new Crucial DDR4 memory, which has a speed of 2133 MHz and a rating of CL15. We will use eight 16GB sticks, and that will bring us to 128GB of RAM.
We have already taken a look at these memory kits, and you can find our review here: Crucial DDR4-2133 DRx4 RDIMM Memory Review - Testing up to 256GB.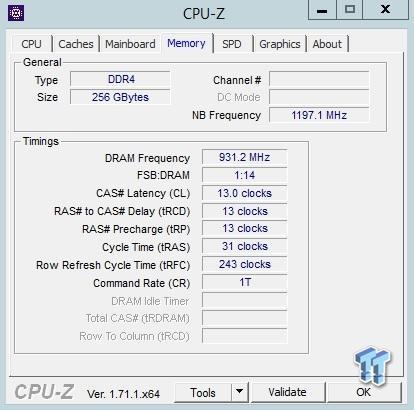 Here we can see the timings of the Crucial DDR4 memory that we will be using in our tests.
System and CPU Benchmarks
CINEBENCH R15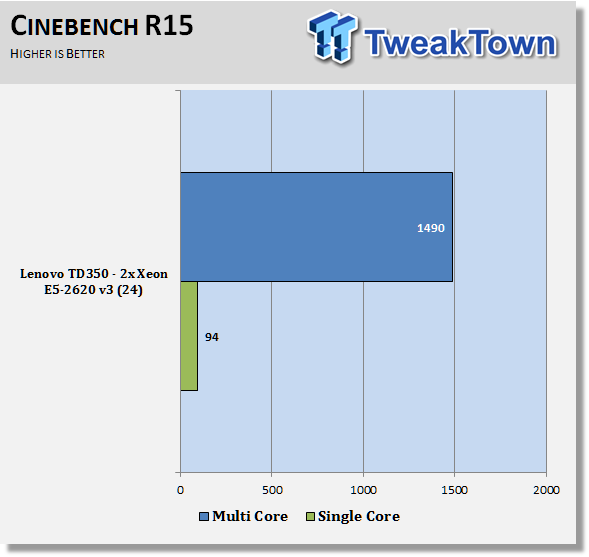 Looking at CINEBENCH R15, we see average benchmark numbers, which is fine for a storage solution like the TD350.
wPrime
wPrime is a leading multithreaded benchmark for x86 processors that tests your processor performance. This is a great test to use to rate the system speed; it also works as a stress test to see how well the system's cooling is performing.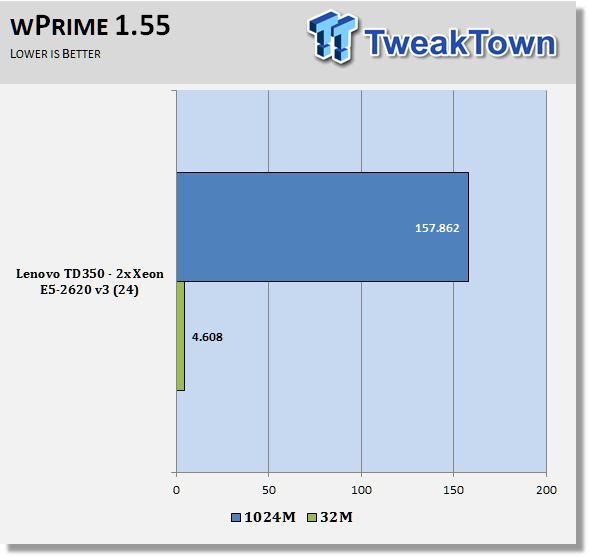 wPrime shows results that are similar to the CINEBENCH results. The E5-2620 v3s do not have high clock speeds to keep heat down, but they still have a lot of potential.
Memory Benchmarks
AIDA64
AIDA64 memory bandwidth benchmarks (Memory Read, Memory Write, and Memory Copy) measure the maximum achievable memory data transfer bandwidth.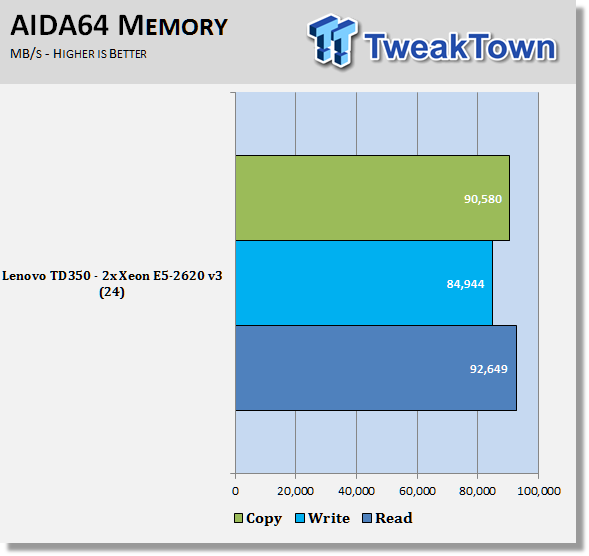 AIDA64 memory tests show the TD350's memory bandwidth is on par with other systems we have tested.
LinX
The Intel optimized LINPACK benchmark is a generalization of the LINPACK 1000 benchmark. It solves a dense (real*8) system of linear equations (Ax=b), measures the amount of time it takes to factor and solve the system, converts that time into a performance rate, and tests the results for accuracy.
LINPACK is a measure of a computer's floating-point rate of execution ability and measured in GFLOPS (Floating-point Operations per Second); ten-billion FLOPS = ten GFLOPS.
LINPACK is a very heavy compute application that can take advantage of the new AVX2 instruction. As it puts a very high load on the system, it is also a good stress test program.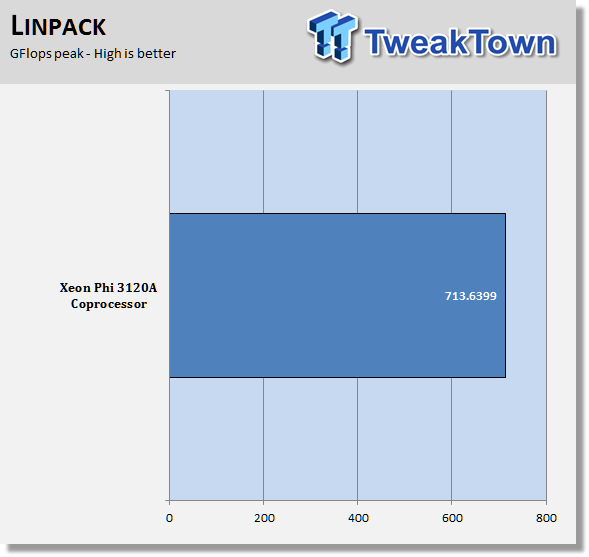 The LINPACK results for the TD350 are rather low compared to other systems' scores. We believe this is because of the power saving features of the TD350. LINPACK puts a very heavy load on the system, which is something a server like the TD350 would rarely see.
We would also suggest using tri-channel memory in the TD340 to bring this score up to par with the RD340.
Geekbench - Stream
Geekbench 3 is Primate Labs' cross-platform processor benchmark, with a new scoring system that separates single-core and multi-core performance, and new workloads that simulate real-world scenarios. It also includes STREAM based memory tests which we will include on our reviews.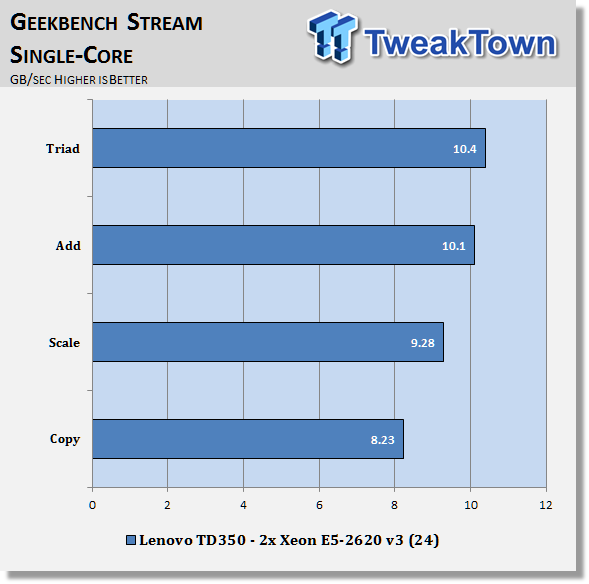 Here we are looking at the single-core STREAM memory tests. Bandwidth is in the average range, and matches up to our AIDA64 memory tests.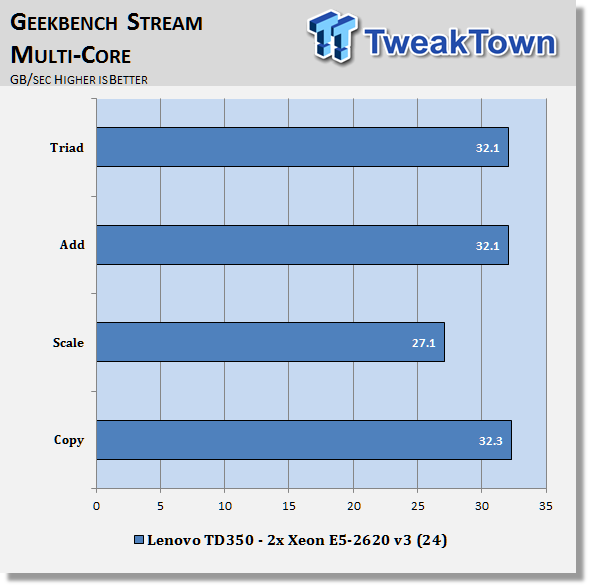 Now we are looking at multi-core STREAM tests. The TD350 is able to achieve very good multi-core bandwidth results with the E5-2620 v3 processors and DDR4 memory. This will help in high I/O related tasks that the TD350 might see in deployment.
UnixBench 5.1.3 and SPEC CPU2006v1.2
UnixBench
UnixBench has been around for a long time now, and is a good general-purpose bench to test on Linux based systems.
This is a system benchmark, and it shows the performance of single-threaded and multi-threaded tasks.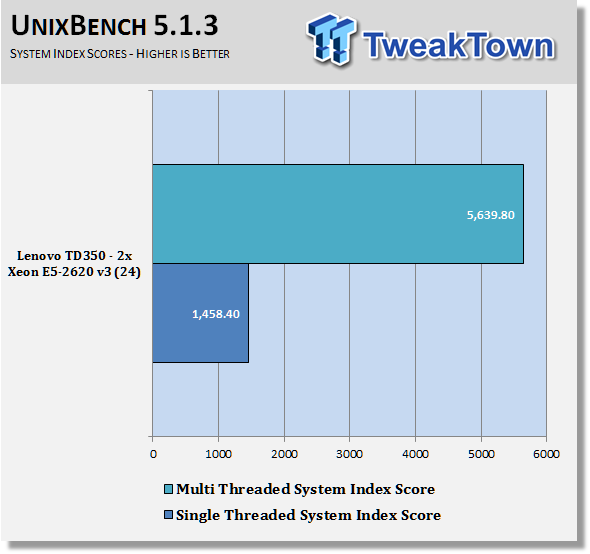 This shows the system indexes after a complete UnixBench run. Here we get an idea of how much performance gain we get using multi-threaded applications. However, many applications use single-threaded, so this number is really the base, and a higher clock speed will increase both indexes.
Now we are seeing that the E5-2620 v3s in the TD350 come very close to other systems we have tested. The TD350 also performs very well in this test.
SPEC CPU2006v1.2
SPEC CPU2006v1.2 measures compute intensive performance across the system using realistic benchmarks to rate real performance.
In our testing with SPEC CPU2006 we use the following basic commands to run these tests:
" Runspec --tune=base --config=tweaktown.cfg ," then " int ," or " fp "
To do multi-threaded, we add in " --rate=72 "
When SPEC CPU first came out, these tests could take up to a week to run, but as computers become faster, our tests now take up to four days for a full run, and even less on some systems.
The user can do many things to effect the results of CPU2006 runs, including compiler optimizations, add-ons like Smartheap, and different commands used to start the tests.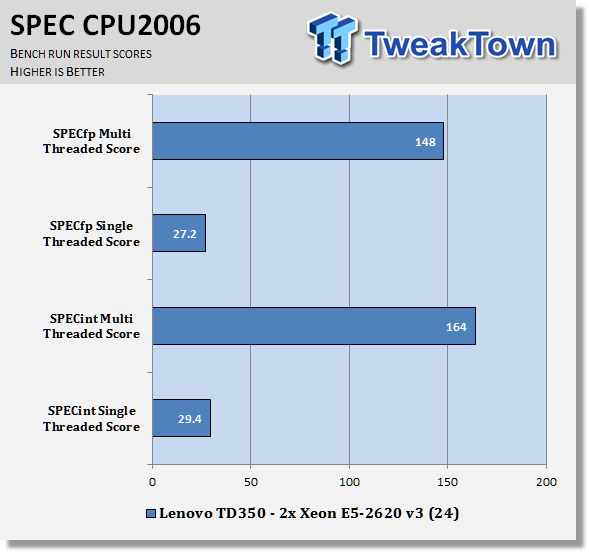 Here you can see the SPEC scores after full runs for Integer (int) and Floating Point (fp) tests.
Single-core runs show how fast (speed) a CPU can perform a given task. In the multi-core runs, we set SPEC CPU2006v1.2 to use all threads to measure the throughput of the system.
The additional cores/threads of this system have a huge impact on performance in these tests and really show the amount of horsepower that a single socket motherboard has.
Single-threaded results are still very important, but when you need many single-threaded apps to run; moving to a CPU with more cores is the way to go.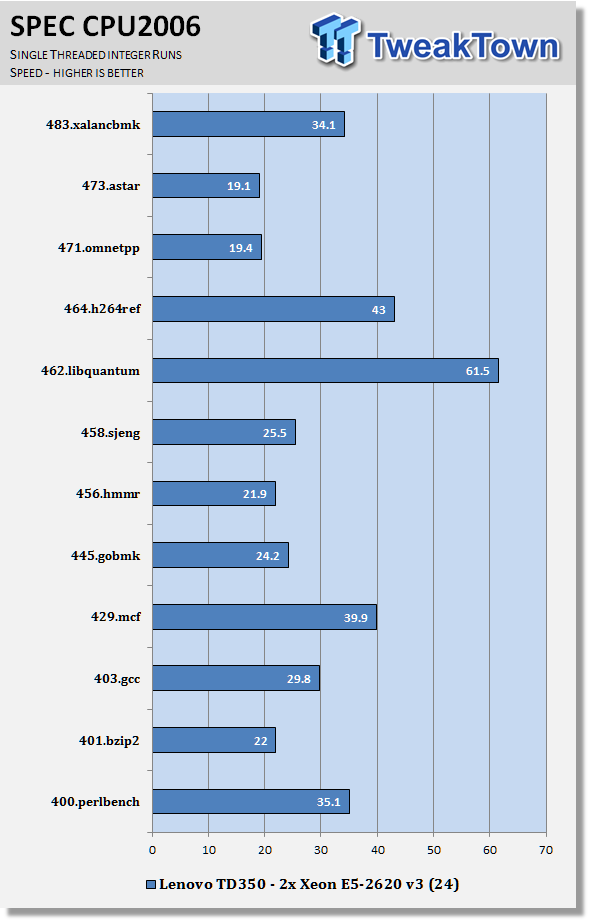 By looking at the results of single-threaded integer runs, we can get an idea of the speed at which the Intel Xeon E5-2620 v3s can crunch through the different integer tests. Not all CPUs are equal here, and ones that have a higher speed will perform these tests faster. In this case, this is the stock speed of the Intel Xeon E5-2620 v3s. Naturally, using an overclocked system or CPUs with a higher stock speed will generate higher results.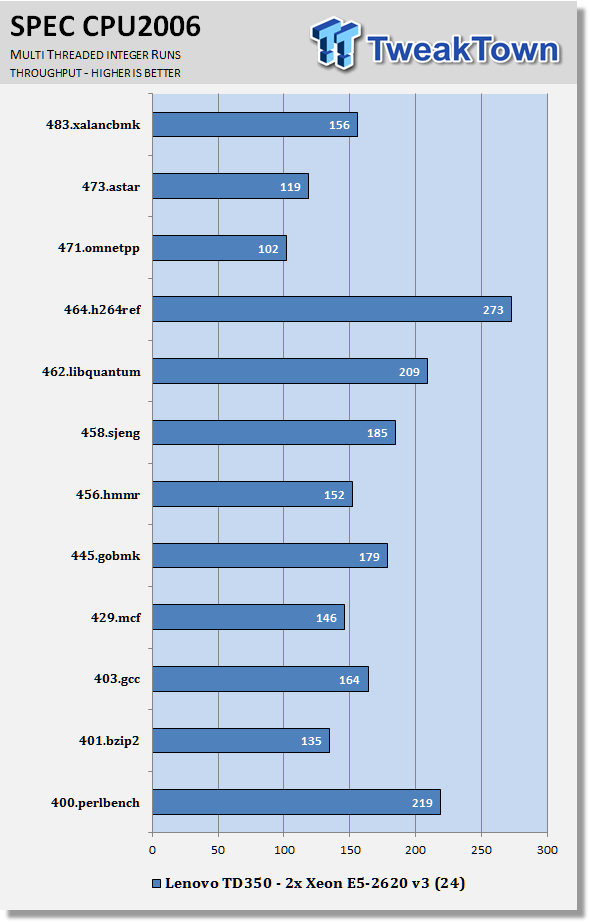 Now we run the test using all 24 threads of the Dual Intel Xeon E5-2620 v3s, to measure the throughput of the system. In this test, more cores/threads will have a greater effect on the outcome.
We can see a big difference here using the dual socket setup; there is a three to four times performance boost in many cases.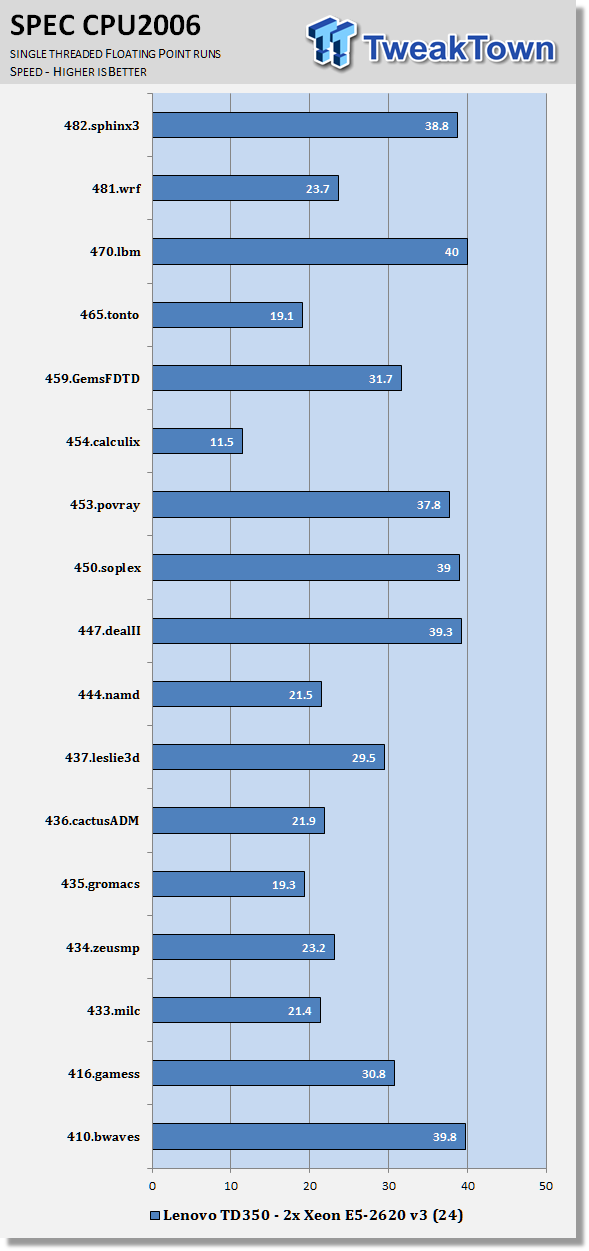 Now we run the floating-point tests in single (speed) mode. The lower clock speeds of the Intel Xeon E5-2620 v3s hold this bench back as well.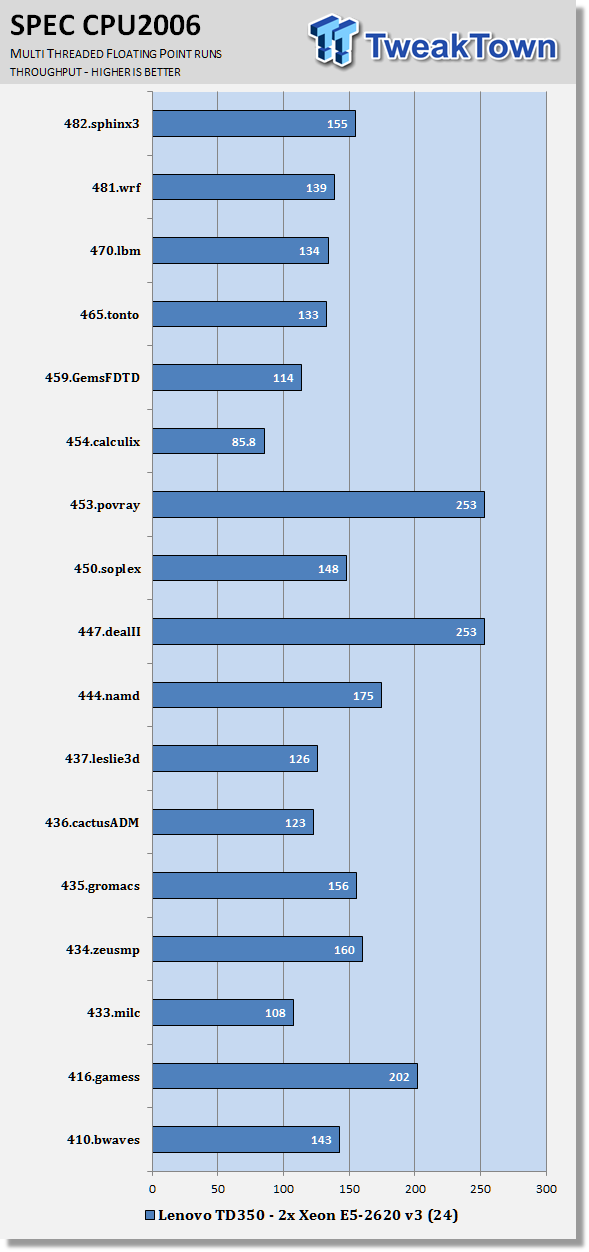 Here, we see the results of the multi-threaded floating-point run that uses all 24 threads of the dual Intel Xeon E5-2620 v3s. Like the multi-threaded integer test, more cores/threads will have a greater impact on the test.
Power Consumption and Final Thoughts
Power Consumption
To test total system power use, we used AIDA64 Stability test to load the CPU, and then recorded the results. We also now add in the power use for a server from off state to hitting the power button to turn it on, and take it all the way to the desktop. This gives us data on power consumption during the boot up process.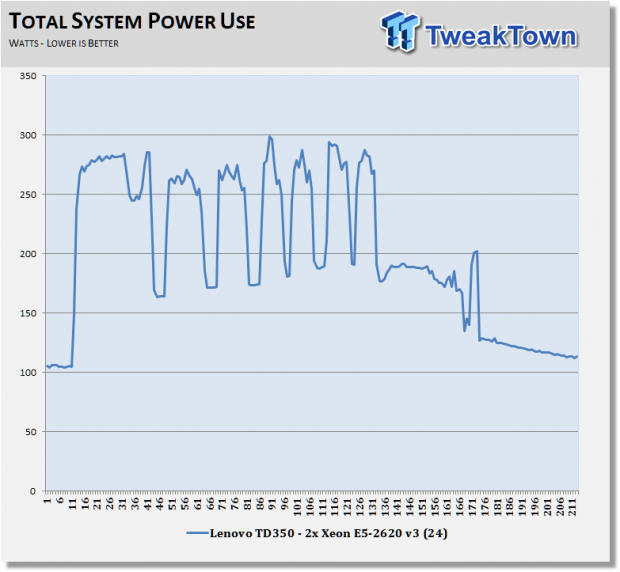 Power consumption of the TD350 is looking to be very good for a dual CPU based system. The E5-2620 v3s do not use a lot of power, and we see a normal 100 watts at idle, but we are seeing no more than 300 watts at full load; that's about 150 watts lower than some of the systems we tested in the lab.
We also notice several spikes in the graph, what is happening is the system reaches a peak power use and throttles itself down to conserve power and limit heat output. This keeps the server running cool under extreme loads. Generally, a server like this would rarely see heavy loads like those that we use in our tests.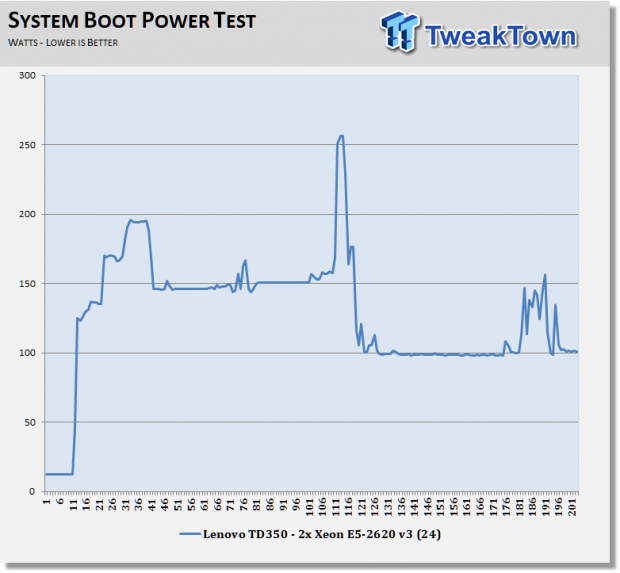 Like many systems we test, we see about 5-10 watts being used in power off state; this keeps IPMI & iKVM features active. Overall, the TD350 has a short boot up time, and that keeps power use rather low during this period.
Final Thoughts
We have reviewed many Lenovo servers and workstations here in the lab, and now we are starting to see the latest machines from Lenovo that are based on Haswell-EP processors.
Lenovo's latest tower server offering continues with a virtually tool-less design that is geared for easy access so that upgrading or part replacement can be done in house, without the need for an expensive service call. Adding more RAM is rather simple to do, and even adding an additional processor is simple with upgrade packs. Many of these things should only be done by someone that is at least familiar with servers.
The TD350 has a flexible upgrade path, so if you start with a basic server and need to expand it further later on, you can do so. The tool-less design makes expansions a snap.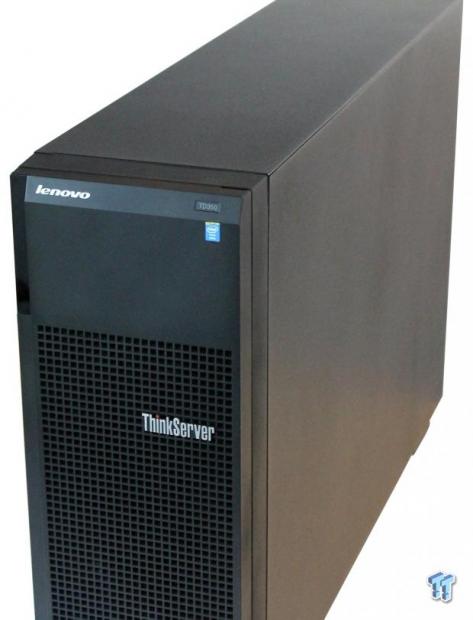 The air shroud that we are beginning to see in many Lenovo designs works very well in keeping the server cool and reducing noise. In the case of the TD350, the CPU heat sinks do not come with fans, and instead rely on the fans in the middle section to cool the processors. This may not be enough cooling if you intend to run your server under heavy loads for long periods. We also have a P900 workstation here in the lab, and it includes fans on the heat sinks, which we think might be a better option on the TD350.
The TD350 we received has an impressive storage system built into it that allows it to take advantage of the 15 drive bays. These drives can be configured in many different ways depending on your needs and storage requirements.
We also got our first look at Lenovo's ThinkServer Deployment Manager, which has a user-friendly interface designed to walk you through many BIOS features and network/storage setup procedures. This is actually the first graphic user interface we have seen on a dual CPU system on any kind of platform; it is well designed, and it has a good workflow. We really liked the new TDM that Lenovo has come up with, and it shows they are committed to building machines that are user friendly.
The new air shroud design helps to keep the TD350 running nice and quiet. When running the server at max loads, it reached ~42 decibels in our lab, which is far quieter than many other servers we run here. It was actually very nice to have CPU2006 running it's max multi-core tests without the noise chasing us out of the lab.
Like the other servers/workstations we have reviewed, we would like to see a dust filter built into the storage bay door because it would help to keep the inside of the TD350 nice and clean. We would also like to see heat sinks that have fans on them to provide additional cooling capabilities when needed.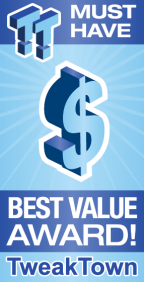 | | |
| --- | --- |
| Performance | 90% |
| Quality including Design and Build | 97% |
| General Features | 98% |
| Bundle and Packaging | 90% |
| Value for Money | 95% |
The Bottom Line: Low entry cost, huge storage capacity, complete tool-less design, high performance and large I/O capacity make the TD350 a no brainer for small to medium size business.
PRICING: You can find products similar to this one for sale below.

United States: Find other tech and computer products like this over at Amazon.com

United Kingdom: Find other tech and computer products like this over at Amazon.co.uk

Australia: Find other tech and computer products like this over at Amazon.com.au

Canada: Find other tech and computer products like this over at Amazon.ca

Deutschland: Finde andere Technik- und Computerprodukte wie dieses auf Amazon.de
We openly invite the companies who provide us with review samples / who are mentioned or discussed to express their opinion. If any company representative wishes to respond, we will publish the response here. Please contact us if you wish to respond.