Intel Server R2208WT2YS System Review
Intel's R2208WT2YS server packs an impressive load out and expansion capabilities to meet the increasing demands of the modern datacenter.
Published
11 minute read time
TweakTown's Rating: 95%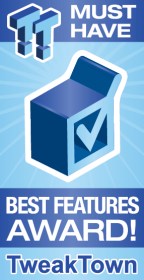 The Bottom Line
Intel's R2208WT2YS server packs an impressive load out that includes up to 24 drives bays, up to 3TB's of DDR4 memory, and a large number of expansion bay options which give this system an incredible amount of performance potential.
Introduction & Specifications and Layout

Fueling today's datacenters is low latency storage solutions and incredibly fast networks. Intel's release of the latest Haswell-EP processors delivers the CPU processing power to take on this job. Features that include power-efficient spread core design, high-speed DDR4 memory banks, and a huge appetite for PCIe lanes to provide I/O for the system.
The Intel R2208WT2YS Server bases its design on these basic design principles and offer up to 36 cores/72 thread systems with a massive 3TB of fast DDR4 memory. To connect to the network, 80 PCIe Gen 3 lanes feed network expansion cards that can go all the way up to Dual port QSFP FDR 56 GT/S InfiniBand modules. Additional computing power can also be added with support of Intel Xeon Phi co-processors.
All of these features come together in the Intel R2208WT2YS Server with a highly configurable server package. Let us move on and take a closer look.
Specifications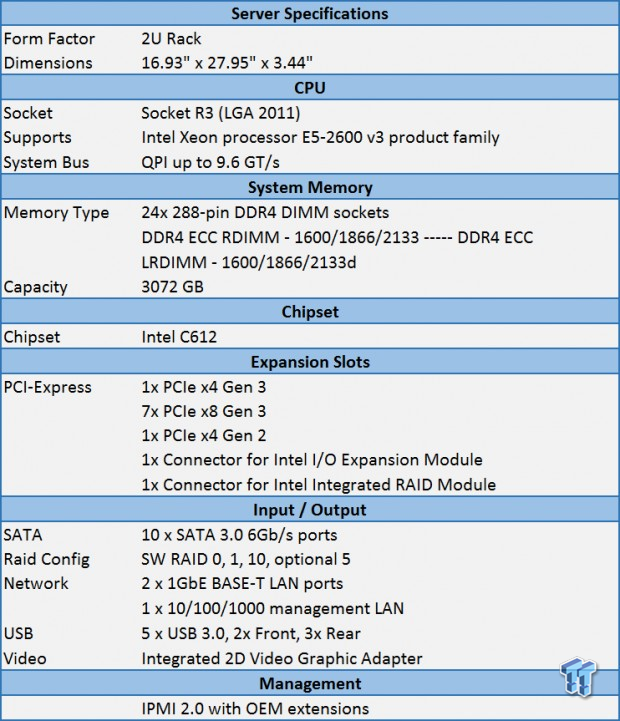 The R2208WT2YS server supports memory capacities up to 3TB of DDR4 and has 80 PCIe Gen 3 lanes to power the available PCIe expansion slots which can be used for Intel Xeon Phi co-processors and Intel TXT technology. The connector for Intel I/O Expansion modules includes the ability to run these network adapters:
Quad port RJ45 1 GbE adapter based on Intel I350

Dual port RJ45 10GBase-T I/O Module adapter based on Intel x540

Dual port SFP+ 10GbE Module adapter based on Intel 82599 10 GbE controller

Single port QSFP FDR 56 GT/S InfiniBand module

Dual port QSFP FDR 56 GT/S InfiniBand module

Single port QSFP+ 40 GbE module

Dual port QSFP+ 40 GbE module
There is also a wide variety of SAS 3 or SAS 2 Intel integrated RAID modules that can be used to supplement storage requirements and that do not use available PCIe slots.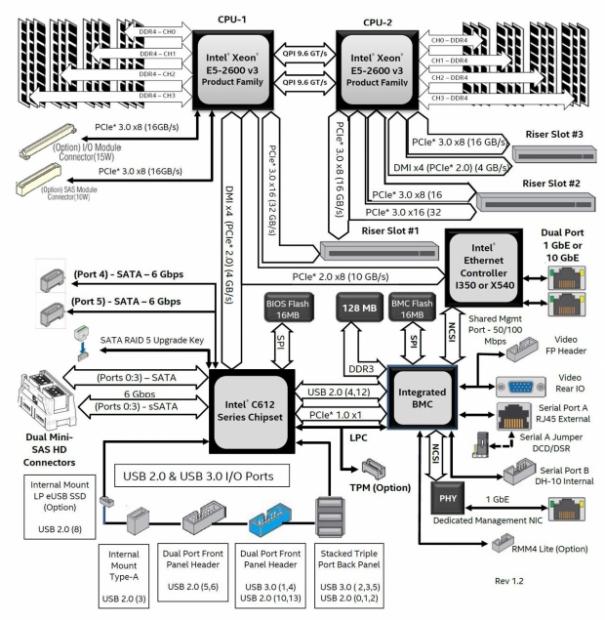 Here we see a detailed block diagram showing how all the input/output ports connect to different chips on the motherboard. In order to take advantage of all PCIe lanes/slots on the R2208WT2YS, both CPU's need to be installed.
Layout

Looking at the front of the R2208WT2YS server, we can see our sample unit has the left hand drive module equipped with an eight-drive bay module. The far right module has I/O, status display and a DVD drive, while the middle module is blank.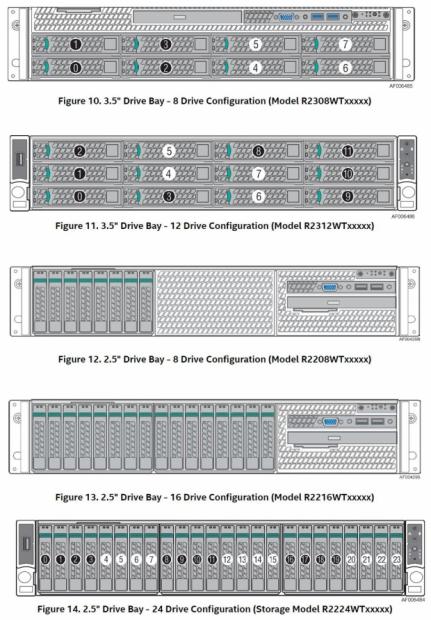 The possible configurations of the front drive bay modules are shown above, the unit we received is equipped as figure 12 shows.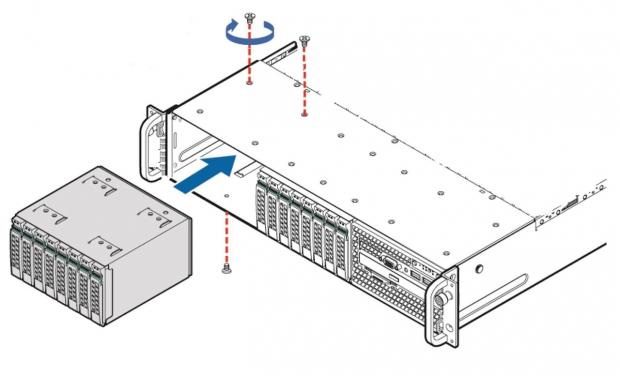 Swapping out drive bay modules is simple to do, only three screws hold each one in place and removing these allow the module to be taken out or inserted.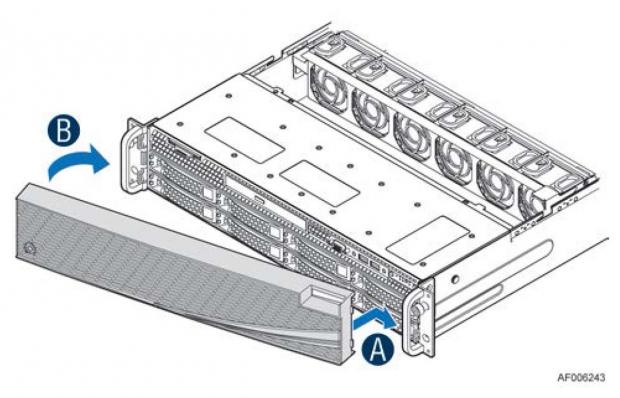 There is also an option for a security front panel that can be purchased to prevent unauthorized access to the drive bays.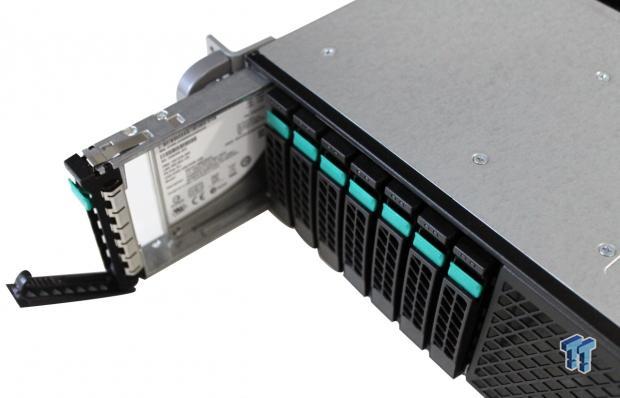 The sample R2208WT2YS server we received can be equipped with an Intel DC S3500 Series 240 GB SSD installed in drive bay number 0.

Our sample did not come with drive rails, but here you can see the side of the server and its rail mounting hole locations.

Now we are looking at the back I/O ports.

There is a lot going on at the back of the R2208WT2YS server, at the far left side we can see there is an optional 2x 2.5" Hot Swap Drive Bay, which can be used for a RAID 0 SSD boot setup. This would free up the front drive bays for pure storage. There are also eight riser card slots available for expansion cards.
The R2208WT2YS server has an option for dual redundant power supplies; our sample came equipped with just one PSU.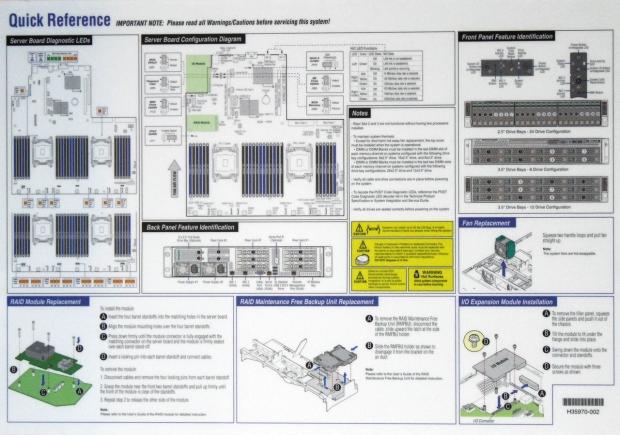 On the server lid there is a handy reference chart that shows various features of the R2208WT2YS.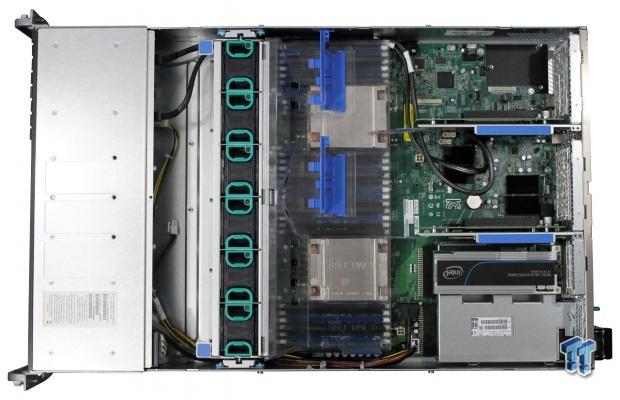 Here we have taken the lid off the R2208WT2YS to our first look at the insides. The entire layout is nice and clean with only two sets of cables floating around. Our system does not have any expansion cards installed, except for an Intel P3700 PCIe 400 GB SSD, which has no cables attached to interfere with airflow.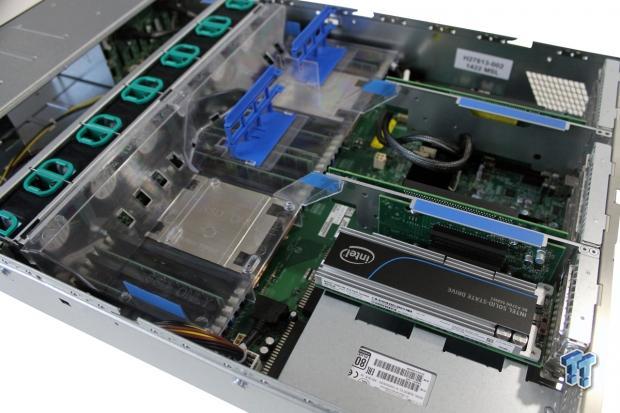 The air shroud bevels down to the top of the passive CPU heat sinks so that all airflow goes directly through the coolers. It also directs airflow through the memory area to cool the DDR4 memory sticks.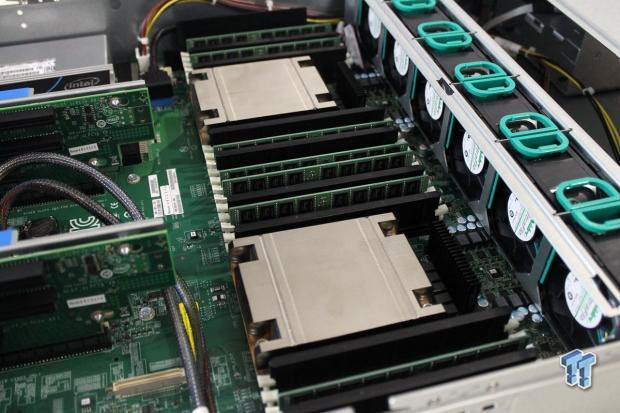 The CPU heat sinks used in the R2208WT2YS server are simple passive heat sinks that are as tall as the DDR4 memory sticks. There are also plastic DDR4 dummy sticks in unused memory slots that help channel airflow through this area.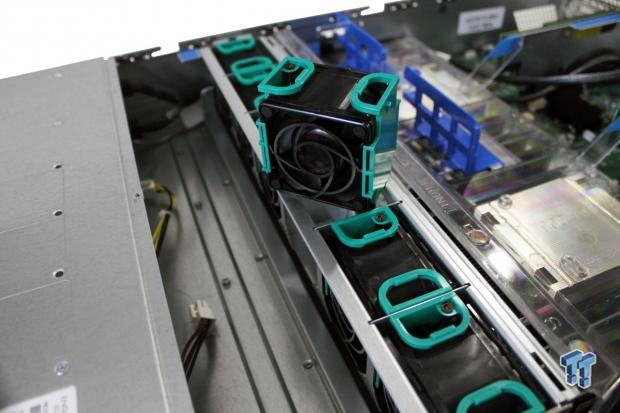 Each of the cooling fans on the middle fan bar can be easily removed for replacement if needed.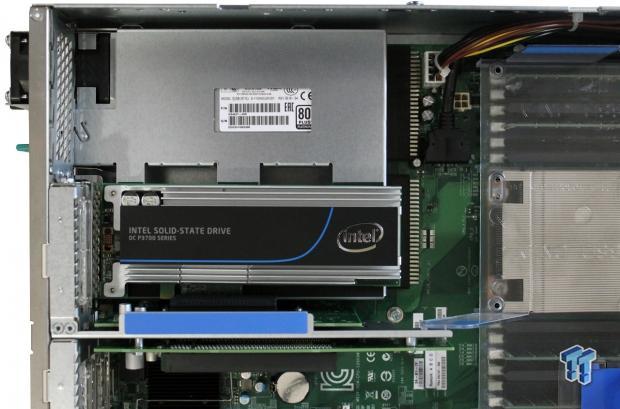 The only expansion card that came equipped on our R2208WT2YS server is an Intel P3700 400GB PCIe SSD. When we received the sample R2208WT2YS server, you could not boot from this card, but later BIOS revisions enabled this feature.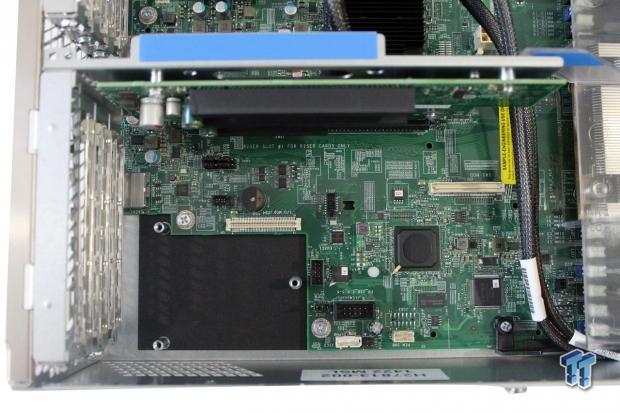 Looking at the I/O expansion bay, we can see mounting holes for these expansion cards.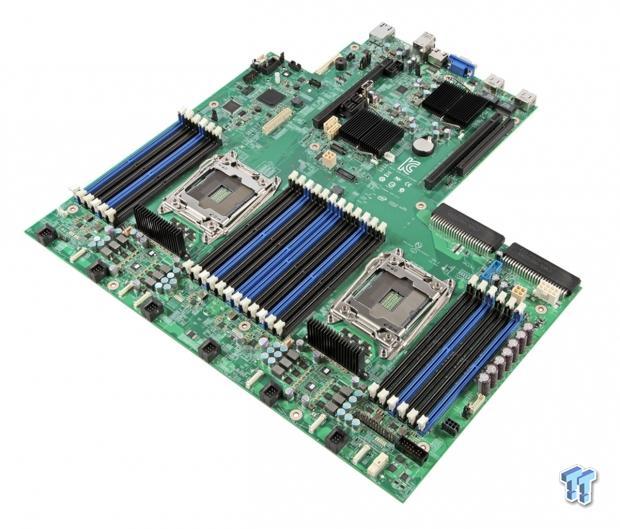 The motherboard used on the Intel Server R2208WT2YS system is an Intel Server Board S2600WT shown here. This board is designed to support Intel E5-2600 v3 processors, DDR4 memory, Intel Xeon Phi co-processors, TXT technology, and Intel SSDs and can be configured for 1U and 2U rack mount chassis.
BIOS and Remote Management
BIOS
The Intel Server R2208WT2YS BIOS is typical for server motherboards.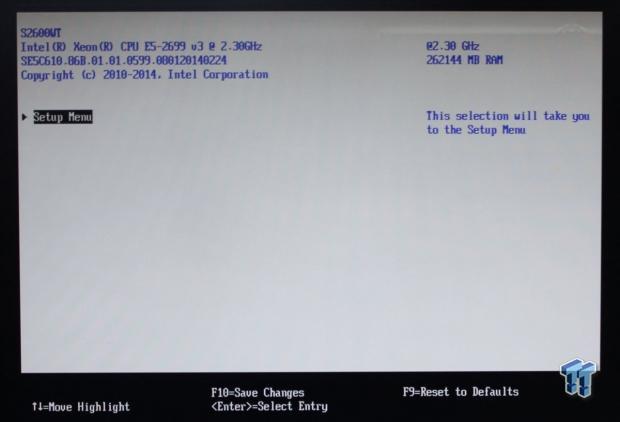 Here we are looking at the Main screen when you enter the BIOS. Here you can see basic information of the motherboard, BIOS version, how much memory and the date/time. The rest of the BIOS screen shots are typical for motherboards of this type so we will just show what is available.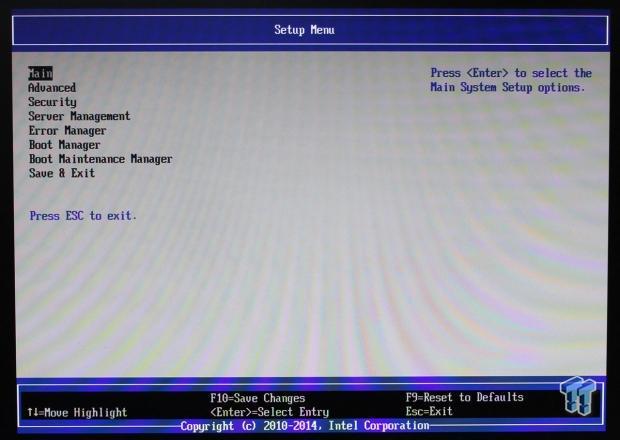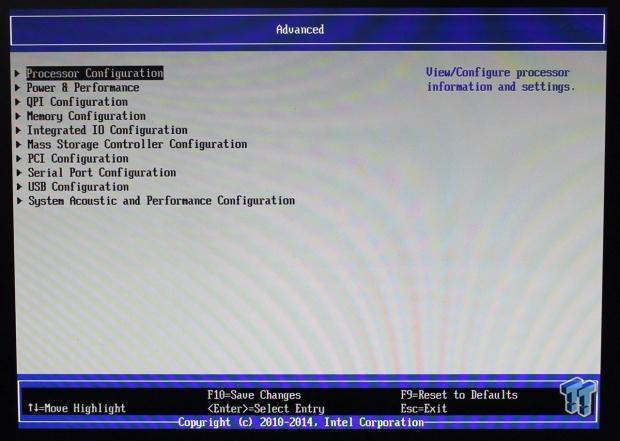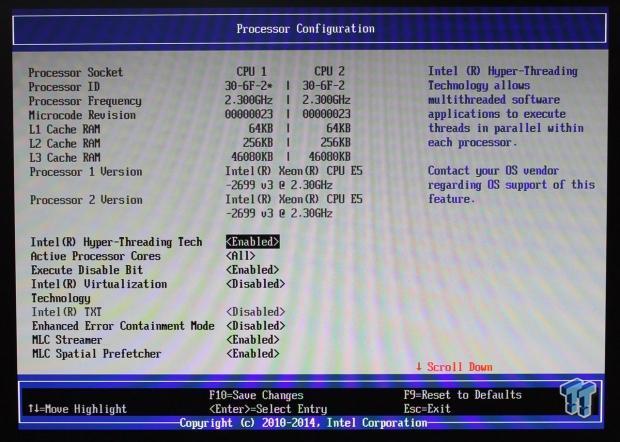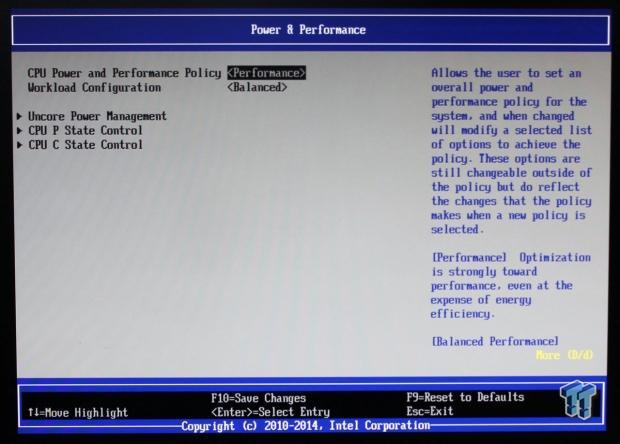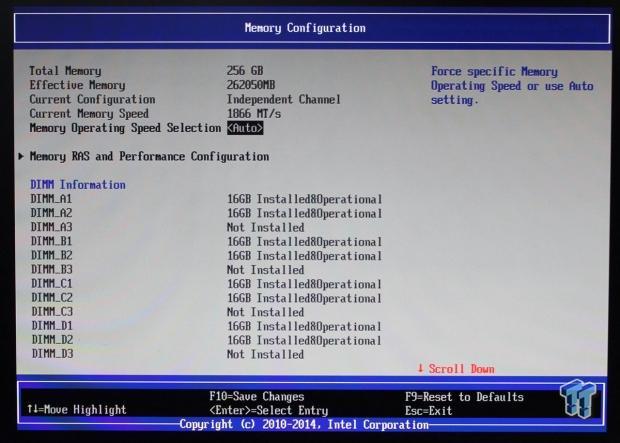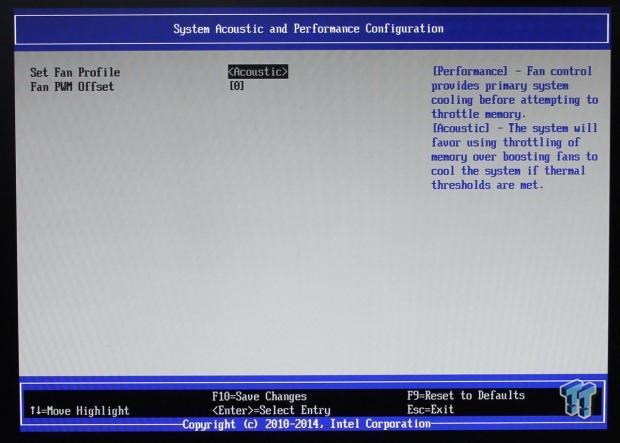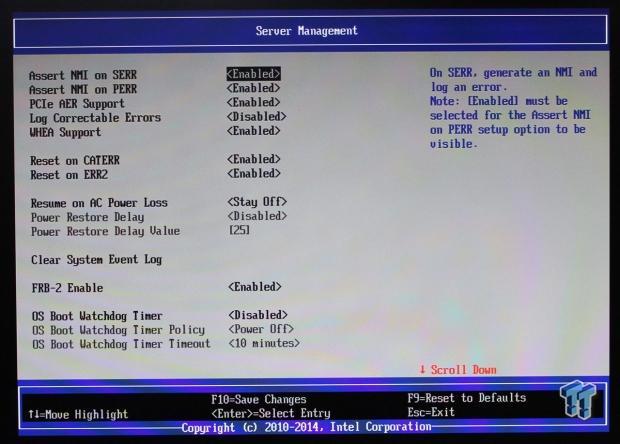 Remote Management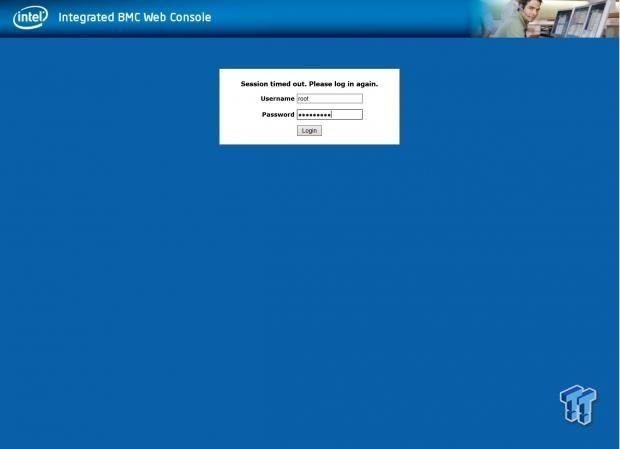 To get remote access up and running, enter the BIOS and head over to the server management tab. Move on down to the BMC LAN configuration tab. This will show the IP address used for remote access. Enter this IP address into your browser and you will see the login page.
Log in using:
Username: root
Password: superuser
As a best practice, Administrative users should change factory default Username/Password logins before connecting any new server to their network. The rest of the screens are typical for Intel remote access so we will just show the screens here.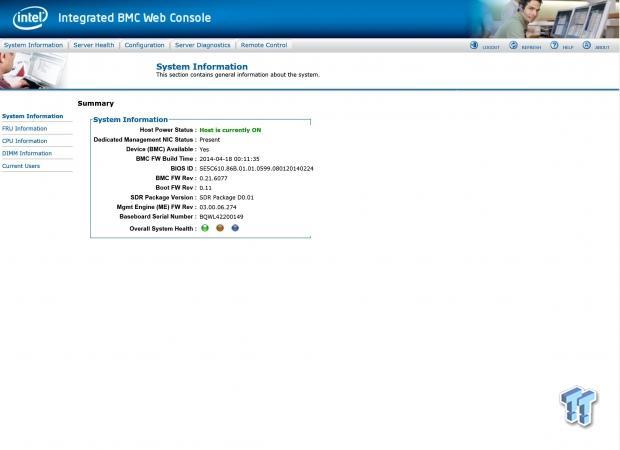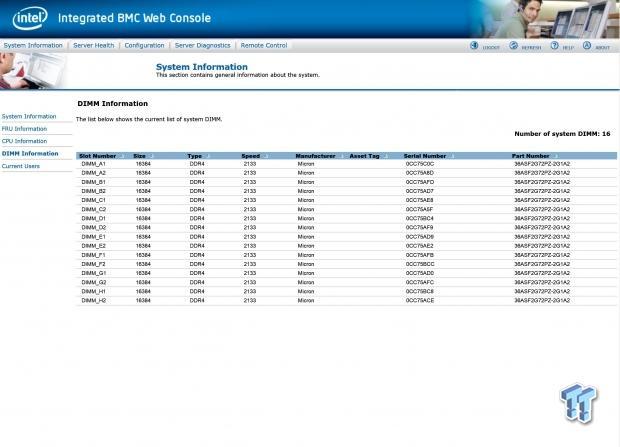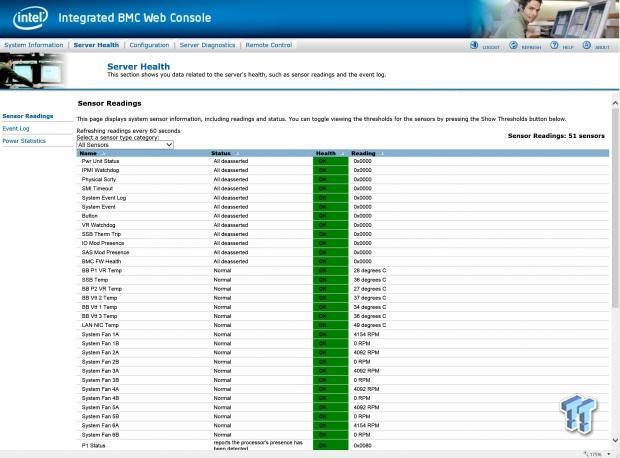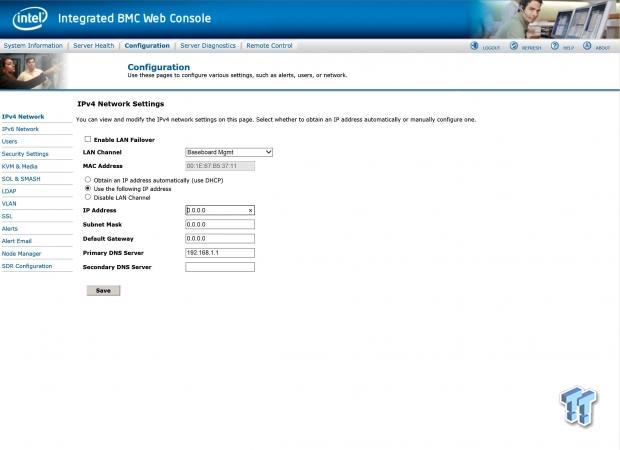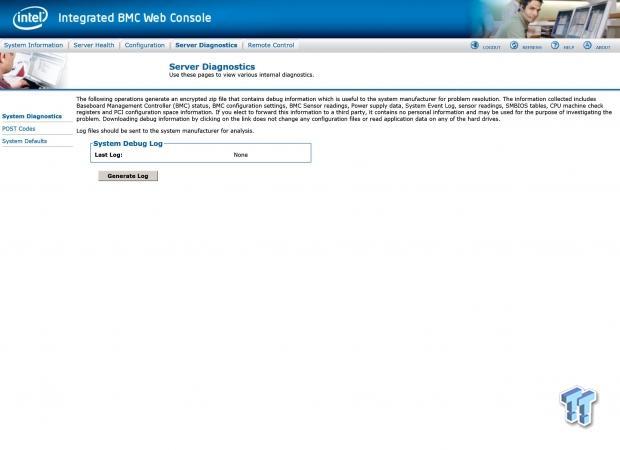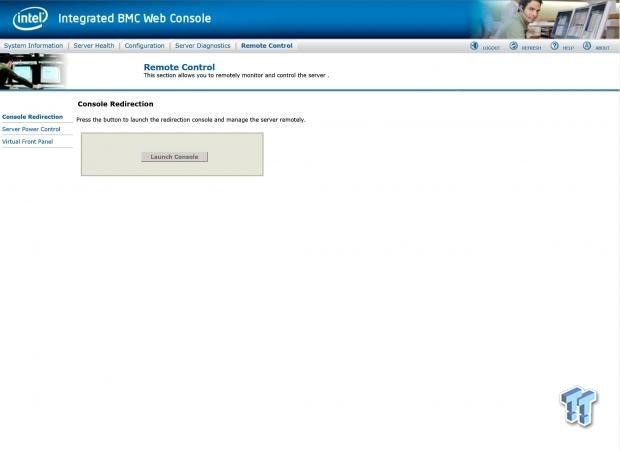 Test System Setup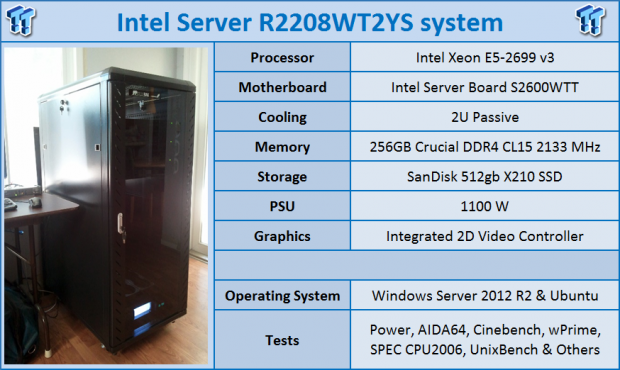 We would like to thank INTEL, Crucial, SanDisk, Yokogawa, SPEC, Primate Labs and AIDA64 for their support in providing parts for our test system.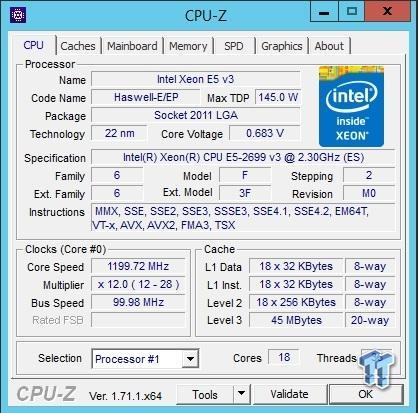 The processor we will be using is the Intel Xeon E5-2699 v3, which features 18 cores with hyper-threading and will supply the processing power.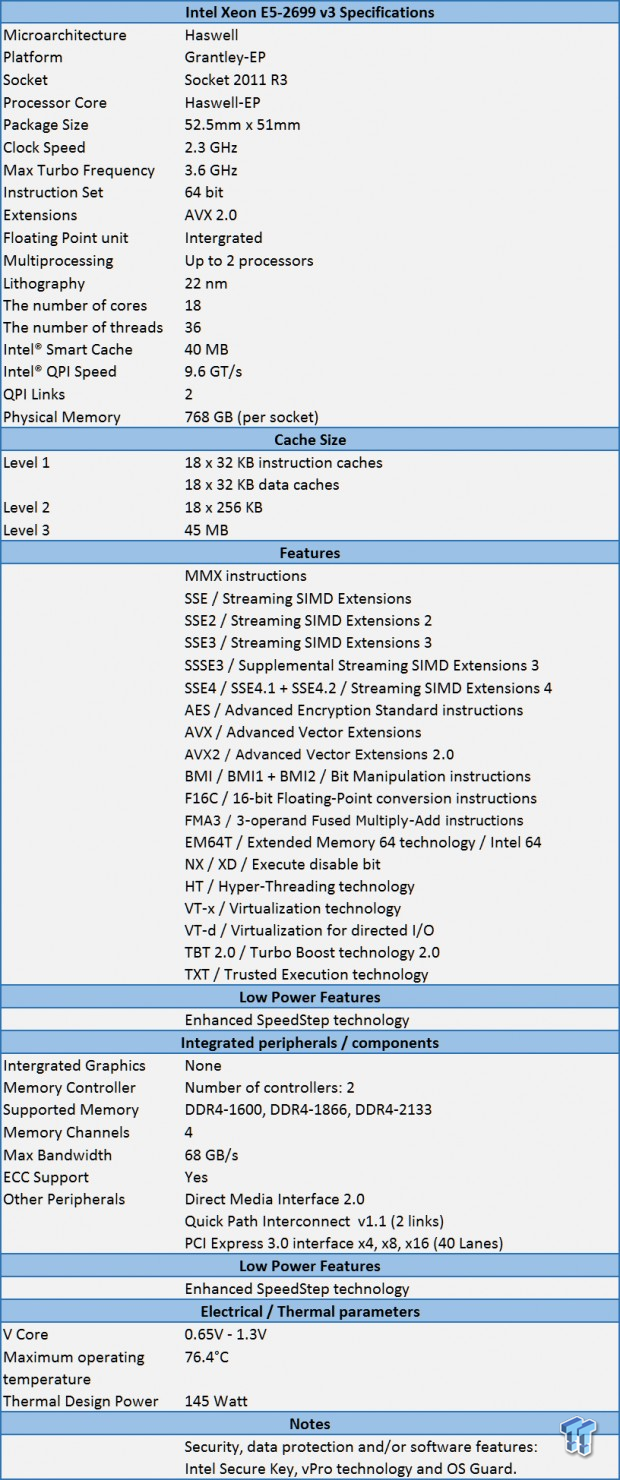 The Intel C612 chipset will have support provided for up to 18 core processors.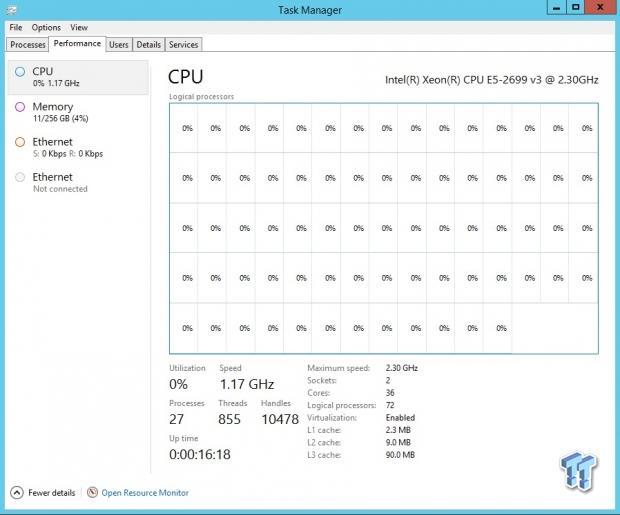 Here we get a look at the task manager showing all 72 threads used. The E5-2699 v3 processors provide a massive amount of computational power.

In our tests, we will be using the new Crucial DDR4 memory, which has a speed of 2133 MHz, and rated at CL15. We will use 8x 16GB sticks of these kits that will bring us to 128GB of RAM. We have already taken a look at these memory kits which you can find here: Crucial DDR4-2133 DRx4 RDIMM Memory Review - Testing up to 256GB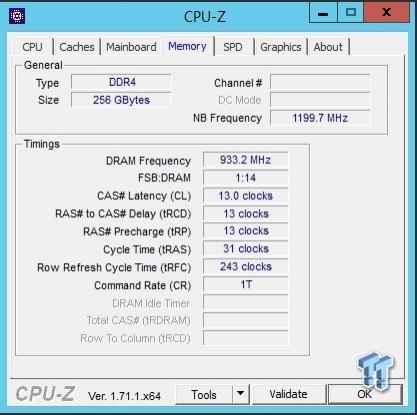 Here we can see the timings of the Crucial DDR4 memory that we will be using in our tests.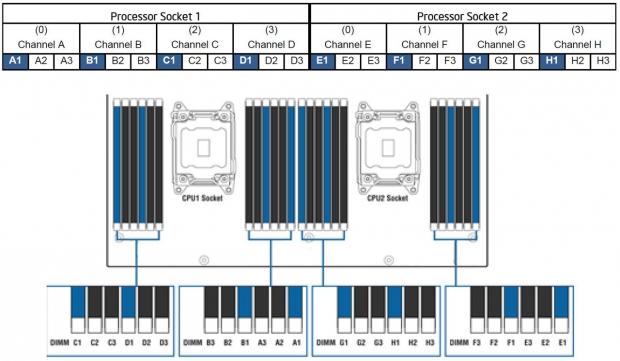 The memory setup page describes how different configurations and types of memory used will effect memory speeds. Our tests will use 16x 16GB memory stick and that will drop our memory speed down to 1866 MHz.
CPU Benchmarks
Cinebench R15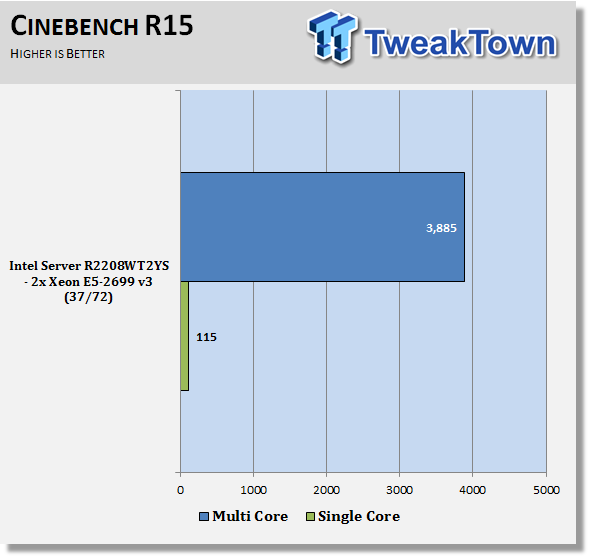 The R2208WT2YS has a good score in Cinebench R15, which shows very good performance. This is a general-purpose motherboard; it has been tuned for storage usage. It does show strong single threaded performance.
wPrime
wPrime is a leading multi-threaded benchmark for x86 processors that tests your processor performance. This is a great test to use to rate the system speed; it also works as a stress test to see how well the systems cooling is performing.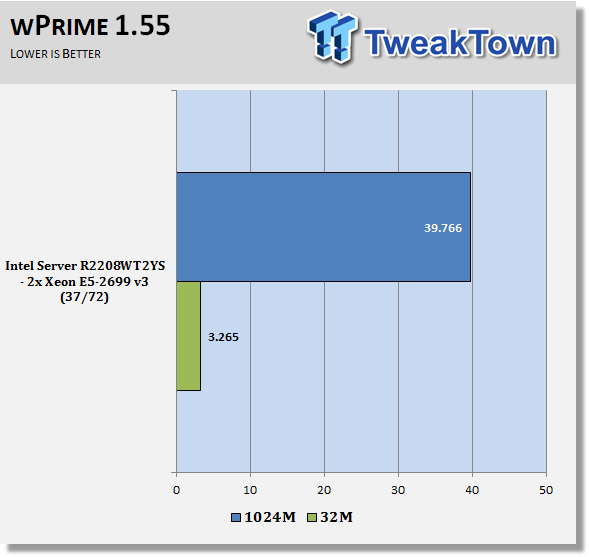 In wPrime, the R2208WT2YS is a storage server and shows very good single-threaded performance.
Memory & System Benchmarks
AIDA64
AIDA64 memory bandwidth benchmarks (Memory Read, Memory Write, and Memory Copy) measure the maximum achievable memory data transfer bandwidth.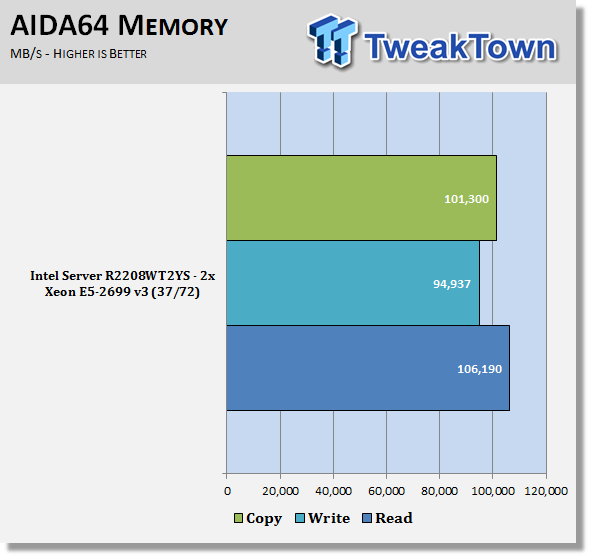 Memory bandwidth for the R2208WT2YS server is improved over many of our systems we have tested and shows good memory write numbers.
Linpack
Intel Optimized LINPACK Benchmark is a generalization of the LINPACK 1000 benchmark. It solves a dense (real*8) system of linear equations (Ax=b), measures the amount of time it takes to factor and solve the system, converts that time into a performance rate, and tests the results for accuracy.
Linpack is a measure of a computer's floating-point rate of execution ability and measured in GFlops (Floating-point Operations per Second), 10 billion FLOPS = 10 GFLOPS. Linpack is a very heavy compute application that can take advantage on the new AVX2 instruction. As it puts a very high load on the system, it is also a good stress test program.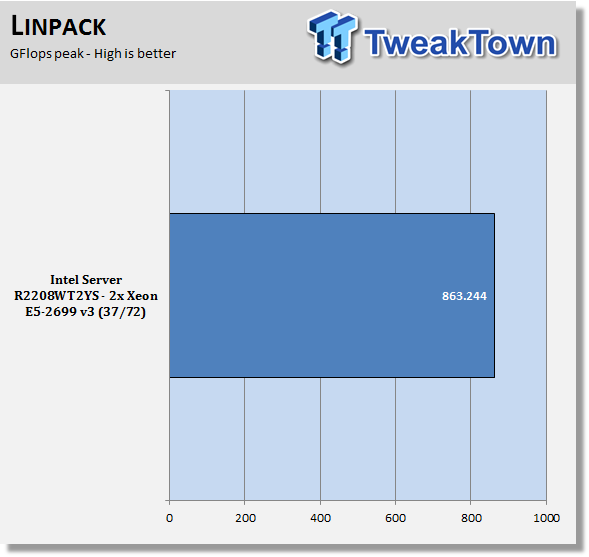 In Linpack, the R2208WT2YS server is showing average bandwidth numbers, but still has strong numbers even running at lower power.
Geekbench - Stream
Geekbench 3 is Primate Labs' cross-platform processor benchmark, with a new scoring system that separates single-core and multi-core performance, and new workloads that simulate real-world scenarios. It also includes STREAM based memory tests which we will include on our reviews.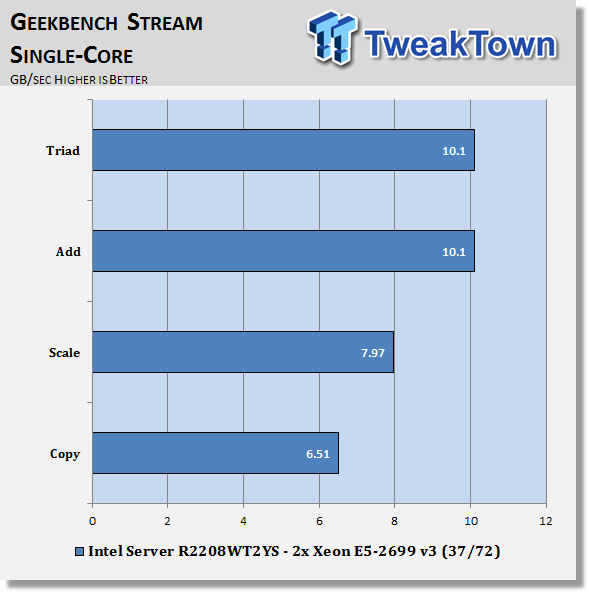 Here we are looking at the single-core STREAM memory tests. Bandwidth is showing improved numbers for the R2208WT2YS server.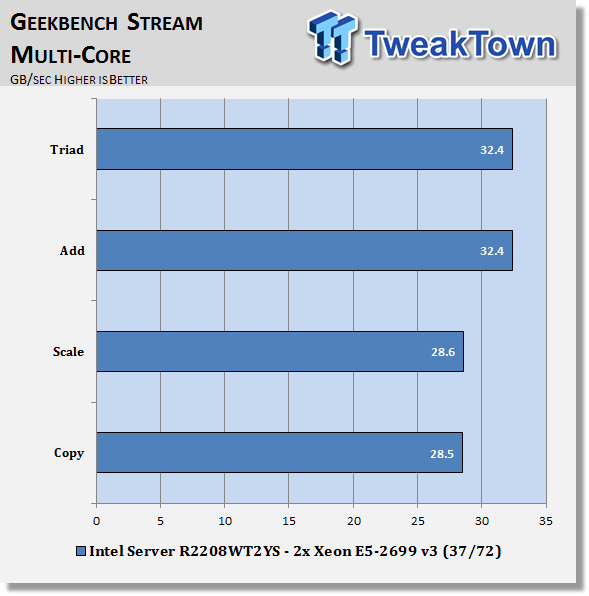 Now we are looking at multi-core STREAM tests. The R2208WT2YS server is turning out to be well suited for multi-threaded memory bandwidth results in this test.
UnixBench and SPEC CPU2006v1.2
UnixBench 5.1.3
UnixBench has been around for a long time now, and is a good general-purpose bench to test on Linux based systems. This is a system benchmark, and it shows the performance of single threaded and multi-threaded tasks.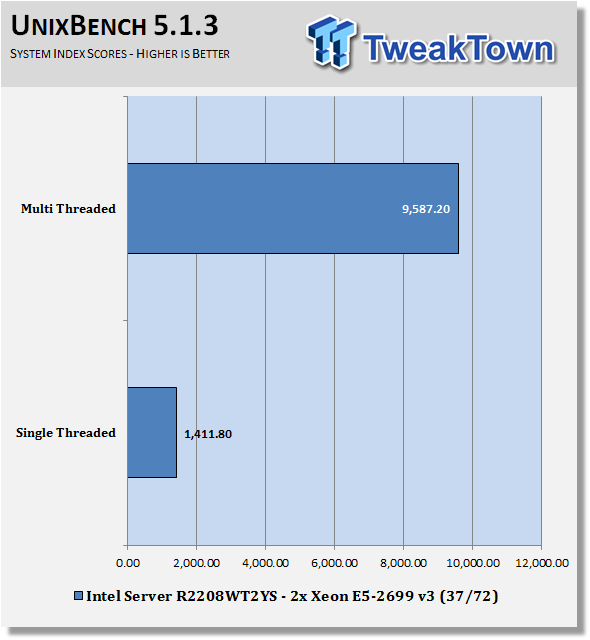 Synthetic benchmarks only show part of the performance of a motherboard. When using tests that are more complex we will start to see a different trend in the scores.
UnixBench shows the R2208WT2YS server and E5-2699 v3's are getting above average results in the multi-threaded results.
SPEC CPU2006 v1.2
SPEC CPU2006v1.2 measures compute intensive performance across the system using realistic benchmarks to rate real performance.
In our testing with SPEC CPU2006 we use the basic commands to run these tests.
Runspec --tune=base --config=tweaktown.cfg then int or fp
To do multi-threaded we add in --rate=72.
When SPEC CPU first came out these tests could take up to a week to run, but as computers become faster, our tests can take up to four days for a full run now and even less on some systems.
The user can do many thing to effect the results of CPU2006 runs, such as compiler optimizations, add-ons like Smartheap and different commands used to start the tests.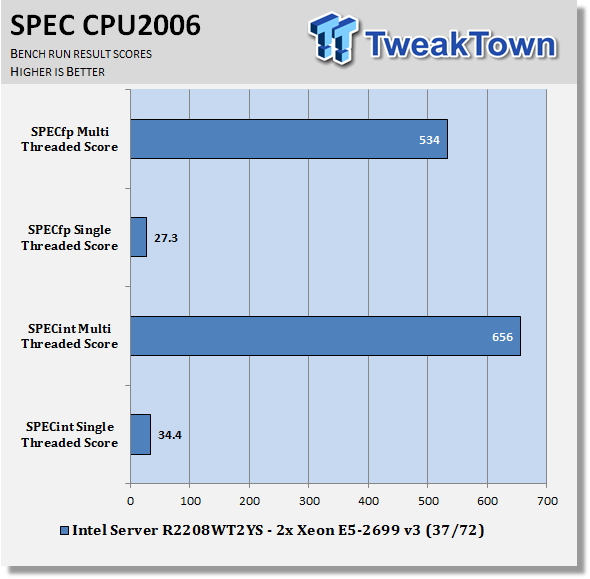 This benchmark has many different commands to use depending on what the user is looking for. For our tests, we used basic commands that run a full test with a base tune.
You can see here the SPEC scores after full runs for Integer (int) and Floating Point (fp) tests. Single-core runs show how fast (speed) a CPU can perform a given task. In the multi-core runs, we set SPEC CPU2006v1.2 to use all thread to measure the throughput of the system.
The additional cores/threads of this system have a huge impact on performance in these tests and really show the amount of horsepower that a single socket motherboard has.
Single-threaded results are still very important, but when you need many single threaded apps to run, moving to a CPU with more cores is the way to go.
This is where the R2208WT2YS server and Dual E5-2699 v3's starts to shine, multi-threaded interger workloads.
CPU2006 is showing strong Multi Core results on the R2208WT2YS server. Let us take a look at the individual test result scores.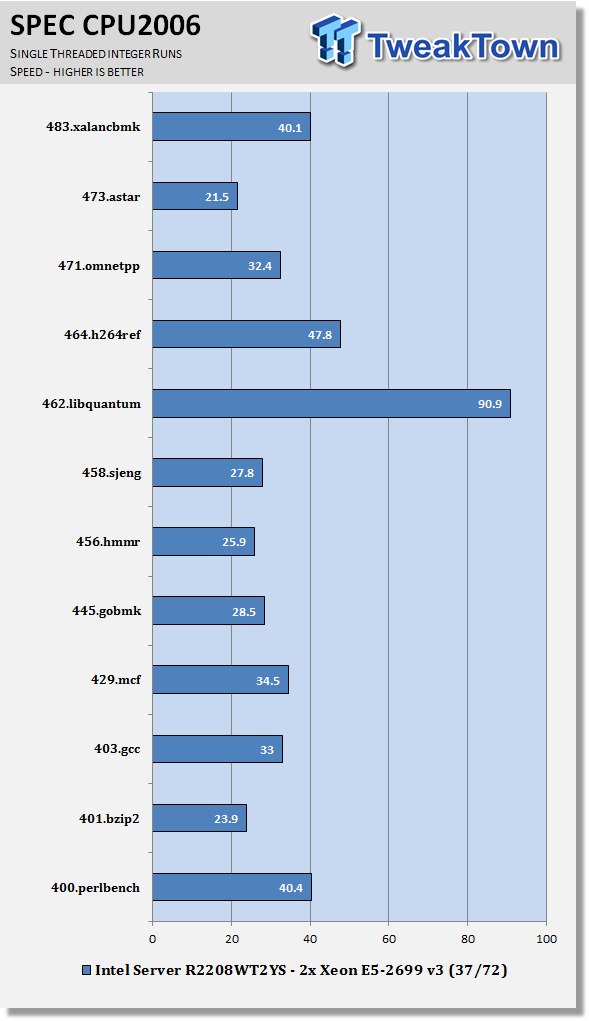 Looking at the results of single-threaded integer runs, we can get an idea of speed at which the E5-2699 v3's can crunch through the different integer tests. Not all CPUs are equal here, and ones that have a higher speed will perform these tests faster. Naturally, using an overclocked system or CPUs with a higher stock speed will generate higher results.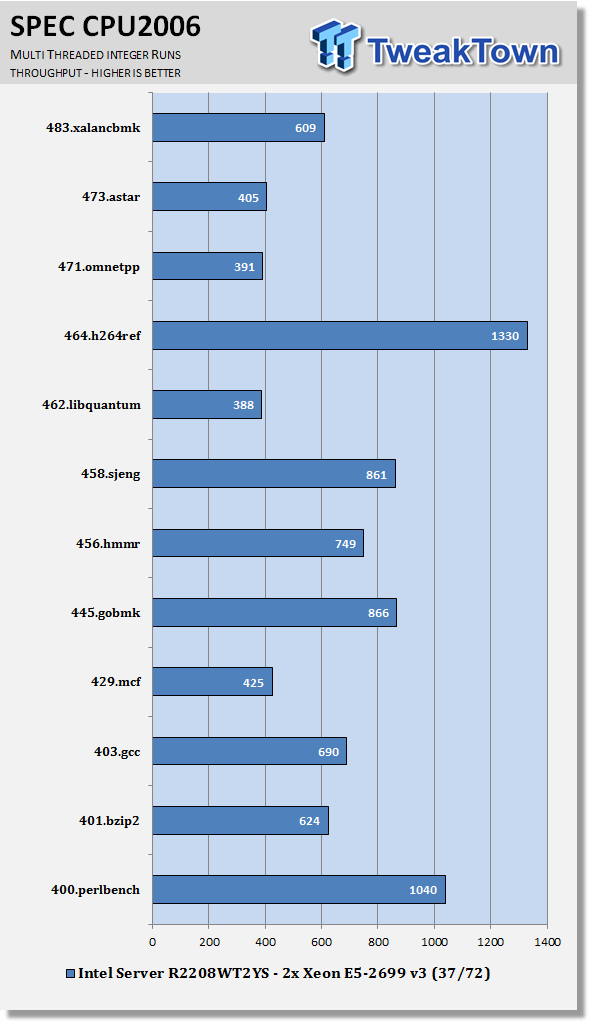 Now we run the test using all 36 cores/72 threads on the E5-2699 v3 processors to measure the throughput of the system. In this test, more cores/threads will have a greater effect on the outcome.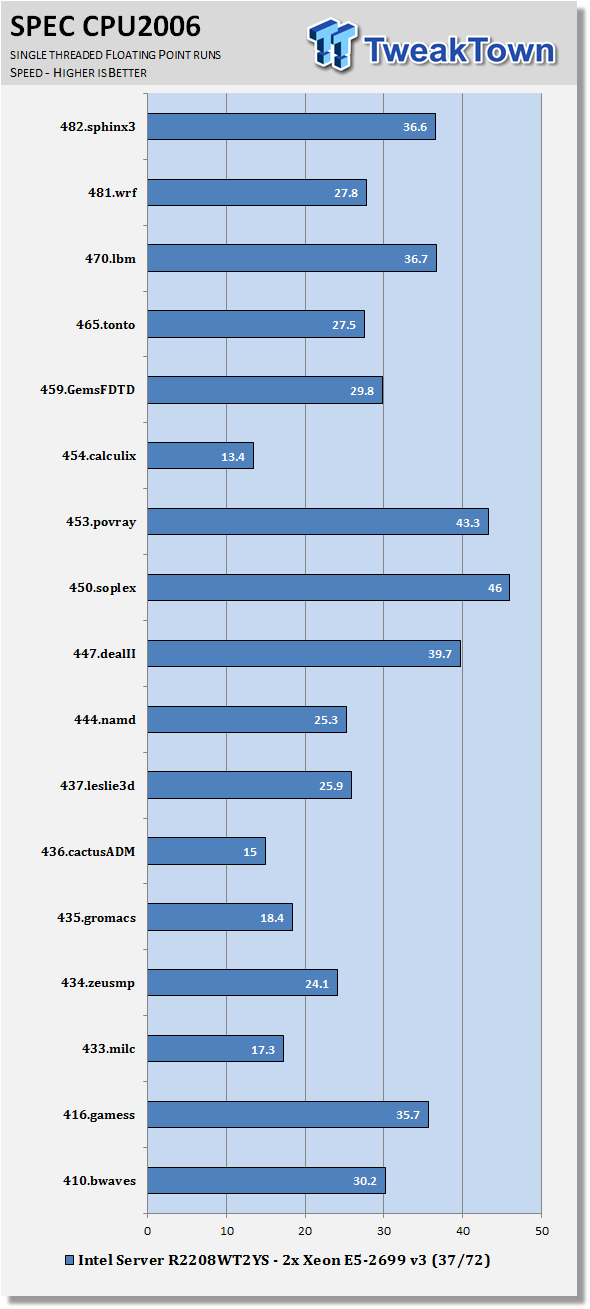 Just like the integer tests, we now run the floating-point tests in single threaded (speed) mode.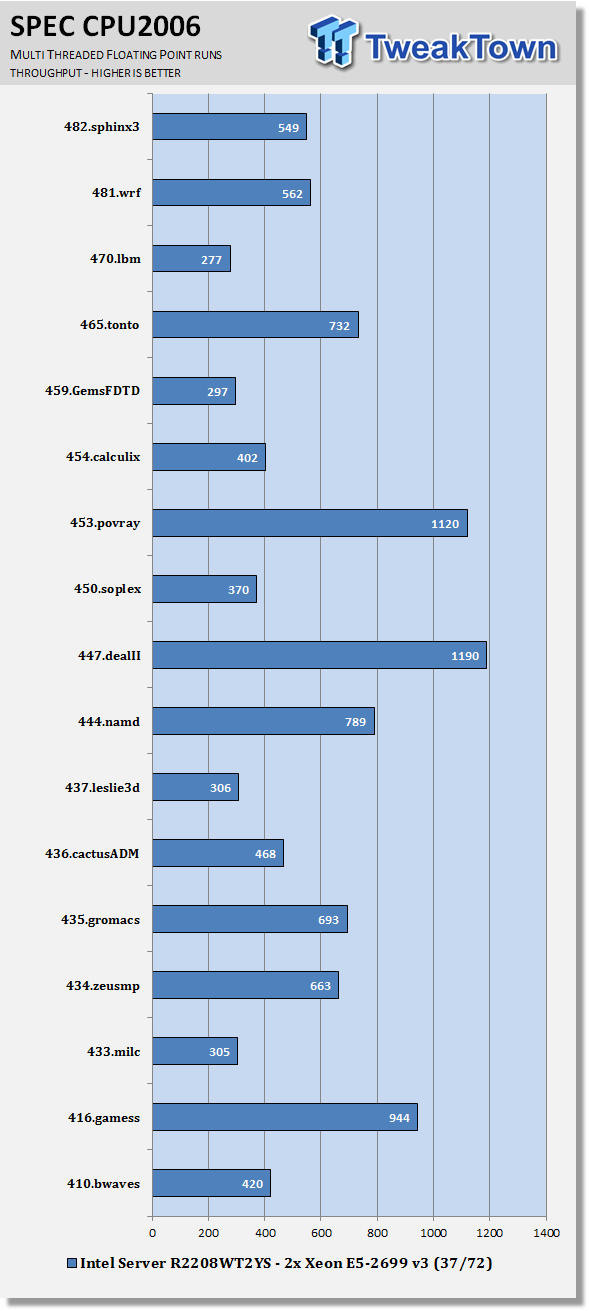 Here we see the results of the multi-core floating-point run that uses all 36 cores/72 threads on the E5-2699 v3 processors. Like the multi-threaded integer test, more cores/threads will have a greater impact on the test. Just like the integer multi-threaded tests, the R2208WT2YS server and E5-2699 v3's really take off here, even in low power usage settings.
Power Consumption & Final Thoughts
Power Consumption
We have upgraded our power testing equipment and now use a Yokogawa WT310 power meter for testing. The Yokogawa WT310 feeds its data through a USB cable to another machine where we can capture the test results.
To test total system power use, we used AIDA64 Stability test to load the CPU, and then recorded the results. We also now add in the power use for a server from off state to hitting the power button to turn it on and take it all the way to the desktop. This gives us data on power consumption during the boot up process.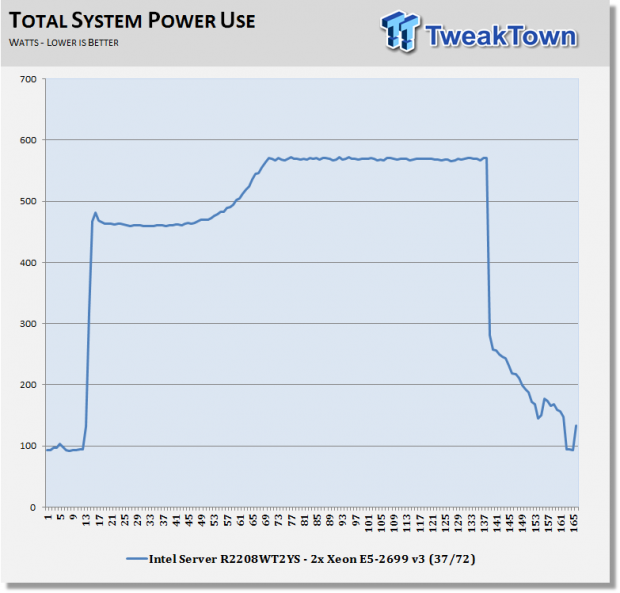 The R2208WT2YS server uses ~90watts at idle on the desktop, it peaks out at ~575watts under full load. The R2208WT2YS server drops in power usage after the test runs and begins to run at the power rate of ~90watts. It also shows a steady ramp up of power use when the test starts running which begins at ~475watts then begins to climb to ~575watts. The power saving features keeps the R2208WT2YS server within a nice smooth envelope throughout the test.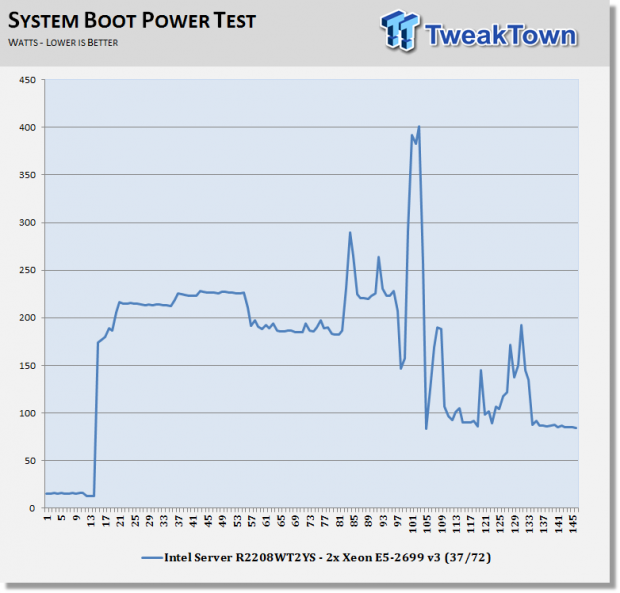 The R2208WT2YS server does use a fair amount of power in the off state of ~15watts to keep IPMI and remote management active. We see a peak power use of ~400watts during the boot up process. The system then settles down to ~90watts after the boot up is completed.
Final Thoughts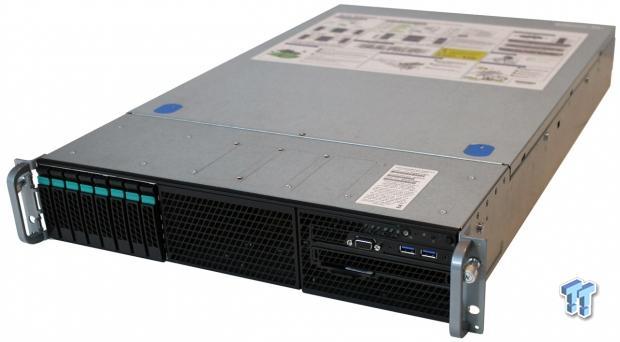 Intel's R2208WT2YS Server is one of the very first Haswell-EP systems that we tested in the lab; we first saw this machine at Intel Jones Farm last year.
At Intel Jones Farm, we were able to run a few benchmarks to see how these new systems performed - and to be honest, they blew our shocks off. We had run only a hand full of benchmarks at our visit, but we saw staggering Linpack and Cinebench results, it was all very exciting stuff at the time.
Because of a few delays, we did not receive our sample server for some time, and meanwhile we were well under way testing other machines right after the new processors launched last September. The Intel R2208WT2YS Server proved to be our benchmark system to base other systems results on. A very versatile system packs a lot of processing power inside.
The target market for the Intel R2208WT2YS Server is Enterprise and Medium Business IT, Data Analytics, Storage, and Cloud, which it can handle very well with its storage and expansion load out. A maximum of 24 drive bays that are usually loaded with SSD's and fast network cards in the back can make this system extremely fast and provide the data bandwidth needed for today's datacenters.
Throughout the system, we find a very well thought-out design, it's very clean and expansion options are numerous which gives this system a great deal of flexibility in deployment. Several options available such as dual SSD bays in the back that allow for a RAID 0 OS deployment and fast PCIe SSD's loaded into the next expansion slots give a huge boost of speed to the system. The design of the case itself is lightweight and provides very good airflow to help keep the system cool.
The Intel R2208WT2YS Server is the model of what Cloud/Datacenters servers should be, high capacity fast SSD storage banks coupled with high-speed network adapters is the bread and butter for these markets to provide ever-increasing customer demands for low latency, fast, and responsive systems.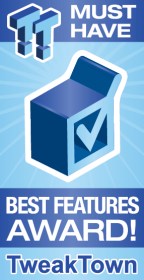 | | |
| --- | --- |
| Performance | 93% |
| Quality including Design and Build | 96% |
| General Features | 97% |
| Bundle and Packaging | 95% |
| Value for Money | 95% |
The Bottom Line: Intel's R2208WT2YS server packs an impressive load out that includes up to 24 drives bays, up to 3TB's of DDR4 memory, and a large number of expansion bay options which give this system an incredible amount of performance potential.
PRICING: You can find products similar to this one for sale below.

United States: Find other tech and computer products like this over at Amazon.com

United Kingdom: Find other tech and computer products like this over at Amazon.co.uk

Australia: Find other tech and computer products like this over at Amazon.com.au

Canada: Find other tech and computer products like this over at Amazon.ca

Deutschland: Finde andere Technik- und Computerprodukte wie dieses auf Amazon.de
We openly invite the companies who provide us with review samples / who are mentioned or discussed to express their opinion. If any company representative wishes to respond, we will publish the response here. Please contact us if you wish to respond.
Related Tags