Lenovo ThinkServer TD340 Tower Server Review
Lenovo's TD340 provides high performance in a tower server for small business needs. If you are not ready to invest in a server rack, it could be for you.
Published Sep 15, 2014 8:12 AM CDT
|
Updated Tue, Nov 3 2020 6:59 PM CST
17 minute read time
Introduction and Packaging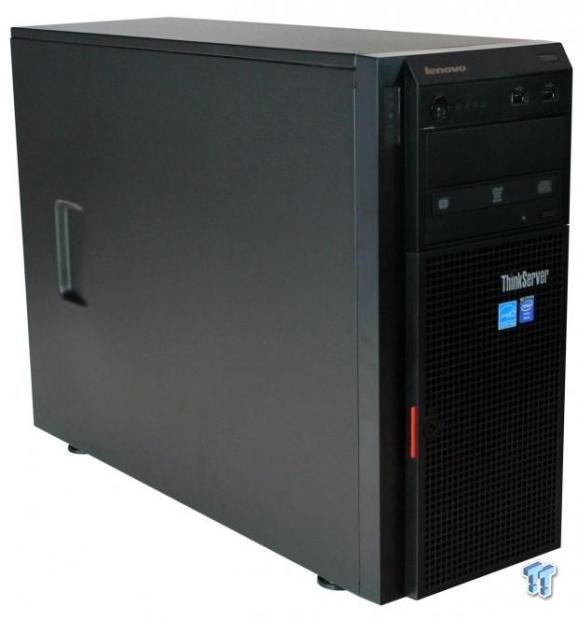 The Lenovo ThinkServer line up provides users with a feature rich load out, and offers great performance and value.
Not only do users want great value for their purchases, but they also want a vendor that will provide support and services to go along with their purchases. Lenovo has a great line up of machines that are backed by an online suite of services to provide users with configurations designed for their needs, and provide ample software to aid users in setting up and managing servers.
If you have no need for a server rack or enterprise size setup then a tower server that can sit in the corner of your office might just be what you are looking for. The TD340 has a small footprint, and low noise and power use. The TD340 packs performance of an entry-level rack server, and uses up to two Intel Xeon E5-2400 V2 series processors. This gives the TD340 serious performance that can run strenuous workloads, such as web, database, and CRM, in addition to infrastructure and point of sales applications.
Other features include integrated full-performance RAID setups that allow storage expansion up to 32TB of hard drive or SSD space. If you choose redundant power supplies, you can be sure your system will stay up and running, even if a PSU fails. The TD340 allows the server to expand up to 192GB of RAM for demanding applications. With six PCIe expansion slots, the TD340 allows you to add many I/O options, including advanced RAID controllers, fast 10Gb Ethernet, or fiber channel host bus adapters.
Server management tools are very flexible; you can use what you are currently using, or you can use Lenovo's management tools that come with the server. With the management controller premium, you can manage your own server, or support can remotely manage your server, even in a powered down state, which reduces the need for on-site support.
Let's look at what you get in the TD340 package, and then we will see how well it performs.
Packaging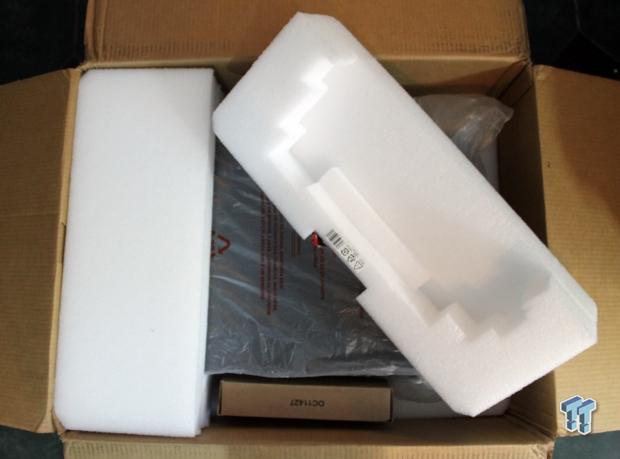 When we open the shipping box, we find the contents well protected by large foam inserts. These inserts split into two halves, which permits easy separation, and gives easy access to the server inside.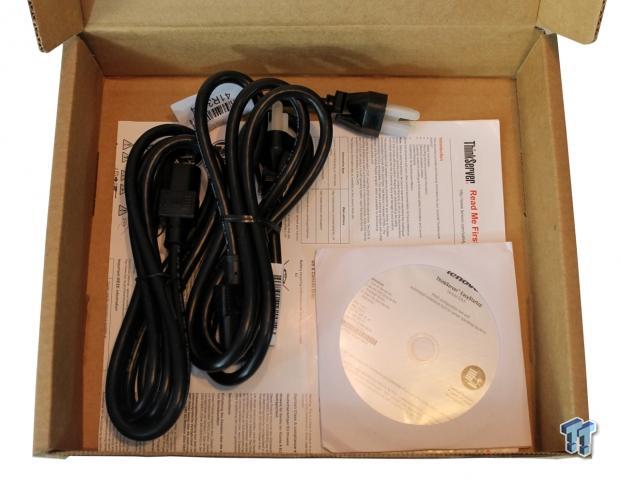 The accessory box comes with simple components, such as power cords and driver disks.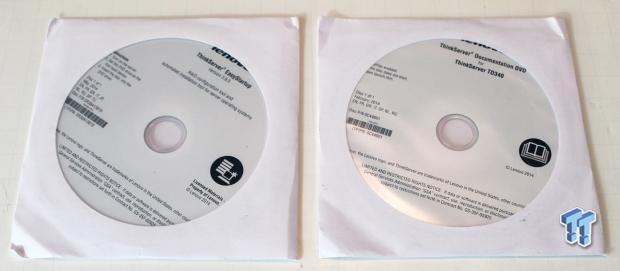 The Lenovo ThinkServer TD340 comes with two disks. One disk has drivers and setup programs, which aid you in setting up this machine. The other disk has documentation for the TD340.
PRICING: You can find the Lenovo ThinkServer TD340 for sale below. The prices listed are valid at the time of writing, but can change at any time. Click the link to see the very latest pricing for the best deal.
United States: The Lenovo TD340 retails for $979.88 at Amazon.
Canada: The Lenovo TD340 retails for CDN$1,564.33 at Amazon Canada.
Specifications, Layout, and Installation
Specifications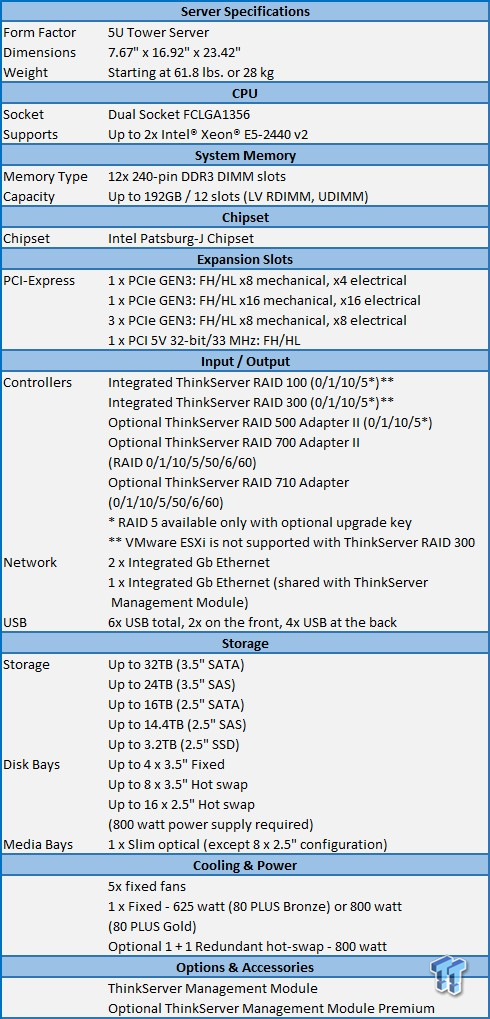 The TD340 has a wide range of storage options that allow you to expand up to 32TB of storage. Several different storage adapters are available to choose. The TD340 comes integrated with the ThinkServer RAID 100 and 300, which provides RAID 0, 1, 10, and 5, the latter of which is only available with an optional upgrade key.
Our system came with 32GB of RAM installed, but it can be expanded up to 192GB using all twelve slots (LV RDIMM, UDIMM). There are also plenty of expansion slots, which will allow you to add network cards, or optional storage adapters.
Layout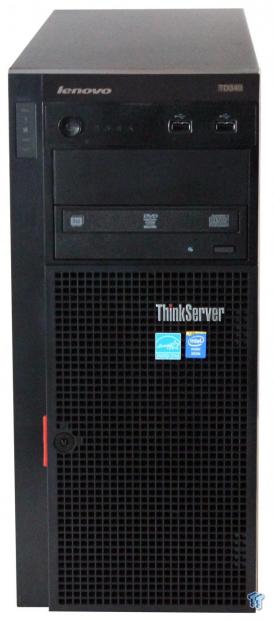 This is the front of the Lenovo ThinkServer TD340. There are two USB ports located at the top right, and one DVD drive is installed. The media bay can also hold another DVD drive, or some other type of device. A lock is available near the red button on the drive bay door, so the server drive bays can be secured. Located near the power button are several status LEDs that show different system states. Overall, the design of the TD340 is simple, clean, and functional.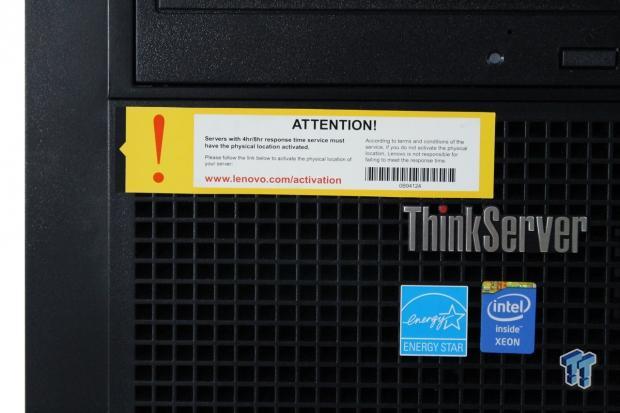 When we removed the TD340 from the shipping box, there was a sticker on the front of the server that mentions if you require 4hr/8hr response time service, you must have the physical location activated.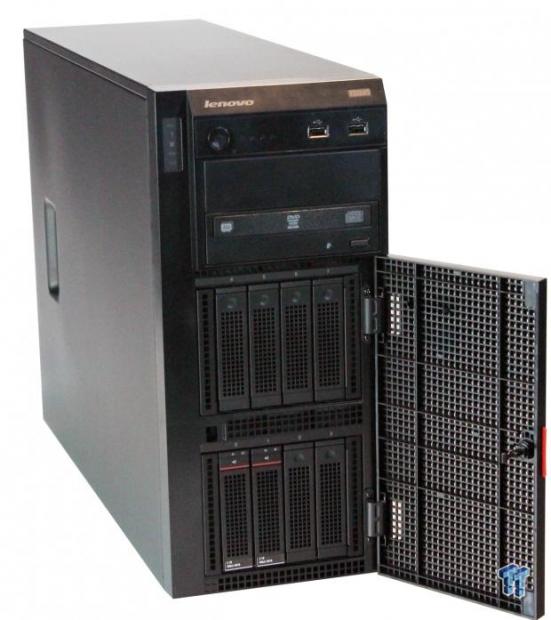 Here we have opened the drive bay door to get a look at the storage bays on the TD340. The two bays at the lower left side with a red line across the top are the OS drives. In our sample, we had two 2TB drives installed here, and configured in RAID 0. The other six bays are empty on our server. There are magnets at the top and bottom of the door that allow the door to be firmly closed. We only wish that there was an air filter on this door to help keep dust from entering the system.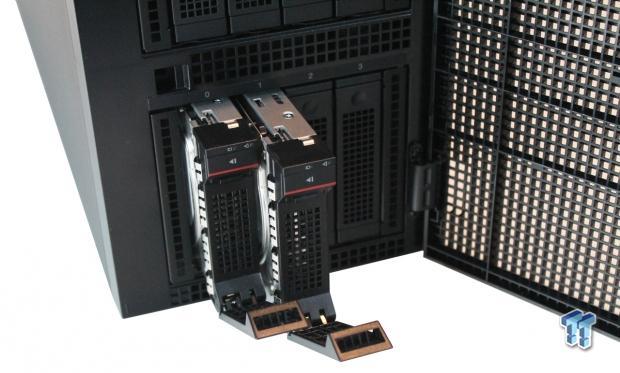 Each of the two OS drives have a simple push button right above the red line that will unlock the drive, and deploy the handle so the drive can be easily pulled out.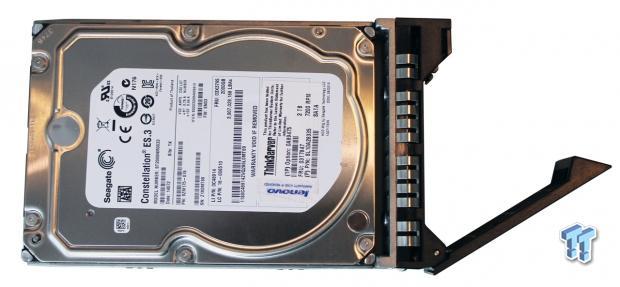 Here we have a hard drive removed. On Lenovo's website, this is called a ThinkServer 2TB 7.2K 3.5inch Enterprise 6Gbps SATA Hot Swap Hard Drive.
ThinkServer 7.2K 3.5inch Enterprise 6Gbps SATA Hot Swap Hard Drive provides customers with a very cost-effective way to have a large capacity SATA drive for data storage. These drives are ideal for capacity-intensive, sequential read applications such as storing content, or data archiving. These drives feature a range of high capacities -from 500GB to 2TB- in a 3.5-inch, enterprise-class hard disk drive.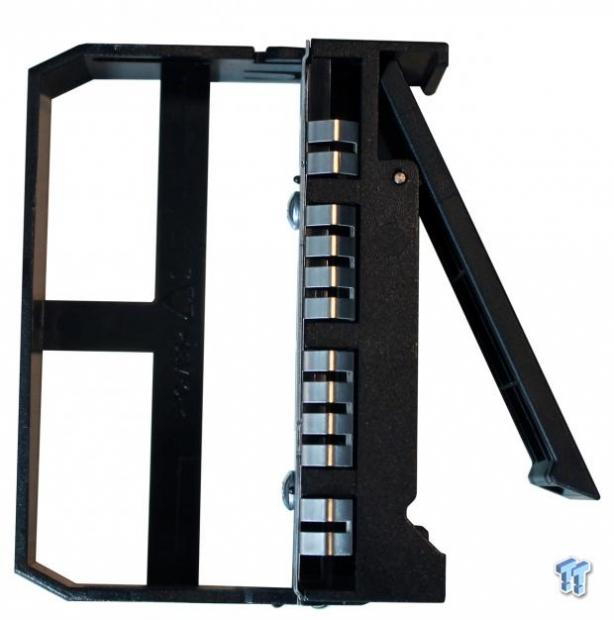 The rest of our drives bays have blank drive bay inserts installed. These are simply blanks, and have no way to install a drive in them. You will need to contact Lenovo to order additional drives for these servers.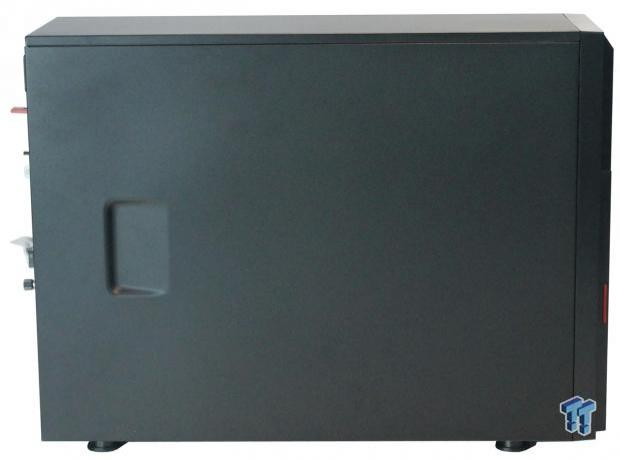 The sides of the TD340 have a simple locking door attached. There is a screw lock at the back of the server, and when unscrewed, this panel will simply slide towards the back, and can then be taken off. There are no fans located on these doors, which help to reduce noise.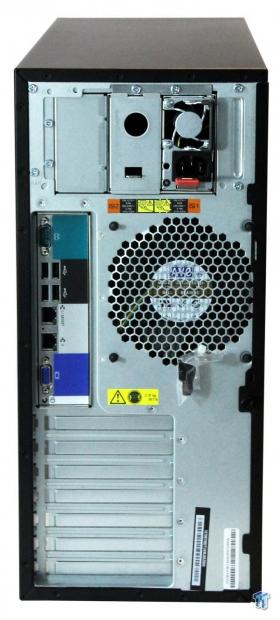 We are looking at the back of the server now, and it is rather simple. At the top of the server there is one power supply installed with a knock out for a second optional redundant power supply. One large case fan helps to keep the server well ventilated and cool.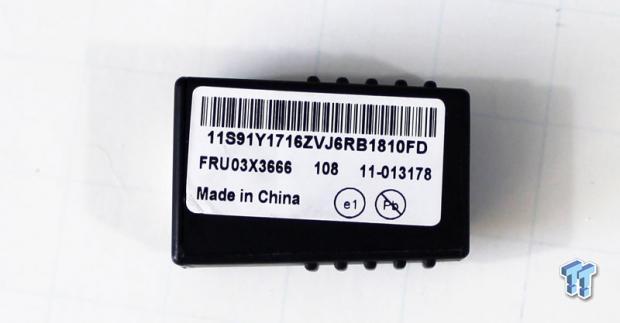 Also note: The Lenovo management controller premium is an optional accessory, which appears to be a simple dongle type of device. This unlocks iKVM abilities through IPMI remote management. If you do not use this module, you will still have IPMI, but you will not be able to remote in by KVM.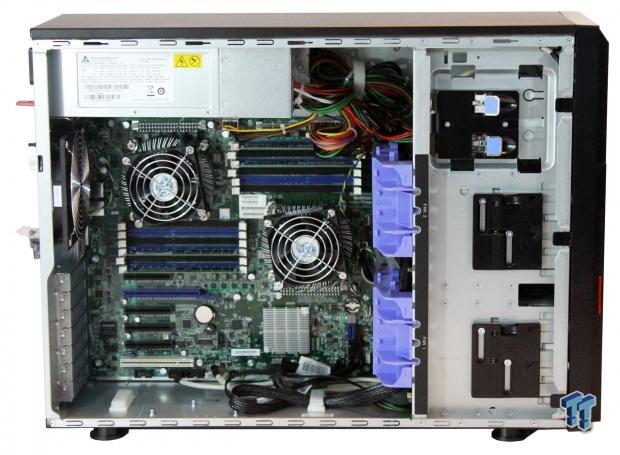 Here we have taken the side panel off the TD340 to get a look inside. There is ample space inside, with nothing to block airflow. Cable management is nice, tidy, and all tied up to keep wires from blocking any air passages.
There is plenty of space to get your hands inside if you want to add RAM, or other expansion devices later on.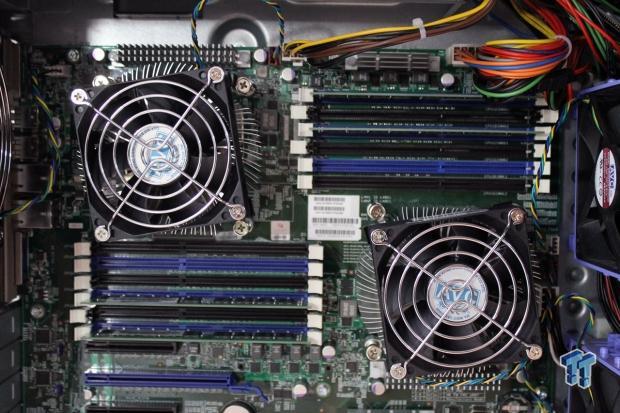 Here is a close up of the CPU coolers. These look rather simple, but actually perform very well, even under heavy loads. We had no CPU cooling issues on our system. The fans also hardly make any noise; we found the system to run very quietly, which is great for an office environment. You can see that our system came with two 8GB RAM sticks installed in each bank. Adding more RAM as needed is rather simple to do though, and can increase performance.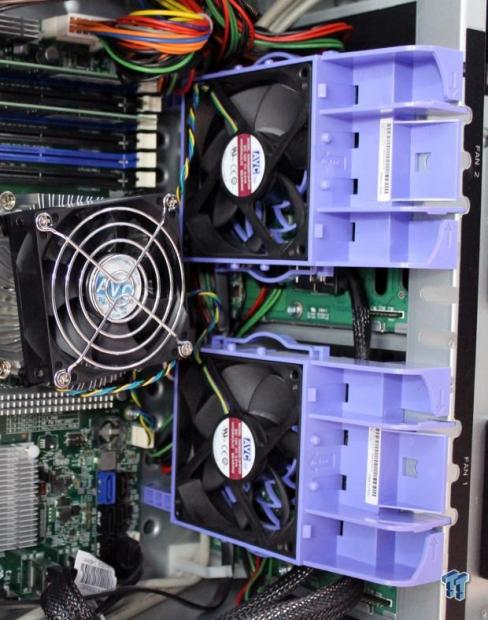 These are the two main case cooling fans. These can also move a lot of air from the front of the case into the main chamber. These fans have a nice design that allows for high airflow, and low noise.
You can see the two tangs with arrows that show where to press in to unlock and remove these fans if needed. It is very simple to do, just squeeze the two tangs, and pull out. Each fan has a power connector on the motherboard to detach before you can completely remove the fan. Make sure if you replace these you also plug the power connector from the new fan into the motherboard.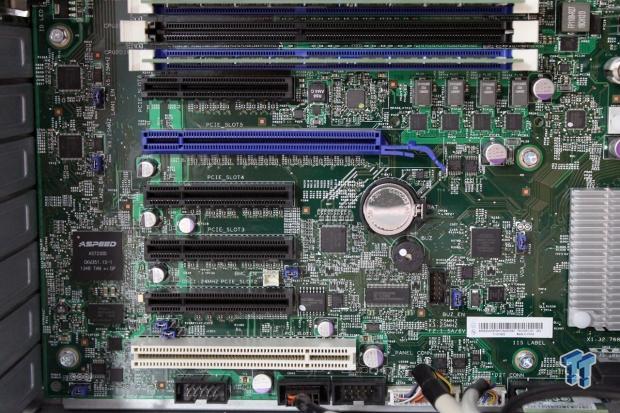 The PCIe slots are as follows:
1x PCIe GEN3: FH/HL x8 mechanical, x4 electrical

1x PCIe GEN3: FH/HL x16 mechanical, x16 electrical

3x PCIe GEN3: FH/HL x8 mechanical, x8 electrical

1x PCI 5V 32-bit/33 MHz: FH/HL
Before installing any supported expansion card into a PCI or PCI Express card slot, ensure that you observe the following guidelines:
Only one Host Bus Adapter can be installed.

Up to three Ethernet cards can be installed.

If the ThinkServer RAID 300 is available, your server does not support Host Bus Adapters, or discrete video cards.

If a RAID 500 Adapter, a RAID 700 Adapter, or a RAID 710 Adapter is installed, or the ThinkServer RAID 100 is available, your server supports one Host Bus Adapter, or one discrete video card. However, if an I350-T4 Ethernet card is installed, your server does not support Host Bus Adapters, or video cards.

If the server does not have a RAID card or a VGA adapter card installed, the Host Bus Adapter also can be installed in the PCI Express x16 card slot (PCI-E slot 5) on the system board.

If you are installing the QLE8242 Converged Network Adapter, do not install it in the PCI-E slot 4 to avoid thermal problems.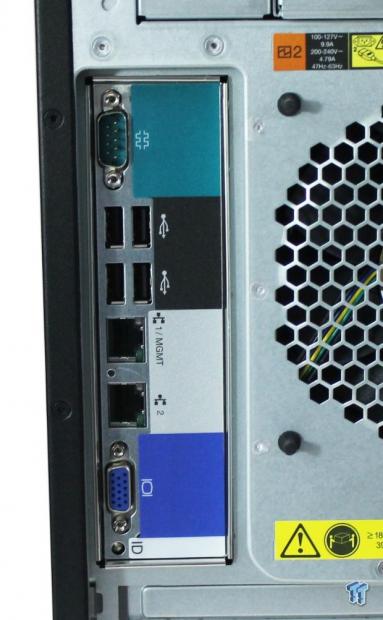 The back IO area has a Serial Port connector, followed by four USB ports. Next is the server management LAN port, and next to that is a Gb LAN port. The last port is a VGA output connector.
BIOS, Software, and Remote Management
BIOS
The BIOS for this server is typical, so we will only show key BIOS screens.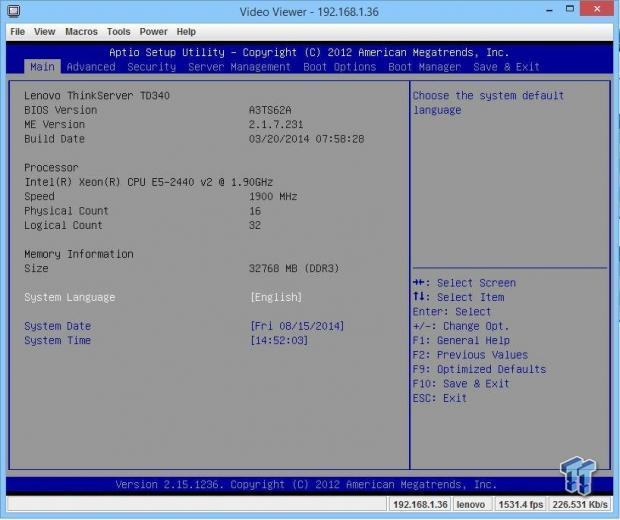 This is the main BIOS screen you see when you first enter the BIOS.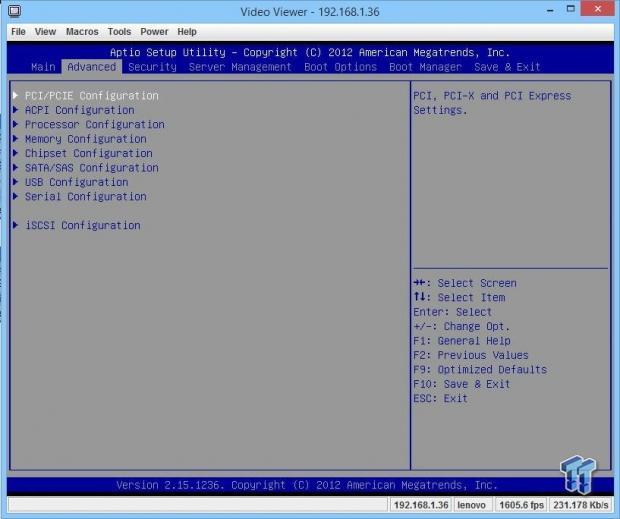 Here we see the Advanced tab.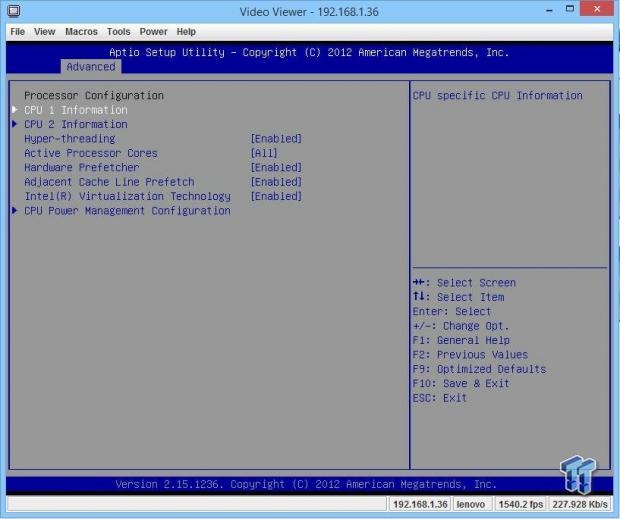 This is the Advanced Processor Configuration tab. We set this server up so that speed step and other power features are turned off, so we can get the maximum performance out of the server while we test.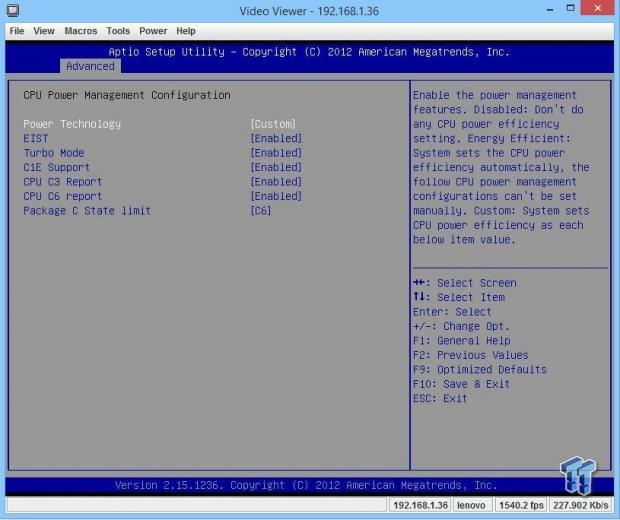 In the Advanced Power Management tab, we turn off all power saving features for our tests.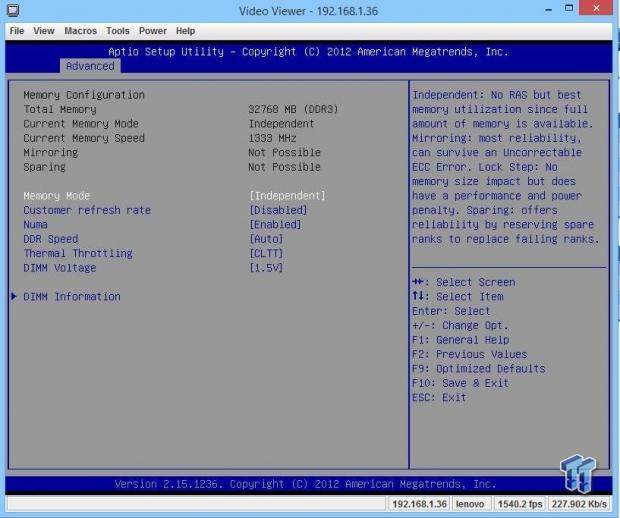 Here we see adjustments in the memory configuration.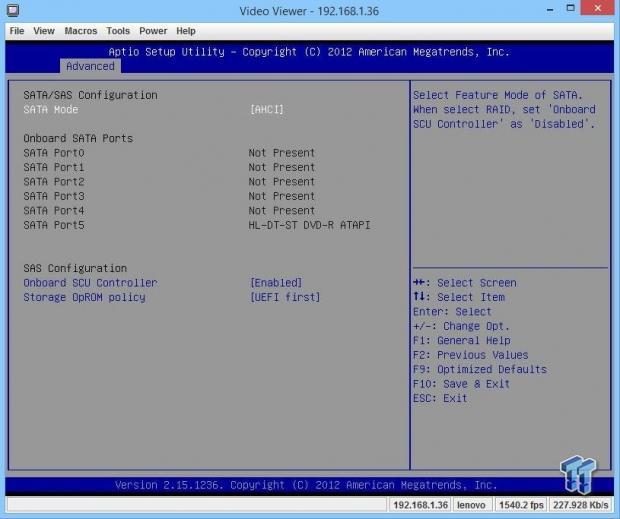 You can change these controls under the SATA/SAS configuration.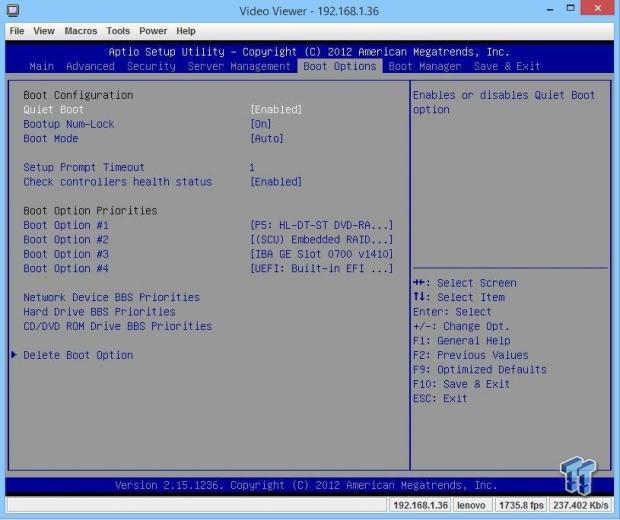 We are now looking at the Boot Options menu, and the options that are available.
Software
The Lenovo SmartServer TD340 comes with two disks. One of these disks has drivers and setup programs to aid you in setting up this machine. You can simply insert this DVD into the DVD drive, and boot the machine. It will take you to the ThinkServer EasyStartup program.
This setup is very much like what we used on our ThinkServer RD340 1U server, so we simply showed this again. Some features, like the number of drives in the RAID setup, will be different for the TD340.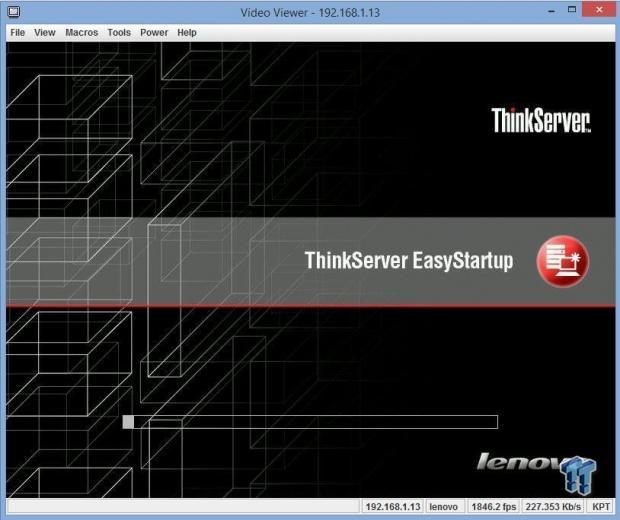 When booting from the software DVD you will enter the ThinkServer EasyStartup program, which will guide you through getting the machine up and running.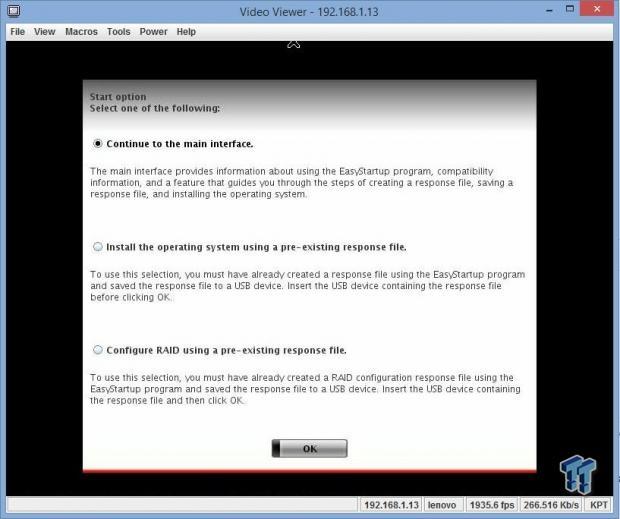 After this boots, you will go through two other screens, agree to terms and conditions, enter the date/time, and then you will come to this screen. Much of this process is self-explanatory, so there is no need to show every screen that you encounter; many just require confirming settings, and hitting the next button.
Continue to the main interface if you are setting up a new server for the first time. After you work through that, you can create a response file on a USB drive that you can use for other servers. This includes RAID drivers, OS type, and everything else you would need. You would then use this USB drive for any other new servers.
If you have one of these made already, then pick the second option. If you have the same setup, but wish to use a different type of RAID, then use the last option.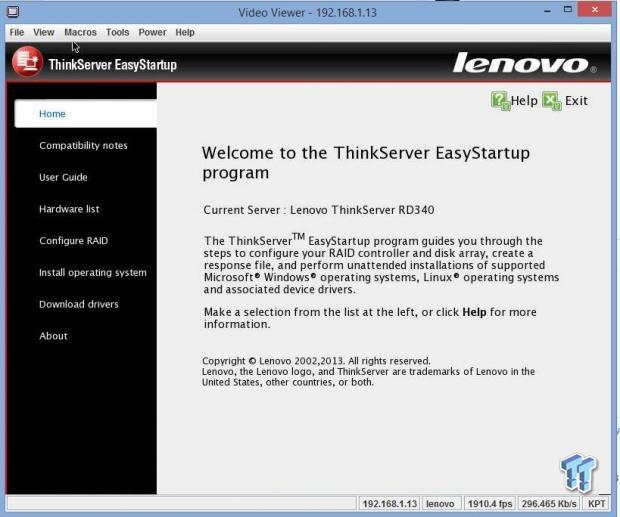 This is the home screen you will see after you select the first option in the previous step. You can see on the left hand side all the steps you will need to go through to complete this procedure.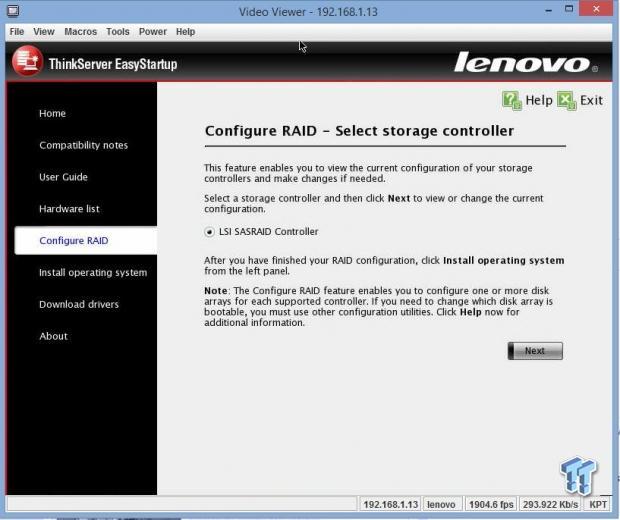 We skipped ahead a few steps to show you how the RAID is setup.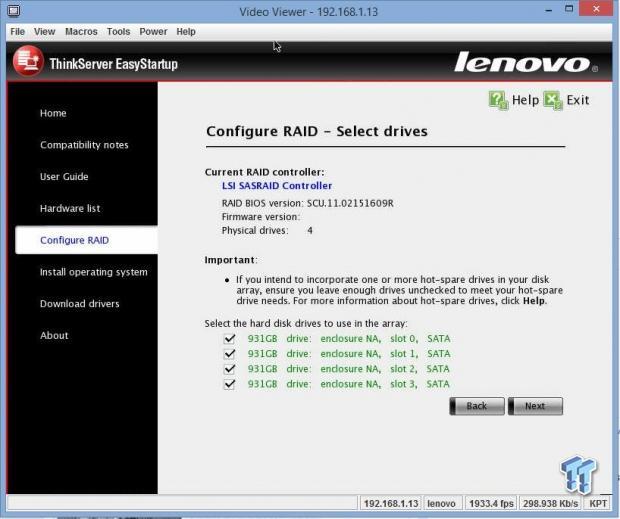 The ThinkServer TD340 that we received had two 2TB hard drives installed. You can see here how they show up in EasyStartup. In this case, we select both drives for our RAID.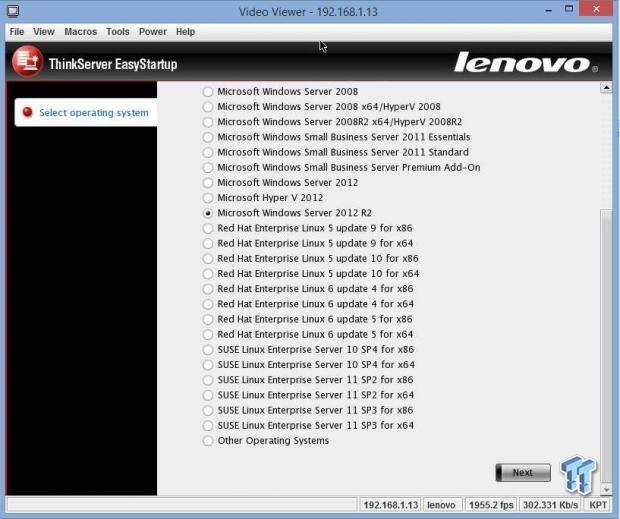 Here you can select the OS you want to install; we will be using Windows Server 2012 R2. After this step, you can proceed to enter your OS Key, admin user name, password, and a few other pieces of information. You will then have the option to write all of this to a response file on a USB stick to use on other installs.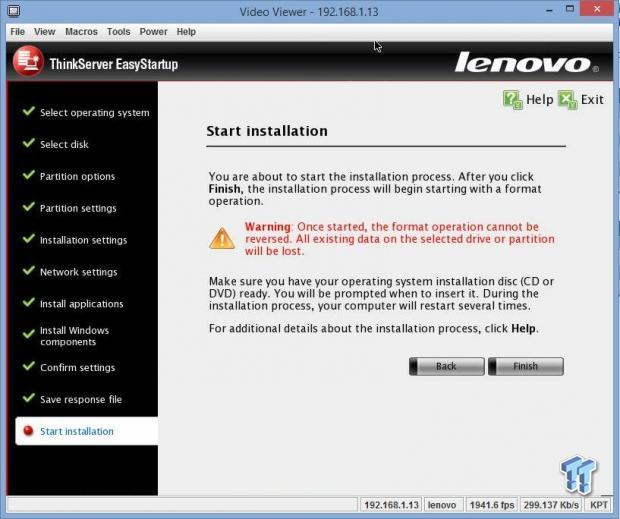 This is the last step in the EasyStartup process. Once you click finish, the install procedure will take over and get everything setup for you.
There are other ways to setup the TD340 if you wish to do it manually. The supplied software disk should have all the drivers that you would need, and that process is very much like setting up any other server you would run across.
The EasyStartup program makes this an easy process for anyone just beginning to set up servers.
Remote Management
There are several ways that you can do remote management and IPMI on the TD340. Just like any server with IPMI, simply enter in the IP address that you find in the BIOS under server management/BMC network configuration into your web browser. In our case, that was 192.168.1.13. After that, you see the login screen.
On the back of the TD340, there is a dedicated LAN port for BMC, and we connected to that for our tests.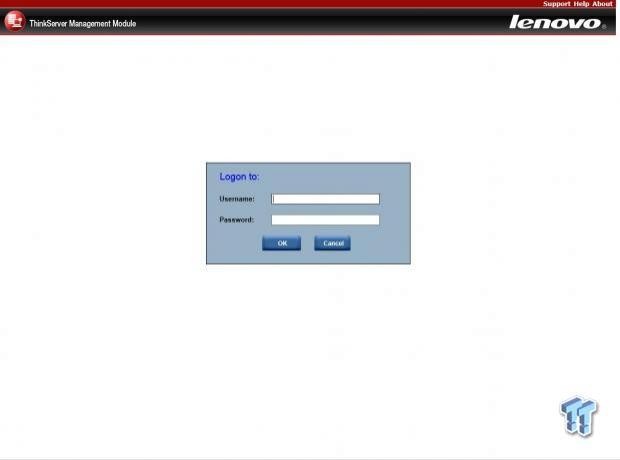 The login information for the Lenovo ThinkServer TD340 is as follows:
Username: lenovo
Password: len0vO
Next, hit ok. As a best practice, Administrative users should change factory default Username/Password logins before connecting any new server to their network.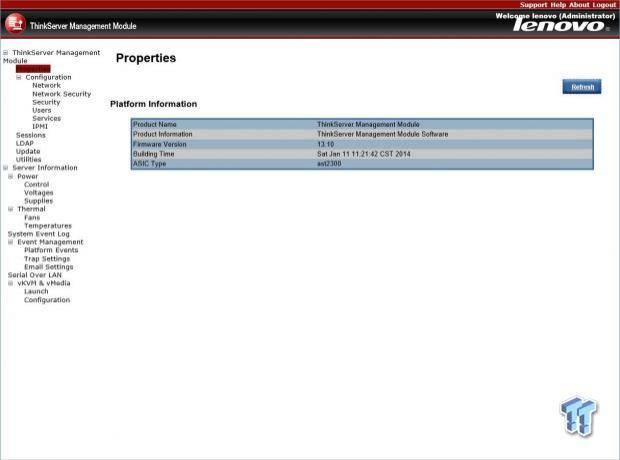 Here we are looking at the home screen for the ThinkServer management. The rest of the menus are typical for IPMI/BMC setups, so we will not show all of them.
If you have the management controller premium module installed, you will see the menu options for iKVM. These will not show up if there is no module installed.
Now, hitting the launch java iKVM client will allow you to remote right into the server.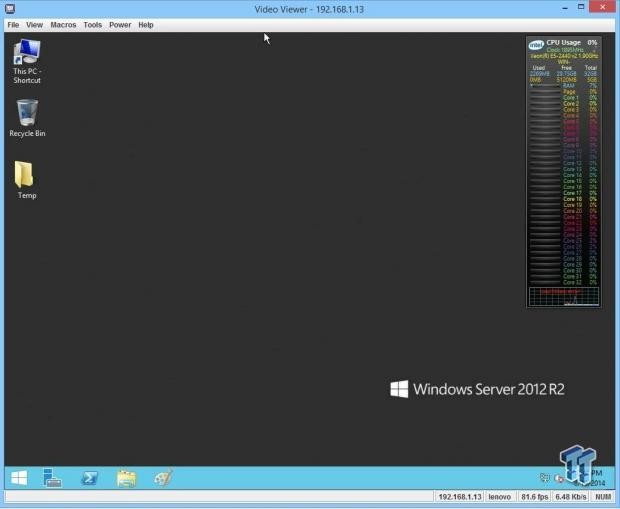 After entering the java iKVM client, we can now control the machine from the BIOS level, all the way to the desktop.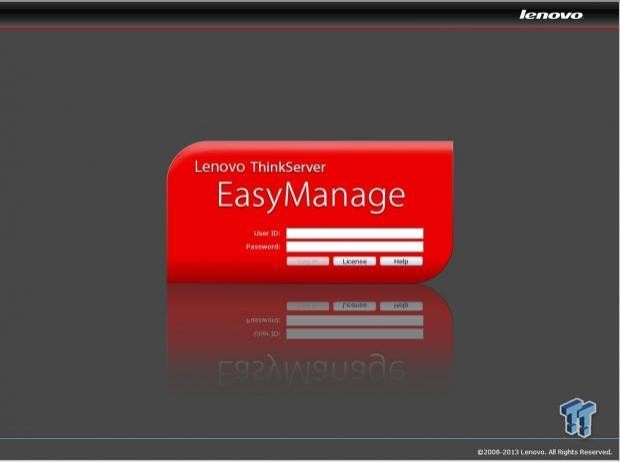 The next method to control the server is with a software package called EasyManage. Install EasyManage on your host machine, and use this to control many servers in your network. After installing EasyManage, and then running it, enter the following login information:
Login: server
Password: manager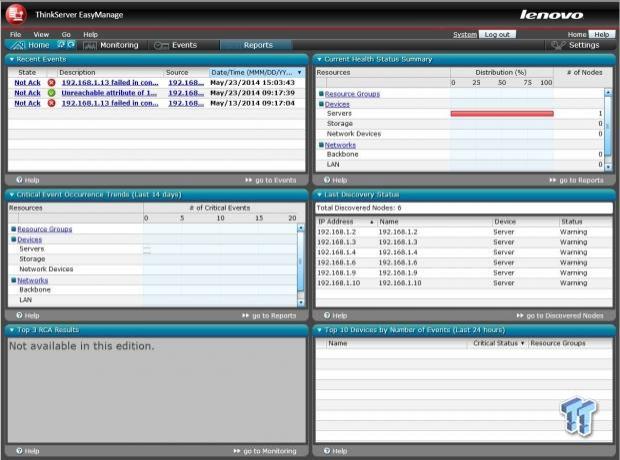 This is a typical screen for EasyManage. This program has many features that are useful in managing a number of different servers.
Test System Setup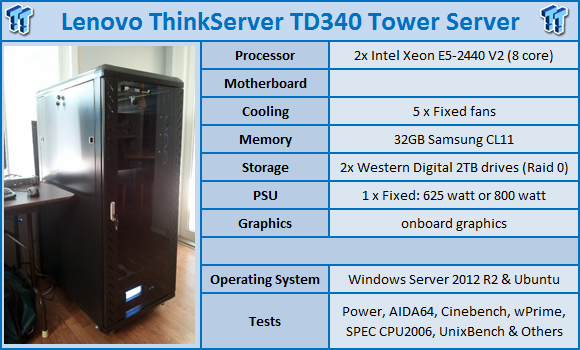 We would like to thank Lenovo, SPEC, Yokogawa, and AIDA64 for their support in providing parts for our test system.
For all tests that we have run, we used optimized BIOS settings for max performance.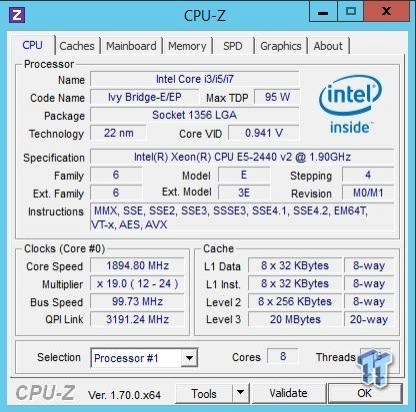 This is the CPUz screen showing the various stats of the Xeon E5-2440 v2 CPUs. As you can see, this CPU has a Max TDP of 95 watts. They use socket FCLGA1356, they are Ivy Bridge architecture, and they support Romley-EN platform.
Each CPU has eight cores, and we will be running a dual CPU system. This provides 16 cores/32 threads total. These CPUs are very much like the ones we used in our RD340 review, E5-2470 V2s (10-core), except the E5-2440 V2s are eight core versions.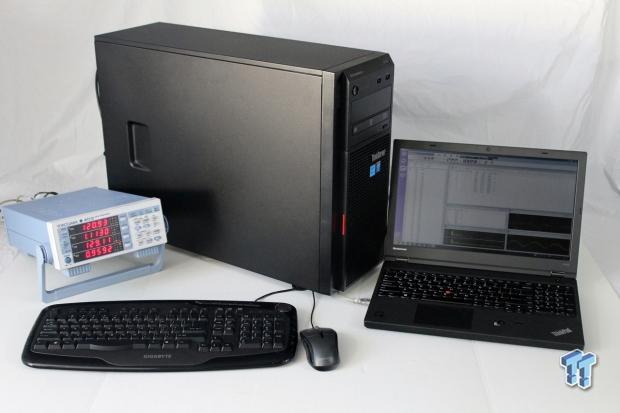 For our power tests, we use a Yokogawa WT310 to measure the power use of our systems. The Yokogawa WT310 comes with a power strip that we plug the TD340 into; the power strip connects to the WT310's inputs. The Yokogawa WT310 then connects to our Lenovo ThinkPad W540 with a USB cable that allows us to run WTViewer to monitor and graph the power use. These tests allow us to measure total power use from the wall to give us an idea of the complete system power use.
Different system configurations, such as CPUs used, RAM load out, and the number of hard drives, will have an effect on these results. However, this test system gives us a basic look at the amount of power use we can expect from our systems.
System and CPU Benchmarks
CINEBENCH 11.5
CINEBENCH is a real-world, cross platform test suite that evaluates your computer's performance capabilities. The test scenario uses all of your system's processing power to render a photorealistic 3D scene. This scene makes use of various different algorithms to stress all available processor cores. You can also run this test with a single-core mode to give a single-core rating.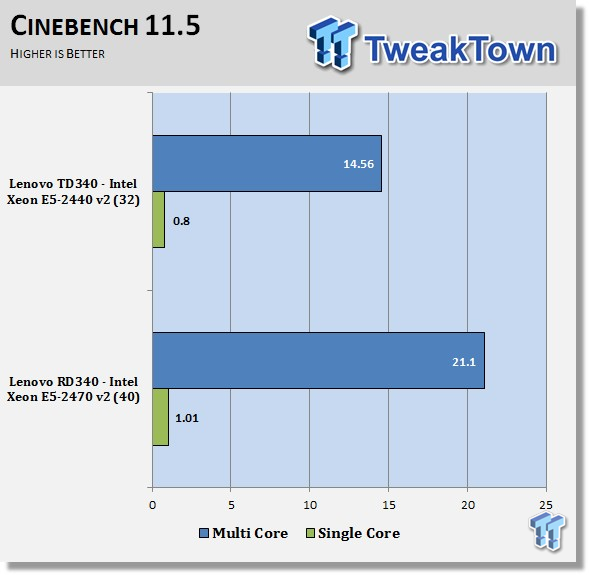 The lower stock speed of the E5-2440 v2s are 1.9 GHz, which holds this back in single-threaded tests; with 32 threads running, it really takes off. It is still behind the higher clock speeds of the E5-2470 V2 (2.4 GHz).
CINEBENCH R15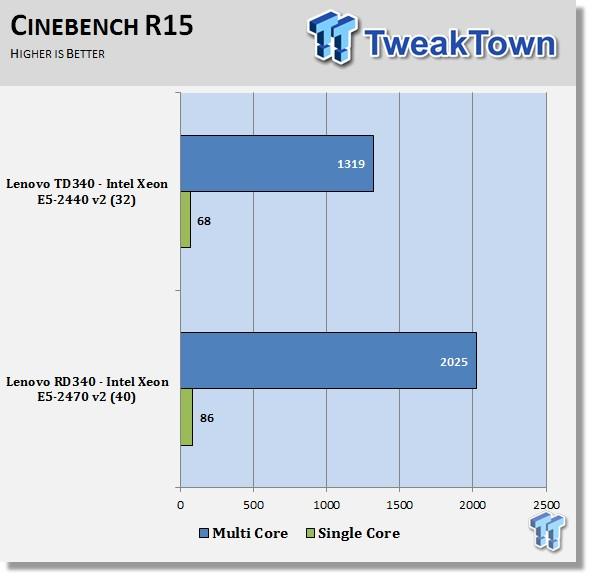 Just like in the CINEBENCH 11.5 results, we see a lower single-threaded score, and a much higher multi-threaded score. The multi-threaded score of the TD340 is still respectable. The E5-2440 v2s should supply plenty of compute power to the TD340.
wPrime
wPrime is a leading multi-threaded benchmark for x86 processors that tests your processor performance. This is a great test to use to rate the system speed; it also works as a stress test to see how well the system cooling is performing.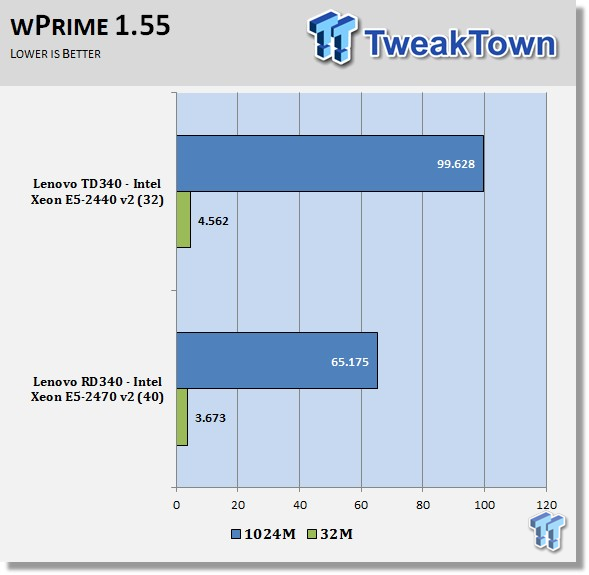 wPrime shows results similar to the CINEBENCH results. The 2440 v2s do not have high clock speeds in order to keep heat down, but still have a lot of potential.
Memory Benchmarks
AIDA64
AIDA64 memory bandwidth benchmarks (Memory Read, Memory Write, and Memory Copy) measure the maximum achievable memory data transfer bandwidth.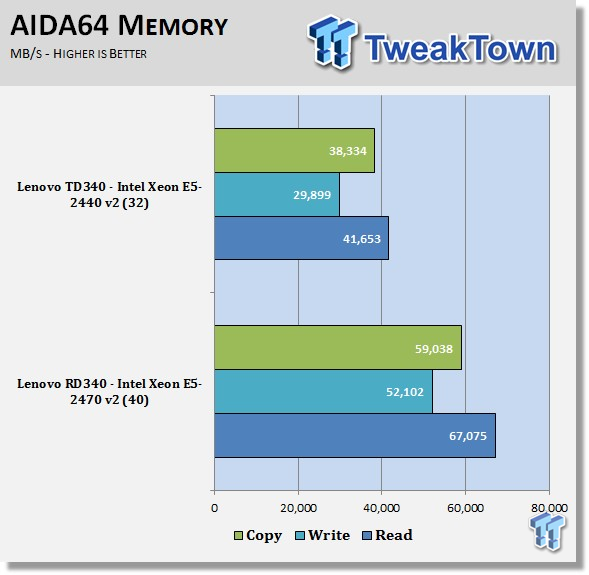 AIDA64 memory tests show the RD340 using Tri-Channel memory has good memory bandwidth. Higher speed memory sticks would help to improve memory bandwidth. In the case of the TD340, we did not have Tri-Channel memory installed, only two sticks for each CPU. This hurt the scores somewhat.
LinX
LinX 0.6.4 is a CPU benchmark that measures floating-point operations per second (FLOPS), and is used to compare CPU performance; it is also a very good stress test to run.
RD340 using Tri-Channel memory has good LinX results. Just like in the AIDA Memory tests, higher speed memory sticks would improve this result. We would also suggest using Tri-Channel memory in the TD340 to bring this score up to par with the RD340.
UnixBench 5.1.3 and SPEC CPU2006v1.2
UnixBench
UnixBench has been around for a long time now, and is a good general-purpose bench to test on Linux based systems. This is a system benchmark, and it shows the performance of single-threaded and multi-threaded tasks.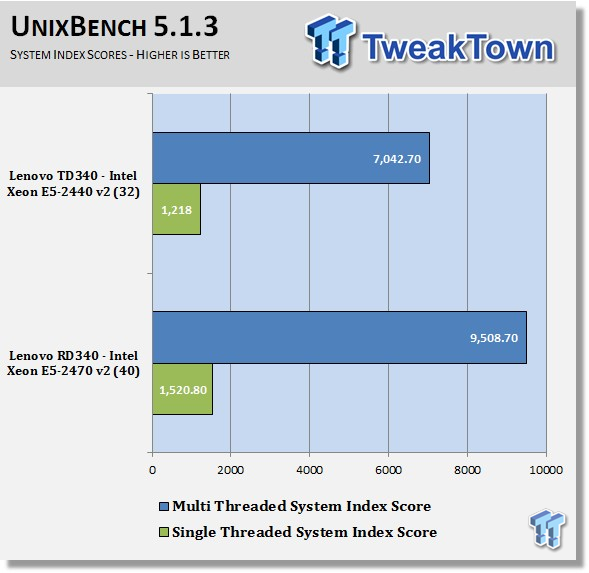 This shows the system indexes after a complete UnixBench run. Here, we get an idea of how much performance gain we get using multi-threaded applications. However, many applications use single-threaded, so this number is really the base, and a higher clock speed will increase both indexes.
Now we are seeing that the 2470 v2s in the RD340 come very close to other systems we have tested. The TD340 also performs very well in this test.
SPEC CPU2006v1.2
SPEC CPU2006v1.2 measures compute intensive performance across the system using realistic benchmarks to rate real performance. In our testing with SPEC CPU2006, we use the following basic commands to run these tests:
Runspec --tune=base --config=tweaktown.cfg, then int, or fp
To do multi-threaded, we add in --rate=32 on the TD340 tests.
When SPEC CPU first came out, these tests could take up to a week to run, but as computers become faster, our tests now take up to four days for a full run. The user can do many things to effect the results of CPU2006 runs, such as compiler optimizations, add-ons like SmartHeap, and different commands used to start the tests.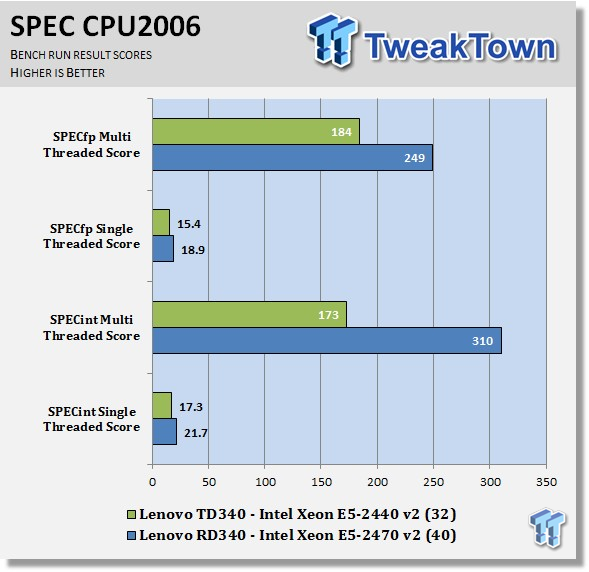 Here, you can see the SPEC scores after full runs for Integer (int) and Floating Point (fp) tests. Single-core runs show how fast (speed) a CPU can perform a given task. In the multi-core runs, we set SPEC CPU2006v1.2 to use all threads, and this is a measure of the throughput of the system.
The additional core/threads of this system have a huge impact on performance in these tests, and really show the amount of horsepower that a dual-socket system has over a single-socket board. Single-threaded results are still very important, but when you need lots of those to run, moving to a dual-socket setup is the way to go.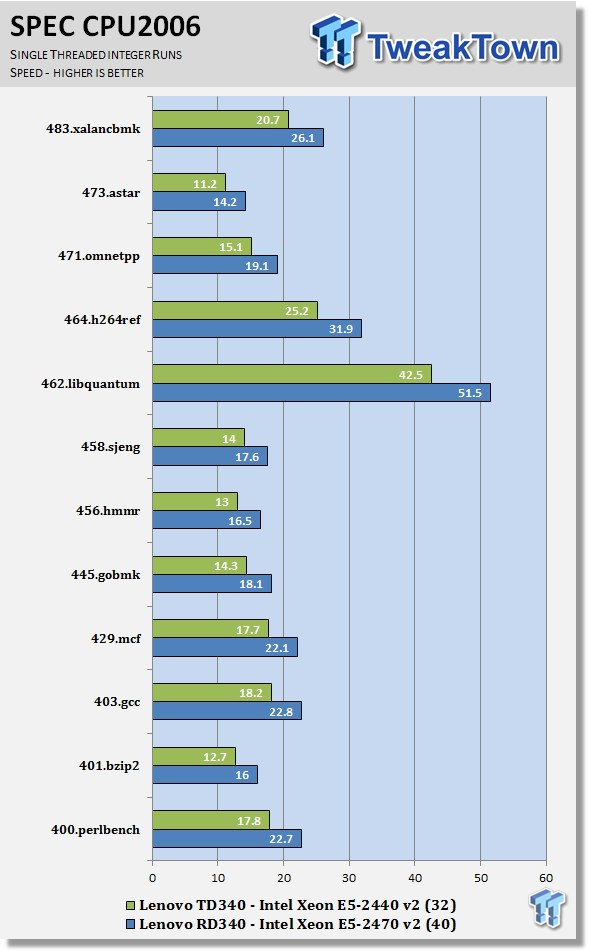 By looking at the results of single-threaded integer runs, we can get an idea of speed at which the Intel Xeon E5-2440 v2s can crunch through the different integer tests. Not all CPUs are equal here, and ones that have a higher speed will perform these tests faster. In this case, this is the stock speed of the Intel Xeon E5-2440 v2s. Naturally, using an overclocked system, or CPUs with a higher stock speed, will generate higher results.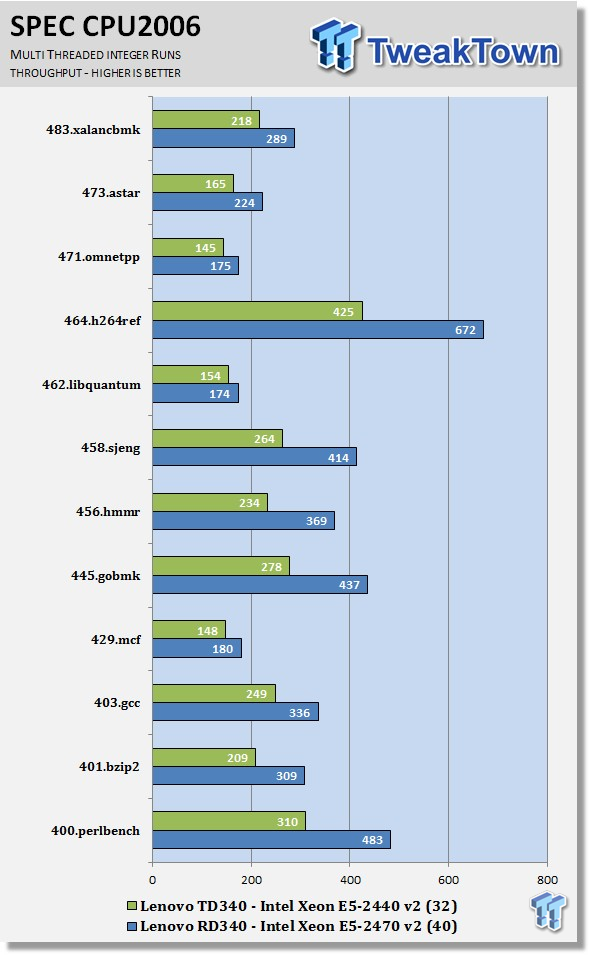 Now we run the test using all 32 threads of the Dual Intel Xeon E5-2440 v2s, to measure the throughput of the system. In this test, more cores/threads will have a greater effect on the outcome. We can see a big difference while using the dual-socket setup, with a three to four times performance boost in many cases.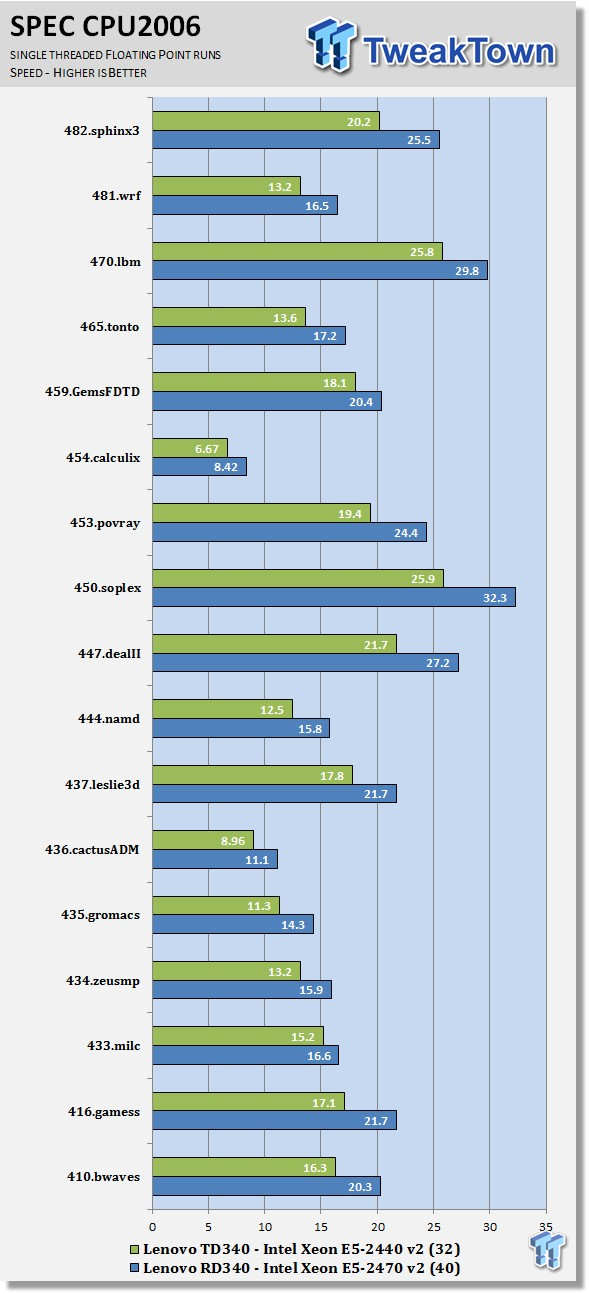 Just like the integer tests, we now run the floating-point tests in single (speed) mode. The lower clock speeds of the Intel Xeon E5-2440 v2s also holds this bench back.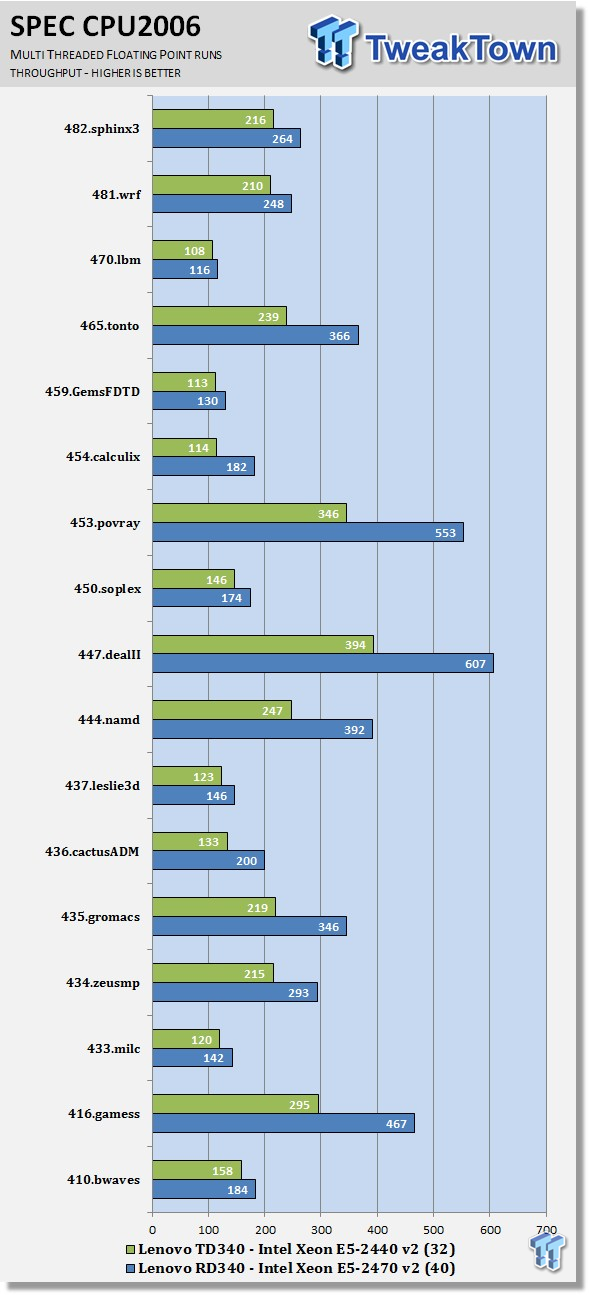 Here, we see the results of the multi-threaded, floating-point run that uses all 32 threads of the Dual Intel Xeon E5-2440 v2s. Like the multi-threaded integer test, more cores/threads will have a greater impact on the test.
Power Consumption and Final Thoughts
Power Consumption
To test total system power use, we used AIDA64 Stability test to load the CPU, and then recorded the results. We also now add the power use for a server from off state, to hitting the power button to turn it on, and taking it all the way to the desktop. This gives us data on power consumption during the boot up process.
With dual-socket systems, power use can be rather high when fully loaded. The Lenovo ThinkServer TD340 did peak out at about 225 watts under load, and about 260 watts on boot up. Setting the server power features and CPU speed step will lower these numbers. Overall, the TD340 does not use a lot of power in comparison to larger systems. This is good, as it also lowers heat output, and makes for a cool running server.
Just a note: On the RD340 power tests, we had power saving features turned off, so it is showing a higher power draw. The TD340 would be very close to those number with power saving features turned off also.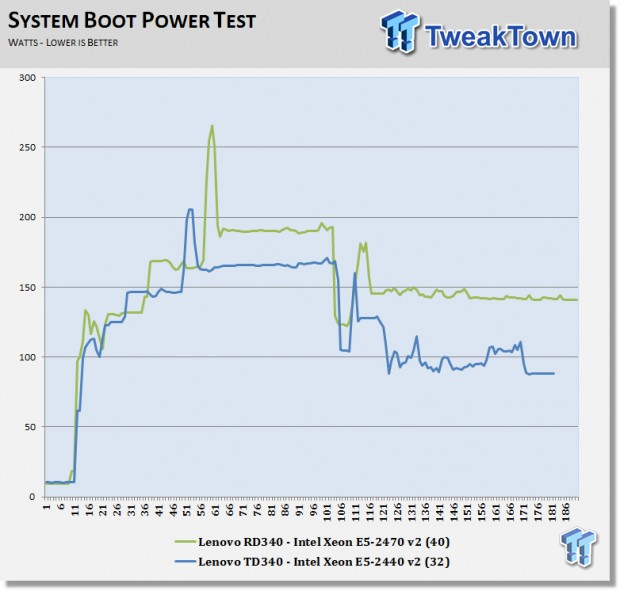 The boot power test shows both the TD340 and RD340 running very close in power draw. Like in the previous power test, we should note the RD340 had power saving features turned off, while the TD340 had them turned on.
Idle desktop power draw can vary by as much as 50 watts between these two modes. Turning on power saving features does lower performance somewhat, so it's the users call on how they want the server to run.
Final Thoughts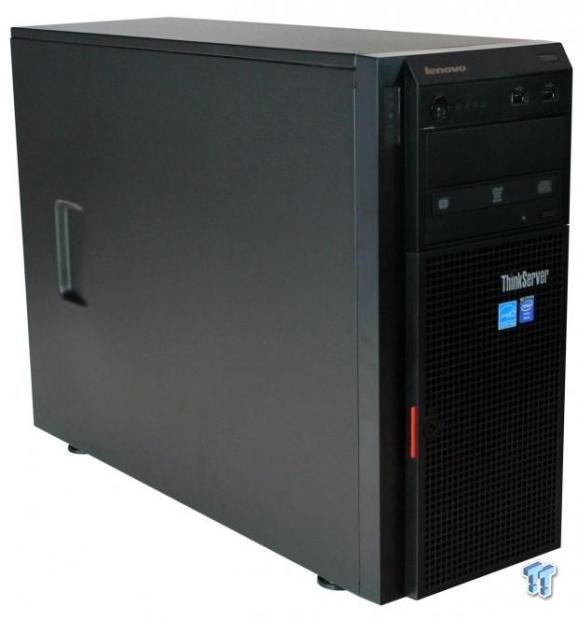 The Lenovo ThinkServer TD340 Tower Server is very much like the Lenovo ThinkServer RD340 we reviewed earlier, with the main difference being the RD340 is a rack mount server, and the TD340 is a tower server.
If you are looking for a small business server, and you do not need a full server cabinet, the TD340 is a clear winner. It does not take up a lot of space, so you have plenty of options on where to locate the box.
Power use and noise are also considerations that you might need to address. The TD340 has low power use in the 100 watt range, which means a lower power bill at the end of the month. At these power levels, heat output is also not much of an issue, so there is no need for any special cooling to run the server.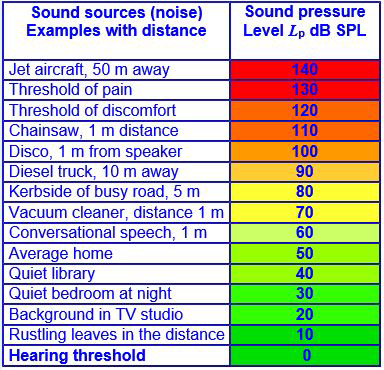 Noise output is also very low, which makes the TD340 ideal for an office environment. At startup, we measured only 57 dB. As you can see in the chart provided, this is in the average home to conversational speech area. The server does settle down to a lower noise output in the 30 dB range after it has started.
Just like the RD340, we liked the EasyStartup DVD, which simplified setup of one server to many servers. With the EasyStartup program, you do not have to worry about RAID drivers and other chipset drivers, it builds those for you. Setting up the OS is painless also; after you input the required information, EasyStartup takes over, and does the install for you.
With a system like the TD340, a typical setup would have a keyboard, mouse, and monitor connected to the TD340. If you require remote management, then be sure to get the management controller premium module.
We would like to see the TD340 come with hard drive caddies in all bay slots so that we could simply add in hard drive as we needed. The typical business would order storage options that they needed at first, and usually have a service contract, so the best bet is to order new drives from Lenovo. This would also require setting up the drives for use, which Lenovo could also assist you with.
We would also like to see a dust filter built into the storage bay door because it would help to keep the inside of the TD340 nice and clean.
PRICING: You can find the Lenovo ThinkServer TD340 for sale below. The prices listed are valid at the time of writing, but can change at any time. Click the link to see the very latest pricing for the best deal.
United States: The Lenovo TD340 retails for $979.88 at Amazon.
Canada: The Lenovo TD340 retails for CDN$1,564.33 at Amazon Canada.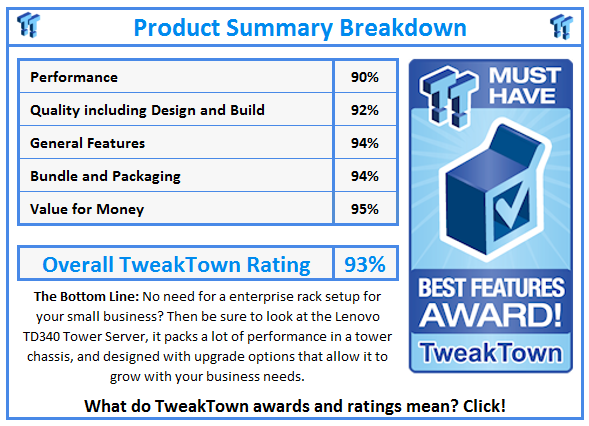 PRICING: You can find products similar to this one for sale below.

United States: Find other tech and computer products like this over at Amazon.com

United Kingdom: Find other tech and computer products like this over at Amazon.co.uk

Australia: Find other tech and computer products like this over at Amazon.com.au

Canada: Find other tech and computer products like this over at Amazon.ca

Deutschland: Finde andere Technik- und Computerprodukte wie dieses auf Amazon.de