ASUS RS520-E8-RS8 Barebones Server Review
We test the third barebones kit from ASUS. This time it is an RS520-E8-RS8 server kit. Is it a quality high performing storage server? Let's see.
Published Mon, Apr 27 2015 4:08 PM CDT
|
Updated Tue, Nov 3 2020 6:59 PM CST
Rating:

96%
Manufacturer: ASUS
Introduction and Packaging
In the lab today, we have the third barebones kit from ASUS to test out. This time it is an RS520-E8-RS8 server kit.
As we have said before, barebones kits offer a great way to get your systems up and running fast. There's no need to hunt down all the components you need and figure out what will work and what will not. Some of the features to look for when purchasing these kits are accessory load out, heat sinks, rail kits and other items are a big plus as it saves on costs and time trying to find compatible components.
In the case of the ASUS RS520-E8-RS8 barebones server kit, all you need to consider is what CPUs, how much RAM and what drives you want to use. Let us get started unpacking and setting up the ASUS RS520-E8-RS8 Server Barebones kit.
Packaging
We find ASUS shipping boxes to be some of the strongest we have seen in the lab, constructed of very heavy-duty cardboard and large foam inserts to protect the contents inside. Across the middle of the package, we find the rail kit in slotted knockouts.
After removing the rail kit, top foam inserts, and the server itself, we get a look at the bottom of the shipping package. Down the middle of the box, there is an accessory box, and over on the right hand side, there are two white boxes, which hold the passive heat sinks.
The server comes with two passive heat sinks and here we get a look at one of them. These are standard heat sinks and should provide plenty of cooling for the CPUs.
Here we get a look at the accessories that comes with the ASUS RS520-E8-RS8 Server. It has everything you will need to get the workstation up and running. Two power cords are provided for the dual redundant power supplies, a PSU knock out box in case you only want to run one power supply and a bag of screws for hard drive caddies.
The rail kit that comes with the ASUS RS520-E8-RS8 Server are just like the ones we showed here RS300-E8-RS4. They are simple to install and allow the server to be installed or removed with ease.
The supplied DVD's provide drivers and manuals for the server:
S579 - ASWM Enterprise SDVD Durian Edition Rev 8.0

S580 - ASMB8 Support DVD Rev 4.0

S581 - C61x Server Support DVD Rev 10.5
Specifications and Layout
Specifications
We like the fact that the RS520-E8-RS8 does not have a long depth to it and is relatively lightweight. This makes it easy to move around and install in a rack.
The RS520-E8-RS8 offers good network connectivity and has provisions for faster network cards if needed. 8x hot-swap storage bays offers an industry standard load out for medium size storage needs. We also like that the RS520-E8-RS8 comes equipped with IPMI and iKVM right out of the box, meaning there's no need for an extra iKVM dongle for management needs.
Layout
The front of the RS520-E8-RS8 server offers easy access to the 8x hot-swap storage bays, which is again an industry standard. At the top left, our sample did not include a DVD drive; we installed one of ours here in the lab. We think that for the most part this server should have come with a DVD drive installed that would make installing an operating system much easier.
The top right of the RS520-E8-RS8 has a series of status LED's, power and reset buttons, 2x USB 3.0 ports and a VGA port.
Eight hot swappable SATA3 drive bays provide plenty of storage capacity for this server.
The drive trays are typical for ASUS products with options to mount hard drives and SSDs.
The side of the RS520-E8-RS8 has several ventilation ports and a series of rail mounting studs.
The back of the RS520-E8-RS8 has dual redundant 770 watt power supplies on the left side. The far right has knockouts for 7 PCIe devices and at the top row several other knockouts are provided for additional devices. The rear I/O ports are 2x Intel I210AT RJ-45 LAN ports, PS/2 KB/MS port with 2x USB 3.0 ports below. Next is a RJ-45 Mgmt LAN port, System Status LED display and a VGA port.
The RS520-E8-RS8 comes equipped with 2x 77 watt dual redundant power supplies.
Taking the top lid off the RS520-E8-RS8 and we get our first look at the insides of this server. The wire harnesses are kept to one side and out of the way of airflow and everything looks nice and tidy.
The air shroud provides a nice clean channel for air to flow from the main cooling fans. It covers both the CPU heat sinks, which are provided with the kit and the RAM area nicely.
The RS520-E8-RS8 comes with 4x hot swappable system fans (80mm x 38mm) that provide the cooling for CPUs and RAM.
Here we have taken off the plastic air shroud so we can get a better look at how everything is installed. You can see each fan has direct flow right into the CPU's and RAM areas. This area is laid out cleanly with no wires or other components that would block airflow.
At the back of the server, we can see the available PCIe and Mezzanine slot. The Mezzanine slot provides support for an optional MCB-10G-2S (Dual Port 10 Gigabit/s Ethernet card).
The server lid also has a handy graphic showing how many of the options for the RS520-E8-RS8 server.
BIOS, Remote Management and Software
BIOS
The BIOS for this workstation is typical so we will only show key BIOS screens.
This is the main BIOS screen you see when you first enter the BIOS.
Remote Management
To get remote access up and running, enter the BIOS and head over to the server management tab. Move on down to the BMC LAN configuration tab. This will show the IP address used for remote access. Enter this IP address into your browser and you will see the login page.
Log in using:
Username: admin
Password: admin
As a best practice, Administrative users should change factory default Username/Password logins before connecting any new server to their network. The rest of the screens are typical for ASUS remote access so we will just show the screens here.
Software
The supplied DVD's provide drivers and manuals for the server. These are:
S579 - ASWM Enterprise SDVD Durian Edition Rev 8.0

S580 - ASMB8 Support DVD Rev 4.0

S581 - C61x Server Support DVD Rev 10.5

S581 - C61x Server Support DVD Rev 10.5 driver disks provides the driver to get you board up and running
Disk #2
S579 - ASWM Enterprise SDVD Durian Edition Rev 8.0
Disk #3
S580 - ASMB8 Support DVD Rev 4.0
Test System Setup
We would like to thank ASUS, INTEL, Crucial, SanDisk, SPEC, Yokogawa, STHbench, HWiNFO and AIDA64 for their support in providing parts for our test system.
For tests that we ran, we used default BIOS settings.
This is the HWiNFO screen showing the various stats of the Xeon E5-2699 v3 CPU's. These CPUs have a max of 145 watts TDP. These are 18 core CPU's with Hyper threading giving us 36 cores/72 threads to work with. The CPU's have a stock speed of 2.3GHz and turbo up to 3.6GHz. Features of the E5-2699 v3 processors are:
The Intel Xeon E5-2699 v3 processors are very powerful CPU's that are perfect for a server like the ASUS RS520-E8-RS8 server. They have good stock speeds and can turbo up to an impressive 3.6GHz.
Many features like VT-x and VT-d can come in handy if you plan to use VM's on the system. Virtualization (VT-x) Features lower entry/exit latency, which reduces VMM overhead and increases overall virtualization performance. VM control structure (VMCS) shadowing enables efficient nested VMM usages such as manageability and VM protection. Advanced Vector Extensions (AVX) 2.0 has also been updated to AVX2 which now uses 256-bits floating point SIMD instructions. This will allow you to use up to twice the amount of packed data with a single instruction. Turbo and AVX Improvements will automatically allow processor cores to run faster than the rated speed and AVX frequencies if they are operating below power, current and temperature specification limits.
Here we see the task manager showing all 72 threads provided by the E5-2699 v3's. This is a massive amount of processing power packed into these CPUs.
In our tests, we will be using the new Crucial DDR4 memory, which has a speed of 2133 MHz, and rated at CL15. We will use 16x 16GB sticks of these kits that will bring us to 256GB of RAM. We have already taken a look at these memory kits which you can find here: Crucial DDR4-2133 DRx4 RDIMM Memory Review - Testing up to 256GB
Here we can see the timings of the Crucial DDR4 memory that we will be using in our tests.
We are starting to use STHbench for our benchmarks. This benchmark utilizes a simple Ubuntu Server installation (12.04 LTS or newer) as a base operating system and allows us to boot from a DVD, run the script that updates the system, downloads necessary files, compiles as necessary and then running benchmarks. We have more work to do with adding this benchmark, but soon we should have everything in order.
System and CPU Benchmarks
CINEBENCH R15
CINEBENCH R15 is a real-world cross platform test suite that evaluates your computer's performance capabilities. CINEBENCH is based on MAXON's award-winning animation software CINEMA 4D, which is used extensively by studios and production houses worldwide for 3D content creation.
The test scenario uses all of your system's processing power to render a photorealistic 3D scene (from the viral "No Keyframes" animation by AixSponza). This scene makes use of various algorithms to stress all available processor cores.
Number of cores/threads and base speed of the CPU's affect the scores for Cinebench R15. The RS520-E8-RS8 server is geared for storage solutions so we do not expect to find high number crunching results.
wPrime
wPrime is a leading multithreaded benchmark for x86 processors that tests your processor performance. This is a great test to use to rate the system speed; it also works as a stress test to see how well the system cooling is performing.
Just like in the CINEBENCH R15 scores, wPrime shows similar results, in this, the RS520-E8-RS8 server shows about average results.
Memory and System Benchmarks
AIDA64
AIDA64 memory bandwidth benchmarks (Memory Read, Memory Write, and Memory Copy) measure the maximum achievable memory data transfer bandwidth.
AIDA64 memory tests show the RS520-E8-RS8 server using Quad-Channel memory has good memory bandwidth.
Stream
Stream is a benchmark that is widely used to measure memory bandwidth. We are just starting to use this benchmark, so we do not have any other systems to compare to. We will be using this benchmark on all our reviews in the future.
The Stream results show good memory bandwidth, which should provide plenty of performance to handle any storage server needs.
Linpack
Intel Optimized LINPACK Benchmark is a generalization of the LINPACK 1000 benchmark. It solves a dense (real*8) system of linear equations (Ax=b), measures the amount of time it takes to factor and solve the system, converts that time into a performance rate, and tests the results for accuracy.
Linpack is a measure of a computer's floating-point rate of execution ability and measured in GFlops (Floating-point Operations per Second), 10 billion FLOPS = 10 GFLOPS. Linpack is a very heavy compute application that can take advantage on the new AVX2 instruction. As it puts a very high load on the system, it is also a good stress test program.
The RS520-E8-RS8 server again is showing average bandwidth and compares with the Stream results.
Geekbench
Geekbench 3 is a processor benchmark that uses single-core and multi performance simulating real-world scenarios.
In Geekbench, we see strong scores in both single and multi-threaded scores. Just like in the past benchmarks, we are again seeing average results for the RS520-E8-RS8 server.
UnixBench 5.1.3 and SPEC CPU2006v1.2
UnixBench
UnixBench has been around for a long time now, and is a good general-purpose bench to test on Linux based systems. This is a system benchmark, and it shows the performance of single threaded and multi-threaded tasks.
This shows the system indexes after a complete UnixBench run. Here, we get an idea of how much performance gains we get using multi-threaded applications. However, many applications use single threaded, so this number is really the base, and a higher clock speed will increase both indexes.
SPEC CPU2006v1.2
SPEC CPU2006v1.2 measures compute intensive performance across the system using realistic benchmarks to rate real performance.
In our testing with SPEC CPU2006 we use the basic commands to run these tests.
Runspec --tune=base --config=tweaktown.cfg then int or fp
To do multi-threaded we add in --rate=72 on the RS520-E8-RS8 server.
When SPEC CPU first came out these tests could take up to a week to run, but as computers become faster, our tests can take up to four days for a full run. The user can do many thing to effect the results of CPU2006 runs, such as compiler optimizations, addons like Smartheap and different commands used in to start the tests.
Here, you can see the SPEC scores after full runs for Integer (int) and Floating Point (fp) tests. Single core runs show how fast (speed) a CPU can perform a given task. In the multi-core runs, we set SPEC CPU2006v1.2 to use all threads, and this is a measure of the throughput of the system.
The additional core/threads of this system has a huge impact on performance in these tests and really shows the amount of horse power that a dual socket system has over a single socket board. Single threaded results are still very important, but when you need lots of those to run moving to a dual socket setup is the way to go.
Looking at the results of single threaded integer runs, we can get an idea of speed at which the Intel Xeon E5-2699 v3's can crunch through the different integer tests. Not all CPUs are equal here, and ones that have a higher speed will perform these tests faster. In this case, this is the stock speed of the Intel Xeon E5-2699 v3. Naturally, using an overclocked system or CPUs with a higher stock speed will generate higher results.
Now we run the test using all 72 threads of the Intel Xeon E5-2699 v3's, to measure the throughput of the system. In this test, more cores/threads will have a greater effect on the outcome.
Just like the integer tests, we now run the floating-point tests in single (speed) mode. We do see strong results with the Intel Xeon E5-2699 v3's in this test.
Here, we see the results of the multi-threaded floating-point run that uses all 72 threads of the Intel Xeon E5-2699 v3's. Like the multi-threaded integer test, more cores/threads will have a greater impact on the test. Just the single threaded FP runs we see a strong advantage with using Intel Xeon E5-2699 v3's in this test.
Power Consumption and Final Thoughts
Power Consumption
We have upgraded our power testing equipment and now use a Yokogawa WT310 power meter for testing. The Yokogawa WT310 feeds its data through a USB cable to another machine where we can capture the test results.
To test total system power use, we used AIDA64 Stability test to load the CPU, and then recorded the results. We also now add in the power use for a server from off state to hitting the power button to turn it on and take it all the way to the desktop. This gives us data on power consumption during the boot up process.
The ASUS RS520-E8-RS8 server peaks out at just over 500 watts when put under full load, which is very good for a system like this. Of course, adding in a full load of hard drives will make these power use numbers higher. Idle power use is in the range of ~110 watts, which is what we expected for a system like this.
Booting up the ASUS RS520-E8-RS8 server peaks out at ~340 watts then quickly settles down to ~110 watts sitting on the desktop. System boot up times are in the range of servers that we have tested before.
Final Thoughts
This is our second barebones server kit we have had in the lab to test out and we can say this one has it all.
The ASUS RS520-E8-RS8 server barebones kit comes with everything you need to get your server up and running. Unlike others, this kit comes with rails and heat sinks, so you no longer have to go hunting for these items. This is a big plus to us; sometimes rail kits are only available at off brand stores and come with a high price. The RS520-E8-RS8 rail kit is simple to install into a rack, which is also a nice addition. We have racked up a fair amount of servers in our time and these kits are about as simple to set up as they come. Trying to line up a heavy 2U server into front loaded rail guides requires two people for the most part; the RS520-E8-RS8 is a top loader, which is much easier to snap into place. The server itself is lightweight and has a short depth, which makes it easy to move around and lift to rack heights.
The supplied passive CPU heat sinks are also of high quality and perform very well. These could be a challenge to source if not supplied with the kit as they fit the plastic air shroud tightly. The air shroud fits snuggly into the cooling area and provides a nice tight fit to channel air through the system.
The server itself is of high quality with ample expansion options. The case itself is well designed and built with solid construction that keeps the server nice and flat, it does not flex around when lifting. Many of the servers we have tested forced us to cram our fingers into tight areas to install things like RAM and CPUs. The RS520-E8-RS8 server has plenty of clearance inside for these tasks with only one location on the right hand side where clearance was tight.
Overall, setup was a breeze on the RS520-E8-RS8. The motherboard used in this server is the Z10PR-D16 server board, which offers good expandability and allows 16x DIMMs to be installed. We like this motherboard a great deal and reminds us of the Z10PE-D16 that is used in the TS700-E8-RS8 Workstation. Both these boards have excellent BIOS's that we have come to expect from ASUS products.
Another factor to consider about the RS520-E8-RS8 server is its low power use compared to some other servers we have tested, in this case as much as 50 watts in some cases. This adds up to lower running costs and less heat output. There is not much to dislike about the RS520-E8-RS8 server except we would like to have a DVD drive come standard with this kit. The RS520-E8-RS8 server is a good server kit that should get you up and running fast and provide a high power storage solution for your needs.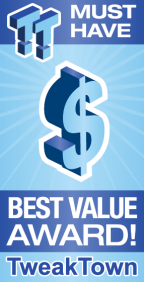 | | |
| --- | --- |
| Performance | 95% |
| Quality including Design and Build | 98% |
| General Features | 95% |
| Bundle and Packaging | 96% |
| Value for Money | 95% |
The Bottom Line: The ASUS RS520-E8-RS8 barebones server kit offers high quality construction, ample expansion options, industry standard storage loadout, low power use, and everything you need to get up and running.
PRICING: You can find products similar to this one for sale below.

United States: Find other tech and computer products like this over at Amazon.com

United Kingdom: Find other tech and computer products like this over at Amazon.co.uk

Australia: Find other tech and computer products like this over at Amazon.com.au

Canada: Find other tech and computer products like this over at Amazon.ca

Deutschland: Finde andere Technik- und Computerprodukte wie dieses auf Amazon.de