GIGABYTE X99-Gaming 5 (Intel X99) Motherboard Review
Steven takes us on a tour of GIGABYTE's X99-Gaming 5 motherboard. If you're a gamer and like value for money, take a look.
Published Fri, Feb 27 2015 6:10 PM CST
|
Updated Tue, Nov 3 2020 6:59 PM CST
Introduction, Specifications, and Pricing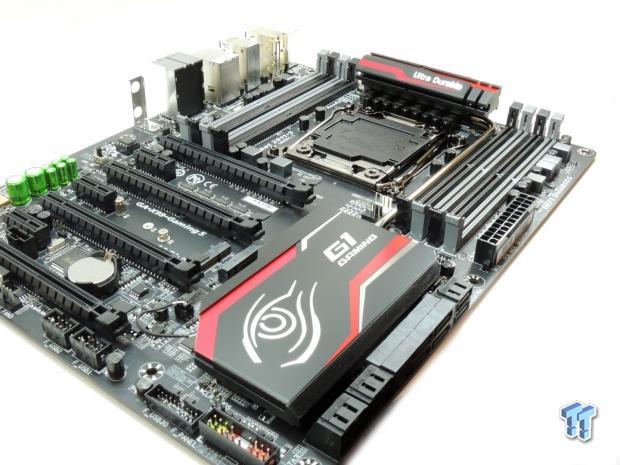 GIGABYTE is a well-known manufacturer of computer goods, including motherboards and video cards. Today, I will take a look at their X99-Gaming 5, a mid-range X99 gaming motherboard from GIGABYTE.
In the past, GIGABYTE's gaming series consisted of a few very high-priced products, but now GIGABYTE has decided to offer a wider selection of Gaming series products.
With Intel X99, GIGABYTE has brought a lot of new features to the table, so let's begin our journey with the X99-Gaming 5, and see just what it can do. Let's get started.
Specifications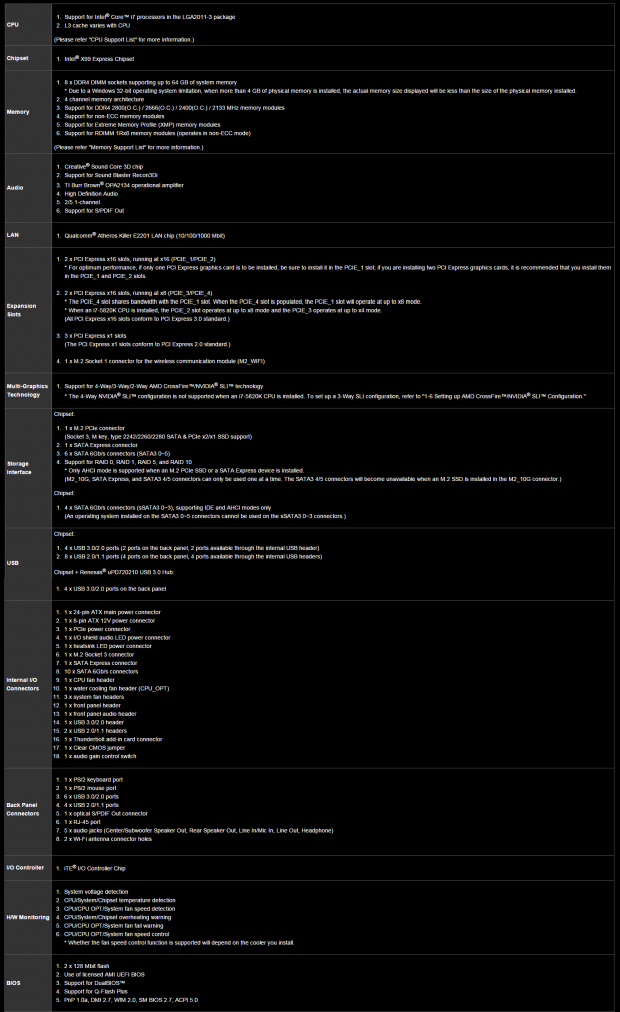 GIGABYTE provides 4-Way SLI/CF capabilities to all their full size X99 motherboards, however, the cost is that they don't provide 4x PCI-E 3.0 for the M.2 drive. The other most notable thing is that GIGABYTE is providing a beefed up audio subsection, the same as the X99-Gaming G1, we will cover it in the following sections.
Pricing
At $270 on Newegg, the X99-Gaming 5 is in the mid-range price bracket for X99 motherboards.
PRICING: You can find the GIGABYTE Intel LGA 2011-3 X99 4way SLI/CrossFireX Gaming Killer LAN Motherboards GA-X99-GAMING 5 for sale below. The prices listed are valid at the time of writing but can change at any time. Click the link to see the very latest pricing for the best deal.
United States: The GIGABYTE Intel LGA 2011-3 X99 4way SLI/CrossFireX Gaming Killer LAN Motherboards GA-X99-GAMING 5 retails for $269.99 at Amazon.
Canada: The GIGABYTE Intel LGA 2011-3 X99 4way SLI/CrossFireX Gaming Killer LAN Motherboards GA-X99-GAMING 5 retails for CDN$335.99 at Amazon Canada.
Packaging and the X99-Gaming 5
Packaging and the Board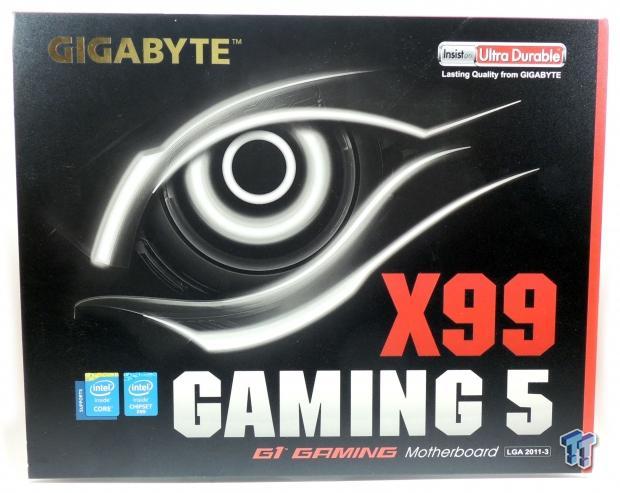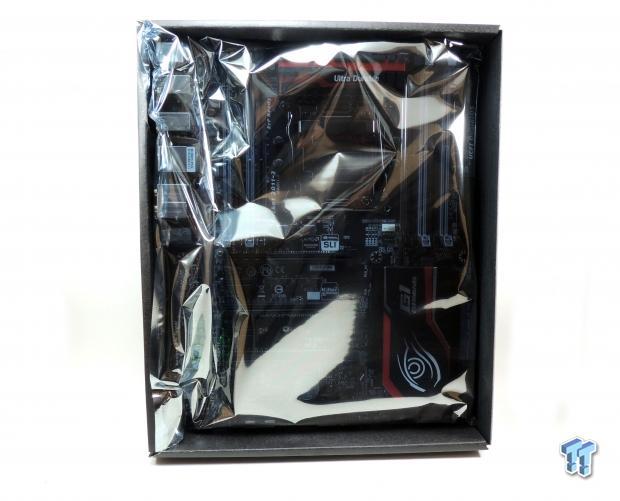 The box has a big eye on it, I am guessing to match their video card division's GIGABYTE eye. The board is well packed and sits in its own tray in an anti-static bag. It is well protected from the elements.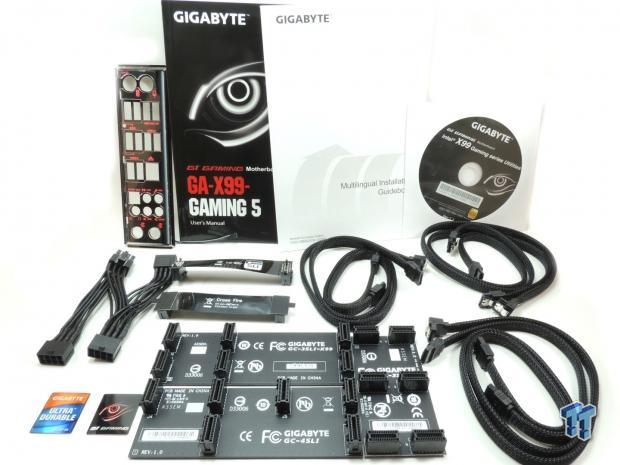 The accessory package is one of the more plentiful. It consists of six sleeved SATA 6G cables, a 2-way SLI bridge, a 2-way CrossFireX bridge, two types of 3-way SLI bridges for different GPU spacing, a 4-way bridge, a power cable expander, a back-panel IO shield that lights up, and a special G1 Gaming sticker.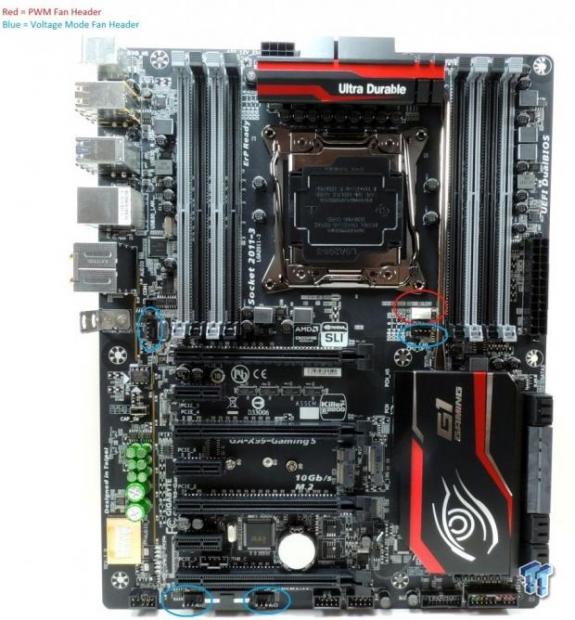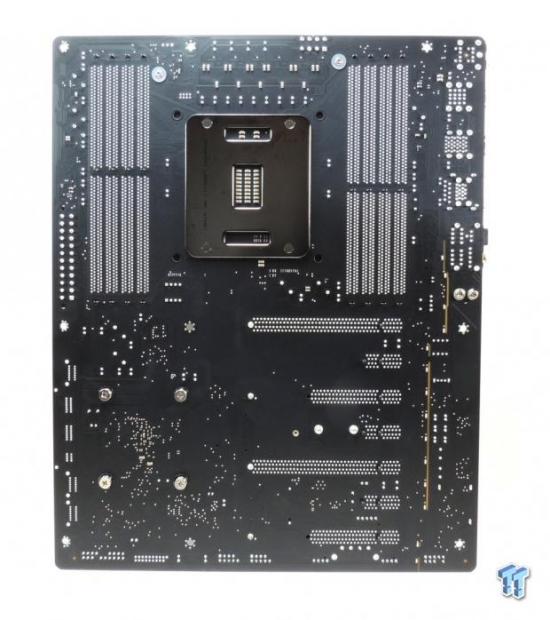 I have circled the fan headers on the board. There is one PWM header and four voltage mode headers, all of them can be controlled through the UEFI or Windows software. I actually have the X99-Gaming G1 WIFI as well and I can barely tell the difference without up close inspection. The new red Gaming series have a sleek heat sink design, and the accent lighting is well pronounced if you like that kind of stuff. The back of the board is pretty much barren except for some LEDs.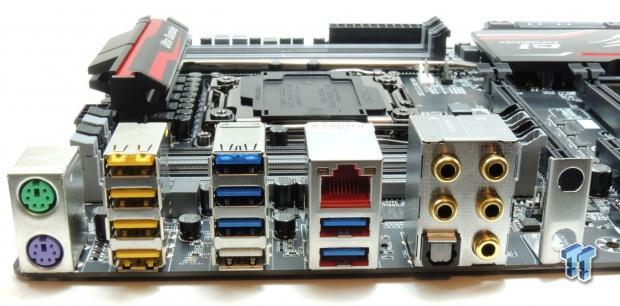 The backpanel IO features a Bigfoot NIC, six USB 3.0 ports (one is for BIOS flash-back), four USB 2.0 ports, two PS/2 ports, a gold plated audio TOSLINK with S/PDIF optical out, and openings for GIGABYTE's WIFI/BT antennas (which you get if you buy their card separately).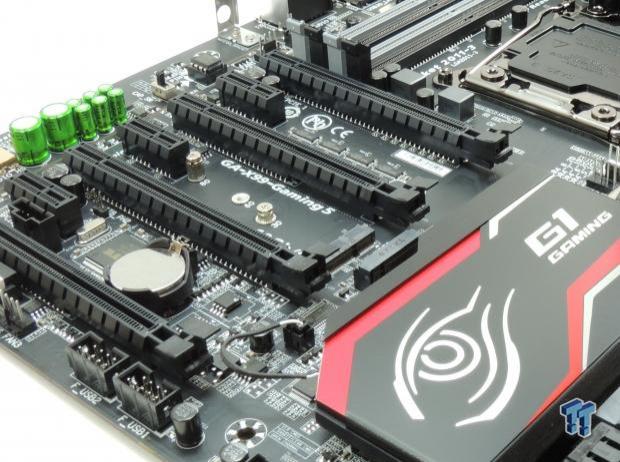 The X99-Gaming 5 has a very straight forward PCI-E layout, the first and second PCI-E slot are wired directly to the CPU at 16x and 8x. The third PCI-E 16x slot gets 16x from the CPU, and if you place a card in the last slot, it will take 8x from the third slot and switch it to the fourth slot. You can run 2-way at 16x/16x, 3-way at 16x/16x/8x or 16x/8x/16x, and 4-way at 16x/8x/8x/8x. All the 1x slots get their bandwidth directly from the PCH.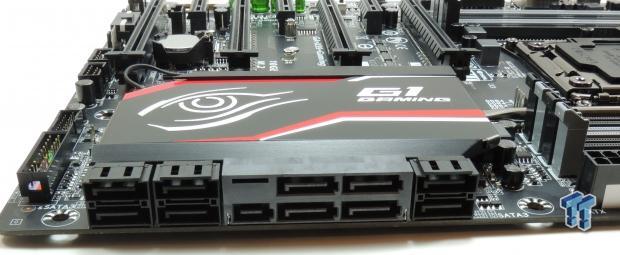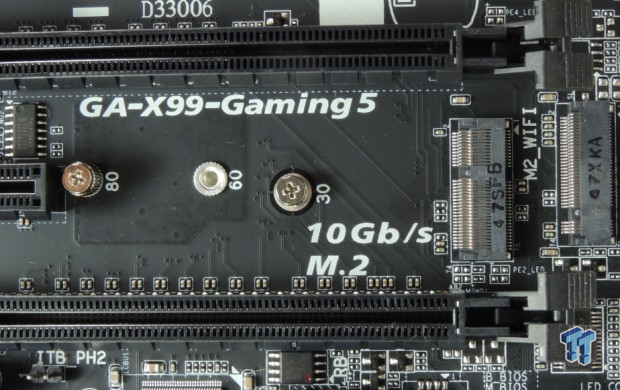 GIGABYTE utilizes all 10 SATA 6G ports from the PCH, which includes two ports for SATA Express, which are shared with the M.2 slot. The M.2 slot operates at 10Gb/s, which is standard M.2 operational speed.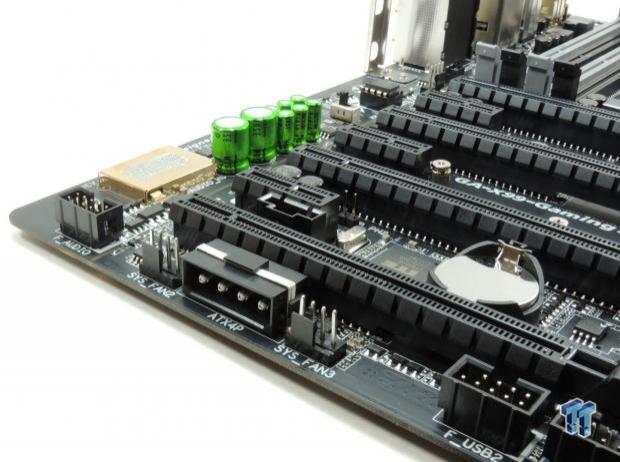 Extra power for the PCI-E slots might be needed for 4-way SLI/CF so there is an extra Molex power plug.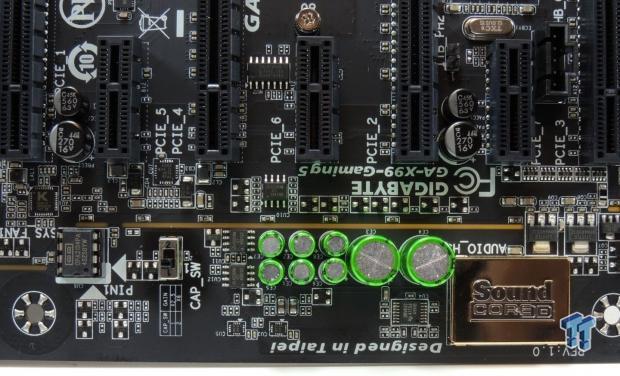 GIGABYTE is providing the X99-Gaming 5 with the exact same audio subsection as their X99-Gaming G1 WIFI. The LEDs on the back illuminate the PCB isolation gap.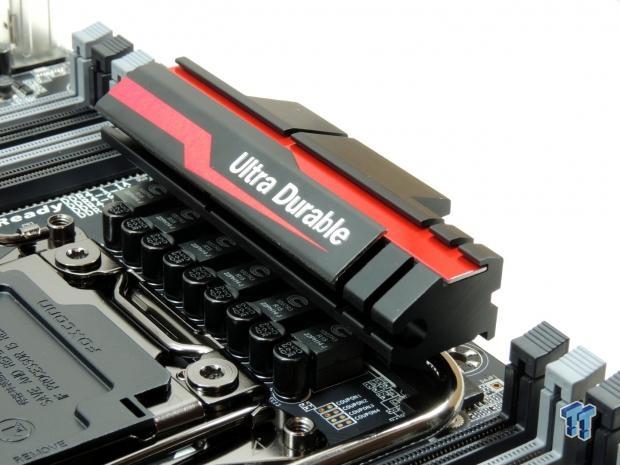 The VRM is made up of 6 phases; these 6 phases are cooled by a decent sized heat sink.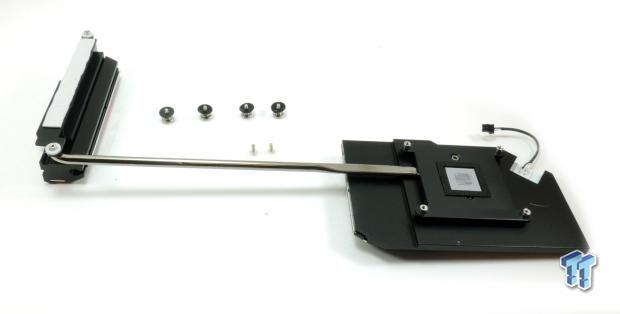 Removing the heat sink reveals good contact between the VRM power stages and the VRM heat sink. Metal screws are used for all connection points.
X99-Gaming 5 Circuit Analysis
Circuit Analysis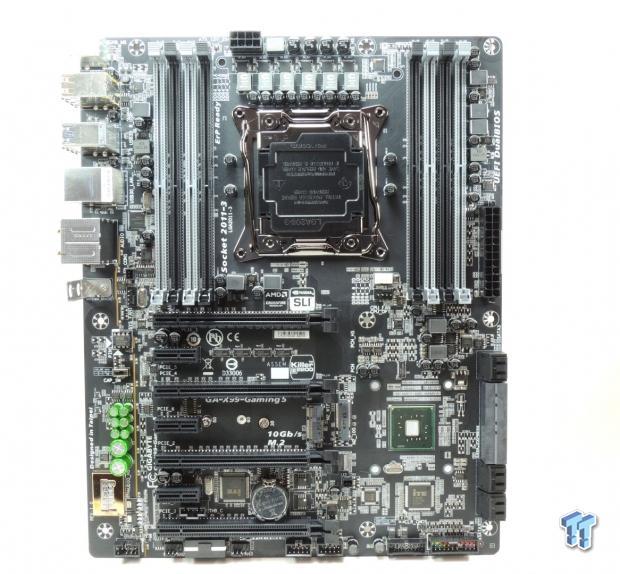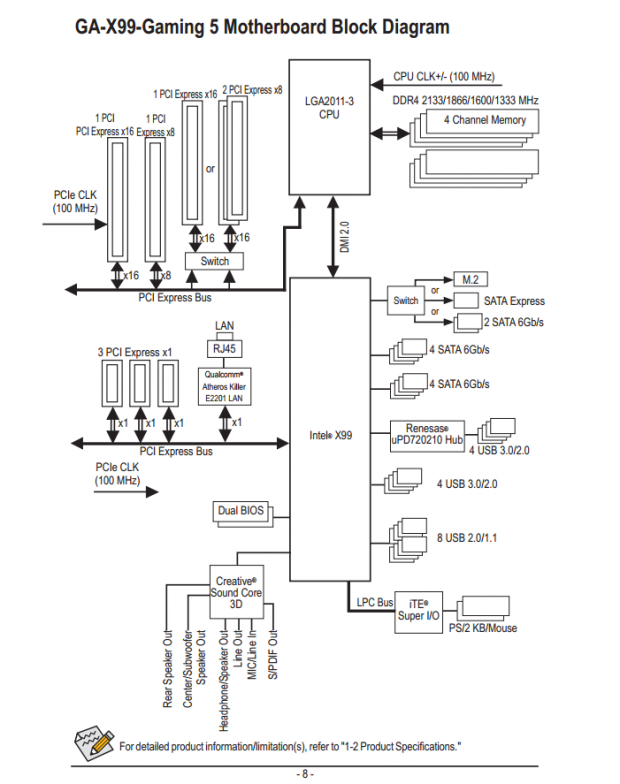 This section will start off with a look at power regulation and then shift into general circuit selection and implementation.
CPU Regulator Analysis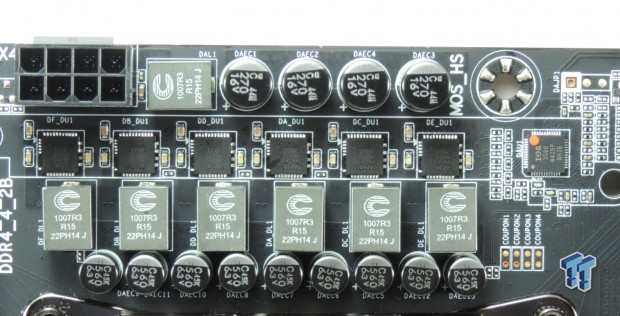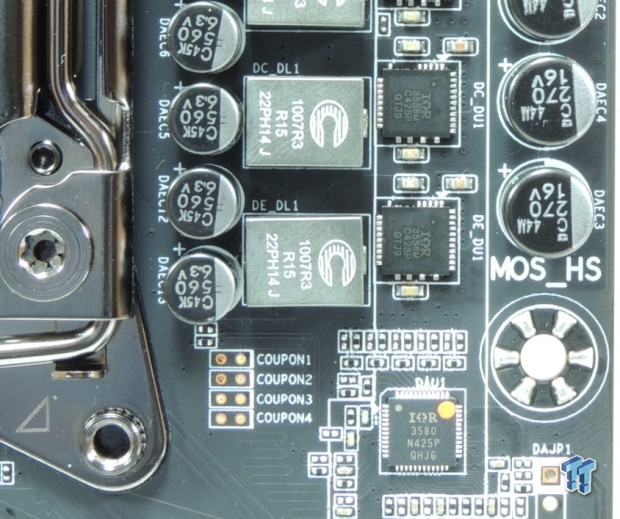 The CPU VRM consists of 6 phases made up of six International Rectifier IR3556 which are 50A power stages. Six Coiltronics FLAT-PAC 76A high-current inductors are used for the output filter's inductor stage. The output filter consists of nine 560uF 10K capacitors from Chemi-Con. This VRM has very high power density. Instead of increasing phase count like many other brands, GIGABYTE decided to use higher current components in a smaller area.
The IR3580 from International Rectifier is an 8 phase PWM, however, GIGABYTE opted to only use 6 of the 8 phases. There is only a single 8-pin input, however, GIGABYTE provides an adapter to allow you to get past PSU OCP by combining up to three 8-pin connectors from your PSU.
Memory Regulator Analysis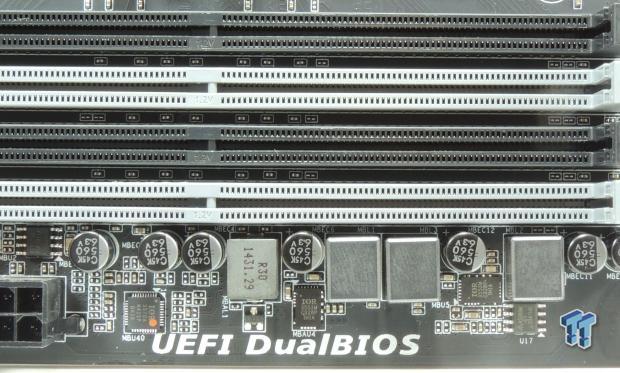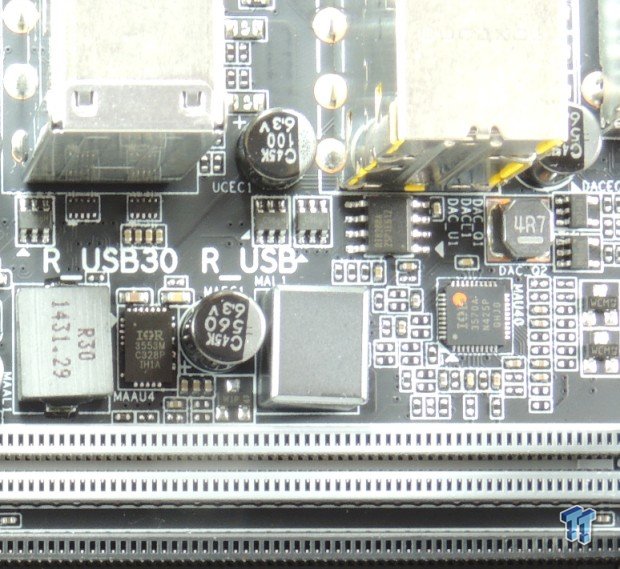 The X99-Gaming 5 uses two IR3570A, which are 3+2 phase PWMs to drive a total of four IR3553, which are 40A power stages from International Rectifier. The main DRAM voltage and the VPP voltage each get their own power stage, which should be enough for DDR4 power.
General Circuit Analysis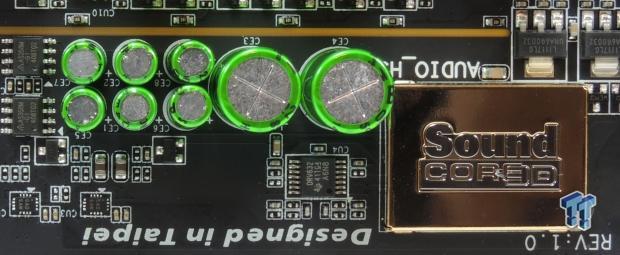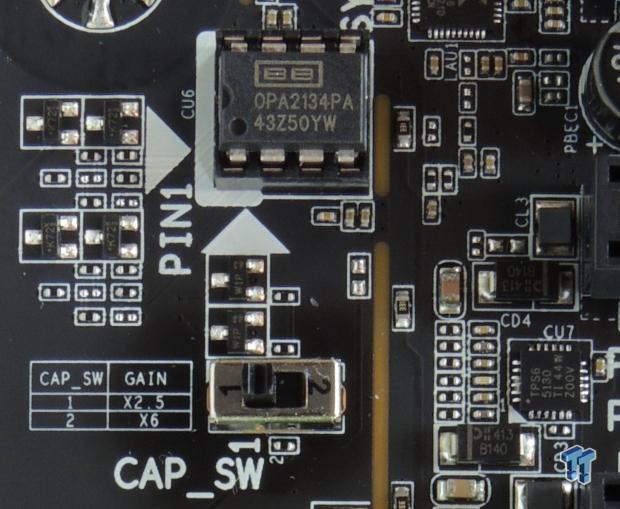 Under that gold plated cover is a Creative CA0132, which is a Core3Di quad-core audio processor. The X99-Gaming 5 compliments the chip with a bank of Nichicon audio capacitors as well as a Texas Instruments DRV632 audio amplifier for the front panel audio output. The X99-Gaming 5 has an OP-AMP socket so you can replace the operational amplifier, there is also a gain switch to reduce or increase the gain depending on the output device.
Like the X99-Gaming G1, the X99-Gaming 5 has a Texas Instruments TPS65130, which is there to drive up to +/- 15v to the audio amplifier socket to support a wide range of aftermarket amplifiers. Two tiny operational amplifiers produce different lighting affects for the LEDs on the board.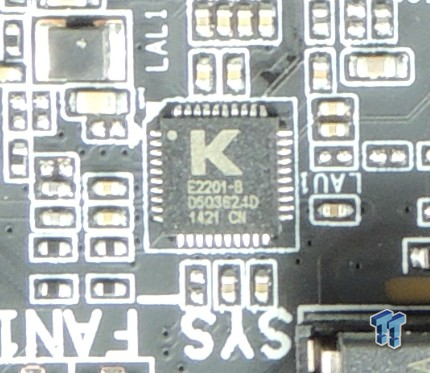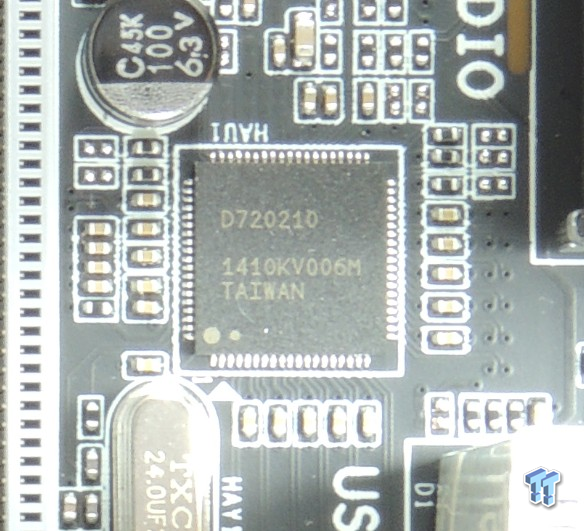 A Bigfoot (Qualcomm) E2201 is provided as the NIC, I will test this later on in the article. The X99-Gaming 5 is using a NEC D720210 as a USB 3.0 hub to expand a single USB 3.0 port into four for the back-panel IO.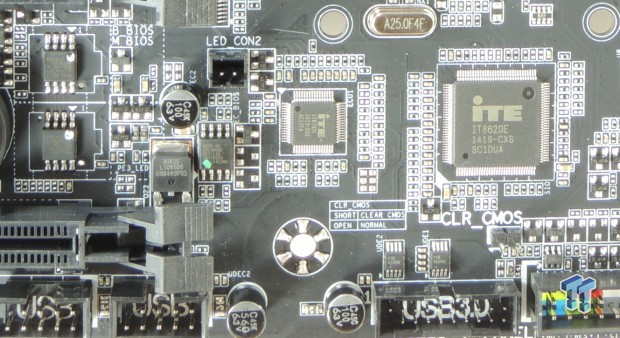 The X99-Gaming 5 carries dual 128Mbit BIOS ROMs, an iTE IT8620E Super IO, and an IT8792E (EC), which is an extra embedded controller in charge of random extra tasks. I usually only find the extra EC on high-end overclocking boards from GIGABYTE, I am not sure exactly what its use is here.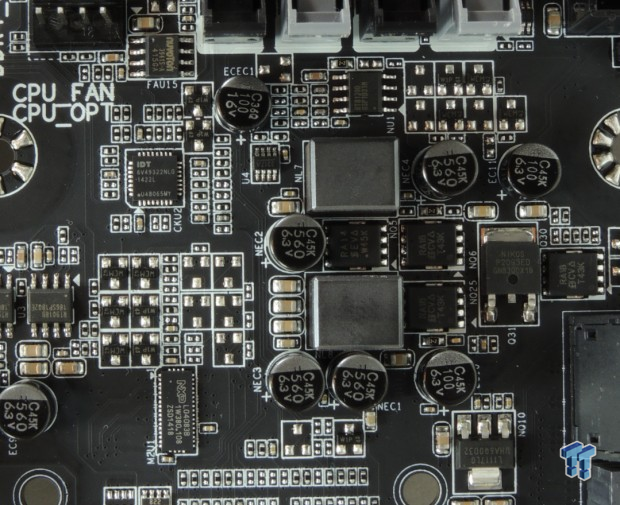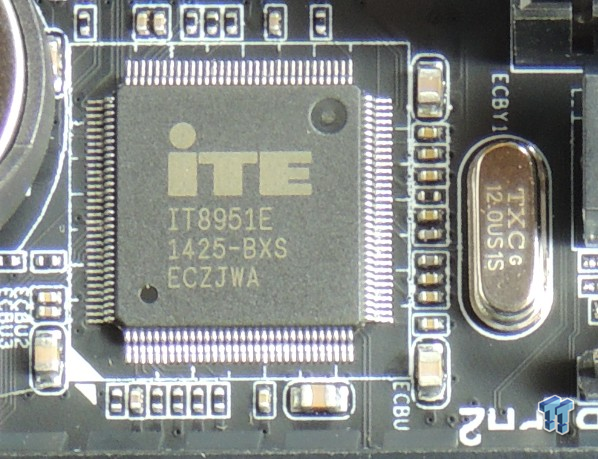 The X99-Gaming 5 utilizes a secondary clock generator, an IDT6V49322, for higher BCLK margins. The PCH is powered by a single phase Richtek PWM with drivers, and some Vishay PowerPAK MOSFETs. The X99-Gaming 5 has USB BIOS flashback through the use of the iTE IT8951E chip.
BIOS and Software
BIOS
GIGABYTE's UEFI is a bit different than every other UEFI I have used. For starters, they try to give you as many options as possible; there are basically three different operating modes, which can be confusing.
The first is when you enter the UEFI, it's very basic, and then you can hit F2 and go to the BIOS I use, the gray one. However, there is an orange themed BIOS in there as well, but the gray one is more usable. The UEFI at this point is more polished than it was at release, and everything seems to function fine.
I would like to see better fan control options in the UEFI, but overall, it's a working UEFI without the bugs that GIGABYTE's X79 series had.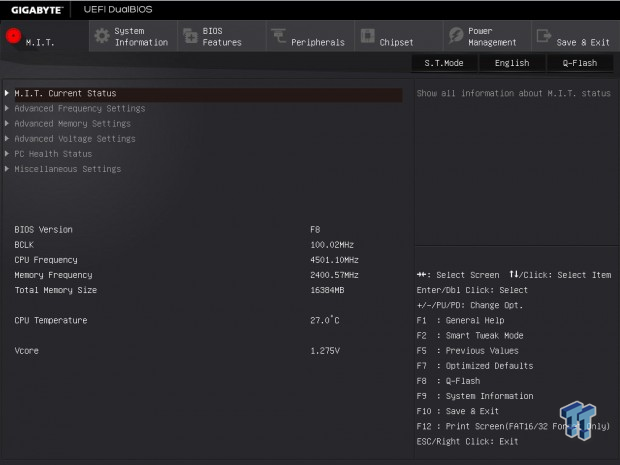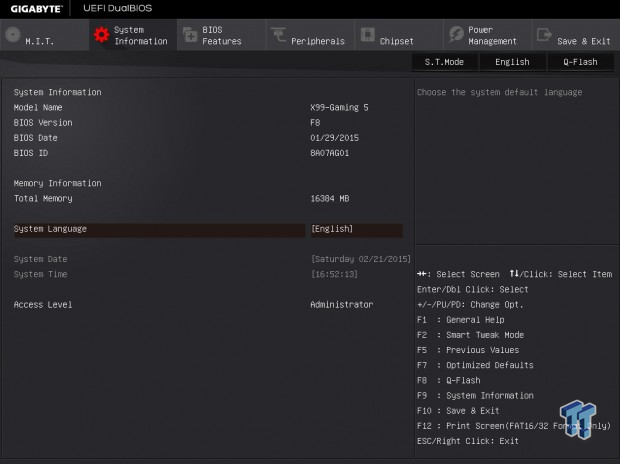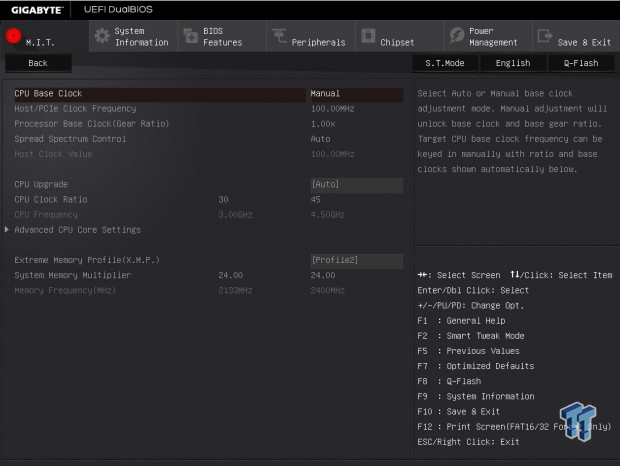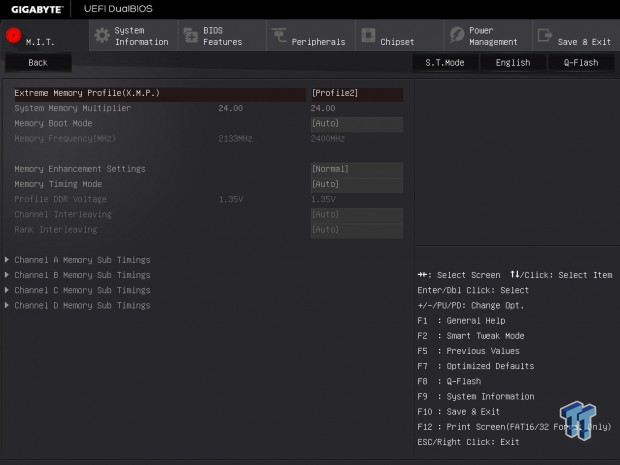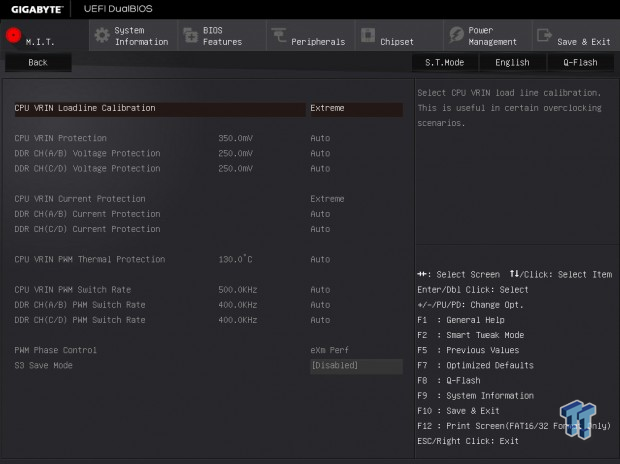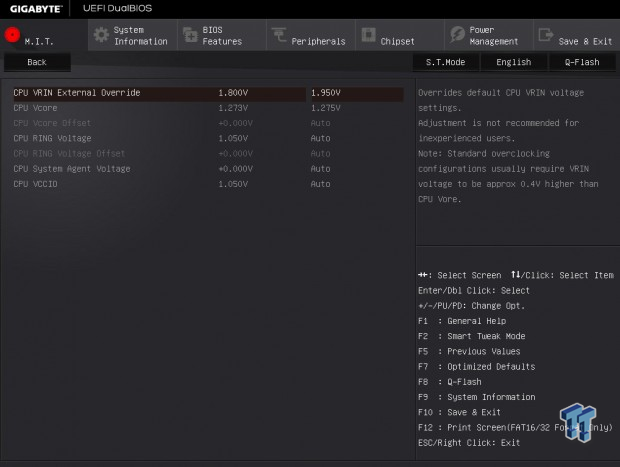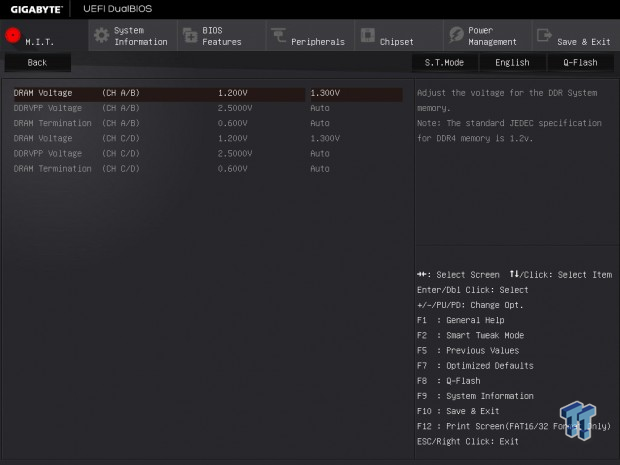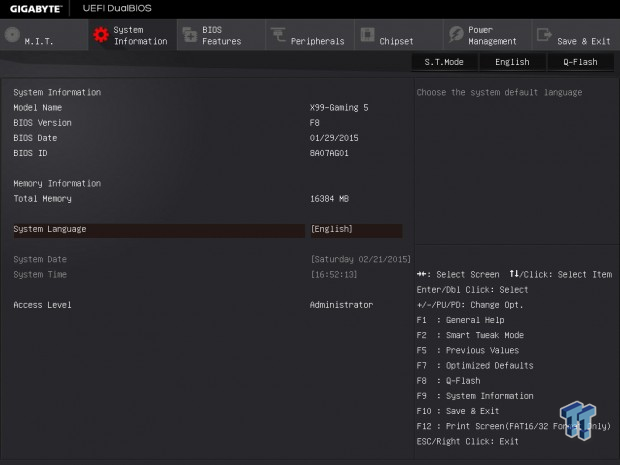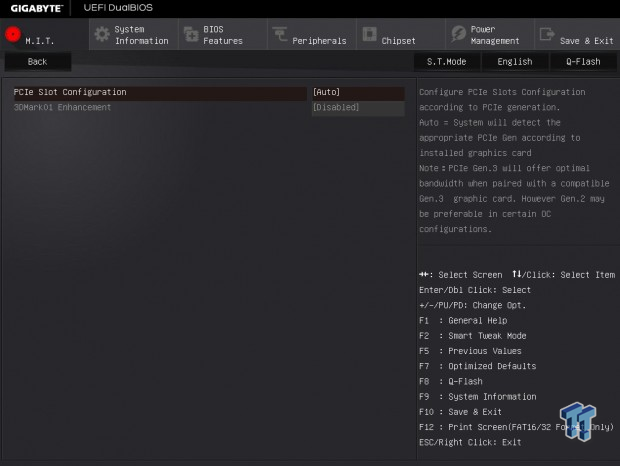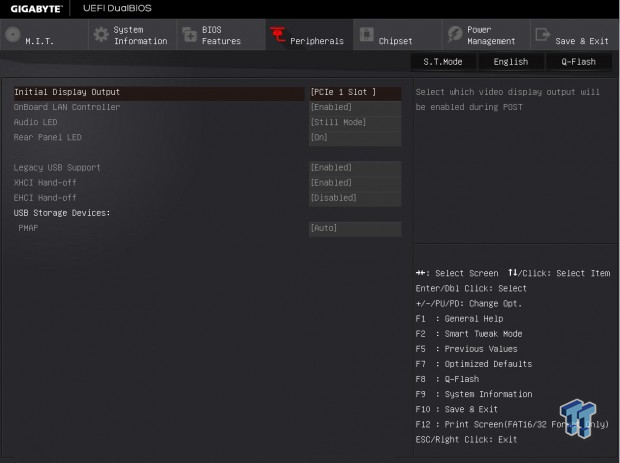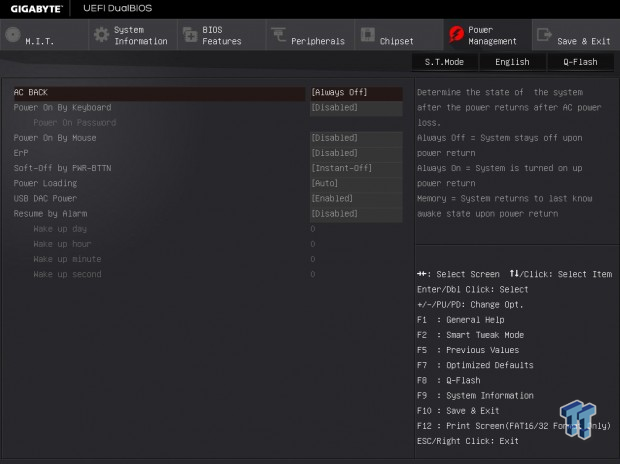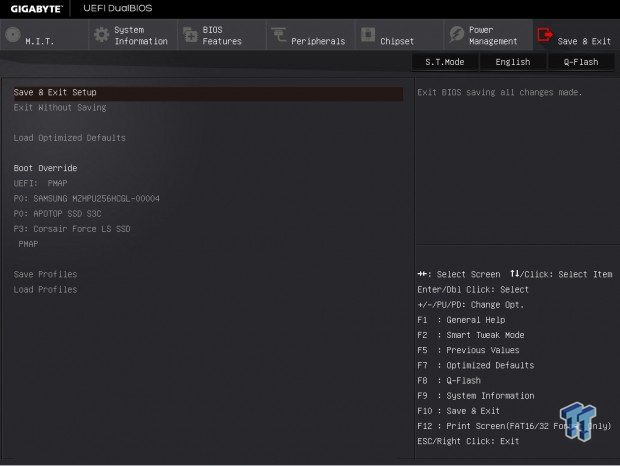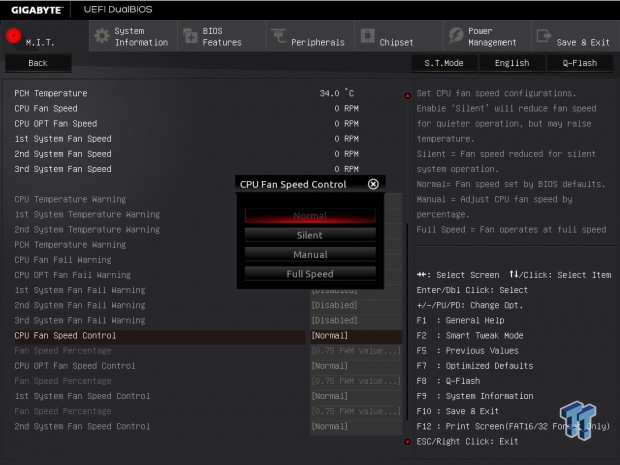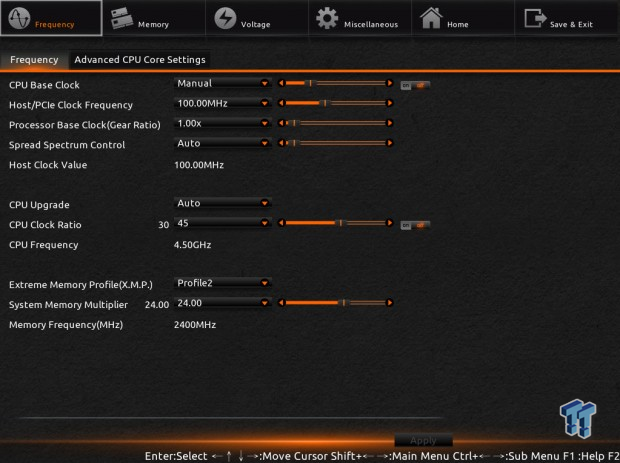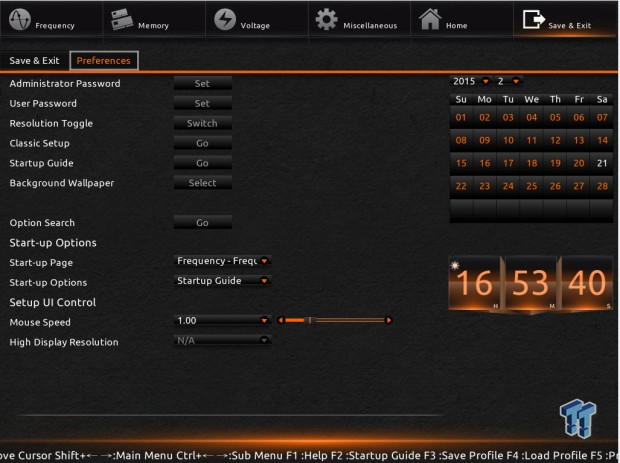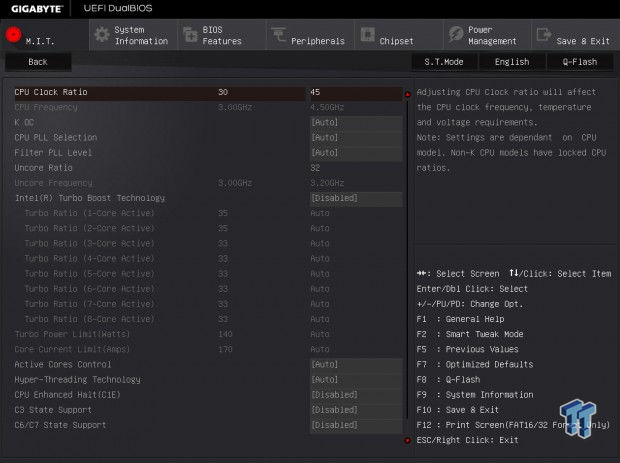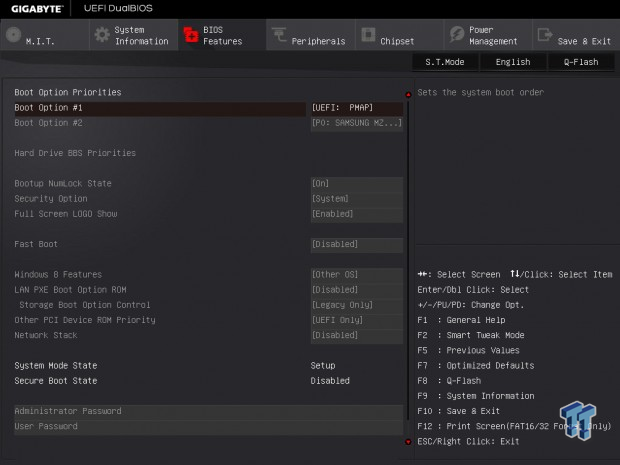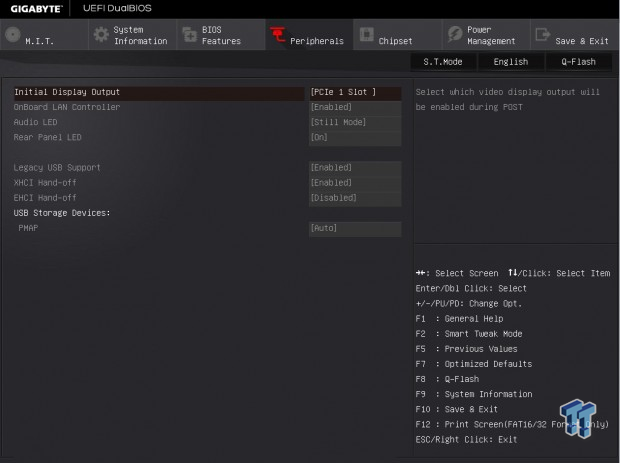 Software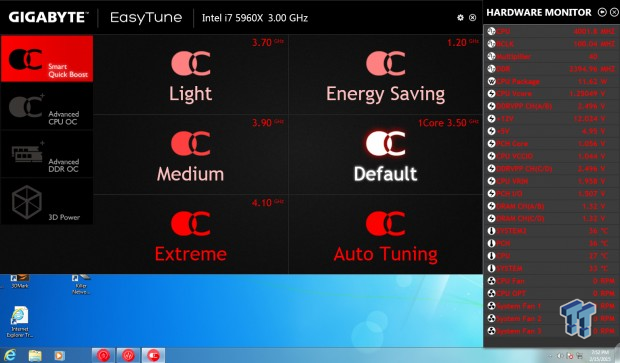 This is GIGABYTE's EasyTune software which is meant for novice overclockers to use to employ simple overclocks. Attached to it is SIV or System Information Viewer which helps you view all the system statistics.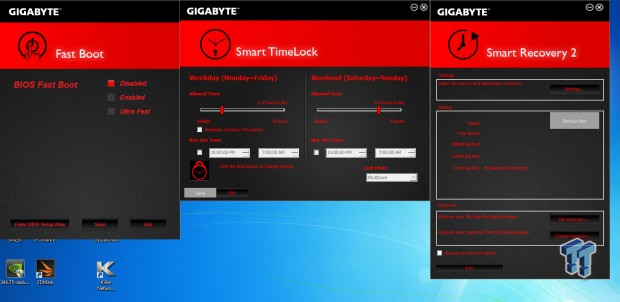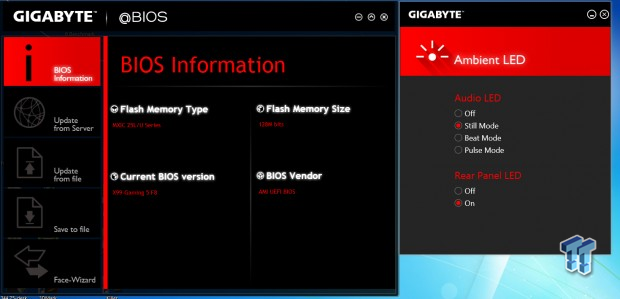 The X99-Gaming 5 comes with many other programs; Fast Boot, Smart TimeLock, Smart Recovery 2, @BIOS, Ambient LED, V-Tuner, and APP Center.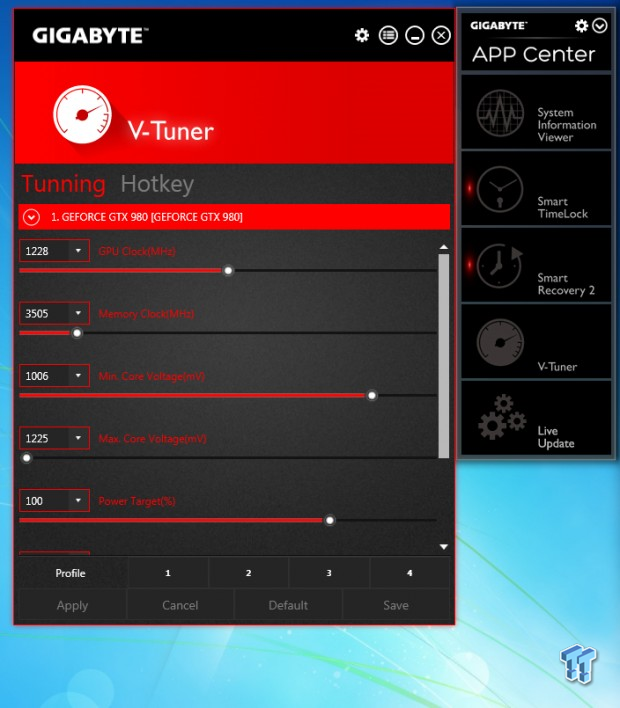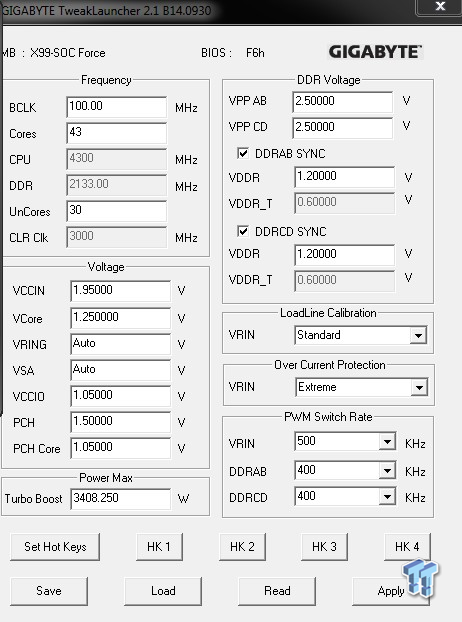 I find that the most useful overclocking software is the most lightweight, and the X99-Gaming 5 has GIGABYTE Tweak Launcher (GTL).
Test Setup and Overclocking
Test Setup
A big thanks to Corsair for sponsoring the case, fans, SSD, USB drive, and PSU!
A big thanks to Seekfor sponsoring the Thermal Camera. You can find my review of the camera here.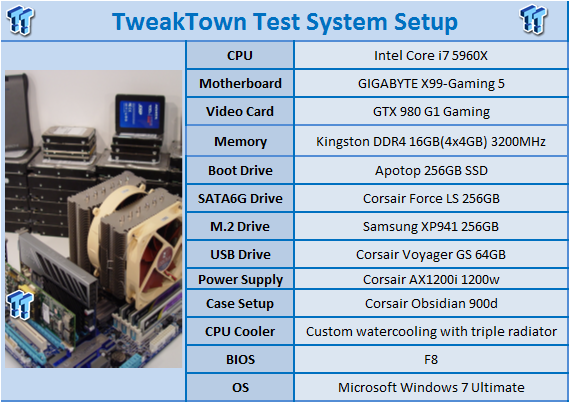 This is the new test bench, and it is designed to test every aspect of the motherboard and it's IO. I have designed it so that the motherboard sits in a case and is cooled by fans always on at a constant rate to keep the conditions similar for all tests. I have cut out part of the case behind the motherboard so I can get thermal images of the back of the PCB where the VRM heat spreads. System and CPU power measurements are now digitally logged. We are also using a Netgear Nighthawk X4 AC2350 for our Wireless AC tests. The latest M.2, SSD, and USB technologies are also being utilized to test the maximum potential of the motherboards that are being tested.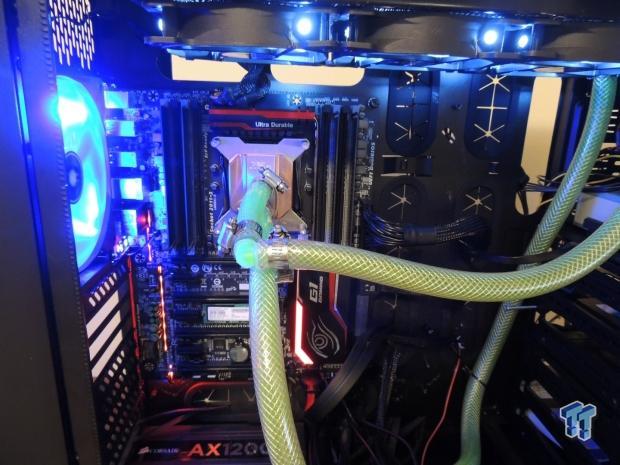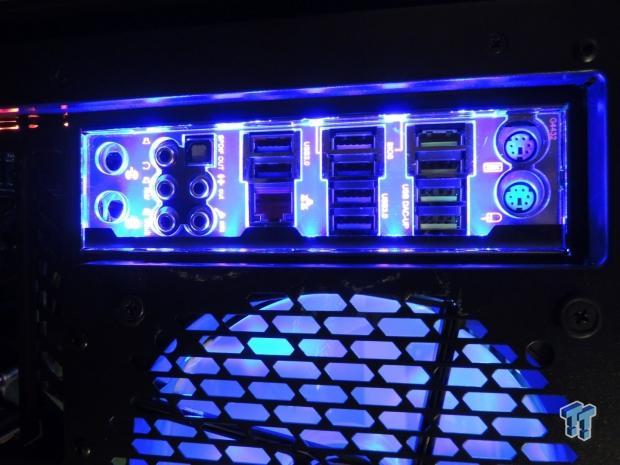 One cool feature of the X99-Gaming 5 is its ability to light to a pulse, a beat (like music), or stay steady.
Overclocking Results
CPU Overclocking
Max CPU Overclock is found by setting the VCore to 1.5v, Input voltage to 2.1v, cache voltage to 1.2v, CPU multiplier to 45x, memory and cache multipliers to 12x, and disable any features that would result in CPU frequency fluctuation. I then proceed into Windows and use software to increase the multiplier.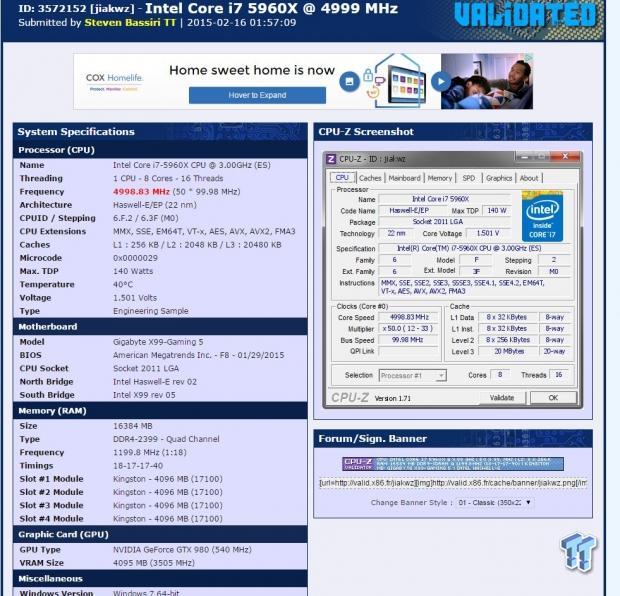 5.0 GHz is the maximum of our CPU on this board.
Maximum AIDA64 Stable Overclock (BIOS settings below for this):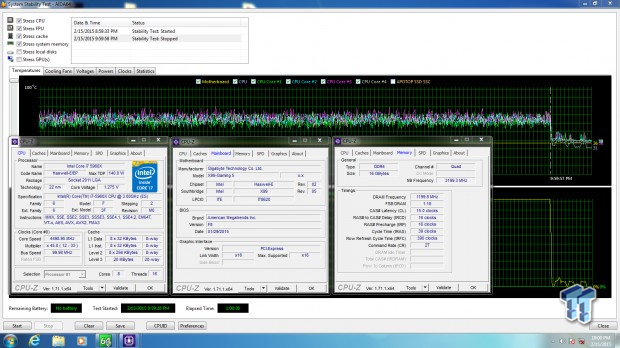 I was easily able to pull off 4.5GHz on the CPU with 3.2GHz Cache and a 2400MHz overclock on my memory manually tuning the UEFI.
CPU, Memory, and System Benchmarks
CINEBENCH 11.5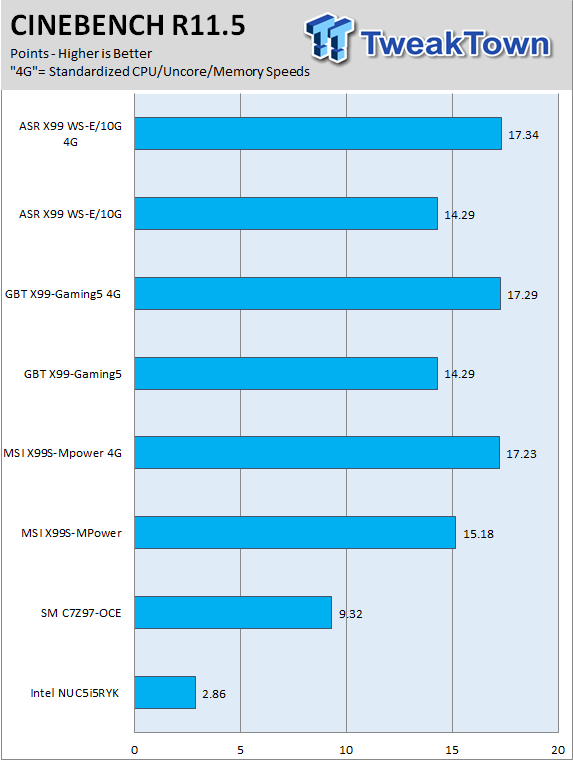 HyperPI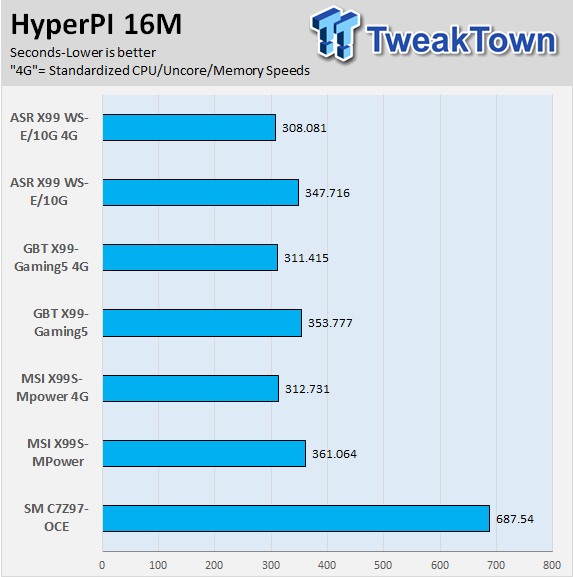 wPrime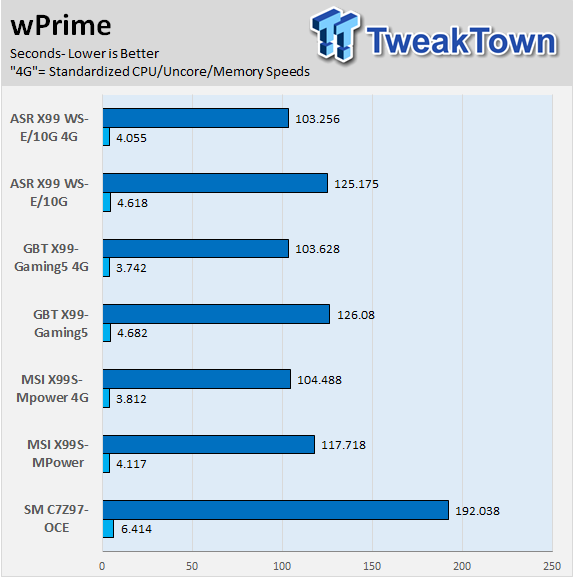 AIDA64 AES and HASH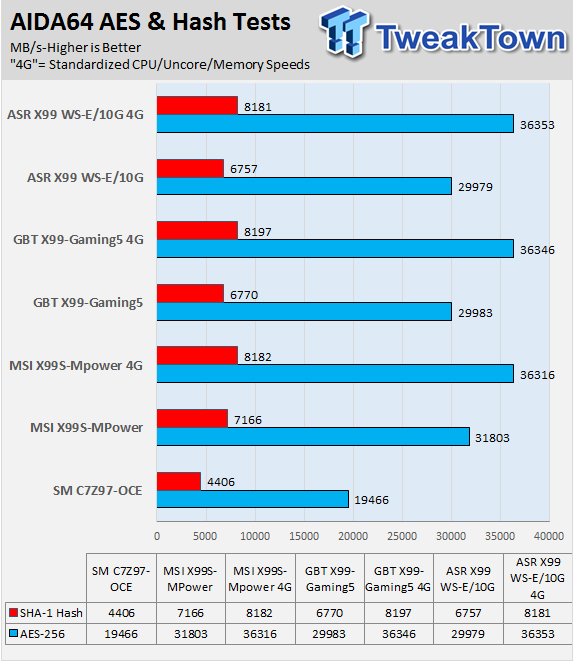 AIDA64 FPU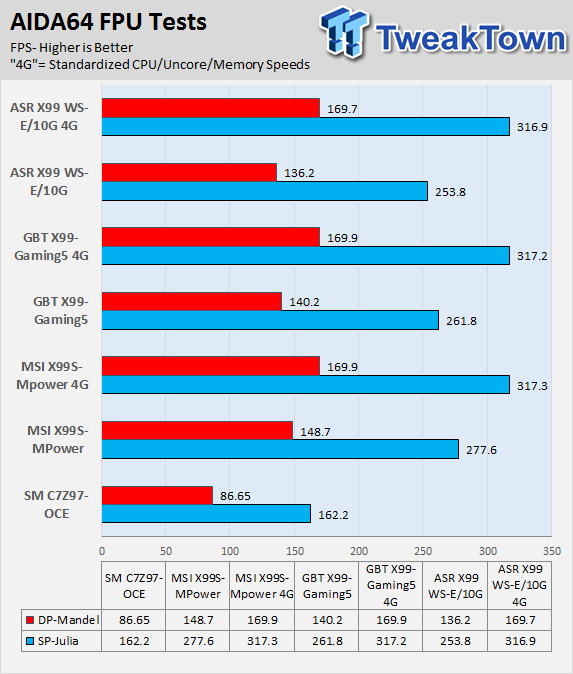 AIDA64 Memory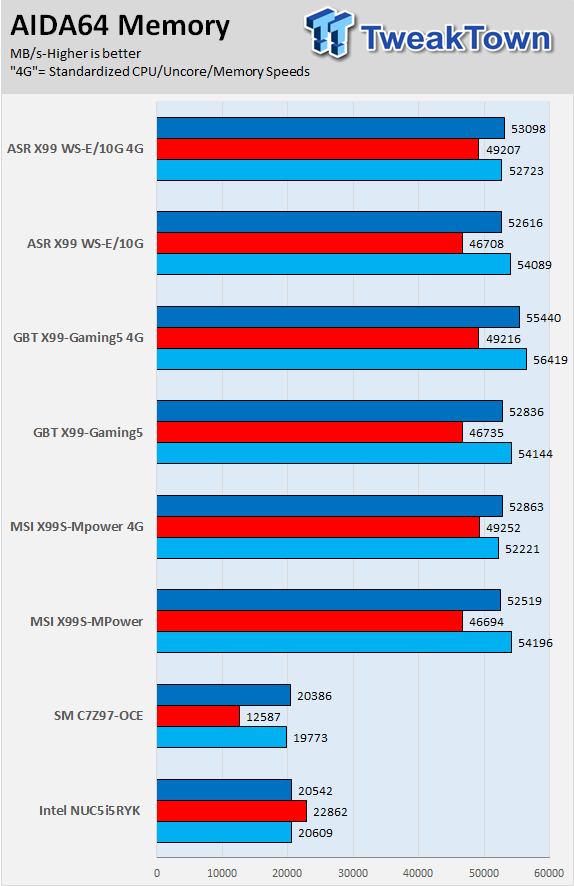 PCMark8 Home Test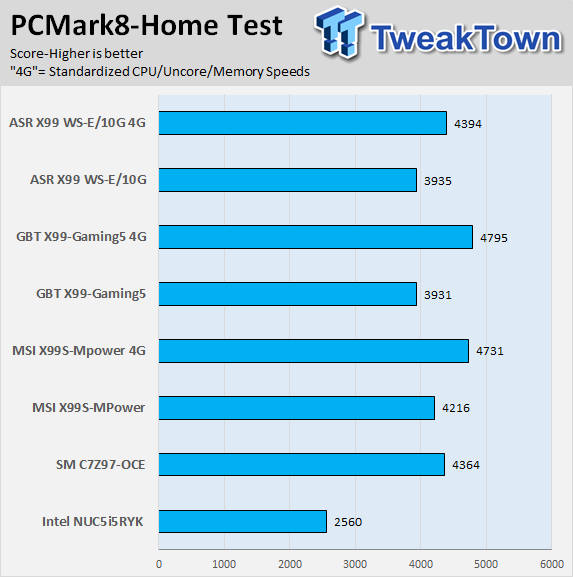 3DMark: Fire Strike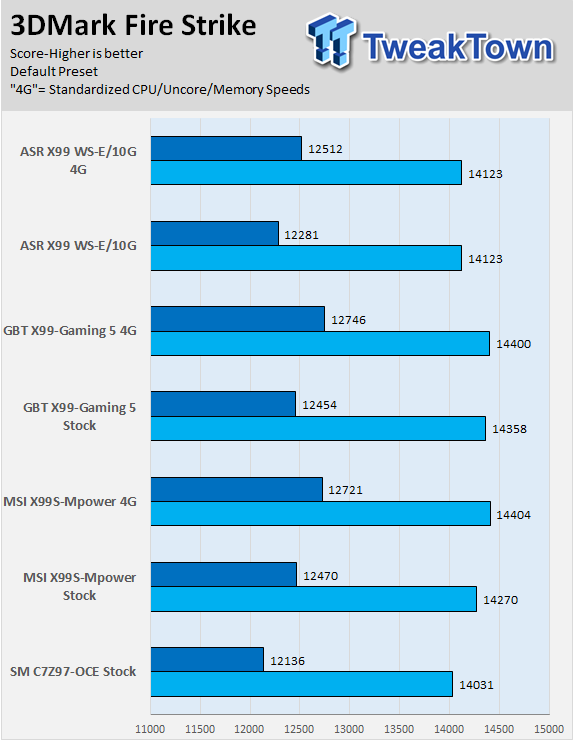 3DMark: Cloud Gate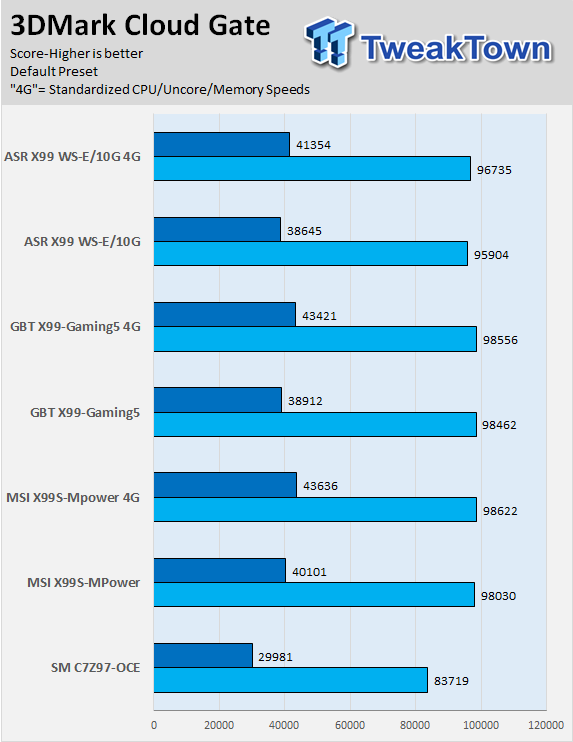 Resident Evil 6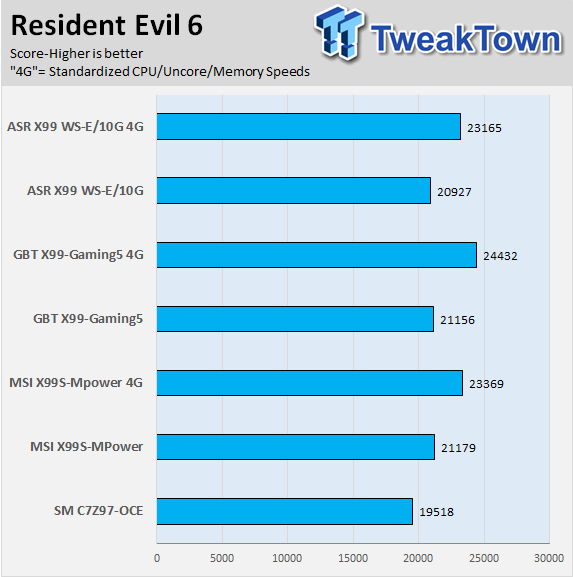 The X99-Gaming 5 does pretty well in PCMark and gaming benchmarks, possibly due to its PCI-E routing, which is mostly direct connections to the PCI-E slots from the CPU. It does average in the CPU benchmarks, but has pretty strong memory performance.
System IO Benchmarks
Anvil SATA6G: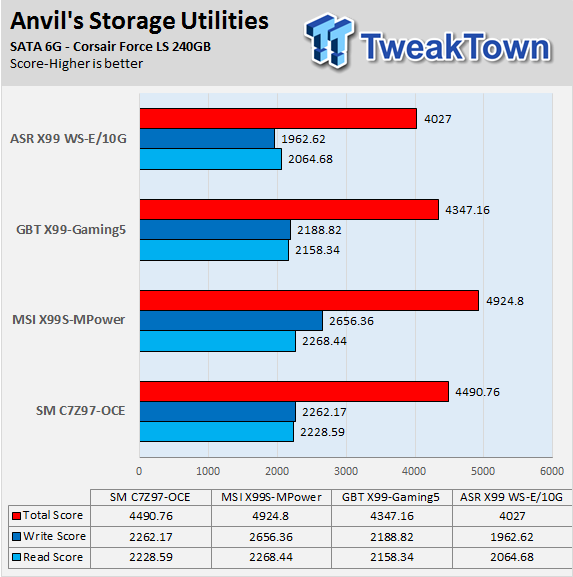 Anvil M.2: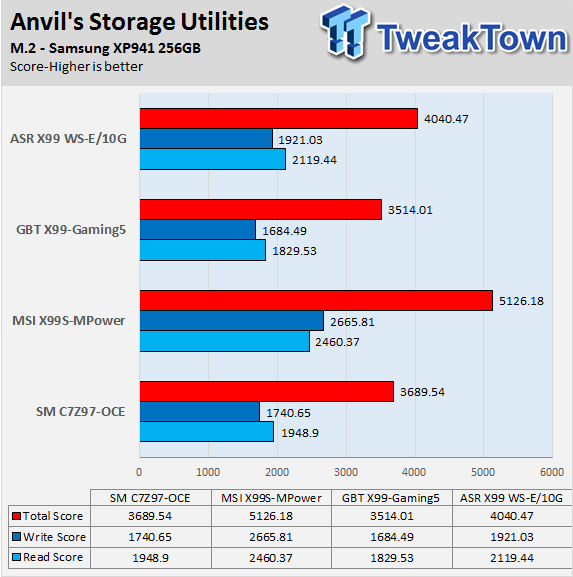 Diskbench USB 3.0: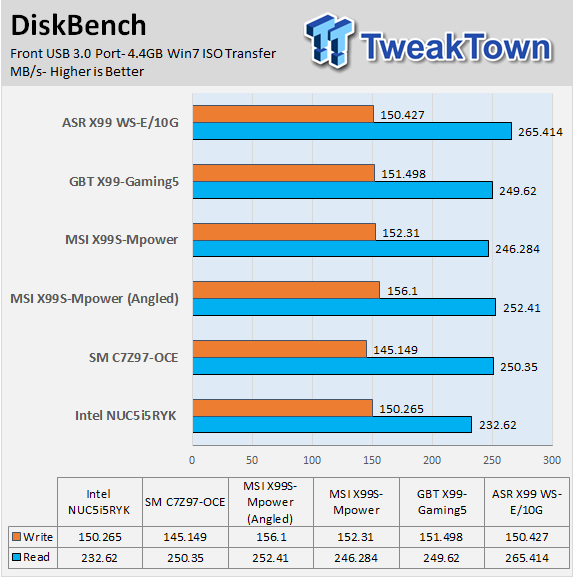 In storage tests it is average, however, that is partially due to the fact that the M.2 slot is PCI-E 2x unlike the other X99 motherboards which are 4x.
ixChariot Network Throughput: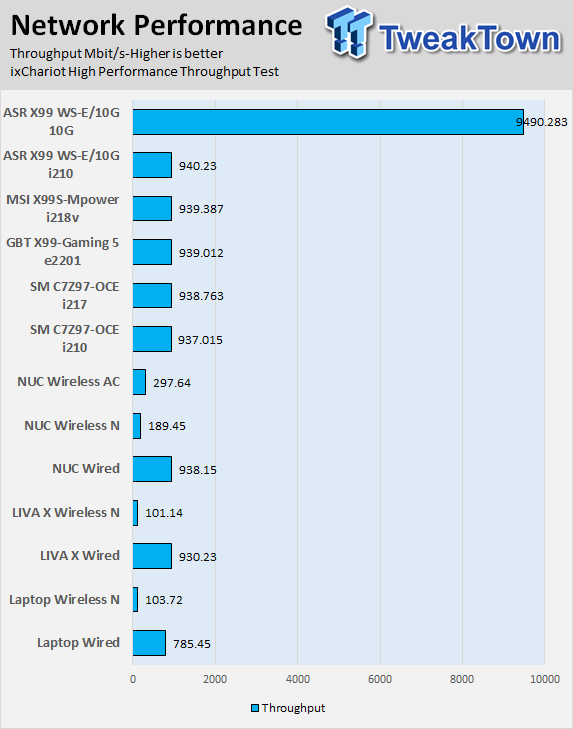 The X99 Gaming 5 is one of the only boards with a Bigfoot NIC the e2201. However, its throughput is pretty much equal to that of the Intel NICs found on other boards.
Audio RMAA 5.5:
I disable all audio features set the correct bitrates and then test the audio with a loopback test.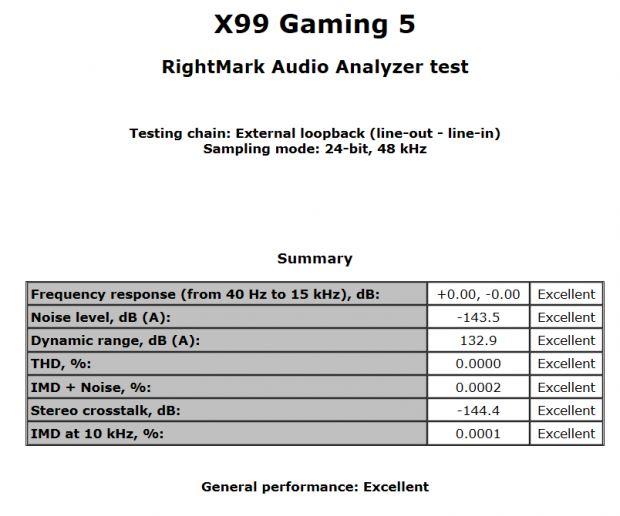 Sound Judgment by Ear: Very Good to Excellent, much louder than all the ALC1150 codecs.
There are 5 ratings for audio: 1. Problems, 2. Okay, 3. Acceptable, 4. Very good, 5. Excellent
Temperature and Power Consumption
System power usage is measured at the AC/DC PSU (the Corsair AX1200i) which I have connected to another system to measure the test system and as a backup I have a wall meter to verify. The CPU power is measured through the 8-pin connect which is hooked up to a hall effect IC which measures current and puts out a voltage in proportion to the current. That voltage is logged by a National Instruments ADC which logs the DC voltage level, which I then convert into current.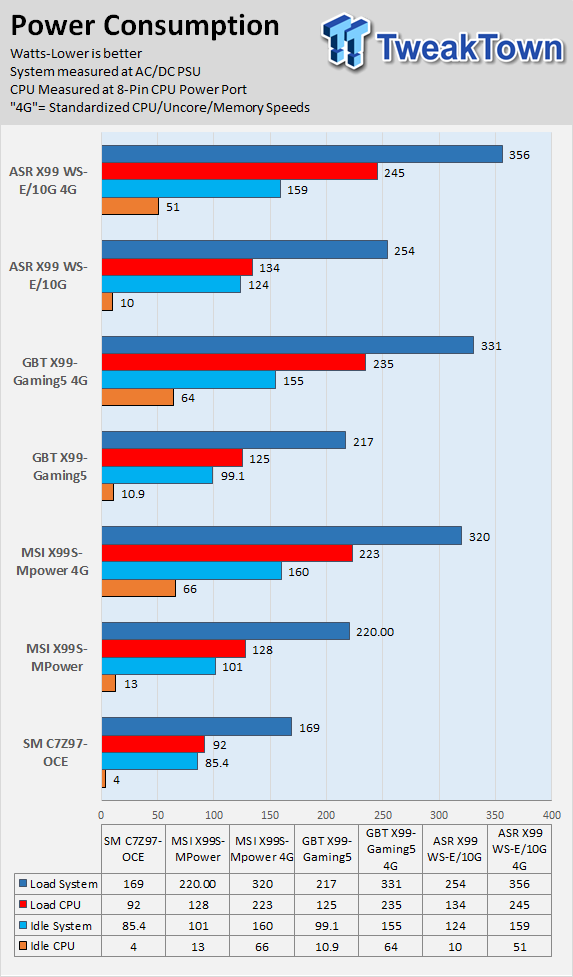 Note on Thermal Images: In the temperature section we use our Seek thermal imaging camera to capture the surface temperatures of major components on the board; I look at the VRM and then all other things that light up the screen. If there is something to worry about then I will state it, otherwise I will just show the hotter running parts of the board for fun. Unless some component is over 80-90C then there really isn't anything to worry about.
All systems will act differently, so I will look for commonalities, such as how far from the VRM the heat spreads through the PCB and the difference in temperature between the PCB and the chokes. Keep in mind that the majority of the heat from the VRM goes into the PCB as it is a giant soldered on copper heat sink.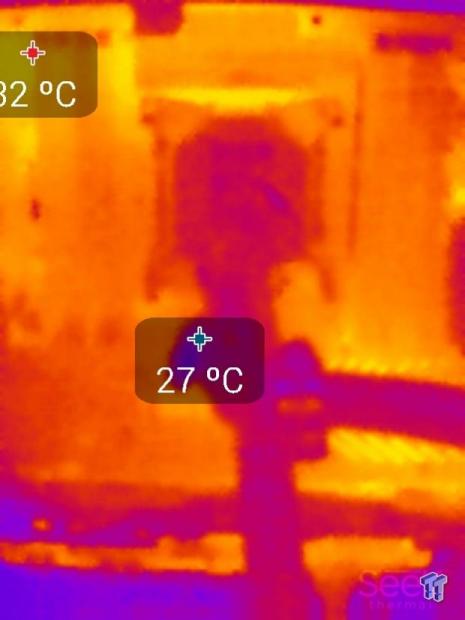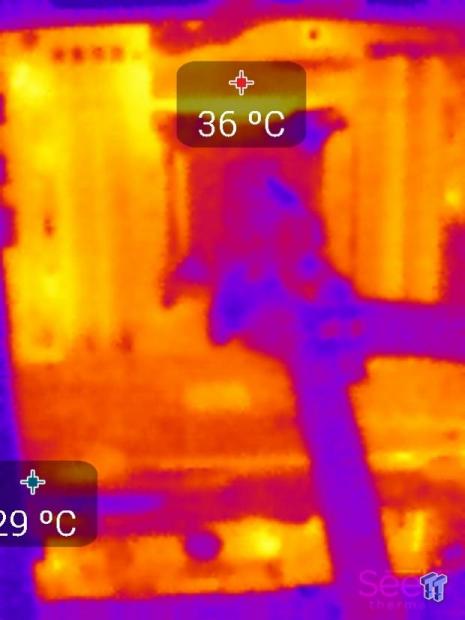 These were taken at stock speeds, on the left while idle and on the right while loaded.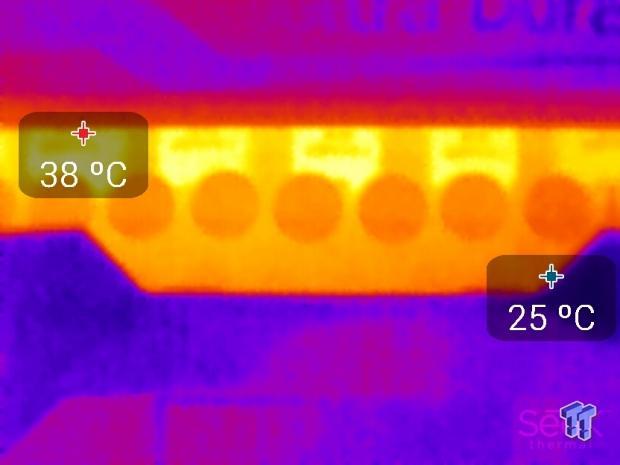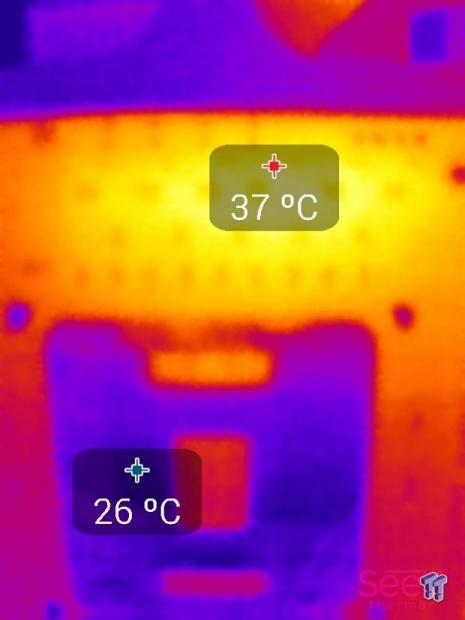 These images are during full load at stock clocks. Heat is aimed at the center of the small 6 phase VRM, yet things don't get too hot. Temperature on top is 1C above the temperature on the back of the PCB.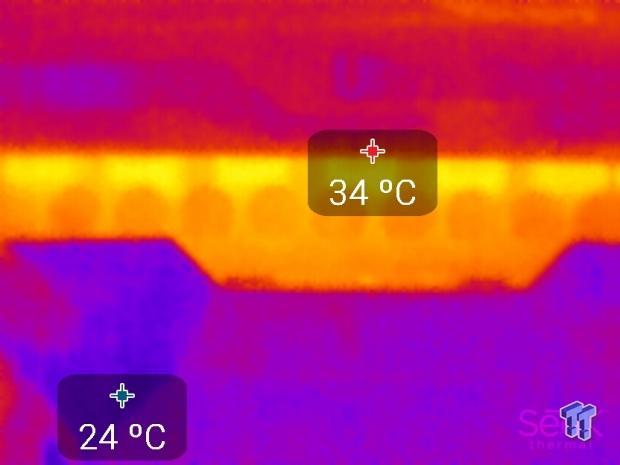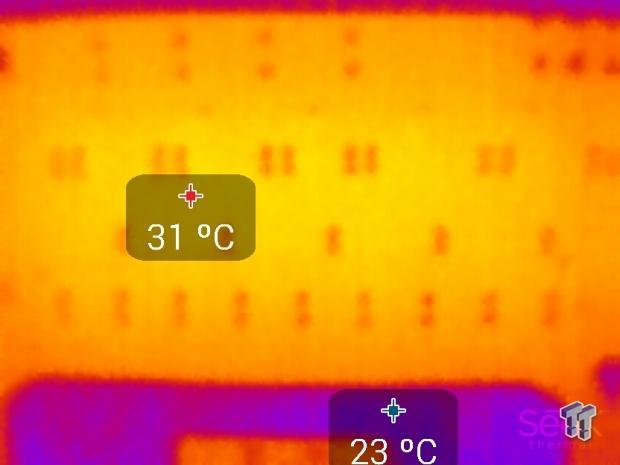 These are the images of the VRM up close in idle conditions at a 4.5GHz OC, the system isn't being loaded, but EIST is disabled. The top of the VRM is hotter than the underside, meaning that the heat is being moved away and dissipated before it moves to the back of the PCB.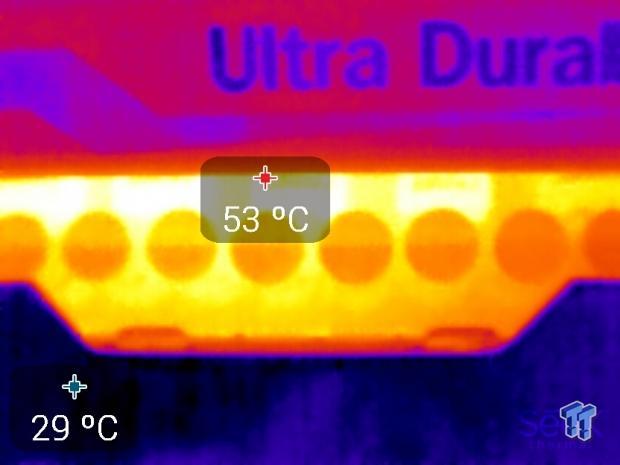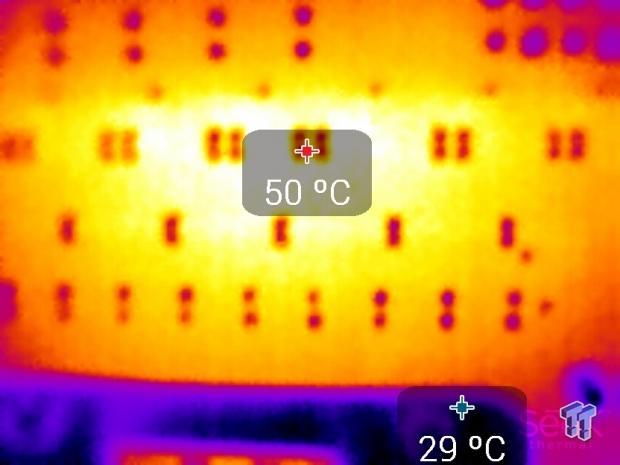 These pictures were taken at 4.5GHz full load. 53C/50C are pretty good temperatures for such a tiny VRM with such a high current draw. The temperature difference means that the heat sink is picking up a lot of the heat and moving it away from the components.
Final Thoughts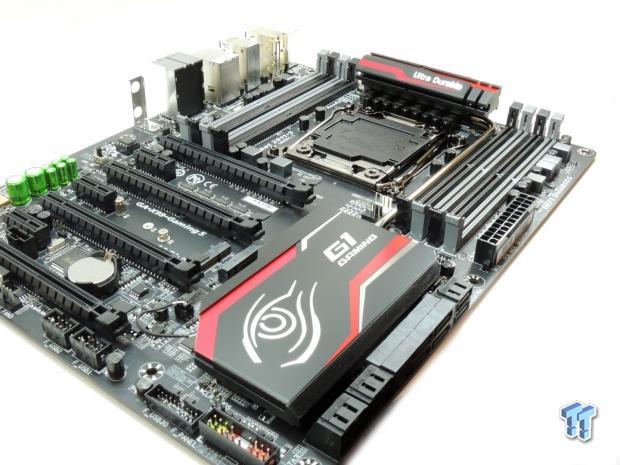 The X99-Gaming 5 was actually a surprise for me. It is basically a cut down X99-Gaming G1; less the OC features, a few phases, the Intel NIC, the AC WIFI/BT card, and some other IO. Being what it is, it still provides a pretty vast feature set for its price.
The audio is very good, and the aesthetics of the board are appealing, especially if you like lighting effects. Performance benchmarks reveal that in 3D performance the X99-Gaming 5 does pretty well, which could be due to the fact that the first few slots are hard wired to the CPU and don't go through any switches. While the GPU performance is great, the M.2 performance is lower than other boards, which is what I expected.
I was surprised that the 6-phase VRM was able to take a 4.5GHz OC and not get too hot - VRMs on other boards have double the phase count and reach temperatures only a few degrees lower. However, this board isn't meant for extreme overclocking, as the lack of basic overclocking features makes overclocking a more time consuming task. This is more of a set and forget type overclocking board, meant for 24/7 OCs rather than world records.
In terms of board improvement, I would really have liked to see the OC features (at least a POST code display) and the UEFI could use an upgrade when it comes to fan control. For $270, the X99-Gaming 5 is one value packed product, it's a solid board with good performance and some very cool features.
If you are a gamer looking for high value in a product, then you should take a look at the X99-Gaming 5. Strong 3D performance, accommodating GPU configuration options, hip ambient lighting, and high quality parts make the X99-Gaming 5 one of the best value buys out there for a solid X99 motherboard.
PRICING: You can find the GIGABYTE Intel LGA 2011-3 X99 4way SLI/CrossFireX Gaming Killer LAN Motherboards GA-X99-GAMING 5 for sale below. The prices listed are valid at the time of writing but can change at any time. Click the link to see the very latest pricing for the best deal.
United States: The GIGABYTE Intel LGA 2011-3 X99 4way SLI/CrossFireX Gaming Killer LAN Motherboards GA-X99-GAMING 5 retails for $269.99 at Amazon.
Canada: The GIGABYTE Intel LGA 2011-3 X99 4way SLI/CrossFireX Gaming Killer LAN Motherboards GA-X99-GAMING 5 retails for CDN$335.99 at Amazon Canada.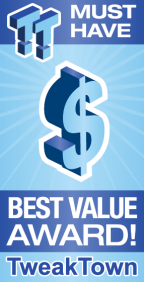 | | |
| --- | --- |
| Performance (including Overclocking) | 92% |
| Quality including Design and Build | 93% |
| General Features | 91% |
| Bundle and Packaging | 94% |
| Value for Money | 95% |
The Bottom Line: Strong 3D performance, accommodating GPU configuration options, hip ambient lighting, and high quality parts make the GIGABYTE X99-Gaming 5 one of the best value buys out there for a solid X99 gaming motherboard.
PRICING: You can find products similar to this one for sale below.

United States: Find other tech and computer products like this over at Amazon.com

United Kingdom: Find other tech and computer products like this over at Amazon.co.uk

Australia: Find other tech and computer products like this over at Amazon.com.au

Canada: Find other tech and computer products like this over at Amazon.ca

Deutschland: Finde andere Technik- und Computerprodukte wie dieses auf Amazon.de