MSI X99A TOMAHAWK Motherboard Review
MSI's new X99A TOMAHAWK motherboard gets featured under the spotlight as we take a look at this Intel X99 refresh board and check out what it offers.
Published Fri, Nov 11 2016 11:48 AM CST
|
Updated Thu, Jul 30 2020 4:20 PM CDT
Rating:

90%
Manufacturer: MSI
Introduction, Specifications, and Pricing
Keeping in line with MSI's military themed product lineup, the X99A TOMAHAWK is another weapon in MSI's X99 arsenal. Offering the latest in storage and aesthetic technologies, the X99A TOMAHAWK aims to meet the market's demand for strong basic features on a refreshed X99 motherboard.
While many gamers like the idea of building PCs based on the color theme of different components, it's rare that the color of the various components match. The mismatch of color might even lead to product choices based on aesthetics rather than performance or price, but with the X99A TOMAHAWK, you won't have to make these sacrifices.
For many years, builders have asked for more color neutral products, but out of fear of being too bland, vendors have avoided putting these types of products out to market. As a refreshed X99 motherboard, the X99A TOMAHAWK offers U.2, x4 PCI-E 3.0 M.2, and of course, RGB LED support. Surprisingly, the motherboard also has dual Intel NICs. The X99A TOMAHAWK is designed and marketed as a mid-range X99 motherboard, but let's see what it has to offer.
Specifications
The X99A TOMAHAWK has three x16 PCI-E slots and supports 3-way SLI/CrossFireX. It also supports USB 3.1 Gen 2 (which I will just call USB 3.1), USB 3.1 Gen 1 (which I will call USB 3.0), x4 PCI-E 3.0 and SATA based M.2, U.2, SATA Express, and dual Intel 1Gbit LAN.
Pricing
The X99A TOMAHAWK is available from many large retailers for roughly $240.
Packaging and X99A TOMAHAWK Overview
Packaging and Overview
The X99A TOMAHAWK's box features some camouflage and a picture of a missile in case you don't know what a Tomahawk missile is. The motherboard is protected within a smaller box and sits inside an anti-static bag.
Accessories include a 2-way SLI bridge, six SATA6Gb/s cables, RGB extension cable, IO shield, M-Connectors, SATA cable stickers, manuals, and driver DVD.
The MSI X99A TOMAHAWK has five 4-pin fan headers, just like many other motherboards in this price range. The single header circled in red is a PWM mode header, and the four headers circled in blue are voltage mode headers that will also control PWM fans.
The color theme is black, and the modern camouflage on the IO panel shield, VRM heat sink, and PCH heat sink help enhance the military theme look.
The PCI-E x16 slots and M.2 connector utilize metal shielding. The PCB is matte black. The rear of the motherboard is bare of larger ICs, except behind the CPU VRM, where a slim secondary heat sink cools the back-side MOSFETs. The audio area is physically isolated from the rest of the motherboard PCB, and the isolation is illuminated by red LEDs. You can turn the LEDs off through the BIOS.
The IO panel on the X99A TOMAHAWK offers four USB 2.0 ports, four USB 3.0 ports, USB 3.1 type-A, USB 3.1 type-C, a Clear CMOS button, PS/2 keyboard or mouse port, two 1Gbit LAN ports, and gold plated 7.1 audio ports with S/PDIF.
The X99A TOMAHAWK's PCI-E layout isn't too hard to decipher, and the manual offers insight into lane allotment. With a 40 lane CPU, only x32 of the CPU's lanes go to the PCI-E slots; the rest go to M.2 and U.2. The middle x16 slot is wired x16, and the top slot is also wired x16, but will share x8 with the bottommost slot if it's occupied. You can run x8/x16/x8 with all slots occupied or x16/x16/x0 with two cards.
Things are a bit more tricky with a 28-lane CPU, in that the U.2 slot will still get x4 from the CPU, but the M.2 slot's bandwidth will only come from the PCH at x2 PCI-E 2.0 if you are using a PCI-E M.2 drive. That leaves x24 lanes from the CPU for the PCI-E slots, and the first slot will get x16 and will share x8 with the last slot, while the middle slot will get x8 instead of x16 it would get with a 40-lane CPU. You will be able to run x16/x8/x0 with two cards or x8/x8/x8 with three cards. The M.2 slot also supports SATA based drives and will share bandwidth with the SATA Express connector that gets its bandwidth from the PCH.
Six of the ten SATA 6Gb/s ports are right angled. A right angled USB 3.0 header, and U.2 port sit right above the right angled SATA ports. The remaining four SATA ports are straight edged; two are shared with the SATA Express connector. A BIOS selector switch sits above the SATA Express connector.
A second USB 3.0 internal header sits below the 24-pin motherboard power connector. The motherboard comes with basic overclocking tools such as a POST code display, power button, reset button, and an RGB LED strip header so you can control an RGB LED strip through the motherboard. The motherboard also supplies two USB 2.0 internal headers adjacent to some front panel headers.
The heat sinks make solid contact with the motherboard, and all are held down by screws.
MSI X99A TOMAHAWK Circuit Analysis
Circuit Analysis
The nude motherboard reveals a lot about its inner workings.
The VRM for the CPU input voltage (main CPU voltage) consists of eight phases. The VRM is a true four phase VRM doubled to eight phases through phase doublers. Each phase gets two low-side and two high-side MOSFETs. Half of the MOSFETs are on the rear of the PCB. The use of double the FETs per phase is impressive since the same MOSFET count can be found on 16 phase VRMs. MSI is using their signature "Ti" branded inductors and 10x 560uF solid polymer capacitors. A lot of the VRM components abide by MIL-SPEC.
MSI uses the Intersil ISL6388 advanced linear EAPP digital 6-phase green PWM controller, which features solid phase shedding to save power at idle and NVM memory onboard for different profiles. To get the 8 phases, MSI uses four PWM phases and doubles them with four ISL6611A phase doubler/dual-driver chips. The low RDS(ON) MOSFETs are from NIKOS and are PK616BA and PK632BA. The VRM found on the X99A-TOMAHAWK is identical to that of the more expensive X99A-Gaming Pro Carbon.
Each set of four memory DIMMs utilizes a ROHM Semiconductor PV3203 digital 2-phase PWM. Each of the two phases uses NIKOS PK632BA for the low-side and a NIKOS PK616BA for the high-side.
MSI X99A TOMAHAWK Circuit Analysis Continued
X99A TOMAHAWK Circuit Analysis Continued
The Realtek ALC1150 is the audio codec on the motherboard and utilizes three OP1652 amplifiers. Nichicon Gold Series audio capacitors also help improve the sound as does a physical PCB divide to separate the analog audio domain from the mostly digital domain on the motherboard.
The X99A TOMAHAWK features two 1Gbit NICs, the i210AT, and the i218LM PHY to compliment the integrated MAC in the PCH. Use of the LM instead of the V series i218 means you get more of a workstation NIC rather than a consumer version. An ASMedia ASM1142 provides two USB 3.1 ports, and a Texas Instruments HD3220 is used as the type-C port switch.
Multiple ASM1464 USB 3.0 repeaters are used to improve the signal quality of the USB 3.0 internal headers. A few ASM1467 re-drive PCI-E signal strength to improve the signaling from the CPU's PCI-E controller to the M.2 and U.2 ports. Two 128Mbit (16MB) BIOS ROMs are located onboard and provide redundancy in case one BIOS ROM image gets corrupted.
The main SuperIO is the nuvoTon NCT6792D, which provides temperature, voltage, and fan monitoring and control as well as the PS/2 port on the rear IO panel. A Renesas R5F104ACA microcontroller is used to provide the RGB LED header. An ASMedia ASM1074 USB 3.0 hub provides four rear USB 3.0 ports.
BIOS and Software
BIOS
MSI's UEFI on the X99A TOMAHAWK is pretty much identical to that of their other X99 motherboards, and most of their lineup. The UEFI has two operation modes, an advanced mode for more experienced users and an Easy mode for those who might not know their way around BIOS.
MSI provides very extensive fan control through a GUI. MSI's UEFI is intuitive and easy to navigate, with few main menus and many settings of the same category on the same page. You won't have to dig deep to find what you need.
Software
MSI's Command Center, Live Update 6, Gaming LAN Manager, USB Speed Up, Super Charger, Gaming APP, M-Cloud, and X-Split Gamecaster are a few of the included software applications.
Test System Setup
Steven's Motherboard Test System Specifications
The X99A TOMAHAWK has a sleek black aesthetic, and while I didn't choose to take advantage of the RGB LED header, I know many people who will build very nice PCs with this motherboard.
Overclocking
Overclocking Results
If you hadn't already heard, the 6950X 10-core $1700 beast isn't the best overclocker. I cannot validate CPU frequency anywhere near 5GHz, and I cannot even boot at 4.5GHz, but I can run 4.4GHz on all cores. I have decided to change how I do the overclocking section and determine exactly what it takes to push to the CPU to this maximum stable frequency on the different motherboards I test.
MSI's X99A TOMAHAWK provided very simple CPU core overclocking, and the results are in line with what I expect from X99 refresh motherboards.
The CPU had no trouble taking on my handbrake stability test. I picked fixed CPU frequency in the BIOS drop down menu and then just set 44x for all core ratios, manually inputted 1.35v for the VCore with 1.8v on the VIN with the second highest level of LLC.
The Dominator Platinum 32GB 3200MHz C16 kit is working well.
The G.Skill TridentZ 32GB 3200MHz C14 kit is working well.
The GEIL EVO FORZA 32GB 2400MHz C15 kit is working well.
CPU, Memory, and System Benchmarks
CINEBENCH 11.5
wPrime
AIDA64 AES and HASH
AIDA64 FPU
AIDA64 Memory
ScienceMark
HandBrake 4K
3DMark: Cloud Gate
3DMark: Fire Strike
ResidentEvil 6
I have decided to test motherboard performance based upon a standardized 4GHz profile for the new X99 refresh motherboards. The base frequency of the 6950X is 3GHz, but since Intel's Turbo profile allows for a single core to hit 4GHz, some motherboards will take any number (sometimes all) of the cores to 4GHz at stock settings, and this creates a huge performance disparity at stock. In all these tests I ran the CPU at 4GHz on all cores, the cache at 3.5GHz, and memory at 2666MHz with timings 16-18-18-36 T2, and allowed the motherboard to set the rest of the timings itself.
The X99A TOMAHAWK's benchmark results are solid, but overall they are average. There are no performance pitfalls, so the BIOS has been tuned correctly, but there is also no category where it wins all the time, which is normal for most products.
System IO Benchmarks
SATA6G:
M.2:
U.2:
ixChariot Network Throughput:
The X99A TOMAHAWK's IO performance is solid, and the fact is that you will be able to use the M.2 and U.2 connections simultaneously without affecting PCI-E slot bandwidth.
Audio RMAA 5.5:
I disable all audio features, set the correct bitrates, and then test the audio with a loopback test.
Sound Judgment by Ear: Very Good, I am not sure why the motherboard didn't score higher, it might be because of certain audio effects some of the software produces. There are five ratings for audio: 1. Problems, 2. Okay, 3. Acceptable, 4. Very good, 5. Excellent
Thermal Imaging and Power Consumption
CPU power is measured through the 8-pin connector, which is hooked up to a hall effect IC, which measures current and puts out a voltage in proportion to the current. That voltage is logged by a National Instruments ADC, which logs the DC voltage level that I then convert into current.
Note on Thermal Images: In the temperature section, we use our Seek thermal imaging camera to capture the surface temperatures of major components on the board. I look at the VRM and then all other things that light up the screen. If there is something to worry about, then I will state it. Otherwise, I will just show the hotter running parts of the board for fun. Unless some component is over 80-90C, then there isn't anything to worry about.
All systems will act differently, so I will look for commonalities, such as how far from the VRM the heat spreads through the PCB and the difference in temperature between the front side and backside of the PCB. Keep in mind, the majority of the heat from the VRM goes into the PCB as it is a giant soldered on copper heat sink. A larger difference in temperature between the back and front of the PCB points towards a more effective heat sink.
Thermal Testing at Stock Speeds:
The image on the left is always at idle, and the image on the right is at load. During ALL TESTS, fans above the VRM that cool the CPU cooler's (Corsair H110i GT) radiator are turned on to high (12v).
Full frontal.
Up-close of the front of the VRM.
Up-close of the back of the VRM.
Thermal Testing at 4.0GHz Overclocked Speeds:
The image on the left is always at idle, and the image on the right is at load. During ALL TESTS, fans above the VRM that cool the CPU cooler's (Corsair H110i GT) radiator are turned on to high (12v).
Full frontal.
Up-close of the front of the VRM.
Up-close of the back of the VRM.
The VRM on the X99A TOMAHAWK's Intersil PWM and MOSFETs have decent light load efficiency; phase shedding is definitely taking place at idle. VRM thermal performance at load is a bit on the warm side. The tradeoff with more components is more heat, but higher current capability, so as long as you can cool them down, everything is fine. Temperatures never exceeded 50C, which is excellent.
Anything under 60C is great, 60-80C is acceptable, and anything above 80C is a bit worrisome (if at stock).
What's Hot, What's Not & Final Thoughts
Here are key points about the MSI X99A TOMAHAWK.
What's Hot
The Latest In Storage Technologies: The X99A TOMAHAWK features U.2, M.2, and SATA Express, but the fun doesn't end there. On many X99 motherboards, the U.2 and M.2 slots cannot be used at the same time because they use CPU bandwidth, that isn't true of the X99A TOMAHAWK.
Lots of USB: Four rear USB 3.0 ports, USB 3.1 type-A, USB 3.1 type-C, two USB 3.0 internal headers, and two USB 2.0 internal headers provide expansive USB connectivity. The X99 chipset doesn't have as much built-in connectivity as Z170, but MSI has done a decent job of expanding what is there to provide a solid amount of USB support.
Re-Drivers and Repeaters: The PCI-E controller that provides bandwidth for the M.2 and U.2 ports is all the way in the CPU, so MSI uses re-drivers to improve connectivity. The USB ports also get their own repeaters to improve signal strength for the front panel USB 3.0 internal headers, so that longer cables don't degrade performance too much.
Big VRM: The VRM might only be eight phases, but the number of MOSFETs is double that of normal eight phase VRMs, technically enough to power a 16-phase VRM. The VRM can handle anything thrown its way, but you have to make sure to direct some airflow in the direction of the VRM.
Color Neutral with RGB Header: The black on black color theme is one many enthusiasts covet, and MSI has done a nice job of providing what people want. The RGB LED strip header is a nice addition, so you don't need a separate RGB LED controller to power and change the color of the strip.
Dual Intel NICs: At this price point, you don't expect to find two Intel NICs, but the X99A TOMAHAWK has you covered.
OC Features: Many X99 motherboards in this price range don't have basic OC features such as dual BIOS ROMs or POST code displays, but the X99A TOMAHAWK has these features and an easy to access clear CMOS button on the rear IO panel.
What's Not
No 4-Way SLI or CrossFireX: One of the main selling points of the X99 chipset over the Z170 chipset is the ability to support four GPUs, but the X99A TOMAHAWK doesn't have this capability since it only has three x16 slots.
Limited M.2 with 28-lane CPUs: While both 40 and 28-lane CPUs offer the same U.2 capabilities, they aren't equal when it comes to M.2. With a 40-lane CPU, you will be able to use the M.2 slot in SATA mode or x4 PCI-E 3.0, however, with a 28-lane CPU, things are different. With a 28-lane CPU, the motherboard switches the bandwidth source from the CPU to the PCH, limiting you to x2 PCI-E 2.0 for the M.2 slot.
Final Thoughts
MSI's X99A TOMAHAWK is equipped very well for a sub-$250 motherboard. Offering up the latest in storage technologies that only refreshed X99 motherboards have along with USB 3.1 and solid aesthetics, the X99A TOMAHAWK is an excellent value at its price.
Overall performance is solid in CPU, memory, system, gaming, storage, and thermal testing. The beefy VRM offers decent light-load performance and will be able to tackle pretty much any overclock, just make sure to give it some airflow if you are doing any heavy overclocking.
There is not too much to dislike about the X99A TOMAHAWK other than the obvious lack of 4-way multi-GPU capabilities and onboard RGB LEDs. The dual Intel NICs, USB 3.1, U.2, and M.2 are what really matter, and the X99A TOMAHAWK delivers them in a product designed to match any color themed build.
If you are in the market for a very capable motherboard that won't break the bank and offers more features than you would expect, the MSI X99A TOMAHAWK is definitely worth a look.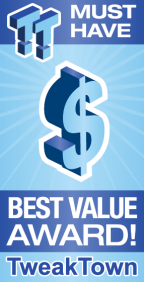 | | |
| --- | --- |
| Performance (including Overclocking) | 88% |
| Quality including Design and Build | 90% |
| General Features | 90% |
| Bundle and Packaging | 88% |
| Value for Money | 93% |
The Bottom Line: Offering up the latest storage and IO technologies in a very appealing package, MSI's X99A TOMAHAWK will provide all you need in a motherboard, without breaking the bank.
PRICING: You can find products similar to this one for sale below.
United States: Find other tech and computer products like this over at Amazon.com
United Kingdom: Find other tech and computer products like this over at Amazon.co.uk
Australia: Find other tech and computer products like this over at Amazon.com.au
Canada: Find other tech and computer products like this over at Amazon.ca
Deutschland: Finde andere Technik- und Computerprodukte wie dieses auf Amazon.de
We openly invite the companies who provide us with review samples / who are mentioned or discussed to express their opinion. If any company representative wishes to respond, we will publish the response here. Please contact us if you wish to respond.
Related Tags