TweakTown's Rating: 92%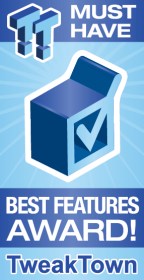 The Bottom Line
Loaded to the brim with features, connectivity, and ASUS's unique bells and whistles, the high-end X99-Deluxe II will satisfy your need for endless expansion.
Introduction, Specifications, and Pricing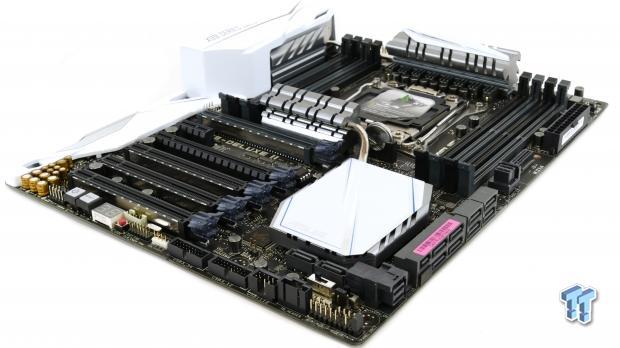 ASUS's original Intel X99 lineup was a huge hit with most of the enthusiast community, but with the introduction of Intel's Broadwell-E processor lineup, ASUS decided to kick things up a notch with a new line of motherboards. Following in the footsteps of the X99-Deluxe, the X99-Deluxe II provides the latest features supported by the X99 platform. Differences between the X99-Deluxe and X99-Deluxe II include two U.2 ports, onboard USB 3.1, a Thunderbolt 3 card, improved fan control, and RGB LEDs.
Most X99-refresh motherboards support U.2 and M.2, and the Deluxe-II can support up to two U.2 and two M.2 devices through included accessories. The X99-Deluxe II spices things up for workstation and enthusiasts with many RGB LEDs located in the PCI-E area, the audio area, and under the PCH heat sink. The motherboard also features ASUS's latest in fan technologies and software applications.
Let's take a close look at the X99-Deluxe II.
Specifications

The X99-Deluxe II supports 3-way SLI/CrossFireX, two U.2 port, two M.2 slots (one through PCI-E card), four USB 3.1 ports, dual Intel Gbit LAN, Wireless AC 3x3, 8x SATA 6Gb/s ports, SATA Express, and ASUS's Crystal Sound 3.
Pricing
The X99-Deluxe II is available from many large retailers for $419.99.
Packaging and X99-Deluxe II Overview
Packaging and Overview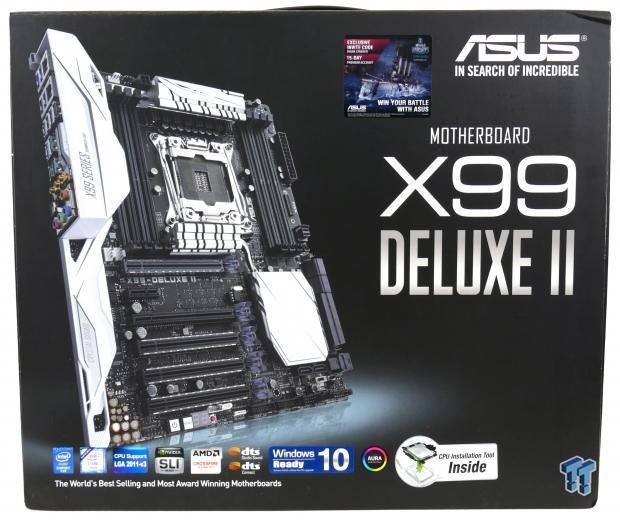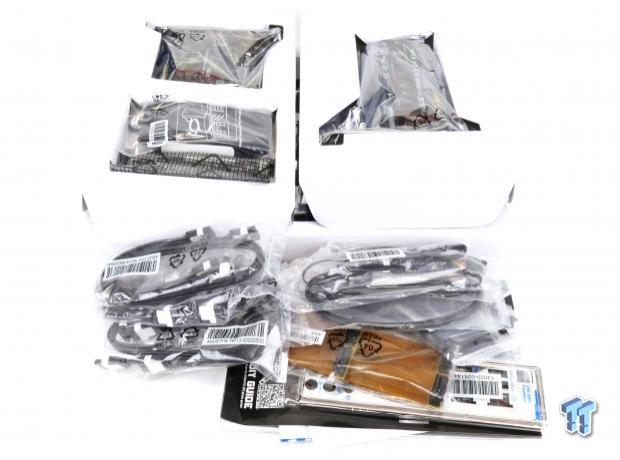 The X99-Deluxe II's box displays the motherboard and some of its main selling points. The motherboard and accessories are packaged individually and protected from the elements in anti-static bags.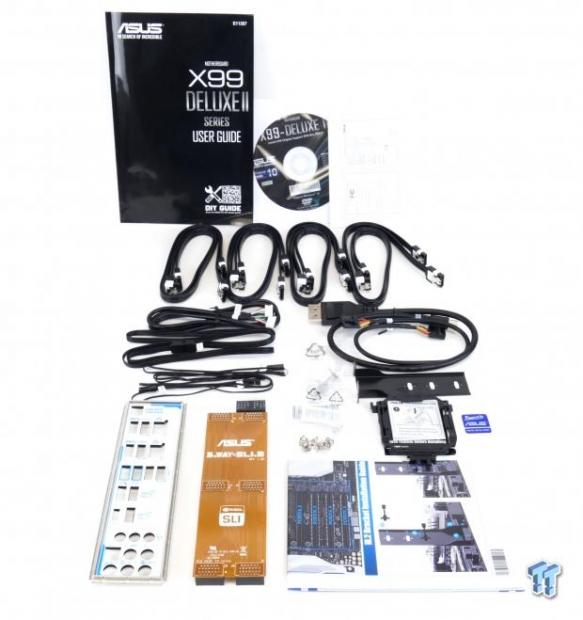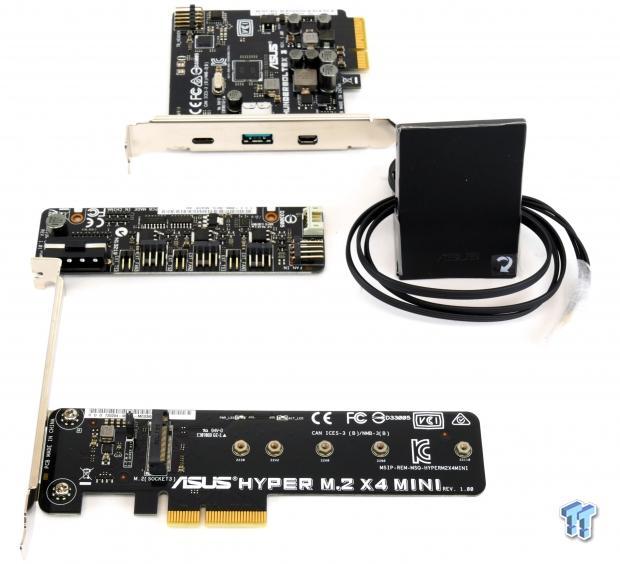 Accessories include 8x SATA6Gb/s cables, a 3T3R dual-band Wi-Fi antenna, RGB extension cable, CPU installation tool, 2-way/3-way SLI bridge, onboard M.2 bracket, Q-connector, Q-shield, User manual, support DVD, fan extension card, fan extension cable, fan extension card screw package, thermistor cable, hyper M.2 x4 mini card, M.2 screw package, Thunderbolt EX 3 card, miniDP to DP cable, and a ThunderboltEX 3 cable.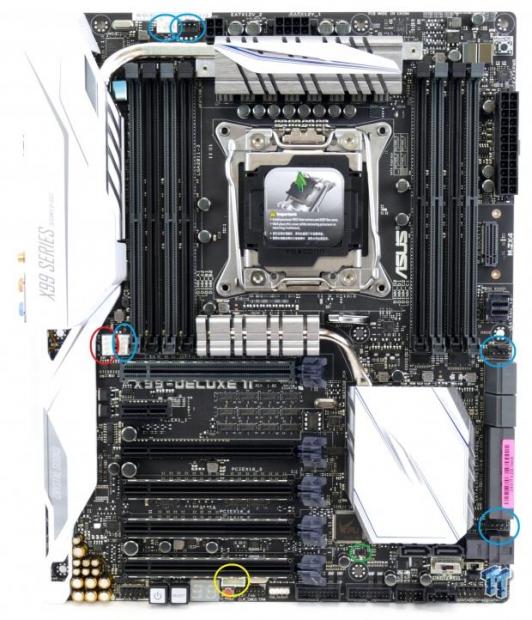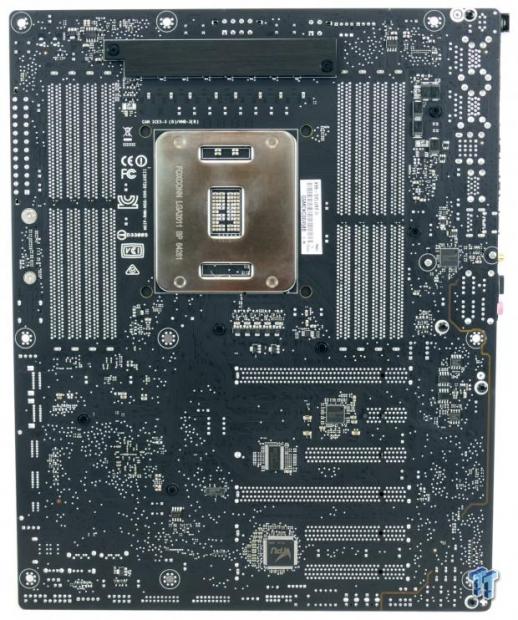 The ASUS X99-Deluxe II has six 4-pin PWM/DC mode headers (circled in blue and red) with auto-sensing of the fan mode type. There is also a fan extension card header that will communicate with the included fan extension card to add three extra headers. All fan headers, even those from the extension card, can be controlled through the UEFI or ASUS's Windows software. The header circled in red is a high amperage header, the one circled in yellow is the fan extension card header, and the one circled in green is an external temperature sensor input. You can select between multiple temperature sources to reference for the fan cooling curves.
A very sleek white and silver aesthetic matched with a black PCB and RGB LEDs makes the X99-Deluxe II surprisingly color neutral since you can match it with any color theme. The backside of the PCB does have a fair amount of controllers and other SMD components, so be careful when handling the motherboard.

The IO panel on the X99-Deluxe II features a BIOS FlashBack button, two 1Gbit Intel LAN ports, four USB 3.0 ports, four USB 2.0 ports, three USB 3.1 type-A ports, one USB 3.1 type-C port, three Wi-Fi antenna sockets, and 7.1 gold plated audio outputs with S/PDIF TOSLINK.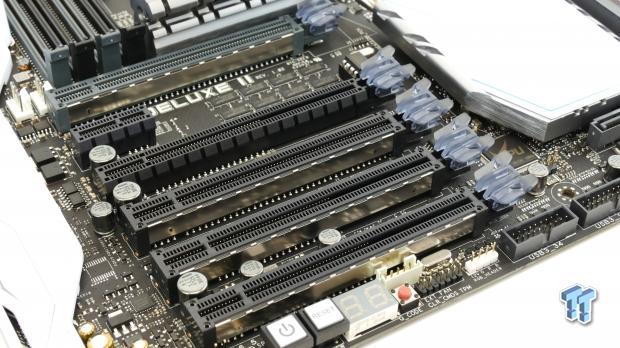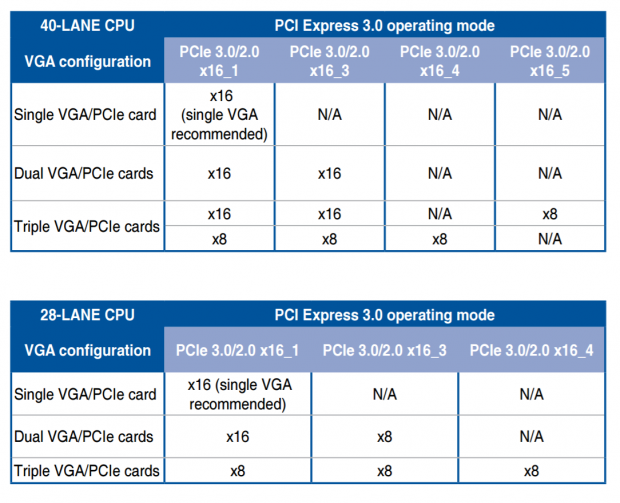 The X99-Deluxe II doesn't have a straightforward PCI-E layout, so I have included a chart from the manual to help you visualize which slots you will lose if you install other devices. The good news here is that ASUS has provided adequate resources to determine PCI-E bandwidth allotment in the form of charts and with a switch that will illuminate the best slots of GPU placement. While the motherboard does have a lot of PCI-E x16 slots, not all of them will operate at x16, and maximum multi-GPU configuration is 3-way SLI/CrossFireX.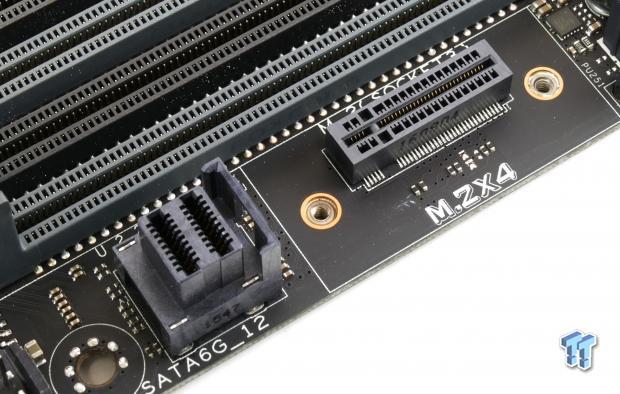 There are 10 SATA 6Gb/s ports; four are part of two SATA Express ports. Eight of these ports are right angled, and two are straight. There is one U.2 port angled 90 degrees, and the second is angled straight up. The first M.2 slot is straight as well, and there is an included bracket to allow you to install your M.2 drive into the straight slot. You can also install a second M.2 device through the Hyper M.2 mini card.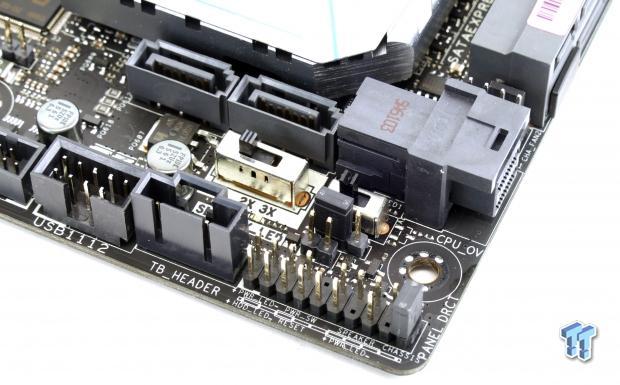 The two straight SATA 6Gb/s ports are located behind the right angled U.2 port. The slot selector switch to illuminate the proper slots for 2-way and 3-way GPU configurations is located adjacent the XMP switch. Below it is the CPU OV header, a DRCT header, front panel headers, a ThunderBolt header, and a USB 2.0 header.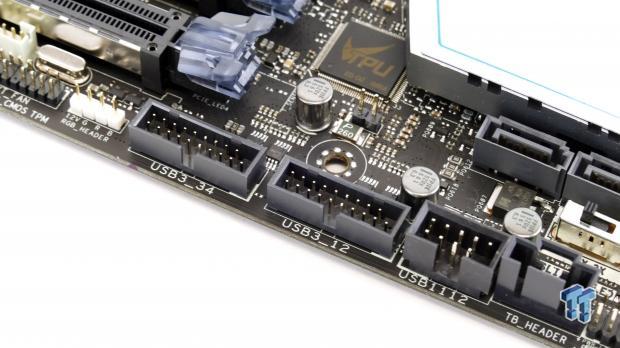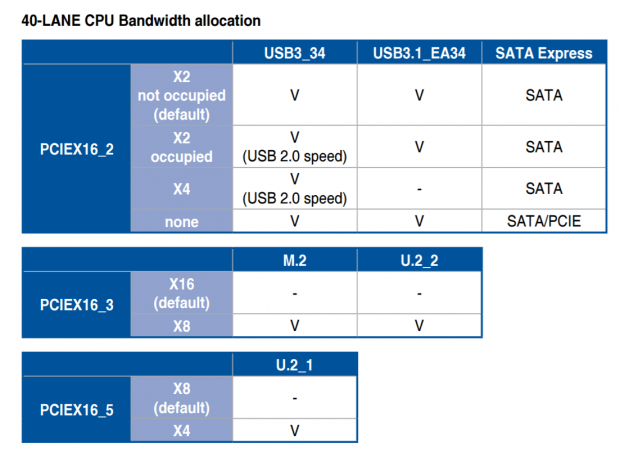 The two USB 3.0 headers are located near the USB 2.0 header. An RGB LED strip header is located to the left of the two USB 3.0 headers. I have included another chart from the manual illustrating how some of the USB ports and PCI-E slots share bandwidth; there are more diagrams in the manual as well.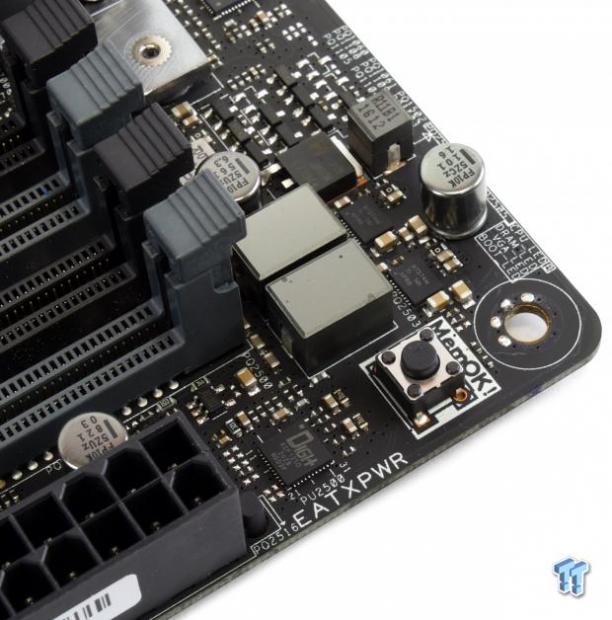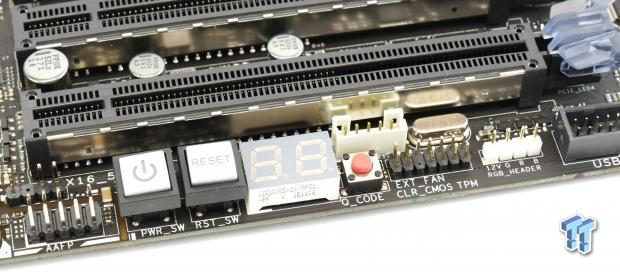 A MemOK! button is located in the upper right-hand corner of the motherboard. At the bottom edge of the motherboard is a POST code header, Power Button, Reset Button, and a Clear CMOS button.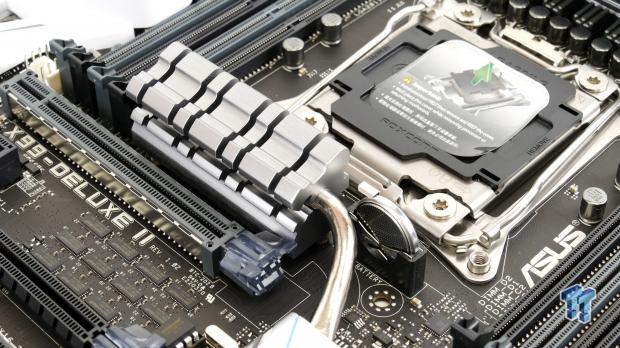 The CMOS battery is located to the right of the center heat sink attached to the PCH for extra cooling.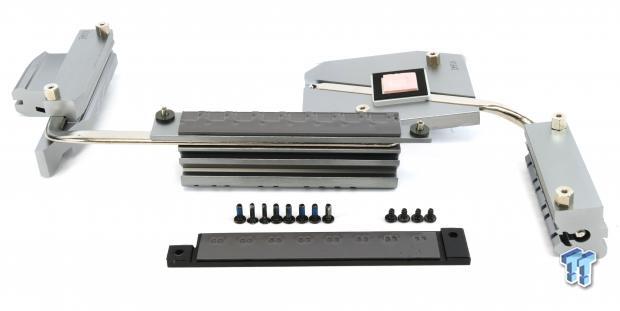 The heat sinks all make excellent contact with the motherboard and are held down by screws.
ASUS X99-Deluxe II Circuit Analysis
Circuit Analysis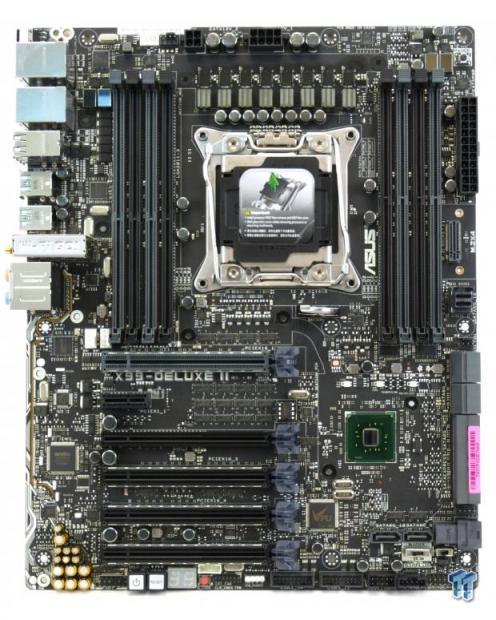 For me, the motherboard looks much more interesting without the heat sinks and shield.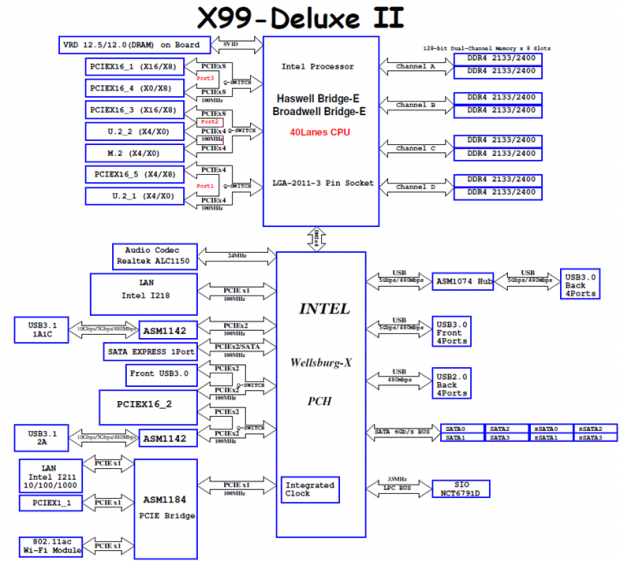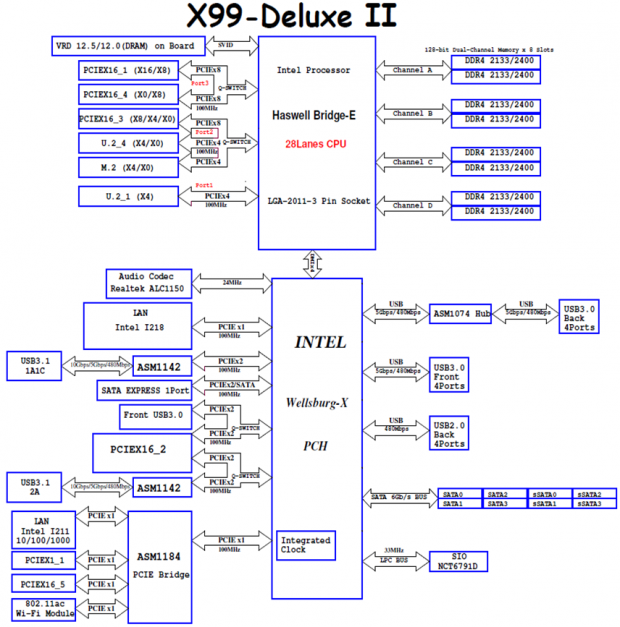 These are the block diagrams for the motherboard when using both 28 and 40-lane CPUs. The switching of CPU and PCH lanes is quite intense, but it allows for many different configurations.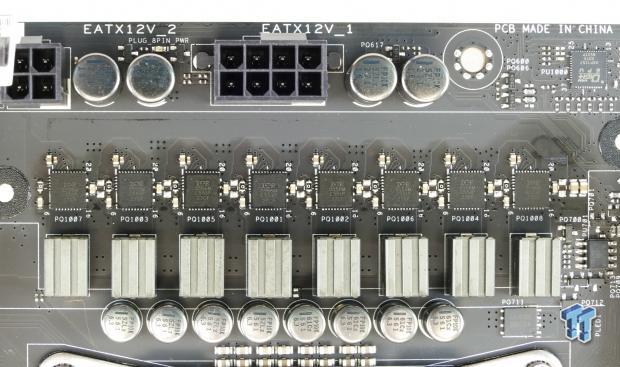 The CPU VRM on the X99-Deluxe II is a true 8-phase controlled by a rebadged 8-phase PWM controller. I assume it's the IR/Infineon IR3580 fully digital high-performance PWM. Each of the phases uses an Infineon/IR IR3556 PowIRstage capable of 50A output, a high current inductor with heat-fins, and 10K rated black capacitors.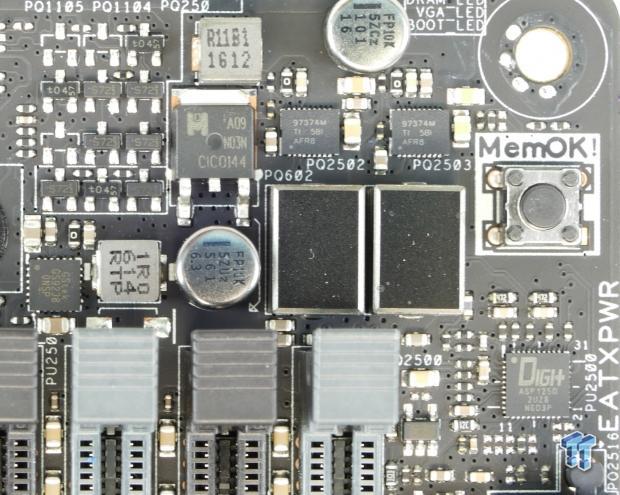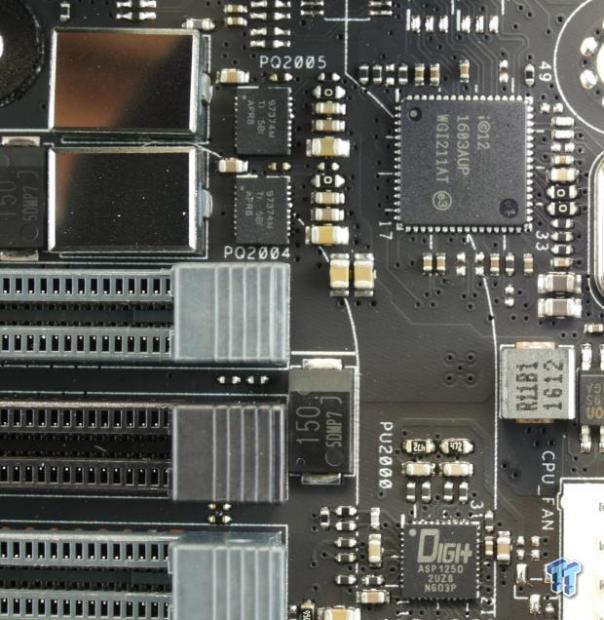 Each memory VRM's main DDR4 voltage rail is controlled by a rebadged ASP1250 PWM and uses two Texas Instruments CSD97374Q4M NexFETs for each set of four DIMMs. A GSTek POL is used for VPP memory VRM power.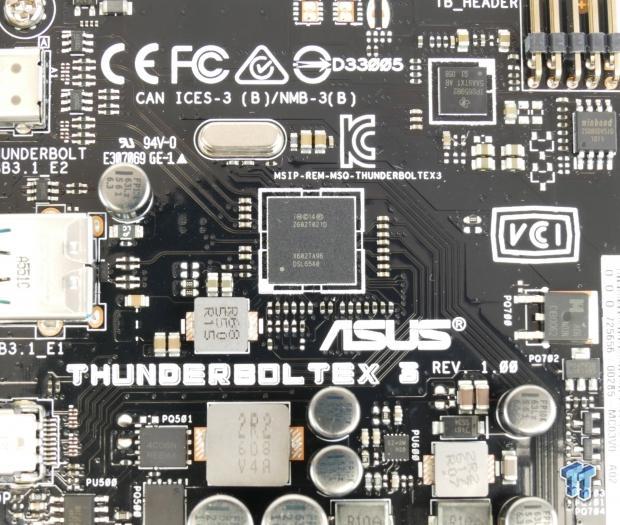 One of the main selling points of the X99-Deluxe II is the additional ThunderBolt 3 card. This card uses Intel's Alpine Ridge DSL6540 controller, a Texas Instruments TPS65982 type-C power delivery, and controller, as well as a few voltage regulators to produce the proper power delivery required.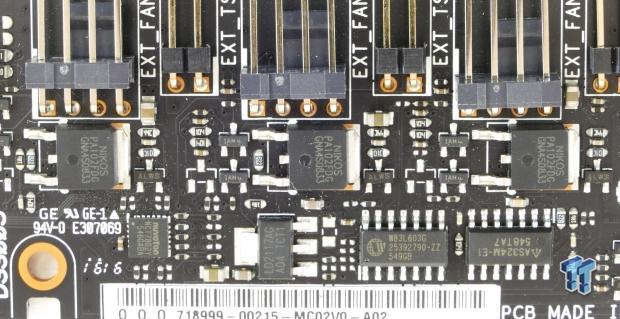 The fan extension card uses a nuvoTon W83L603G and an NCT7802 to produce the fan control mechanisms.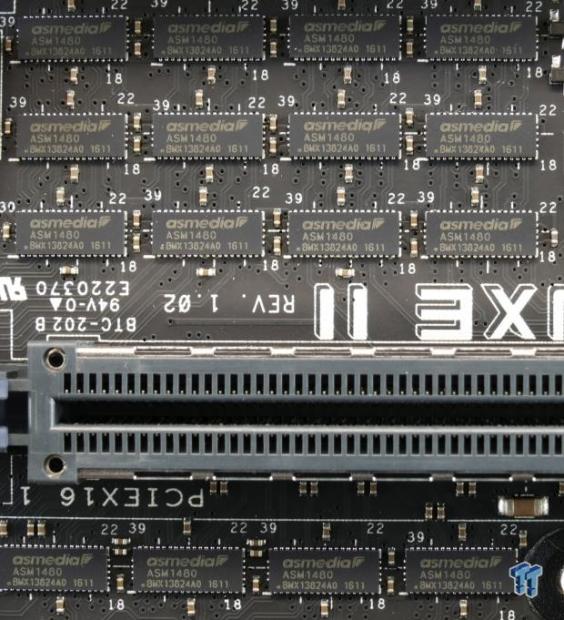 The X99-Deluxe II also has a plethora of ASMedia ASM1480 quick switches used to switch around CPU and PCH bandwidth to provide all of the features.
ASUS X99-Deluxe II Circuit Analysis Continued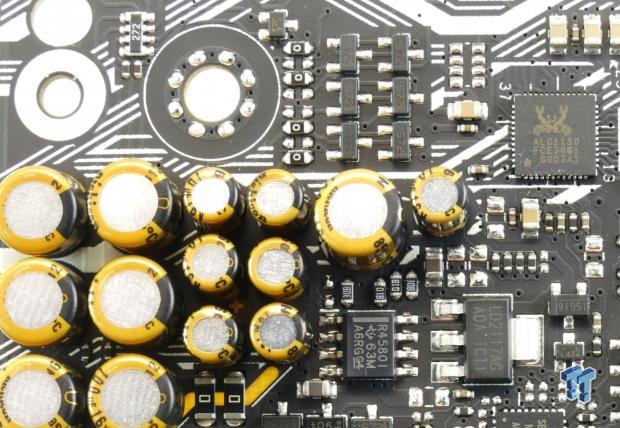 Audio on the X99-Deluxe II utilizes a Realtek ALC1150 codec along with a Texas Instruments R45801 amplifier and an assortment of Nichicon Gold series electrolytic audio capacitors. The motherboard also has a physical divider for each of the audio channels and to separate the audio plane from the rest of the motherboard.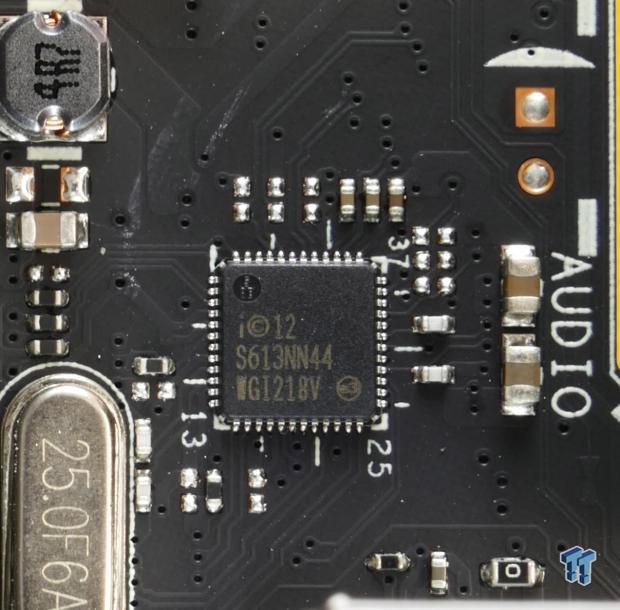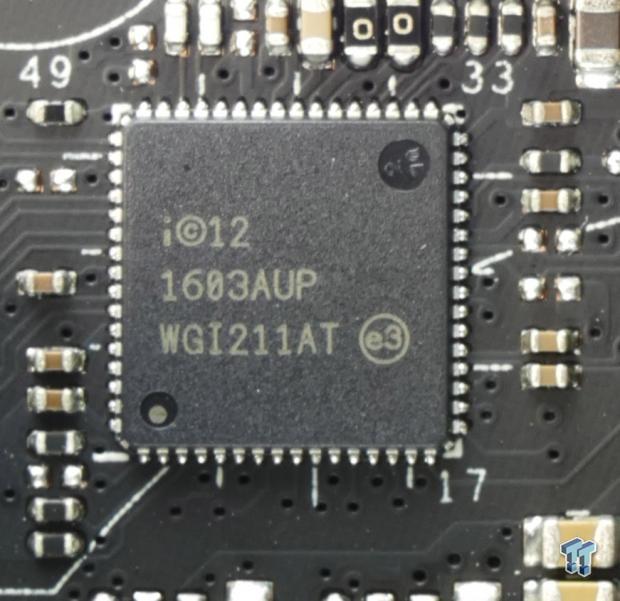 The first Intel NIC uses the integrated MAC in the PCH with an Intel i218v PHY. The second Intel NIC is from an Intel i211AT standalone Gbit Ethernet controller.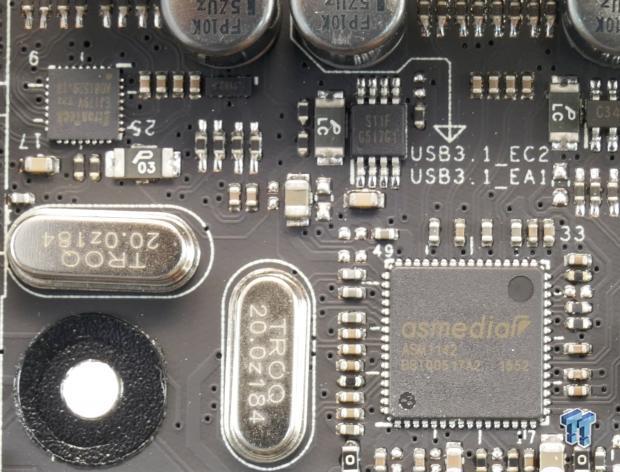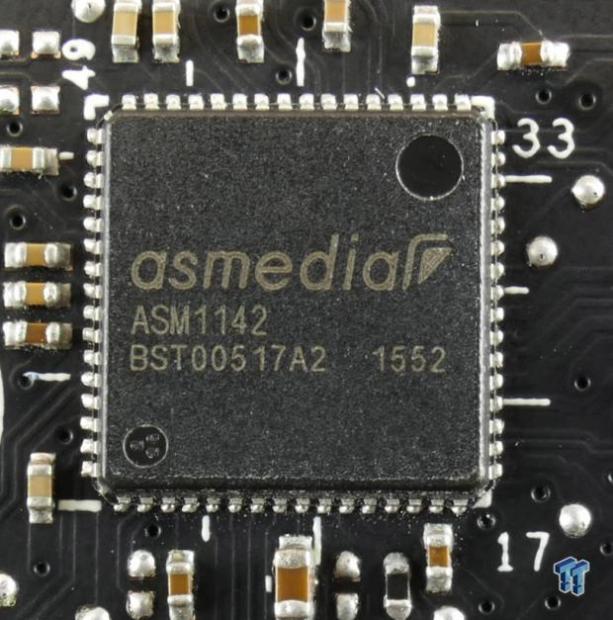 The motherboard uses two ASMedia ASM1142 USB 3.1 controllers for the four rear USB 3.1 ports (three type-A and one type-C). An EtronTech EJ179V is used as the type-C switch.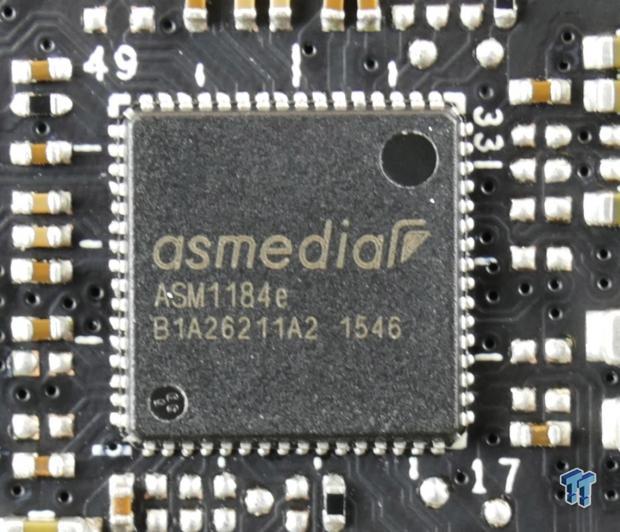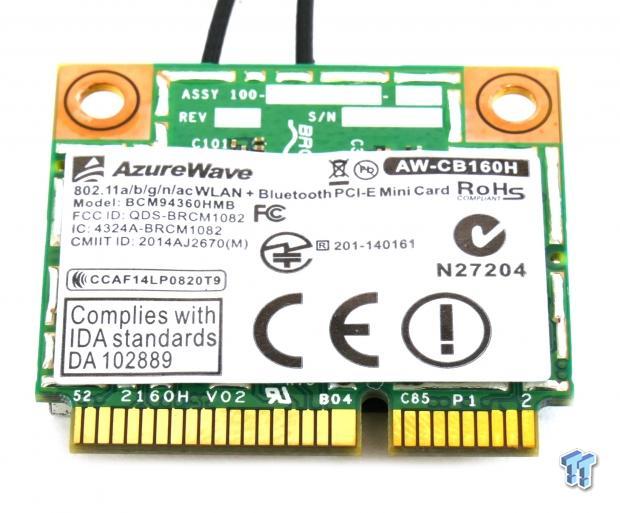 The ASMedia ASM1184e is a PCI-E hub that takes one PCI-E 3.0 lane and provides three more for one of the NICs, the Wi-Fi card, and a PCI-E x1 slot. The 3x3 Wi-Fi/BT card is based on the AzureWave BCM94360HMB.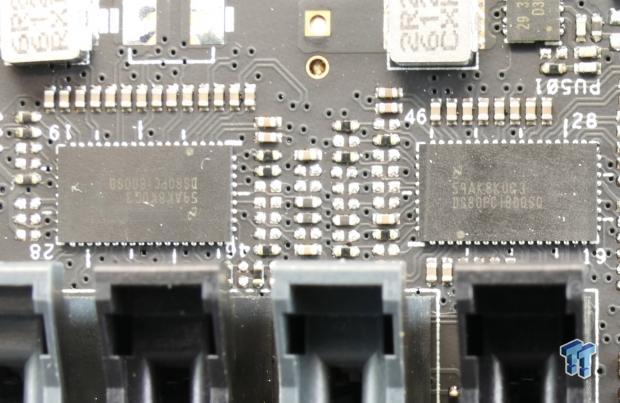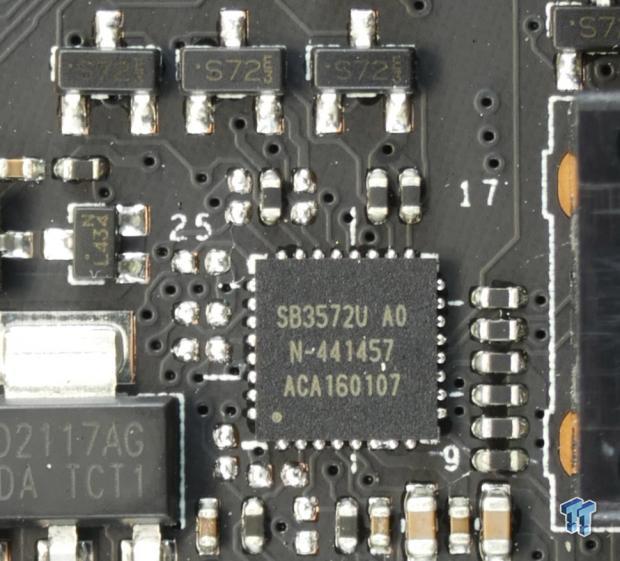 Two Texas Instruments DS80PCI800 x4 PCI-E 3.0 repeaters with equalization help strengthen PCI-E signaling for the U.2 and M.2 connections. The chip labeled SB3572U is used as the RGB LED controller on the motherboard.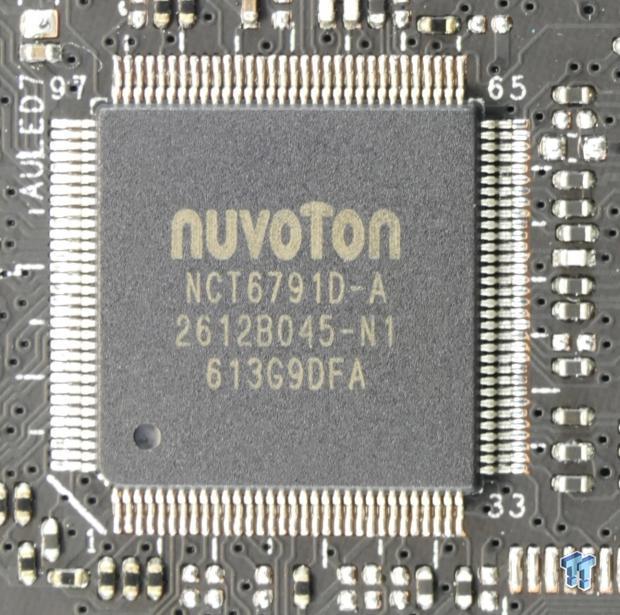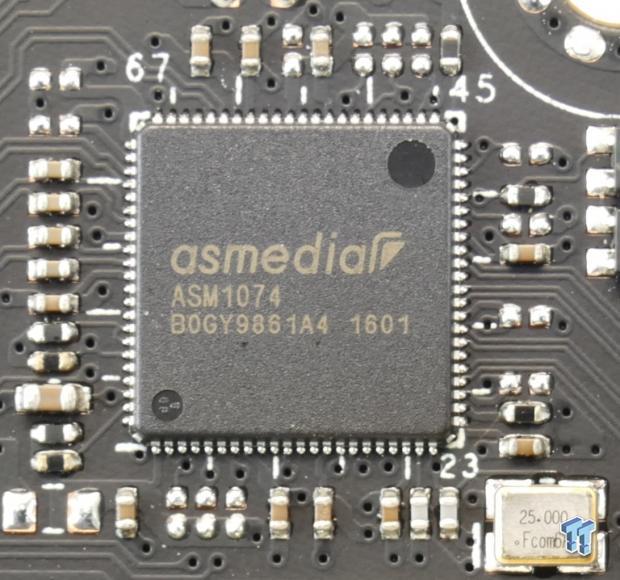 The main SuperIO on the X99-Deluxe II is the nuvoTon NCT6791D. An ASMedia ASM1074 is a USB 3.0 hub.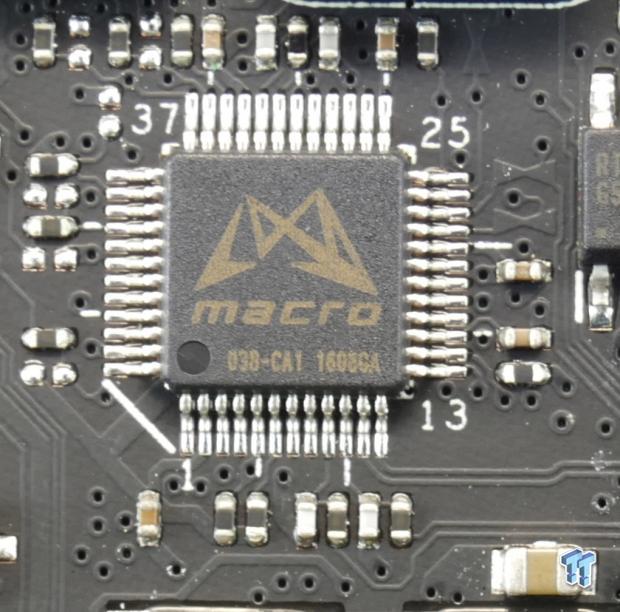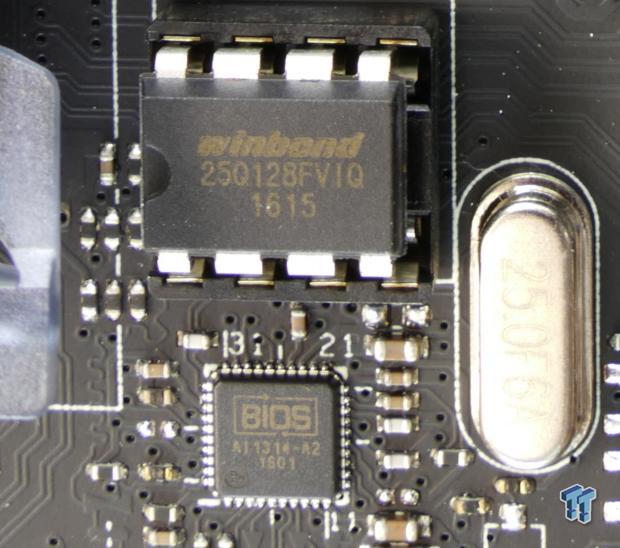 ASUS uses a lot of customized microcontrollers to support many of their unique features. The chip labeled MACRO controls the Macro key feature. The chip labeled BIOS offers the USB BIOS FlashBack feature to recover the 128Mbit ROM in the DIP socket if it corrupts.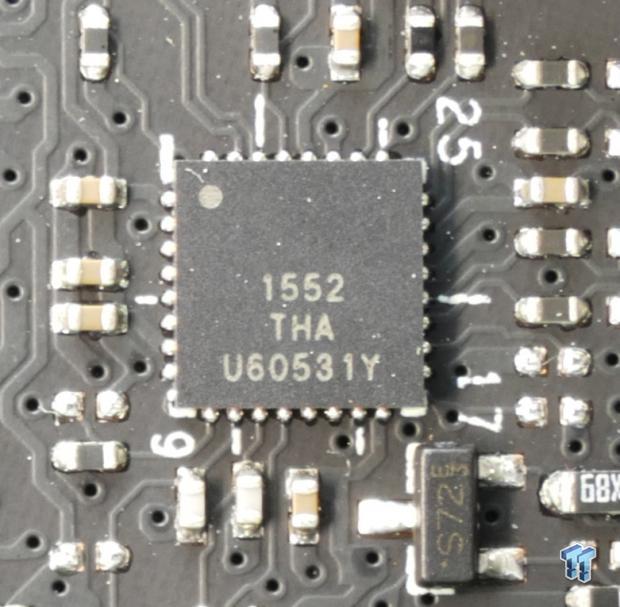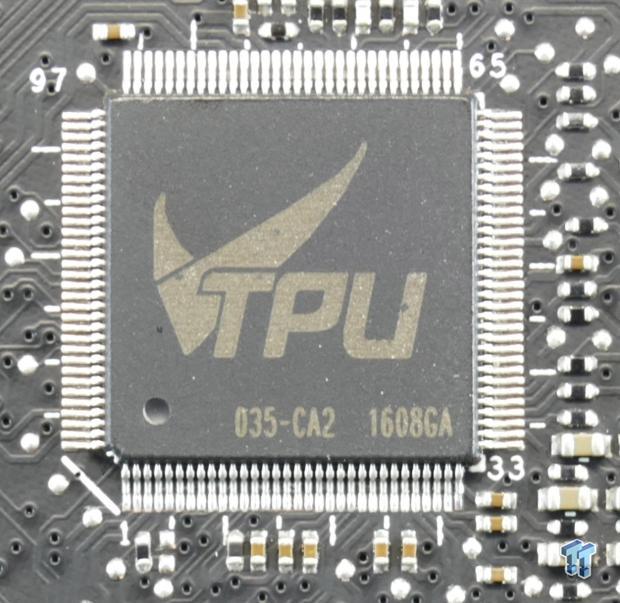 The U60531Y is a clock generator to increase BCLK margins. There are two chips labeled TPU, and they are in control of ASUS's TPU features for automatic overclocking and other custom ASUS features.
BIOS and Software
BIOS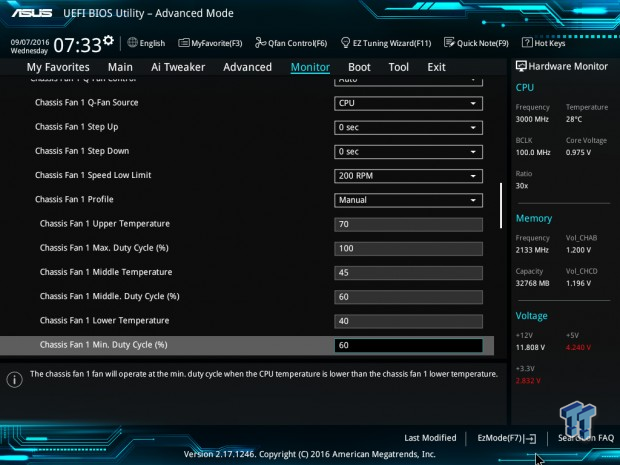 ASUS's UEFI on the X99-Deluxe II has tons of options. I feel that the UEFI is a mix between the UEFI of ASUS ROG X99 motherboards and ASUS's main series of X99 motherboards, it has the aesthetic appeal of ASUS's normal X99 UEFI with some of the features of ASUS's ROG motherboards such as Tweaker's Paradise.
Overall the UEFI has everything you need to fully tweak and tune your system, including excellent fan control options. The only thing missing is the ability to fully control the RGB LEDs.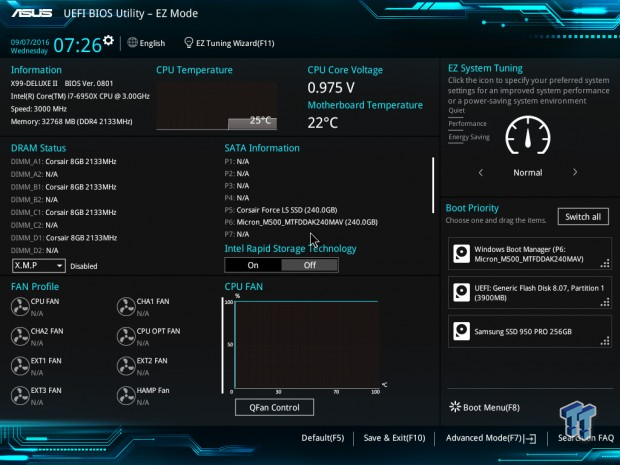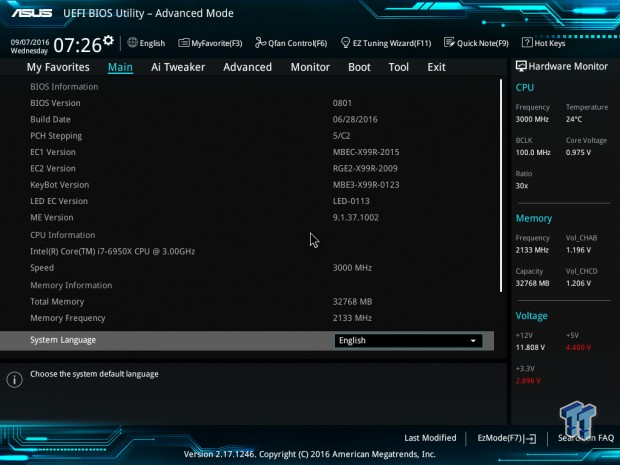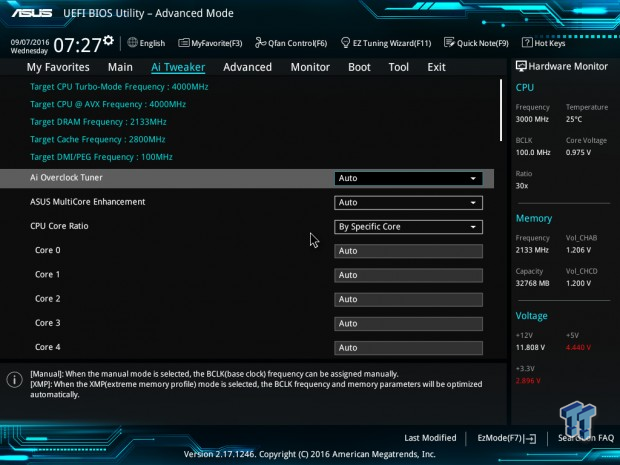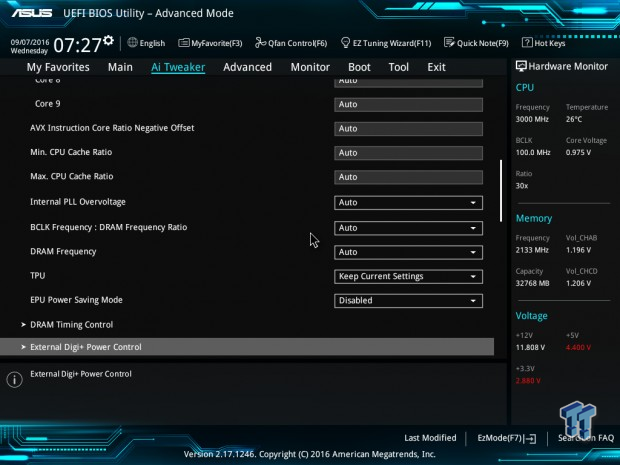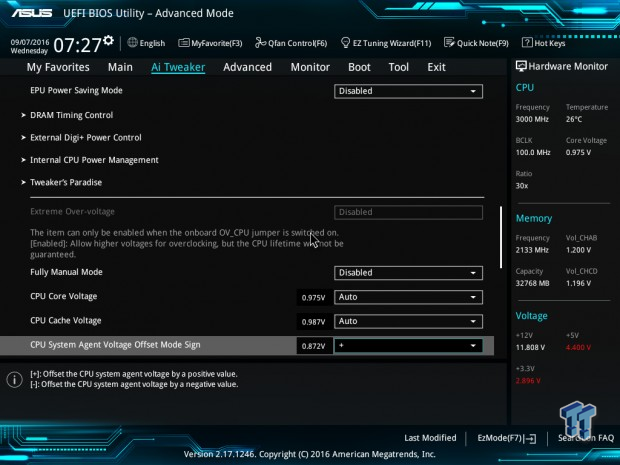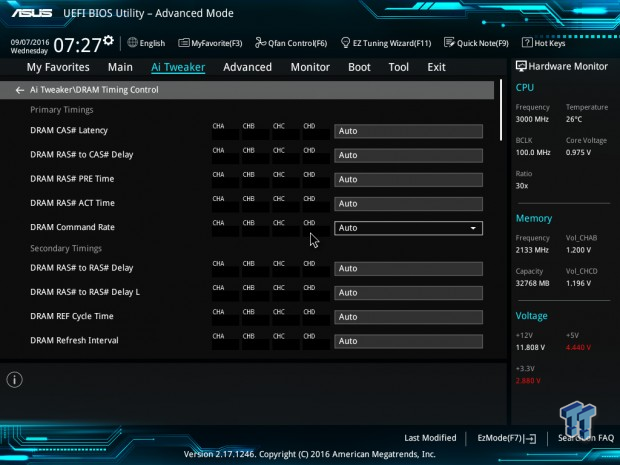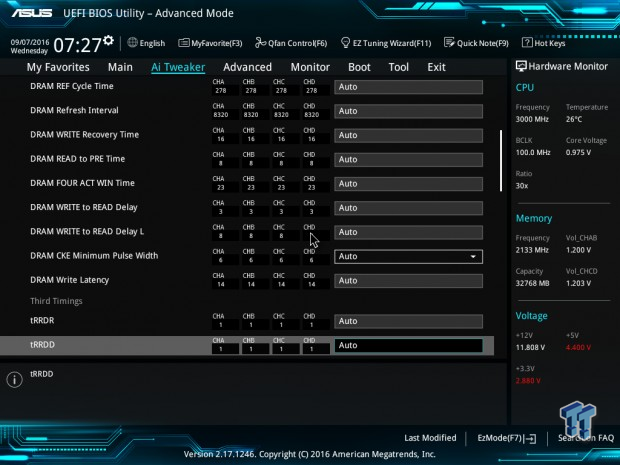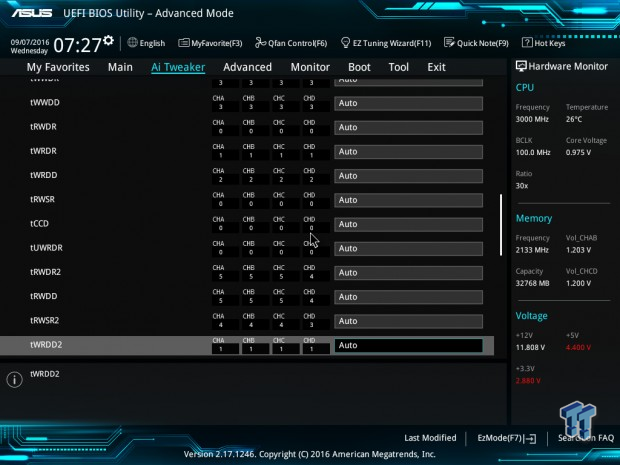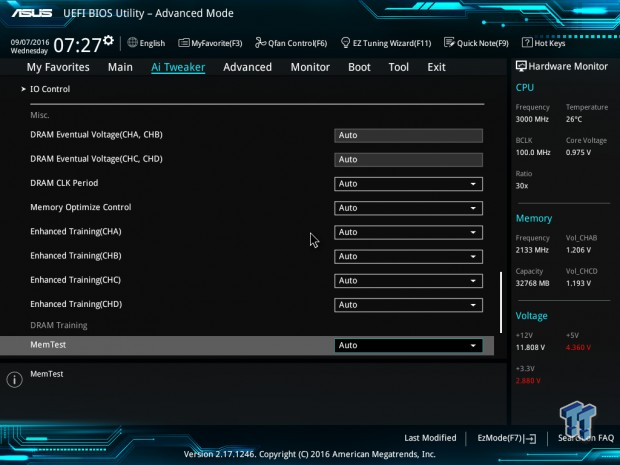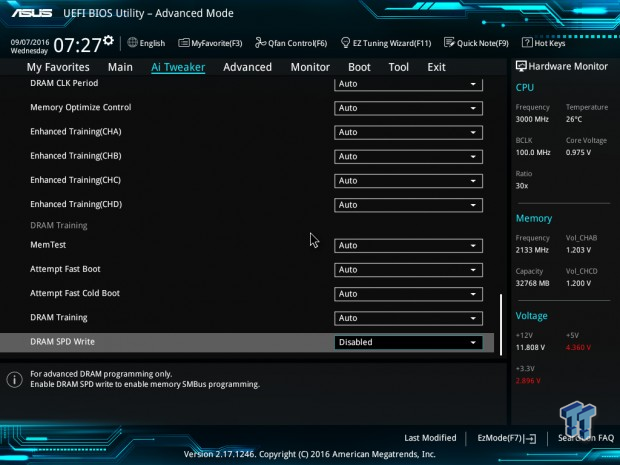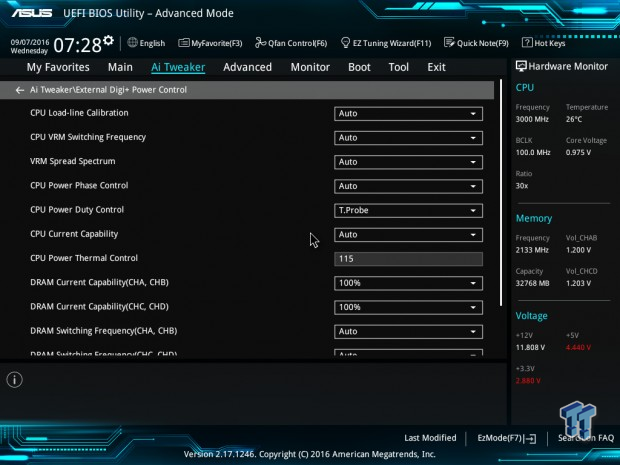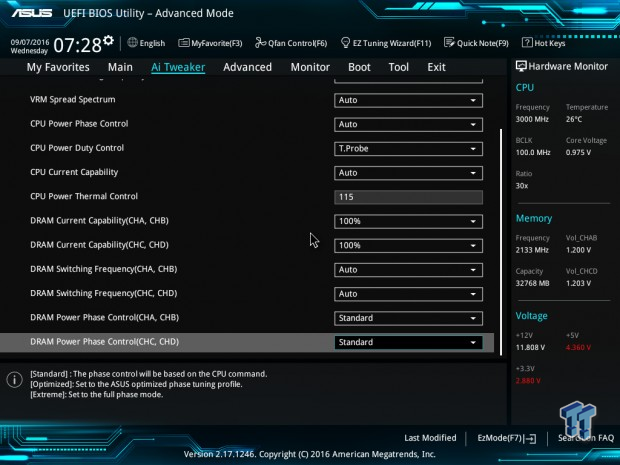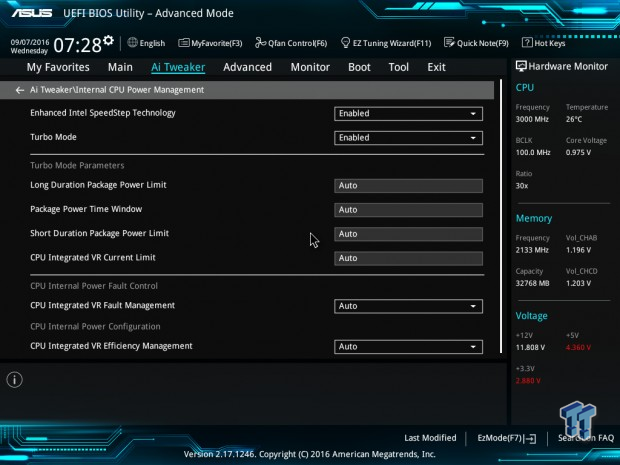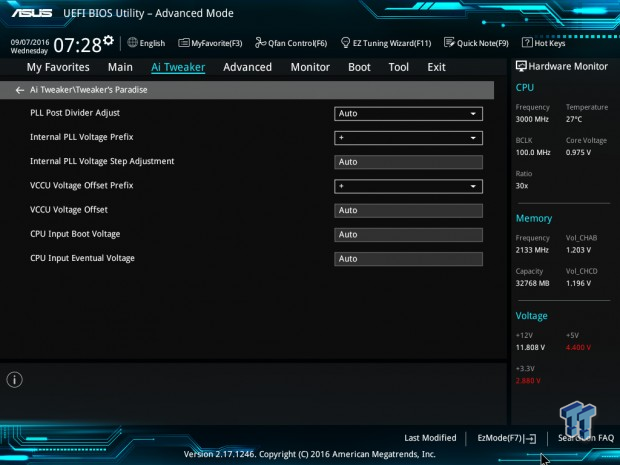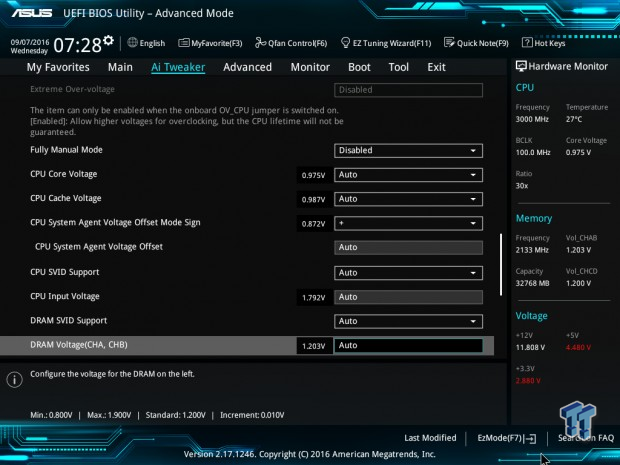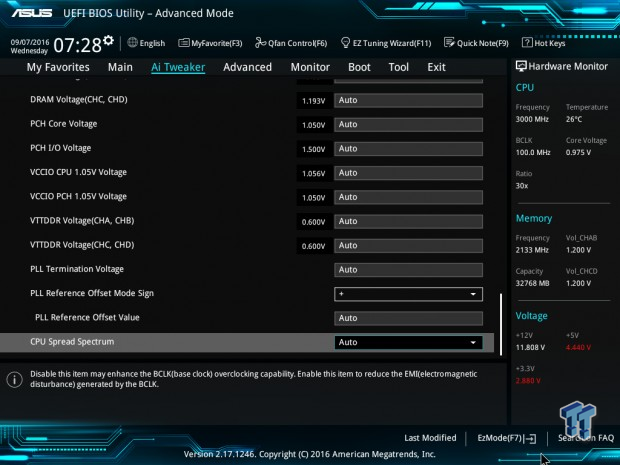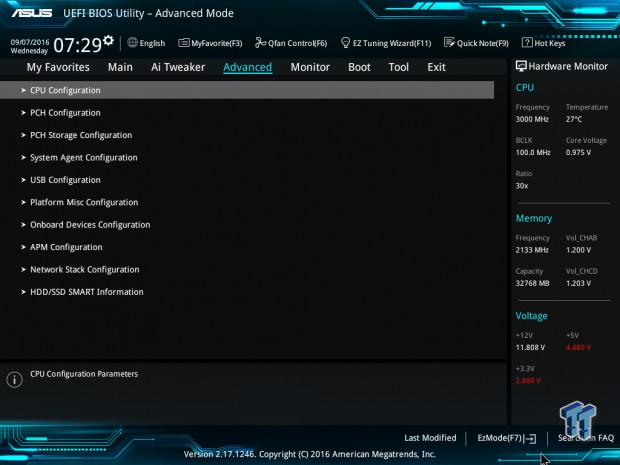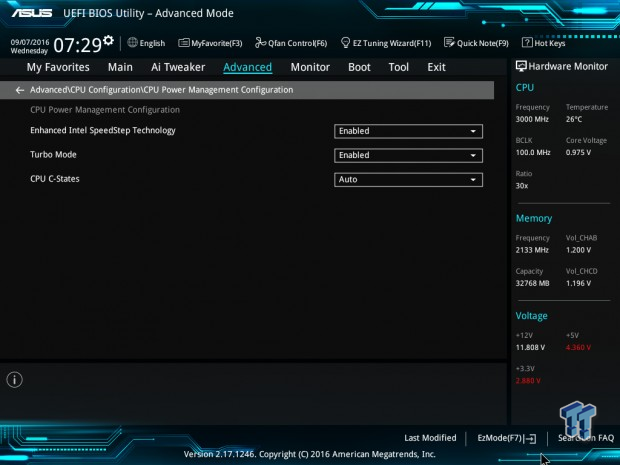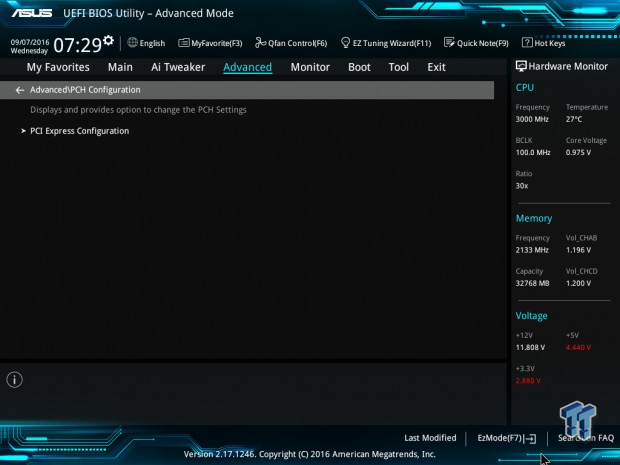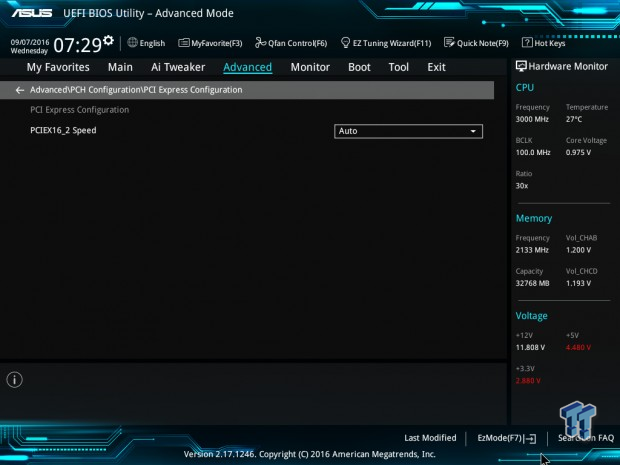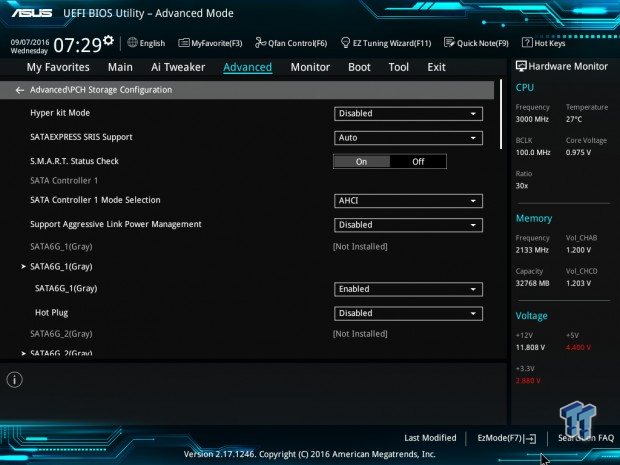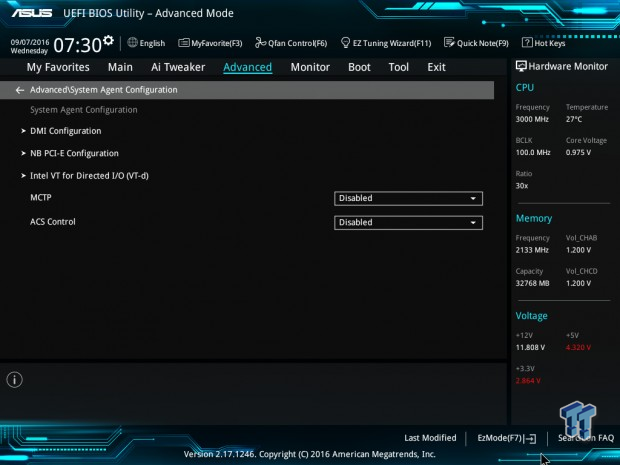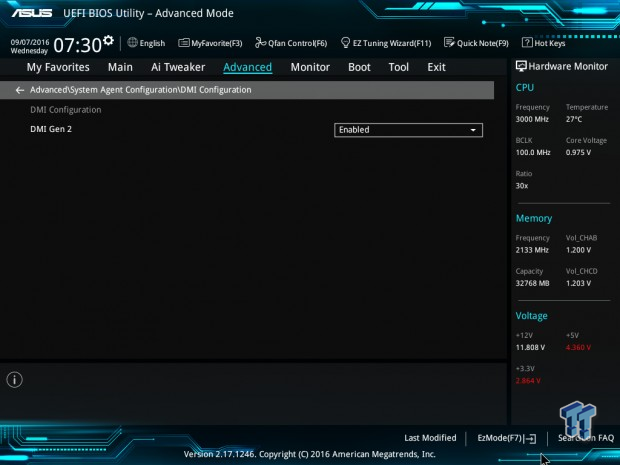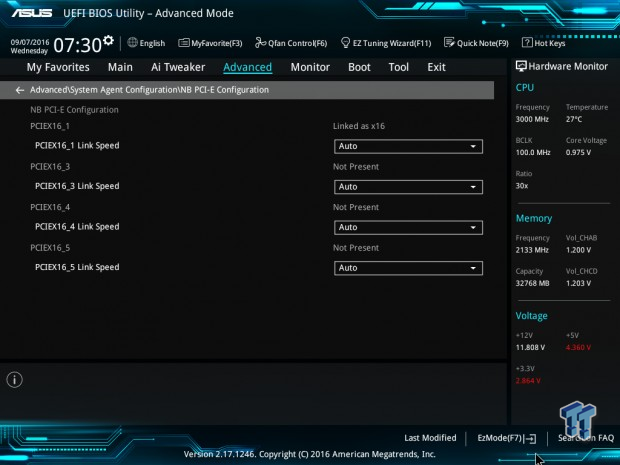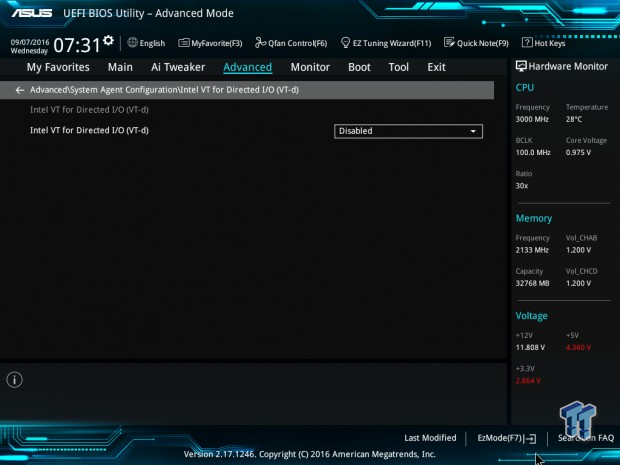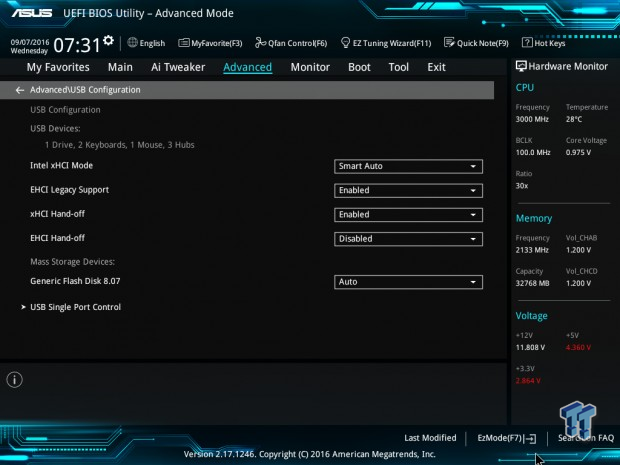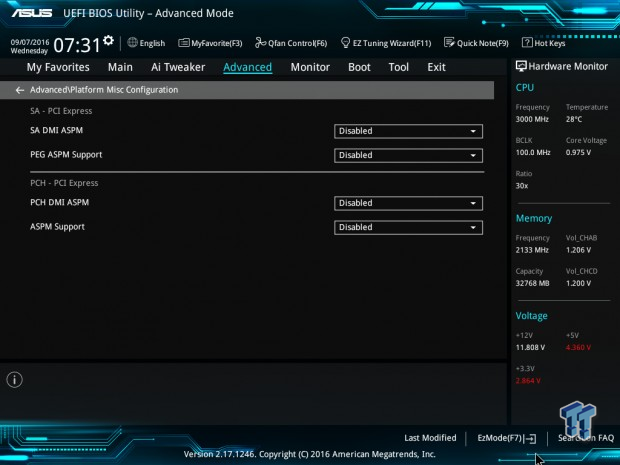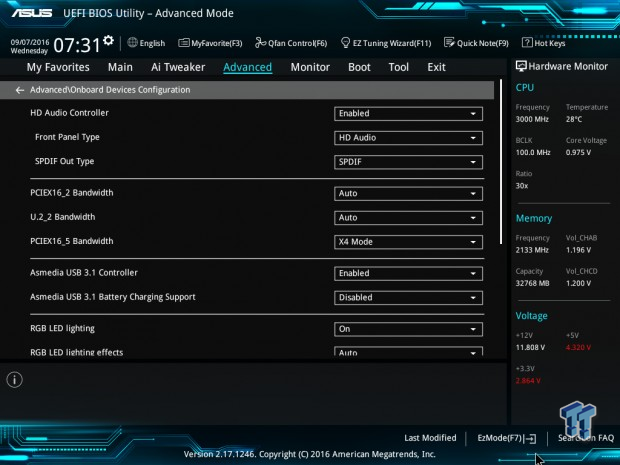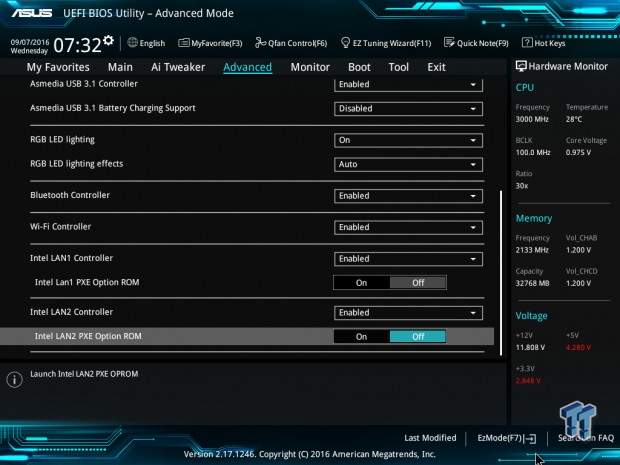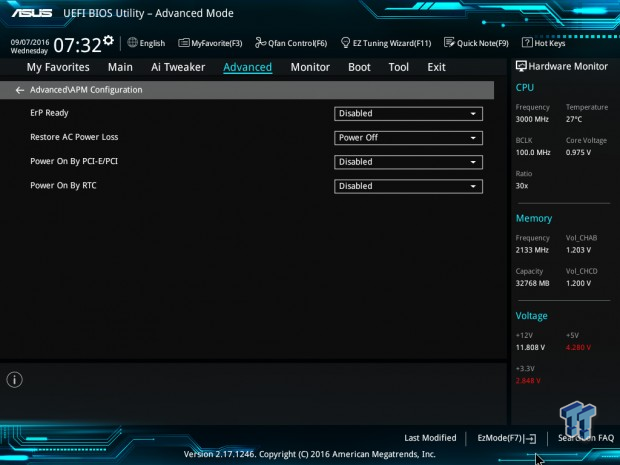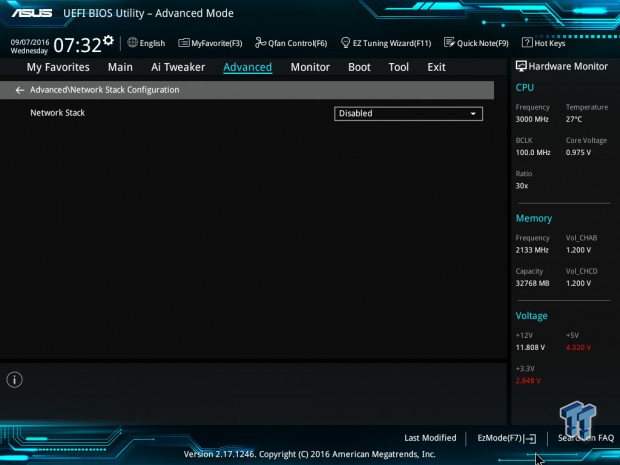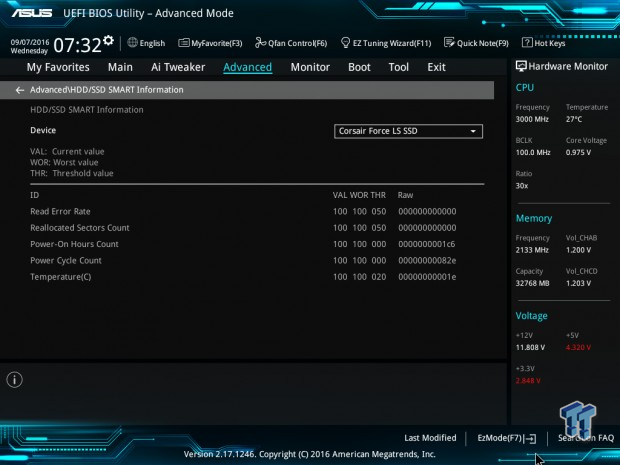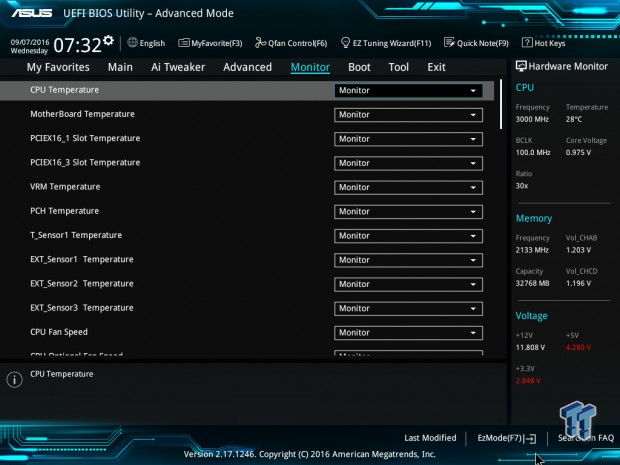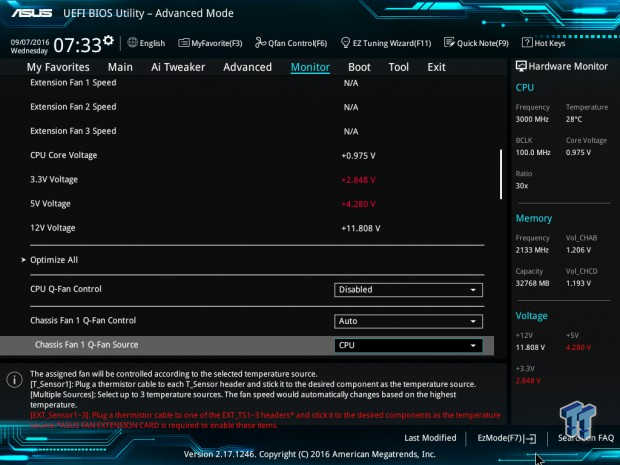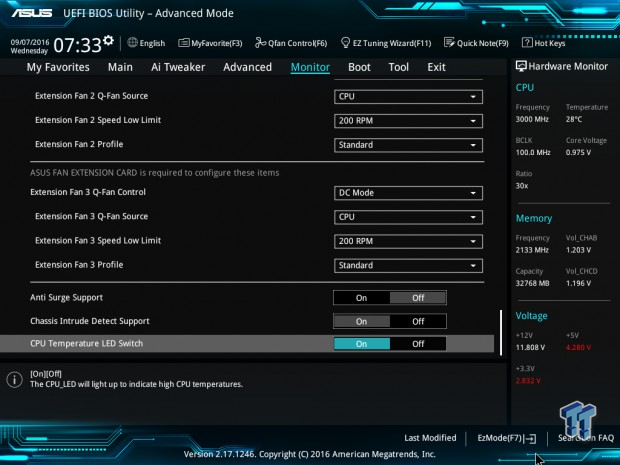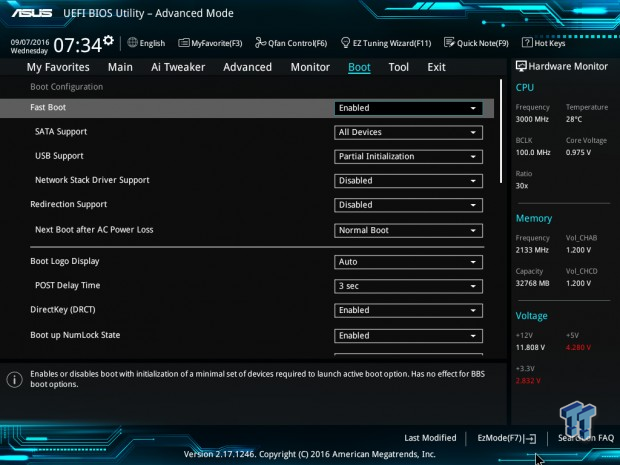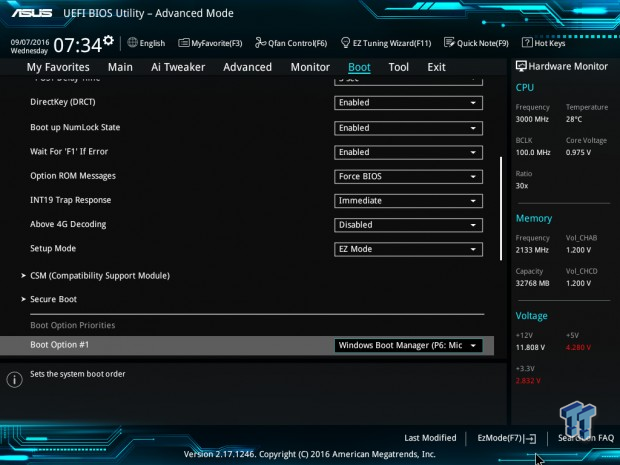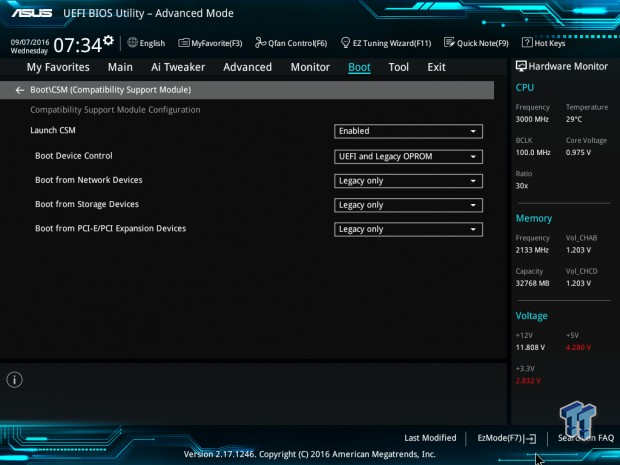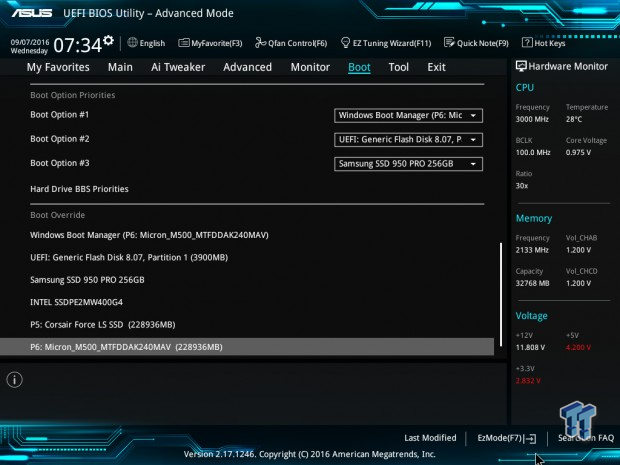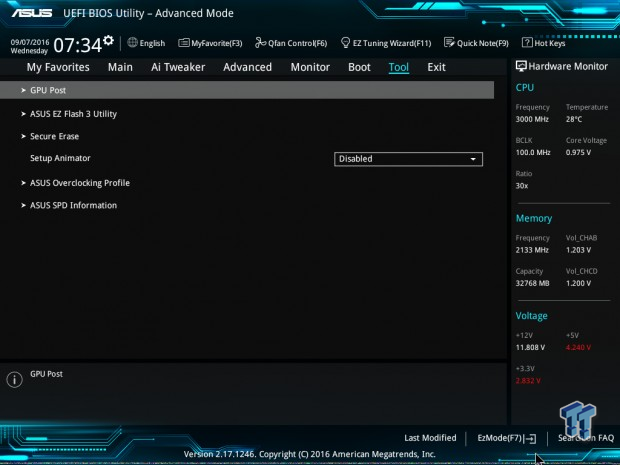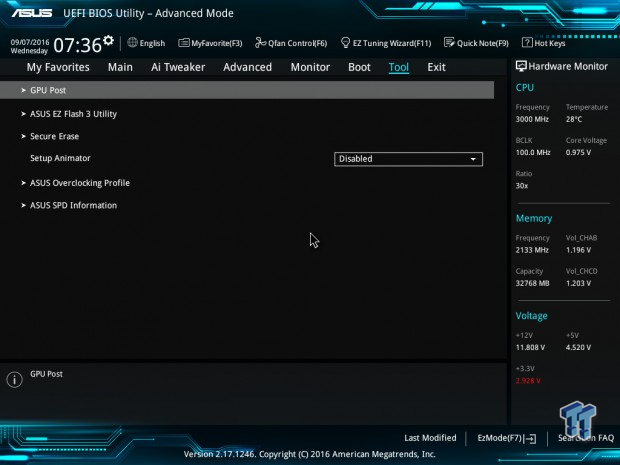 Software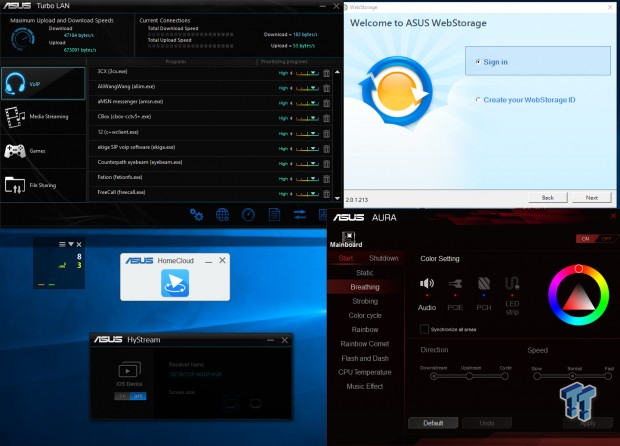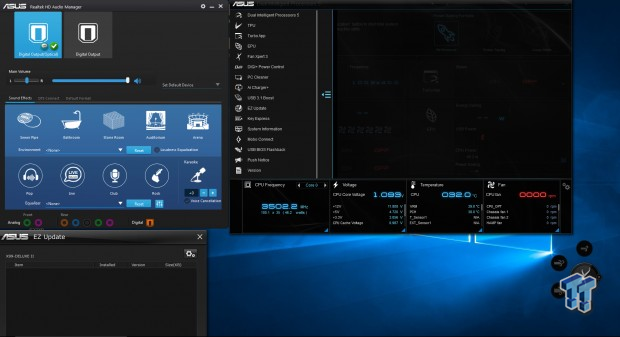 ASUS includes a multitude of software applications including TurboLAN, AURA (RGB control), HyStream, HomeCloud, ASUS WebStorage, EZ Update, TurboV Core, ASUS's all-in-one application that includes (DIP5, TPU, TurboApp, EPU, Fan Xpert3, DIGI+Power Control, PC Cleaner, Ai Charger+, USB 3.1 Boost, KeyExpress, System Information, MoboConnext, USB BIOS Flashback, Push Notifications, and much more).
Test System Setup
Steven's Motherboard Test System Specifications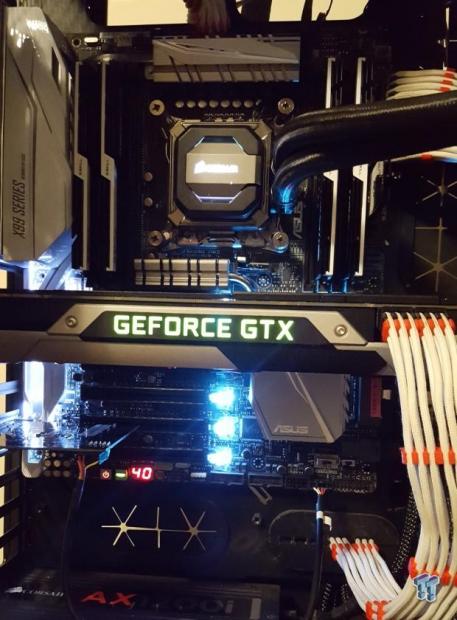 ASUS's attempt at lighting up the X99-Deluxe II is not too bad. The PCI-E slot LEDs are bright as are the PCH and audio section LEDs. The white accents on the TridentZ memory go well with the white shield on the motherboard.
The new test bench is designed to test every aspect of the motherboard and IO. I have designed it so that the motherboard sits in a case and is cooled by fans always on at a constant rate to keep the conditions similar during all tests. I have cut out part of the case behind the motherboard so I can get thermal images of the back of the PCB where the VRM heat spreads. System and CPU power measurements are now digitally logged.
I am also using a Netgear Nighthawk X4 AC2350 for our network (including wireless AC) tests. The latest M.2, SSD, and USB technologies are also being utilized to test the maximum potential of the motherboards that are tested.
Overclocking
Overclocking Results
If you hadn't already heard, the 6950X 10-core $1700 beast isn't the best overclocker. I cannot validate CPU frequency anywhere near 5GHz, and I cannot even boot at 4.5GHz, but I can run 4.4GHz on all cores. I have decided to change how I do the overclocking section and determine exactly what it takes to push to the CPU to this maximum stable frequency on the different motherboards I test.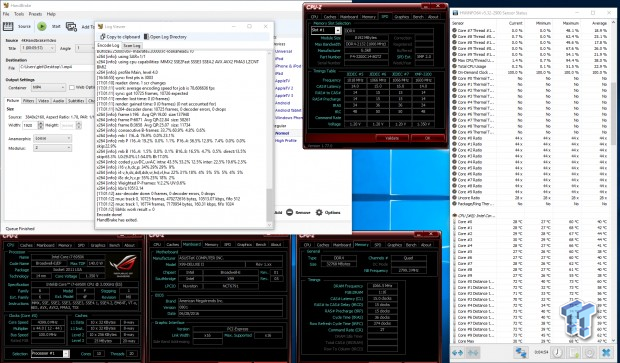 ASUS's X99-Deluxe II overclocked to 4.4GHz very easily; I did have to fiddle with a few settings to stabilize the machine when 100% load was applied. ASUS has an anti-surge protection mechanism that does not go well with my AX1200i, and I have to disable this feature or else the system will automatically shut down. If you are unsure of your overclocking abilities, ASUS has profiles in the UEFI and software in Windows.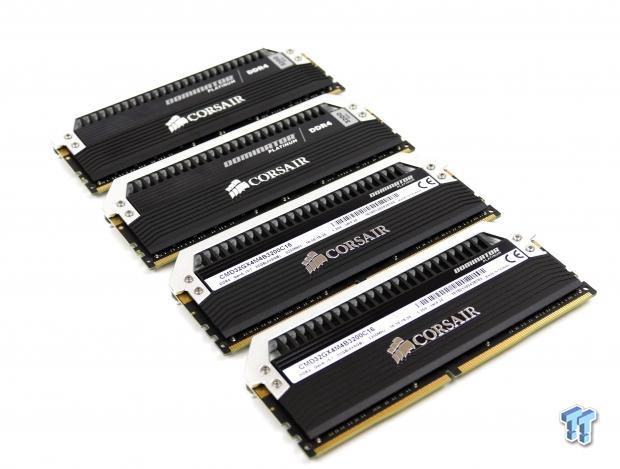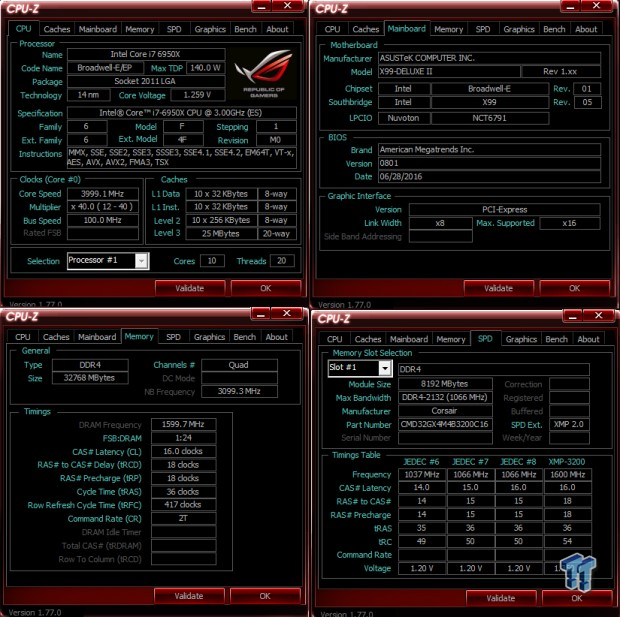 The Dominator Platinum 32GB 3200MHz C16 kit is working well.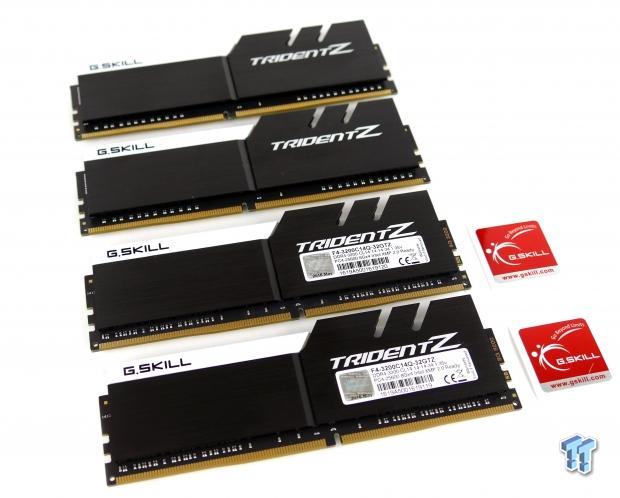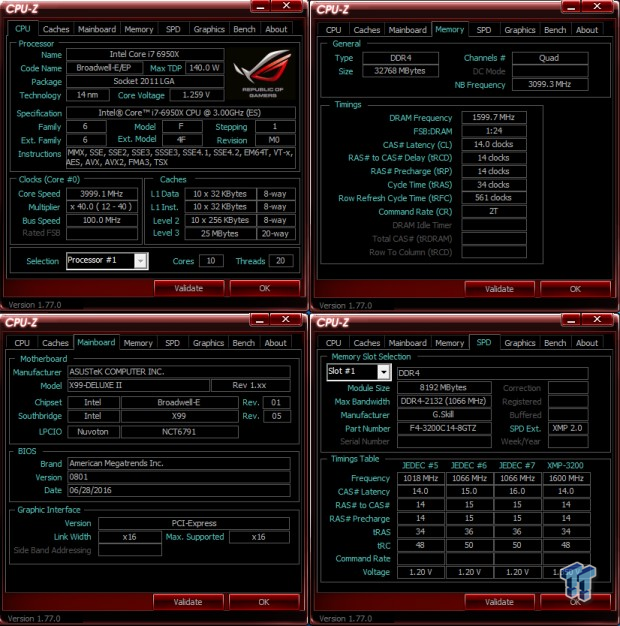 The G.Skill TridentZ 32GB 3200MHz C14 kit is also working well.
CPU, Memory, and System Benchmarks
CINEBENCH 11.5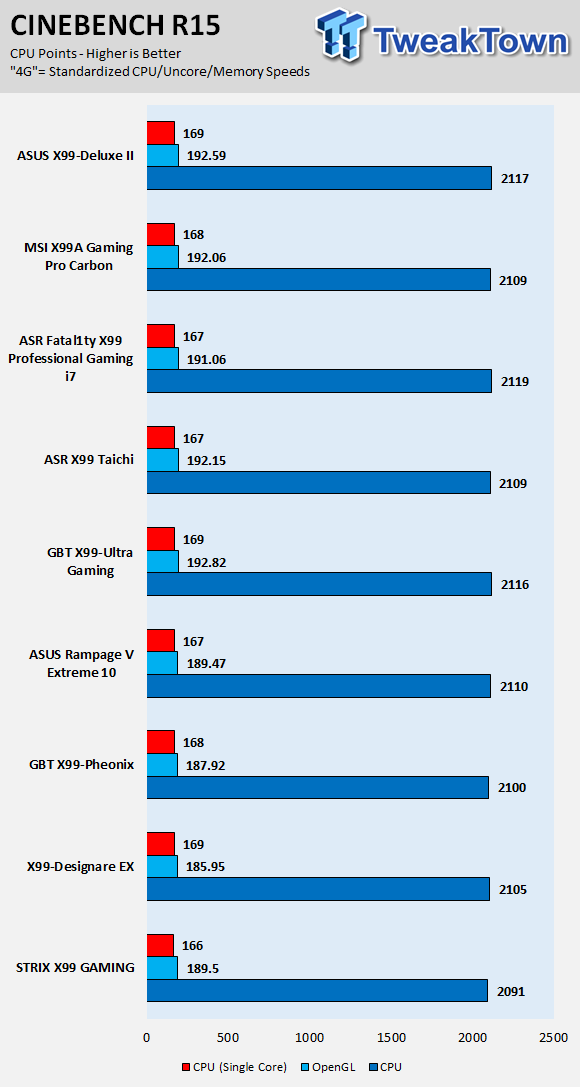 wPrime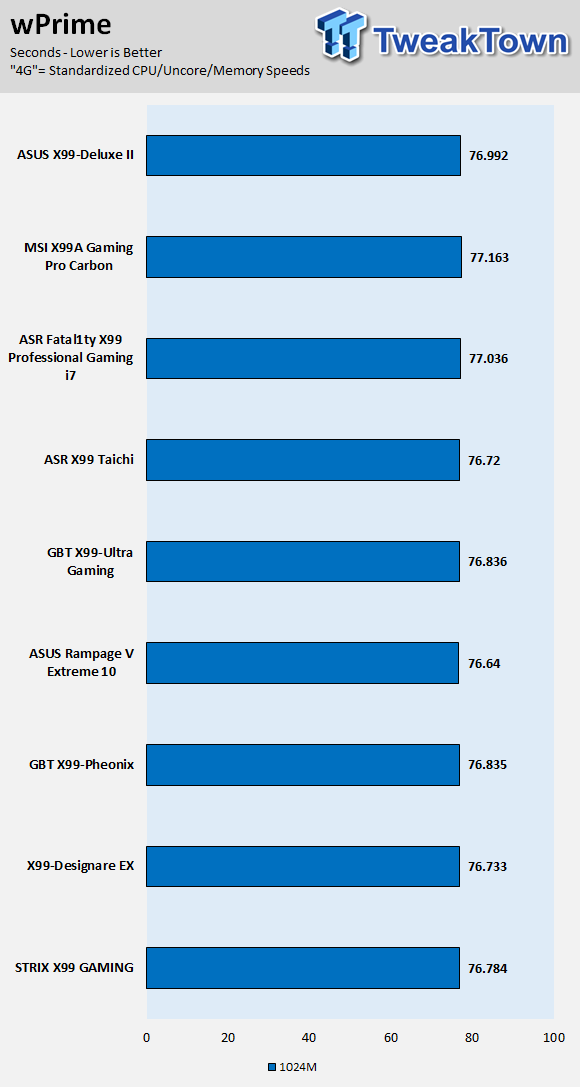 AIDA64 AES and HASH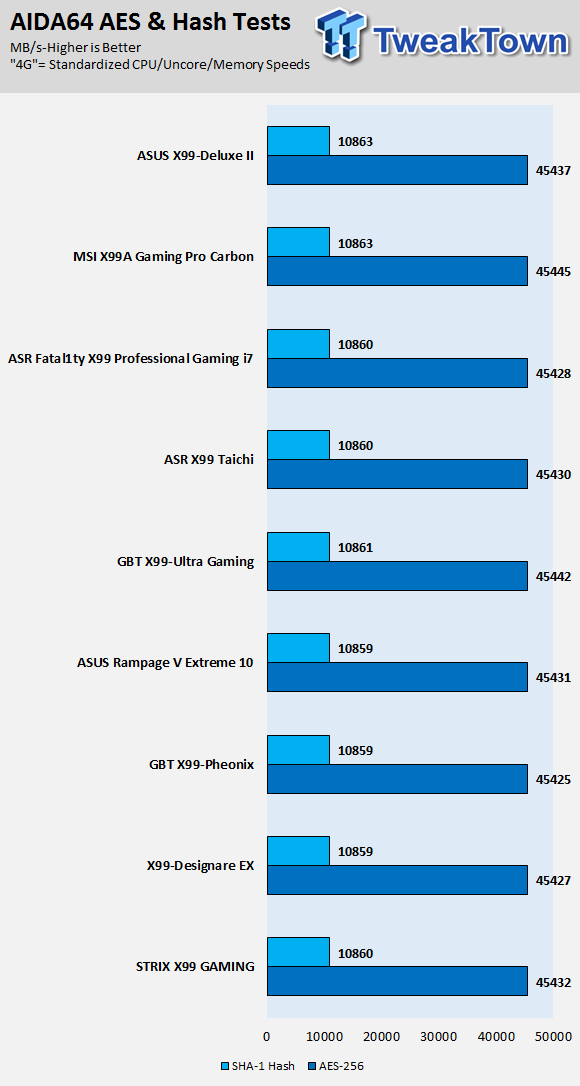 AIDA64 FPU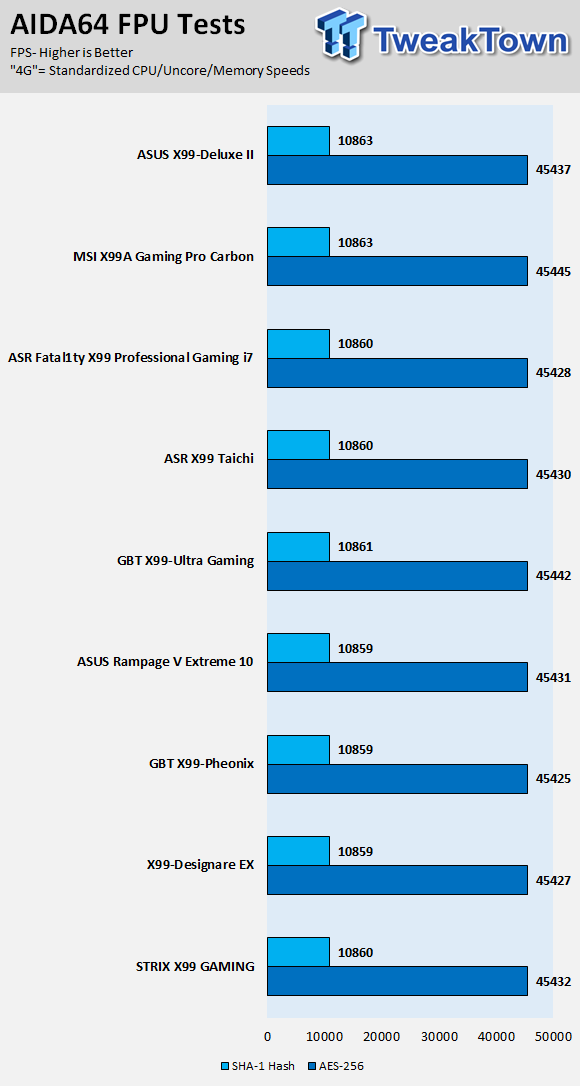 AIDA64 Memory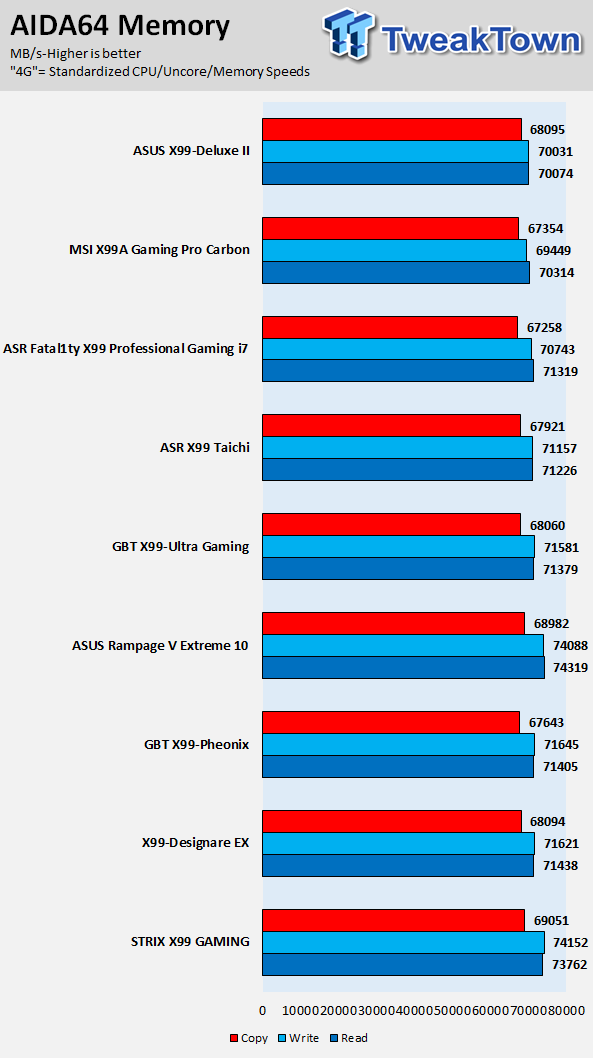 ScienceMark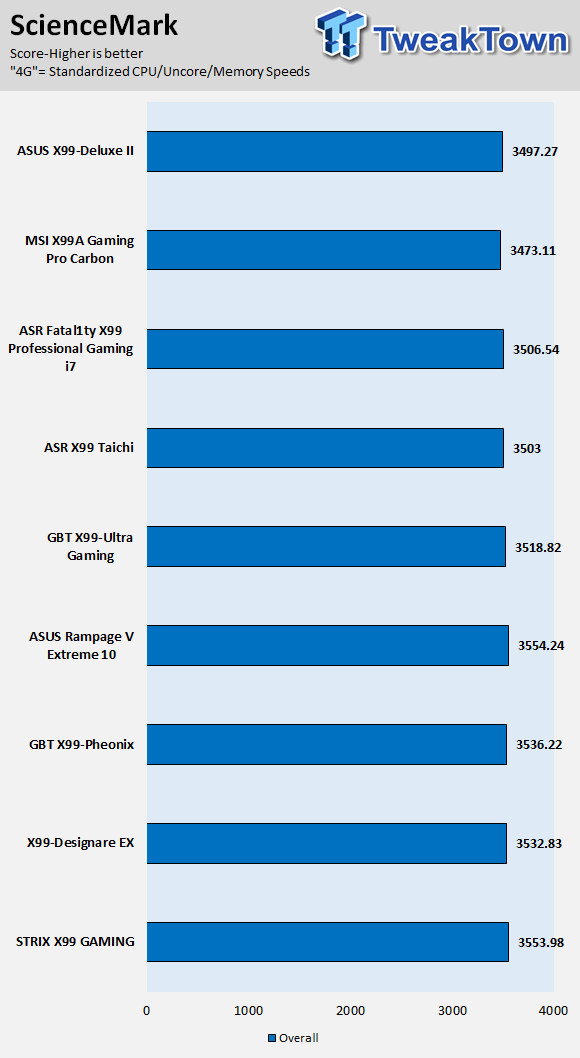 HandBrake 4K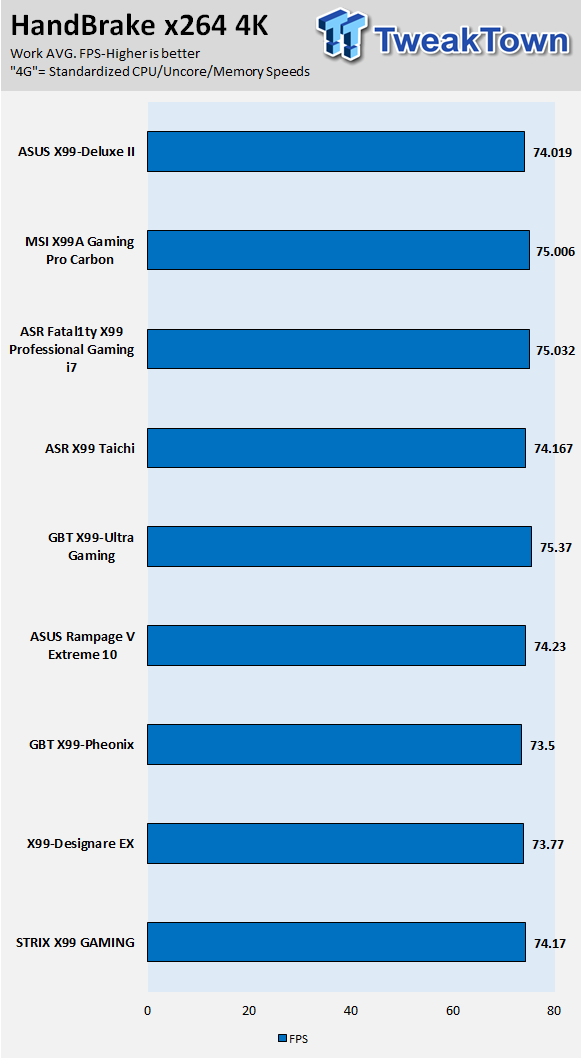 3DMark: Cloud Gate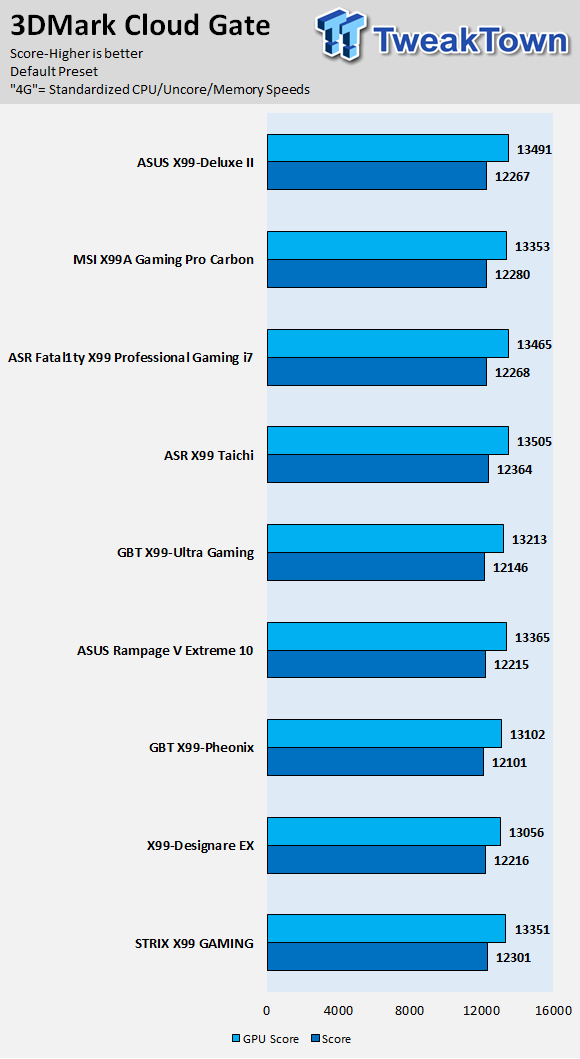 3DMark: Fire Strike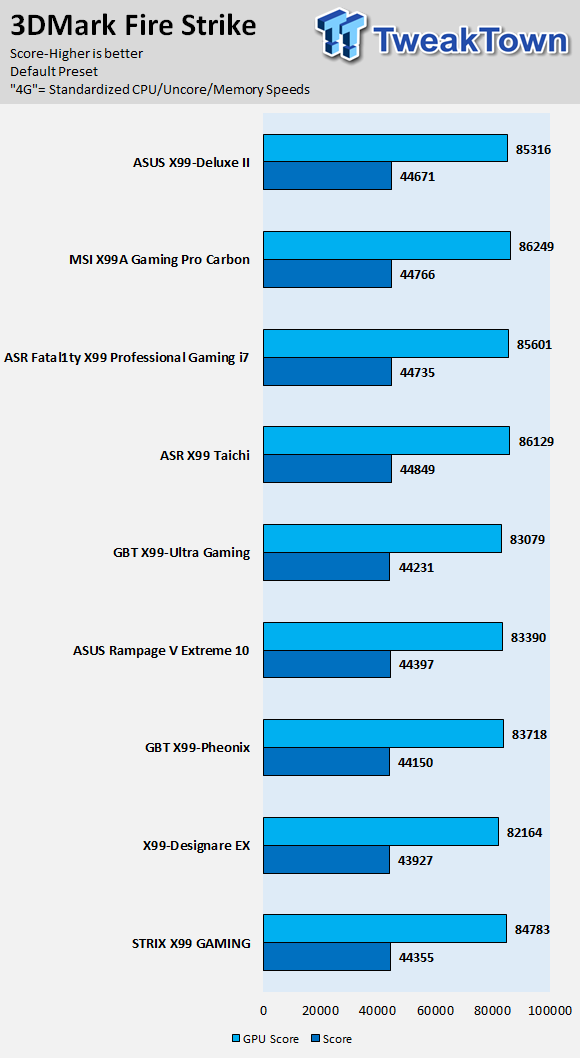 ResidentEvil 6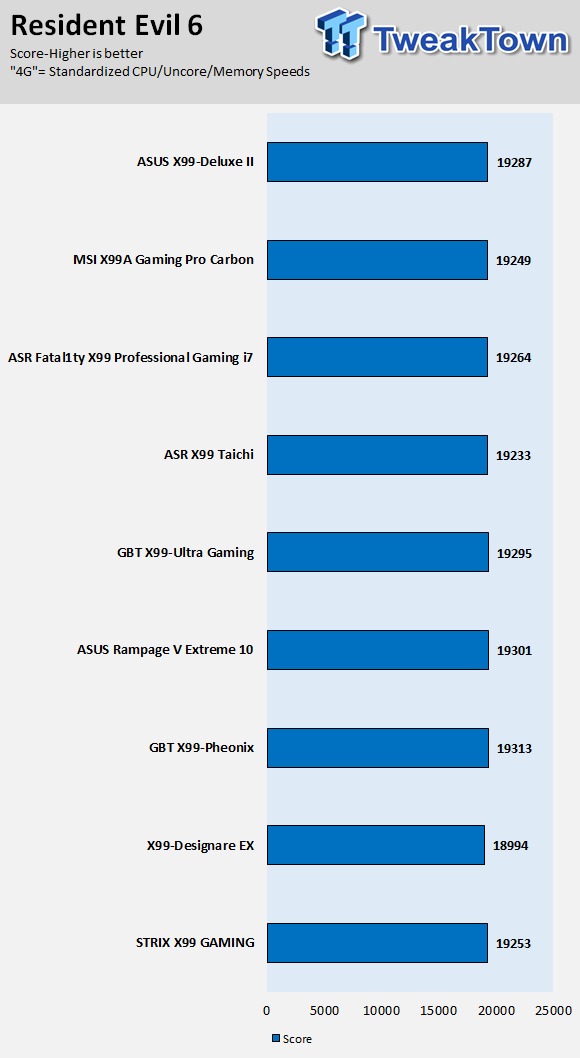 I have decided to test motherboard performance based upon a standardized 4GHz profile for the new X99 refresh motherboards. The base frequency of the 6950X is 3GHz, but since Intel's Turbo profile allows for a single core to hit 4GHz, some motherboards will take any number (sometimes all) of the cores to 4GHz at stock settings, and this creates a huge performance disparity at stock. In all these tests I ran the CPU at 4GHz on all cores, the cache at 3.5GHz, and memory at 2666MHz with timings 16-18-18-36 T2, and allowed the motherboard to set the rest of the timings itself.
The X99-Deluxe II performed quite admirably. The performance was good in all areas; there didn't seem to be any single area where there was a problem. Overall CPU performance was very strong.
System IO Benchmarks
SATA6G: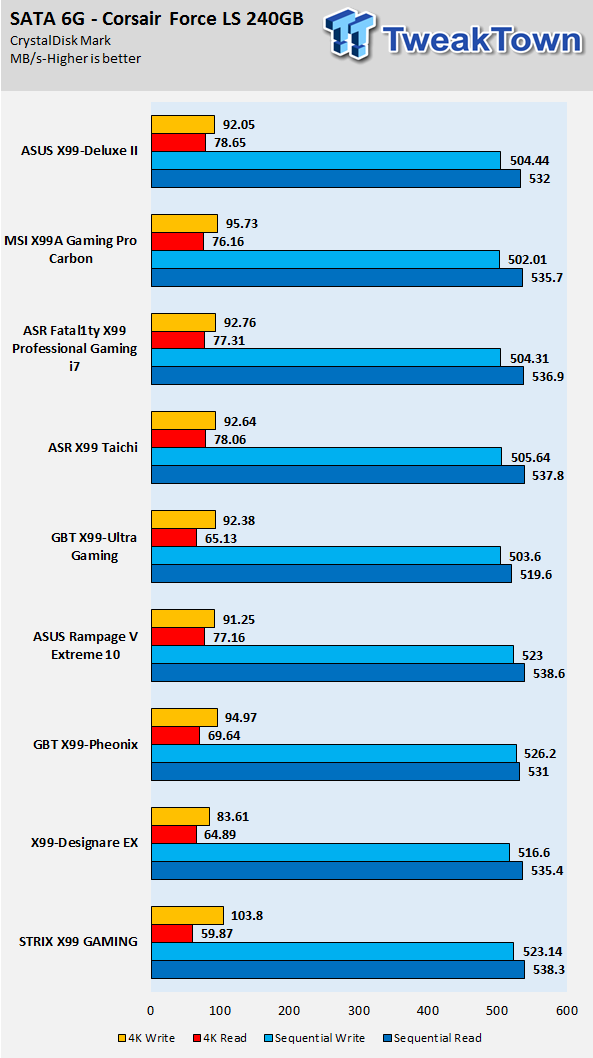 M.2: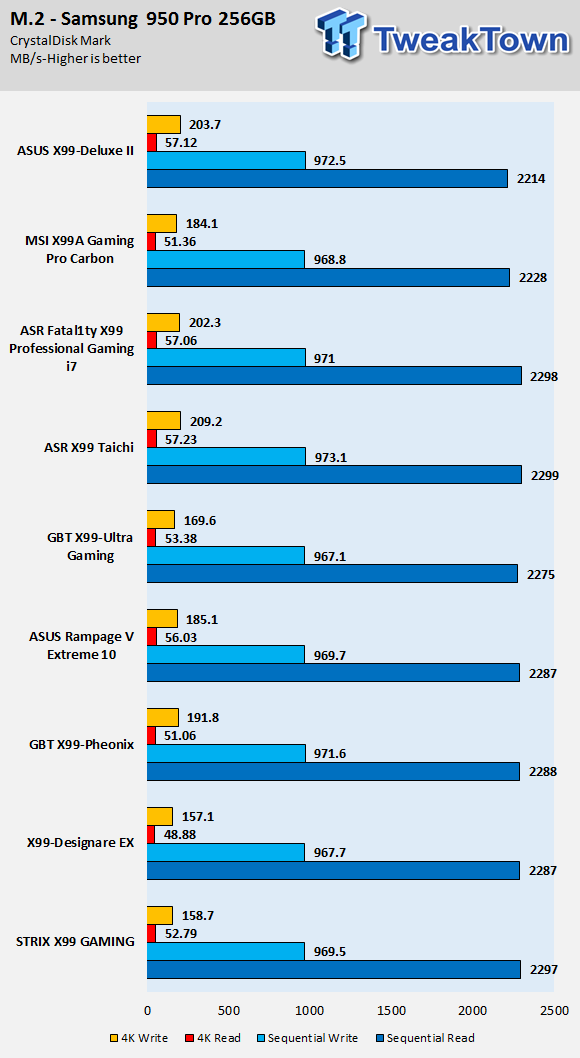 U.2: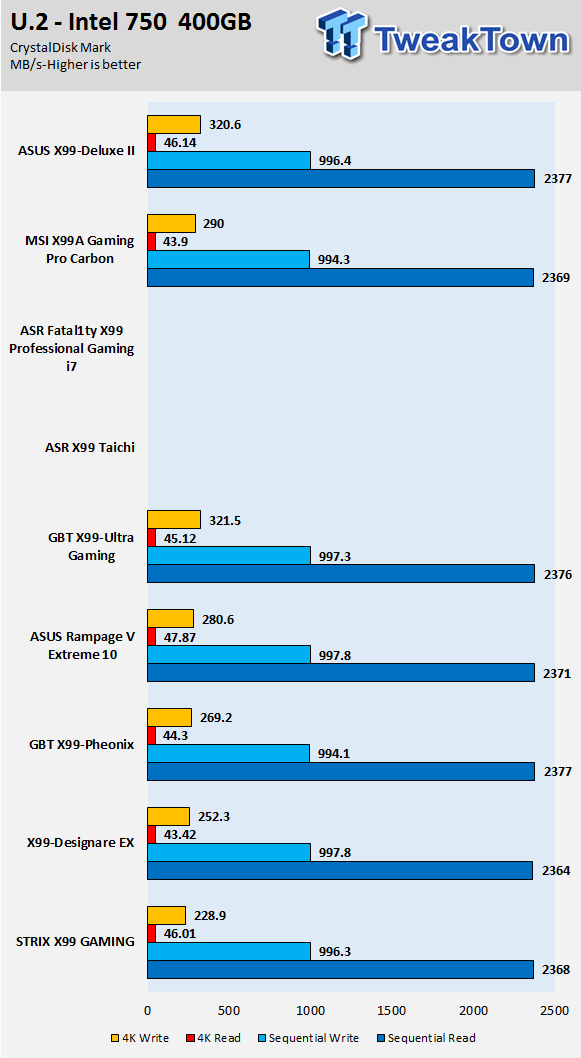 ixChariot Network Throughput: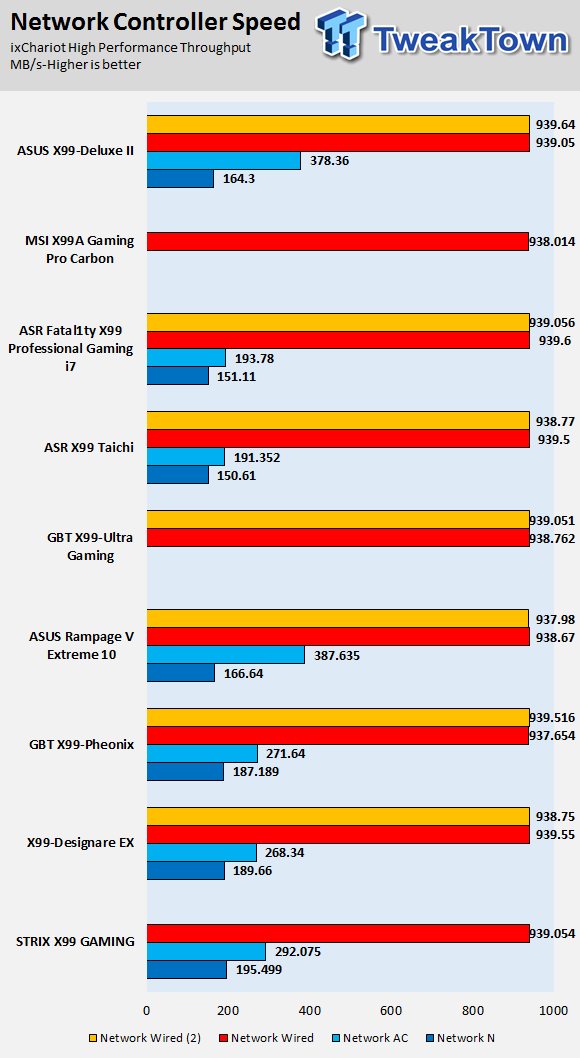 The X99-Deluxe II's IO performance is excellent, and you will be able to take full advantage of the fastest consumer drives on the market. The 3x3 Wireless AC card is very fast as well, and there is a noticeable difference over 2x2 Wireless AC.
Audio RMAA 5.5:
I disable all audio features, set the correct bitrates, and then test the audio with a loopback test.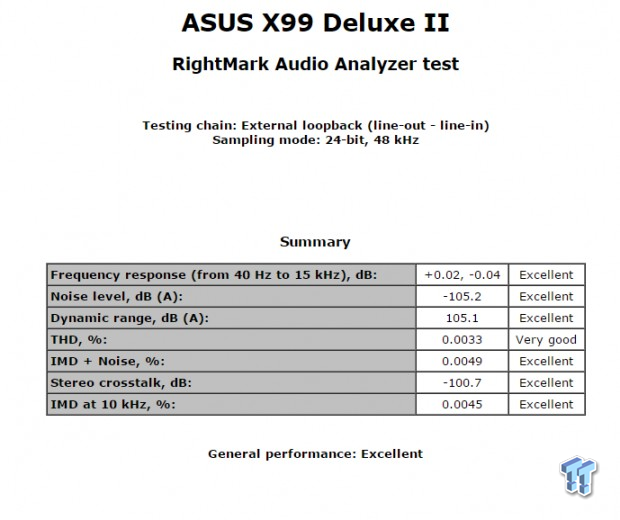 Sound Judgment by Ear: Excellent, ASUS has done a good job with audio on this motherboard. There are five ratings for audio: 1. Problems, 2. Okay, 3. Acceptable, 4. Very good, 5. Excellent
Thermal Imaging and Power Consumption
CPU power is measured through the 8-pin connector, which is hooked up to a hall effect IC, which measures current and puts out a voltage in proportion to the current. That voltage is logged by a National Instruments ADC, which logs the DC voltage level that I then convert into current.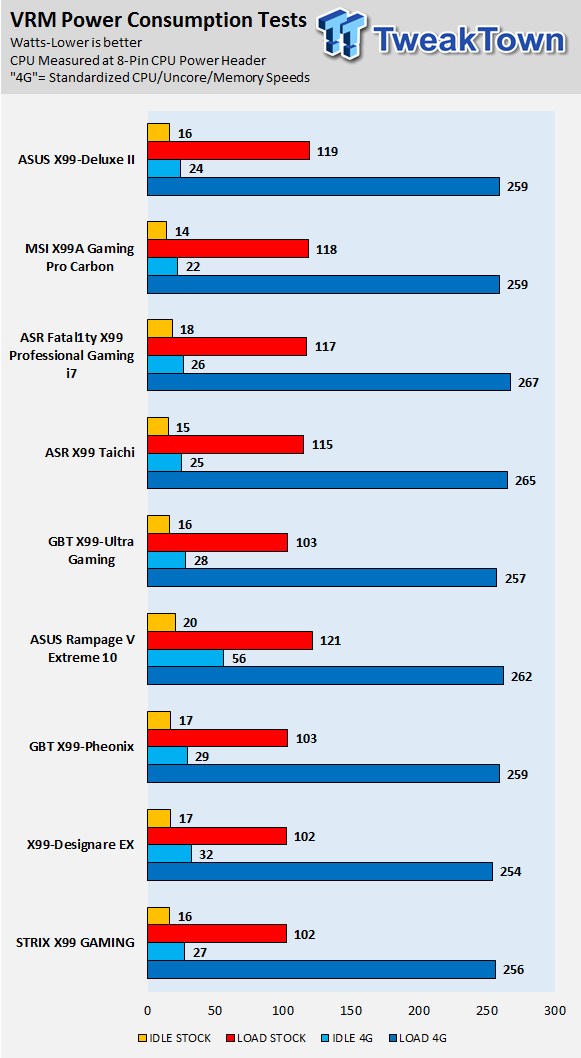 Note on Thermal Images: In the temperature section, we use our Seek thermal imaging camera to capture the surface temperatures of major components on the board. I look at the VRM and then all other things that light up the screen. If there is something to worry about, then I will state it. Otherwise, I will just show the hotter running parts of the board for fun. Unless some component is over 80-90C, then there isn't anything to worry about.
All systems will act differently, so I will look for commonalities, such as how far from the VRM the heat spreads through the PCB and the difference in temperature between the front side and backside of the PCB. Keep in mind, the majority of the heat from the VRM goes into the PCB as it is a giant soldered on copper heat sink. A larger difference in temperature between the back and front of the PCB points towards a more effective heat sink.
Thermal Testing at Stock Speeds:
The image on the left is always at idle, and the image on the right is at load. During ALL TESTS, fans above the VRM that cool the CPU cooler's (Corsair H110i GT) radiator are turned on to high (12v).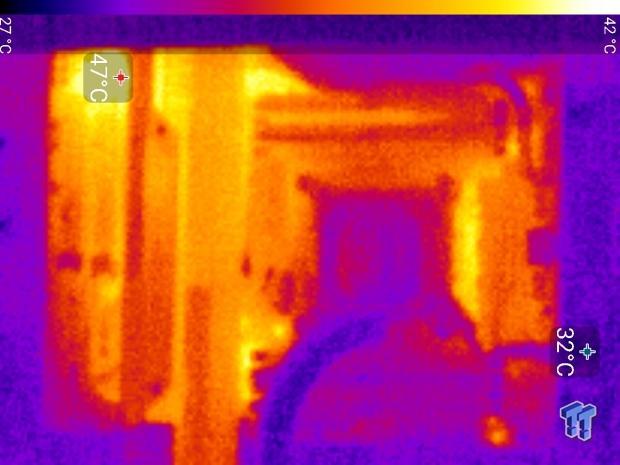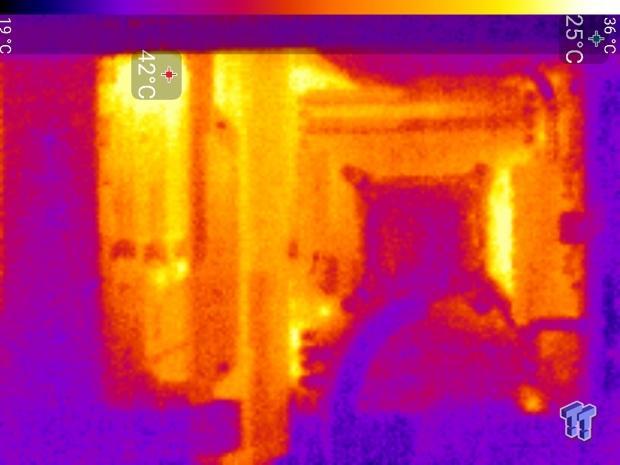 Full frontal.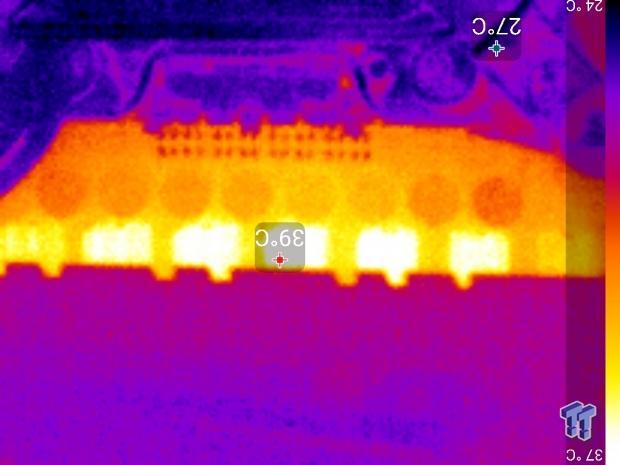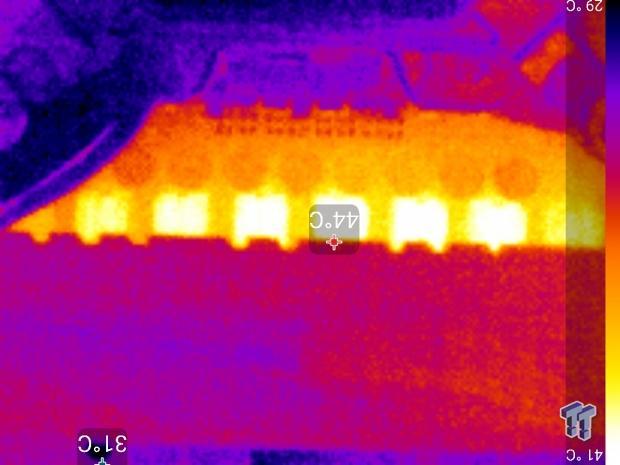 Up-close of the front of the VRM.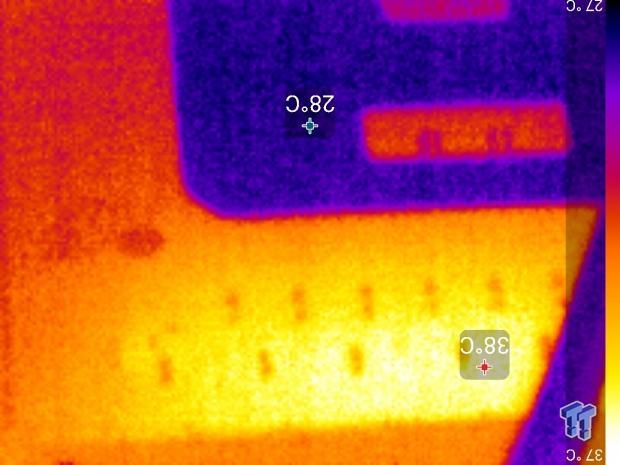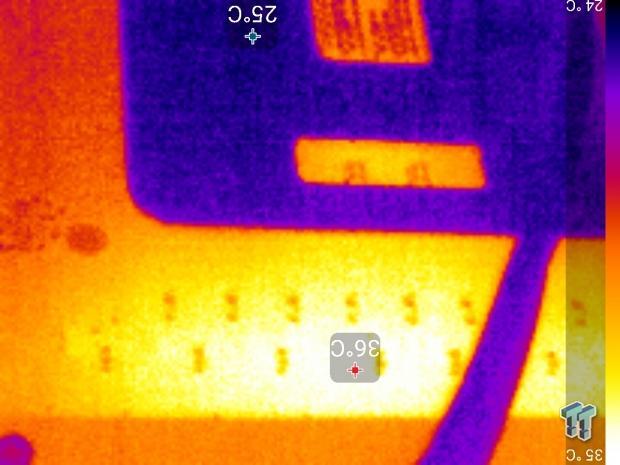 Up-close of the back of the VRM.
Thermal Testing at 4.0GHz Overclocked Speeds:
The image on the left is always at idle, and the image on the right is at load. During ALL TESTS, fans above the VRM that cool the CPU cooler's (Corsair H110i GT) radiator are turned on to high (12v).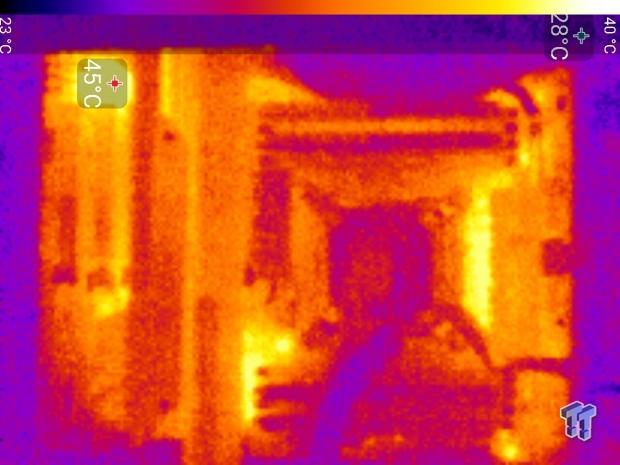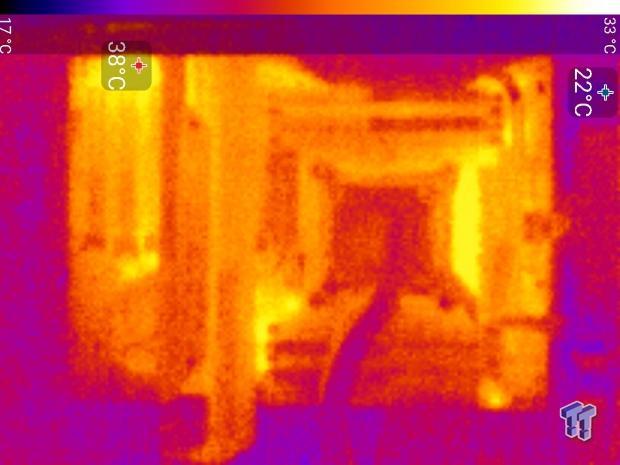 Full frontal.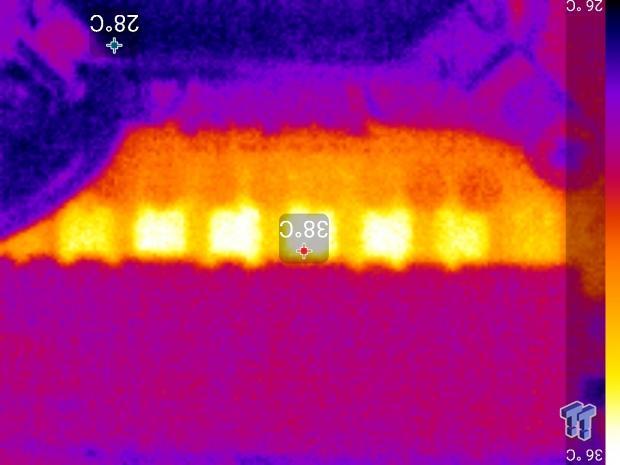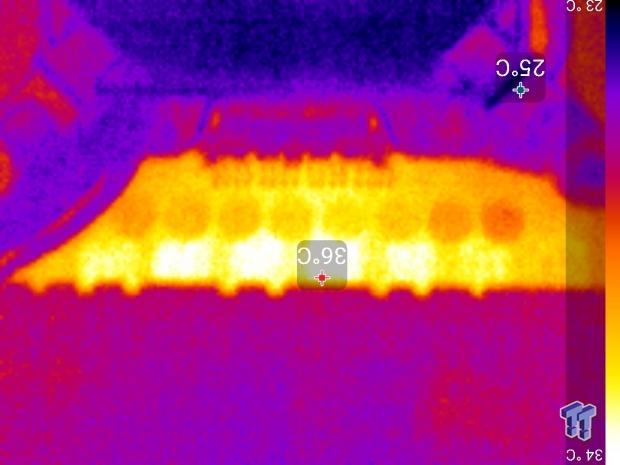 Up-close of the front of the VRM.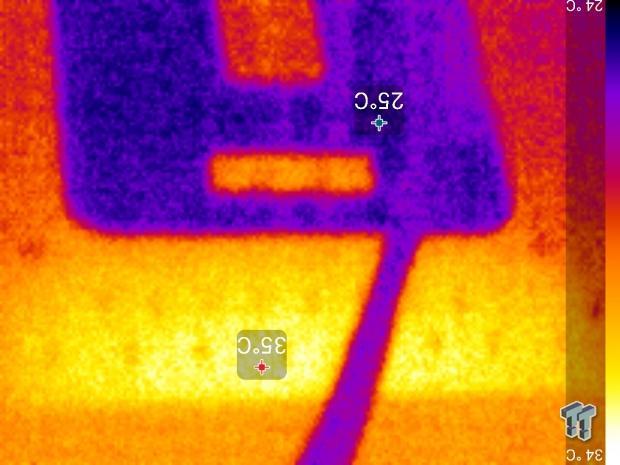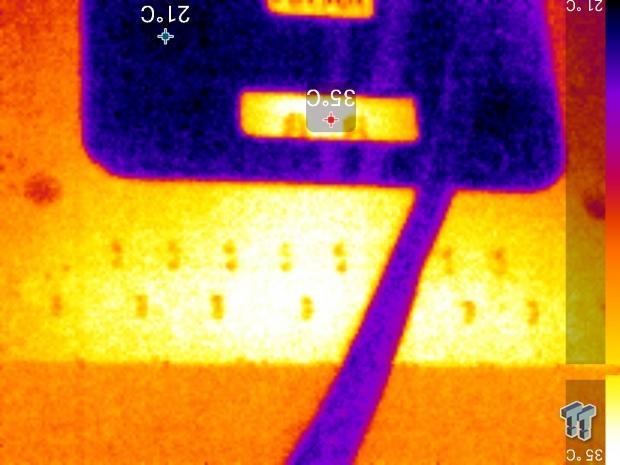 Up-close of the back of the VRM.
The VRM on the X99-Deluxe II is quite powerful and capable. It's a high-performance VRM, and like other high-performance products, it produces a relatively higher level of heat than lower performance VRMs at idle. Overall, the heat sinks worked well to cool things down.
Anything under 60C is great, 60-80C is acceptable, and anything above 80C is a bit worrisome (if at stock).
What's Hot, What's Not & Final Thoughts
Here are key points about the ASUS X99-Deluxe II.
What's Hot
Many Different Configuration Options: There are so many different configuration options available on the X99-Deluxe II that you might get lost when trying to figure out which ports or devices to use. However, the X99-Deluxe II is extremely flexible. ASUS has made things a little easier with charts in the manual. If the charts aren't enough for you to know which PCI-E slots to use, ASUS has kindly added a feature to light up the PCI-E slots for optimal performance with different numbers of GPUs.
Two M.2 and two U.2: ASUS provides two U.2 ports and two M.2 slots for expansive storage options and the ability to add in multiple of the latest and greatest drives.
3x3 Wireless AC: The Broadcom 3x3 Wireless AC controller offers speeds up to 1.3Gbps, and wireless AC performance was very strong when I tested it.
Fan Control: ASUS provides many onboard fan connectors, all capable of switching between PWM and DC operation modes. They also provide one high-amperage header, an expansion card to add three more headers, and full UEFI and Windows based control of all fan headers (motherboard and extension card). To top things off, you can reference a wide variety of temperature sources.
ThunderBoltEX 3: While the X99-Deluxe II has four USB 3.1 ports onboard, ASUS decided to also include a card with Intel's Alpine Ridge Thunderbolt 3 controller. The extra card can be used for Thunderbolt 3 or even for more USB 3.1.
What's Not
No 4-Way Multi-GPU: While the X99-Deluxe II has multiple PCI-E x16 slots, the motherboard doesn't support 4-way SLI or CrossFireX.
Lots of Switching: One of the X99-Deluxe II's strongest aspects, its ability to work in multiple configurations, is also one of its weak points. It's a negative only because determining which devices disable other slots or ports isn't very simple and does require you pop open the manual.
Final Thoughts
The X99-Deluxe II is a well-endowed motherboard. It has more features than just about any other X99 motherboard I have reviewed, and it is loaded to the brim with bells and whistles. The X99-Deluxe II adds a lot over the X99-Deluxe, regarding connectivity options and even aesthetics. While RGB LEDs aren't everyone's cup of tea, they do add to the unique aesthetic appeal of the product.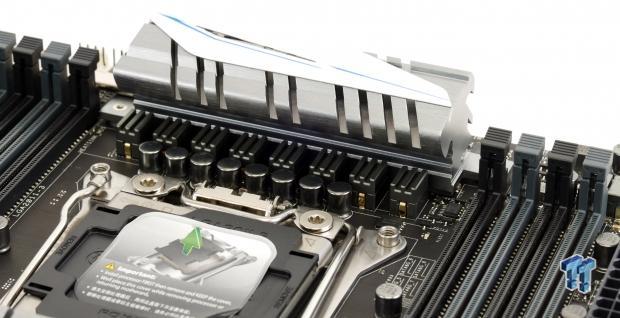 The X99-Deluxe II has more features than most people would dream of, and it will cost you a fair amount. Hovering around the $420 mark, the X99-Deluxe II is at the high-end in regards to budgeting. Nevertheless, you get what you pay for in the form of a high-quality motherboard loaded to the brim with features.
If you are looking for a premium motherboard with the latest and greatest in connectivity and platform features, the ASUS X99-Deluxe II should top your list.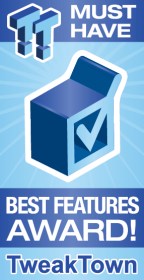 | | |
| --- | --- |
| Performance (including Overclocking) | 92% |
| Quality including Design and Build | 92% |
| General Features | 96% |
| Bundle and Packaging | 90% |
| Value for Money | 90% |
The Bottom Line: Loaded to the brim with features, connectivity, and ASUS's unique bells and whistles, the high-end X99-Deluxe II will satisfy your need for endless expansion.
PRICING: You can find products similar to this one for sale below.

United States: Find other tech and computer products like this over at Amazon.com

United Kingdom: Find other tech and computer products like this over at Amazon.co.uk

Australia: Find other tech and computer products like this over at Amazon.com.au

Canada: Find other tech and computer products like this over at Amazon.ca

Deutschland: Finde andere Technik- und Computerprodukte wie dieses auf Amazon.de
We openly invite the companies who provide us with review samples / who are mentioned or discussed to express their opinion. If any company representative wishes to respond, we will publish the response here. Please contact us if you wish to respond.