TweakTown's Rating: 92%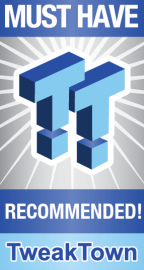 The Bottom Line
ASUS's X99-E-10G WS is loaded with the latest in 10Gbit networking and it supports four GPUs running at x16 each, but it will cost you.
Introduction, Specifications, and Pricing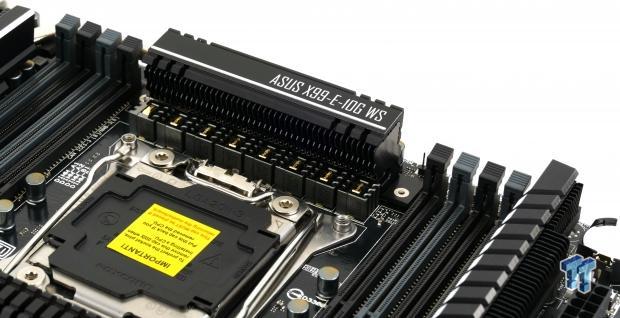 At Computex 2016, I did some coverage of the crazy looking X99-W-10G WS motherboard from ASUS loaded with seven PCI-E x16 slots, two 10Gbit NICs, and a slew of other features. The target market for such an over-the-top product, with more hardware than ASUS's Rampage V Edition 10, is very small yet demanding. There are some groups of people that come to mind as users of such a product; folders or miners that require many GPUs for computing power and high bandwidth network connectivity. Also, since storage speeds have increased significantly through the widespread use of flash storage, network connectivity has become a bottleneck for many.
Many users have upgraded their home or office network to utilize 10Gbit Ethernet instead of 1Gbit. Many people don't even have access to 1Gbit internet connections, but last year Salisbury, NC became the first city to get 10Gbit internet through a small ISP. Since then, other smaller areas throughout the U.S. have also gained 10Gbit internet packages, making the use of 10Gbit systems more prevalent.
If you are doing any large file transfers over a network, such as backing up raw movie shots, 10Gbit networking can come in handy. Let's take a look at a motherboard meant to answer the prayers of 10Gbit users and workstation enthusiasts, the ASUS X99-E-10G WS.
Specifications

The X99-E-10G WS supports 4-Way SLI and CrossFireX, U.2, M.2, two 10Gbit Intel LAN ports, eight USB 3.0, USB 3.1, ten SATA 6Gb/s ports, 112dB audio, and even an RGB header.
Pricing
The X99-E-10G WS is available from Newegg for $743.99.
Packaging and X99-E-10G WS Overview
Packaging and Overview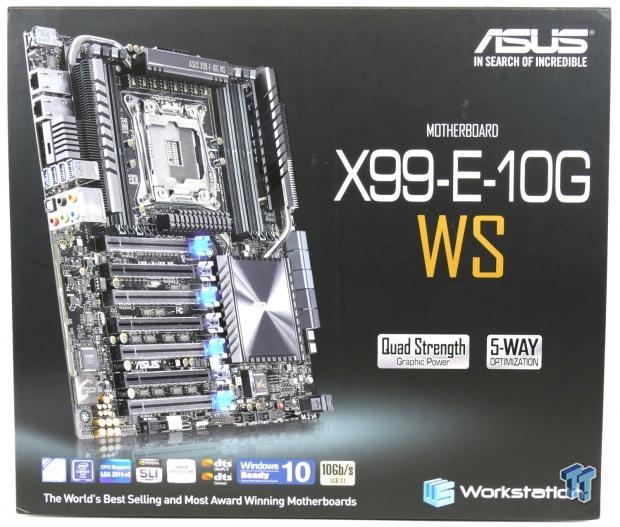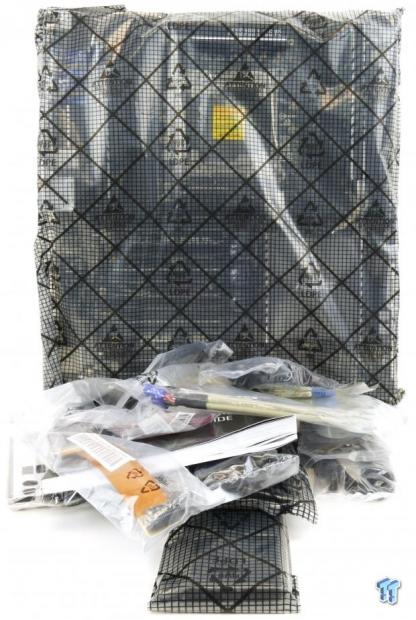 The X99-E-10G WS's box is decorated with a shot of the motherboard, and it has a flip open panel to better detail its main features. Packaging is nothing fancy, but all the accessories and motherboard are well packaged.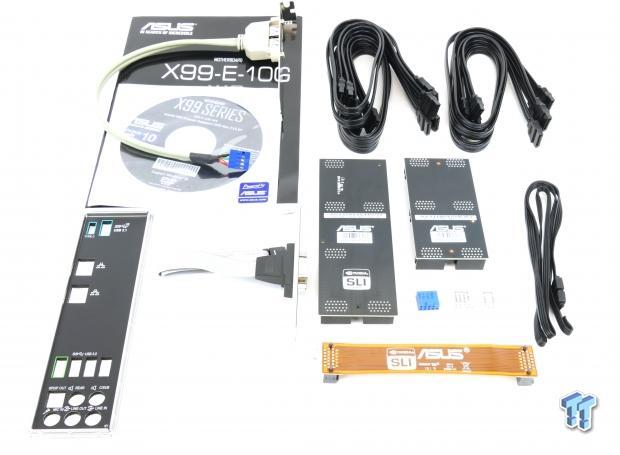 Accessories include 8x SATA6Gb/s cables, USB 2.0 rear panel adapter, 4-way SLI bridge, 3-way SLI bridge, 2-way SLI bridge, COM breakout rear panel adapter, Q-Connectors, RGB extension cable, IO shield, case badge, driver DVD, and manual.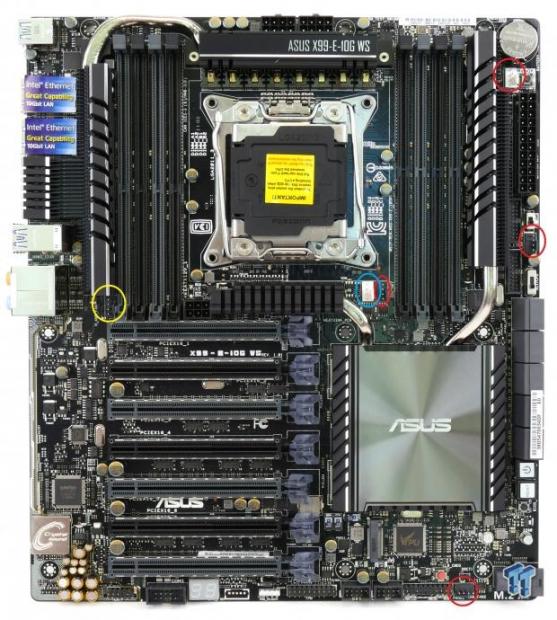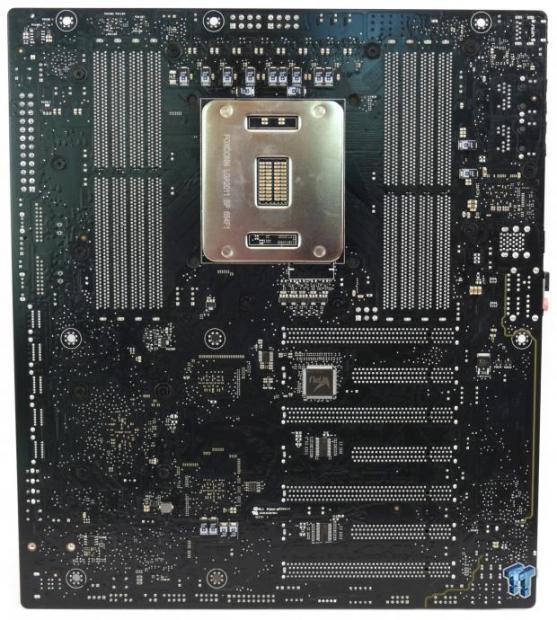 The ASUS X99-E-10G WS is loaded with six 4-pin fan headers; all of them can be controlled through the UEFI or Windows. The four headers circled in red at 4-pin PWM or DC mode headers; you must set their modes manually. The header circled in blue is a 4-pin PWM or DC mode header, and it will automatically determine the type of fan is installed. The third type of header is a 4-pin high amperage header, which also works in PWM or DC modes, but supports much higher amperage for multiple fans connected to a single header.
The motherboard uses a very color neutral scheme for heat sinks and ports, and each of the seven PCI-E x16 ports is reinforced in x, y, and z-axis. There are many heat sinks used to cool the VRM, 10G NIC, two PLX bridges, and the PCH. The heat sinks are designed more for functional rather than form, but many people prefer this fin-style for heat sinks. The rear of the motherboard does have some components, such as tantalum capacitors for the VRM, an embedded controller, some clock generators, and some other miscellaneous parts of lesser importance. There are no LEDs to illuminate the audio PCB area divide.

The IO panel on the X99-E-10G WS features 4x USB 3.0 ports, USB 3.1 type-A, USB 3.1 type-C, 2x Intel 10Gbit LAN, and 8-channel audio outputs with S/PDIF optical. ASUS does include a USB 2.0 rear breakout bracket since there are only five USB type-A ports on the rear.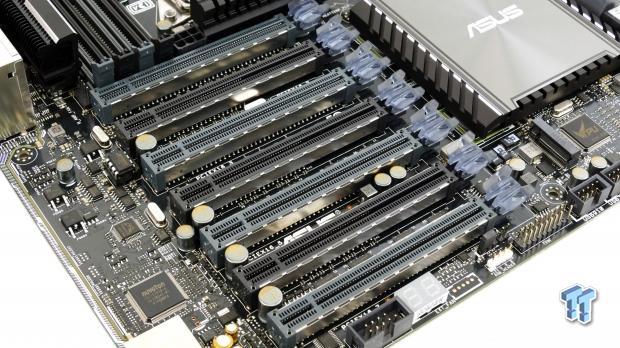 The PCI-E x16 slot layout of the X99-E-10G WS is more straightforward than you might think. We will focus on a 40-lane CPU, I would think that 28 lane CPUs would offer perhaps a little less bandwidth to the PEX8747 chips since they can take x8 or x16 and output x32, but in the end offer the same PCI-E slot lane allocation.
For a 40 lane CPU, the X550 Intel 10Gbit controller gets x4 PCI-E 3.0, and the M.2/U.2 get x4 PCI-E 3.0, leaving x32 PCI-E lanes for the slots. That x32 is split into two sets of x16, each one going to a separate PEX8747 chip that turns them into x32 PCI-E 3.0. This provides a total of x64 PCI-E lanes for the 7 slots. The first slot will always run at x16, and the third will always run at a minimum of x8, while another x8 connection can be allocated to the second PCI-E x16 slot or the third to turn it into an x16. The first three slots can operate at x16/x0/x16 or x16/x8/x8. The fifth and seventh PCI-E x16 slots will always run a minimum of x8 and will run x16 if the fourth and sixth slots are unoccupied. The last four PCI-E x16 slots can run at x0/x16/x0/x16 or x8/x8/x8/x8.
So you can run x16/x0/x16/x0/x16/x0/x16 for 4-way SLI or you can run all slots at x16/x8/x8/x8/x8/x8/x8, x16/x0/x16/x8/x8/x8/x8, or x16/x8/x8/x0/x16/x0/x16. To make things easier on you, ASUS has built in RGB LEDs into the PCB right beneath the translucent slot lock, and a switch will illuminate which slots to use for multiple GPU configurations depending on the number of cards since it can be very confusing.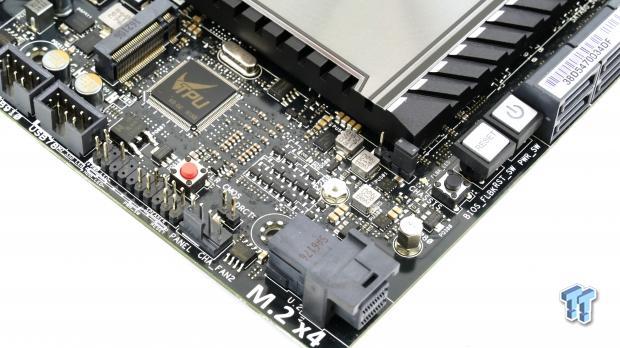 The X99-E-10G WS has a single U.2 connector at a right angle in its lower right-hand corner, and ten SATA6Gb/s ports also at a right angle. The four ports closest to the U.2 connector do not support RAID. A red ClearCMOS button is adjacent to the front panel headers and a direct to BIOS header. There are also two USB 2.0 headers to the left of the front panel headers. An x4 PCI-E 3.0 M.2 slot shares it's x4 PCI-E 3.0 with the U.2, making them mutually exclusive.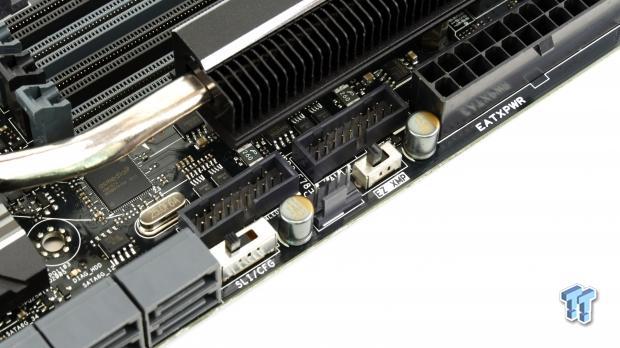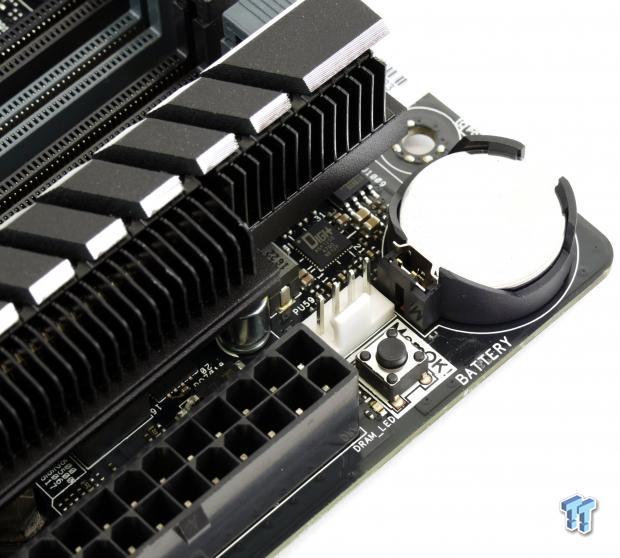 Two USB 3.0 front panel headers are located in a straight line below the 24-pin power connector. An EZ-XMP switch and an SLI/CFG slot selector switch are located in this area as well. A MemOK! button is located below the CMOS battery holder located in the top right-hand corner for easy replacement.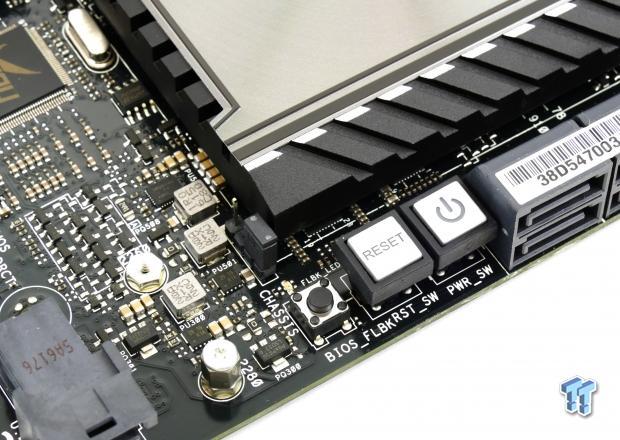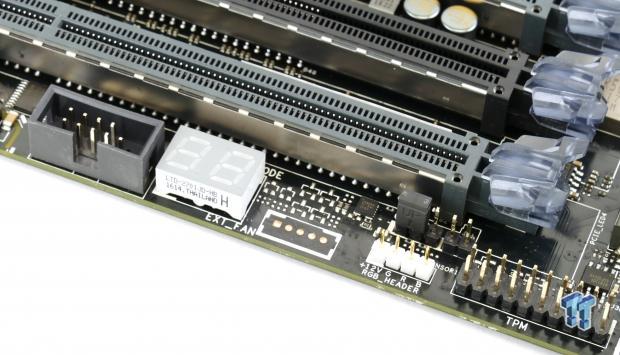 The power and reset buttons are right below the last of the SATA6Gb/s ports, and a BIOS Flashback button is right beneath them. A white RGB LED cable header is located near a temperature input sensor header and to the right of the POST code display. A COM header is located to the left of the POST code display.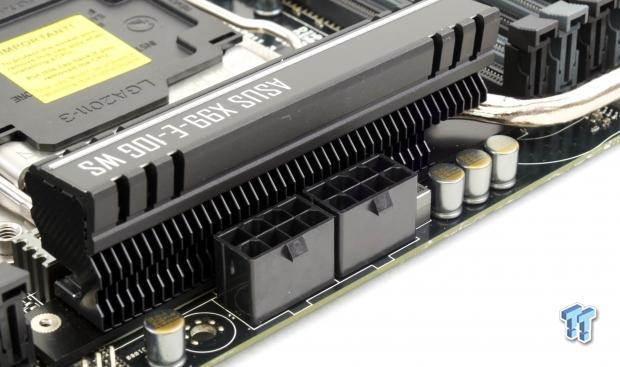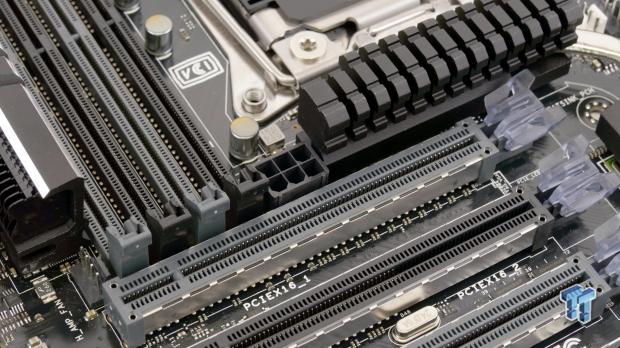 Since the X99-E-10G WS is a fully loaded motherboard, it has two 8-pin CPU power connectors to equally distribute all that amperage. To run four or more graphics cards, the PCI-E slots require an extra power source, and the X99-E-10G WS has a 6-pin PCI-E power connector located right near the center heat sink.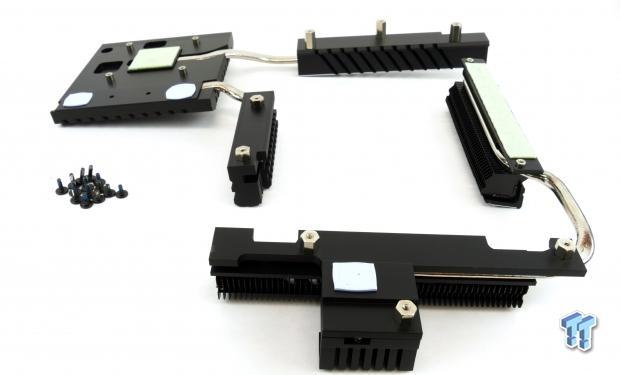 All of the heat sinks make excellent contact with the components they are tasked to cool, and all of them are held down by screws. The CPU VRM and 10G NIC heat sinks are connected by a heat pipe, while the PCH and PEX8747 heat sink attached to two auxiliary heat sinks through two heat pipes since the PEX8747 can each output a lot of heat.
ASUS X99-E-10G WS Circuit Analysis
Circuit Analysis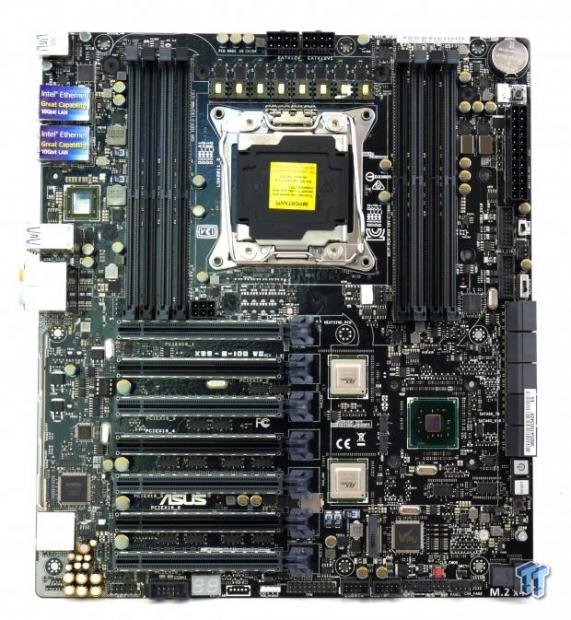 The most interesting parts of the X99-E-10G are found when you remove the heat sinks.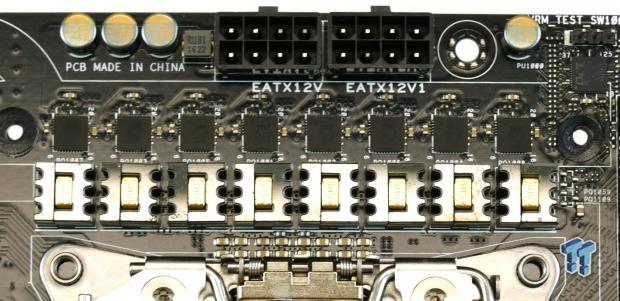 The CPU input voltage gets a 8 true phase voltage regulator module controlled by an 8-phase digital PWM, most likely from Infineon/IR (it's an ASUS rebrand so we don't know exactly what it is). Each phase gets an integrated power stage, gold plated high current 60A inductor, and a mixture of tantalum capacitors and MLCCs for the output capacitor bank. Two high current 8-pin connectors can feed up to 600W into this beat of a VRM.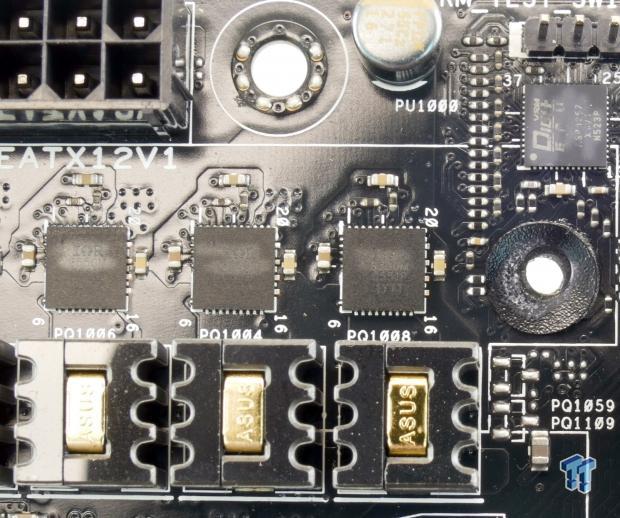 The CPU and memory VRMs both use ASUS's rebranded PWMs, but they all use International Rectifier (now owned by Infineon) IR3550 60A high current fully integrated power stages. These are some of the best in the business and are server grade. Power is not your limiting factor for overclocking the CPU or memory on the X99-E-10G WS. It's also worth noting that ASUS isn't using the 10K gun-metal capacitors but instead uses higher quality 12K FP capacitors.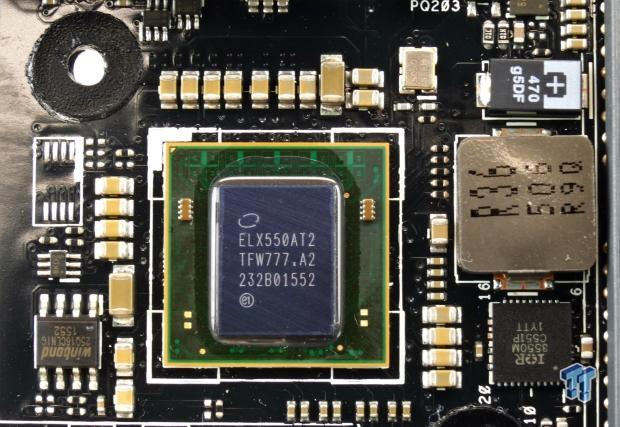 The two 10Gbit ports are from the Intel ELX550AT 10Gbit NIC which has its own VRM to supply the 11W maximum power usage. It's designed for use in high-performance networks, and it's designed to utilize x4 PCI-E 3.0, as much as the Thunderbolt 3 controller. It's optimized for virtualization, and Intel's chip is a leader in the 10G field.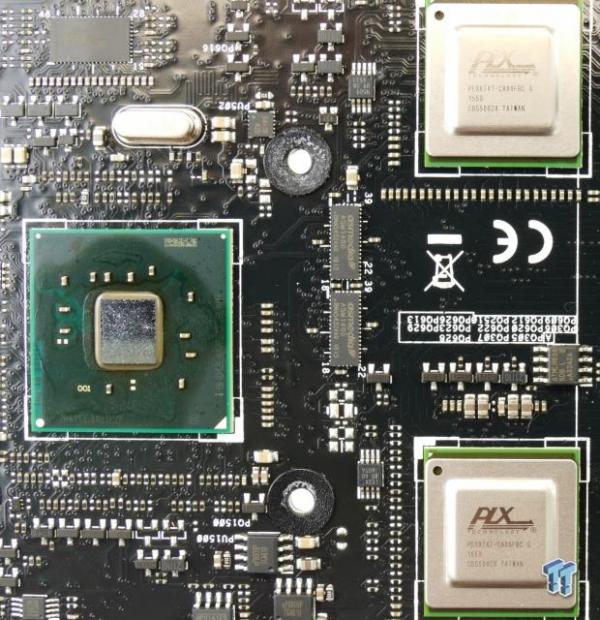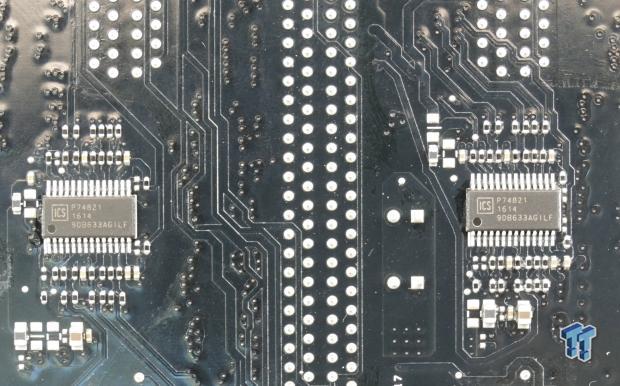 Two Avago PEX8747 takes x16 (or x8 for 28-lane CPUs), and output x32 downstream ports for the PCI-E slots. The motherboard can supply x64 lanes to the PCI-E slots for a crazy amount of reconfigurability. Each PEX8747 can output 8W, so the PCH/PEX heat sink has two auxiliary heat sinks to help cool everything down. When using PEX8747, motherboard manufacturers must also use dedicated clock buffers to keep the PCI-E clock constant, and both of these clock buffers are located on the back of the PCB.
ASUS X99-E-10G WS Circuit Analysis Continued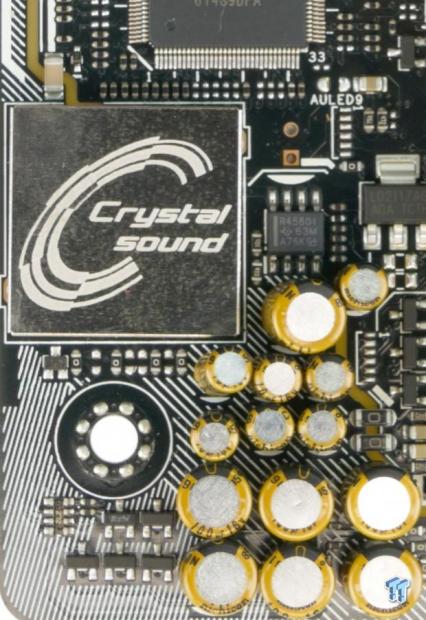 Audio is driven by an ALC1150 audio codec, some Nichon Gold series audio capacitor, a PCB division between the audio signal areas and the rest of the motherboard, and a Texas Instruments RC4580 amplifier to produce 112dB stereo playback.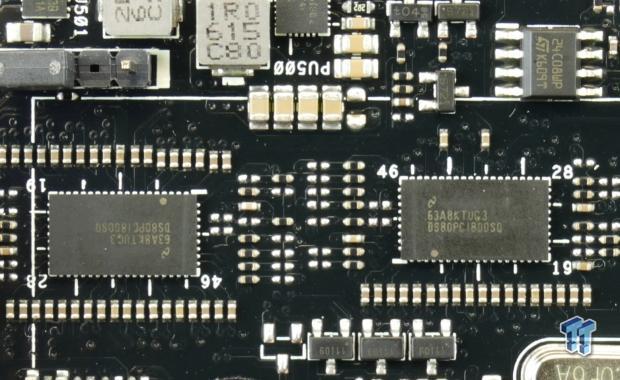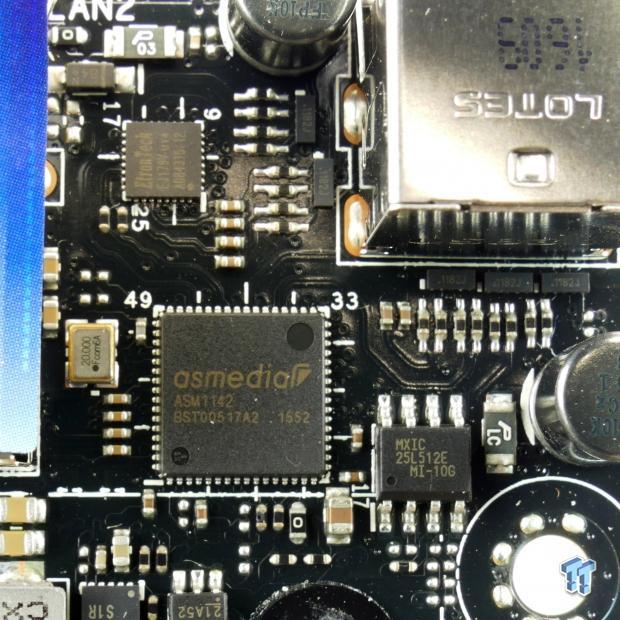 Two DSC80PCI800 x4 PCI-E 3.0 repeaters with equalization help to improve the PCI-E bandwidth from the CPU to the U.2 and M.2 ports. The U.2 and M.2 ports will only work when the other is not being used, and you will need a 40-lane CPU for either to work. The ASMedia ASM1142 is used as the USB 3.1 controller, and an EtronTech EJ179V is used as the type-C controller and Power Delivery chip.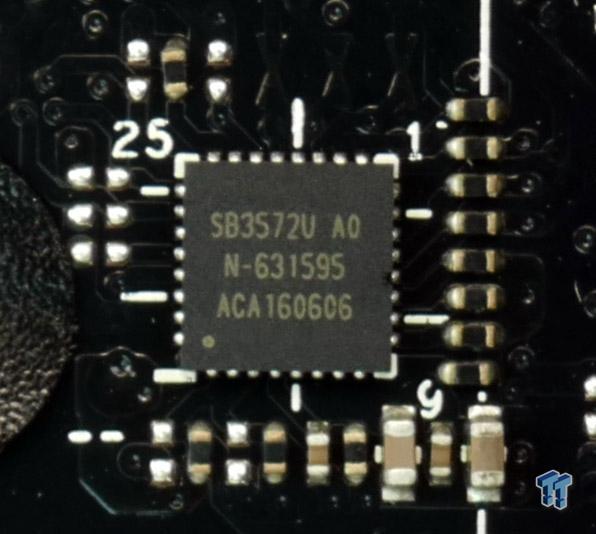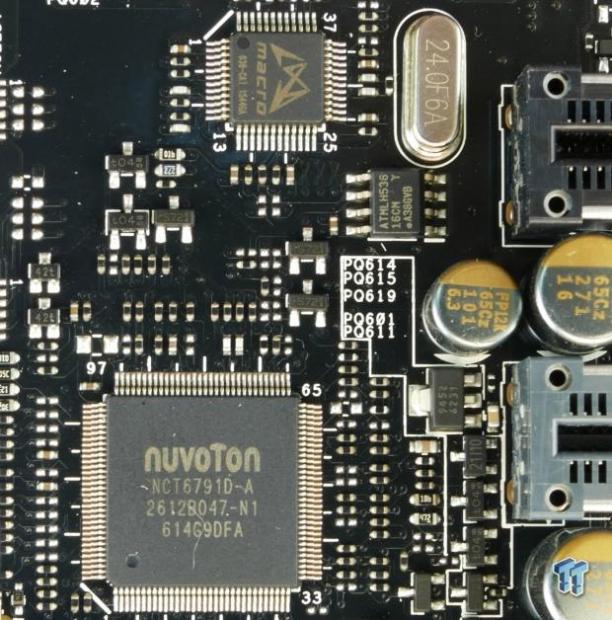 An SB3572U is the RGB LED controller chip. The nuvoTon NCT6791D is the main SuperIO, and the IC labeled Macro is used to provide the Macro key feature.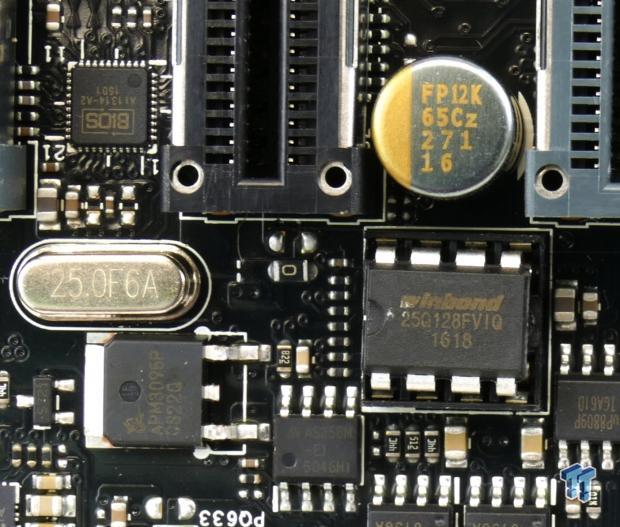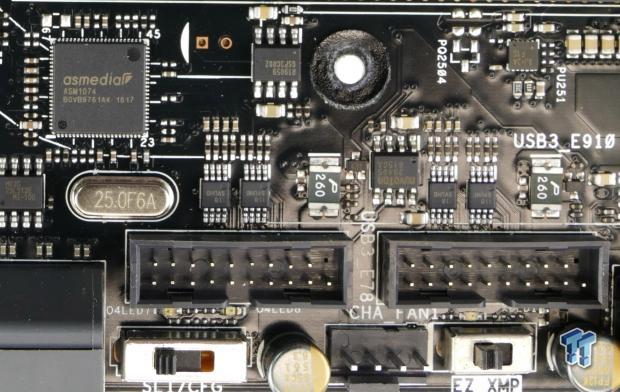 A 128Mbit BIOS ROM is provided in a DIP socket, and the BIOS chip allows users to enable the USB BIOS FlashBack feature in case the BIOS gets corrupted. The ASMedia ASM1074 is a USB 3.0 hub and provides bandwidth to the two USB 3.0 internal headers.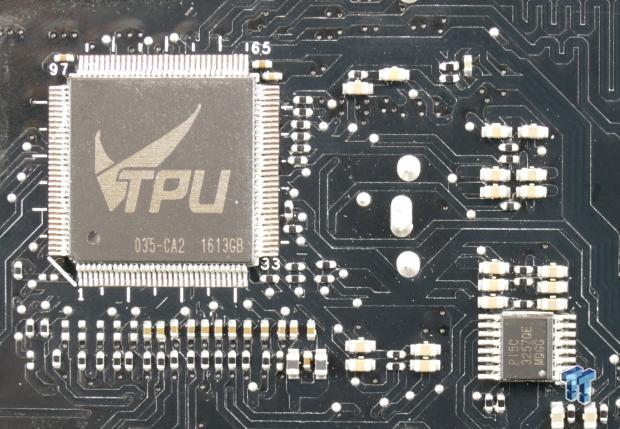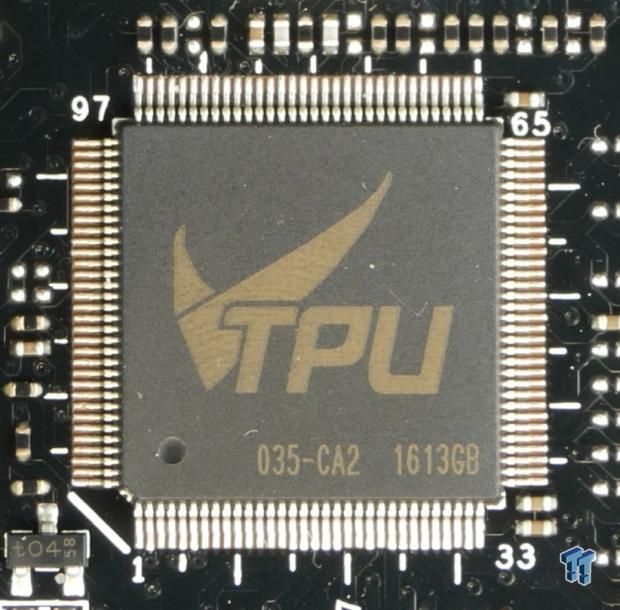 Two chips branded TPU are embedded controllers and provide extra functionality such as overclocking or unique ASUS features.
BIOS and Software
BIOS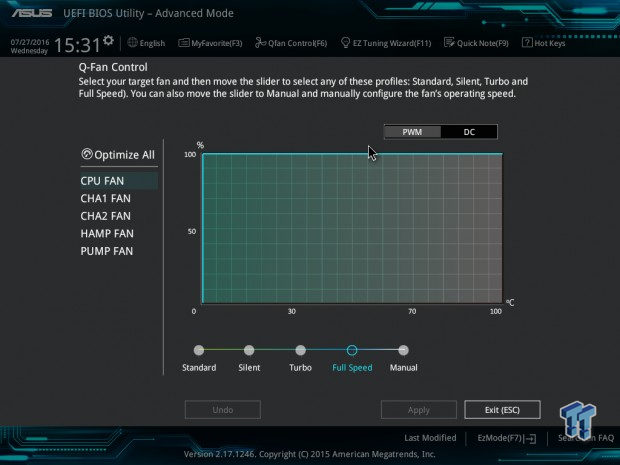 ASUS's UEFI on the X99-E-10G WS is loaded with options relating to every nook and cranny on the X99-E-10G WS. Overclocking options are also included, and just like the rest of ASUS's X99 lineup, you can choose to tackle the most complex settings or let the motherboard take care of them for you.
There are also two operating modes, an EZ Mode for just the basic settings and a more advanced mode for more experienced users. I should mention that fan control is very extensive, so you don't ever need to install ASUS's Windows application to use the fan headers to their maximum potential. ASUS provides both a GUI and a manual input menu for fan settings.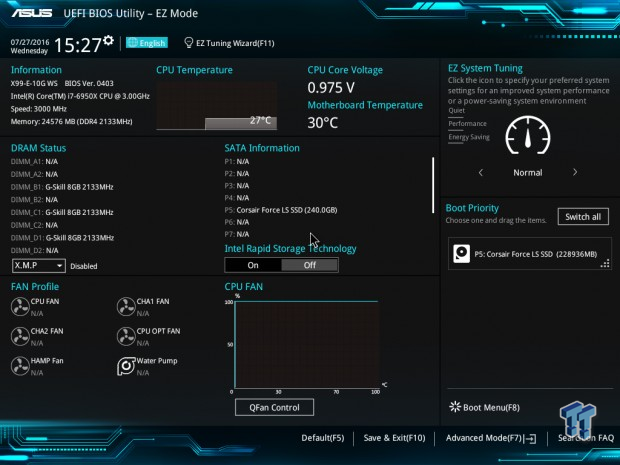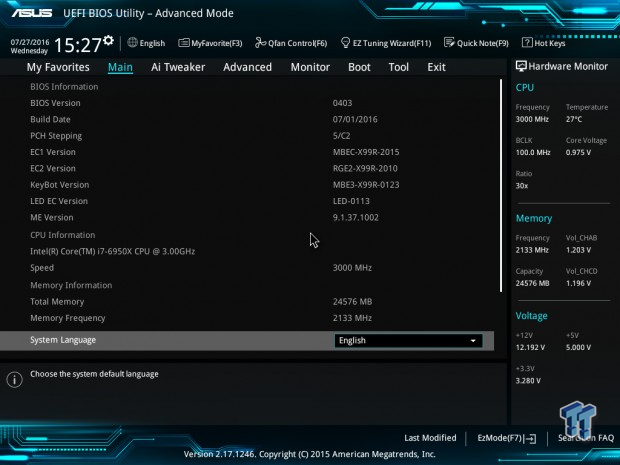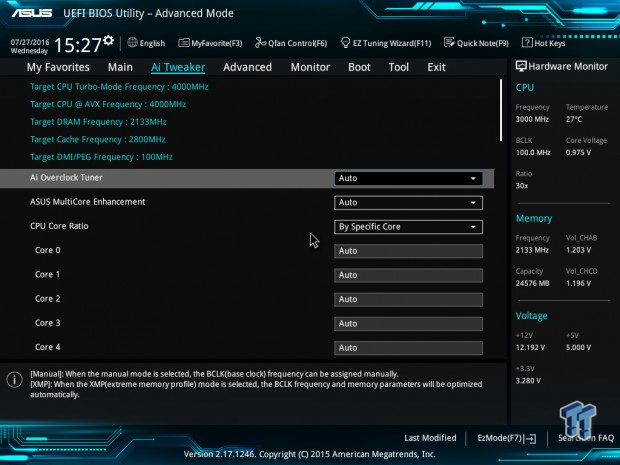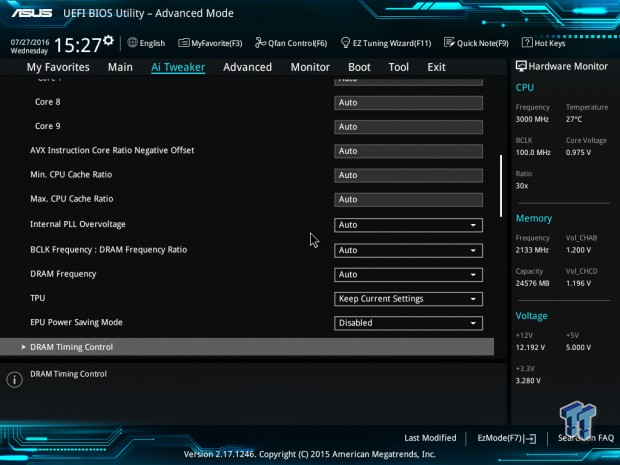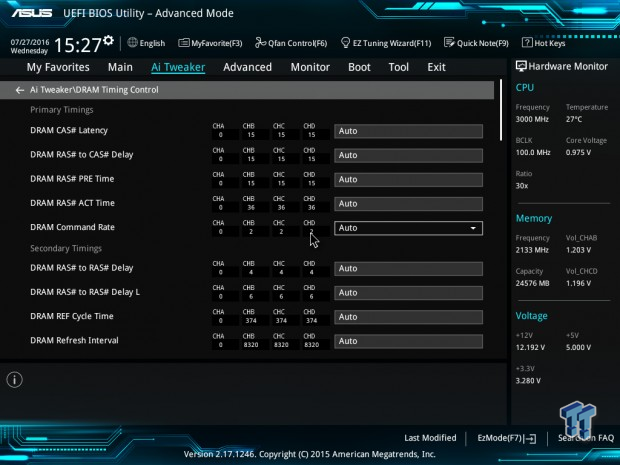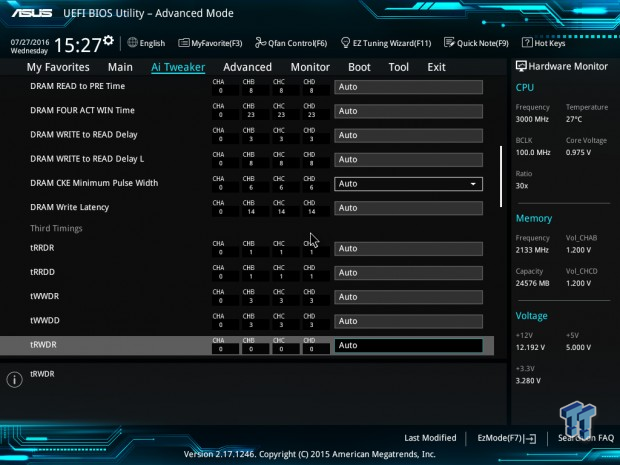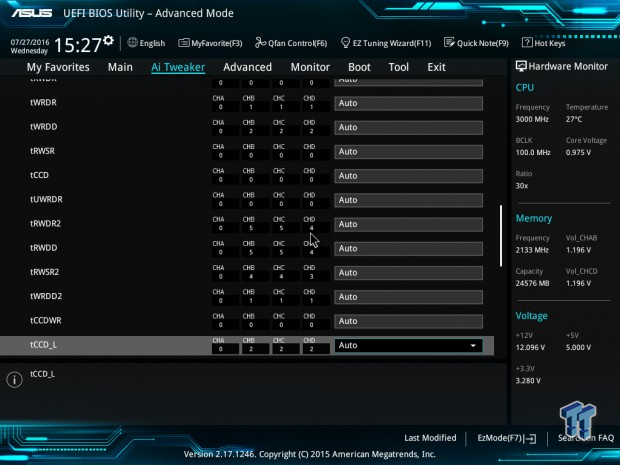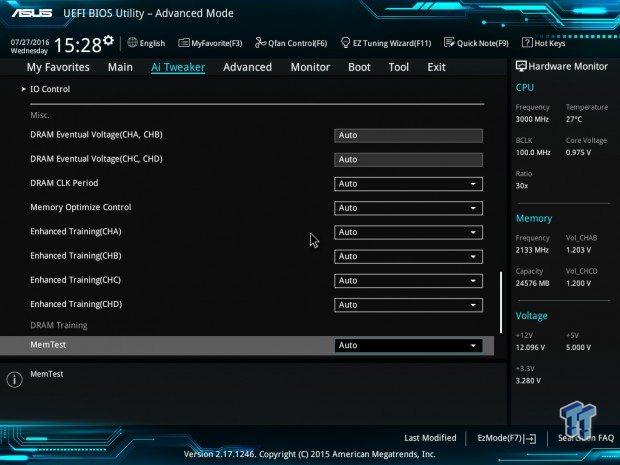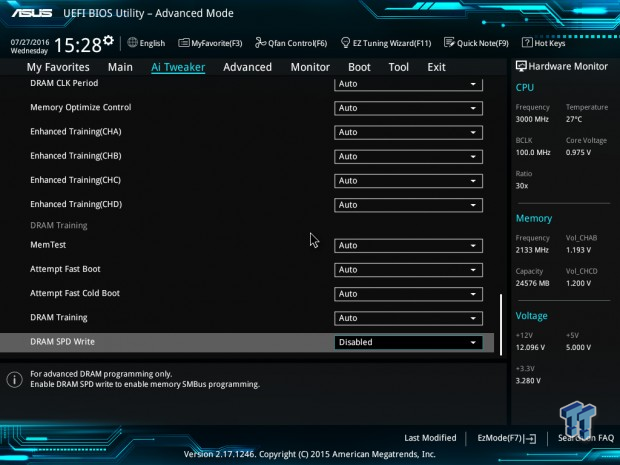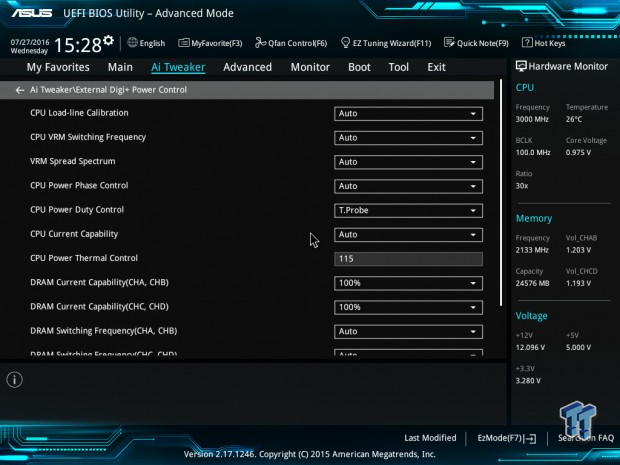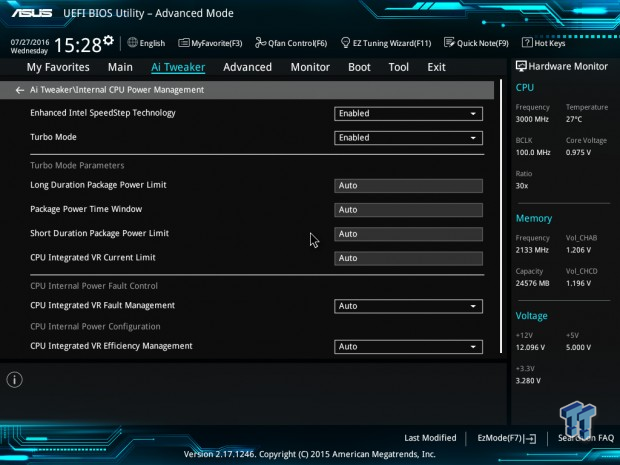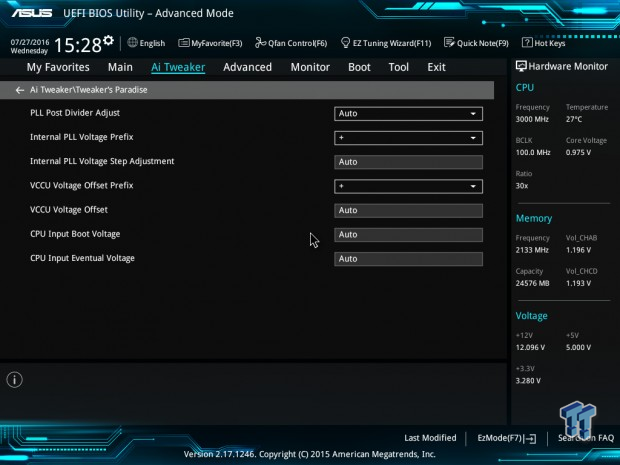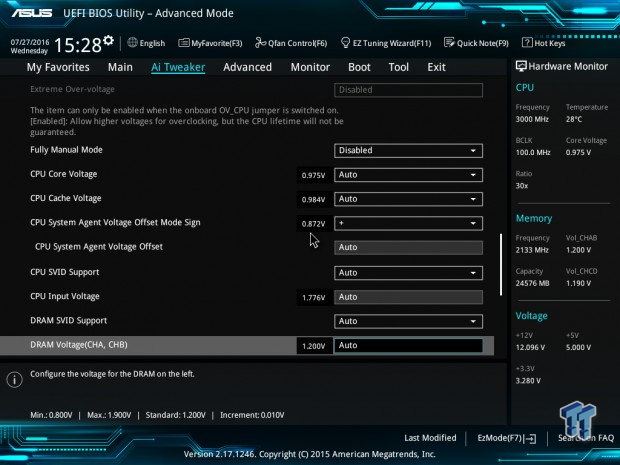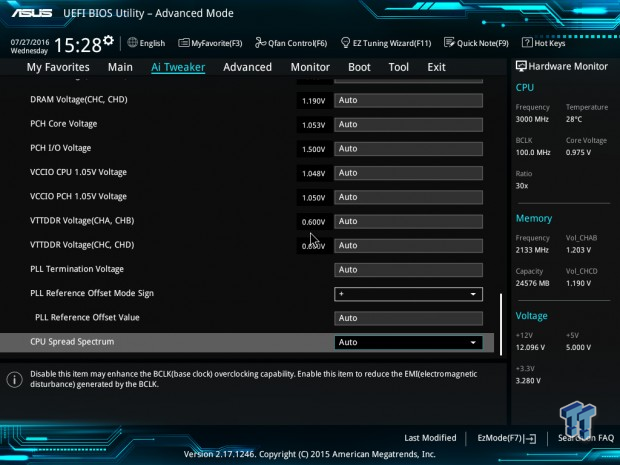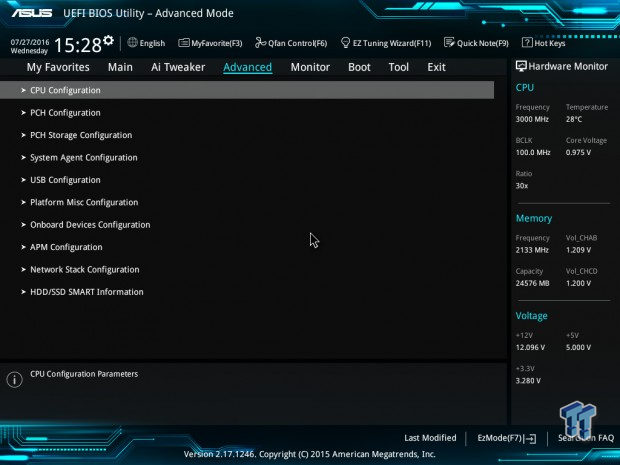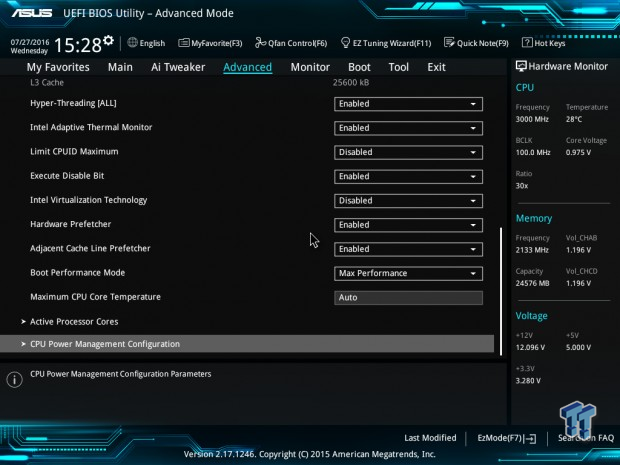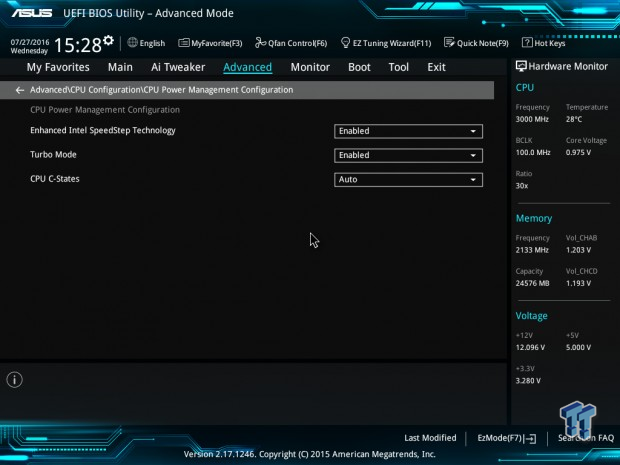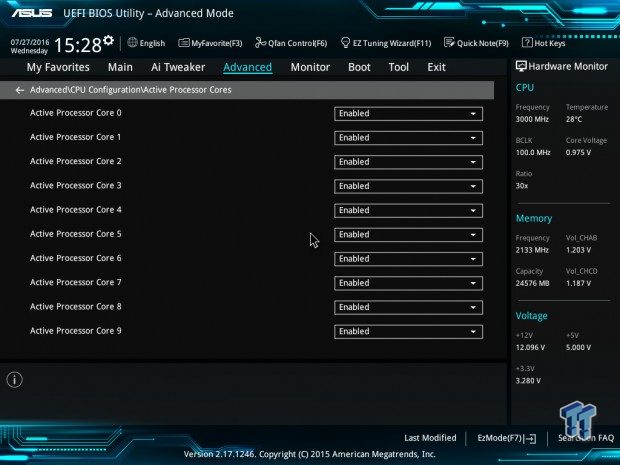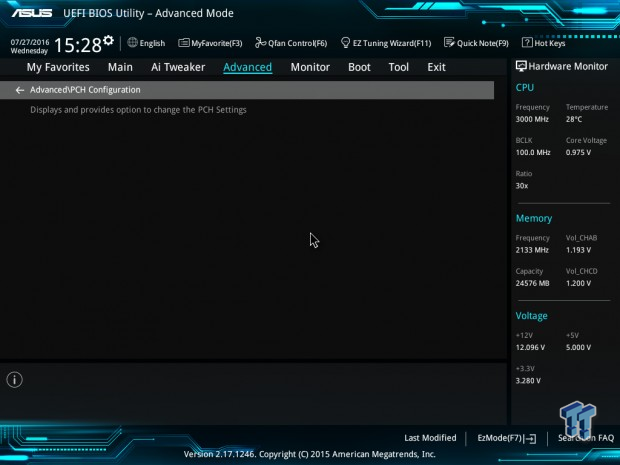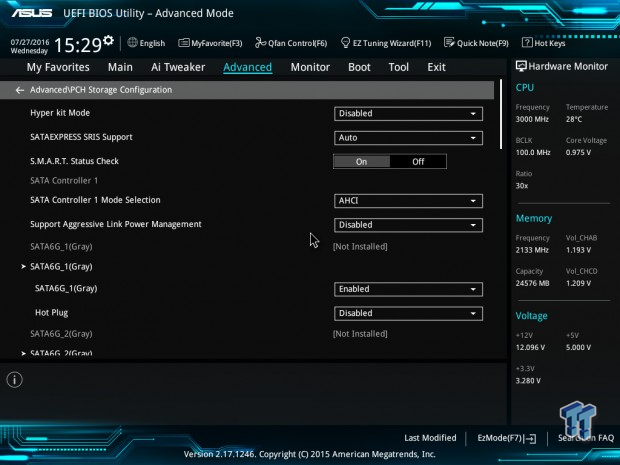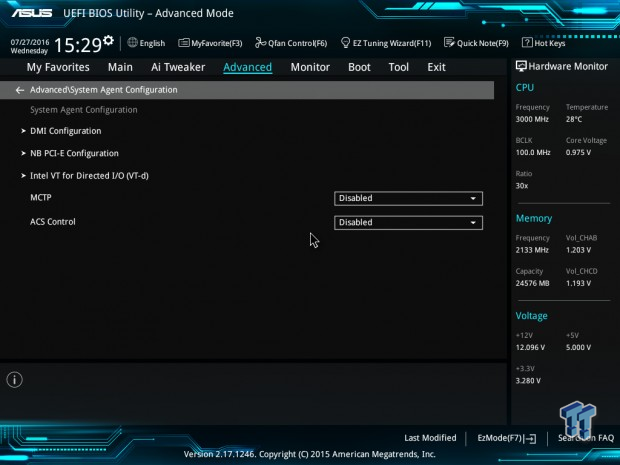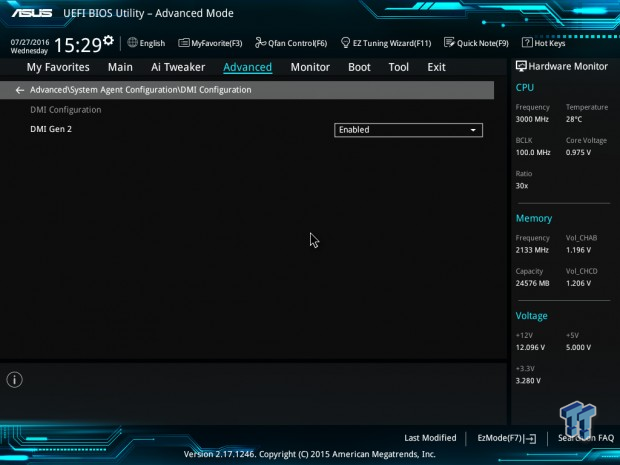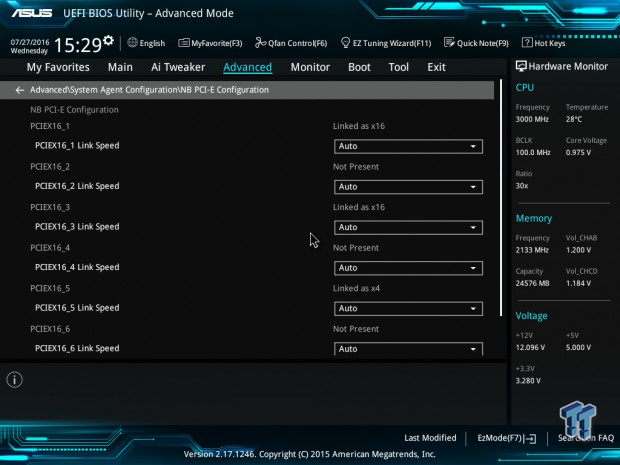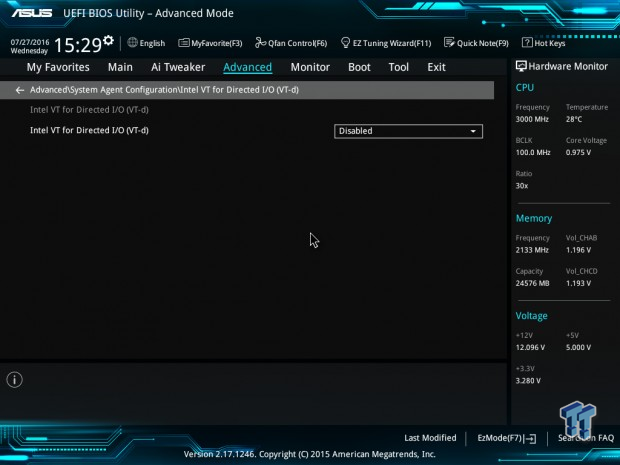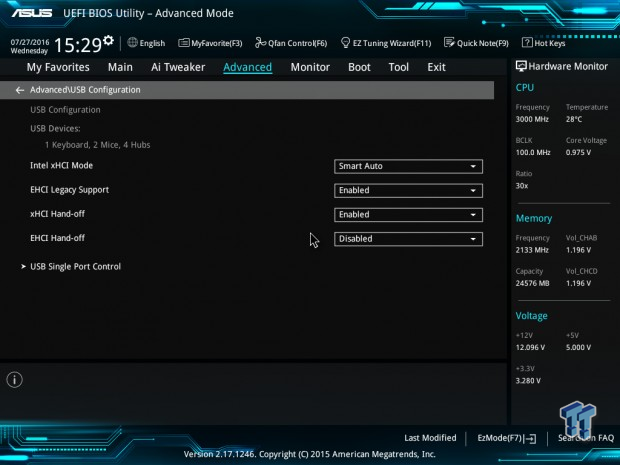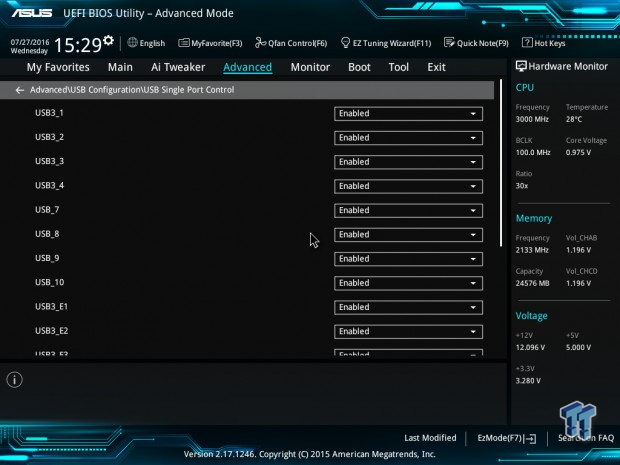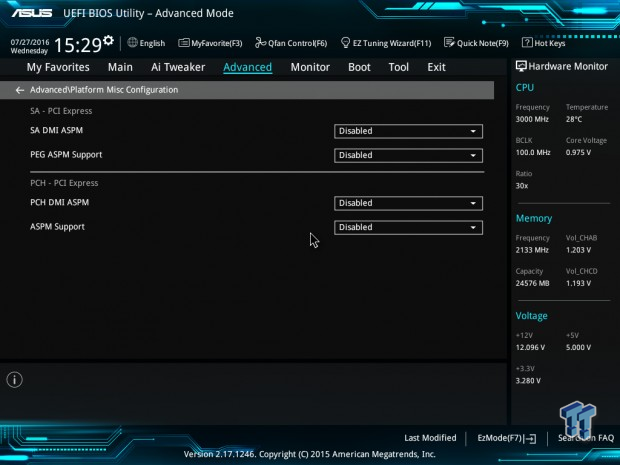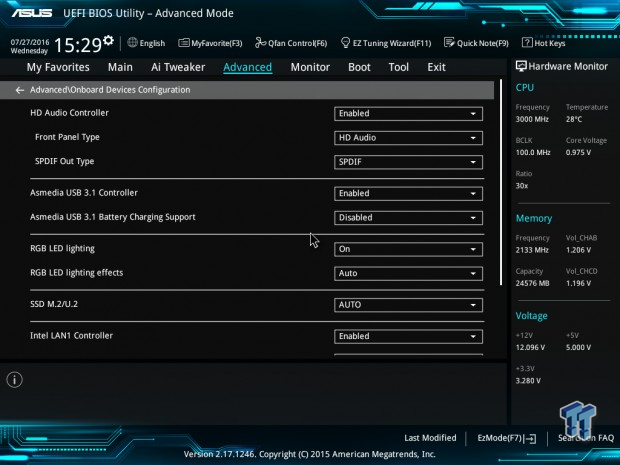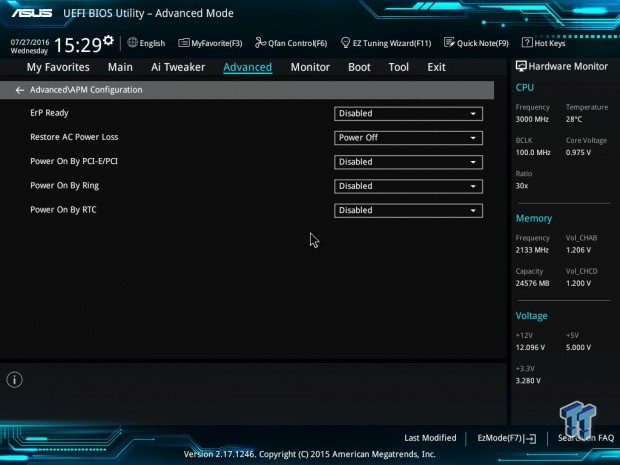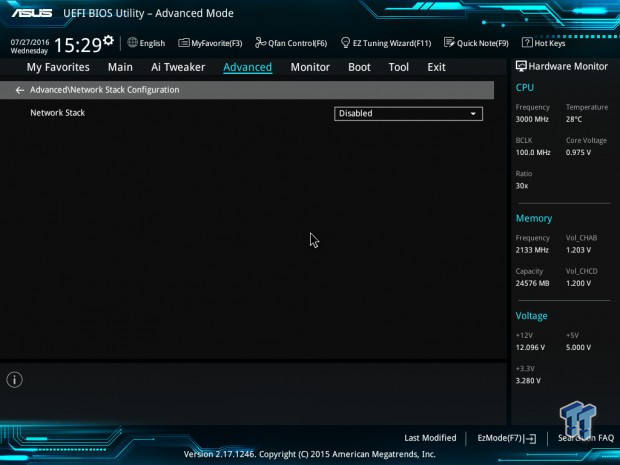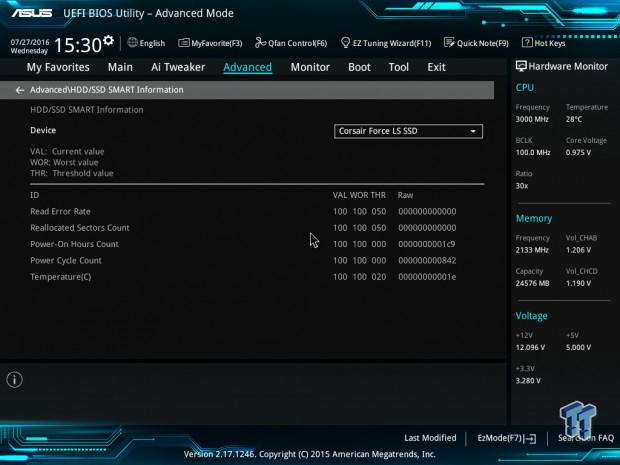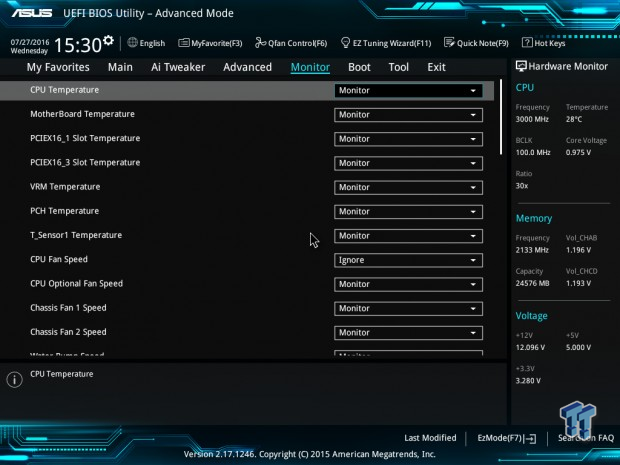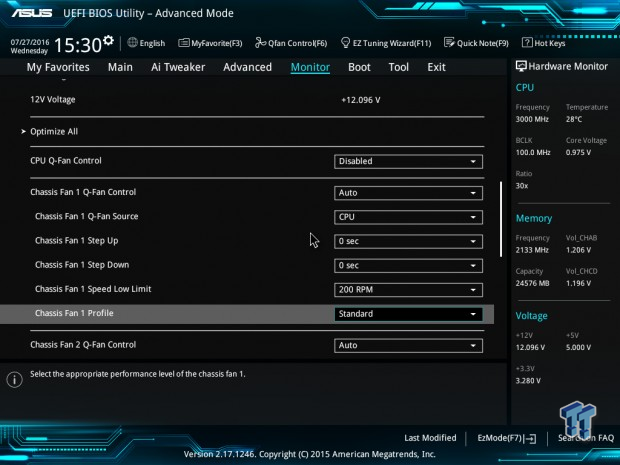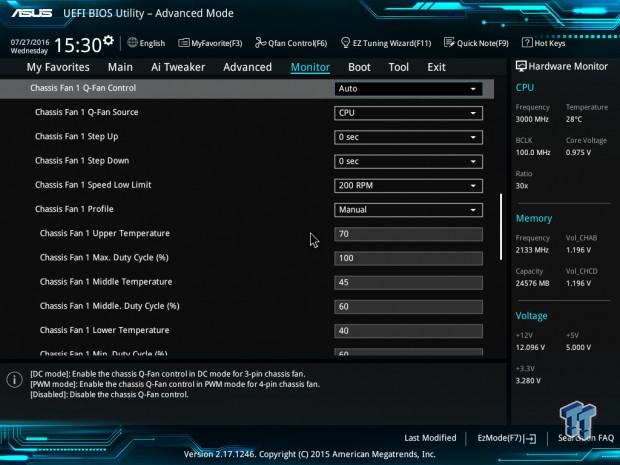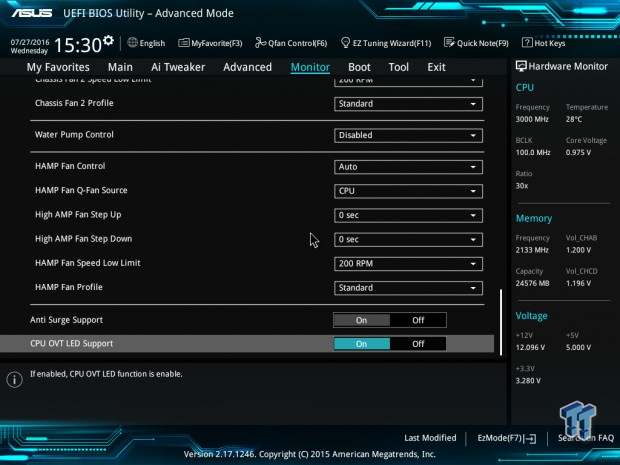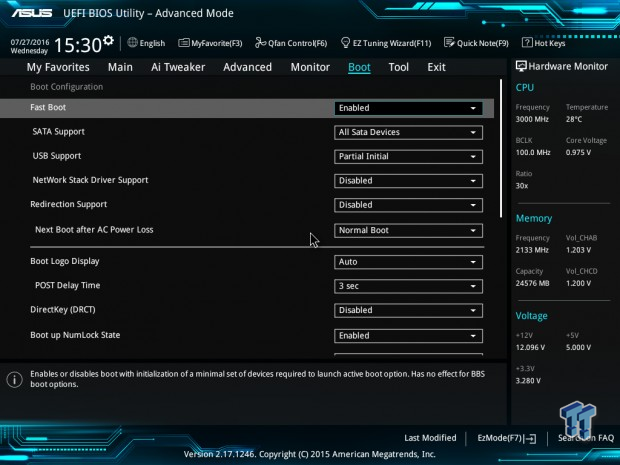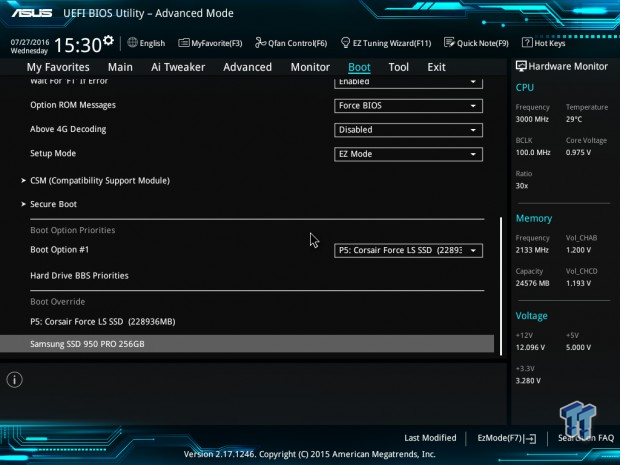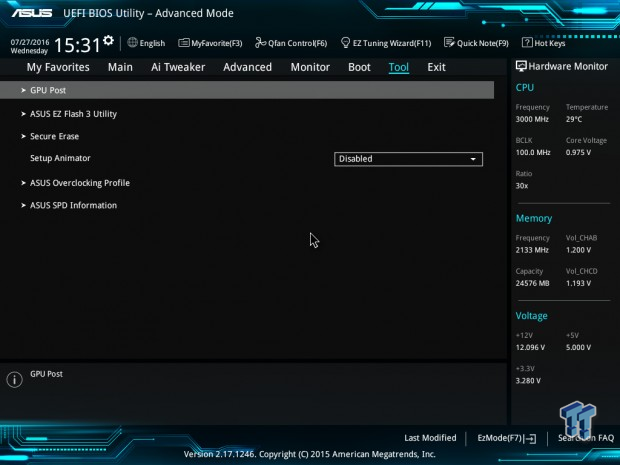 Software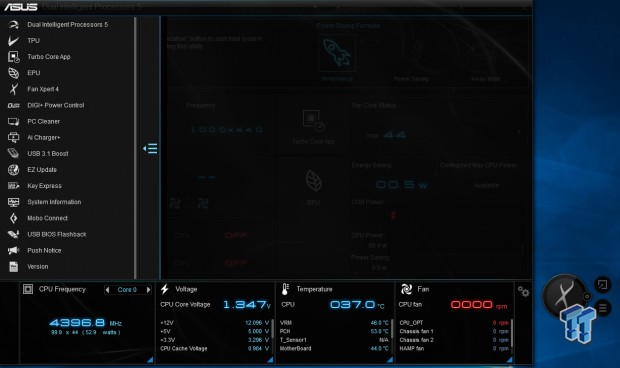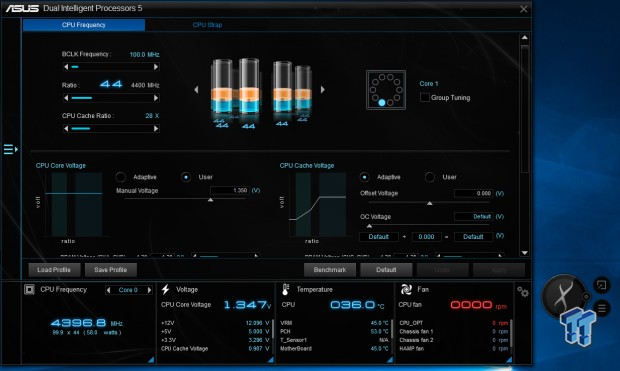 ASUS includes a multitude of software applications including, TurboV Core and ASUS's all-in-one application that includes DIP5, TPU, TurboApp, EPU, Fan Xpert3, DIGI+Power Control, PC Cleaner, Ai Charger+, USB 3.1 Boost, KeyExpress, System Information, MoboConnect, USB BIOS Flashback, Push Notifications, and much more.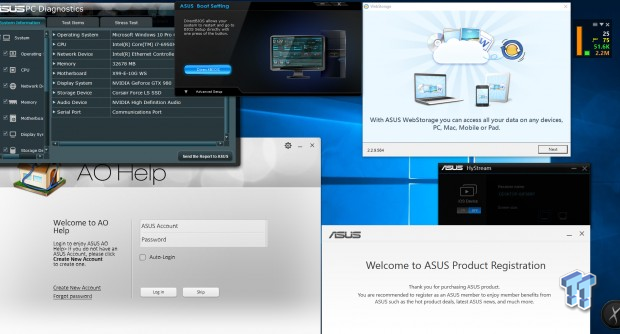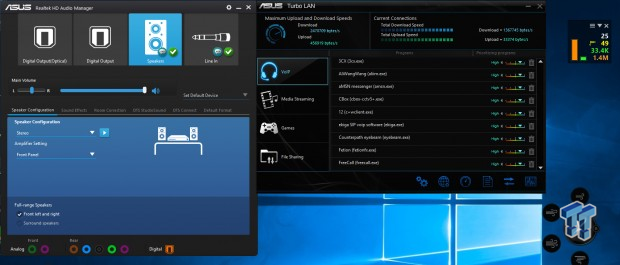 ASUS also includes PC Diagnostics, ASUS Boot Setting, WebStorage, AO Help, HyStream, Turbo LAN, and a custom skin for the Realtek HD Audio manager.
Test System Setup
Steven's Motherboard Test System Specifications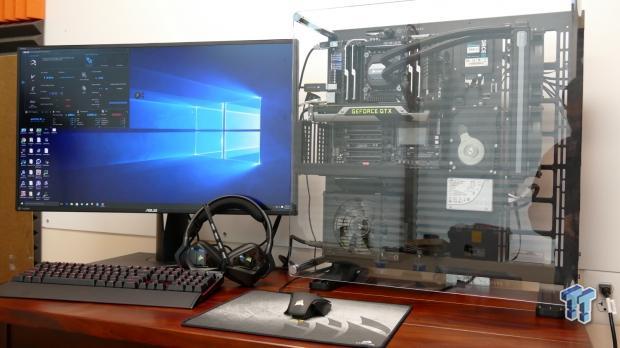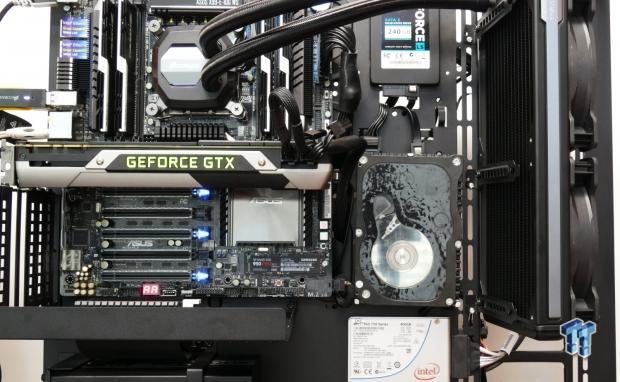 ASUS's X99-E-10G WS is loaded with features and connectivity, and looks great in my new test bench.
The new test bench is designed to test every aspect of the motherboard and IO. I have designed it so that the motherboard sits in a case and is cooled by fans always on at a constant rate to keep the conditions similar during all tests. I have cut out part of the case behind the motherboard so I can get thermal images of the back of the PCB where the VRM heat spreads. System and CPU power measurements are now digitally logged.
I am also using a Netgear Nighthawk X4 AC2350 for our network (including wireless AC) tests. The latest M.2, SSD, and USB technologies are also being utilized to test the maximum potential of the motherboards that are tested.
Overclocking
Overclocking Results
If you hadn't already heard, the 6950X 10-core $1700 beast isn't the best overclocker. I cannot validate CPU frequency anywhere near 5GHz, and I cannot even boot at 4.5GHz, but I can run 4.4GHz on all cores. I have decided to change how I do the overclocking section and determine exactly what it takes to push to the CPU to this maximum stable frequency on the different motherboards I test.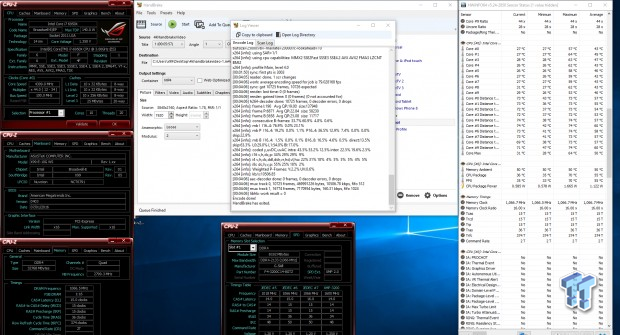 ASUS's X99-E-10G WS overclocked to 4.4GHz very easily; I didn't have to fiddle with any power settings, I assume since the VRM is much more robust than on some other motherboards ASUS has increased its OCP/OVP limits a tiny bit. I applied 1.35v to the core with a 1.8v input voltage and a high LLC level, and I was able to pass the stability test.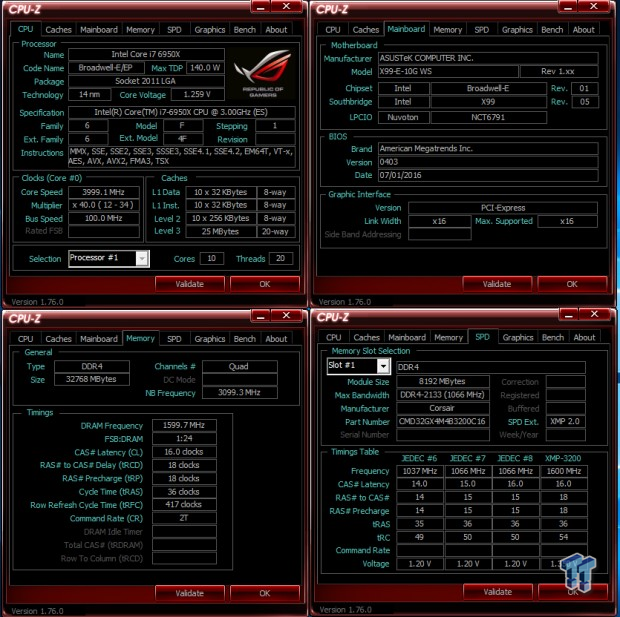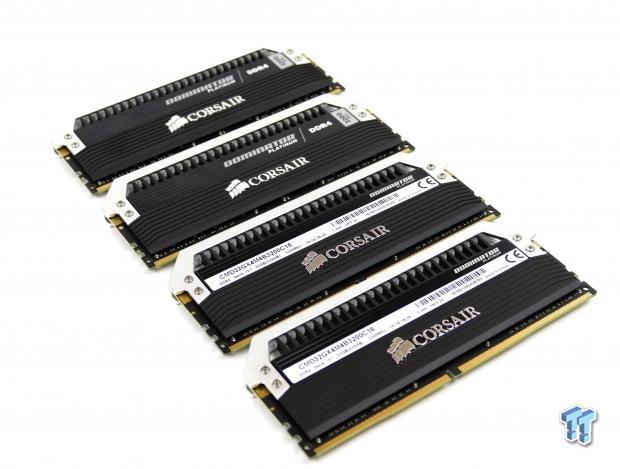 The Dominator Platinum 32GB 3200MHz C16 kit is working well.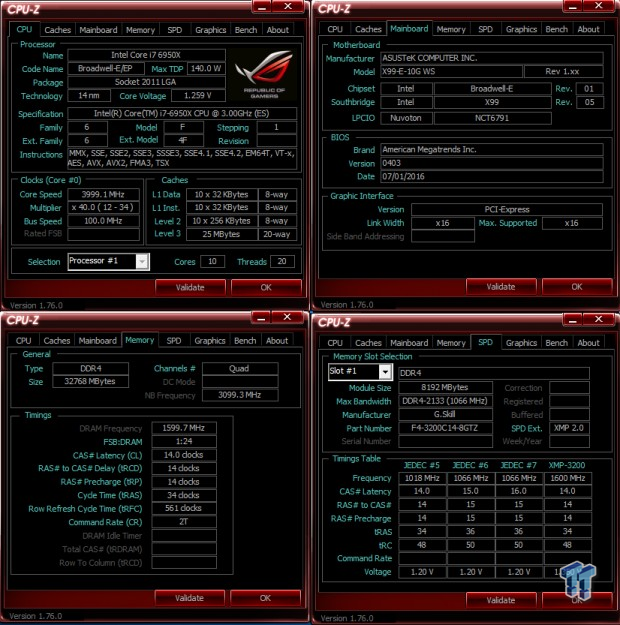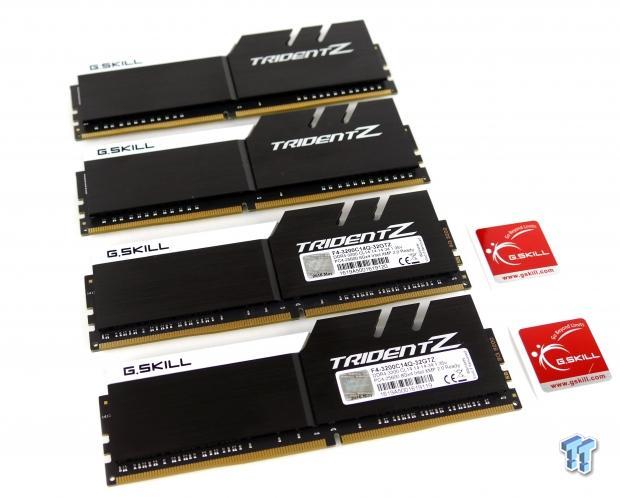 The G.Skill TridentZ 32GB 3200MHz C14 kit is also working well.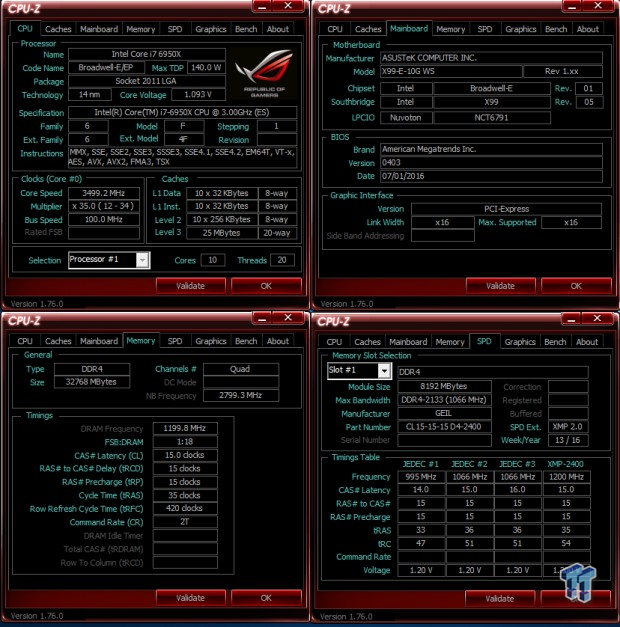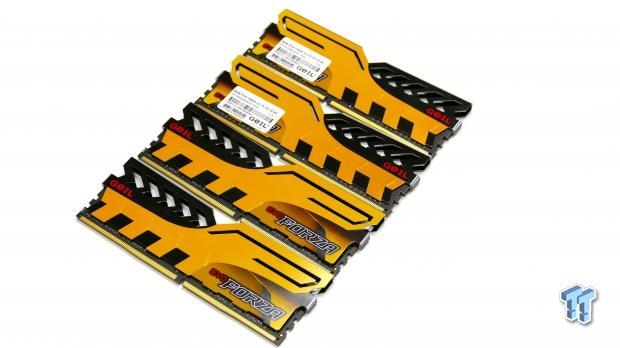 The GeIL EVO Forza 32GB 2400MHz C15 kit is also working well.
CPU, Memory, and System Benchmarks
CINEBENCH 11.5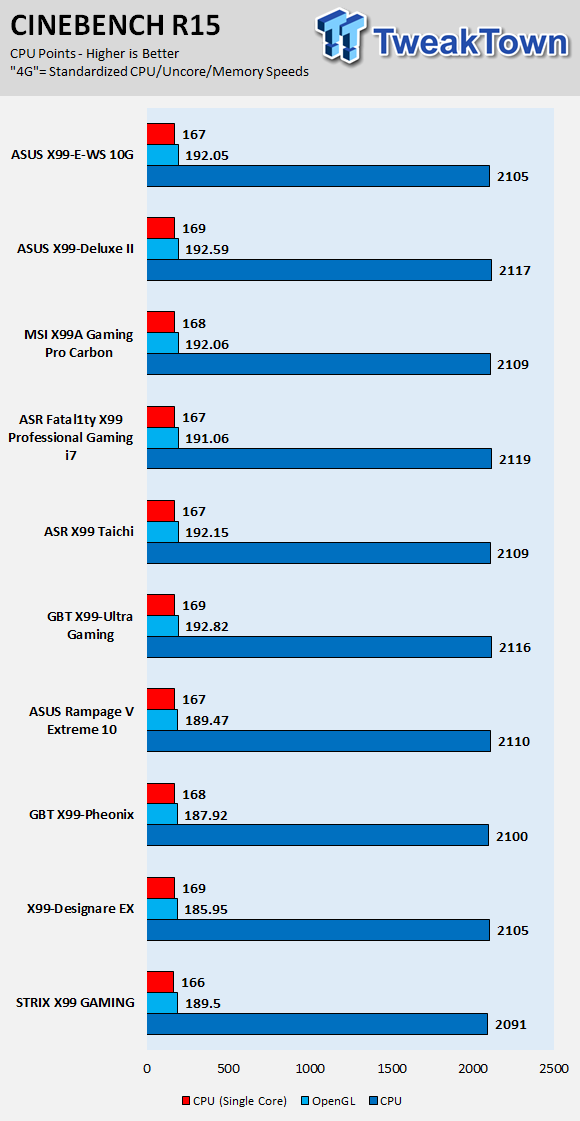 wPrime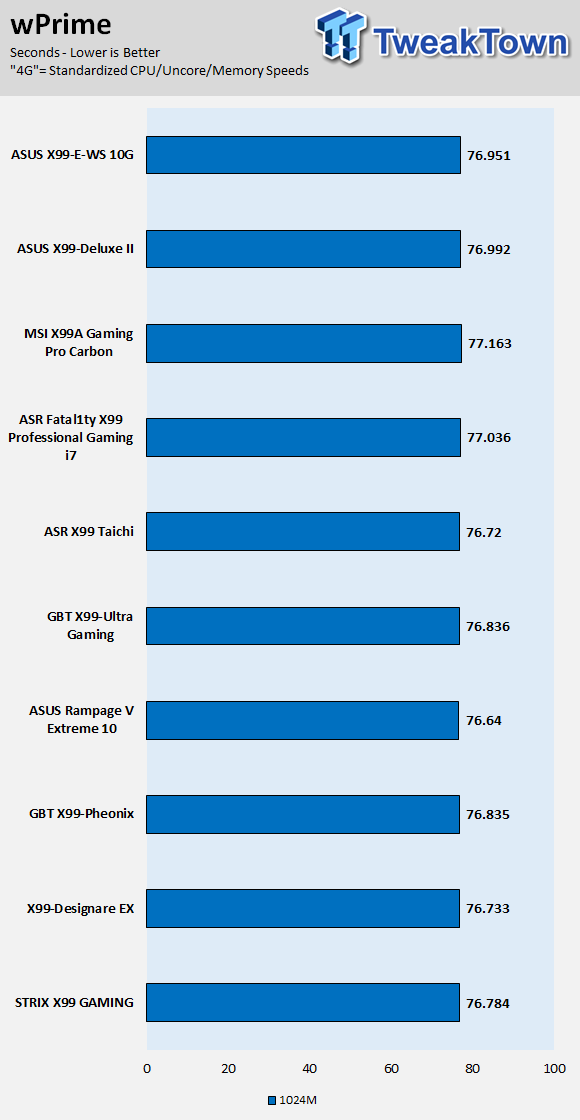 AIDA64 AES and HASH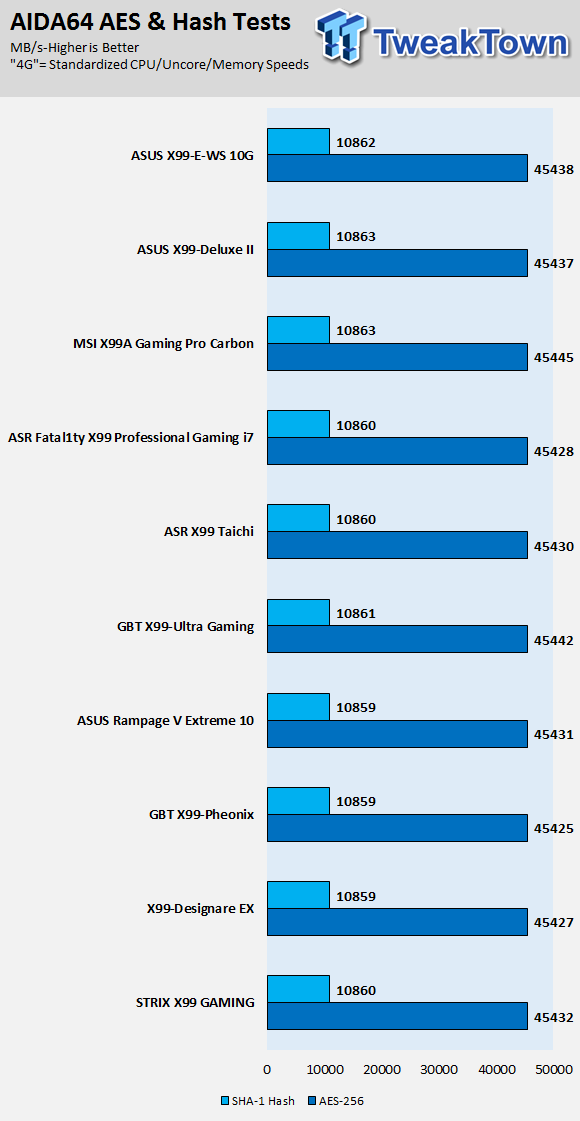 AIDA64 FPU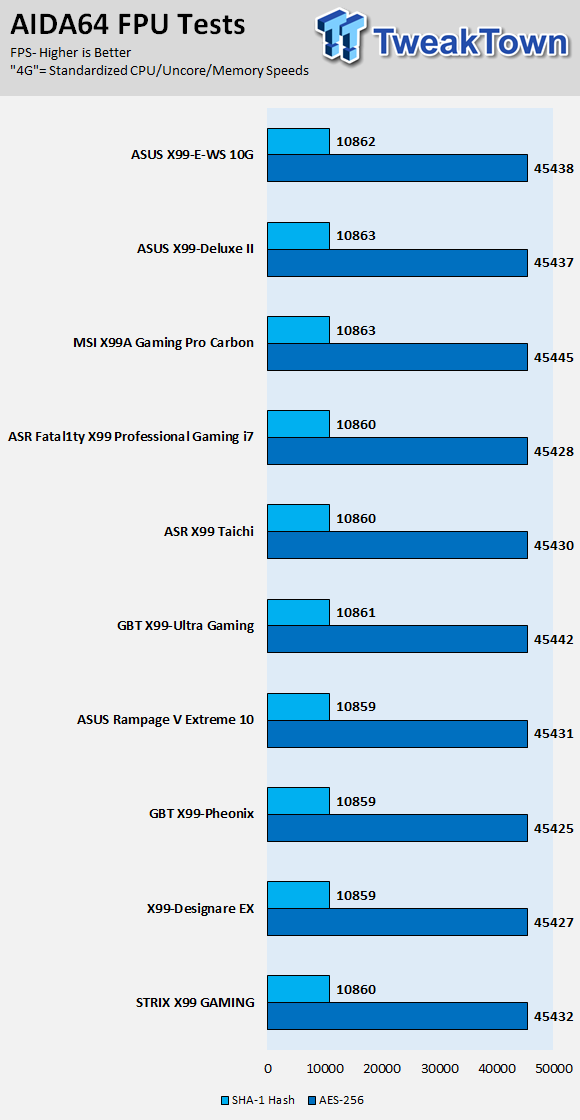 AIDA64 Memory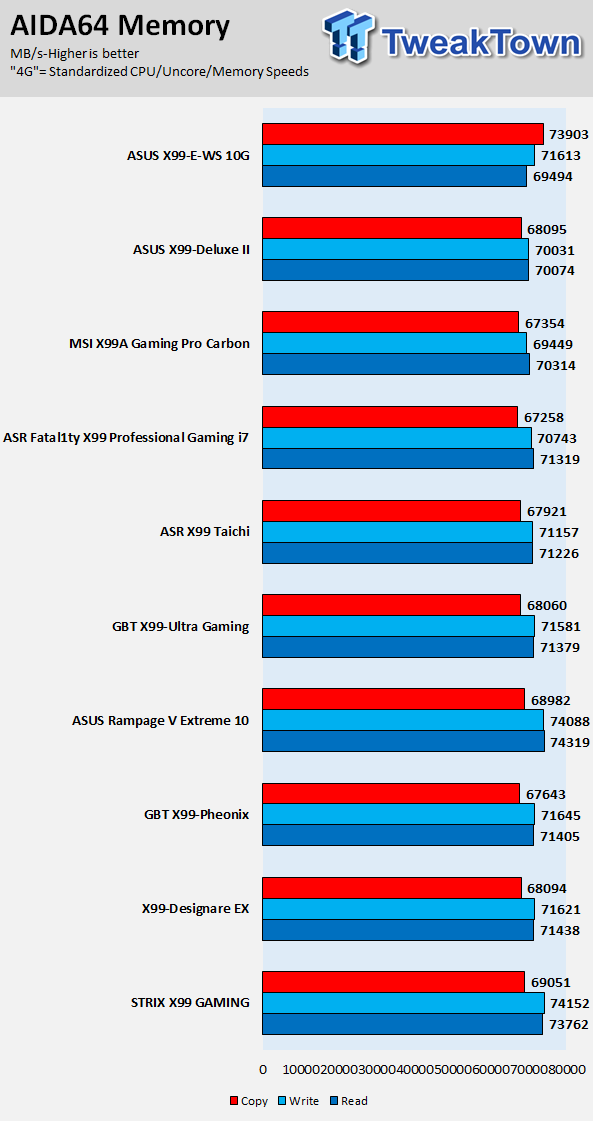 ScienceMark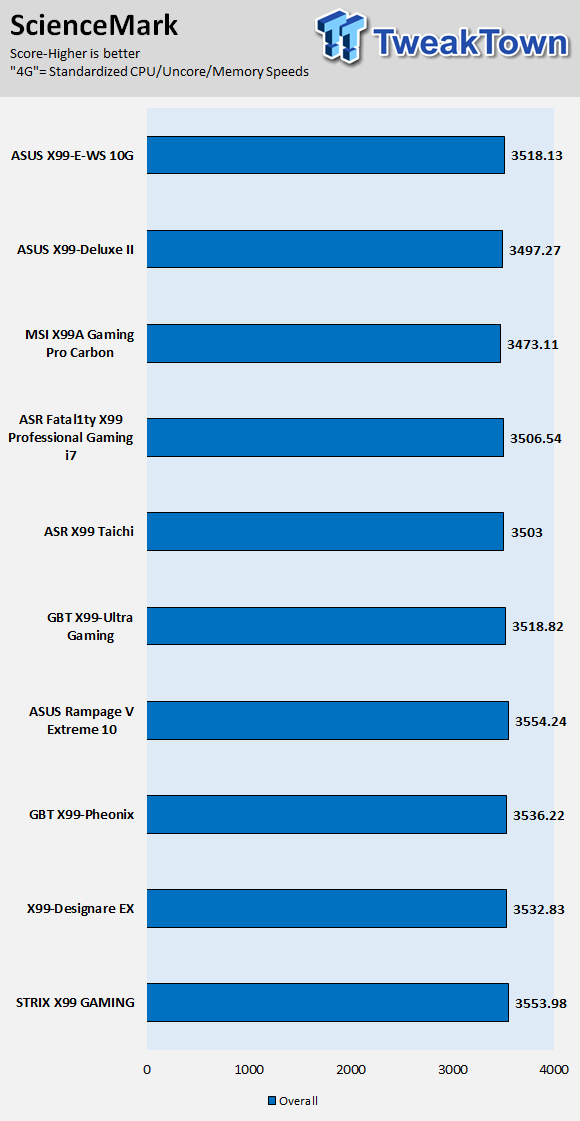 HandBrake 4K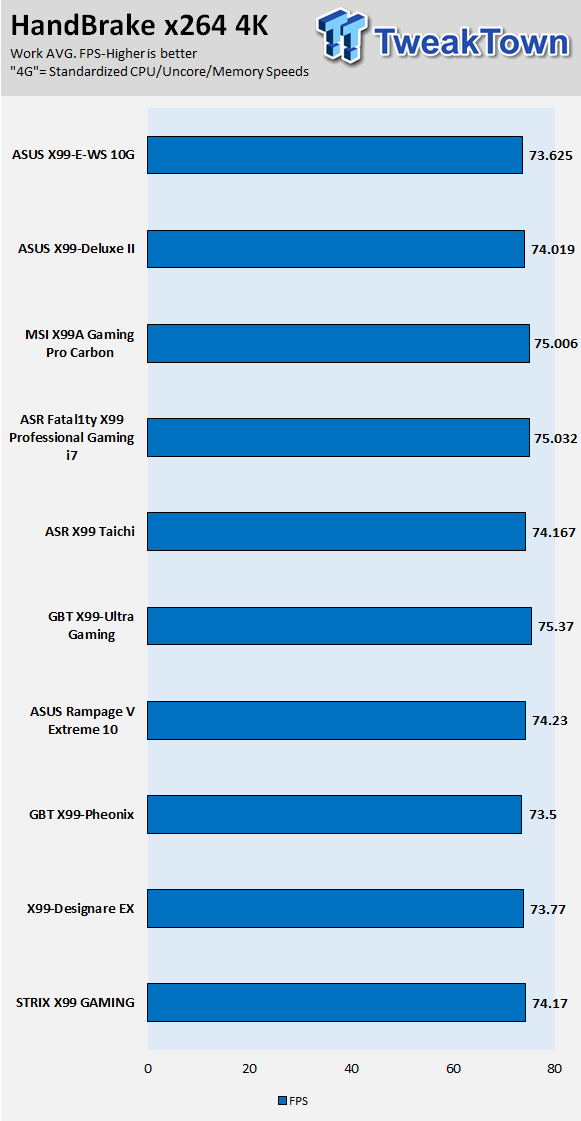 3DMark: Cloud Gate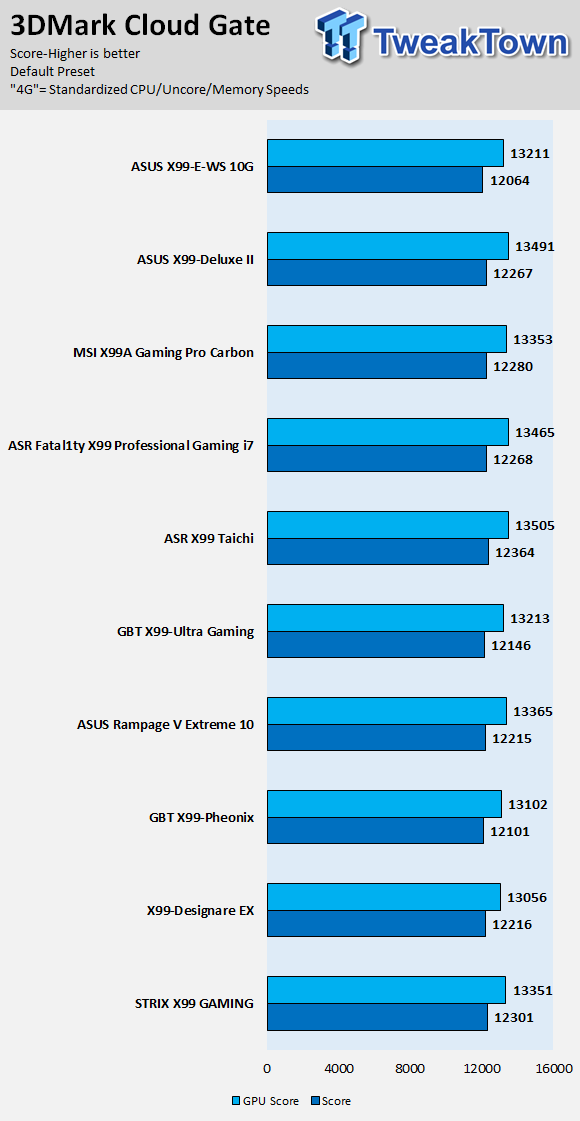 3DMark: Fire Strike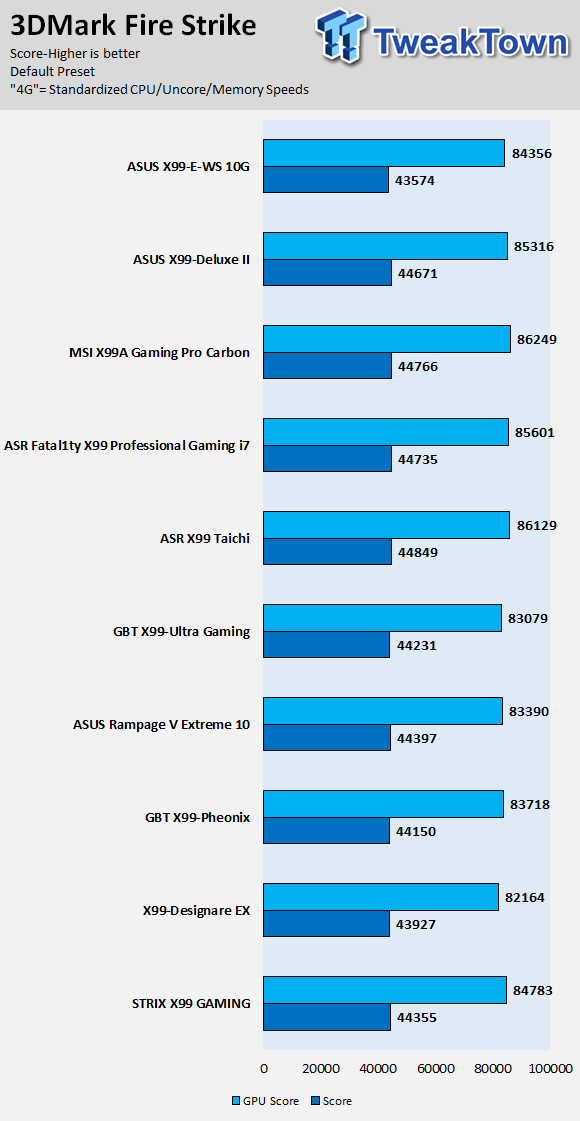 ResidentEvil 6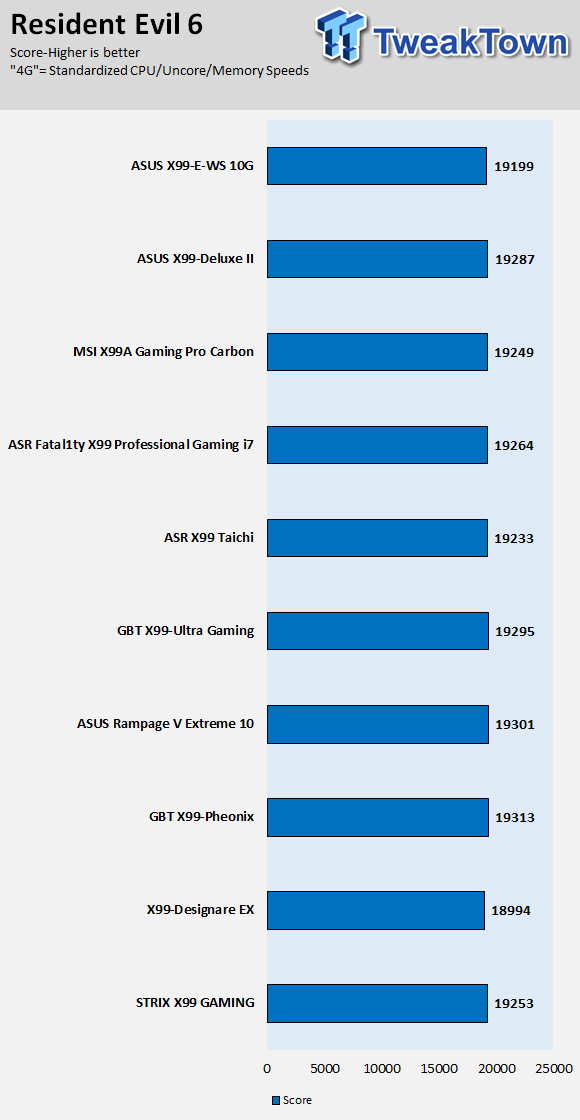 I have decided to test motherboard performance based upon a standardized 4GHz profile for the new X99 refresh motherboards. The base frequency of the 6950X is 3GHz, but since Intel's Turbo profile allows for a single core to hit 4GHz, some motherboards will take any number (sometimes all) of the cores to 4GHz at stock settings, and this creates a huge performance disparity at stock. In all these tests, I ran the CPU at 4GHz on all cores, the cache at 3.5GHz, and memory at 2666MHz with timings 16-18-18-36 T2, and allowed the motherboard to set the rest of the timings itself.
The X99-E-10G WS has average CPU performance, above average memory performance, and slightly hindered GPU performance because of the PEX8747 chips that add a little latency but expand bandwidth.
Overall, system performance was top notch, and there are no performance pitfalls.
System IO Benchmarks
SATA6G: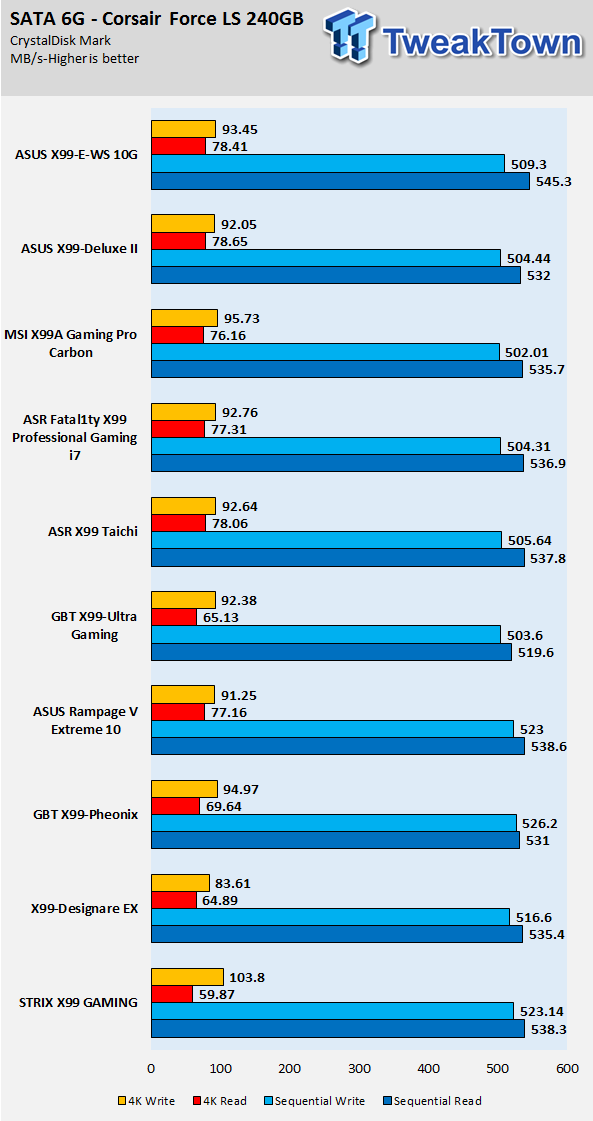 M.2: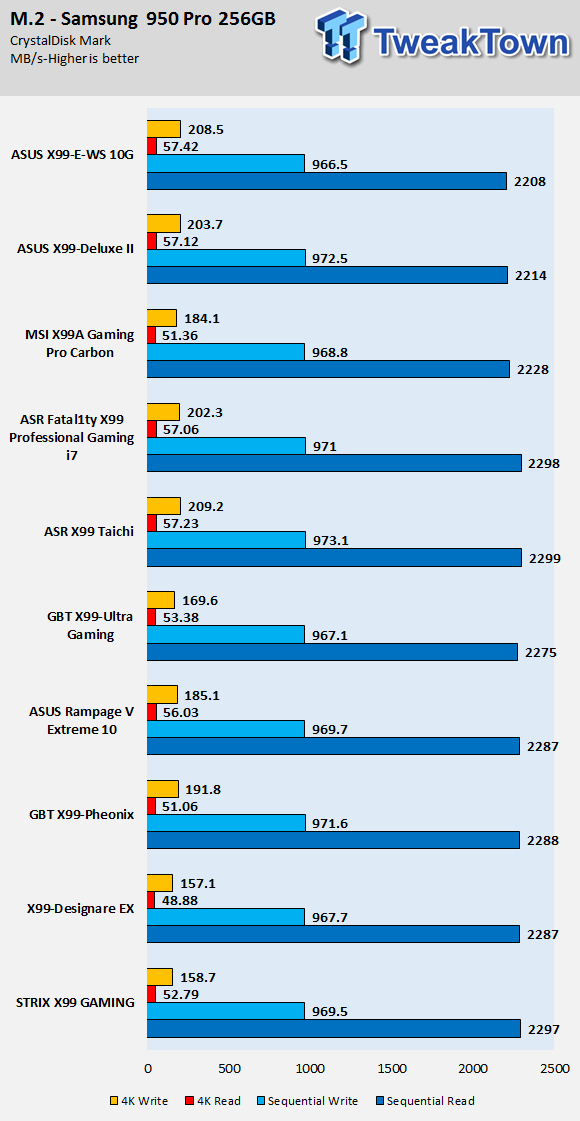 U.2: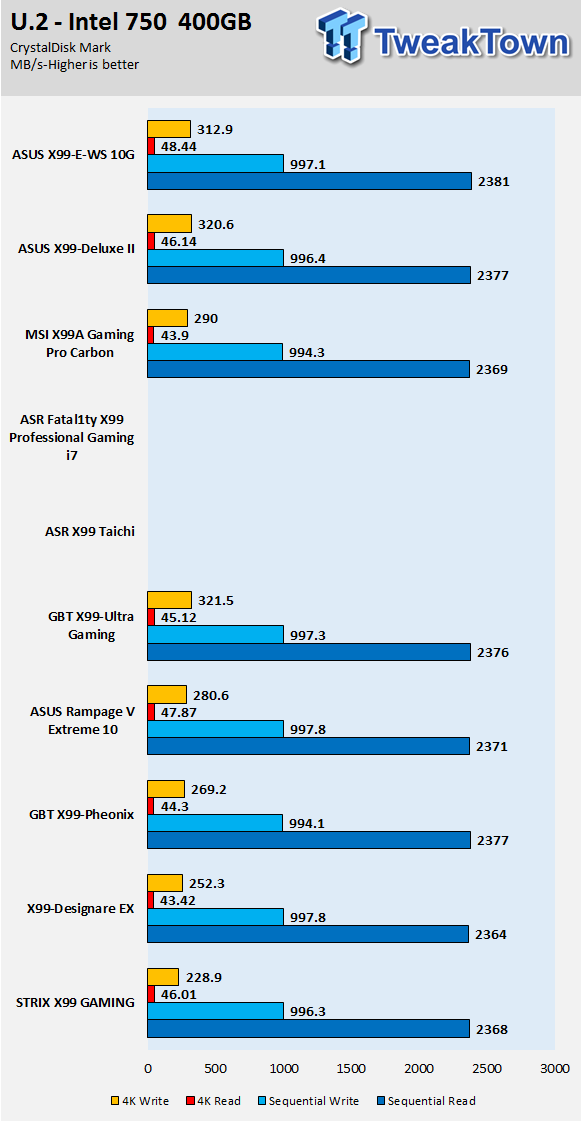 ixChariot Network Throughput: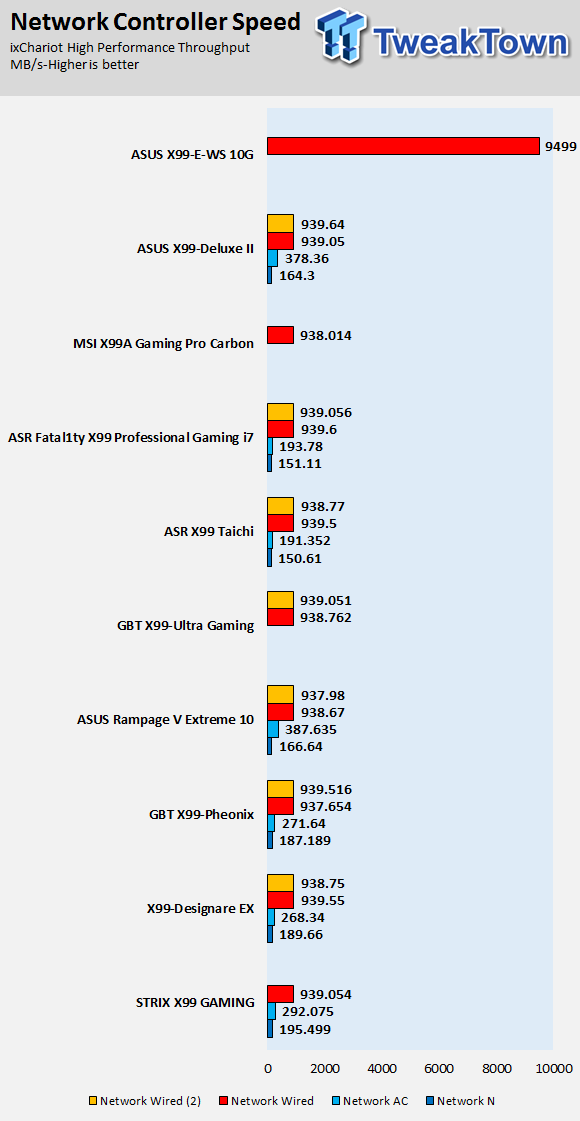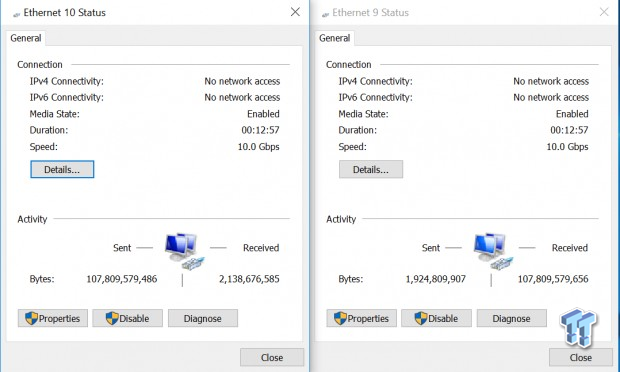 The X99-E-10G WS's IO storage performance is excellent, but what's impressive is the 10Gbit Ethernet. 10G over copper was once thought of as very hard to achieve, but now it is more widespread, and solutions like ASUS's X99-E-10G WS provide it.
Audio RMAA 5.5:
I disable all audio features, set the correct bitrates, and then test the audio with a loopback test.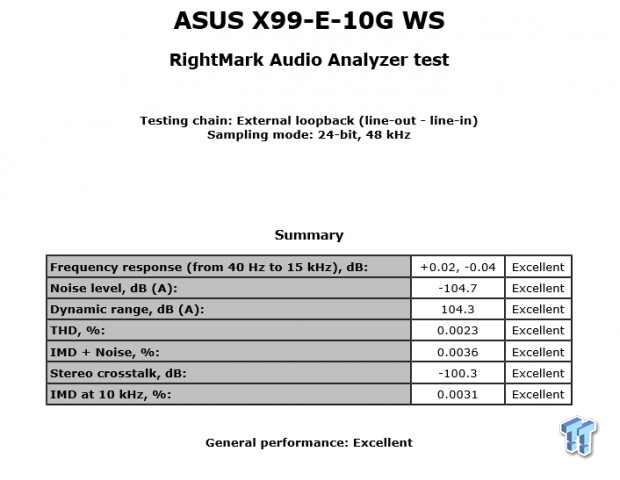 Sound Judgment by Ear: Excellent, ASUS has done a good job with audio on this motherboard. There are five ratings for audio: 1. Problems, 2. Okay, 3. Acceptable, 4. Very good, 5. Excellent
Thermal Imaging and Power Consumption
CPU power is measured through the 8-pin connector, which is hooked up to a hall effect IC, which measures current and puts out a voltage in proportion to the current. That voltage is logged by a National Instruments ADC, which logs the DC voltage level that I then convert into current.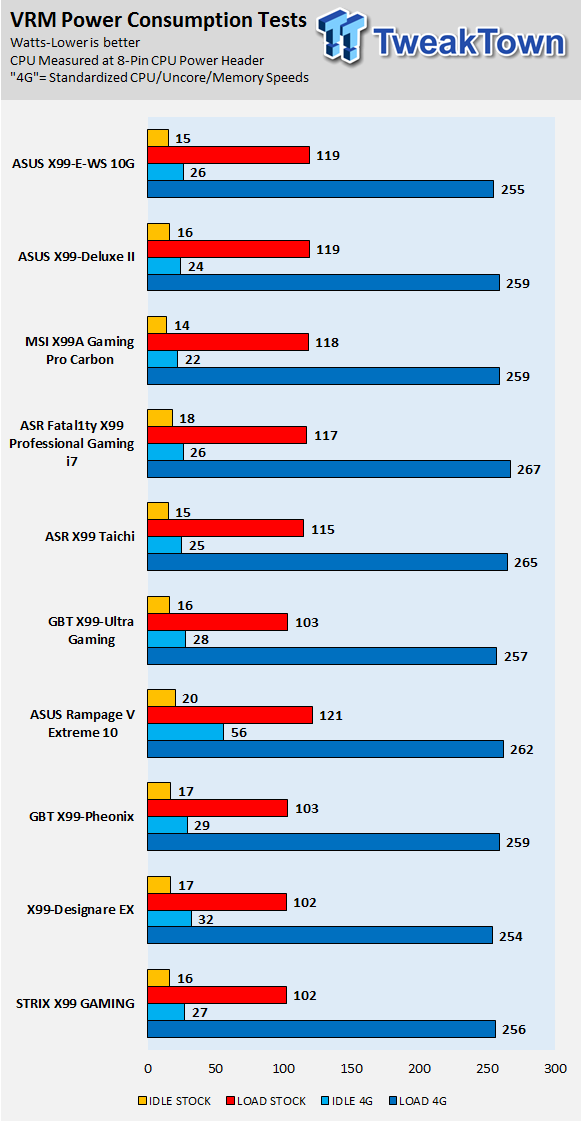 Note on Thermal Images: In the temperature section, we use our Seek thermal imaging camera to capture the surface temperatures of major components on the board. I look at the VRM and then all other things that light up the screen. If there is something to worry about, then I will state it. Otherwise, I will just show the hotter running parts of the board for fun. Unless some component is over 80-90C, then there isn't anything to worry about.
All systems will act differently, so I will look for commonalities, such as how far from the VRM the heat spreads through the PCB and the difference in temperature between the front side and backside of the PCB. Keep in mind, the majority of the heat from the VRM goes into the PCB as it is a giant soldered on copper heat sink. A larger difference in temperature between the back and front of the PCB points towards a more effective heat sink.
Thermal Testing at Stock Speeds:
The image on the left is always at idle, and the image on the right is at load. During ALL TESTS, fans above the VRM that cool the CPU cooler's (Corsair H110i GT) radiator are turned on to high (12v).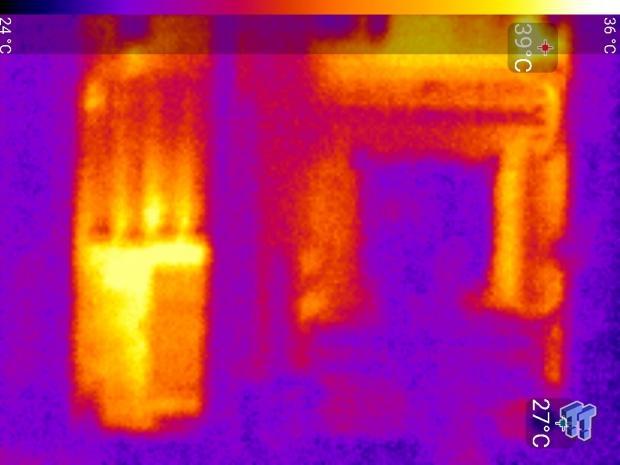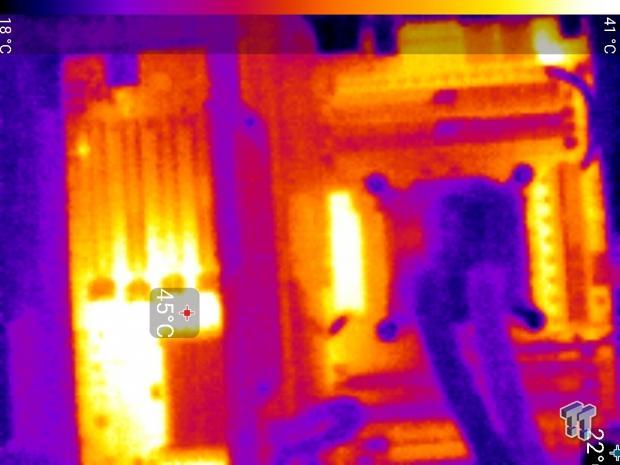 Full frontal.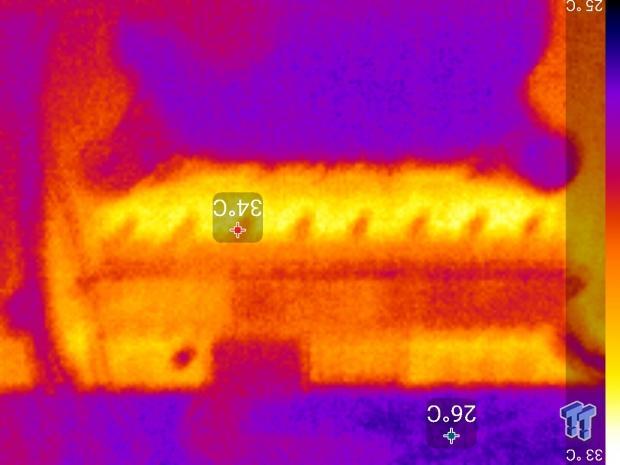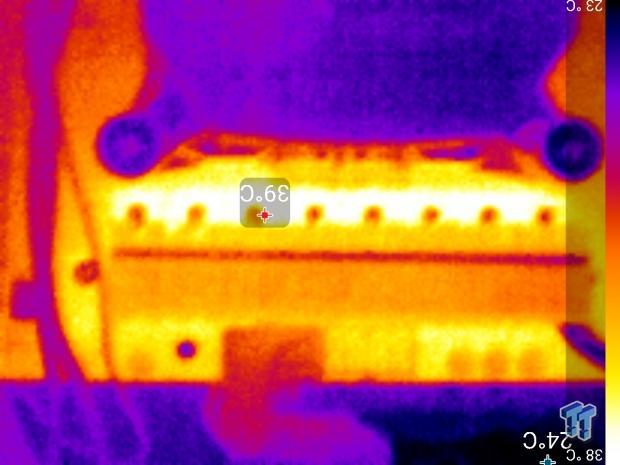 Up-close of the front of the VRM.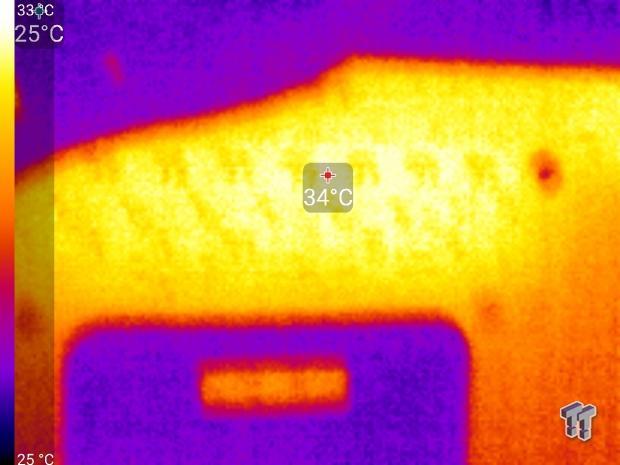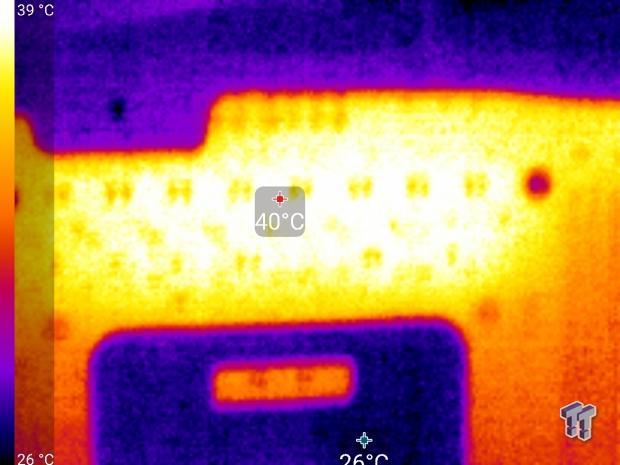 Up-close of the back of the VRM.
Thermal Testing at 4.0GHz Overclocked Speeds:
The image on the left is always at idle, and the image on the right is at load. During ALL TESTS, fans above the VRM that cool the CPU cooler's (Corsair H110i GT) radiator are turned on to high (12v).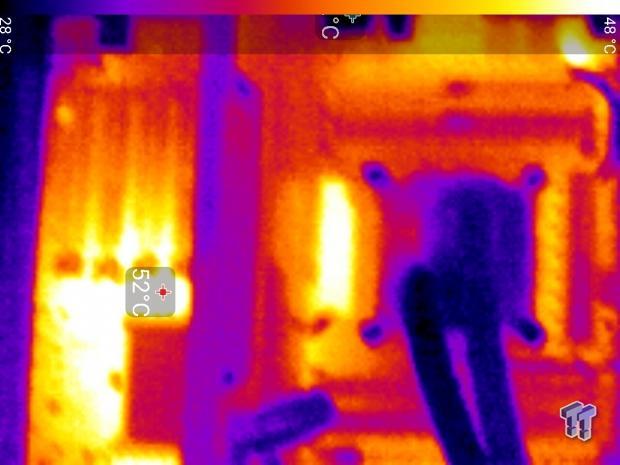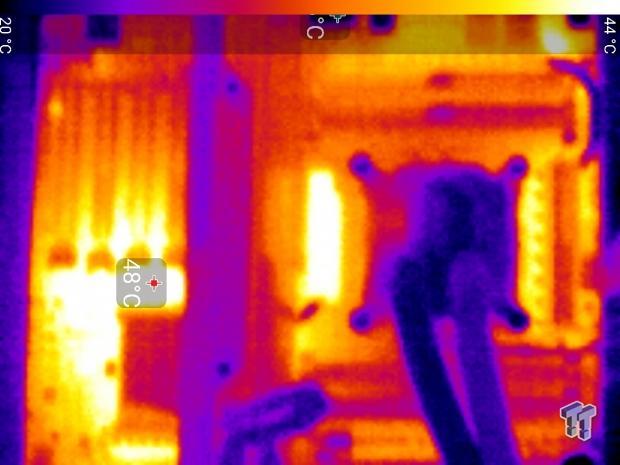 Full frontal.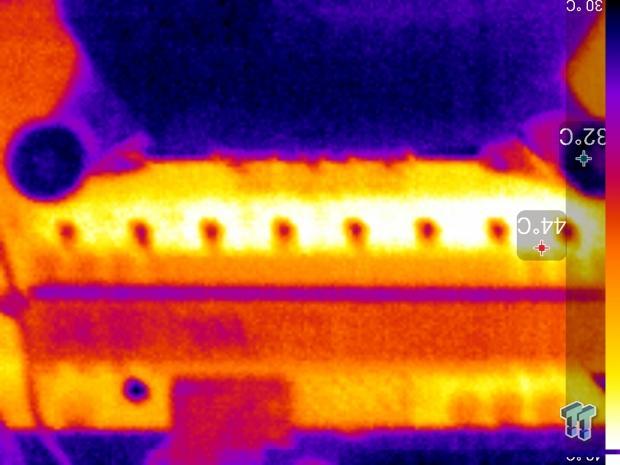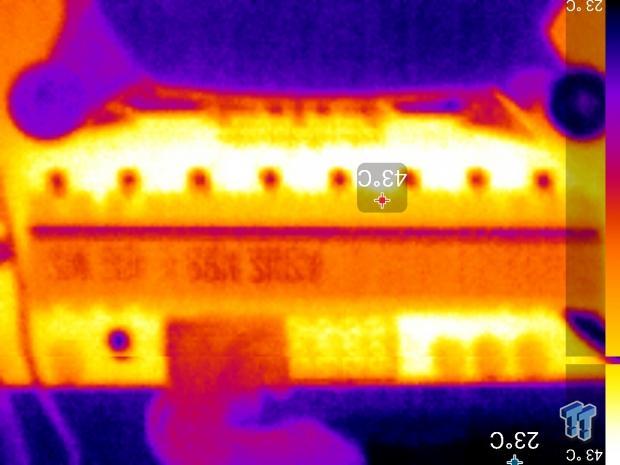 Up-close of the front of the VRM.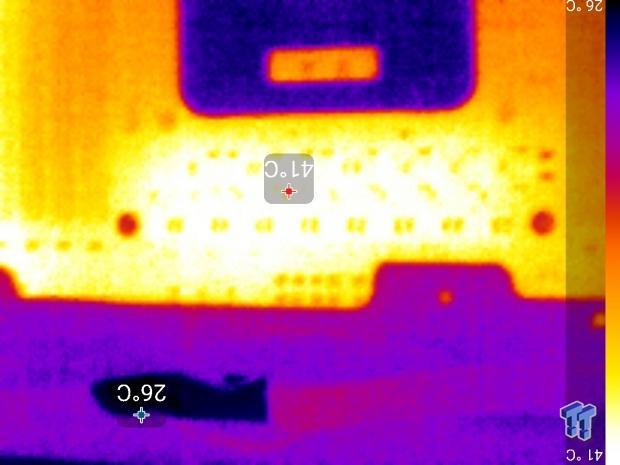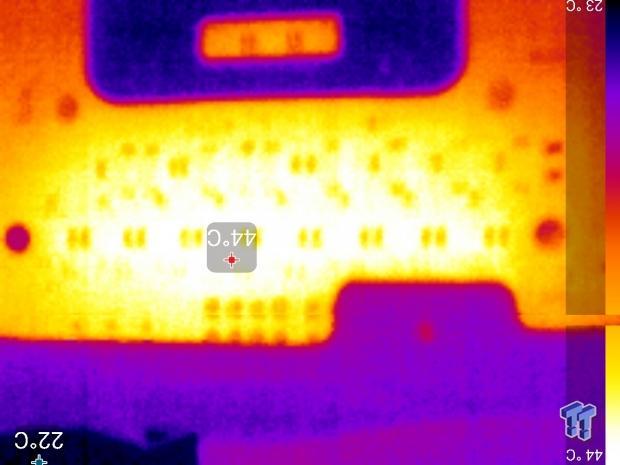 Up-close of the back of the VRM.
The VRM on the X99-E-10G is very high performance, and it is designed to operate in harsh conditions, so it does run on the warmer side of things, but overall performance is solid. There does seem to be some current balancing at idle, but at load current is equally distributed across all phases. The heat sink for the VRM is also used to cool down the 10G NIC, which probably creates more heat than the VRM.
Anything under 60C is great, 60-80C is acceptable, and anything above 80C is a bit worrisome (if at stock).
What's Hot, What's Not & Final Thoughts
Here are key points about the ASUS X99-E-10G WS.
What's Hot
10Gbit LAN: If you didn't already realize it, the X99-E-10G WS has two 10Gbit Intel NICs that will rock the house when it comes to high-performance networking. The 10G NICs are backward compatible, so even if you decide on upgrading your home network in the future, you can use the board now. 10Gbit ISPs have also started to pop up in certain areas, and 10G office and even home networking is becoming more common, and the X99-E-10G WS has you covered.
64 PCI-E 3.0 lanes for Slots: The Avago PEX8747 chip will take x16 or x8 of bandwidth and double it to x32 PCI-E 3.0, and the X99-E-10G WS has two of these monsters. The result is x64 PCI-E 3.0 bandwidth for the seven PCI-E x16 slots, and if you are confused about which slot to put your GPU into, ASUS provides a handy switch with individual slot illumination - LEDs finally serve a practical purpose. If you want to run four GPUs at x16, the X99-E-10G WS is the only way to go.
Excellent Component Quality: The VRM uses a top of the line digital PWM controller, eight phases of 60A power stages, with gold plated ASUS 60A high current inductors, and a mixture of tantalum and ceramic capacitors. The VRM on the X99-E-10G WS is pretty much the best you will find. To ensure high quality all around, ASUS is using 12K capacitors, which are quite rare.
BIOS and Fan Control: The UEFI on the X99-E-10G WS coupled with the six fan headers produces an excellent combination for airflow control. The UEFI is loaded with many options, but ASUS's execution of fan control is top notch and worth noting.
Almost No Switching: You might think that the X99-E-10G WS switches around a lot of bandwidth to produce all the features, but the truth is that it doesn't. The big bandwidth switching goes on between the U.2 and M.2 slot, and that is only x4 PCI-E 3.0 from the CPU. The slots do swap around x8 here and there, but that is common practice among all brands. If you use a 40 lane CPU, the only loss of features you might face is U.2 when using M.2 and vice versa, which is excellent considering the feature set.
Classy Workstation: A lot of workstation users very much dislike fancy heat sinks and RGB LEDs, but ASUS has executed their X99-E-10G to have these things but in a professional manner. The motherboard is only loaded with LEDs that are functional (at each slot), and an RGB header is provided if you decide to go that route. The heat sinks are more practical than gimmicky and offer great cooling for all the hardware onboard.
What's Not
U.2 and M.2 Mutually Exclusive: With a 40-lane CPU, you have to choose between U.2 and M.2, you cannot run both at the same time. With a 28-lane CPU, you can't run either, but you still get the 10G Ethernet.
Expensive: At over $700, the ASUS X99-E-10G WS is perhaps the most expensive X99 motherboard out there.
Low on rear USB: The X99-E-10G WS only provides a few USB ports on the rear IO panel, and that is probably why ASUS includes a USB 2.0 bracket.
Final Thoughts
The X99-E-10G WS has a very specific group of users in mind, those with the need for high-performance networking coupled with superior support for graphics cards. Content creators, scientists, and even some home users who might need multiple graphics cards running at full bandwidth and a network capable of moving around huge files would find the X99-E-10G to be a perfect match. The motherboard itself is very high quality, everything from the VRMs to the repeaters for the U.2/M.2 bandwidth show ASUS's commitment to high performance.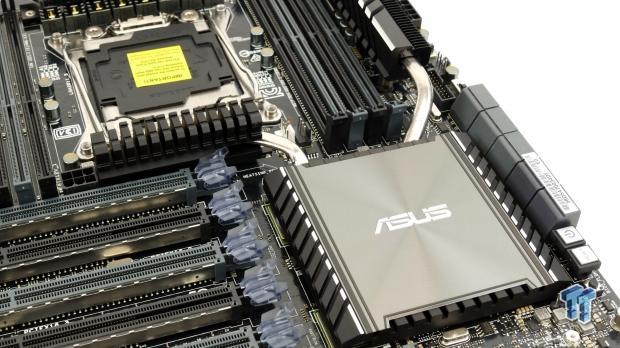 It's no secret that the X99-E-10G WS will cost you an arm and a leg, but those who will buy the 10 core / 20 thread 6950X might have enough in their budget to splurge on a motherboard like this, at least that's probably what ASUS is thinking. I wouldn't buy this motherboard if you are only going to use a 28-lane CPU since you will lose the latest in storage connectors.
Overall, if you want the best ASUS offers regarding a consumer workstation motherboard, the X99-E-10G WS is perfect for you.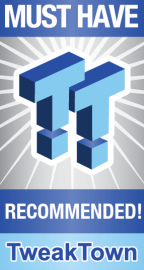 | | |
| --- | --- |
| Performance (including Overclocking) | 96% |
| Quality including Design and Build | 97% |
| General Features | 95% |
| Bundle and Packaging | 85% |
| Value for Money | 88% |
The Bottom Line: ASUS's X99-E-10G WS is loaded with the latest in 10Gbit networking and it supports four GPUs running at x16 each, but it will cost you.
PRICING: You can find products similar to this one for sale below.

United States: Find other tech and computer products like this over at Amazon.com

United Kingdom: Find other tech and computer products like this over at Amazon.co.uk

Australia: Find other tech and computer products like this over at Amazon.com.au

Canada: Find other tech and computer products like this over at Amazon.ca

Deutschland: Finde andere Technik- und Computerprodukte wie dieses auf Amazon.de
We openly invite the companies who provide us with review samples / who are mentioned or discussed to express their opinion. If any company representative wishes to respond, we will publish the response here. Please contact us if you wish to respond.