Supermicro C7Z97-OCE (Intel Z97) Motherboard Review
Today TweakTown marks a return to our consumer motherboard reviews with a close look at Supermicro's C7Z97-OCE by our new editor Steven Bassiri.
Published Wed, Feb 25 2015 5:02 PM CST
|
Updated Tue, Nov 3 2020 6:59 PM CST
Introduction, Specifications, and Pricing
With the C7Z97-OCE, Supermicro is dipping their toes into the pool of enthusiast motherboards aimed at gamers and overclockers. Nevertheless, it's a hard segment to get into, but Supermicro is backed by decades of experience when it comes to motherboard design. Supermicro is a key player in the server industry, with a reputation for quality and reliability.
The C7Z97-OCE is meant to meet the demand for a reliable board with good performance at an affordable price. Today, I will put it through our new motherboard review tests. Many of you have noticed that we haven't had many motherboard reviews lately, and that is because I was setting up what I feel is a realistic testing environment.
Since this is my first motherboard review at TweakTown, I will input a little bit about the tests and how they are done as we go forward.
Specifications
This board is actually equipped with a wide range of storage options including M.2 and SATA DOM. It carries dual Intel NICs and it also supports USB 3.1 through the ASMedia USB 3.0 controller which can be outfitted with dual PCI-E 1x lanes for 10Gb/s bandwidth.
Pricing
At $195 on Newegg, the C7Z97-OCE is very competitively priced compared to other options. It provides a nice feature set with server grade parts.
PRICING: You can find the Supermicro C7Z97-OCE for sale below. The prices listed are valid at the time of writing but can change at any time. Click the link to see the very latest pricing for the best deal.
United States: The Supermicro C7Z97-OCE retails for $236.71 at Amazon.
Canada: The Supermicro C7Z97-OCE retails for CDN$366.89 at Amazon Canada.
Packaging and the C7Z97-OCE
Packaging and the Board
The box is typical, however, this board is almost a year old, and you see USB 3.1 claims on the front. This is possibly the first board to advertise USB 3.1, kudos to Supermicro.
The accessory packaging isn't a stunner, you only get the basics. This includes a driver DVD, six red SATA cables, an IO shield, and a large diagram of the board which describes system setup and the function of the various jumpers on the board.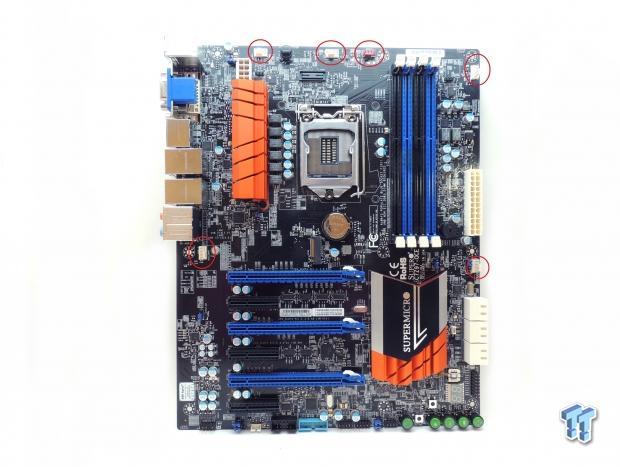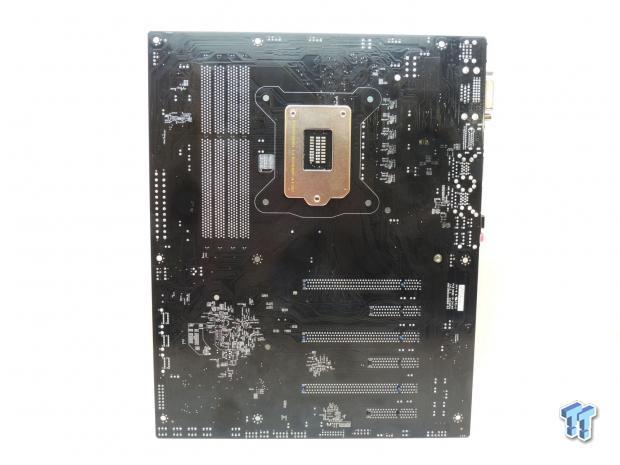 I have circled the fan headers on the board. There are a total of six 4-pin fan headers. These fans run on a pre-set profile by default. Control of these headers is only through the UEFI, and between two choices; standard and full speed. The colors of the board do clash, however, some people like the blue and orange compliments.
The back panel IO features dual NICs, four USB 3.0 ports, two USB 2.0 ports, D-SUB/HDMI/DVI/DP video ports, a PS/2 port, and a TOSLINK with S/PDIF optical.
There are a total of four 16x PCI-E 3.0 lanes from the CPU that are being driven into three blue 16X PCI-E slots. The first slot will operate at 16x if none of the other blue slots are occupied. If they are occupied, then the board will shift 8x away from the first slot and give it to the second, or split it into the second and third at 4x each slot. All the black 4x slots are actually 1x slots that share bandwidth through a PLX switch chip.
The VRM is a 6-phase which is cooled by this standalone heat sink. Screws would have been better than pushpins for holding down this heat sink, but the PCH heat sink uses screws.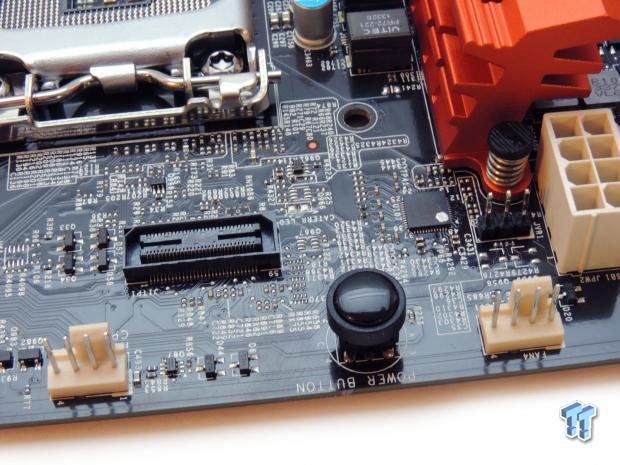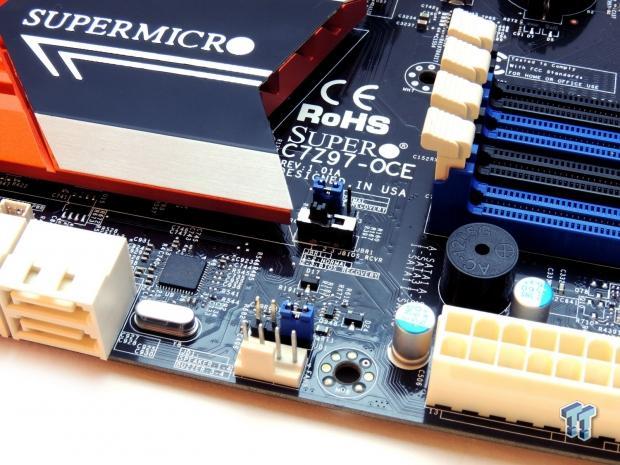 The one thing about the hardware layout of this board that is a bit off is the positioning of the power button. It's all the way at the top of the board; nowhere near the other buttons, and easily missed with a large heat sink installed. The board also carries a large number of jumpers, which are great for overclocking, since you can use the jumpers to disable and enable features at a hardware level. You can disable every third-party controller this way including audio and the NICs.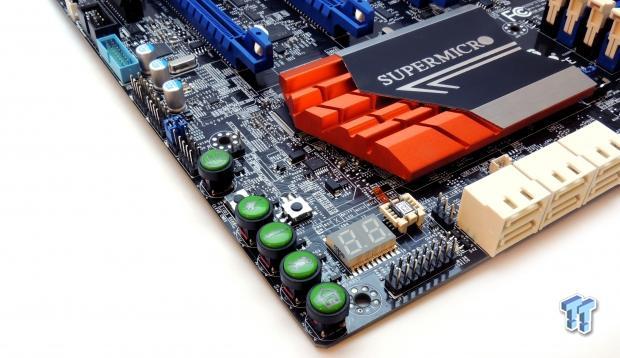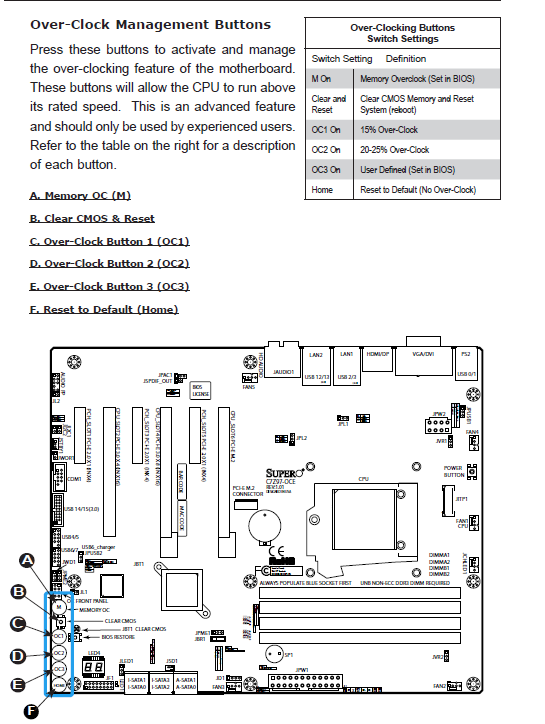 Even though this is Supermicro's second DIY board featuring overclocking, it still comes with buttons for ease of use when overclocking.


The heat sinks seems to make good contact with the components they cool.
C7Z97-OCE Circuit Analysis
Circuit Analysis
This section will start off with a look at power regulation and then shift into general circuit selection and implementation.
The VRM on this board is unlike any other seen on a consumer DIY motherboard. They are using server grade 45A Vitec inductors, along with Infineon branded DrMOS and a Primarion PWM. Everything on this board for the most part is server-grade. There are six 560uF polymer can-type capacitors for a total of 3360uF. There are also a few MLCC used in the output filter, which hints that this VRM might fall into the higher frequency operating range.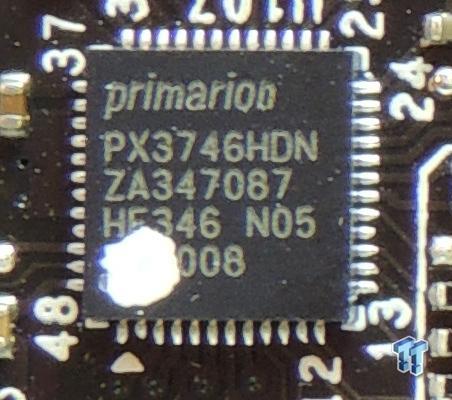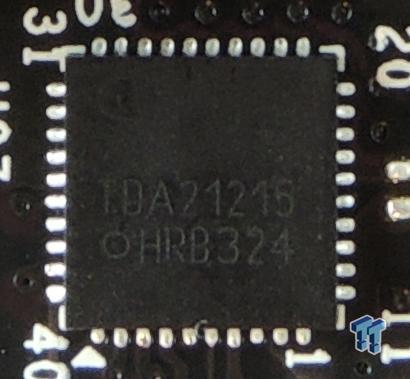 The PX3746 is a 6 phase digital PWM from Primarion (Infineon). Infineon is known for high quality products, however, the cost of their products is usually higher than companies like uPI or Richtek. The C7Z97-OCE uses 6x DrMOS TDA21215, there is no datasheet on this part, but it's from Infineon. We can assume that it is a 35A DrMOS at least, and perhaps even 40A. The only datasheet available is for the TDA21220 and it is a 50A part.
This is the memory VRM, using the same TDA21215 DrMOS, however, a different Primarion PWM, the PX3743, it is either a 2 or 3 phase digital PWM. I am glad Supermicro decided to go digital for both the memory and CPU VRs.
This is a Z123201, I believe it to be a POL (point of load) device which is like an all-in-one VRM used to power low current devices, such as the PCH in this case. The use of all the heavily integrated components in the VRs (DrMOS and POL) increases board real-estate for other devices, something you see often on servers. These all point to engineers who work on servers working on this board, and that is a great sign for those who want high quality and solid engineering.
This is the PCI-E layout. The Flexible I/0 that Intel gave the Z87 and Z97 PCH is being used here in a 4:8:6 arrangement. There are four native USB 3.0 ports, six SATA 6Gb/s (2 to M.2 and four to connectors), and 8x PCI-E. The reason they are able to do USB 3.1 is because Supermicro allocated 2x lanes to the ASM1042 for 10Gb/s of bandwidth (PCI-E 1x is 5Gb/s). They also allocated 2x PCI-E to the M.2.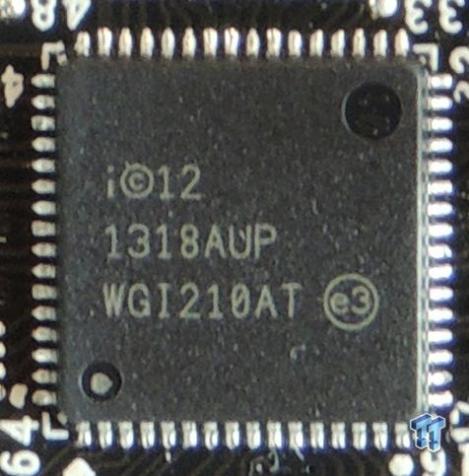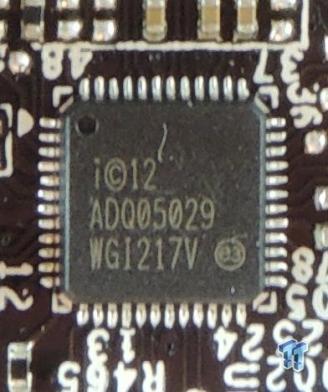 An Intel WGI217V, a very common PHY, is used in conjunction with the PCH to provide GBit LAN. However, half of the NIC is in the PCH and this physical layer device (PHY) provides the actual port signals. Supermicro also went with a WGI210AT, which is a commonly used secondary NIC for boards with dual Intel NICs.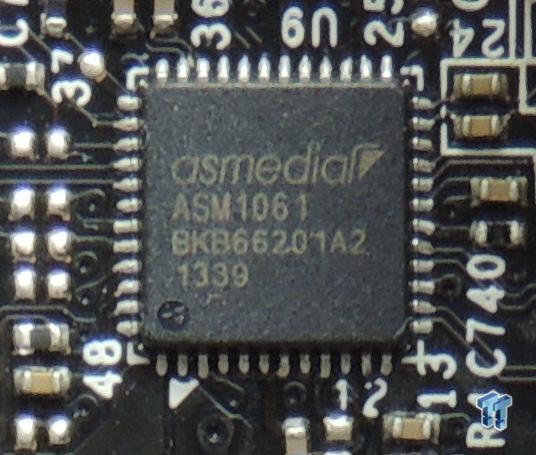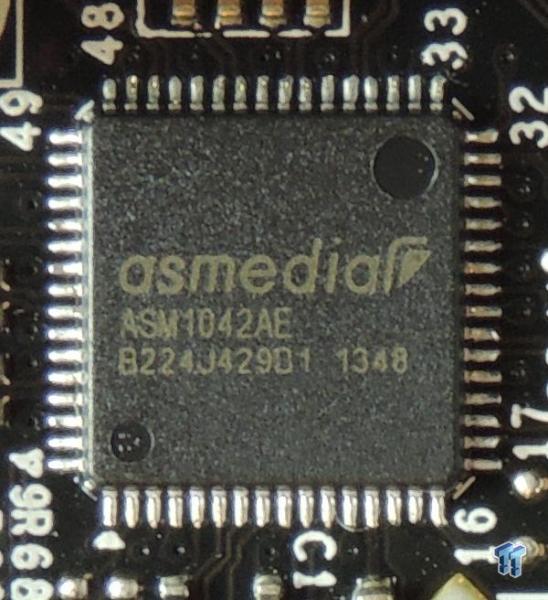 This is the ASM1042 that gets two PCI-E lanes and in return provides the USB 3.0/3.1 internal header. The ASM1061 provides two SATA 6Gb/s to make for a total of six SATA connectors.
The board has M.2 directly from the PCH, however, I should mention that at this time I was not able to boot directly from it.
The audio utilizes an ALC1150, however, there is no differential on the output, possibly limiting how high the SNR will go with this particular Realtek codec. The cleanliness of the PCB in this area signifies that they did put a lot of thought into making the audio section separate from the rest of the board. You can say it is isolated, and the sound quality is actually very good.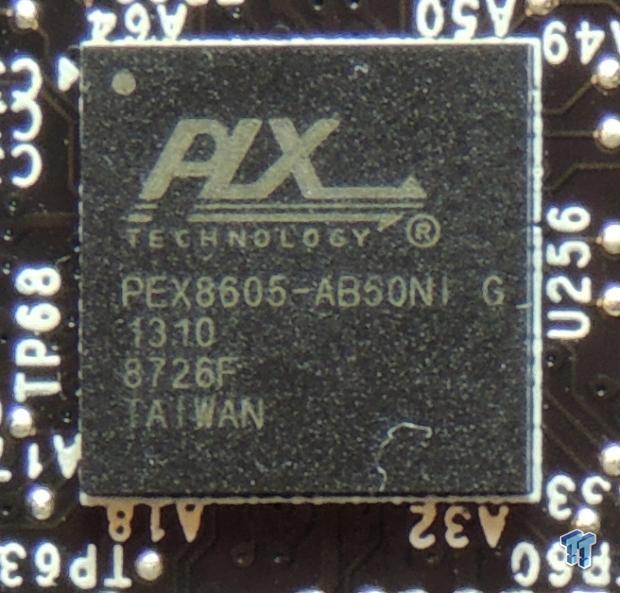 A PEX8605 is a four port switch, it takes in 1 lane of PCI-E 1x 2.0 and makes it 3 lanes of PCI-E 1x 2.0 which are then used for the black PCI-E slots. There are also 6x ASM1480 which switch the CPU's PCI-E lanes from 16x/0x/0x to 8x/8x/0x to 8x/4x/4x in the blue slots.
A Nuvoton NCT6776D is used as the super IO, it is a very common super IO and the board doesn't have issues having its sensors read by other programs.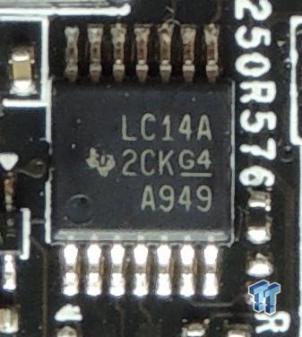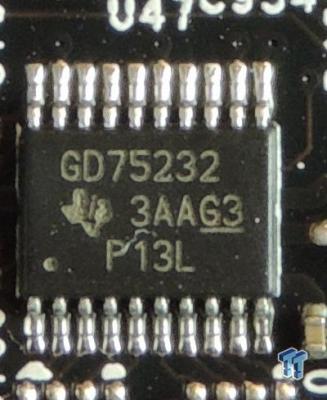 The Texas Instruments LC14A is a 4 port hex inverter, most likely used for the POST Code display, or for the OC button functionality. Texas Instruments GD75252 is a chip that allows for the serial port (COM). The TPM port is provided by the Super IO.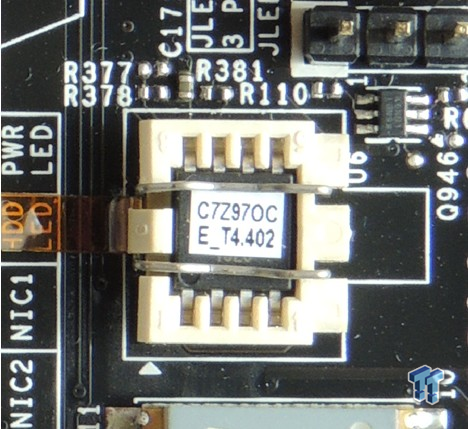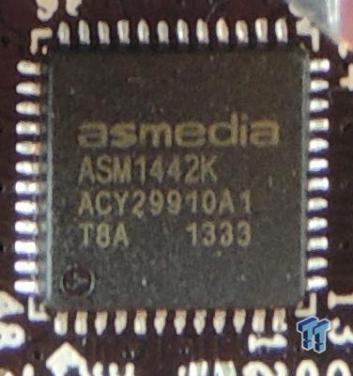 The BIOS ROM is actually a 128Mbit (16MB) part, I have only seen this on the GBT Z87/Z97 boards and most X99 motherboards. This is a huge BIOS ROM, partially because of the backup boot sector, but also because this board has Supermicro's first shot at a UEFI featuring a GUI, and they didn't want any size restrictions to deal with. An ASMedia ASM1442K is a level shifter for digital video, it converts the digital video signal to HDMI/DVI so that you can have an HDMI port on the board.
The BIOS and Software
BIOS
The BIOS on the C7Z97-OCE is the one place that Supermicro can improve this product. While it offers exceptional control over all the settings you want, some of them are overwhelming, such as all the power durations and limits for turbo mode (hint: you can just set 0 to max them out).
Another issue is that the BIOS seems to reset all the setting if you crash in Windows, and currently there is no way to save profiles. However, this board still functions and is still capable of overclocking through the BIOS.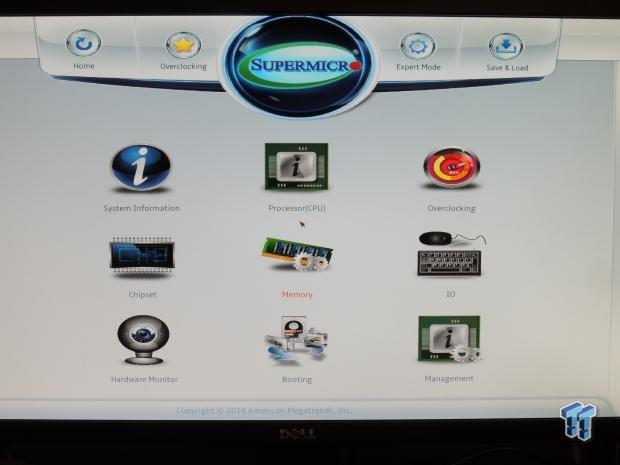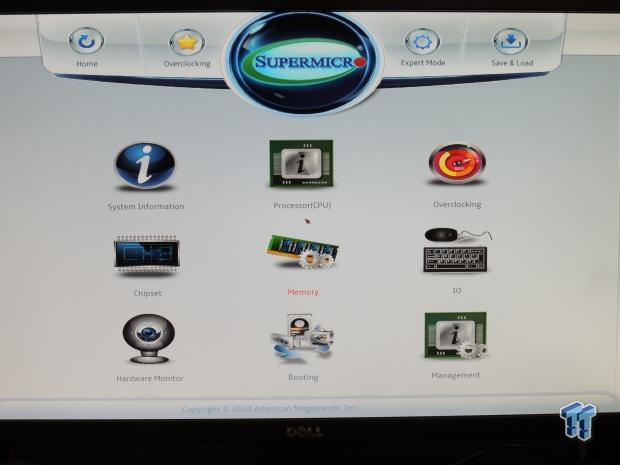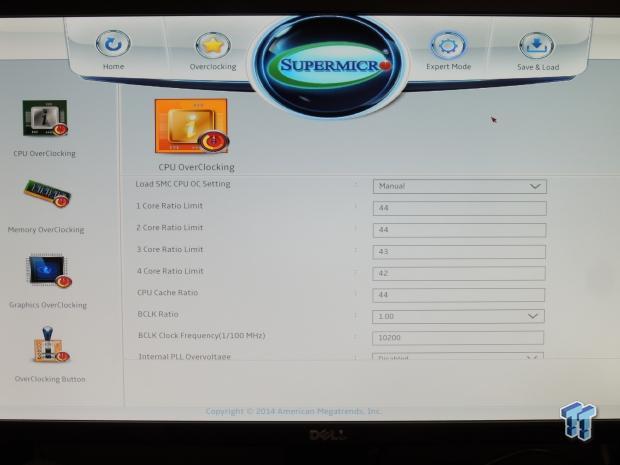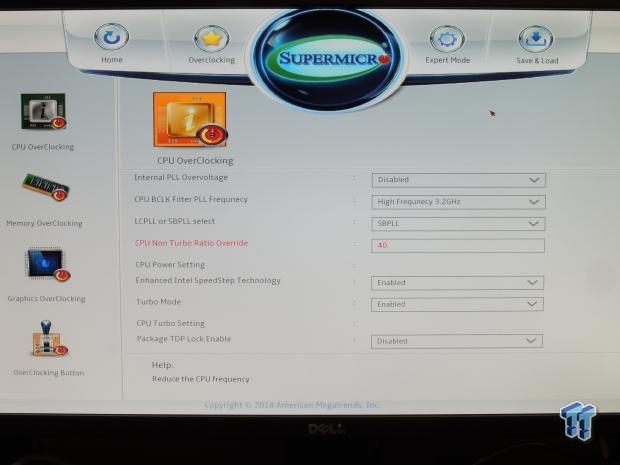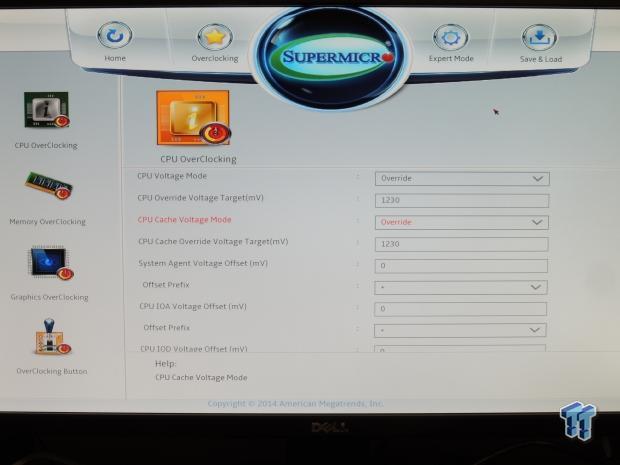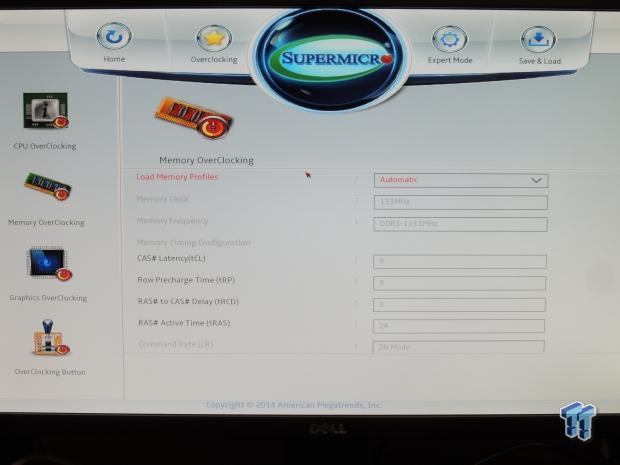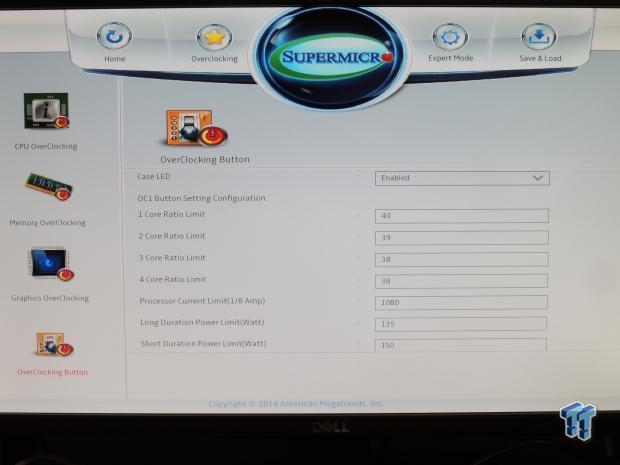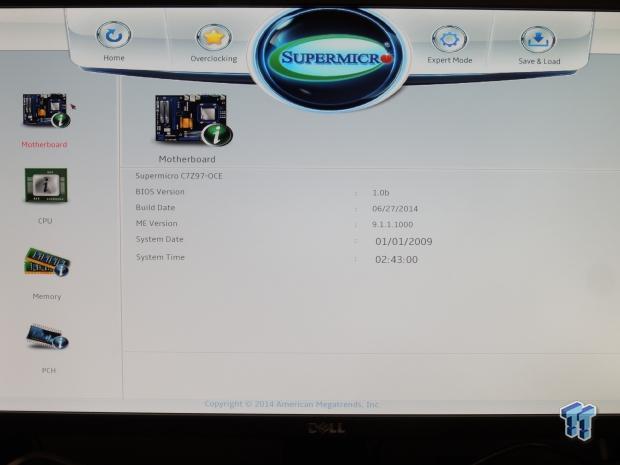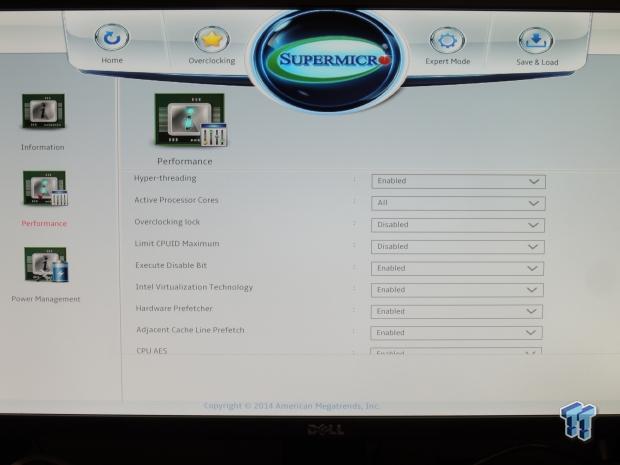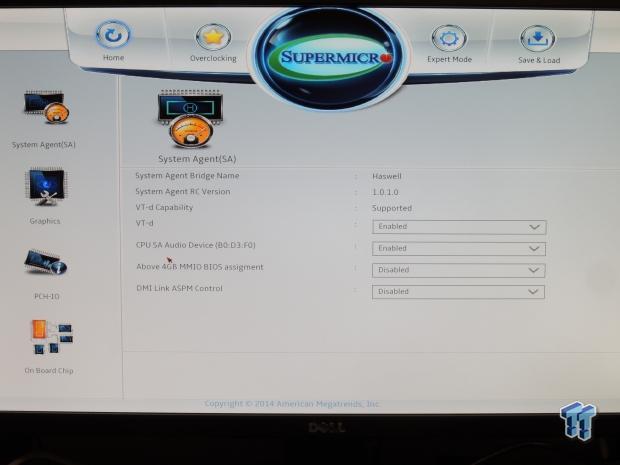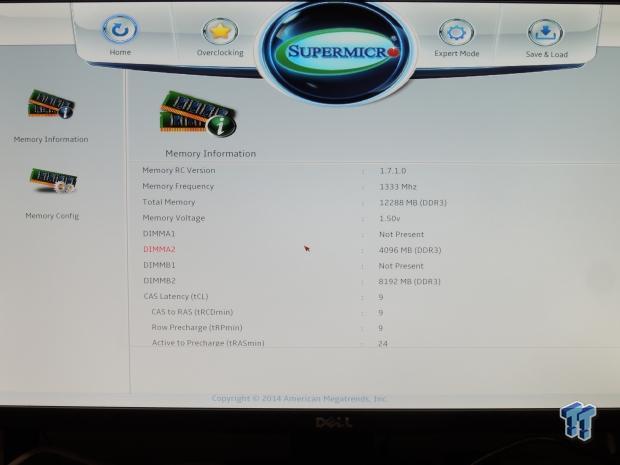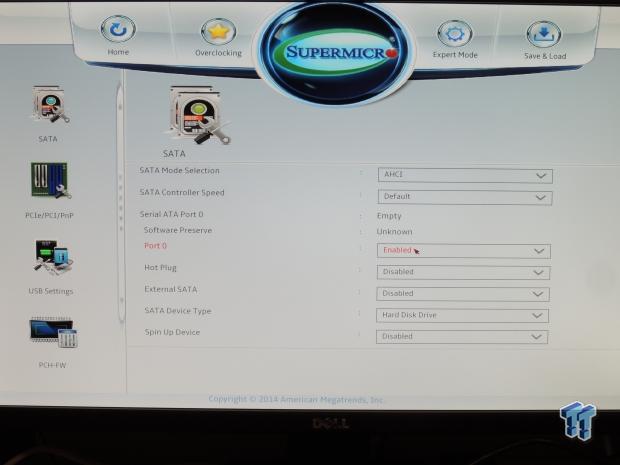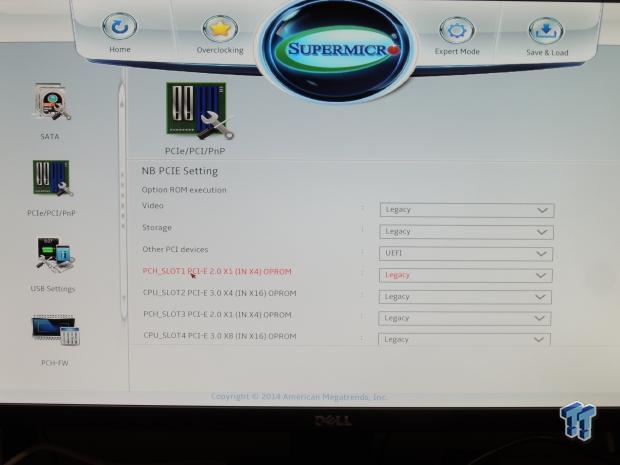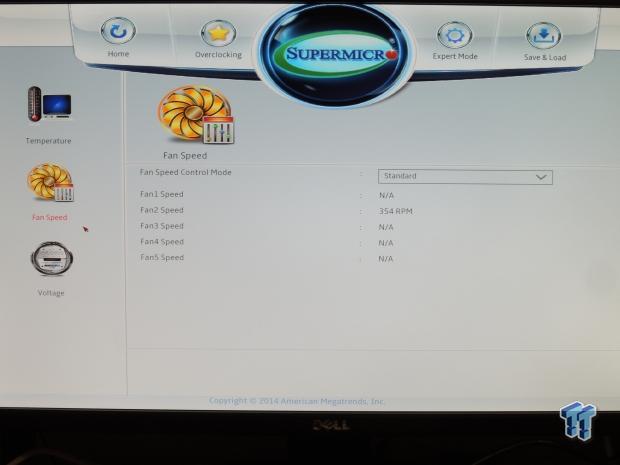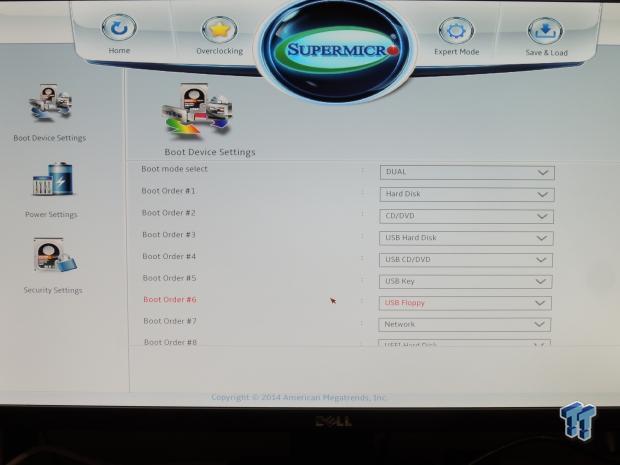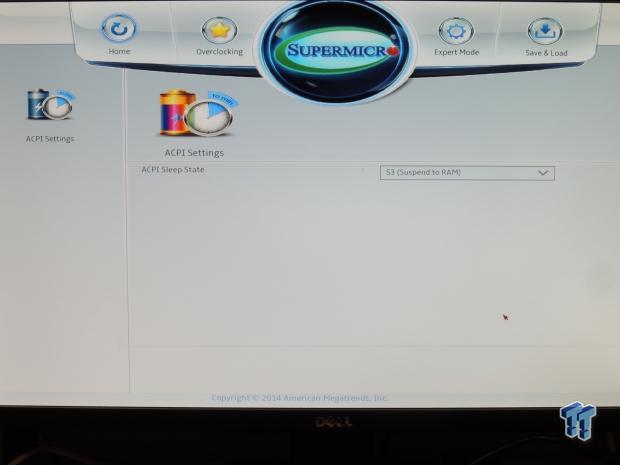 Software
Supermicro doesn't provide any software, just an OC driver you install to make the board compatible with Intel's Extreme Tuning Utility.
Test Setup and Overclocking
Test Setup
A big thanks to Corsair for sponsoring the case, fans, SSD, USB drive, and PSU!
A big thanks to Seekfor sponsoring the Thermal Camera. You can find my review of the camera here.
This is the new test bench, and it is designed to test every aspect of the motherboard and IO. I have designed it so that the motherboard sits in a case and is cooled by fans always on at a constant rate to keep the conditions similar for all tests. I have cut out part of the case behind the motherboard so I can get thermal images of the back of the PCB where the VRM heat spreads. System and CPU power measurements are now digitally logged.
We are also using a Netgear Nighthawk X4 AC2350 for our Wireless AC tests. The latest M.2, SSD, and USB technologies are also being utilized to test the maximum potential of the motherboards that are being tested.
Overclocking Results
In this section, I will go through overclocking this board. This board is Supermicro's second attempt at an overclocking centered motherboard, yet at the same time it also carries their first UEFI.
CPU Overclocking
Max CPU Overclock is found by setting the VCore to 1.4v, Input voltage to 2.0v, cache voltage to 1.2v, CPU multiplier to 45x, memory and cache multipliers to 8x, and disable any features that would result in CPU frequency fluctuation. I then proceed into Windows and use software to increase the multiplier; in this case I opted to use Intel's Extreme Tuning Utility as it's the only software that can OC this board in Windows.
5.0GHz is the maximum of our CPU on this board, this is most likely due to the fact we had to use Intel's XTU and it's not as light weight as other programs from other vendors.
Maximum AIDA64 Stable Overclock (BIOS settings below for this):
I was easily able to pull off 4.8GHz on the CPU with 4.2GHz cache and a 2666MHz overclock on my memory manually tuning the UEFI.
CPU, Memory, and System Benchmarks
CINEBENCH 11.5
HyperPI
wPrime
AIDA64 AES and HASH
AIDA64 FPU
AIDA64 Memory
PCMark8 Home Test
3DMark: Fire Strike
3DMark: Cloud Gate
Resident Evil 6
There isn't too much a Z97 system with a 4790K can do to beat an X99 systems with a 5960X in benchmarks, but the C7Z97-OCE is holding its own. The PCMark tests are interesting and the 4790K did some good there, but overall it would be more interesting to compare it against other Z97 boards which might happen in the future, but sadly not yet.
System IO Benchmarks
Anvil SATA6G:
Anvil M.2:
Diskbench USB 3.0:
In the storage benchmarks, the C7Z97-OCE does very well, performance is solid and beats out some X99 systems that have the same setup. The C7Z97-OCE has a single M.2 slot that is routed 2x PCI-E 2.0, same as the X99-Gaming 5. The ASRock X99 WS-E/10G has 4x PCI-E 2.0 to its M.2 slot and the MSI X99S-MPower has 4x PCI-E 3.0 going to its M.2 slot.
ixChariot Network Throughput:
Network throughput was pretty good, the C7Z97-OCE uses dual Intel NICs so I didn't expect any issues in network testing.
Audio RMAA 5.5:
I disable all audio features set the correct bitrates and then test the audio with a loopback test.
Sound Judgment by Ear: Very Good.
There are 5 ratings for audio: 1. Problems, 2. Okay, 3. Acceptable, 4. Very good, 5. Excellent
Temperature and Power Consumption
System power usage is measured at the AC/DC PSU (the Corsair AX1200i) which I have connected to another system to measure the test system and as a backup I have a wall meter to verify. The CPU power is measured through the 8-pin connect which is hooked up to a hall effect IC which measures current and puts out a voltage in proportion to the current. That voltage is logged by a National Instruments ADC which logs the DC voltage level, which I then convert into current.
Note on Thermal Images: In the temperature section, we use our Seek thermal imaging camera to capture the surface temperatures of major components on the board; I look at the VRM and then all other things that light up the screen. If there is something to worry about then I will state it, otherwise I will just show the hotter running parts of the board for fun. Unless some component is over 80-90C then there really isn't anything to worry about.
All systems will act differently, so I will look for commonalities, such as how far from the VRM the heat spreads through the PCB and the difference in temperature between the PCB and the chokes. Keep in mind that the majority of the heat from the VRM goes into the PCB as it is a giant soldered on copper heat sink.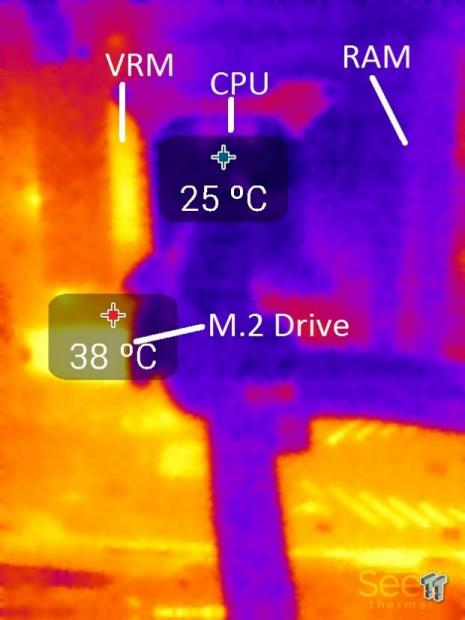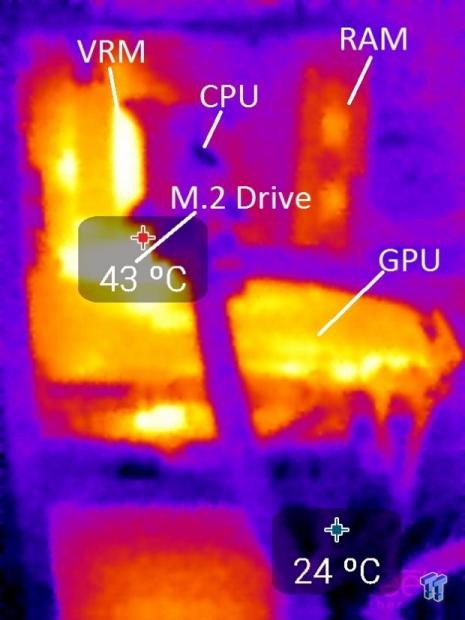 Here the board is idle on the left and full CPU/Memory load on the right (Intel Burn Test), you will notice that the hottest part of the board is the Samsung M.2 drive, not the VRM.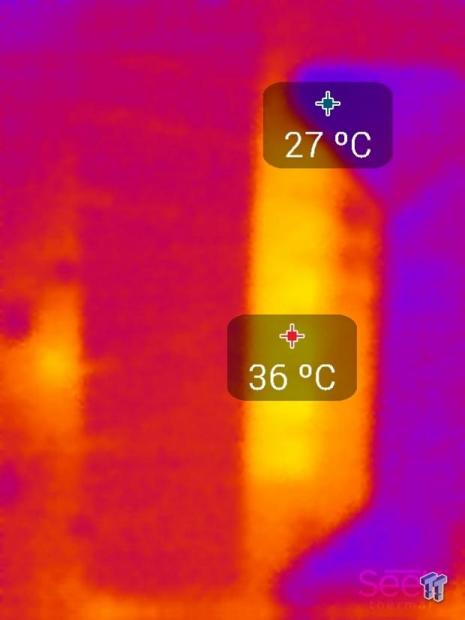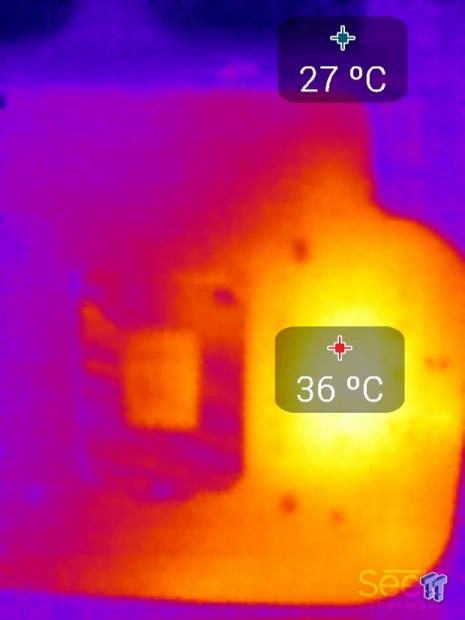 The VRM on this board is a little beast. The hottest it got was 36C at the chokes and the same temperature at the back of the PCB. It looks like the PCB absorbed the majority of the heat, and the heat sink isn't really required or effective. This points to a high quality VRM as the parts as specified in their datasheets are overkill for the Z97 platform. I like to see even heat distribution on the top and bottom of the board and all phases look evenly loaded. You should keep in mind that Haswell parts don't eat that much power so the VRMs do tend to run on the cooler side.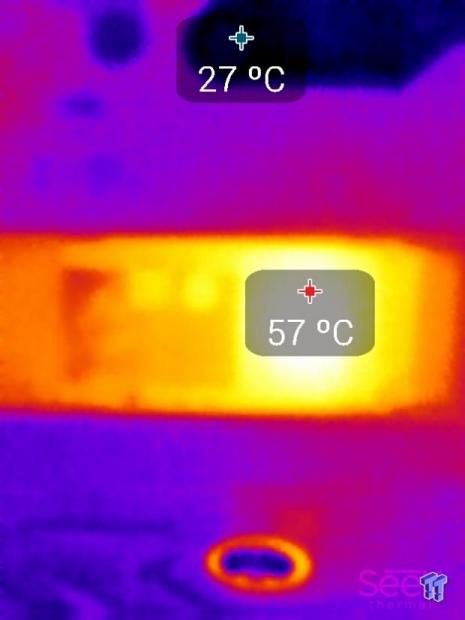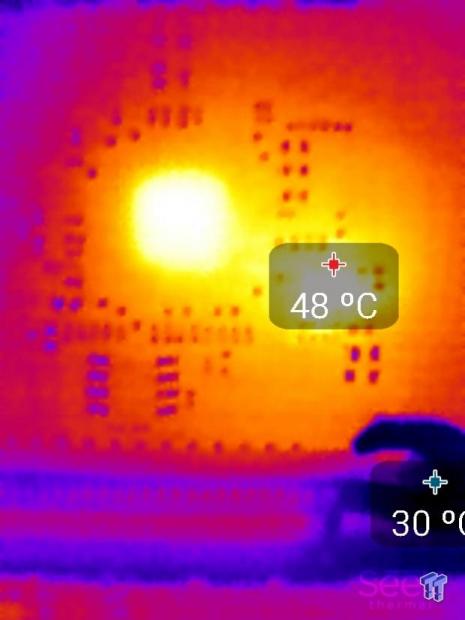 The Samsung M.2 drive is the hotspot on the left; it tends to run hot on all systems so nothing to worry about there. The image on the right is of the PEX8605 chip and its voltage regulator which also tend to get a bit warm.
Final Thoughts
A few months back, I had written an overclocking report on this board, I felt that the overclocking capabilities were average and that hasn't really changed. What I wasn't able to cover back then were the other aspects of the motherboard; its quality, performance, and value as a whole product.
If you just look at this board as an overclocking board, you aren't doing it justice, as it is a very good contender when it comes to value and should be a great board for a gamer who wants a very stable build.
The temperatures on the VRM are quite low and the board can handle the heat efficiently. The components used are server grade quality components and they should last a very long time. I would say that if Supermicro was to focus on one improvement, it should be the BIOS including fan control.
The IO expansion capabilities of the C7Z97-OCE are rather impressive; M.2, USB 3.1, and even dual Intel NICs. Supermicro did a good job of dedicating bandwidth to more critical hardware and avoided any sharing of bandwidth except on the 1x slots where they added a dedicated PEX switch chip.
This board is obviously built like a server product, but it carries the latest consumer features, and because of that any gamer who isn't looking to do hardcore overclocking might want to give it a closer look. When you factor in solid IO performance and a sub $200 price, it becomes a very nice buy.
PRICING: You can find the Supermicro C7Z97-OCE for sale below. The prices listed are valid at the time of writing but can change at any time. Click the link to see the very latest pricing for the best deal.
United States: The Supermicro C7Z97-OCE retails for $236.71 at Amazon.
Canada: The Supermicro C7Z97-OCE retails for CDN$366.89 at Amazon Canada.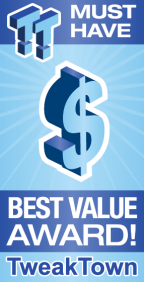 | | |
| --- | --- |
| Performance (including Overclocking) | 90% |
| Quality including Design and Build | 96% |
| General Features | 90% |
| Bundle and Packaging | 85% |
| Value for Money | 90% |
The Bottom Line: Supermicro's C7Z97-OCE is built like a server product, but carries the latest consumer features, and because of that, any gamer who isn't looking to do hardcore overclocking might want to give it a close look as this is a super stable and reasonably priced motherboard.
PRICING: You can find products similar to this one for sale below.

United States: Find other tech and computer products like this over at Amazon.com

United Kingdom: Find other tech and computer products like this over at Amazon.co.uk

Australia: Find other tech and computer products like this over at Amazon.com.au

Canada: Find other tech and computer products like this over at Amazon.ca

Deutschland: Finde andere Technik- und Computerprodukte wie dieses auf Amazon.de