Thecus N4310 Consumer NAS Review
A value-based NAS with a plethora of features, and a good price point, today Tyler gives us a close look at the Thecus N4310 four-bay NAS solution.

Published Tue, Feb 3 2015 9:11 AM CST
|
Updated Tue, Nov 3 2020 6:59 PM CST
Rating:

84%
Manufacturer: Thecus
Introduction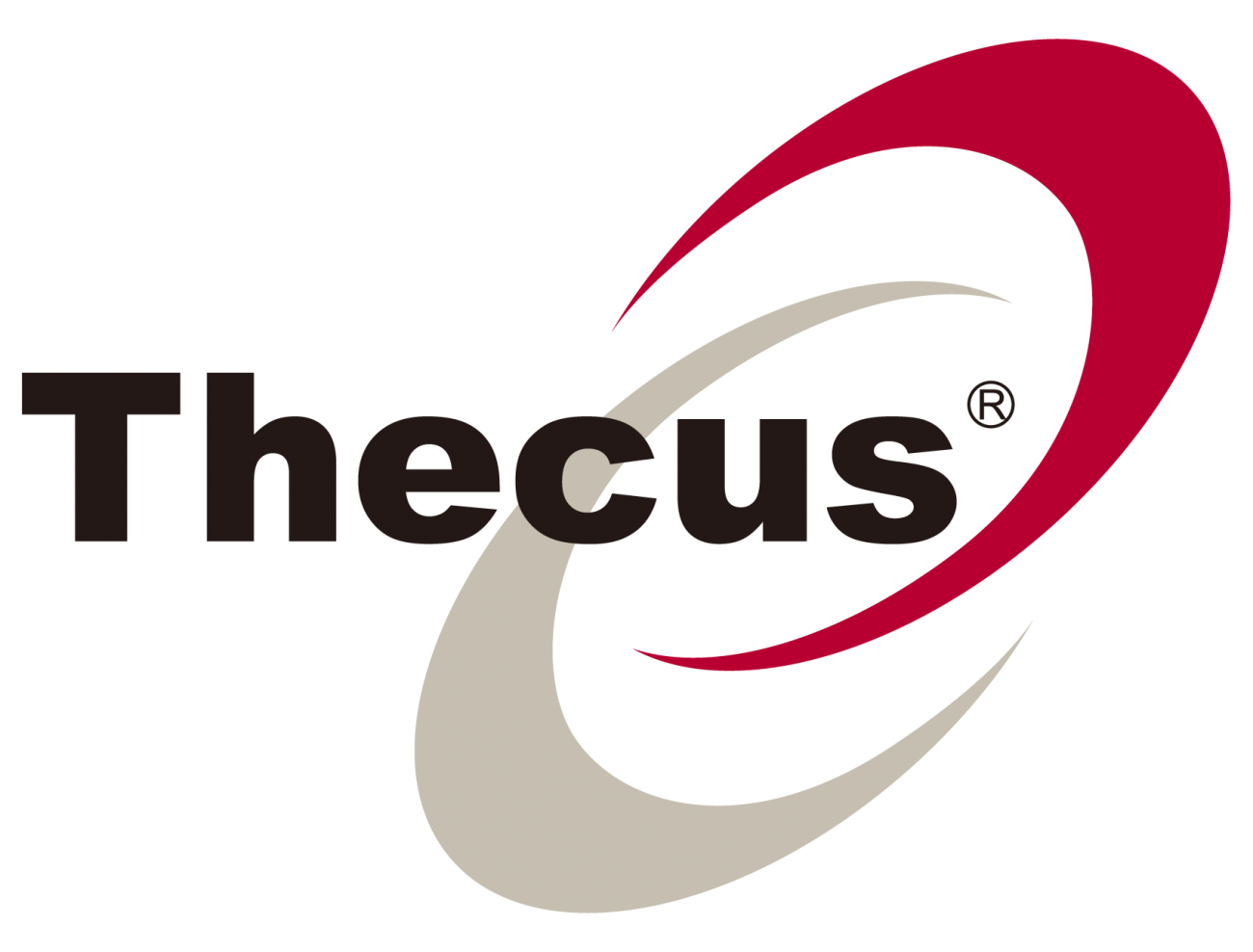 If you are in the market for a network storage solution, there are certainly many attractive solutions to choose from. Depending on which vendor you choose to go with, each platform will have its own unique features, from virtualization with many new QNAP solutions to X-RAID found in the Netgear platforms. With that said, Thecus has taken it upon themselves to open up a new market of NAS appliance solutions that cuts costs while maintaining the same level of quality as their entry-level series.
The NAS we have in house today is the four-bay alternative to the N2310 we reviewed just a few months back. This solution, like the aforementioned N2310, is aimed at consumers wanting a SOHO NAS solution with excellent performance and simple, straightforward management, all at a reasonable price. For those needing the higher capacity capabilities of the N4310, Thecus has done more than just add two bays to this unit. Internally, the Applied Micro SoC has been bumped up 200MHz, now totaling 1GHz, while the memory has also taken an increase from 512MB to 1GB.
The front of the N4310 still utilizes spring-loaded drive trays for easy access, while the right side of the unit houses all of the status LEDs one would ever need. The rear of this solution houses all of the standard I/O connectivity one would ever want, but does come with a few surprises for a value-based NAS. One such surprise is the redundant power supply connections, although, only one 60W adapter is included with the unit.

The specifications above outline a great deal of features included with the N4310 from Thecus. First, we have the Applied Micro SoC we spoke of above, along with the 1GB of DDR3. The rear of the unit houses a single RJ45 gigabit Ethernet port, along with dual USB 3.0, and redundant power supply capabilities. The mainboard for this unit houses four SATA connections, one for each bay, while supporting staggered spin up to ease the stress on the unit during power-up.
RAID mode support includes RAID 0, 1, 5, 6, and 10 with auto-rebuild support, and AES 128bit encryption support. Additionally, we have a plethora of disk-based features, including power management, bad block scanning, and disk roaming if you have a second N4310.
PRICING: You can find the Thecus N4310 for sale below. The prices listed are valid at the time of writing, but can change at any time. Click the link to see the very latest pricing for the best deal.
United States: The Thecus N4310 retails for $271.44 at Amazon.
Thecus N4310
Packaging and a Closer Look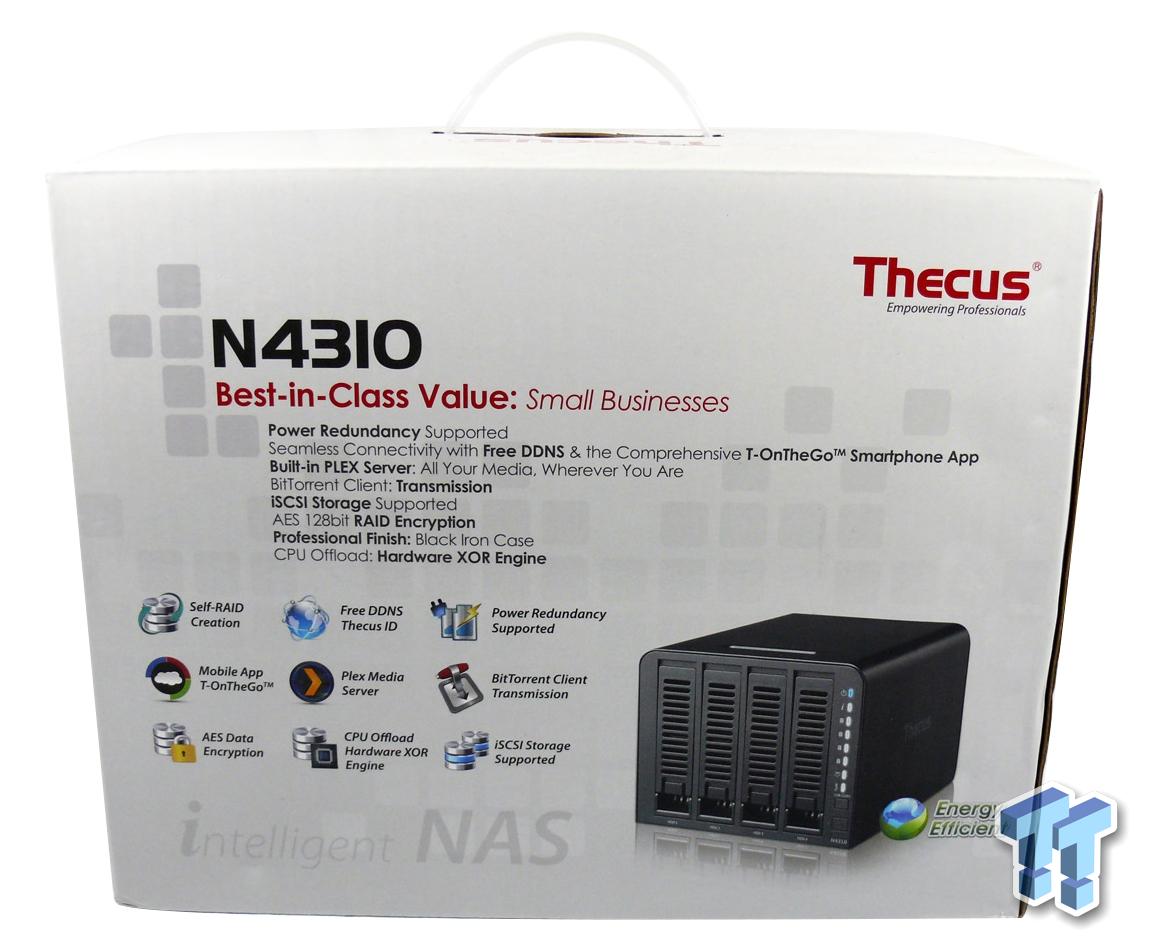 The packaging for the Thecus N4310 lists a ton of features for this unit. Blow the model number, we have mentions of the power redundancy, which is a big selling feature on SOHO NAS solutions. Moving further down, we have a built-in PLEX media server, along with iSCSI storage capabilities.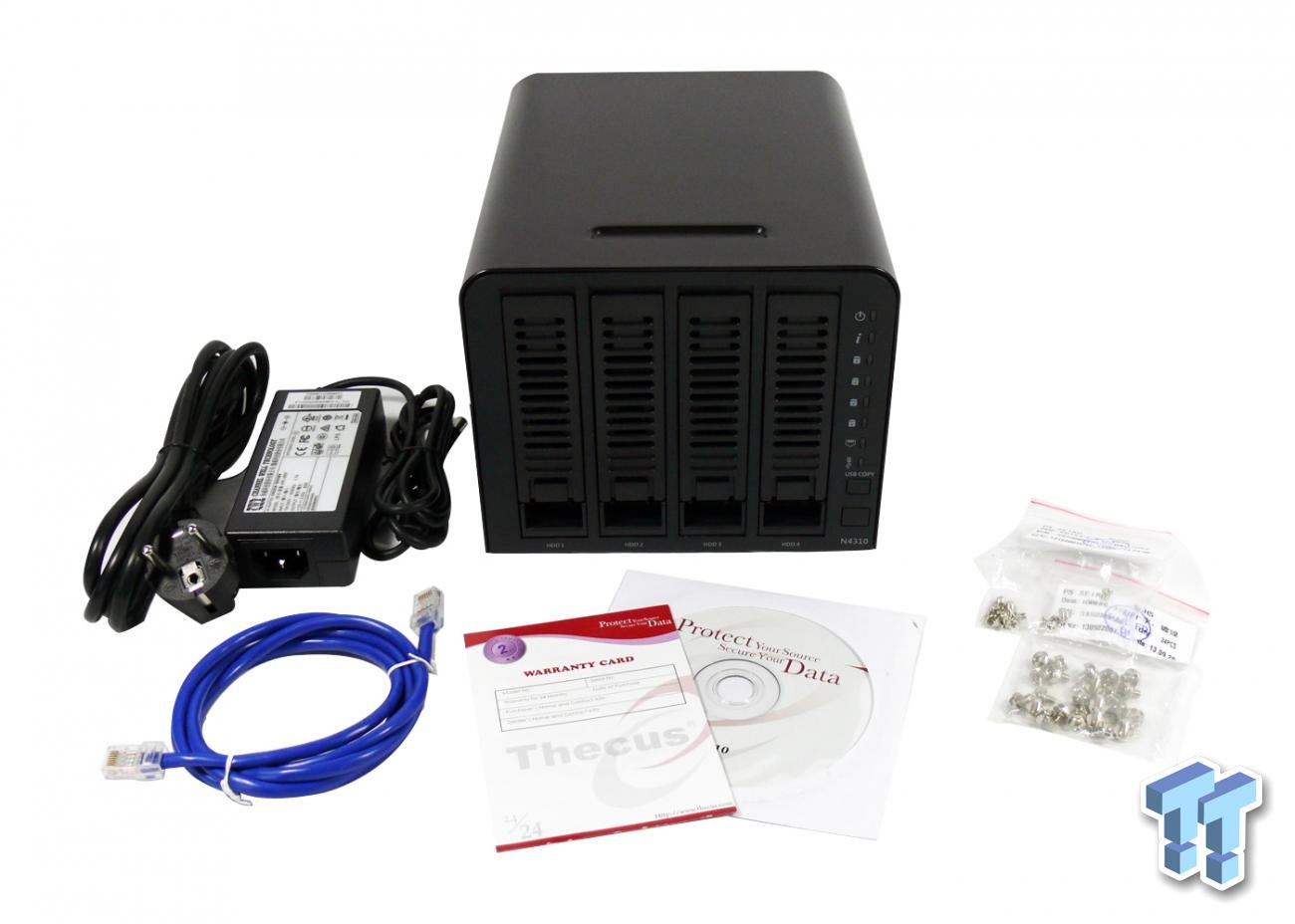 Scope of delivery includes a single LAN cable, the power adapter, and drive screws. Of course, we have the main appliance at the top of our image as well.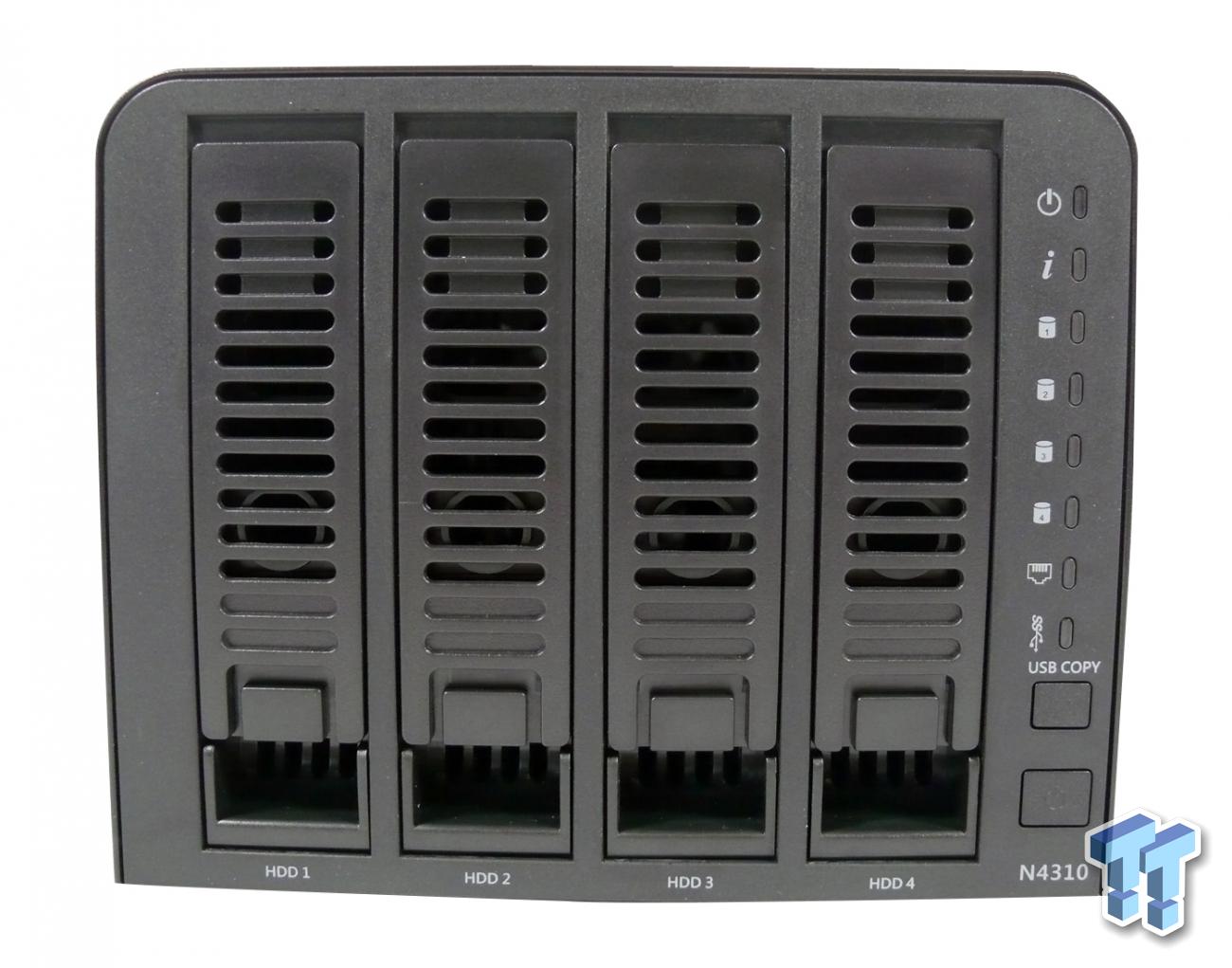 The front of the Thecus N4310 carries an entire bank of status LEDs to the right. Here we have everything from power to drive and Ethernet activity. Additionally, down below the LEDs, Thecus has included both the standard power button, and a USB copy button.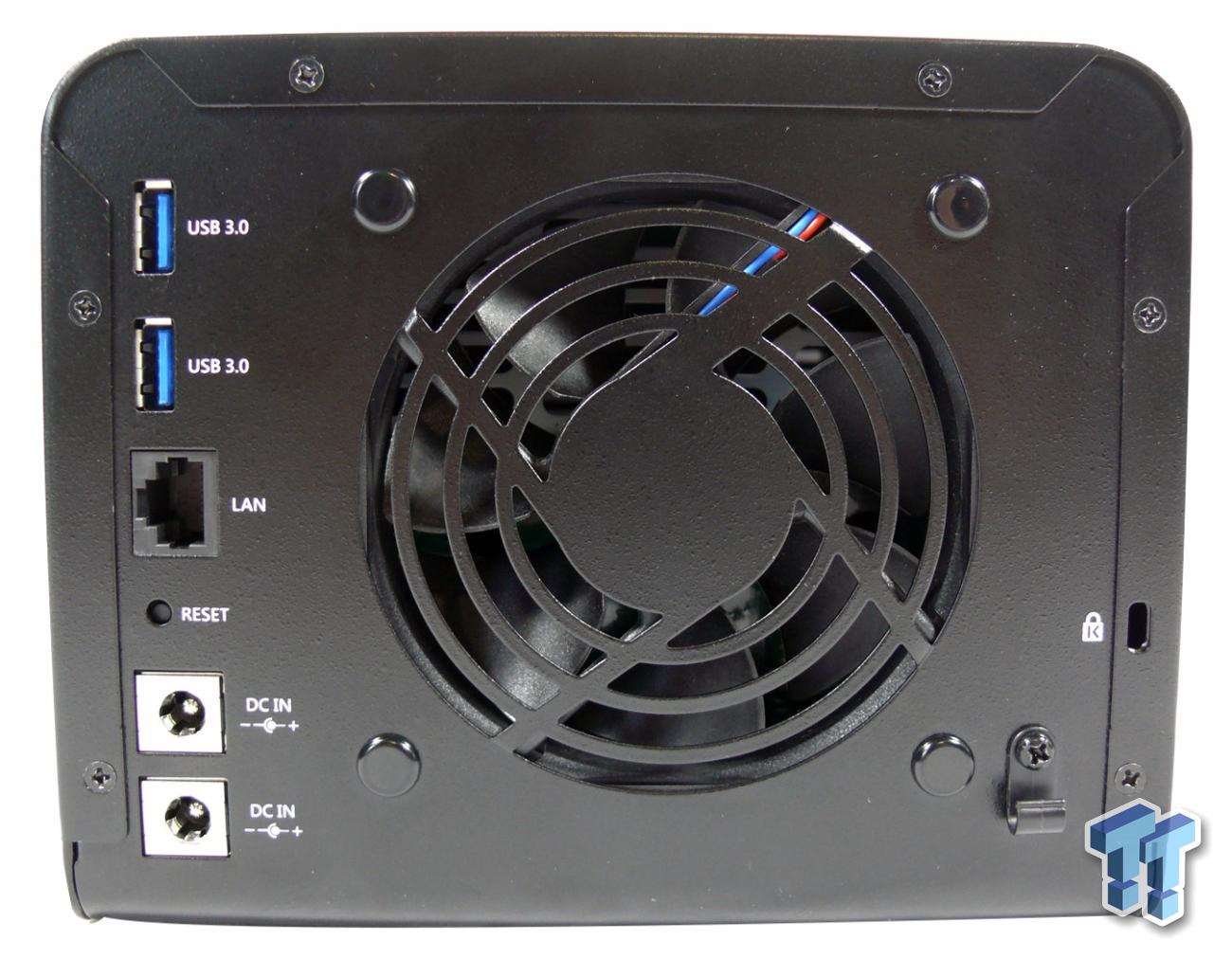 The back of the NAS is rather simple at the top. We start out with dual USB 3.0 ports, the gigabit Ethernet port sits below that, and there is a reset button if you ever need a factory default. Of course, there is also a redundant power supply setup.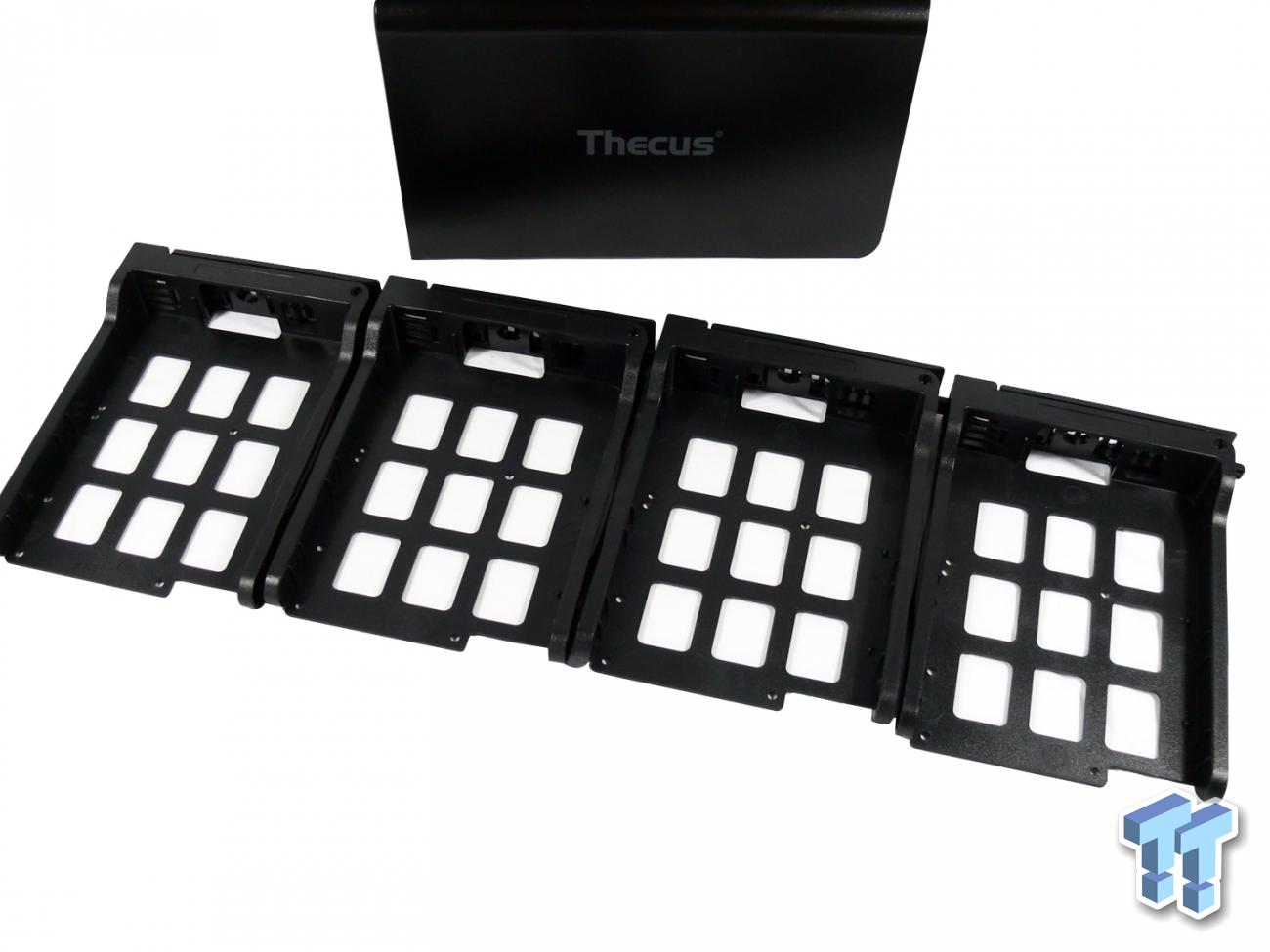 The drive trays are the standard plastic trays Thecus has used on most SOHO appliances in the last year. These are spring-loaded release, and feature both 3.5" and 2.5" mounting options.
Test System Setup and Management
Test System Setup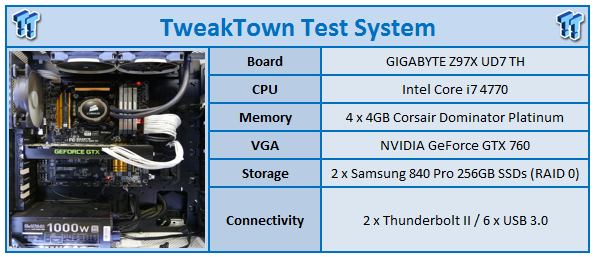 Our Consumer NAS Test "system" is setup similar to what you have at home. Here we have the base of a GIGABYTE Z97X UD7 TH, housing an Intel Core i7 4770 with 16GB of RAM. Our Operating System of choice is Windows 8 x64 Enterprise with all available updates and patches, installed on a pair of Samsung 840 SSDs. On the networking side, we utilize the Intel PRO1000 PT Server Adapter with a direct connection to each NAS appliance. This eliminates the need for a switch, and any bottlenecks that may occur.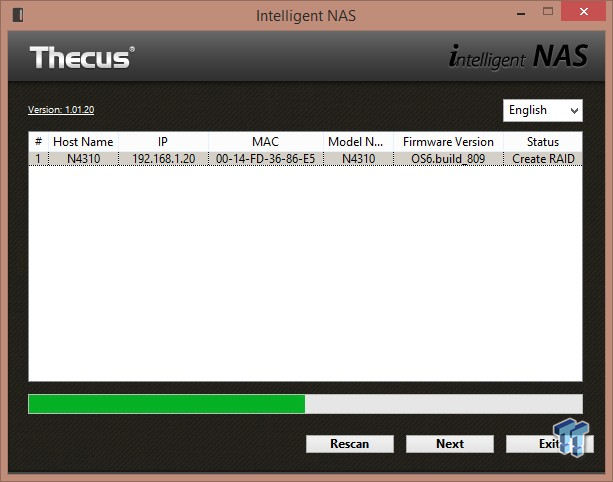 It's hard to think a simple application like the "finder" app could come such a long way, but Thecus has done a remarkable job with the latest revision. Previously, the app was buggy and difficult to use, but now it has undergone a complete redesign, and as you can see above, it lists out all of the information on the appliances found on your home network.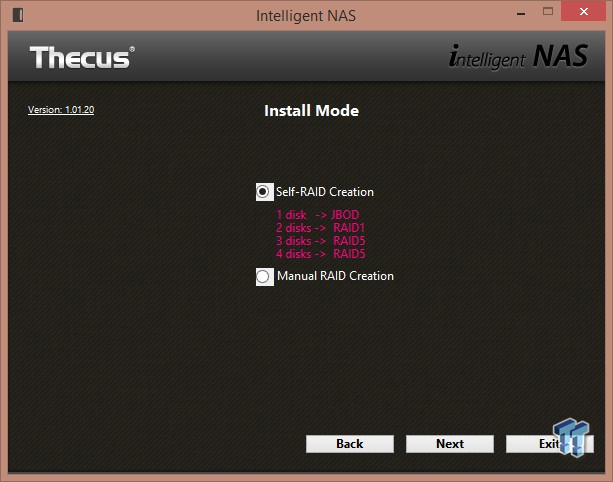 When setting up your NAS, you should note Thecus has deployed two options for creating your RAID array. The first is self-RAID creation that allows the appliance to choose the most suitable mode for the disks installed. Of course, you also have the option to create your own setup with the manual option.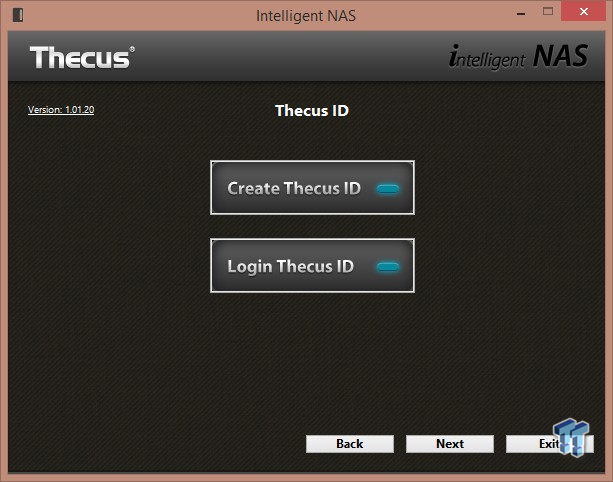 If you choose, Thecus has given users the ability to create an ID, which allows you to use cloud features of the NAS.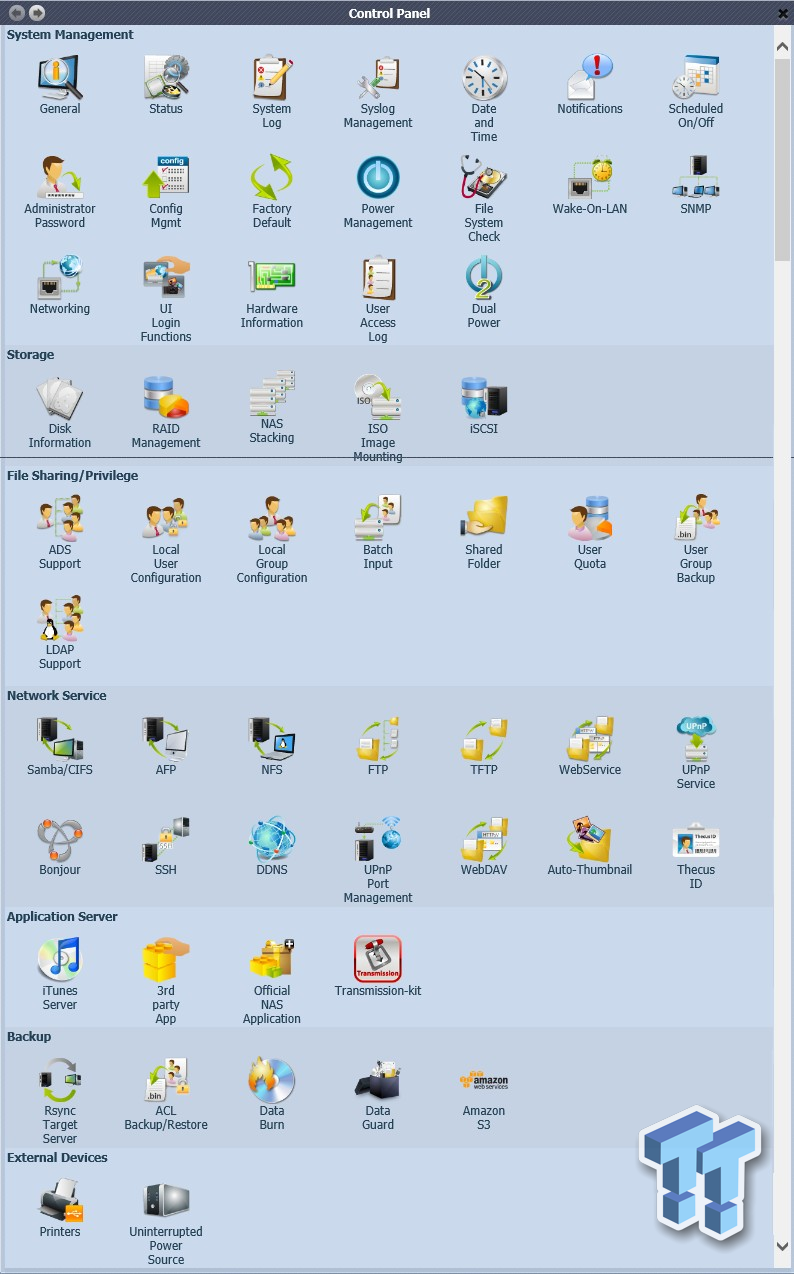 Once you have gone through the setup process, and have gained access to your NAS, you will land in the web management menu. When Thecus first moved to this new NAS OS, it was fairly limited as far as options were concerned, but as you can see now, it has really come a long way. Now we have a full array of options in addition to a full setup of applications that can be installed.
Benchmarks - Single Client Throughput
Workload
HD Video Play - 720p HD stream from Windows Media Player, 256kB reads
2HD Video Play - 2x playback
4HD Video Play - 4x playback
HD Video Record - 720p HD stream, 256kB writes
File Copy From NAS - 4GB file copy, 64kB reads
File Copy To NAS - 64kB writes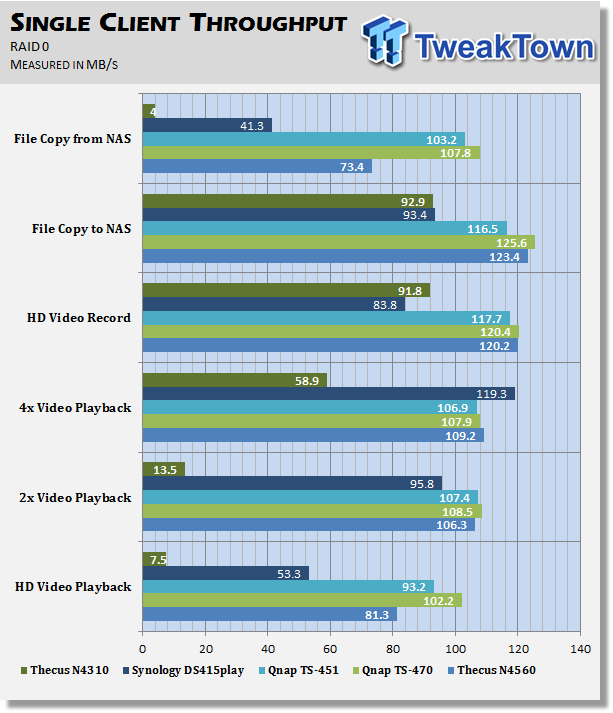 Starting off with our single client RAID 0 performance, the N4310 did quite well with write operations. File copy to NAS and HD video record were upwards of 92 MB/s, while read operations such as video playback and file copy from NAS were rather low in comparison.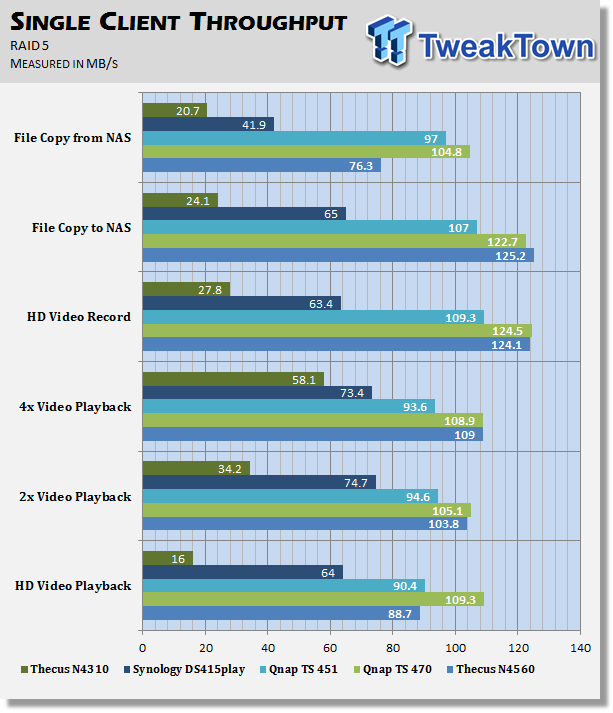 RAID 5 offered similar results in the video playback testing, with results coming in at 16, 34, and 58 MB/s respectively. Write operations touched 24 MB/s for file copy, and 27 MB/s for video record.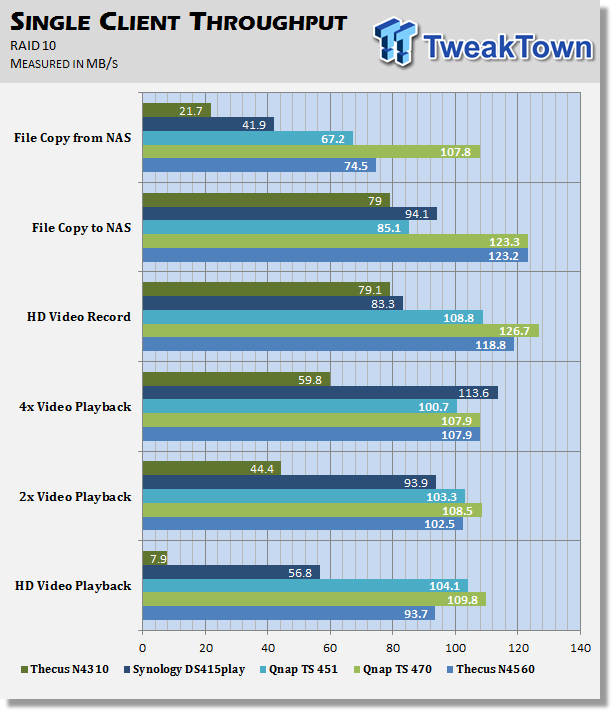 Switching to RAID 10 performance seemed to rebound slightly; video record and file copy to NAS reached 79 MB/s, and read operations like video playback and copy from NAS seemed to mimic our RAID 0 results.
Benchmarks - Sequential and Mixed Workloads
Our Sequential read/write workload is centered on 128K transfer sizes with a Queue Depth of eight.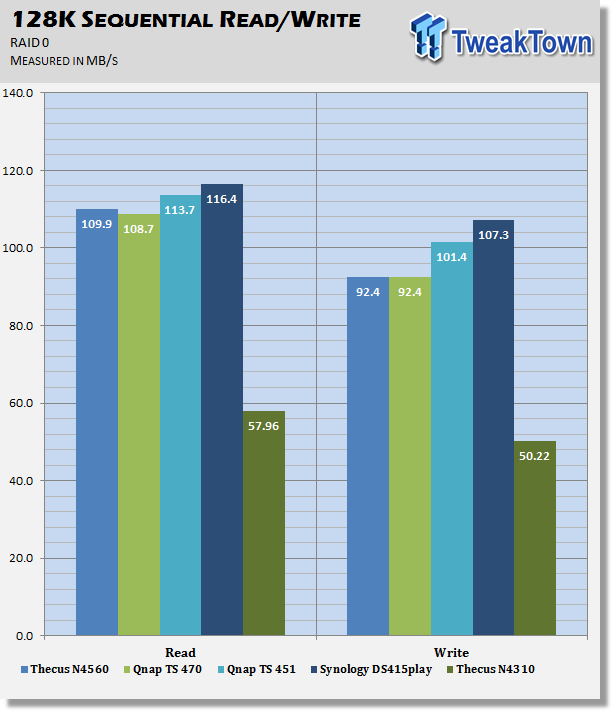 Sequential results utilizing RAID 0 had the N4310 producing 57 MB/s read, followed by 50 MB/s write.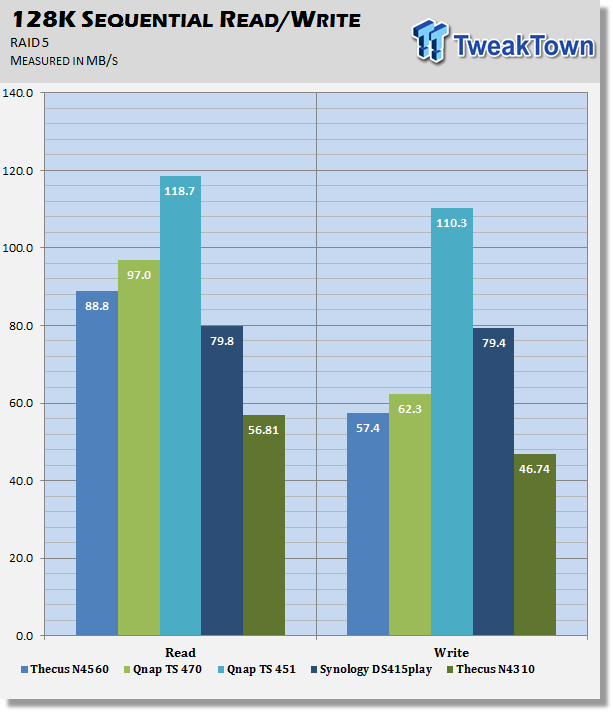 RAID 5 allowed the N4310 to bring out a bit more in our charts. Here we have 56 MB/s for read, and 46 MB/s write.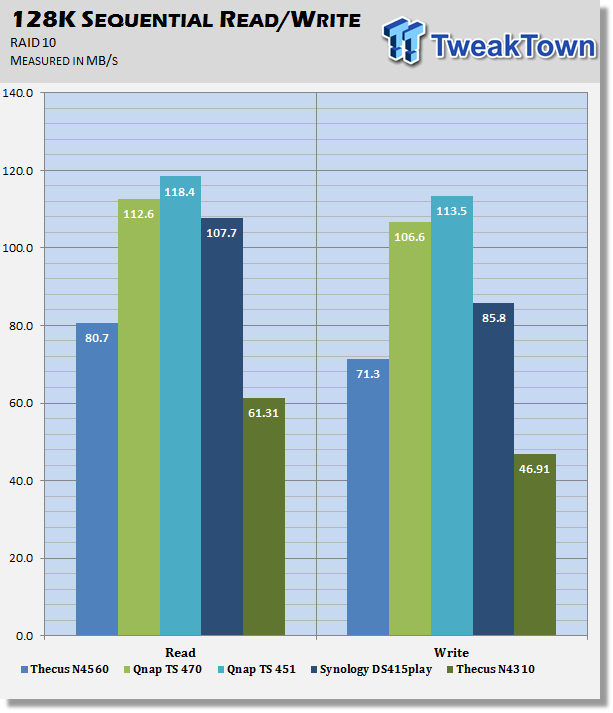 RAID 10 did quite well; read performance topped out at 61 MB/s, while write performance hovered around 46 MB/s.
Mixed Workloads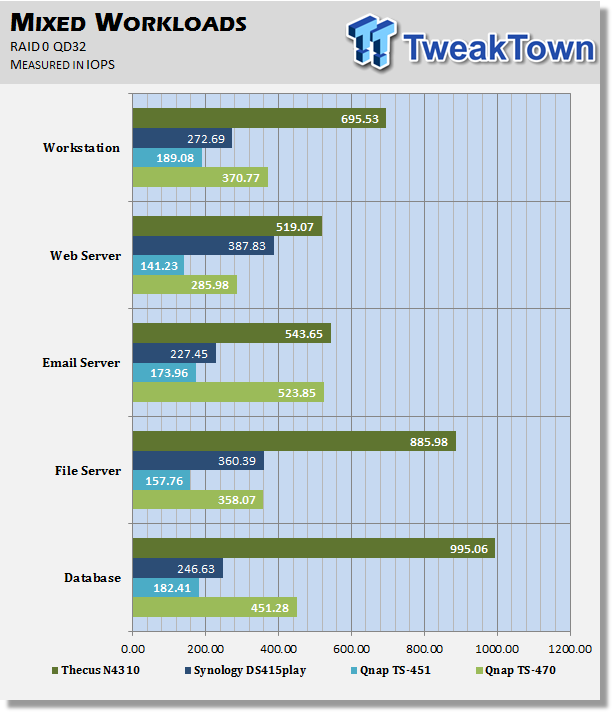 In our mixed workload testing, the Thecus did really well in RAID 0 with our workstation IOPS reaching 695, all the way down to the database touching 995 IOPS.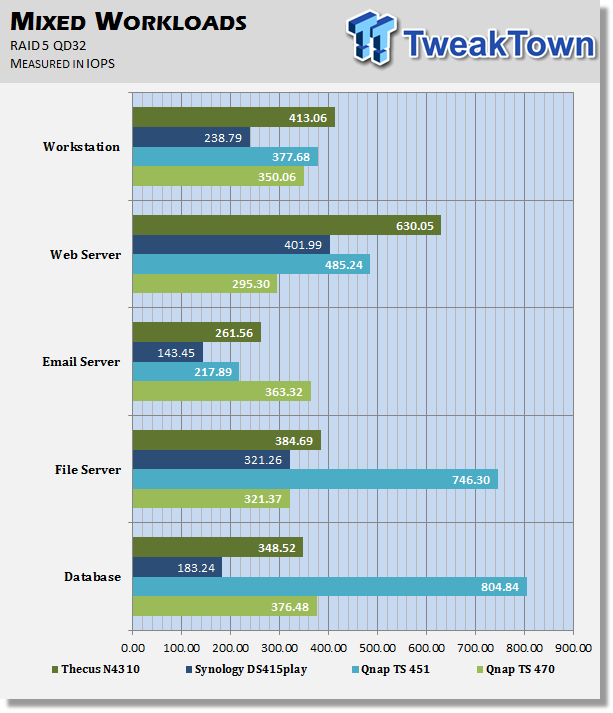 RAID 5 still had the N4310 producing some really good numbers. Above, we have a peak of 630 IOPS with Web Server to 261 IOPS with email server.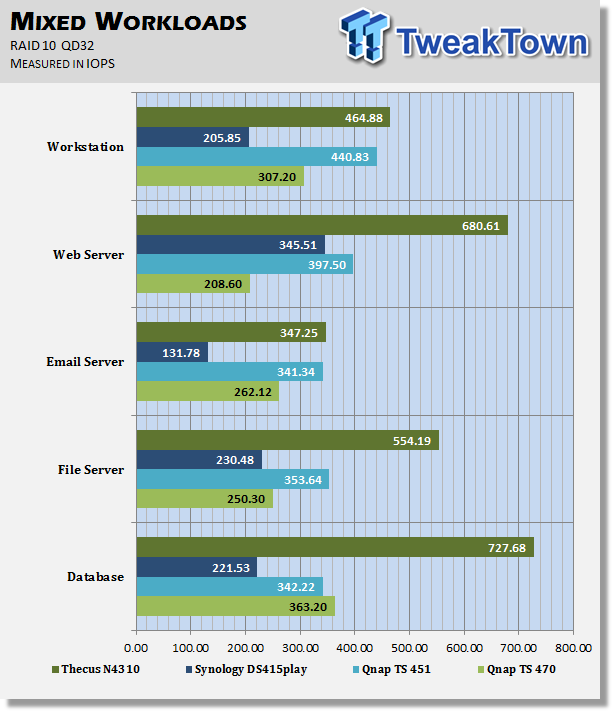 Switching to RAID 10, the Thecus still was able to outperform other solutions in our charts. Peak numbers came in at 727 IOPS in our database workload, while 347 IOPS in email server was the low point.
Final Thoughts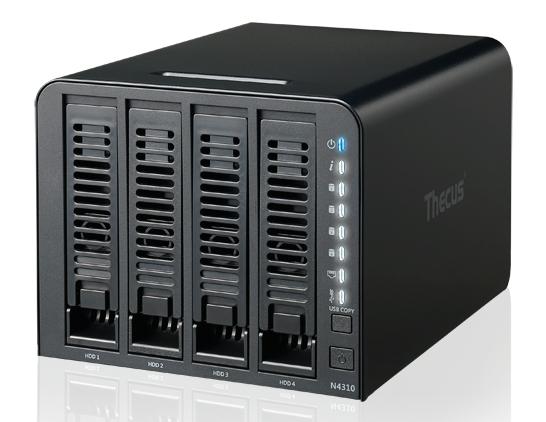 With the amount of data we store growing every day, the four-bay NAS market seems to be the sweet spot for consumers that want a good amount of features at prices that are easy on the wallet. The N4310 from Thecus fits right in with all the basic features one would want, such as SMB, AFP, and even FTP, but also adds to media server capabilities with PLEX and iSCSI.
Build quality is more than acceptable at this price, as the unit does cut some corners with materials, but still retains a certain amount of durability with its metal shell. The drive trays are plastic, but I often find Thecus units that use these types of trays to be more user friendly, as they tend to slide in and out of the chassis a lot easier, and avoid vibration more readily.
Setup and use of Thecus OS 6 has come quite a ways over the past year. The new intelligent NAS "finder" application makes for a world of difference when setting up your appliance, especially when the previous solution was frustrating to use. While the NAS OS hasn't undergone too many changes, and it does lack that certain flow that QNAP and Synology have with their solutions, I can say that Thecus has done a good amount optimizing with OS 6. Now, OS 6 is much easier to navigate than when it was when it first launched, and a good amount of features that have been broken in the past, like idle spin down of disks, are now working toward lower power consumption while the unit sits idle. In fact, we measured a low of just 12 watts with our unit.
In our testing, performance of the N4310 was hit and miss. The NAS did really well with write operations throughout testing, including in our single-client testing, but it did lack the 100 MB/s performance I was hoping for in read operations. Mixed workload testing was quite interesting with the Thecus, as the unit did exceptionally well, and actually took top honors in many of our charts.
Overall, the N4310 could use some refinements, but as a package, it does offer a great amount of features and bang for your buck in the four-bay consumer NAS segment.
PRICING: You can find the Thecus N4310 for sale below. The prices listed are valid at the time of writing, but can change at any time. Click the link to see the very latest pricing for the best deal.
United States: The Thecus N4310 retails for $271.44 at Amazon.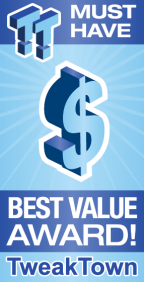 | | |
| --- | --- |
| Performance | 76% |
| Quality including Design and Build | 84% |
| General Features | 87% |
| Bundle and Packaging | 85% |
| Value for Money | 89% |
The Bottom Line: Thecus' N4310 is a solid NAS solution with a good amount of features for the standard consumer. Adding to that is its strong price point, making this solution one of the best bang for your buck four-bay appliances.
PRICING: You can find products similar to this one for sale below.

United States: Find other tech and computer products like this over at Amazon.com

United Kingdom: Find other tech and computer products like this over at Amazon.co.uk

Australia: Find other tech and computer products like this over at Amazon.com.au

Canada: Find other tech and computer products like this over at Amazon.ca

Deutschland: Finde andere Technik- und Computerprodukte wie dieses auf Amazon.de
We openly invite the companies who provide us with review samples / who are mentioned or discussed to express their opinion. If any company representative wishes to respond, we will publish the response here. Please contact us if you wish to respond.
Related Tags