Limefuel Rugged L150XR 15,000mAh Battery Pack Review
Limefuel gets down and dirty with its Rugged L150XR, a 15,000mAh battery pack designed to go everywhere with you. Come and check out Anthony's full review.

Published Tue, Sep 30 2014 12:12 AM CDT
|
Updated Tue, Nov 3 2020 6:59 PM CST
Introduction, Specifications, & Pricing and Packaging
Introduction, Specifications, & Pricing
Limefuel offers a great range of mobile batteries, and I've loved each and every one that I've reviewed so far. The auto-charging/sensing part of the charger is just so great, and the company offers batteries with a ton of charge inside of them, ramping all the way up to 24,000mAh. Today, we are looking within the company's Rugged series, at the new Rugged L150XR. This new portable battery bank is a 15,000mAh battery that is IP66 certified, meaning that it is water, dust, and shock/crush resistant.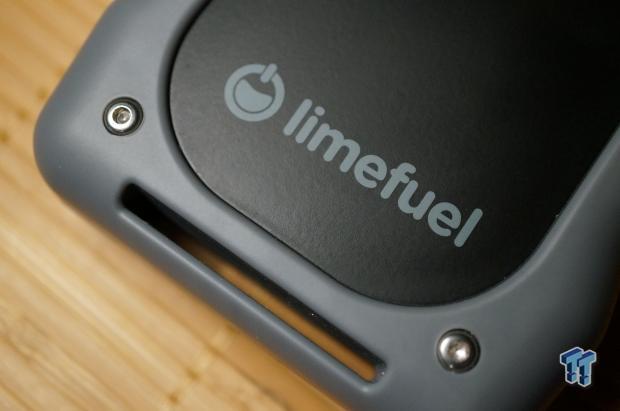 Aside from the aforementioned product details, the Limefuel Rugged L150XR also has two USB ports for charging up two devices simultaneously, passthrough charging capabilities, a smudge-proof rubber finish, and ridges for enhanced grip. Additionally, the L150XR features auto-on and auto-off abilities to provide you with the maximum amount of battery life, and a touch-activated power indicator.
Limefuel has provided the Rugged L150XR with some serious specifications, with the dual USB ports listed as capable of 5V/2.1A each, or 5V/4.2A total. The Limefuel Rugged L150XR will also charge quickly thanks to its 5V/2.0A input charging. The company says it will take somewhere between 9-15 hours to charge up, and should have over 500 uses on a full charge. The L150XR measures in at 83 x 144 x 27mm, or 3.27 x 5.55 x 1.06 inches; it's chunky, but not overly cumbersome to carry around. The extra weight is because of its outer shell, which protects the Rugged L150XR from the elements, and much more.
Limefuel sells the Rugged L150XR on its website for $84.99, and it appears to be selling well, because it is already out of stock on Amazon. The L150XR is priced a bit high for our liking, but you can't directly compare this against a normal power bank, as this is somewhat of an enthusiast's or outdoorsy-type's charger. You can take this charger with you on a variety of trips, whether it be on a plane, in the car, or even camping, and everything in between. The waterproof and shockproof features are the two biggest winners here, which is something we will discuss in greater detail shortly.
Taking It Out of the Packaging
Let's get into the packaging. Limefuel has splashed a good design on the box itself - which makes a great first impression.
As we can see here, we have the Limefuel Rugged L150XR battery itself featured on the front, with a note that it is IP166 Rugged - protected from water, dirt, and drops. Flipping it over, we can see that we have 15,000mAh of battery, 2A for input charging, a two-in-one cable, IP66 rating, and much, much more.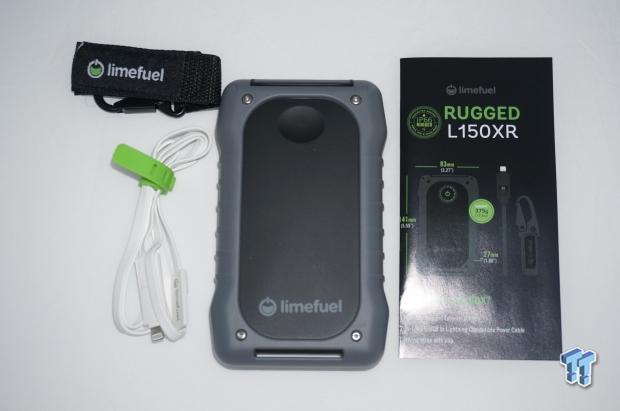 In the box we have a carry strap with clip, a two-in-one cable that provides both micro-USB and Lightning, the Rugged L150XR itself, and the User Guide.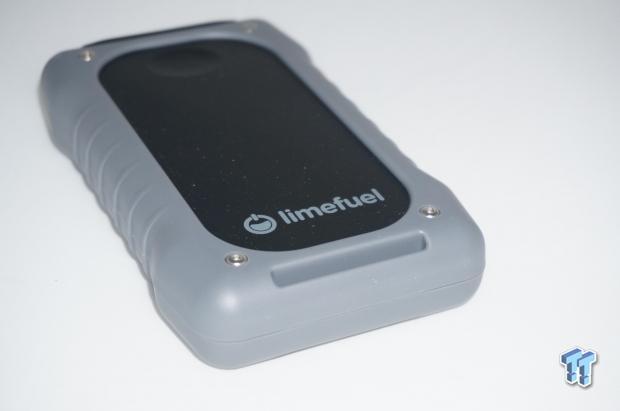 We present to you, the Limefuel Rugged L150XR.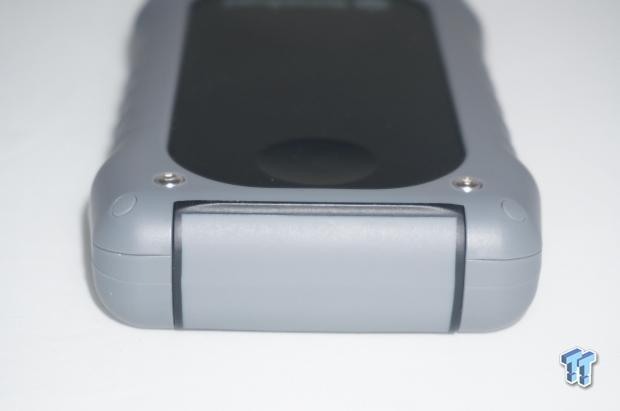 On the top of the Rugged L150XR, we have a closed flap that protects the micro-USB port for charging, and the two 2.1A-capable USB ports.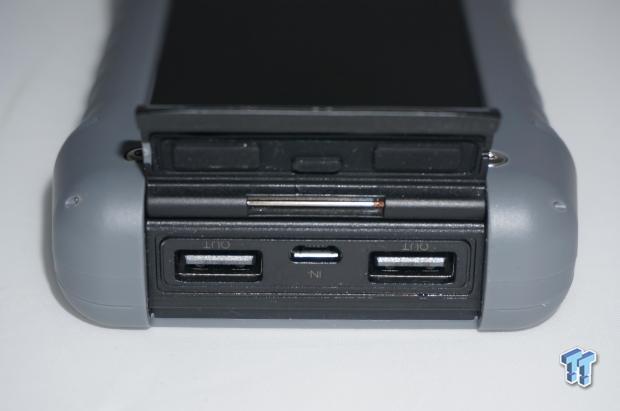 Here we have a proper look at the two USB ports, and the micro-USB input port.
Here we have the Limefuel Rugged L150XR on its back, and to the right, you can see it flipped over on its face.
Usage and Final Thoughts
Using the Limefuel Rugged L150XR 15,000mAh Battery Pack
To test the Limefuel Rugged L150XR, I took out for the afternoon and ensuing night to my brother's house, where my brother was lighting up a fire for the super-cold winter we're experiencing Down Under. It was the perfect time to test it out in the elements (close to 0 C temperatures) while smoke and whatever else hit it.
The L150XR ended up with flour all over it from the homemade pizzas my brother made, and it sat within six to eight feet of the fire, so it had smoke billowing all around it. I had two devices plugged into it at all times, a smartphone of some sort (belonging to whoever was next to it and needed charge), and a portable Bluetooth speaker for our music. I had it going all day, from around 2pm all the way through to 2am, without running out of juice.
What better way to test out the ruggedness of the Limefuel battery, than to test it by dropping it from a decent height, and then dunking it in water? We did this using my Google Glass, so you get a first-person perspective of our testing.
After dropping it from around six feet, then a little over eight feet, I plugged it into my Sony Xperia Z2 smartphone, and it still worked. Dunking it into a big bowl of water for over 30 seconds is nothing for the Limefuel Rugged L150XR, as it still worked flawlessly afterward.
What's Hot
It's Rugged: As the name implies, Limefuel has a rugged battery here, folks. It can take a huge drop, withstand an entire car driving over it, and it can even go for a swim without being hurt at all. The ruggedness does come at a price though, and that is the increased bulk and weight, but I'd take the ruggedness over light weight any day. I dropped my Rugged L150XR a few times just for the heck of it, and for the purposes of this review, and it still worked without a problem. I purposely dunked it in water, spilt water all over it, and it continued to work without skipping a beat.
What's Not
No Embedded micro-USB cable: With the added bulk on the Rugged battery, I would've enjoyed an embedded USB cable. It would've made the battery a much better product to buy considering its higher price, but we can't have everything I guess.
No Flashlight: This is something I really wanted to see on the Rugged L150XR, especially as Limefuel has baked in an LED flashlight into its Blast series batteries. A flashlight would've been the perfect accessory to something that is marketed toward the outdoors, but maybe we'll see that in a future iteration of the Rugged series of batteries - hopefully.
Final Thoughts
I had originally thought about saying that the Limefuel Rugged L150XR was a bit on the expensive side, but with everything considered, it's not. We have a super well-built battery with water, dust, and shock proofing, a huge 15,600mAh of portable charge, and it's something that still fits into your bag without a problem. At $84.99, it is much more expensive than most of the competition, but it is a well-crafted battery that is worthy of its slightly inflated price tag.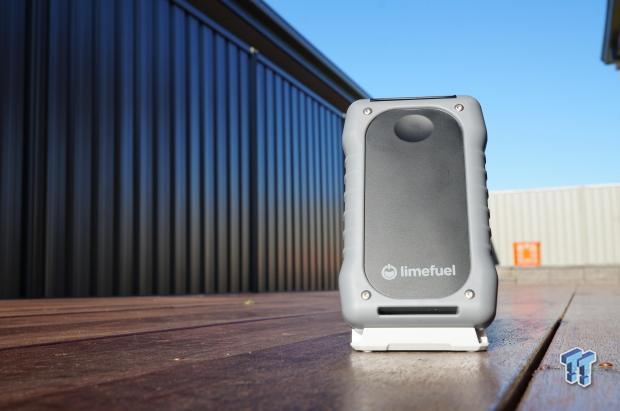 Limefuel has continued its winning streak with the Rugged L150XR, and I hope the company continues this trend into the future. On the next iteration of the Rugged series, I'd love to see an LED flashlight built-in, and an embedded micro-USB cable. With those two additions, I think Limefuel would have one of the best made, feature-packed batteries on the market. If you need a new battery that can handle the elements, and doesn't mind being thrown around, then you have found what you're looking for with the Rugged L150XR.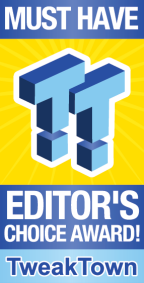 | | |
| --- | --- |
| Performance - USB ports/Amount of mAh | 95% |
| Quality - Build/Design/Looks | 95% |
| General Features | 90% |
| Bundle and Packaging | 95% |
| Value for Money | 80% |
The Bottom Line: Limefuel has the best battery on the market for people who travel, or want to own a battery that won't break down on them after a drop, or water hits it.
PRICING: You can find products similar to this one for sale below.

United States: Find other tech and computer products like this over at Amazon.com

United Kingdom: Find other tech and computer products like this over at Amazon.co.uk

Australia: Find other tech and computer products like this over at Amazon.com.au

Canada: Find other tech and computer products like this over at Amazon.ca

Deutschland: Finde andere Technik- und Computerprodukte wie dieses auf Amazon.de
We openly invite the companies who provide us with review samples / who are mentioned or discussed to express their opinion. If any company representative wishes to respond, we will publish the response here. Please contact us if you wish to respond.
Related Tags