Introduction and Package
Introduction of the ASRock X99X Killer
Taking a look at the Intel i7 5960X EE which was also posted just minutes ago on TweakTown, we found ourselves extremely impressed with what Intel was offering from its prestigious Extreme Edition line of processors. Like any time you look at a single item that pretty much tips $1,000, you find yourself knowing that it's out of reach for so many people or just something that people can't justify.
It's all fair enough in the end. The Core i7 5960X EE is a hugely expensive processor, but with that said, it's at the exact price point you would expect it to be. The good news is that below that, the i7 5930K and i7 5820K processors look like impressive options for people who want to jump on the X99 bandwagon, but not pay the price that is associated with the Extreme Edition line of CPUs.
If want to read more about the CPUs and the new X99 chipset, then I highly recommend you head on over to our Intel i7 5960X EE review where we cover both items in detail. Now we're moving onto the motherboard that was behind everything in that review.
The Killer Fatal1ty series of motherboards aren't new to us and we've had a chance to test both the Z87 and Z97 versions of the board in the past. We've been happy with what ASRock is offering, and expect that the trend will continue with the highest-end version of the board yet, the X99X Killer. It's the first offering of a bunch of Intel X99 boards we've got to look at over the coming weeks and months. Today, though, is all about the ASRock version, as we spend the time to focus on benchmarks that make use of our motherboard to see just how it compares to a list of Z97 motherboards we've tested lately.
Package - What comes inside the box
Taking a look at the front of the box, you can see that the overall design is very similar to other Killer based boards we've seen from ASRock. We've got the ASRock, Fatal1ty and Super Alloy logos across the top, while the model number sits in the middle. Across the bottom, you can see a bunch of the main features that are included. Looking here, you can see we've got CrossFire and SLI support. Support for up to 128GB of DDR4 ECC and RDIMM memory across eight slots, along with Killer E2200 networking and a few ASRock bonuses including the APP Shop, Purity Sound 2, X Split and Ultra M.2 storage support.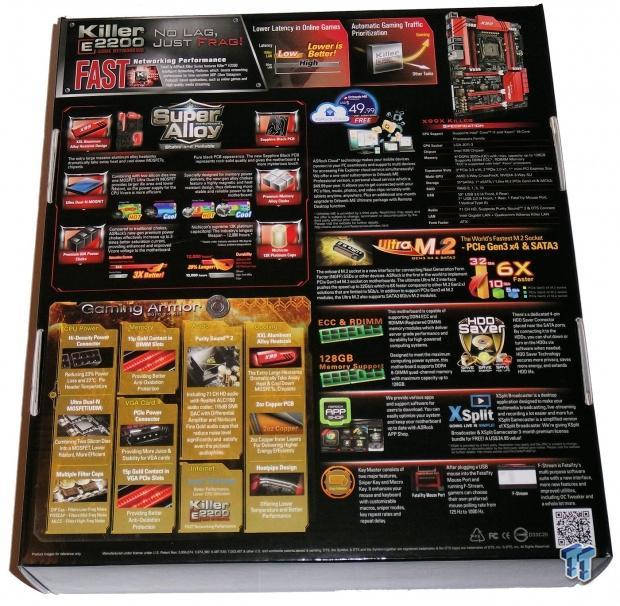 Turning the box over, we've got an absolute ton of information being shown. Starting across the top, we've got a run down on the Killer E2200 networking support, which brings lower latency and Automatic Gaming Traffic Prioritization. Moving down from there, we have the Super Alloy feature on the left, which brings a ton of extras to help improve the quality of the board. These include the XXL Aluminum Alloy Heatsink Design, Ultra Dual-N MOSFET, Premium 60A Power Choke Sapphire Black PCB, Premium Memory Alloy Choke and Nichicon 12K Platinum caps to round things off. All features that when come together help create a more stable and longer lasting motherboard.
Moving to the right of Super Allow, we've got a bit about the ASRock Cloud technology and the main specifications of the board. Moving down, we've got information on the new PCIe Gen3 Ultra M.2 slot offering fast performance with compatible drives. On the bottom left side, we've got a run down on what the Gaming Armor feature brings. Some of the main ones here include the Hi-Density Power Connector, Purity Sound 2, PCIe Power Connector, 2oz Copper PCB and the overall heat pipe design. Finally, we finish up on the bottom right side covering some of those main ASRock features, which include HDD Saver, ASRock APP Shop, the inclusion of X Split and those few Fatal1ty features which cover Key Master, Fatal1ty Mouse Port and F-Stream software.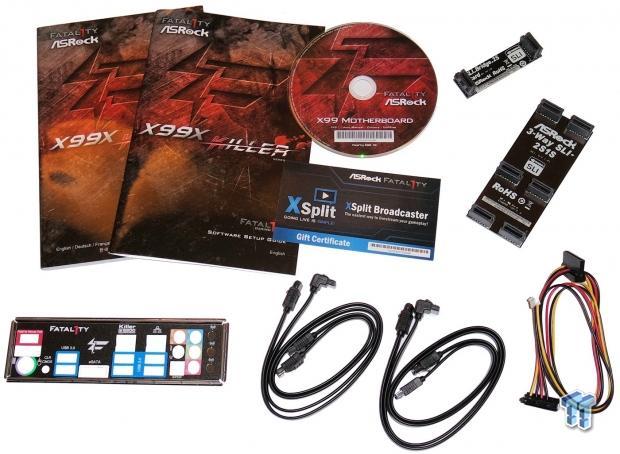 For a board that has so many features, you can see moving inside we don't have a ton going on with the package. We've got the normal array of manuals, along with the driver CD. Below that, you can see a Gift Certificate for X Split Broadcasting software, something that comes in extremely handy if you're interested in streaming your games. Moving through the rest of the bundle, it's all a pretty standard affair. We've got two SLI connectors, one for a dual card setup and the other for a 3-way setup. The main rear I/O back plate, four SATA cables, and a SATA power cable connector to round things off.
Motherboard Details
Close up with the ASRock X99X Killer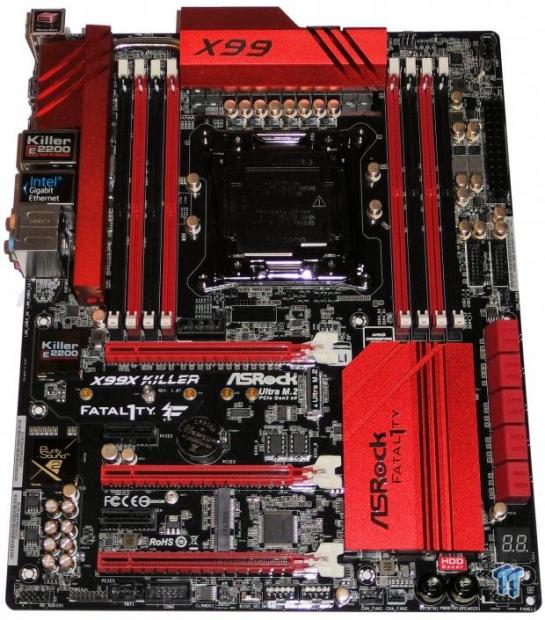 Taking a look at the motherboard, you can see the red and black color theme that you'd expect from a Killer based motherboard. The black PCB against the red highlights looks nice, and you can see that ASRock has got a pretty fat looking heat sink design across the top of the motherboard, and on the bottom ride hand side.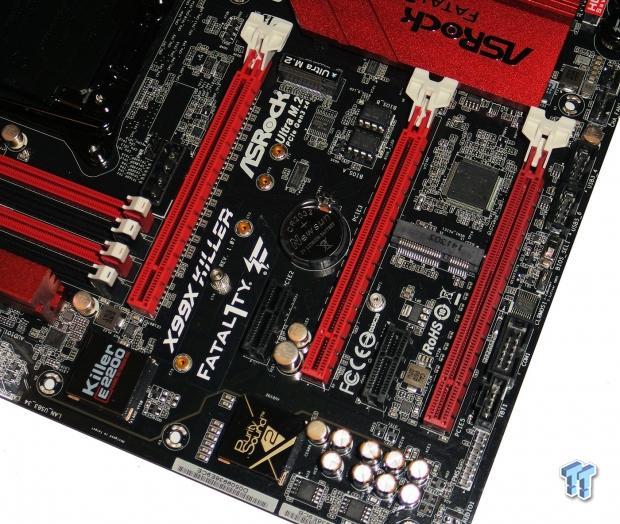 Moving in closer, you can see we've got two PCIe x1 slots and three PCIe x16 slots. Depending on if you're using a 40 lane or 28 lane CPU will depend on the setup. If you're using a 40 lane CPU, you'll see an x16 / x16 / x8 setup. If using a 28 lane CPU, you'll see an x16 / x8 / x4 setup. This is one of the biggest differences when it comes to purchasing your CPU with the i7 5820K having a reduced number of lanes down to 28 lanes.
Along with the standard run of PCIe slots, you can see a Molex power connector above the highest slot PCIe x16 slot for added power for your video card setup, while below that you can see an Ultra M.2 slot for the latest in storage technology. Outside of that, though, you can see between the bottoms two PCIe x15 slots, we have a Mini PCIe slot.

Moving across the bottom of the board, you can see a lot of the standard connectors here including the COM1, USB 2.0, fan headers, along with the main front panel connector. Towards the middle of the board, you can see a small toggle switch that lets you switch between the two BIOSes that are installed, while on the right hand side, we've got a power and reset button, along with the HDD Saver connector above that, which is used in conjunction with the power cable that is included in the bundle.

Turning the corner, you can see we've got total of 10 SATA ports on offer. If you had a chance to read our review on the i7 5960X EE, you would know that all of these are SATA III and all of them run off the Intel X99 chipset. Along with these, you can see a LED Debug reader on the far left that helps you solve any problems that you may run into when it comes to booting.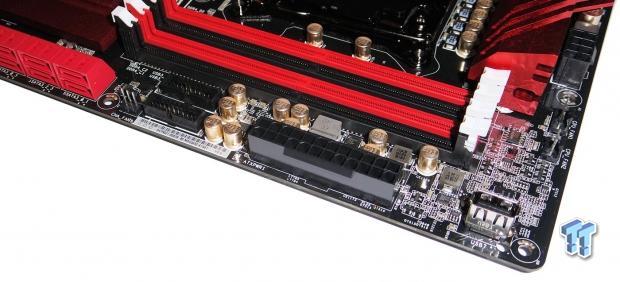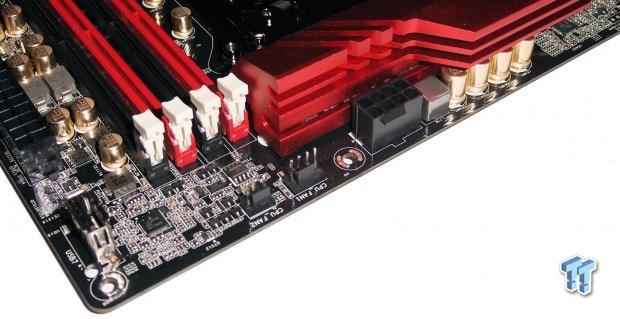 Heading up to the north end of the board, you can see the standard 24-Pin ATX power connector. Next to that, you can see instead of just the one standard USB 3.0 header, there are two. Along with this, you can see on the top end a vertical USB 2.0 port, which is something for people who are maybe using the board in an open platform. If we turn the corner slightly, you can see two fan headers, along with the main 8-Pin CPU power connector. As for the positioning of this, you can see it's much further away from the I/O panel than we normally see.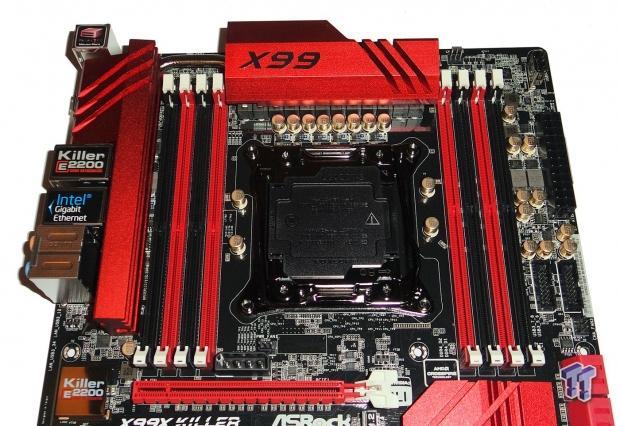 Steeping back and looking at the CPU area and what's around it, you can see like the X79, we've got a massive eight DIMM slots on offer with four on each side. Here we have support for an impressive 128GB of DDR4 memory that runs in quad-channel mode. As for speeds, they start at 1066MHz and go all the way up to 3000MHz+ via overclocking - we're looking really forward to diving deeper into DDR4 and its performance soon. Overall, though, you can see everything looks pretty clean and the socket design is similar to other LGA 2011 boards we've seen for a long time.

Heading into the I/O department, you can see there's nothing too unusual. Starting from the left, you can see we've got a pair of USB 2.0 connectors and a combo PS/2 port to start with. Next to that, we have a small clear CMOS button to make resetting the BIOS easy, followed by two of the total six USB 3.0 connectors that are on offer, four of which run off the ASMedia ASM1074 hub and two off the ASM 1042 hub.
Moving on, we have a single eSATA connector and two Gigabit networking ports - one runs off the Killer E2200 controller and the other runs off the Intel I218V controller. Looking above, you can see that ASRock has done a great job of labelling which one is which. Finally, we finish up with five auxiliary connectors and an optical out port, all of which run off the Realtek ALC1150 codec.
BIOS Images and Information
Heading into the BIOS, you can see that the overall design isn't really anything new. We've got a UEFI BIOS, as you'd expect, and the same black and red color scheme that is seen on the motherboard.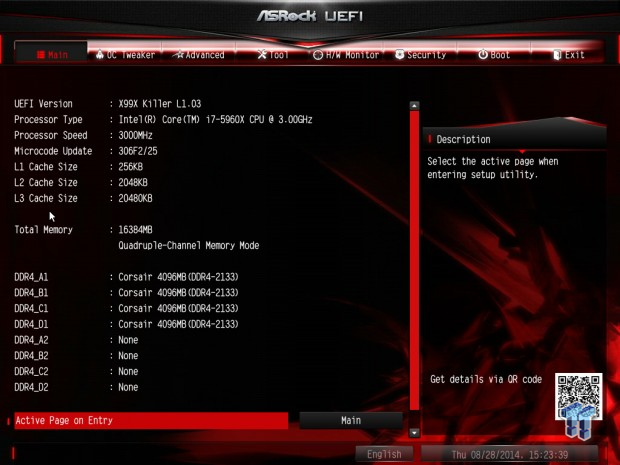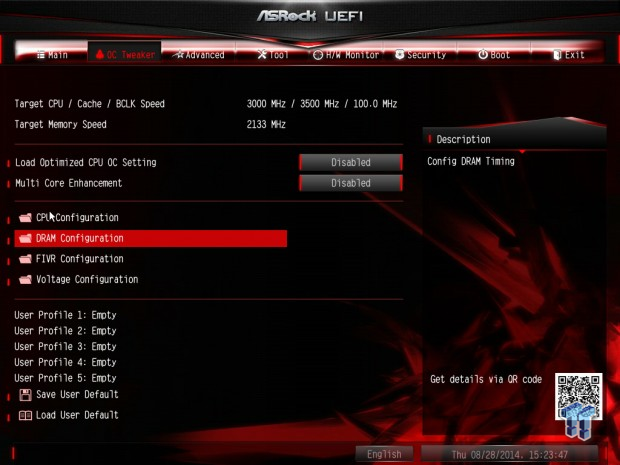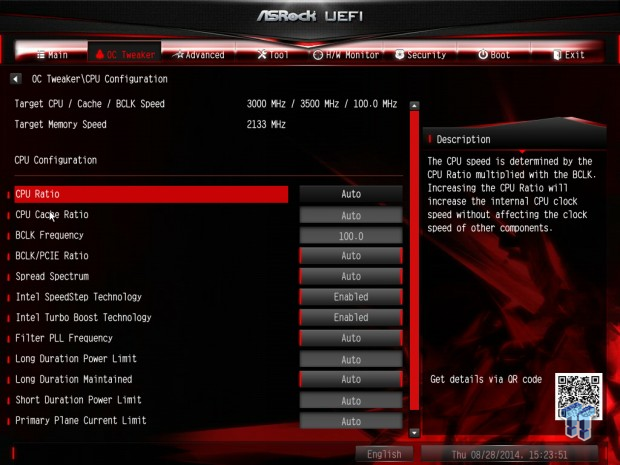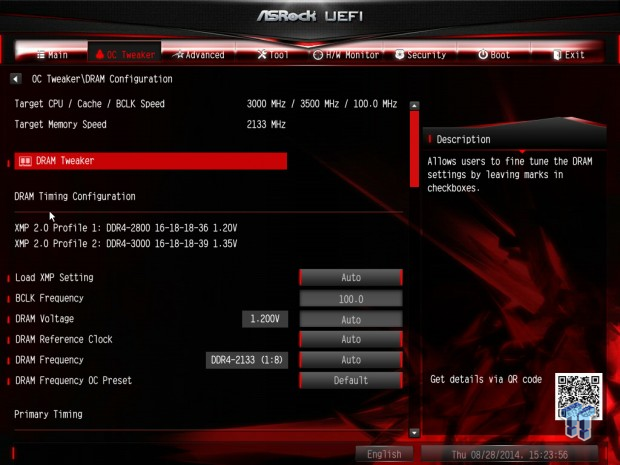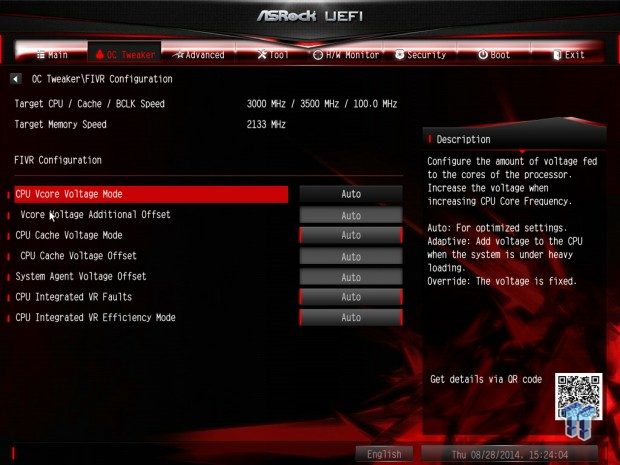 If you've done any overclocking on an ASRock board in recent years, you won't be too surprised with what's on offer. If you're wanting to bump up those clock speeds, you'll want to head into the OC Tweaker section of the BIOS, where we have everything and more required to get the job done.
We're going to be covering overclocking on the next page. But as we mentioned in our i7 5960X EE review, and we'll mention again on the next page. Due to time constraints and just being generally new with the platform, we're going to be using the "Load Optimized CPU OC Settings" that can be seen in the second image to do our overclocking today. We'll talk about this more on the next page, but looking above you can see where it is when we talk about it.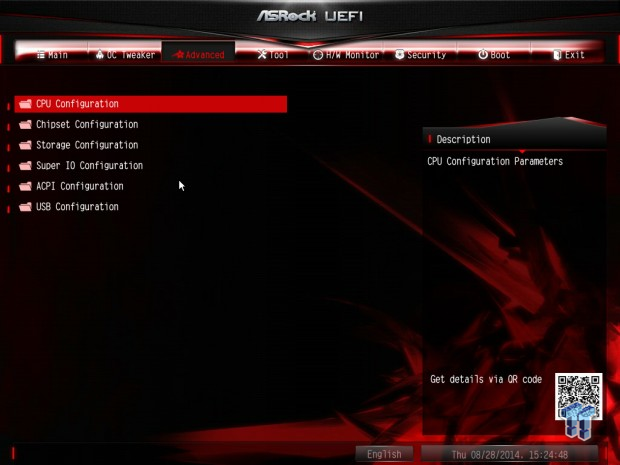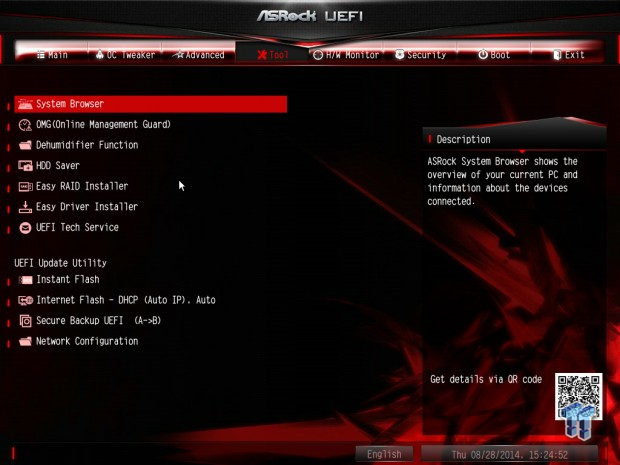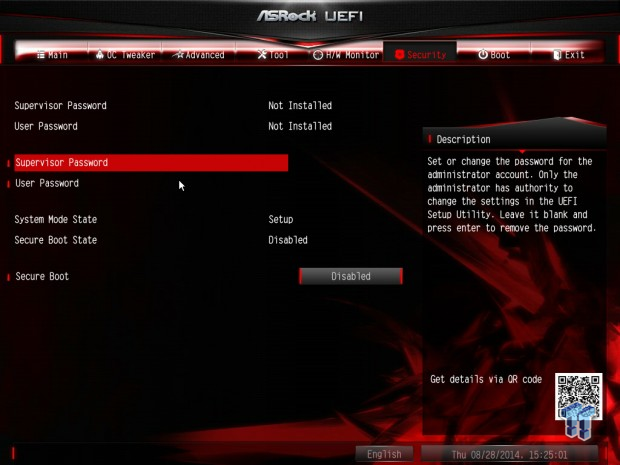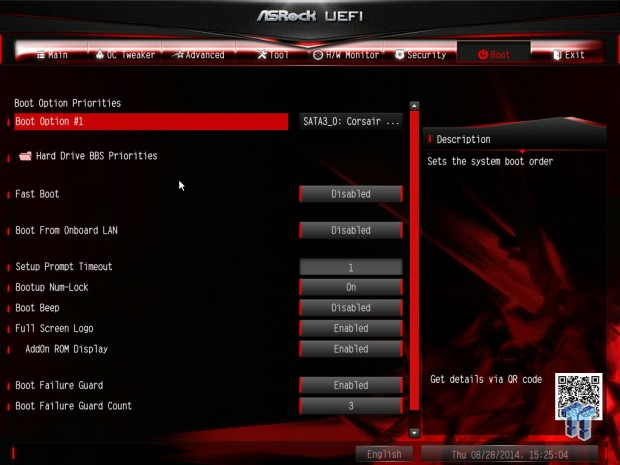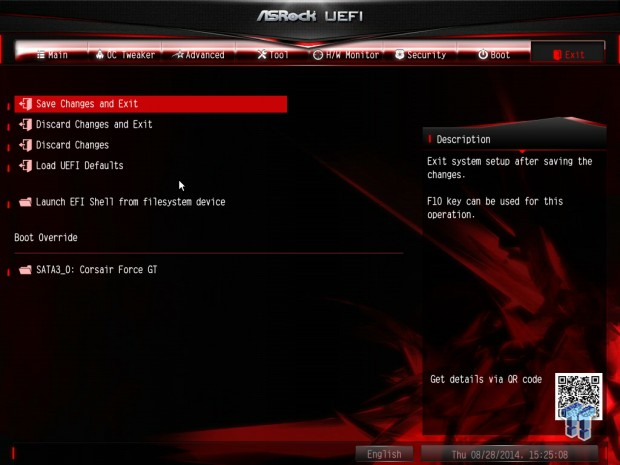 Going through the rest of the BIOS, you can see all the standard options. We've got the storage options, boot priority and the H/W Monitor section that gives us an overview of the operations in the key areas. Everything here is fairly self-explanatory, so we'll move onto the test system setup and overclocking to see how we go in that area on the next page.
Test System Setup and Overclocking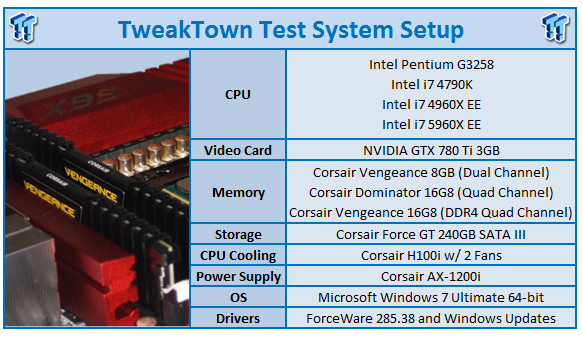 We would like to thank the following companies for supplying and supporting us with our test system hardware and equipment: Intel, ASUS, MSI, Western Digital, MemoRight and Corsair.
Being the first Intel X99 motherboard we've looked at, our graphs today are heavily filled with Z97 based motherboards. Sitting alongside the ASRock X99X Killer that will be running at both stock and overclocked with our new i7 5960X EE, we've got the ASRock Z97X Killer, GIGABTYE Z97X GAMING G1WFI-BK Black Edition, ASUS ROG MAXIMUX VII FORMULA and GIGABYTE Z97N-GAMING 5 to round out motherboards that use the Intel i7 4790K. Along with those, we round out our motherboard line up with the ASRock Z87 Killer, which uses the older i7 4770K.
Before we get into the performance of the new i7 5960X EE, though, we need to cover the overclocking side of things to see just how much performance we can get out of this new processor. Any time it comes to overclocking a new processor, it can be a little difficult to know where to go. Everything then becomes even more confusing when you throw a new chipset into the mix, and a new type of memory (DDR4).
Fortunately the ASRock board has its own nice little section for pre-configured overclocks. We covered this on the previous page where in the second image you can see the "Load Optimized CPU OC Setting". Going into the menu, you're greeted with overclocks that range from 4GHz to 4.5GHz with the latter being highlighted in red.
Heading into the BIOS, we started at 4GHz and found everything working fine. We moved to 4.2GHz, and had no issues either. We jumped again to 4.4GHz and with much surprise, there were still no issues to talk about. We tried the last one 4.5GHz, which is highlighted red, and ran into a BSOD, as soon as we started benchmarking.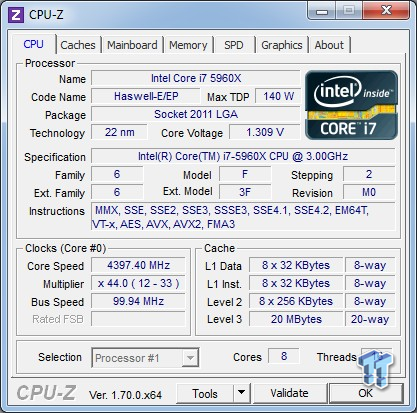 Looking above, you can see we ended up with a final clock speed of 4397MHz or 4.4GHz, as shown in our graphs today. This is an awesome overclock that was done with complete ease. It's a little tough to tell if this is a good CPU or not, as we have nothing to compare it against, but we are fairly impressed. This is a fantastic start, though, and a real testament to the ASRock board when it comes to making overclocking so easy. I'm really looking forward to seeing more boards from ASRock and seeing just what we can get out of this CPU as we get more and more used to dealing with it.
CPU & System Benchmarks
CPU Test - HyperPi 0.99
Version and / or Patch Used: 0.99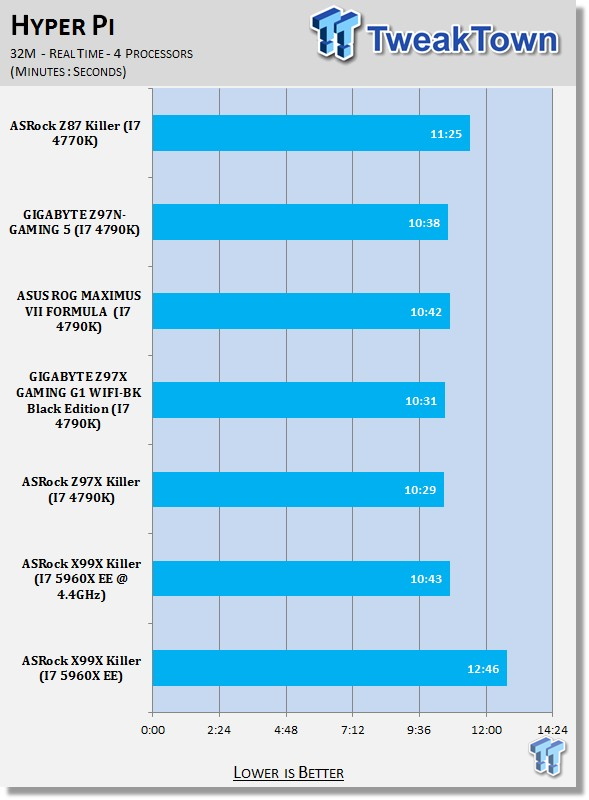 CPU Test - AIDA64
Version and / or Patch Used: 1.00.1035BETA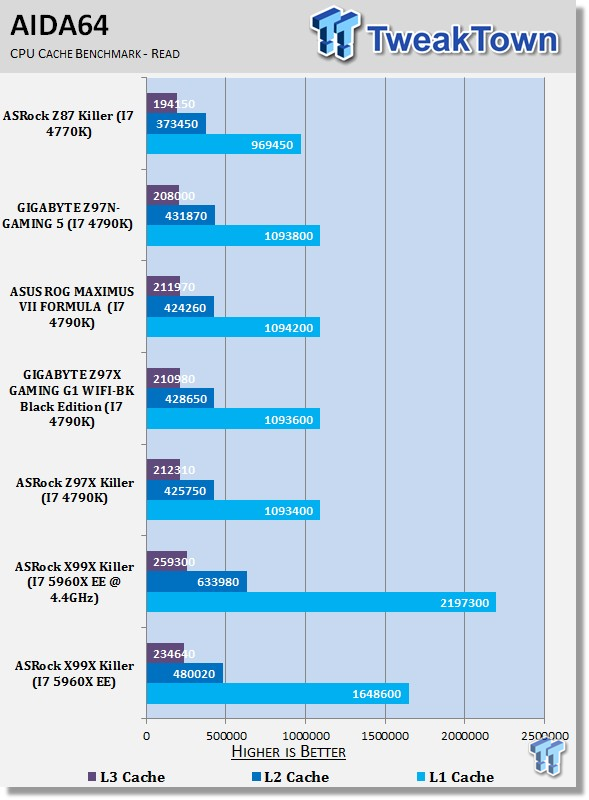 Out of the box, you can see that the HyperPi performance on the new X99 platform isn't great with it lagging behind our other setups by a decent margin. Overclocking helps a lot when it comes to closing the gap, but looking above, you can see that we're still sitting behind our Z97 and Z87 setups.
AIDA64 on the other hand paints a completely different picture. We see the new X99 platform score some massive numbers out of the box that are even more impressive when overclocking is thrown into the mix.
System Test - PCMark 8
Version and / or Patch Used: 1.04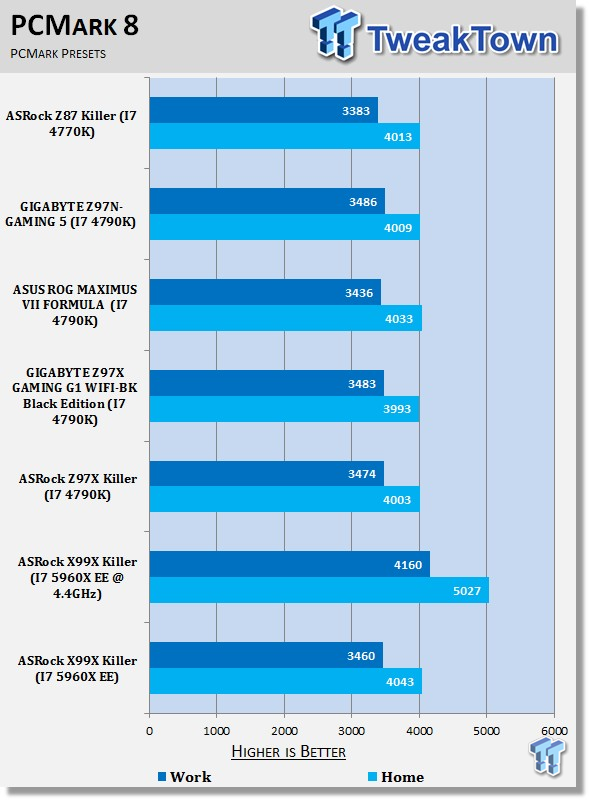 System Test - MediaEspresso
Version and / or Patch Used: 6.5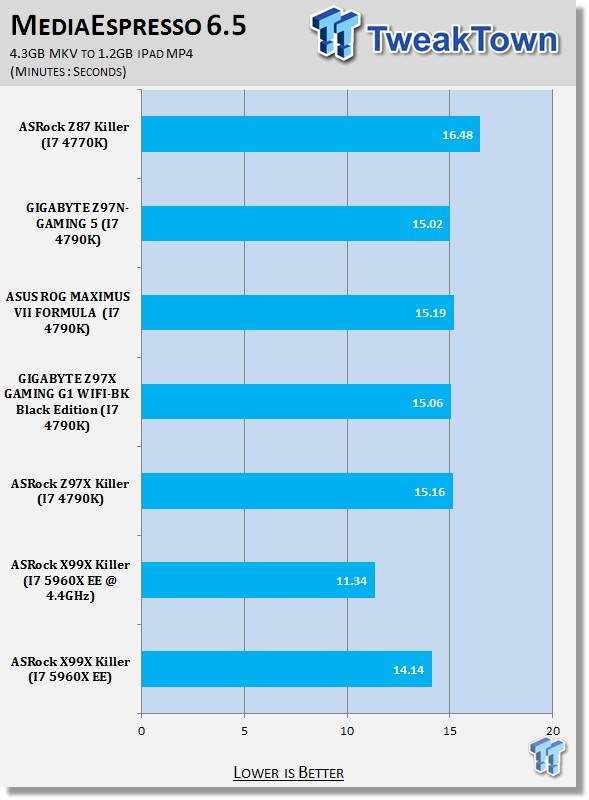 Taking a look at system performance, you can see that the PCMark 8 numbers from our ASRock X99X Killer are quite similar to what we saw out of our other setups. MediaEspresso on the other hand is making good use of the extra cores, and because of that, you can see a nice boost in performance.
Thanks to a strong overclock, you can see a really nice performance boost in both our benchmarks here. This is a significant boost over the i7 4790K when overclocked. To give you an example, on the recent ROG board we looked at, the 4.77GHz clock gave us a Home score of 4223 and Work score of 3564. This is a big difference from the 5027 and 4160 score that our X99 setup sees.
USB 2.0, USB 3.0 & SSD Benchmarks
USB Test - AIDA64
Version and / or Patch Used: 1.70.1400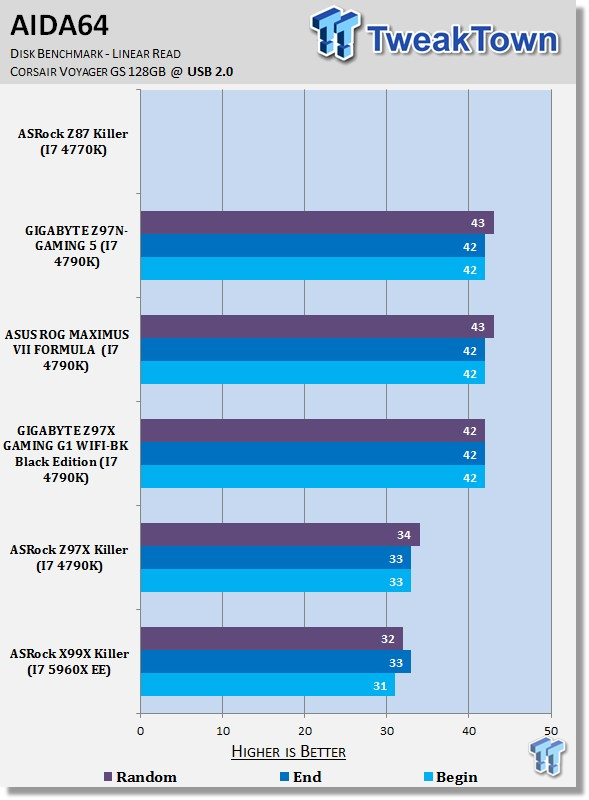 USB 2.0 performance isn't anything to get excited about as numbers fall back a little lining up with the Z97X Killer board. USB 3.0 numbers fall towards the middle of the pack when it comes to comparing the results overall.
SSD Test - AIDA64
Version and / or Patch Used: v4.30.2900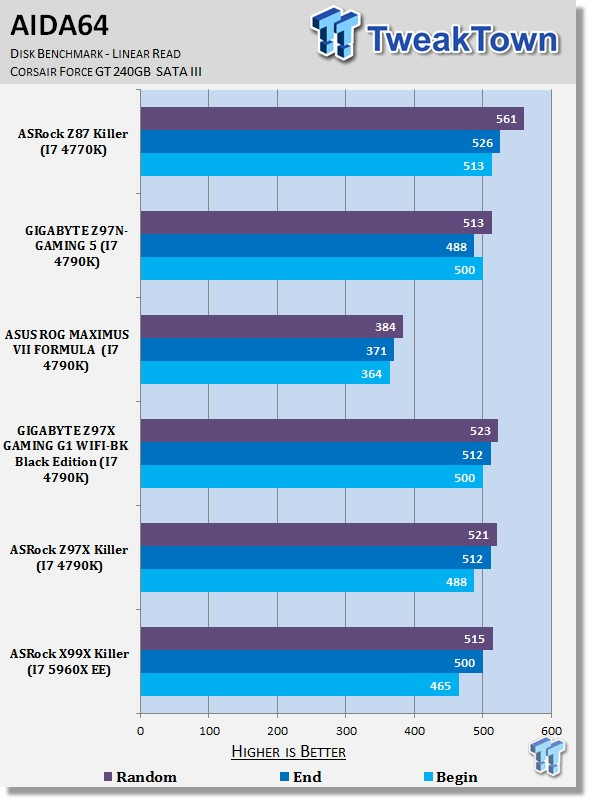 SSD Test - PCMark 8
Version and / or Patch Used: 2.0.191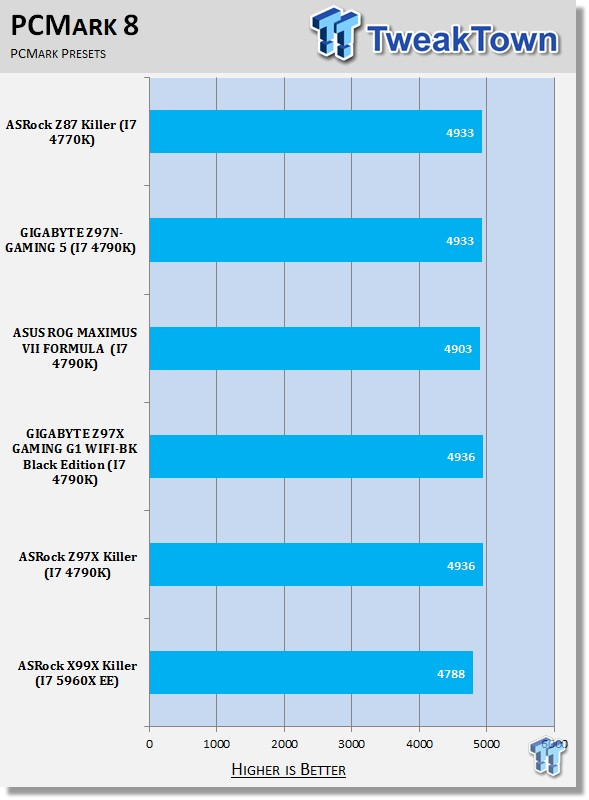 SSD Test - HD Tune Pro
Version and / or Patch Used: 5.50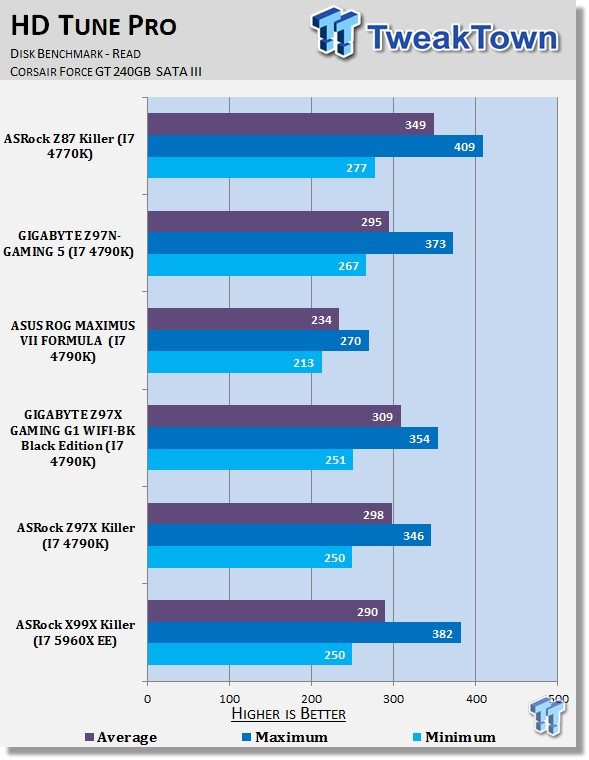 Taking a look at SSD performance, you can see under AIDA64 and HD Tune Pro, the number are impressive.
As for PCMark 8, we were unable to complete a run, with it actually crashing out on us after the first benchmark. PCMark 8 has actually been quite the nightmare for us with the X99 platform so far. While we eventually ended up getting our normal tests running after about eight hours, the storage benchmark has become an issue. We'll stay on top of it and hope that by the time we test our next motherboard, it's fixed.
For now, though, we get a good idea at least of SSD performance under AIDA64 and HD Tune Pro.
Update: With another fresh install, we managed to get PCMark 8 working again. Looking above, you can see that performance is a little bit on the lower-end here unlike our other two tests. It will be interesting to see if this result is consistent with our X99 testing in future.
Memory & Gaming Benchmarks
Memory Test - AIDA64
Version and / or Patch Used: 1.00.1035BETA
When it comes to looking at DDR4 quad-channel memory performance against DDR3 setups that are present on our other boards here, you can see just an absolute ton of bandwidth being offered.
Read and Copy performance is about double, while write number are increased by around 50%. In conjunction with the massive amount of cores and huge cache, everything comes together to create a beast of a system.
Gaming Test - 3DMark 8
Version and / or Patch Used: 1.0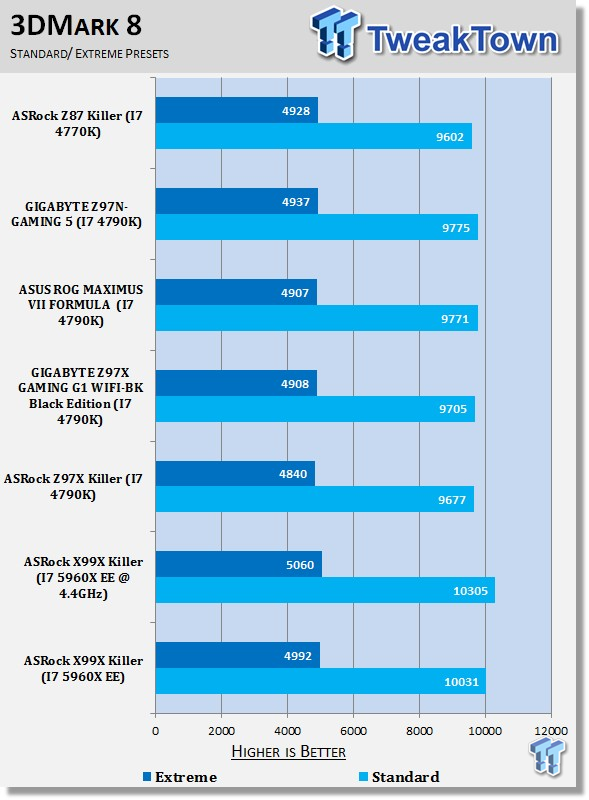 Gaming Test - Sleeping Dogs
Version and / or Patch Used: Latest Steam Update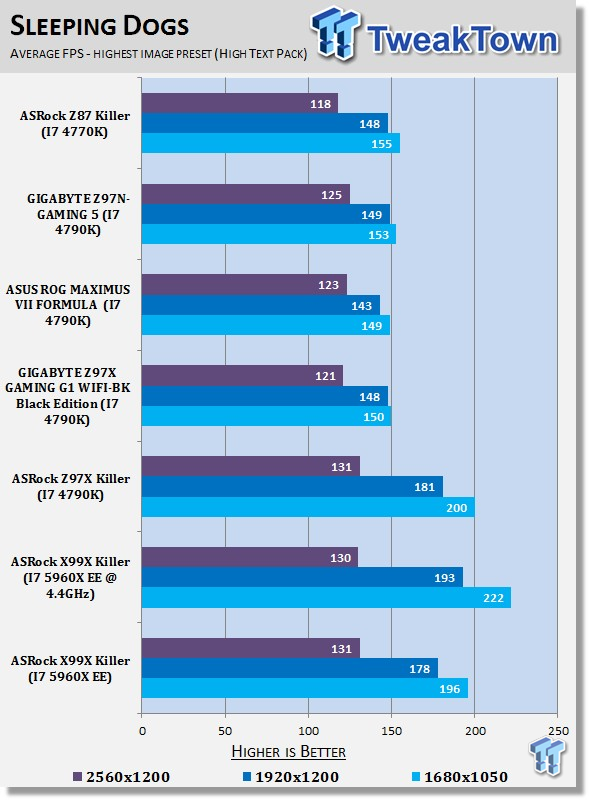 While we didn't expect too much of a change to gaming performance, looking above, you can see the new X99 platform gives a slightly bump in performance under 3DMark 8, and a more noticeable difference under Sleeping Dogs.
While not really needed as the FPS is already strong, it's nice to see that the GeForce GTX 780 Ti appreciates the extra breathing room. Overclocking gives us again a little movement under 3DMark 8, but you can see, again there is quite a nice jump under Sleeping Dogs, especially at the lower resolutions, where the CPU is more important, as less focus is put on the GPU.
Temperature & Power Testing
Power Consumption Test
Considering the amount of power the system offers, power draw numbers are pretty impressive. You can see that the ASRock X99X Killer motherboard with the i7 5960X EE sits around the middle of the pack when it comes to both idle and load numbers at stock.
Overclocking doesn't change the idle draw, but you can see that the load number does jump up a bit. Still, 433 watts for a system like this is very impressive.
Core Temperature Test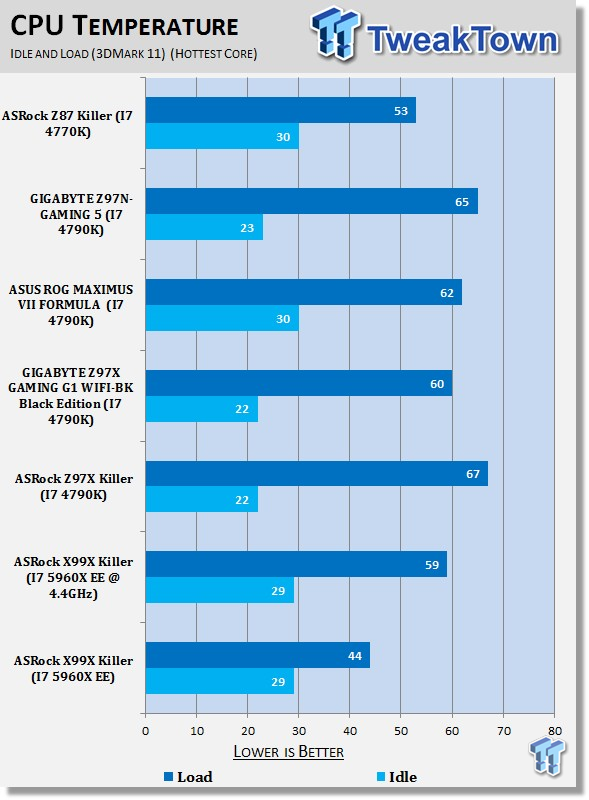 Temperature numbers are an area that left us really quite amazed. The stock and overclocked numbers are extremely strong, especially when you consider the i7 4790 and i7 4770K have a habit of tipping around 90c.
We can't wait to see just what overclockers do with the new platform. It's just a matter of time till we see those subzero LN2 temperatures, and the massive clock speed numbers come out.
Pricing, Availability and Final Thoughts
Since we're writing this just before everything officially goes live, we're not completely sure on the pricing and availability. Saying that, though, we should see the X99X Killer from ASRock hit the market the same time as other X99 motherboards, as it's clearly ready for the mass market. When it comes to the pricing, we've got to pull a bit of an educated guess.
While we don't know how much it's going to cost, we can with confidence say that it's going to be priced towards the middle of the pack. Both the Z87 and Z97 variant of the board are priced competitively against the competition. While it isn't going to be the cheapest motherboard, the fact that we've got some stand out features means it's likely going to be justified.
While the bundle isn't huge, the inclusion of the X Split Gift Certificate is a nice bonus. If you're thinking about signing up to something like Twitch to stream your gaming, using software like X Split is going to be perfect for you. The features are what really makes the board stand out. With a big focus on gaming, we've got that Killer E2200 network controller offered, alongside the Intel option, which is perfect for gamers.
We've also got the Gaming Armor feature which brings improvements over the motherboard to make for a quality and longer lasting product. The inclusion of Purity Sound 2 is nice as it helps offer a higher quality audio experience. Along with this, we've got those few Fatal1ty features which include KeyMaster, the Fatal1ty Mouse Port and F-Stream software, again making this board a good option for gamers.
ASRock do a good job of creating a motherboard that aims at every market and every price segment. The Killer series has done a good job of catering for gamers who want features that focus on offering a better gaming experience. While the X99X Killer will be priced well when compared to other X99 boards, it should end costing more than its Z97 alternative, as the base for it, the X99 chipset, is going to be more expensive. Throw in the inclusion of buying new DDR4 memory (a requirement) and a new Haswell-E based CPU (also a requirement), you're going to have quite an expensive system on your hands.
When it comes to comparing the ASRock X99X Killer to other X99 boards, it's a little difficult as it's the first one we've looked at in person and in detail. All we can do is talk about how it is as a motherboard just on its own merit. In the end, this is a really nice motherboard from ASRock. The black and red color scheme is a fan favorite of gamers and we've really got a nice group of features on the board.
Performance out the box is strong, but it's hard to tell just how that compares to other X99 boards at the moment. The one area that really impressed us was overclocking. As we've already mentioned, we haven't had a chance to really fine tune the overclocking side of things yet as we get used to our new CPU and chipset, and because of that, we wanted to just use the OC profiles built into the ASRock X99X Killer as a starting point.
By changing just one setting, we had a system that was running at 4.4GHz rock solid, a 900MHz overclock. While bringing with it some awesome performance gains, what we really loved was the temperature numbers under load. At 4.4GHz, our i7 5960X EE CPU paired with our Corsair H100i CPU cooler was running at just 59c. This is actually lower than most of our Z97 boards when running the i7 4790K at stock. That's a really impressive feat.
While the Intel Core i7 5960X EE processor works extremely well with the ASRock X99X Killer, it feels like this CPU maybe be better suited for one of ASRock's higher-end boards, something like Nick Shih's OC board, for instance. Instead, the X99X Killer feels better in my mind when paired with the i7 5930K if you're looking at a multi GPU setup, or maybe the i7 5820K if you're looking for just a single higher-end GPU.
All in all, though, if you're after a good looking motherboard that offers easy overclocking, nice out of the box performance and a feature set that is mainly aimed at gamers, this is a fantastic X99 option to consider. If this isn't exactly what you're looking for, keep an eye out over the coming weeks as we look at many other options from ASRock, and also other motherboard makers.