iXsystems FreeNAS Mini 4-Bay NAS Review
Today Chris spends some time checking out the iXsystems' FreeNAS Mini 4-Bay NAS in detail. Should this be a new NAS for you to consider? Read on.
Published
11 minute read time
Introduction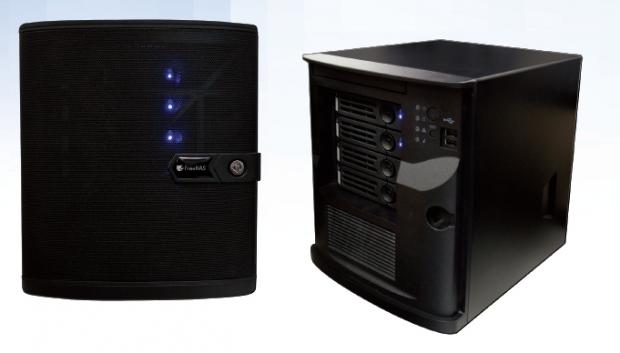 It's not very often that a piece of hardware comes along that intimidates me. For a very long time, I've been a Windows user almost exclusively, and the operating system designed for everyday users tends to dumb down the user, in this case me. In Windows, everything has a wizard--even complicated tasks--so when you take the simple walkthrough menus away, you are left with panic...until you research to remember things from long ago.
iXsystems took over the FreeNAS project in 2009, but the company dates back to 1996 when it started as Telnet Systems. FreeNAS has the widest adoption of all open source storage centric operating systems, and it is a very powerful operating system when placed in capable hands. The software's big claim to fame is the ZFS file system that has been built upon over several years. Considered one of the most secure file systems ever created, ZFS has a strong focus on data integrity. Over the years, bells and whistles were added--the kitchen sink was added somewhere along the line, too. The file system quickly gained new popularity with the introduction of solid state drives (SSDs) for use as a data cache to increase system performance. Technology like deduplication also gained new popularity in all flash arrays since the advanced compression now makes it feasible for companies to use all flash while retaining data sets with more bits than the flash can natively hold.
Using the advanced features requires considerable processing power, and the demands on the CPU and system RAM can quickly escalate. I think this is why we don't see ZFS or FreeNAS used by the big three Taiwan NAS system providers.
For the most part, FreeNAS has been a DIY market product, but that is about to change now that iXsystems has stepped up to build off-the-shelf products with a full support staff and provide warranty support on the hardware.
Hardware Specifications and Pricing
Modern NAS servers have moved beyond data storage through a wire network. In order to get the most out of a NAS, you need to look at the extra I/O hardware and the mountain of potential software features.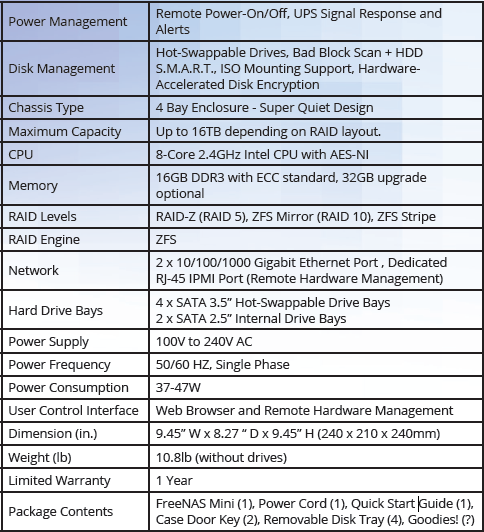 We were able to find five models from iXsystems with the FreeNAS Mini product name. Systems come with 16TB, 12TB, 8TB, 4TB, or without storage drives. The new FreeNAS Mini uses an Intel Avoton 8-core SoC processor and pairs the system with 16GB of ECC DRAM. Hardware wise, this is a massive increase in processing power from the off-the-shelf NAS products we normally test, including even some of the larger rackmount systems. To put this into perspective, over the last twelve months, an average NAS on our test bench used an Intel Atom dual-core processor with HyperThreading and shipped with 2-4GB of system DRAM.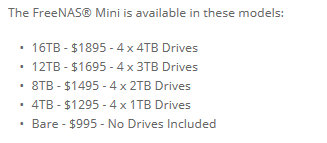 The entry price starts out at $995 for a diskless system and ramps up to $1,895 for a 16TB (4 x 4TB) FreeNAS Mini. There are a few steps along the way as well, so iXsystems has a few stopgaps; it's not all or nothing on the capacity side. Our sample system shipped with four Western Digital RE 2TB 7,200 RPM drives and two SanDisk SSDs. Users can speak with iXsystems directly about customization, request a quote from the website, or purchase preconfigured systems directly from Amazon.
The FreeNAS Mini also has several other nice features that complement the powerful processor. Dual gigabit Ethernet ports deliver data to and from the NAS, but the system also comes with an IMPI management port with iKVM capability. Three USB ports--two on the front and one on the back--allow for some expansion as well.
PRICING: You can find the iXsystems FreeNas Mini (8TB) for sale below. The prices listed are valid at the time of writing but can change at any time. Click the link to see the very latest pricing for the best deal.
United States: The iXsystems FreeNas Mini (8TB) retails for $1,495.00 at Amazon.
Software Features
NAS products are equal parts hardware performance and software features. One complements the other in a balanced product. You need more hardware performance to run more software features at the same time.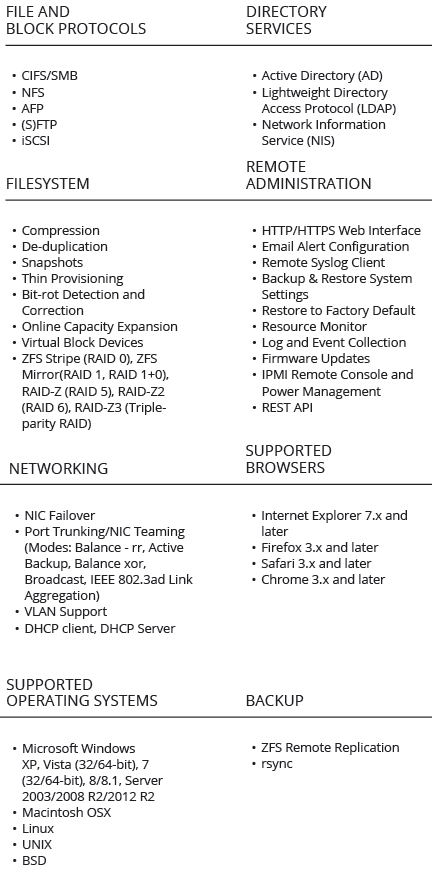 The iXsystems FreeNAS Mini is a pure storage system. FreeNAS runs on FreeBSD, so in capable hands, existing modules can be installed or even custom built. There is a bit of a learning curve, especially for someone coming from the Windows or Taiwan-based NAS world. FreeNAS has a cult-like following with an active and vocal user base. Several blogs, forums, and even websites are dedicated to the software, and the people seem friendly enough to approach with questions or for advice.
A big benefit from purchasing a system preconfigured from iXsystems is the support that comes with the system. It's one thing for a company to say they offer support and then lead you to a forum, but it's another ballgame entirely when you ask for support and get a one-on-one session via a ticket based system.
Packaging and Accessories
Packaging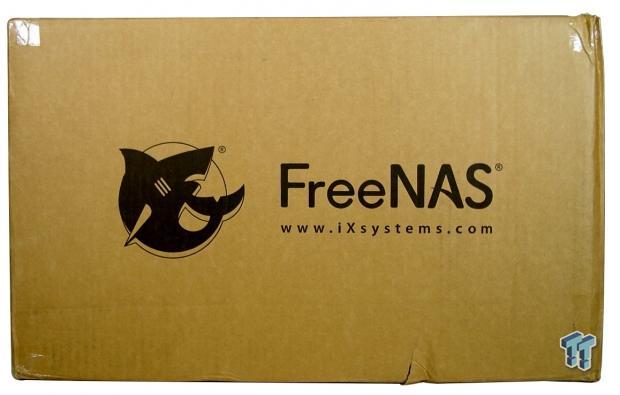 The iXsystems FreeNAS Mini ships in a labeled box with the main hardware double boxed.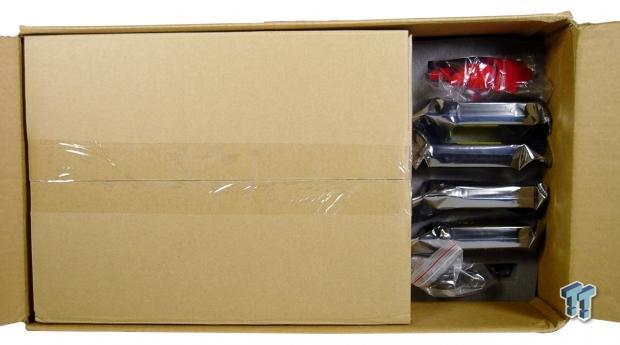 Inside, we found the NAS in a separate box and the drives held in place with dense foam on the side. I should note here that the drives had foam covering them as well, but you don't see the extra material in this image.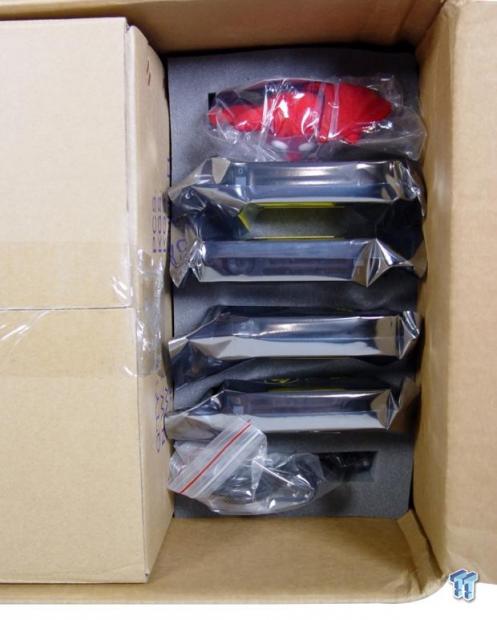 iXsystems sends a few fun accessories.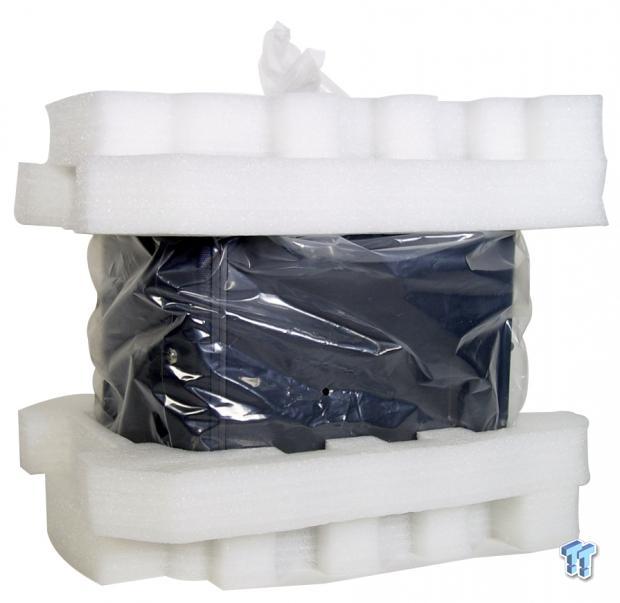 The packaging for the main unit secures the NAS very well. Not only is this portion double boxed, but the NAS is also wrapped in dense foam that prevents it from being damaged during shipping.
Accessories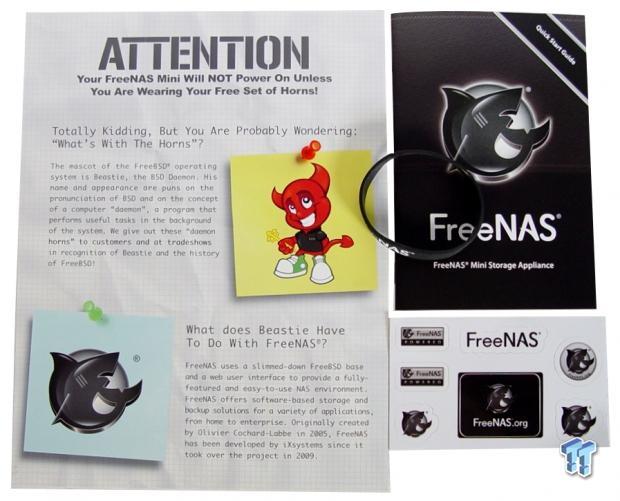 iXsystems knows how to have a bit of fun. In the documentation, you learn about Beastie, the FreeBSD mascot. Also included in the documentation are a paper manual and some stickers.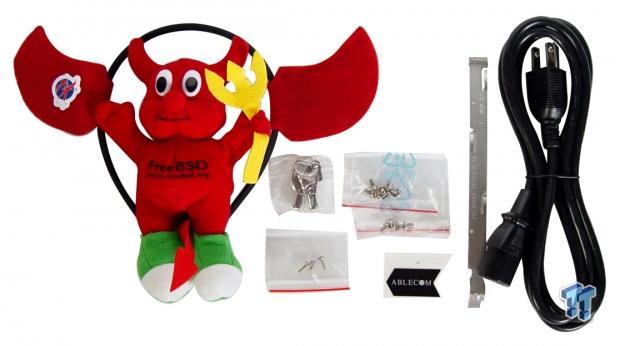 Not only do you learn about Beastie, but you also get a plush toy of him as well. To top off the fun accessories, you are sent a set of Daemon Horns. On the serious side of things, the FreeNAS Mini also includes a power cord, keys for locking the front door, and screws for mounting drives to the sleds.
iXsystems FreeNAS Mini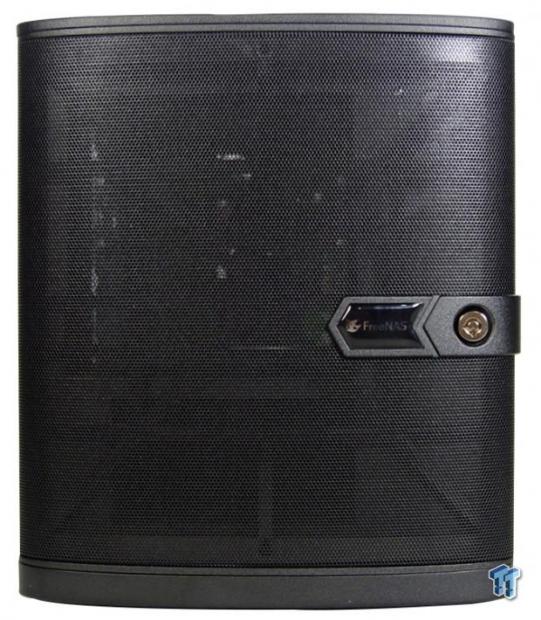 iXsystems used an off-the-shelf Mini-ITX case designed for NAS duty to build the FreeNAS Mini. The front perforated mesh door is locking and allows air to pass through easily. The power and reset buttons are on the other side of the door, making the system secure when the door is in the locked position.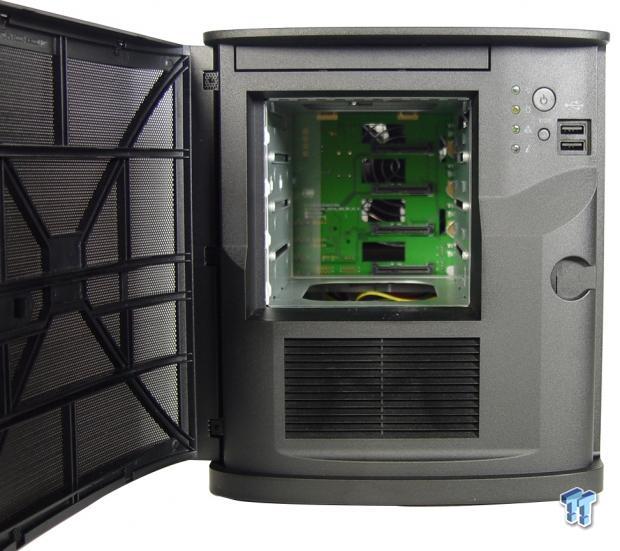 With the door open, we see the four drive bays, four status LEDs, two USB ports, and the power and reset buttons. An additional vent on the bottom of the unit allows air to pass over the internal system components.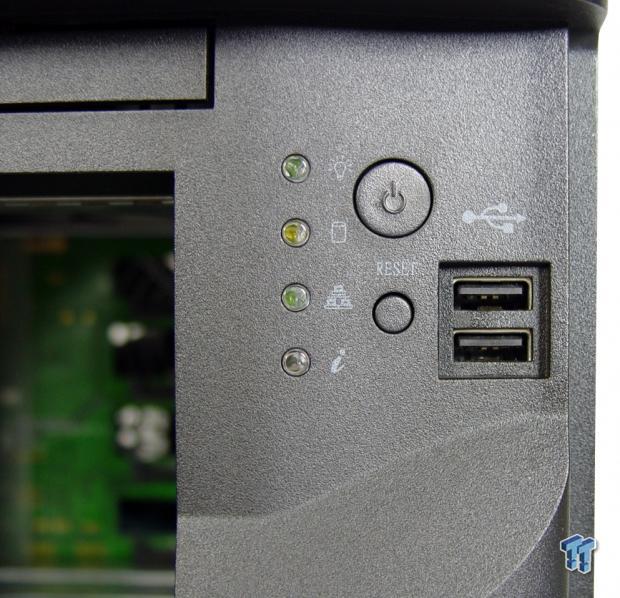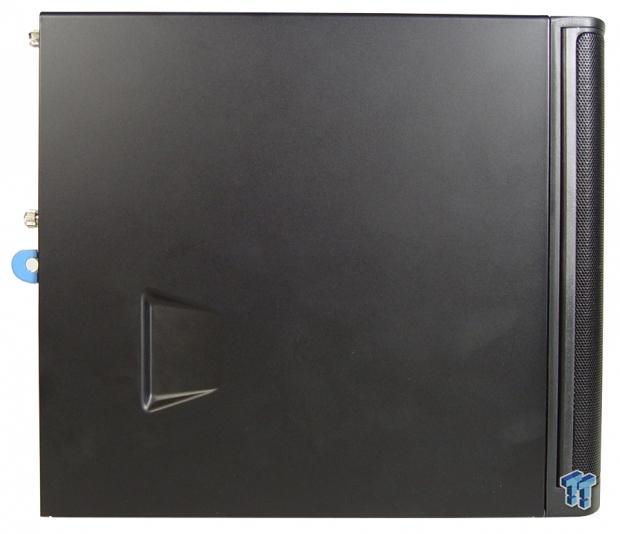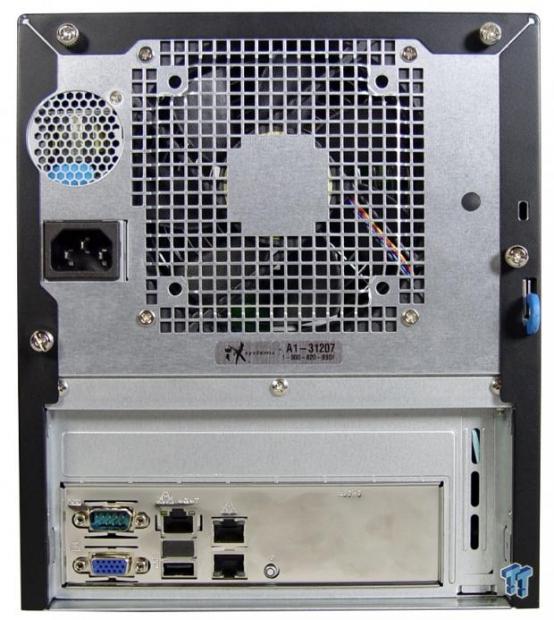 On the back, we found a very large fan that keeps the disks cool and aids in pulling warm air from the system.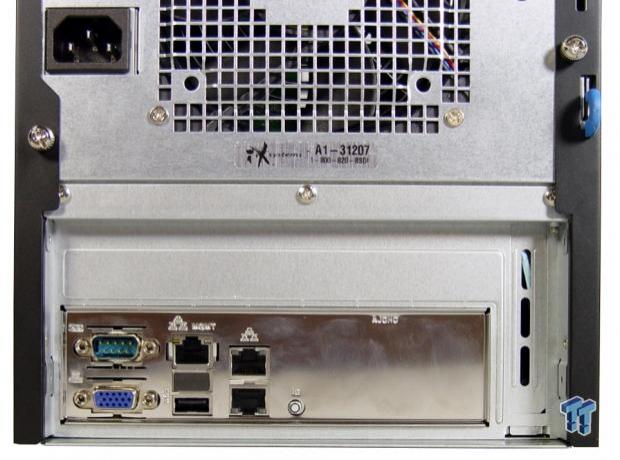 The motherboard is very capable in its own right. iXsystems based the system around an ASRock C2750D4i from the ASRack Series. This motherboard is also the same used in the ASRock 1U12LW-C2750 barebones system we reviewed a few months ago.
The board features an Intel Avoton 8-core processor, 12 SATA ports, dual gigabit Ethernet and an IPMI Ethernet port with iKVM support. The system also has a USB port on the back as well as a VGA output and serial interface.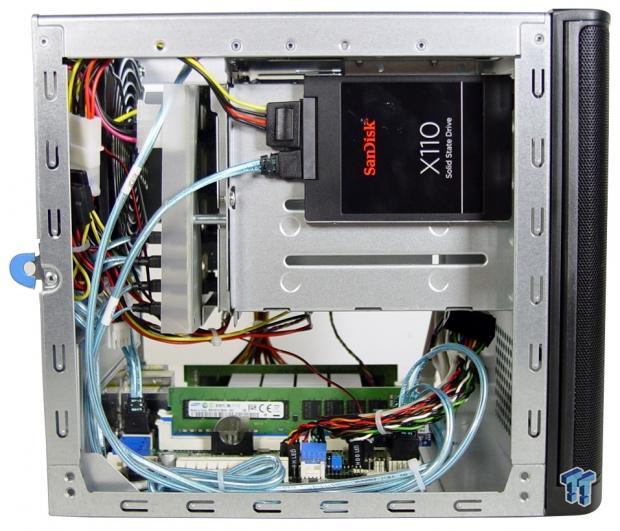 Our test system also uses three internal flash drives. The first is a SanDisk X110, the second a SanDisk Extreme II, and the third an Apacer SATA DOM.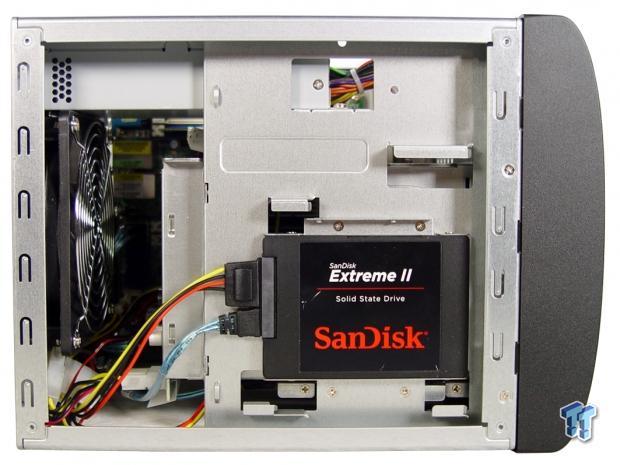 The SanDisk Extreme II is one of the fastest consumer SSDs on the market, and it delivers exceptional consistency.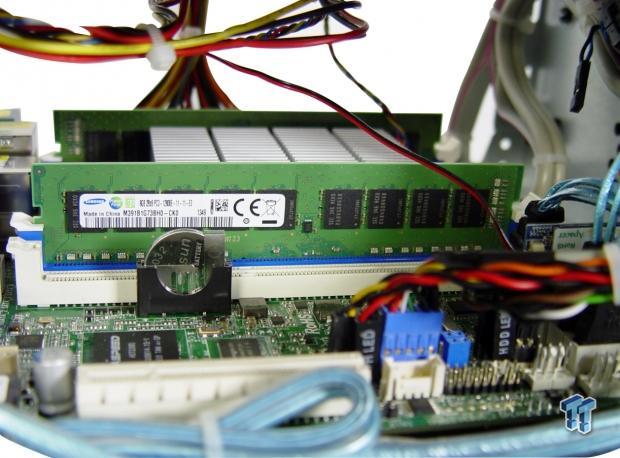 Two Samsung 8GB DDR3 ECC memory sticks flank the 8-core, low power CPU. This system also has a free PCIe 2.0 8-lane slot for expandability.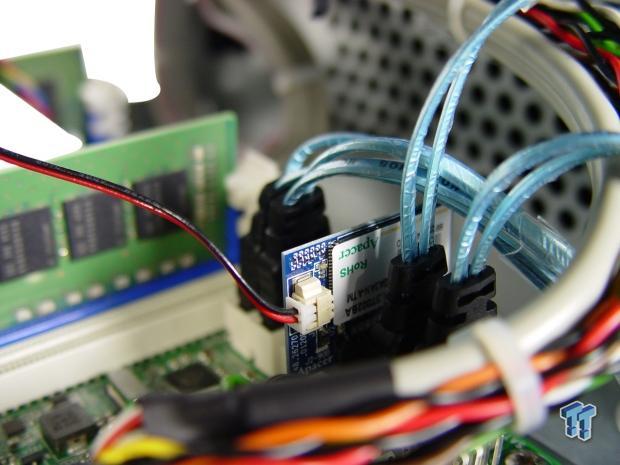 The SATA DOM holds the operating system as well as the system configuration.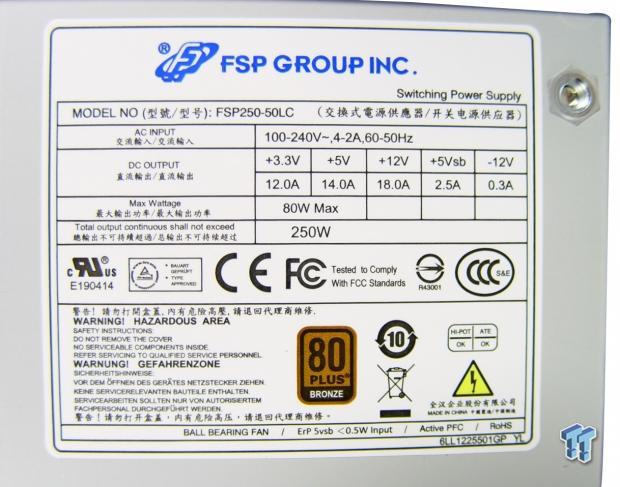 The power supply is 80+ Bronze certified.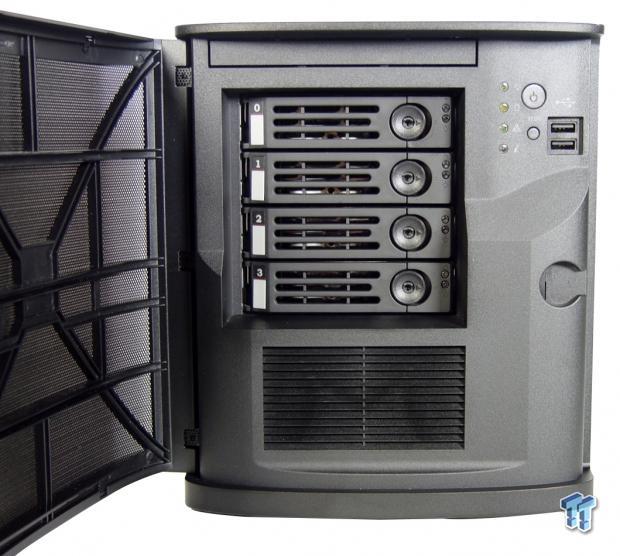 Here we see the system with the drives installed. Labels on each drive make it easy to track the sleds if you need to disassemble the system.
Test System Setup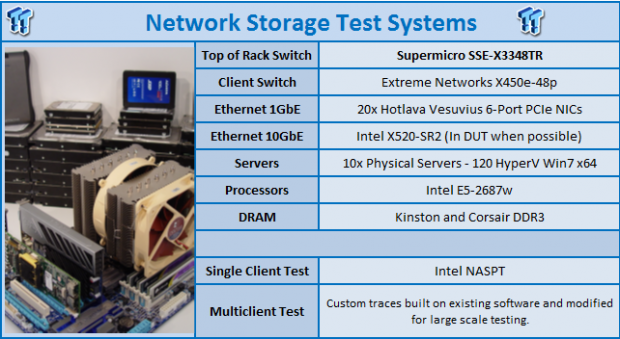 Our NAS test 'system' has migrated to three 42U racks like what you'd find in a datacenter. There are ten servers that attack the target NAS with 120 Hyper-V installations of Windows 7 64-bit, each with a dedicated gigabit Ethernet port. The systems feed to three Extreme Networks X450e-48p switches and then to a Supermicro SSE-X3348TR top-of-rack switch. The device under test connects to the Supermicro switch via 1GbE, 10GbE, or 40GbE. The iSCSI and NASPT tests use a single machine connected to the Supermicro switch.
This level of testing wouldn't be possible without the help and support from several companies, many of which have little to do with NAS products. We would like to thank AVADirect, Antec, Corsair, GIGABYTE, Icy Dock, Kingston, LSI, Noctua, Rosewill, Seagate, Thermaltake, and Western Digital for their much-appreciated support.
Intel NASPT
The Intel NAS Performance Toolkit (NASPT) is a file system exerciser and analysis tool designed to enable direct measurement of home network attached storage (NAS) performance. Designed to emulate the behavior of an actual application, NASPT uses a set of real-world workload traces gathered from typical digital home applications. Traces of high definition video playback and recording, office productivity applications, video rendering/content creation, and more provide a broad range of different application behaviors.
TweakTown Custom 120-Client Office Test
The TweakTown Custom 120-client Office Test uses 120 Windows 7 Hyper-V installations and custom software to stress each NAS with traces from Microsoft Office tasks. Both throughput (in Mbits per second) and latency (in milliseconds) are measured.
Supermicro SSE-X3348TR 10GbE / 40GbE Switch

With a switching fabric of 1284 Gbps through forty-eight 10GbE ports with RJ45 connectors and four 40GbE QSFP connectors, the SSE-X3348TR is our switch of choice for testing SMB and enterprise network attached storage products. Many server and motherboard manufacturers have included 10GbE on top-tier offerings. 2015 will be the year for a 10GbE take over.
Benchmarks - RAID 5 Single Client Performance
Benchmarks - RAID 5
RAID 5: Block-level striping with parity data distributed across all member disks.
HD Video Playback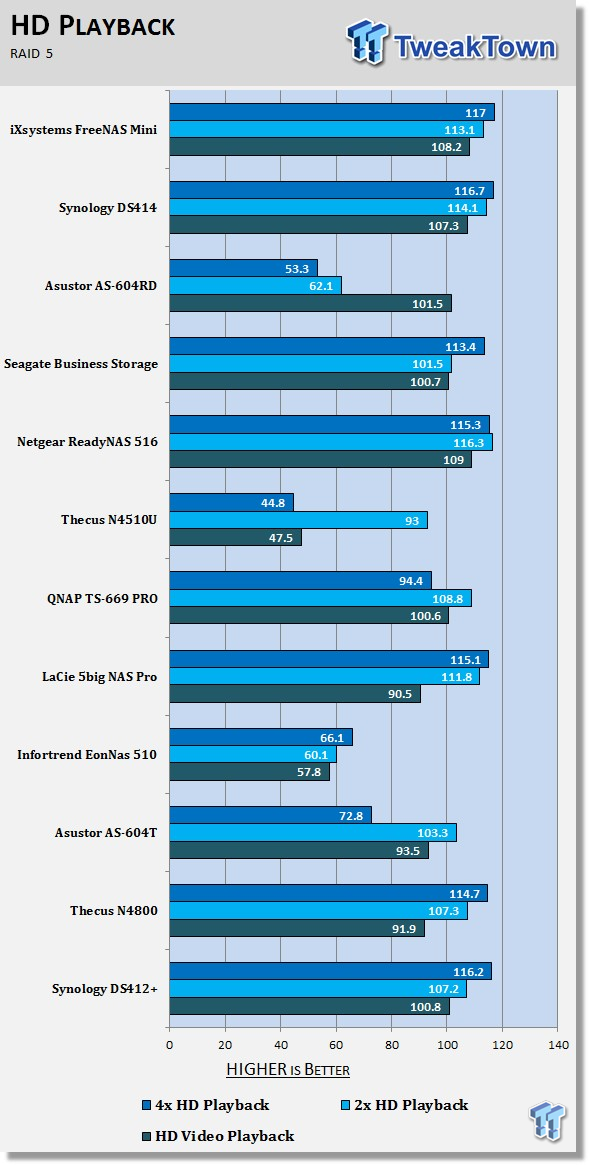 HD Video Play - 720p HD stream from Windows Media Player 256kB reads
2HD Video Play - 2x playback
4HD Video Play - 4x playback
HD Video Record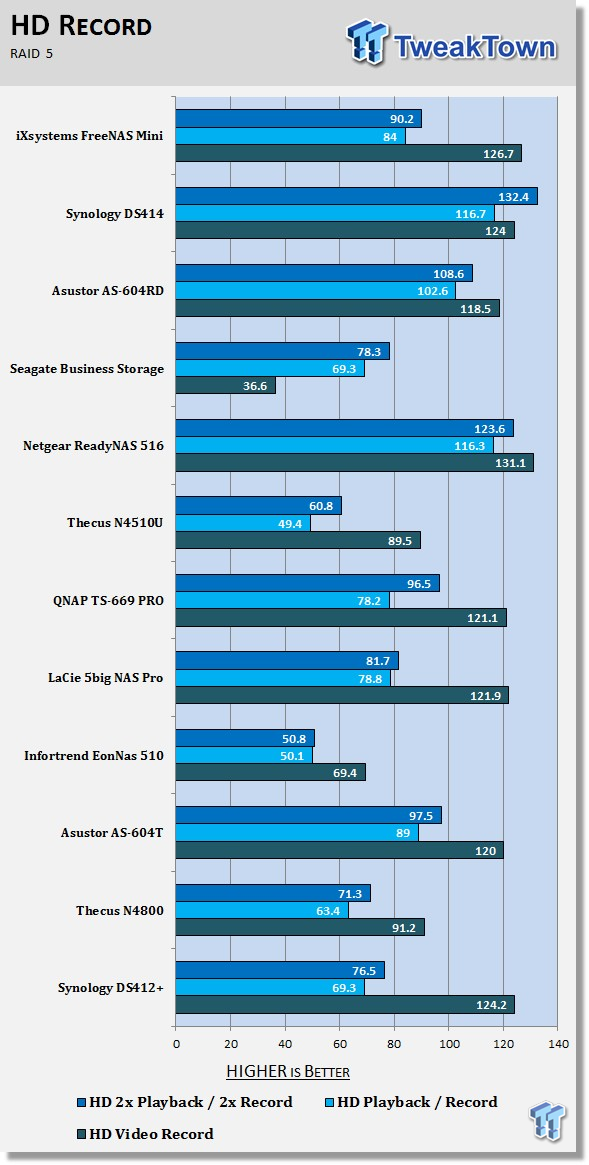 HD Video Record - 720p HD stream, 256kB writes
HD Video Play & Record - 1 playback, 1 record simultaneously
2x HD Video Play & 2x Record - 2 playback, 2 record simultaneously
Content Creation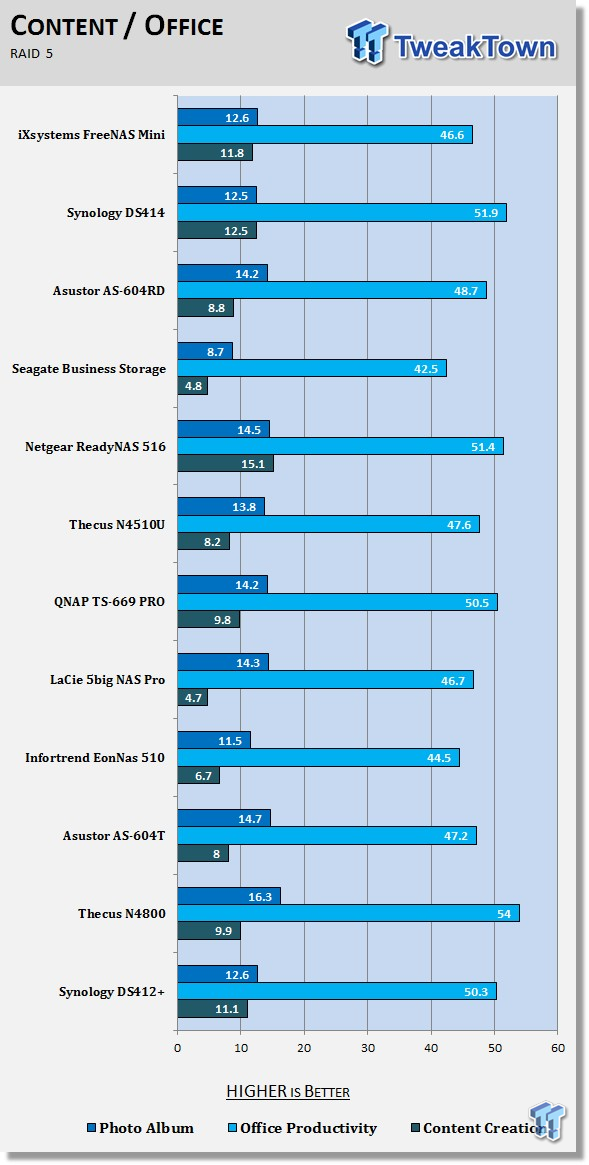 Photo Album - All reads - wide distribution of sizes
Office Productivity - Reads and writes, 1kB & 4kB reads; Mostly 1kB writes
Content Creation - 95% writes; 1k, 4k & little reads; Writes up to 64kB
File / Directory Transfer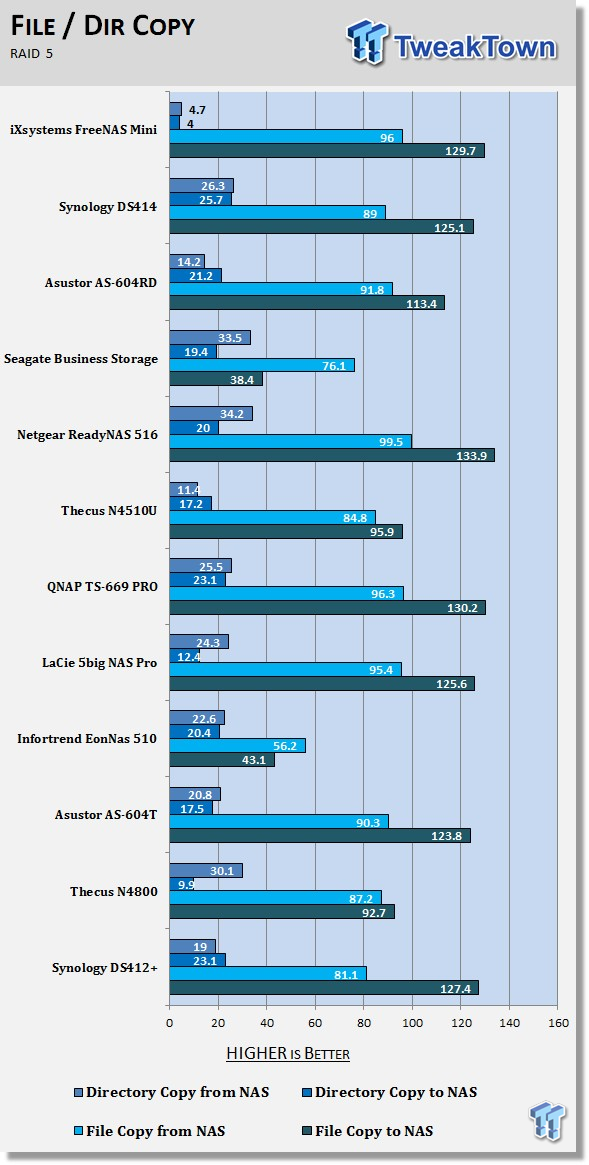 Directory Copy From NAS - 64kB reads
Directory Copy To NAS - Predominantly 64kB writes, wide scattering under 16kB
File Copy From NAS - 4GB file copy, 64kB reads
File Copy To NAS - 64kB writes
Single Client Performance Summary
The single client performance on the iXsystems FreeNAS Mini is exceptional in all areas except for the two directory copy tests. It's odd to see a very high score in the content creation test and a low score in the directory copy tests. We'll keep an eye on this as we move through the other tests.
Benchmarks - iSCSI Enterprise Workloads
Database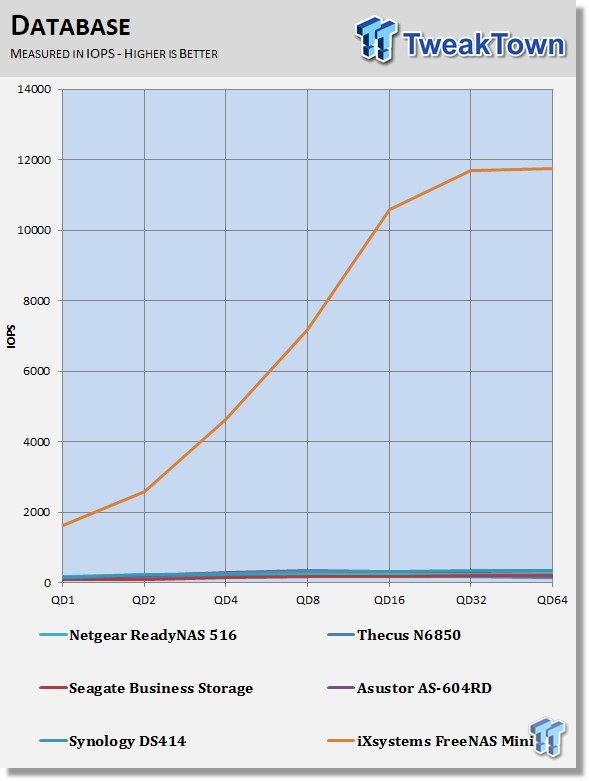 File Server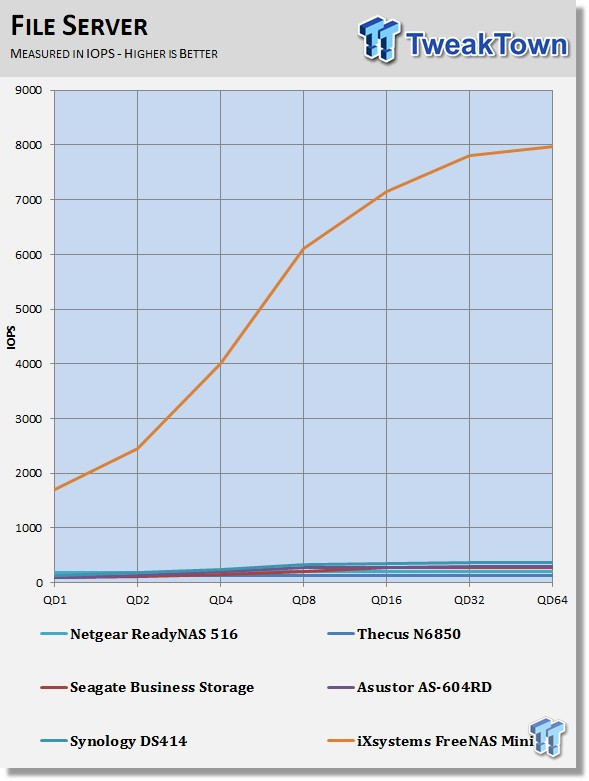 Email Server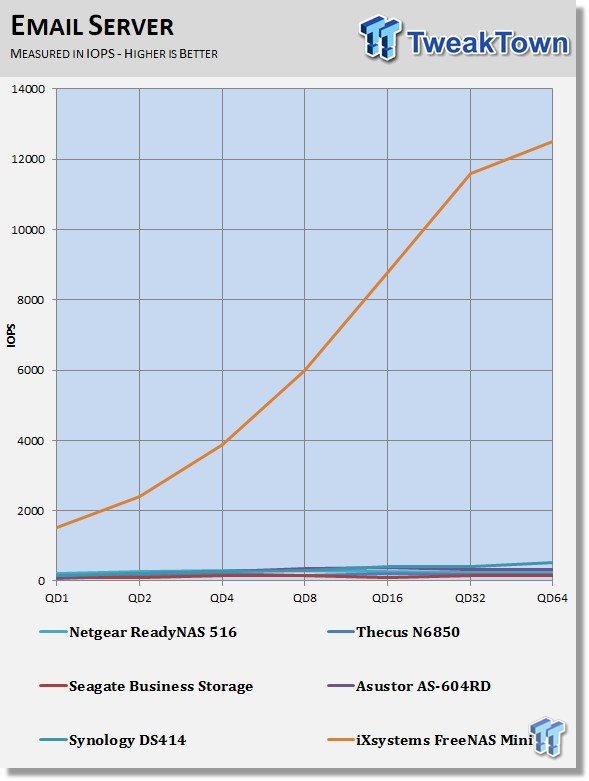 Web Server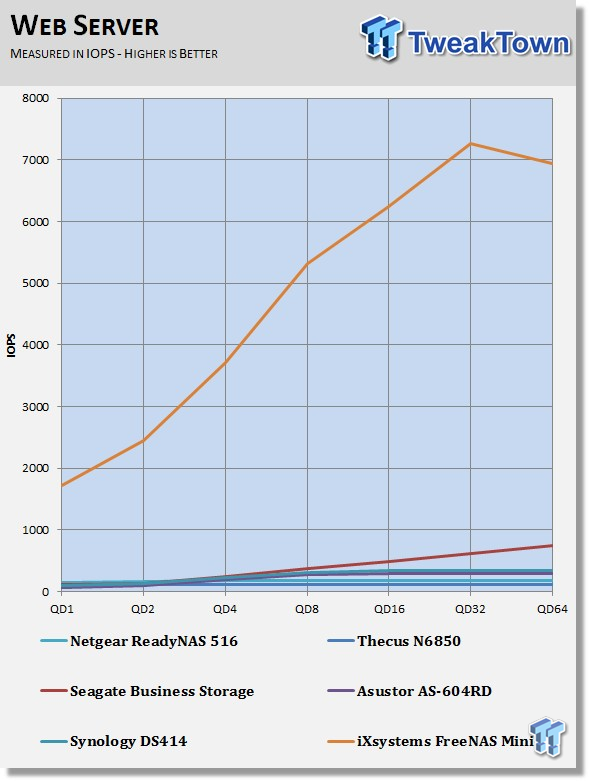 Workstation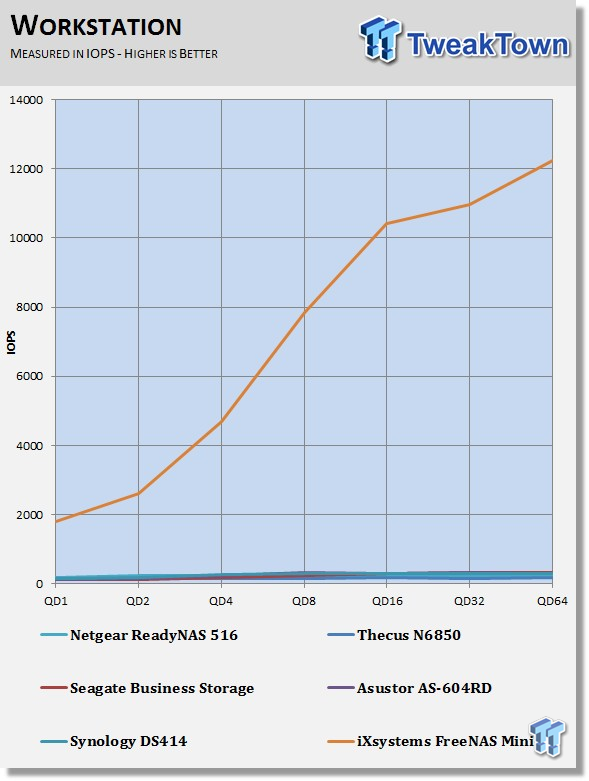 iSCSI Enterprise Workload Summary
It's easy to spot the iXsystems FreeNAS Mini on the iSCSI workload charts. The SSD cache allows this system to produce very high IOPS figures in all tests. The results actually dwarf the results from the comparison NAS units.
Benchmarks - iSCSI Workload Latency
Database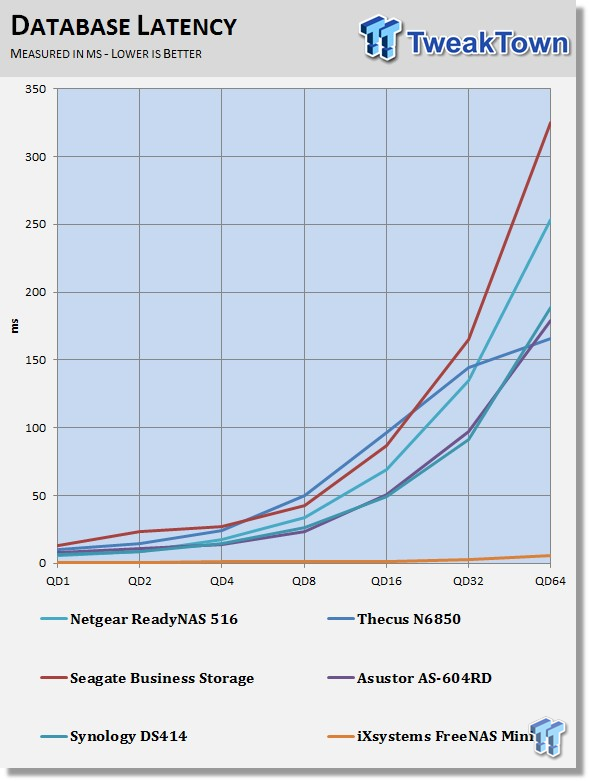 File Server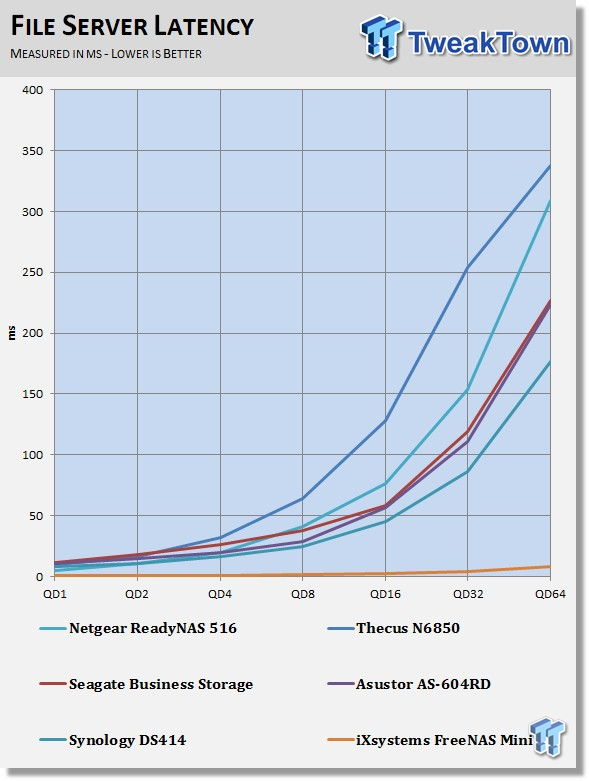 Email Server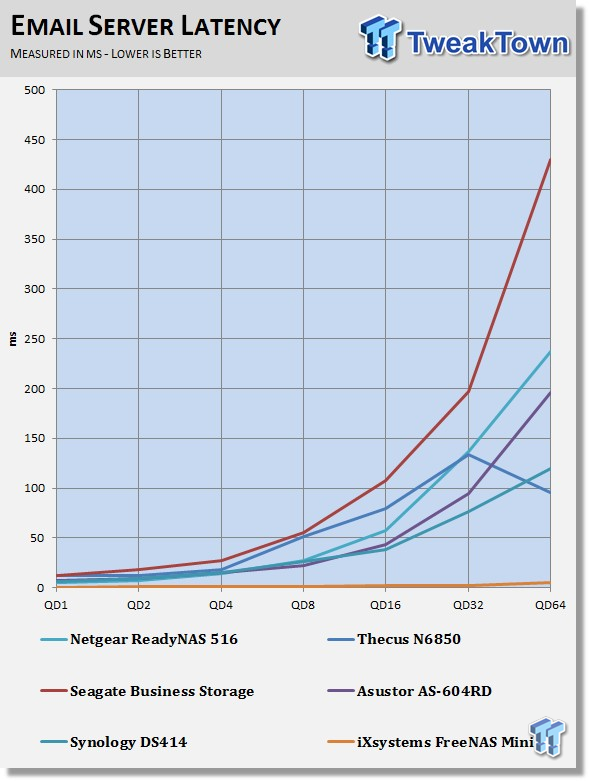 Web Server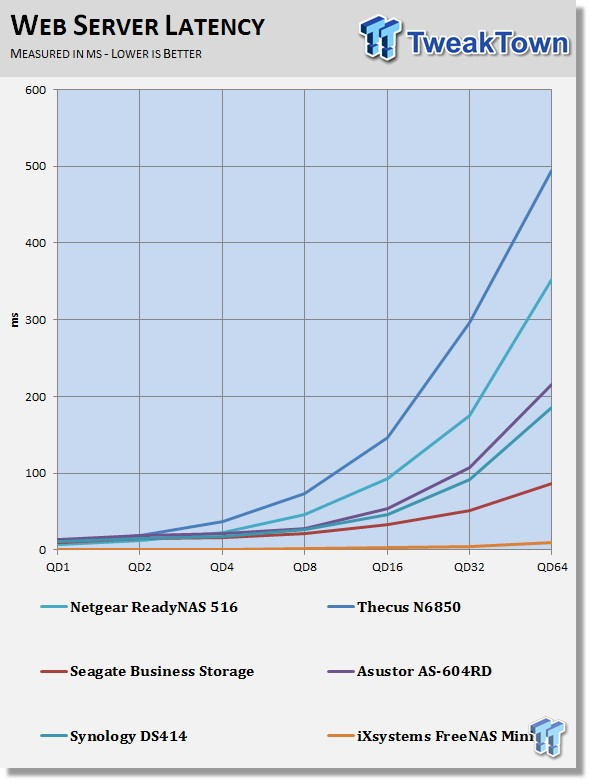 Workstation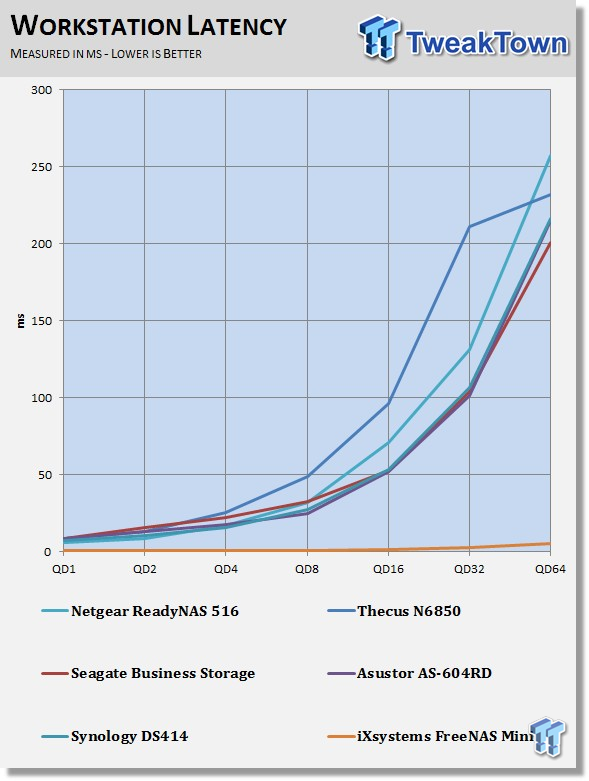 iSCSI Enterprise Latency Summary
The iSCSI latency is very low in our professional tests, which is as we expected from the IOPS data. The FreeNAS Mini is actually difficult to spot on the charts on this page because they only lift off the grid until we reach a queue depth of 64.
Benchmarks - Multi-Client Test
The Intel NAS Performance Tool (NASPT) is an excellent way to determine NAS performance in a single user environment. Any review that only uses NASPT assumes that only a single computer will access the target NAS at one time. We took issue with this method of testing and spent over a year designing, building, programming, and finally validating the TweakTown Multi-Client Test.
The test uses Microsoft Office data recorded to traces and played back to the NAS from up to 120 client Windows 7 installations (clients). We record total throughput of all clients and average response time per client.
Over time, we'll populate the two multi-client charts with several NAS products from a span of categories. The products range from a dual Xeon server with dual 10GbE to a 2-bay NAS with a single gigabit Ethernet connection. The products will fall into their performance categories based on performance and not marketing material or opinion.
Throughput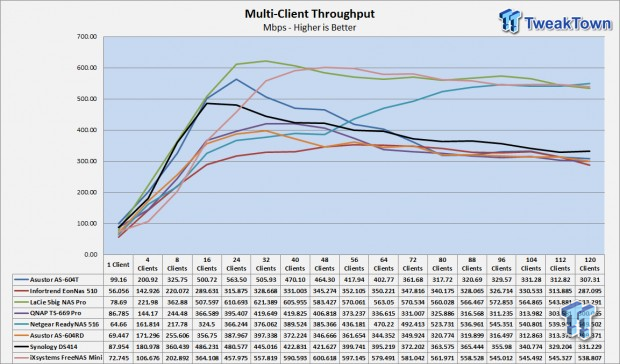 The results of our multiclient test surprised us. The FreeNAS Mini is the pink line in the throughput chart, and it took quite a while to ramp up the bandwidth. We expected more from the Western Digital RE 7,200 RPM drives in the system, especially after taking into consideration the SSD cache in front of them.
Once moving, the Mini delivered very high bandwidth for a large user base. The peak performance came from 48 users working with Microsoft Office files on the NAS.
Latency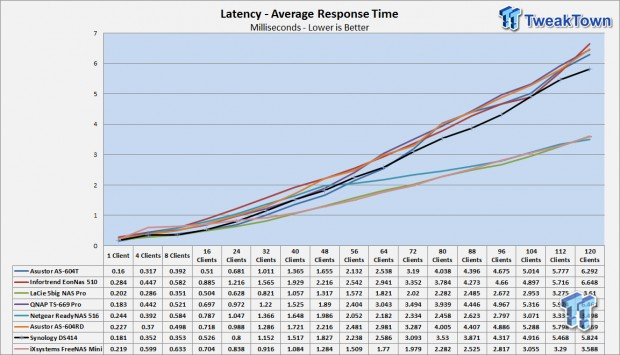 The latency remained low throughout the test to 120 clients. The iXsystems FreeNAS Mini was firmly in the performance group with the LaCie 5big NAS Pro and Netgear ReadyNAS 516.
Final Thoughts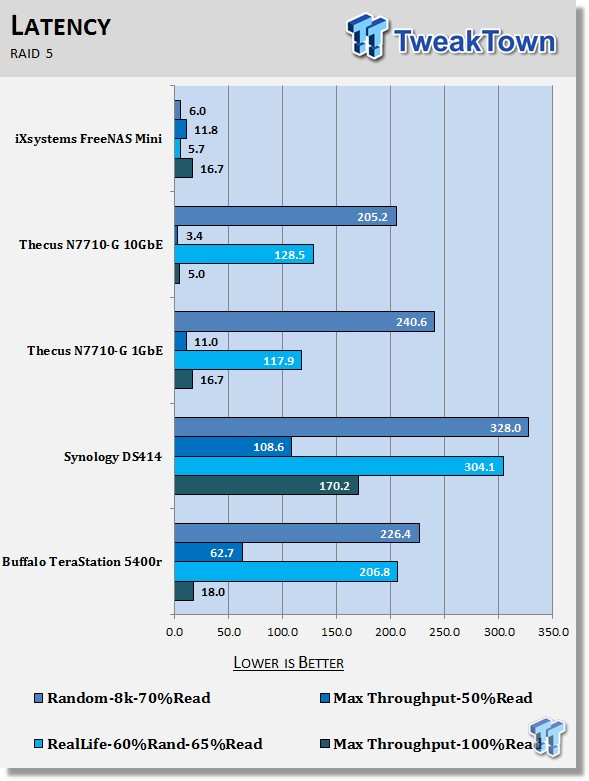 Before we dive into the final thoughts section of this review, I want to share some latency numbers from a set of new tests we've worked on for the last couple of months. Many of the tests we run in the regular review at this time are half-duplex; we're either reading or writing data but not doing both at the same time. The multiclient test is the exception, along with a few tests from NASPT. In the chart above, we see some mixed workload tests on products we've tested recently. The iXsystems FreeNAS Mini was the only product to tame latency in all four of the tests. The SSD cache is really an optional add-on, but one that I would highly recommend the end-user implement before the final deployment. The SSD cache brings the latency down to very low levels over iSCSI.
Often times when looking at products built with off-the-shelf components, we tend to look at the hardware price rather than the true value of a product. Every component in the FreeNAS Mini is available on the market, and an end-user could easily piece the system together with little effort. If you go that route, it doesn't mean you have a FreeNAS Mini; instead, you have a collection of parts that you purchased with warranties spread across several different companies, and the support lines would hang up on you ten minutes after you muttered the words FreeNAS five or six times. There is price and then there is value.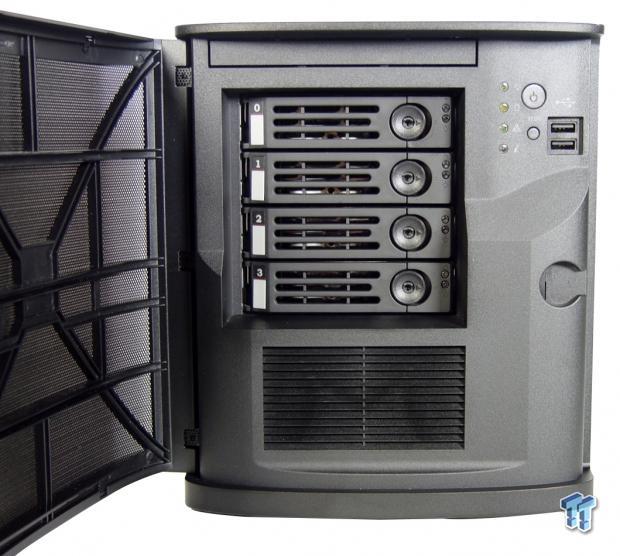 Comparing the diskless iXsystems FreeNAS Mini ($995) to other NAS products isn't easy. The Mini has four external drive bays, but it also has two internal 2.5-inch bays, making the system a six-bay NAS with cache. Very few NAS products support SSD caches, so we can't find an apples-to-apples comparison. Premium five and standard six-bay NAS products get into the $800+ range, ship with 2-4GB of system RAM, and with lower spec'd Intel Atom processors. The hardware advantage has to go to iXsystems.
Then there is the software, add-on packages, ease of use, and other considerations. This is a more complicated topic because user experience comes into play. Not everyone is ready for the wizard-less world of configuring a real server, with user permissions, groups, and so on. It's not that FreeNAS is difficult to configure, but it's different. Any user buying a NAS for the first time will go through the same growing pains regardless of the manufacturer.
Performance wise, I think we saw today how impressive a properly configured FreeNAS system is. With the cache drive, the Mini breezes through the enterprise workload with ease and makes the other products on our chart look entry-level. The single-user performance is also impressive, aside from a corner case where the system should have done a bit better. In our multiclient test, the system scaled well when we gave it a significant workload. From a pure performance take, we have to recommend the FreeNAS Mini because it is a superior product.
PRICING: You can find the iXsystems FreeNas Mini (8TB) for sale below. The prices listed are valid at the time of writing but can change at any time. Click the link to see the very latest pricing for the best deal.
United States: The iXsystems FreeNas Mini (8TB) retails for $1,495.00 at Amazon.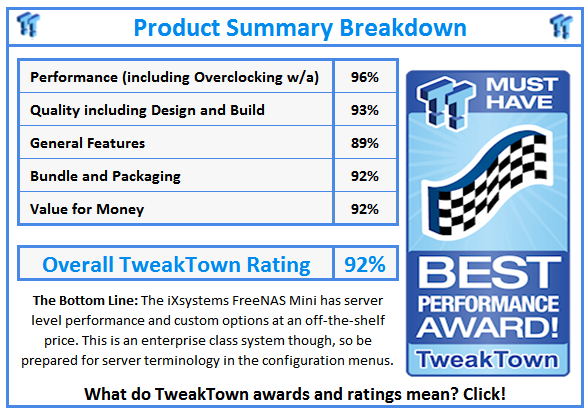 PRICING: You can find products similar to this one for sale below.

United States: Find other tech and computer products like this over at Amazon.com

United Kingdom: Find other tech and computer products like this over at Amazon.co.uk

Australia: Find other tech and computer products like this over at Amazon.com.au

Canada: Find other tech and computer products like this over at Amazon.ca

Deutschland: Finde andere Technik- und Computerprodukte wie dieses auf Amazon.de
We openly invite the companies who provide us with review samples / who are mentioned or discussed to express their opinion. If any company representative wishes to respond, we will publish the response here. Please contact us if you wish to respond.