Origin EON17-S Gaming Laptop Review
We check out one of Origin PC's beastly laptops, featuring a fully-unlocked Intel CPU, and an NVIDIA 880M. How well does it perform? Read on to find out.
Published
14 minute read time
Introduction & Specifications, Configurations and Pricing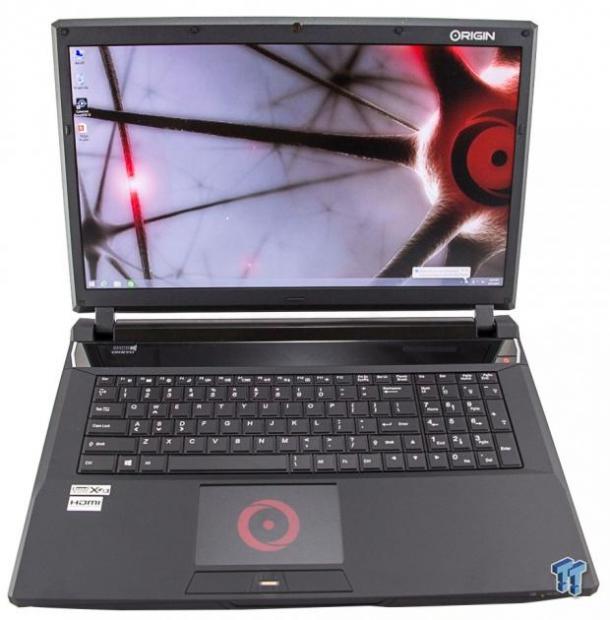 Back in February of last year, we looked at two of Origin's beastly laptops, the EON11-S and the EON17-S. Both of the machines duly impressed us, so we're expecting the same level of engineering, build quality, and finishing that we saw back then.
If you don't want to read those full reviews, here is a brief summary: The EON11-S crammed a full quad-core CPU, and a decently powerful GPU, into a tiny 11-inch chassis. The EON17-S, on the other hand, was a balls-to-the-wall gaming machine that was overclocked and ready to destroy games.
Obviously, we expect today's updated EON17-S to do as well, or better than the previously reviewed EON17-S; we'd like it to do significantly better, since it features the latest and greatest hardware available at build time.
Without further ado, let's dive into the review and see what this machine is packing in terms of hardware.
Specifications, Configurations and Pricing
We're going to go ahead and start out by discussing pricing; the cost alone should give you an idea of what sort of hardware is included in our EON17-S. We went ahead and configured the same model with the same hardware on Origin PC's website, and the total worked out to be around $3,450. You wouldn't be wrong in saying that the price is large for a laptop. So, does it have the hardware to back up the price tag?
Packed inside this beast of a laptop is a quad-core Intel i7-4930MX processor that features four cores, and eight threads. This processor is theoretically able to be overclocked, but during our brief foray into the BIOS, we were unable to find the option to overclock it. It comes clocked in at 3GHz, and can boost all the way up to 3.9GHz by utilizing Intel's TurboBoost. This speed comes at a cost, and that cost is thermals, and power consumption. The i7-4930MX is rated at 57W TDP, making it a very powerful —and power consuming—mobile CPU.
Paired with the CPU, we have 16GB of Corsair Vengeance RAM clocked in at 1,600MHz. 16GB of high-quality RAM should help this CPU run at full potential, and is the same amount of RAM I use in my desktop system.
We want a gaming laptop to excel in graphics, and the EON17-S is no slouch. Our specific model comes bearing an NVIDIA GTX 880M with 8GB of VRAM. You read that right: 8GB. We're not particularly convinced that 8GB will help this GPU, but it certainly won't harm it. For reference, the 880M came out in March of this year, and utilizes NVIDIA's Kepler architecture. It features 1,536 CUDA cores, and 128 TMUs. It's pretty beastly, so we're excited to see the real-world gaming benchmarks later on in this review. The display is a matte 17.3-inch panel that pumps out a resolution of 1920x1080.
In a laptop, you're usually pretty lucky if you have the ability to add two drives to a system. Well, the EON17-S has a total of three drives, and a Blu-ray reader. Our operating system, Windows 8.1, is installed upon a RAID 0 array of two 120GB mSATA Samsung EVO SSDs, which should make for speedy operation. We also have a 750GB HDD for mass storage of movies, music, or games. Finally, wireless is provided by Intel's Wireless-AC 7260 chip.
The system is highly configurable, and can be built to your exact specifications through Origin's website. If you want a special part that isn't listed, you can contact Origin, and they will do their best to accommodate the request.
The system is covered by a one-year parts replacement warranty, and a lifetime labor warranty, which means they will replace any part for you for just the cost of the part. You also get 24/7 support with your Origin PC purchase.
Packaging
This specific packaging is an upgraded option called ORIGIN Wooden Crate Armor. It will set you back an additional $40, but it protects the system in a sturdy wooden box. Inside the wooden crate, you'll find a basic black box that features Origin branding.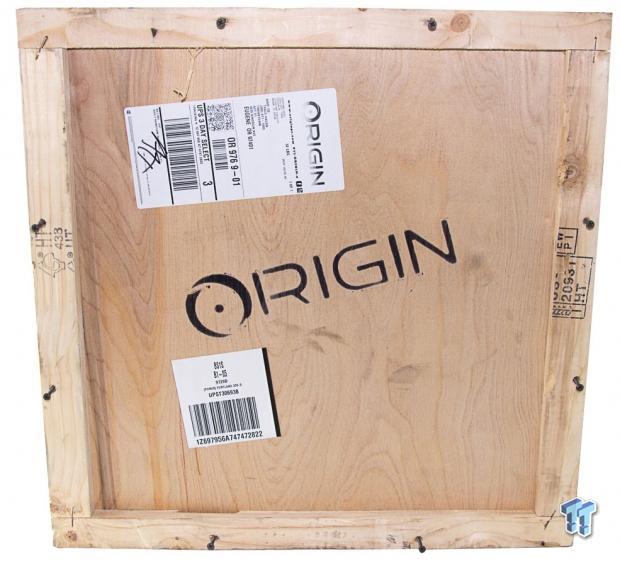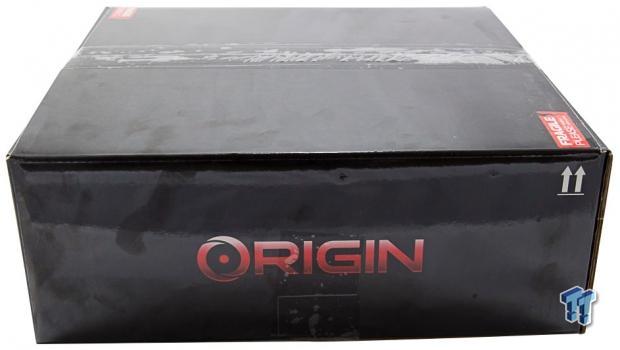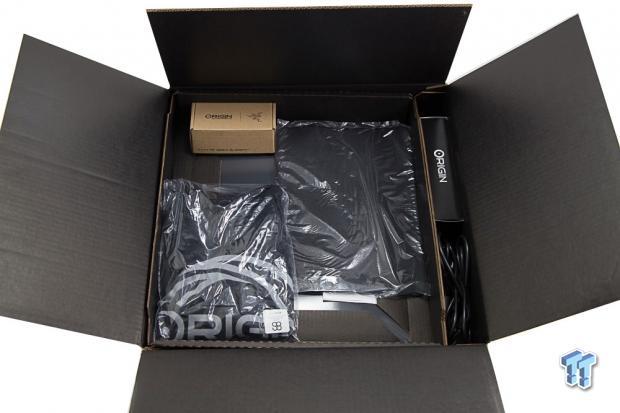 Upon opening the cardboard box (as seen above), you'll be presented with several extras included with the EON17-S. There is a mouse pad, a special Origin PC Edition Razer Taipan mouse, and an Origin shirt. After removing all of the extras, the AC adapter, and box with drivers and manuals, you will be presented with a laptop inside of an Origin branded laptop sleeve, suspended in the middle of the box. Underneath the suspension packaging, there is a dragon poster for your wall.
I wasn't a believer in this shipping method for the longest time, but it seems to work quite well. Just yesterday I received a desktop PC packaged in the same manner (review forthcoming).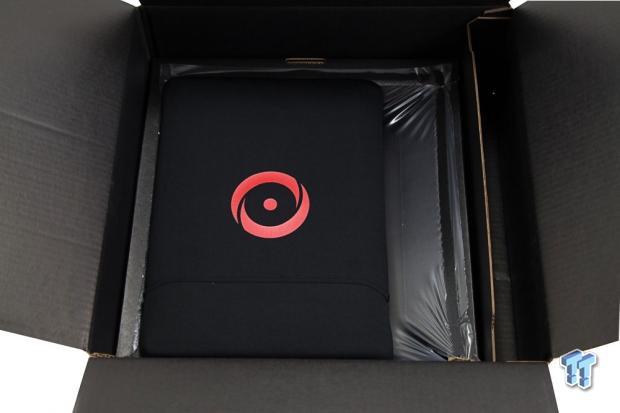 Temperatures, Cooling and Noise
The EON17-S is a massive laptop, in terms of both weight and physical size, so that could play into these temperature numbers. Keep the power draw of the components used in mind.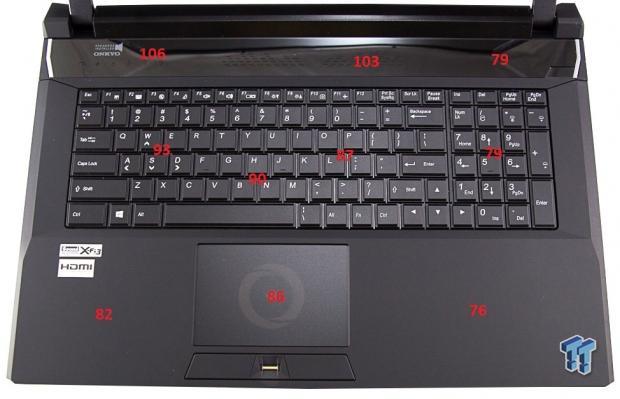 As you can see, on the front of the system we logged a maximum temperature of 106 degrees Fahrenheit. This high temperature was located towards the top of the system, away from anything you should be touching frequently, if at all. The keyboard stayed at, or below 93 degrees, which is acceptable in my book; the palm rests barely broke 80 degrees, and the touchpad registered 86.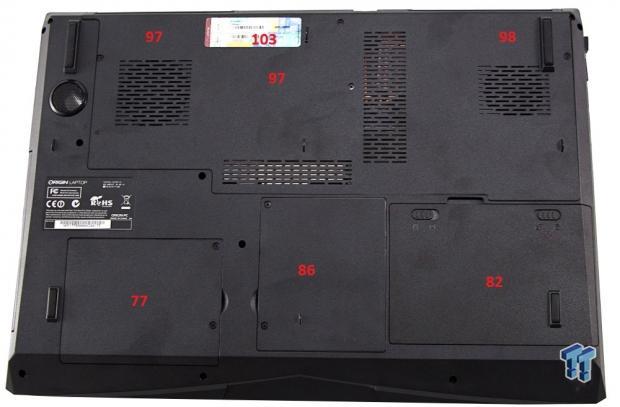 Moving around to the backside, temperatures were about the same. The maximum observed temperature was 103 degrees Fahrenheit. However, the rest of the temperatures observed were all less than 100 degrees. While the temperatures themselves don't appear to be too bad, we did note during our temperature testing that the desk right behind the air vents on the back was a whopping 139 degrees. Therefore, if you are going to use this on your lap, make sure the air vents aren't blowing on your skin. We strongly advise that you do not use this, or any gaming laptop on your lap.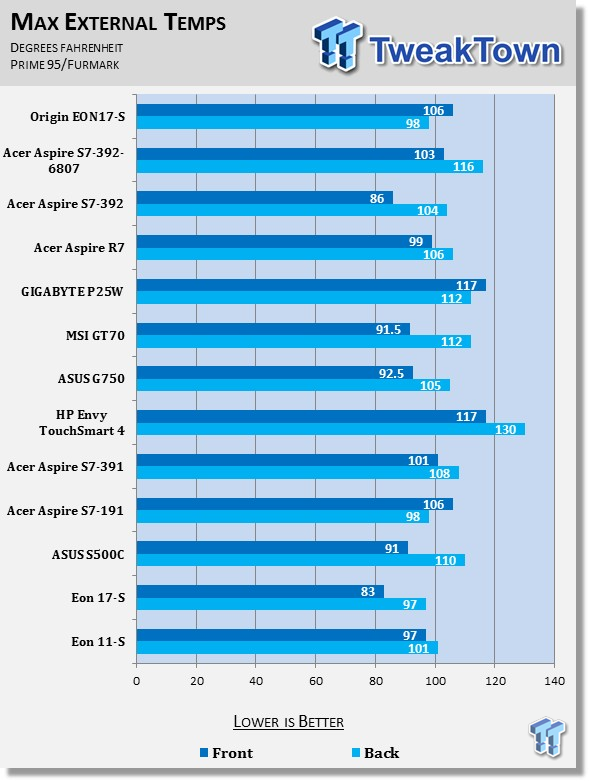 The maximum observed GPU temperature was 88 degrees Celsius. The CPU reached a maximum of 91 degrees Celsius. This is much hotter than I like to see chips running at, but it easily beats the previous EON17-S that we tested, and falls in line with other gaming notebooks that we've tested.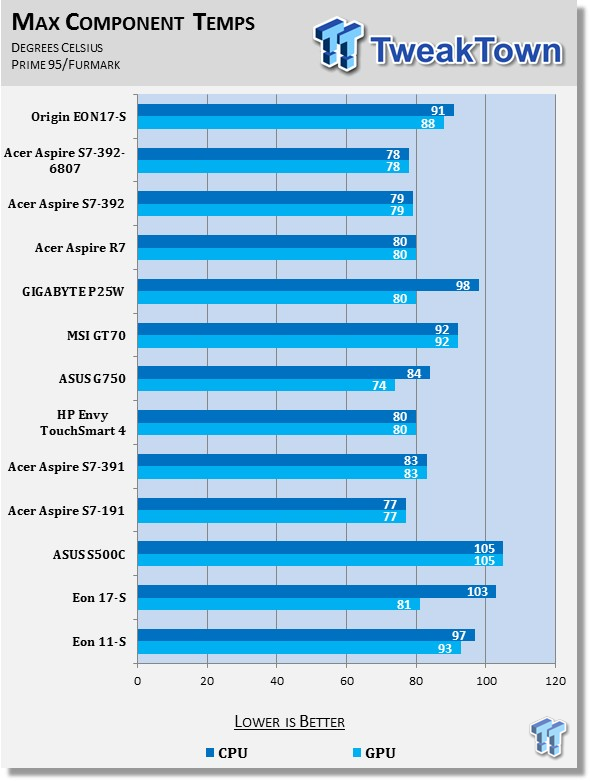 I hope you're not expecting whisper quiet operation, because you'll be very disappointed if you are. The EON17-S, in its effort to keep these powerful chips cool, produced a reading of 51 decibels, which matches a couple of other systems for the top spot. Our measurement is taken in front of the laptop at roughly head level. For comparison: 30dB is a totally quiet nighttime in the desert, 40dB is whispering, and 60dB is a normal conversation.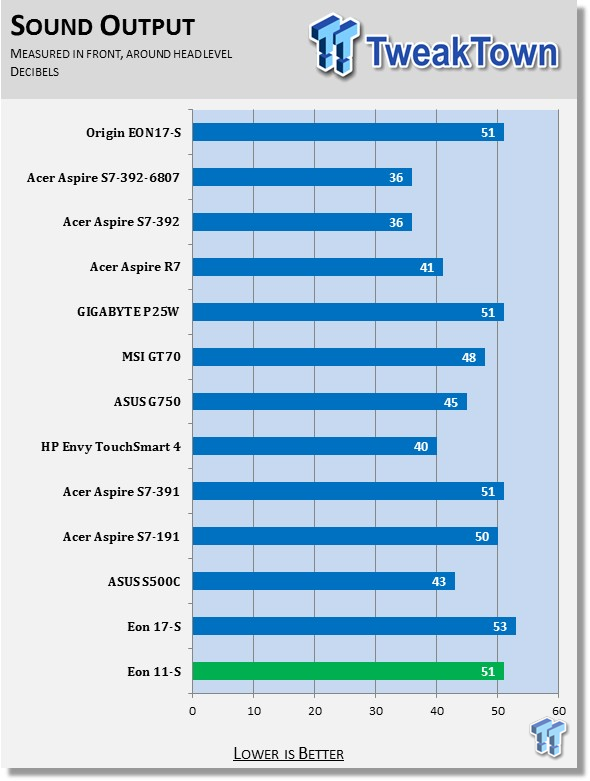 User Interfaces
Keyboard and TouchPad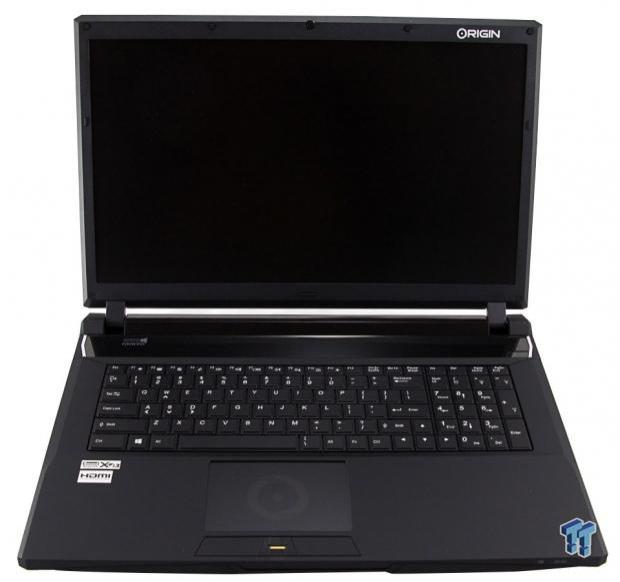 As you would expect, since both of the S7-392s feature the same body and keyboard, there is really no difference to discuss.
The keyboard fitted to the EON17-S is definitely acceptable and will function as a gaming keyboard without much issue. True typists would probably prefer a different keyboard, but it gets the job done without undue burden.
The keys have a good amount of throw, but there is one issue. The flex present in the keyboard is somewhat bad. There is flex apparent over most of the keyboard, but it is most horrible at the comma key area. The rest of the flex isn't generally noticeable during typing, but the comma key flex definitely is.
The keyboard is sunk into the panel is sits on like most laptop keyboards. The keys themselves have an interesting texture that almost feels rubbery, but it's unlike the soft-touch rubber coating on the palm rests and the surrounding surface area. The keys also have an interesting design, which I'm sure you can see in the picture. The keys caps themselves are smaller than the actual key, which makes the caps appear spaced out, but the keys themselves don't actually have any physical separation.
The backlighting present on the keyboard features three different zones that can each be customized through a wide range of RGB colors. Additionally, the touchpad's Origin logo is backlit, and the color the logo glows can be changed to one of several colors.
Speaking of the touchpad, I was less than enthused by it. The texture felt wrong, and I found it rather hard to use effectively. I do like that the touchpad features two physical buttons for left and right click. In between those two buttons, you can see the fingerprint reader that is included in the EON17-S system.
Screen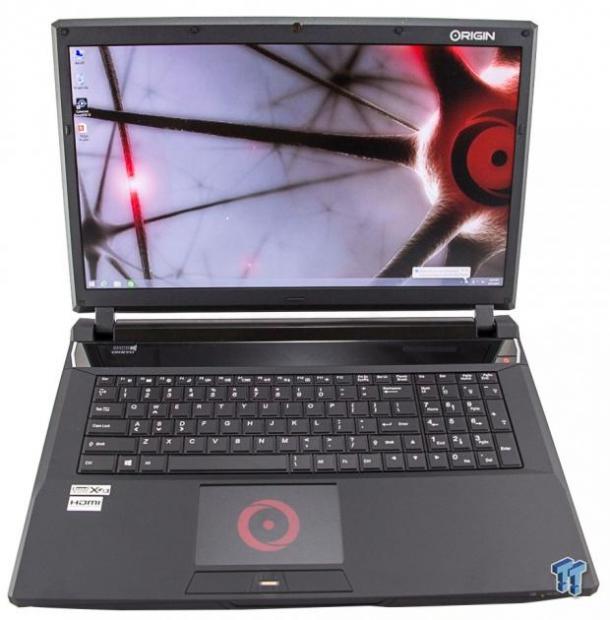 The display on the EON17-S is a 17.3-inch behemoth, which features a matte coating that cuts down on glare and reflections. The panel itself features the standard 1920x1080 resolution, though a bump up to 2560x1440 would be appreciated. The screen quickly darkens as you start moving off-angle, and it could definitely use a bump in brightness. However, it suffices and gets the job done.
Testing Methodology
View our full testing methodology article.
- Accessory Port Testing
Ports to which an external storage device can be connected to are tested using HD Tune Pro to obtain their maximum, minimum, and average read and write speeds. USB 2.0, USB 3.0, and eSATA ports are tested using a Corsair Neutron GTX 240GB SSD that is capable of saturating the theoretical bandwidth available.
The Corsair Neutron GTX is housed inside an Icy Dock external enclosure, which features a SATA I/II/III to USB 3.0 and eSATA converter.
- Gaming Tests
3DMark Vantage is run on the Performance preset to get a feel for how the computer would manage gaming. The CPU, GPU, and combined scores are reported. A higher overall score is the best, and a high GPU or CPU score shows particular prowess with tasks that use that part of the computer.
3DMark 11 is run on the Performance preset, and the Physics, GPU, and combined scores are reported. This test is only run if the system supports DirectX 11. A higher overall score is the target, though a high individual result shows prowess in a particular area.
3DMark is the latest benchmark by Futuremark. The Cloud Gate test is run with all of the default settings, and the score, GPU score, and physics score are all recorded in the chart. The Cloud Gate test is intended to be run on home desktops, and notebooks.
- System Tests
PCMark 8 is run to get an overall idea of how the system performs as a whole. It tests all aspects of the PC, and puts a score on how well it performs overall. In this test, a low scoring area can affect the overall score, so it's important to read the analysis. A higher score is better.
CrystalDiskMark is run to put a number on how well the system hard disk drive / SSD runs. It measures five different metrics, of which, higher is better for all. The higher the numbers, the snappier the operating system will feel. This is especially true if the "4k" number is high, as most operating system files are small files.
- Battery Life
PowerMark is used to measure battery life of the system when set to the "Balanced" power plan. This test simulates several different activities, but uses custom built applications.
Accessory Port Layout and Performance

The left side (from back to front) features a 1394 jack, the Ethernet port, two USB 3.0 ports, a combo eSATA / USB 2.0 port, and a card reader.

The back (from left to right in the image) features a DisplayPort 1.2 port, a HDMI port, a mini DisplayPort port, and the power jack.

The right side (from back to front) features a USB 2.0 port, various audio jacks (microphone, headphones, and two others), and the Blu-ray reader.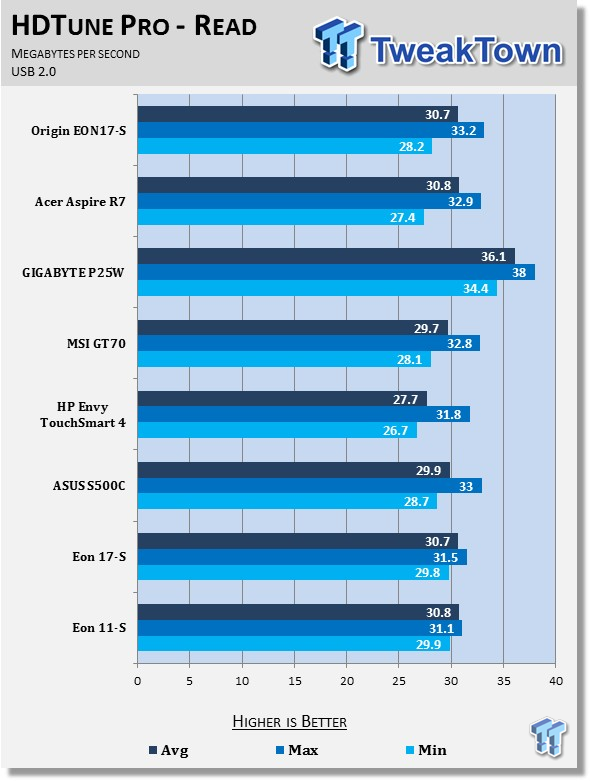 Above, you can see the USB 2.0 read performance of the Origin EON17-S. It produced an average of 30.7 MB/s, putting it in the middle of the pack.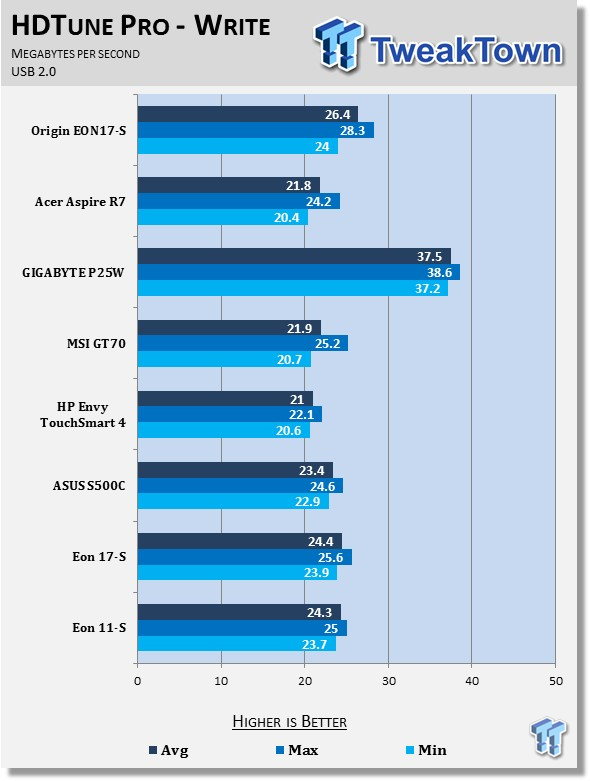 USB 2.0 write performance comes in at 26.4 MB/s average. This put the EON17-S in second place.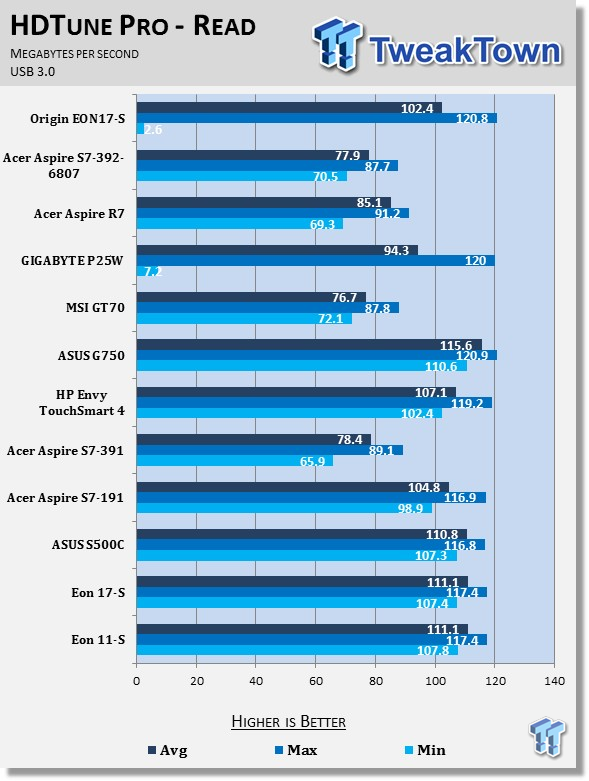 As far as USB 3.0 performance goes, the notebook just breaks the 100 MB/s barrier at 102.4 MB/s. This puts it in the middle of the pack.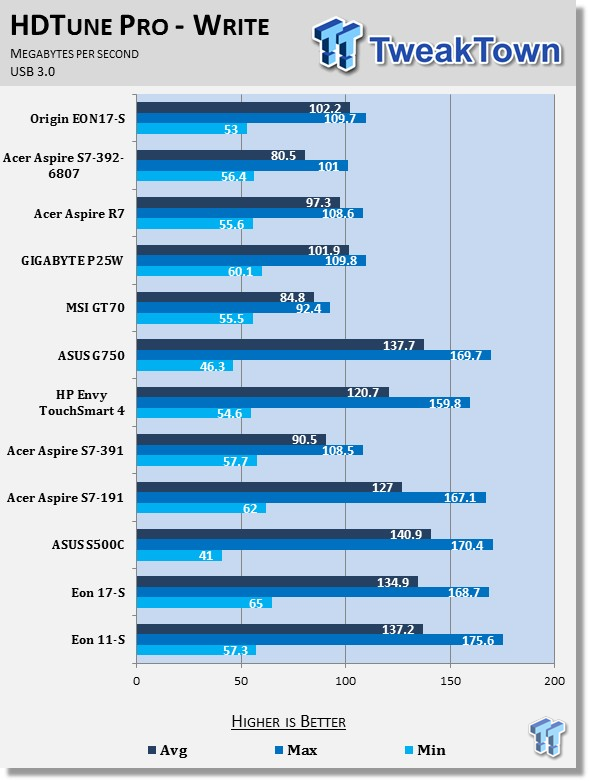 The trend continues with USB 3.0 write speeds, and the EON17-S barely squeaks into the 100 MB/s category with 102.2 MB/s. This puts it in the middle of the pack, but definitely further towards the back than the front.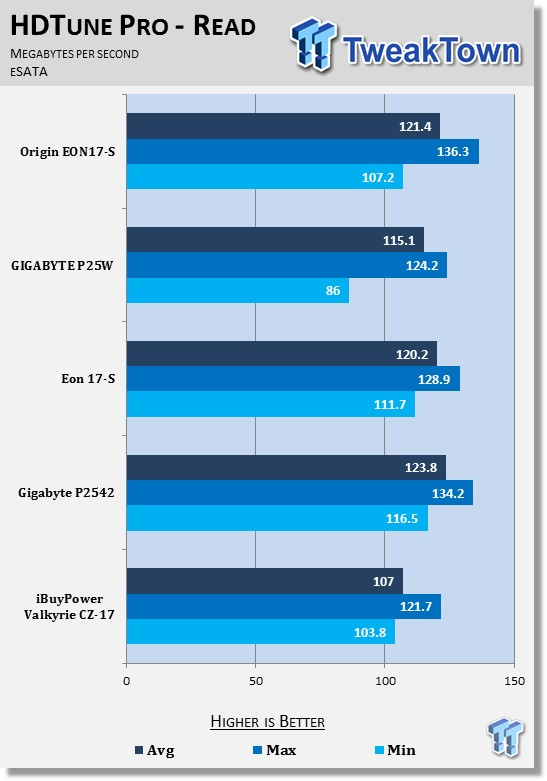 Because the EON17-S is a desktop replacement notebook with lots of space, Origin placed an eSATA port on board. In terms of read performance, the EON17-S places second with 121.4 MB/s; just behind the 123.8 MB/s of the P2542.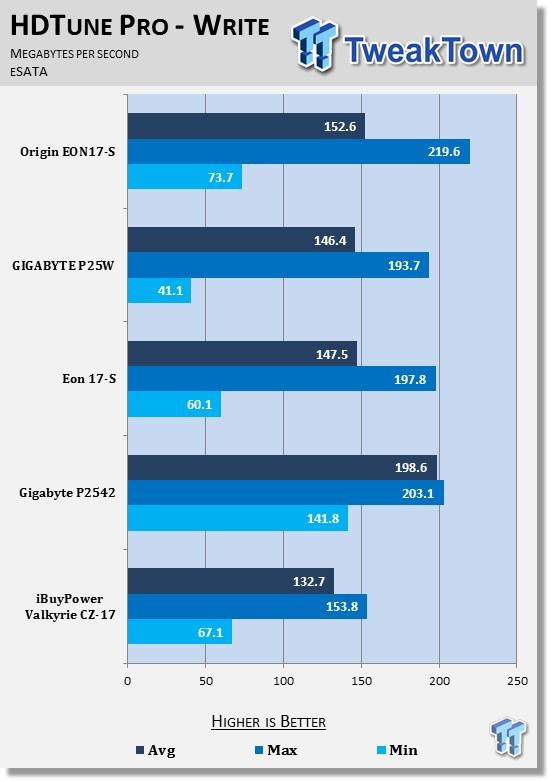 A similar trend can be seen with eSATA write performance. The EON17-S again comes in second with a write speed of 152.6 MB/s —behind the leader's massive 198.6 MB/s.
Benchmarks - Gaming Performance
3DMark Vantage
Version and / or Patch Used: 1.1.0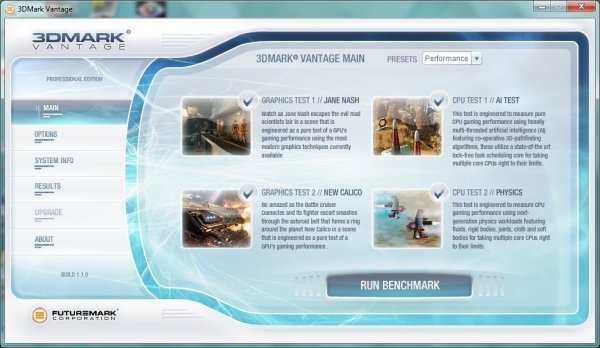 3DMark Vantage tests both processor and graphics performance, and is a good indication of how systems compare. The results are generally more repeatable and consistent than other forms of benchmarking. Vantage uses DirectX 10, and can handle multi-core CPUs.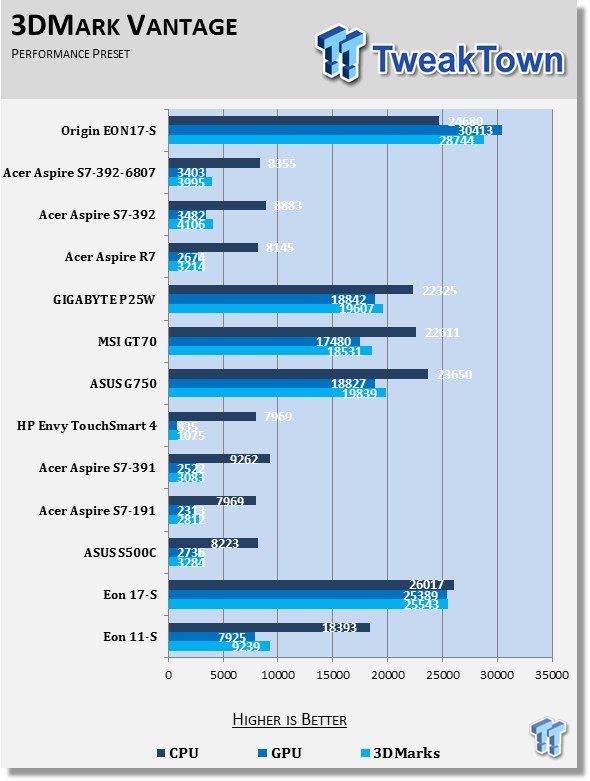 Our updated EON17-S blows away the competition with a score of 30,413. The nearest competitor is the older EON17-S that we tested, and that is around 5,000 marks lower. The only place the older EON17-S wins is in CPU performance. If you'll recall, that system had a massively overclocked CPU.
3DMark 11
Version and / or Patch Used: 1.0.1.0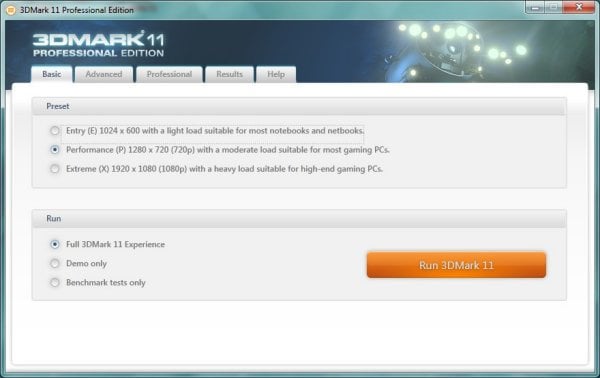 3DMark 11 is the latest version of the world's most popular benchmark. Designed to measure your PC's gaming performance, 3DMark 11 makes extensive use of all the new features in DirectX 11, including tessellation, compute shaders, and multi-threading. Trusted by gamers worldwide to give accurate and unbiased results, 3DMark 11 is the best way to consistently and reliably test DirectX 11 under game-like loads.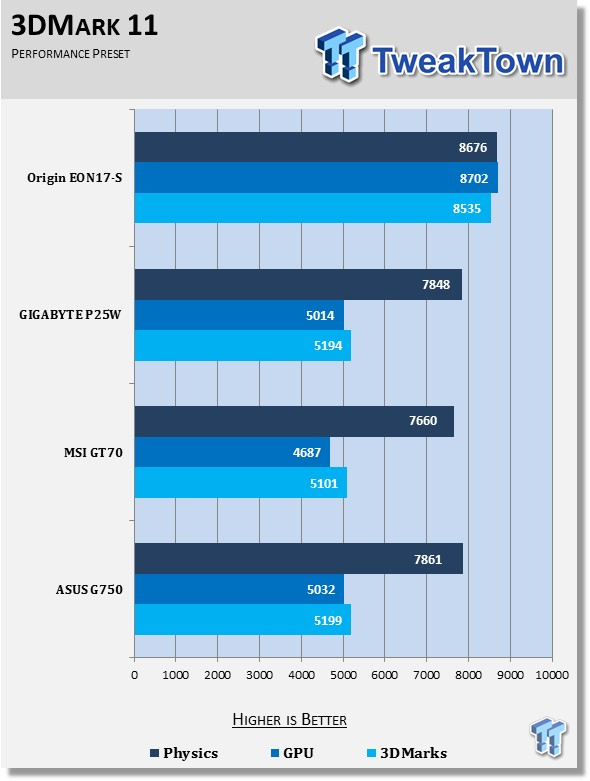 Unfortunately, we had to update 3DMark 11, so we don't have comparable results for the older EON17-S. However, we can tell you that the Origin EON17-S once again stole the show with a total score of 8,535. The powerful GPU really came into play here, boosting the EON17-S' score nearly 4,000 marks higher than the comparable gaming laptops.
3DMark – Cloud Gate
Version and / or Patch Used: 1.0.0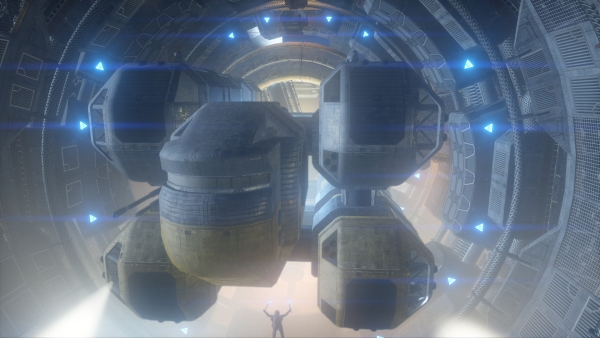 Cloud Gate is a new test that is designed for Windows notebooks and typical home PCs. Cloud Gate includes two graphics tests, and a physics test. Cloud Gate uses a DirectX 11 engine limited to Direct3D feature level 10, making it suitable for testing DirectX 10 compatible hardware. Cloud Gate will only be available in the Windows editions of 3DMark initially.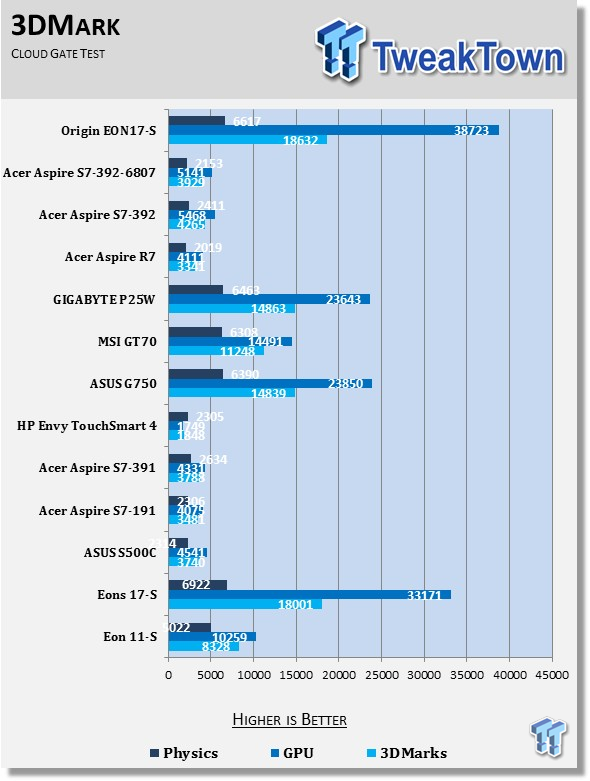 As with Vantage, the EON17-S manages to take another victory with a score of 18,632. The next closest competitor is again the older EON17-S. Once again, today's review unit falls to the older model in CPU performance, strictly because of the massive overclock on the older model. However, today's model features a GPU that garnered more than 5,000 extra marks over the previous model.
Battlefield 4
Version and / or Patch Used: Latest Origin Update
Battlefield 4 is the latest installation in the Battlefield franchise. We benchmark Battlefield 4 with a custom 60 second run at the beginning of Siege of Shanghai. Settings are 1920x1080 for the resolution with the "Graphics Quality" set to Ultra.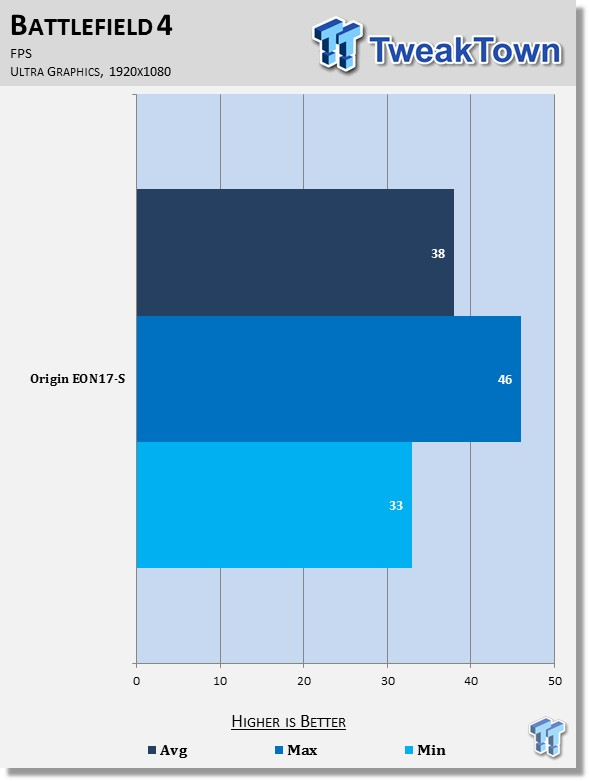 This is our first system through the lab that we have benchmarked with Battlefield 4. Taking a look at our benchmark results, we can say that we would likely want to turn down the settings somewhat to enjoy the game without random slowdowns during action scenes. Battlefield 4 is definitely playable, though, and we managed to get around 60 FPS during an informal 64 player online match with these settings.
Crysis 3
Version and / or Patch Used: Latest Origin Update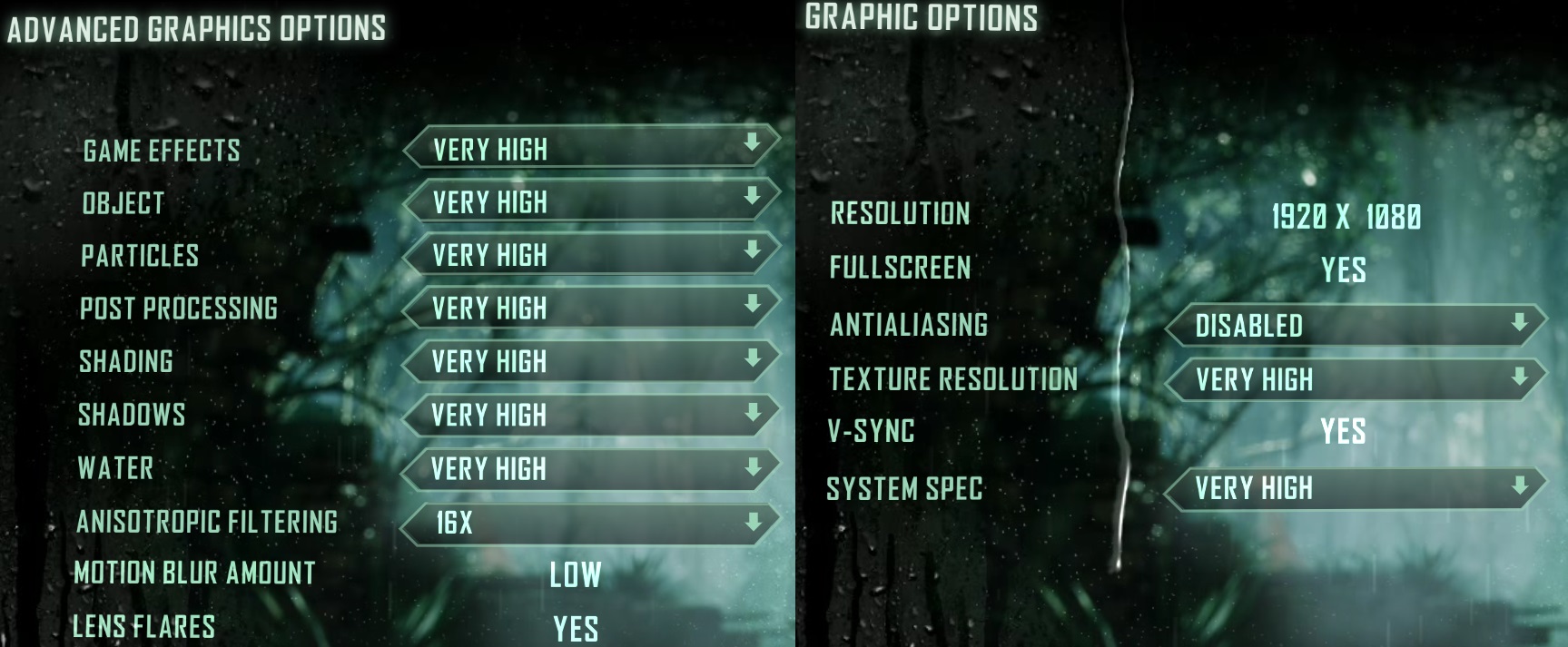 Crysis 3 is run at 1920x1080 resolution with the graphics specifications set to "Very High." No anti-aliasing is used. See the picture above for full details. FRAPS is used to record 60 seconds worth of FPS data, and recording starts at the beginning of the campaign, and finishes most of the way up the tower. The game is played in a similar manner each time.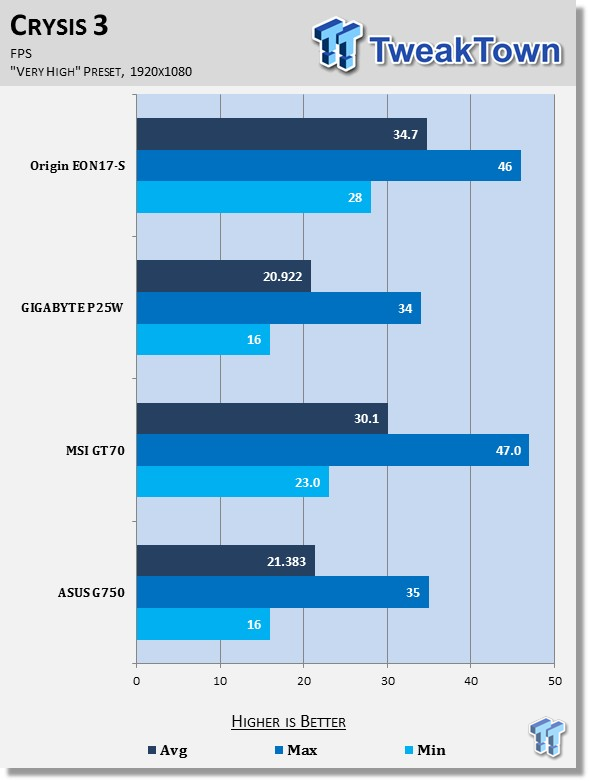 The 880M clearly helps out our Crysis 3 performance, boosting the average FPS up by 4.6 over the next closest system, which was running a GTX 780M. At these settings, we see a minimum of 28 FPS. We would definitely recommend turning down the setting some if you plan to play Crysis 3 on this system.
Benchmarks - System Performance
PCMark 8 – Home Test
Version and / or Patch Used: 2.0.228
PCMark 8 comes with various benchmarks to assess PC performance in key areas. As we are testing consumer systems, we utilize the Home Test —non-CL accelerated.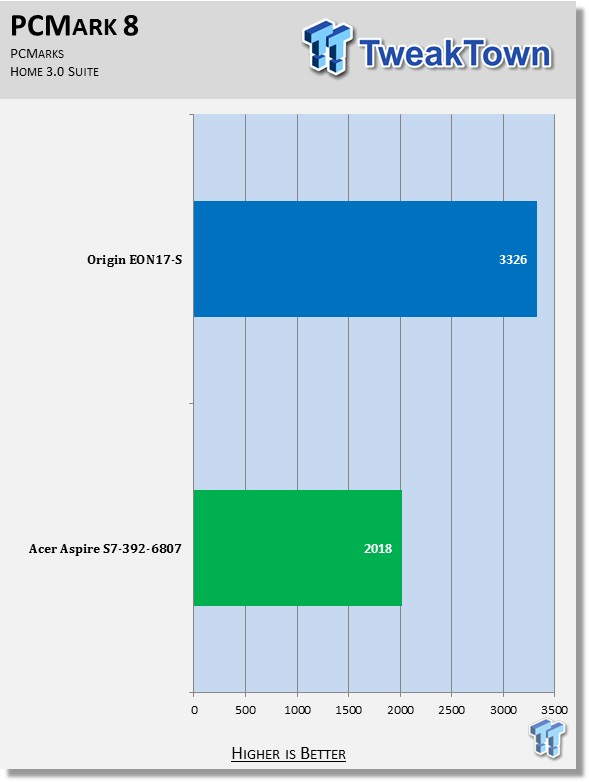 We've gone ahead and eliminated PCMark 7 from our testing regimen now that we have had more than one system run through PCMark 8. As you can see in the chart above, the desktop replacement EON17-S clearly dominates the Ultrabook offering —our only other point of comparison. It produced a score of 3,326 marks.
CrystalDiskMark
Version and / or Patch Used: 3.0 Technical Preview
CrystalDiskMark is a disk benchmark software that allows us to benchmark 4K and 4K queue depths with accuracy.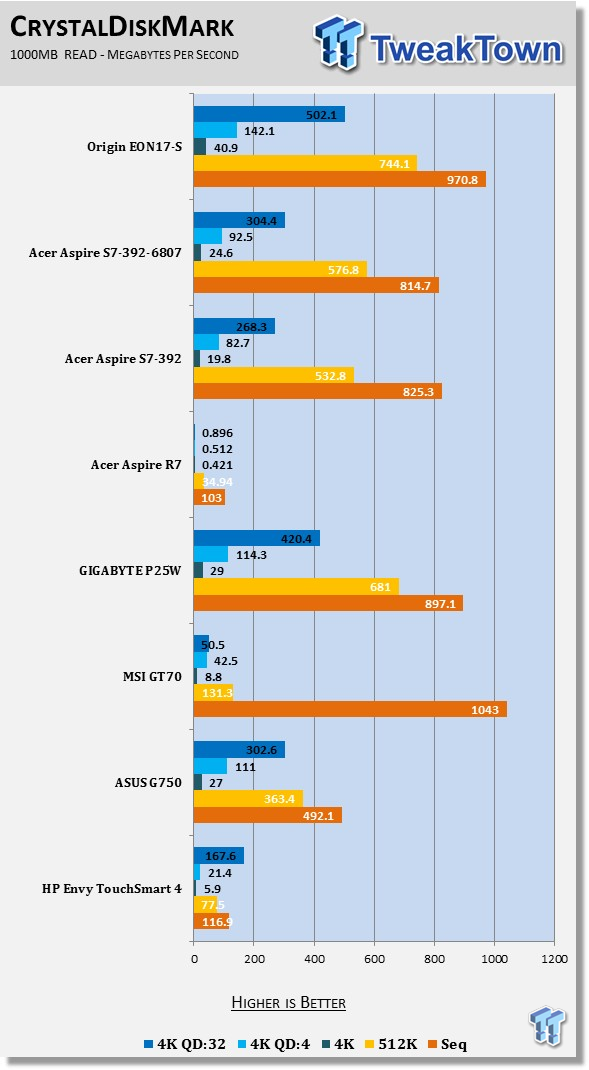 We're going to start looking at the 4k speed more than the sequential speed in our analysis, though all will be included in the chart above. The Origin EON17-S produces almost double the next fastest 4k speed. In terms of sequential speed, the system produced our second fastest read speed at 970.8 MB/s.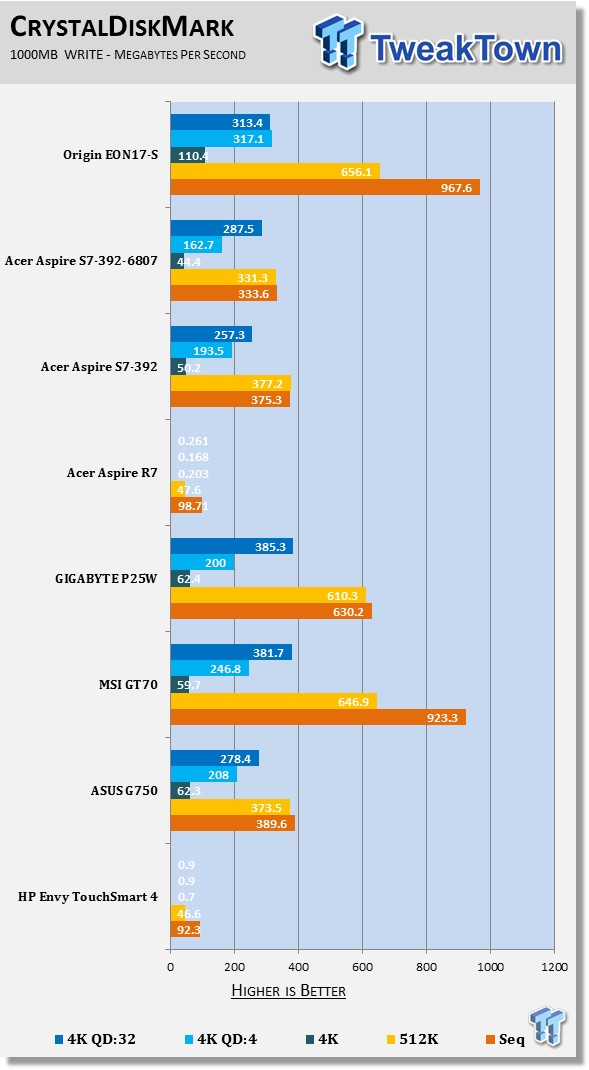 Write speeds see very similar performance in that it is excellent. We have one Ultrabook from Acer that had a kickass RAID setup that beats the EON17-S in 4k speed. However, sequential write speeds cannot be topped.
Battery Life Performance
PowerMark
Version and / or Patch Used: 1.1.1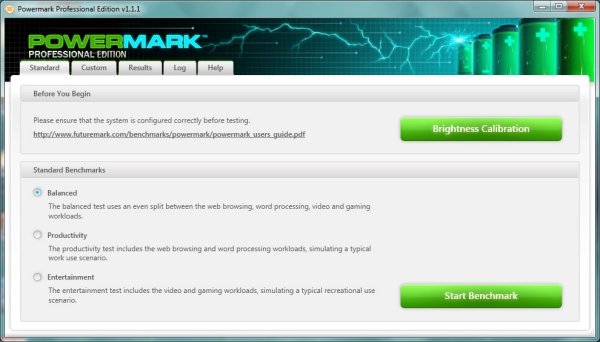 PowerMark is a benchmark produced by Futuremark that simulates different usage scenarios in order to determine battery life. It loops these different scenarios infinitely until the battery hits 15%, and then it gives us an estimated battery life time. For our testing, we use all four different scenarios. These scenarios are: video playback, gaming, web browsing, and word processing.
The test is run once with the computer's Power Options set to Balanced.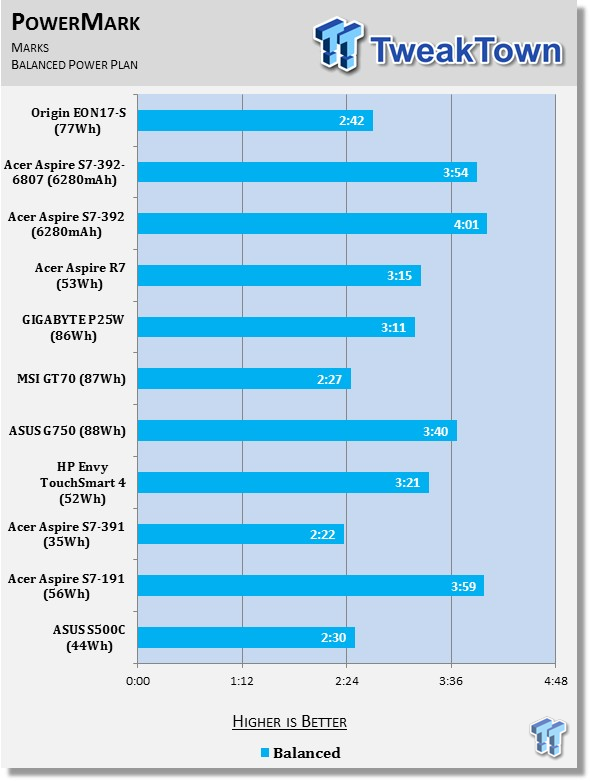 We would never expect a gaming system to get as high of a result as a general purpose laptop, and especially not as high of a result as an Ultrabook. However, we are duly impressed with the EON17-S' runtime of 2 hours and 42 minutes. Gaming notebooks are approaching three hours of runtime, and that is quite impressive.
No longer is the battery just a backup; no longer is the battery used to just switch outlets. We're starting to be able to last through lectures, though we don't recommend carrying this system around.
Final Thoughts
Wow! We're already done with this review. Wait, my thoughts? Well, let's dissect this system and see how it fares.
We've seen all of the benchmark numbers. Clearly, this system is, hands-down, the fastest laptop we've had through the lab. There is no arguing that point. But that doesn't really cover the subjective feelings towards the laptop.
This is a superbly kickass laptop. But, you are going to pay for that performance. At over $3,400, you could put together one hell of a desktop for the same price, or less. But that's not a laptop, is it? I actually had this debate with a few of my Battlefield 4 friends. They were convinced that you should build a mini-ITX system, and use that instead of this behemoth.
I disagree, and here is why: While you can build a cheaper mini-ITX system with the same performance, you lose portability. I won't bother arguing whether or not this is actually portable, but it is definitely more portable than a mini-ITX system. It includes the screen, keyboard, and system. All you need is the power brick, and a mouse. The real question comes down to whether that really matters to you, and whether or not you need to carry this much horsepower.
Additionally, the EON17-S can be had for much less. For instance, the 4930MX CPU added nearly $1,000 to the total cost. If you were to drop the CPU down to a normal quad-core Intel processor, drop the RAM to 8GB of Corsair Vengeance, lose the Blu-ray reader, and drop the mechanical HDD, then you're looking at just $2,470 —a much easier number to swallow. Best of all, you basically don't lose any performance.
One final thought. We're enthusiasts. We like having top-tier, high-performance hardware. Price is less of an object to us.
In the end, we're evaluating the product upon its discovered merits. We found this system to be the single best gaming laptop to come through our labs. It had the most performance, the best battery life, and solid build quality. We aren't going to argue whether this solution should be for you, and we certainly won't sit here and tell you that this has excellent value, at least as configured. However, we can tell you that we are awarding this system our TweakTown Best Performance Award because it is, hands-down, the most powerful system to come through the lab.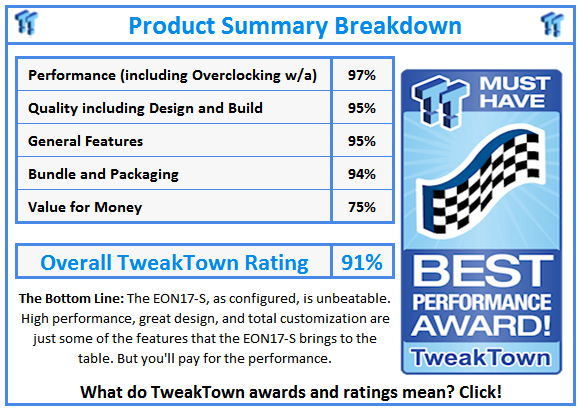 PRICING: You can find products similar to this one for sale below.

United States: Find other tech and computer products like this over at Amazon.com

United Kingdom: Find other tech and computer products like this over at Amazon.co.uk

Australia: Find other tech and computer products like this over at Amazon.com.au

Canada: Find other tech and computer products like this over at Amazon.ca

Deutschland: Finde andere Technik- und Computerprodukte wie dieses auf Amazon.de
We openly invite the companies who provide us with review samples / who are mentioned or discussed to express their opinion. If any company representative wishes to respond, we will publish the response here. Please contact us if you wish to respond.