TweakTown's Rating: 88%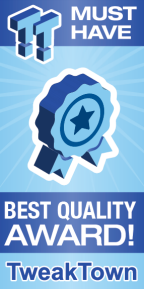 The Bottom Line
Razer continues to make some of highest quality gaming machines, and the Blade 18 is no different. But it comes at a price, and in this spec, it's a little underpowered for gaming.
Pros
+

Keyboard and trackpad

+

Performance

+

Display

+

Overall build quality
Cons
-

Price v performance

-

GeForce RTX 4060 is underpowered for this level of machine
Should you buy it?
Avoid
Consider
Shortlist
Buy
Introduction, Specifications, and Pricing
Razer has been the standard of all gaming laptops for years now. With that, this year has brought a new category to the gaming laptop market: the desktop replacement. In the last few months, we have looked at a few of these, most notably the M18 from Alienware. That said, the Blade 18 was on my bucket list, and today, we have it on the bench to examine.
Specifications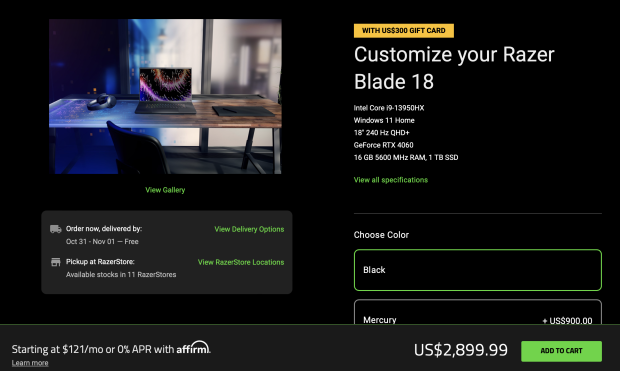 Our build of the Blade 18 is the entry-level model, featuring an Intel Core i9-13950HX, a twenty-four core, thirty-two thread CPU identical to the 13900HX and 13980HX, with boost clocks that fit between the two. With that, we have the same eight performance cores with hyper-threading along with sixteen efficient cores. Boost clocks touch 4GHz for the E-cores and 5.5GHz for the P-cores. Our build, outlined above, pairs this CPU with 16GB of DDR5 5600MHz memory and 1TB of NVMe SSD storage.
Graphics for our build of the Blade 18 give us the NVIDIA GeForce RTX 4060 laptop GPU with 6GB of dedicated GDDR6. Connected to this, we have an 18" display that runs at QHD 2560x1440 resolution with a massive 240Hz refresh rate. Connectivity for this machine includes both 2.5Gbe LAN and AX211 Wi-Fi for networking, along with a single Thunderbolt 4 port, four USB 3.2 Gen 2, and an SD card reader. The Blade 18 supports additional display with the HDMI 2.1 port along with dual DisplayPort 1.4 ports as part of both Thunderbolt 4 and the Type-C USB 3.2 Gen 2.
The pricing of the Razer Blade 18, as configured above, comes in at $2899.
Notebook Overview
Overview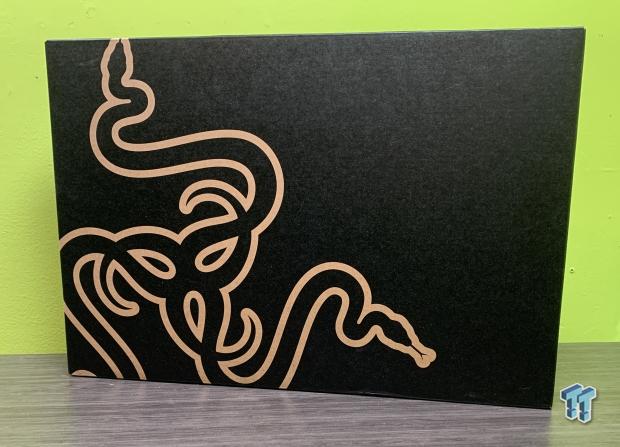 The Blade 18 arrived to us in retail packaging, which includes the Razer-themed box, as seen above.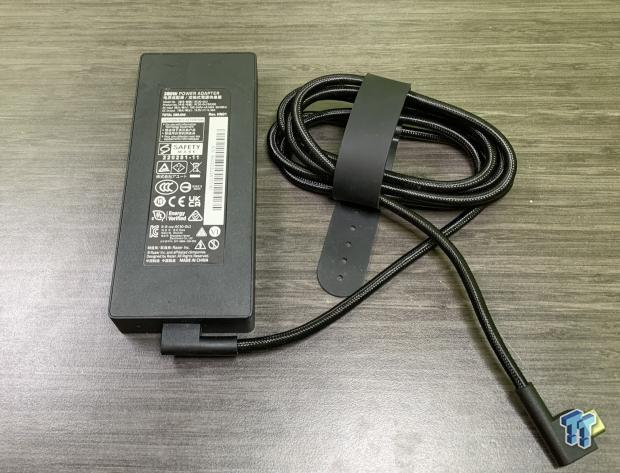 The power adapter for the Blade 18 is a 288-watt GaN adapter.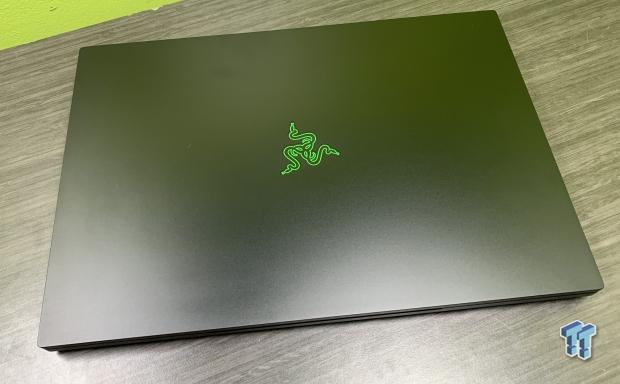 Unboxing, the Blade 18 still has that high-quality finish, complete with the Razer logo on the lid.

The left side offers the power input, RJ45, and two USB 3.2 ports. Further down, we have a Type-C for Thunderbolt 4 and a 3.5mm audio jack.
On the right side, we find the Kensington lock furthest to the right, followed by HDMI 2.1, and USB 3.2 (both Type-A and Type-C), with the SD card slot furthest to the left.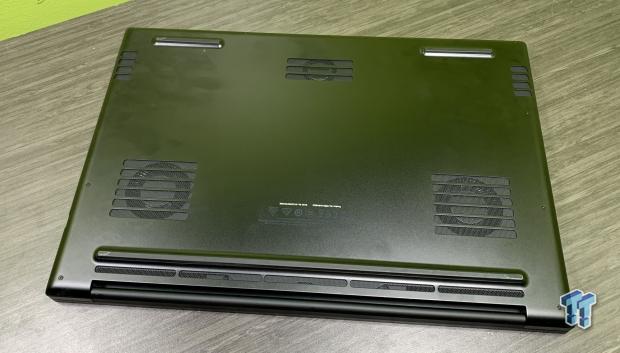 The bottom of the Blade offers direct cooling to the laptop fans, along with a third fan that pushes air through the NVMe and chipset.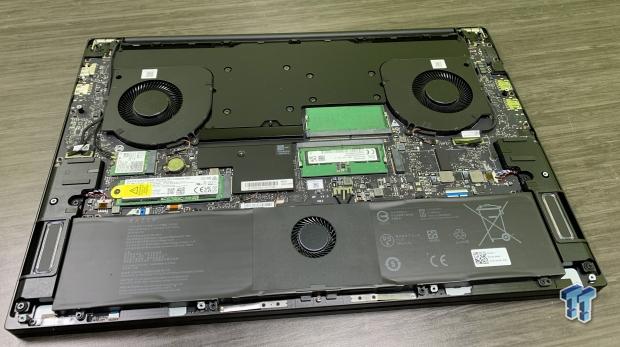 Opening up the Blade 18, we have the battery at the bottom, followed by Key E Wi-Fi and NVMe to the left, SO-DIMM slots in the middle, and a second NVMe slot to the right.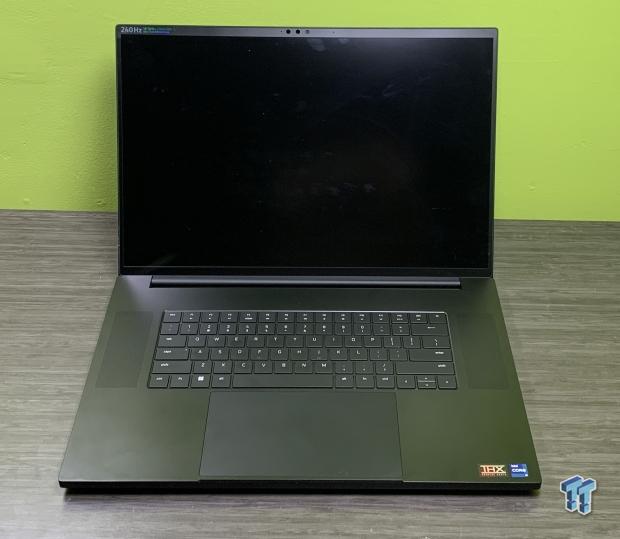 Opening up the Blade 18, we have a centered trackpad and ten keyless board. To each side, we have speakers. As for the display, we have a 5MP IR camera up top, suitable for Windows Hello.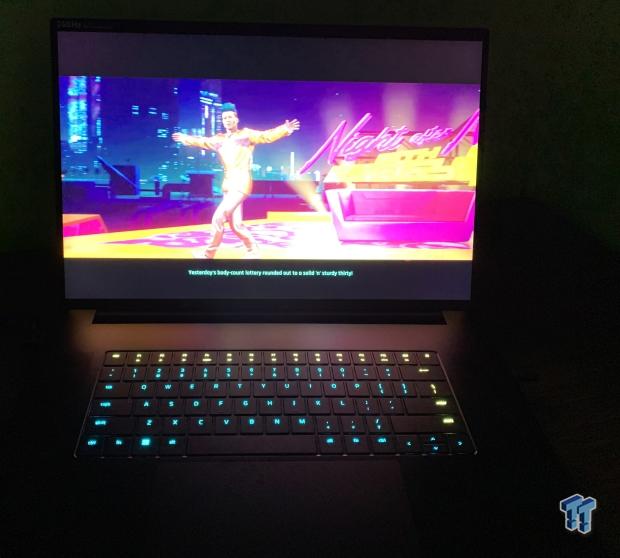 The keyboard supports per-key lighting and, as seen above, profiles for each game.
BIOS/UEFI and Software
UEFI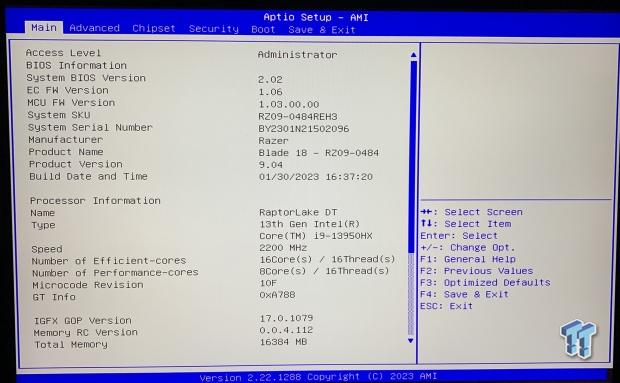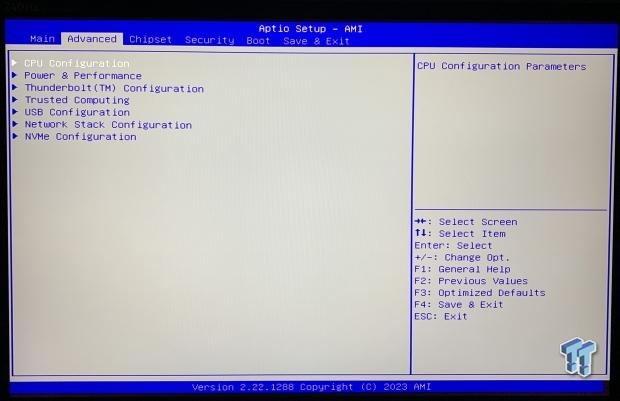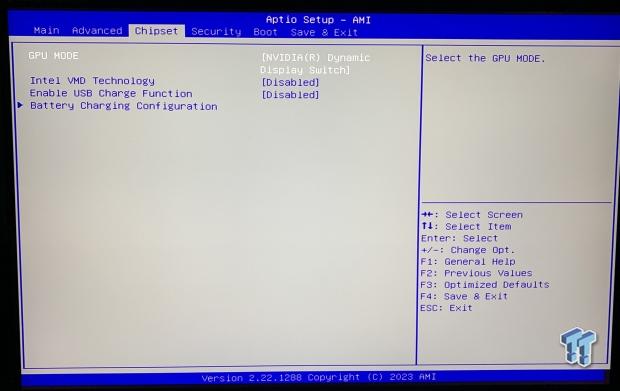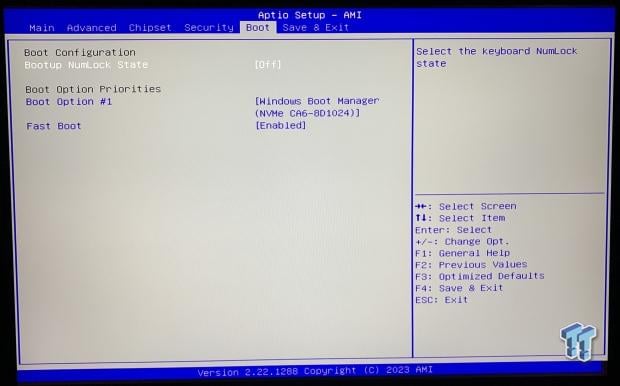 The BIOS for the Blade 18 is your basic text mode setup. The main menu offers hardware information for the laptop. Moving into the advanced menu, you will find options for configuring power and performance, Thunderbolt devices, and USB. Chipset configuration will allow you to disable NVIDIA dynamic switching for those who want to run the discrete GPU only. You can also tune the battery charging here as well.
Software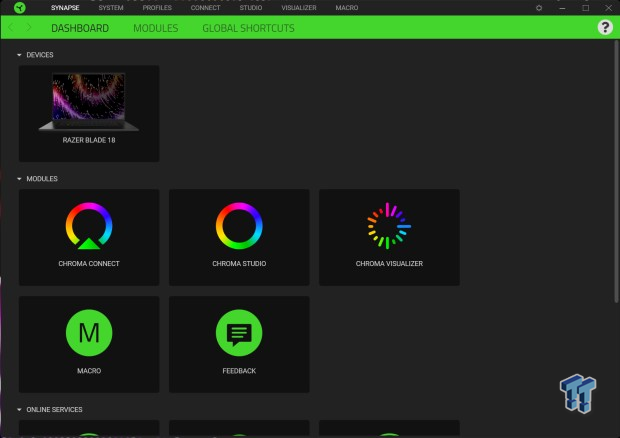 The software included for the Blade 18 is Razer Synapse.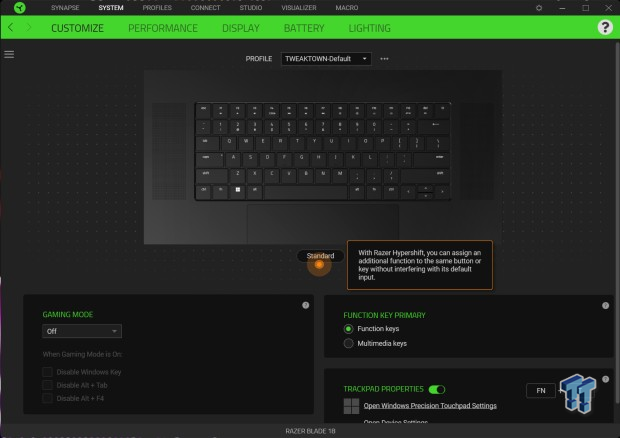 Customization starts with keyboard macros with a gaming mode available that disables the Windows key along with ALT + F4 combos.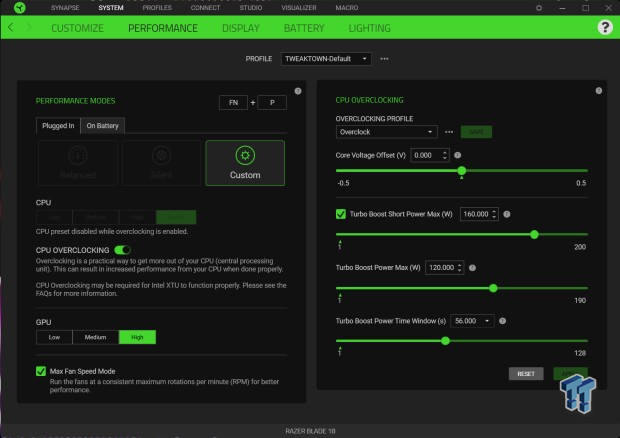 Performance tuning will allow you to tune both the CPU and GPU, along with enabling a max fan speed mode to get even more from the Blade 18.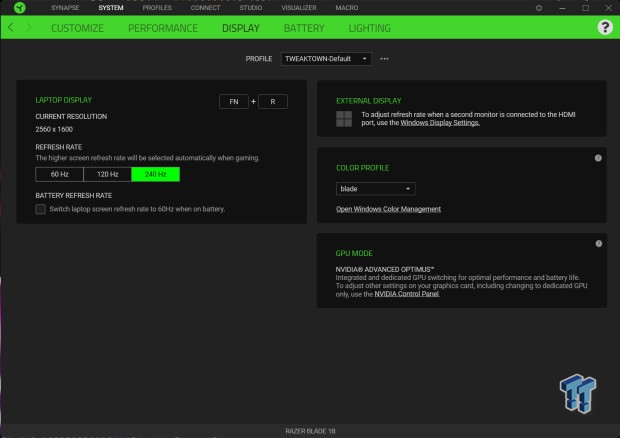 The display will allow you to choose a color profile and refresh rate for the panel.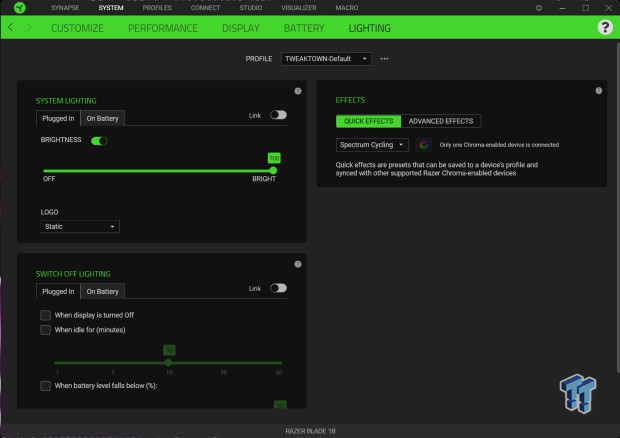 Last, we have lighting where you can configure lighting, including presets in the advanced menu.
System/CPU Benchmarks
Cinebench
Cinebench is a long-standing render benchmark that has been heavily relied upon by both Intel and AMD to highlight their newest platforms during unveils. The benchmark has two tests: a single-core workload utilizing one thread or 1T. There is also a multi-threaded test that uses all threads or nT of a tested CPU.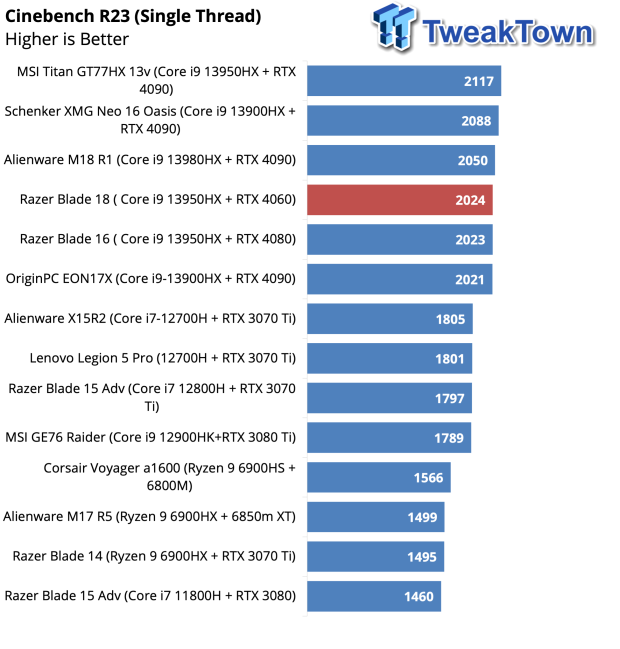 The Blade 18 started our testing with a solid 20224 single thread in R23.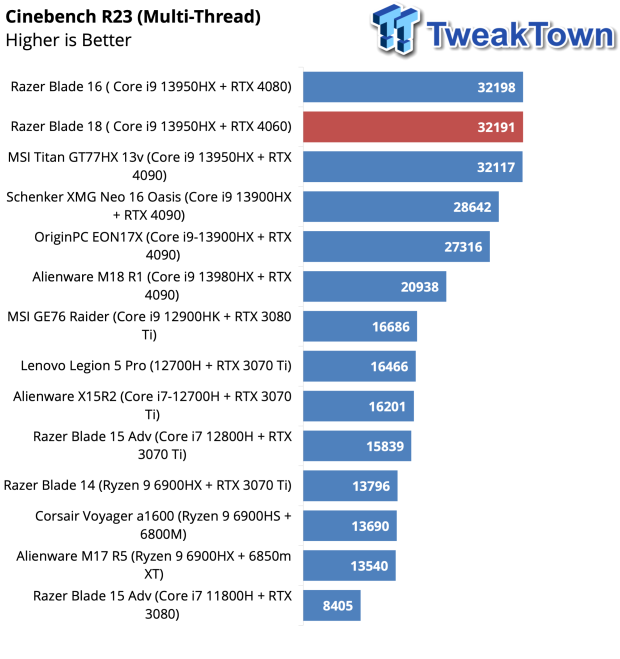 In multi-thread, the Blade 18 lands right behind the Blade 16 with a score of 32191.
BAPCo CrossMark
CrossMark™ is an easy-to-run native cross-platform benchmark that measures the overall system performance and system responsiveness using models of real-world applications. CrossMark™ supports devices running Windows, iOS, and macOS platforms.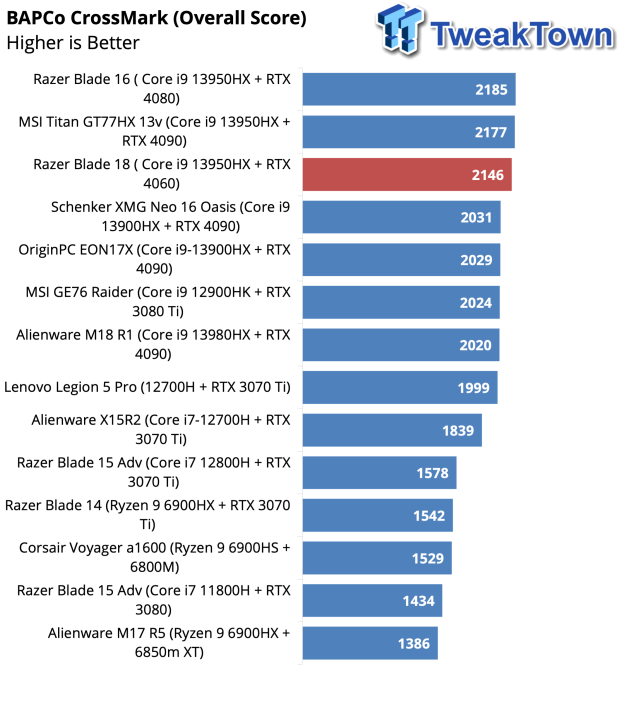 CrossMark is again in the top 3, with the Blade scoring 2146.
AIDA64 Memory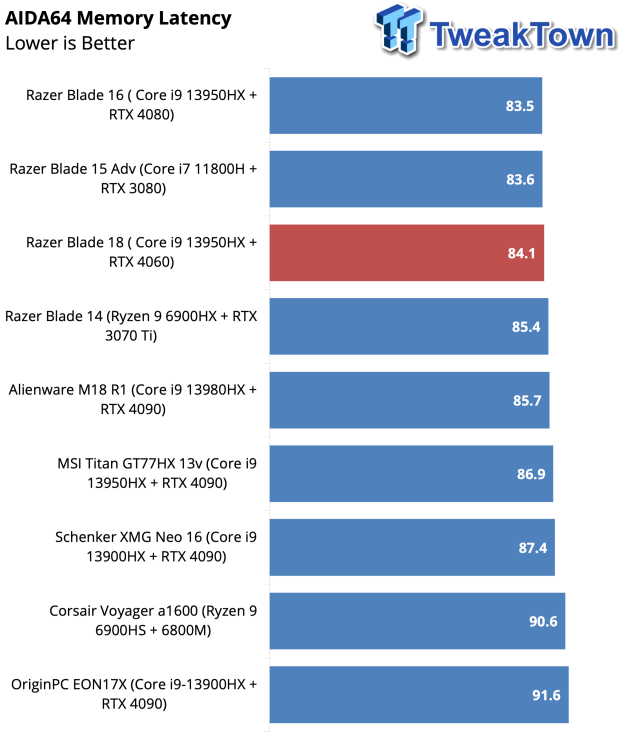 Memory latency for the Blade 18 was a rather decent 84ns.
Geekbench 6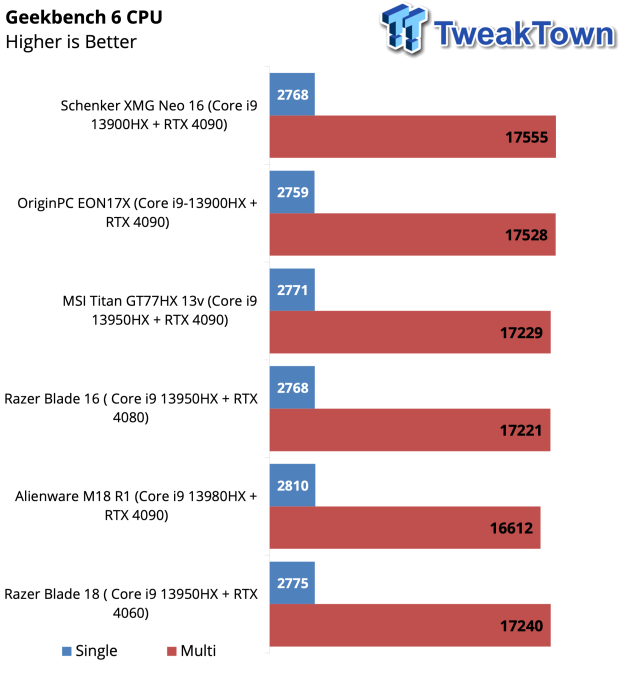 CPU scores for Geekbench showed the 13950HX at 2775 single-core and 17240 multi-core.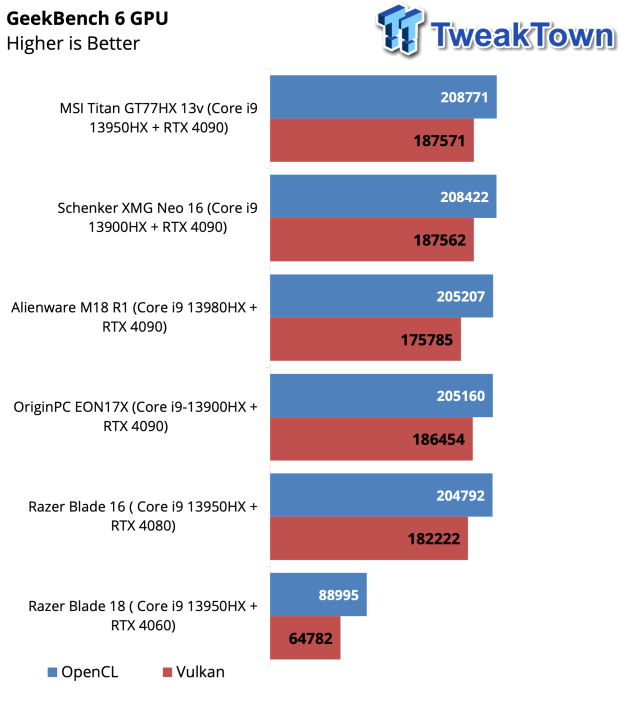 The Blade 18 lands last in our first GPU bench, with the GeForce RTX 4060 pulling 88K in OpenCL and 64K in Vulkan.
Graphics, System I/O, Battery, and Gaming
System I/O Performance
PCMark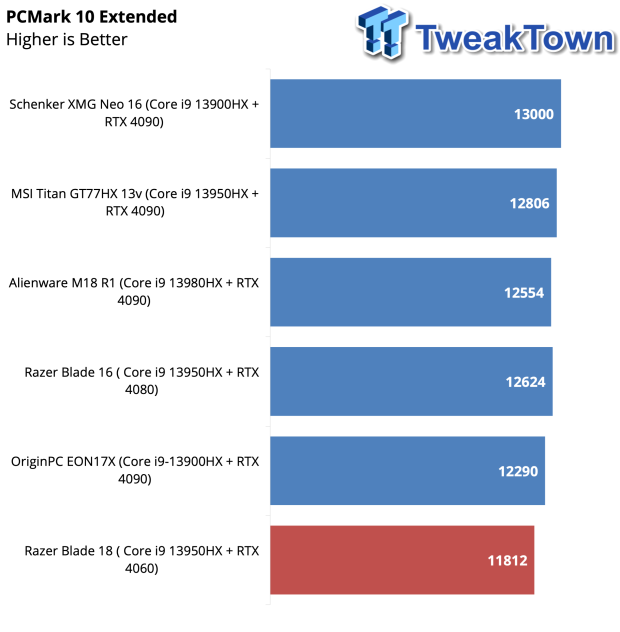 PCMark Extended landed an overall score of 11812.
3DMark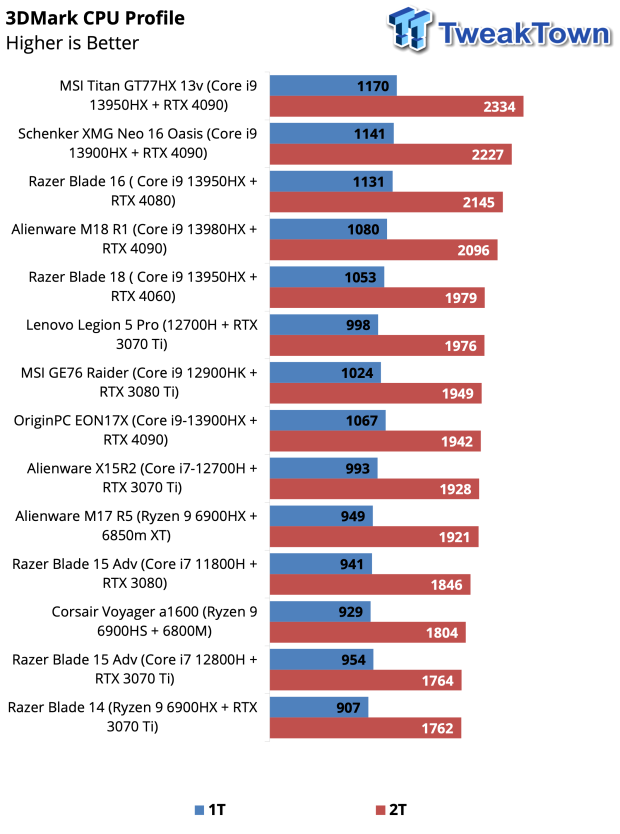 CPU Profile gives us 1053 single core and 1979 for two cores.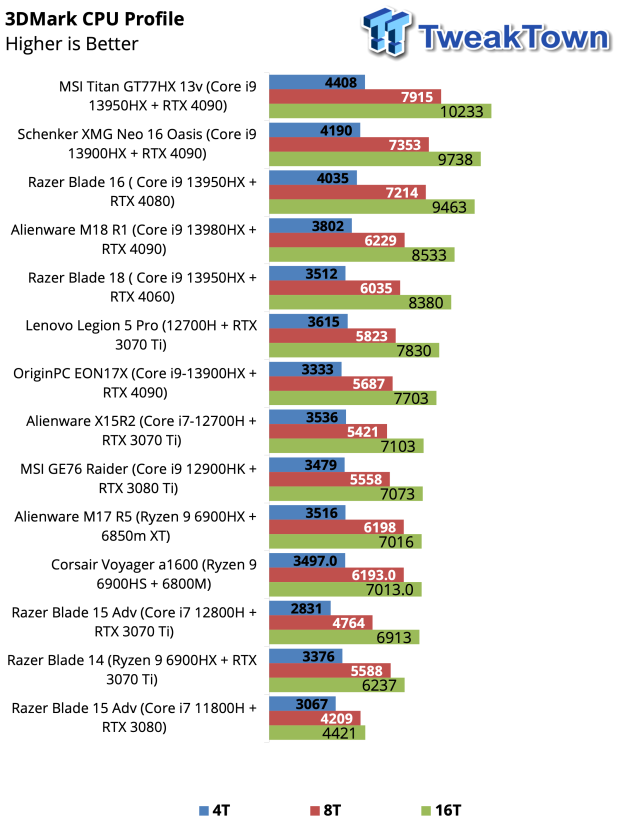 Looking at four, eight, and sixteen threads, the Blade 18 finishes at 8380 - just behind the M18 from Alienware.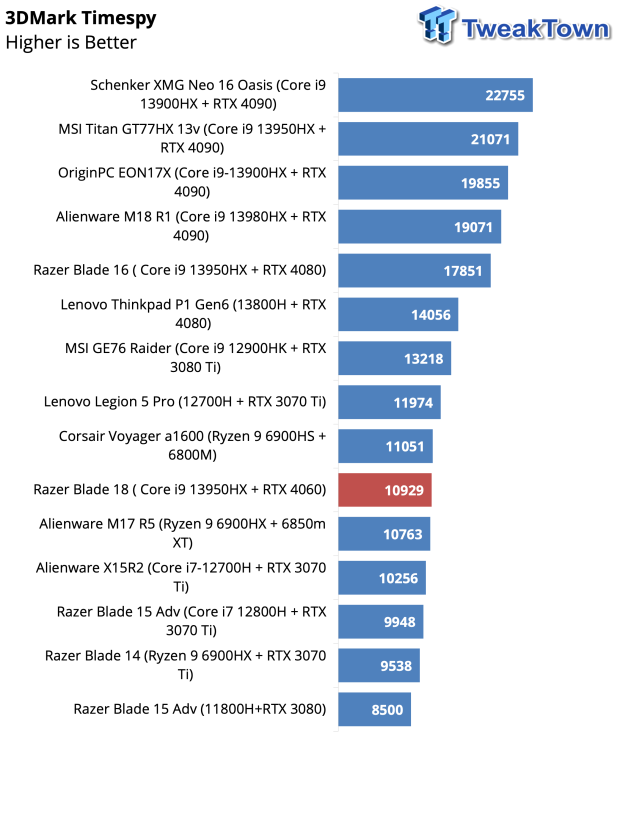 Time Spy pushes more of the workload to the GPU as our first formal gaming test, which gave the Blade 18 an overall score of 10929, which leaves it mixing it up with last-generation platforms around the RTX 3070 / 3070 Ti level.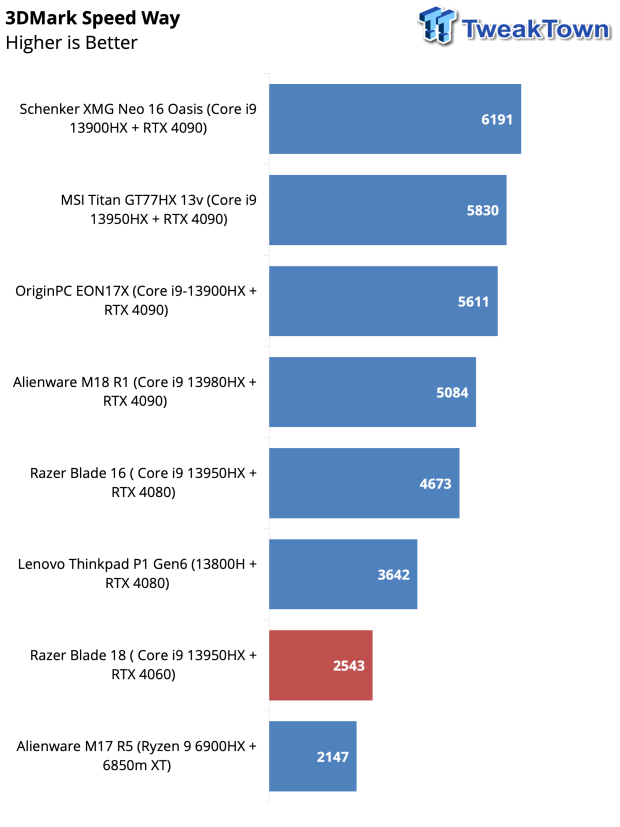 Speed Way scores 2543 for the Blade 18, just above the M17 R5.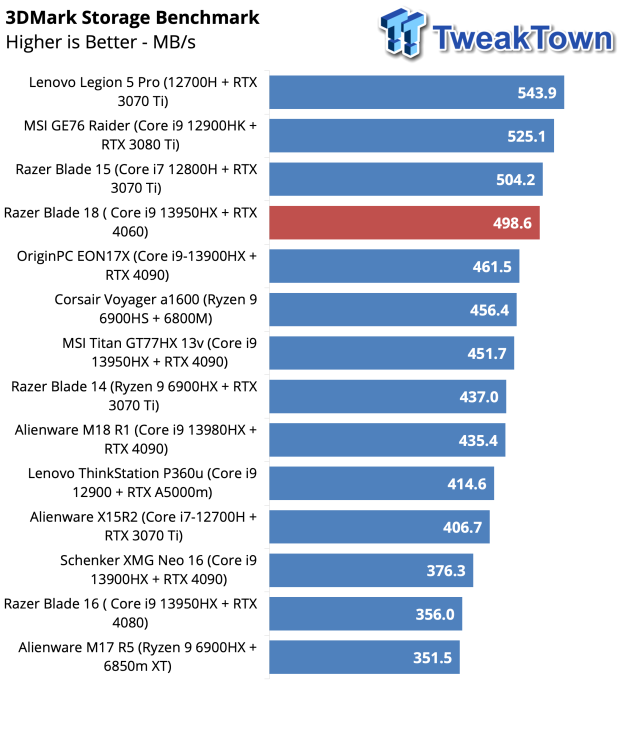 Running 3DMark Storage, the Blade 18 had solid performance here with a bandwidth score of 498 MB/s.
Gaming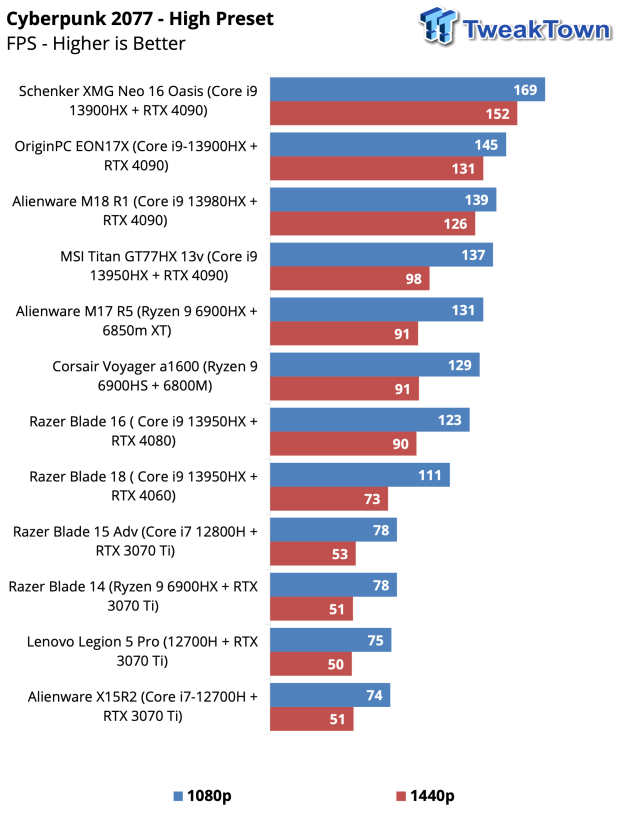 Gaming on the Blade 18 was below average. We picked up 111 FPS at 1080p and 73 FPS at 1440p.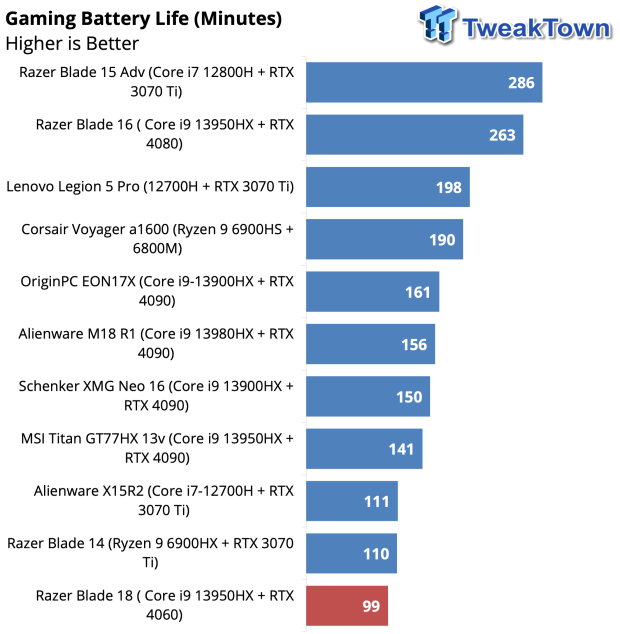 Battery Life wasn't the best for the Blade 18. We tested this machine at 99 minutes of battery life.
Value and Final Thoughts
Value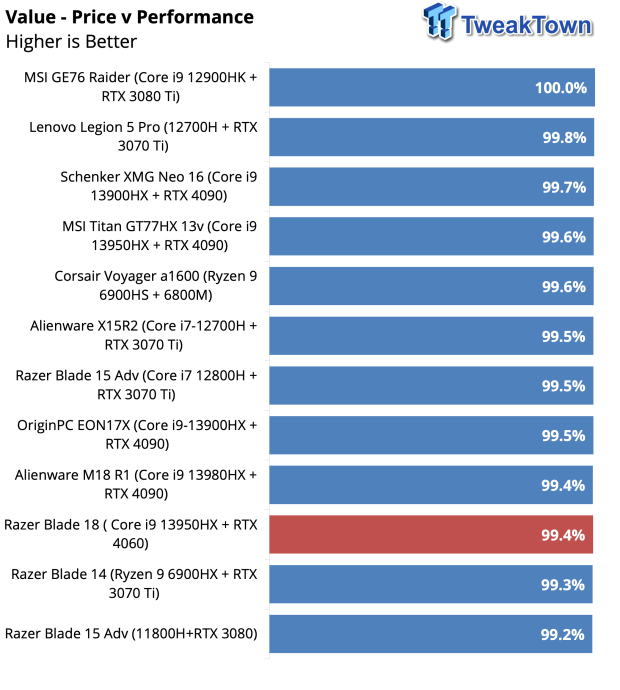 Value for the Blade 18 as configured landed at 99.4%, our charts still being quite packed.
Final Thoughts
Like most gaming laptops that come through here, I spent a few weeks with the Blade 18, running it through the paces and putting in some time gaming. Coming away from this machine, the Blade 18 continues on the tradition of having one of the best keyboards I've used on a gaming machine, with a low-profile tactile key that is very similar to a Lenovo X1. Adding the per-key lighting works quite well, and having preset profiles for individual games is unique. The trackpad is centered and to my liking, with it also having a low-profile tactile click.
The performance was quite good. Our CPU benchmarks put the Blade 18 in the top five in most of our CPU-heavy workloads, including Cinebench, CrossMark, and CPU Profile. Gaming does take a bit of a hit because of the GeForce RTX 4060, the Blade 18 grabbing just 10929 in Time Spy, and 2543 from Speed Way. This continued into our Cyberpunk bench, where we could only pull 111 FPS at 1080p and 73 FPS at 1440p. Offering the RTX 4060 on such a high-build laptop is odd, especially with such a high refresh panel capable of 240Hz+. It's likely you only see those types of frames in esports titles like CS:GO or similar.
Closing this out, we have pricing, and we think Razer may have lost their mind here as well when you look at some of the systems that have come through the lab here at TweakTown. A case in point is our last review of the Origin EON17X. The EON17X was priced at $3249 and included a 4K panel at 144Hz, 13900HX, RTX 4090, and 32GB of DDR5. The Blade 18 has a 1440p panel at 240Hz, 13950HX, the same CPU as the 13900HX with a 100MHz bump to boost clocks, 16GB of DDR5, and an RTX 4060 for $2900.
For an additional $300, you can upgrade the EON17X to an RTX 4090, 4K panel, and double the memory. To do this on Razer's website, the system would cost an additional $1600, which we find mind-blowing!