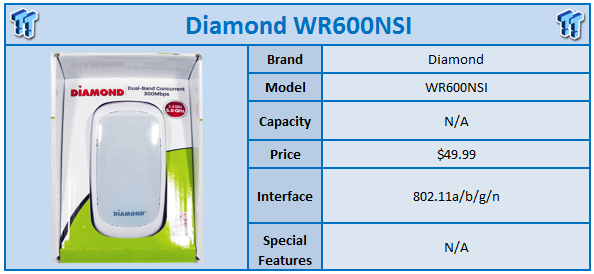 While range extenders are typically full-sized wireless appliances, as of late, an influx of compact solutions have begun to flood the market.
The solution we are looking at today is one of those compact solutions. The Diamond WR600NSI is a dual band 802.11n wireless range extender. Features of the extender are 300Mbps, available on the 2.4GHz band, and the same 300Mbps on the 5GHz band. Compatibility of the WR600NSI extends to all modern operating systems with an available wireless LAN connection.
MSRP for the Diamond WR600NSI Range Extender is set at $49.99, with a one-year warranty.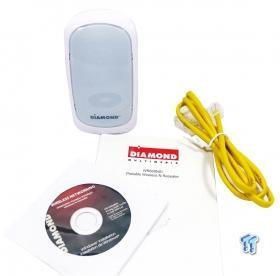 Scope of delivery for the WR600NSI includes the range extender and an Ethernet cable, along with reading materials.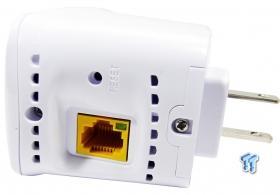 On bottom of the extender, you will find an Ethernet port and reset button.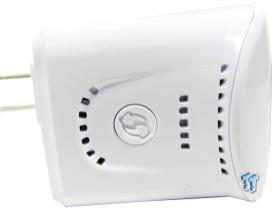 The top of the extender houses the WPS button, for quick and easy connections.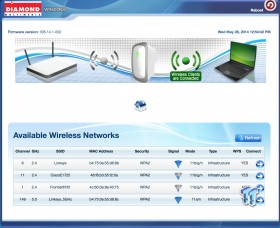 Here we have landed in the web GUI for the extender; as you can see it's laid out rather simple.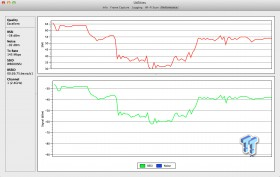 Above, we have our first chart of testing. The 2.4GHz band was able to connect at 145Mbps, and after starting our range tests, we found the extender at -25dbm. Moving out to 40ft we landed at -60dBm.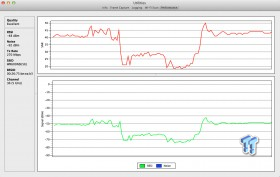 With the 5GHz band, we connected at 300Mbps for a moment, but that quickly dropped to 270Mbps. Range testing started at -50dBm, and moving away, the range extender went out to -70dBm, still holding a connection.
The Diamond Multimedia WR600NSI is a solid compact solution that enables you to add wireless connectivity wherever you feel a slight boost in signal would be appreciated. The build quality of the extender was quite good, with durable plastics, and good amount of LEDs on the front to let you know what's going on with your extender.
Performance was quite good as well, though as you may have seen in testing, the 2.4GHz band was the stronger of the two. With our testing we were able to move out to 40ft and maintain a respectable connection via 2.4GHz, and moving over to 5GHz, we moved out to 40ft and did maintain a connection, but the signal rate was upwards of -70dBm. Of course, that isn't a terrible thing; the 5GHz band does its best in the 15ft foot range.
MSRP of the Diamond WR600NSI is set at $49.99, with a one-year warranty. Current market pricing can be found below.
PRICING: You can find the DIAMOND DUAL BAND RANGE EXTENDER (WR600NSI) for sale below. The prices listed are valid at the time of writing but can change at any time. Click the link to see the very latest pricing for the best deal.
United States: The DIAMOND DUAL BAND RANGE EXTENDER (WR600NSI) retails for $53.49 at Amazon.
Canada: The DIAMOND DUAL BAND RANGE EXTENDER (WR600NSI) retails for CDN$67.94 at Amazon Canada.