Sony SmartWatch 2 Review
Sony's SmartWatch 2 is a great second try by the company. Funny thing is, I didn't use it much as a watch. Let's see what Anthony thinks of it.

Published
|
Updated Tue, Nov 3 2020 7:00 PM CST
5 minute read time
Introduction, Specifications and First Impressions
The last time I wore a watch was when my parents gave me one for my 21st birthday... oh so long ago (nearly 10 years to the day). I wore it for around a year, then stopped wearing it. I've never been much of a watch person, but I thought I'd give it another go with a wearable tech device, Sony's SmartWatch 2.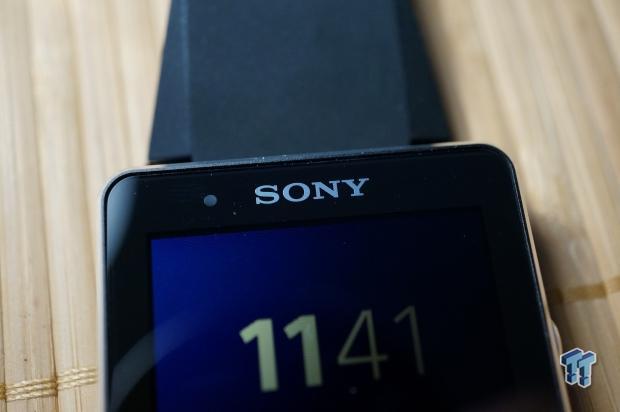 Sony released the predecessor to the SmartWatch 2 in 2012, but it didn't quite take off as much as Sony hoped. The SmartWatch 2, on the other hand, is a much better device and has been getting some good talk from consumers and reviewers alike.
The beauty of the Sony SmartWatch 2 when compared against something like Samsung's Galaxy Gear smartwatch is that it can be used with any Android device (Android 4.0 and above). The Galaxy Gear, on the other hand, requires a specific Galaxy-branded smartphone--it doesn't just work with any Android device.
This opens up the SmartWatch 2 to countless smartphones as most of the decent smartphones on the market now are running Android 4.0 and above.
Specifications
Sony used some decent internals on the SmartWatch 2, but where Sony's wearable really shines is in its design and display. Starting with the screen, we have a 1.6-inch LCD with a resolution of 220x176--it's not like you need 4K displays on these things, right?
The SmartWatch 2's body is made from aluminum, and it features a silicon wristband with a choice of purchasing a metal stainless steel model. The one we had provided for review was the silicon version.
Sony is a big pusher of water-resistant technology with most of its Xperia line of smartphones and tablets being waterproof. The SmartWatch 2 is no exception as it features water-resistant IP57, and the screen is scratch-resistant, too.
We have Bluetooth 3.0 support, microUSB for charging, and NFC technology so that you can simply tap the SmartWatch 2 to the back of your NFC-capable smartphone, and voila, it is connected and ready to go.
First Impressions
Taking it out of the package, I plugged it into charge and let it get to maximum charge, which took around an hour. After that, you simply follow the instructions included in the box to get it synced up to your smartphone.
If you have an NFC-enabled smartphone--which I did: my Nexus 5--all it takes is a simple tap to the back of your device and you're synced up. From here, you can begin using the Sony SmartWatch 2.
The feel of the SmartWatch 2 is quite good; it strapped to my wrist like any watch would. It didn't feel too heavy or cumbersome, and I didn't feel like it got in the way of my usual daily tasks. I was nervous that it would annoy me when typing, which I do quite a lot of every day, but it didn't pose a threat to my uber speed typing skills, thankfully.
Hardware & Software
Hardware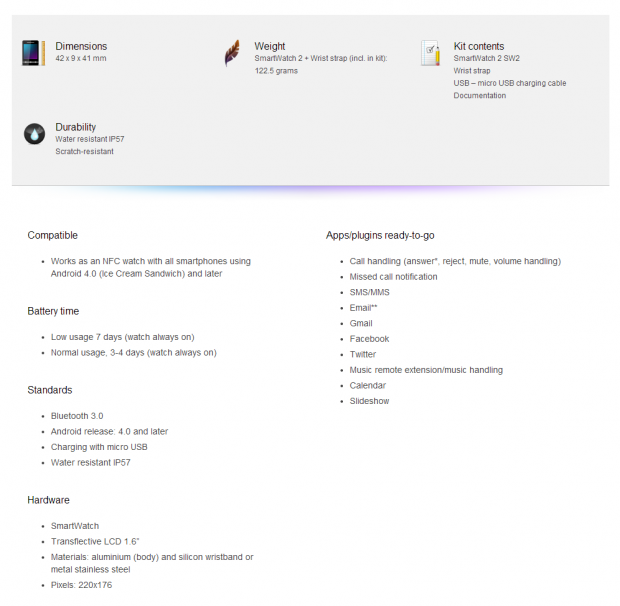 Sony has packed in a decent list of specifications into the SmartWatch 2. We have a 1.6-inch touchscreen-capable LCD screen with a resolution of 220x176. That might seem like a low resolution, but remember this is something that wraps around your wrist.
We have NFC capabilities to get it synced up to your smartphone, something that makes using the SW2 unbelievably easy. Bluetooth 3.0 is on offer, and microUSB is used for charging. On top of this, we have the SmartWatch 2 being water-resistant, too.
All of this hardware is good for around 7 days of low usage, and 3-4 days of something that Sony considers "normal" usage, which I would presume is always tapping the SW2 and using it as a quasi-smartphone, which is something I don't recommend and personally didn't do during my review.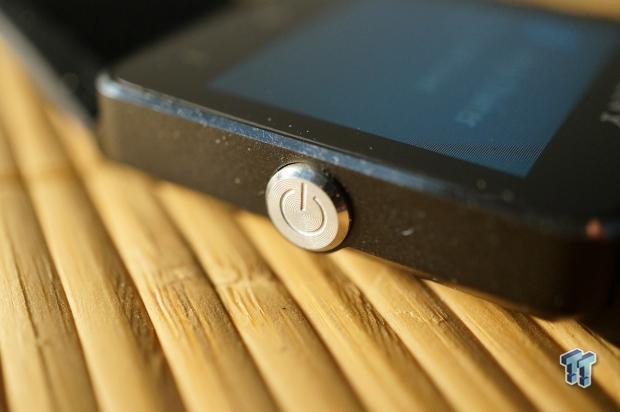 The power button was quite nice to press. It felt like it actually 'pressed in' versus just tapping some soft button.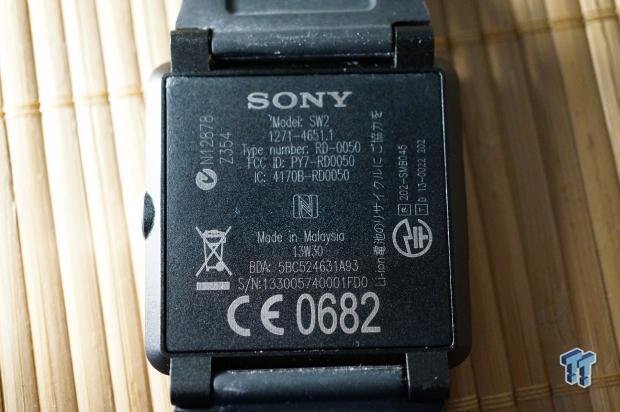 Flipping the SW2 onto its back, we find that there's not much going on here.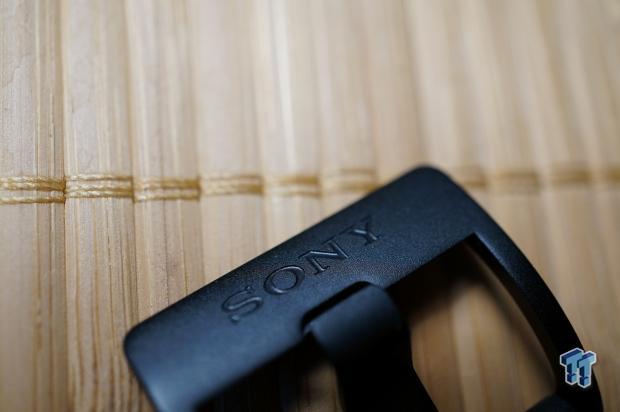 Sony has used an all-quality build here; you can see it, and feel it, all over the SmartWatch 2.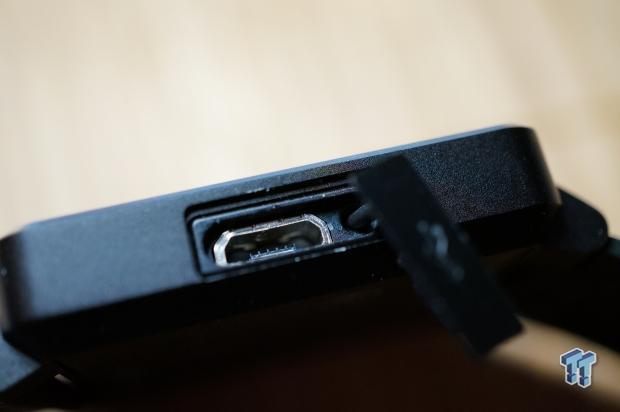 How does the SmartWatch 2 charge? Through a microUSB port on the side of the watch itself.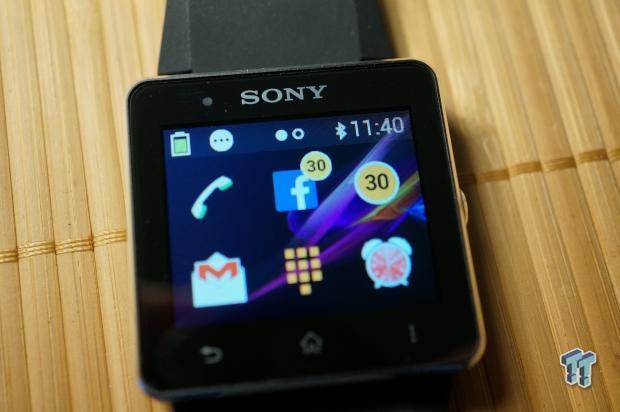 The screen itself, with its low resolution, is enough for what you need to do. The SmartWatch 2 has six icons to choose from. Most of the fun is on the first screen.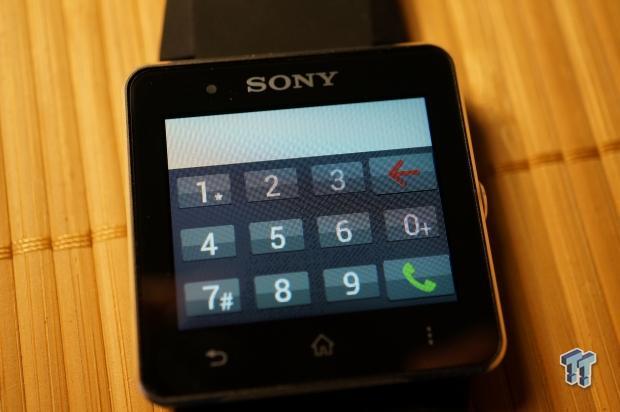 You can actually dial directly from the SW2, which is a nice touch.
Software
To get the Sony SmartWatch 2 working with your smartphone, you'll need to have Android 4.0 or later installed. Most decent Android devices are running versions of Android later than Android 4.0, such as Android 4.1 or 4.2, or some with Android 4.4 like the Nexus 5 smartphone.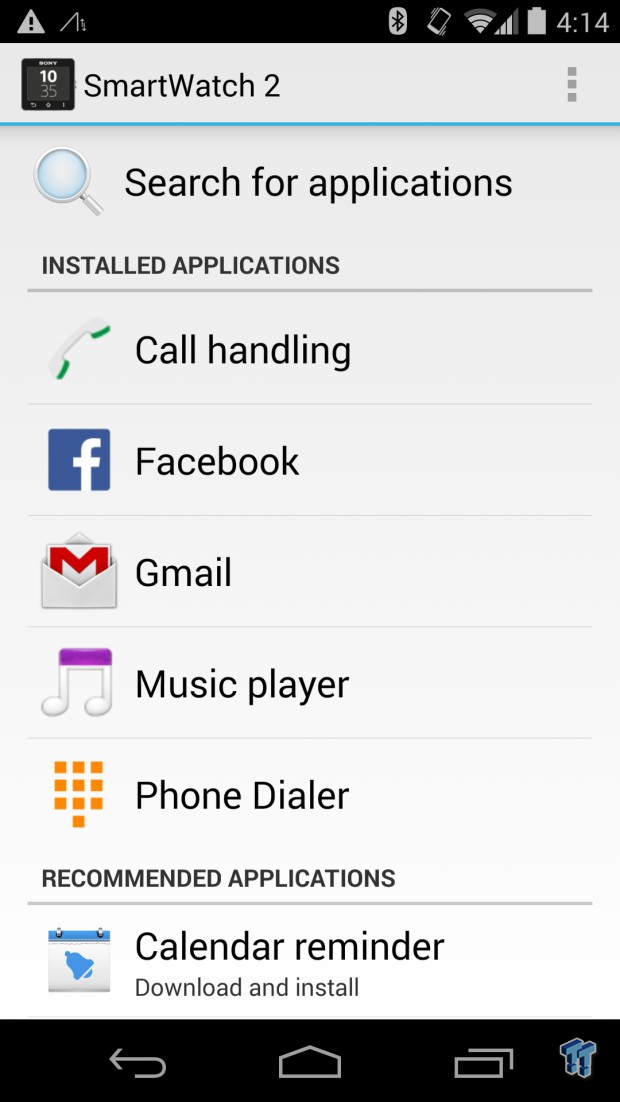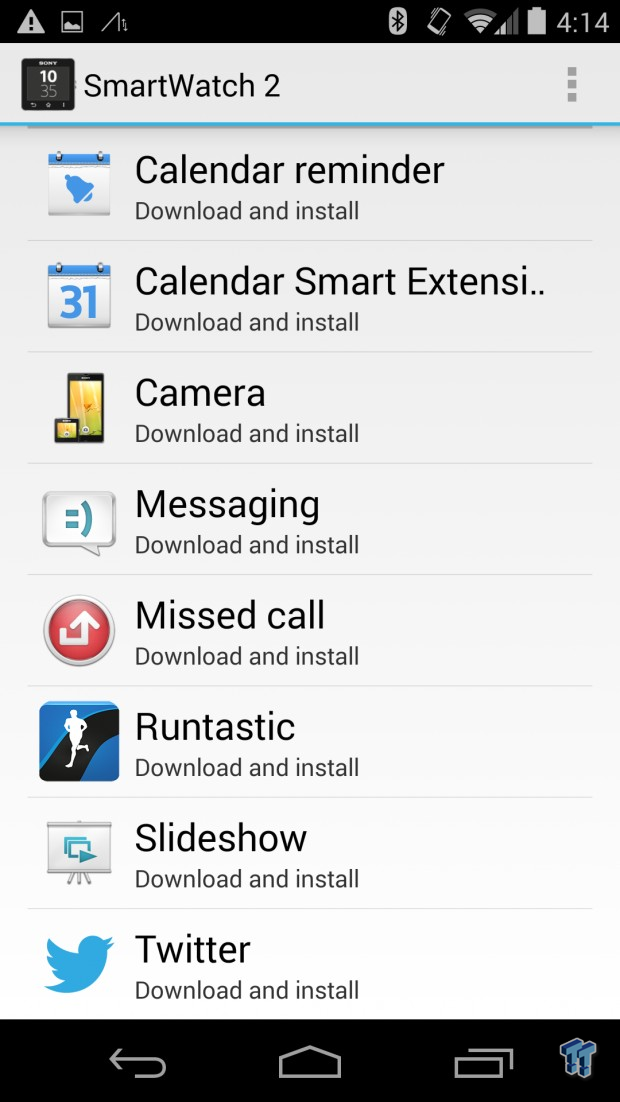 Sony has provided quite a few apps and plug-ins that are ready to go on the SW2. You can't do much with the SmartWatch 2, but Sony does provide call-handling abilities, so you can answer, reject, mute, and handle the volume of the call on the SmartWatch 2. SMS/MMS, e-mail, Gmail, Facebook, Twitter, Music, Calendar, and Slideshow access are all on the SW2.
Final Thoughts
Watchya' Gonna Do With It?
Smartwatches are still a funny product, so there's no real reason to own one just yet, which is unlike the other big wearable: Google Glass. I found myself using the Sony SmartWatch 2 as a pager to my smartphone, which was incredibly handy at my busiest times.
I was driving along to the shops when I felt my wrist vibrate; my first phone call was coming through while I was using the SW2! I was able to screen the call by checking my watch, which didn't distract me anywhere near as much as it would if I were to have pulled my phone out of my pocket to check what all the vibration fuss was all about.
Then there's the fact that when I'm driving, most of the time I don't feel my smartphone vibrating in my pocket. This means I miss important calls that I should've pulled over and answered, but this is not an issue with the SmartWatch 2.
Facebook and Gmail notifications are blasted through to the SW2, which can be useful when an e-mail comes through. I was able to check the subject line of the e-mail, again, without having to touch my smartphone.
Facebook notifications were the same, but it began to annoy me as my SmartWatch 2 was vibrating every 15-30 minutes with notifications being blasted out to my wrist.
What's Hot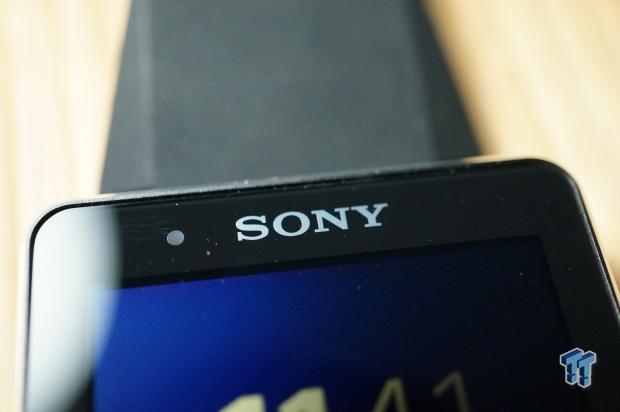 The Style: Sony has done quite well with the aesthetics of the SmartWatch 2. I didn't expect it to look good, but damn did the SmartWatch 2 look good on my wrist. For something that comes in at under $160 on Amazon, it looks like it is worth much more.
The Screen: Having a screen that is viewable in direct daylight is a huge benefit for a smartwatch. I was quite surprised at how visible the SmartWatch 2 was in direct sunlight; I could easily make out the time while the sun was shining directly into it.
It Doubles as a Watch!: What! Really? A smartwatch can be a normal watch? Yes, and that is something that should be noted. As someone who doesn't wear a watch, this is a big point. It was nice to not have to pull my smartphone out my pocket to check the time.
The Perfect Smartphone Accessory: I found the SW2 was a great accessory to my smartphone, especially for incoming phone calls. Normally, I don't feel my smartphone vibrating away in my pocket, but I definitely felt the SW2 vibrating on my wrist.
What's Not
Do You Really Need One?: Well, that is really up to you. If you're after a stylish watch that just so happens to double as a smartwatch, then yes. If you want a watch that can notify you of incoming phone calls, Facebook notifications, and more, then the SmartWatch 2 should be on the top of your list.
In the end, I found Sony's SmartWatch 2 a great accessory to my smartphone. It's something that doesn't replace it, but compliments it.
I never expected to want to replace my smartphone, but I didn't expect the Sony SmartWatch 2 to compliment my smartphone so much. Being able to screen incoming calls was a great function, something that I really came to enjoy in the two or so weeks with my time with Sony's wearable device.
If you are after a smartwatch that not only looks great but has some great--albeit basic--functions, then you should have the Sony SmartWatch 2 at the top of your to-buy list.
PRICING: You can find the Sony SmartWatch 2 for sale below. The prices listed are valid at the time of writing but can change at any time. Click the link to see the very latest pricing for the best deal.
United States: The Sony SmartWatch 2 retails for $154.99 at Amazon.
Canada: The Sony SmartWatch 2 retails for CDN$185.00 at Amazon Canada.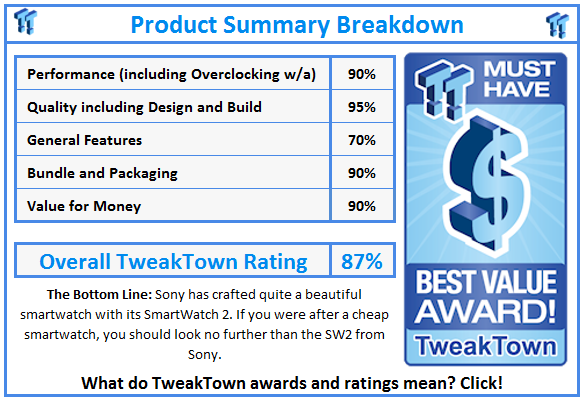 PRICING: You can find products similar to this one for sale below.

United States: Find other tech and computer products like this over at Amazon.com

United Kingdom: Find other tech and computer products like this over at Amazon.co.uk

Australia: Find other tech and computer products like this over at Amazon.com.au

Canada: Find other tech and computer products like this over at Amazon.ca

Deutschland: Finde andere Technik- und Computerprodukte wie dieses auf Amazon.de
We openly invite the companies who provide us with review samples / who are mentioned or discussed to express their opinion. If any company representative wishes to respond, we will publish the response here. Please contact us if you wish to respond.