Introduction

After our first unmanaged switch review (the Linksys LGS124), I wanted to see if there was any difference between switches, and if so, where those differences would come out. With so many manufacturers out there marketing switches, I wanted to find something that hasn't been reviewed a multitude of times.
Buffalo Technology is well known for their storage solutions and wireless routers, with many of those devices coming through the lab here at TweakTown. Little did I know, Buffalo dabbled in network switches too, so today we will be looking over their 24 port unmanaged switch: the GS-BS2124U.
The Buffalo G2124U carries 24 gigabit ports, with 802.3, 802.3u, and 802.3ab compliance. Additionally, the switch is capable of saving power by disabling ports not in use.
As of this writing, the Buffalo BS-G2124U carries a MSRP of $109.99, and a three-year warranty.
Buffalo BS-G2124U Network Switch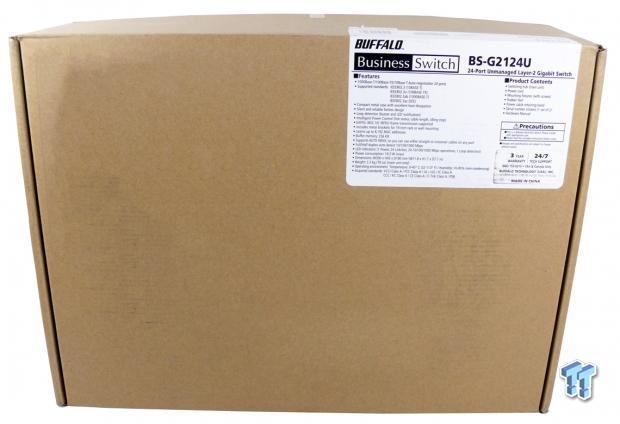 The Buffalo BS-G2124U came to us in standard packaging for SMB products. Here we have a brown box, with product information contained on the sticker.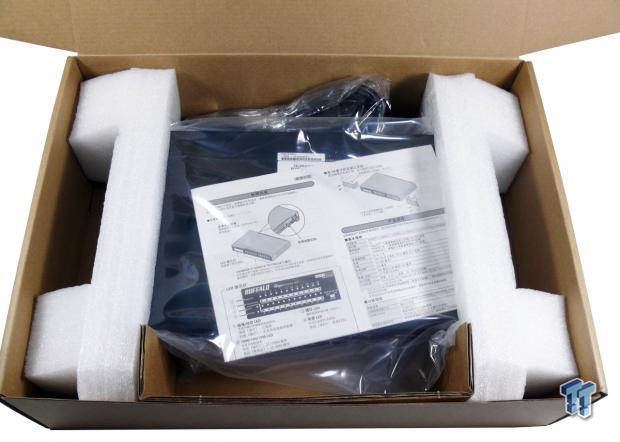 Internally, the switch is packaged in foam to remove the possibility of damage during transit.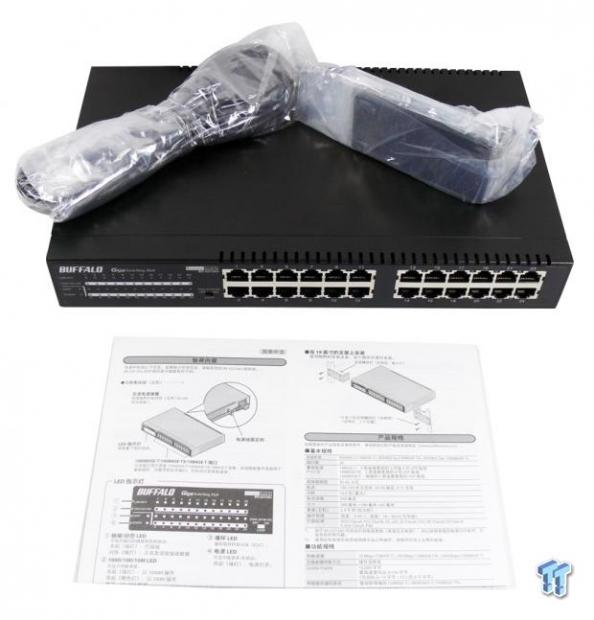 In the box, we found some reading materials along with power cord, and all of the mounting hardware for rackmount installation.

Looking over the G2124U, we have 24 gigabit ports, with connection and activity indicators on the panel to the left.

The backside of the switch houses the power cord receptacle.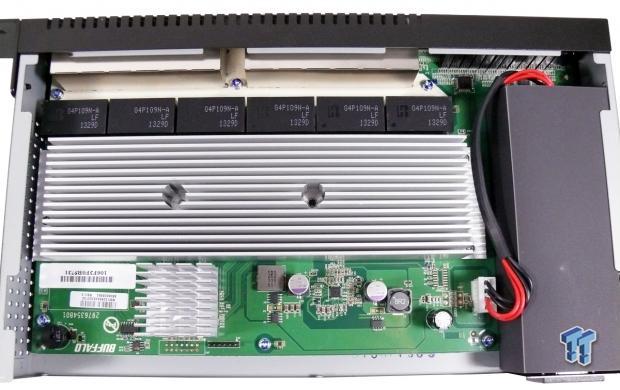 Internally, a large heat sink covers and cools all parts of the switch.
Test System Setup and Switch Specifications
Test System Setup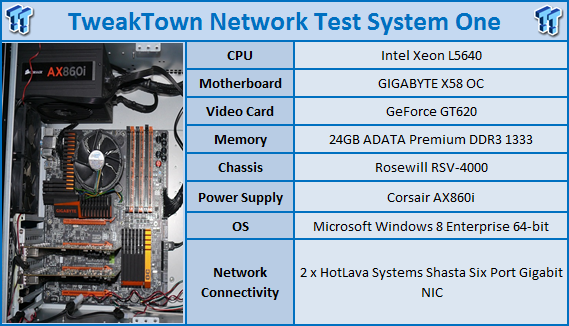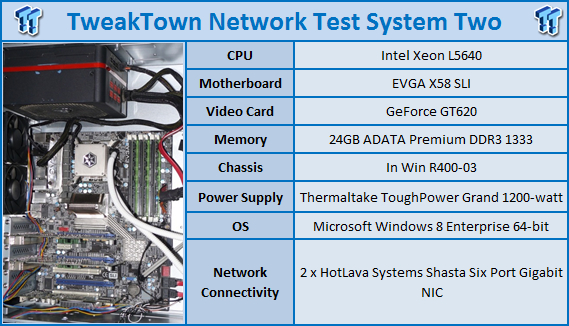 To test network switches, we utilize 22 of the 24 ports available through our HotLava Shasta Six-Port adapters. Running the high performance throughput script via IXChariot, we start with one connection, and ramp up to twenty two connections, taking down the throughput and response time results as we go along. To test the Transaction rates of switches, we utilize twenty-two gigabit connections to the switch; running the appropriate script via IXChariot.
Switch Specifications

Benchmarks - Throughput and Response Times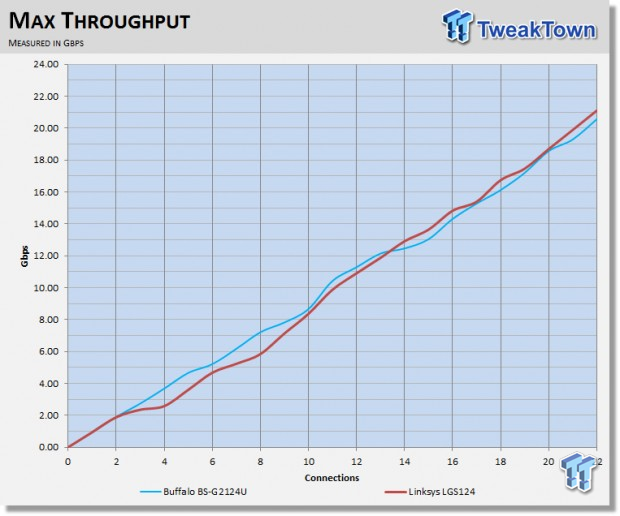 Looking over our throughput results, you can see that the Buffalo scaled just as well as the Linksys. With all twenty-two connections the switch, it managed to push just under 21 Gbps of bandwidth through.
Response times for the Buffalo were markedly better than the LGS124. The G2124U started out at 0.12 ms; reaching a peak of 0.37 ms.
Benchmarks - Workload Transaction Rates
Workload Transaction Rates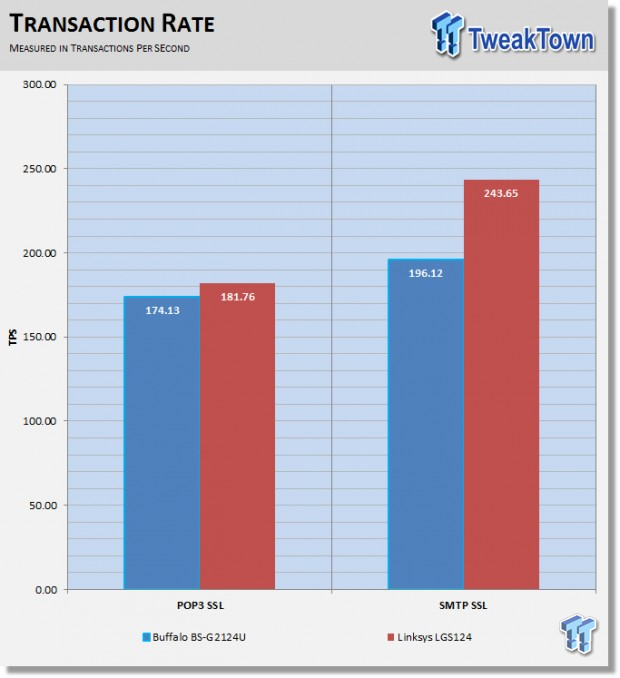 Above, we have the transaction rates for both POP3 SSL, and SMTP SSL. The Buffalo G2124U came in at 174.13 TPS for POP3, and 196.12 TPS for SMTP.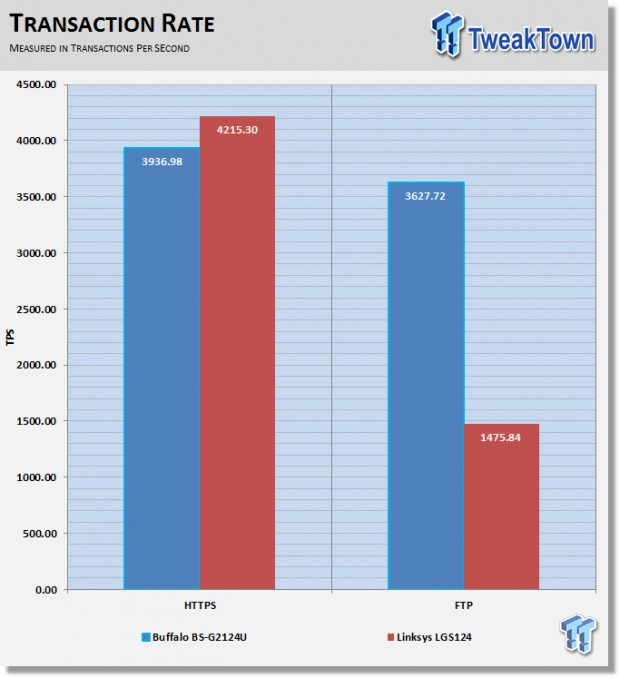 Here we have the transaction per second over HTTPS and FTP. Above, you can see the Buffalo did quite well with both HTTPS and FTP garnering close to 4000 TPS in each test.
Final Thoughts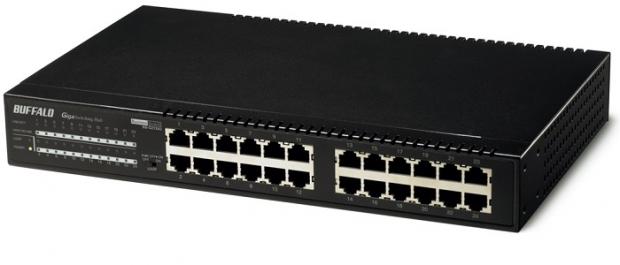 As we have stated in previous reviews: If you're looking into building a network for your home office or small business, unmanaged switches carry tremendous value. The value in these switches mainly comes from their many ports of connectivity, but also the ease of use; all of which can be accomplished through a switch such as the Buffalo G2124U.
Build quality of the unit is great, with the shell made from steel. Performance of the unit in our testing was on par with the previous Linksys switch we tested when it came to throughput, but the Buffalo seemed to excel in response times by a slight margin. Similarly, we also found the Buffalo did quite well with HTTPS and FTP connections, touching near 4000 transaction per second in each of those tests.
Overall, as an unmanaged switch, I feel the Buffalo is a great option when building a network, and as our test results confirmed, the switch excels in areas our previous samples did not. Though, personal preference may dictate whether or not you like the activity indicators on a separate panel (like the Buffalo), or on each port (like many other switches). I tend to not have a preference here. It is also worth mentioning that the Buffalo, even though it's a rack mountable switch, carries a small footprint, and so it's not too farfetched to say that it would make a great desktop variant as well.
Market pricing of the Buffalo G2124U is set at $109.99, with a three-year warranty. Comparable products in this market are the TP-Link SG1024G at $102.99, and the D-Link DGS-1024G at $149.99.