Introduction

Network switches are something we all enjoy. From five ports to forty-eight ports, they allow us to expand our networks to amazing heights. After many years of using multiple wireless routers to connect all of my wired devices, I recently began to wire my home for Ethernet connectivity. To accomplish this, I first had to plan, search, and find a switch to fit my needs. One thing of utmost importance when building your network is to plan for the future; after all, most devices we use today depend on internet connectivity through a wired or wireless connection.
Back in March of last year, Belkin announced it had completed the acquisition of Linksys from Cisco systems. After rebooting the product lines, Belkin has now introduced the latest 24 port unmanaged switch under the Linksys brand: the LGS124.
The LGS124 features 24 Auto-sense Gigabit ports, with a full 48Gbps non-blocking switch fabric. Additionally, the switch is capable of power saving features that shut down LAN ports that are not in use. The switch also features an 8K MAC address table and QoS prioritization via 802.1p, and DSCP.
As of this writing, the Linksys LGS124 carries a MSRP of $199.99, and a limited lifetime warranty.
Linksys LGS124 Network Switch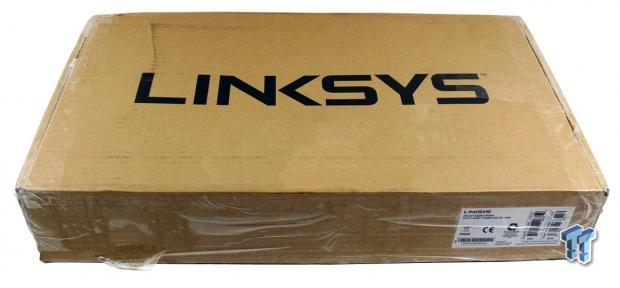 The Linksys arrived to us in a brown box, branded with the Linksys logo. This packaging is typical of business products.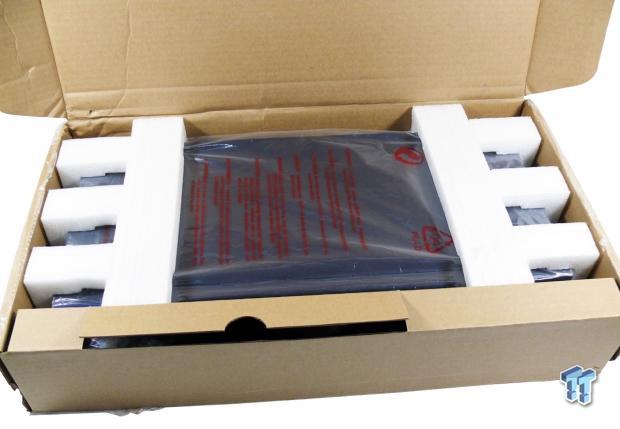 Internally, the switch is packaged in foam, to remove the possibility of damage during transit.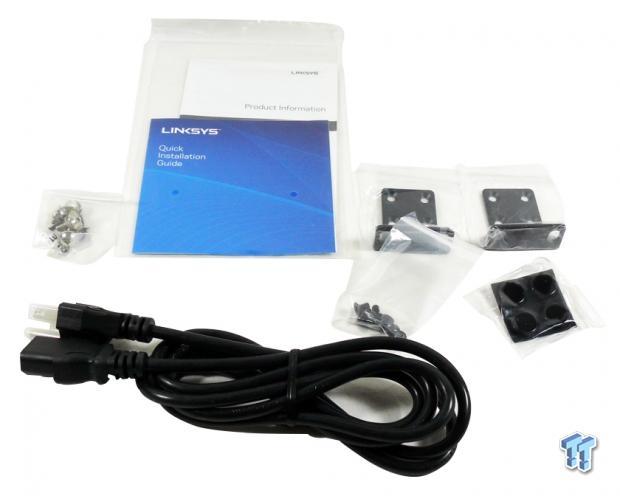 In the box, we found some reading materials, along with power cord, and all of the mounting hardware for rackmount installation.

Looking over the LGS124, we find that it uses the standard Linksys colors. The Switch uses a steel box design for the utmost in durability.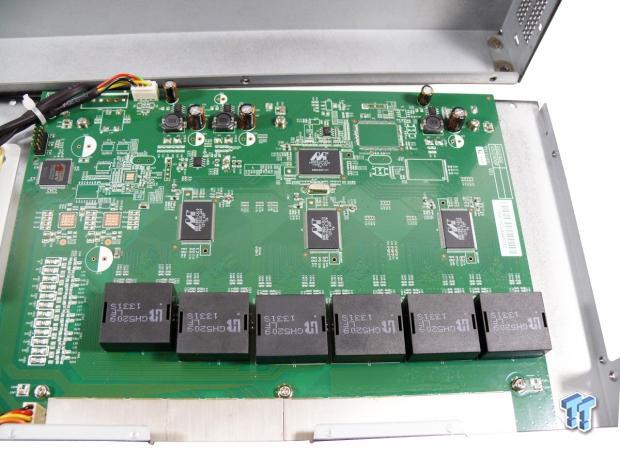 Internally, the switch uses a Marvell design. Each of the four Marvell 88E1685's features eight ports of connectivity.
Test System Setup and Switch Specifications
Test System Setup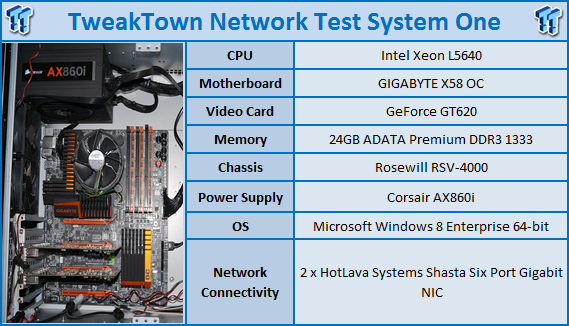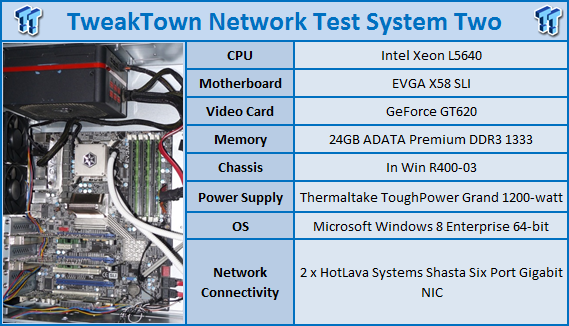 To test network switches, we utilize 22 of the 24 ports available through our HotLava Shasta Six-Port adapters. Running the high performance throughput script via IXChariot, we start with one connection, and ramp up to twenty two connections, taking down the throughput and response time results as we go along. To test the Transaction rates of switches, we utilize twenty-two gigabit connections to the switch; running the appropriate script via IXChariot.
Switch Specifications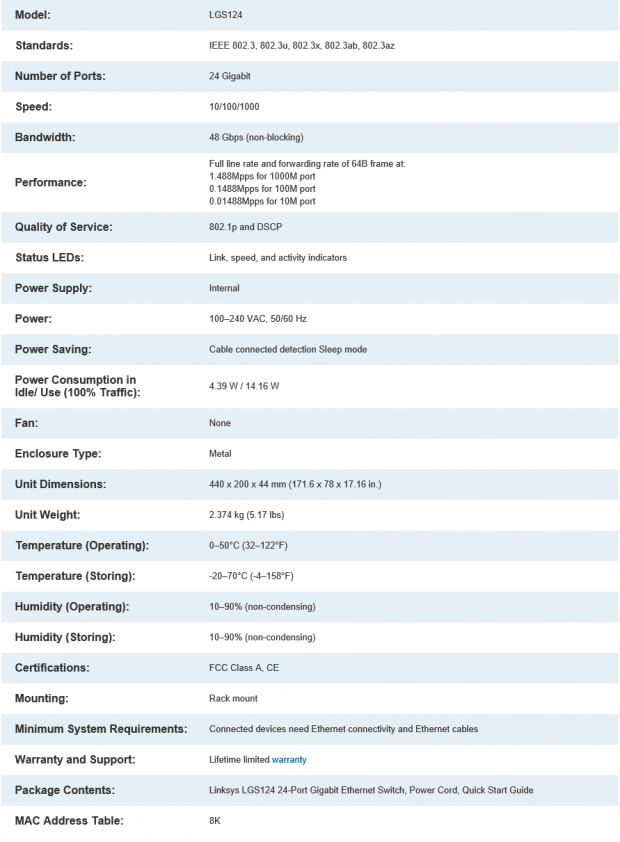 Benchmarks - Throughput and Response Times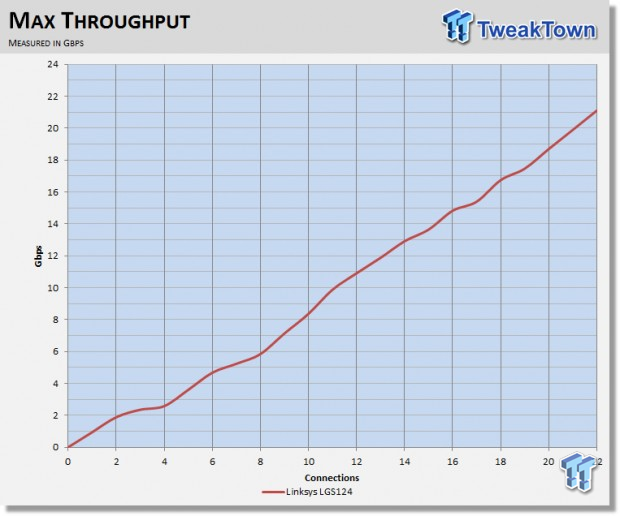 By looking over our throughput results, you can see the LGS124 scaled quite well. With all twenty-two connections, the switch managed to push through just over 21 Gbps of bandwidth.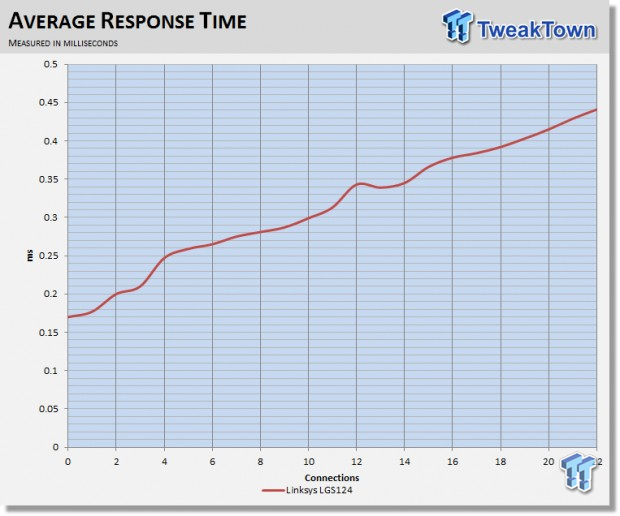 Response times for the LGS124 started out at 0.15ms with a single connection, and ended with twenty-two connections at 0.45ms.
Benchmarks - Workload Transaction Rates
Workload Transaction Rates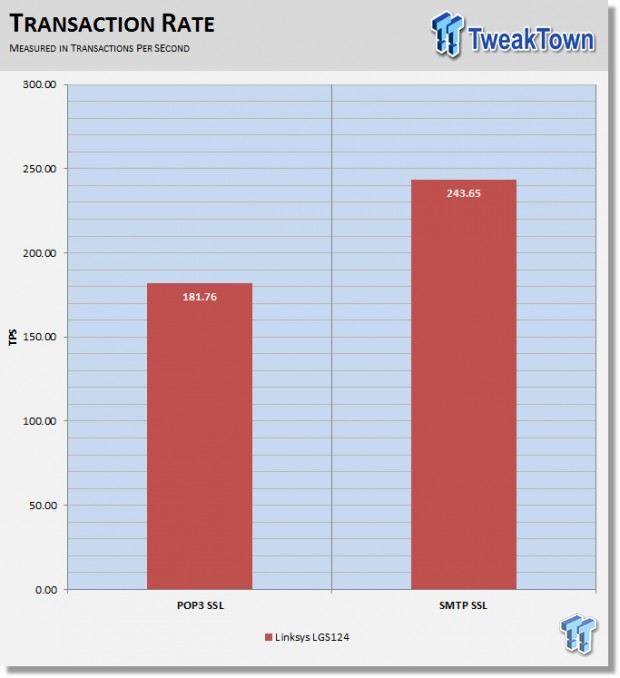 Above, we have the transaction rates for both POP3 SSL, and SMTP SSL. Here, the LGS124 is capable of 181.4 TPS for POP3, and 243.6 TPS for SMTP.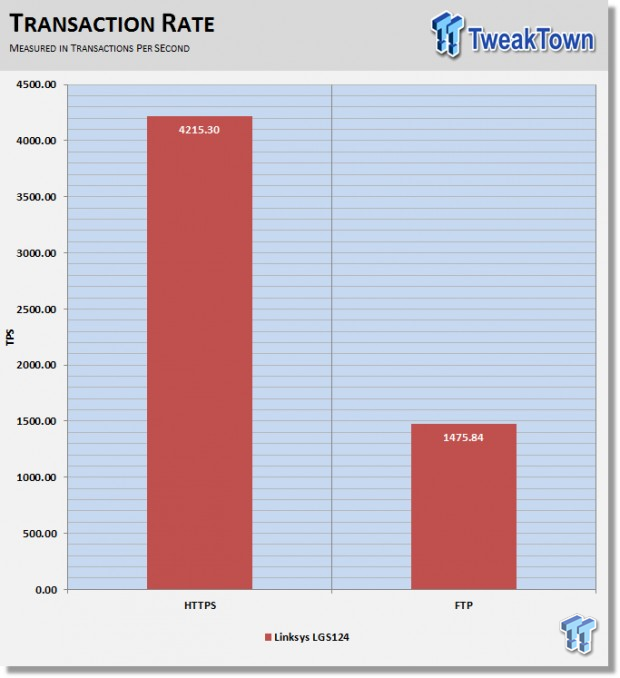 In our next test, we tested the HTTP and FTP capabilities of the LGS124. Here, we have 4215 TPS for HTTP, and 1475 TPS for FTP.
Final Thoughts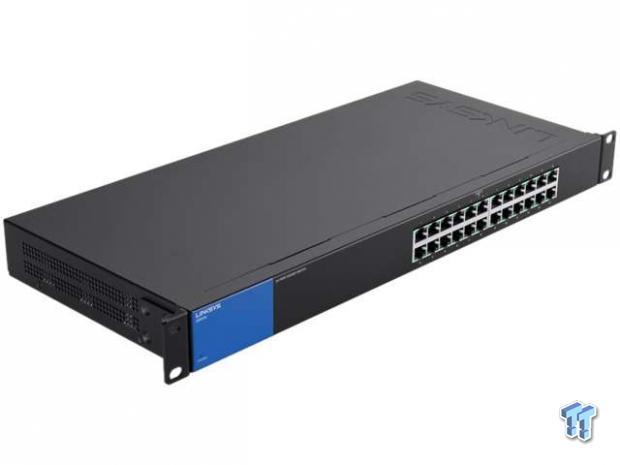 If you operate a small business or home office, using a Layer 2 or Layer 3 switch isn't always the most efficient way to manage your network; especially if all of the higher-end features of said switches aren't needed. For those that still need multiple ports to connect their office computers and devices together, unmanaged switches like the LGS124 can be a savior. Switches that are unmanaged require no setup at all; in fact, you can just plug them in, connect your devices, and get to work. It's really that easy.
For the most part, switches in this day and age have very few features that set themselves apart from each other. In terms of performance, most gigabit switches are more than capable of handling typical traffic from multiple computers. In testing, we found the LGS124 very capable, as it pushed nearly 21 Gbps of bandwidth through the twenty-two ports we used, with latency remaining low throughout. In our transaction testing, we found the switch capable of 4200 transactions per second with HTTP, and 1475 with FTP.
At any rate, the switch is an integral part of the infrastructure when building a home or office network. The unmanaged LGS124 is best suited for those that need a simple option with no management features, to connect all of their devices, including computers or IP phones. In fact, I used this is the exact switch to wire my entire home with Ethernet in every room.
Market pricing of the LGS124 is set at $199.99, with a limited lifetime warranty. Comparable products in this market are the Netgear JGS524E at $229.99, and the TRENDnet TEG-S24G at $149.99.