Introduction

The number of smart TVs shipped in the last two years is amazing, and the technology has trickled down to lower cost offerings. The best time to purchase a new TV is right around Super Bowl time. This is when TV manufacturers allow retails to offer massive sales on products launched the previous year. New TVs tend to release in March, so if you're shopping for a TV, this is a really good time to start looking.
Of the large number of smart, Ethernet connected TVs, many users never get around to actually connecting the Ethernet cords. With internet connections and home NAS products in offices and bedrooms, running a cord to the TV is usually out of the question. To get around this, QNAP has built a small NAS unit that sits with your set top box and other A/V components.
The QNAP HS-210 is a small, quiet, and attractive NAS product that holds two 3.5" or 2.5" drives, and brings the power of QNAP's award winning OS to the living room. The HS-210 was built for convenience over performance and as such a product, it's fanless. Paired with the right HDDs like Western Digital's Red or Seagate's NAS HDDs, the system is very quiet, even at close distances.
You may think the next talking point is the A/V capabilities through some sort of audio and video output, but that isn't the case. The natural progression of the HS-210 would be a HDMI output, but that didn't happen. Adding HDMI output would move the system away from the Marvell 1.6GHz processor, and to an Intel processor. The move would have increased the price of the HS-210.
At the time of writing, the HS-210 costs $290 at Amazon.
Hardware Specifications and Pricing
Modern NAS servers have moved beyond data storage through a wire network. In order to get the most out of a NAS, you need to look at the extra I/O hardware and the mountain of potential software features.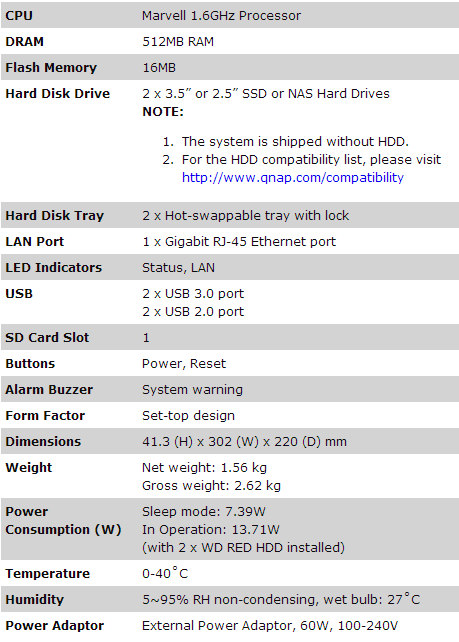 The Marvell 1.6Ghz processor isn't known for its amazing performance when transferring data to and from a NAS. In a single user environment, the 60 MB/s data transfer speed is enough to get data to your NAS for safekeeping.
At the same time, it's also enough to get a Blu-ray ISO stream or two from the unit to your smart media devices. Even in my home, with five media players, it's enough for us to play more than two high resolution streams at the same time.
The HS-210 is a very compact little unit that has a fairly unique form factor. Shaped like your cable set top box, the HS-210 is at home on a shelf with your other A/V components. The unit has a DHCP function, so you can set the NAS to deliver IP information to your TV and other connected devices without running CAT 5 to the rest of your network.
This setup will give you access to your stored movies, music, and pictures, but not internet access. It's a tradeoff, but should you decide to run the Ethernet cables, the QNAP HS-210 can also serve files to your internal network, and the cloud storage plugin even gives you access to files while away from the home.
Four USB ports (two USB 2.0 ports and two USB 3.0 ports) allow you to plug in external storage to copy data to your NAS. The HS-210 also has a SD card reader for easy back up, play back, and data transfers across the intranet.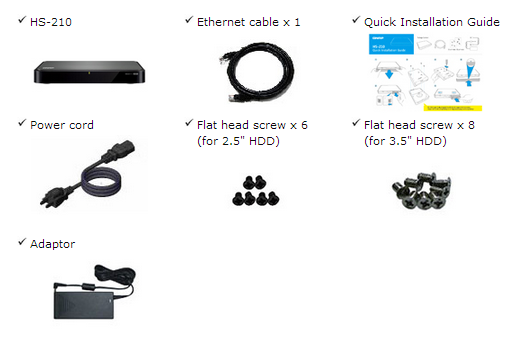 Included in the retail package is the HS-210 NAS, Ethernet cables, power brick with cables, screws for mounting drives to the drive sleds, and a quick installation guide. Amazon has the kit available now for $289.99. The unit is covered by a two-year warranty.
PRICING: You can find the QNAP HS-210 for sale below. The prices listed are valid at the time of writing, but can change at any time. Click the link to see the very latest pricing for the best deal.
United States: The DISKLESS QNAP HS-210 retails for $289.99 at Amazon.
Software Features
NAS products are equal parts hardware performance and software features. One compliments the other in a balanced product. You need more hardware performance to run more software features at the same time.

On the software side, this little box packs a massive amount of features.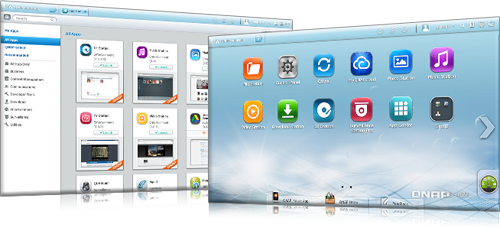 Configuring the NAS is also very easy. QNAP's new 4.1 software is the best yet, and if you can't find the feature you want built-in, other applications are only a few clicks away.
Packaging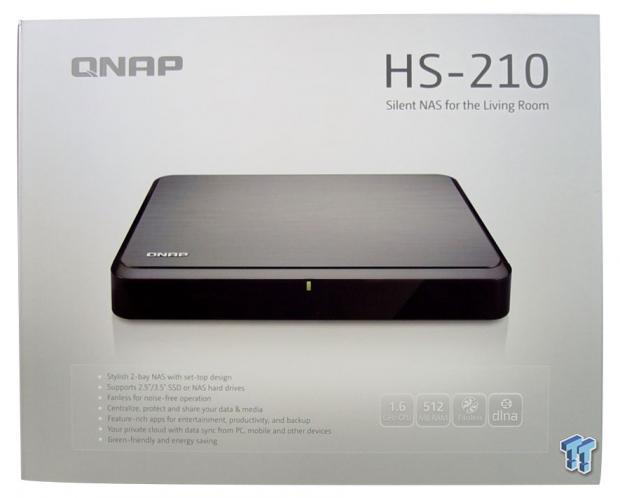 We're not going to talk a lot about the retail package for the HS-210. It is a full retail box with lots of information, but a majority of these will sell through e-tail sources, and not in the retail channel.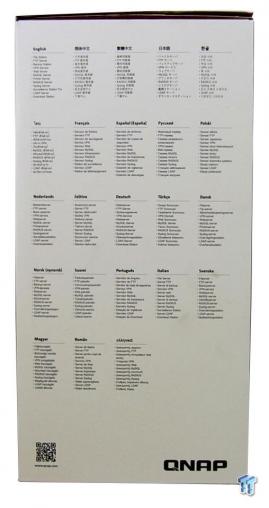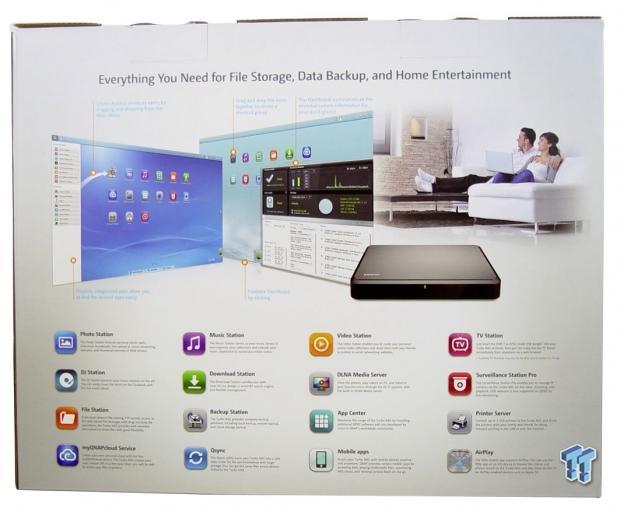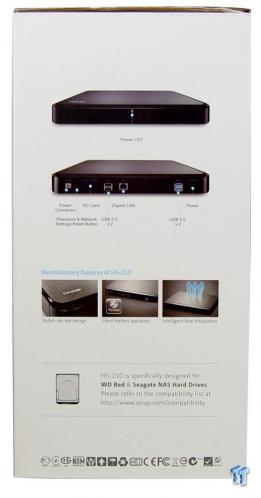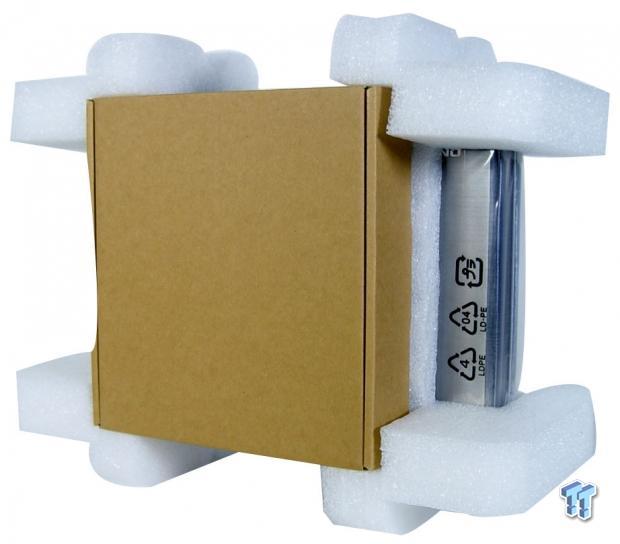 The unit was packaged very well, with the accessories in a separate box away from the actual NAS. The NAS was secured with heavy closed cell foam, and protected from drops during the shipping process.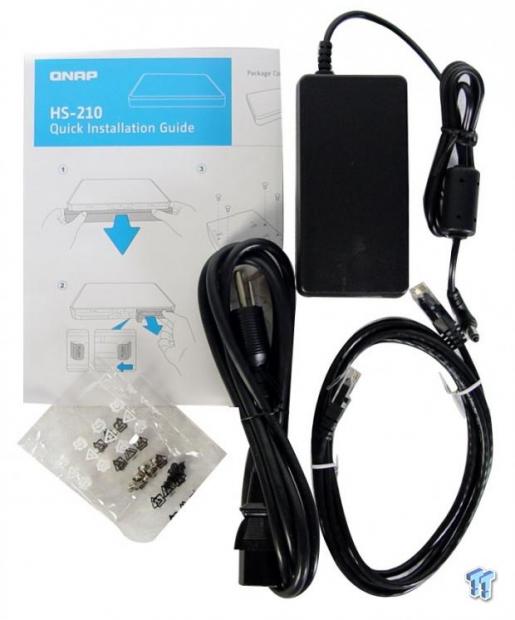 We found the accessories in a separate box.
QNAP HS-210

Here, we get our first look at the NAS. The front piano black cover uses a magnet and tabs to stay in place. The first time you reattach the cover, it springs out of your hand. There is a small LED light at the top and in the middle. Unlike many other NAS products, this light is tame and won't draw attention to the unit when used in a living room.

With the cover removed, we see the two HDD drive sleds that can hold either 2.5" or 3.5" drives. The two center buttons allow the sleds to slide out of the unit.

The drive sleds are aluminum, and so are the NAS internals and top cover. This allows heat to come off of the HDDs into the case, and then dissipate into the air. The NAS acts as a giant heat sink, so a fan is not needed.

On the back side we see the four USB ports, Ethernet RJ-45 connection, the power connection, and on the far right, a recessed power button.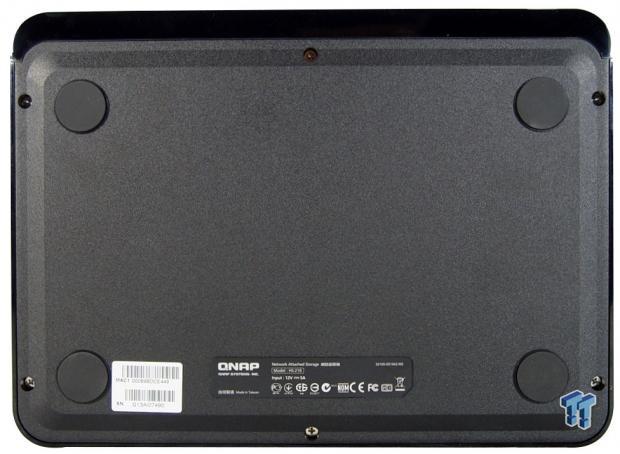 Rubber feet keep vibration from passing through the NAS and into your other components.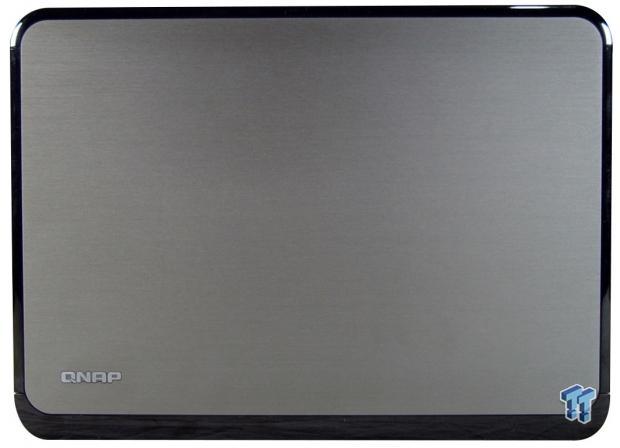 The top of the unit is a nice brushed aluminum.
Test System Setup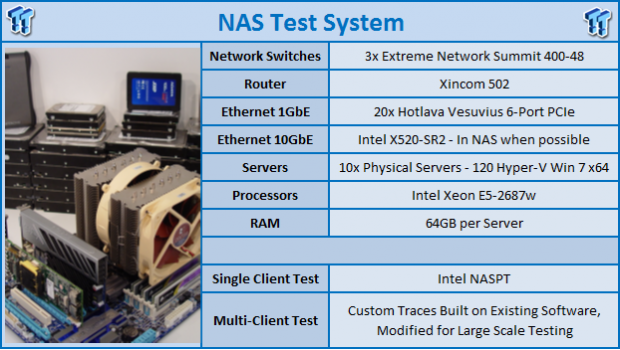 Our NAS test 'system' has migrated to a full 45u rack like what you'd find in a datacenter. There are ten servers that attack the target NAS with 120 Hyper-V installations of Windows 7 64-bit, each with a dedicated gigabit Ethernet port. The systems feed to three Extreme Networks Summit 400-48 switches that link together via Extreme Network's proprietary link cable system. One switch has two 10GbE Xenpak adapters installed. When testing NAS products with 10GbE capability, the NAS connects to the switch via single or dual 10GbE, courtesy of an Intel X520-SR2 installed in the NAS.
This level of testing wouldn't be possible without the help and support from several companies, many of which have little to do with NAS products. We would like to thank AVADirect, Antec, Corsair, GIGABYTE, Icy Dock, Kingston, LSI, Noctua, Rosewill, and Western Digital for their much-appreciated support.
Intel NASPT
The Intel NAS Performance Toolkit (NASPT) is a file system exerciser and analysis tool designed to enable direct measurement of home network attached storage (NAS) performance. Designed to emulate the behavior of an actual application, NASPT uses a set of real-world workload traces gathered from typical digital home applications. Traces of high definition video playback and recording, office productivity applications, video rendering/content creation, and more, provide a broad range of different application behaviors.
TweakTown Custom 120-Client Office Test
The TweakTown Custom 120-client Office Test uses 120 Windows 7 Hyper-V installations and custom software to stress each NAS with traces from Microsoft Office tasks. Both throughput (in Mbits per second) and latency (in milliseconds) are measured.
Western Digital RED - The NAS HDD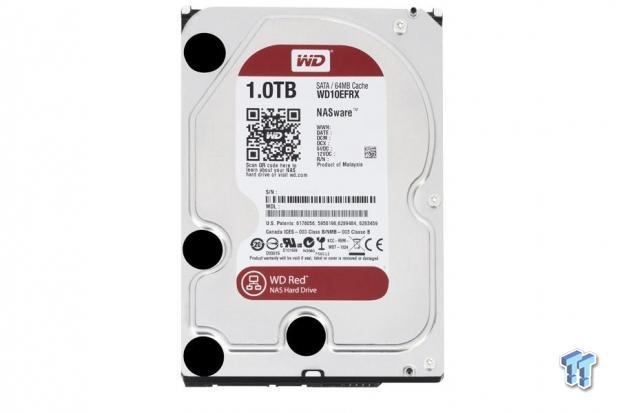 TweakTown uses Western Digital RED 1TB hard drives for all of our NAS tests. You can read our full review of the Western Digital RED 1TB here.
Our system shipped with six Toshiba 3.5" 1TB HDDs, and we used a combination of the included drives and WD Reds for our tests.
Benchmarks - NASPT
Benchmarks - 6 HDD / RAID 10
HD Video Playback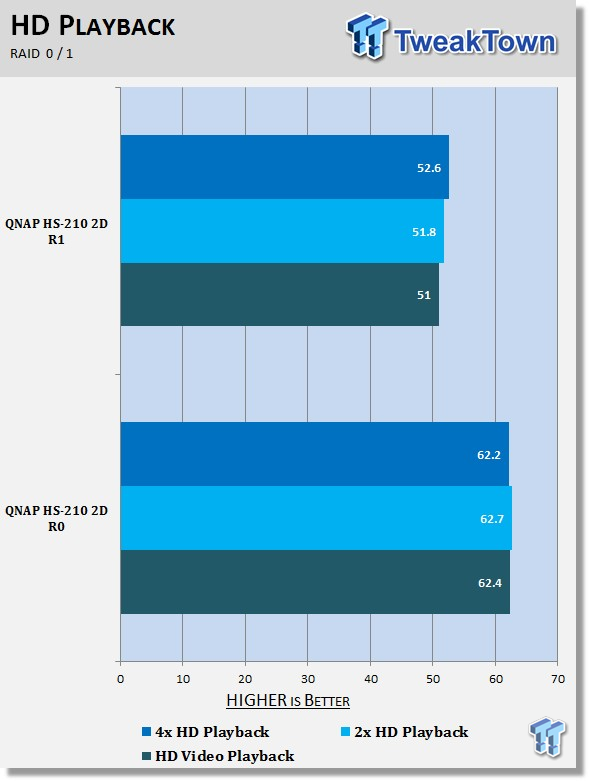 HD Video Play - 720p HD stream from Windows Media Player* 256kB reads
2HD Video Play - 2x playback
4HD Video Play - 4x playback
HD Video Record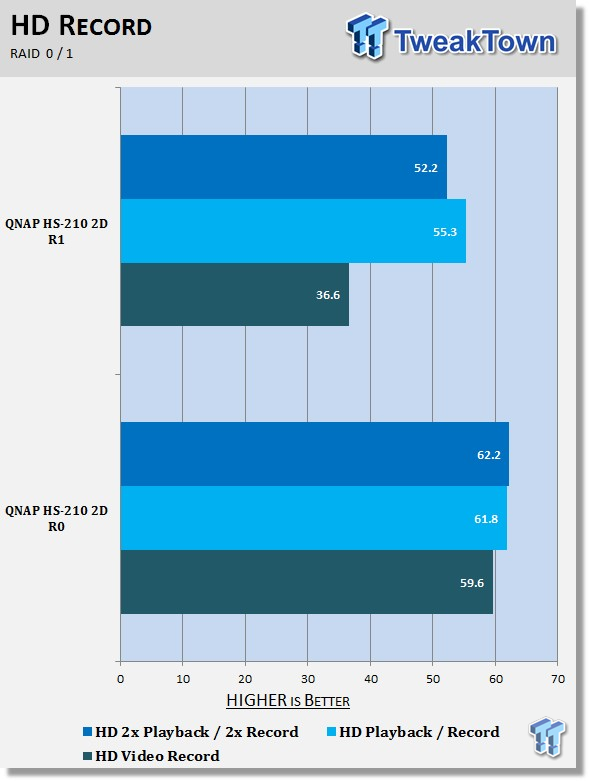 HD Video Record - 720p HD stream, 256kB writes
HD Video Play & Record - one playback, one record simultaneously
2x HD Video Play & 2x Record - two playback, two record simultaneously
Content Creation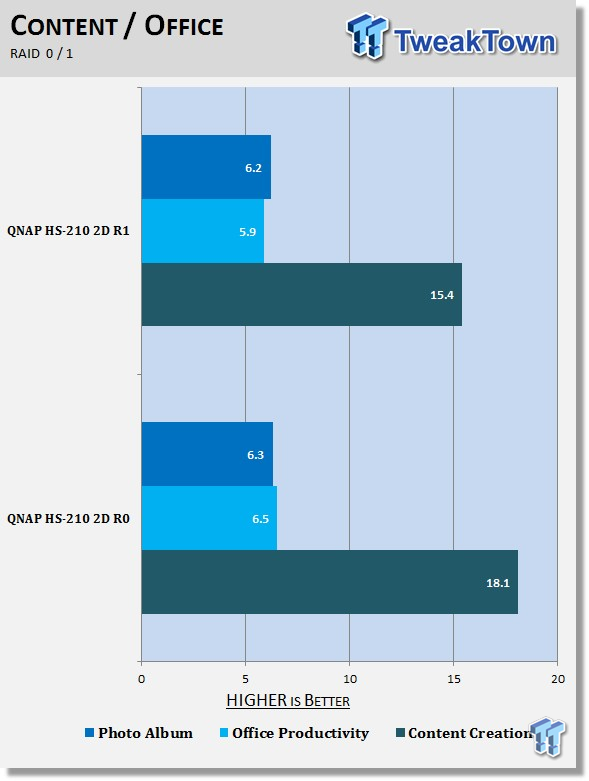 Photo Album - All reads - Wide distribution of sizes
Office Productivity - Reads and Writes, 1kB & 4kB reads; Mostly 1kB writes
Content Creation - 95% Writes; 1k, 4k & little reads; Writes up to 64kB
File / Directory Transfer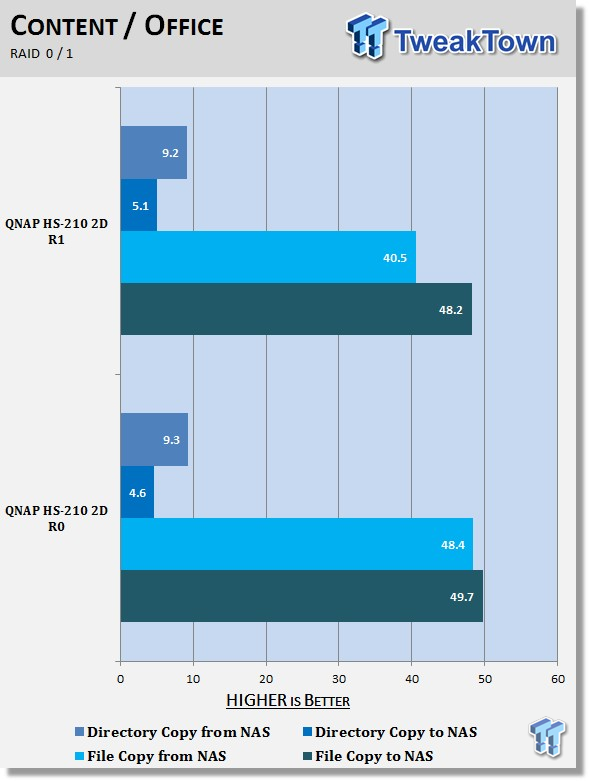 Directory Copy From NAS - 64kB reads
Directory Copy To NAS - Predominantly 64kB writes; wide scattering under 16kB
File Copy From NAS - 4GB file copy, 64kB reads
File Copy To NAS - 64kB writes
As expected with this dual bay, the Marvell 1.6GHz processor limits the performance of the WD Red HDDs. The performance results in RAID 1 and RAID 0 are nearly identical, so you don't get a large performance increase with the stripe in all tests. In some tests, like HD Video Record, there was a significant performance increase, but for the most part, the results were very close.
Benchmarks - Real World CIFS File Transfers
This is my new test that pushes us further away from canned benchmarks. In this test, we use Diskbench from Nodesoft to transfer individual files and directories to and from the target NAS. Diskbench records the transfer, and gives us the performance results.
Blu-Ray ISO Transfer - Avatar 2D 3D - 46.6 GB Transfer
MP3 Transfer - Frankie Bones Live at Get Freaky x 10 - 1.85 GB Transfer
Photo Transfer - Sample Picture from SSD Block Test x20 - 153 MB Transfer
Game Transfer - rFactor Directory - 1.62 GB Transfer
All of these files, other than the Avatar Blu-Ray ISO, are part of the Drives with Data Test.
File to NAS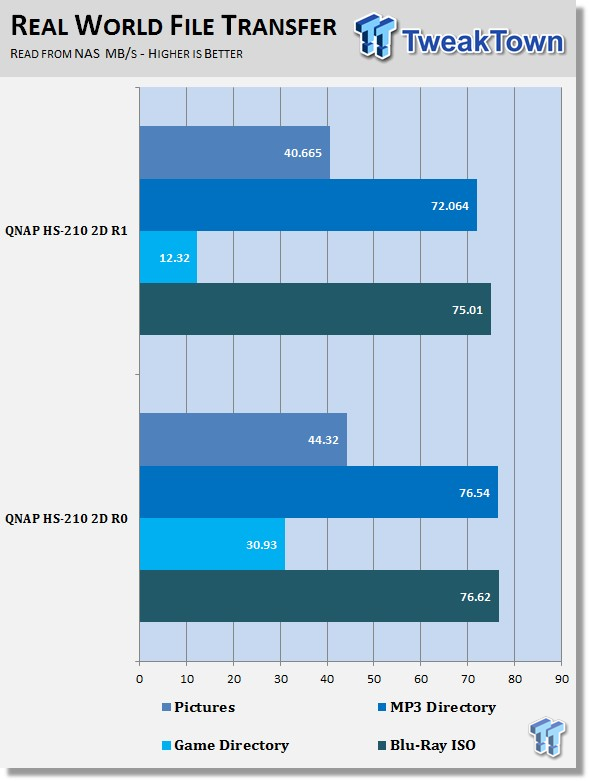 Our latest test for NAS products uses real files and real transfers while we measure the results. In this test, we again see similar results between RAID 1 and RAID 0. When reading data from the NAS, RAID 0 increased the Game Directory Copy performance.
File From NAS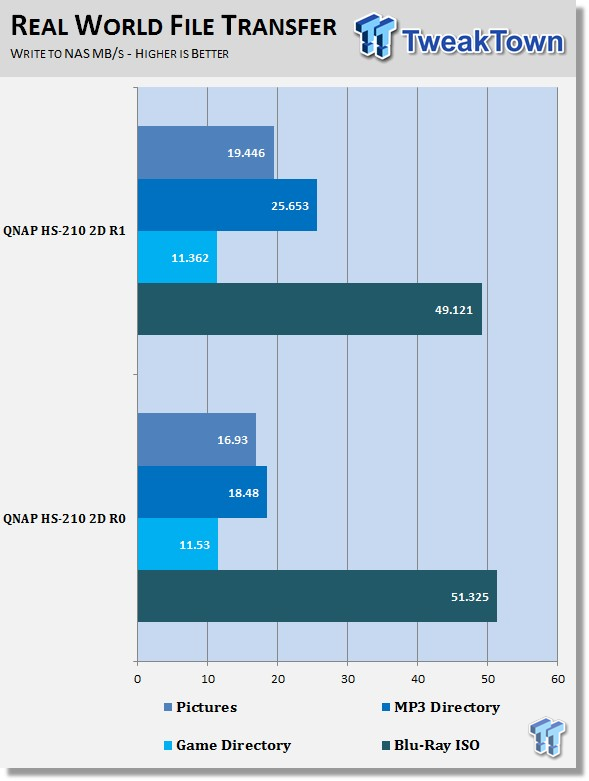 In this set of tests, we're writing data to the NAS from the host PC.
Benchmarks - iSCSI Enterprise Workloads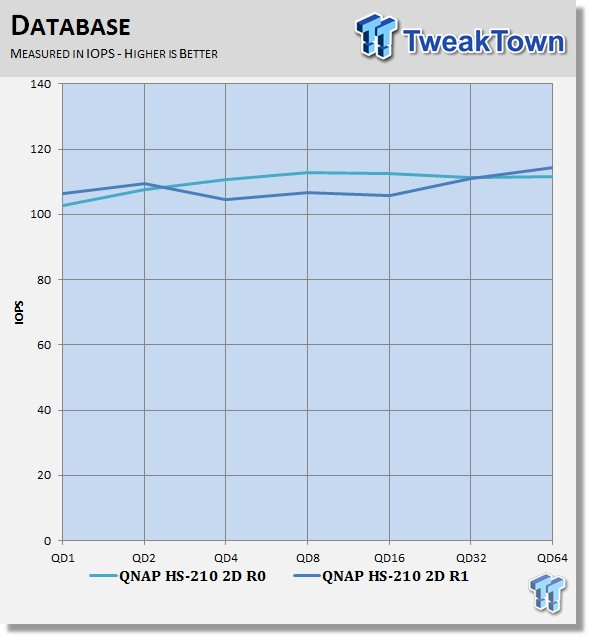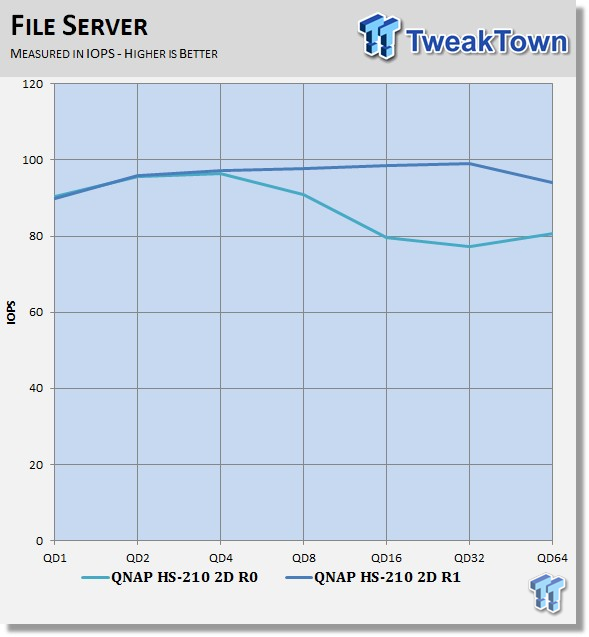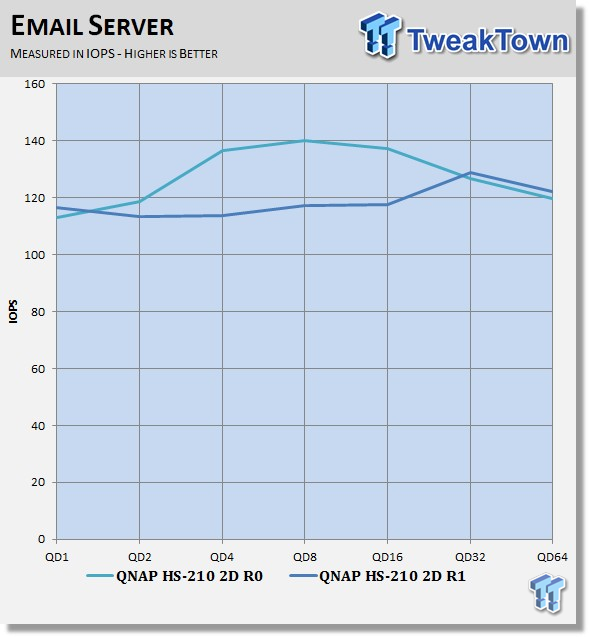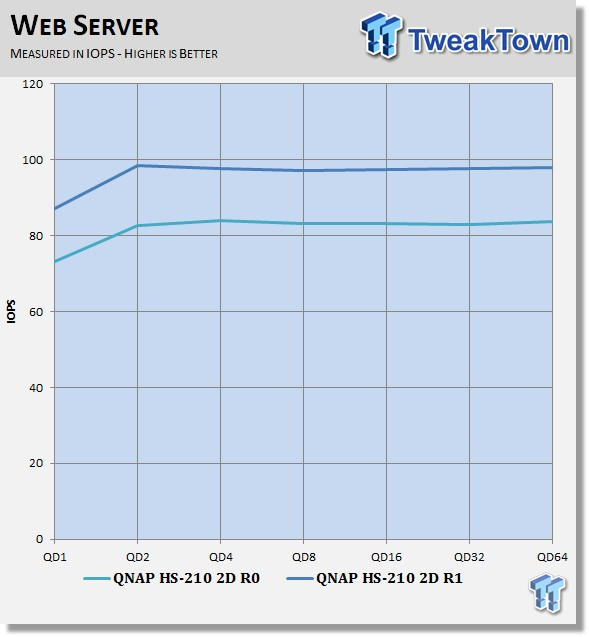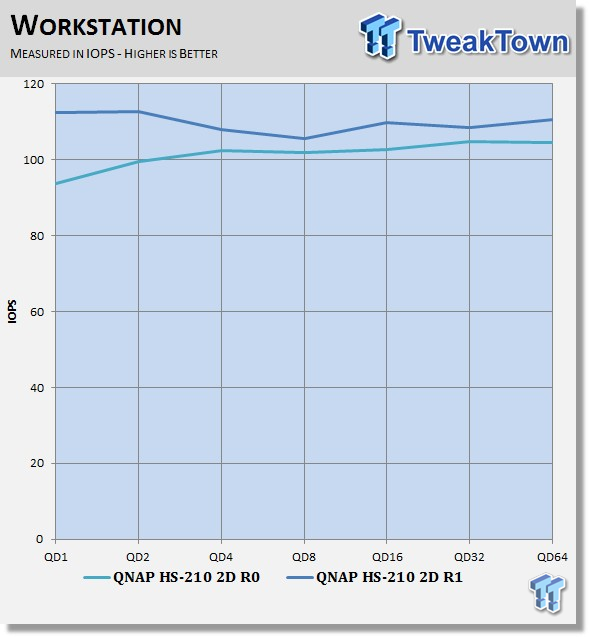 The QNAP HS-210 isn't design for these workloads, but we still wanted to run them to look deeper into the system's performance. We didn't find any significant patterns in the data.
Benchmarks - iSCSI Workload Latency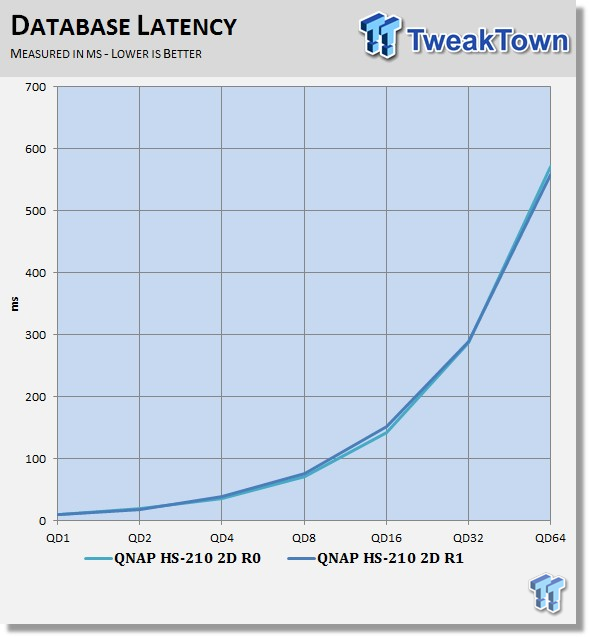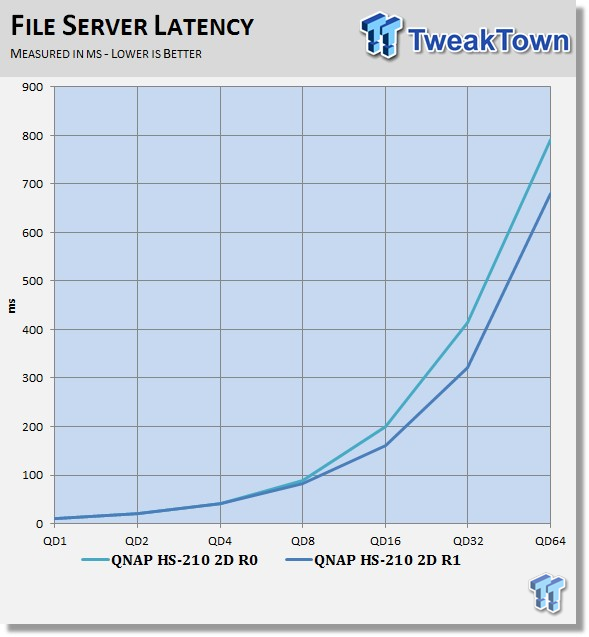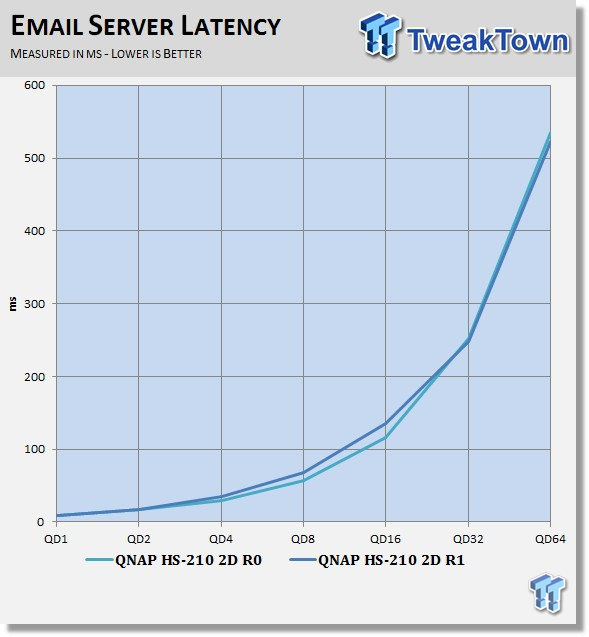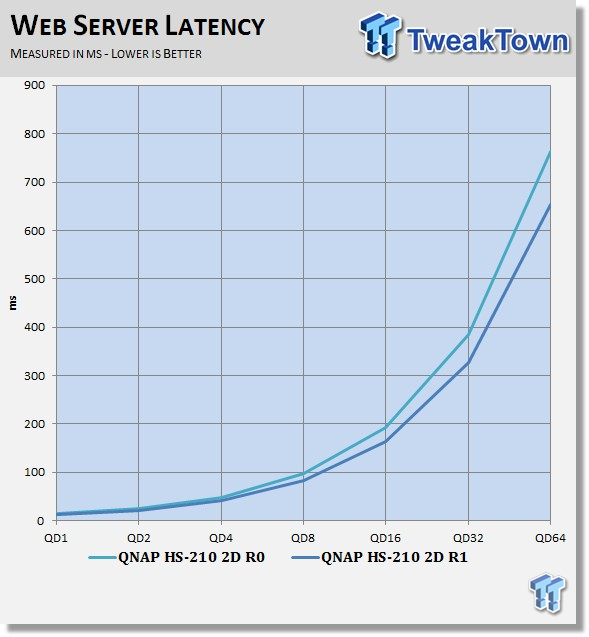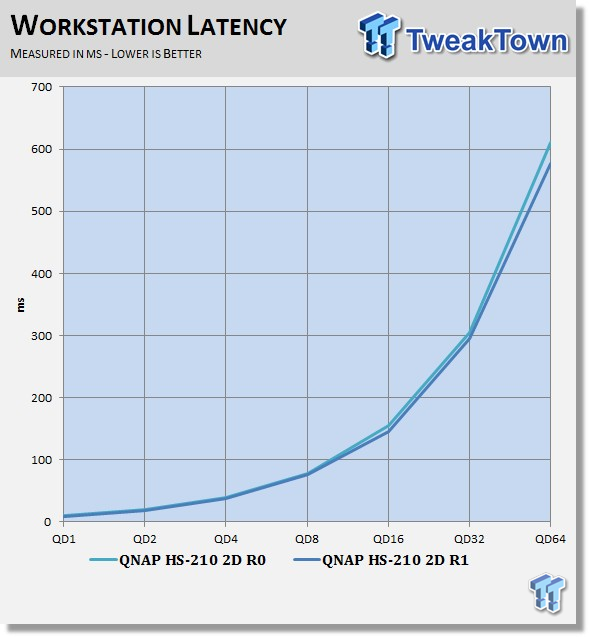 It was the same thing with the latency from the iSCSI workload tests; no real pattern and nothing ground breaking to report. This unit is designed for one or two streams at a time, with some light data archiving on the back end.
Final Thoughts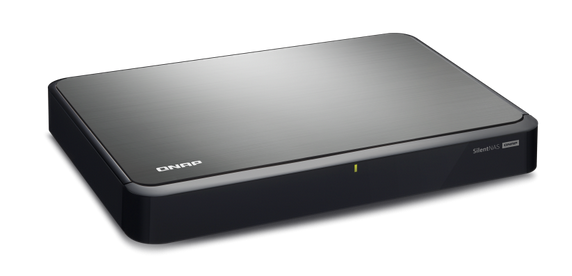 The lowest priced QNAP desktop dual bay NAS we found at Amazon was $229.00. The TS-220 uses the same Marvell 1.6 GHz processor, and 512 MB of DRAM. Essentially, it has the same specs as the HS-210 that we looked at today. That means QNAP is charging a premium for the HS-210 in the set top box form factor. The unit is nice for the price, and the unique form factor gives it visual appeal in a living room or home theater.
Performance wise, the HS-210 is capable of transferring data at roughly 60 to 80 MB/s with the default plugins enabled. The more plugins you use, the more processing power is used for the background activities.
On the software side, you get QNAP's full arsenal of features, but the processor limits their usefulness when you start stacking them on top of each other. Given the processing power and the form factor, most will stick to the usual uPnP A/V streaming, Photo Station, and Download Station. TweakTown recently published an overview of QNAP's new 4.x operating system.
QNAP put together a nice entry-level unit, but I think everyone will hold out for a more robust model in the HS product family. Although the price will be higher, our dream entry-level NAS in this form factor has an Intel processor, and more importantly, HDMI output. Given all of the options available to put under a TV in a media situation, I just don't think a NAS without playback capabilities is exactly what customers are looking for.
All things considered, this is a good start to the HS product family, and an innovative design. QNAP keeps pushing forward into new areas, and we like watching the progress. This just isn't the final product I think we want to connect our TVs to.
PRICING: You can find the QNAP HS-210 for sale below. The prices listed are valid at the time of writing, but can change at any time. Click the link to see the very latest pricing for the best deal.
United States: The DISKLESS QNAP HS-210 retails for $289.99 at Amazon.