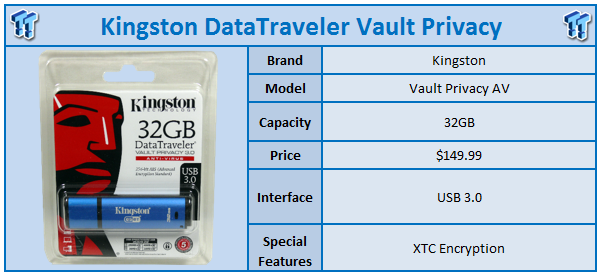 Looking back just over a year ago today, Kingston announced the partnership with ESET and ClevX. Thanks to this partnership, Kingston has released the all new DataTraveler Vault Privacy Anti-Virus 3.0.
While the DTVP-A doesn't carry any level of FIPS 140-2 certification, it does offer 256-bit AES encryption (XTS mode), with the additional security of the ClevX platform and NOD32 from ESET. Additionally, this drive carries the latest USB 3.0 specification, ensuring increased transfer speeds. Compatibility of the DTVP-A extends to modern Windows operating systems, along with OS X 10.6+ and Linux 2.6+, while warranty is listed at five years.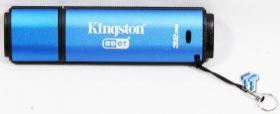 The DTVP features the same rugged exterior with a touch of color. The Kingston branding still remains, though we also have ESET as well. Capacity is listed to the right.

The back of the drive houses the model identification and assembly information.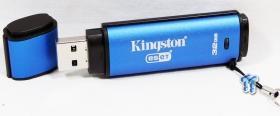 The Kingston DTVP utilizes a capped design, which allows for the drive to be waterproof up to four feet. Additionally, this model features USB 3.0 connectivity.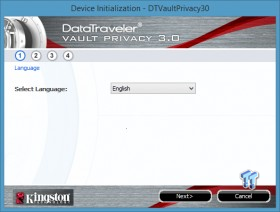 Setting up the DTVP, we first select our preferred language.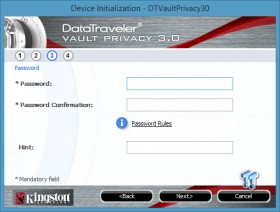 Step three allows us to set the password for the drive, after which the drive is formatted and ready for use.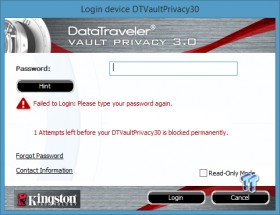 After plugging in the drive, the security software launches and leaves us to input our password. After 10 unsuccessful attempts, the drive locks down and forces a format.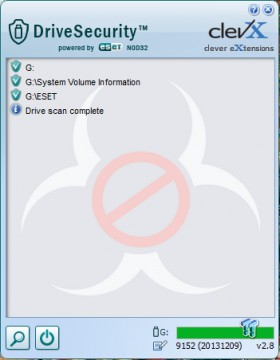 The DriveSecurity software proactively scans the drive as files are added, ensuring no malicious software is passed onto the device.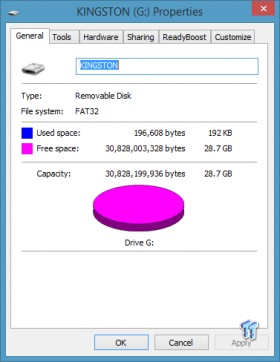 The Kingston DTVP is factory formatted with the FAT32 file system, insuring compatibility between Windows and Macintosh computers. The usable capacity after formatting is 28.7GB.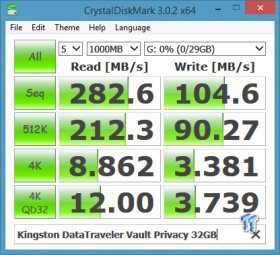 For a quick performance check, we ran through CDM with the DTVP. Here we have 282 MB/s for sequential read and 104 MB/s for write.
The Kingston DTVP Antivirus is a great option for anyone wanting the protection of proactive virus and malware scanning on their external storage. The build quality of the unit follows the same standard we found with the DT4000 and 6000 with a capped design and waterproof capabilities.
Performance of the unit was rather exceptional at 232 MB/s read and 104 MB/s write in sequential testing.
Pricing for the 32GB Kingston DTVP is set at $149.99 and can be found at many e-tailers and accordingly Kingston's online store.