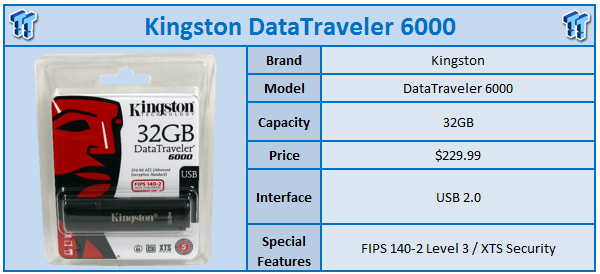 For those of you that had the chance to read our review on the Kingston DT4000, today we take things one step further increasing FIPS 140-2 to Level 3 maintaining hardware based 256-bit encryption in the same compact USB flash drive form factor.
The Kingston DT6000 may seem like a standard flash drive on the outside. Looking internally though, the flash drive combines years of intense research and development from Spyrus in security technology. Featuring Level 3 military grade FIPS 140-2 compliance, the DT6000 ensures your sensitive data will never be compromised. Compatibility extends to all modern Windows operating systems, along with Mac OS X 10.6+ Warranty is listed at five years.
The DT6000 features the same rugged exterior design we found with the DT4000. Branding and capacity are listed on the front of the drive.

The back of the drive houses the model identification and assembly information, along with the Spyrus logo.

The Kingston DT6000 utilizes a capped design, which allows for the drive to be waterproof up to four feet.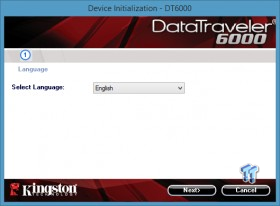 Setting up the DT6000, we first select our preferred language.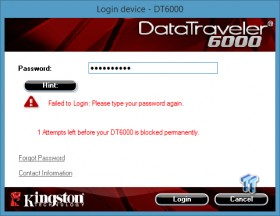 Like the DT4000, the Kingston DT6000 allows 10 attempts at entering the correct password, before the drive is erased.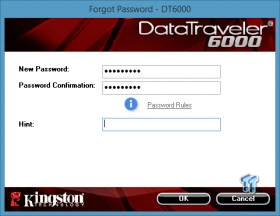 Going back into the settings. Here you can change your password, along with the password hint.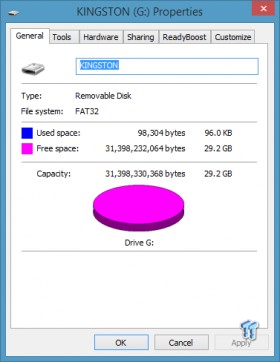 The Kingston DT4000 is factory formatted with the FAT32 file system, insuring compatibility between Windows and Macintosh computers. The usable capacity after formatting is 29.6GB.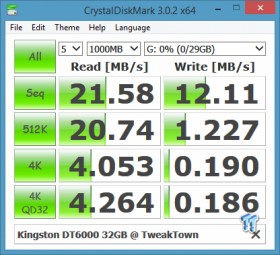 For a quick performance check, we ran through CDM with the DT6000. Here we have 22 MB/s for sequential read and 12 MB/s for write.
The Kingston DT6000 furthers the amount of security features we found in the DT4000 by quite a bit. Here we have the same 256-bit hardware encryption we found in the DT4000, but by partnering with Spyrus, the DT6000 sector-based USB encryption device implements Suite B high-strength cryptographic algorithms and advanced key management.
In addition to this, the DT6000 does not store the PIN internally. Instead, the PIN is entered over a secure channel and is mathematically combined with other information using Suite B algorithms to generate a Master Encryption Key.
Performance of the DT6000 met up with our expectations, being a secured flash drive never did the term performance cross our minds, and we knew this going in. However, the drive was able to accomplish 22 MB/s read and 12 MB/s write, which is rather decent performance for a USB 2.0 secured solution.
Pricing for the 32GB Kingston DT6000 is set at $229.99 and can be found at many e-tailers and accordingly Kingston's online store.