Introduction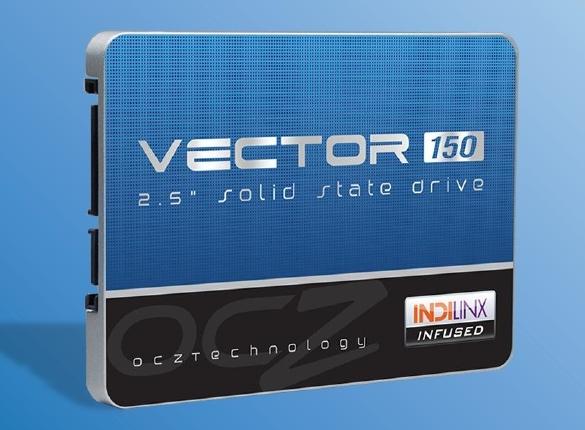 Earlier today we published our first Vector 150 product review, the 240GB capacity size. We found that OCZ managed to include nice features in this second incarnation of Vector, but in the 240GB capacity size, the performance was about the same as the original.
With performance nearly the same, our focus shifted to the new features. 256-bit AES encryption debuts on Vector 150, but at this time it doesn't support eDrive. Vector 150, now with 19nm Toshiba Toggle flash gets a boost in the writes per day category, up to 50GB writes per day for five years - up from 20GB per day.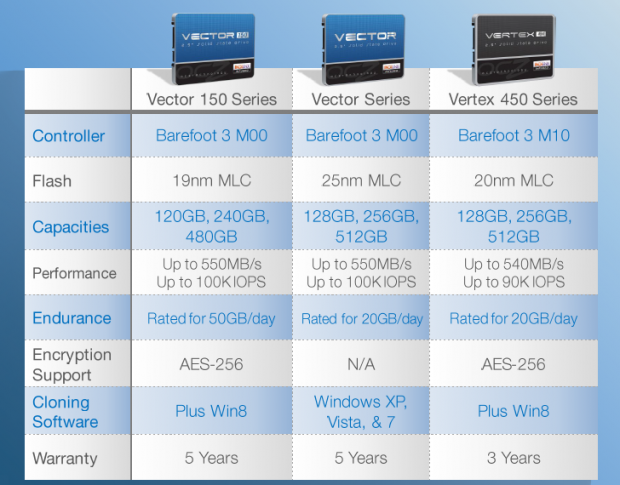 The accessory package received a change. OCZ now includes an updated version of Acronis drive cloning software that supports Windows 8 and 8.1. The software is very nice to have and has several functions that include drive cloning and data backup / recover.
Let's take a look at the full specifications and then see the performance of the 120GB model.
Specifications, Pricing and Availability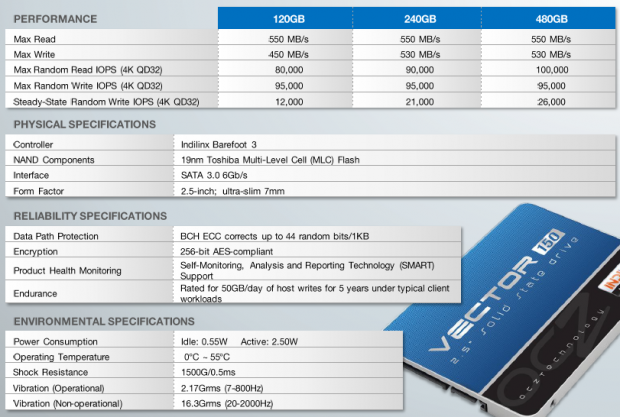 OCZ's in-house Barefoot 3 controller is already the consumer champion when it comes to writing data. The read performance is just behind Samsung's 840 Pro, but only by a small margin in the 256GB capacity class. Read performance degrades when the MLC flash is dirty, but not nearly as much as write performance. If you are choosing between one and the other, I'd take an increase in write performance. OCZ addressed this issue with new steady-state performance numbers. OCZ claims Vector is the new consumer steady state winner, up to 26K IOPS on the 480GB model. It's an impressive number, one that tips on some enterprise SSDs toes.
Vector 150 comes in three capacity sizes. In this review, we're focusing on the 120GB model. We've already published a review of the Vector 150 240GB earlier in the day and hope to have the 480GB model in soon.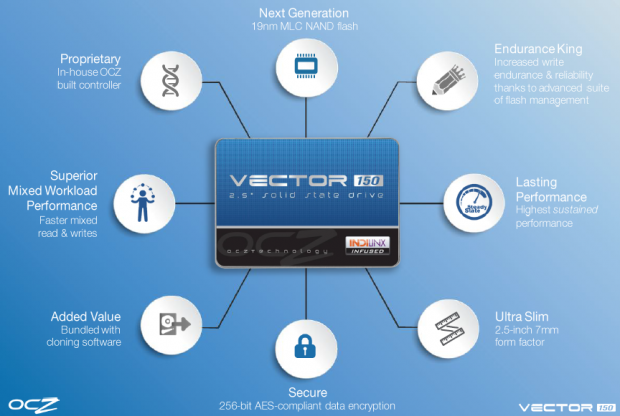 There are several improvements with this new release over the original model. This handy chart above shows some of them, but none are bigger than the endurance claim. The new flash takes Vector 150 to 50GB writes per day for five years. With that level of endurance Vector 150 is the first consumer SSD I'd consider using for Usenet downloads / decompression.
We've talked a lot about the flash, but the controller hasn't changed much. Not that it needed to either given the performance of the original version. Toggle compatibility is a firmware update. The Indilinx Barefoot 3 controller on Vector 150 is the same M00 revision used on the original Vector. That said, it appears the inclusion of AES-256 encryption was also some type of software update as well.
By the time you read this, Newegg, Tiger Direct, Amazon and others should have Vector 150 listed on e-tail sites. The MSRPs are as follows, 120GB for $129.99, 240GB for $239.99 and 480GB for $499.99. The retail kits ship with a five-year warranty, desktop adapter bracket, screws for mounting, Acronis software key (software downloaded from OCZ's website), paper manuals and a sicker for proclaiming your love for OCZ.
OCZ Vector 150 120GB SSD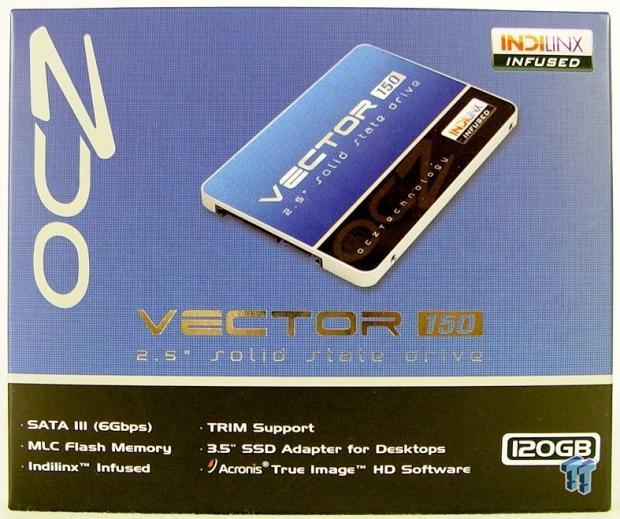 Vector 150 has nearly the same package as the original Vector, just tack on the 150 at the end of the product name.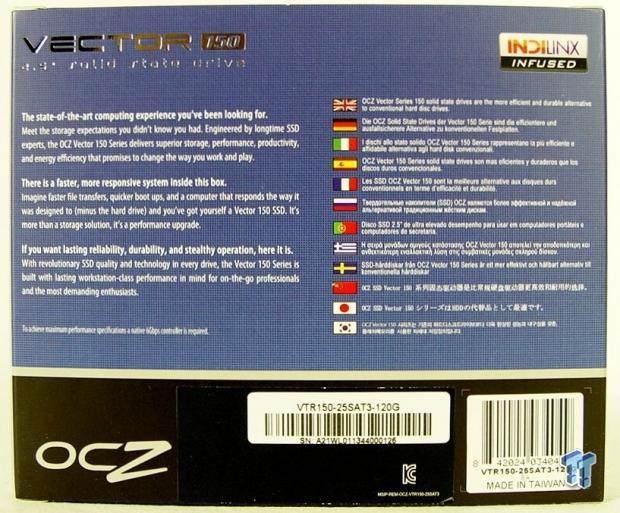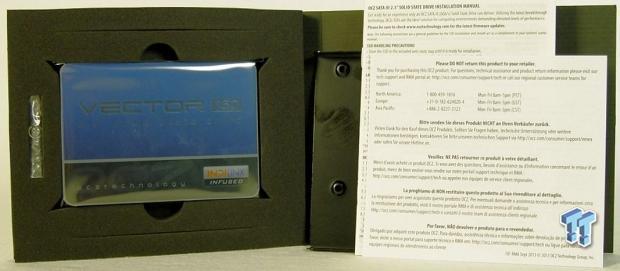 We dubbed the accessory package as 'the OCZ standard' a few years ago. You get a desktop adapter bracket, mounting screws, Acronis software key, paper manuals and a sticker.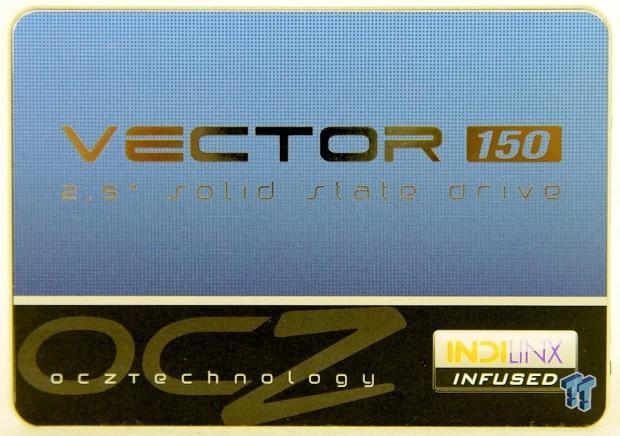 Here we get our first look at the new Vector 150 120GB model. Again, not much has changed on the outside.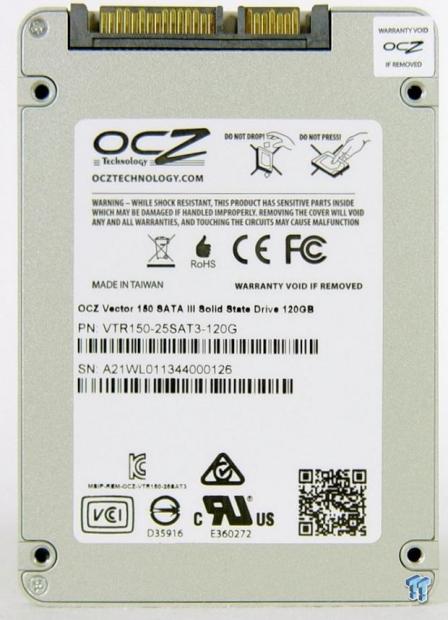 Vector 150 has a 7mm z-height, so it will work in the latest ultrabooks designed for the new low height standard. The mounting points are the same so the drive will also fit in traditional notebooks.

The desktop adapter bracket offsets the drive to the left making cable management easier when installing more than one drive in a system.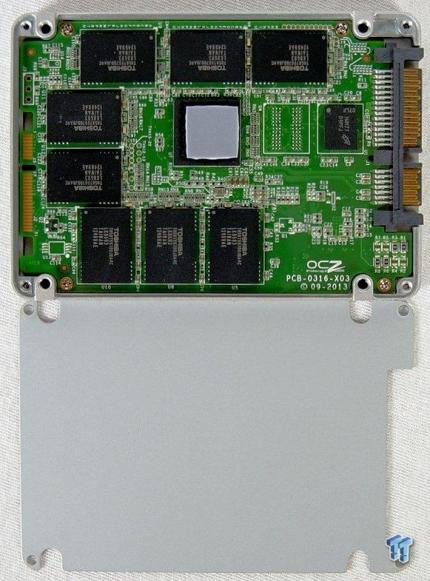 OCZ used a thermal pad on the Indilinx Barefoot 3 controller.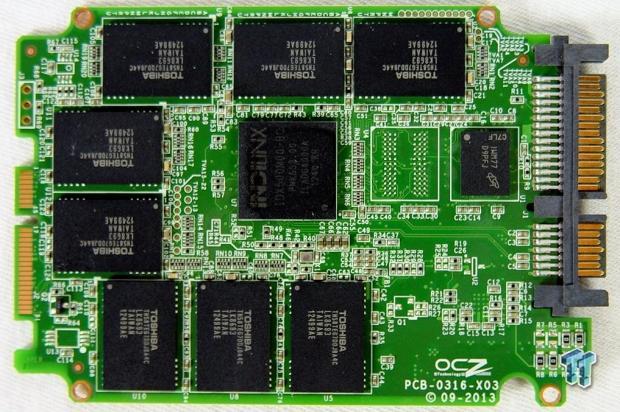 The 120GB model uses the same NAND flash we found on the 240GB model, there is just half the number of packages.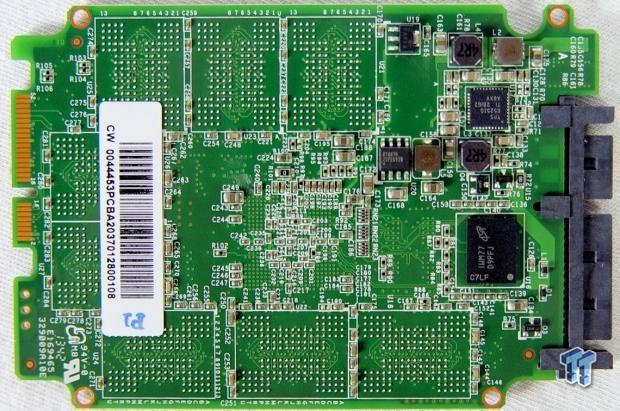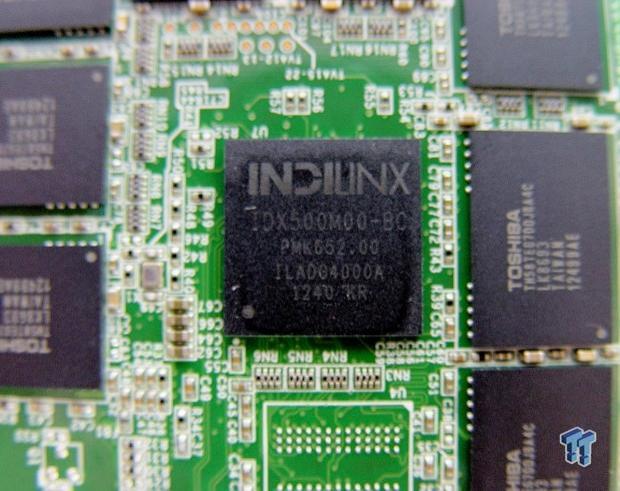 The Indilinx Barefoot 3 controller is the same used on the original Vector, M00 revision.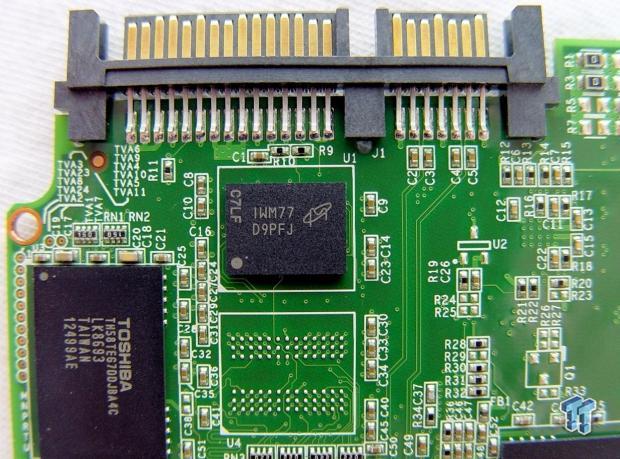 The buffer uses Micron DDR3-1600 DRAM set to just 1.35v. There are two packages, one on each side.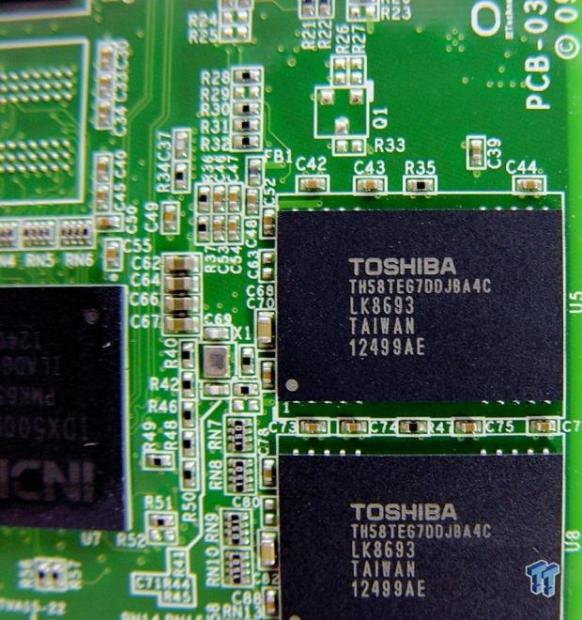 The big change is the 19nm Toshiba Toggle flash on Vector 150. The original Vector shipped with 25nm Micron flash.
Benchmarks - Test System Setup and ATTO Baseline Performance
Desktop Test System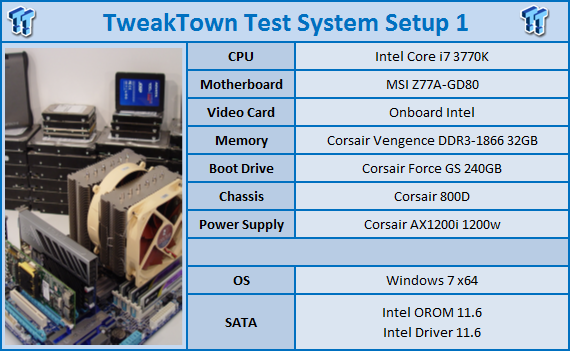 Lenovo W530 - Mobile Workstation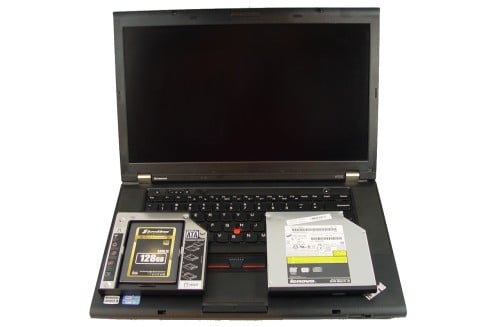 We use two systems for SSD testing. The desktop runs a majority of the tests and the Lenovo W530 runs the notebook power tests as well as the real-world file transfer benchmark.
ATTO Baseline Performance
Version and / or Patch Used: 2.34
ATTO is a timeless benchmark used to provide manufactures with data used market storage products.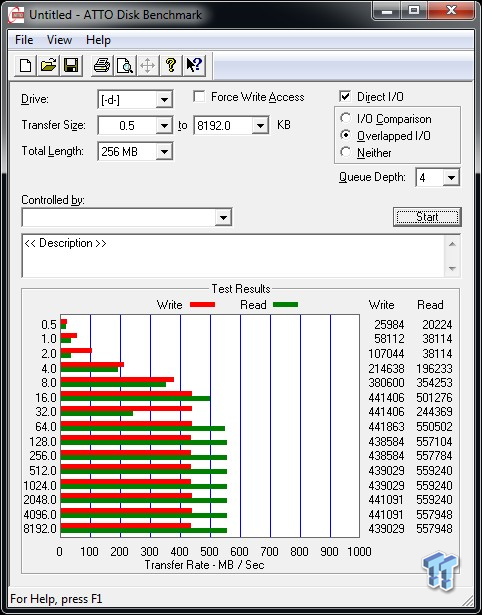 In ATTO, we measured nearly 560 MB/s sequential read and just over 440 MB/s sequential write speed at queue depth 4.
Benchmarks - Sequential Performance
HD Tune Pro
Version and / or Patch Used: 4.00
Developer Homepage: http://www.efdsoftware.com
Product Homepage: http://www.hdtune.com
HD Tune is a Hard Disk utility which has the following functions:
Benchmark: measures the performance
Info: shows detailed information
Health: checks the health status by using SMART
Error Scan: scans the surface for errors
Temperature display
HD Tune Pro gives us accurate read, write and access time results and for the last couple of years has gained popularity amongst reviewers. It is now considered a must have application for storage device testing.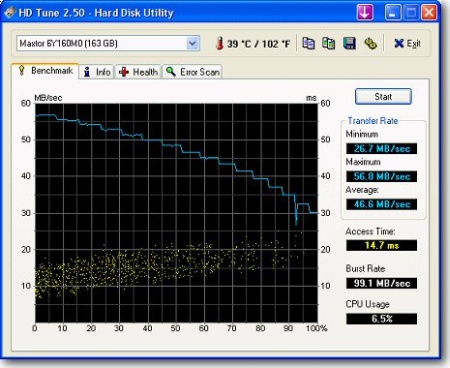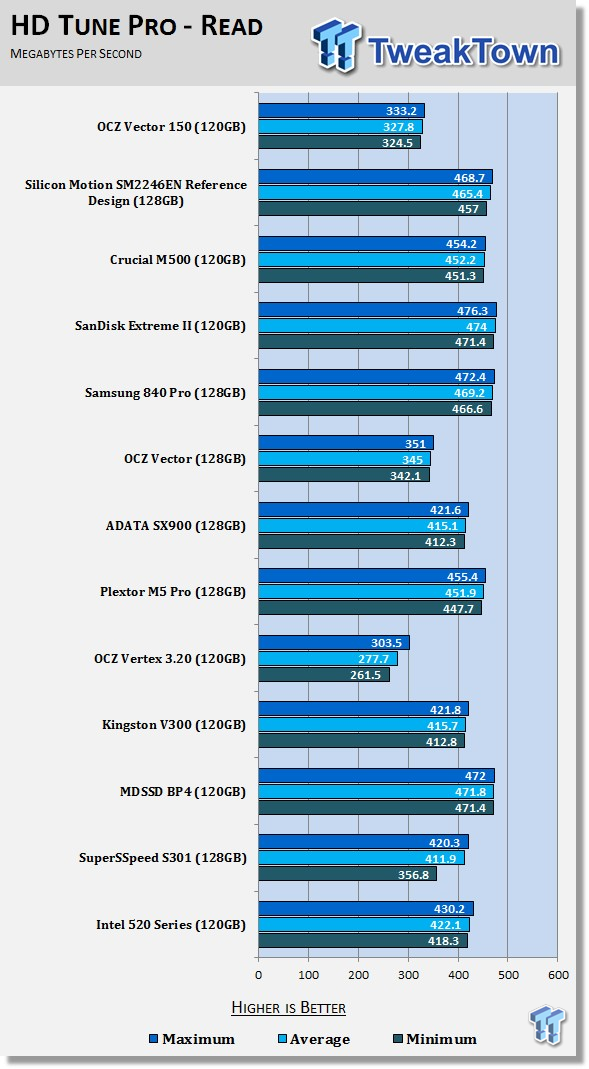 OCZ artificially limits QD1 sequential reads to keep performance available for multitasking. It's a brilliant way to increase the user experience, but limits the drive in some synthetic benchmarks. An example of the user experience increase is when you are transferring a large video from the SSD to another drive, you have additional bandwidth to continue surfing the web or other activity.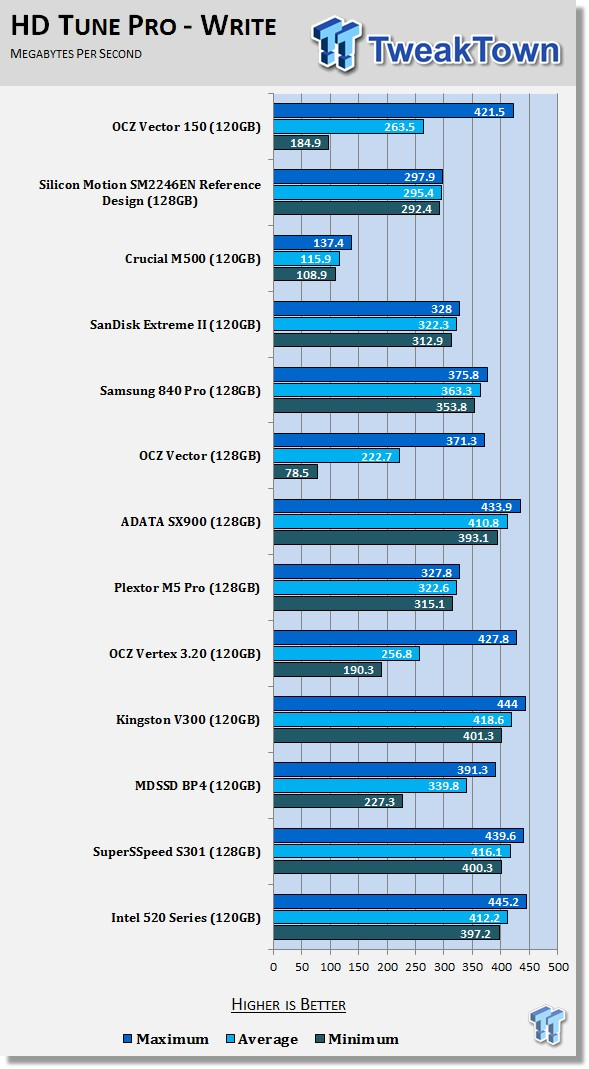 There is another technology feature that that gives us a false rating when writing sequential data to the drive across the user LBA span. Vector 150 120GB manages to write up to 421 MB/s when fresh out of the box. We'll look at threaded sequential performance with a dirty drive later in this review.
HD Tach - Sequential Write Performance after Random Writes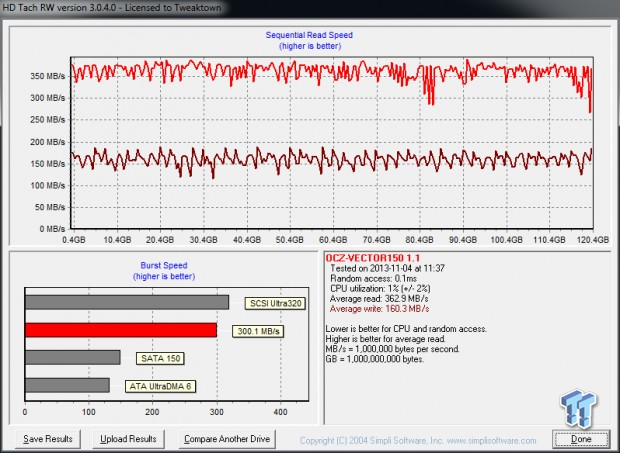 Here we see sequential read and write performance after a number of random writes. The overprovisioned space on Vector 150 means we haven't written to all of the drive yet, but we start to see where consumer steady state performance falls to. We measured a few sub 150 MB/s hits on the writes with the lowest data point at 120 MB/s.
Benchmarks - AIDA64 Random Access Time
AIDA64 Random Access Time
Version and / or Patch Used: 1.60
Developer Homepage: http://www.aida64.com
Product Homepage: http://www.aida64.com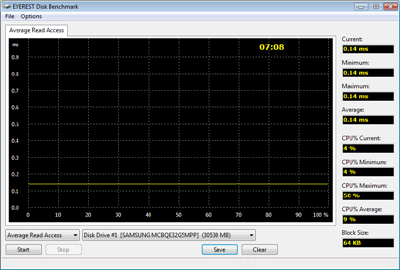 AIDA64 offers several different benchmarks for testing and optimizing your system or network. The Random Access test is one of very few if not only that will measure hard drives random access times in hundredths of milliseconds as oppose to tens of milliseconds.
Drives with only one or two tests displayed in the write test mean that they have failed the test and their Maximum and possibly their Average Scores were very high after the cache fills. This usually happens only with controllers manufactured by Jmicron.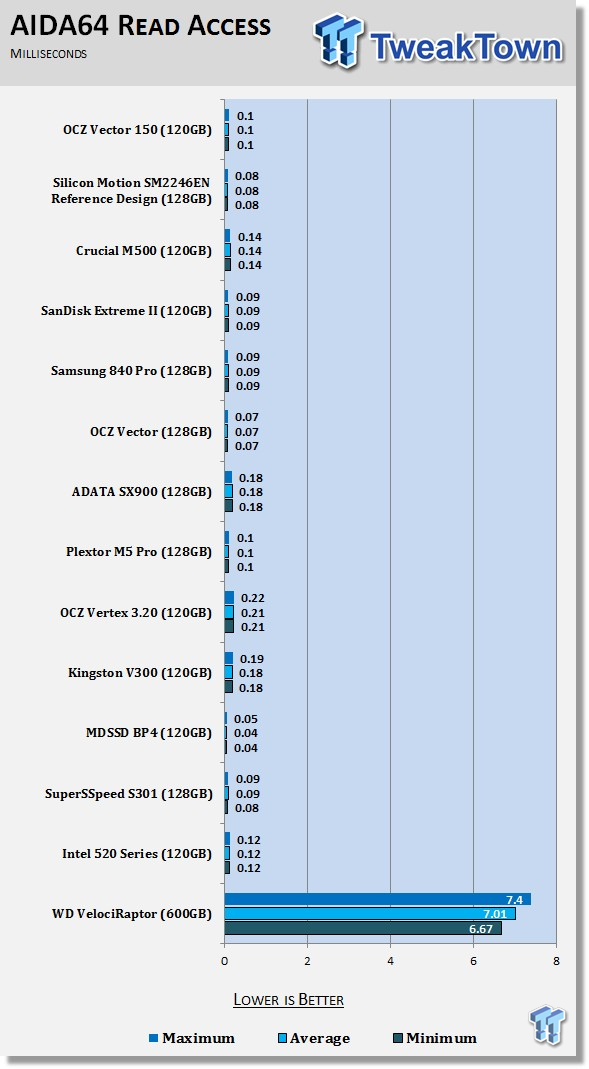 There is a slight increase in read latency with the new Vector 150 compared to the original Vector with 25nm flash. Still, OCZ managed to keep the latency consistent across the drive.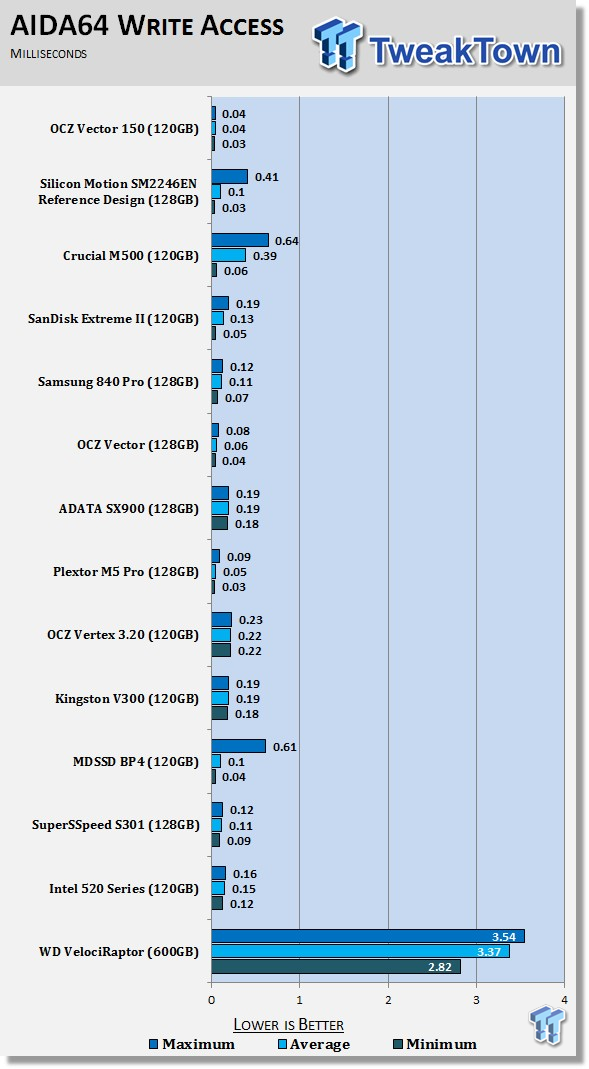 The write latency has decreased with the newest flagship OCZ SSD.
Benchmarks - Anvil Storage Utilities
Anvil Storage Utilities
Version and / or Patch Used: RC6
So what is Anvil Storage Utilities? First of all, it's a storage benchmark for SSDs and HDDs where you can check and monitor your performance. The Standard Storage Benchmark performs a series of tests, you can run a full test or just the read or the write test or you can run a single test, i.e. 4K DQ16.
Anvil Storage Utilities is not officially available yet but we've been playing with the beta for several months now. The author, Anvil on several international forums has been updating the software steadily and is adding new features every couple of months.
The software is used several different ways and to show different aspects for each drive. We've chosen to use this software to show the performance of a drive with two different data sets. The first is with compressible data and the second data set is incompressible data. Several users have requested this data in our SSD reviews.
0-Fill Compressible Data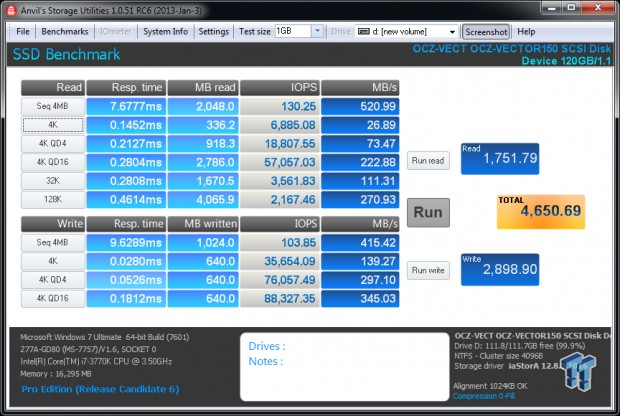 Incompressible Data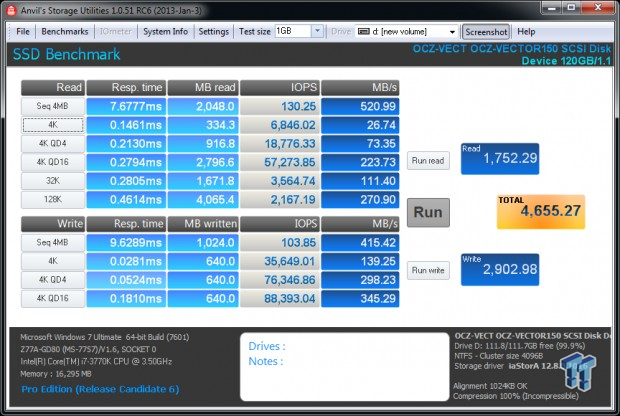 Vector 150 performs the same regardless of the data type used. Here we see a test with compressible data and incompressible data.
Read IOPS through Queue Depth Scale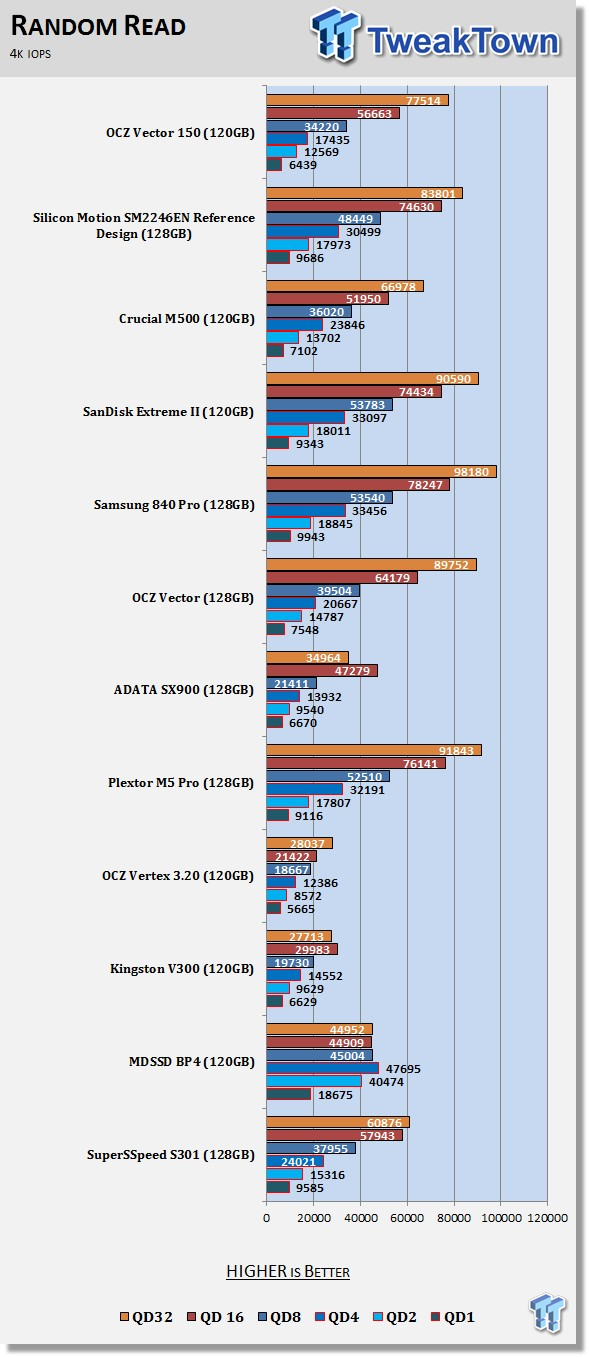 We are surprised to see QD1 read performance decrease with the new model. Toggle flash is usually the way to get near 10K read IOPS at QD1. IOPS scale well through the queue depth range and finally peak in this test at roughly 78K.
Scaling Write IOPS through Queue Scale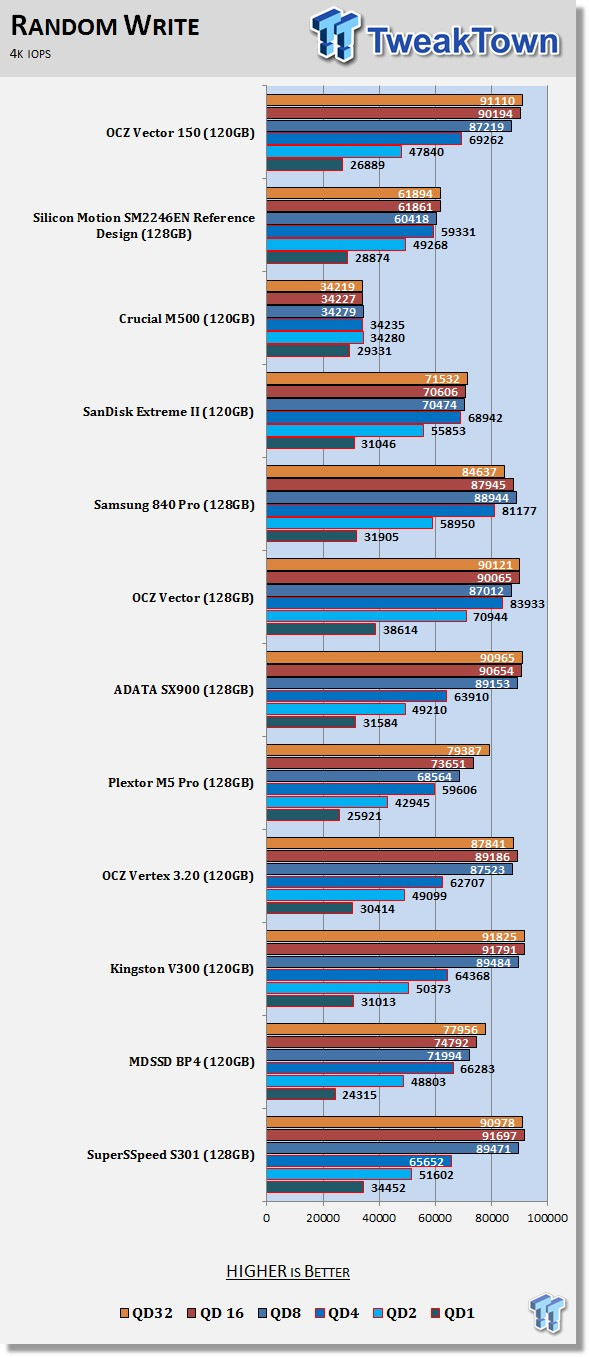 The original Vector put all other consumer SSDs to shame with its massive write IOPS especially at low queue depths, even the Samsung 840 Pro. The Vector 150 120GB lost 4K IOPS performance after the migration to 19nm Toggle flash - it's a bit disappointing.
Benchmarks - CrystalDiskMark
CrystalDiskMark
Version and / or Patch Used: 3.0 Technical Preview
Developer Homepage: http://crystalmark.info
Product Homepage: http://crystalmark.info/software/CrystalDiskMark/index-e.html
Download here: http://crystaldew.info/category/software/crystaldiskmark
CrystalDiskMark is a disk benchmark software that allows us to benchmark 4K and 4K queue depths with accuracy.
Key Features:-
* Sequential reads/writes
* Random 4KB/512KB reads/writes
* Text copy
* Change dialog design
* internationalization (i18n)
Note: Crystal Disk Mark 3.0 Technical Preview was used for these tests since it offers the ability to measure native command queuing at 4 and 32.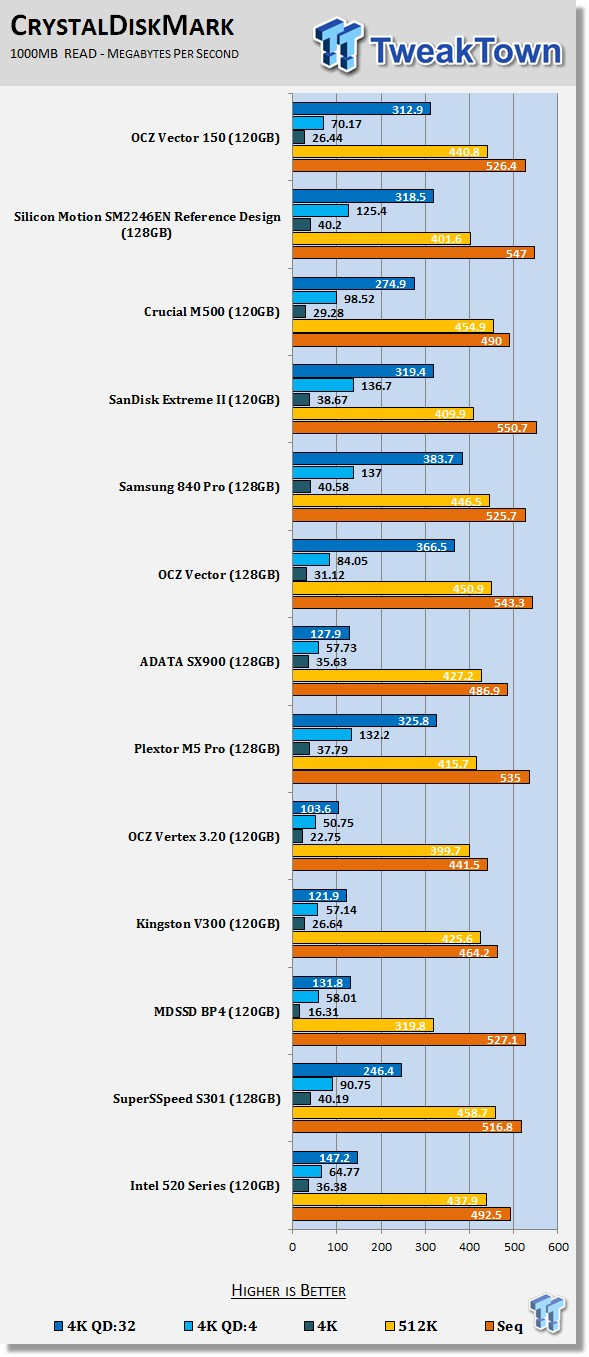 Also disappointing is the QD1 read 4K performance, another area where Vector 150 is slower than the original. The drive scales well as depth increases. The threaded sequential read performance hits nearly 530 MB/s.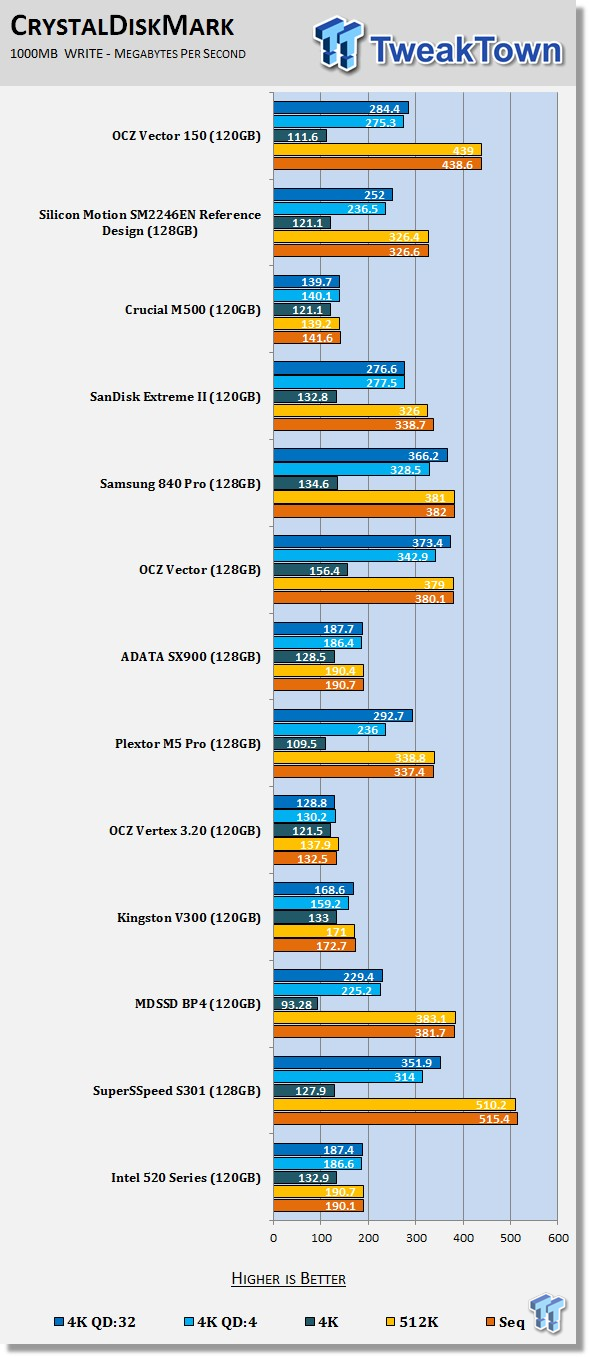 4K write IOPS scale well, but the QD1 performance is down as we discussed on the previous page. Here we get our first look at sequential writes in a threaded environment. Vector 150 has a leg up on the competition, even the original Vector.
Benchmarks - PCMark Vantage Hard Disk Tests
PCMark Vantage - Hard Disk Tests
Version and / or Patch Used: 1.0.0
Developer Homepage: http://www.futuremark.com
Product Homepage: http://www.futuremark.com/products/pcmarkvantage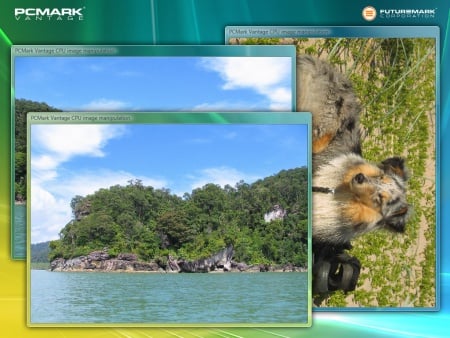 PCMark Vantage is the first objective hardware performance benchmark for PCs running 32 and 64 bit versions of Microsoft Windows Vista. PCMark Vantage is perfectly suited for benchmarking any type of Microsoft Windows Vista PC from multimedia home entertainment systems and laptops to dedicated workstations and high-end gaming rigs. Regardless of whether the benchmarker is an artist or an IT Professional, PCMark Vantage shows the user where their system soars or falls flat, and how to get the most performance possible out of their hardware. PCMark Vantage is easy enough for even the most casual enthusiast to use yet supports in-depth, professional industry grade testing.
FutureMark has developed a good set of hard disk tests for their PCMark Vantage Suite. Windows users can count on Vantage to show them how a drive will perform in normal day to day usage scenarios. For most users these are the tests that matter since many of the old hat ways to measure performance have become ineffective to measure true Windows performance.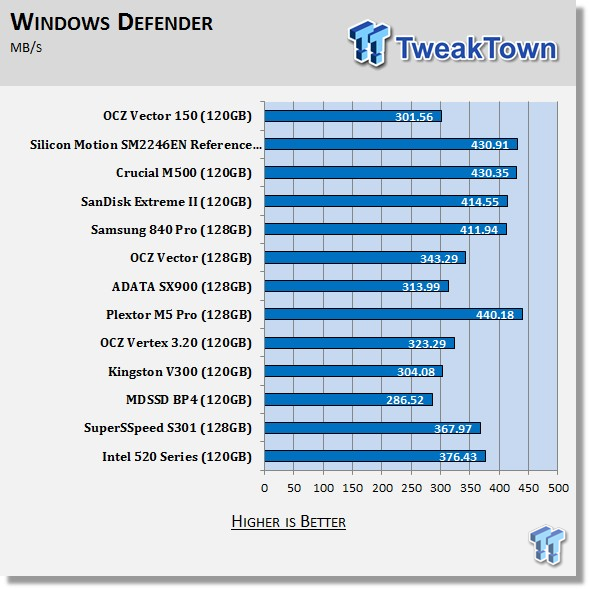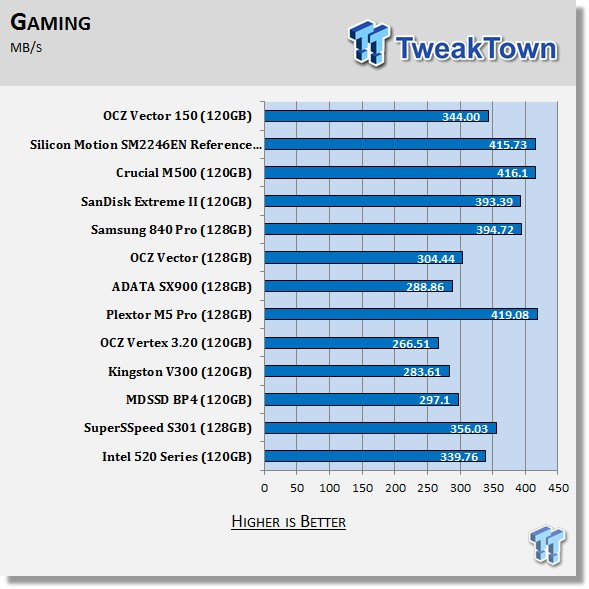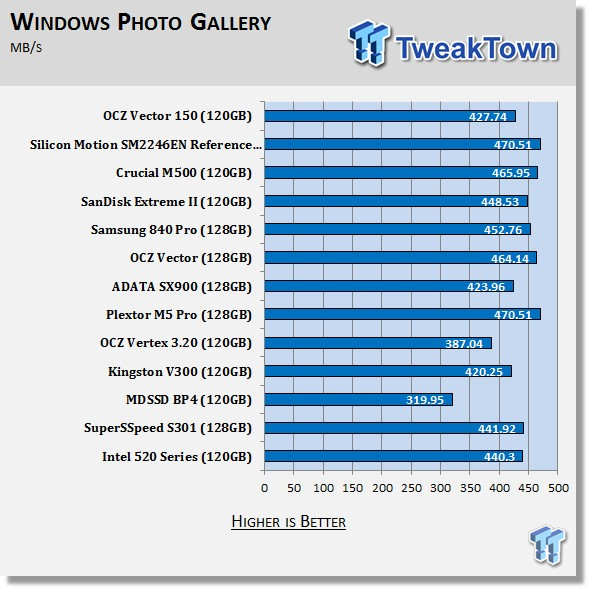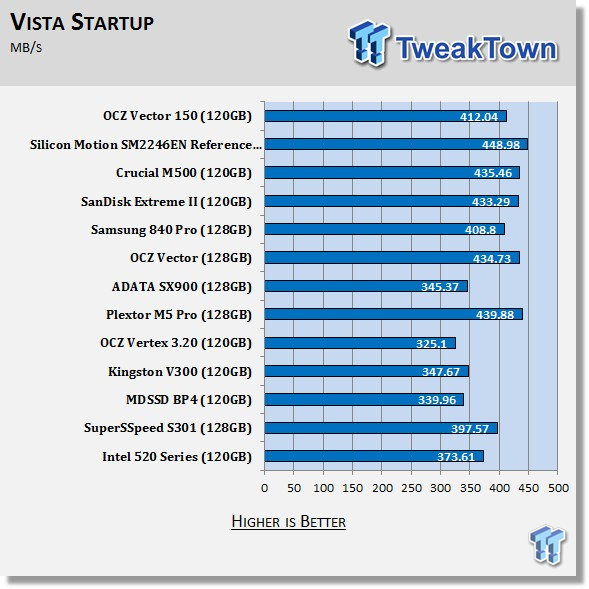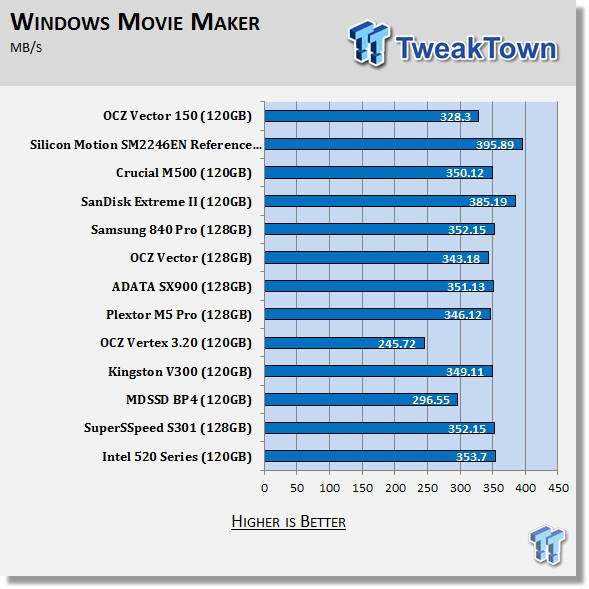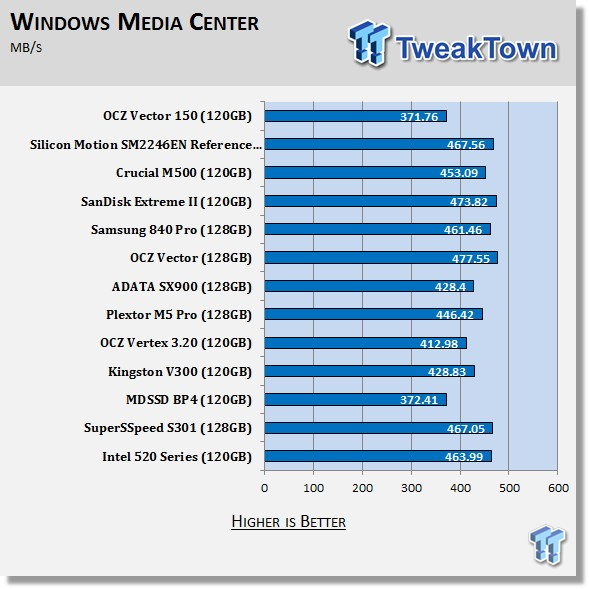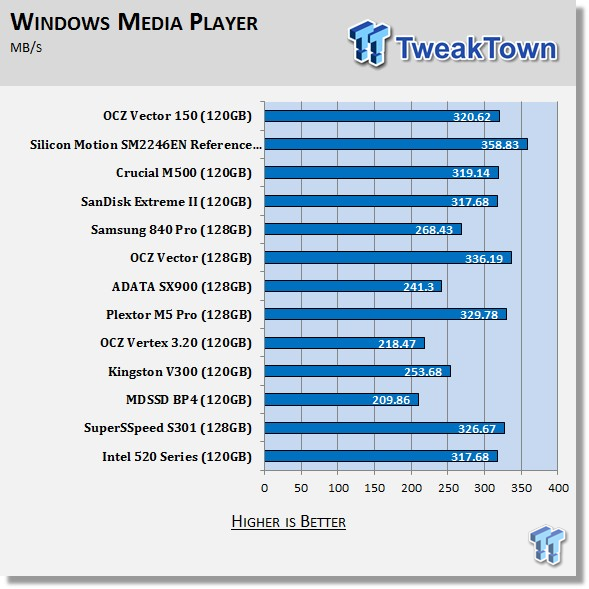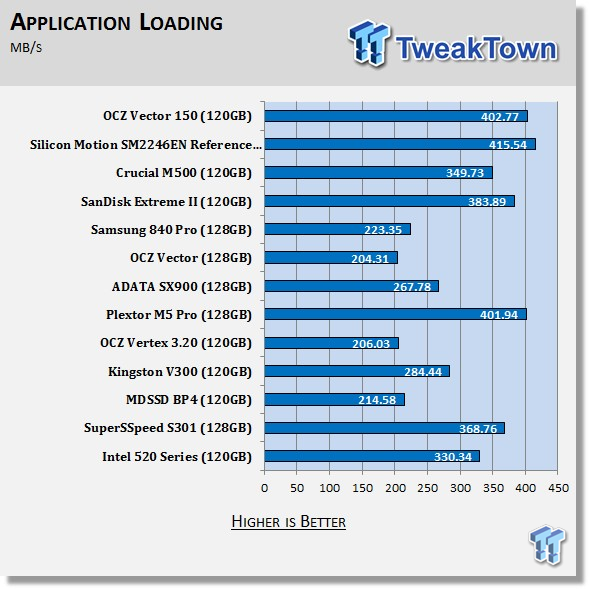 Vector 150 doesn't win any specific tests, but the drive is near the top in every test. This shows consistent high levels of performance in many day to day applications.
Benchmarks - PCMark Vantage - Drives with Data Testing
For a complete breakdown on the Drives with Data Testing please read this article. You will be able to perform this test at home with the files provided in the article - full instructions are included.
- Brief Methodology
SSDs perform differently when used for a period of time and when data is already present on the drive. The purpose of the Drives with Data testing is to show how a drive performs in these 'dirty' states. SSDs also need time to recover, either with TRIM or onboard garbage collection methods.
Drives with Data Testing - 25%, 50%, 75% Full States and Dirty / Empty Test
Files needed for 60 (64GB), 120 (128GB), 240 (256GB)
60GB Fill - 15GB, 30GB, 45GB
120GB Fill - 30GB, 60GB, 90GB
240GB Fill - 60GB, 120GB, 160GB
Empty but Dirty - a test run just after the fill tests and shows if a drive needs time to recover or if performance is instantly restored.

SSDs slow as data populates the flash. In this test, we see performance at different stages of the flash filled with data.
We use the 50% full marker to evaluate performance. Vector 150 is a bit faster than the original Vector when half full, but both are a little slower than 840 Pro 128GB.
Benchmarks - PCMark 8 Hard Disk Tests
Version and / or Patch Used: 1.0.0
Developer Homepage: http://www.futuremark.com
Product Homepage: http://www.futuremark.com/products/pcmark8
Note: PCMark 8 Storage benchmark is ideal for testing the performance of SSDs, HDDs and hybrid drives. Using traces recorded from Adobe Creative Suite, Microsoft Office and a selection of popular games, PCMark 8 Storage highlights real-world performance differences between storage devices.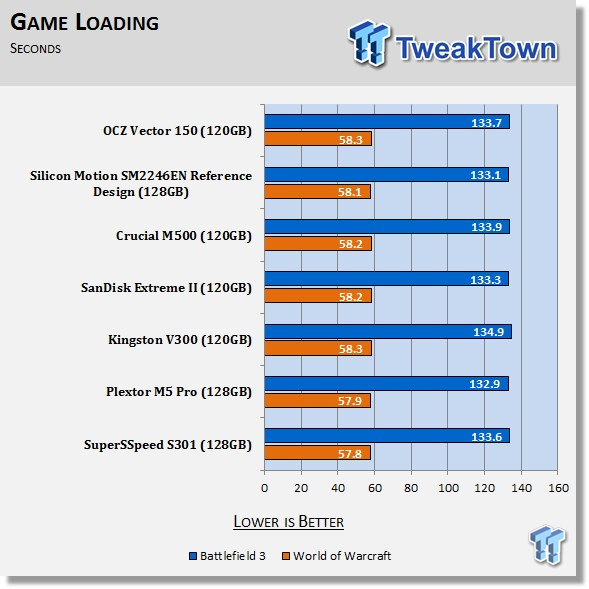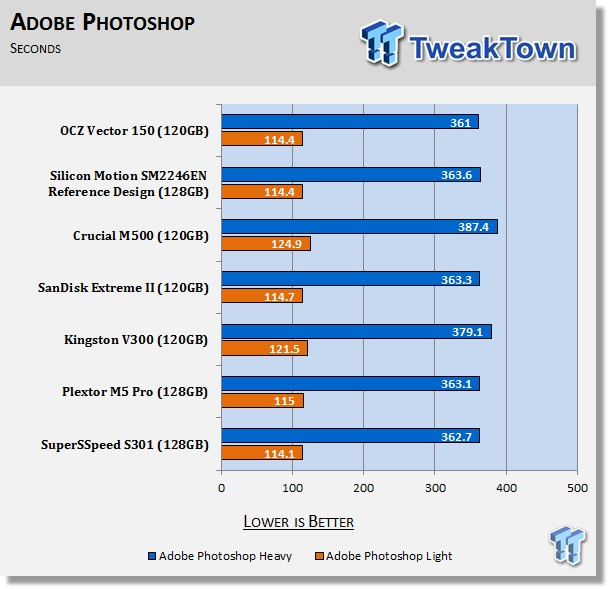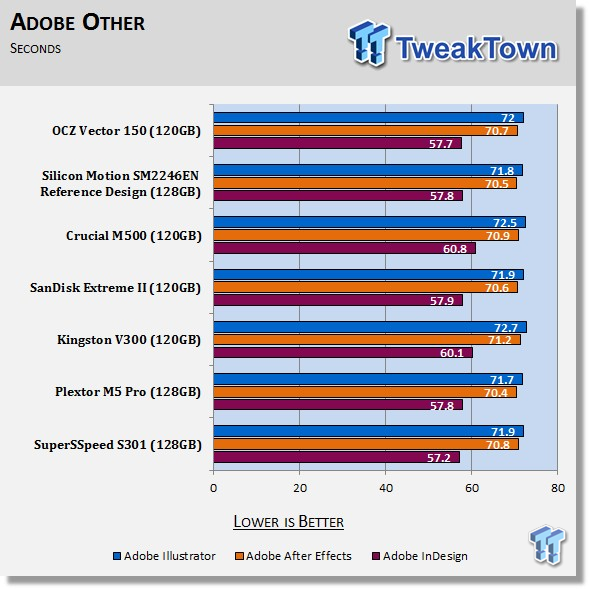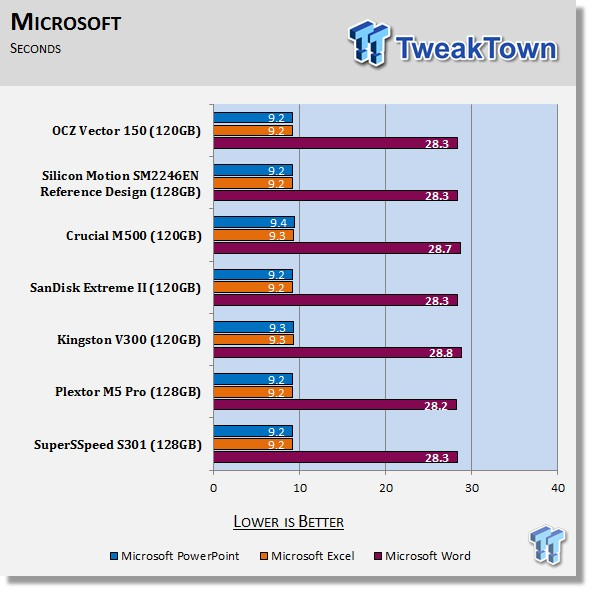 Futuremark's latest version of PCMark is the best to date and shows us how chasing megabytes per second is often misleading. PCMark 8 shows us performance in measurements of time. A tenth of a second here and a tenth of a second there, how many would really notice the difference?
PCMark 8 Storage Bandwidth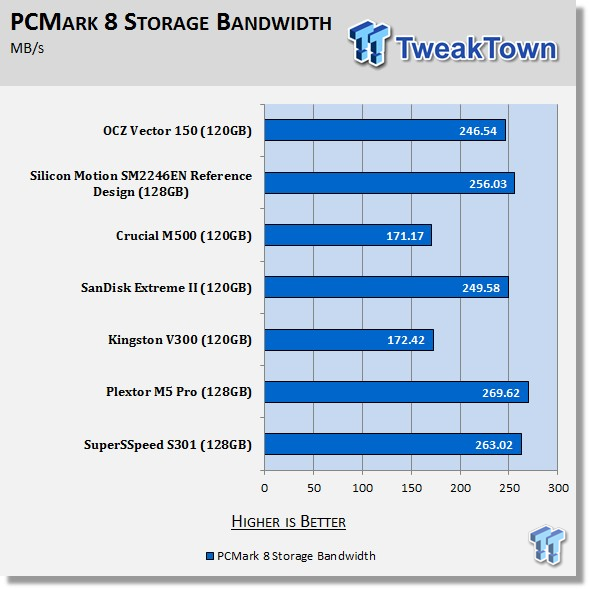 Vector 150 performs well here, but it can be said that nearly all of the drives perform well in these tests. Looking at the MB/s tally, we see a much wider separation than we did when splitting hairs with the time based results.
Benchmarks - DiskBench
DiskBench - Directory Copy
Version and / or Patch Used: 2.6.2.0
Developer Homepage: Nodesoft
Product Homepage: DiskBench
Download here: http://www.nodesoft.com/diskbench/download
Note: In this test we use the Lenovo W530 Mobile Workstation and a SuperSSpeed S301 SLC 128GB SSD to move a 15GB block of data to and from the target drive. This is part of our real-world test regiment. Roughly 45GB of data resides on the target drive before the '15GB Block' is transfer. The 15GB Block is the same data we built for the Data on Disk Testing and is a mix of compressible and incompressible data.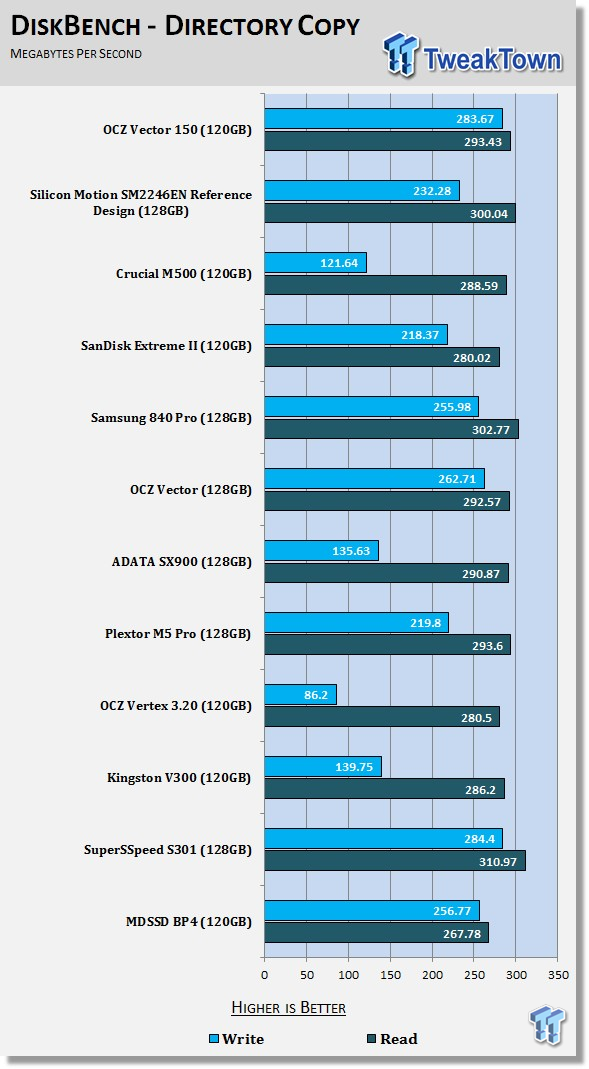 Transferring data to and from your SSD is a different story. Here we actually see the transfer taking place and large files can be a nail biting experience, especially if you are waiting for a transfer before you can leave.
Vector 150 120GB shows the best read and write total with both tasks very close to 300 MB/s.
Benchmarks - Power Testing
Bapco MobileMark 2012 1.5
Version and / or Patch Used: 2012 1.5
Developer Homepage: http://www.bapco.com
Test Homepage: http://www.bapco.com
MobileMark 2012 1.5 is an application-based benchmark that reflects usage patterns of business users in the areas of office productivity, media creation and media consumption. Unlike benchmarks that only measure battery life, MobileMark 2012 measures battery life and performance simultaneously, showing how well a system design addresses the inherent tradeoffs between performance and power management.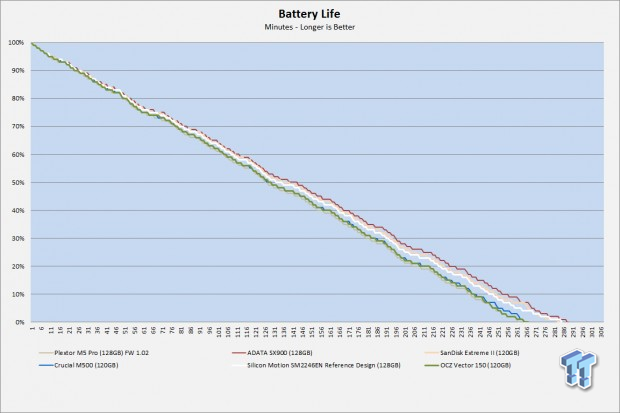 In our notebook battery test, the Vector 150 120GB delivered the same battery life as the Plextor M5 Pro 128GB and Crucial M500 120GB.
We use a 6-cell battery and not the larger Lenovo 9-cell for this test to limit the amount of time needed to perform the test so our results are not compatible with other notebooks, only the other drives in this chart.
Final Thoughts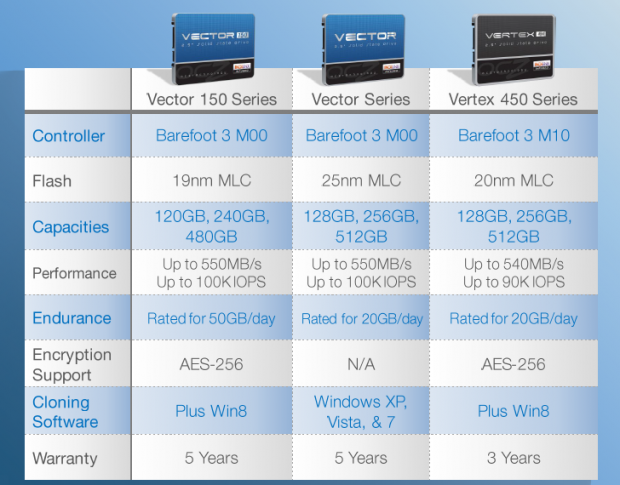 Let's tackle the elephant in the room or at least attempt to. The topic of OCZ's long term, err... are they still going to be around six months from now or not. That's what we need to think about. No company has done more for the consumer SSD market than OCZ, and although we all have a bit of love for OCZ in our hearts, this is a cut throat, dog eat dog world. The big fab companies are ready to kick everyone else out, make this a commodity market like they did DRAM, something OCZ has a little experience with since they were drove out of that market just before going all-in with the SSD market. This is an important topic because OCZ has a five-year warranty and Vector 150 is a premium product that sells at a premium price.
First, let me say I don't like venturing into this area. I'm not a broker, I don't know anything about the markets other than what the papers my broker sends to me each month. Everyone I've spoken with who knows, some even obsess about Wall Street, say that OCZ is done for as the company they are now. Their bank account supports a run until the end of the year and after that the money is gone. The company owes money; some of the loans were taken out with high interest rates. That's not a good sign, it's actually a sign of desperation. OCZ has IP, they even have a controller, although some journalists have doubts if Barefoot 3 is really OCZ or if it's another reworked Marvell, doubt cast after Vertex 4. The problem is the IP and the controller are collateral for the loans, at least as I understand it.
OCZ has a long history of making interesting products. At one time, you couldn't count the number of SSDs on the market at the same time from OCZ with your fingers. Now the company is down to three as we see above, but the original Vector can't have long left due to 25nm flash supply, so two products. Vertex 450 was never a big hit and even today prices of it are well over MSRP at most e-tailers. We have to write Vertex 450 off as a failed product due to the price and that price issue is a result of NAND flash prices.
Now we have Vector 150 with Toshiba Toggle flash. OCZ also introduced an enterprise SSD with Toshiba Toggle flash as well so it looks like Toshiba is willing to sell OCZ flash. Hopefully OCZ can keep the Toggle rolling in at a good price, at least good enough to sell Vector 150 at MSRP or less at e-tailers.
Using Vector 150 120GB as our example, the MSRP is $129.99. I would take a Vector 450 120GB over a Samsung 840 Pro any day of the week because the Samsung drives in that capacity size has awful write latency. The Samsung TLC drives are even worse in this capacity class. Can the superior product dig OCZ out of the hole? The experts all say the same thing - no freaking way it's going to happen. The consensus has been the same for the last six months at least, OCZ does not survive without someone scooping them up, debt and all.
Not long ago we published a RumorTT news post that talked about Toshiba's interest in purchasing OCZ. This would give Toshiba a controller and a fighting chance to challenge Samsung, SanDisk, Crucial, Intel and SK Hynix should SK Hynix get serious about the SSD market. Samsung has controllers, Intel has controllers, Crucial let it slip in an earnings call that they are working on a controller, SK Hynix bought Link_A_Media Devices (LAMD). It's almost a guarantee that SanDisk and Toshiba are working on controllers because that's what fab companies do, they design products that they can also build.
I'm not going to go as far as to say that OCZ can't honor their warranties six months from now, but there are several scenarios that lead to warranties not being honored. Not just that, but future firmware development, a world without OCZ as it is now is a possibility.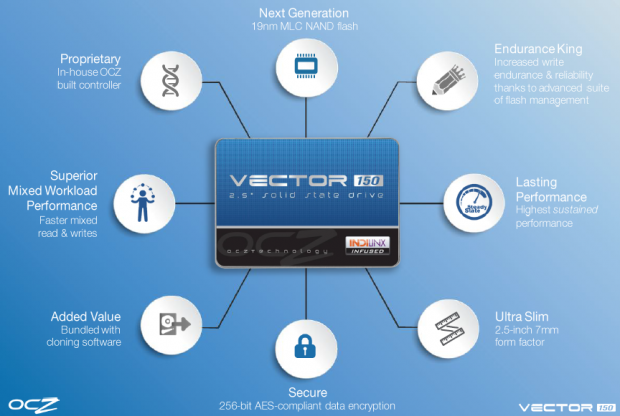 All of that said, Vector 150 in the 128GB capacity class is the best option on the market now. The drive has consistent performance and scores well in all of our performance benchmarks. The issue is the price because there are several SSDs on the market that do well in benchmarks.
That leads us to the features, an area where OCZ sort of missed on a bit. Endurance has increased, but DEVSLP wasn't included. Encryption was added, but not eDrive support for Windows 8/8.1. The OCZ of old would have taken a shovel to the features like fresh snow and packed them all in the drive and then went back for another scoop. Did OCZ send too many engineers packing in the last round of job cuts? I don't know, but you have to wonder since nearly every new SSD on the market supports DEVSLP other than Extreme II and X210, both from SanDisk. eDrive is a little different, it's more of a business feature and Vector 150 is clearly targeted at the enthusiast market. Still, features were left off of the drive and that's something we don't normally come across with OCZ.
However, the new features OCZ did include on Vector 150 make a compelling argument for its purchase. 50GB writes per day in a consumer drive is pretty hefty. Increased mixed workload performance and a focus on steady state performance are all taken straight from the enterprise playbook. Without a doubt Vector 150 is the best 128GB class option right now, but the price is higher than many others and questions about OCZ's warranty should be considered when making your purchasing decision.