OCZ Technology Vector 150 240GB SSD Review
OCZ improves Vector by treating it to 19nm Toggle2 flash, additional spare area, up-to-date accessory package and a new, lower price.
Published Nov 7, 2013 8:38 AM CST
|
Updated Tue, Nov 3 2020 7:00 PM CST
13 minute read time
Introduction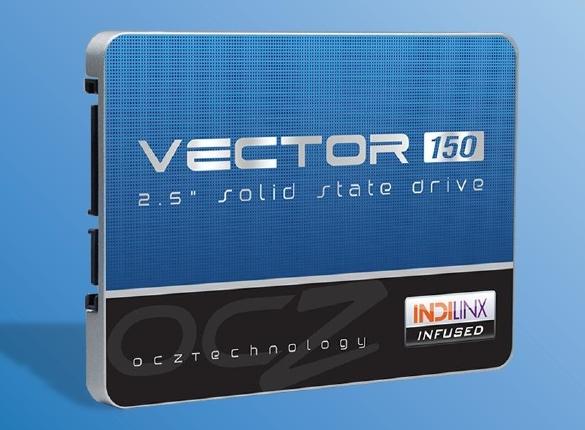 OCZ Technology tipped its hand on Vector 150 when we reviewed the Vertex 450 a few months ago. At the time we didn't speculate on it, but privately I figured this signaled OCZ's move to IMFT 20nm flash. We rang the 20nm flash warning bell since Computex 2012, when we first discovered it was much slower than IMFT 25nm, as used on the original Vector, and Toshiba 19nm Toggle NAND.
It's no real secret OCZ is struggling to purchase flash. In a recent earnings call, the company CEO stated as much, but didn't say who OCZ was having trouble purchasing flash from. With 25nm production ending some time ago, it wouldn't be a stretch to say Micron caused a disturbance in the OCZ supply chain, especially since we know early 20nm yields weren't that great. It's a tough loss, but if you want a performance SSD in 2013, you use Toshiba / SanDisk Toggle2 flash or Samsung... and Samsung are being stingy.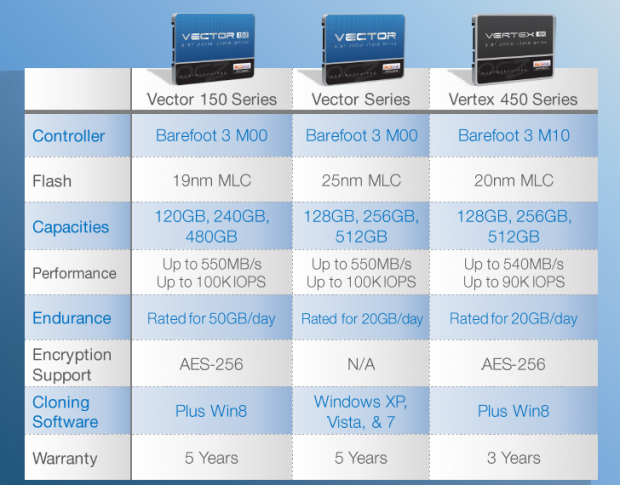 It may taste like a bitter pill, but OCZ's move to Toshiba Toggle2, either by choice or force, is a good thing for the company. Toggle2 not only increases performance on the Vector 150, but it also increases the endurance compared to the original IMFT 25nm Vector.
OCZ made other improvements as well with Vector 150. The new version includes support for AES-256 encryption and an updated version of Acronis that supports Windows 8.
Let's take a look at the full specifications.
Specifications, Pricing and Availability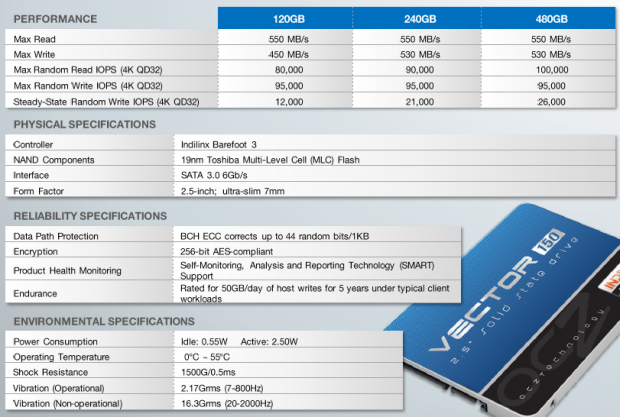 OCZ's in-house Barefoot 3 controller is already the consumer champion when it comes to writing data. The read performance is just behind Samsung's 840 Pro, but only by a small margin in the 256GB capacity class. Read performance degrades when the MLC flash is dirty, but not nearly as much as write performance. If you are choosing between one and the other, I'd take an increase in write performance. OCZ addressed this issue with new steady-state performance numbers. OCZ claims Vector is the new consumer steady state winner, up to 26K IOPS on the 480GB model. It's an impressive number, one that tips on some enterprise SSDs toes.
Vector 150 comes in three capacity sizes. In this review, we're focusing on the 240GB, but later in the day we'll publish a full review of the 120GB capacity size too. The largest capacity size, 480GB will follow as soon as we can source one.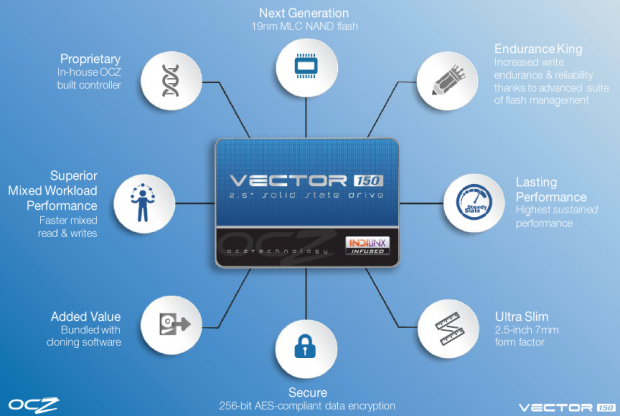 There are several improvements with this new release over the original model. This handy chart above shows some of them, but none are bigger than the endurance claim. The new flash takes Vector 150 to 50GB writes per day for five years. With that level of endurance, Vector 150 is the first consumer SSD I'd consider using for Usenet downloads / decompression.
We've talked a lot about the flash, but the controller hasn't changed much. Not that it needed to either, given the performance of the original version. Toggle2 compatibility is a firmware update. The Indilinx Barefoot 3 controller on Vector 150 is the same M00 revision used on the original Vector. That said, it appears the inclusion of AES-256 encryption was also some type of software update as well.
By the time you read this, Newegg, Tiger Direct, Amazon and others should have Vector 15 listed on e-tail sites. The MSRPs are as follows - 120GB for $129.99, 240GB for $239.99 and 480GB for $499.99. The retail kits ship with a five-year warranty, desktop adapter bracket, screws for mounting, Acronis software key (software downloaded from OCZ's website), paper manuals and a sicker for proclaiming your love for OCZ.
OCZ Vector 150 240GB SSD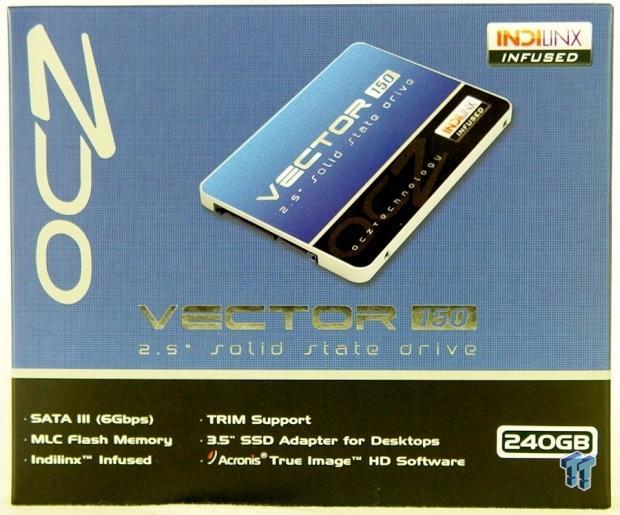 The retail package hasn't changed much since the original Vector. Vector 150 adds the 150 to the label and the rest is pretty much the same.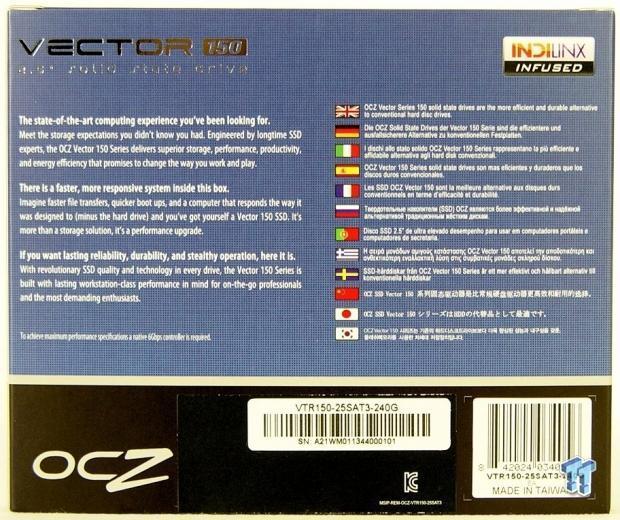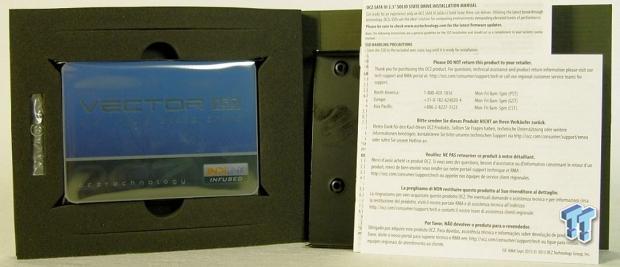 OCZ added a few more paper documents in this release, but other than that, the package is what we call OCZ standard.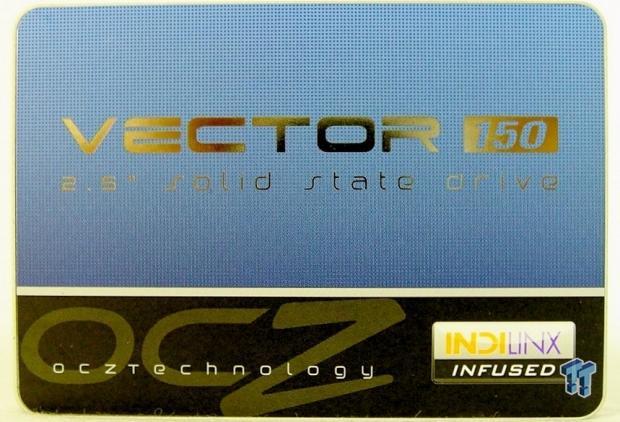 Like the package, the drive hasn't changed much on the outside.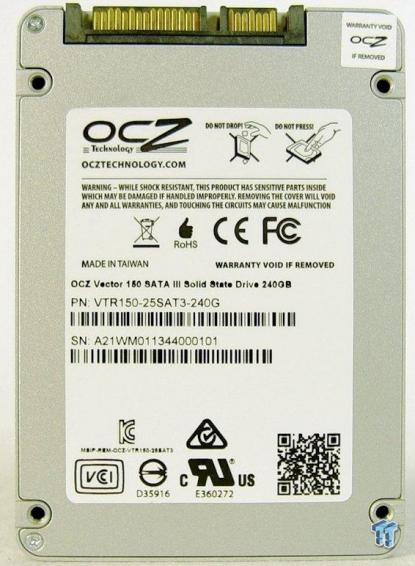 The case is the same 7mm z-height that OCZ used on the previous release. It's heavy for an SSD, but you can feel the quality that went into machining the enclosure.

The slim 7mm height allows Vector 150 to install in several new ultrabook models that 9.5mm notebook standard drives do not fit in. The mounting points are the same, so Vector 150 also fits in regular notebooks and desktops with the included desktop adapter bracket.

The SATA power and data ports are where they should be and the drive is offset in the adapter bracket, making cable installation easier when adding more than one drive to a system.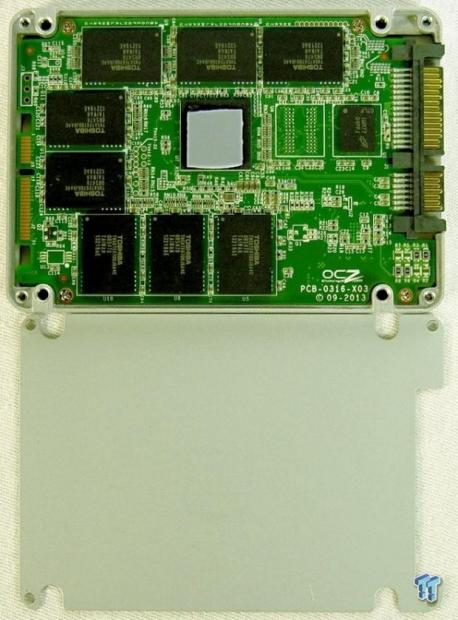 Here is our first shot in the inside of the drive. OCZ uses a thermal pad on the controller.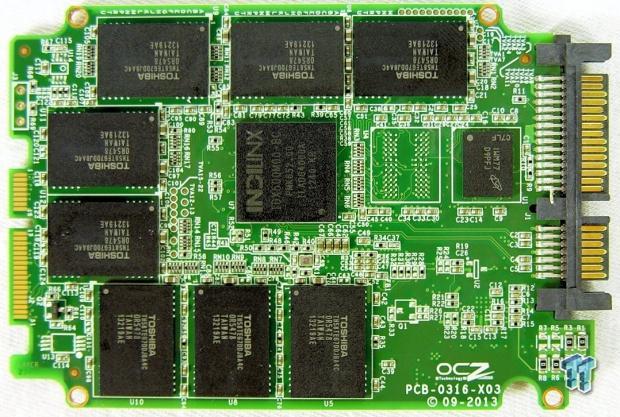 The layout is similar to the first Vector SSDs, but this time OCZ chose Toshiba Toggle2 flash with a BGA package.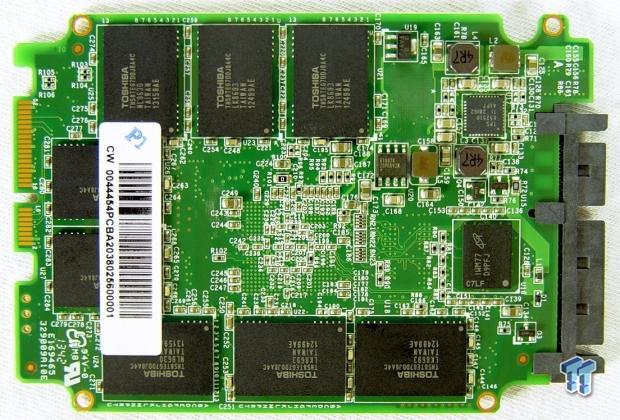 The 240GB drive has 256GB of NAND flash in 16 chips. There are two Micron DRAM packages as well, one on each side.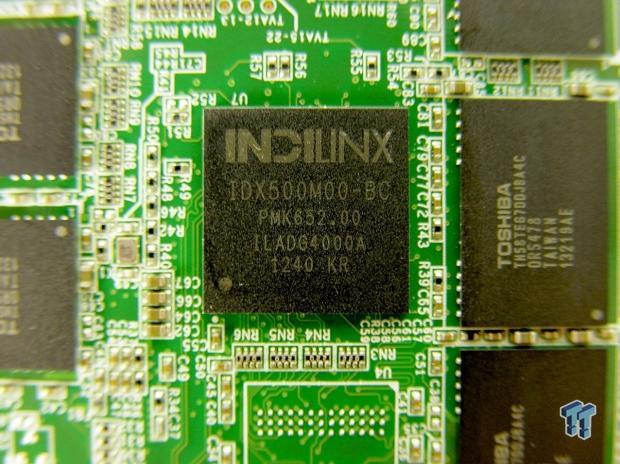 The Indilinx Barefoot 3 is the same as the previous version.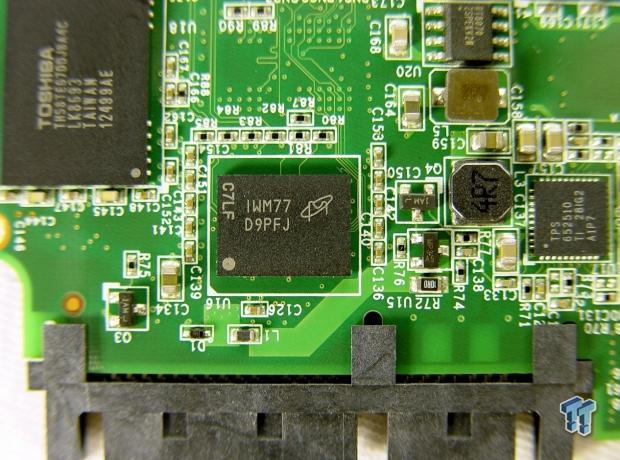 The DRAM is 1.35v DDR3-1600, 256MB each and OCZ has two in the 240GB Vector 150.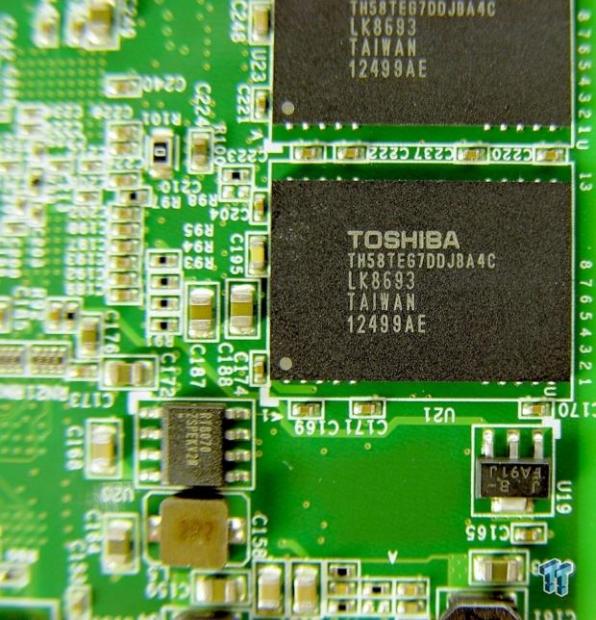 The NAND flash is Toshiba Toggle, 19nm.
Benchmarks - Test System Setup and ATTO Baseline Performance
Desktop Test System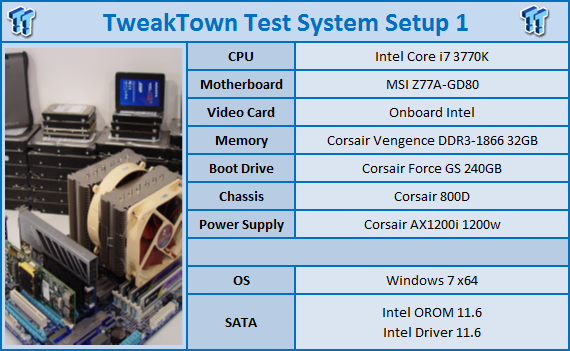 Lenovo W530 - Mobile Workstation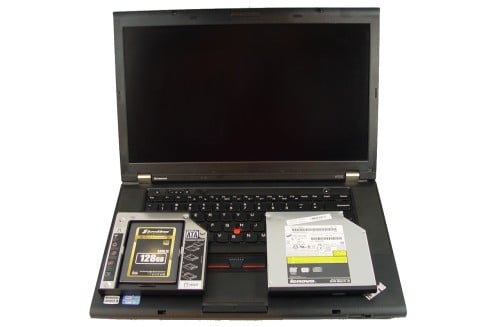 We use two systems for SSD testing. The desktop runs a majority of the tests and the Lenovo W530 runs the notebook power tests as well as the real-world file transfer benchmark.
ATTO Baseline Performance
Version and / or Patch Used: 2.34
ATTO is a timeless benchmark used to provide manufactures with data used market storage products.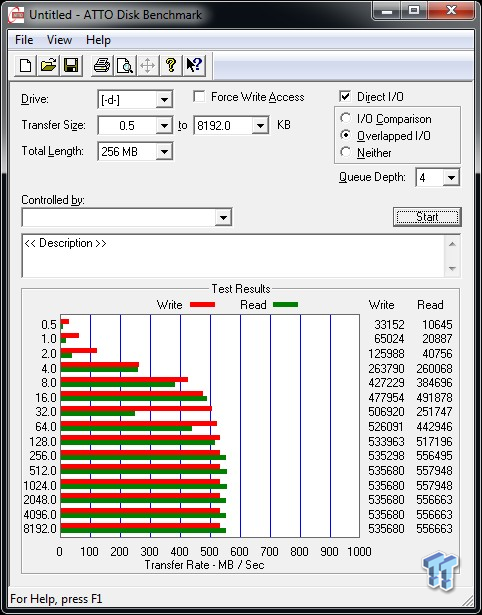 In ATTO, we measured nearly 560 MB/s read and nearly 540 MB/s write speeds at QD4.
Benchmarks - Sequential Performance
HD Tune Pro
Version and / or Patch Used: 4.00
Developer Homepage: http://www.efdsoftware.com
Product Homepage: http://www.hdtune.com
HD Tune is a Hard Disk utility which has the following functions:
Benchmark: measures the performance
Info: shows detailed information
Health: checks the health status by using SMART
Error Scan: scans the surface for errors
Temperature display
HD Tune Pro gives us accurate read, write and access time results and for the last couple of years has gained popularity amongst reviewers. It is now considered a must have application for storage device testing.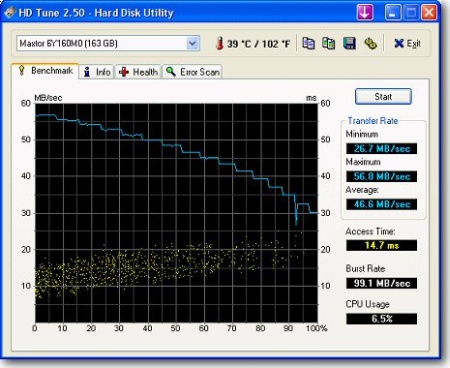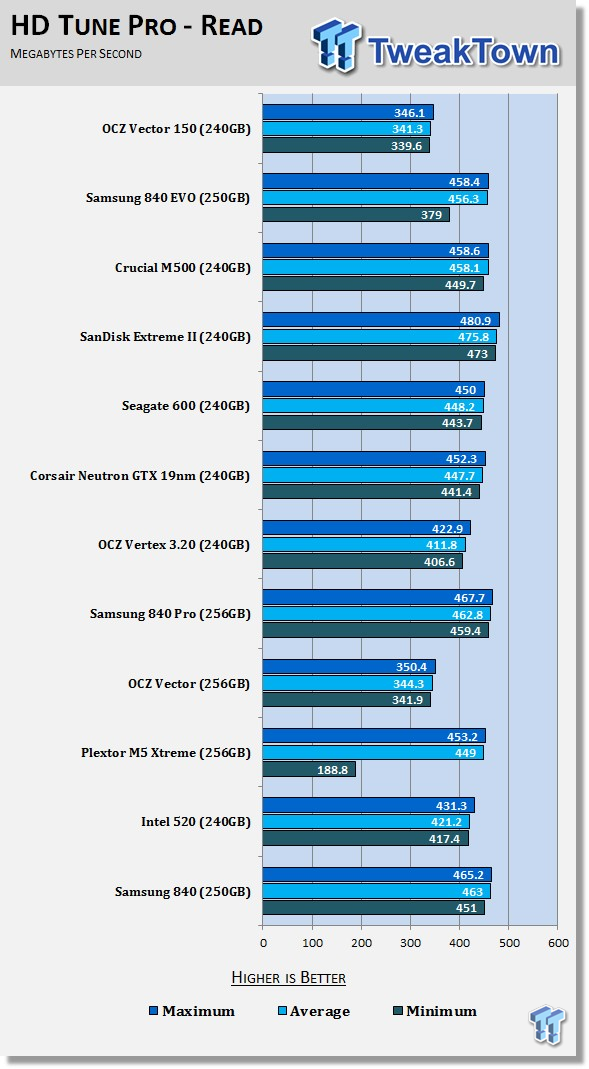 OCZ artificially limits the single queue depth reads and writes so one task can't monopolize the entire bandwidth. This gives the user additional throughput to do two or more tasks at once and the drive will always feel fast. It's a bit like the early dual-core processors when multitasking. It's because of that though, the performance in this benchmark doesn't look all that impressive. We'll use CDM later in this review to see a threaded sequential read and write test.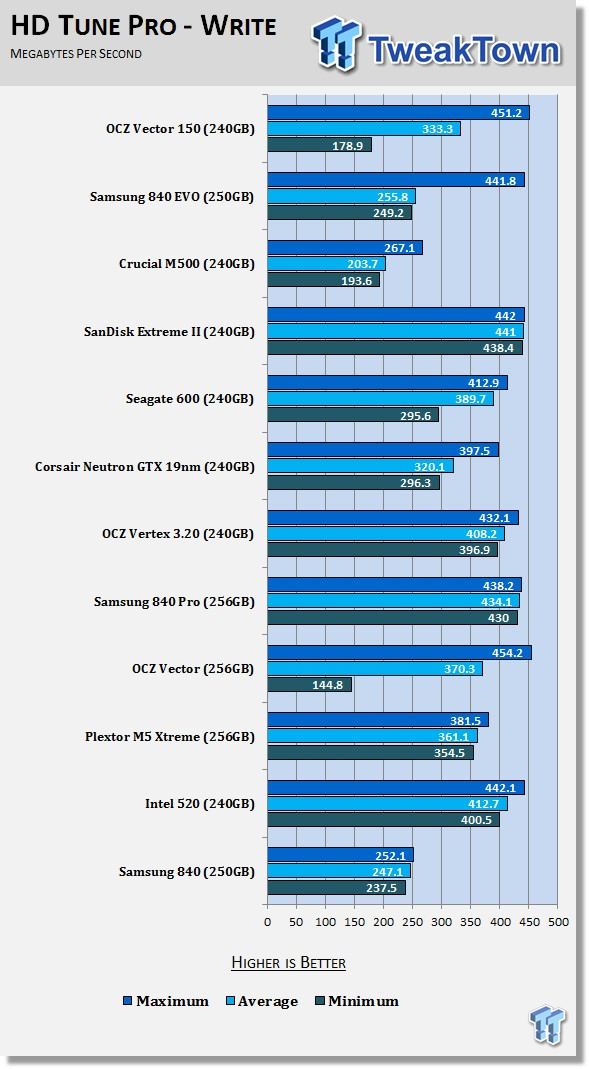 The single queue depth sequential write dips down, but for a different reason. The Vector 150 peaks at 451 MB/s, and that's very close to the record set by the original Vector.
HD Tach - Sequential Write Performance after Random Writes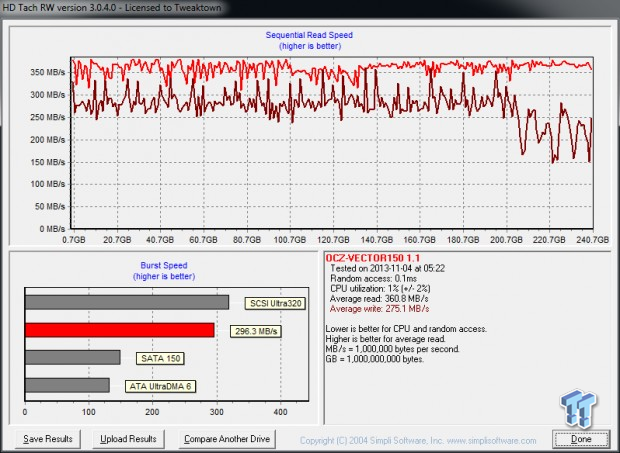 Here we see sequential reads and writes after a reasonable amount of random writes to the drive. Write performance dips down to 150 MB/s in some spots, but TRIM and garbage collection will increase the drive's performance after an idle session.
Benchmarks - AIDA64 Random Access Time
AIDA64 Random Access Time
Version and / or Patch Used: 1.60
Developer Homepage: http://www.aida64.com
Product Homepage: http://www.aida64.com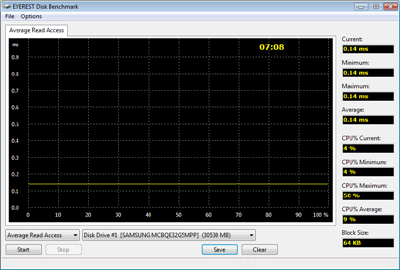 AIDA64 offers several different benchmarks for testing and optimizing your system or network. The Random Access test is one of very few if not only that will measure hard drives random access times in hundredths of milliseconds as oppose to tens of milliseconds.
Drives with only one or two tests displayed in the write test mean that they have failed the test and their Maximum and possibly their Average Scores were very high after the cache fills. This usually happens only with controllers manufactured by Jmicron.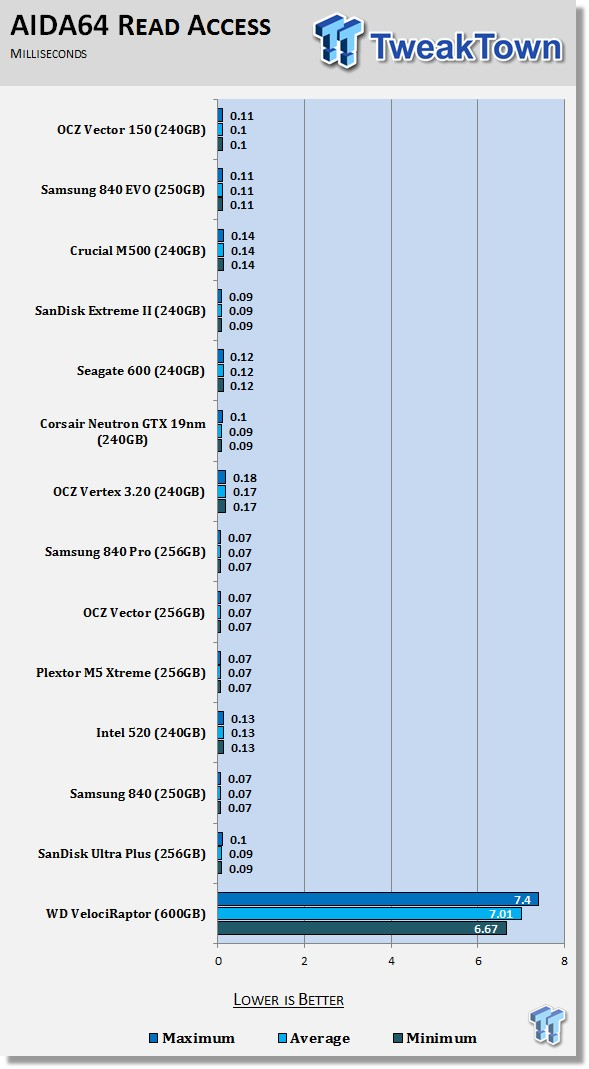 We measured read latency at just .1 ms while wearing the drive down.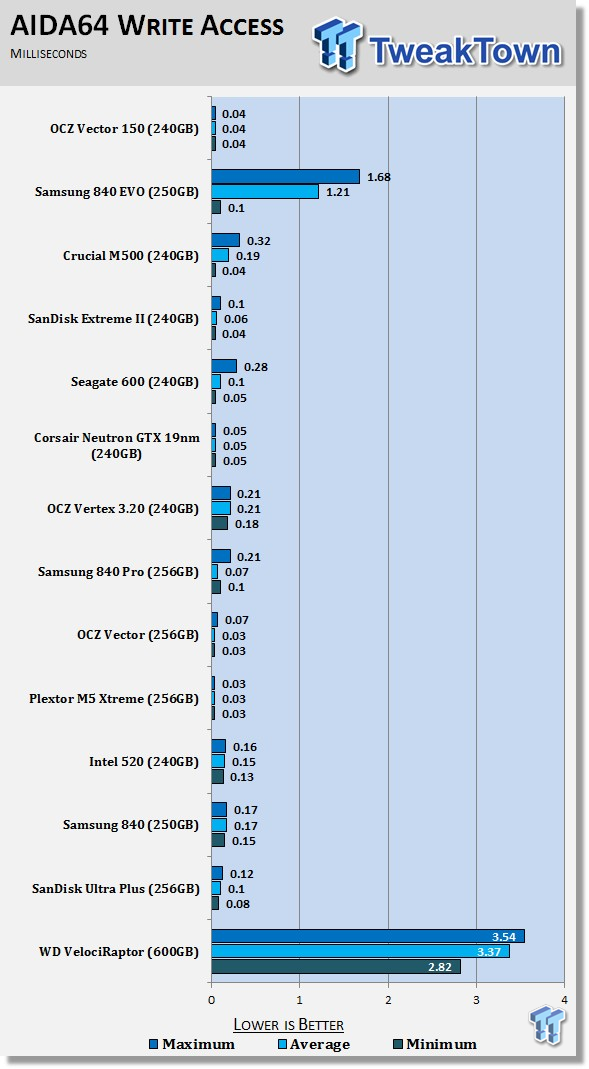 The Toshiba MLC Toggle flash does a good job keeping write latency down. The Samsung 840 EVO gets a lot of attention these days, but TLC flash has a lot of latency, even with Turbo Write.
Benchmarks - Anvil Storage Utilities
Anvil Storage Utilities
Version and / or Patch Used: RC6
So what is Anvil Storage Utilities? First of all, it's a storage benchmark for SSDs and HDDs where you can check and monitor your performance. The Standard Storage Benchmark performs a series of tests, you can run a full test or just the read or the write test or you can run a single test, i.e. 4K DQ16.
Anvil Storage Utilities is not officially available yet but we've been playing with the beta for several months now. The author, Anvil on several international forums has been updating the software steadily and is adding new features every couple of months.
The software is used several different ways and to show different aspects for each drive. We've chosen to use this software to show the performance of a drive with two different data sets. The first is with compressible data and the second data set is incompressible data. Several users have requested this data in our SSD reviews.
0-Fill Compressible Data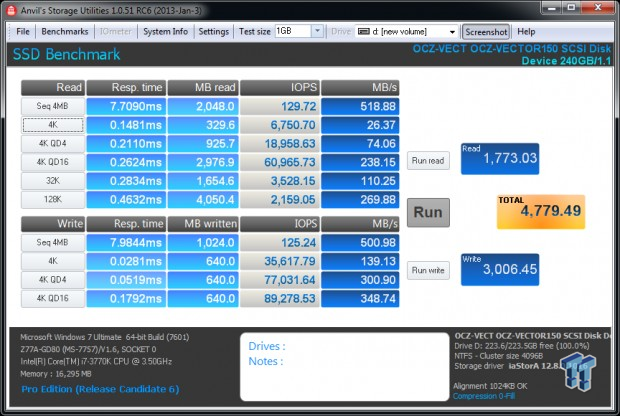 Incompressible Data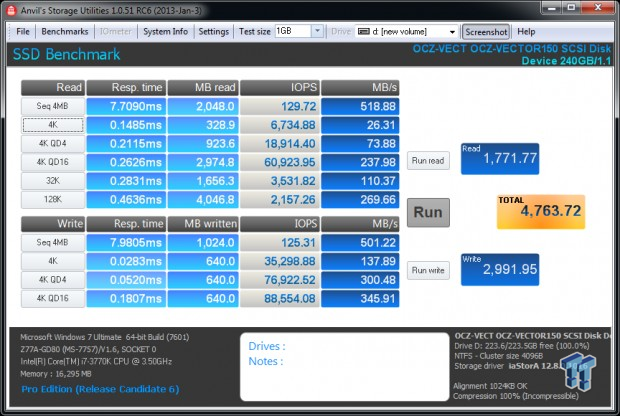 Moving between compressible and incompressible data does not slow the drive, the performance is nearly identical with both types of data.
Read IOPS through Queue Depth Scale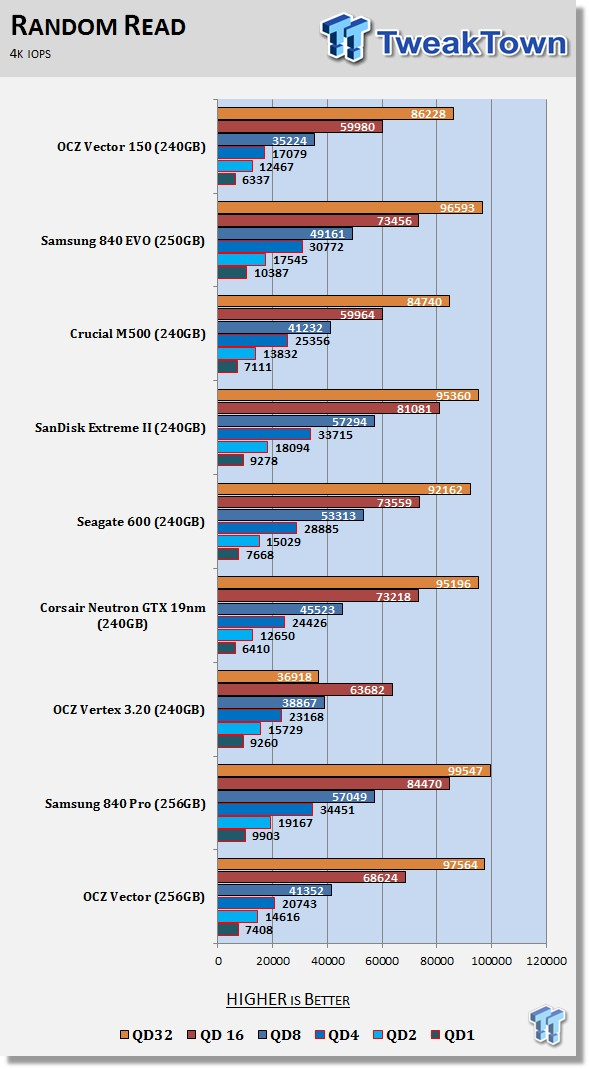 This is one area that really surprised us, low queue depth read and write IOPS performance is actually slower with the Toggle flash paired with the Indilinx Barefoot 3 controller.
Scaling Write IOPS through Queue Scale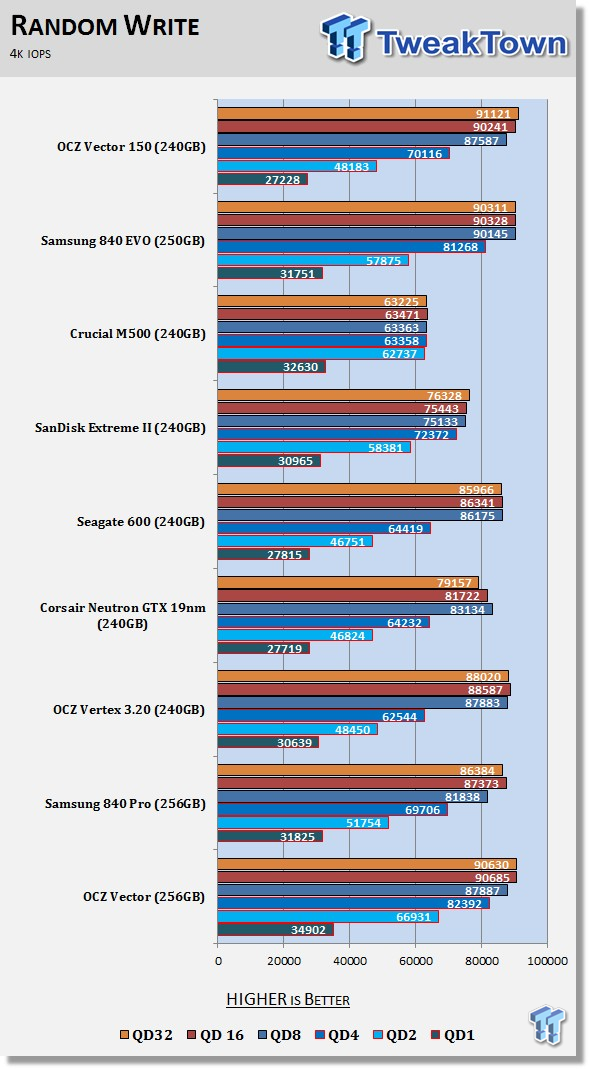 Low queue depth write IOPS performance also decreased slightly, but QD32 write performance increased slightly.
Benchmarks - CrystalDiskMark
CrystalDiskMark
Version and / or Patch Used: 3.0 Technical Preview
Developer Homepage: http://crystalmark.info
Product Homepage: http://crystalmark.info/software/CrystalDiskMark/index-e.html
Download here: http://crystaldew.info/category/software/crystaldiskmark
CrystalDiskMark is a disk benchmark software that allows us to benchmark 4K and 4K queue depths with accuracy.
Key Features:-
* Sequential reads/writes
* Random 4KB/512KB reads/writes
* Text copy
* Change dialog design
* internationalization (i18n)
Note: Crystal Disk Mark 3.0 Technical Preview was used for these tests since it offers the ability to measure native command queuing at 4 and 32.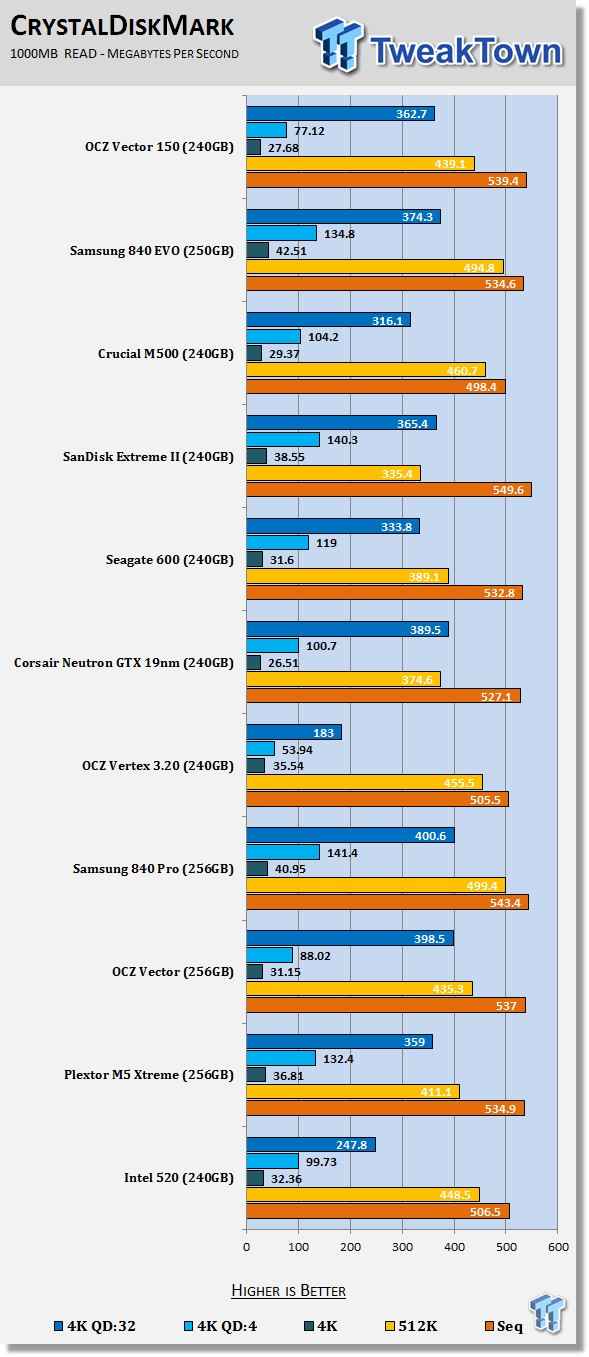 In CDM, we finally get to see threaded sequential reads and writes. Vector 150 delivers nearly 540 MB/s in this sequential test using incompressible data. QD1 4K reads are a little slower between Vector and Vector 150. Again we expected to see an increase in performance with the Toggle flash, but it didn't happen.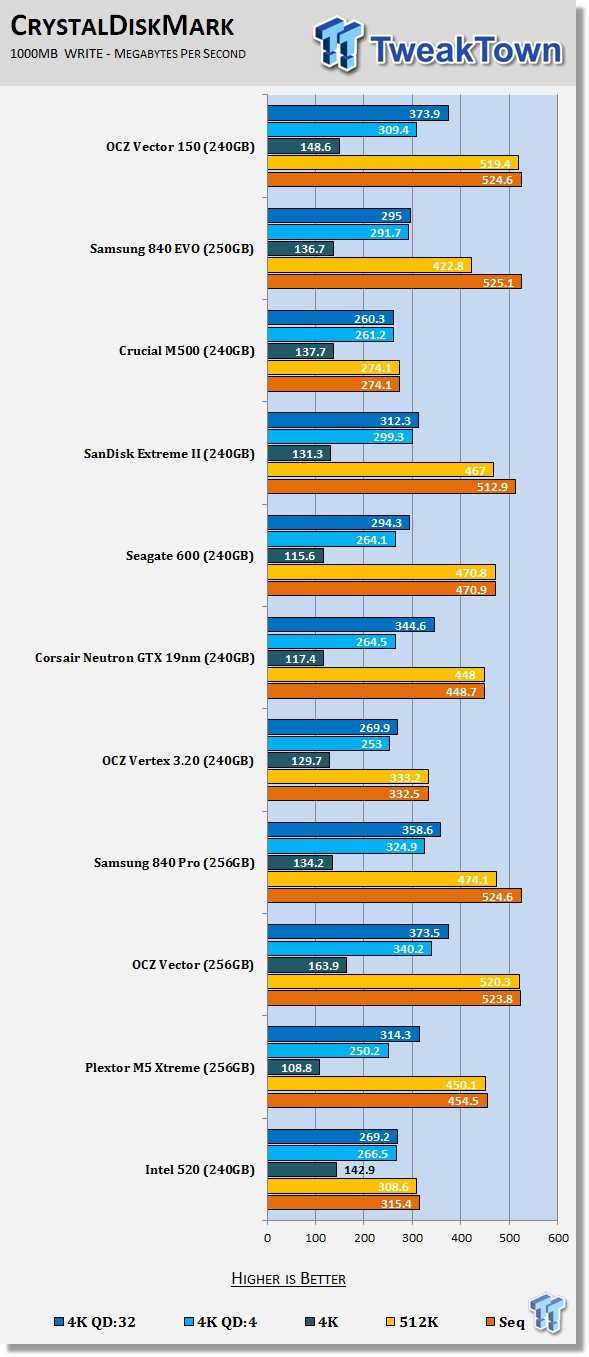 Although the QD1 4K write is a bit slower than the original Vector, the Vector 150 240GB is still faster than anything else on the chart.
Benchmarks - PCMark Vantage Hard Disk Tests
PCMark Vantage - Hard Disk Tests
Version and / or Patch Used: 1.0.0
Developer Homepage: http://www.futuremark.com
Product Homepage: http://www.futuremark.com/products/pcmarkvantage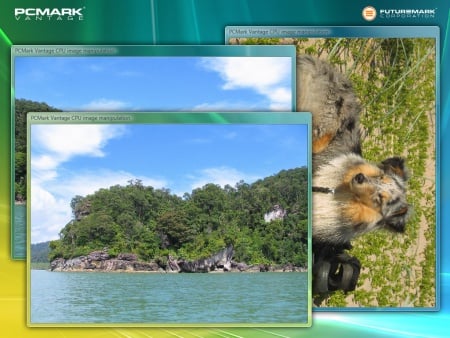 PCMark Vantage is the first objective hardware performance benchmark for PCs running 32 and 64 bit versions of Microsoft Windows Vista. PCMark Vantage is perfectly suited for benchmarking any type of Microsoft Windows Vista PC from multimedia home entertainment systems and laptops to dedicated workstations and high-end gaming rigs. Regardless of whether the benchmarker is an artist or an IT Professional, PCMark Vantage shows the user where their system soars or falls flat, and how to get the most performance possible out of their hardware. PCMark Vantage is easy enough for even the most casual enthusiast to use yet supports in-depth, professional industry grade testing.
FutureMark has developed a good set of hard disk tests for their PCMark Vantage Suite. Windows users can count on Vantage to show them how a drive will perform in normal day to day usage scenarios. For most users these are the tests that matter since many of the old hat ways to measure performance have become ineffective to measure true Windows performance.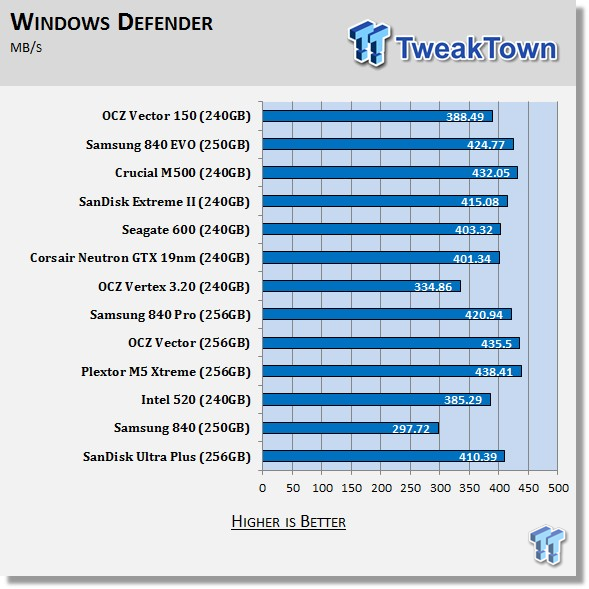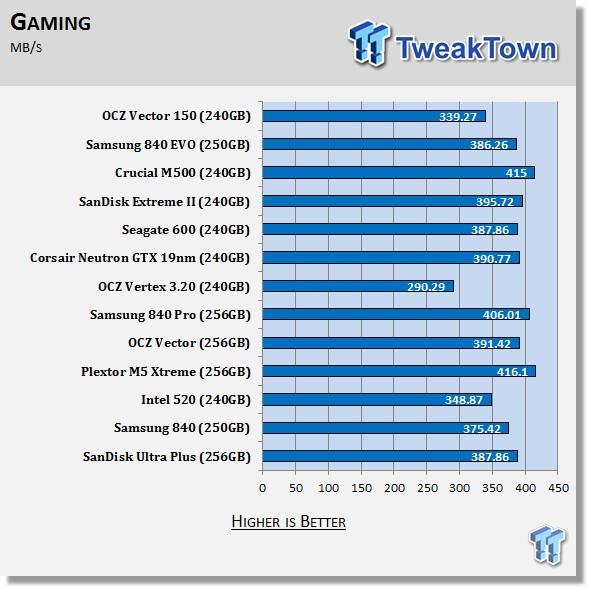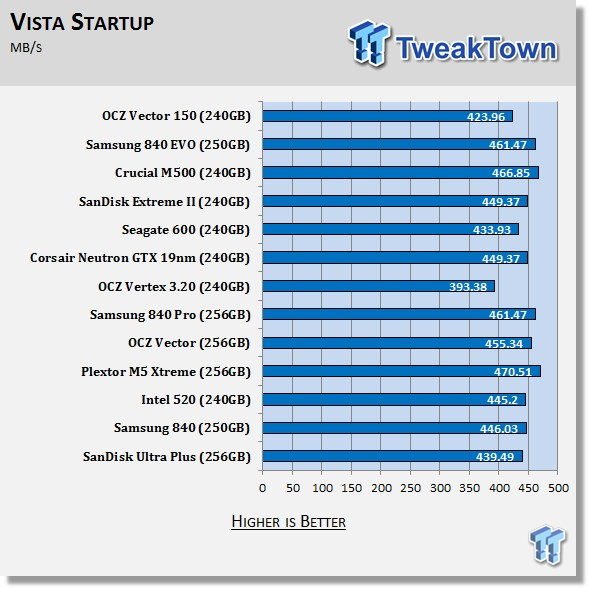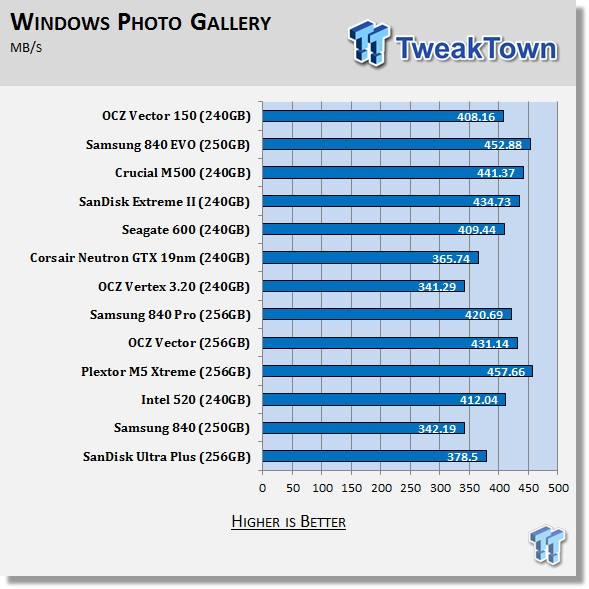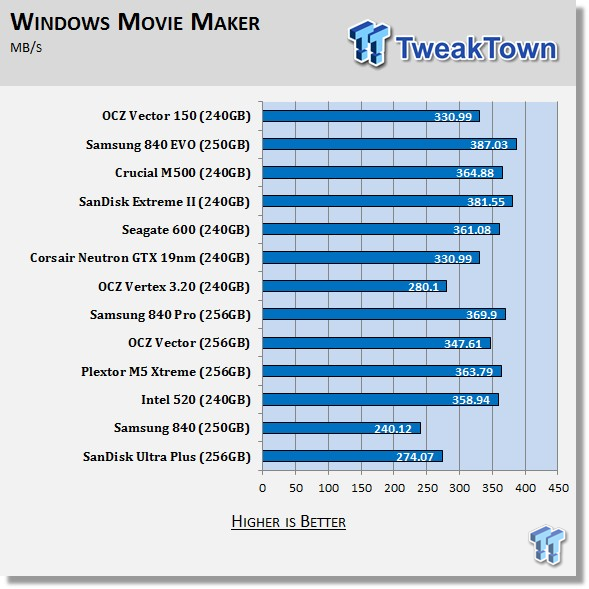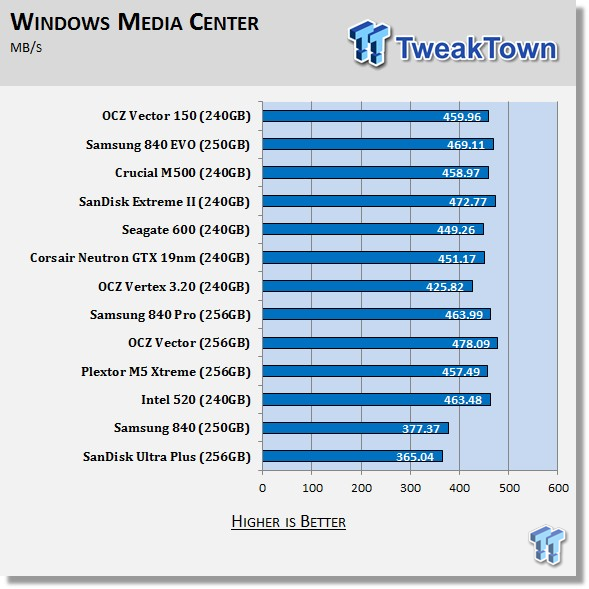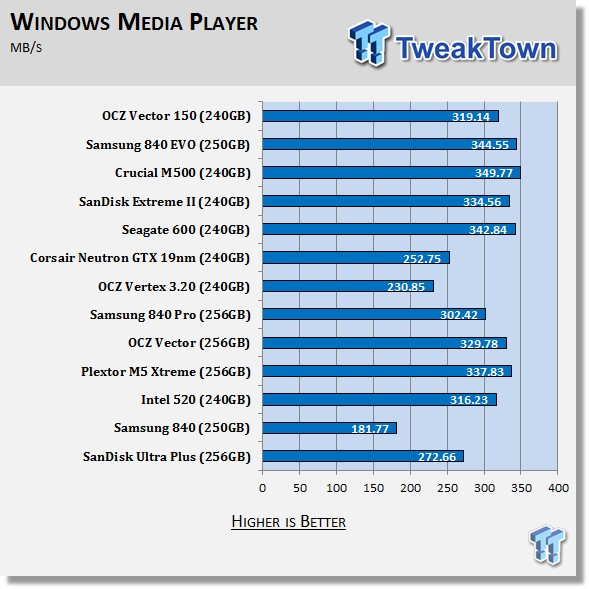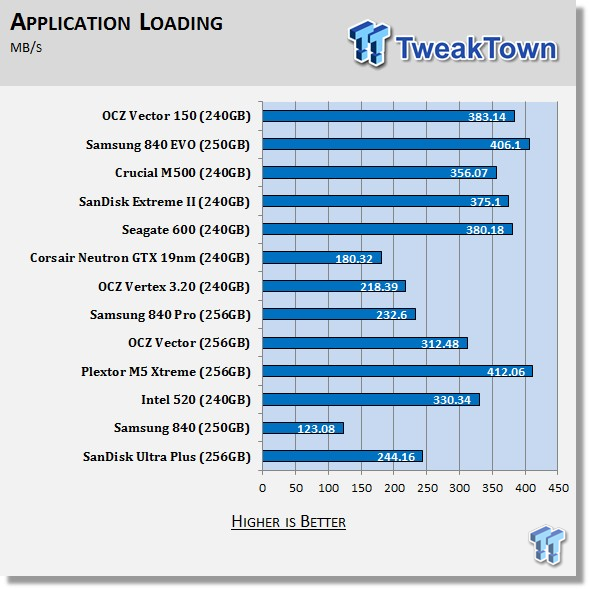 OCZ's sequential read performance trick hurts the drive in Vantage. It's really unfortunate because under real-world conditions, the feature actually increases performance. Trace based tests are good at showing some features and lousy at showing others.
Even with the drive limiting QD1 read performance, Vector 150 is at the top performance point in every test.
Benchmarks - PCMark Vantage - Drives with Data Testing
PCMark Vantage - Drives with Data Testing
For a complete breakdown on the Drives with Data Testing please read this article. You will be able to perform this test at home with the files provided in the article - full instructions are included.
- Brief Methodology
SSDs perform differently when used for a period of time and when data is already present on the drive. The purpose of the Drives with Data testing is to show how a drive performs in these 'dirty' states. SSDs also need time to recover, either with TRIM or onboard garbage collection methods.
Drives with Data Testing - 25%, 50%, 75% Full States and Dirty / Empty Test
Files needed for 60 (64GB), 120 (128GB), 240 (256GB)
60GB Fill - 15GB, 30GB, 45GB
120GB Fill - 30GB, 60GB, 90GB
240GB Fill - 60GB, 120GB, 160GB
Empty but Dirty - a test run just after the fill tests and shows if a drive needs time to recover or if performance is instantly restored.

Here we see Vantage with the drives populated with data. We use the middle bar, 50% of the flash filled, to measure performance.
The Vector 150 240GB loses a little performance here as well to the original drive.
Benchmarks - PCMark 8 Hard Disk Tests
Version and / or Patch Used: 1.0.0
Developer Homepage: http://www.futuremark.com
Product Homepage: http://www.futuremark.com/products/pcmark8
Note: PCMark 8 Storage benchmark is ideal for testing the performance of SSDs, HDDs and hybrid drives. Using traces recorded from Adobe Creative Suite, Microsoft Office and a selection of popular games, PCMark 8 Storage highlights real-world performance differences between storage devices.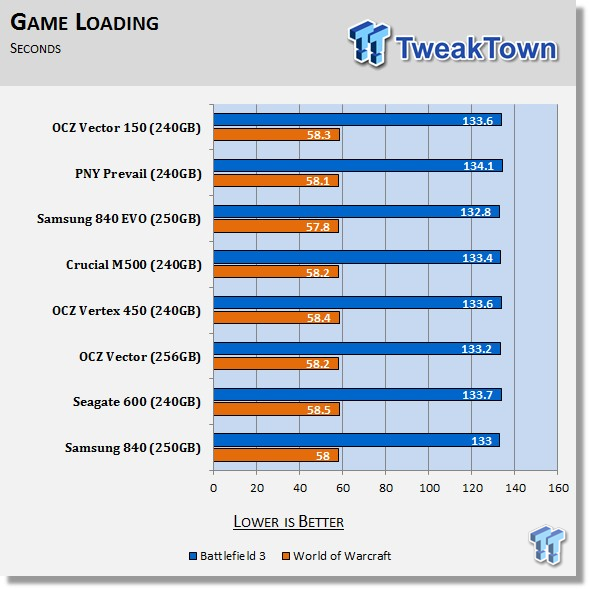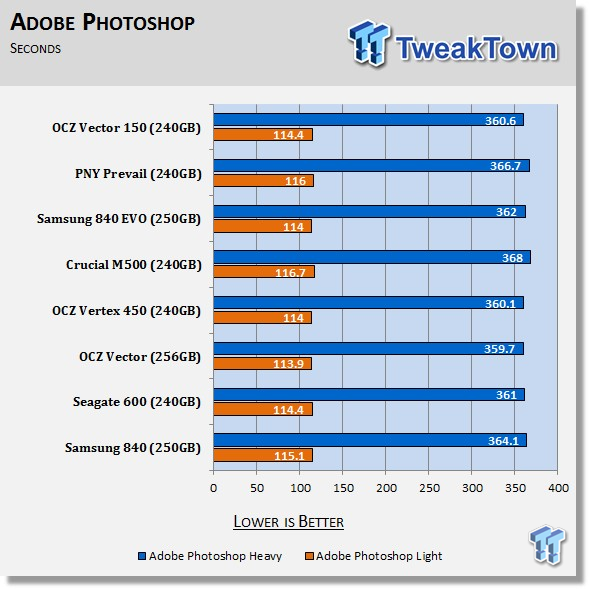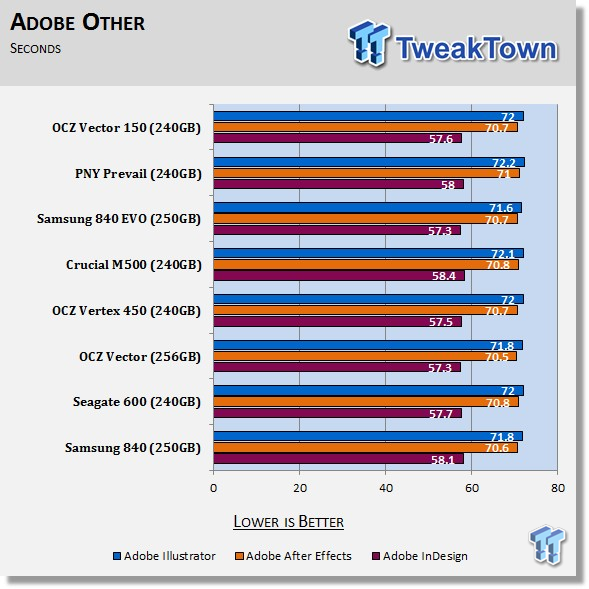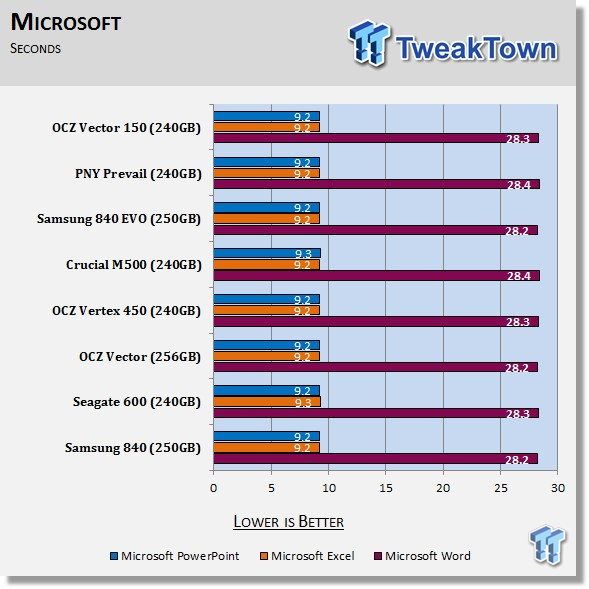 PCMark 8 changed the benchmark game. The tests are reported in tenths of seconds and it really goes to show just how close the drive's performance is these days, at least in the top tier.
PCMark 8 Storage Bandwidth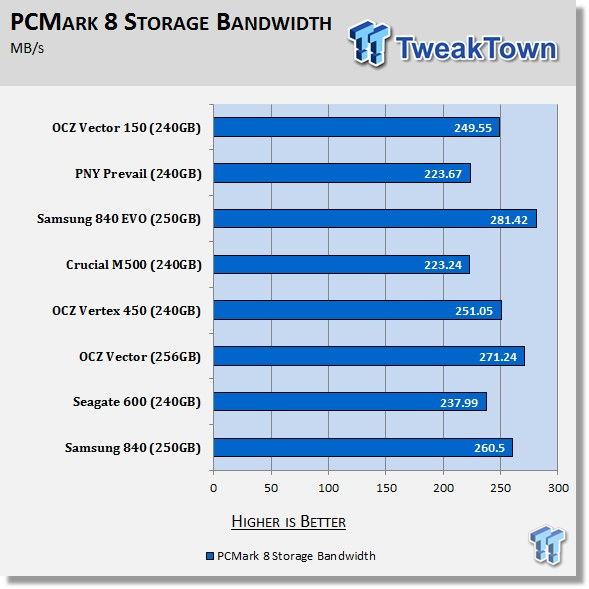 Here we see the average speed in megabytes per second. The differences can be fairly large, even though we are literally chasing hundredths of a second in each task.
Benchmarks - DiskBench
DiskBench - Directory Copy
Version and / or Patch Used: 2.6.2.0
Developer Homepage: Nodesoft
Product Homepage: DiskBench
Download here: http://www.nodesoft.com/diskbench/download
Note: In this test we use the Lenovo W530 Mobile Workstation and a SuperSSpeed S301 SLC 128GB SSD to move a 15GB block of data to and from the target drive. This is part of our real-world test regiment. Roughly 45GB of data resides on the target drive before the '15GB Block' is transfer. The 15GB Block is the same data we built for the Data on Disk Testing and is a mix of compressible and incompressible data.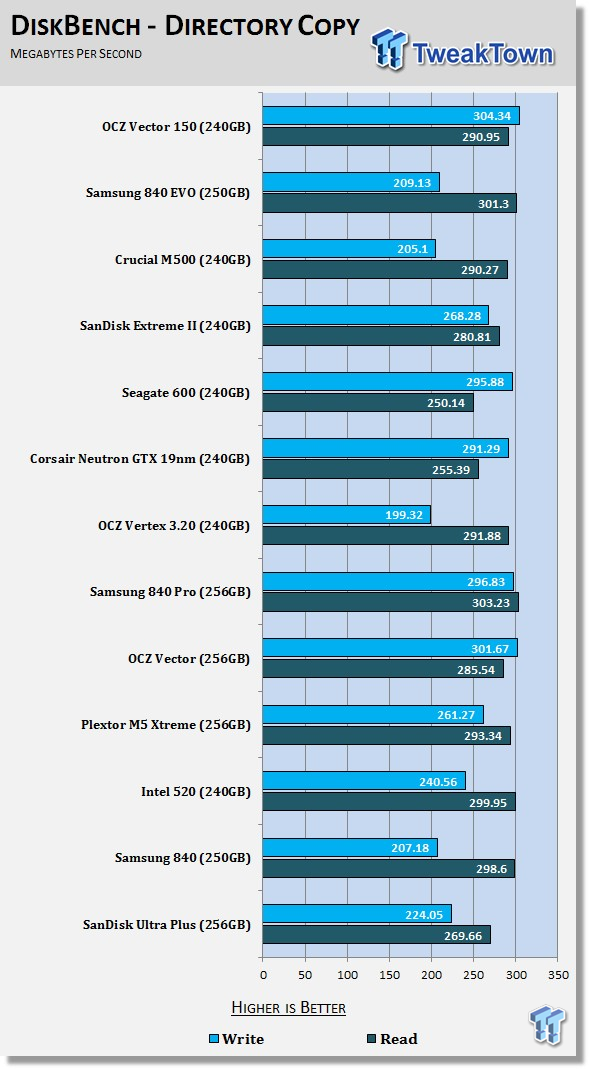 Many of us copy data to and from our SSDs and it's always amazes me just how fast SSDs are compared to mechanical drives.
Here we see Vector 150 outperforming the original Vector and for that matter, nearly everything else on the chart too.
Benchmarks - Power Testing
Bapco MobileMark 2012 1.5
Version and / or Patch Used: 2012 1.5
Developer Homepage: http://www.bapco.com
Test Homepage: http://www.bapco.com
MobileMark 2012 1.5 is an application-based benchmark that reflects usage patterns of business users in the areas of office productivity, media creation and media consumption. Unlike benchmarks that only measure battery life, MobileMark 2012 measures battery life and performance simultaneously, showing how well a system design addresses the inherent tradeoffs between performance and power management.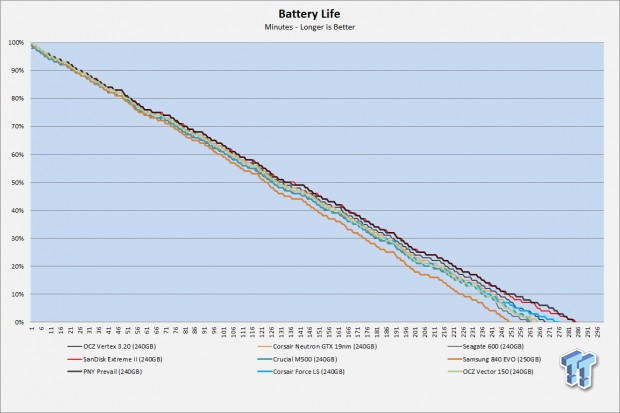 There are some features that OCZ didn't implement that we were a bit surprised by. DEVSLP is all the rage right now with Haswell based notebooks and ultrabooks, but OCZ's specification sheet didn't mention it as a feature.
Vector 150 kept our notebook running for 266 minutes in our battery life test using a small, six-cell battery. This is right in the middle of pack for the drives on the chart.
Final Thoughts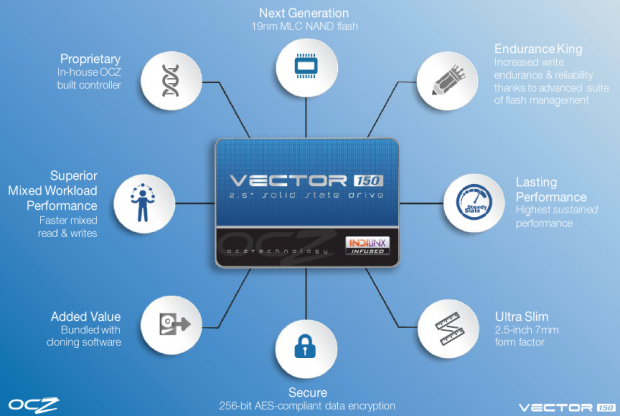 So, where does Vector 150 land in the grand scheme of things? Compared to the previous version when it comes to benchmarks, the two drives are nearly identical. Some benchmark wins go to the older model, and some to the new Vector 150 model. When it comes to the feature set, Vector 150 is a superior product. The real question issue though has nothing to do with OCZ at all, but with the fab companies who are pushing prices to new lows.
When it comes to performance, Vector and Vector 150 are very close and it really depends on the application. When it comes to real-world performance, no one really cares because we're talking about hundredths and thousandths of a second. The SATA 3.0 spec only allows for so much and we've been butting up against that maximum so much for a while now. TRIM and garbage collection keep performance high after some a bit of idle time, but as with all SSDs, they slow slightly when you keep a lot of data on them. I suggest purchasing the next size up from what you will use to ensure you drive stays fast all of the time.
Feature wise, Vector 150 has a leg up on the previous Vector and over many SSDs on the market today. The 50GB writes per day for five years is a great feature. We shy away from telling readers to use SSDs for Usenet, but Vector 150 is one of the first consumer SSDs we would actually recommend. The only SSD I've managed to kill from real use was a Usenet target drive, but it's pretty rare for me to go through 50GB a day. That would be equivalent of a Blu-Ray ISO per day. 256-big AES compliant encryption is also a great feature if you use Wave or other supported software.
Another feature OCZ briefed us on, but we didn't discuss today is sustained performance over time. Our next revision of the TweakTown test suite is nearly complete, but we're still a couple of weeks out due to validation time. We know how other drives perform using SNIA's methodology. If OCZ's claims of 21K IOPS in steady state hold true for the 240GB model, then Vector 150 is knocking on the door of several enterprise drives costing much.
Cost - now we're getting to what really matters to many end users. At $239.99, the Vector 150 240GB is not cheap and most likely will never compete with the Samsung 840 or 840 EVO that have taken a large chunk of market share. OCZ previously had a large section of the consumer SSD market share, but that dropped to a sliver of what it once was. A report released from DigiTimes says NAND flash prices will fall due to less demand. The same story goes as far as predicting a NAND flash oversupply in 2014. On one hand this is good news for OCZ, they can purchase NAND flash and make drives, but at the same time, companies that can make NAND and drives won't hold the drives in warehouses, they will sell them at reduced prices. OCZ is getting caught outside with a tornado headed its way. That tornado is Samsung and although Vector 150 has many superior features, the price will be higher.
Stay tuned, we'll have a review of Vector 150 120GB published on TweakTown in a couple of hours.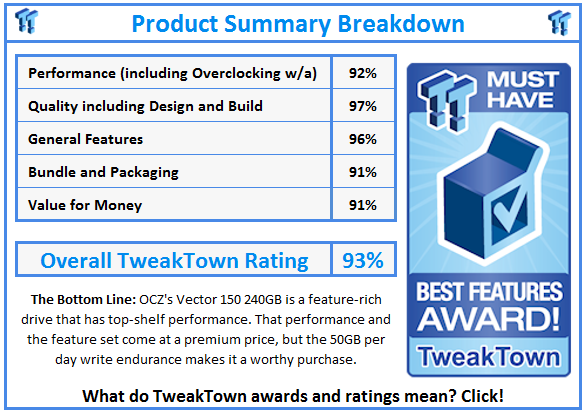 PRICING: You can find products similar to this one for sale below.

United States: Find other tech and computer products like this over at Amazon.com

United Kingdom: Find other tech and computer products like this over at Amazon.co.uk

Australia: Find other tech and computer products like this over at Amazon.com.au

Canada: Find other tech and computer products like this over at Amazon.ca

Deutschland: Finde andere Technik- und Computerprodukte wie dieses auf Amazon.de
We openly invite the companies who provide us with review samples / who are mentioned or discussed to express their opinion. If any company representative wishes to respond, we will publish the response here. Please contact us if you wish to respond.