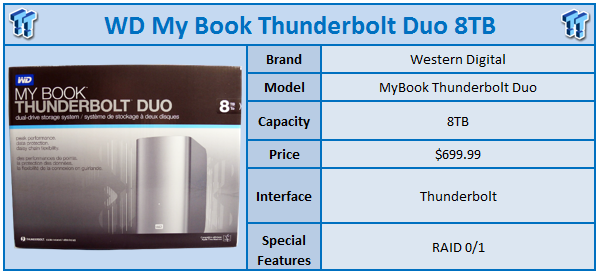 There is certainly no doubt that Western Digital offers some of the most unique and highest performing external storage solutions on the market. A number of years back, Western Digital launched on of my favourite products, the My Book.
Today, we have in house the latest My Book external storage solution from Western Digital, in the form of the My Book Thunderbolt Duo. The Thunderbolt Duo is available in capacities ranging from 4TB to 8TB with a focus on digital professionals working within Mac OS X. That is to say compatibility of this unit as far as WD is concerned is with Mac OS X. Warranty for the Thunderbolt Duo is listed at five years.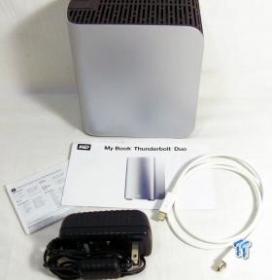 The scope of delivery includes the power adapter, Thunderbolt cable, along with user and warranty information.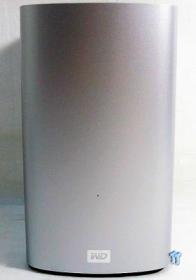 The front of the Thunderbolt Duo shares that same "book" design concept that has always came with the My Book line-up. Though this time WD has colored it silver to appeal to Macintosh users.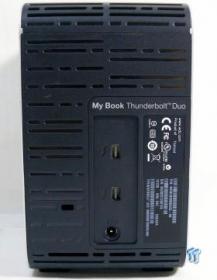 The back of the Thunderbolt Duo includes dual Thunderbolt ports for daisy chaining devices, and the power.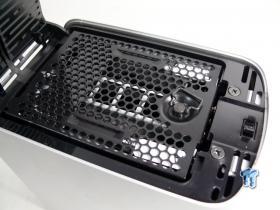 Opening the top of the unit, you will find the internal drives easily accessible should have a drive failure or need to swap drives.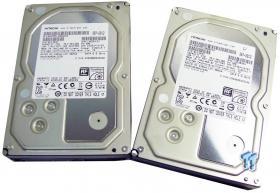 Internally, we found our review sample to use Hitachi HDDs.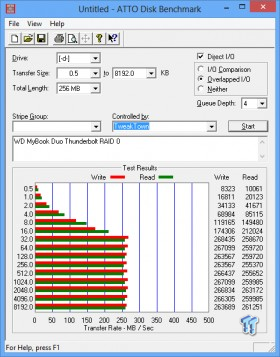 Here we have a few initial tests ran on our Windows test bench. Starting with ATTO, where we see the Thunderbolt Duo in RAID 0 coming in at 263 MB/s read and 267 MB/s write.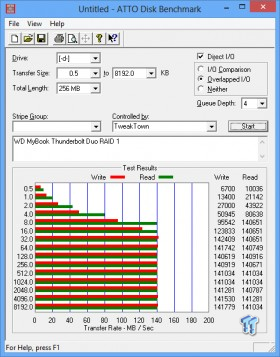 RAID 1 allowed us 141 MB/s read and 141 MB/s write.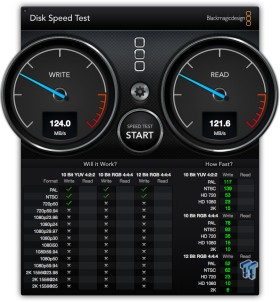 Moving over to Mac OS X 10.8.5, we start with Disk Speed Test. Here we have 121 MB/s read and 124 MB/s write in RAID 1.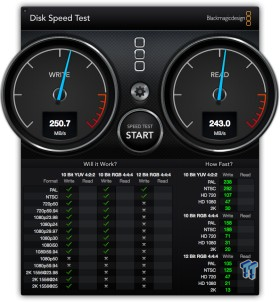 Switching to RAID 0, the performance increased to 243 MB/s read and 250 MB/s write.
The WD My Book Thunderbolt Duo in the 8TB capacity tested here today carries a good deal of quality within its build. Thanks to the internal tray and frame being made of steel, this offers a bit of rigidity to the entire unit. Adding to this, the heft of the included 4TB drives and again you have something that looks good and stays quite well and firm on your desktop.
Performance of the unit was quite good as well, where we found RAID 0 speed upwards of 250 MB/s and RAID 1 near 150 MB/s. Keep in mind that the unit does not officially support Windows, and as such the result found within this review in Windows involves installing additional SATA controller drivers. Again, as this device does not officially support Windows, WD assumes no responsibility for issues found within Windows.
At the time of writing, the WD My Book Thunderbolt Duo is listed in three capacities. The 4TB model comes in $549.99, while the 6TB and 8TB models come in at $599.99 and $699.99, respectively.