Seagate Desktop 2TB SSHD (ST2000DX001) Review
The Desktop SSHD from Seagate effectively outperforms every mechanical drive on the market, all while maintaining a competitive price point.

Published
6 minute read time
Introduction and Specifications, Pricing and Availability

A few months back, Seagate announced the launch of its third generation SSHD. While most of the fame went towards the Laptop Thin SSHD, with several tech sites, including TweakTown getting the opportunity to review the drive, at the same time a desktop variant was announced.
Now that most of the initial hype around the Laptop Thin SSHD has passed, I thought it was only right to bring our readers the first official review of the Seagate Desktop SSHD in the 2TB capacity.
The desktop variant of the SSHD combines the best features of both the Laptop SSHD and Desktop HDD, where we have the same 8GB of NAND flash found in the SSHDs of today, together with the full 7200RPM spindle speed of the Desktop HDD.
Initial capacities of the Desktop SSHD start at 1TB with an additional 2TB capacity available, but I wouldn't put it past Seagate to launch a 4TB monster in the near future.
Specifications, Pricing and Availability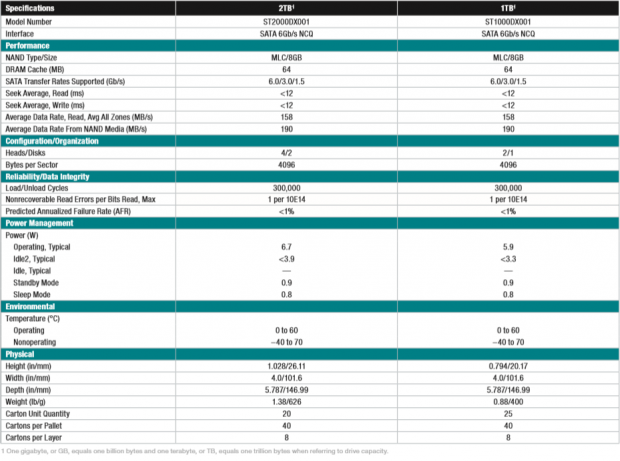 Specifications of the Seagate Desktop SSHD lists the drive in both 1TB and 2TB capacities. Each of these drives offer 8GB of NAND flash and 64MB of DRAM cache. Additionally, these drives support all three generations of the SATA protocol.
Average data rate is listed at 158 MB/s from the platters and 190 MB/s from the cache with a 4/2 head to platter ratio for the 2TB model and 2/1 head to platter ratio for the 1TB model. Typical operating power is listed at 6.7 watts with an idle power consumption of 3.3 watts.
Pricing of the 2TB Seagate Desktop SSHD is set at $139.99, while the 1TB model is available for $99.99. Each drive is covered by Seagate's three-year warranty.
Seagate Desktop 2TB SSHD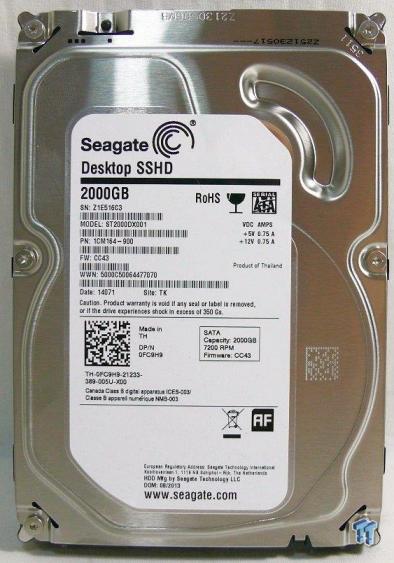 Our review sample of the Seagate Desktop SSHD was delivered in its bare form. At the top the capacity is listed at 2000GB with firmware revision CC43.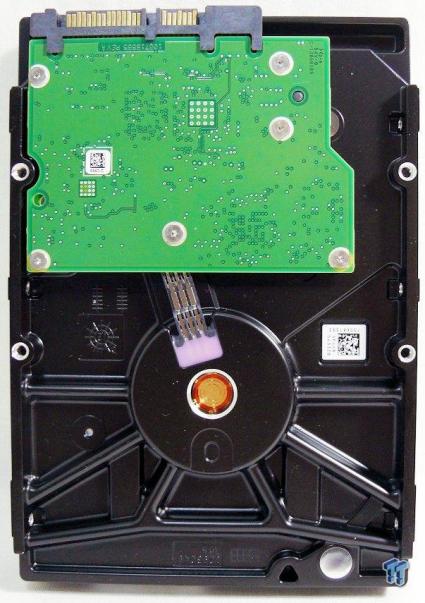 The back of the drive houses the typical green PCB that we are used to seeing on Seagate Desktop variants.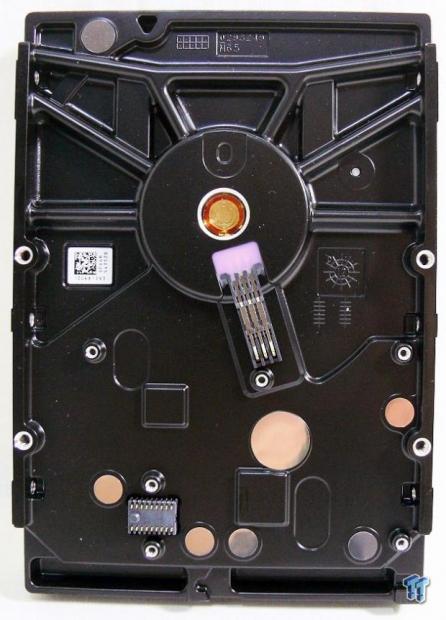 Removing the PCB, we find two sets pins for connecting both the drives head and PCB.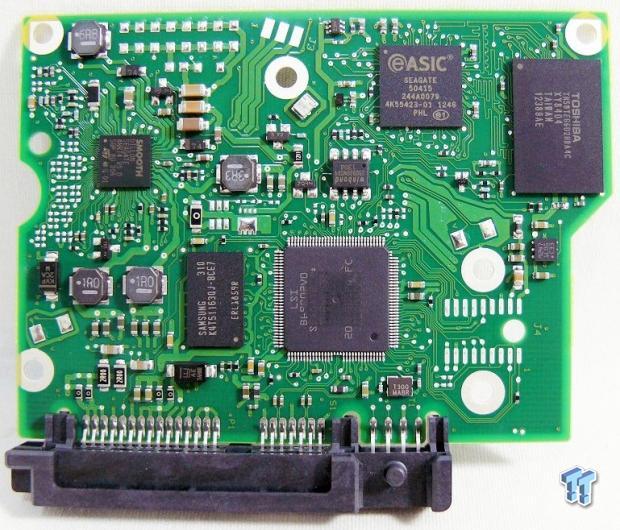 The PCB houses the LSI drive controller, with the 64MB of DRAM cache manufactured by Samsung, and to the top, we have the eASIC FSP with 8GB of Toshiba NAND flash.
Benchmarks - Test System Setup and ATTO Baseline Performance
Desktop Test System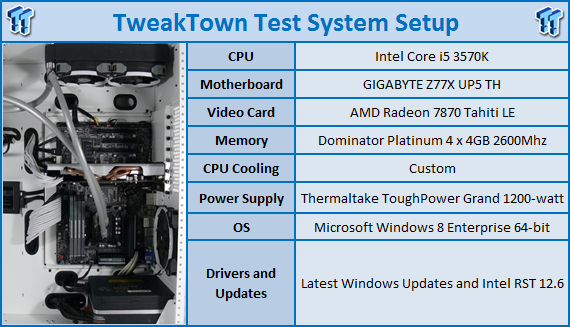 ATTO Baseline Performance
Version and / or Patch Used: 2.34
Many disk manufacturers, to determine the read and write speeds that will be presented to customers, use ATTO.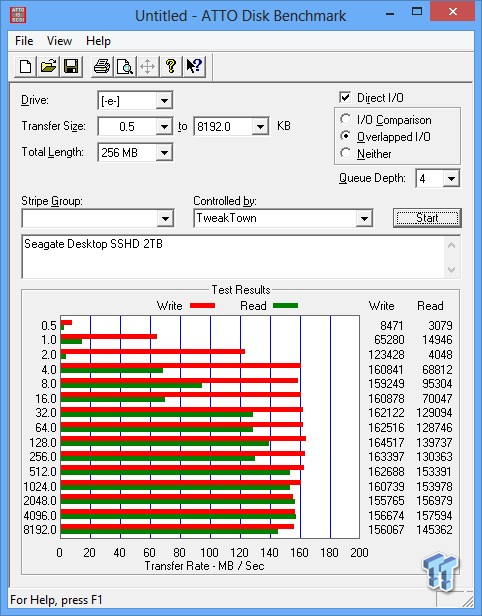 ATTO results for the SSHD came in right around marketing specifications. Here we have 156 MB/s read and 164 MB/s write.
Benchmarks - Sequential Performance
HD Tune Pro
Version and / or Patch Used: 4.00
Developer Homepage: http://www.efdsoftware.com
Product Homepage: http://www.hdtune.com
HD Tune is a Hard Disk utility which has the following functions:
Benchmark: measures the performance
Info: shows detailed information
Health: checks the health status by using SMART
Error Scan: scans the surface for errors
Temperature display
HD Tune Pro gives us accurate read, write and access time results and for the last couple of years has gained popularity amongst reviewers. It is now considered a must have application for storage device testing.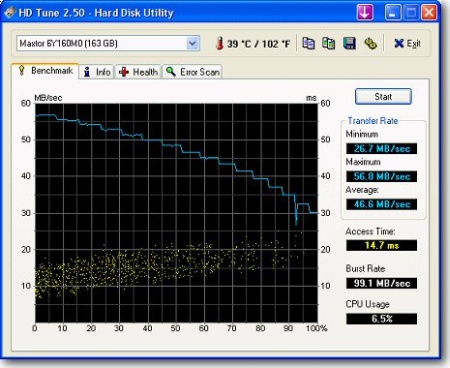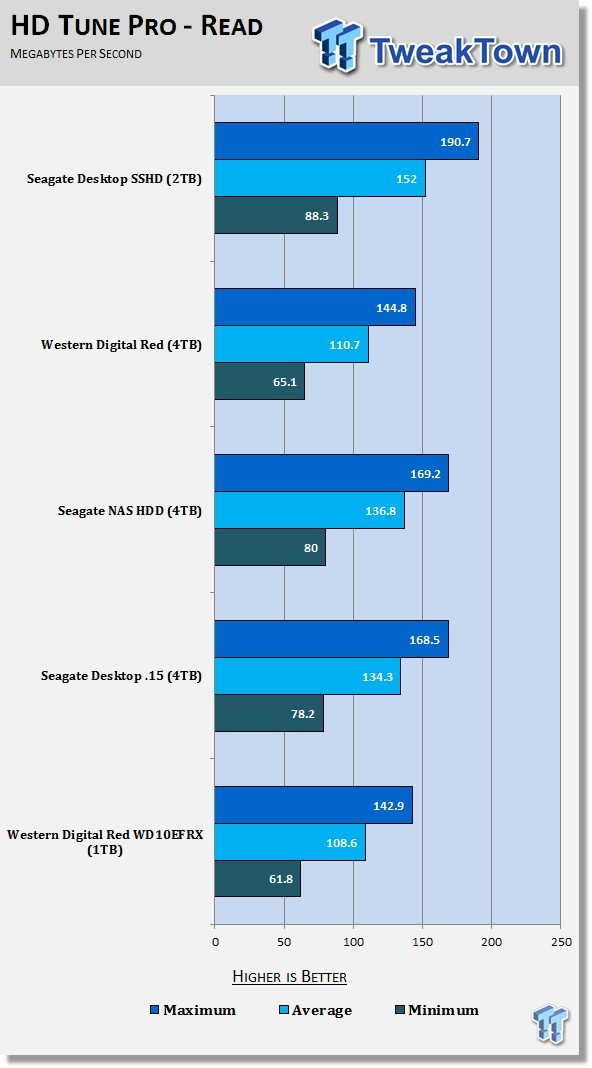 As soon as I hit go in the HD Tune window, it was quite clear the Desktop SSHD was a rather quick drive. Read speed quickly touched 190 MB/s and maintained a 152 MB/s average throughout testing.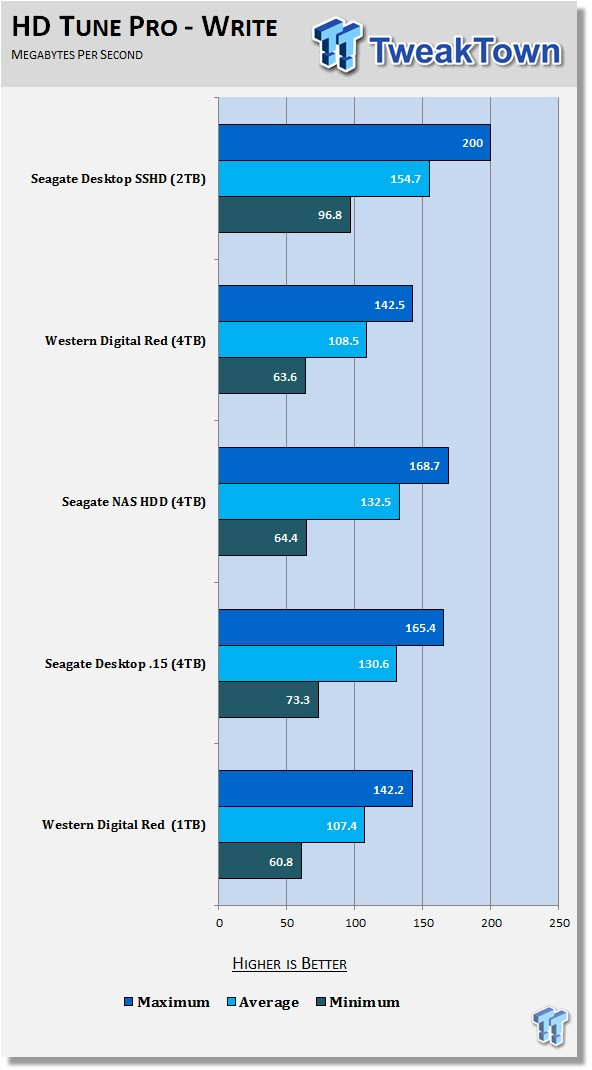 The write speed of the drive was even more impressive, touching 200 MB/s and claiming the top spot rather easily.
Benchmarks - AIDA64 Random Access Time
AIDA64 Random Access Time
Version and / or Patch Used: 1.60
Developer Homepage: http://www.aida64.com
Product Homepage: http://www.aida64.com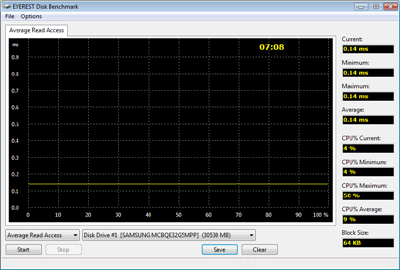 AIDA64 offers several different benchmarks for testing and optimizing your system or network. The Random Access test is one of very few if not only that will measure hard drives random access times in hundredths of milliseconds as oppose to tens of milliseconds.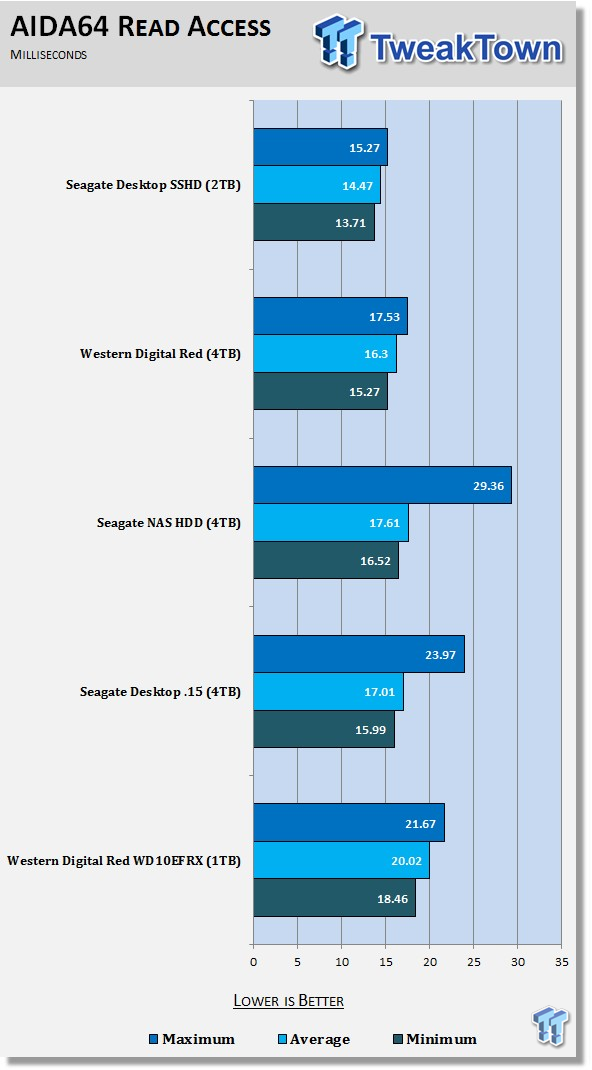 AIDA64 read access had the Desktop SSHD in line with many of the previous drives we have tested.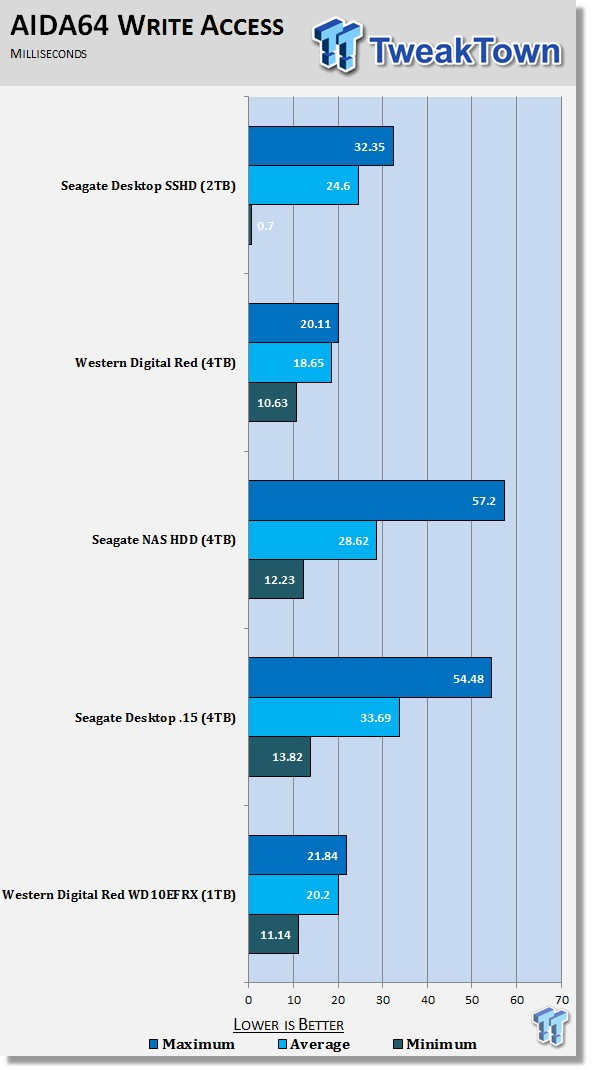 In write testing, you get a quick glimpse of the cache in action. Minimum write access showed SSD-like speed at 0.7ms, however the drive quickly jumped to 32ms after the cache was empty.
Benchmarks - Anvil Storage Utilities
Anvil Storage Utilities
Version and / or Patch Used: RC6
So what is Anvil Storage Utilities? First of all, it's a storage benchmark for SSDs and HDDs where you can check and monitor your performance. The Standard Storage Benchmark performs a series of tests, you can run a full test or just the read or the write test or you can run a single test, i.e. 4K DQ16.
Anvil Storage Utilities is not officially available yet but we've been playing with the beta for several months now. The author, Anvil on several international forums has been updating the software steadily and is adding new features every couple of months.
The software is used several different ways and to show different aspects for each drive. We've chosen to use this software to show the performance of a drive with two different data sets. The first is with compressible data and the second data set is incompressible data. Several users have requested this data in our SSD reviews.
Incompressible Data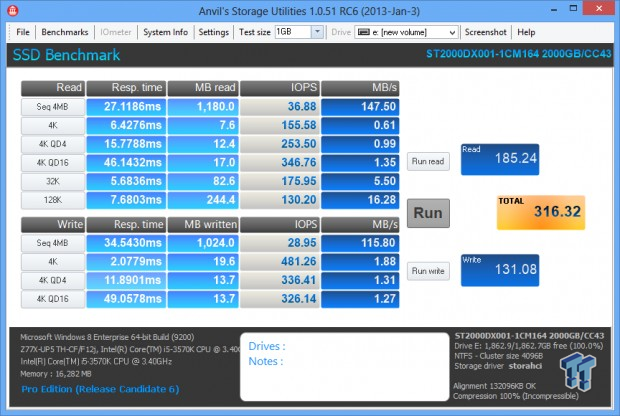 0-Fill Compressible Data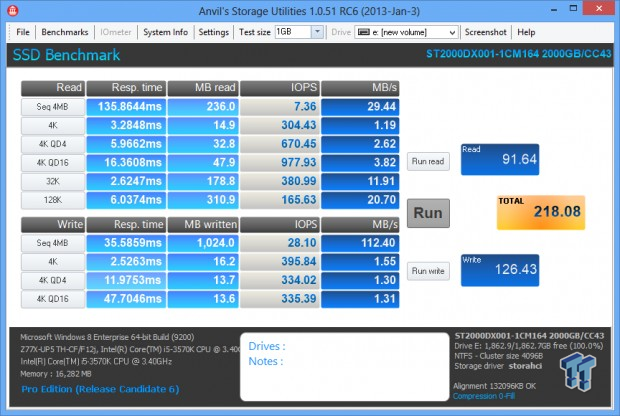 Read IOPS through Queue Depth Scale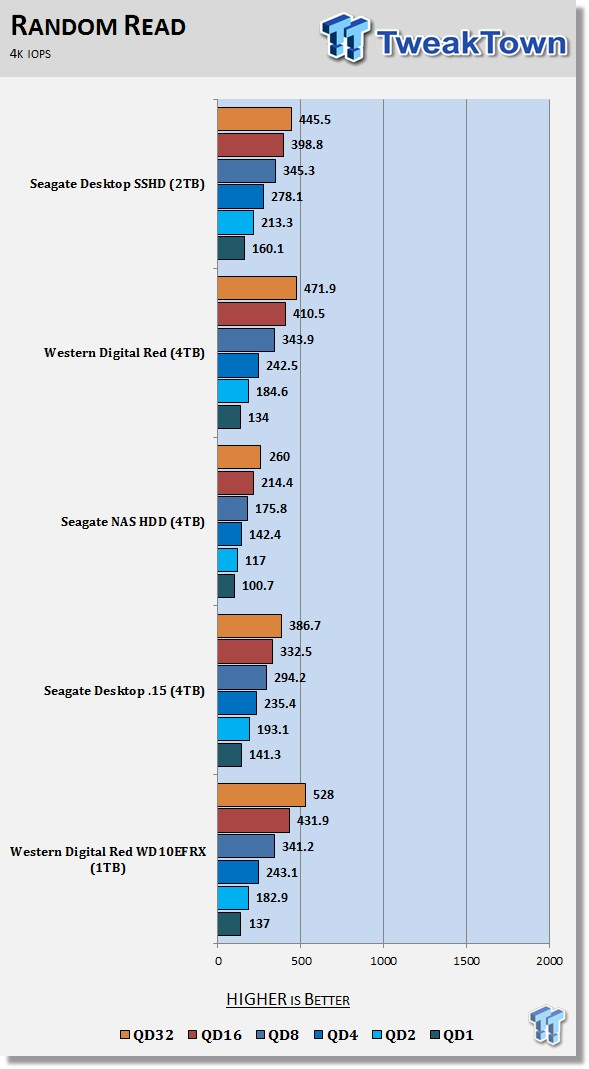 Random read IOPS have the SSHD scaling similar to a standard HDD, peak results coming in at 445 IOPS at QD32.
Write IOPS through Queue Depth Scale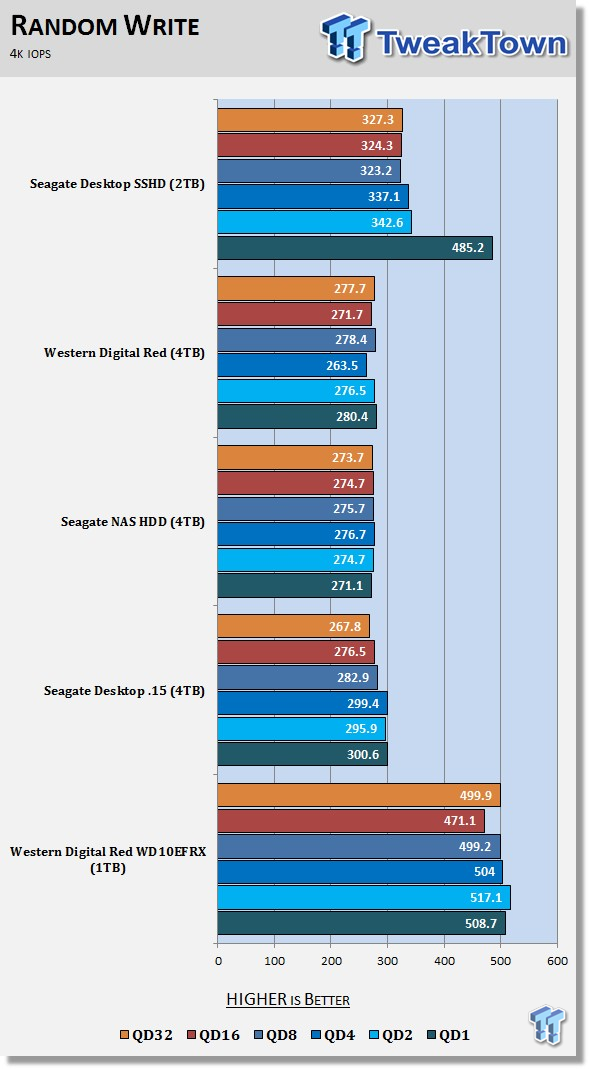 Random write IOPS showed a glimpse of the caching, with QD1 hitting 485 IOPS.
Benchmarks - PCMark 8 Hard Disk Tests
PCMark 8 - Hard Disk Tests
Version and / or Patch Used: 1.0.0
Developer Homepage: http://www.futuremark.com
Product Homepage: http://www.futuremark.com/benchmarks/pcmark8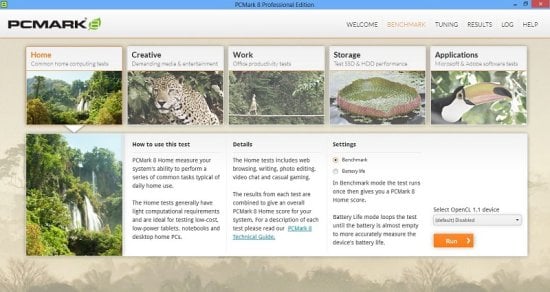 PCMark 8 is the latest version in our popular series of PC benchmarking tools. Improving on previous releases, PCMark 8 includes battery life measurement tools and new tests using popular applications from Adobe and Microsoft. Whether you are looking for long battery life, or maximum power, PCMark 8 helps you find the devices that offer the perfect combination of efficiency and performance for your needs.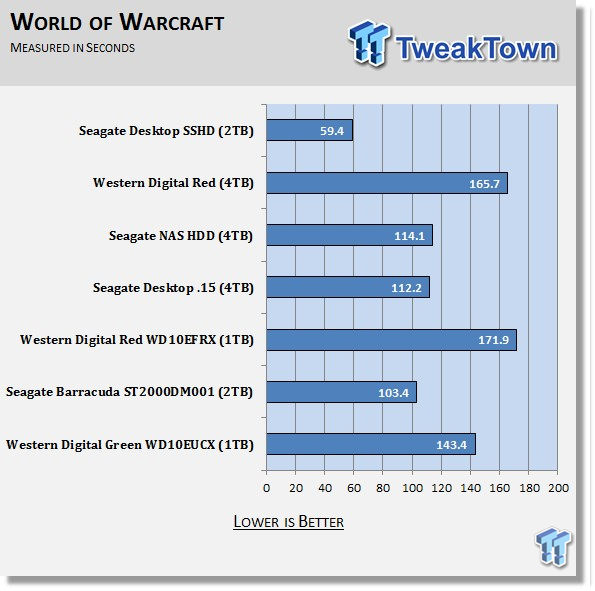 It's quite apparent where the true power of the SSHD lies. In our WoW testing, we saw impressive results, with the SSHD finishing the trace at 59.4 seconds.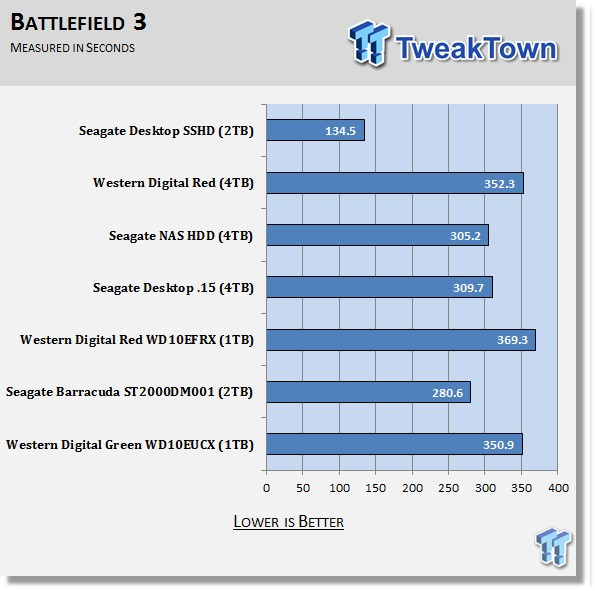 The Battlefield trace again showed the prowess of the Desktop SSHD with a score of 134.5 seconds.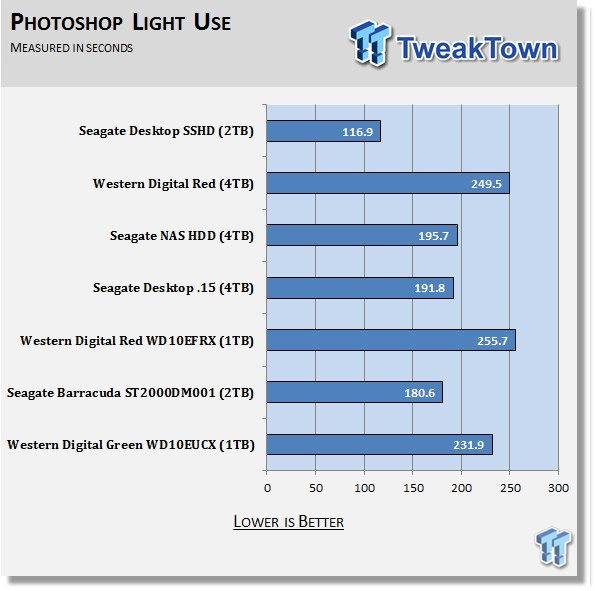 This is where we see the trend continue. Photoshop under the light use trace had the SSHD at 116.9 seconds.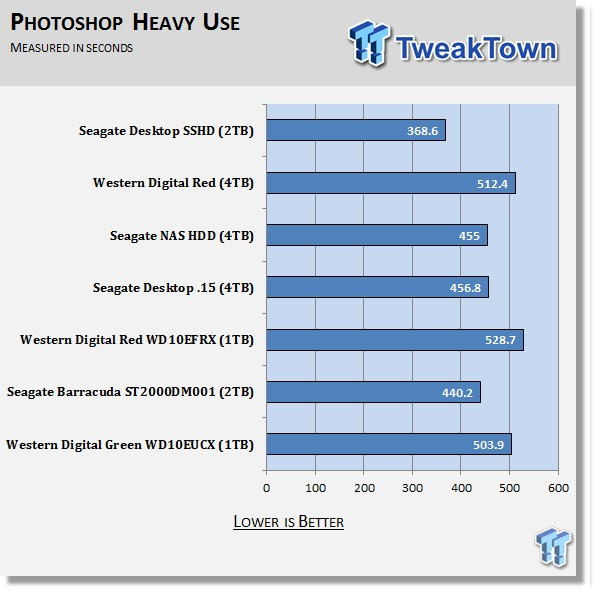 The heavy use trace put the SSHD in at 368.6 seconds.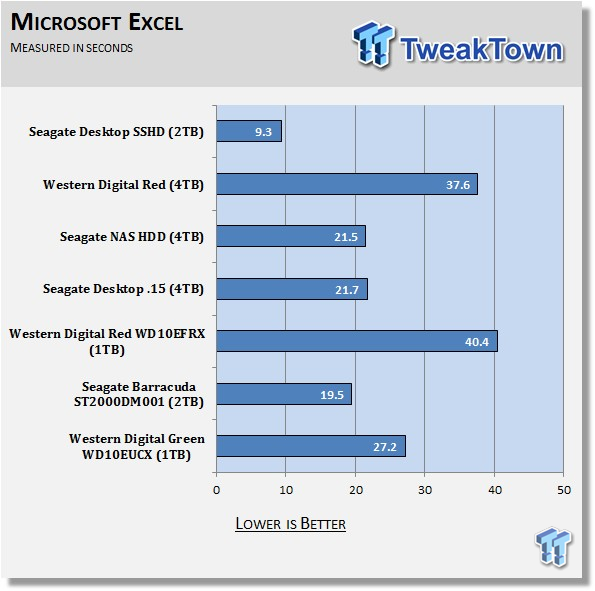 The Desktop SSHD excelled even further in all the Microsoft application traces as you will soon see. However, we start with the Excel trace, where the drive came in at 9.3 seconds.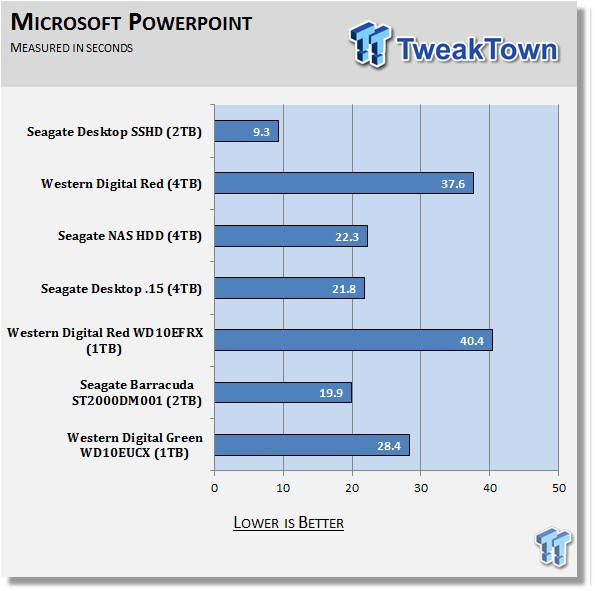 The PowerPoint trace came in at the same time as our previous Excel trace, 9.3 seconds.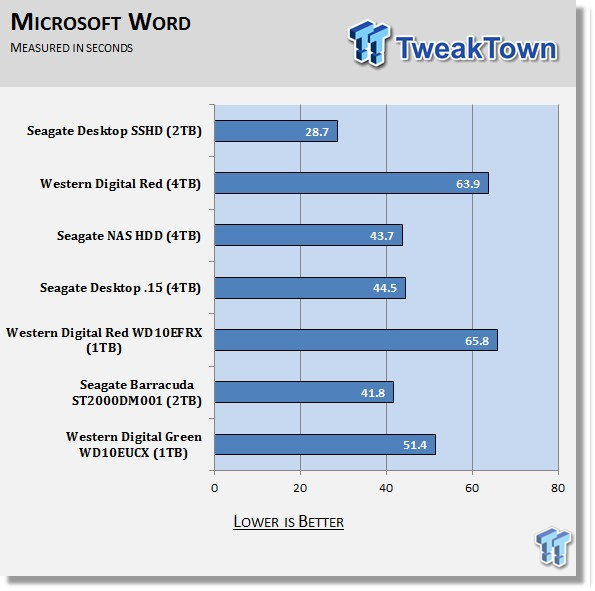 The Microsoft Word workload allowed a 28.7 second time on the Desktop SSHD.
Benchmarks - BootRacer and Resume from S4 Hibernation
BootRacer - System Boot Time
Version and / or Patch Used: 4.0
Developer Homepage: Greatis
Product Homepage: BootRacer
Download here: http://www.greatis.com/bootracer/download.htm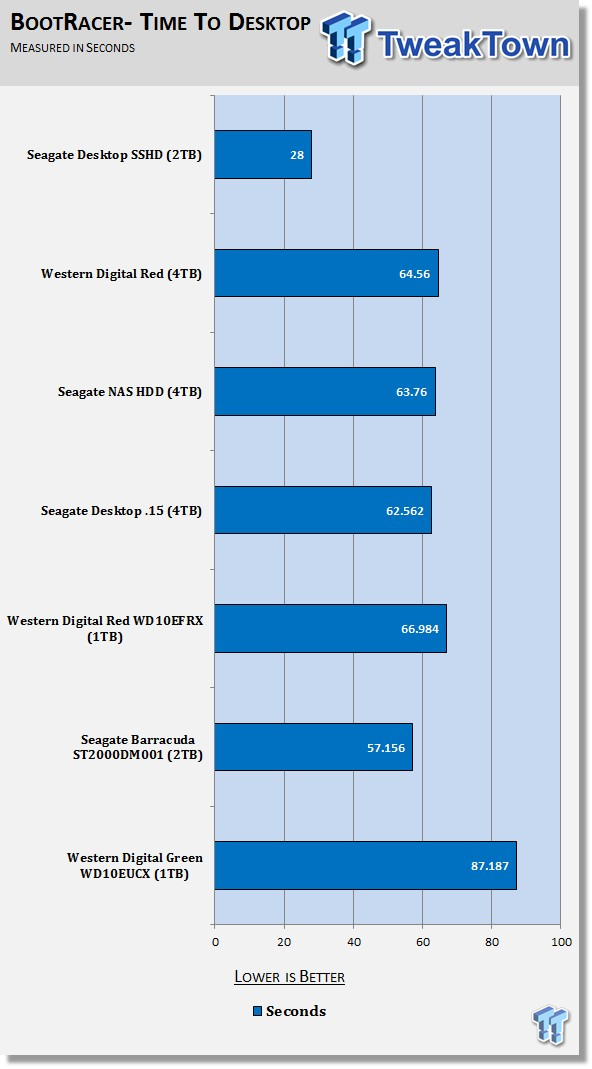 As expected, the Desktop SSHD came in much quicker than all other drives in our chart at 28 seconds.
Resume from S4 Hibernation
Hibernation or S4 is part of the Advanced Configuration and Power Interface specification. In our custom "Resume from S4" testing, we allow the drive to enter hibernation for a period of ten minutes; from there we use our trusted stopwatch and time how long it takes for the drive to resume to a working desktop environment.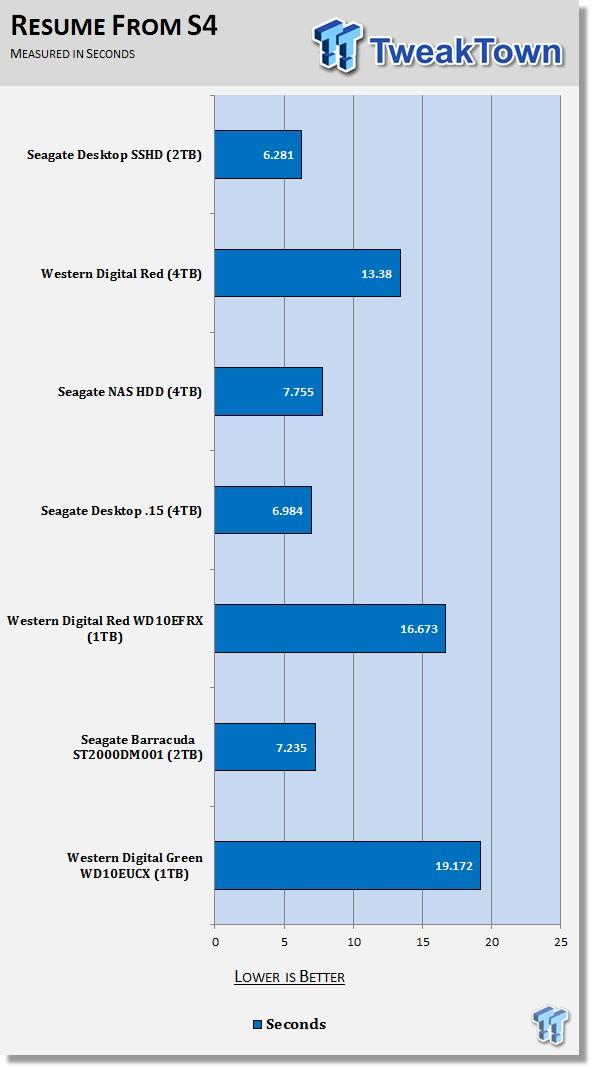 Resume testing again showed a strong point for the SSHD, coming in at 6.2 seconds, and adding another chart leading performance showing from the drive.
Final Thoughts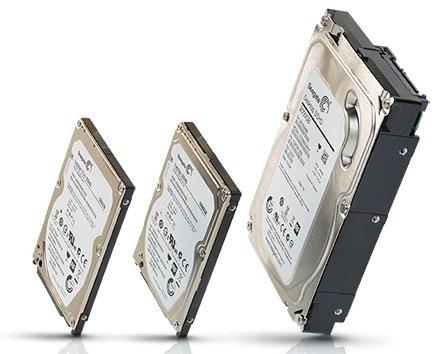 With the increasing market penetration of the SSD, a lot of users have now had the chance to upgrade their PCs. Now we all know while SSDs offer massive benefits in terms of performance, they have always lacked in one area - capacity.
A situation like this left most power users using an SSD for their operating system, while still running a secondary mechanical drive for storage and games. A typical setup such as this would allow the OS to load very quickly, while leaving you stunned at how long it took to load a game. With the introduction of the Desktop SSHD, Seagate has again switched up the game, offering a substantial performance boost to those of you in this situation.
Now, if you are one that chooses to use a single drive for your operating system, and have held onto your standard desktop HDD for the benefit of capacity, the Desktop SSHD is calling your name. The 8GB of NAND cache in conjunction with Seagate's application optimized algorithms should offer a tremendous performance boost, and again the more you use, it the faster the drive will get, as it learns how you use your system.
In every case seen here today, the Seagate Desktop SSHD excels, whether it be a synthetic point and click benchmark like HD Tune or ATTO, or even application traces via PCMark 8, the drive just performs.
Pricing of the Seagate Desktop SSHD puts it in a position to dominate. The 2TB capacity seen here today comes in at $139.99 and is available now at many online retailers, while the 1TB capacity is immediately available as well, coming in at $99.99.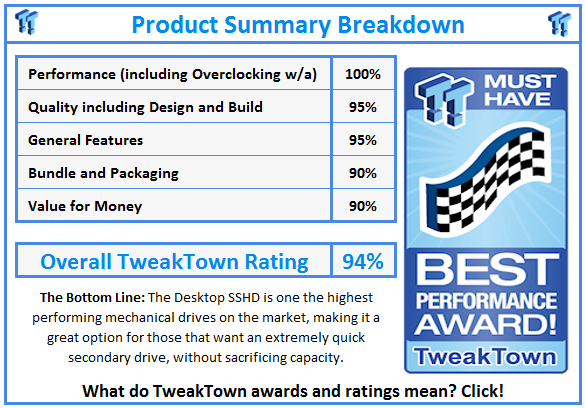 PRICING: You can find products similar to this one for sale below.

United States: Find other tech and computer products like this over at Amazon.com

United Kingdom: Find other tech and computer products like this over at Amazon.co.uk

Australia: Find other tech and computer products like this over at Amazon.com.au

Canada: Find other tech and computer products like this over at Amazon.ca

Deutschland: Finde andere Technik- und Computerprodukte wie dieses auf Amazon.de
We openly invite the companies who provide us with review samples / who are mentioned or discussed to express their opinion. If any company representative wishes to respond, we will publish the response here. Please contact us if you wish to respond.