Introduction and Specifications, Pricing and Availability

Toshiba over the years has maintained a pure OEM position from a marketing perspective in the HDD market, with many of their drives being included within notebooks, netbooks and many of the external storage devices we review here at TweakTown.
Now that we have all major players in the HDD market onboard with this hybrid drive technology, WD with their OEM only solution, Seagate with many models including the Laptop Thin SSHD we reviewed, and Toshiba with four capacities, it's a safe bet to say each manufacturers sees a certain amount of value in this market segment.
The driving force behind the SSHD value has always been its rather low cost to performance ratio, where the implemented caching algorithm and NAND flash combine to offer SSD-like performance for your daily activities.
Last month, along with the release of both the 320GB and 500GB capacity SSHD's, Toshiba launched the much larger 750GB and 1TB SSHDs in the 9.5mm z-height. These drives share the same features we found with the smaller capacities including Toshiba's own implementation of caching and what they call "Usage Pattern Optimized Self-learning Caching Algorithms".
Today, we will put the 1TB Toshiba SSHD next to comparable products like the Seagate Laptop Thin SSHD in the 500GB capacity and see where the best bang for your buck lies in this emerging market.
Specifications, Pricing and Availability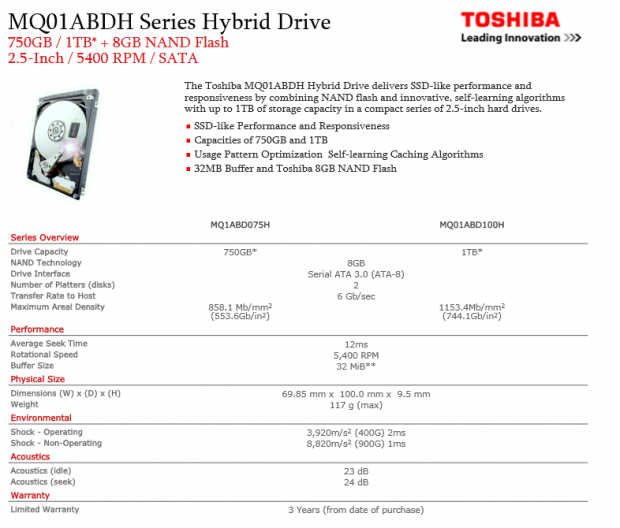 The larger 9.5mm z-height allows Toshiba the opportunity to offer their SSHD's in both 750GB and 1TB capacities. Each of these drives feature 8GB of NAND flash from Toshiba and 32MB of DRAM cache based on the SATA III specification, while also maintaining backwards compatibility with the older SATA I and II specs as well.
A little further down the specification list, we find that Toshiba has allowed a maximum areal density of 744.1GB per square inch complemented by a 5400RPM spindle speed. The ABDH series of drives both feature a two platter design, offering 12ms average seek times with non-operating shock listed at 900G and operating shock at 400G.
Warranty of the Toshiba ABDH series is listed at three years from date of purchase. Pricing of the 1TB capacity is listed at $199.99.
Toshiba 1TB SSHD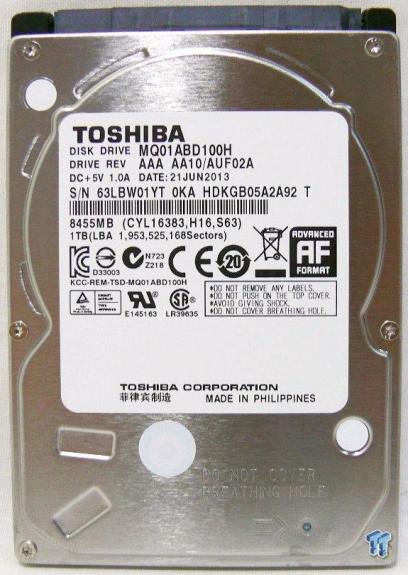 Our review sample of the 1TB Toshiba SSHD was delivered in bare drive form. Firmware is listed as revision AA10/AUF02A with a manufacture date of June 21st 2013. Further down the capacity is listed at 1TB with 8455MB of NAND flash.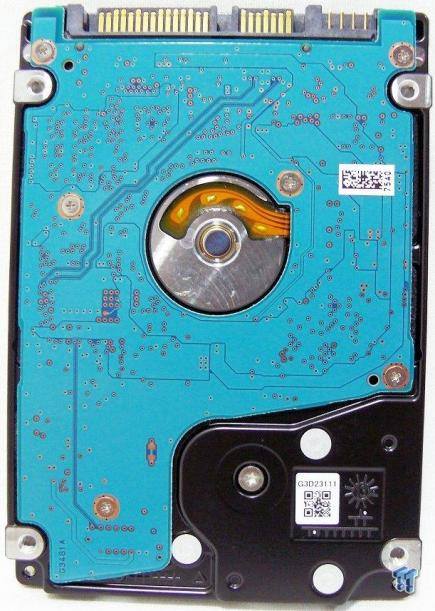 The back of the drive houses a teal colored PCB with the standard SATA connections.

The SATA power and data connections are placed in position for wide compatibility.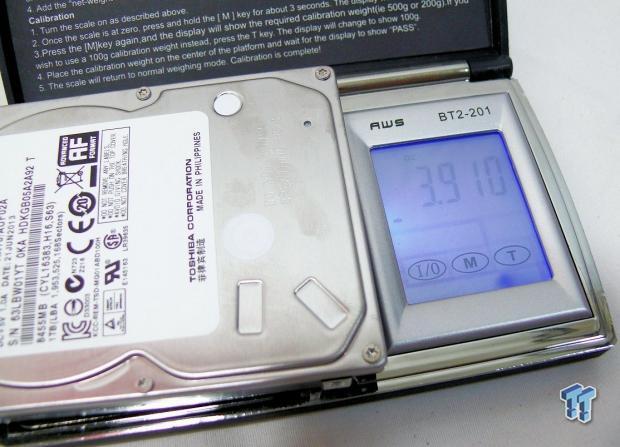 With our scale, we were able to weigh the Toshiba SSHD at 3.91 ounces, just 0.91 more than the smaller 500GB capacity drive.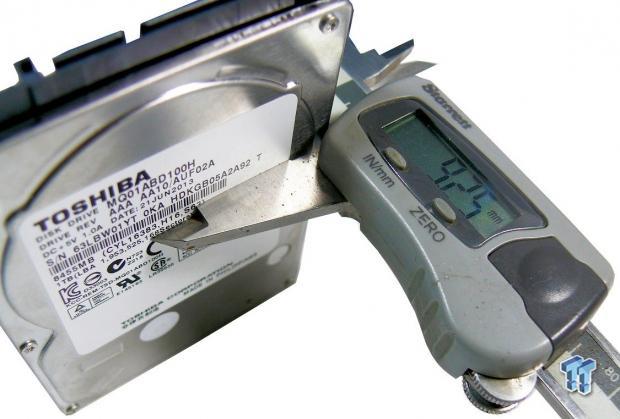 With our Starrett 799, we found the Toshiba SSHD to measure in at 9.25mm.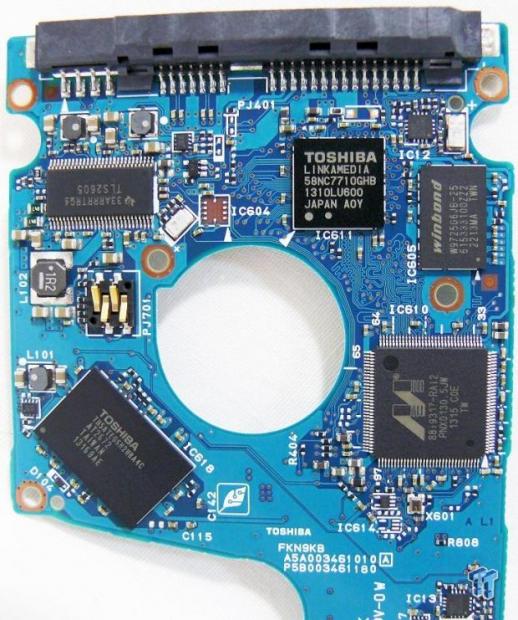 Looking at the PCB, we find 32MB of DRAM cache manufactured by Winbond. In addition to this, the Marvell 9317 controls the platter portion of the SSHD, while the LAMD FSP controls the 8GB of Toshiba NAND, which is positioned at the bottom left.
Benchmarks - Test System Setup and ATTO Baseline Performance
Desktop Test System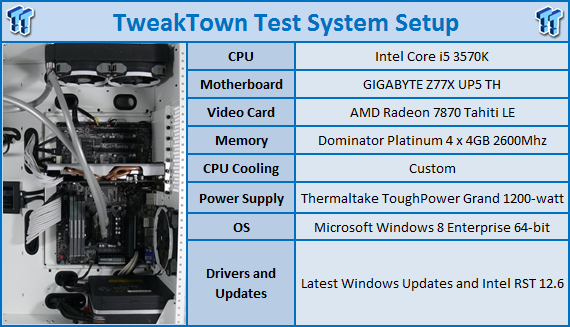 ATTO Baseline Performance
Version and / or Patch Used: 2.34
Many disk manufacturers, to determine the read and write speeds that will be presented to customers, use ATTO.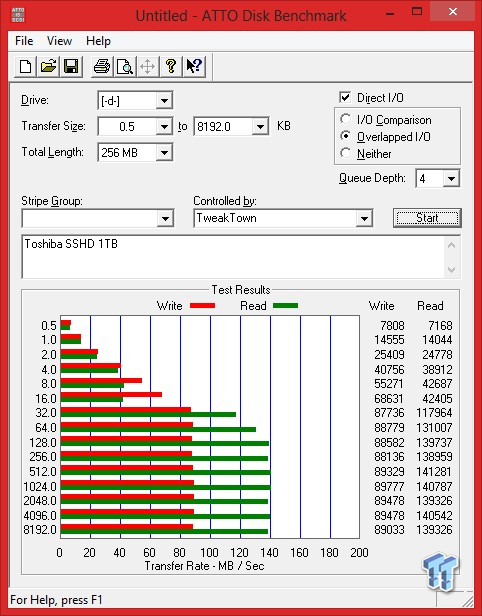 Our first benchmark takes us over to results from ATTO. In this benchmark, the SSHD was capable of 141 MB/s read, followed by 89 MB/s write.
Benchmarks - Sequential Performance
HD Tune Pro
Version and / or Patch Used: 4.00
Developer Homepage: http://www.efdsoftware.com
Product Homepage: http://www.hdtune.com
HD Tune is a Hard Disk utility which has the following functions:
Benchmark: measures the performance
Info: shows detailed information
Health: checks the health status by using SMART
Error Scan: scans the surface for errors
Temperature display
HD Tune Pro gives us accurate read, write and access time results and for the last couple of years has gained popularity amongst reviewers. It is now considered a must have application for storage device testing.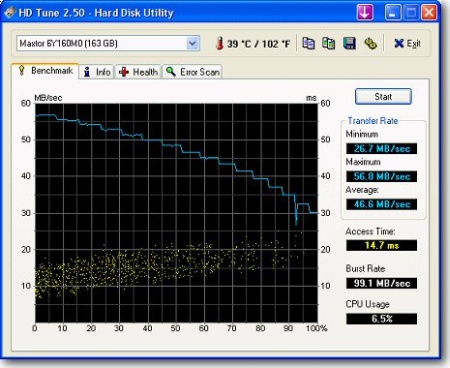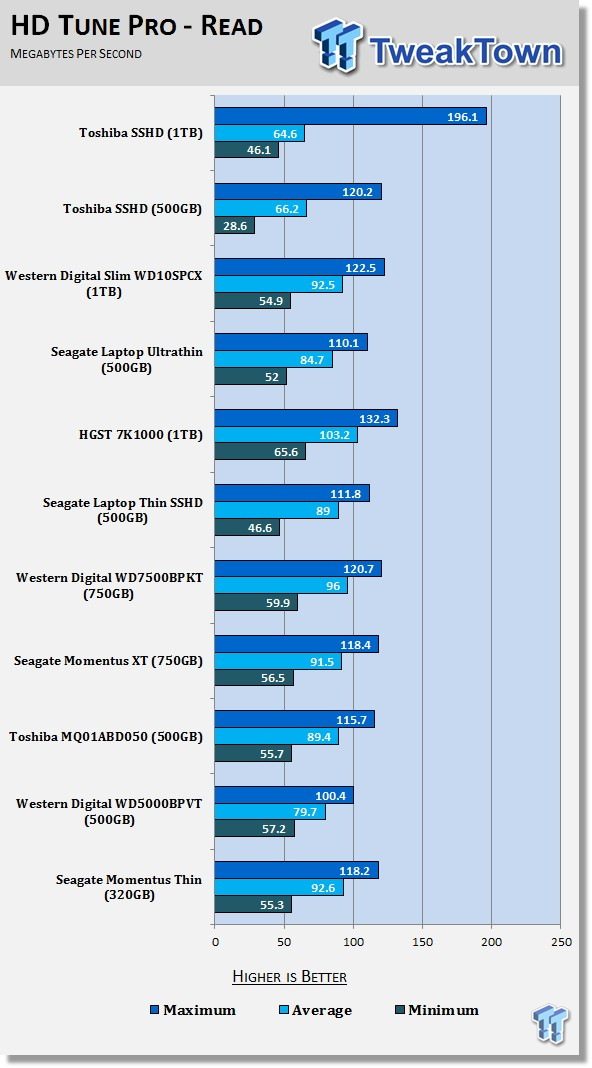 HDTune threw a curve ball at us with the SSHD hitting 196 MB/s at its peak, a result that I was able to replicate many times.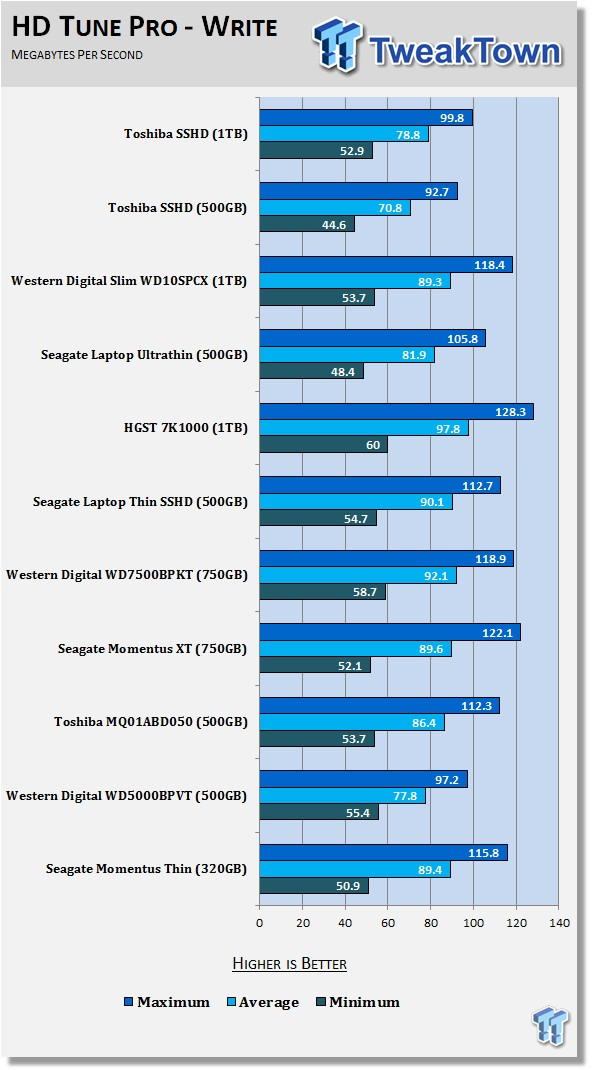 Write performance was a slight bit higher than the 500GB capacity, here the 1TB SSHD touched 99 MB/s and averaged out at 78 MB/s.
Benchmarks - AIDA64 Random Access Time
AIDA64 Random Access Time
Version and / or Patch Used: 1.60
Developer Homepage: http://www.aida64.com
Product Homepage: http://www.aida64.com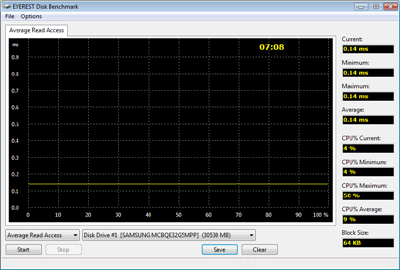 AIDA64 offers several different benchmarks for testing and optimizing your system or network. The Random Access test is one of very few if not only that will measure hard drives random access times in hundredths of milliseconds as oppose to tens of milliseconds.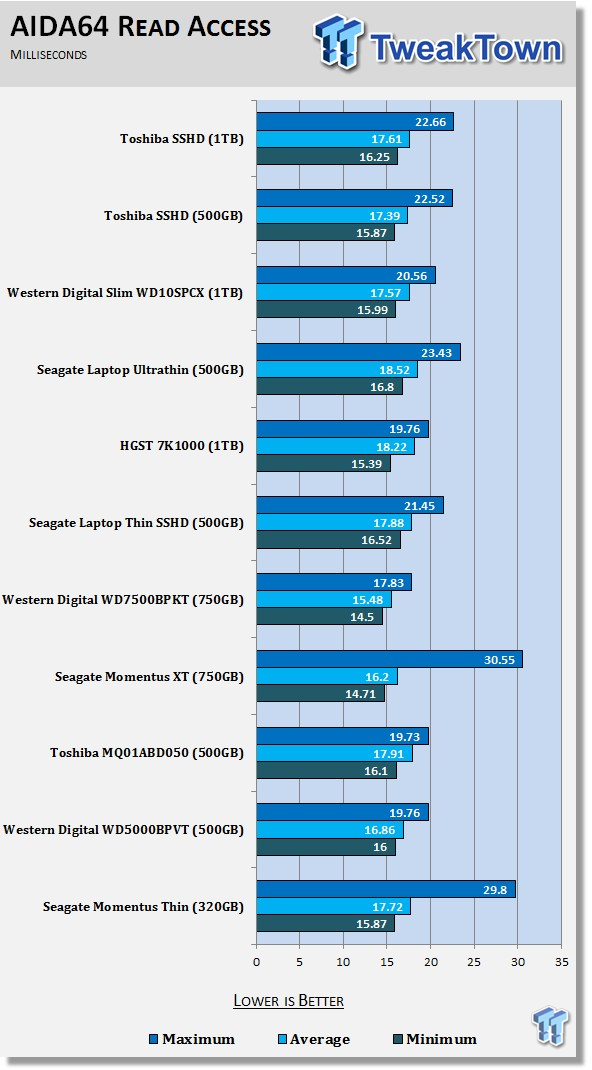 Read access times stayed on par throughout testing. Here we had a peak of 22ms, which averaged out to 17ms.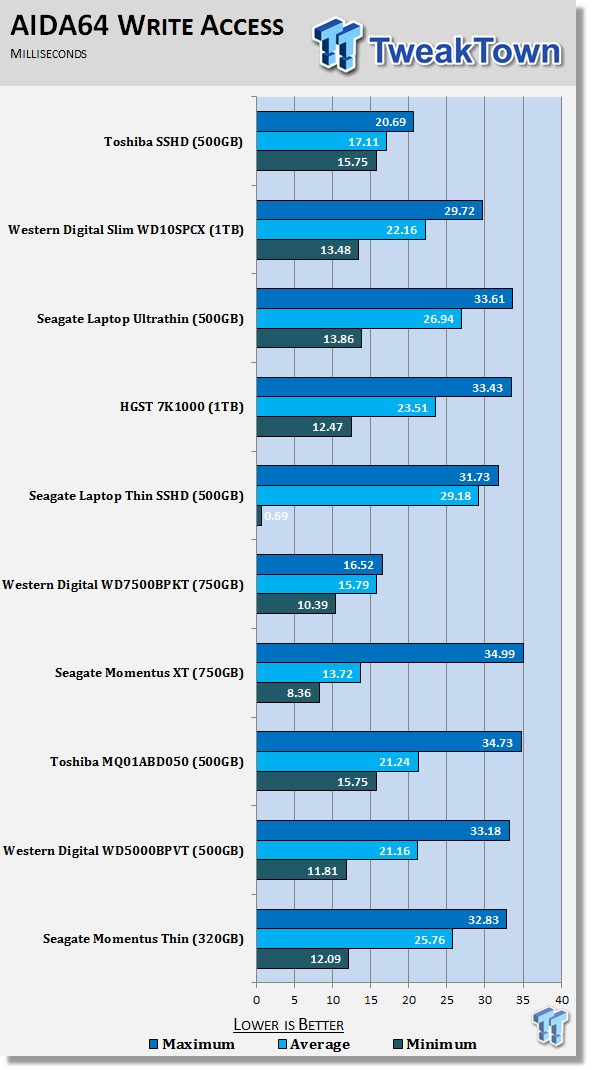 Write access times were slightly lower with the average coming in at 17ms, with the peak at 20ms.
Benchmarks - Anvil Storage Utilities
Anvil Storage Utilities
Version and / or Patch Used: RC6
So what is Anvil Storage Utilities? First of all, it's a storage benchmark for SSDs and HDDs where you can check and monitor your performance. The Standard Storage Benchmark performs a series of tests, you can run a full test or just the read or the write test or you can run a single test, i.e. 4K DQ16.
Anvil Storage Utilities is not officially available yet but we've been playing with the beta for several months now. The author, Anvil on several international forums has been updating the software steadily and is adding new features every couple of months.
The software is used several different ways and to show different aspects for each drive. We've chosen to use this software to show the performance of a drive with two different data sets. The first is with compressible data and the second data set is incompressible data. Several users have requested this data in our SSD reviews.
Incompressible Data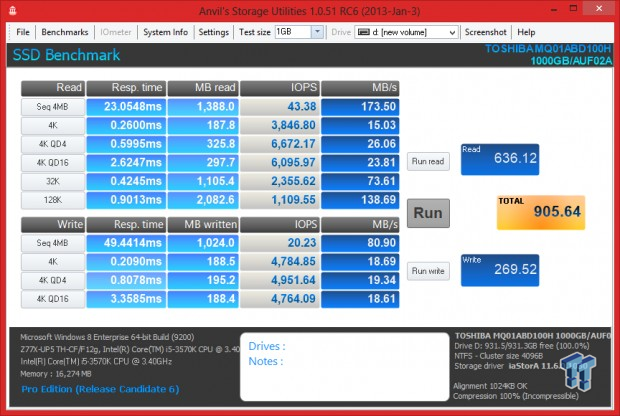 0-Fill Compressible Data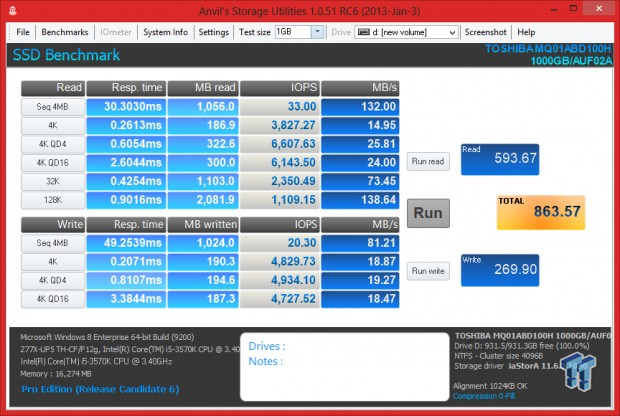 Read IOPS through Queue Depth Scale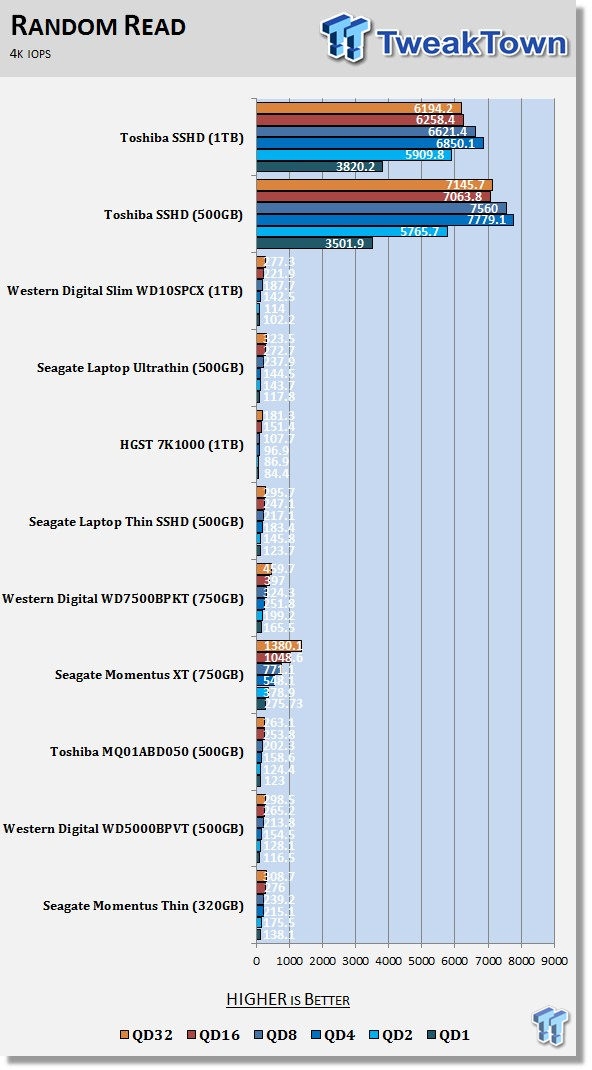 Like the previously reviewed 500GB capacity, the 1TB carried on the tremendous 4K performance eventually topping out at 6800 IOPS at QD4.
Write IOPS through Queue Depth Scale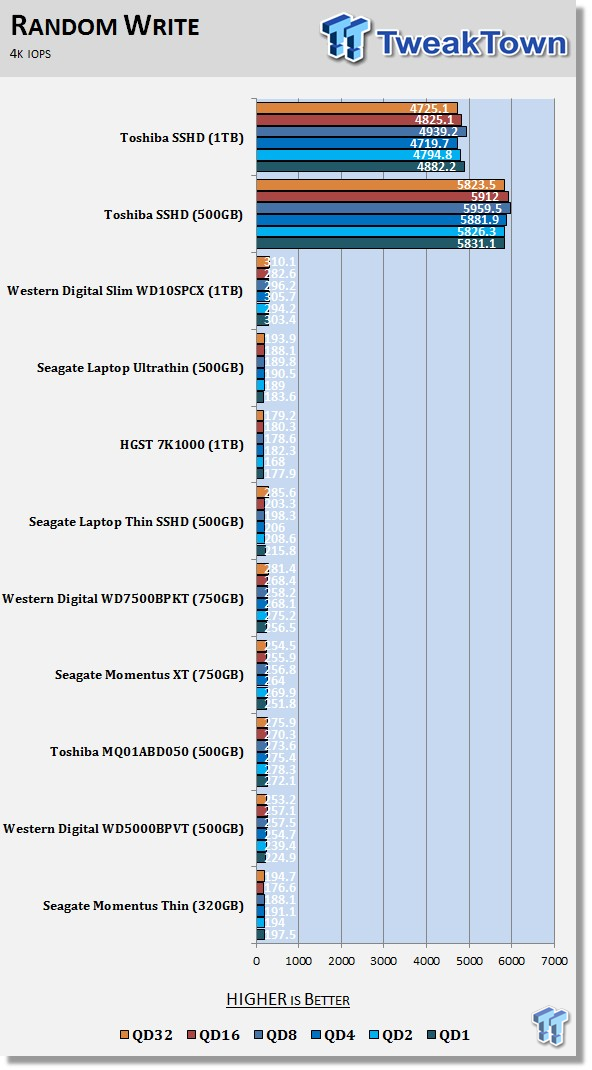 Random write 4K IOPS topped out at 4900 IOPS at QD8.
Benchmarks - PCMark 8 Hard Disk Tests
PCMark 8 - Hard Disk Tests
Version and / or Patch Used: 1.0.0
Developer Homepage: http://www.futuremark.com
Product Homepage: http://www.futuremark.com/benchmarks/pcmark8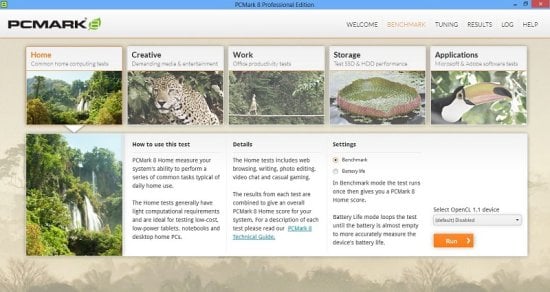 PCMark 8 is the latest version in our popular series of PC benchmarking tools. Improving on previous releases, PCMark 8 includes battery life measurement tools and new tests using popular applications from Adobe and Microsoft. Whether you are looking for long battery life, or maximum power, PCMark 8 helps you find the devices that offer the perfect combination of efficiency and performance for your needs.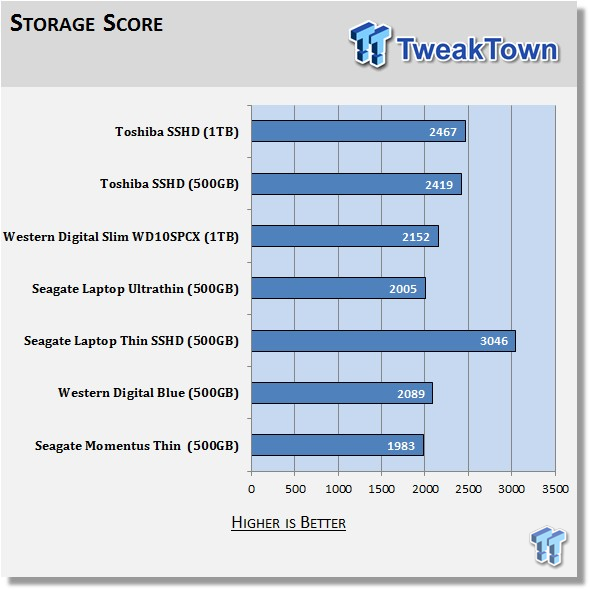 Overall storage score for the Toshiba SSHD came in at 2467, slightly higher than the 2419 of the 500GB capacity.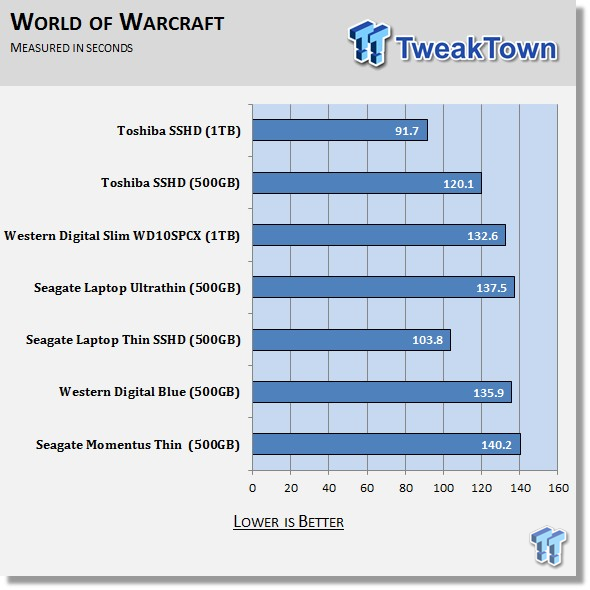 In WoW, the 1TB SSHD from Toshiba completed in just 91.7 seconds, 28 seconds quicker than the 500GB capacity and 12 seconds quicker than the Seagate drive.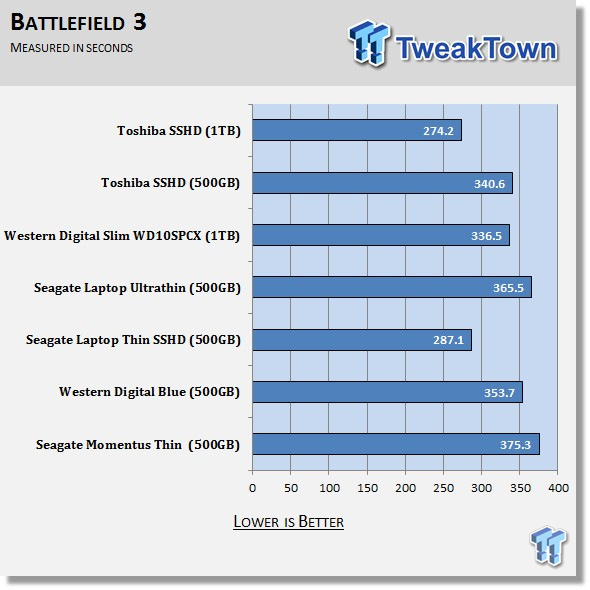 Battlefield 3 trace has the Toshiba at 274.2 seconds - again the quickest in our charts.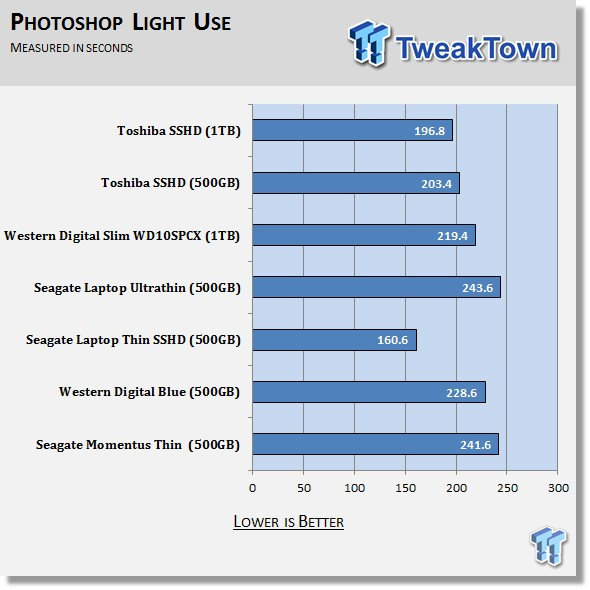 Utilizing Photoshop under light use, the Toshiba drive came in at 196.8 seconds.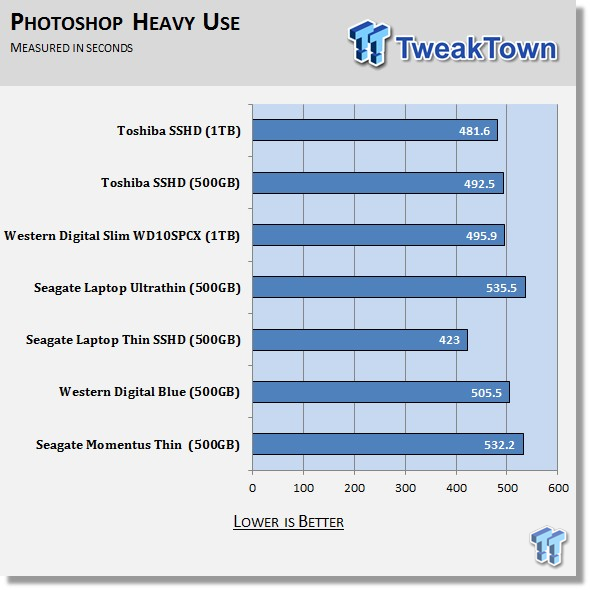 A heavy use scenario allowed the 1TB Toshiba drive 481.6 seconds, just ahead of the WD Slim and just behind the Seagate offering.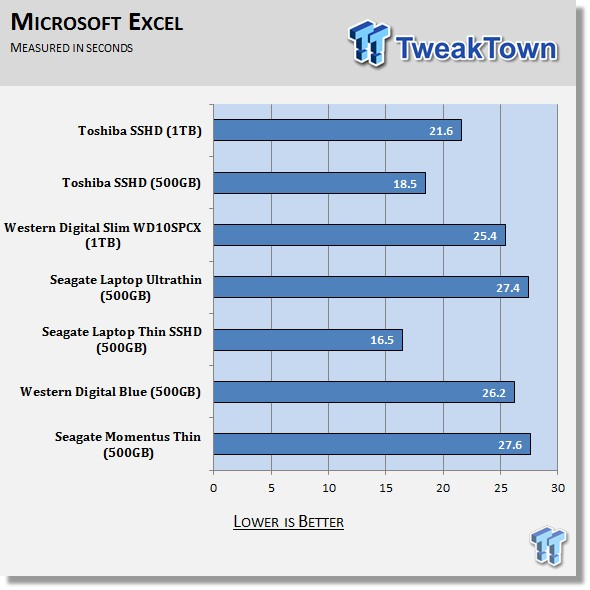 The Excel trace allowed a score of 21.6 seconds for our 1TB sample, just behind the 500GB capacity and five seconds behind the Seagate offering.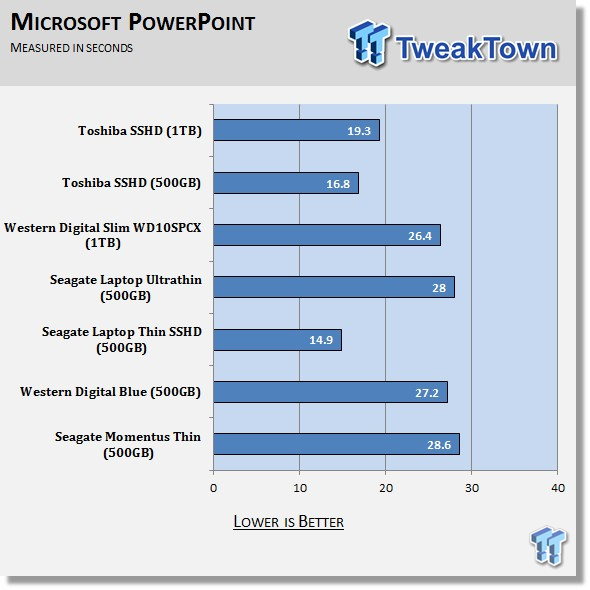 The PowerPoint trace had the 1TB Toshiba drive at 19.3 seconds.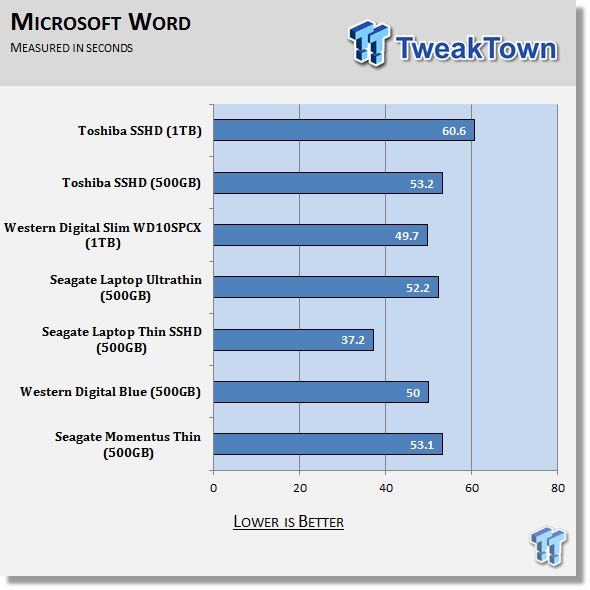 Lastly, the Word trace stuck the 1TB Toshiba at the back of the pack, coming in at 60.6 seconds.
Benchmarks - BootRacer and Resume from S4 Hibernation
BootRacer - System Boot Time
Version and / or Patch Used: 4.0
Developer Homepage: Greatis
Product Homepage: BootRacer
Download here: http://www.greatis.com/bootracer/download.htm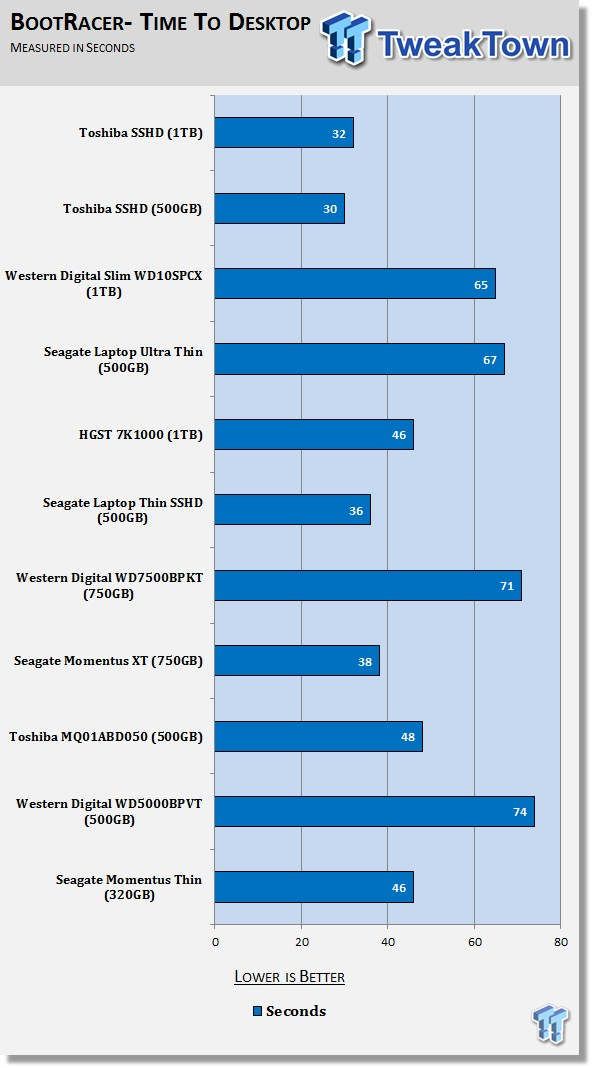 Time to desktop came in at 32 seconds. This puts both Toshiba SSHDs at the top of our charts as number one and two.
Resume from S4 Hibernation
Hibernation or S4 is part of the Advanced Configuration and Power Interface specification. In our custom "Resume from S4" testing, we allow the drive to enter hibernation for a period of ten minutes; from there we use our trusted stopwatch and time how long it takes for the drive to resume to a working desktop environment.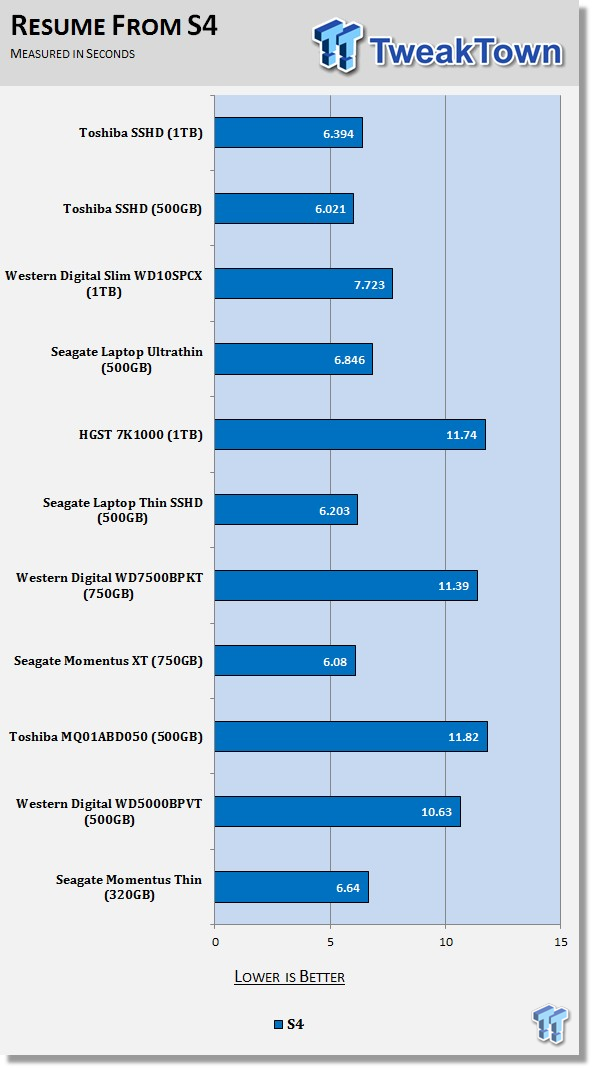 In our custom resume from S4 testing, the 1TB model came in at 6.39 seconds, behind both the 500GB Toshiba drive and Seagate drive.
Final Thoughts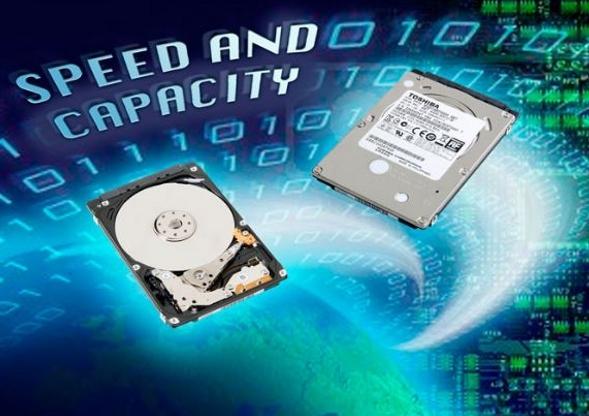 Being the Consumer Storage Editor here at TweakTown, I often find myself watching many tech forums. On the topic of SSHDs, the most common question that comes up is "Why just 8GB of NAND" and to a point it's a valid argument, but on the other end, how much data do you use in your daily workload?
If you are like me and browse the web, check email among other things, then all that data you access over and over ends up in the "hot data" pool and placed within that 8GB of cache. Accordingly, as your data usage pattern changes, drives like this Toshiba SSHD notice that and take into account that change, dumping data that is no longer relevant in favor of your current workload.
In many cases as seen in today's review, the 1TB Toshiba drive was quicker than its 500GB counterpart and additionally the 500GB Seagate comparable drive, including 4K random read and write. Sequential performance of the Toshiba SSHD was impressive as well, as seen in our ATTO and HDTune testing the drives caching algorithm appeared to catch on rather quickly, boosting our results in both benchmarks.
At the time of writing the MSRP of the Toshiba SSHD in the 1TB capacity is set at $199.99. While these drives do maintain slight retail market availability, the true competitive nature lies in the OEM market, with Toshiba showing their presence as a second partner for many notebook and Ultrabook manufacturers.