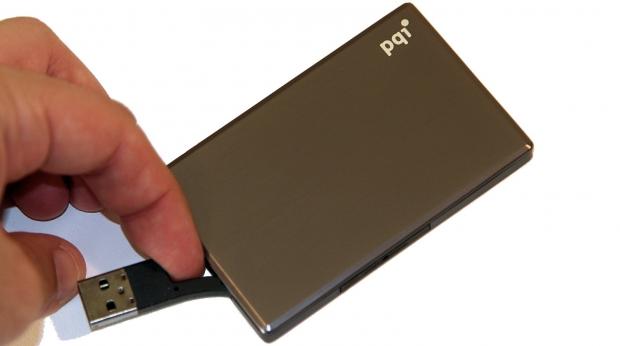 When I first received the PQI Air Drive, I didn't expect to be thrilled with it. It looked small, and for some reason, I forgot that sometimes, great things come in small packages (a line that Michael Scott himself would be proud saying), but boy was I wrong.
The PQI Air Drive, in a nutshell, is a tiny USB-powered portable Wi-Fi-capable storage device. It is ultra-small, measuring in at just 3.35 x 2.13 x 0.13 inches and weighs just 55g (0.12lb). It supports up to 32GB SD/SDHC cards and works with both iOS and Android.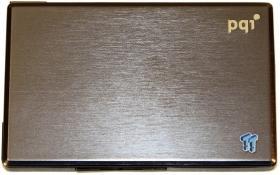 There's not much in the box apart from the Air Drive itself, which is great for the environment, and shipping. Once you get the device out of its box, you realize just how small it is, but you haven't seen anything yet.
Newegg has the PQI Air Drive 32GB listed at $59.98, which is not too bad at all. Considering you can swap out the SD card inside with another SD card, the external storage possibilities are basically endless.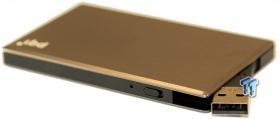 PQI has constructed the Air Drive from solid aluminum, and it looks beautiful. We have a reset switch that is accessed using a pin in a small hole, as well as an on/off switch. The USB 2.0 port is accessed by a bendable cable, which isn't too flexible.
Setting up the PQI Air Drive is simple: take it out of the box and plug it into a USB port to charge. Once it is at full charge, just dump a bunch of media onto it. This can be in the form of music, photos or videos. For the purpose of the review, I transferred a bunch of TV episodes onto the PQI Air Drive for my two and a half year old daughter. The second step is to grab the PQI Air Drive+ app from either the Apple App Store or Google Play Store, depending on the device you'll be using. I used a Nexus 7, so I grabbed my app from the Play Store.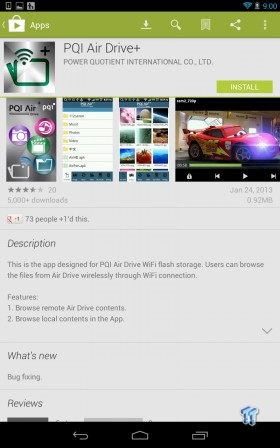 Let's walk through the very simple installation process and then we'll take a look at the Air Drive+ app. Firstly, you'll need to download the app itself, which on Android is under 1MB in size - which is great.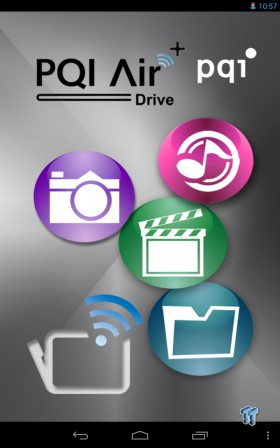 Now that we have it downloaded, let's open it up and take a look. The splash screen is quite basic, but remember it is just an app that weighs in at 1MB.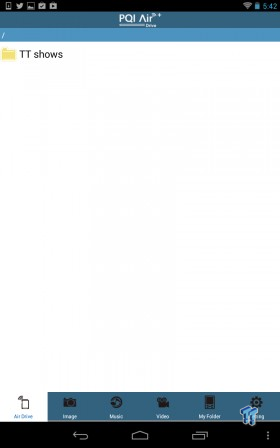 Once Air Drive+ is opened up, you'll be greeted with a simple application with a menu system at the bottom. There, you'll find Air Drive, Image, Music, Video, My Folder and Settings. Tapping the Air Drive button will land you on your Air Drive, so you can view the entire contents of the inserted SD card. Moving onto Image, Music and Video, and My Folder which all walk you through various stages of the Air Drive - so if you wanted to view just images, you'd of course tap "Image", and so forth.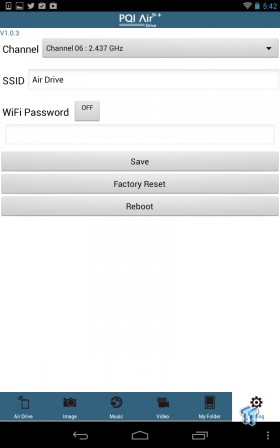 In Settings, you have a couple of things you can change: the Wi-Fi channel, SSID and the Wi-Fi Password. Within this tab, you can also save your settings, perform a factory reset or reboot the app.
Using the PQI Air Drive in a real-world scenario gave me a great perspective to write this review instead of just giving it a test on a table somewhere in my office. I used the Air Drive while it was in my pocket, in the glove box of my car, and in my notebook carry bag. The entire time, my daughter was able to watch her TV episodes and movies from the PQI Air Drive, all while it streamed it to the Nexus 7 over its built-in Wi-Fi network: simply brilliant.
Because it is flash storage and not mechanical storage, there's no worry to it being damaged due to it moving. This makes the PQI Air Drive the perfect travel accessory for those who own devices that don't feature an expandable storage option.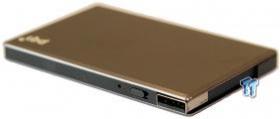 Devices without expandable storage are in great numbers, with the entire Nexus range and iPhone/iPad/iPod range not capable of expandable storage. This makes the Air Drive the perfect accessory for those devices. Better yet, the Air Drive is capable of streaming devices to up to five devices at once, which is even better. This means if you have multiple kids sitting in the back seat of your car, or next to you on a plane, and they all have their own devices, they can all stream away. Another example of use for the Air Drive is snapping a bunch of photos on your camera, taking the SD card out, slotting it into the Air Drive and then streaming them to your device. The things that something slightly bigger than a credit card can do, amazes me sometimes.
I showed some of my family the Air Drive, and they were astounded at its weight and features, shocked to see me juggling it from hand to hand, while it was streaming content to my Nexus 7. It really was nifty, and I was saddened that I didn't have a handful to give away to them all.
PQI has impressed me with its Air Drive, that's for sure. For something I thought would be a sample that would sit around after I was finished reviewing it, it will now become a much-used device in my household.
I have two Nexus 7 tablets, and a Nexus 4 smartphone, so it makes the perfect accessory for my non-expandable storage devices. I've decided since receiving the Air Drive that my original 2012 Nexus 7 will now become my daughter's tablet, and the PQI Air Drive will be 32GB of extra storage that is always ready to go when we go on a long drive or go away for the weekend.
If you were looking for a present for a family member or friend with children, or someone who constantly travels and owns an iPad, iPhone or any other smartphone or tablet without expandable storage, then the PQI Air Drive at less than $60 is an excellent gift.