Introduction, Specifications, Availability and Pricing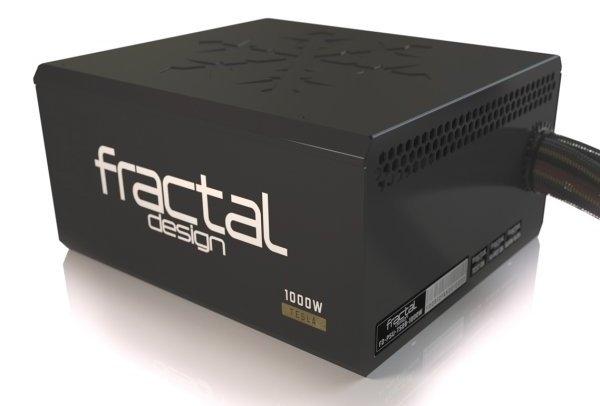 Back in June, we took our second look at what Fractal Design has to offer when it comes to the power supply market. We were very pleased with what the Newton R3 800W had to offer, but it was a tad bit expensive for an 800W unit. When you're on a tighter budget and need more power, you may have to give a little to get a get a little and that is just where Fractal Design's Tesla R2 series comes into play.
The Tesla R2 series is meant to fill the gap between their entry-level Integra R2 series and the Newton R3 series. You lose some of the features that you have with the Newton R3 series, such as modular cables, but you get more power than you can get out of the Integra R2.
The model we are looking at today is the Tesla R2 1000W, which is the largest power supply available in the series, but it is available in three more wattages making the series reach from 500W to 1000W.
We can sit here all day long and talk about things, but let's just start digging into this thing and see if it ends up being worth your hard earned cash.
Specifications, Availability and Pricing

The Tesla R2 1000W power supply features a single 12V rail capable of 80A or 960W. Both the 3.3V and 5V rails are rated for 20A each with a combined maximum output of 100W. The 5VSB rail is rated for 2.5A or 12.5W. Maximum rated output for the Fractal Design Tesla R2 1000W is 1000W.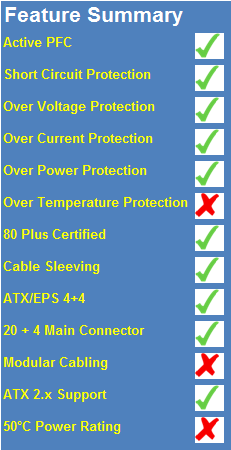 When talking about budget power supplies, it is often assumed that there are going to be a few features missing. The big difference between good and not so good budget units often lies in just which features are missing. As most would expect, the modular cables are the first to go. After that you start getting rid of the protections.
Over Temperature is usually the first to go as it requires an extra piece of hardware to monitor the temperature and parts cost money. That is just what Fractal Design has dropped with the Tesla R2. The Tesla R2 does feature SCP, OVP, OCP and OPP. All of the native cables are fully sleeved. It features an 80 PLUS Gold efficiency rating, but is not rated for 100% continuous output at 50C. Instead, Fractal Design rates it for a more modest 40C.
Fractal Design has an MSRP of $164.99 on the Tesla R2 1000W power supply. That puts the unit competitively priced with the competition and definitely makes it a great buy for someone on a tight budget. The Tesla R2 series is just making its way into the USA, but it has been available outside the USA for a little while now. For the USA folks, at the time of writing, Provantage comes in with the cheapest price of $176.65 after shipping. Even so, that still makes this a bit on the cheaper side for a 1000W unit. Fractal Design offers a rather short three year warranty on the Tesla R2 series.
Packaging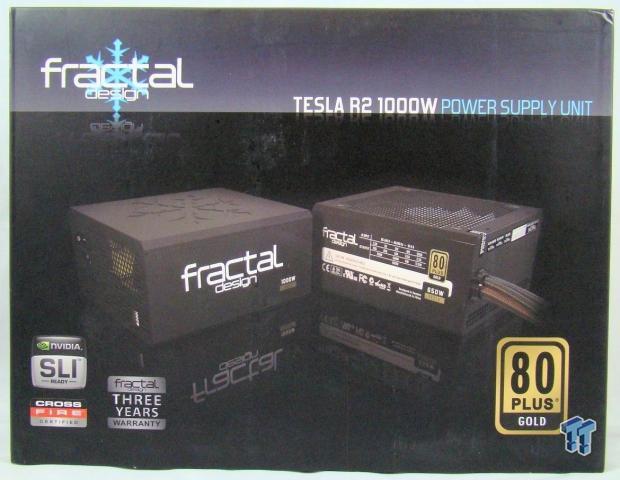 The front of the packaging gives us a great look at the Tesla R2 1000W. It looks quite similar to the Newton R3 1000W unit that we reviewed not too long ago.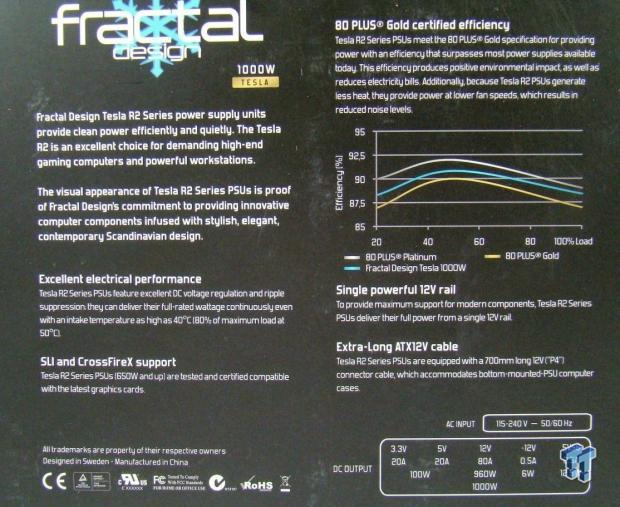 The left half of the back goes over some of the basics of the unit such as the single 12V rail and support for multiple GPU's. It also gives us our I/O specifications for the unit.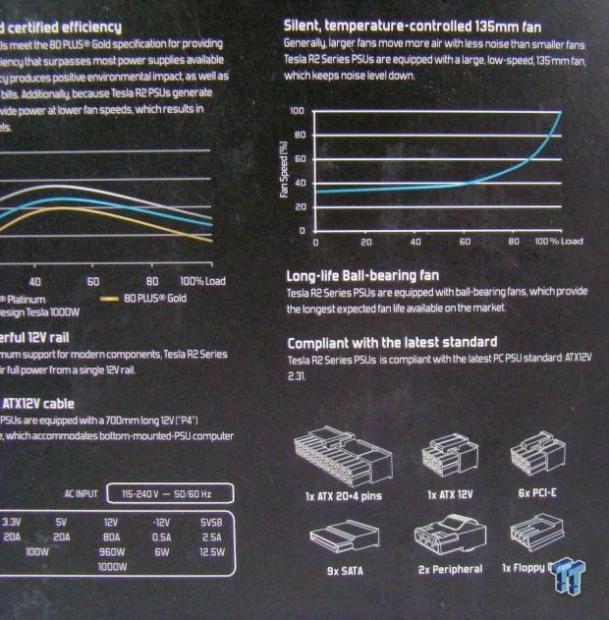 Over to the right, we get some information about the noise from the fan as well as the connector availability contained within. The other sides offer no more information.
Inside the Box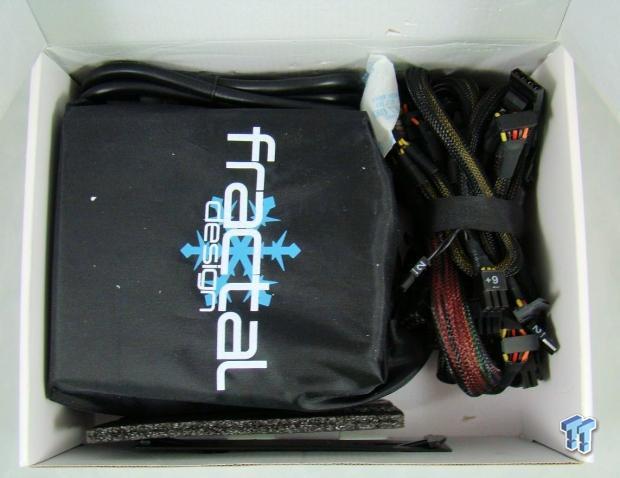 As expected with a budget unit, there isn't much to be seen on the inside of the box. The white specs are pieces of cardboard that have rubbed off in shipping because there isn't much padding inside the box. Still, everything arrived undamaged.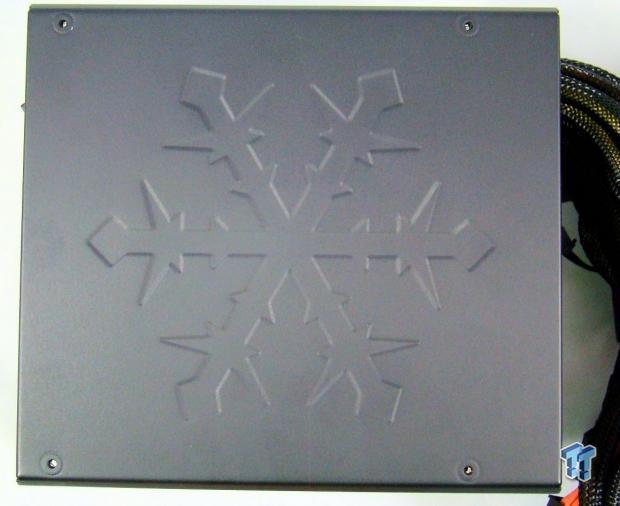 Fractal Design's logo is embedded in the top of the PSU case for a bit of flair.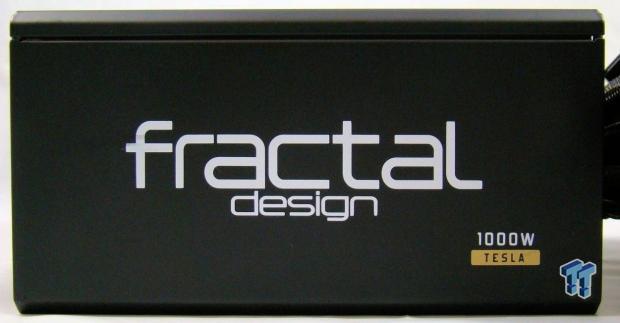 This side simply tells you what the power supply is.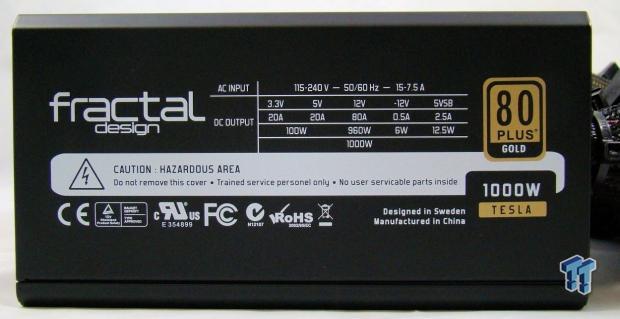 The other side gives us the I/O specifications.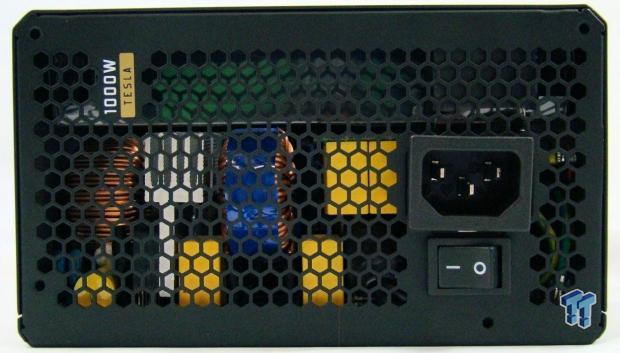 Flipping to the back, we find the large honeycomb mesh grill for exhaust with AC input in on/off rocker switch. Note the beveled edges of the unit that add just a bit of style to the unit.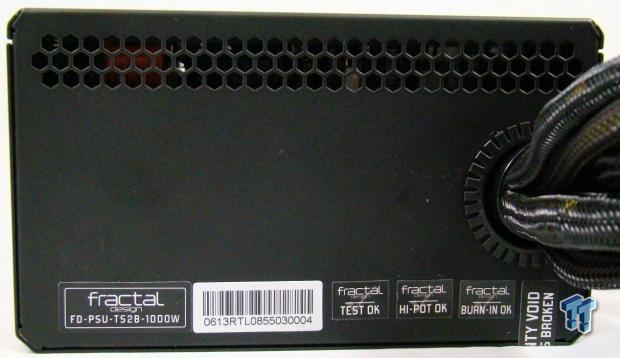 Turning things around, we find there isn't much going on in the front, but that is to be expected since there aren't any modular cables on this unit - there is some additional venting, though. I still have mixed feelings on venting in the front of the unit.
Power supplies with active cooling are very high positive pressure devices since there is only one fan blowing into the unit. With there being cooling vents in the front, this means that positive pressure is not only going to push the hot air out of the back of the unit, but it will push some of that same hot air back into the case as well, even if it is somewhat minimal.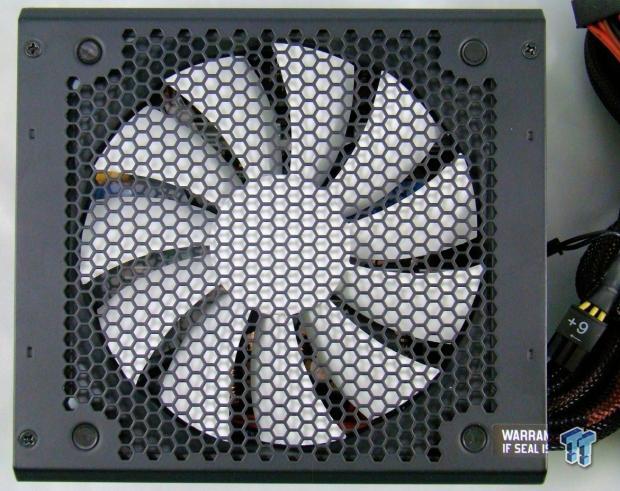 The white fan adds a nice bit of contrast to the rubber mounted fan.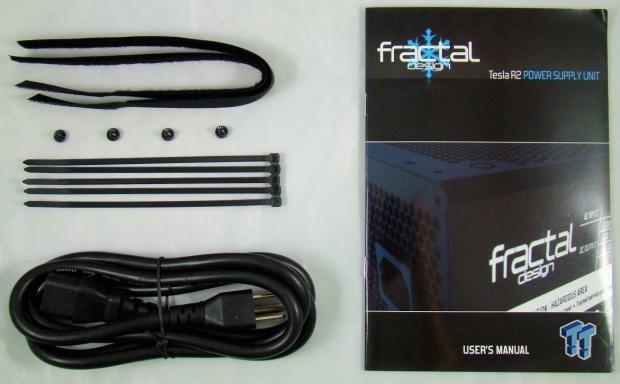 Included with the unit are a few Velcro cable ties, zip ties, mounting screws, AC input cord and user manual.
Cabling Arrangement and A Look Inside
Cabling Arrangement

Fractal Design does a decent job of providing the cables necessary to ensure that you can fully utilize the full 1000W. Aside from the obligatory 24-pin Main and ATX 4+4 connector, there are three PCI-E cables with two connectors each making it possible to power up to three high-end video cards. There are also nine SATA, two Molex, and a single FDD connector to make sure that all of your peripheral devices are powered.
The only issue that I see here is the lack of an EPS12V cable. Many who utilize 1000W units need the secondary cable for their motherboard and it just isn't present. Make sure to keep that in mind when thinking about this unit.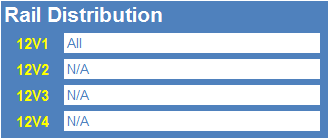 Rail distribution is as simple as it gets with a single 12V rail. There is no need to worry about load balancing here.
A Look Inside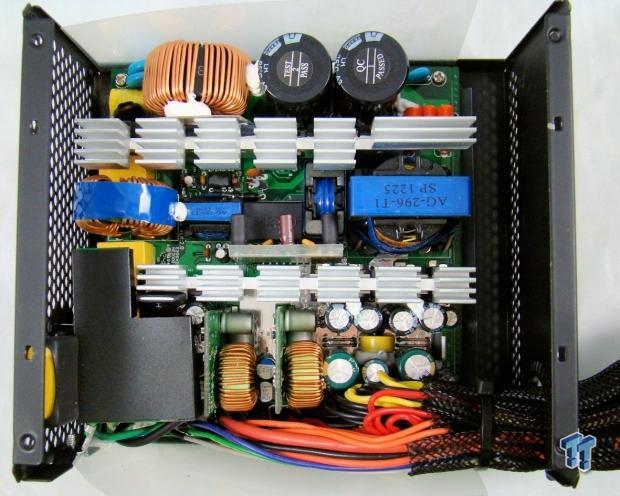 The Tesla R2 1000W unit is designed to allow plenty of fresh air to circulate within the unit, while also having plenty of passive cooling to help keep the need for high fan speed to a minimum.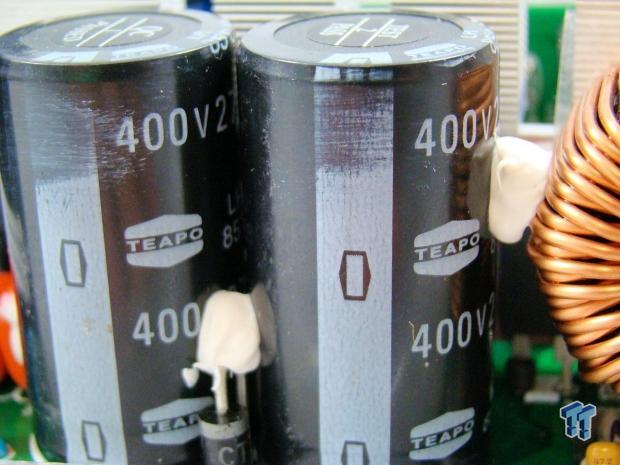 A pair of Taiwanese Teapo capacitors sits on the primary side of the power supply.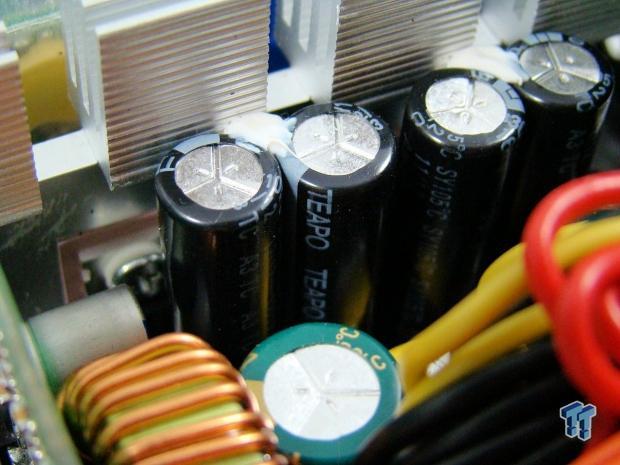 The secondary side is littered with a bunch more Teapo caps.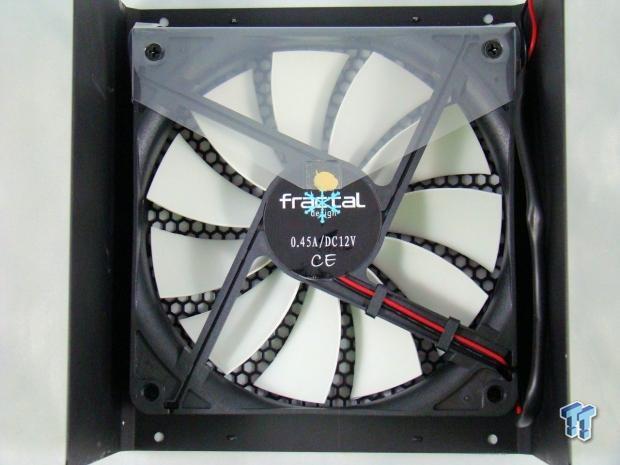 Active cooling for the Tesla R2 1000W uses Fractal Design's own 135mm fan.
Test Results and Final Thoughts
Test Results
Our load tests utilize a couple of FAST ATE active load testers and a variety of other equipment such as an oscilloscope, power conditioner, temperature probe and a power consumption meter. You can read more about our standard testing approach here.
The tests performed are based around six conceivable setups that are out there and progressively load down the PSU up to the power supply's limits or 1000W, whichever comes first. Since our test equipment's limits are equal to that of the Fractal Design Tesla R2 1000W power supply, we can test it to the maximum.

The above tests represent typical loads that we have measured from various systems and are meant to give a rough idea of where your computer might fall in line with our tests. Please keep in mind that each system is different and actual loads can vary greatly even with similar hardware.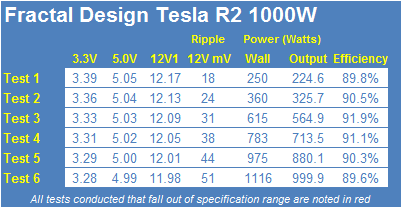 Let's start by taking a look at the voltages to see how well this unit did during testing. Starting with the 12V rail, we see 2% regulation from start to finish with a total drop of .19V. The 5V rail managed to stay within 1% of specification with a total drop of .06V from start to finish. Moving towards the 3.3V rail, we see that regulation was within 3% of specification with a total voltage drop of .11V.
DC Output quality for the Fractal Design Tesla R2 1000W was good and well within specifications. During Test 1, we saw 18mV of noise on our scope. When we increased the loads in Test 3, the ripple climbed to 31mV at around half load. During Test 6 under a load of 1000W, the oscilloscope showed a maximum of 51mV on noise on the 12V rail.
The Fractal Design Tesla R2 1000W is rated for 80 PLUS Gold efficiency. This means that the power supply must perform at 87%/89%/87% efficiency at 20%/50%/100% loads respectively. As you can see, the Tesla R2 1000W passed on our bench, and wasn't close to failing at any point.
Final Thoughts
On the surface, the Tesla R2 seems just like any other power supply on the market. Our 1000W unit didn't seem to offer much over the competition, other than a bit of style. Sometimes that is okay, as it can be exactly what the consumer is looking for to set their rig apart from the rest. As we dug into the Tesla R2 a bit more, it was clear that it wasn't simply just another unit on the shelf.
This is most apparent when looking at the performance results of the Tesla R2 1000W. Voltage regulation was fantastic for a budget unit and voltages were just as tight as some more the more expensive units on the market. We expected there to be a little bit more noise on the 12V rail as the unit features 100% Teapo capacitors, but it held up well, coming in at just over 50mV at full load. The efficiency was great too as it wasn't skirting the line at all.
What you do take a hit on are some of the features and so long as you are aware of them, they aren't really a drawback at all. The lack of Over-Temperature Protection and a 100% continuous output at 50C rating can be easily overcome so long as you make sure that there is plenty of ventilation inside your case. What you can't overcome is the short warranty and the lack of an EPS12V cable, if you're in need of it.
Even so, there is only so much that you can ask for out of a budget unit and having 1000W available to you for about $175 shipped certainly helps cover what the unit is missing and the Tesla R2 1000W is sure to become a favored unit for those needing lots of power on a budget.