Fractal Design Newton R3 800-Watt 80 PLUS Platinum Power Supply Review
Fractal Design's Newton R3 series promises plenty in both looks and performance. Find out just how well it does with our review of the 800W model.
Published
6 minute read time
Introduction, Specifications, Availability and Pricing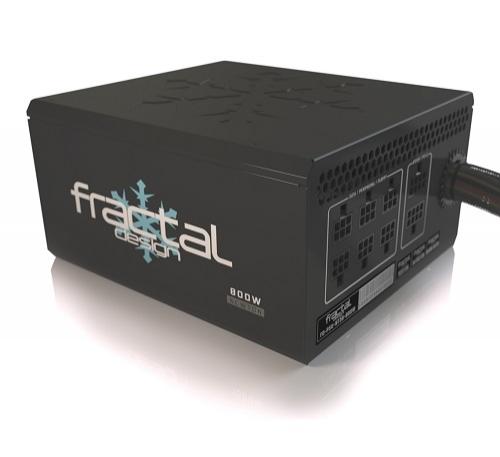 If there is one company that you want to keep your eyes on right now, it is most certainly Fractal Design. They have come out of the corner swinging and over the last few years have been delivering quality products left, right and center. Their cases have been a perfect mix of both form and function and none have skimped on quality at all.
Earlier in the year, we took a look at the Integra R2 750W from them and were rather happy with what we saw. As en entry-level power supply, it delivered almost perfectly.
This time around we looking at something on the opposite side of the spectrum. The Newton R3 series is Fractal Design's flagship line of power supplies and offers quite a bit more than the no-frills Integra R2 series. The 800W model on the bench today is modular and nearly silent, along with 80 PLUS Platinum efficiency.
The Newton R3 800W represents what most want out of a quality 700W-900W unit, so you'll definitely want to keep reading if you're in the market for new power supply.
Specifications, Availability and Pricing

Fractal Design uses a single 12V rail for the Newton R3 800W power supply. It is rated for 66A or 792W. Both the 3.3V and 5V rails are rated for 20A each with a combined maximum output of 100W. While this isn't the best output we've seen for the minor rails, it should be plenty providing there isn't some heavy overclocking going on. The 5VSB rail is also rated a tad low for an 800W unit and is capable of 2.5A or 12.5W total. Maximum combined output for the unit is 800W.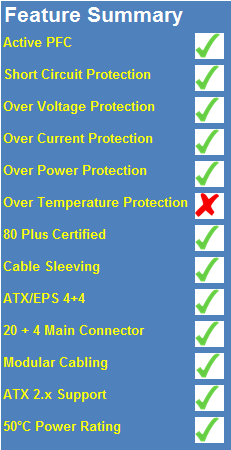 The Fractal Design Newton R3 800W almost scores green checks across the board, but misses it by one. The Newton R3 doesn't feature Over Temperature Protection, but does have SCP, OVP, OCP and OPP. The power supply features both native and modular cabling. All cables are either fully sleeved or of the flat ribbon variety. The Newton R3 800W is rated for 100% continuous output at 50C and is certified for 80 PLUS Platinum efficiency.
Fractal Design's Newton R3 has an MSRP of $189. Looking around the web, you won't find it any cheaper than that. Even so, it is still one of the cheapest Platinum rated units on the market near that wattage. Fractal Design backs the Newton R3 800W with a five year warranty.
Packaging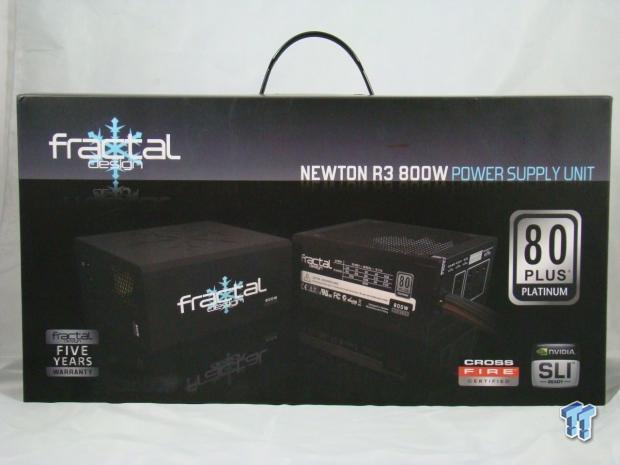 The Newton R3 800W comes in one of the largest boxes I've ever received for a power supply. It barely fit inside my photo booth for the pictures. The front gives us some great shots of the unit, as well as giving us warranty information.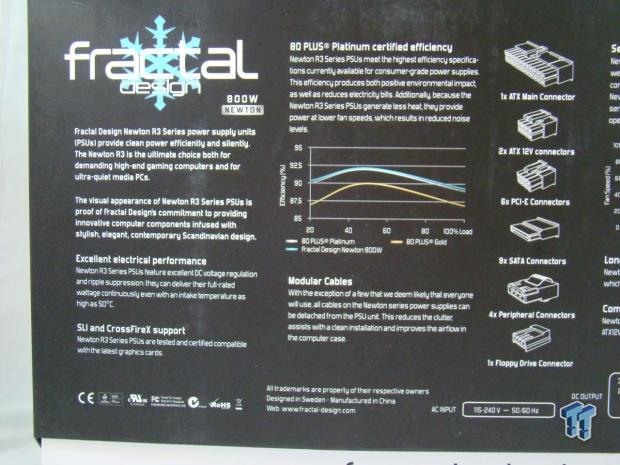 The back left gives us some basic information about the unit including some features and an efficiency graph. Also present is a list of connectors offered by the Newton R3 800W.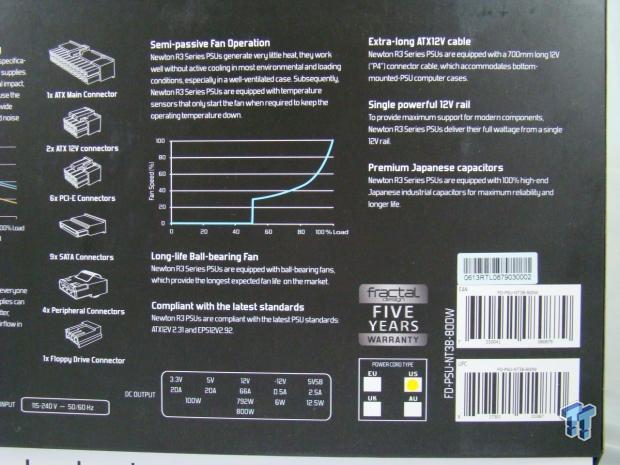 More information is present on the right side including the inclusion of a long ATX12V cable and 100% Japanese capacitor construction.
Inside the Box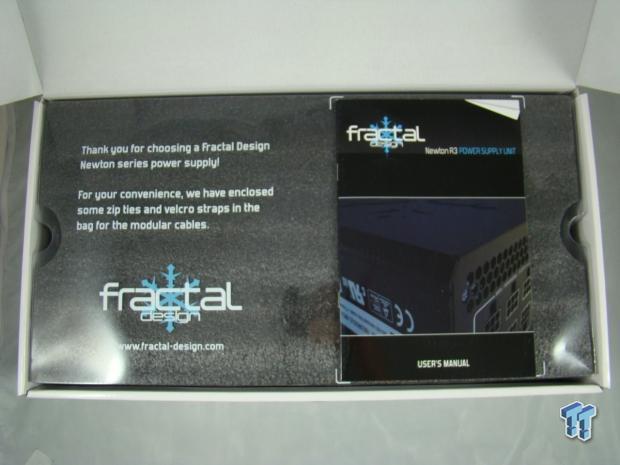 This is the first time we've seen a plastic cover over the foam. It is somewhat of a nice touch, however the user manual is glued to it, and it's a pain to remove.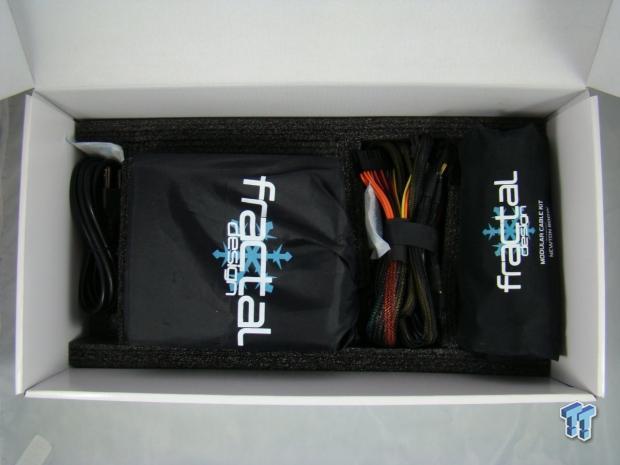 Lifting the top foam off, we find that everything is very well protected and isn't crammed in the box at all.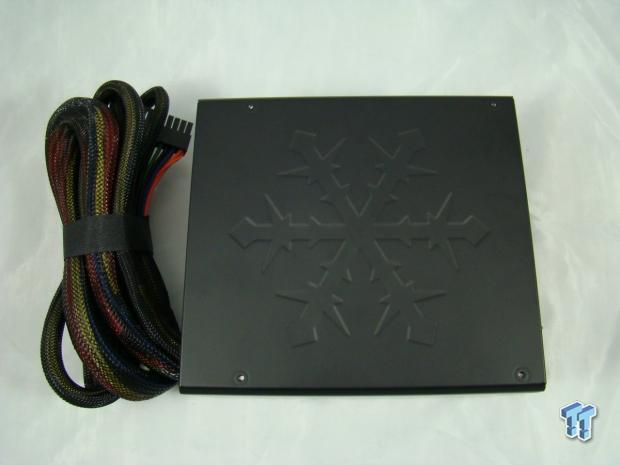 The top gives us a look at the semi-gloss black finished used on the Newton R3 800W as well as the Fractal Design logo stamped in the housing for added aesthetics.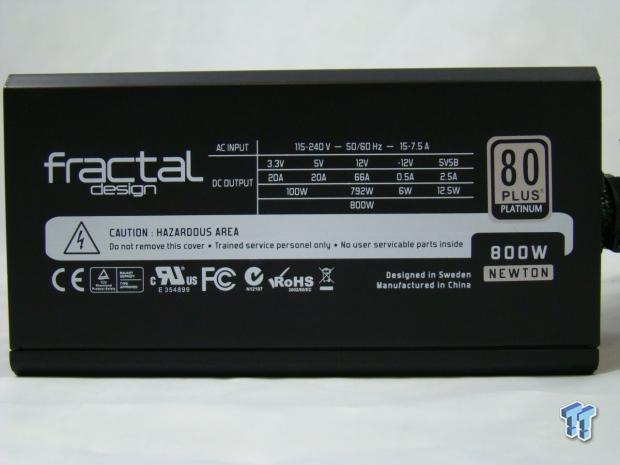 The side of the power supply houses the I/O specification label.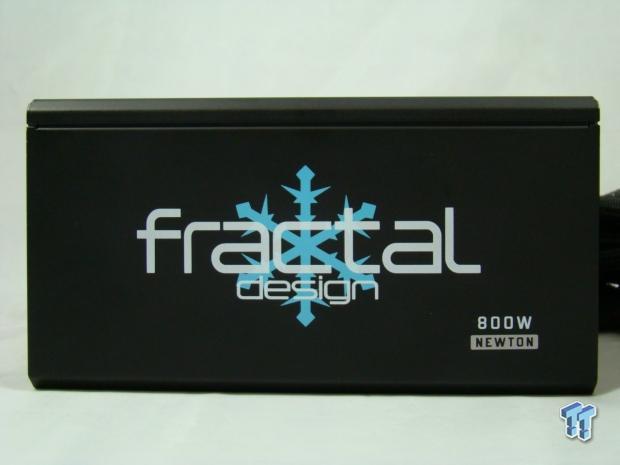 The other side features the Fractal Design logo, which has nice contrast with the semi-gloss black finish.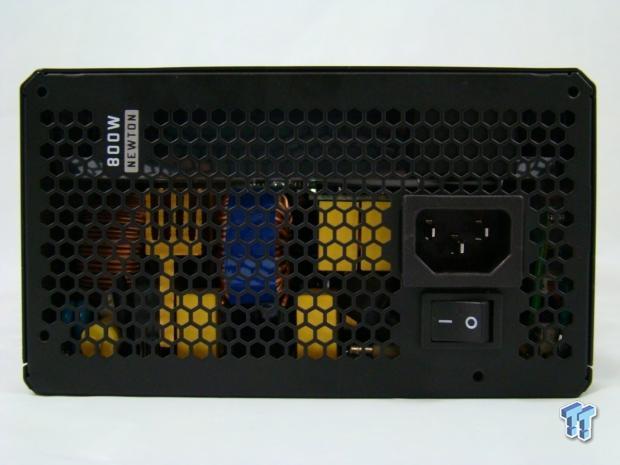 There isn't anything too special going on towards the back of the unit. We find the standard honeycomb mesh grill with AC input and on/off rocker switch present. This view does give us a good look at the beveled corners of the power supply, which adds a subtle bit of finesse to the Newton R3.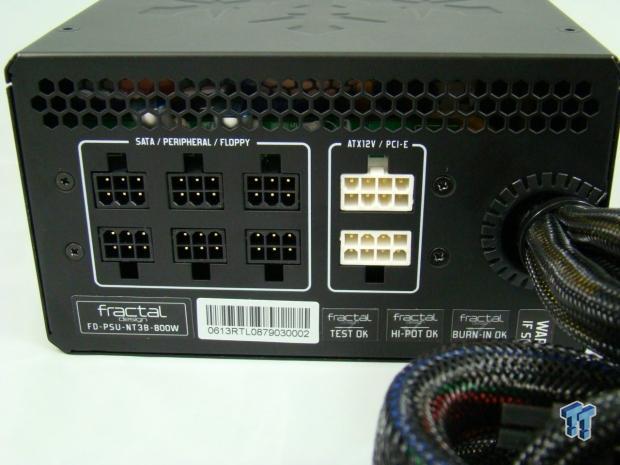 Rotating towards the front we can see that all of the modular connections are clearly labeled. There is also some additional venting above the modular connections.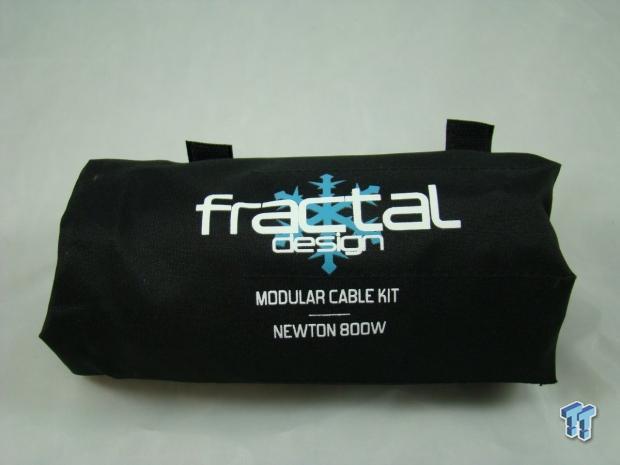 Normally I don't just take a picture of the cable bag, but this one really caught my eye. It isn't just your standard bag that you stuff everything into.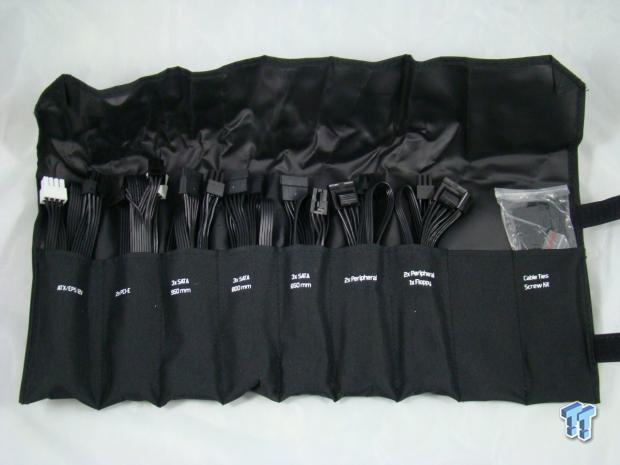 I felt like a locksmith unrolling his tool bag as I unrolled the cable bag. All cables are held in their own individual pocket and labeled for quick reference and access. I would assume the extra pocket is used for a higher wattage unit like the Newton R3 1000W and has another cable in it such as pair of PCI-E cables.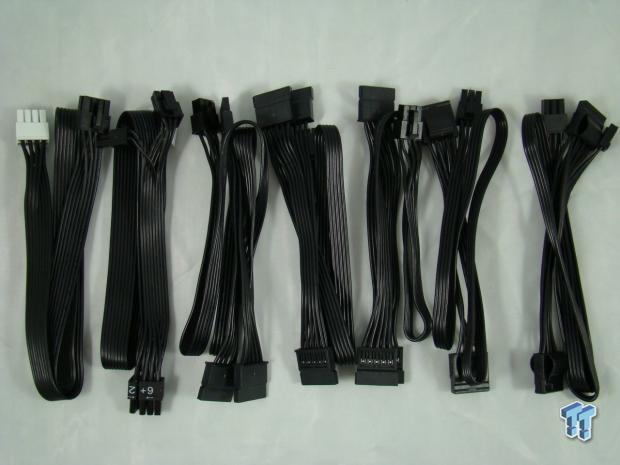 After pulling them all from the pockets, we can see that all of the modular cables are of the flat ribbon variety.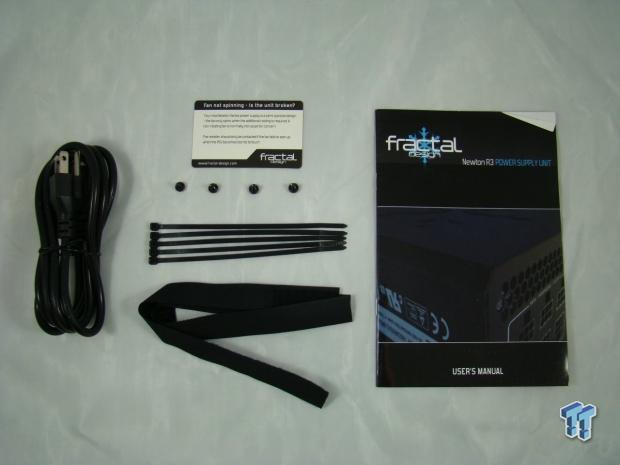 Aside from the mandatory user manual, AC input cord and mounting screws, there are a few additions. There are five zip ties and two reusable Velcro cable ties included for cable management. There is also a card that lets you know that the fan doesn't turn on until it is necessary and not to freak out when it doesn't spin upon turning the unit on.
Cabling Arrangement and A Look Inside
Cabling Arrangement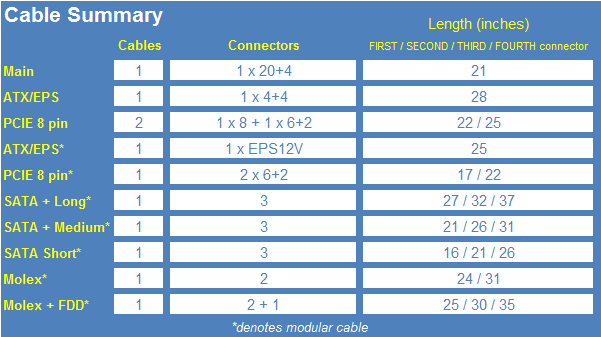 The Fractal Design Newton R3 comes with a cable for just about everything you'd want and need. The only thing that I'm not much of a fan of is that two of the PCI-E cables are natively wired and I would like to see that only one of them be this way. It is my experience that most users of 700W-800W power supplies only have a single GPU in their system, so that leaves an unnecessary cable just hanging inside the PC. Other than that, there isn't anything to complain about.

Rail distribution is as simple as it gets with a single 12V rail. There is no need to worry about load balancing here.
A Look Inside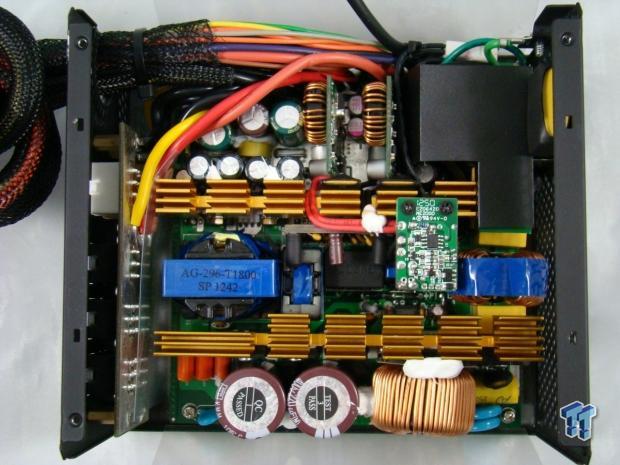 Plenty of passive cooling is present with a layout that isn't overly crowded. There are also some green and gold capacitors in the top left which doesn't look good for that claim of 100% Japanese capacitors on the back of the back of the box.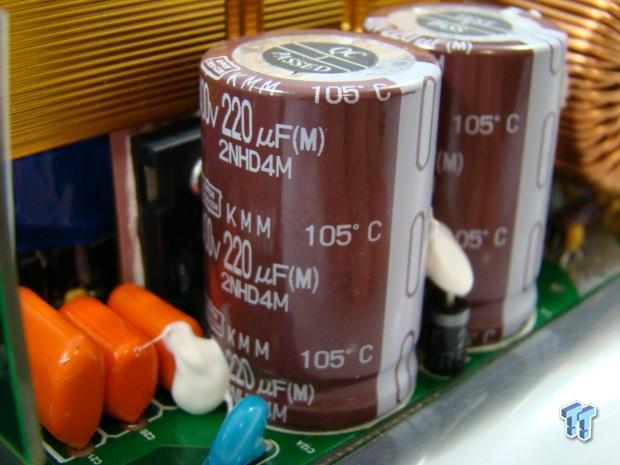 A pair of Nippon Chemi-Con bulk capacitors sit on the primary side of the power supply.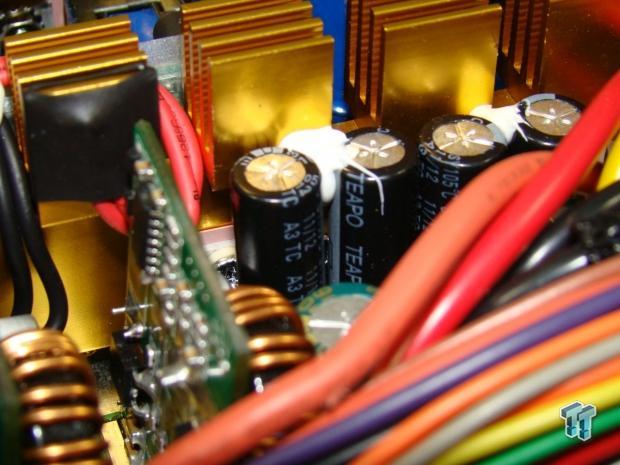 The secondary side is littered with a bunch of Teapo caps. This is the first time that we've caught someone stating that their units featured 100% Japanese capacitors and it didn't, so we certainly aren't happy about this at all.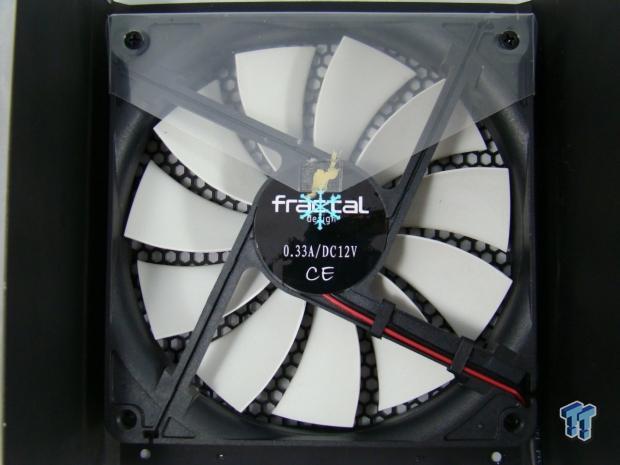 Fractal Design uses their own 140mm fan to provide the active cooling for the Newton R3 800W power supply and it is rubber mounted to help reduce noise from vibrations.
Test Results and Final Thoughts
Test Results
Our load tests utilize a couple of FAST ATE active load testers and a variety of other equipment such as an oscilloscope, power conditioner, temperature probe and a power consumption meter. You can read more about our standard testing approach here.
The tests performed are based around six conceivable setups that are out there and progressively load down the PSU up to the power supply's limits or 1000W, whichever comes first. Since our test equipment's limits are equal to that of the Fractal Design Newton R3 800W power supply, we can test it to the maximum.

The above tests represent typical loads that we have measured from various systems and are meant to give a rough idea of where your computer might fall in line with our tests. Please keep in mind that each system is different and actual loads can vary greatly even with similar hardware.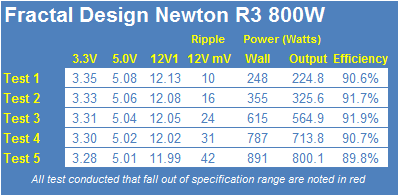 Let's start by taking a look at the voltages to see how well this unit did during testing. Starting with the 12V rail, we see 2% regulation from start to finish with a total drop of .14V. The 5V rail managed to stay within 2% of specification with a total drop of .07V from start to finish. Moving towards the 3.3V rail, we see that regulation was within 2% of specification with a total voltage drop of .07V.
DC Output quality for the Fractal Design Newton R3 800W was okay and well within specifications. During Test 1, we saw 10mV of noise on our scope. When we increased the loads in Test 3, the ripple climbed to 24mV at around half load. During Test 5 under a load of 800W, the oscilloscope showed a maximum of 42mV on noise on the 12V rail.
The Fractal Design Newton R3 800W is rated for 80 PLUS Platinum efficiency. This means that the power supply must perform at 90%/92%/89% efficiency at 20%/50%/100% loads respectively. As you can see, the Newton R3 800W passed on our bench, and while it didn't fail the test, it was most certainly skirting the line at the 50% load mark.
Final Thoughts
I have to say that I had high hopes for the Newton R3 800W power supply and it delivered on most of them. The power supply looks great visually and on paper it is very promising, offering high efficiency with quality components throughout the entire unit.
I was quite let down though when I opened the power supply and found Teapo capacitors on the secondary side of the unit, when I was promised "100% high-end Japanese industrial capacitors for maximum reliability and longer life." The performance of the unit reflected the use of them too, with the DC output quality being higher than we'd like to have seen.
Aside from that, the Newton R3 delivers just about everywhere else. The unit has great cable selection and performs very well concerning voltage regulation, staying within 2% across the board. It also has a decent price for what it represents in both performance and features. While it may not be the best unit on the market, its price combined with its performance and efficiency make it a decent offering.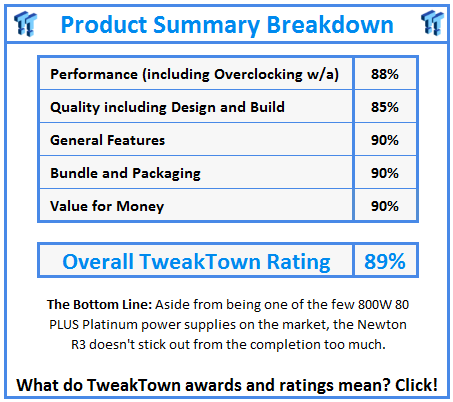 PRICING: You can find products similar to this one for sale below.

United States: Find other tech and computer products like this over at Amazon.com

United Kingdom: Find other tech and computer products like this over at Amazon.co.uk

Australia: Find other tech and computer products like this over at Amazon.com.au

Canada: Find other tech and computer products like this over at Amazon.ca

Deutschland: Finde andere Technik- und Computerprodukte wie dieses auf Amazon.de
We openly invite the companies who provide us with review samples / who are mentioned or discussed to express their opinion. If any company representative wishes to respond, we will publish the response here. Please contact us if you wish to respond.
The Response:

Official Statement

First and foremost, Fractal Design has not intentionally tried to deceive or mislead our customers. In good faith, we have specified the Newton R3 to have 100% Japanese capacitors. Unfortunately during the production process, some of the Japanese capacitors were replaced with Taiwanese capacitors without our knowledge. As we have learned, the switch came about due to the fact that the Japanese capacitor manufacturer did not offer capacitors with the specifications called for in their standard range. This is something that only recently came to our attention and we have therefore taken immediate action to change the marketing material so that it matches the actual product. We would like to highlight that we, Fractal Design, take full responsibility for this and do not push blame onto our manufacturers. It is our personal responsibility to deliver products as per the correct specification.

In the face of the recent oversight, we still confidently stand behind our products, their design and quality. Like many other premium manufacturers, the Newton R3 partially includes Taiwanese capacitors. Previously, Taiwanese capacitors have been labelled as a lower quality part, however, currently, they are regarded to be higher quality, in both performance and longevity. There are often other factors that contribute to the failure of a power supply. We believe that our products are of high quality, not only in performance, but also in terms of reliability and durability. We would not dare offer a 5 year guarantee if we did not have full confidence in our product performance.