Cooler Master i700 700-Watt 80 PLUS Bronze Power Supply Review
Hot on the heels of Cooler Master's new flagship V1000 is the new i700 power supply. Read the full review to find out if this budget unit is worth the savings.
Published
6 minute read time
Introduction, Specifications, Availability and Pricing
Of all the functional pieces of a computer, it is relatively fair to say that the most skimped on piece is the power supply, and why not? It doesn't directly lead to any performance gain unless overclocking and when you're shopping on a budget, every single penny counts. If you can save just $50 somewhere along the line, you should be able to get a little more performance out of a CPU or GPU. If you can do it a couple of times with the PSU, case and other miscellaneous items, you can start to get into some large performance gains.
We've gone over this many times, but the power supply can be just as important as any other component, because while it may not directly lead to performance increases, it does dictate system stability to a certain amount. This is because "dirty" power just doesn't go well with modern CPUs and GPUs that operate at such high levels these days.
Cooler Master's i700 is meant to fit that budget build where limiting cost is a huge factor, but doesn't cut too many corners in build quality and reliability. It may not be the most feature rich unit on the market, but if it does so without breaking the bank and passing our tests, it might be one of the best choices for a budget unit.
Let's take a close look over the next few pages.
Specifications, Availability and Pricing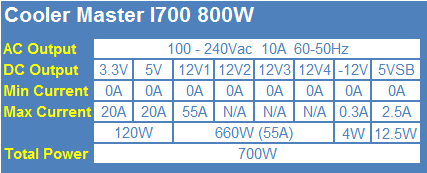 The Cooler Master i700 features a single 12V rail capable of 55A or 660W of power. Both the 3.3V and 5V rails are rated for 20A each with a combined maximum output of 120W. The 5VSB rail is rated for 2.5A or 12.5W. Maximum combined output for the unit is 700W.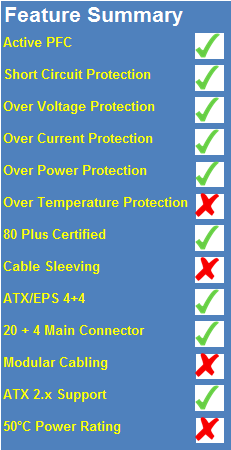 One of the first things that you will notice in a budget unit is that it skimps on some features. The i700 isn't an exception to this and truth be told, this list isn't so bad. Most of our protections are present and the only one that we check for that isn't is Over Temperature Protection. The i700 features all natively wired cables and the only cable that has any sleeving on it is the 24-pin Main, as the rest are flopping about freely. Cooler Master doesn't rate any of their units at 50C, but the i700 is rated for the same 40C as is the rest of their units. Finally, the i700 carries an 80 PLUS Bronze rating for efficiency.
The Cooler Master i700 has an MSRP of $79.99 and is already available just about everywhere. At the time of writing Newegg lists the unit for $59.99 after a $20 rebate and free shipping, so that makes this a very cheap unit no matter how you look at it. Cooler Master provides a five year warranty on the i700.
Packaging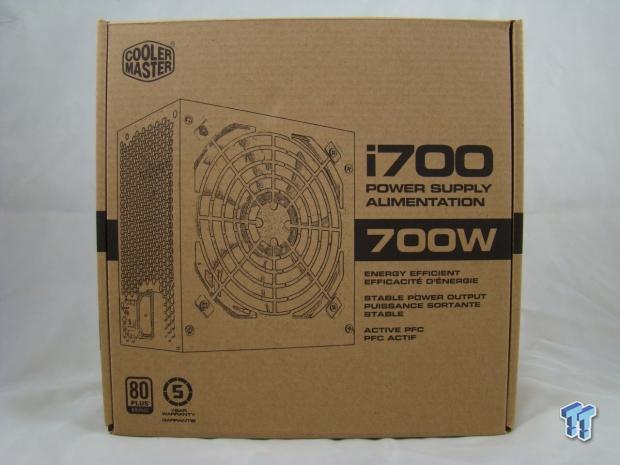 If you haven't figured it out yet, the box should clue you in as to this being a no frills unit. When developing a budget unit every penny counts, even with the packaging. Other than a sketch of the unit, there is little to gather from the front.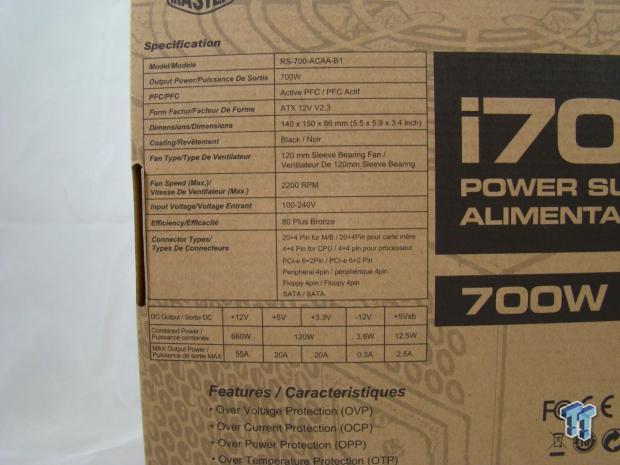 The left half of the back gives us a few specifications, which is always very nice. The other half is just the i700 logo.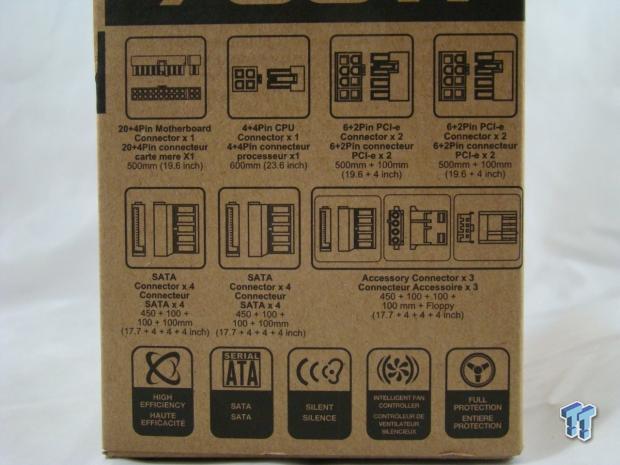 This side gives us a great connector list. I have to give props to Cooler Master on this one as I don't think I've ever seen one listed with inches for length. It is nice to see that in the USA as most of us don't know length conversions off the top of our head like we do for temperatures.
Inside the Box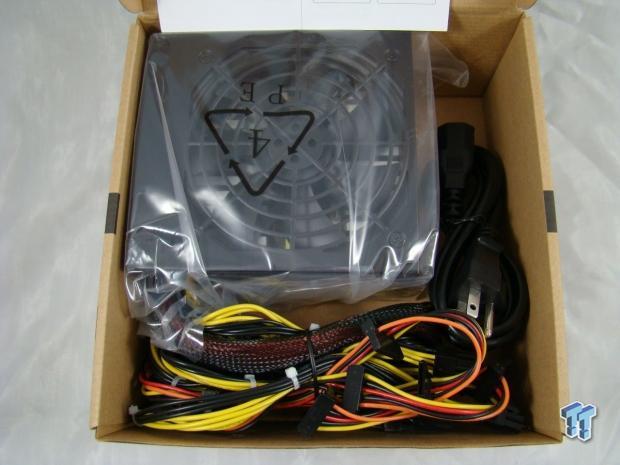 The inside is just as plain as the outside. Short of the cables and the plastic bag, there is no protection between the cardboard and the power supply.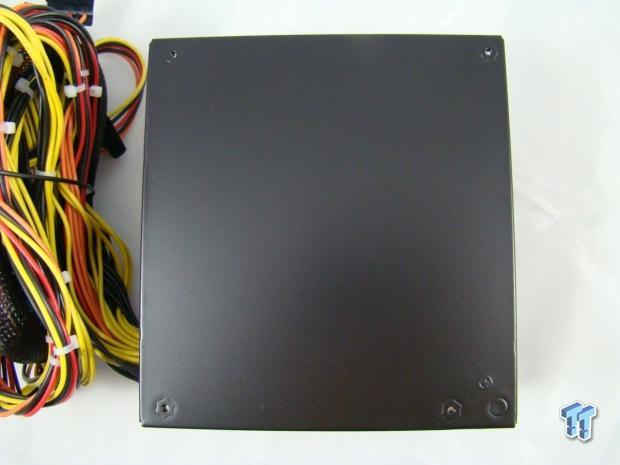 The i700 is finished in semi-gloss black.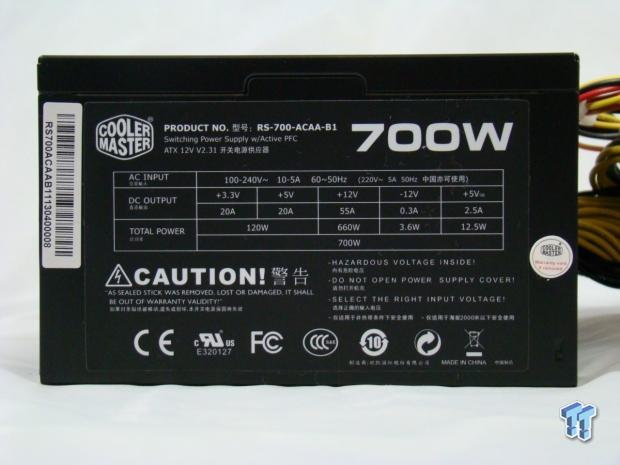 This side features the I/O specification label and serial number while the other side blank.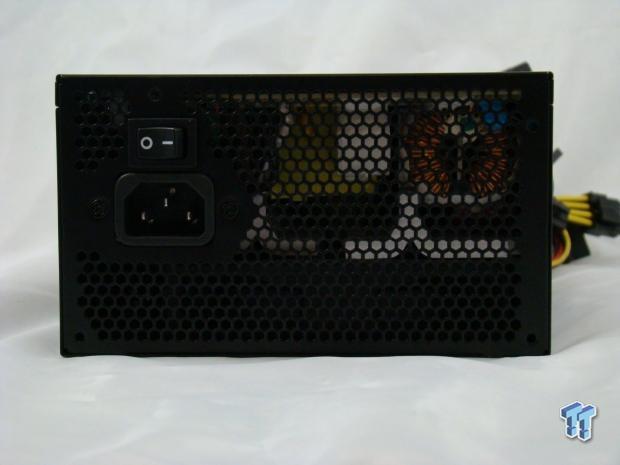 Standard honeycomb mesh provides the exhaust ventilation alongside the AC input and on/off rocker switch.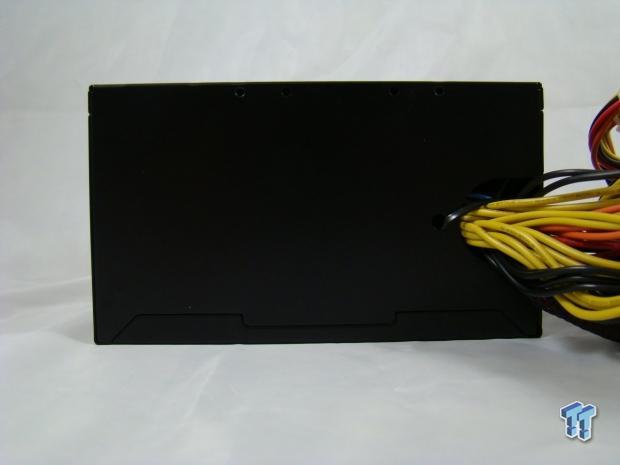 As there aren't any modular connections or vents here, there just isn't much to look at on the front.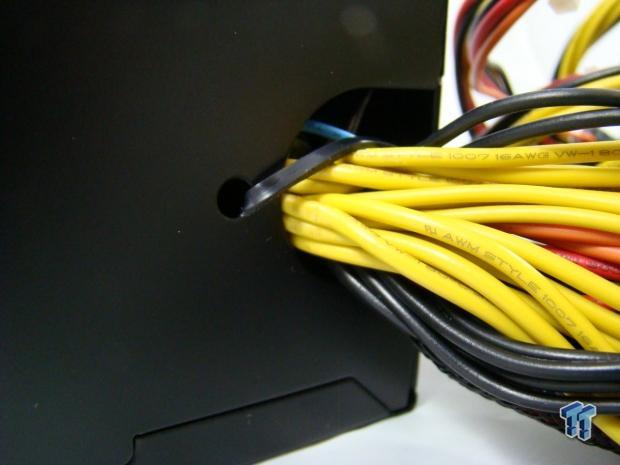 That is, unless you want to look at the lack of cable guard where all the unsleeved wires exit the power supply. If you look closely, you can see the yellow cables have been smashed against the hosing. Given the right circumstances, it would be possible for this to wear through and cause a short in the unit.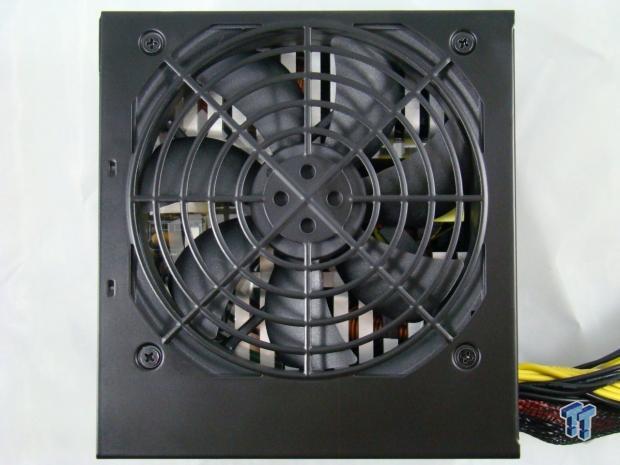 The bottom features the 120mm fan and stamped grill that covers it.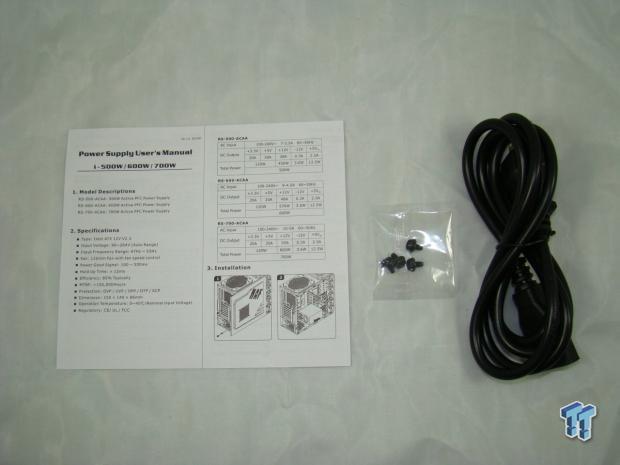 Also included with the unit are mounting screws, AC input cord and a user manual.
Cabling Arrangement and A Look Inside
Cabling Arrangement

When I first thought about it, I was a bit disappointed in the cable and connector offerings for a 700W unit, but after some consideration, I don't think it could be much better considering the audience for the unit. Budget users aren't going to pack their cases full of drives like a mad man and shouldn't need four or five peripheral cables. Cooler Master keeps it simple and sweet with the ability to power a pair of high-end video cards, while still giving you what you need for the rest of the case.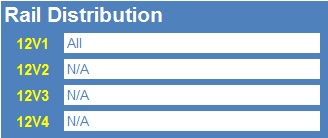 Rail distribution is as simple as it gets with a single 12V rail. There is no need to worry about load balancing here.
A Look Inside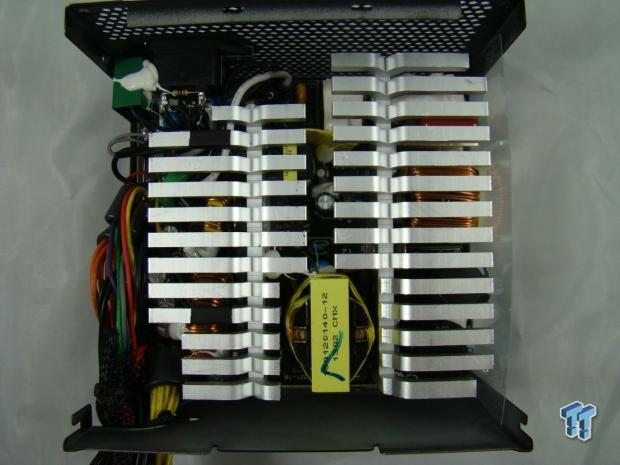 One of the things that is often seen with budget units are cheaper component that just don't tend to work well with excess heat. The extra passive cooling provided by the i700's design helps make sure that it isn't an issue.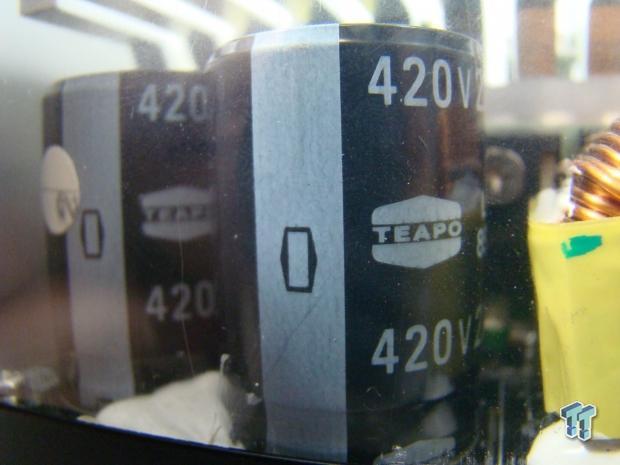 A pair of Teapo bulk capacitors sit on the primary side of the power supply.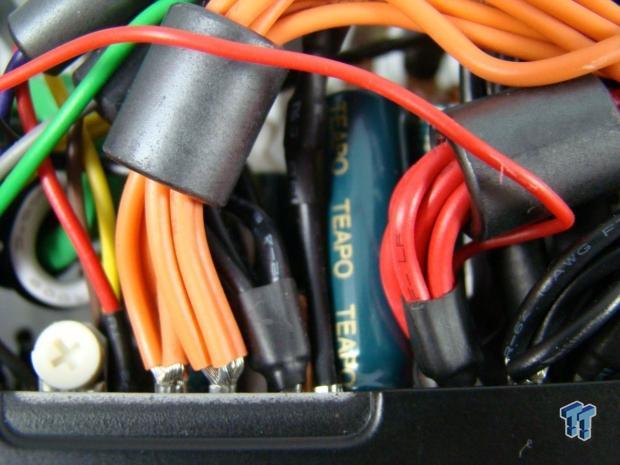 The secondary side is littered with more Teapo caps.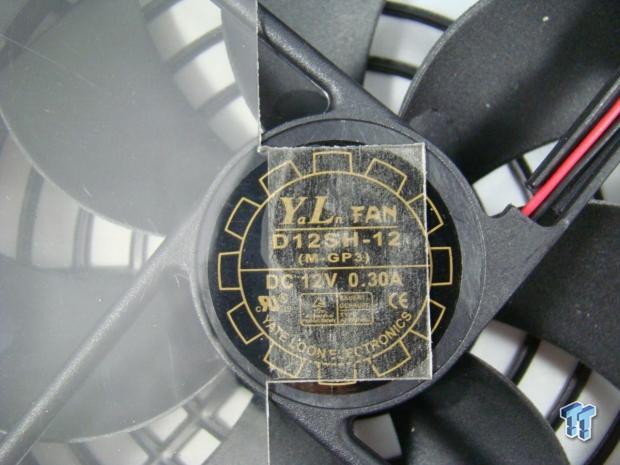 Cooler Master chose the Yate Loon D12SH-12 120mm fan to provide the active cooling for the i700 power supply.
Test Results and Final Thoughts
Test Results
Our load tests utilize a couple of FAST ATE active load testers and a variety of other equipment such as an oscilloscope, power conditioner, temperature probe and a power consumption meter. You can read more about our standard testing approach here.
The tests performed are based around six conceivable setups that are out there and progressively load down the PSU up to the power supply's limits or 1000W, whichever comes first. Since our test equipment's limits are equal to that of the Cooler Master i700 700W power supply, we can test it to the maximum.

The above tests represent typical loads that we have measured from various systems and are meant to give a rough idea of where your computer might fall in line with our tests. Please keep in mind that each system is different and actual loads can vary greatly even with similar hardware.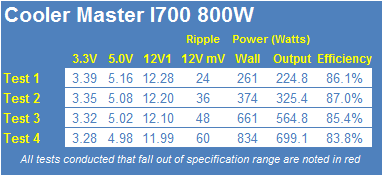 Let's start by taking a look at the voltages to see how well this unit did during testing. Starting with the 12V rail, we see 3% regulation from start to finish with a total drop of .29V. The 5V rail managed to stay within 4% of specification with a total drop of .18V from start to finish. Moving towards the 3.3V rail, we see that regulation was within 3% of specification with a total voltage drop of .11V.
DC Output quality for the Cooler Master i700 was okay and well within specifications. During Test 1, we saw 24mV of noise on our scope. When we increased the loads in Test 2, the ripple climbed to 36mV at around half load. During Test 4 under a load of 700W, the oscilloscope showed a maximum of 60mV on noise on the 12V rail.
The Cooler Master i700 700W is rated for 80 PLUS Bronze efficiency. This means that the power supply must perform at 82%/85%/82% efficiency at 20%/50%/100% loads respectively. As you can see, the Cooler Master V1000 passed on our bench, and wasn't close to failing at any point.
Final Thoughts
It is important to remember that the i700 power supply is a budget unit. If you have any expectations beyond that, you should be looking towards the V1000 instead. With that in mind, the i700 does a good job at just what it is intended to do and that is provide decent power at a low-cost and nothing more.
This is the first unit that we have looked at in a long time that doesn't even feature sleeved cables, but that is the inherent design of a budget unit. It also doesn't feature OTP, a large fan, modular cables or Japanese capacitors. None of this stops the i700 power supply from performing decently, though.
The voltage regulation was almost identical to what we had hoped for out of this unit. At 3%-4% across the board, it isn't super close to falling out of specifications anywhere, but it is far from the super tight tolerances we see in more expensive units. The same can be said with the DC output quality and we were very reserved here when we saw that all of the capacitors in the i700 were Taiwanese Teapo caps. Usually we see more noise on the scope, but this unit did okay for a budget unit, maxing out at 60mV. Finally, our efficiency figures were right on par with what the unit is rated for, so there isn't much to complain about.
Simply put, you just can't ask for anything else out of an $80 unit ($60 at the time of writing with rebate, and free shipping) that is capable of powering a system with a relatively high CPU and a pair of top end video cards. For those on a super tight budget, the i700 is well worth your consideration.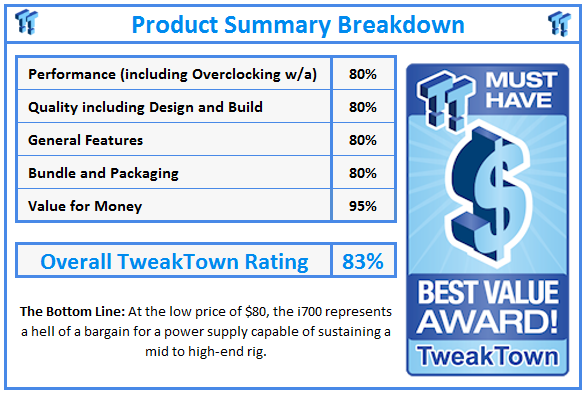 PRICING: You can find products similar to this one for sale below.

United States: Find other tech and computer products like this over at Amazon.com

United Kingdom: Find other tech and computer products like this over at Amazon.co.uk

Australia: Find other tech and computer products like this over at Amazon.com.au

Canada: Find other tech and computer products like this over at Amazon.ca

Deutschland: Finde andere Technik- und Computerprodukte wie dieses auf Amazon.de
We openly invite the companies who provide us with review samples / who are mentioned or discussed to express their opinion. If any company representative wishes to respond, we will publish the response here. Please contact us if you wish to respond.